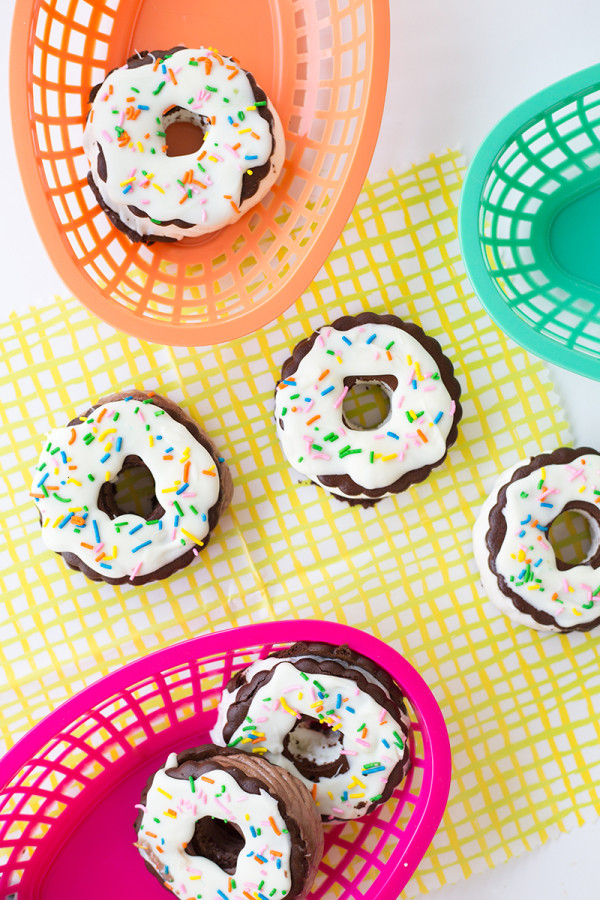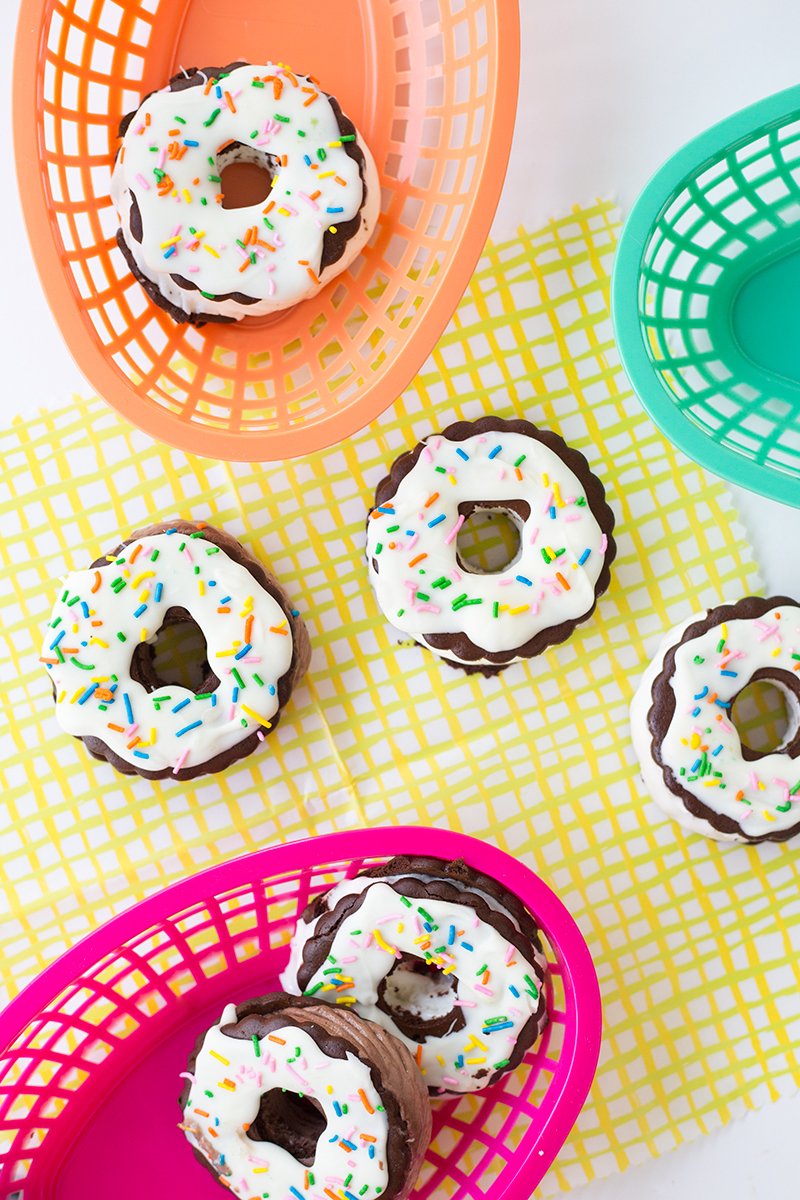 If any of you were on Instagram at all yesterday and follow a bunch of sweets lovers like me, then you know it was National Ice Cream Day. (It was also National Lollipop Day!) So I missed that, but it's still National Ice Cream Month and in honor of BOTH I made ice cream sandwich donuts. Obviously. It's funny. Brittni, Ashley and I are good friends and we were all chatting last month and discovered all three of us had plans to combine donuts and ice cream in some form. Brittni made donut ice cream sammies, Ashley made donut ice cream cakes and now I'm rounding out this wonderful combination with these babies! Let's do it!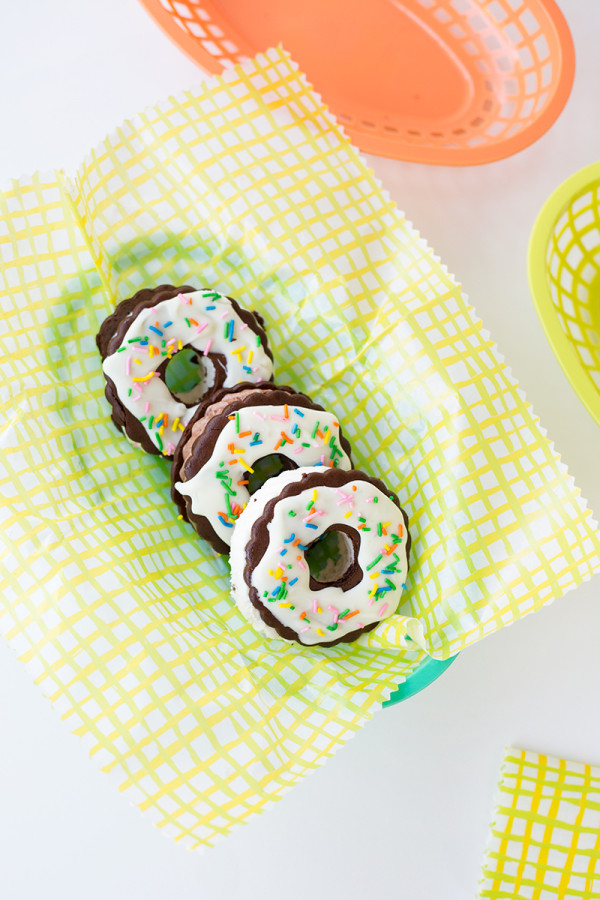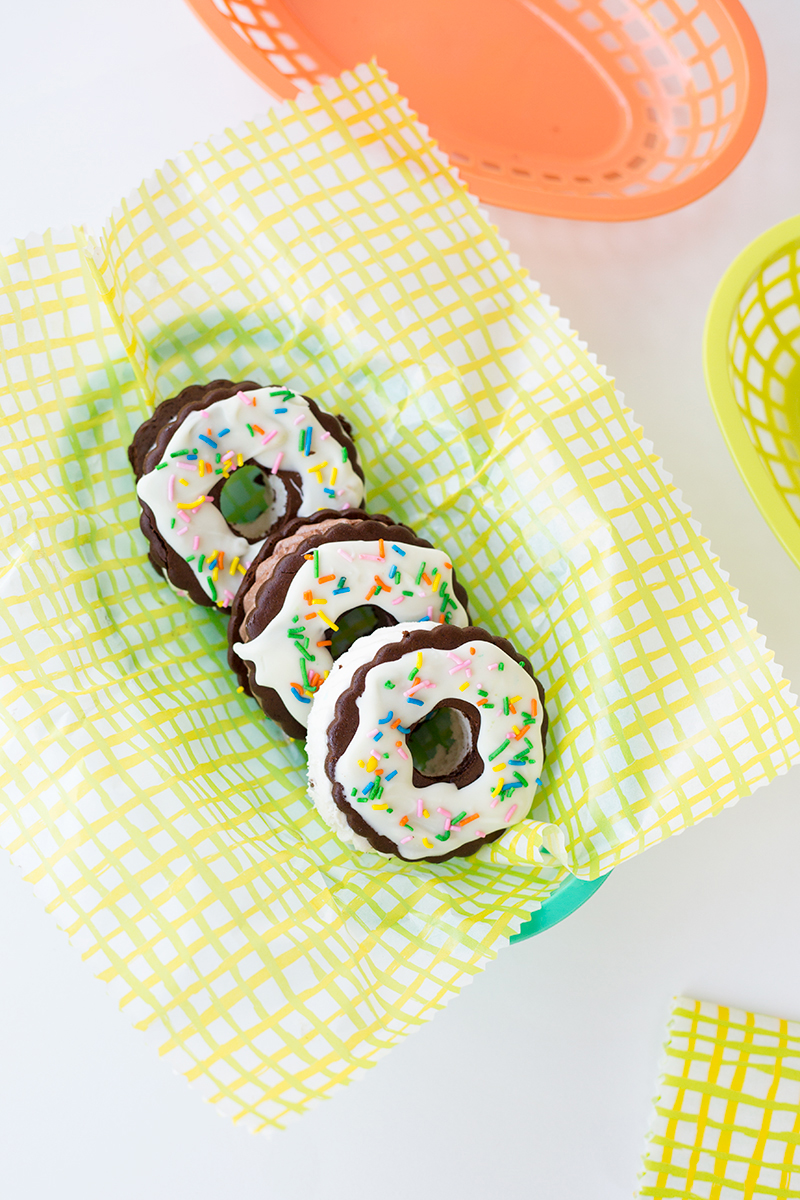 Ice Cream Sandwiches (I just used the ones from the freezer aisle! You could make your own from scratch if you're feeling fancy!)
Center of a Biscuit Cutter or Small Cookie Cutter (About 3/4″)
Chocolate Chips, White Chocolate Chips or Candy Melts
Sprinkles
Spoon
1. The goal here is to keep the ice cream sandwiches in the freezer for as long as possible. Once you have your biscuit cutter and a surface all ready to go, then pull the first couple out. Remove the center circle from your biscuit cutter and push it through the center of your ice cream sandwich, removing the center. Repeat with all your sandwiches, working in small batches, and then place back in the freezer to firm up again.
2. In the meantime, melt your chocolate chips/candy melts. Pull a few sandwiches back out of the freezer and drizzle the "frosting" over them with a spoon. Top immediately with sprinkles and place back in the freezer.
3. Remove just before ready to eat and ENJOY!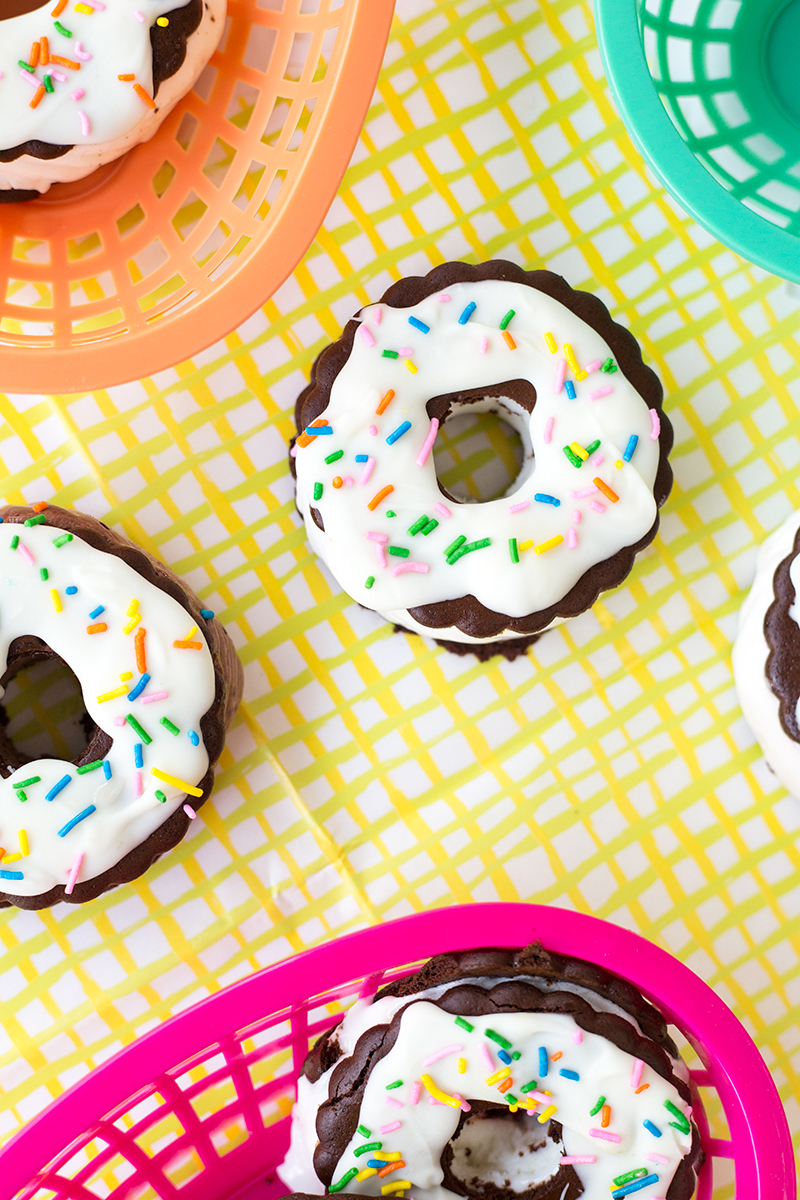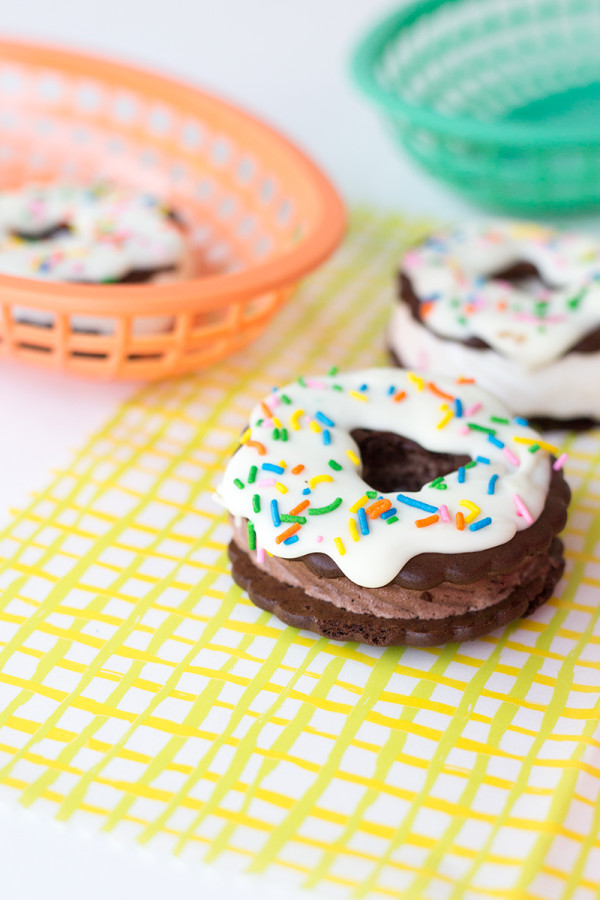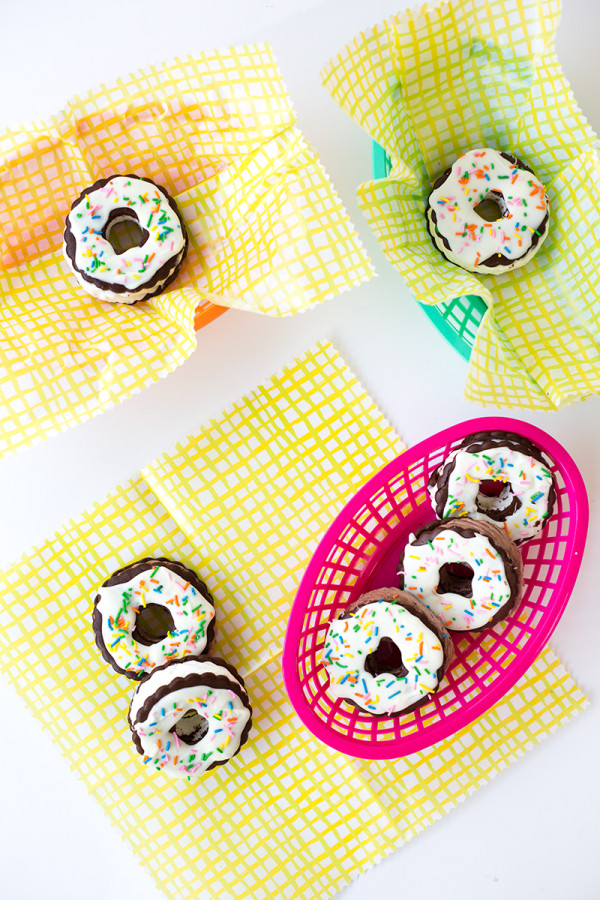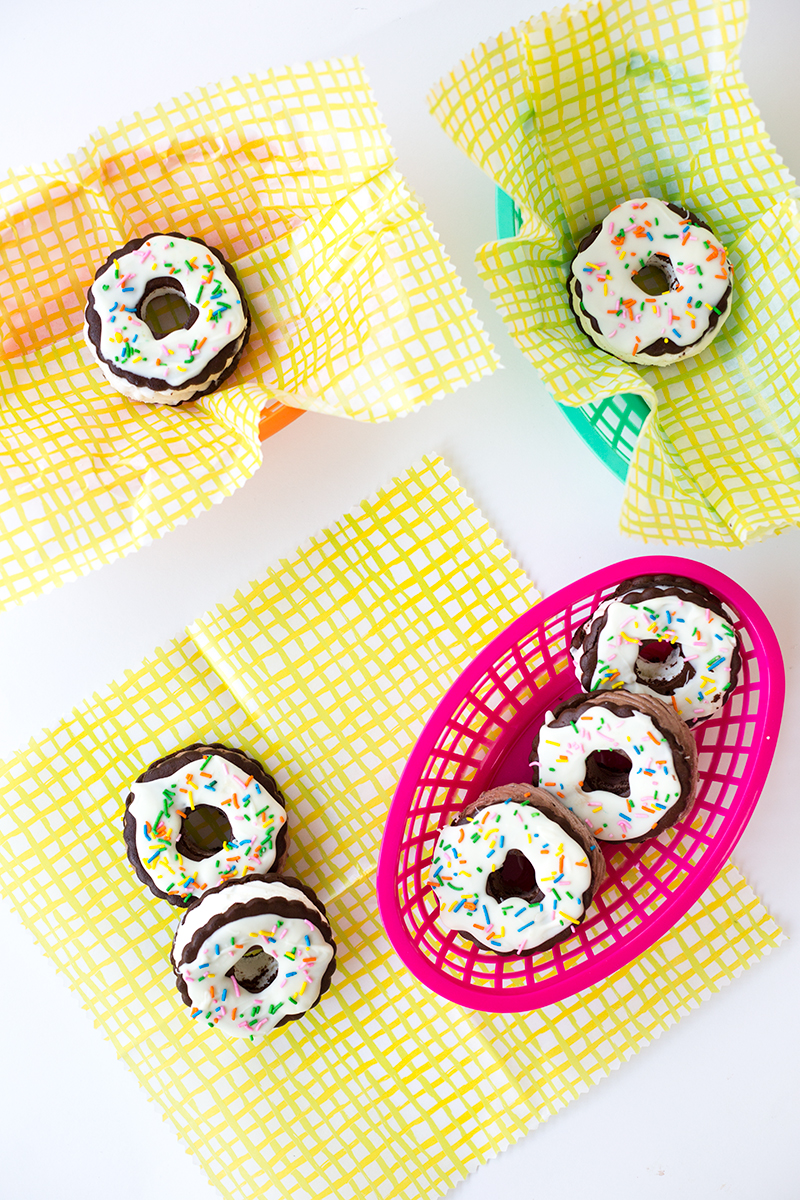 All Photos by Studio DIY
I don't know about you, but I'm pretty sure ice cream sandwiches taste better when they look like donuts.
p.s. The baskets and liners are from Oh Joy for Target's summer collection, here and here. Hurry in to grab 'em before they're gone!