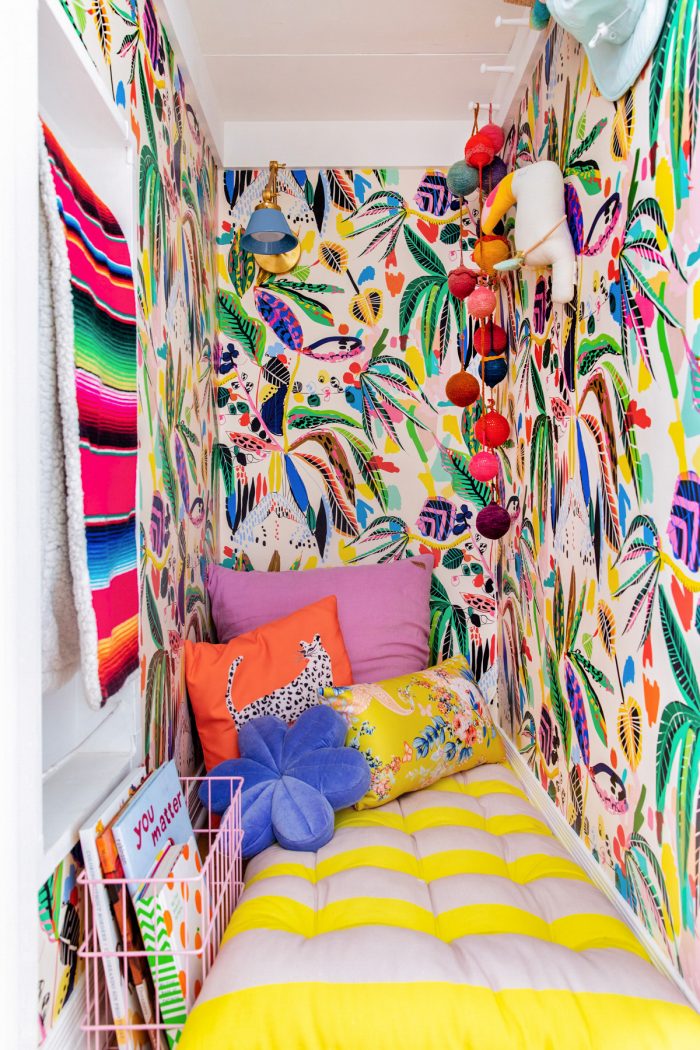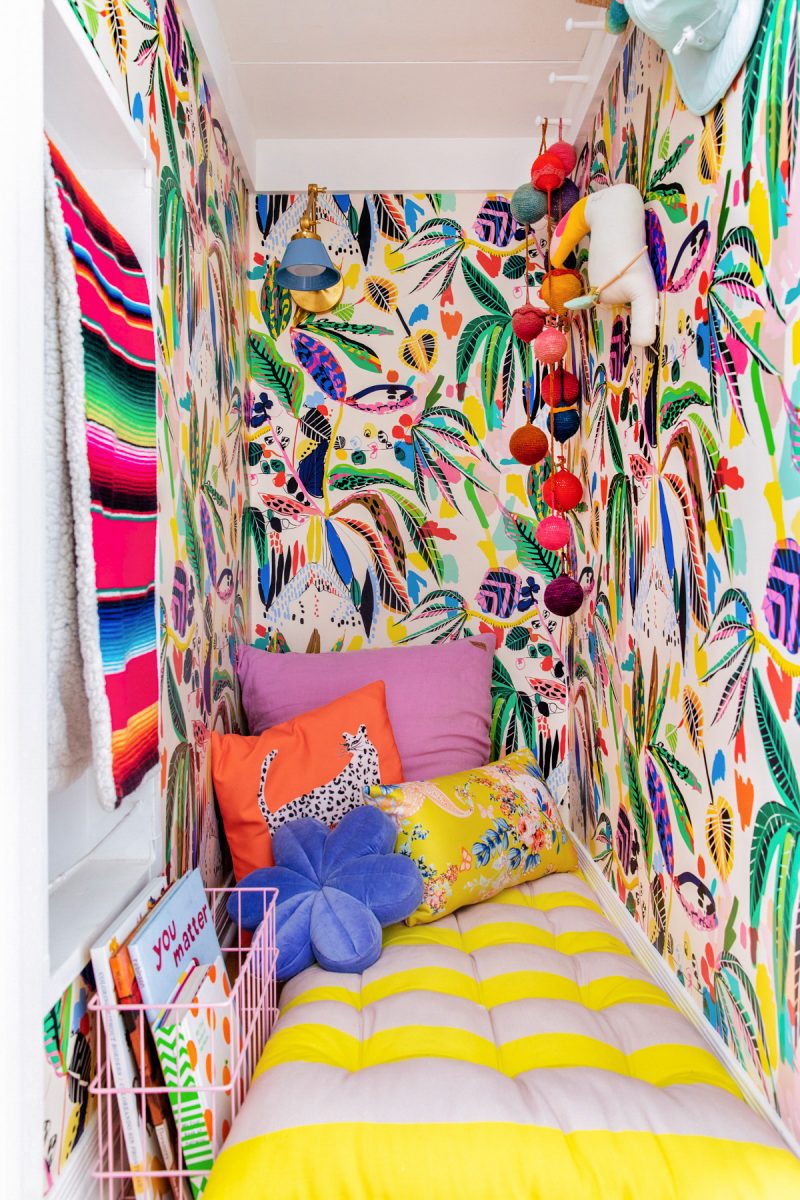 This kids closet reading nook project was SO fun to work on. If any of you have a deep, narrow closet you're not sure what to do with, maybe this will give you some inspiration! It was fun to add a bold wallpaper here, and try my hand at some removable "hacks" for both the wallpaper and the light fixture.
Sadly for us, this ended up being a temporary reading nook since we've had to pivot the closet plan again after transitioning the nursery to a big kid room. But here she is in all it's glory, with sources at the end of the post, before she got her latest makeover back into a closet!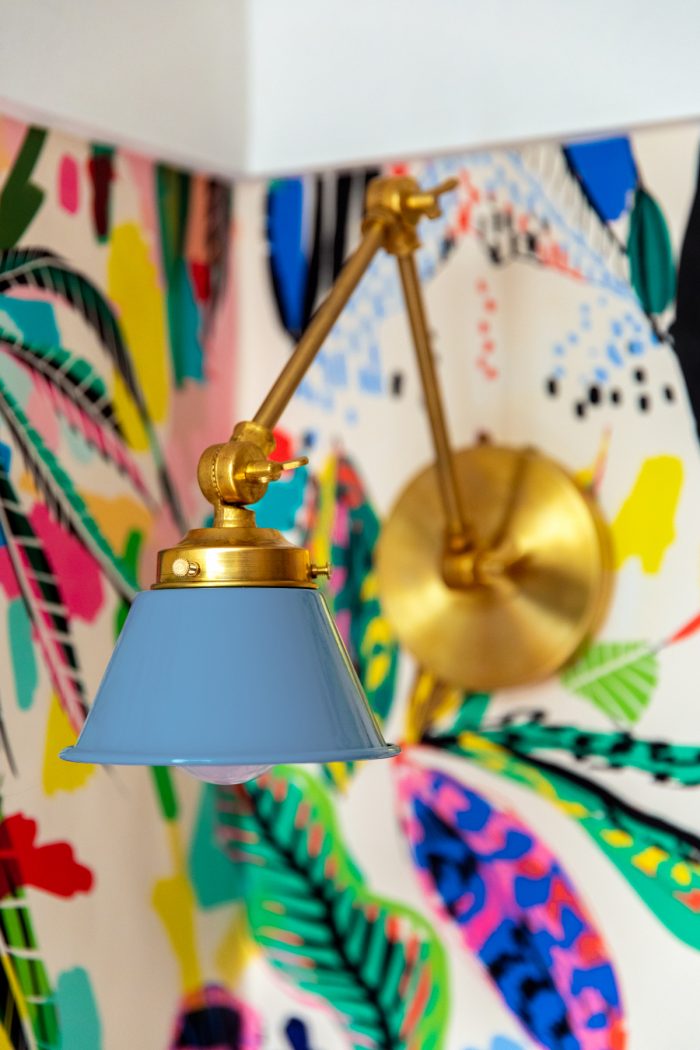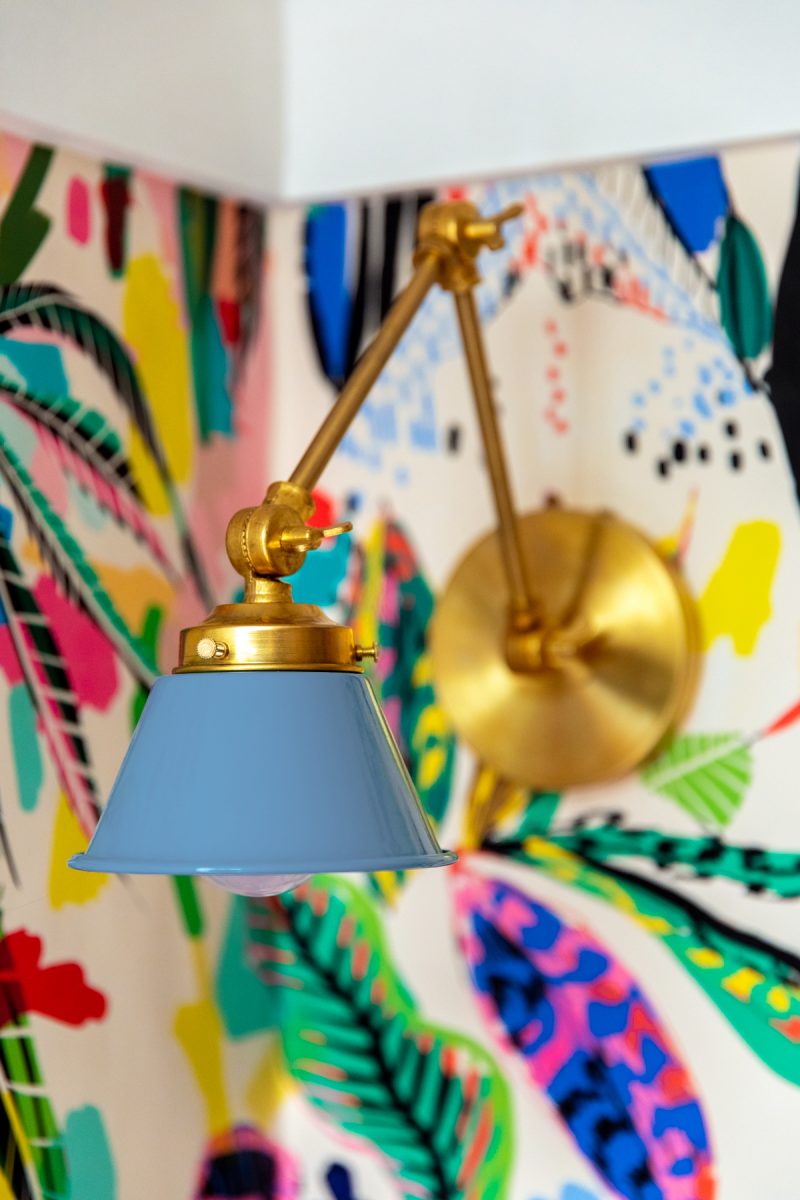 How To Install A Light Without Hardwiring It
I wanted a sconce in this space to add some light, but we didn't have an outlet to plug a light into, nor did I want to pay to hardwire it.
I ended up this "hack" to turn our beautiful sconce from Sazerac Stitches into a battery/remote-operated light!
I purchased this PVC plug and this puck light. You simply screw the PVC plug into the light socket and attach the puck light to it with strong adhesive tape or glue.
Note: Because my shade was so small, I had to trim down the PVC plug a bit but I was actually just able to do so with some strong scissors!
Then you just tuck the wires under the plate that attaches to the wall and screw into the wall as you normally would. Use the remote to turn it on and off. So simple and worked out so well! This is a great option for renters looking to add more lighting to your space.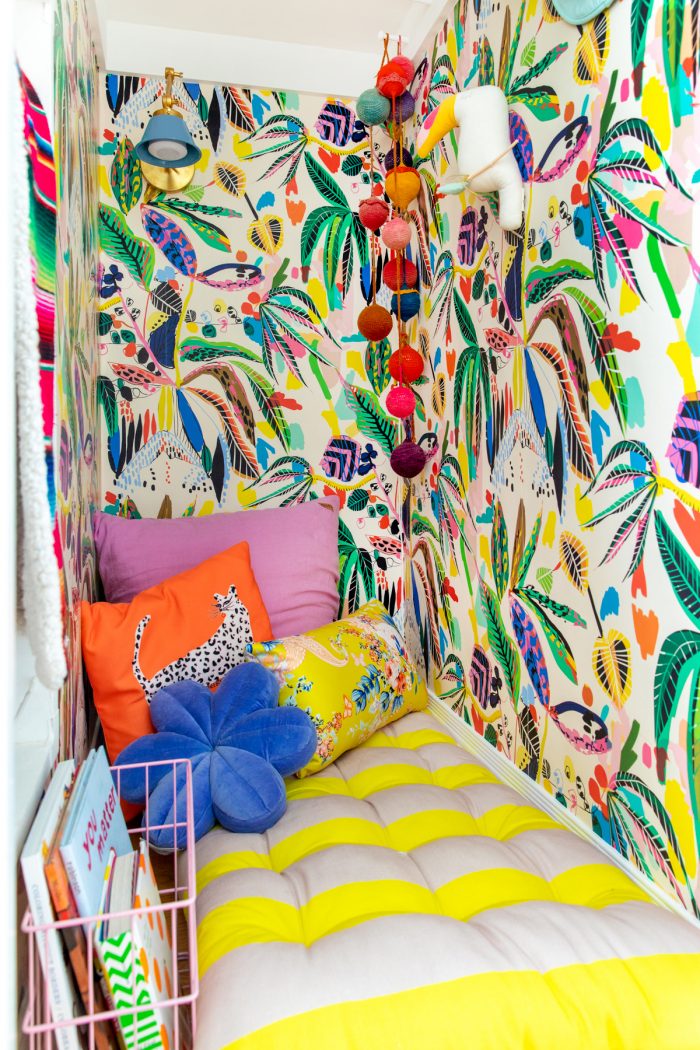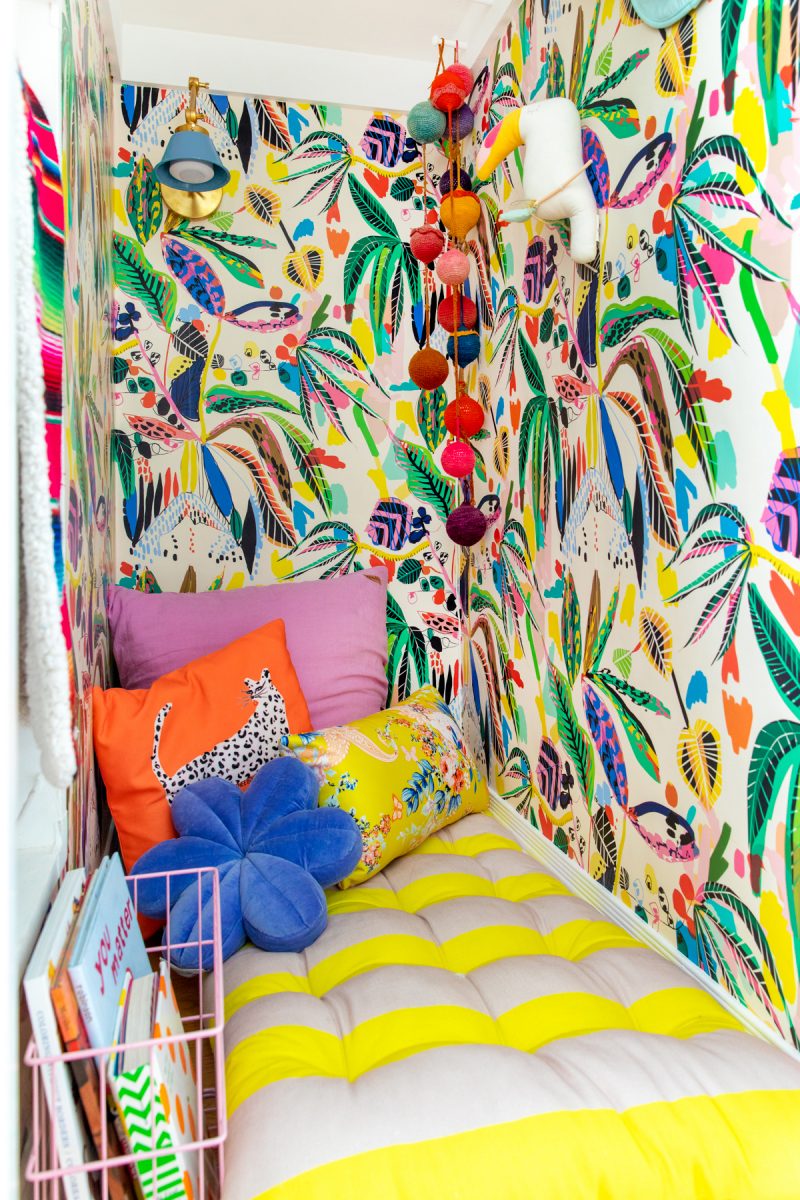 Hanging Wallpaper with Double Sided Tape
Since we aren't going to be in this house forever, I didn't want to permanently hang wallpaper in this closet space. However, the style wallpaper I wanted didn't come in a "removable" version. So, I decided to try out a double sided tape hack using a painter's tape grid, and it worked! I will be writing a full post on this and will link it here once I do.
So far, it has held up so well and I'm thrilled with it. And it was 100 times easier to hang than pasted wallpaper and removable adhesive wallpaper.
Get the tutorial for making regular wallpaper removable here!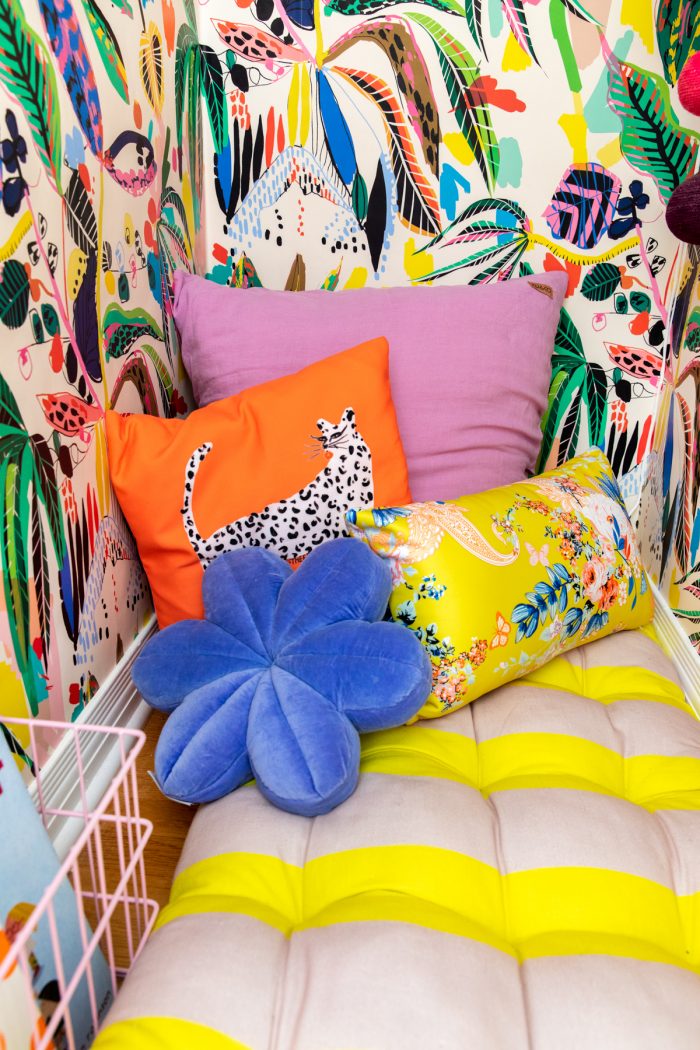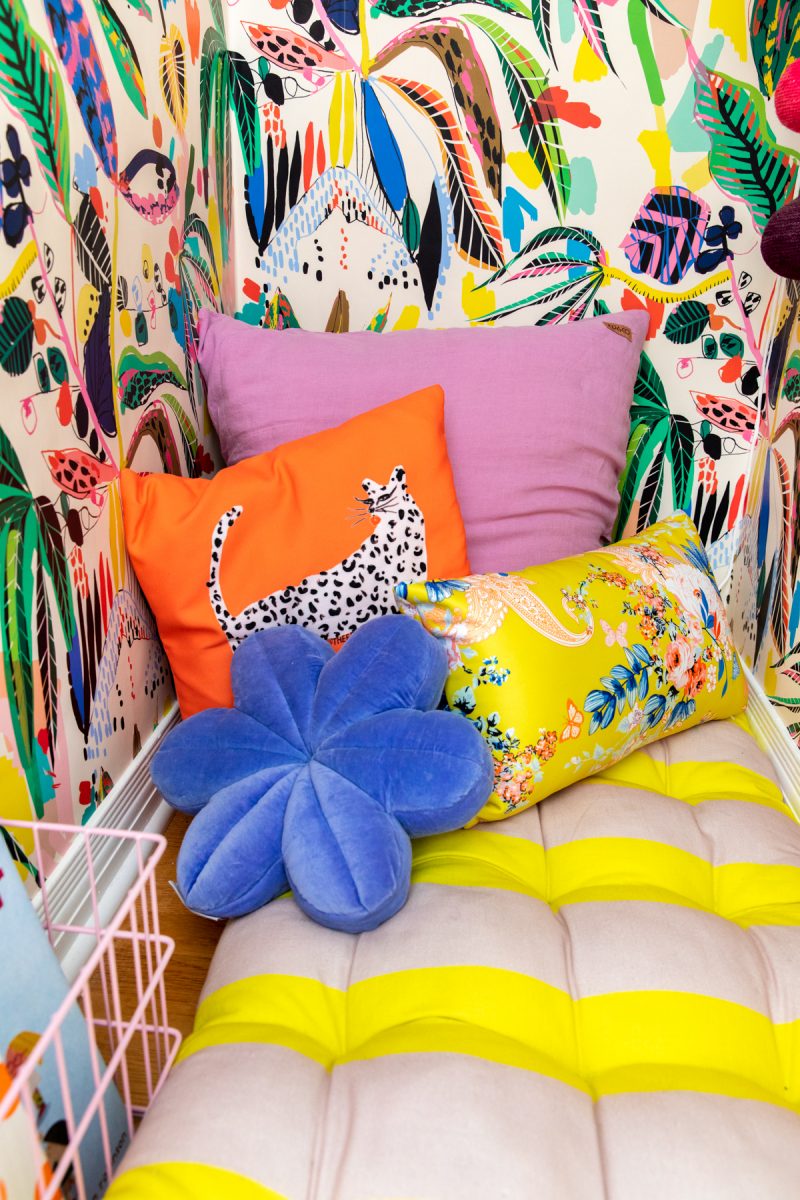 Making the Space Cozy
To make the space cozy, I decided to make a floor cushion that ran the length of the closet. It was super easy to sew and then I tufted it to add a little more visual interest to it.
On top of the floor cushion, I added a few other colorful pillows to lean on, and then a basket to keep some books in.
My original intention was to turn the 1930s shoe rack that was built into this space into a "dollhouse" of sorts but after realizing our needs for this space were changing, I ended up just using it to store blankets!
An Easy DIY Peg Rail
The space already had a wood beam holding up a large shelf and I decided to turn one of those into a peg rail. I found these screw-in pegs which made this process so easy.
A peg rail is great for hanging hats, garland and other decor items or baskets to fill with toys, clothing or other items!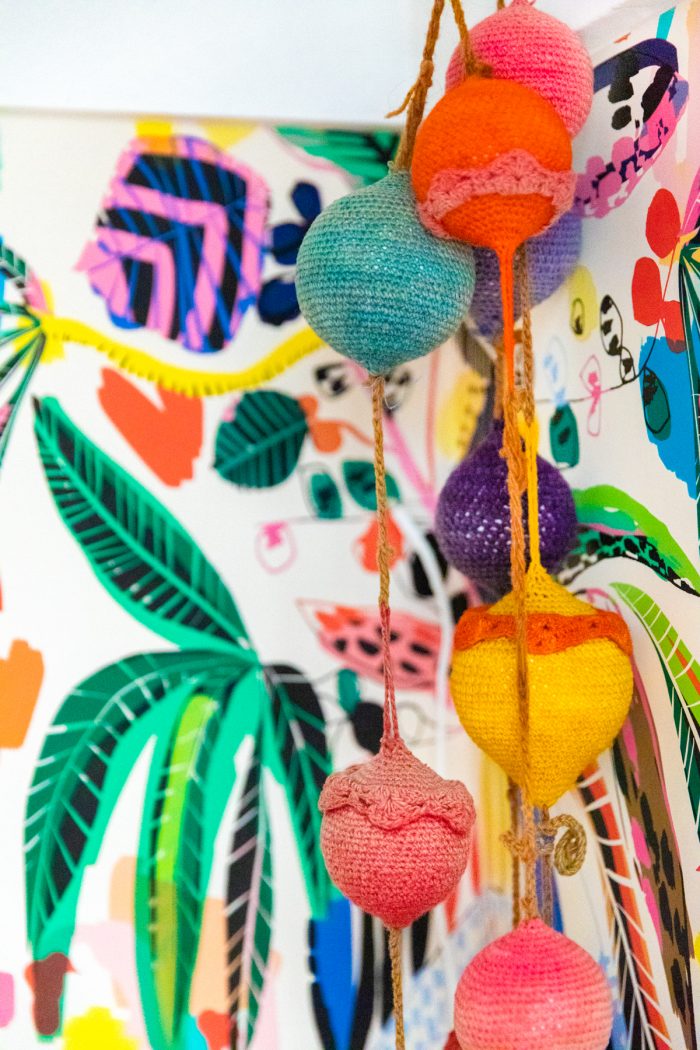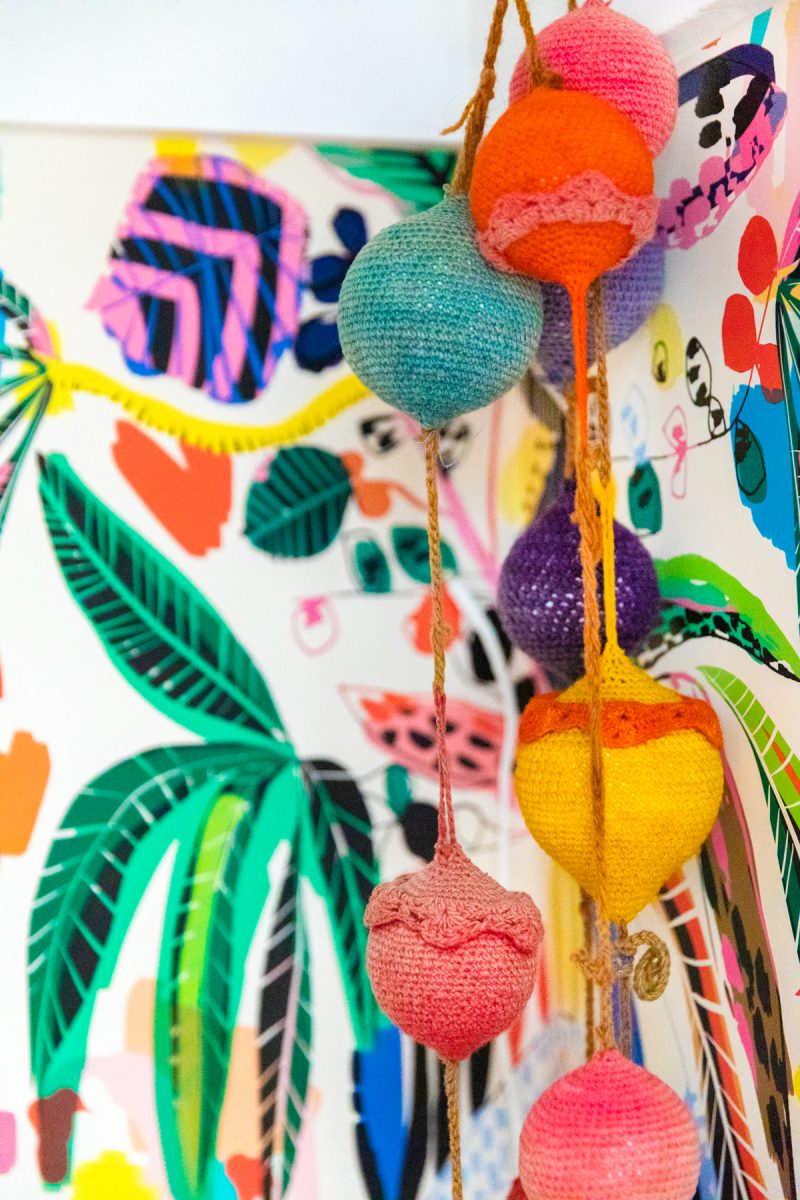 Photos by Jeff Mindell
I love how this space turned out, even if it was temporary. Luckily, 90% of the changes I made for this space still work and the others are being repurposed elsewhere in the house. See below for the full source list!
Sources
Colorful Wilderness Wallpaper
Custom Blue Sconce* (Mine is a mini version of the linked sconce!)
Leopard Pillow | Green Floral Pillow
Blue Flower Pillow & Purple Euro Pillow from Kip & Co (No longer available)
Custom Striped Fabric for Floor Cushion from Contrado
Pink Basket | Blanket (Hanging) | Toucan
Screw-in Pegs (To make the peg rail!)