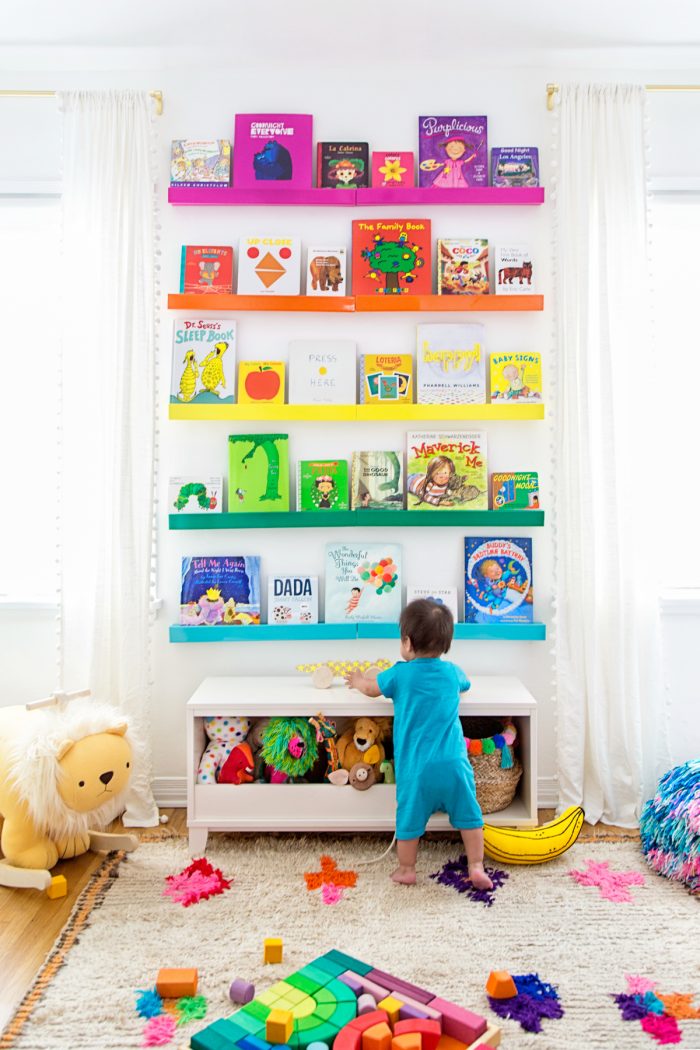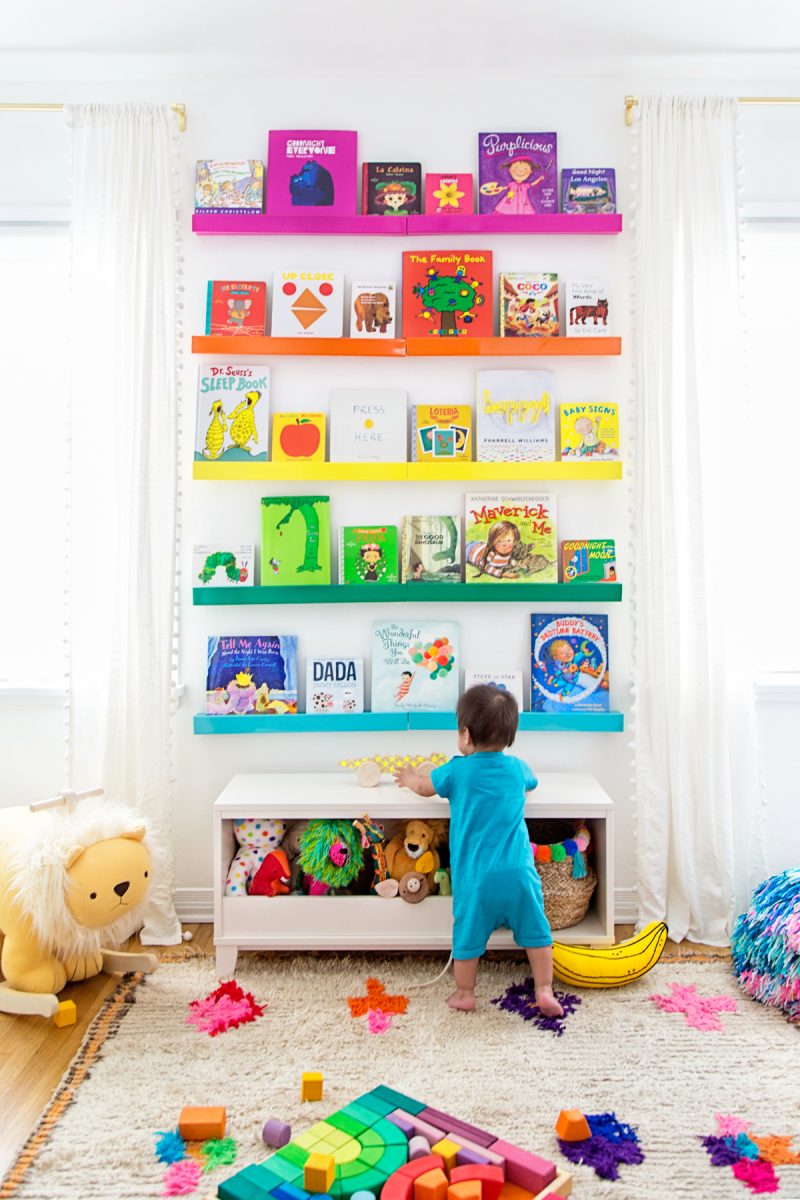 Color is so powerful in a room and especially in a child's room as they are learning about the world and exploring it every day. Rainbows are a symbol of joy, acceptance, and hope especially if you are having a rainbow baby.
A rainbow theme can come in all different styles. Bold and bright, or softer and muted. Depending on your style you might want to have a color explosion on every wall or take a few statement pieces to make your room pop!
This rainbow-themed nursery is based on my son's nursery. It's bright and full of inspiration, culture, and color. Continue reading because ALL the details are down below in case you are looking for rainbow nursery ideas or inspiration for your own room!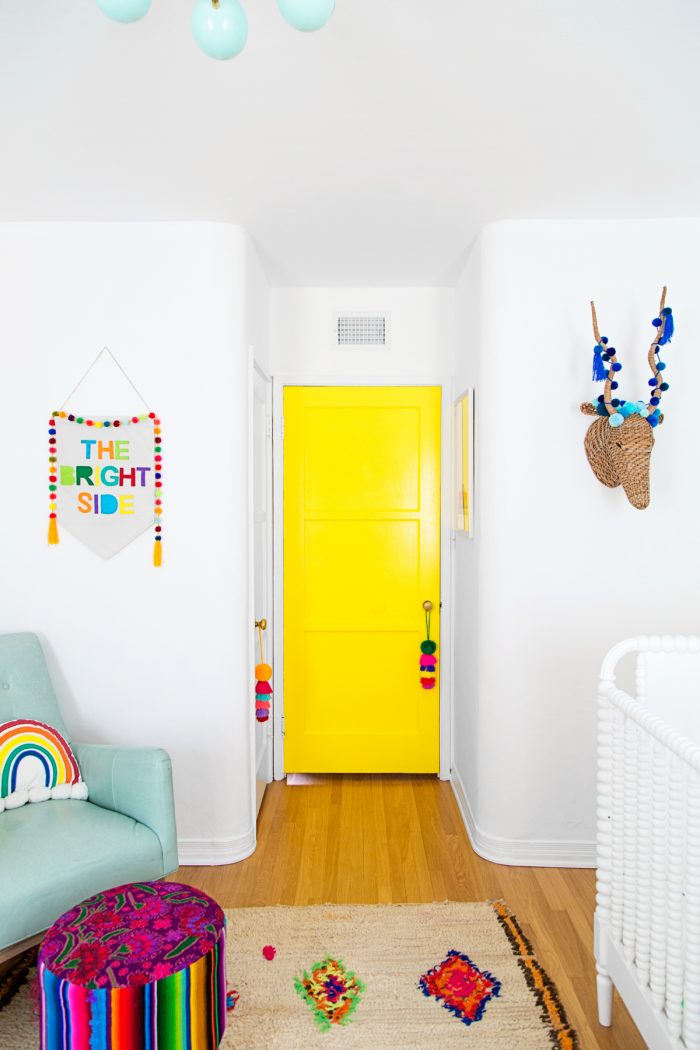 To start off, I painted the walls in bright white from Dunn Edwards so they'll be a blank canvas for all the colors I wanted to add. The door is this lovely bright yellow in the color "highlighter" also from Dunn Edwards. This color brings so much warmth and cheerfulness to this colorful nursery.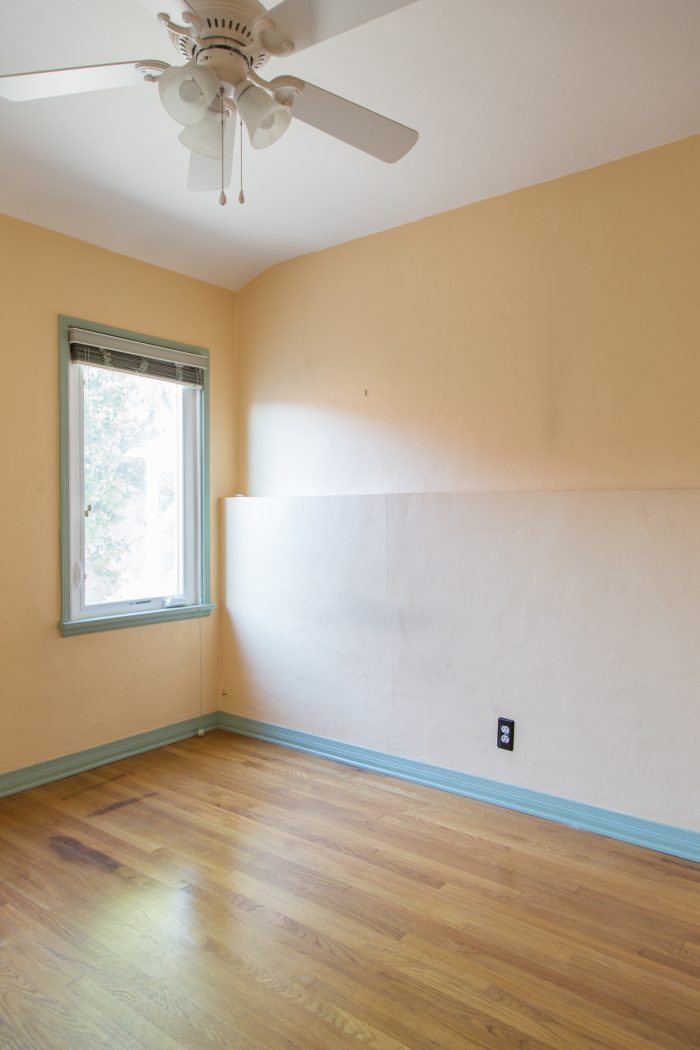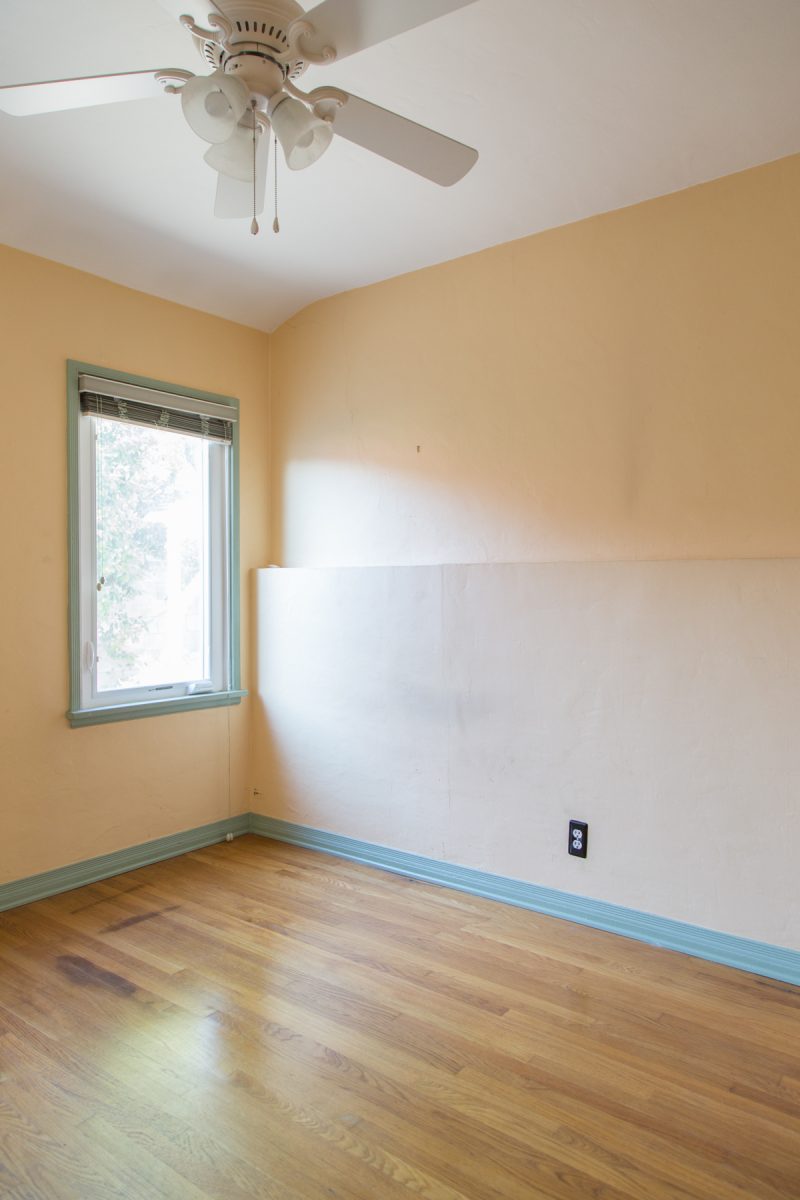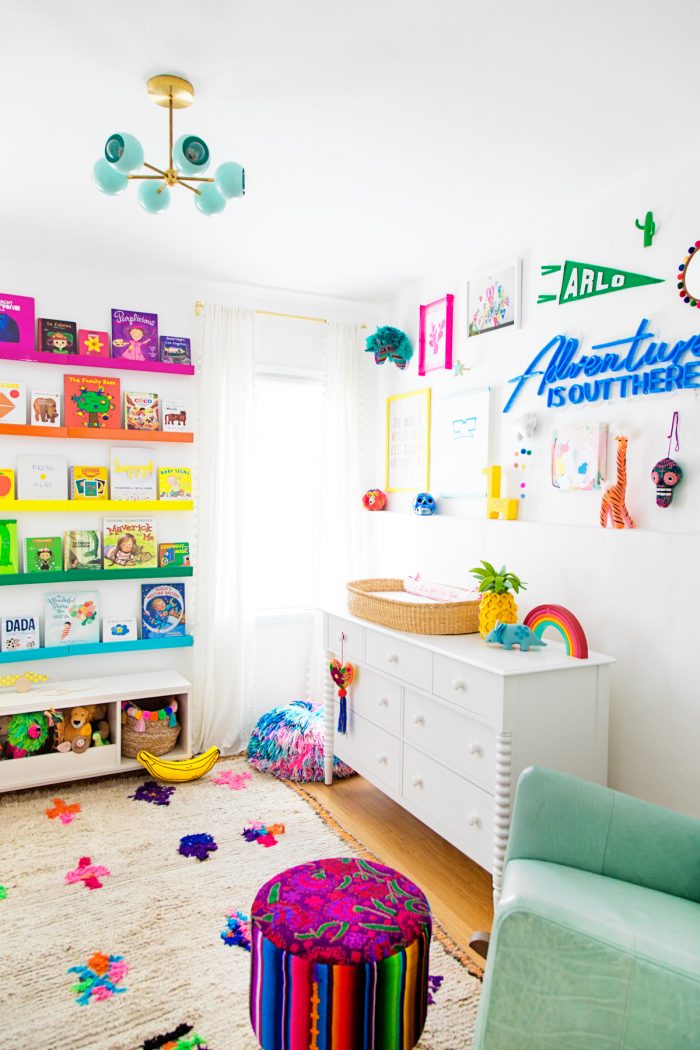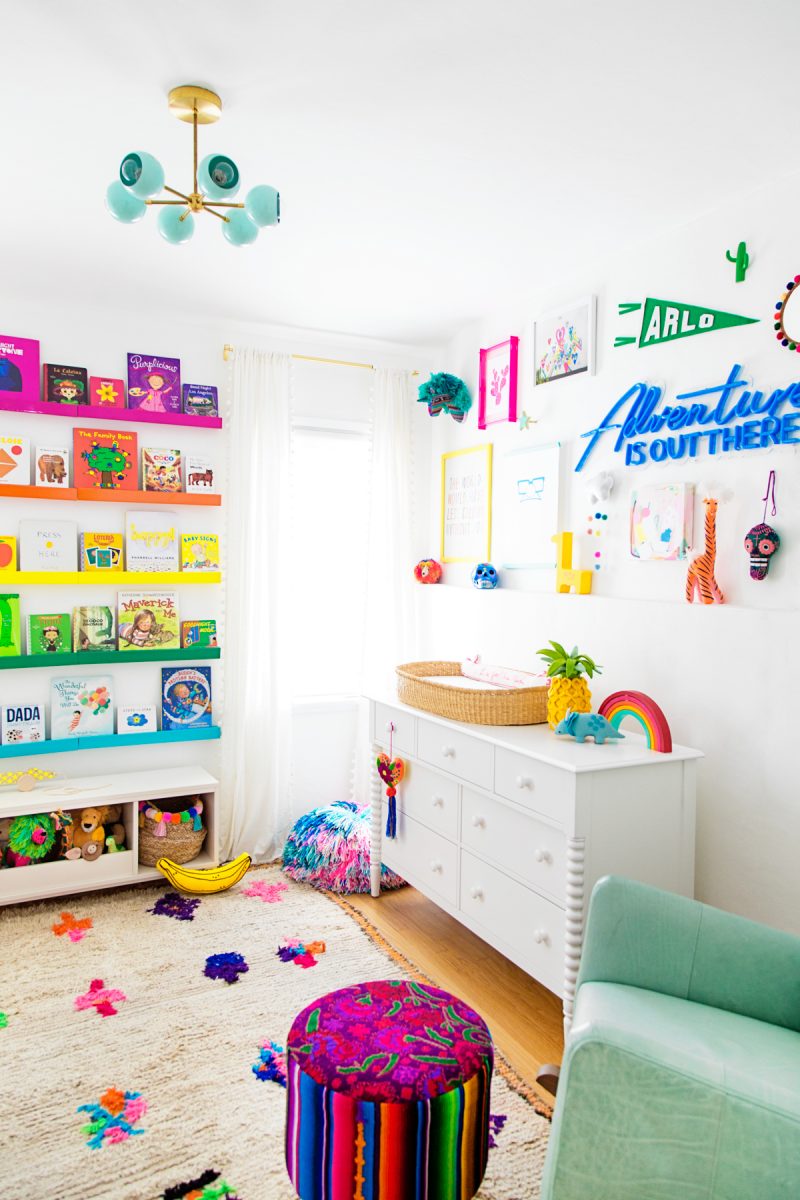 How do I set up the perfect nursery?
The "perfect" nursery is the one that will fit you and your baby's needs the best!
If you are working with a smaller room, I wouldn't try to fill it up with too much furniture or decor. Instead, leave the room as open as possible so it can feel spacious then include a few decor pieces to a add fun colorful touch!
On the other hand, if your room is larger, plan out how you want everything to be laid out and the items you want to include. A nursery mood board is great for that! Then start with the must-have furniture pieces and slowly add your favorite decorative touches until you're satisfied!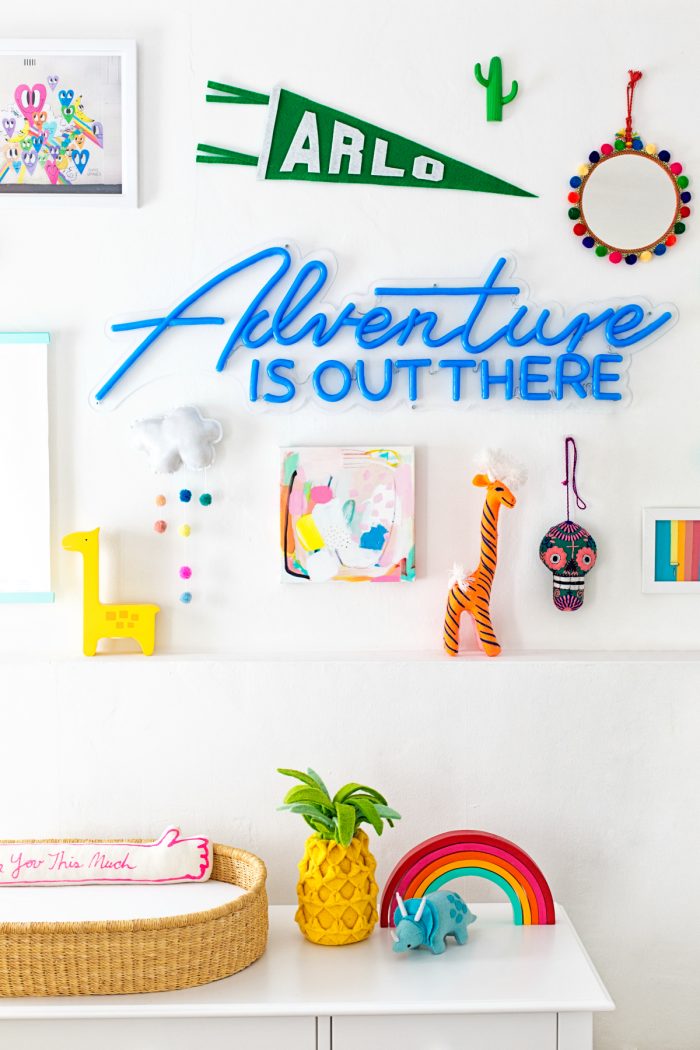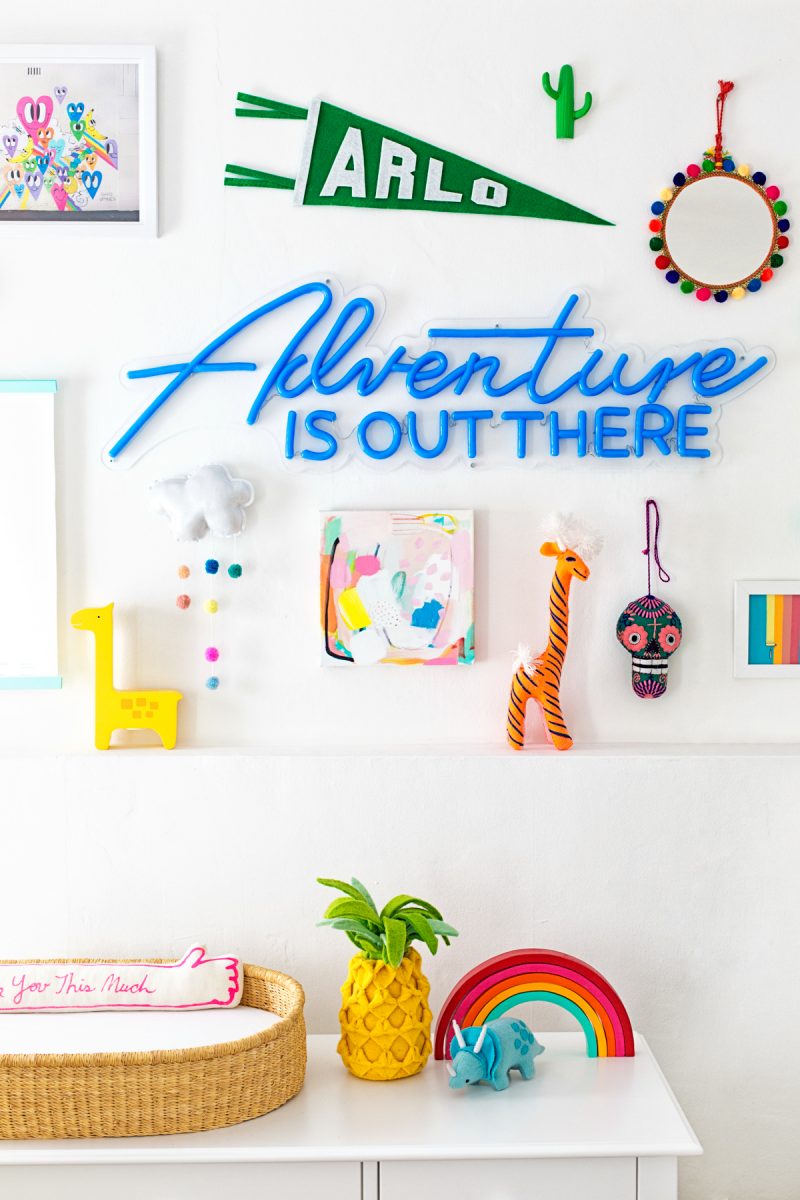 Rainbow Art
Art and gallery walls are a great way to add color to a room and include sentimental pieces you've been collecting. You can use many colors and styles but try to repeat colors at least once to help tie everything together.
I have an entire guide on how to select and layout a gallery wall if you'd like more tips. In a kids room, it can be fun to center a gallery wall around a custom neon light like the one you see above!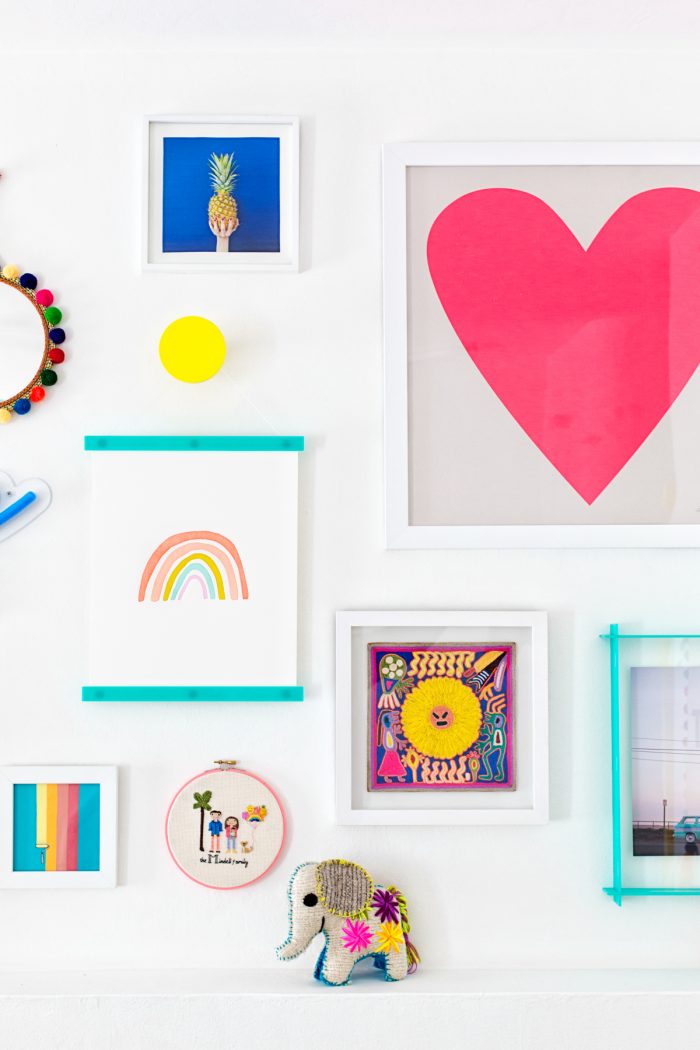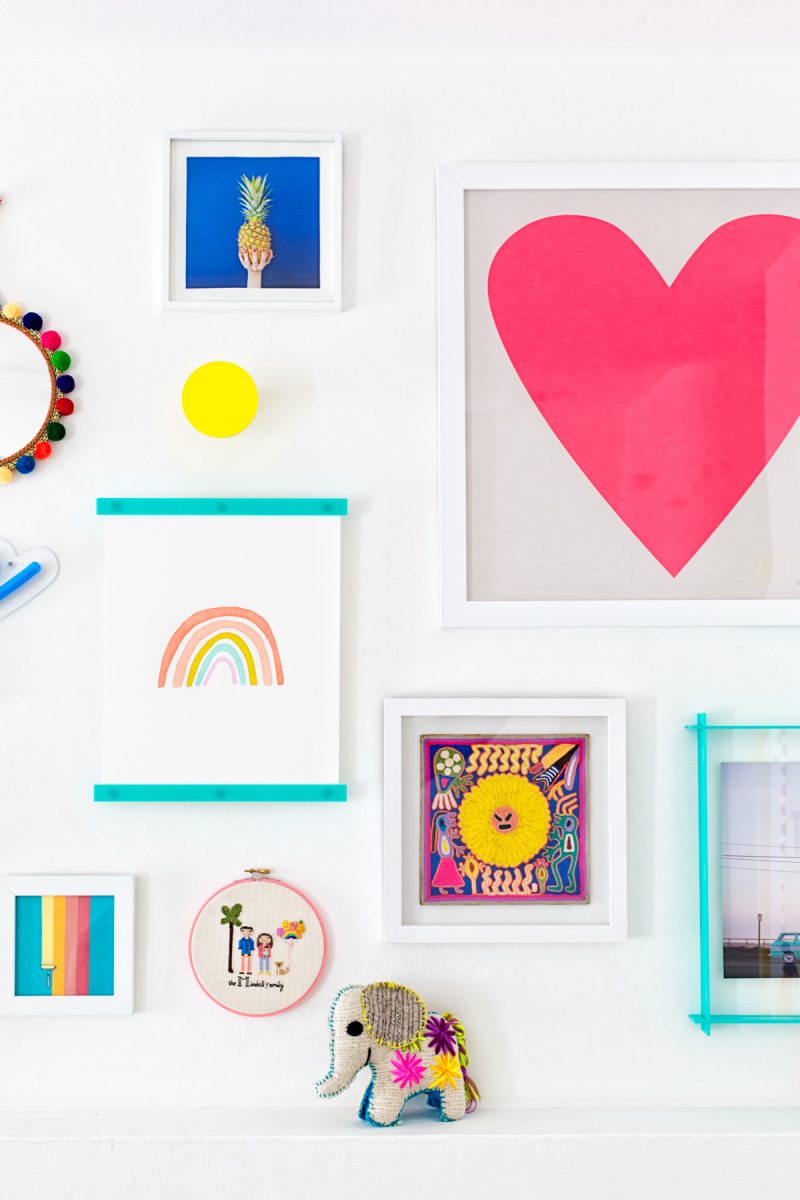 Other ideas for your rainbow gallery or accent wall would be this rainbow wallpaper, Rainbow Watercolor Dots Wall Decal, your favorite art prints, tapestries, or personal sewing projects. If you are feeling extra crafty, create a rainbow photo collage or paint a Rainbow Stripe Wall with my tutorial.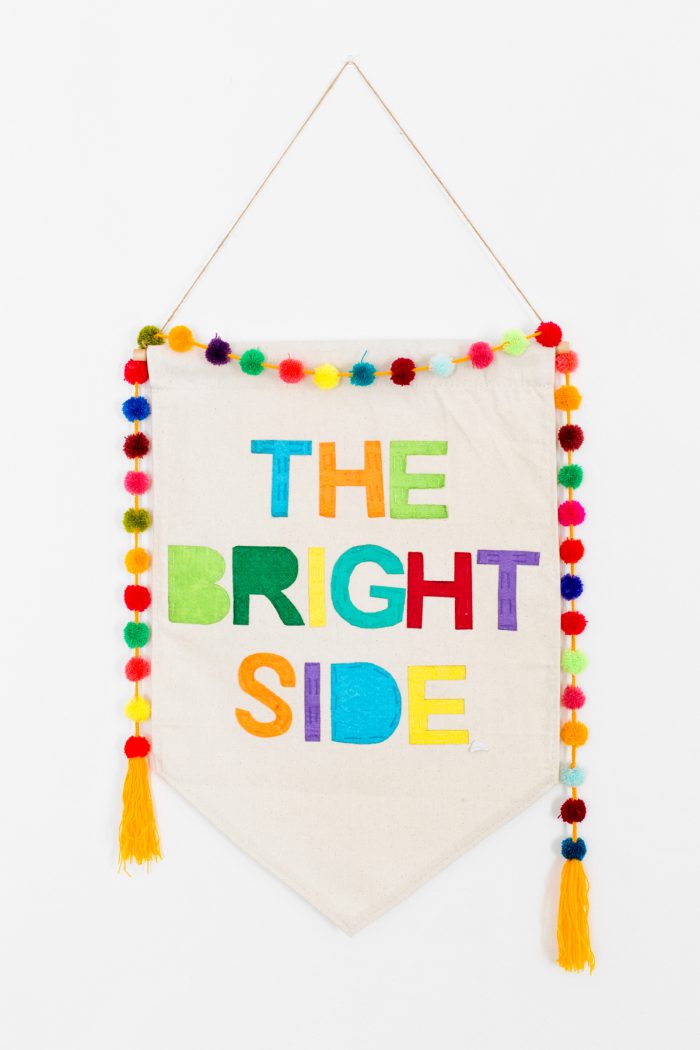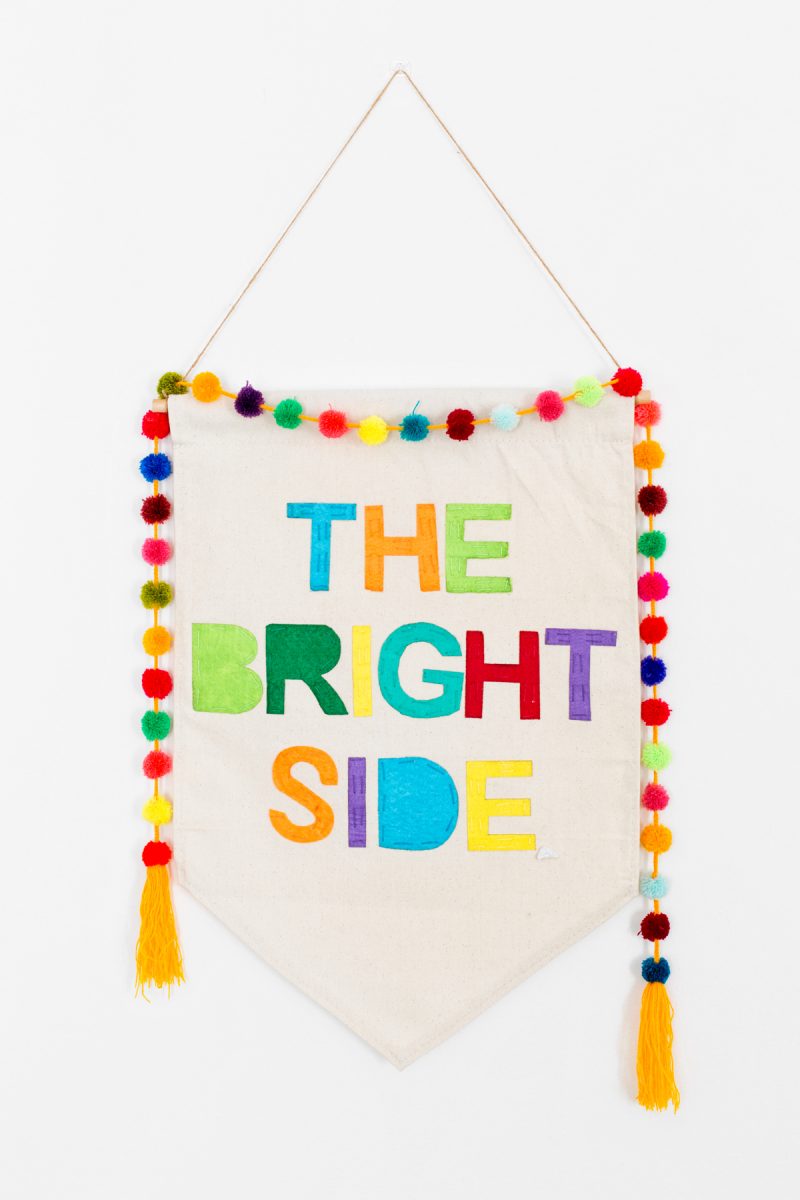 Rainbow Bookshelves
Children's books come in every color of the rainbow, and building up a collection allows you to have a library of books to read with your little one and fill up your walls with color!
Rainbow bookshelves can by DIY'd with my tutorial or you can buy them already made.
Once you have them up, sort out and organize your books by color. You can even, eventually, swap in holiday books during each season!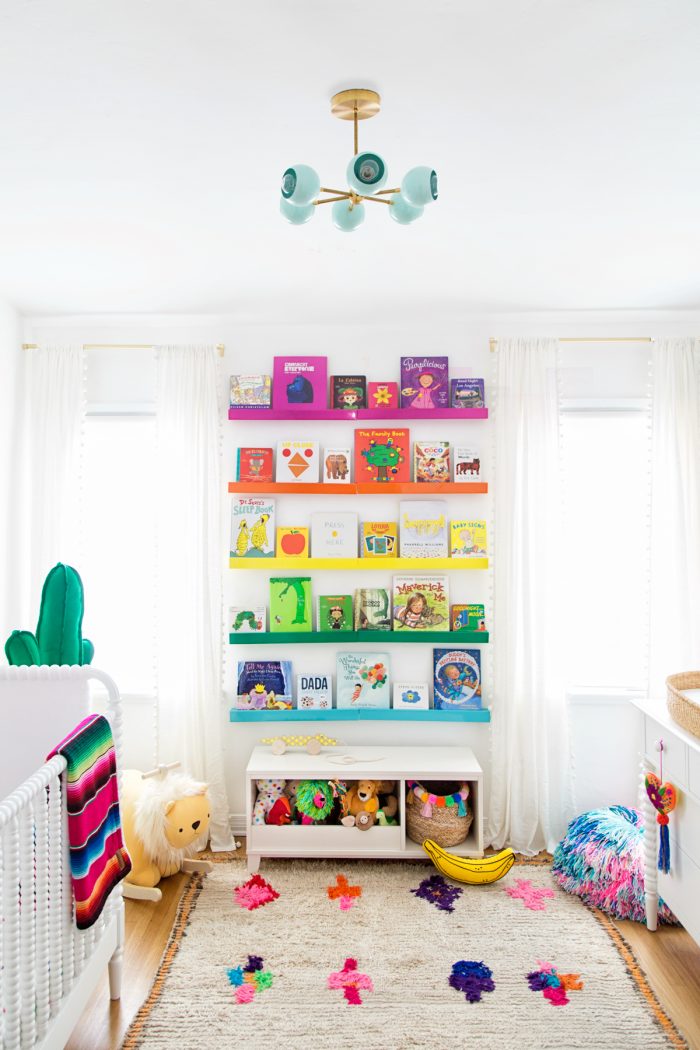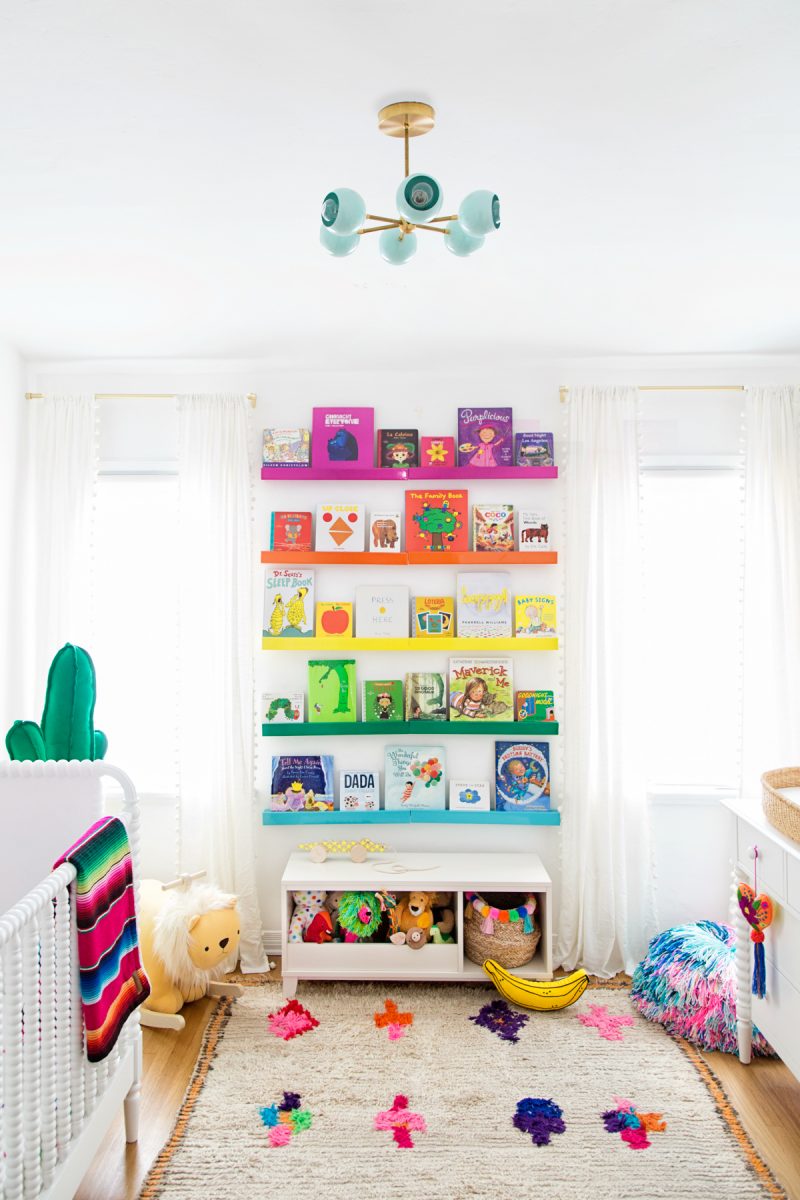 Check out all our favorite books for kids, by age!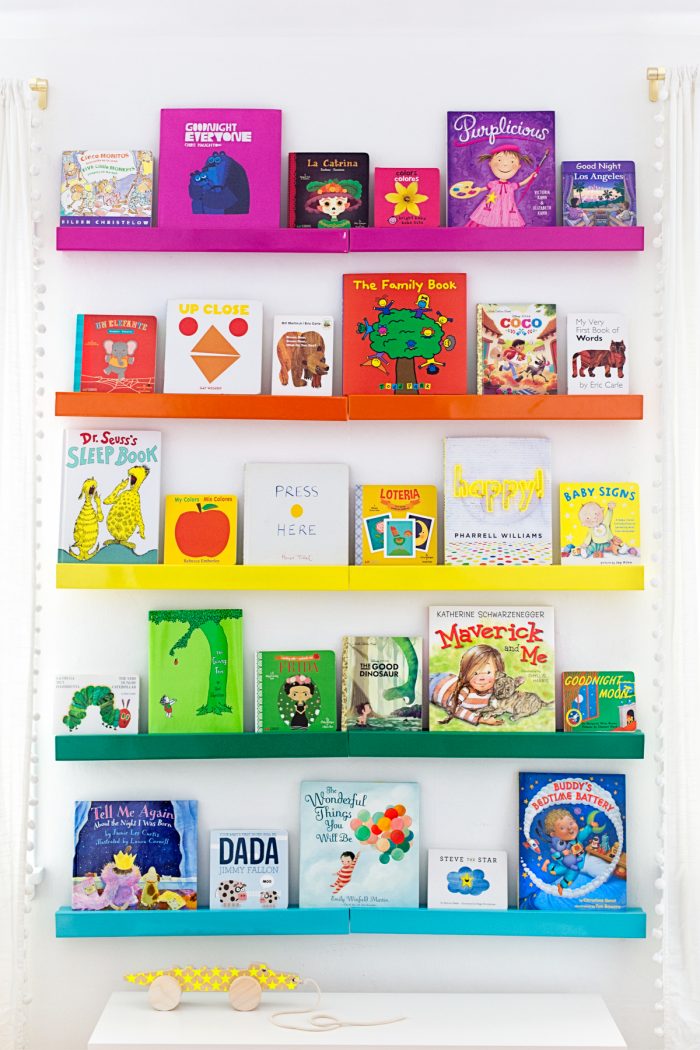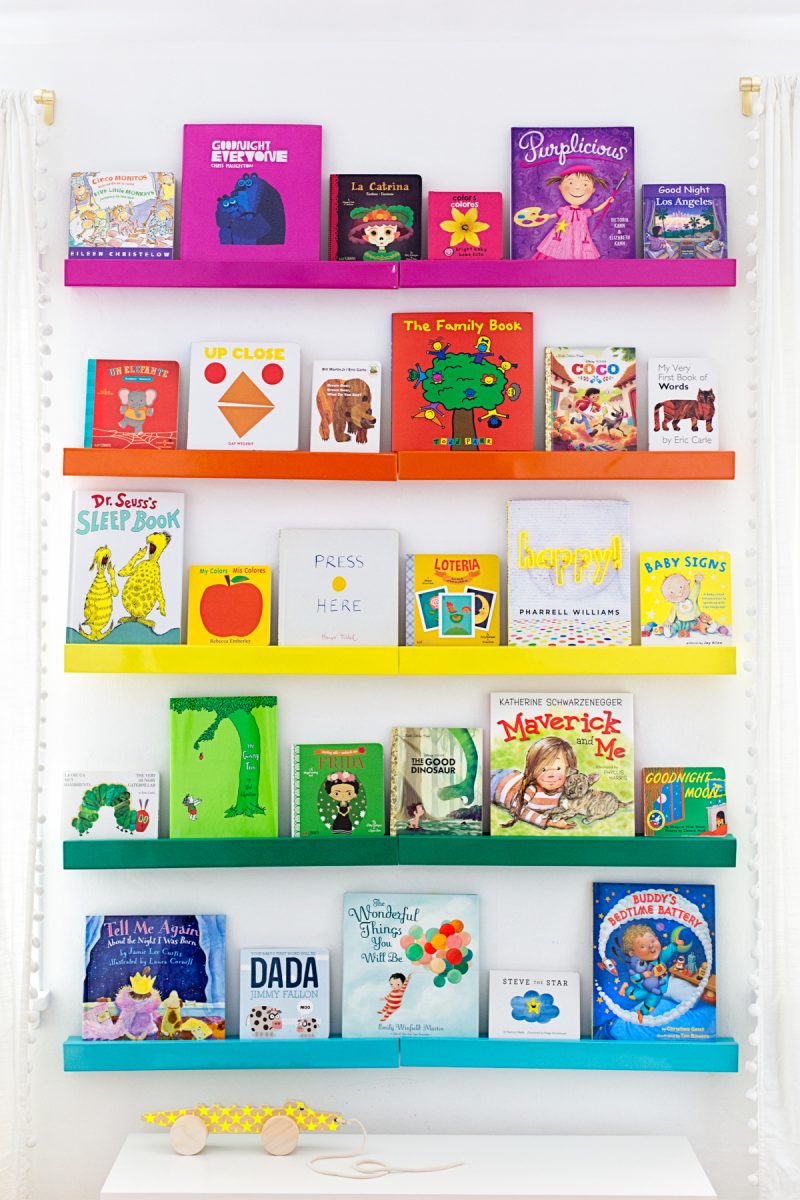 What kind of furniture should you put in a rainbow nursery?
In terms of furniture, I would say larger pieces like dressers in white or neutral colors would be the best. This allows the other colors and decor items that you are using to really pop in the room!
One or two pieces of smaller and colorful furniture like a chair, footstool, or area rug can act as accent pieces in the room. The white furniture will help ground the space without it being too overwhelming.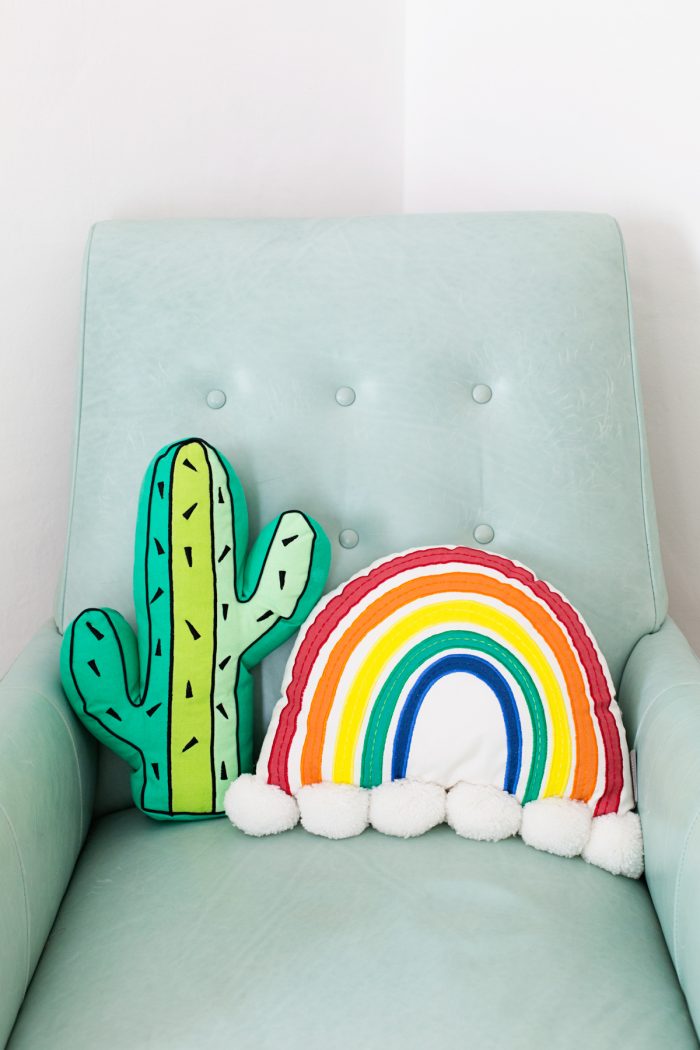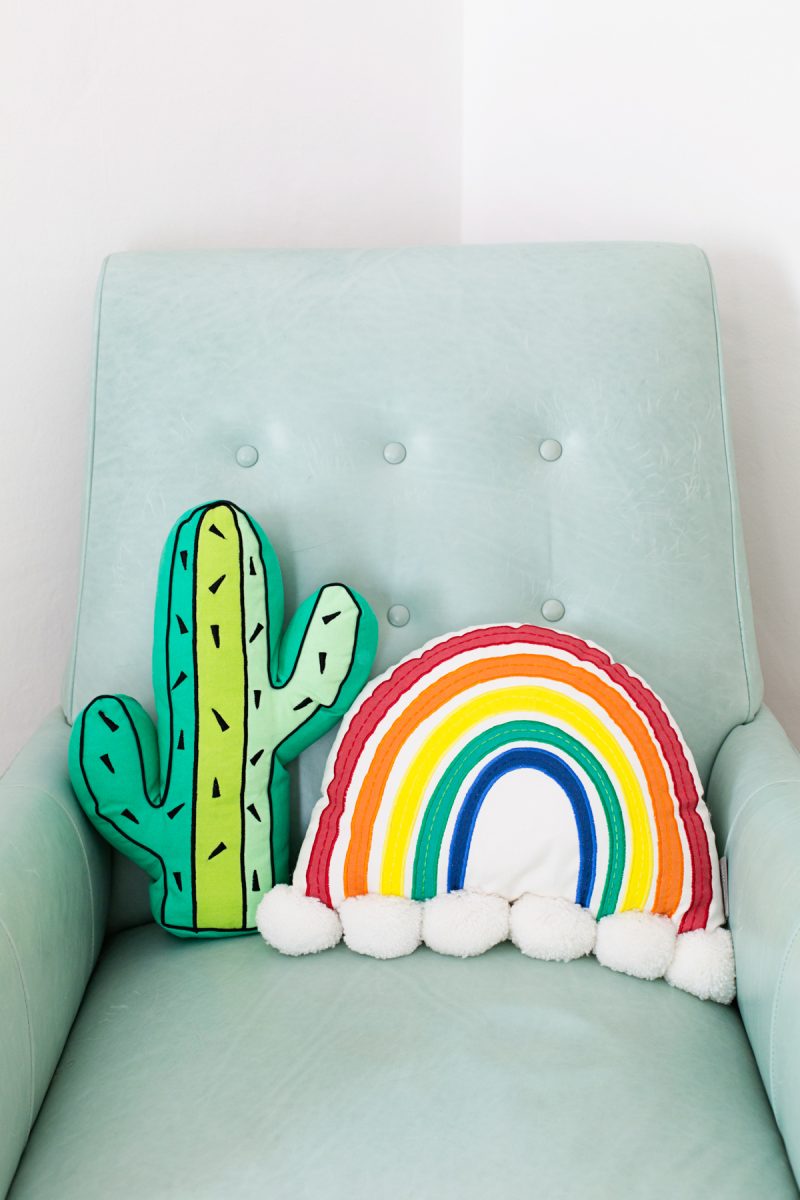 A mint green rocking chair has a lovely color to contrast the bold rainbow colors used elsewhere. Quality pieces are the best to use in your nursery because they will be able to hold up well as your child get bigger or they can be passed down and used in nurseries for other children, or other rooms in your house too.
If you want more information on how to turn this rainbow nursery into a big kid room, check out this guide!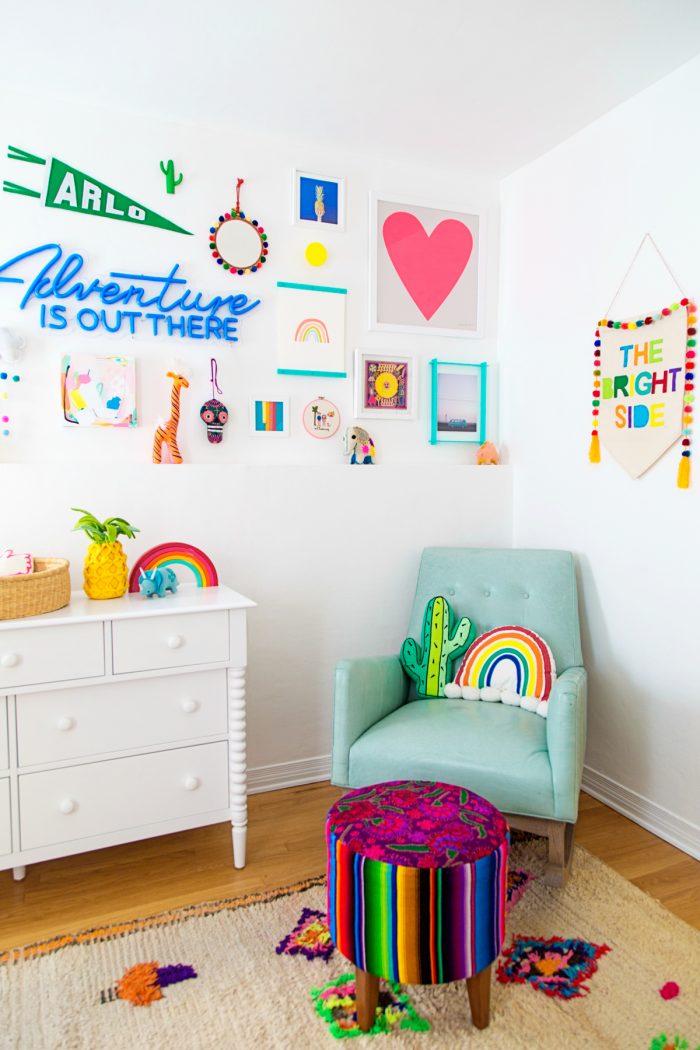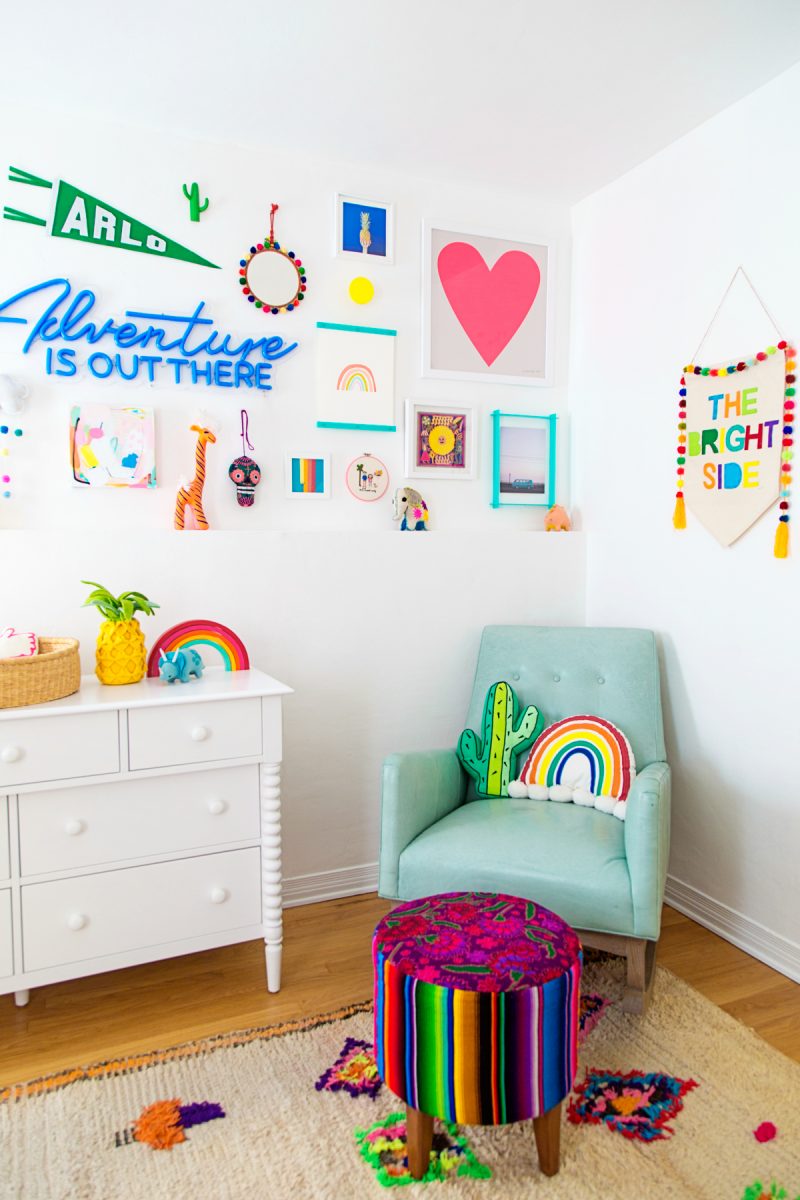 I paired the rocking chair with a colorful footstool which was made from vibrant Guatemalan and Mexican textiles. Furniture pieces are a great way to add a touch of your family's culture to your child's nursery in an organic way.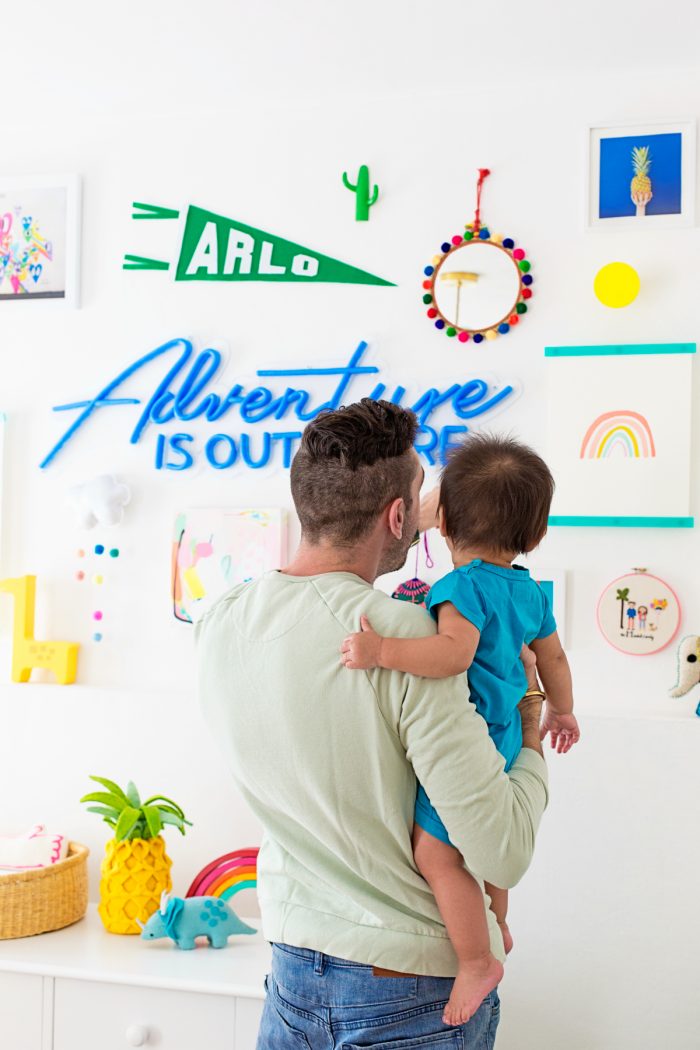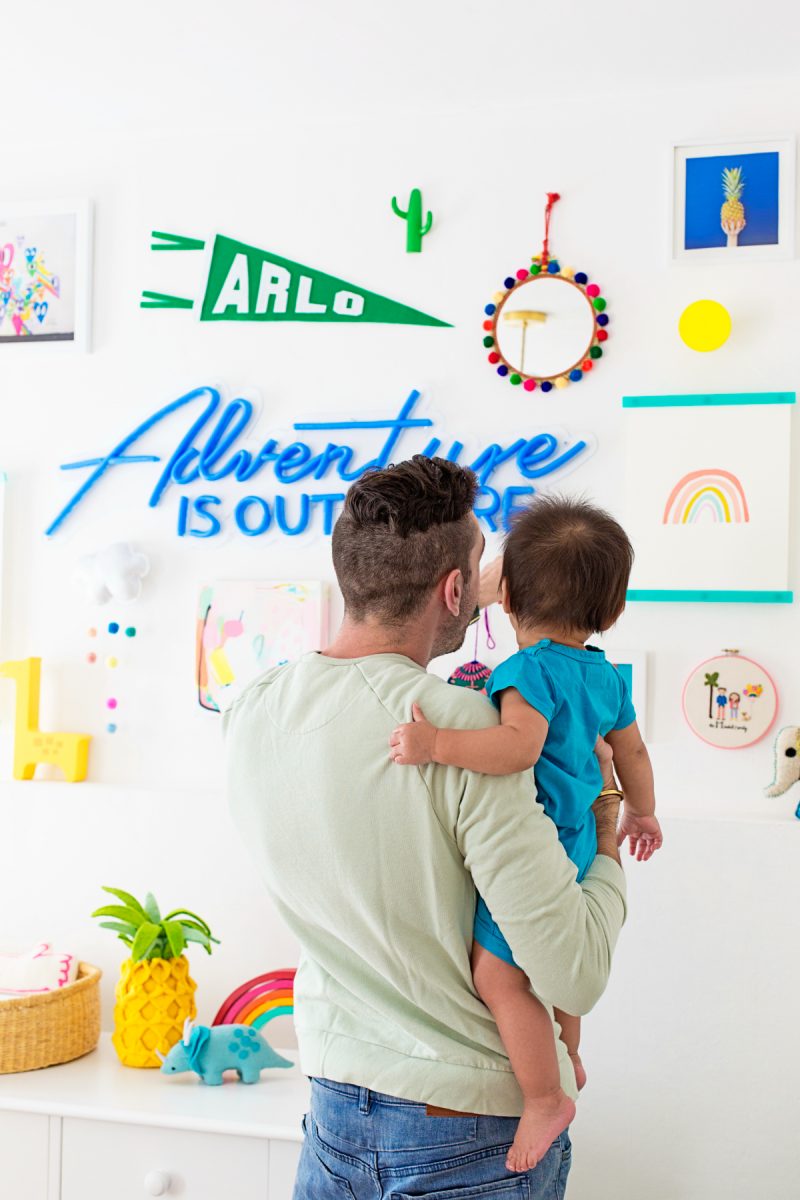 Should you get a changing table or dresser?
It would be a good idea to grab a dresser over a changing table, because not only can it grow with your child but it gives you extra storage room as well, which is always a plus!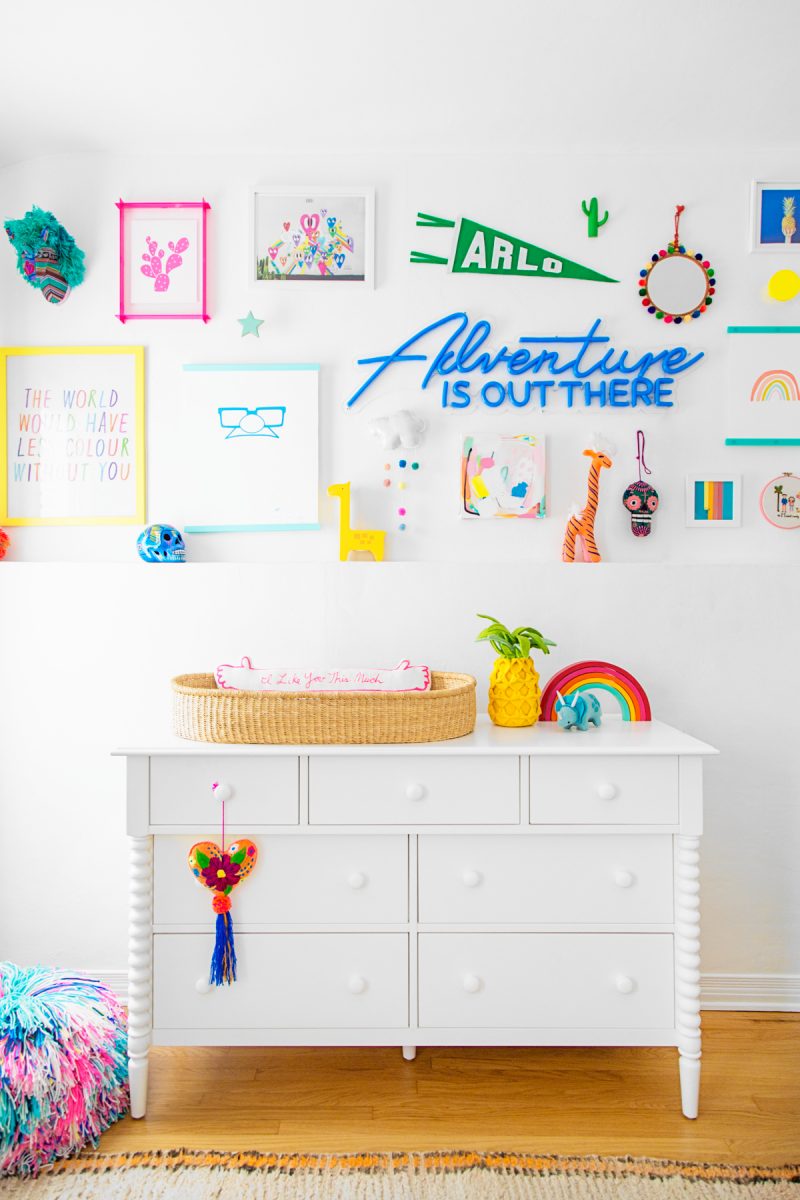 You can place it under your gallery wall so they can look up at the art and play with stuffed animals. I have this Jenny Lind dresser and I love how whimsical it is!!!! (And it fits a lot!) However, if you need extra space, this stackable storage bench is also great for books and toy storage.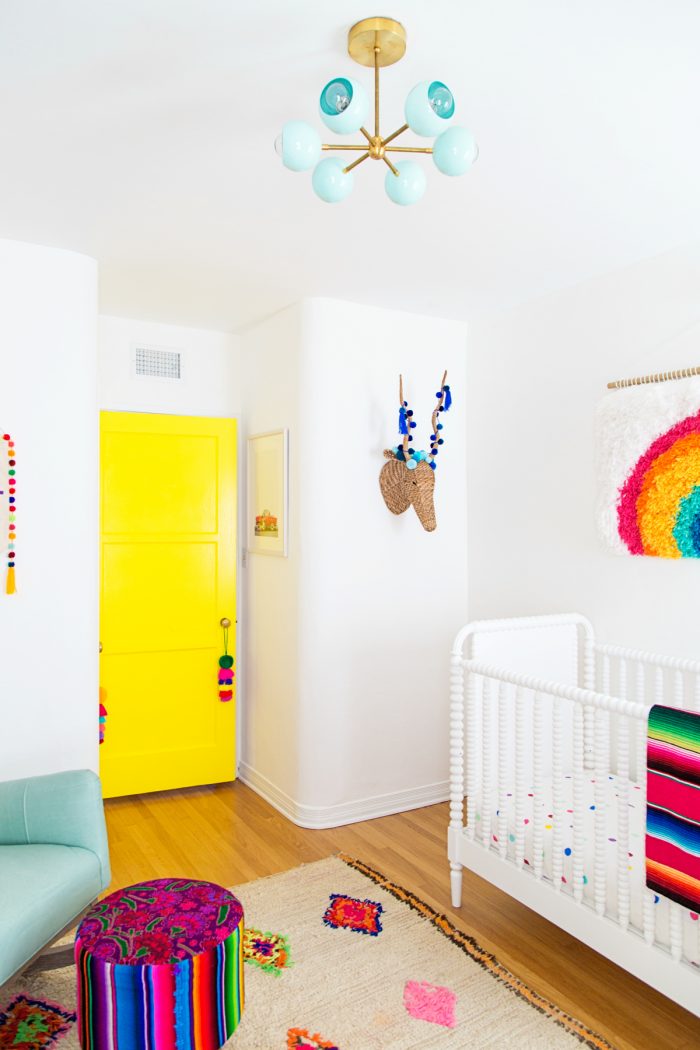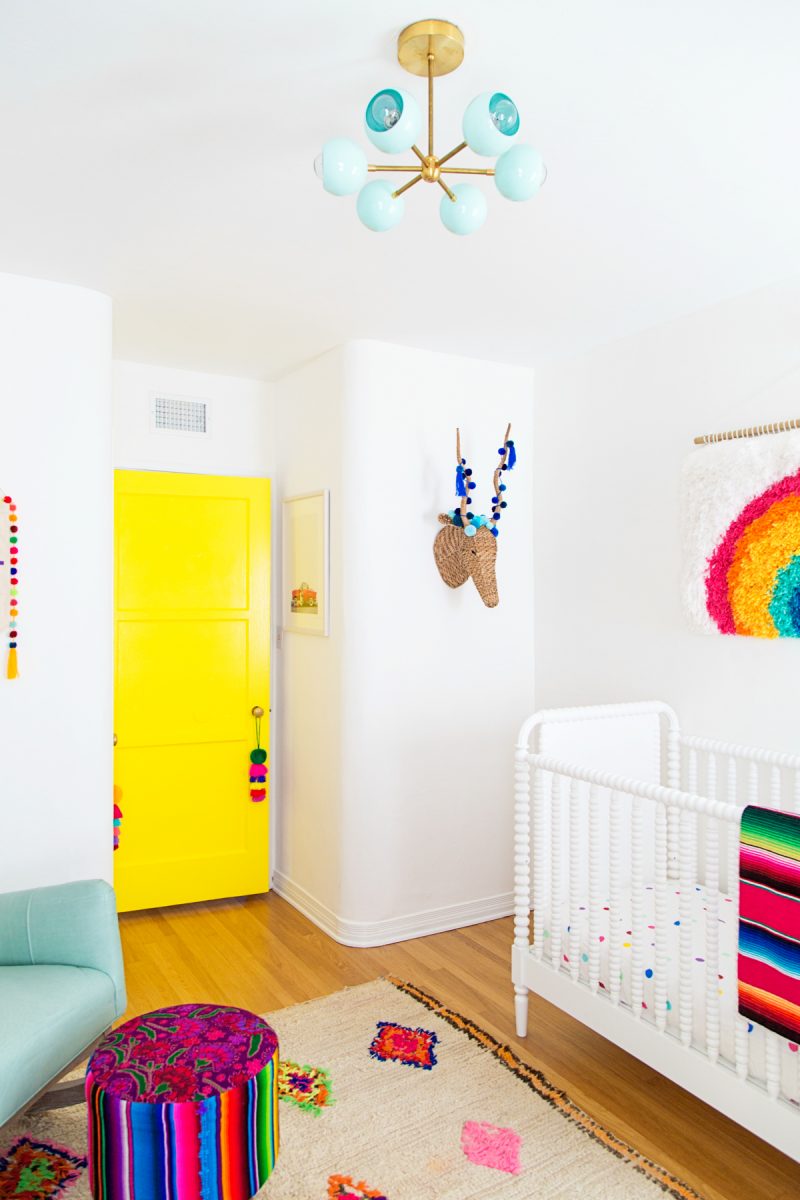 A great way to add color is with accessories or charms hung on the drawers or with stuffed animals or toys.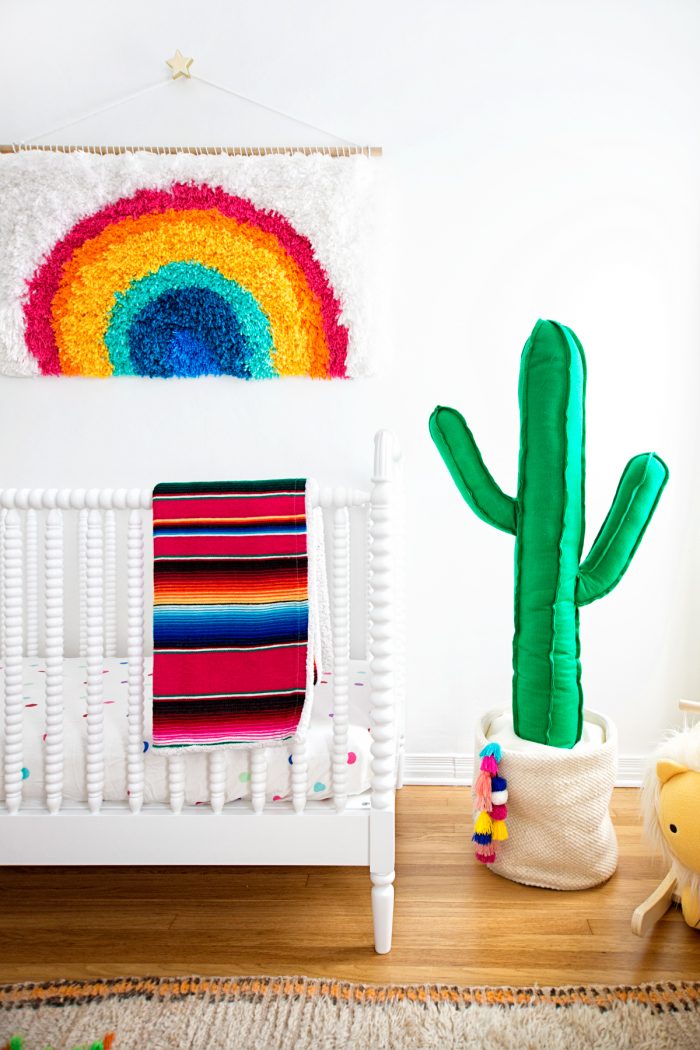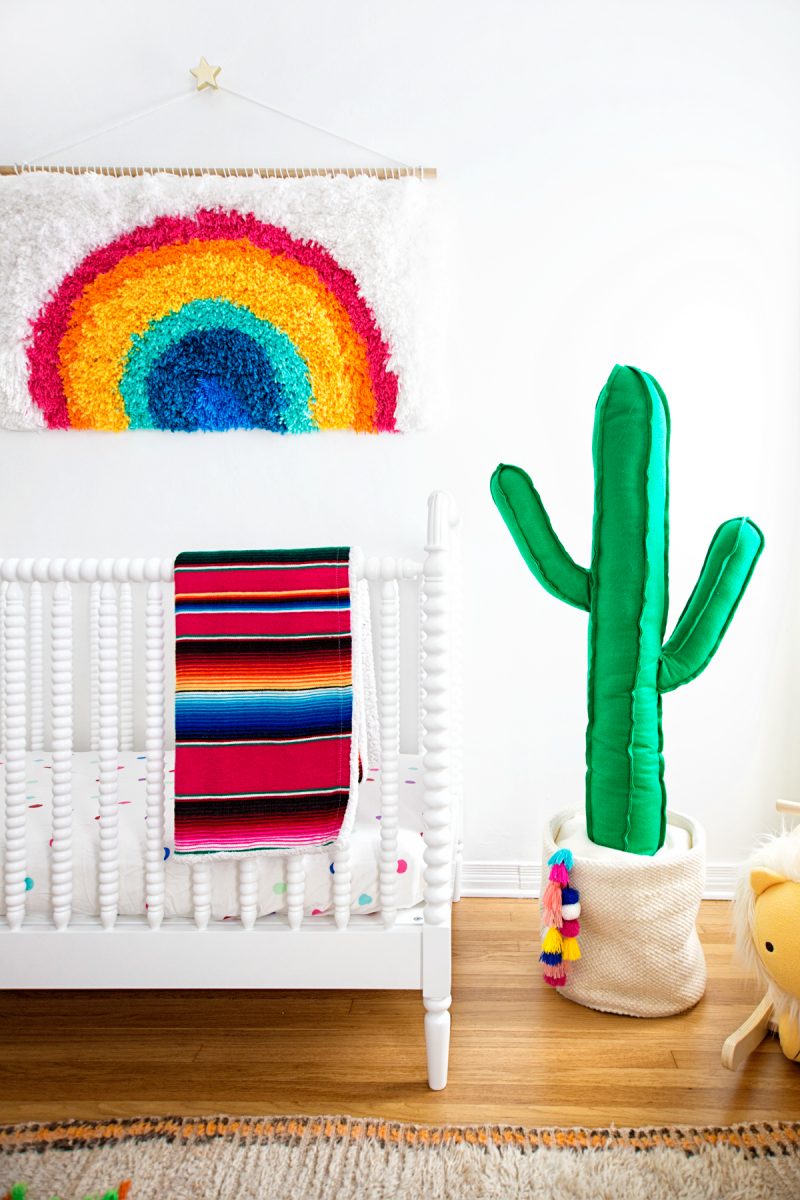 Rainbow bedding
Speaking of dressers, let's talk bedding. Depending on your color scheme you might want a colorful sheet set or blanket or you might gravitate to something more neutral-toned. Either way, bedding can be another great opportunity to add color and warmth to your nursery.
Colorful sheets really pop against a classic white crib! Ours is fitted with an Organic Mattress we love and an Organic Mattress Pad (a must-have)!
Rainbow decor and DIY ideas
Nurseries are a great way to incorporate your favorite DIY projects or make new ones to fit the space!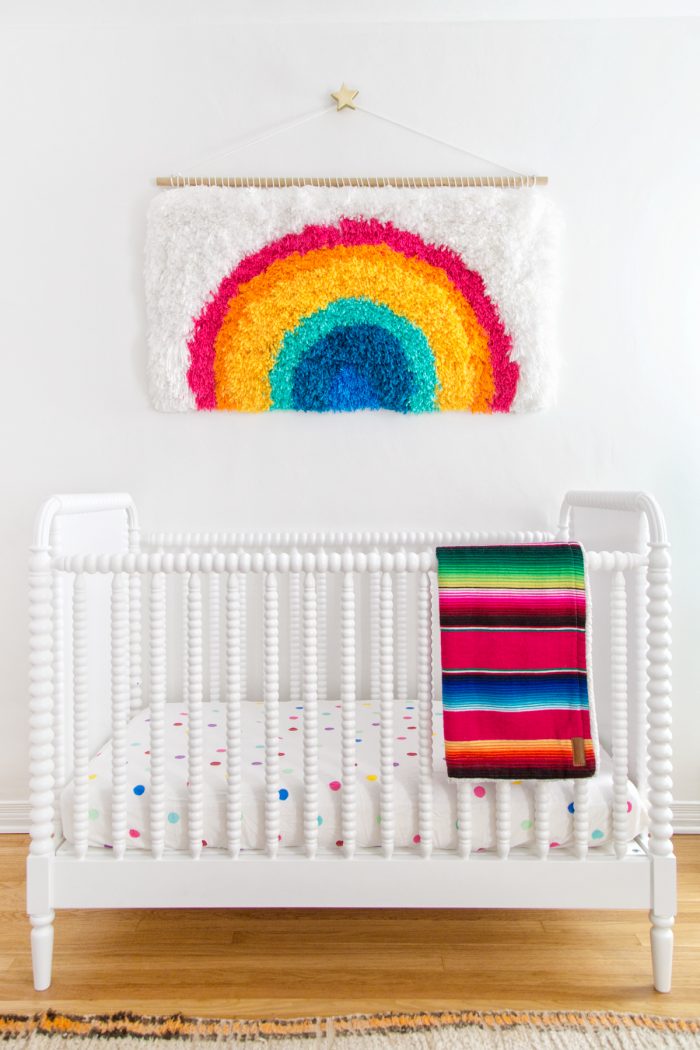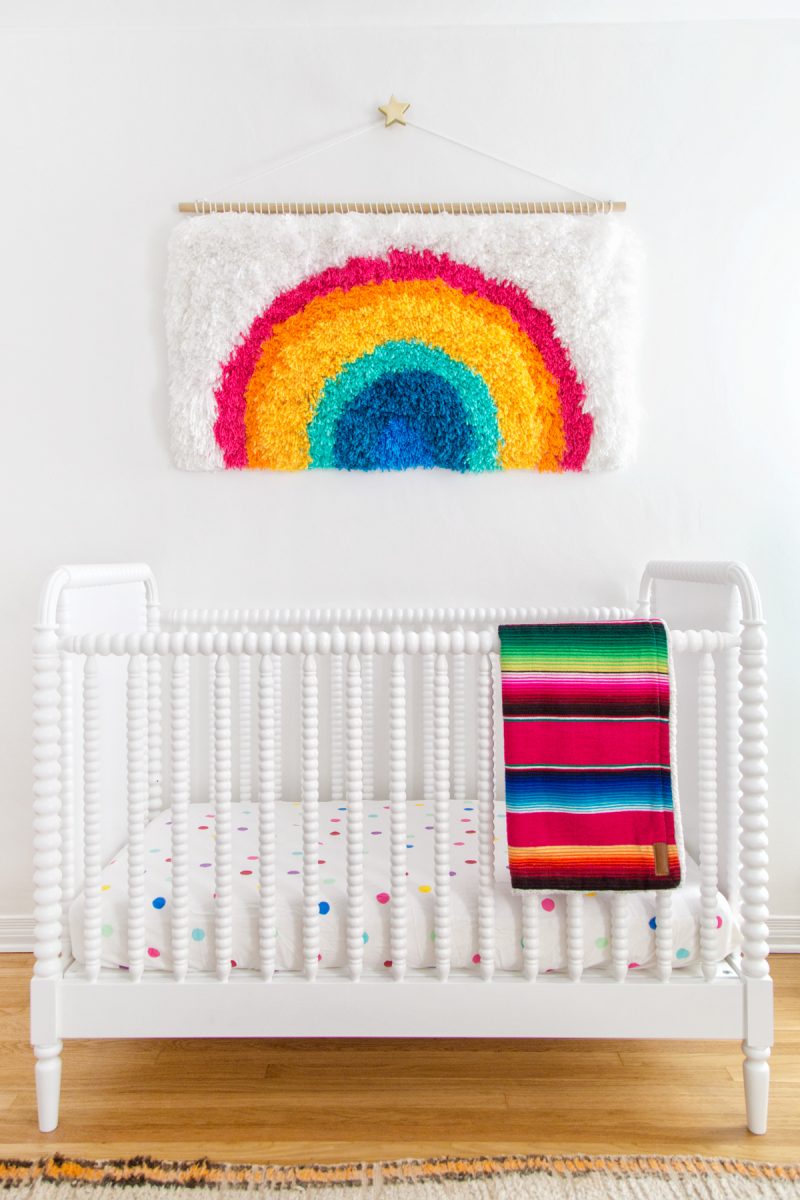 A few of my favorite nursery DIY projects are this Rainbow Latch Hook. This is great for a rainbow nursery because it is soft and textural.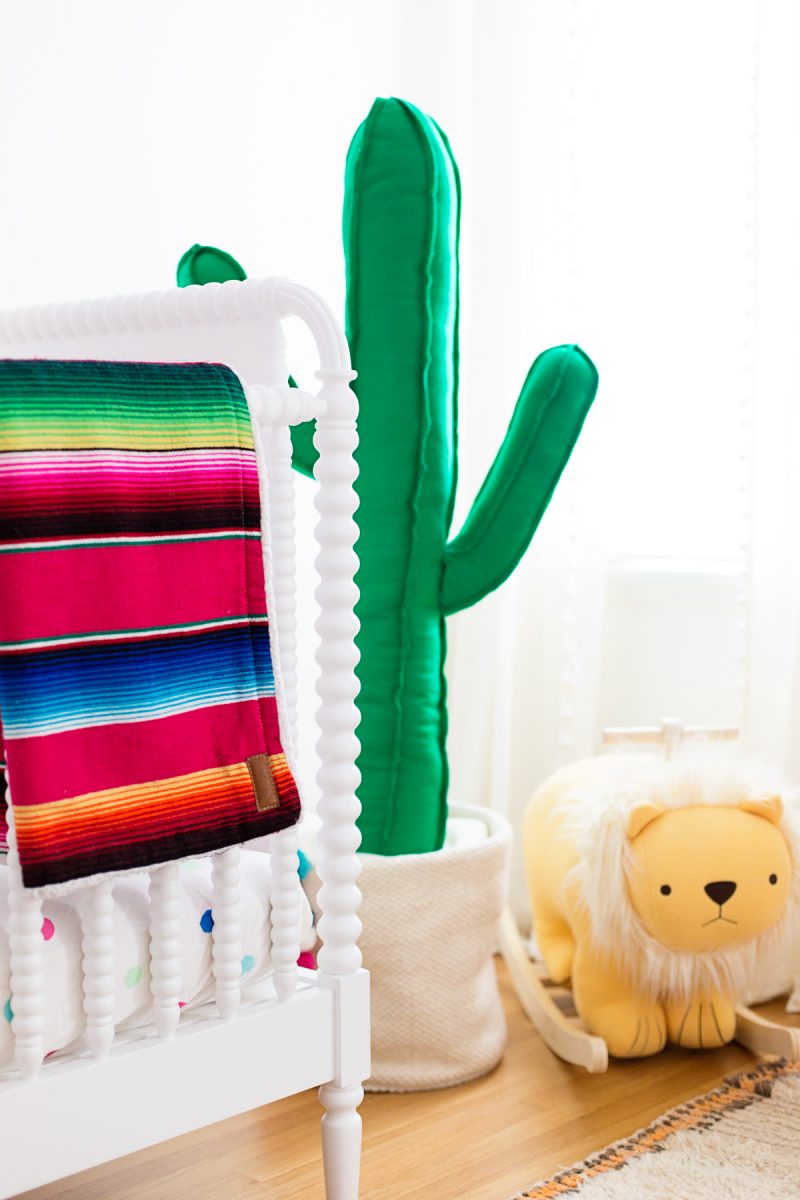 A No-Weave Wall Hanging hung up high or a Giant 5-foot Plush Cactus are good large-scale pieces to fill any empty wall space where it just needs a little pop of color!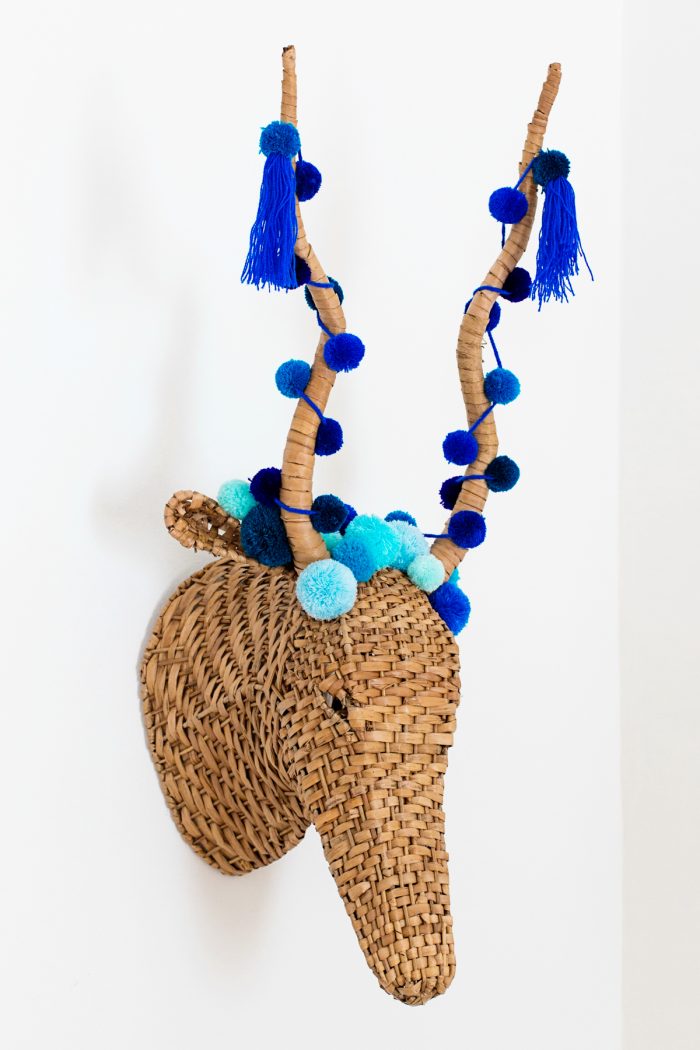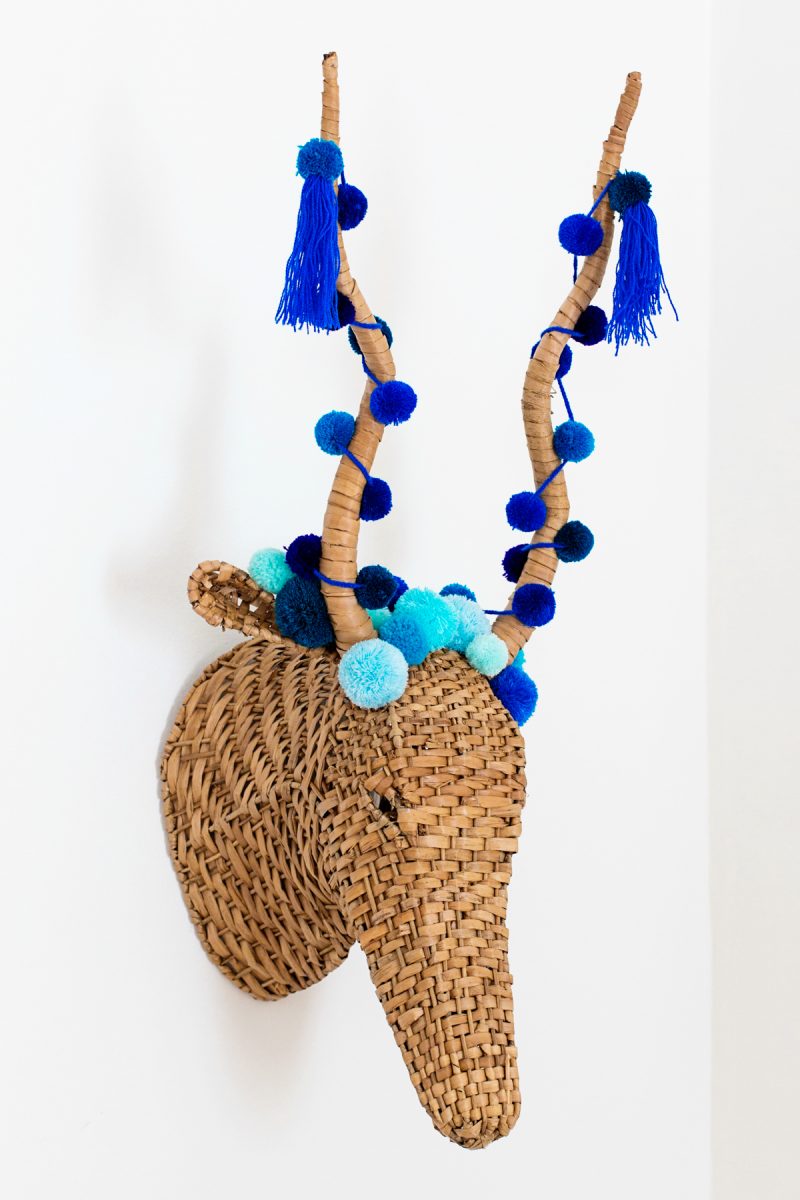 In this nursery, I used a rattan animal head to tie the other natural elements like the changing basket together. You can add a pom-pom crown and garland for an added pop of color!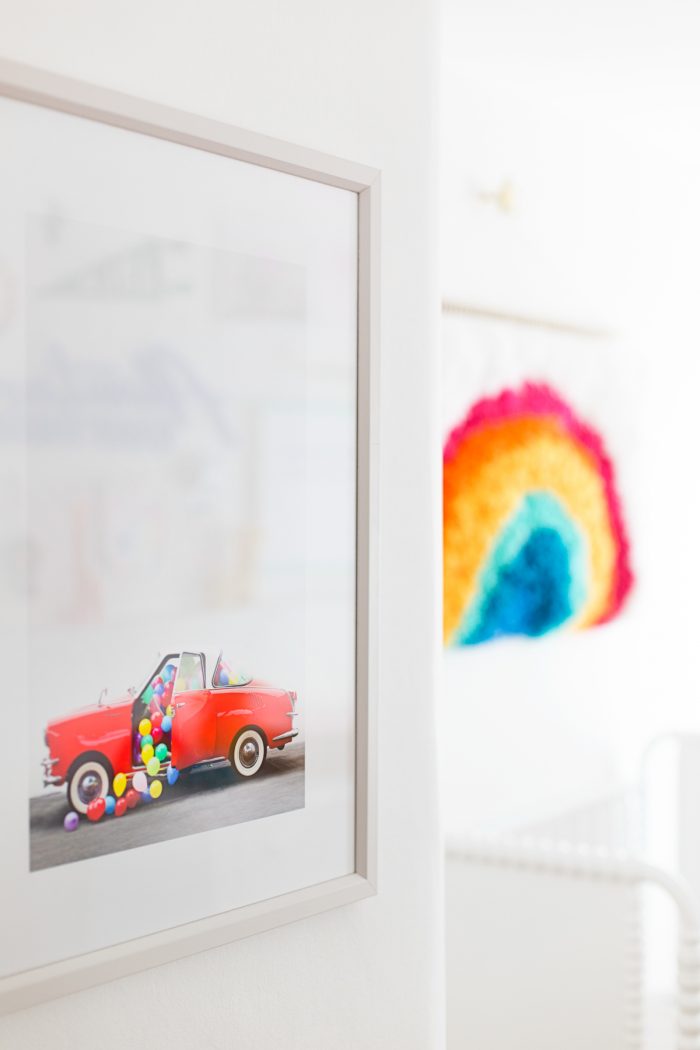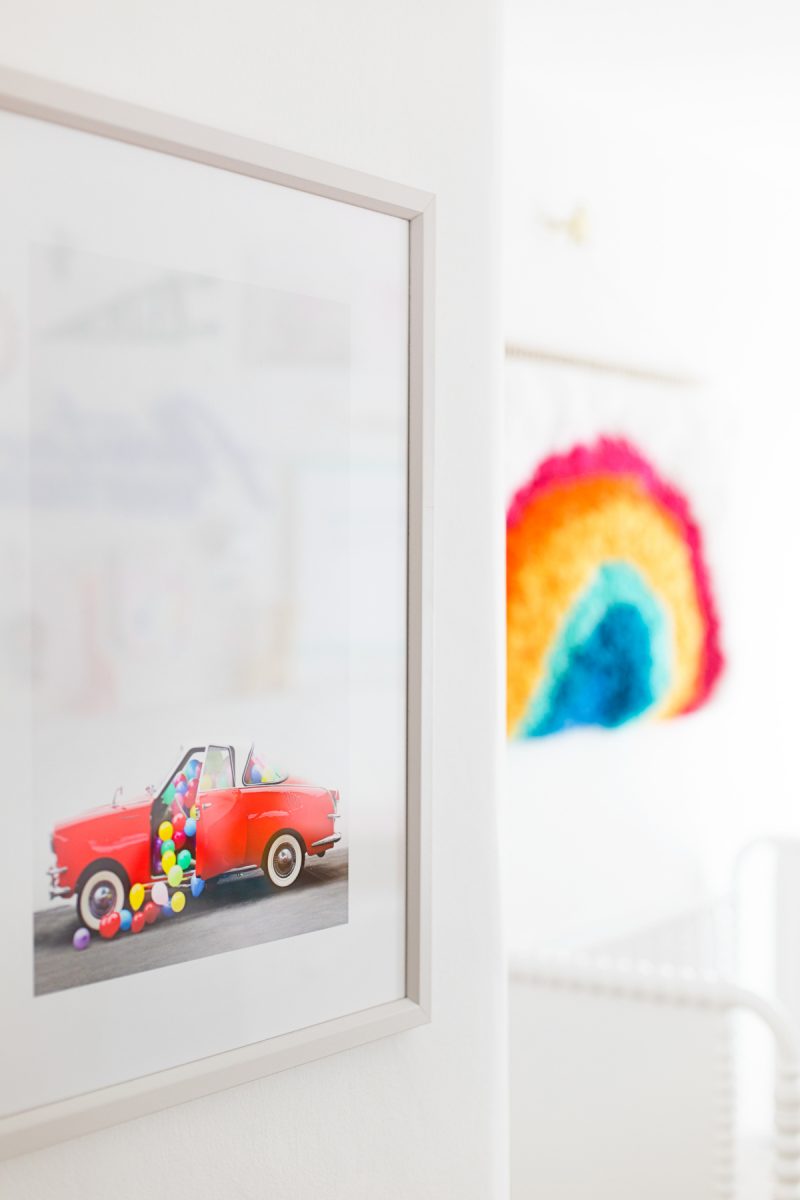 This balloon car print greets you at the entrance so you know exactly how colorful this nursery will be from the moment you open the door!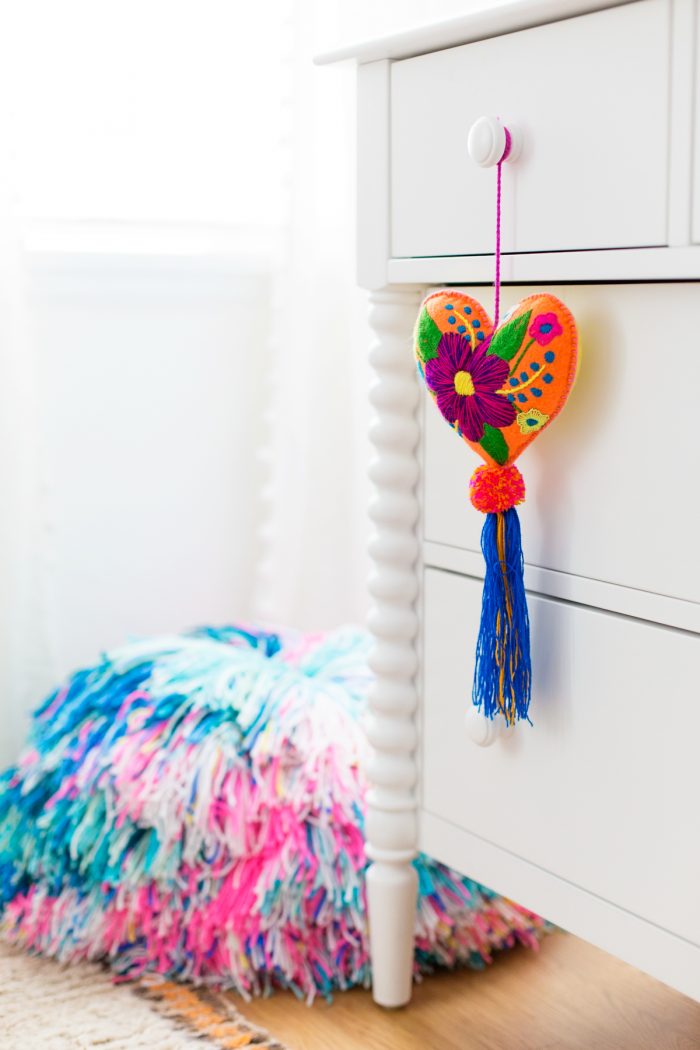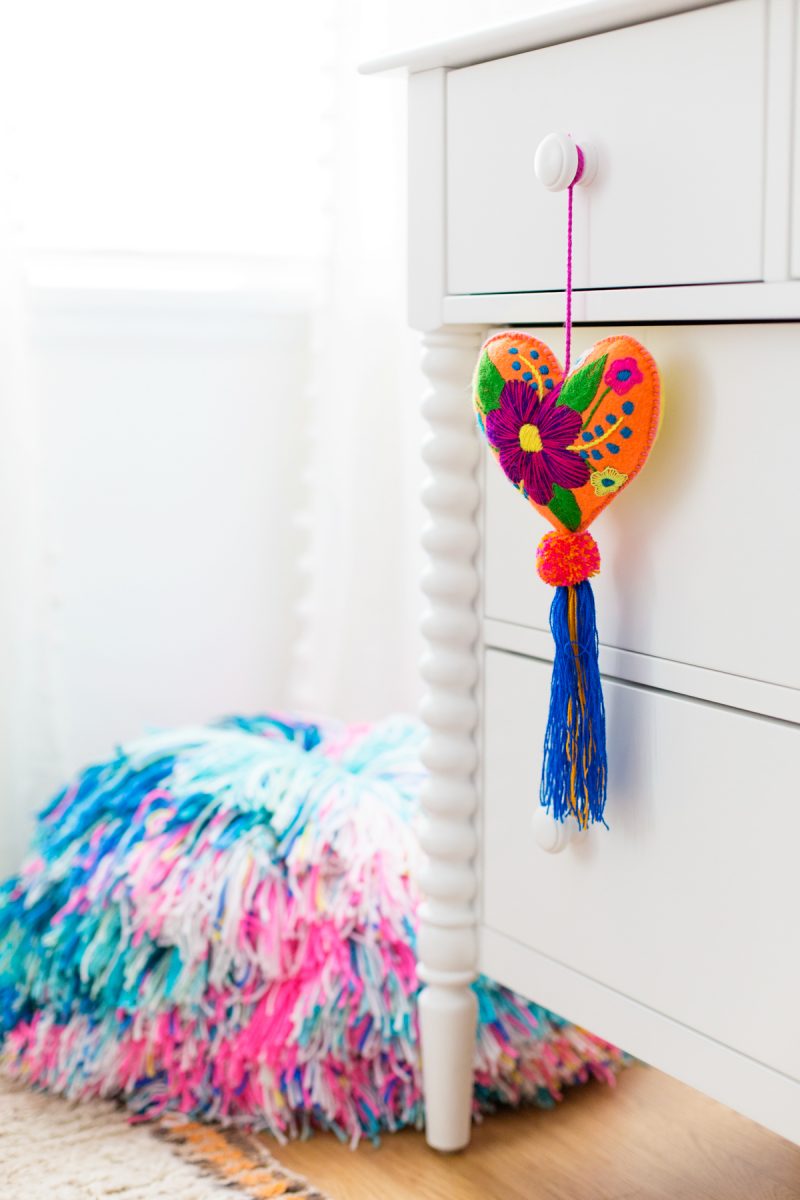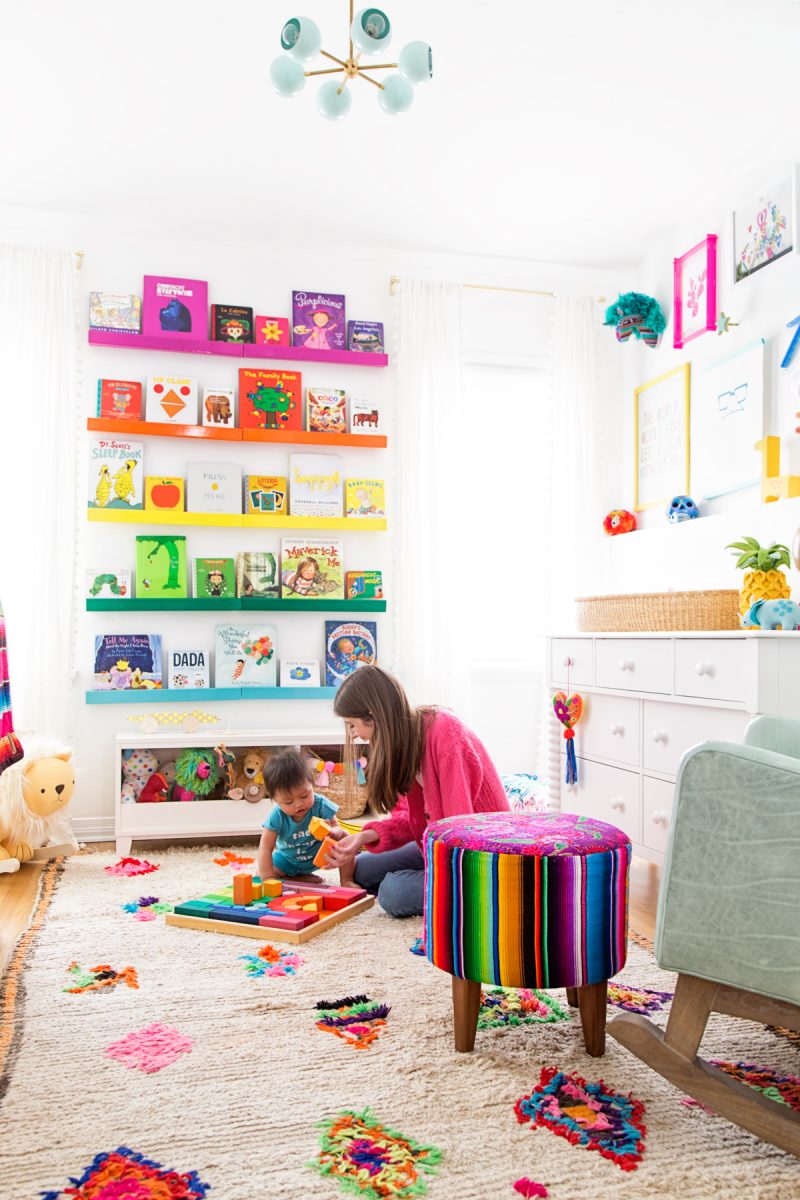 Photos by Jeff Mindell
Your child's nursery is a great way to not only create a welcoming environment for you and your child but also as a way to represent all the special people and experiences that are important to your family. Those special touches whether homemade or gifted will really make this room feel warm and welcoming and of course bursting with color!
SaveSave