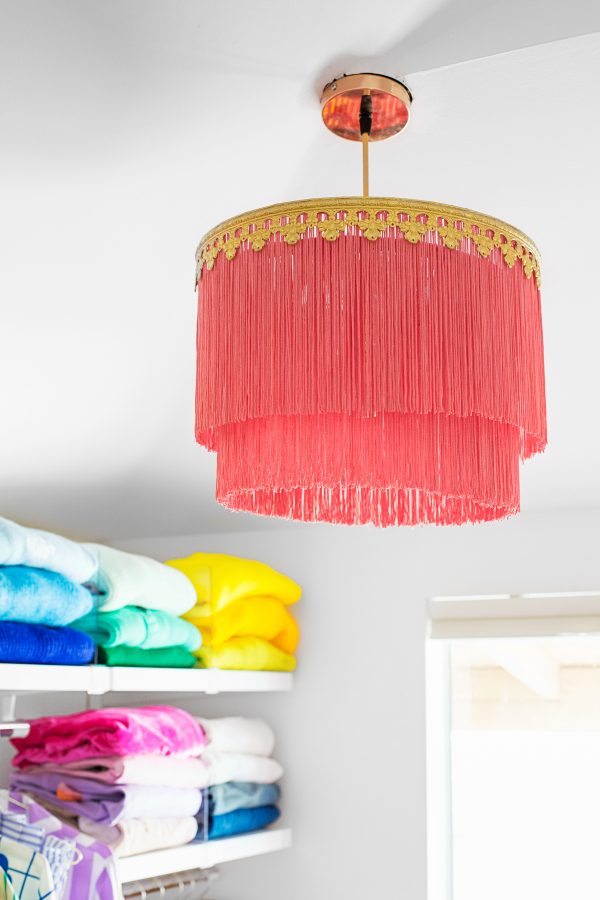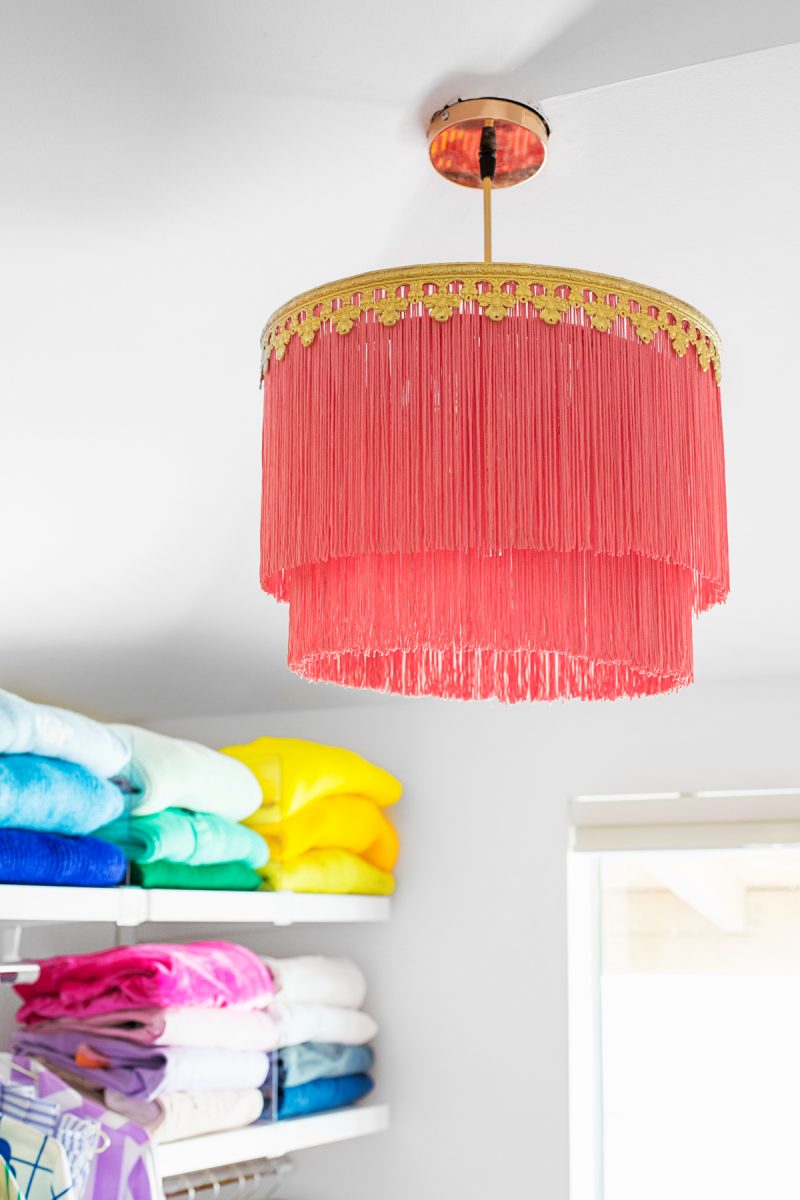 Can I just give me self a slow clap for this DIY?? Hahaha! You guys, if I told you how many hours I spent researching different ways I could make this and different supplies I could do it with, you would have been like "Girl, just buy a chandelier." LOLOL But now on the other side of it, it was SO worth it!!! I bought probably 3 different chandeliers for this closet but in the end, I couldn't shake the desire for this pink fringed situation. I am SO excited about how this turned out and now it's time to tell YOU how to make a fringe chandelier too!
There were a couple vintage chandeliers I had come across that inspired this project, each cost about $2,000-$5,000. This one cost me about $150 to make. So, there's that. Ha! Let's do this.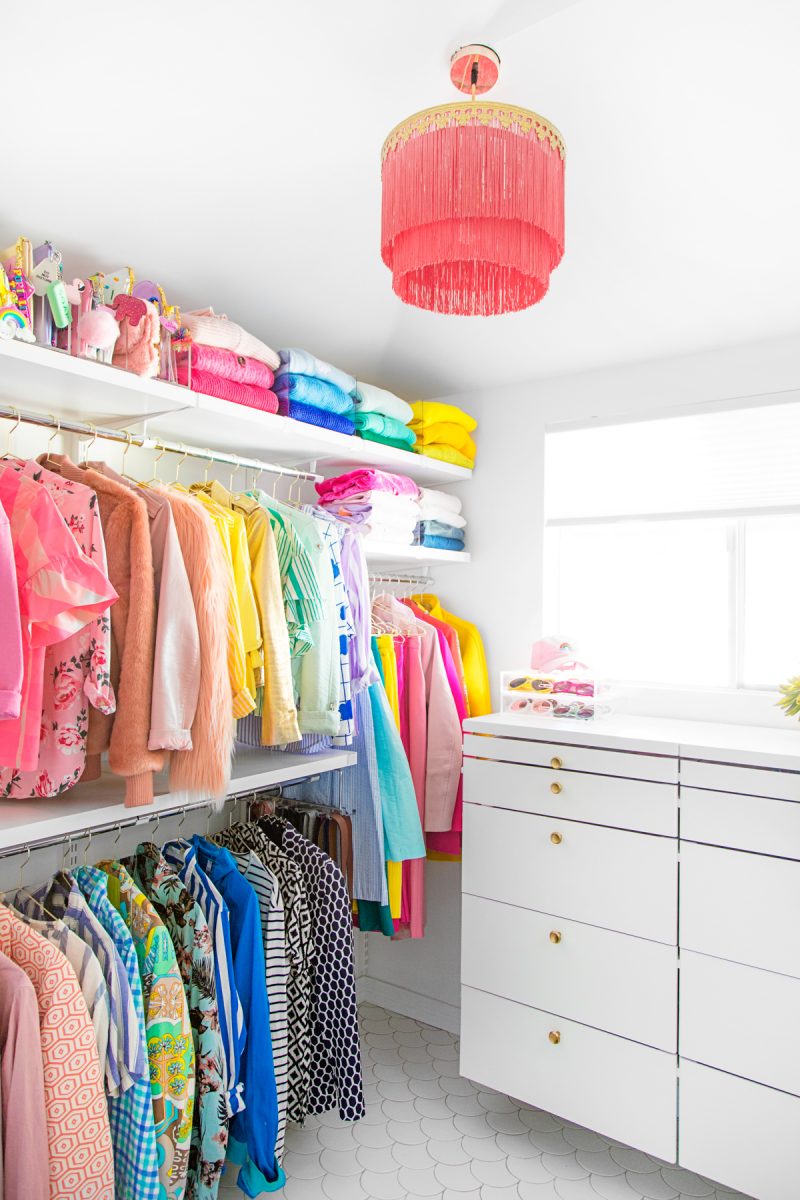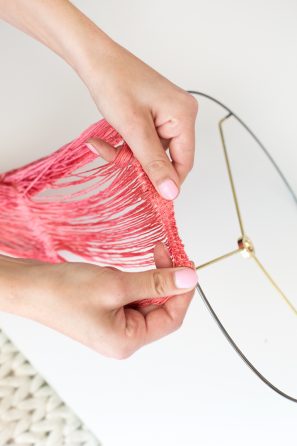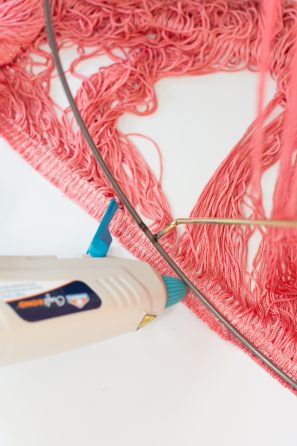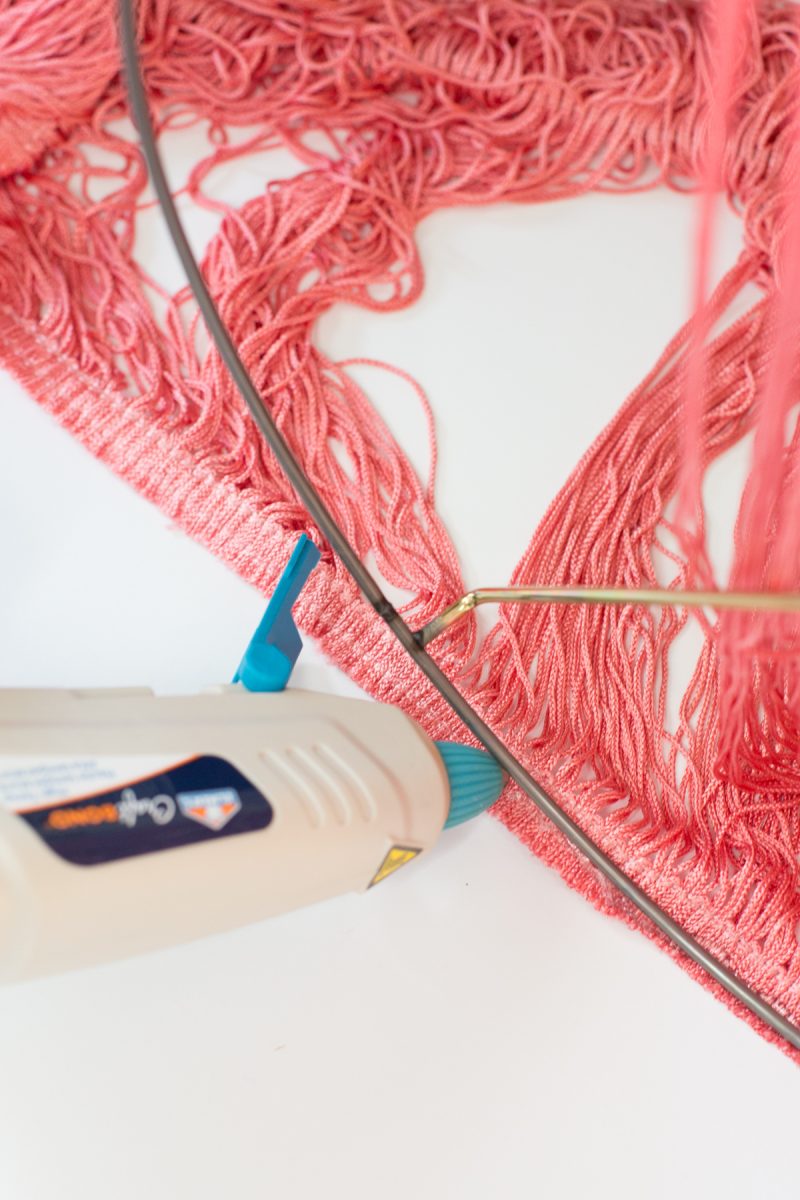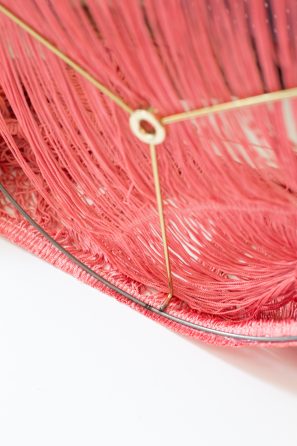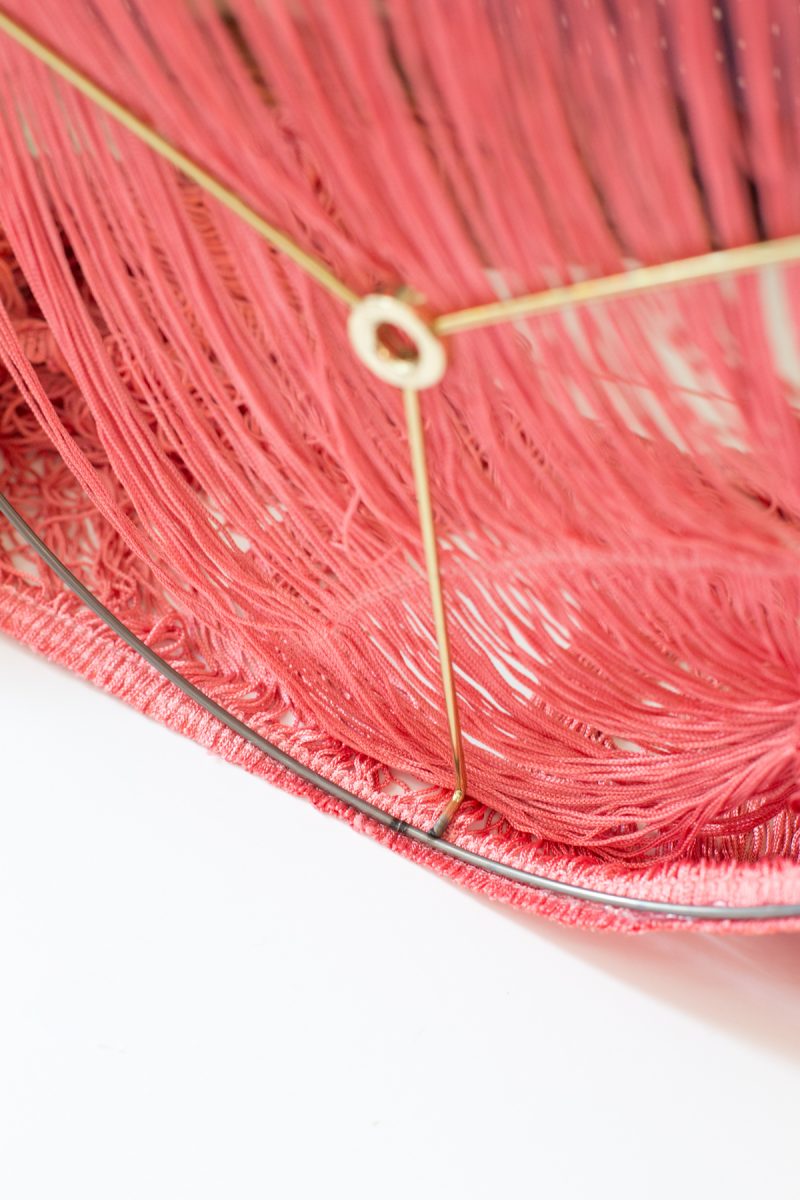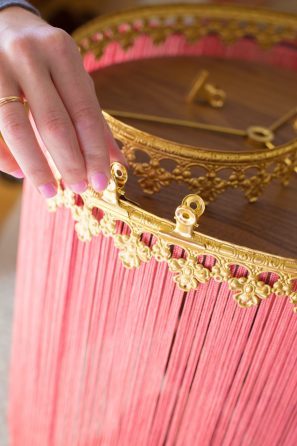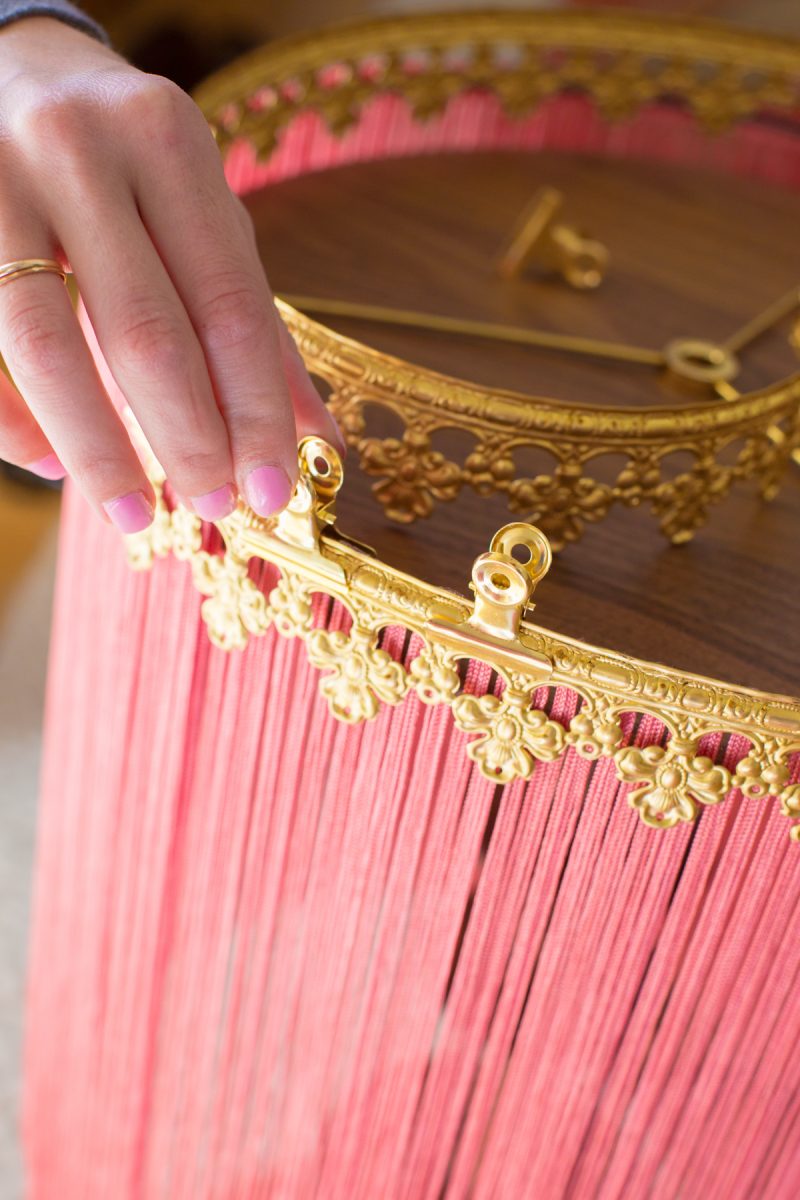 DIY Fringe Chandelier
Total Time: One Hour
Supplies
12" Lamp Shade Ring
14" Lamp Shade Ring
4ft. of Brass Lamp Banding
5 yards TOTAL of Fringe Trim* (See notes below!)
Brass Pendant Cord Kit
Scissors
Hot Glue Gun
Bulldog Clips or Clothespins
*I bought all 12" trim, and bought it locally. Then, I trimmed it to the lengths I wanted, approx. 8" and 10". I can't find the exact color I bought online or a similar price point, but I want to link some options here for those of you who don't have a local fabric store to hit up. Here is a 9" fringe and 12" fringe trim that come in some decent colors. I like the candy pink, peach and raspberry! And here is a more affordable 12" option but I don't love the color options as much.
Directions
1. First, a note! Your fringe will likely come with a chainstitch through the middle of it. This is to keep it from tangling! Do not remove it until you are further along in the process. I'll tell ya where!
2. I found it easiest to "roll" the fringe onto the lamp shade ring. Lay your fringe out on a flat surface, run a line of hot glue along a small section of it and "roll" your 14" lamp shade ring into it. Hold in place until it sets. Repeat over and over until you have glued the fringe around the lampshade ring TWICE. Trim off the excess.
3. Repeat the above with your 12" lamp shade ring. Trim off the excess.
4. Grab a trash can or other object that you can set your 14" fringed lamp shade on. This will make it easier to evenly adhere the lamp banding. Star hot gluing the lamp banding around the top of the 14" fringed lamp shade. After you glue each small section, clip it with a bulldog clip or clothespin to secure it while it sets.
5. Repeat all the way around but before you do the last section, trim the excess banding off, leaving about a 1" overlap with where you began gluing it. (It will be easier to cut it before it's completely glued down!) Then, finish gluing and clipping it.
6. Now, remove the 14" shade from the trash can or other object it's sitting on and set the 12" shade on. Then set the 14" shade back on top of it. This is where you'll trim the fringe, if necessary. Decide how much of a length difference you want between the two layers (mine was about 2") and carefully trim, a small section at a time. This will take a lot of "finessing" and you can make final cuts once it's hung if you need to!
6. For the assembly and installation, consult a professional electrician. Ours assisted me in taking apart the light kit to string the shades on, selecting the safest light bulb, assembling it back together and installing it at the correct length for our ceiling height.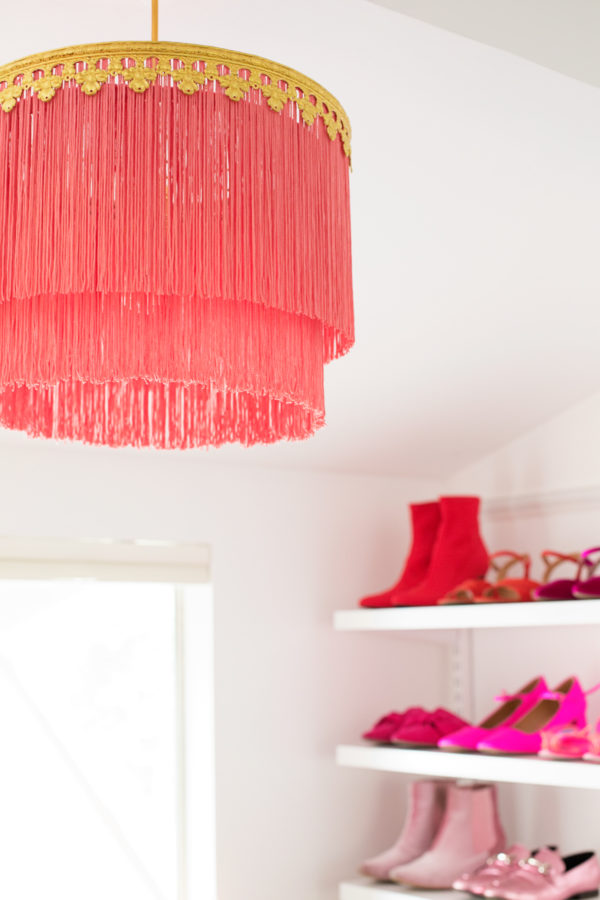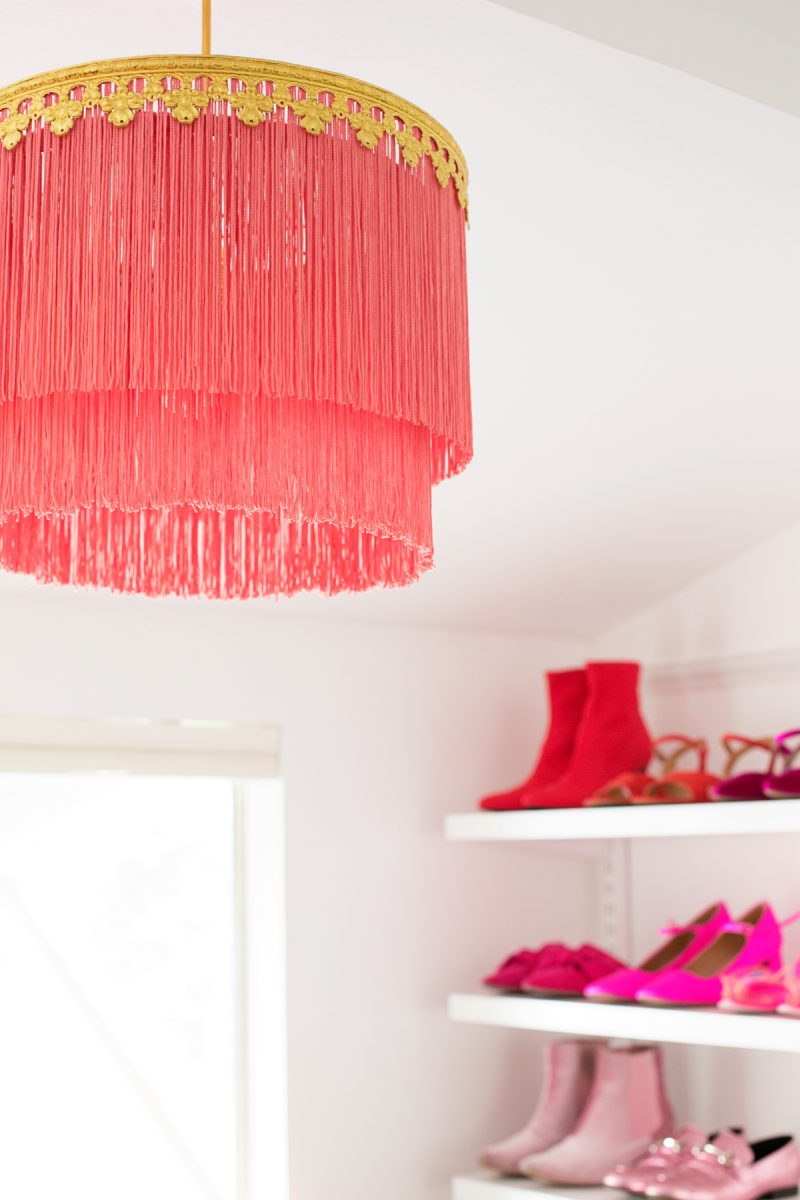 Photos by Jeff Mindell
For a list of sources for the rest of the items pictured above, click here!
So glad you all pushed me to do this DIY and not settle!!! Hope you try it out for yourselves!!! You could totally do this for a regular lamp or even a SCONCE! OMG yes.