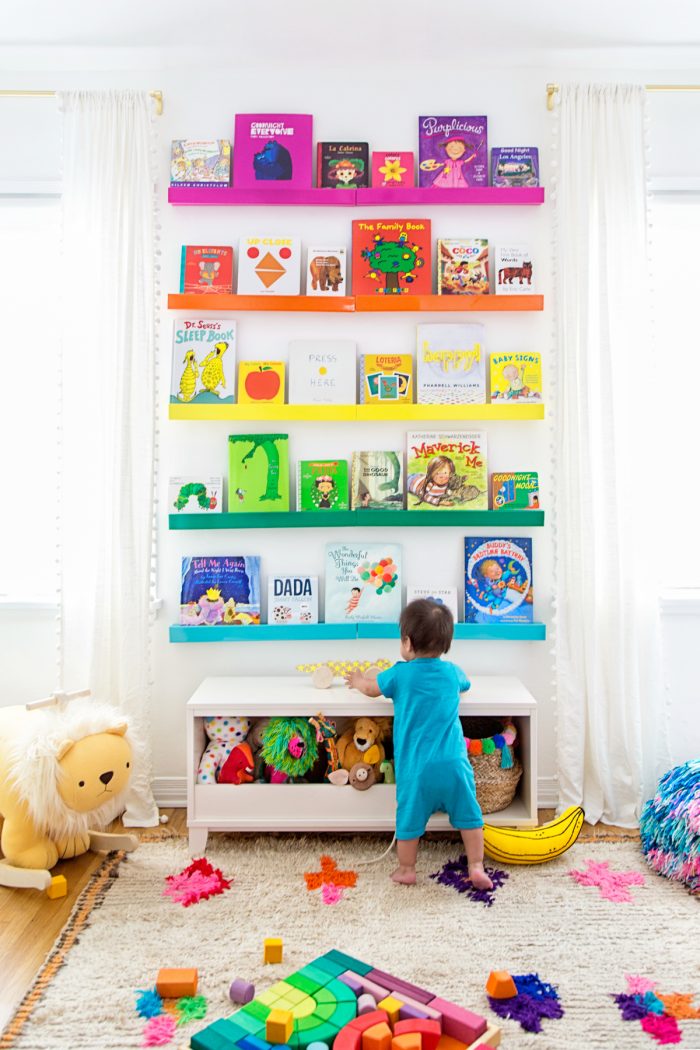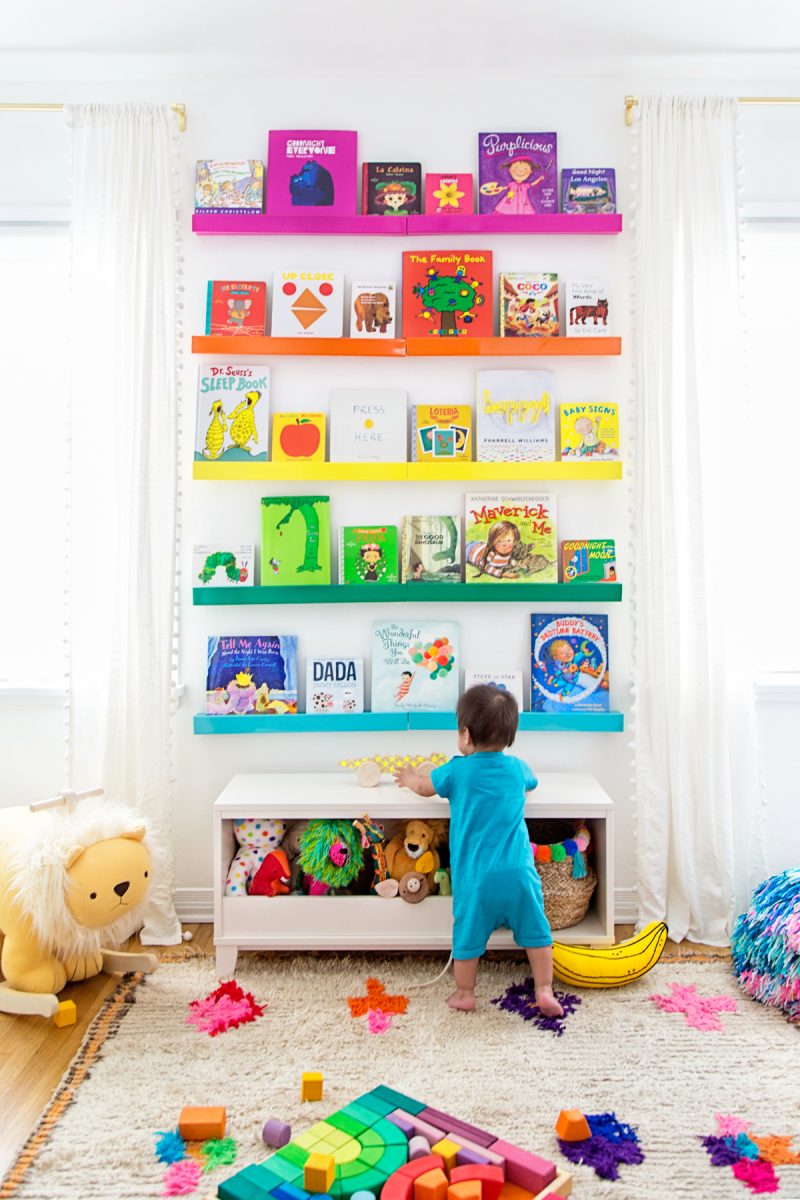 After the nursery reveal, a lot of you asked for a post about Arlo's favorite books! I hope to do several of these as I imagine we'll find new favorites every couple months as he grows up!
I read a book to Arlo every night before bed. He loves to turn the pages. But at this stage, the books have to be short and sweet and they have to be board books or he just shreds them. LOL Where my fellow mamas of active "I won't sit still, who do you think I am?" babies at!? The below books are a combination of his favorite and my favorite to read to him. Some are well-designed, some are bilingual, some speak to adoption and some are none of the above and for some reason he just loves them. In no order whatsoever, here we go!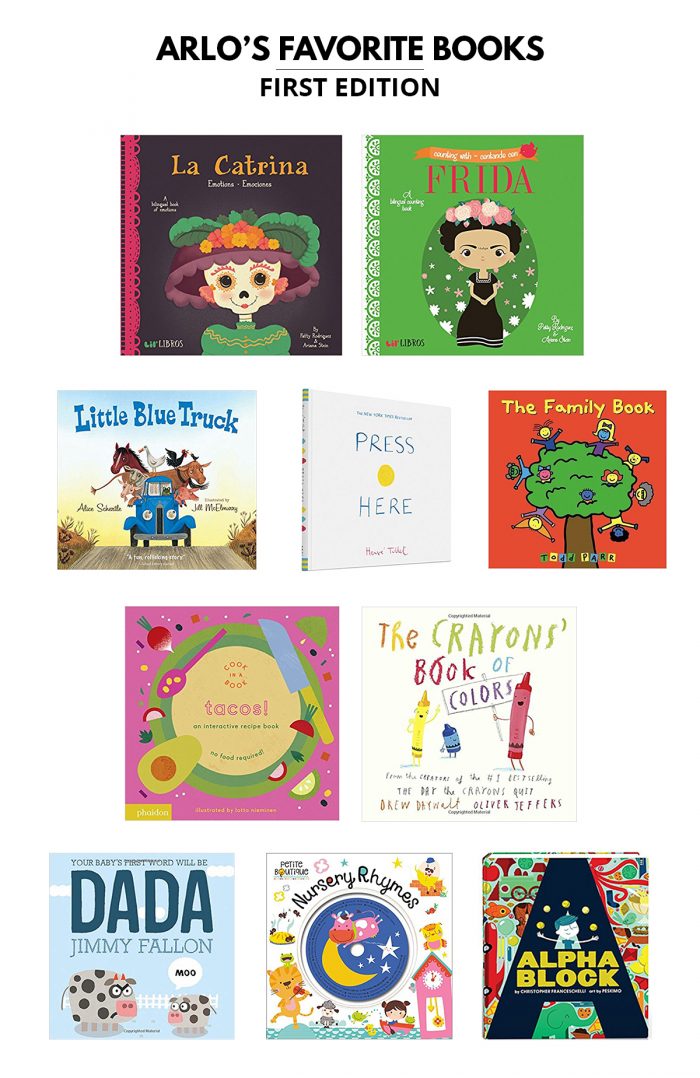 Press Here by Herve Tullet: My brother and sister-in-law passed this book down to us because it was one of their family favorites. And it is the MOST fun to read! You have to press the dots and follow the instructions to take you through the book. It's incredibly simply but super interactive and while a little over Arlo's head at this age, it's still really fun to read together.
Little Blue Truck by Alice Schertle: This was given to us by my friend Chelsea as it's her kids fave! Little Blue Truck is a series all about a little truck that perseveres. We have the original, the city one and the Christmas one at this point and they're all great.
La Catrina by Patty Rodriguez & Ariana Stein: I've talked a few times about Lil' Libros because they are our absolute favorite books. Arlo and I have been learning so much Spanish vocabulary together through this books which has been amazing, and I love that each one has illustrations inspired by a Mexican tradition, holiday, public figure or lullaby. La Catrina is the first one we bought and still Arlo's favorite. He loves looking at the skeletons and kisses every page. It's so cute!
Contando Con Frida by Patty Rodriguez & Ariana Stein: This is one of our newest Lil' Libros acquisitions and all of it's illustrations are inspired by Frida Kahlo's life. It's a counting book and for some reason Arlo is fascinated by page 5, which features portraits of Frida's family. I guess the theme is he loves faces!?
The Family Book by Todd Parr: This was one of the only books Arlo would sit through when he was super little, I think because the illustrations are so graphic and bright. But I love it because it depicts every type of family, from how they began to who they consist of.
Your Baby's First Word Will Be Dada by Jimmy Fallon: I got this book for Jeff as a Father's Day present for obvious reasons. But in the last month, Arlo has gotten a total KICK out of reading it! He laughs at all the animal sounds and flips through it at lightening speed so we can read it again and again.
The Crayons Book of Colors by Drew Daywalt and Oliver Jeffers: My personal favorite book to read is The Day The Crayon's Quit, but it's a little (lot) too long for Arlo to sit through right now. So I picked up this board book version to substitute. It's really fun and quirky and inspires kids to break the rules when it comes to color!
Cook In A Book: Tacos! by Lotta Nieminen: My friend Brittni brought this book for Arlo when she visited a few weeks ago and it is the COOLEST! It's an interactive book teaches you how to make tacos (or pizza, or pancakes!). It has a pretend cardboard knife that we pop out and Arlo loves to hold it and "cut" the pages while we read. It's the coolest concept ever for a book and now I'm on a mission to collect them all.
Petite Boutique's Nursery Rhymes: This book. I have NO idea what it is about this book, but Arlo has loved it since the day my mom gave it to him six months ago. It's just a bunch of classic nursery rhymes with illustrations and other than knowing he loves music in general, I don't know why it's like baby-crack for him but it is. Singing required! haha!
Alphablock by Christopher Franceschelli: I put this in his first Easter basket and just recently he re-discovered it on his bookshelf. He loves to flip through it and I love how it's designed. It has really cute di-cut letters that "hide" what the letter stands for behind them. Moreso, I love that the items they chose for each letter aren't your typical "apple, ball, cat, etc." They're a little more fun and creative and as someone who reads a lot of ABC books, I appreciate it!
What were your kids (or siblings/nieces/nephews/etc.) favorite books when they were around one year old!? Board books, like many of the above, are especially great for this age, too. I'd love to hear them in the comments below!