This post is sponsored by Bing.
It's high time for a full recap of the few days we spent in Palm Springs crafting and creating with a bunch of awesome ladies, yes!? Yes! Meet/Make/Do finally happened a few weeks back, after nine months of planning, and I'm excited to give you all a peek into our week! (We're even giving away three swag bags, just like each attendee got! Enter at the bottom of this post!) And it all began with a swan float…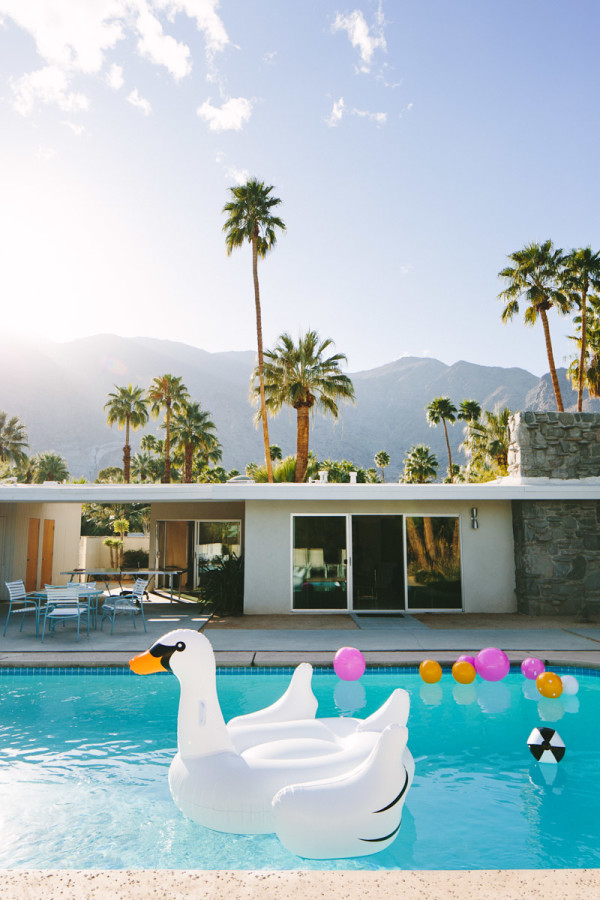 …ok, it didn't begin with a swan float
. It began with a brilliant idea from Brittni and an epic car-ride chat between her, Chelsea and me. But that sure may have been one of my favorite parts! Goodness, I love that swan. We began our stay at the most gorgeous mid-century, classic Palm Springs rental home, which we decked out with giant monogrammed beach balls (tutorial coming soon!), ice cream floaties
, flowers galore and craft supplies aplenty. Everyone arrived, found their rooms and sat down for some chit-chatting before dinner. It was kind of like blogger summer camp. It was amazing.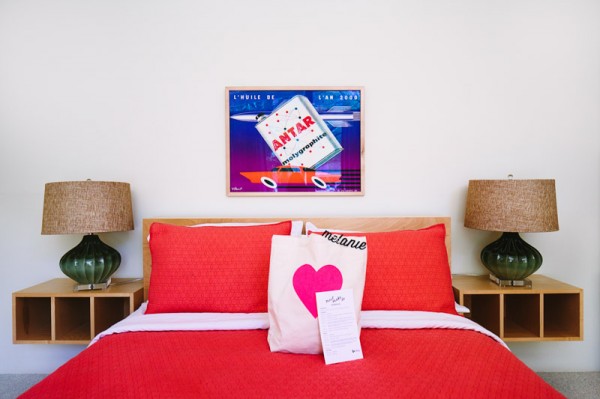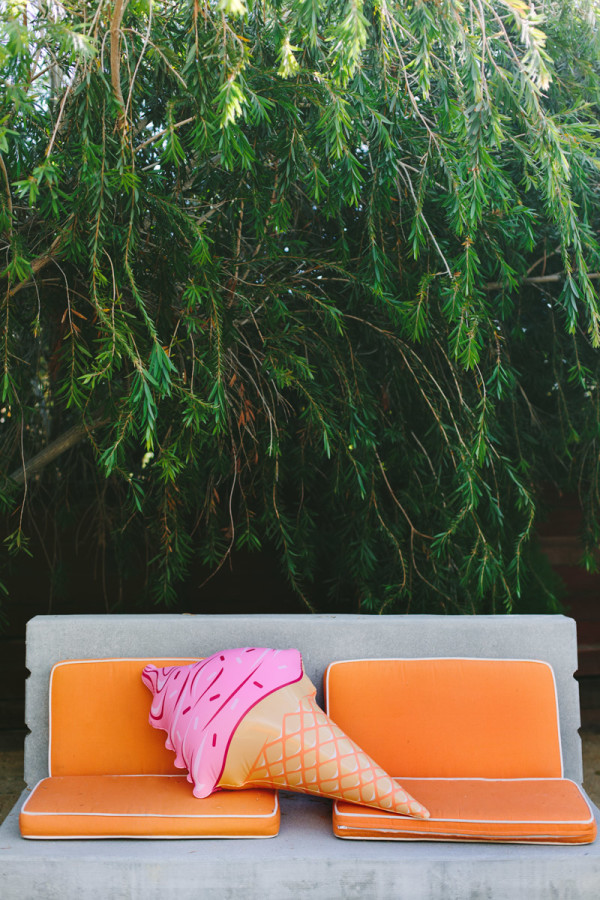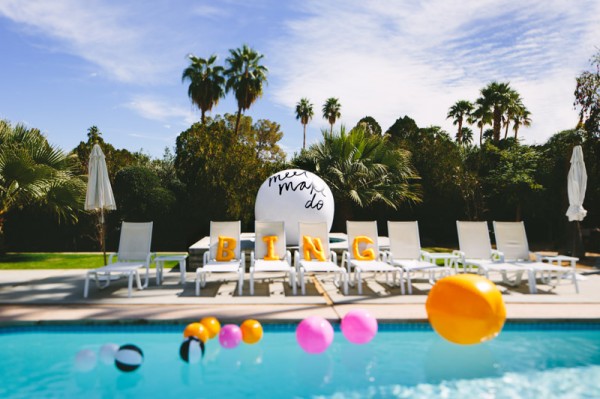 And who was there, you ask?
Ashley | Sugar & Cloth, Brittany | The House That Lars Built, Chelsey | The Paper Mama,
Danni | Oh, Hello Friend, Erin | House of Earnest, Jenn | A Blog Named Scout,
Lexy | The Proper Pinwheel, Melanie | You Are My Fave
Plus Mary to photograph the whole thing, Bing to help inspire everyone and us three hosts, too! We thought this sentiment was pretty fitting…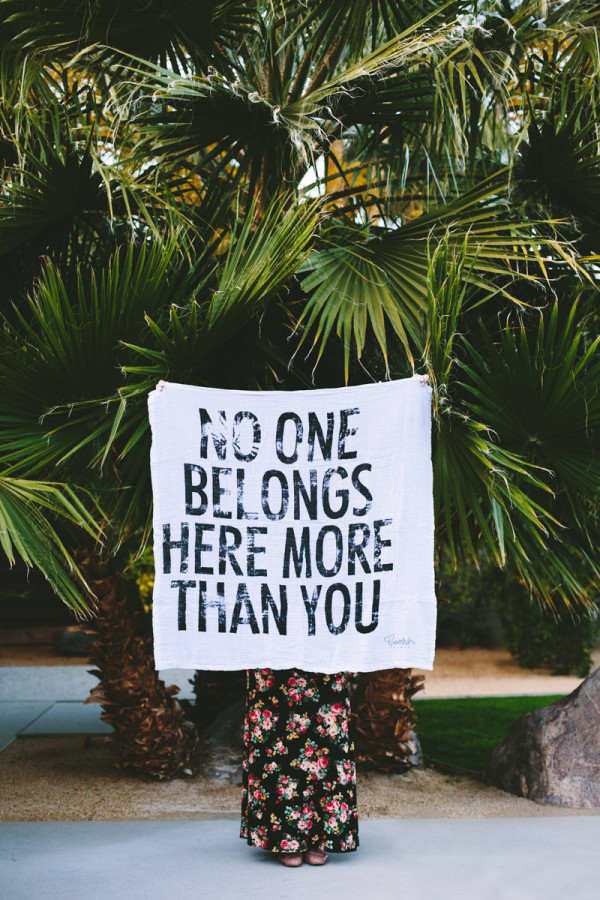 We held our welcome dinner at Workshop Kitchen + Bar (You need to go there when you're in Palm Springs!) and it was delish! Kate created some stunning custom menus and place cards for us. She rules. After a long day of travel for most, we enjoyed our dinner and came back and crashed because the next day was when the fun really began!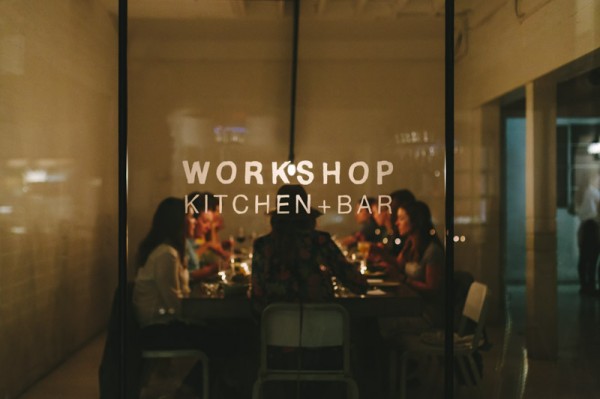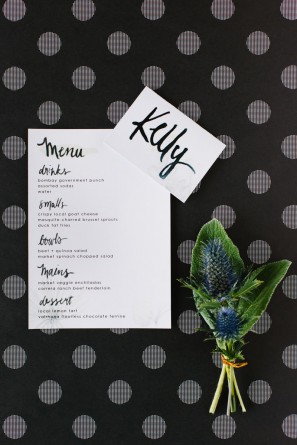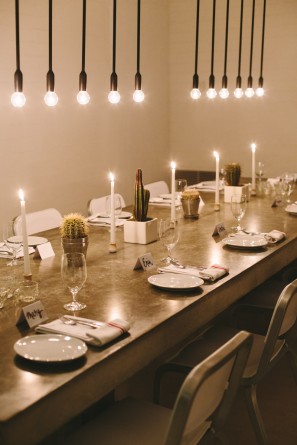 Ahhh… good morning, Palm Springs!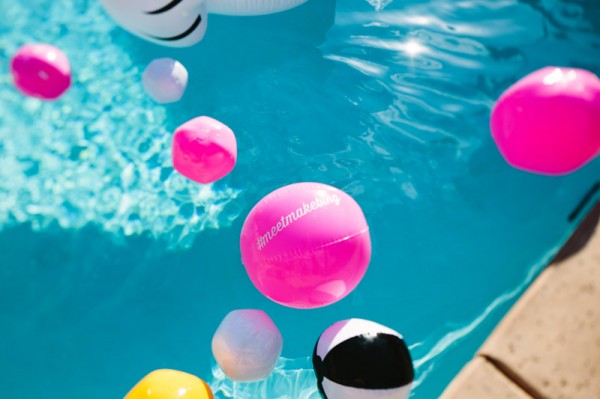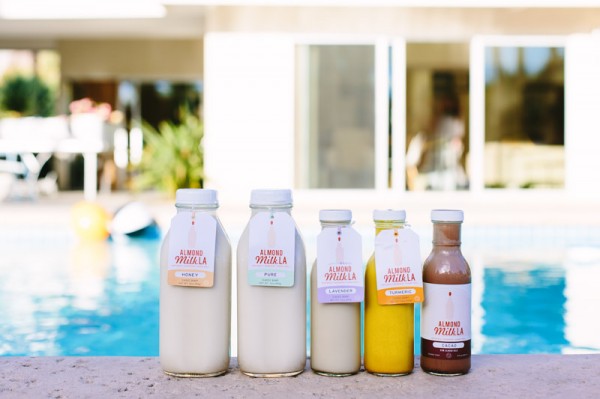 If you didn't know what the craft supply closet to end all craft supply closets looked like, this is it. You may be wondering what exactly we were supposed to be doing other than talking shop and enjoying each others company. Well, with Meet/Make/Do we wanted it to be different than most conferences and gatherings. Less structure, more room for spontaneous inspiration. On Thursday morning, us hosts clued everyone in on the supplies we'd gathered and we pretty much told them to let loose! There were no rules, there were no set projects. We wanted to see what everyone would do when they were in the presence of people to collaborate with, and dream supplies to make that happen.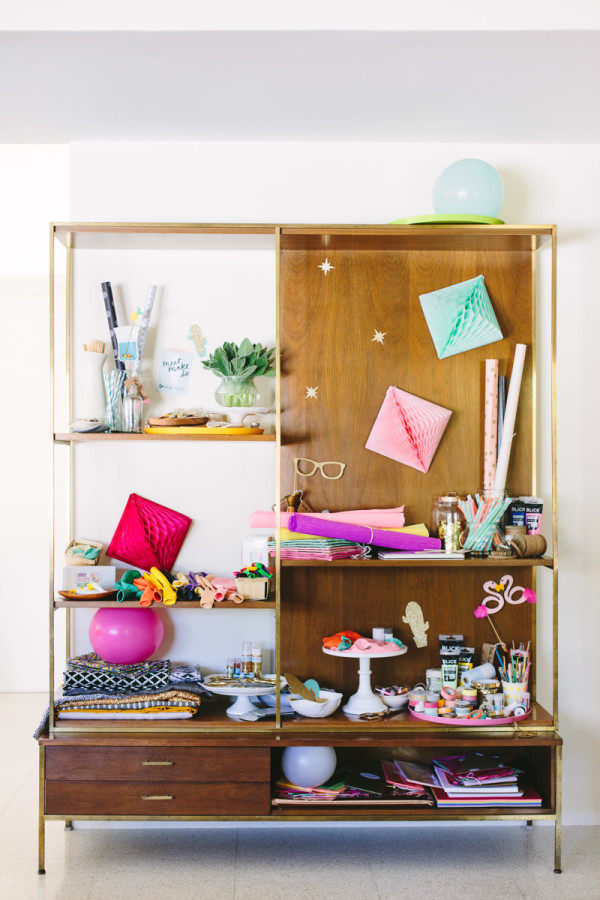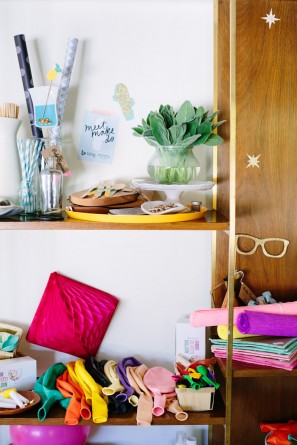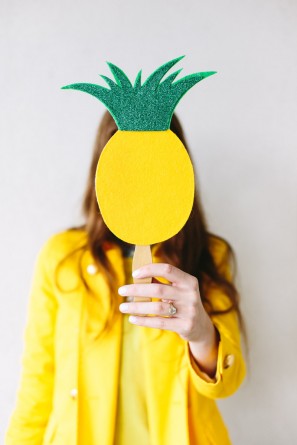 After digging through the supplies, to get the inspiration really kickin', Katie from Bing filled us in on all the details of Bing's search engine and tools for bloggers and get some Surfaces in our hands to do so. It's really quite amazing, I suggest you check it out. The three of us had actually been using Bing all along to help plan our trip, but it was great to use tools like pin from search (Yes! You can pin directly from your search and it credits the source properly!) and the image license filters to get crackin' on a project! Katie also told us about Bing Rewards, which kind of blows my mind. Essentially, you own points for just searching and you can put those points towards gift cards! Wait, I can buy supplies with points I used while searching for ideas for which I need those supplies. GENIUS!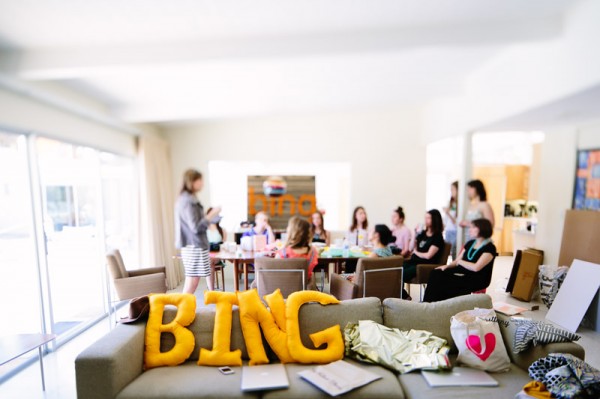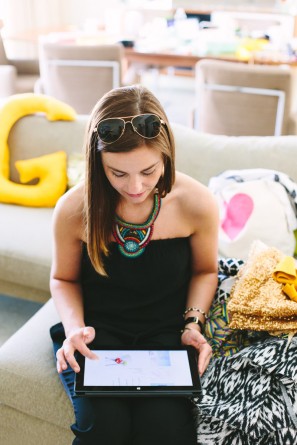 Once we'd done our research it was time to get our hands dirty! I have to say, this was my single most favorite part of the day. I spent the first hour under a bouquet of flowers for a project Brittni was working on, but when I emerged, I was just in awe! Every person was working on something beautiful. People were collaborating together, cutting paper flowers, creating fresh floral arrangements, painting balloons, fringing crepe paper. When you spend most of your days crafting alone in your apartment, it's really something to see a group of people doing just what you do, but in their own fascinating way.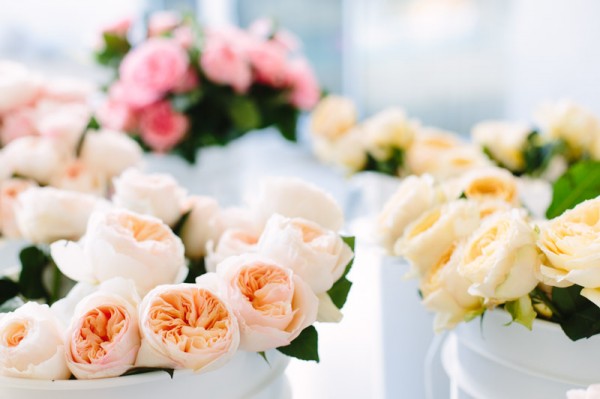 While we worked, we all chatted about our processes, our past experiences, working with sponsors, working last minute (turns out we all do it, folks. You aren't alone!), balancing life, and all those fun things we all want to talk about but don't often have the chance to!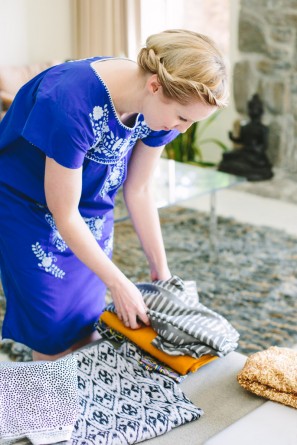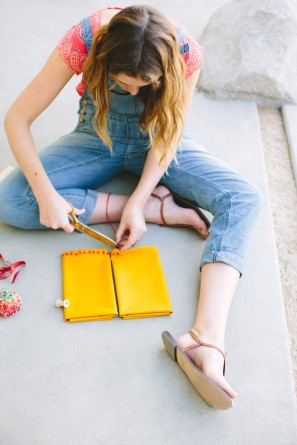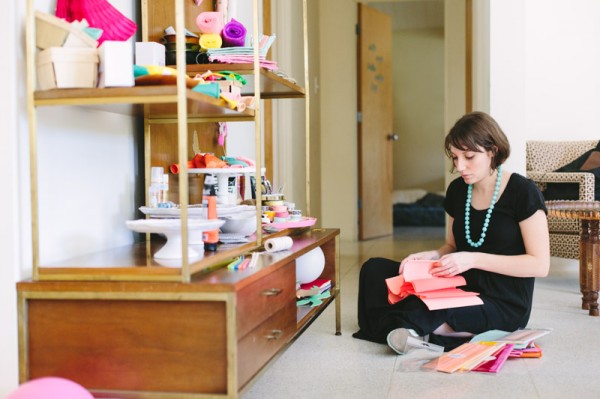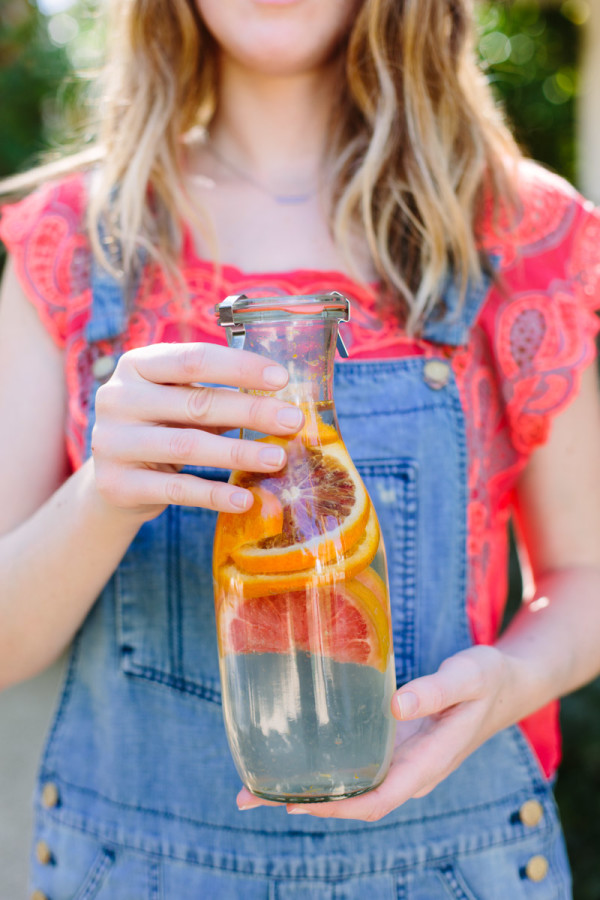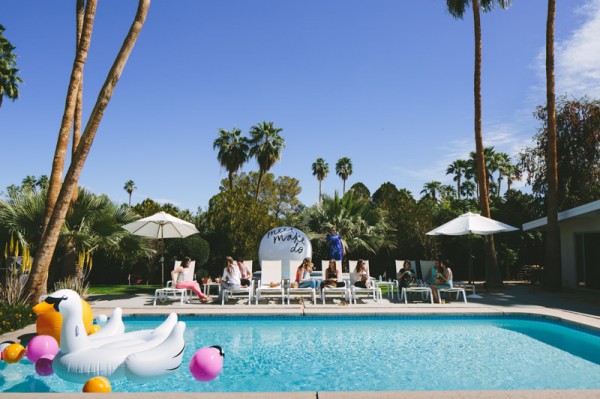 We ended the day with some amazing projects (which everyone we'll be sharing soon!), and some invaluable conversations. There's no guidebook to blogging, we have to write our own! And I think we got a pretty good start here. We also had some pretty delicious pre-dinner snacks…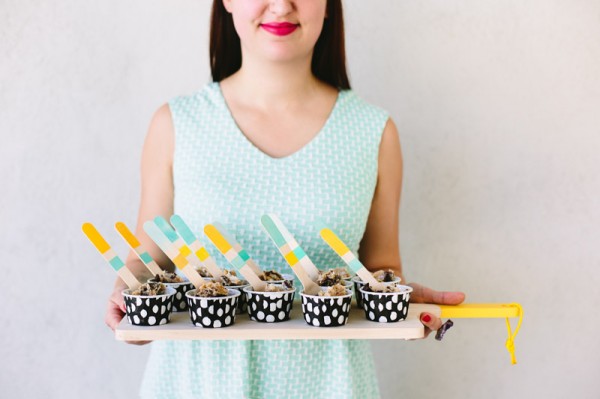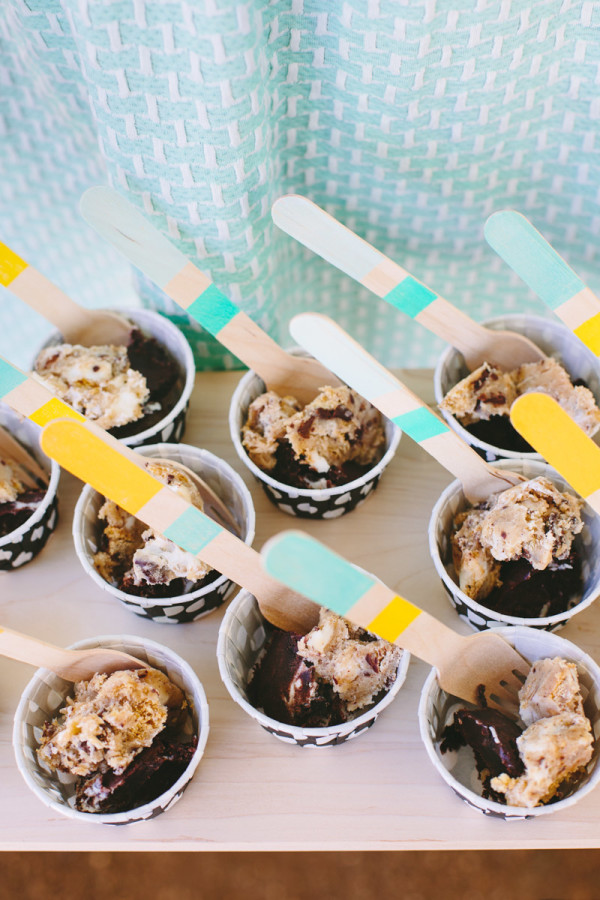 Dinner that night was spent at the Ace Hotel and hosted by the amazing people at Minted. We made our own tacos and had ourselves a mini fiesta! I'll be posting all about the dinner soon, so stay tuned for that!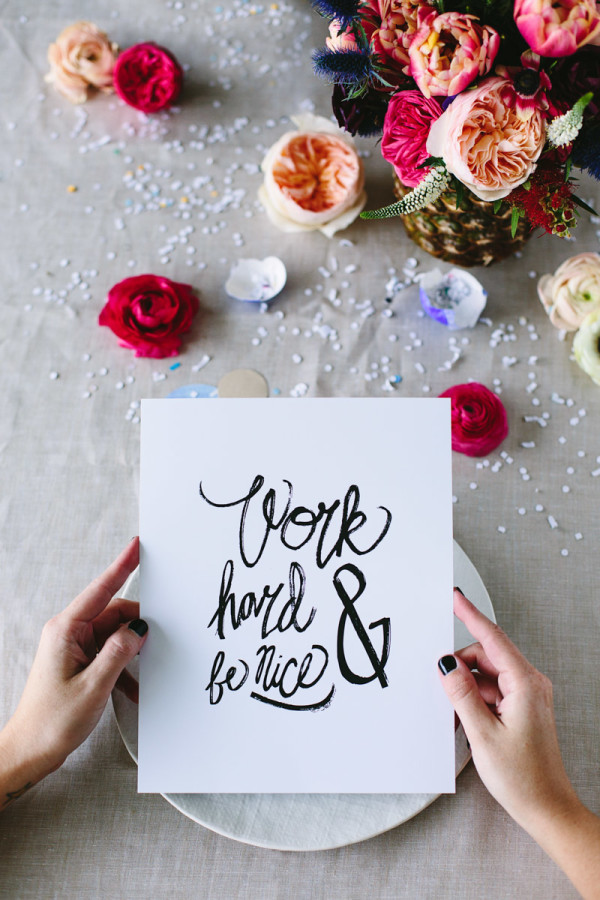 And then folks, I'll be real with you. Our trip took an unexpected turn. Sometimes things in life are just out of your control, and when we returned home that night, we found that the vacation house had been broken into. Rooms were ransacked and items were stolen from two attendees, never mind their sense of safety and peace of mind. It's so horrible that people do such things, and that our trip had to be victim to this, but it was out of our hands and time to make a game plan for the remainder of our trip. So after the police were called and reports were filed, we decided a change of scenery was in order and we relocated to The Saguaro.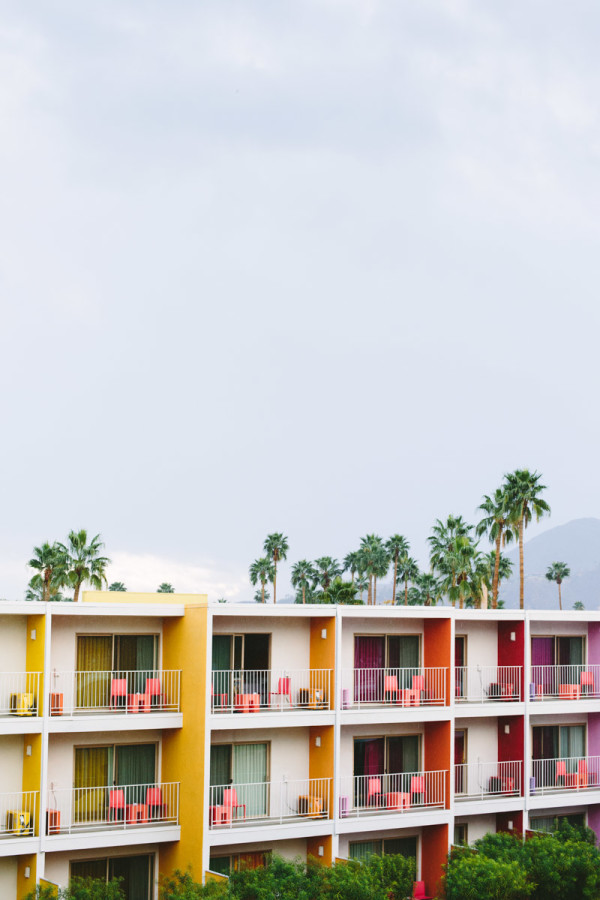 Now, when all is said and done, there are far worse places to have to relocate to then the infamous rainbow hotel. Despite a rare rainy day to follow in the desert, we spent the day exploring vintage shops, lunching at Jakes (and sampling their amazing cake selection!) and sitting down for good old fashioned pizza delivery for dinner. But what may have yielded the most fun and the most laughter of the whole shebang was after dinner, when we all put on PJs and headed to one of the girls' hotel rooms for leftover cookie dough, cake and chatting. We talked about our guilty pleasure blog reading, our pet peeves, who we admire and we get it all done. We laughed so hard we were all in tears, and we decided we should probably form a blogger commune so we can make this happen every weekend. We may have had some major downs along this magical trip, but that last night, I think we all were just thankful to be together for a rare few moments, and to have started some friendships that ran deeper than Twitter and Instagram.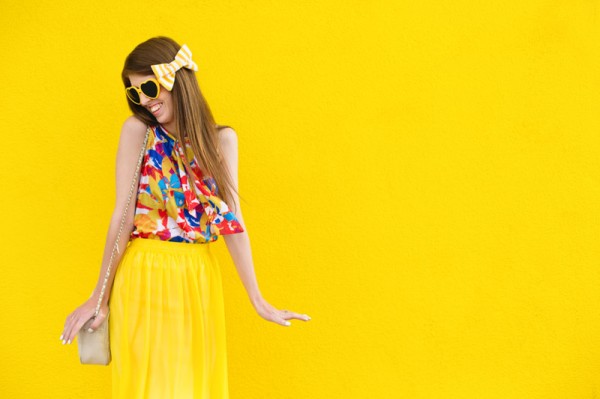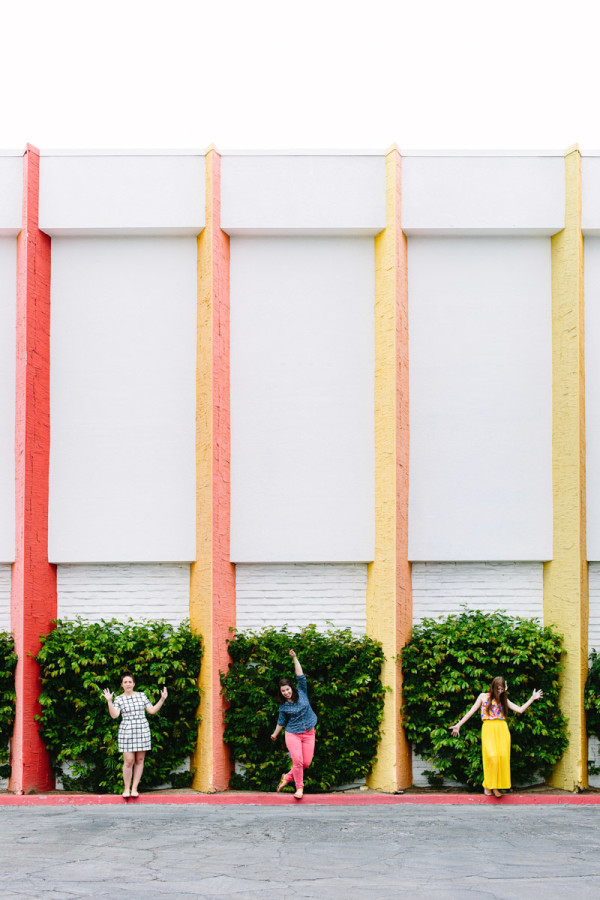 So there you have it, everyone! A few days in paradise, a few big bumps in the road, but mostly some amazing, spontaneous projects created and some even better chit chats had! Pretty excited that I get to call each and every one of these ladies my real-life friends now (not just internet friends!) and I can't wait for you to see what everyone made! Soon!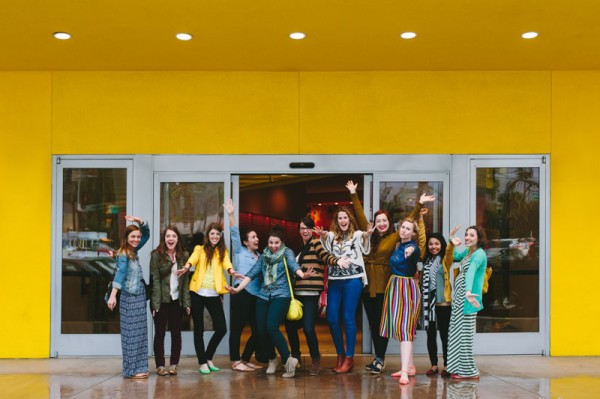 Our group! From left: Erin, Ashley, Me, Brittni, Chelsea, Lexy, Jenn, Chelsey, Brittany, Danni, Melanie
OH wait! "What about that magical swag bag" you ask? You mean, you want to win one!? Believe me, you do. Each attendee got a big filled with these goodies, including dipped utensils, handmade blankets, hand painted napkins, copper foil tape, pretty bath salts and soap, the perfect crafting scissors and more! You can check out all the sources below, along with the rest of our amazing vendors you may have spotted in the photos above, and then get to entering to win a gift bag of your very own!!!!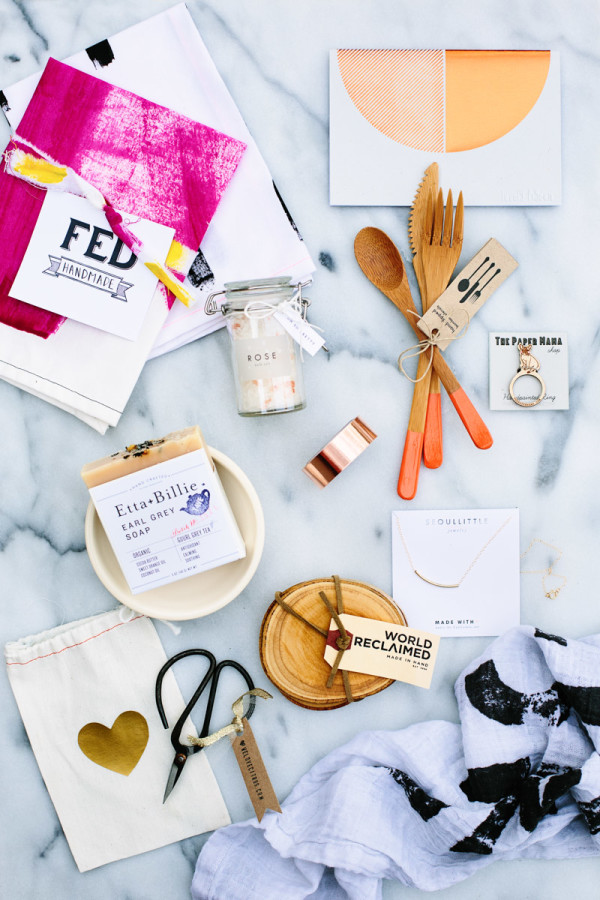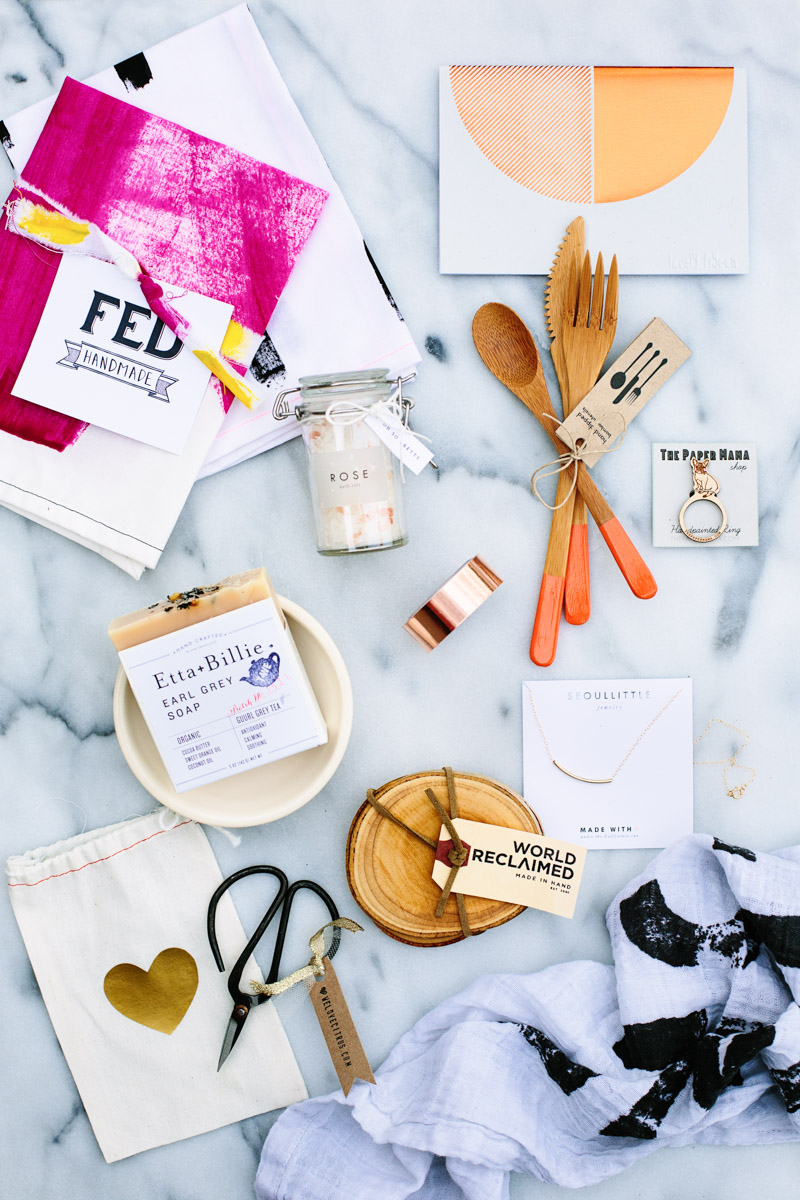 All Photos by Mary Costa Photography
In the gift bag (Clockwise in the photo above!):
Hand-Painted Napkins from Fat Eye Design, Rose Bath Salts from Oh So Pretty, Copper Notebooks from Lovely Pigeon, Dipped Utensils from Mr. & Mrs. P, Copper Foil Tape from Lovely Pigeon, Gold Necklace from Seoul Little, Wood Coasters from World Reclaimed, Blanket from Coveted Things, Scissors from We Love Citrus, Spice Bowl from Landis Carey, Soap from Etta & Billie
Tote Bag by Michelle Dwight Designs
And a special thanks to Chelsey for bringing some of her goodies along too, like that cute dachshund ring!
If you were gawking over the fabric, flowers, party supplies, tableware and edible goodies above, you can thank the following amazing vendors for that:
Party + Craft Supplies, Wooden Spoons + Paper Tableware from Shop Sweet Lulu
Fabric from The Fabric Store LA
Flowers from Flower Muse
Tableware from West Elm
Almond Milk from Almond Milk LA, Cookie Dough from Edoughble, Jam from M. Greenwood Jams, Photo Props from Tweedle Dee Designs, Bowls from Landis Carey, Candle Cups, Mini Bowls + Dipped Cutting Board from Wind & Willow Home
And of course, a huge thank you to Bing for making this all happen, helping us come together, and inspiring us to create! And to my co-hosts Britt + Chels for being such awesome ladies to work with!
Now for that giveaway… use the Rafflecopter below to enter and you may just be getting those goodies above in the mail soon!

This post, and event, is sponsored by Bing. All content and opinions are that of my own! Thank you for supporting the sponsors that keep the Studio DIY party going! Read more about my editorial policies here.