Quickly make these delicious crowd-pleasing Oreo brookies with just a few store bought ingredients. Everyone will go wild for them!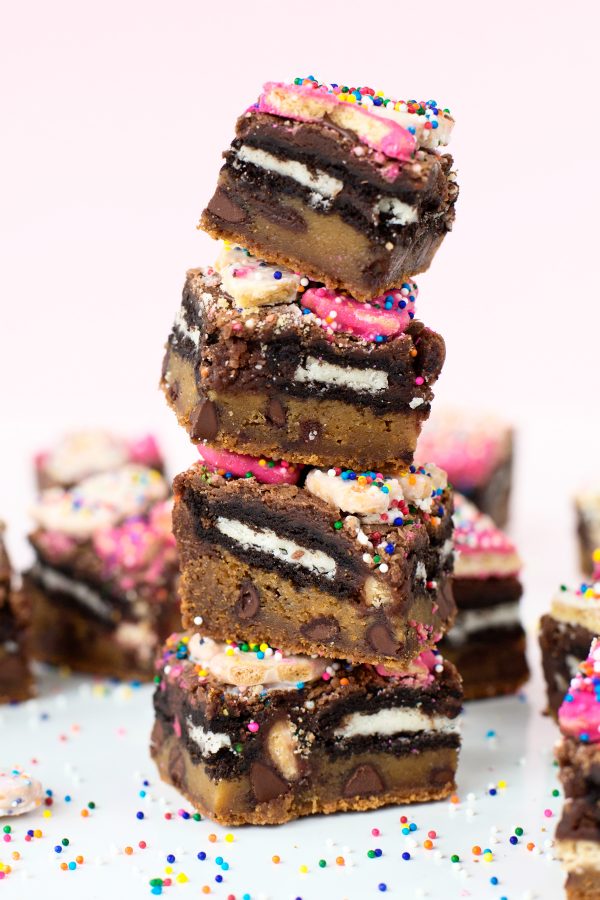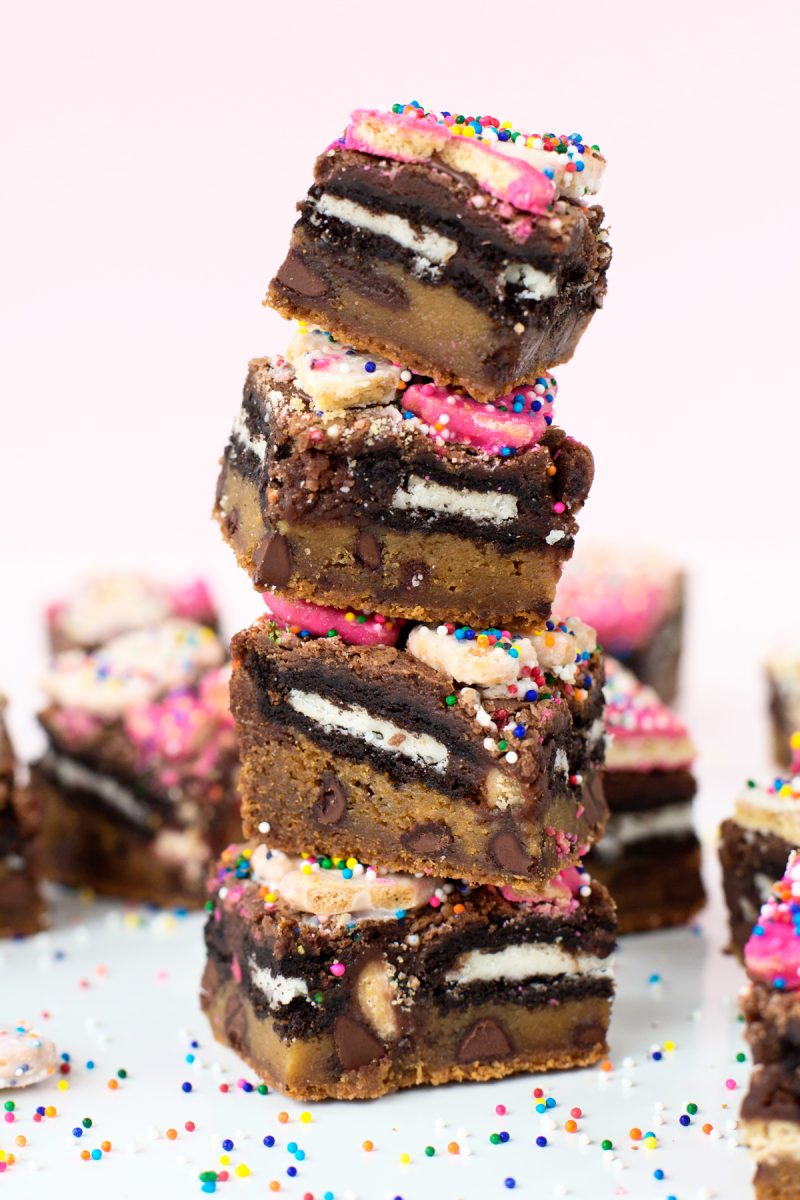 What's the only thing that could make brownies and cookies (AKA brookies) better? Adding Oreos… and prehaps a few other treats, too. These Oreo Brookies are quick to make and incredibly delicious. Plus, they are a show stopping crowd pleaser for all ages.
You'll just need a few baking mixes from the store and your favorite Oreo cookies to complete this sweet treat!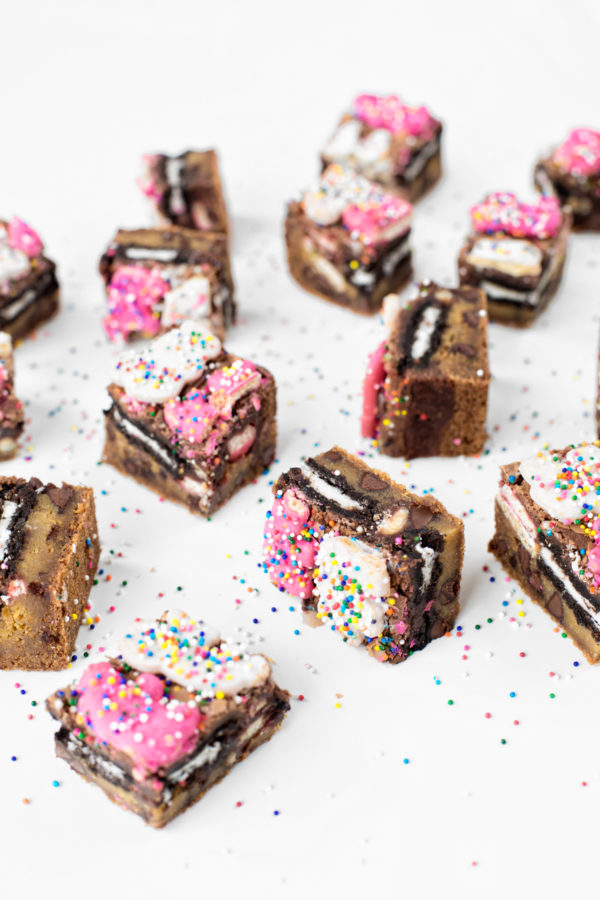 What is a brookie?
A brookie combines brownies and chocolate chip cookies together into one delicious treat!
Now, are you ready to try our brookie Oreo twist!?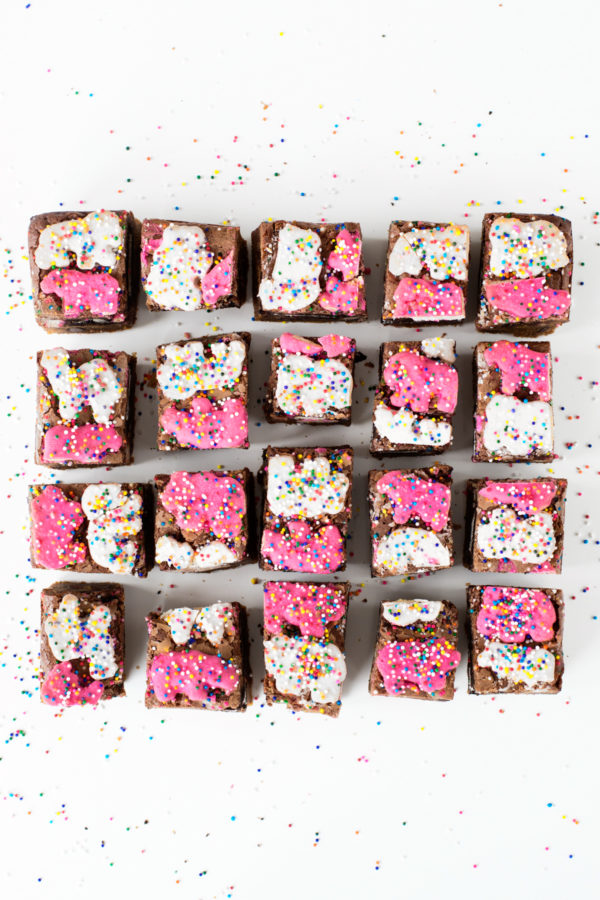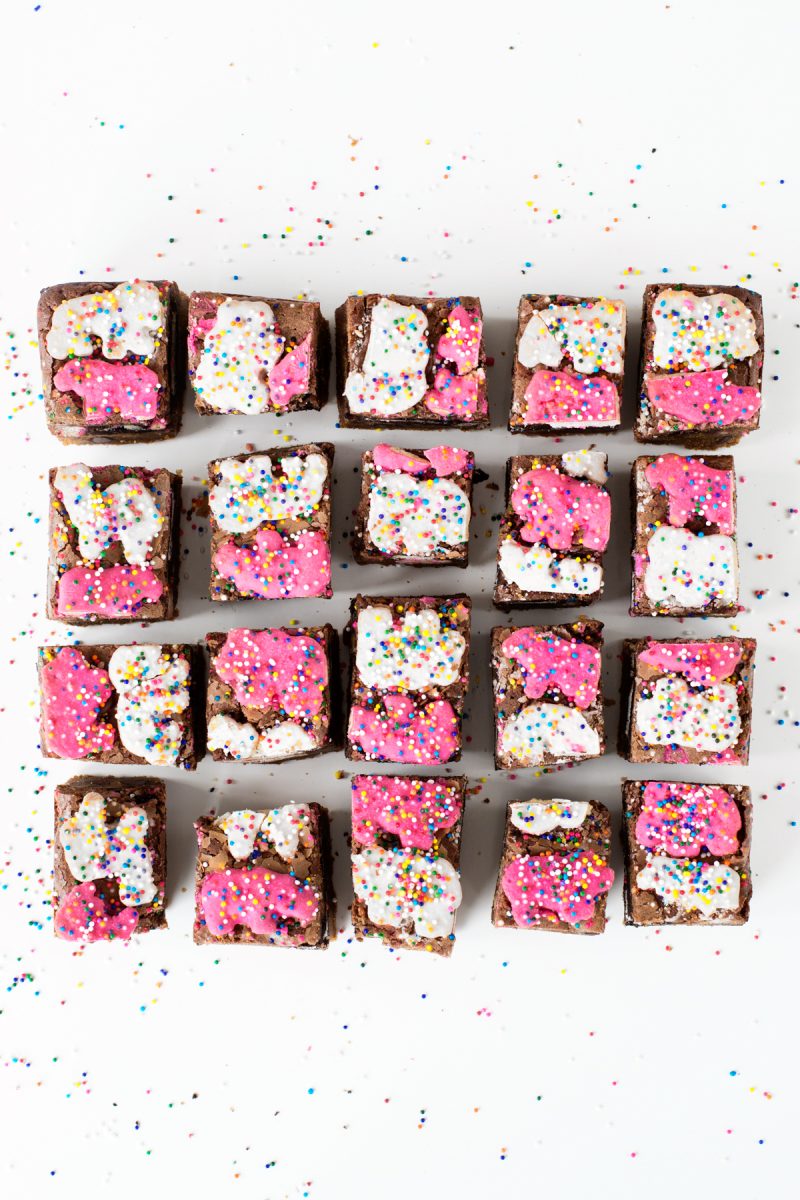 Oreo Brookie Recipe Ingredients
These ingredients are all easily found at your local grocery store, or perhaps already in your pantry!
Brownie Mix – plus any ingredients required to make it!
Pre-made Chocolate Chip Cookie Dough – or make your own!
Oreos – We prefer double stuffed!
Frosted Animal Cookies – Completely optional
Nonpareil Sprinkles – Optional but sprinkles make everything better!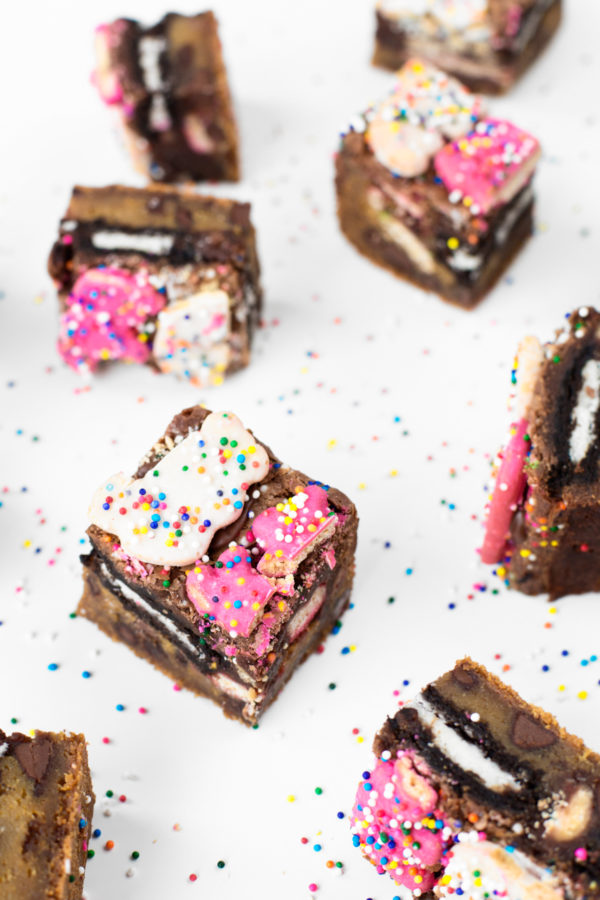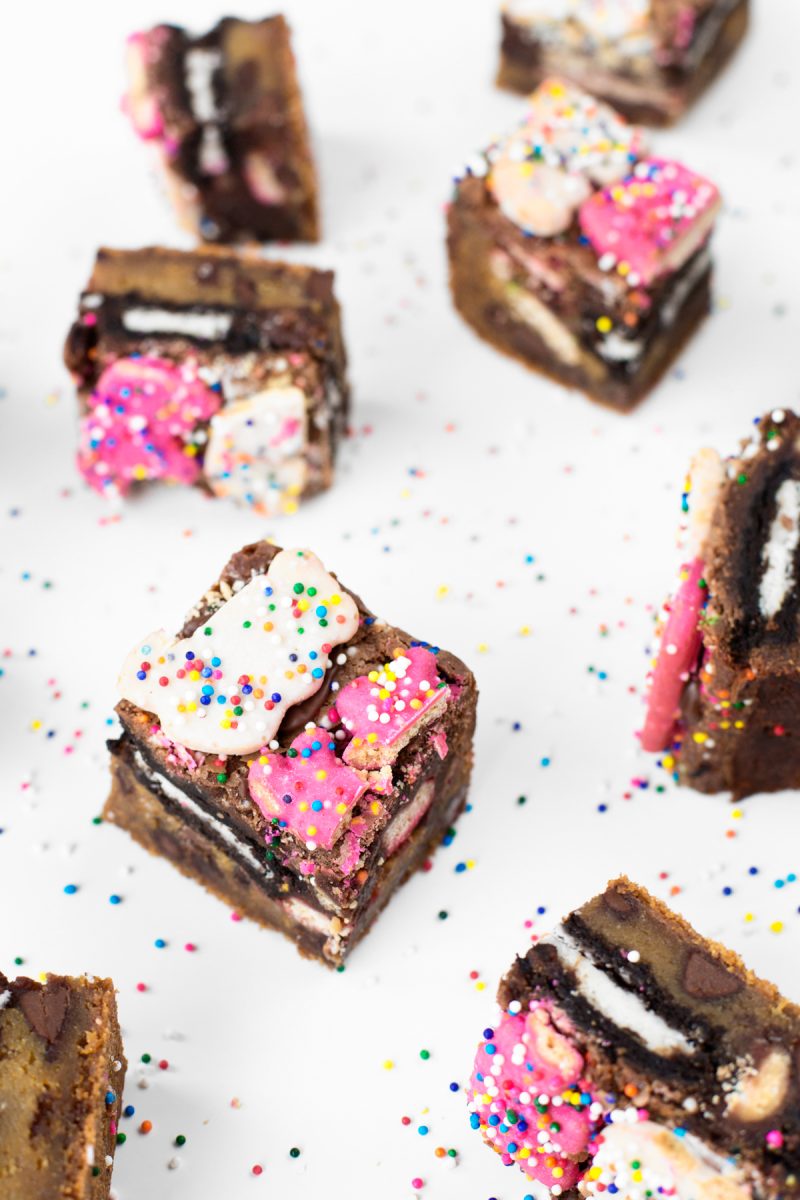 How To Make Oreo Brookies
This recipe couldn't be simpler! If you have kids, this is a fun and easy treat for them to help with.
You can also find a printable version of this recipe at the end of this post!
Preheat oven to 350 degrees F. Line an 8×8 pan with parchment paper.
Spread chocolate chip cookie dough into a 1/4 layer on the bottom of the pan.
Place Oreos on top of the cookie dough in an even layer.
Mix up brownie batter according to package instructions.
Pour a thin layer of brownie batter on top of the Oreos, just enough to cover the cookies.
Top with sprinkles, if desired.
Bake for 30-35 minutes, or until a toothpick inserted into the brownie layer comes out clean. This will vary depending on how thick your brownie layer is.
If desired, press circus animal cookies on top while the brownies are still warm. If not, let cool, cut and serve!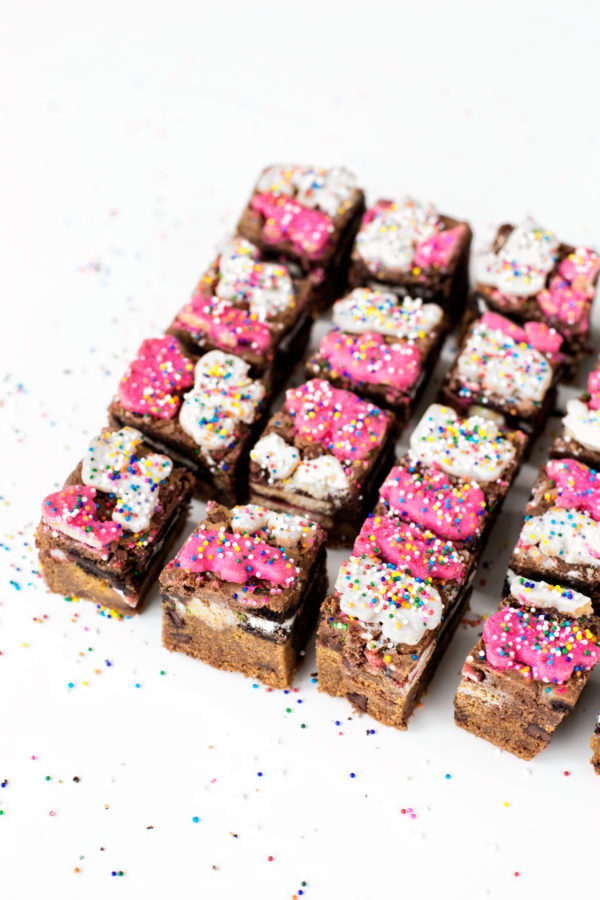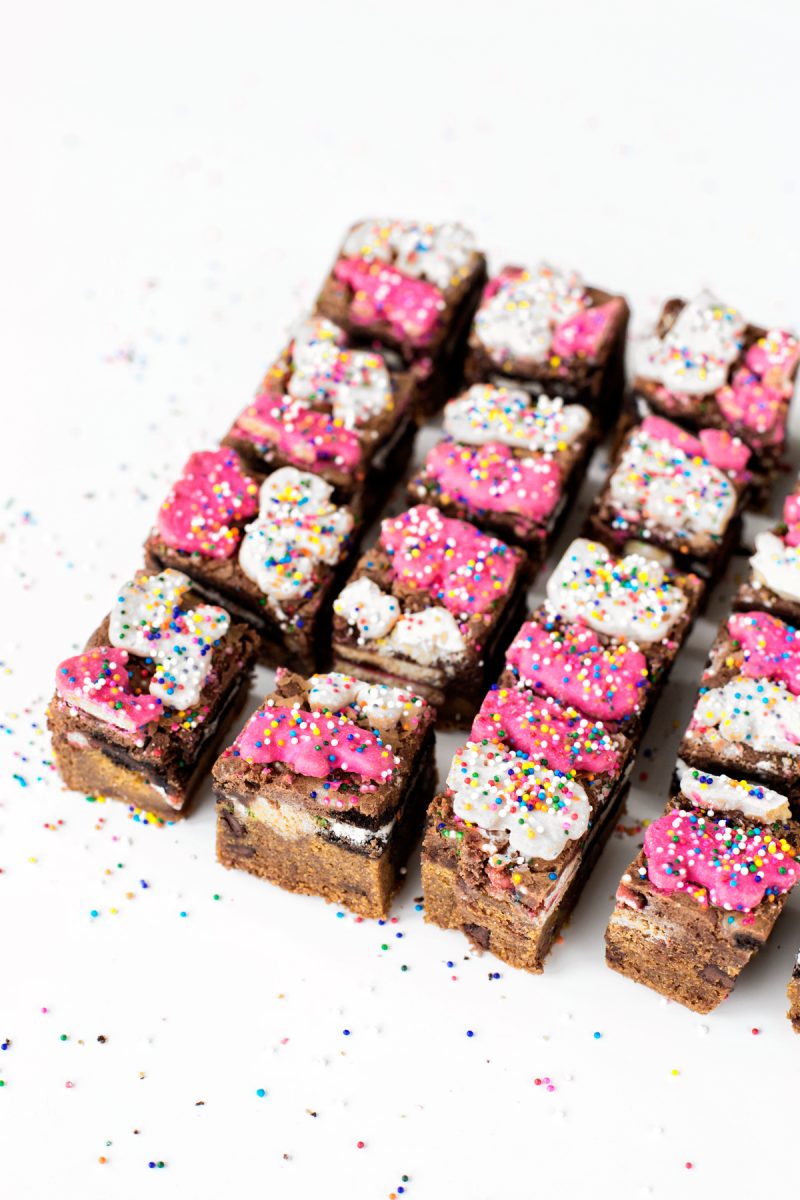 How To Store Brookies with Oreos
These brookies with Oreos can be stored at room temperature in an airtight container for 3-5 days.
You can also store brookies in the fridge and they'll last for over a week. You could eat them cold, but I prefer to bring them to room temperature or pop each Oreo brookie in the microwave for a few seconds to get that fresh-out-of-the-oven experience again!
More Delicious Desserts To Try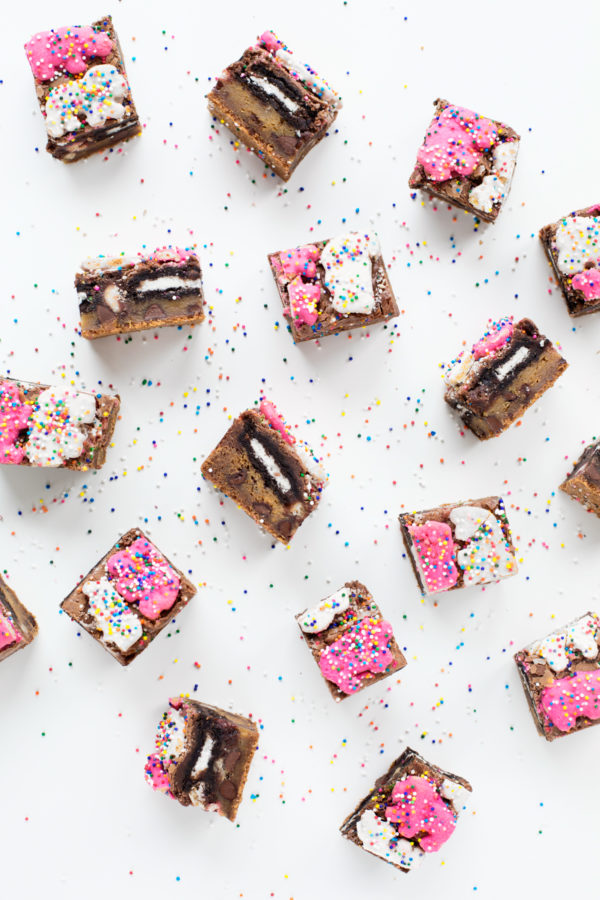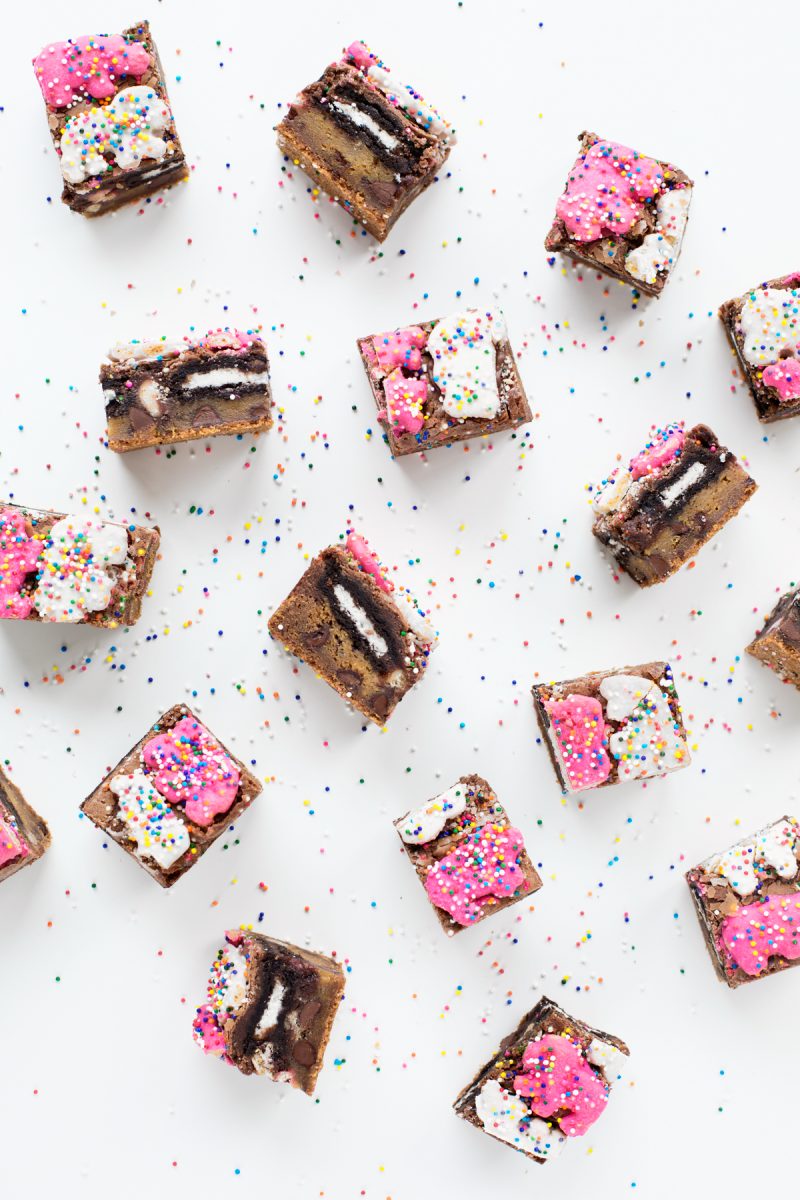 Photos by Jeff Mindell | Recipe by Rachel Kivlahan
Have you ever had brookies before, nevertheless an OREO brookie??? It truly takes them to the next level. Because who doesn't love an Oreo!?
The Best Oreo Brookies
Quickly pull together these delicious Oreo Brookies with simple ingredients!
Ingredients
Boxed Brownie Mix

plus ingredients per package instructions to make it, such as eggs and oil

Double Stuff Oreos

Chocolate Chip Cookie Dough

Circus Animal Cookies

optional

Nonpareil Rainbow Sprinkles

optional
Instructions
Preheat oven to 350 F. Line an 8×8" square nonstick pan with parchment paper.

Spread chocolate chip cookie dough into a 1/4 inch layer on the bottom of the pan.

Place Oreo cookies in an even layer on top of the cookie dough. You can fill in the gaps with circus animal cookies if you're using them!

Pour a thin layer of brownie batter on top of the Oreo Cookies so that they are just covered (if the layer is too thick, the brownies will take much longer to cook through) Top this brownie layer with rainbow sprinkles if desired.

Place in the oven for 30-35 minutes. Use a toothpick to check if the brownies are cooked through before removing from the oven, as cooking time will vary depending on the thickness of your layers.

Once the brownies are out of the oven, quickly arrange Circus Animal Cookies on top if you'd like, pushing them down lightly into the brownie layer so that they stick. If not, let cool slightly, then cut, serve and enjoy!
Notes
Be sure to keep your brownie layer thin on top of your Oreos. If you make your layer too thick, it will take longer to cook than the cookie dough. You want the Oreos to be just covered!
You can make your own cookie dough, but store bought pre-made cookie dough is perfectly fine for this recipe!
Recipe developed by Rachel of Sugar Coated Inspiration for Studio DIY.