Our utmost favorite activity leading up to October 31st is going on a Halloween scavenger hunt of pretty much any and every neighborhood we can make our way too. We look at every house's decorations, from pumpkins on the stoop, to spider webs to giant blow up ghosts. It's pretty much the only request our son has every day for a solid month!
Dayanita Ramesh and I created this printable neighborhood Halloween scavenger hunt for kids to aid you on your family adventures! It would also be a great worksheet to give out to students at school.
You can even coordinate with your neighbors to make sure each item can be found, or bring along treats to pass out for each item checked off the list, in place of traditional trick-or-treating!
You can print yours for free by downloading it below!
How To Print + Use Your Halloween Scavenger Hunt
Click HERE to download the Neighborhood Halloween Scavenger Hunt printable!
It can be printed on any printer and is sized to standard 8.5×11″ computer paper! I like to print mine out on cardstock so it's extra sturdy as you carry it around. Circle, cross off or mark each with a sticker as you find them!
You could also download it and have it on your phone or iPad to avoid printing, if you prefer or don't have access to a printer! Just use the "mark-up" feature in the photos app to mark off the items you find!
Items To Find on a Halloween Scavenger Hunt for Kids
Bat
Black Cat
Broomstick
Crow
Eyeballs
Ghost
Halloween Lights
Gravestone
Jack-O-Lantern
Pumpkin
Skeleton
Spider
Spiderweb
Witch's Hat
Vampire
Witch's Feet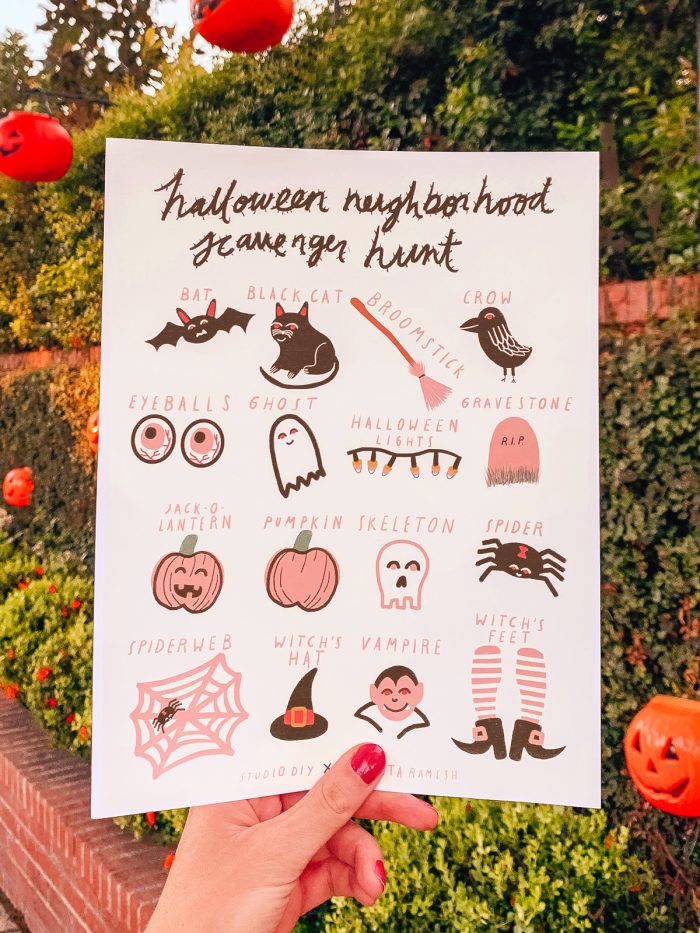 Design by Dayanita Ramesh | Photos by Studio DIY
I hope your family enjoys this fun activity this Halloween season! Doing these scavenger hunts are a real high point in our days throughout October!
Happy Halloween!