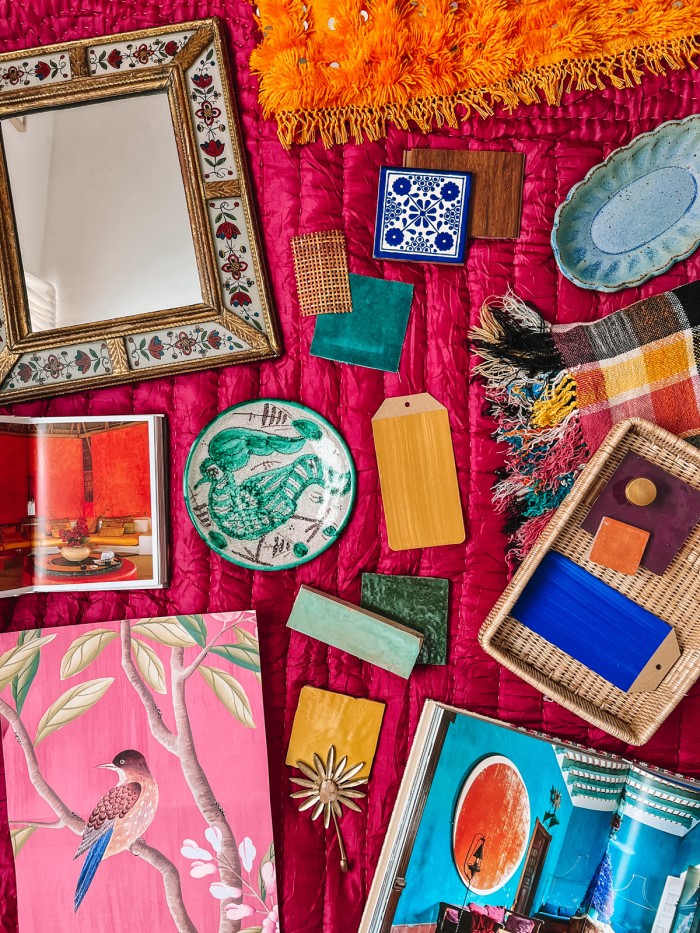 I'm excited to share the mood board and overall design plan for our 1950s Palm Springs home today! Because this is a vacation home for us, I'm looking forward to taking more risks and trying things out I'd be nervous to try in our primary home.
Our Mood Board
While just about every wall in our 1930s Los Angeles home is white, I wanted the exact opposite for this home. I don't intend to have any white walls in this space!
The home is hacienda style and in typical Palm Springs fashion, has windows and doors only on one side of the home. The home as a result is on the darker side, and I believe when you have a room without vast natural light you should lean into that instead of trying to fight it. So we'll be going with deeper, moodier tones throughout the house.
Below you can see a mood board of the look we're going for!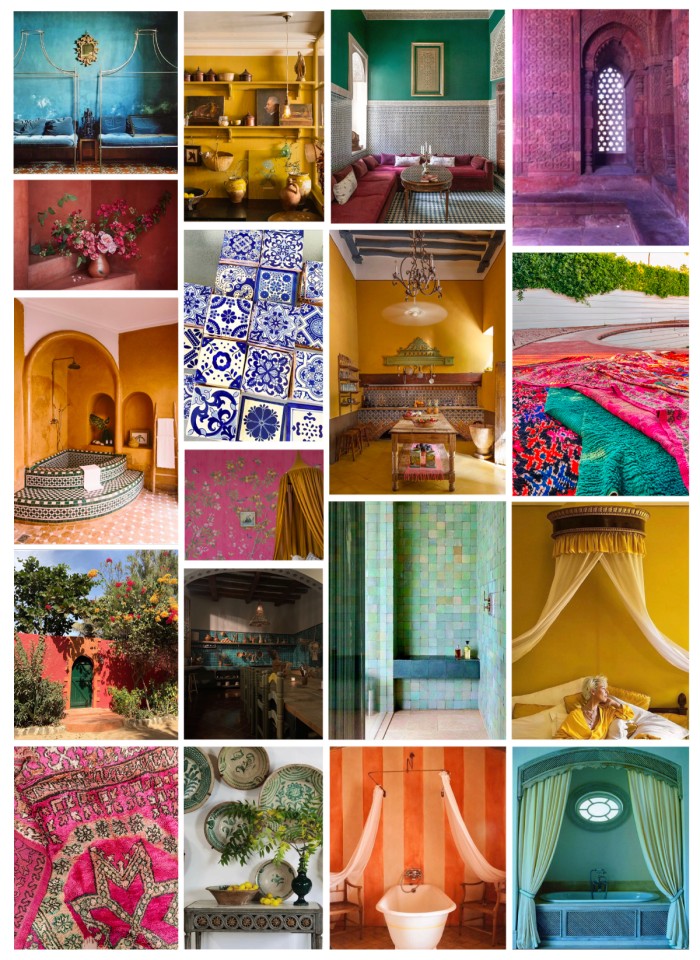 Turquoise Bedroom via Casa Mexico, Yellow Kitchen via DeVol Kitchens, Green & Pink Room, Purple Exterior, Yellow Bathroom via Riad Jardin, Talavera Tile via Etsy (No longer available), Pink Chinoiserie Wallpaper, Yellow Kitchen via Casa Mexico, Rugs by pool by Studio DIY, Coral Exterior via @voyagewithgigi, Teal Kitchen via @dayswithdev, Green Bathroom via Southern Living, Yellow Bedroom via @phoebenicol.interiors, Pink rug by Studio DIY, Green Bowls via @pino3bravo, Striped Bathroom via @camillaguinness, Aqua Bathroom via @casamotachic
Our Color Palette
I actually had a hard time finding photos that felt well aligned with the house, which is a good thing I think! Most that had the bold colors I wanted were completely monochromatic, as you can see above. But I want to choose one major color for each room and then layer lots of other jewel tones on top so that no room is just one hue, but each room feels defined.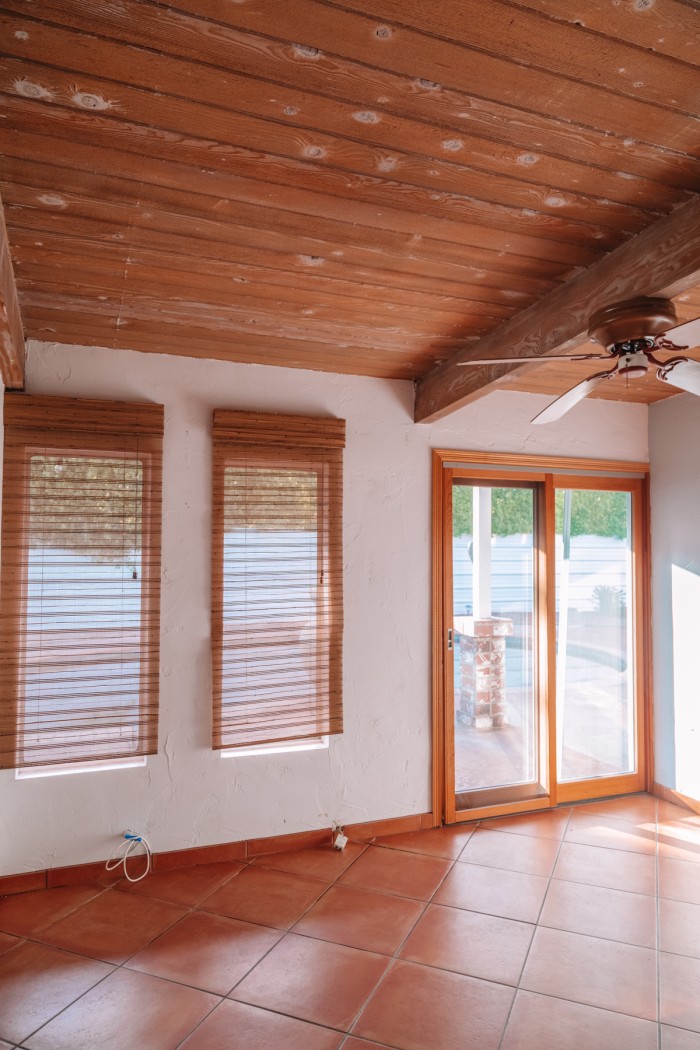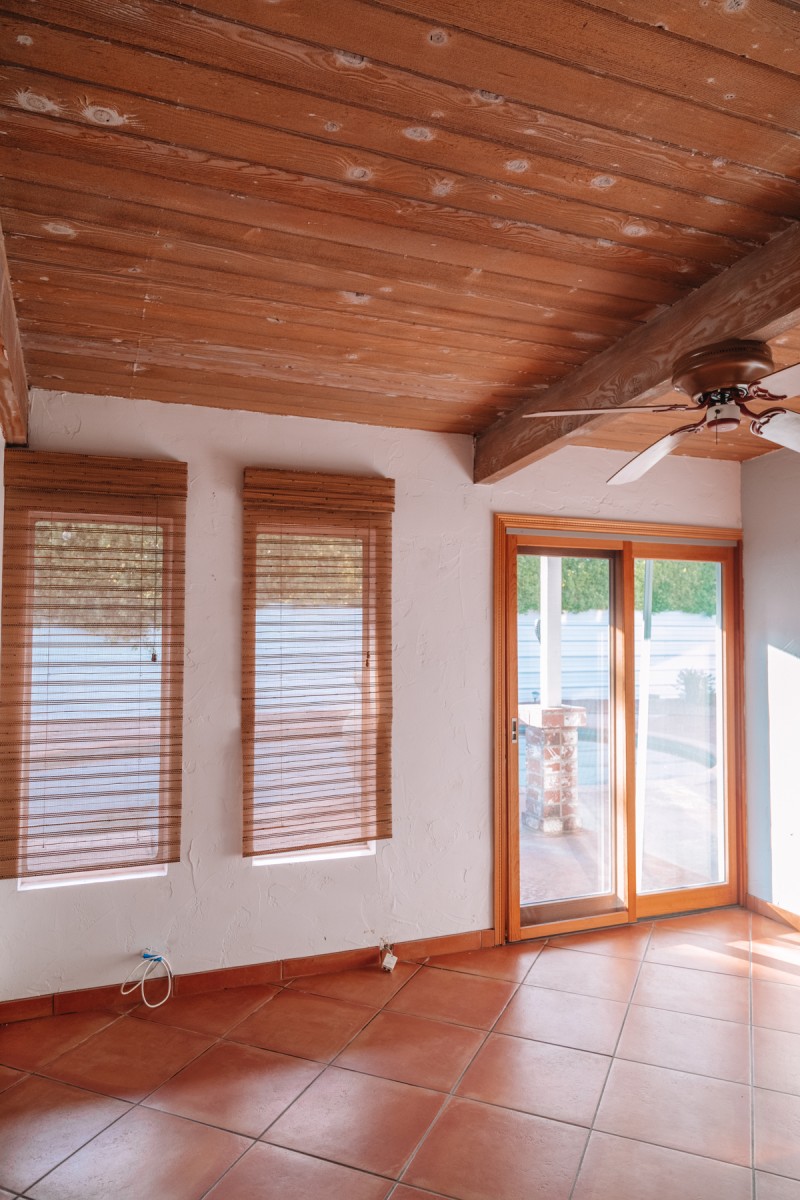 The Floors
The floors are currently a porcelain terracotta-look tile and while they photograph nicely, it is quite obvious in person that they aren't a natural stone. They also aren't in great shape.
So we decided to go ahead and splurge to re-do the floors before moving in any furniture with a natural terracotta. We're so excited for this impactful change it will have on the space and know it will be worth the investment.
It will run through every room except two bathrooms.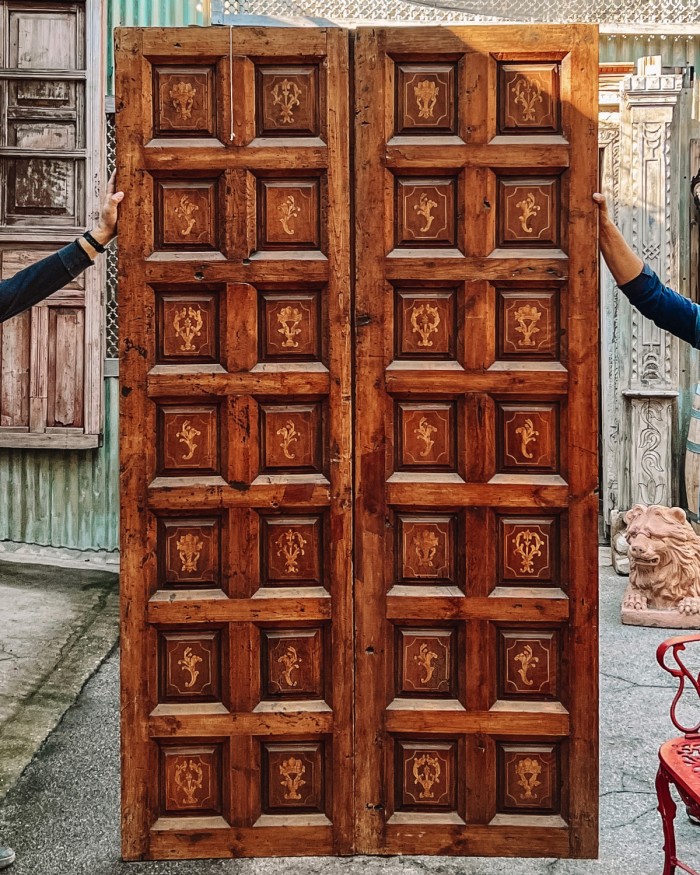 Wood & Textures
I'm hoping to play with pattern and textures on the wall too, with wallpaper and roman clay or lime wash treatments.
There will also be a lot of wood in this house. Of course, the ceilings are wood. We are hoping to be able to refinish them as they are currently white washed and I prefer a more natural look.
But we'll also be adding butcher block counters, wood cabinet fronts, custom wood bunk beds (!) and wood furniture throughout. As I've looked at inspiration (more on that below!) from hacienda style homes, I've loved the use of dark wood tones and hand-carved wood details and furniture. I'm hoping to bring in lots of vintage furniture that fits the feel of the home.
I'll also be bringing in cane and rattan elements. Plus, rich-toned rugs to warm up the floors and large textiles for the walls because there are a lot of large walls to fill.
Inspiration for This Home
I've been flipping through lots of colorful design books to gain inspiration from all over the world. A few of my favorites are:
The Elements of Style: A Practical Encyclopedia of Interior Architectural Details from 1485 to the Present has also been a fun book to flip through, it's more of an education history of design elements throughout different eras. It's no longer in print, but I found it locally at a used book store. It looks like there's a newer (used) version than mine available here.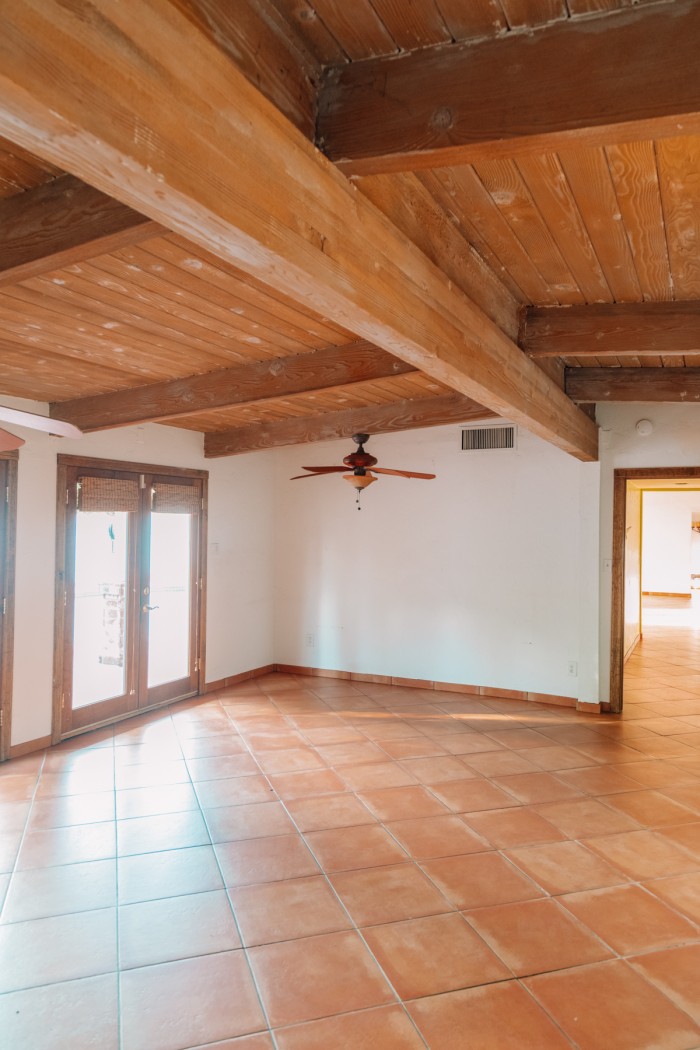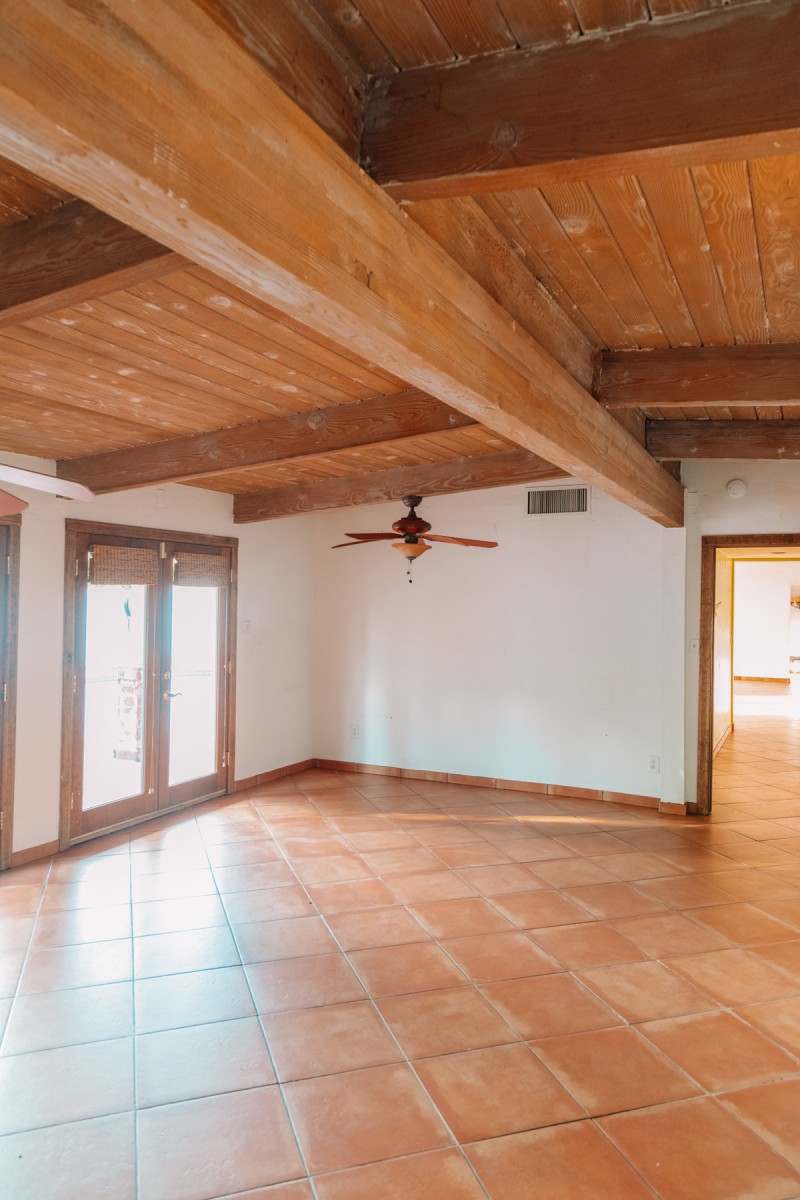 Our Design & Renovation Plan
I'll be sharing individual inspiration and renovation plans for each room as we progress our way through them! Unlike decorating our current home, which I did room by room over 4 years, I'm doing this all at once so I've been hopping back and forth between each project and space.
We aren't changing the footprint at all and largely just doing cosmetic changes (new tile, new vanities, new cabinet fronts) to save money but are opening up a half wall and a divider to make the space flow better! Otherwise, just some new doors, windows, fresh coats of paint and a whole lot of furniture and textiles!
The backyard is a story for another day! In the meantime, stay tuned for our first room inspiration post coming up in a few weeks!