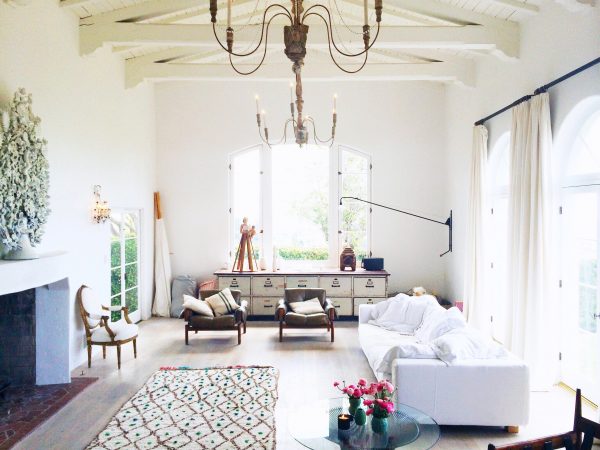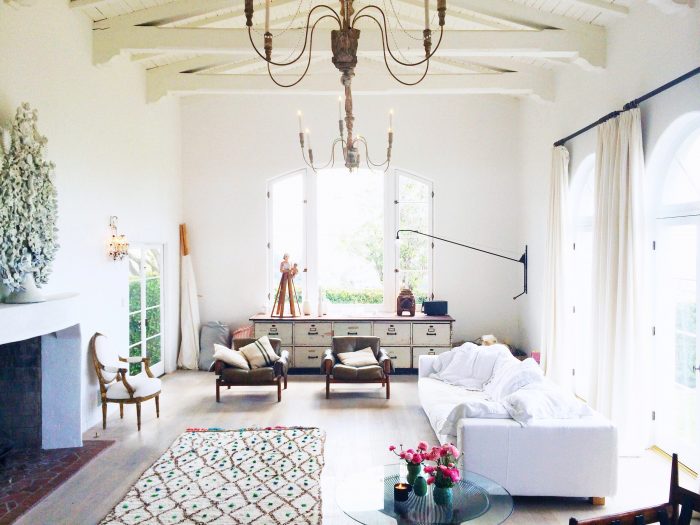 I talk a lot about how our current home is not our "forever home" and always get a LOT of questions and confused comments. Why put so much work into a home if you won't live in it forever? What does this house not have that you want?
Well first, we're lucky that we can put a lot of work into a home that we won't be in forever because it's partially my job to do so. But even so, I love a project. I would never be able to buy a home that was fully finished because I'll always want to add my own style to it.
And second, we bought this home knowing we'd spend about five years here. We wanted to get our foot into the real estate market instead of continuing to rent. There were a lot of things about this home that I knew I wouldn't love, and there's even more now that we've lived here for over two years. That's taught me a LOT about what I want our forever home to be, or not be.
Not only do I envision the architecture and layout of our home to be different, but overall the style too. I can't even tell you how many images and folders I have saved for our forever home, and how many homes I have saved in my Redfin app that fit the bill. Hahah! It's one of my favorite topics, so today I thought I'd share about it… just for fun! And because I get so many questions when I mention the topic.
To reiterate: this post is meant to be silly and fun, because my list is long and extravagant and I'm well aware of that. So is Jeff. Haha! But, something I've talked about a lot with our business coach is what is motivating to me. And two things come up constantly: my family (and having a big one!) and owning real estate. I'm a homebody and while some may dream of all the places they can travel, I dream about my home because it's my sanctuary and the place I'd spend all my time if I could. 😉

What does "Forever" mean?
To me, a forever home is the home we'll live in from when our kids start grade school until we "retire." I was born and grew up in (and my parents still live in!) the same house, which perhaps is why I'm so focused on finding a home that can last us for a long time.
Our current dream/plan is to retire to Palm Springs where we can purchase a home that would be "home base" for family visits, with enough space to fit everyone! We have a pretty specific vision for that. But that's a story for another day. =) My hope is that our next home will last us all the way through until then and thus be our "forever-ish" home. A place where we can grow, lay down roots and make memories.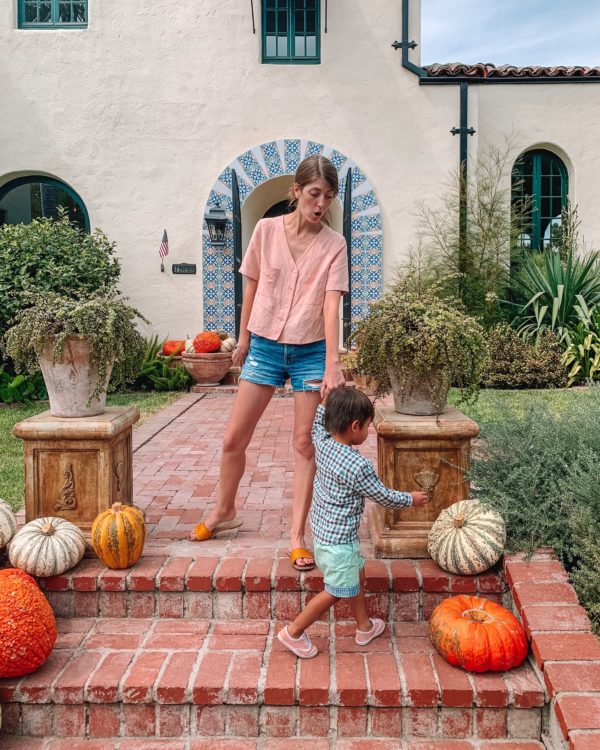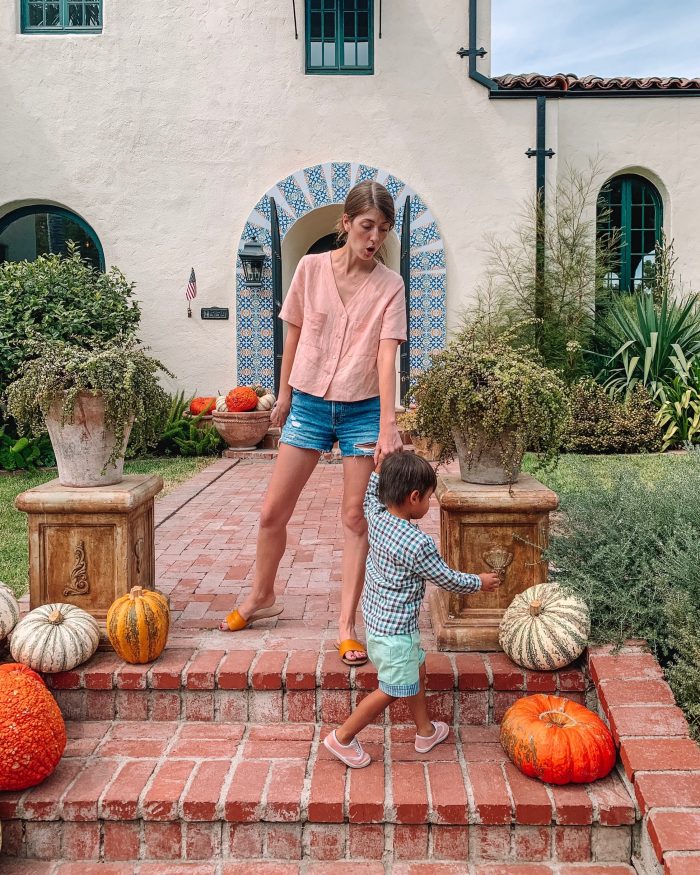 The Size of Our Dream Forever Home
I've learned by living in our current house that layout is WAY more important than actual square footage. We have a good amount of square footage (for LA at least) but the layout is so poor that it feels much smaller. We currently have a three bedroom, two bathroom home. My hope would be that our forever home is four bedrooms (a master, two kids rooms and a guest room) plus a guest home/converted garage (pretty common here in LA) that we could use as an office and guest space to allow longer visits from family. I would love some sort of additional living space like a den or family room to be used as a playroom, too.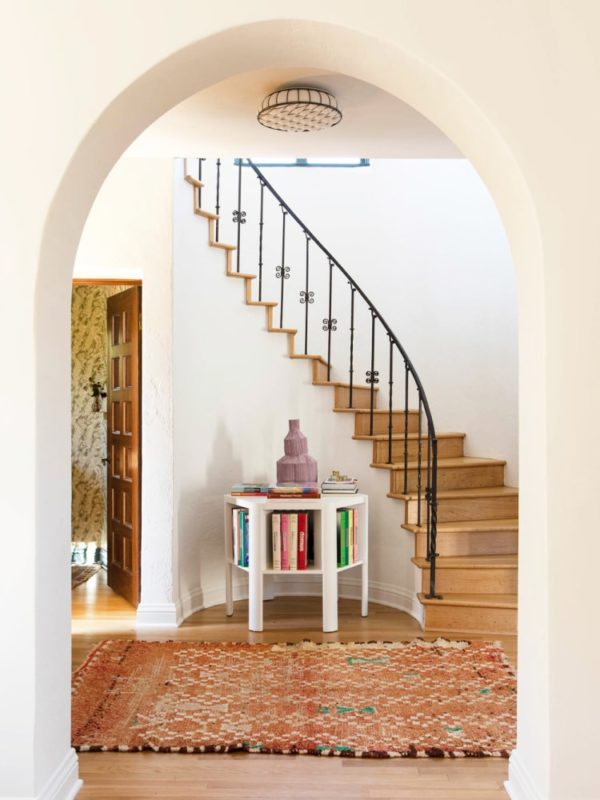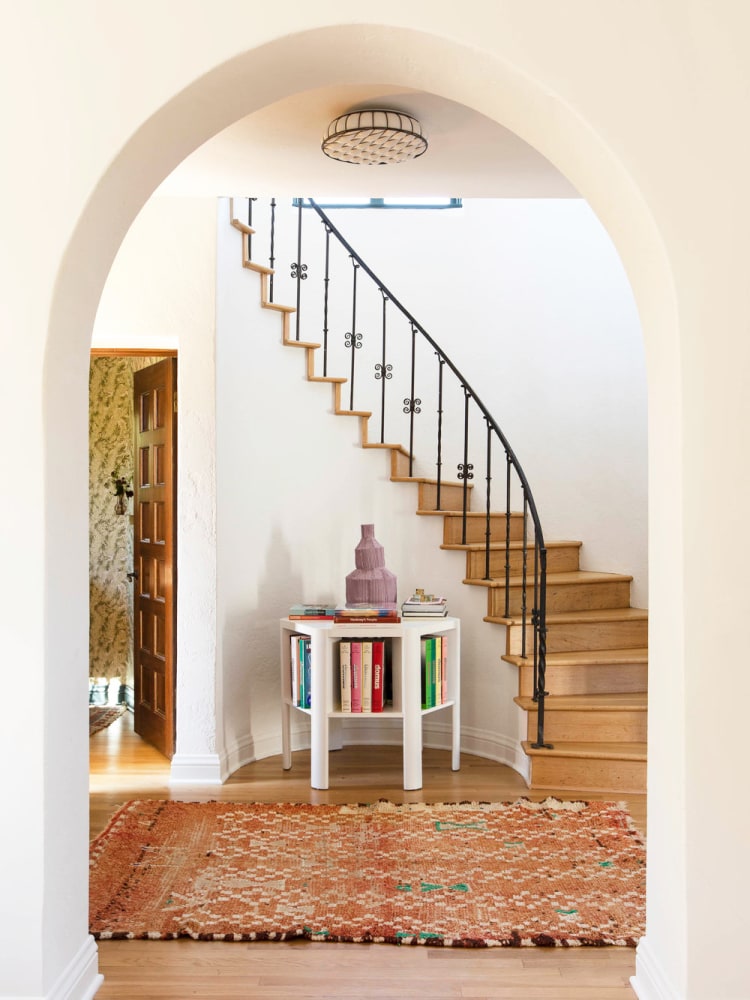 via Domino
The Layout of Our Dream Forever Home
This is without a doubt the thing I will be least flexible about when we are house shopping next. Here are a few of my top priorities:
A Foyer/Entryway: I hate that our front door dumps right into our living room. There isn't even a nook or anything. It means stuff is constantly dumped on our furniture here and it just feels really invasive when anyone who rings our doorbell immediately is in the main room of our home. If we were staying in our current home for longer, I would build one out no question.
Living space that opens to the yard: Currently our living space is at the front of the home, so it is not connected to the yard at all. In LA, where you can be outdoors year round, this really hinders that dreamy "indoor/outdoor" living scenario. Even with our new backyard, we don't use it much because all the "action" of the house is happening in the front. It's also super awkward to have to walk guests through your bedroom to get to the yard.
A Detached Garage: A space that can be converted into an office and guest space.
And a few fun, random things I'd just love to have:
A Christmas tree window: Yep, I said it. Ha! We have no place for a Christmas tree in this house, so in the next one… I want a Christmas tree window. =)
A "Fort": I think it would be so fun to turn an awkward little closet or space into a fort. I've talked about doing that with Arlo's closet in this house but we'll see if I get to it! My friend growing up had a space under her stairs that we'd climb into, and I had an awkward closet that we turned into an "office" for our (pretend) pet sitting business. Haha! It's just the epitome of magic!!

The Bones and Architecture
I change my mind… all the time. That's why I don't have any tattoos. 😉 But there are two things I've never wavered on since I was a kid: the style wedding dress I wanted and my dream forever home style. Since as long as I can remember, I've wanted a 1920s Spanish style home. Even when I lived in NJ and had no plans of moving to LA, that was what I dreamed of. So that is what I am gunning for here!!!
I love the original details and character an old home comes with. Our current home is from the 1930s, and I love the history and quirks it has, curved walls, custom molding, original floors and unique arches. While having doors and floors that don't creak and walls that don't block your WiFi signal is really appealing, I could never live in a new home and could never build a home, it's just not for me!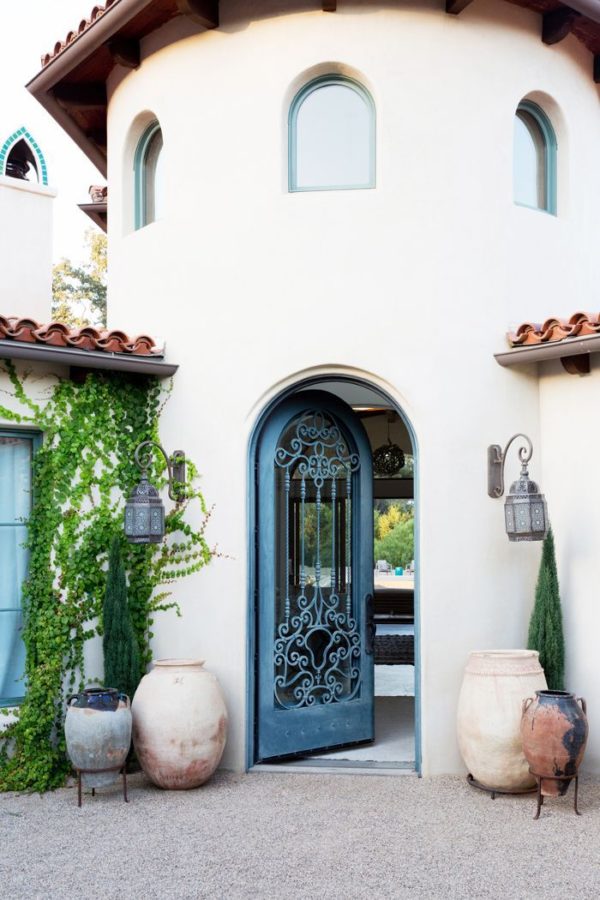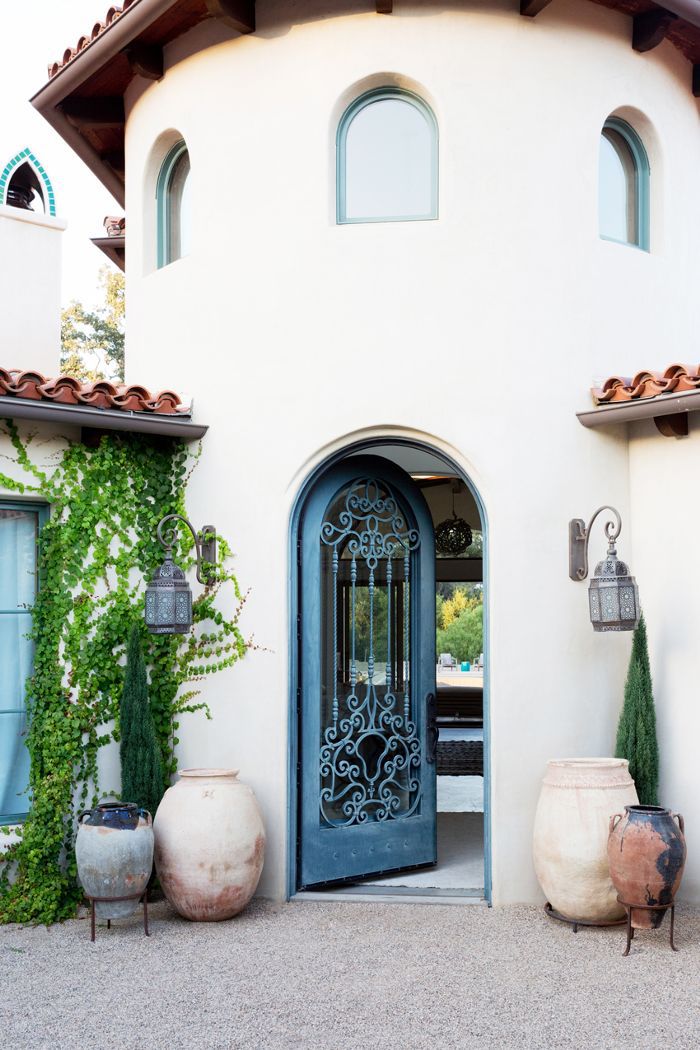 via My Domaine
Here's my dream list of architectural details I'd love to have:
1920s Spanish style home with a terra-cotta roof
Original arches or unique doorways and windows
Original hardwood floors
French Doors
Beams
Fireplace
The Day I Found My Actual Dream Home
Several years ago, when Jeff worked at a Real Estate office, we went to a LOT of open houses for fun and I found my dream home. It wasn't in my dream location and it was super expensive (of course) and only three bedrooms but let me tell you… the bones and style were my dream. (Pictured above and below) Replace a few neutral items with colorful ones and we basically walked right into my dream home, from the bones to the decor. I have not stopped talking about it since.
I compare every house we see to it and always say "It's not Deronda…" haha! (That was the street it was on.) The French doors, the built in seating, the stairs, the arches. It was so bright and airy. It felt spacious but wasn't "too big." I think about it DAILY. You can view all the photos of the home here if you're curious.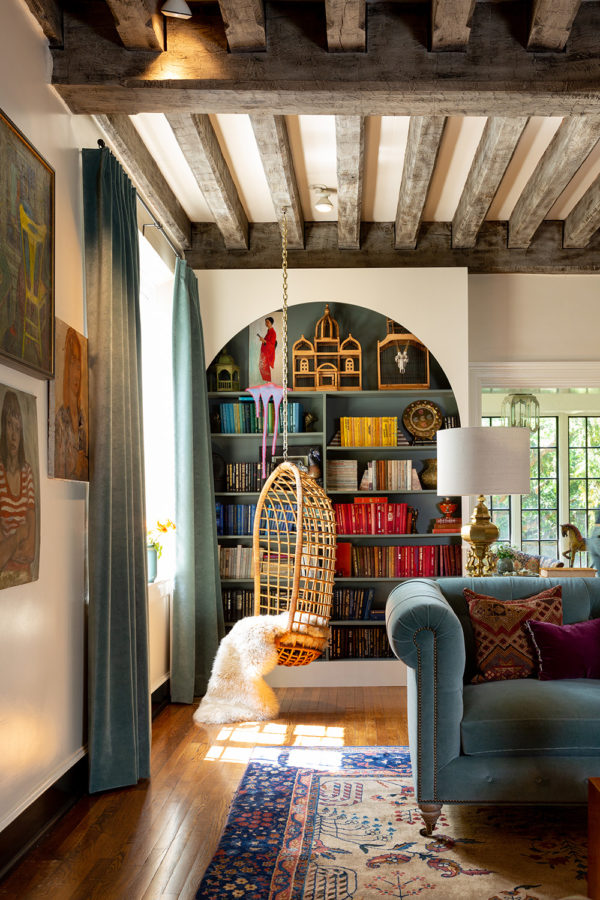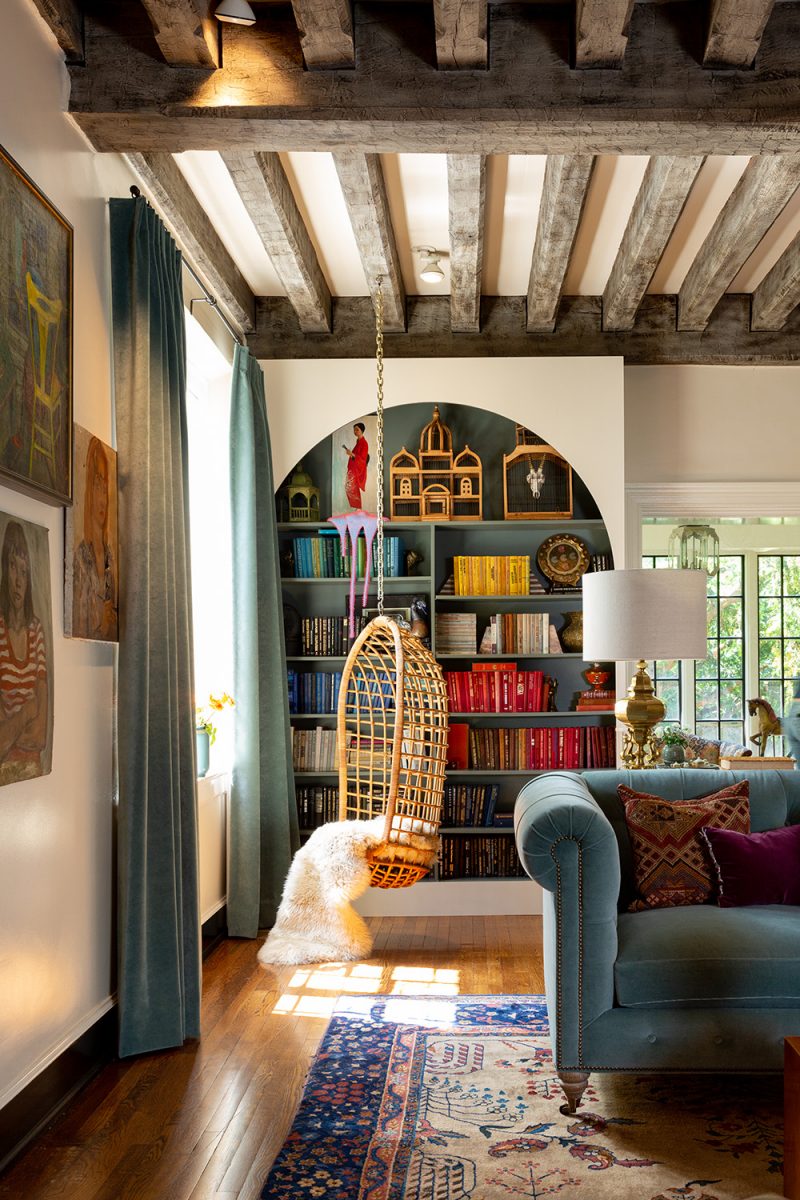 via Leslee Mitchell
My "Forever" Style
I still haven't been able to nail down what my core "style" should be called. But I was chatting with my friend Jess when we were re-doing our kitchen and she used the term "storied" to describe her style, which I really loved.
I've really enjoyed getting to play and experiment in our current home, but I've also struggled with "starting from scratch" because one of the fundamental things I know I love about design is the history and the story. Every room I gravitate towards feels like it has been built over many years, like it has memories and history in every piece you see. It's incredibly hard to create a home that feels like it has a story when you are buying everything at once. (We moved into our current home from a one bedroom loft which meant we had to buy a LOT of furniture and decor quickly to make it livable.)
I envision our forever home having some similar "traits" to our current home decor, with lots of Moroccan rugs, zellige tile and art on the walls… but that it will feel more collected, less intentional and less "put together" and also less… cramped?
I know I will still gravitate towards white walls and bold pops of color. But I suppose I most look forward to our next home being an evolving place where we fold in items from this home and items I've been collecting that don't have a place in this home, and items I hope to collect over the rest of our lives.
Dream Decor Features
The theme here: built-ins. WHY are built-ins so dreamy!? When I look at all the saved photos I have for my forever home, virtually every single one has some sort of built-in. Seating, beds, shelves, the works.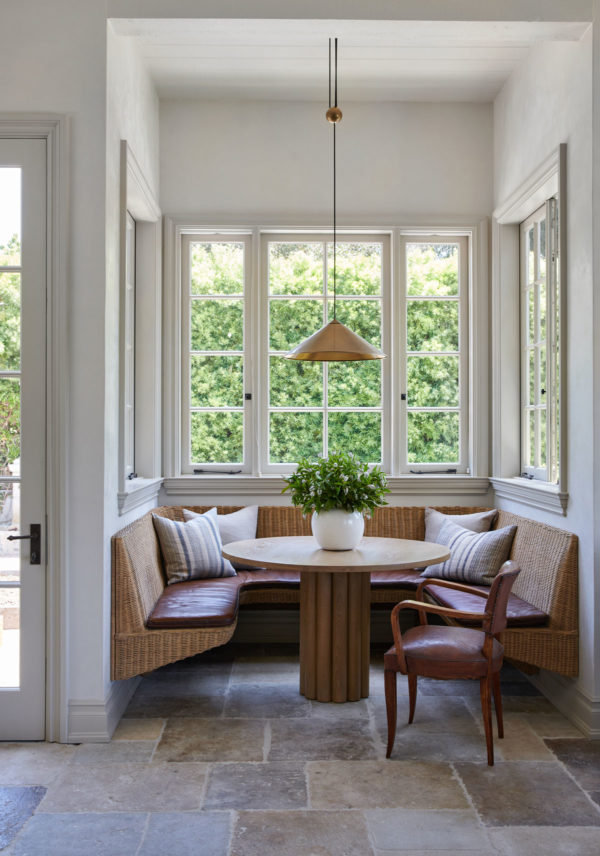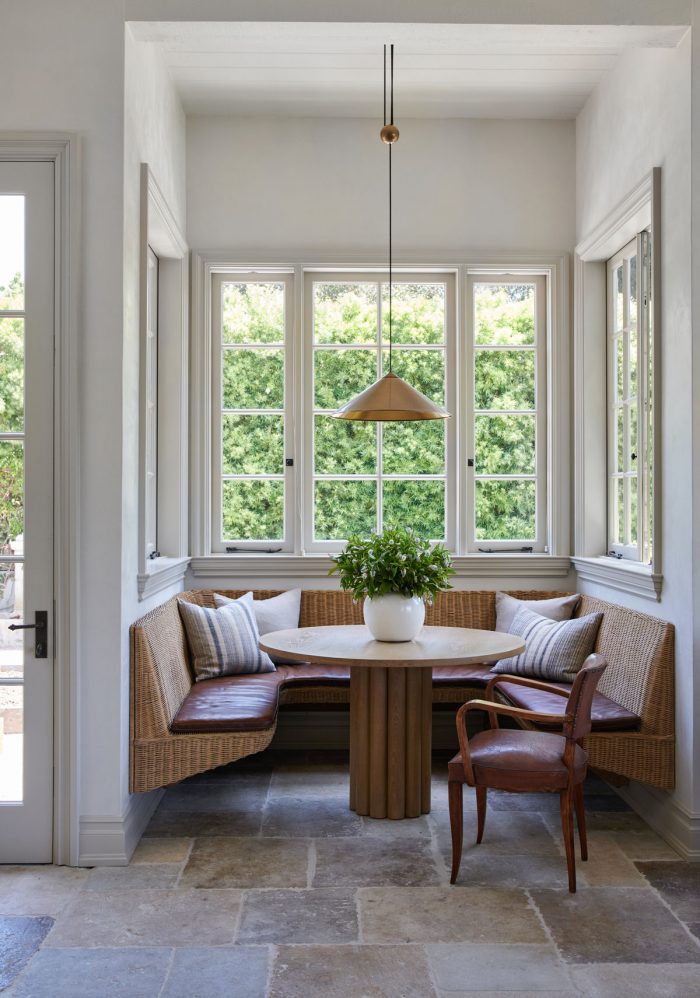 via All Sorts Of
A banquet: Amber Interiors has done a few wicker banquets and they are the stuff of dreams.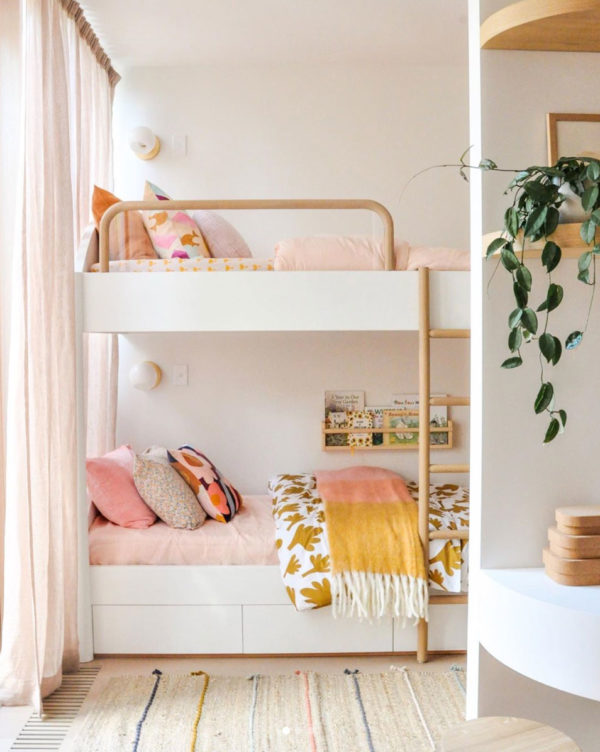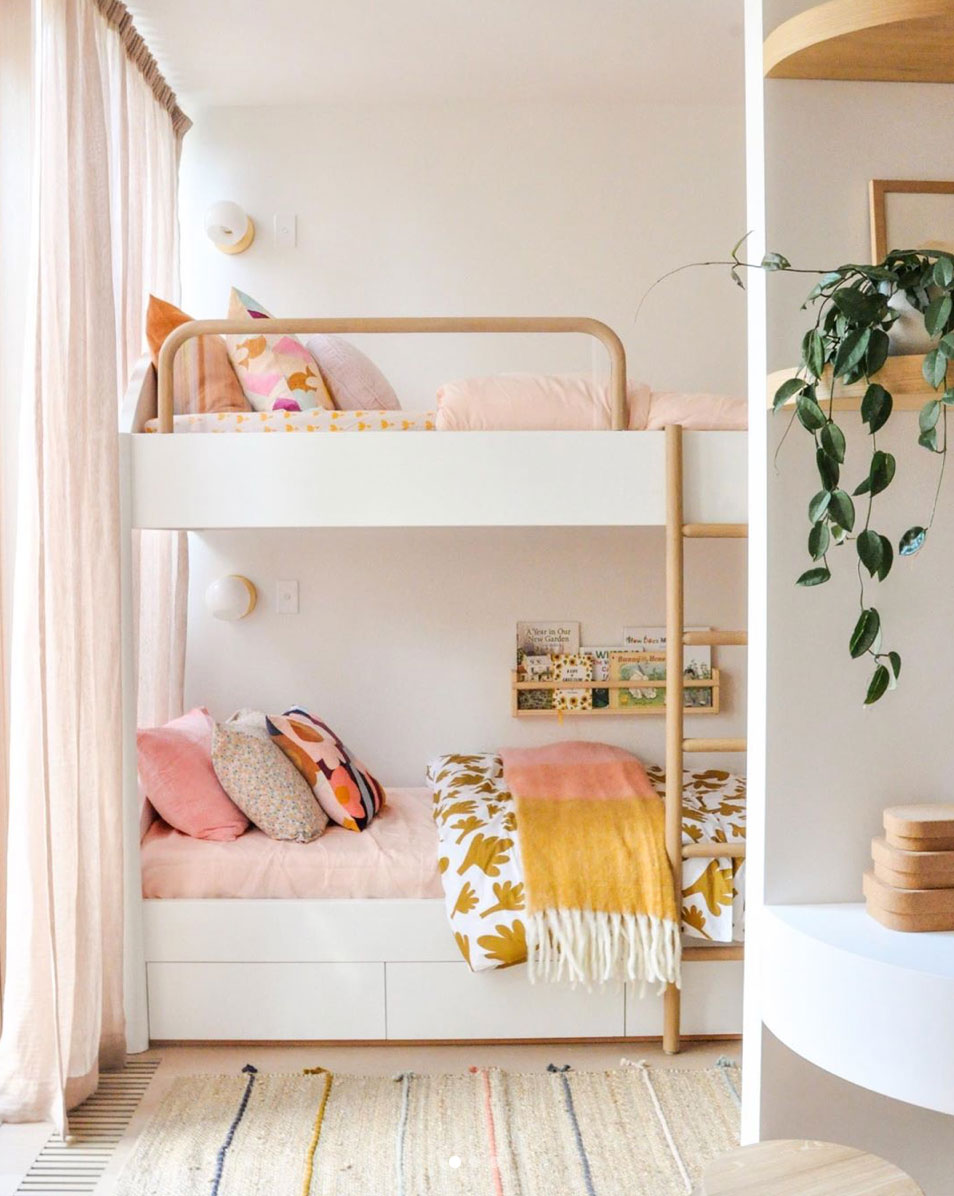 via @joshandjenna
A bunk room or built-in bunk beds: There is just something so magical about bunk beds, it feels like the epitome of childhood.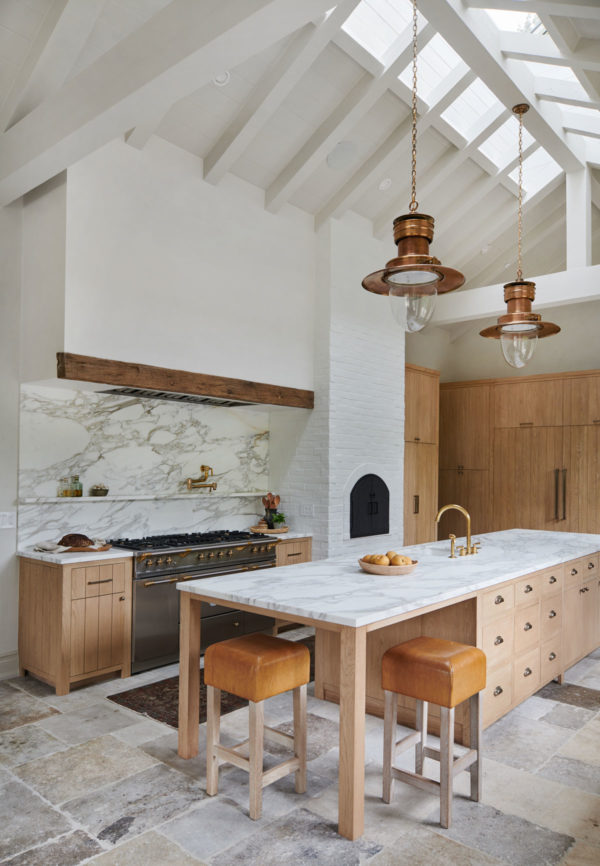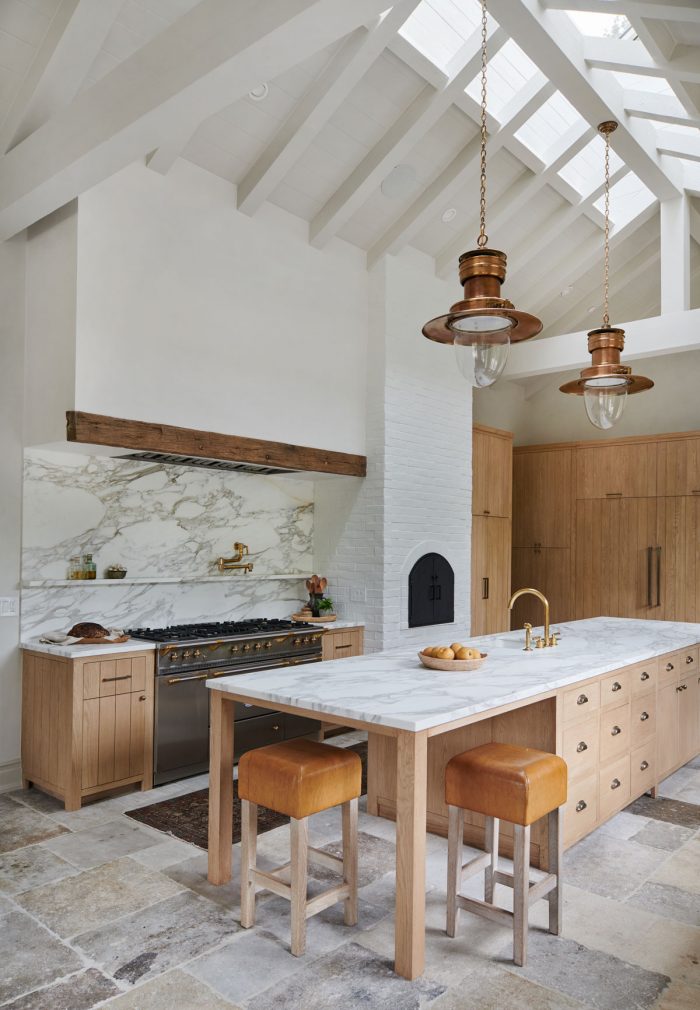 via All Sorts Of
A kitchen island: All I want in life is a kitchen island, I've only ever had galley style kitchens and I really can't stand them, functionally.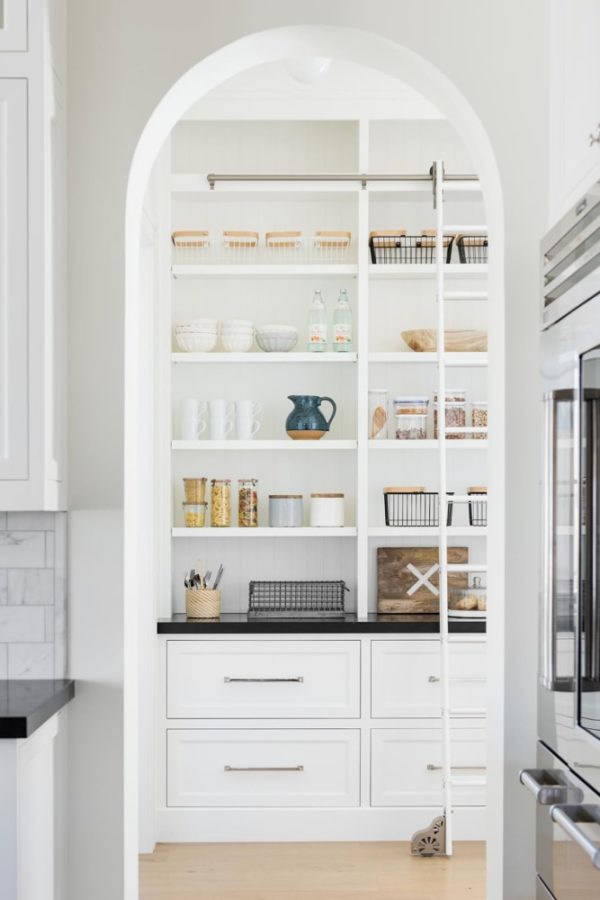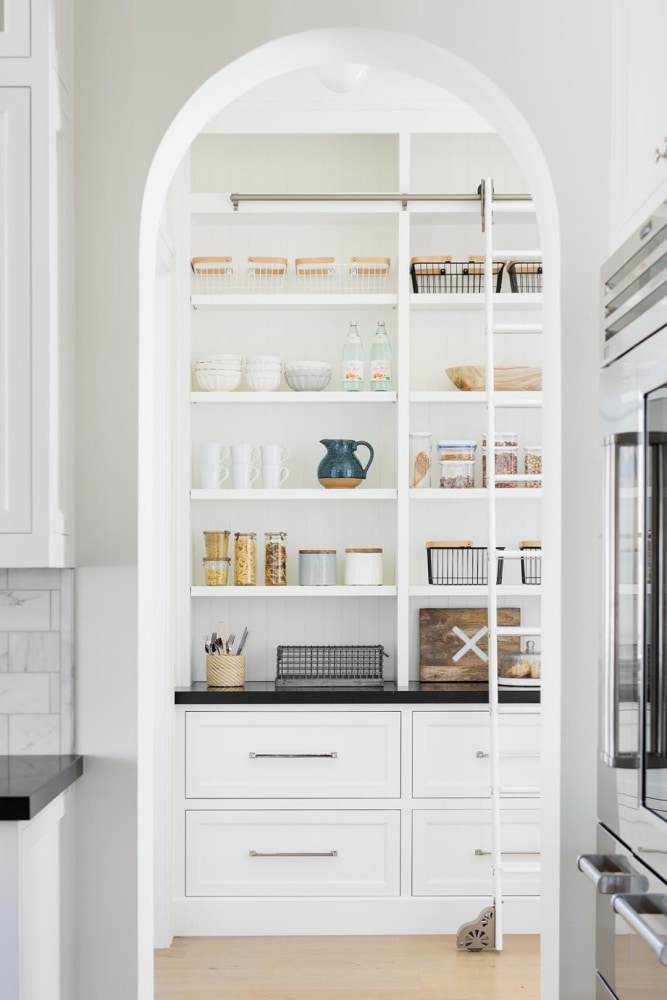 via Studio McGee
A pantry: I've never had one, but I dream about one frequently.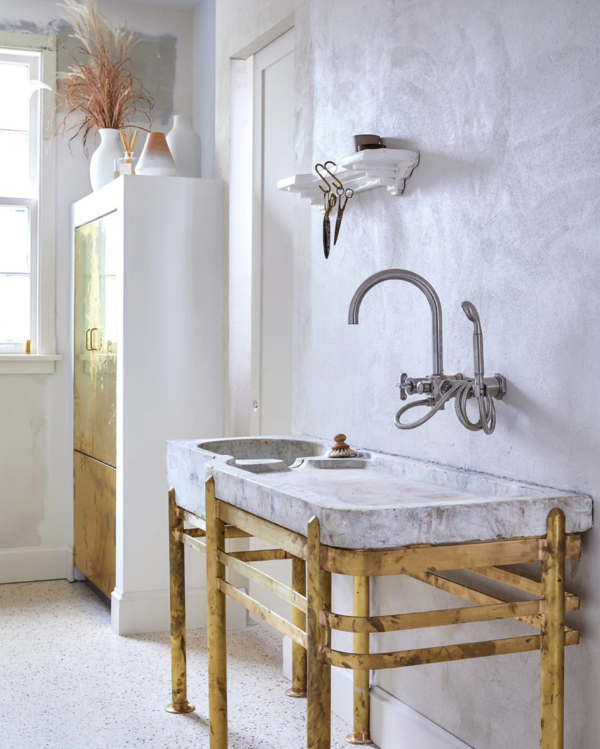 via Domino
A brass-base sink: Practically, this only makes sense to me in a powder room since it lacks any storage but man oh MAN, they're stunning.
Outdoor nook or built in seating: I love how cozy outdoor built-in seating feels.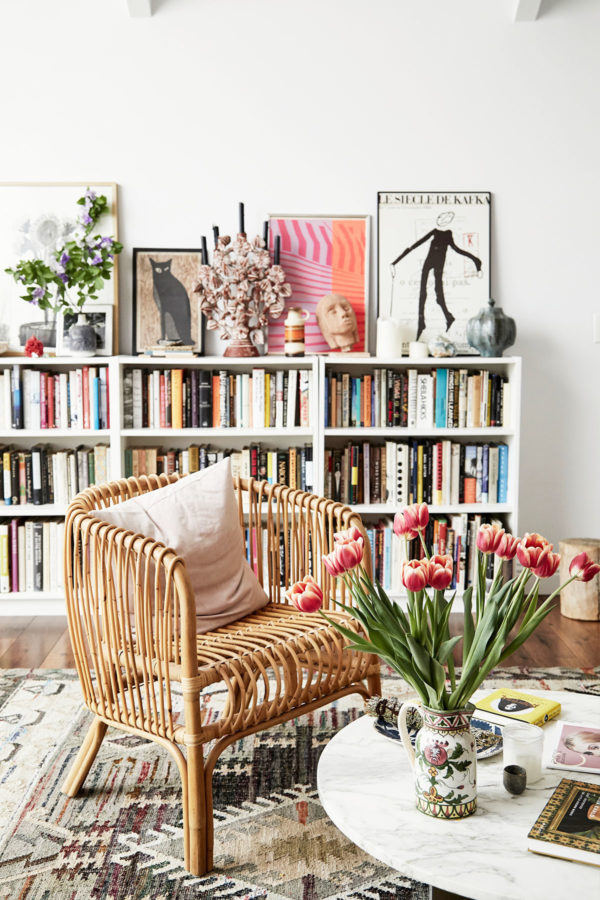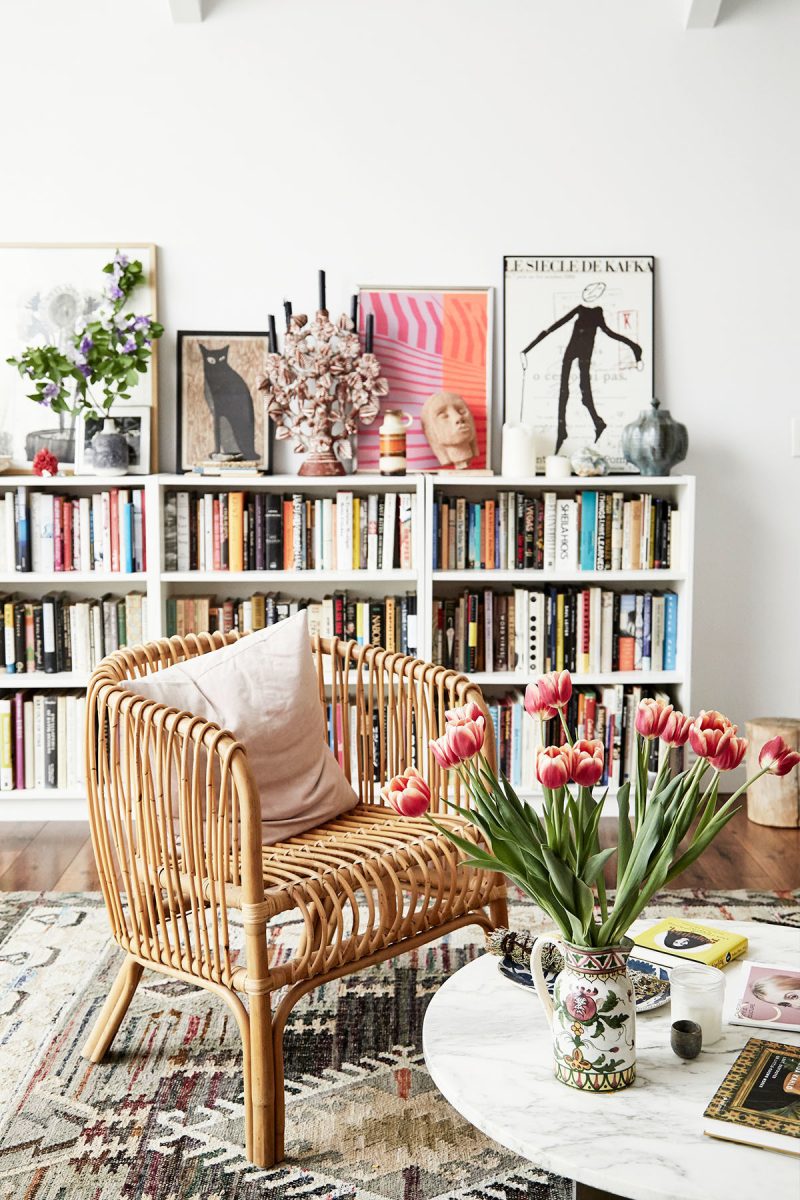 via Lonny Mag
LOTS of wall space for art, photos, shelves, our kids art and gallery walls. I have filled just about every wall our current house and am so sad that I don't have more spots to hang things I truly love.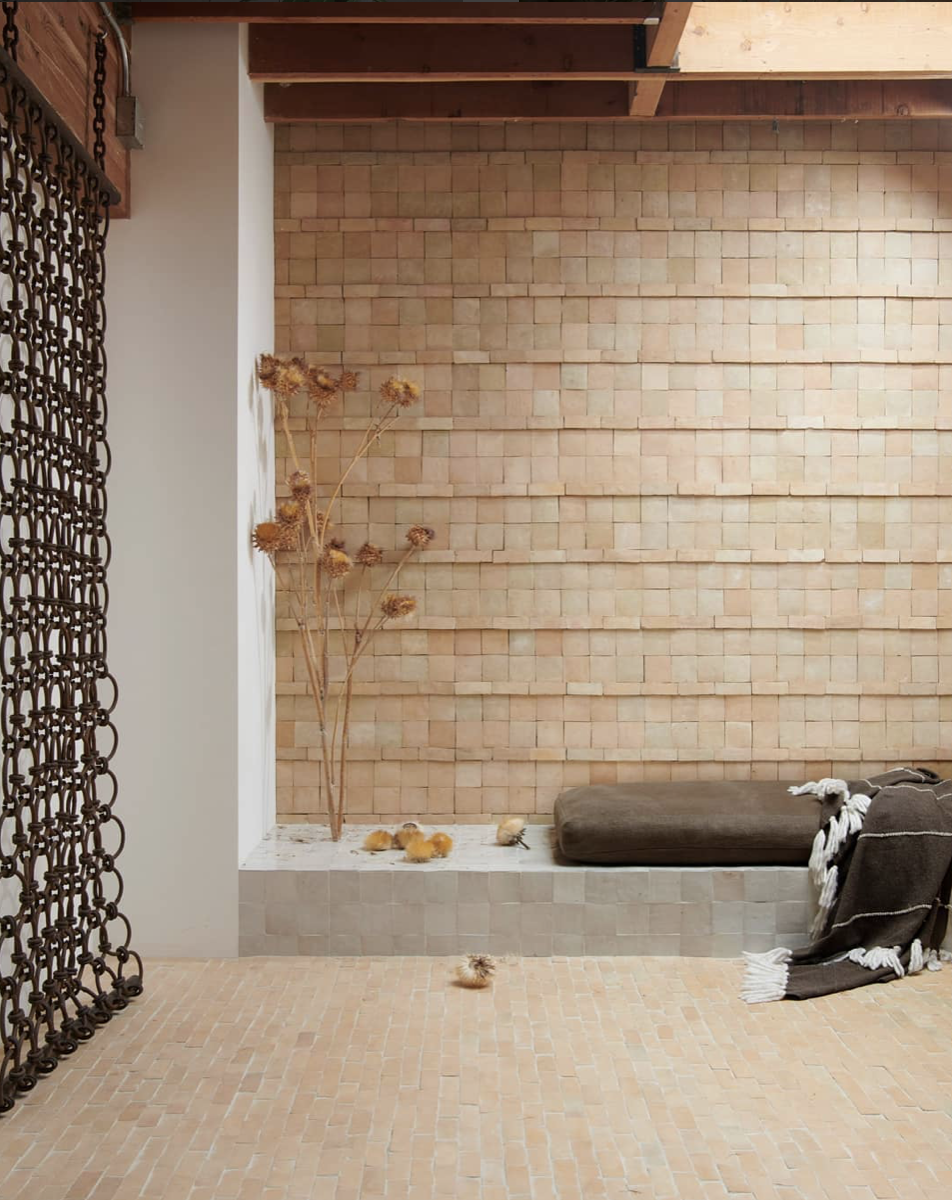 via Cle Tile
Textured tile: In addition to my love for zellige, I am in love with textured tile and would love to do a whole bathroom with it.
Later this month, I'm going to kick off a series all about "Dream Homes" and I'm so excited about it! I have folders and Pinterest boards for pretend homes all over the world, in all different styles. I shared a few glimpses of the folders and got a lot of interest from you guys in seeing more… so I'm turning it into a series! Each month, I'll decorate an imaginary dream home in a distinct style. I'll share inspo images and products that would look great in each one. I can't wait!!!