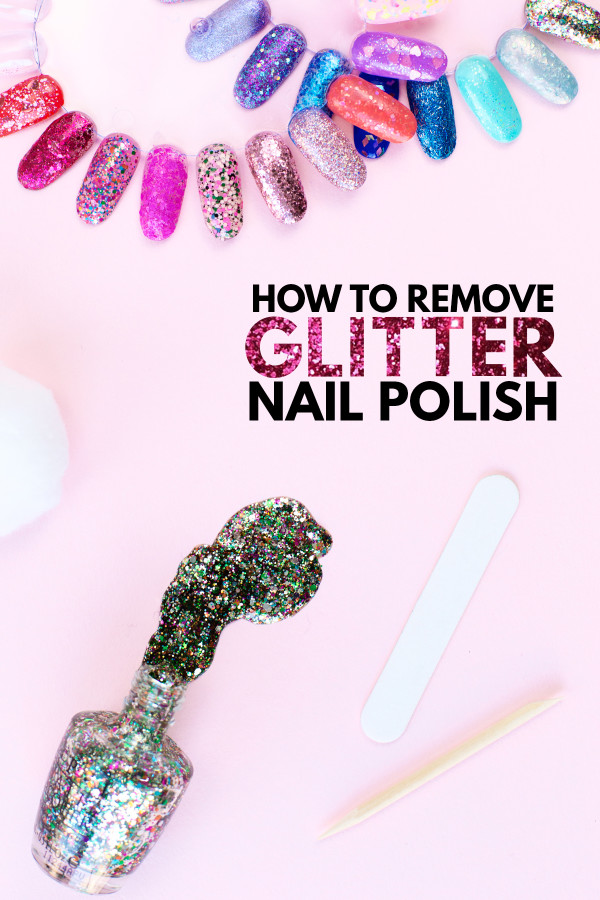 We're introducing a new "How To" column today! We'll be tackling some of life's most colorful and sparkly problems and sharing our favorite techniques for solving them. First up, we're sharing three ways to remove glitter polish. I love sparkly nail polish but it is a NIGHTMARE to remove. I figured there must be a way to make this process easier so I did a little sleuthing. After trying a number of different techniques, I'm sharing my three favorites! Two involve items you probably already have in your home, and one is a fun new use for an at-home manicure product I've fallen in love with!
Plus, we're sharing THIRTY of our favorite glitter polishes because I have problems making decisions but also because MORE IS MORE. Now you'll have something to try these techniques with!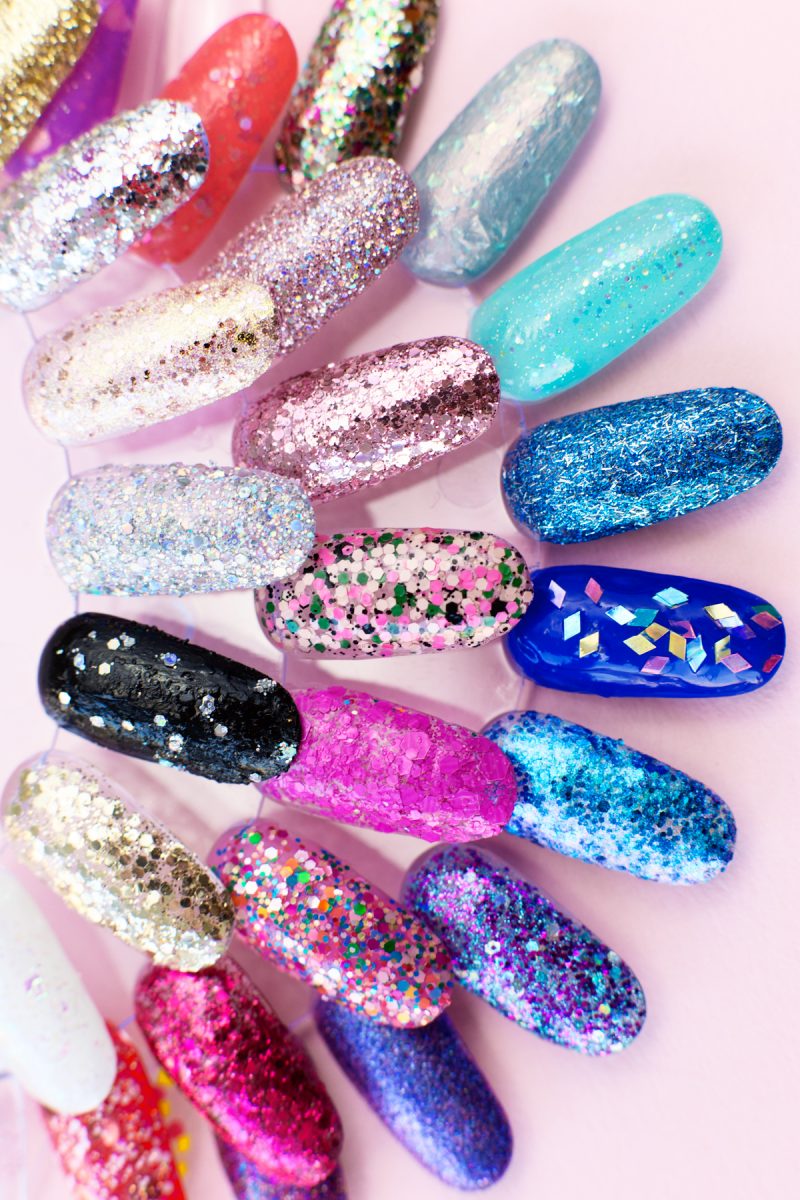 Aren't they PRETTY!?!?!?!?!?!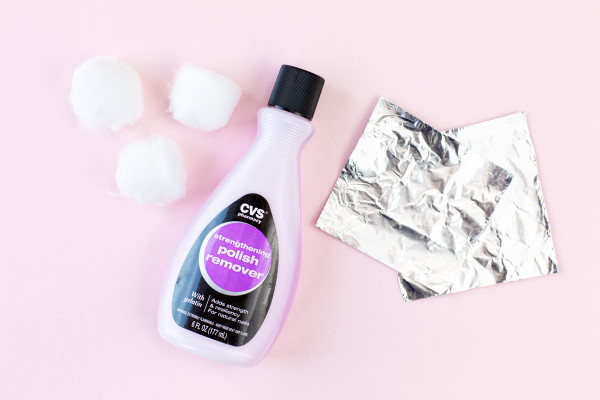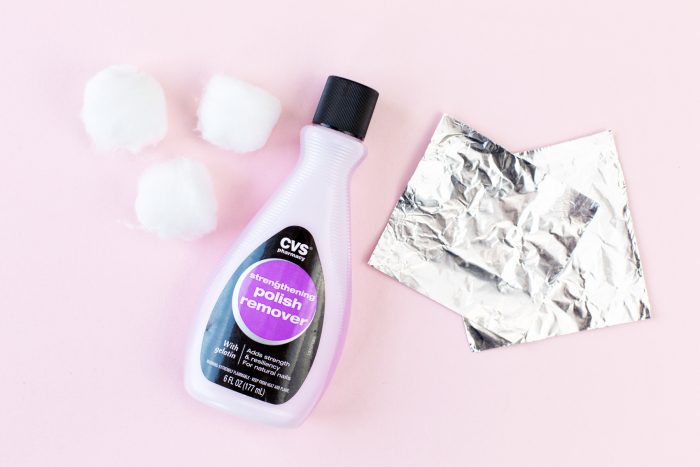 METHOD #1: SOAK
The first method is similar to how they remove gel nail polish at the salon, soaking with nail polish remover. You'll likely already have all the supplies you need for this one, right in your home!
You'll Need: Nail Polish Remover | Cotton Balls | Aluminum Foil
1. Tear off a small piece of a cotton ball and soak in nail polish remover.
2. Place the soaked cotton on top of your nail and wrap tightly with a small square of aluminum foil. Repeat with all nails.
3. Let sit for 3-5 minutes.
4. While applying pressure to the top of your nail, pull the entire piece of aluminum foil off your nail and the polish will go right along with it! If there is any remaining nail polish, use another cotton ball soaked in nail polish remover to remove it.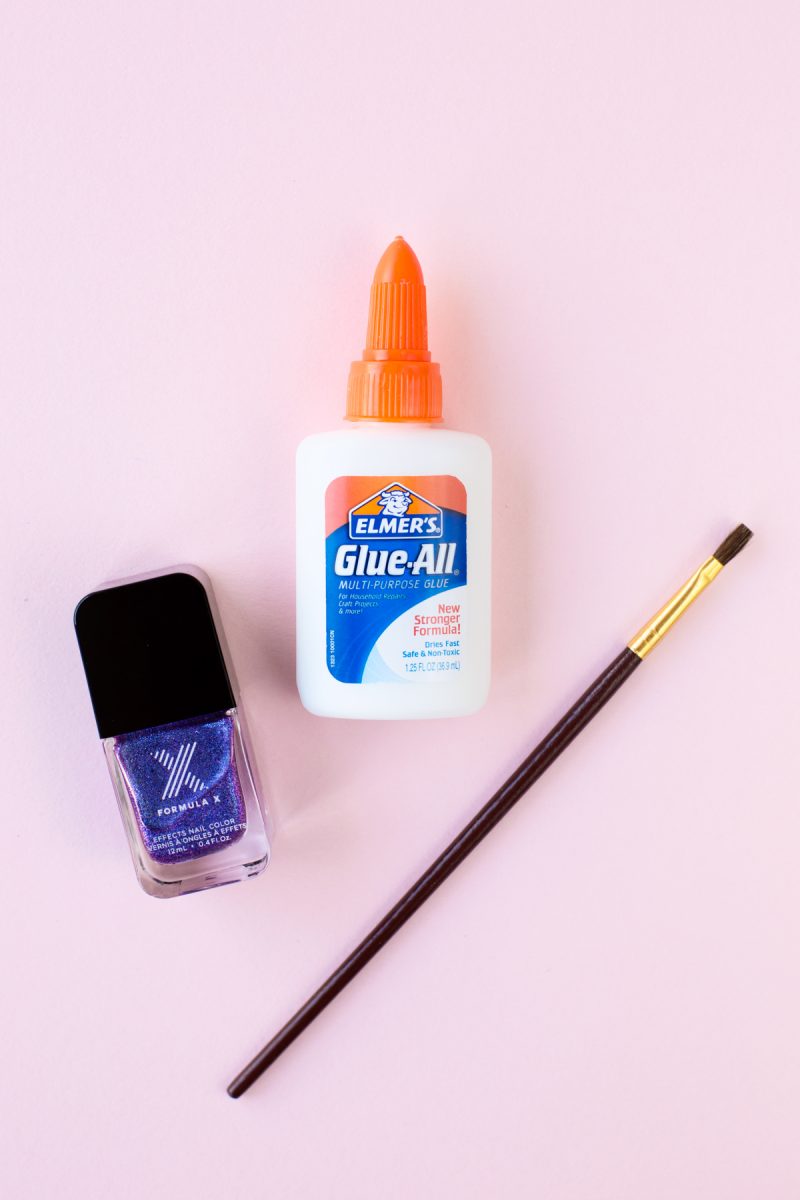 METHOD #2: ELMER'S GLUE
This trick is something you do before applying the polish. Applying a layer of Elmer's Glue allows the polish to peel right off! Since this makes it so easy to peel off, it's best to use this trick for when you only want the polish on for a short amount of time, like a special event or a night out.
You'll Need: Elmer's Glue | Small Paint Brush or Nail Polish Brush (Cleaned Off)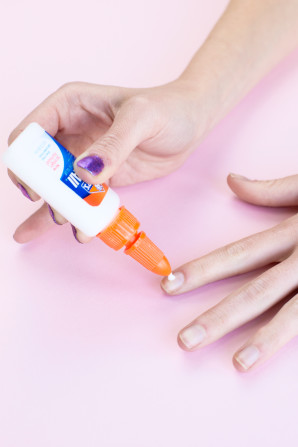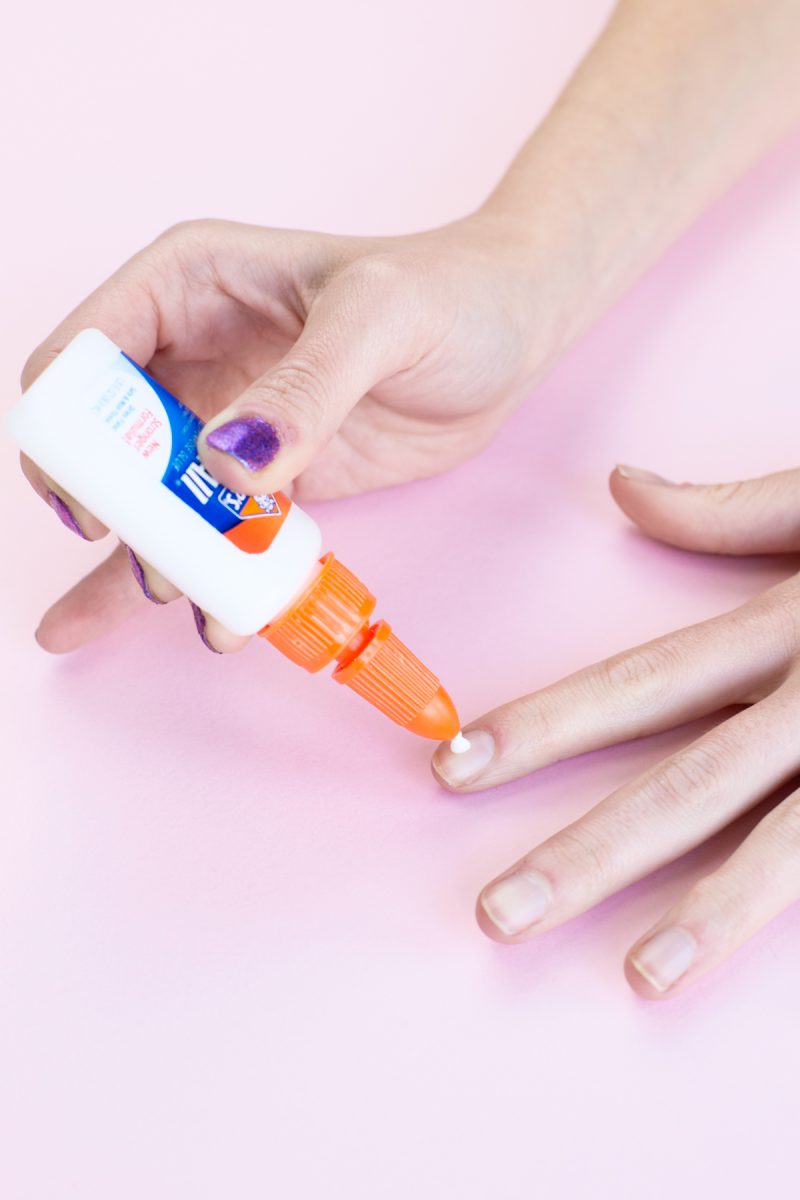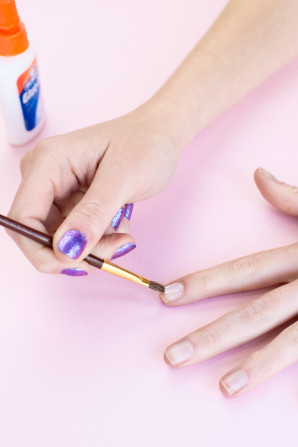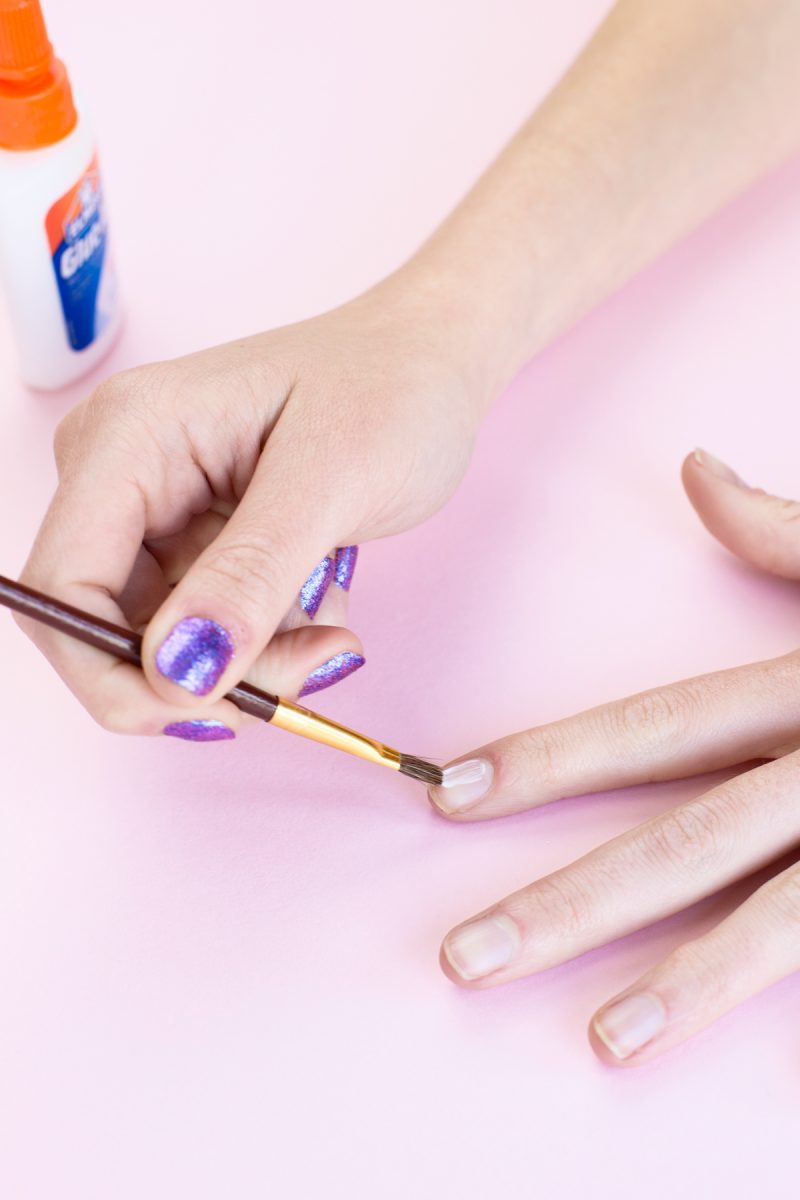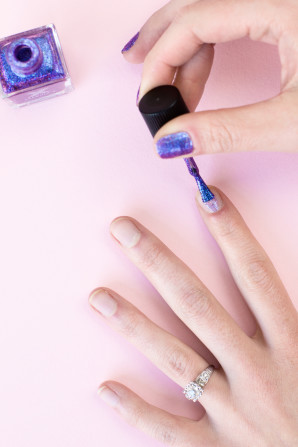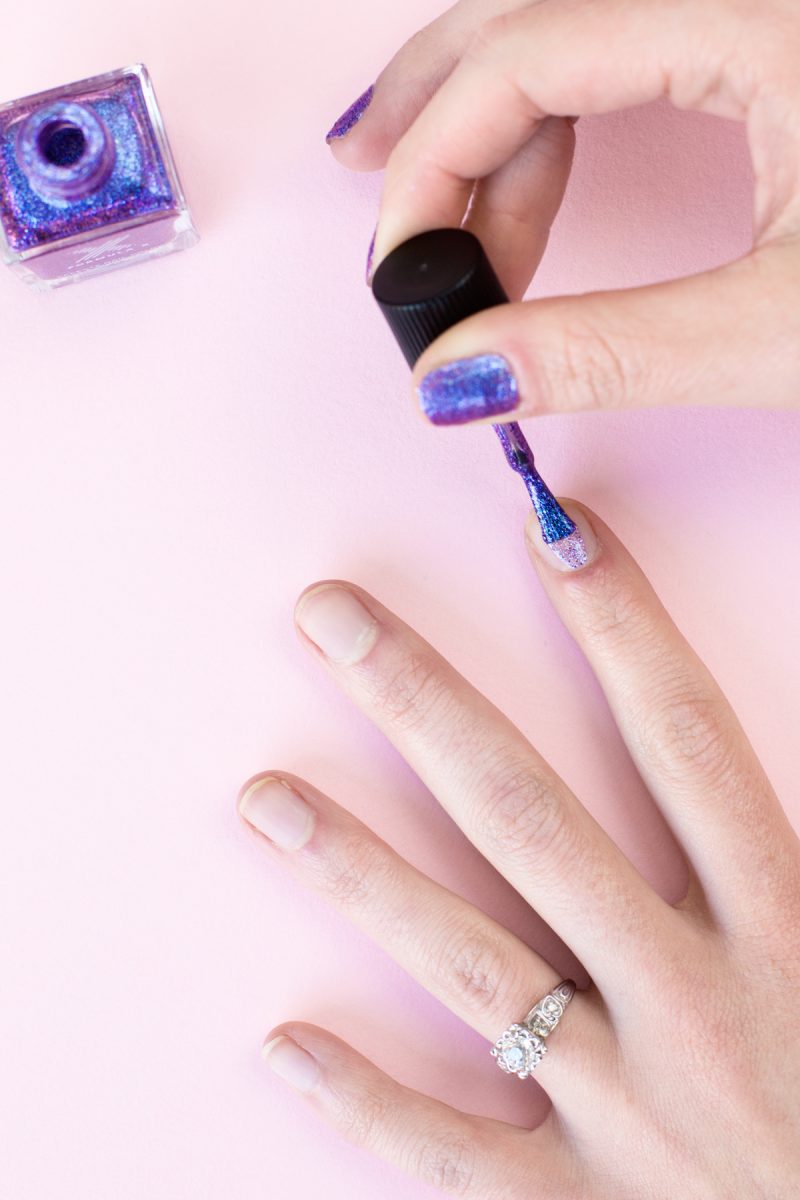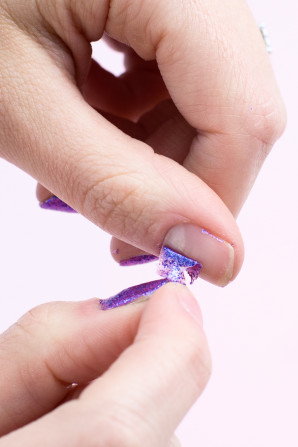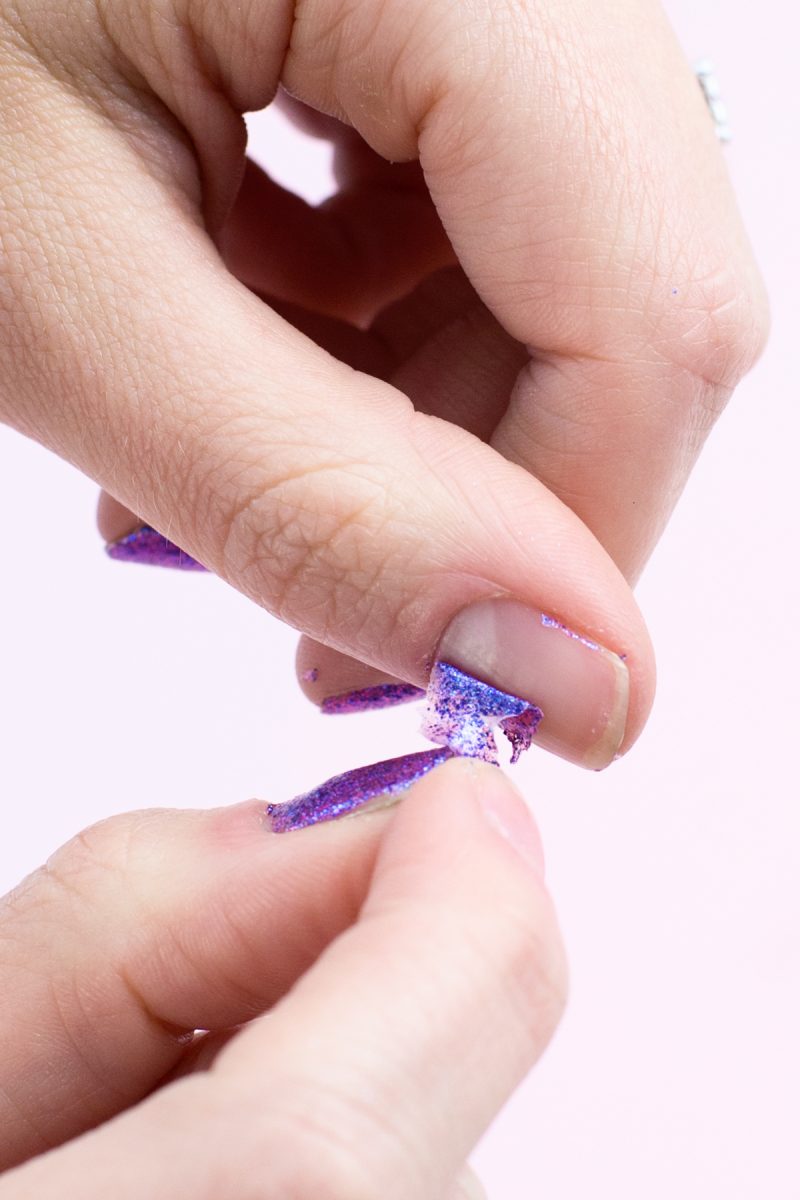 1. Place a small bead of glue onto your nail.
2. Brush over nail so you have a thin, even layer of glue.
3. Polish nail and add top coat as you normally would.
4. When you're ready to remove, simply peel the polish off. It comes off so easily! You can also use a wooden nail stick to scrape it off if you prefer.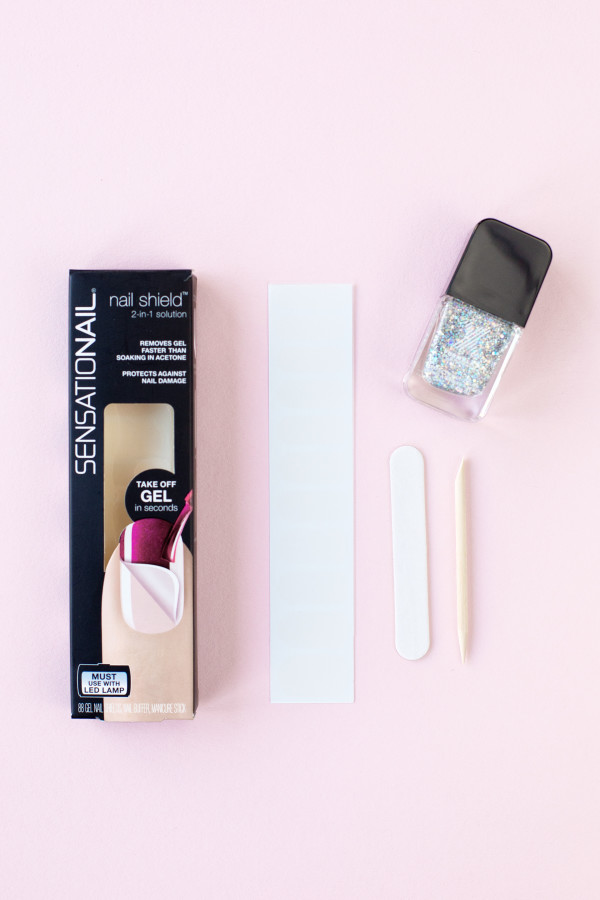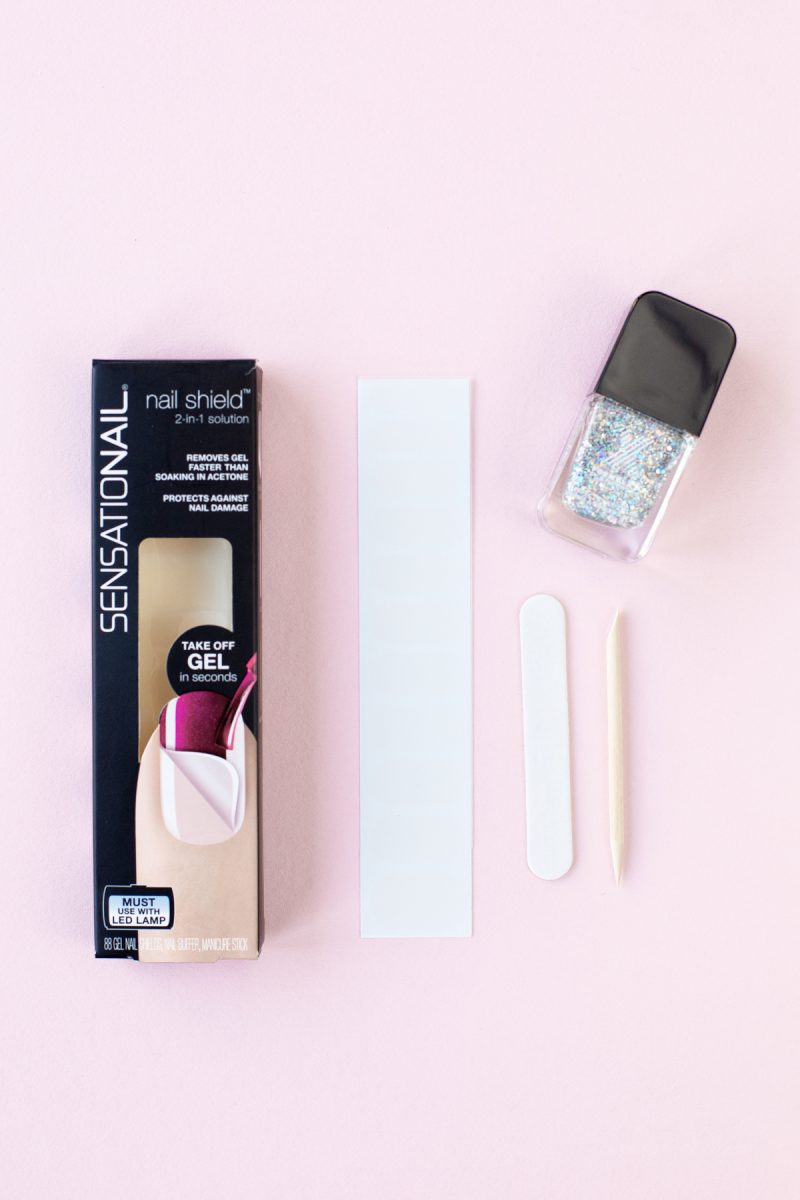 METHOD #3: NAIL SHIELDS
This last method requires a bit of "special equipment" but I've become pretty obsessed with them after the company sent me some last year, so I wanted to share. These nail shields are intended for at-home gel manicures, but I found that they worked pretty well under glitter polish too! Since you are not curing them with an LED light, they won't last as long as noted on the box, but they are still pretty strong and will last for several days.
You'll Need: Nail Shields (Comes with the file and manicure stick)
1. Select a nail shield that is the size of your nail (or slightly smaller) and follow the instructions that come with the kit for applying it.
2. Be sure, as instructed, to smooth over all folds and bumps with the manicure stick so the shield is completely smooth.
3. Apply polish and top coat as you normally would.
4. When ready to remove, soak your nails in warm water for five minutes.
5. Then, peel the shield off your nail from the cuticle end.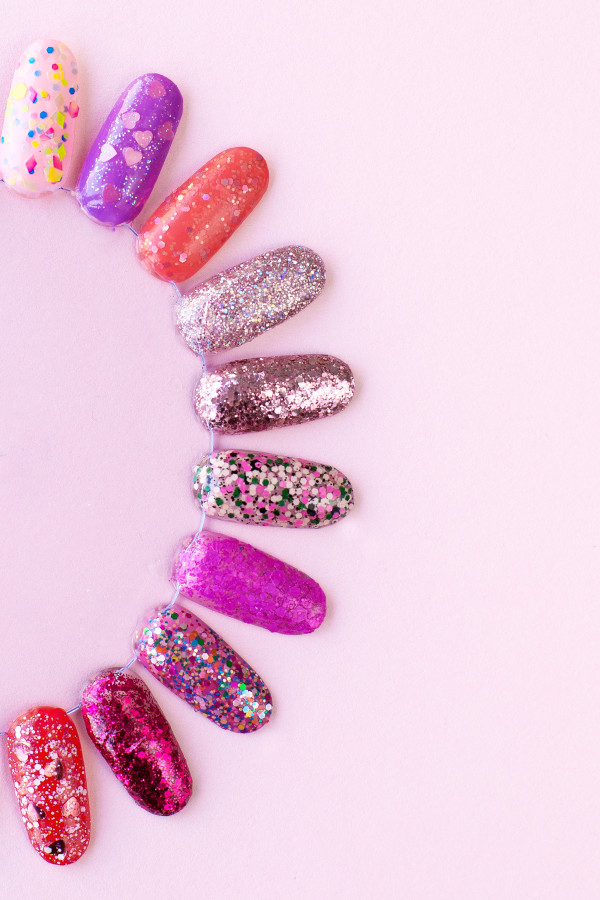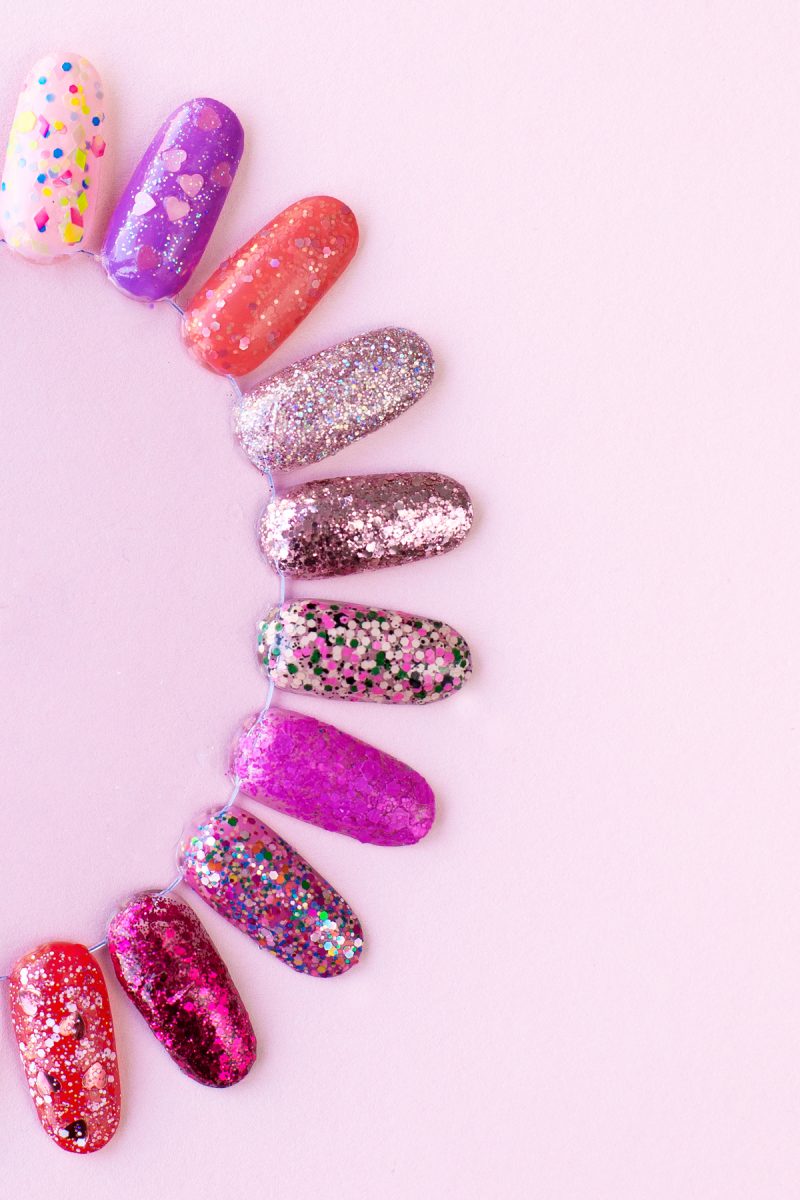 Pinks + Reds
(From Top to Bottom)
No. 6 Ciate "Rosebush" (no longer available online, but available in stores)
No. 7 Formula X "Frenzy" (no longer available online, but available in stores)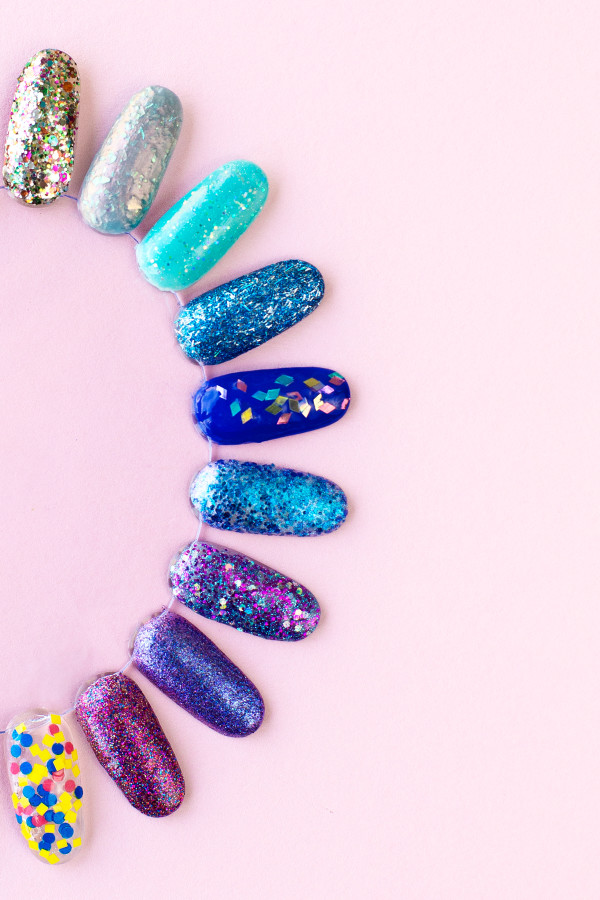 Blues + Purples
(From Top to Bottom)
No. 1 Sephora for OPI "Spark-tacular"
3. Sally Hansen Hard As Nails Xtreme Wear "Sea-ing Stars" with
Julep "Ali"
underneath
8. Formula X "Clever"
10. Salon Perfect "Square Pegs"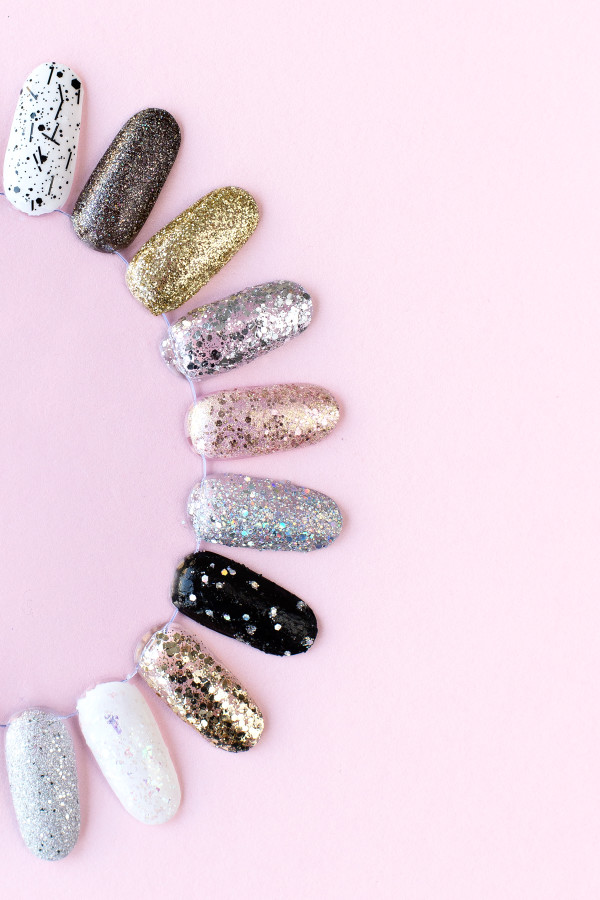 Metallics + Neutrals
(From Top to Bottom)
2. Orly Color Amp'd "Dynamic Metropolis"
7. Essie "Belugaria" (no longer available online, check CVS!)
10. Revlon "Diamond Texture"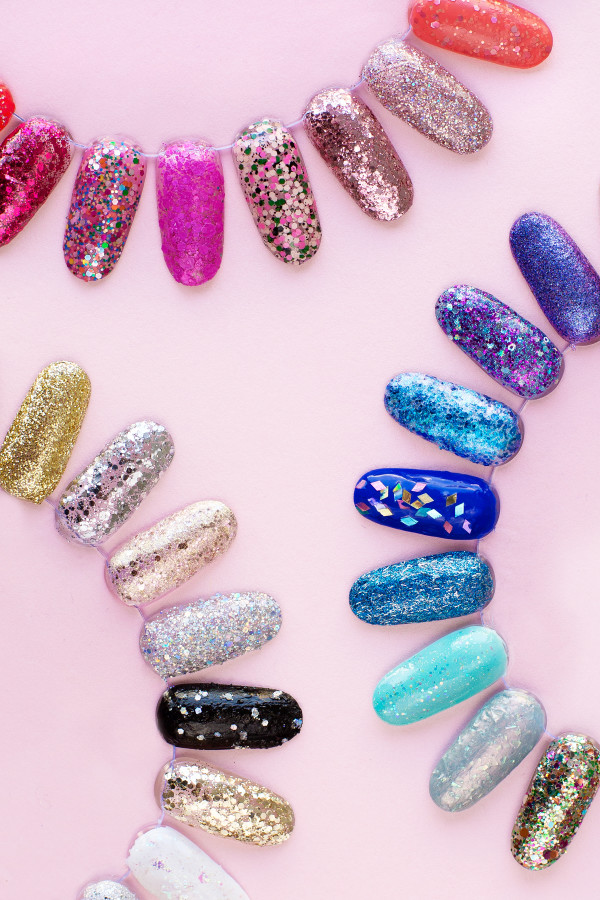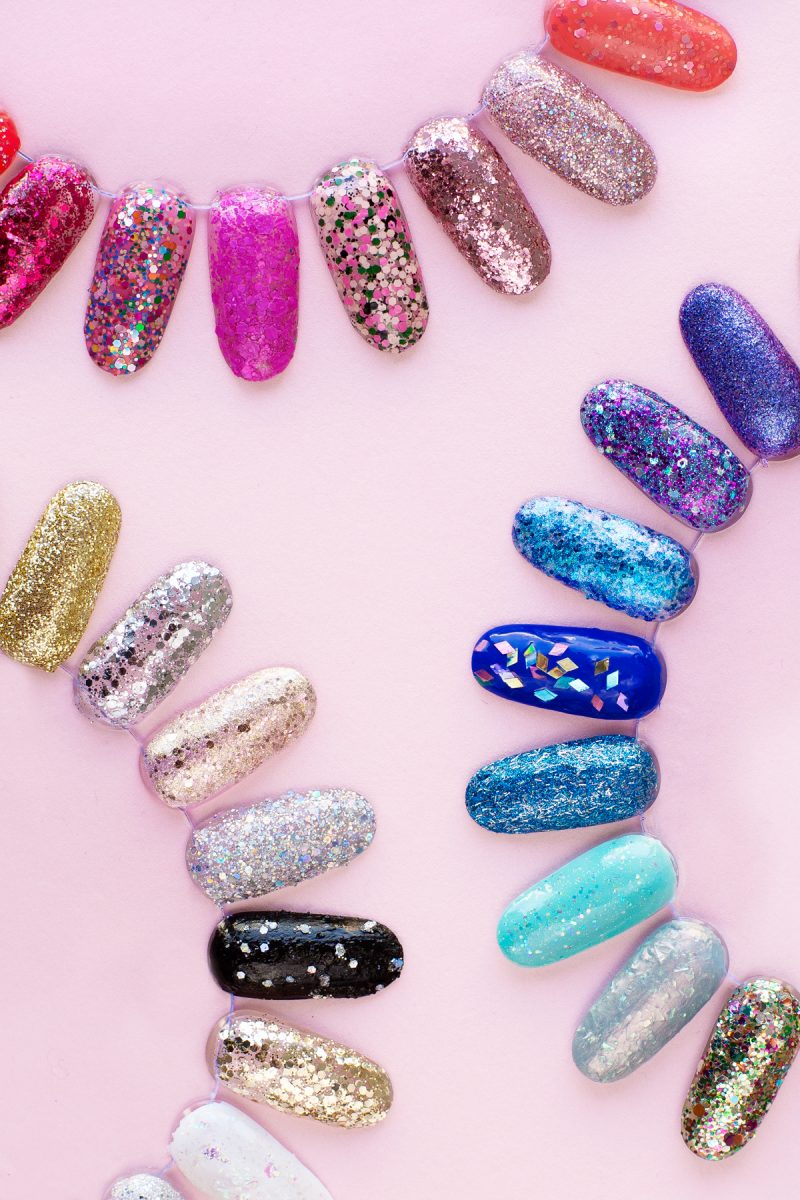 Photos by Jeff Mindell
Do you have this problem, too? I hope you try one of these techniques out! And if you have any other fashion, beauty or party-related problems you'd like us to solve… let us know in the comments below!
p.s. A holographic manicure!