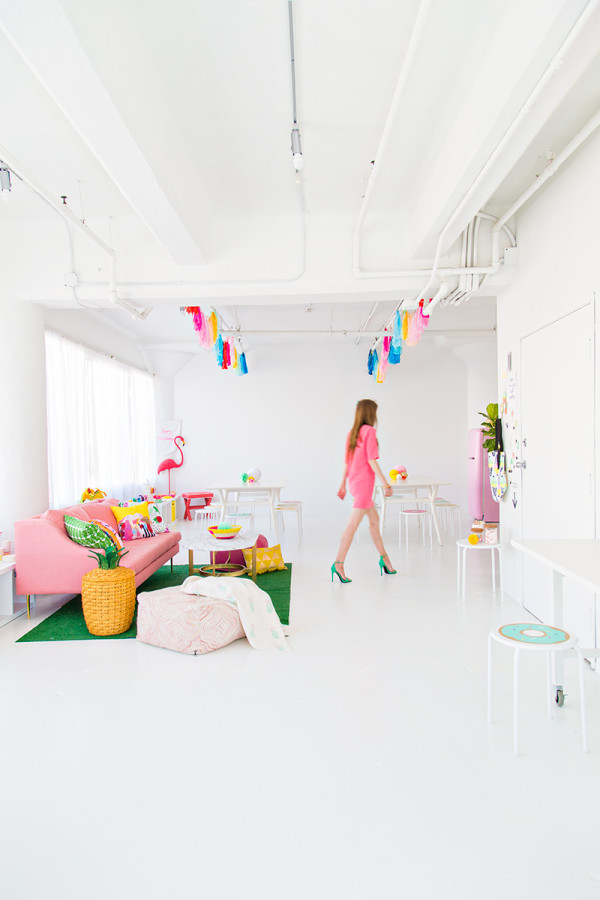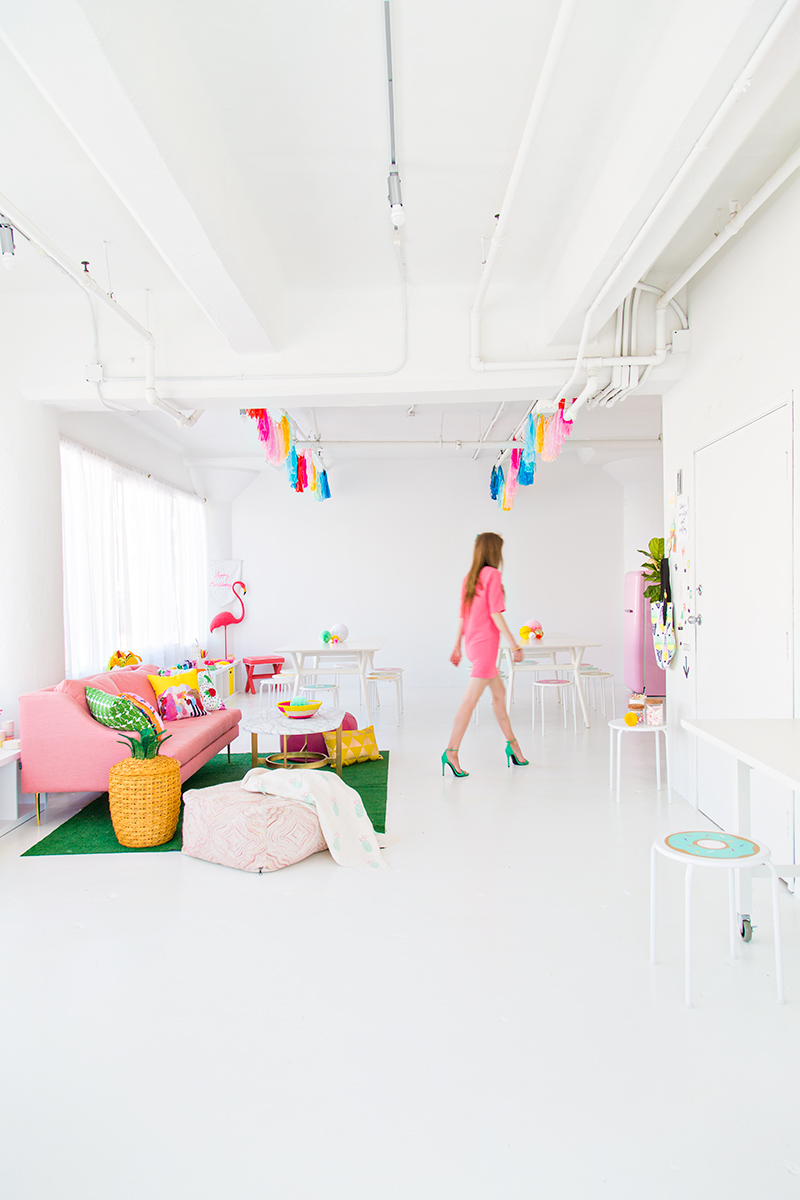 It's here!!! Six months later and I'm finally ready to share Studio DIY Headquarters in all it's bright, crazy, colorful glory!!!!! This was truly a labor of love to put together, and so fascinating to watch my brand that I've built here in this not-so-real space come to life in a very real space! I was lucky enough to partner with so many of my favorite companies to make this place of my DREAMS come true and I'm freaking out EXCITED to share all of the details (Like, 30 photos worth!) with you. And BONUS! Glitter Guide is sharing a tour of the space as well (with some photos you won't see here!) along with a fun interview about my brand, the studio and everything in between! Head over there to check that out, and keep on scrolling to check out all the insanity this here blog now calls home!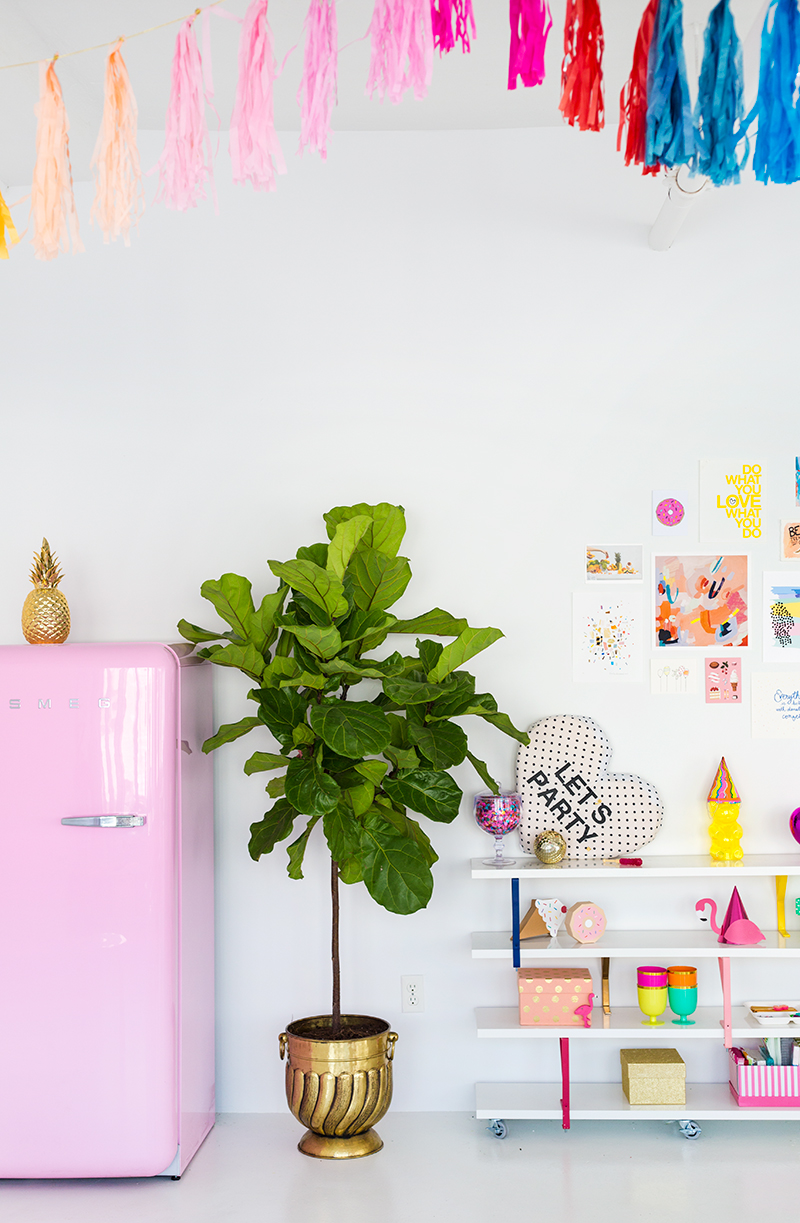 Click through below to get GOING!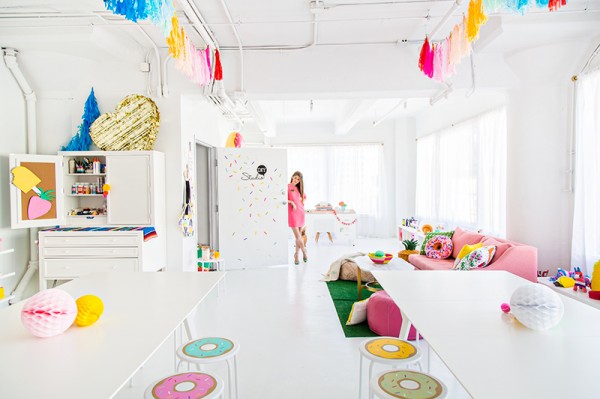 Click through below for the full studio tour!
I started with a literal blank slate. White floors, white walls, the works! I wanted to bring in color obviously but do it in a way that was completely moveable and changeable. Above all else, I need this space to function for any and every project that comes my way and that means it needs to be versatile. Since the space had to function for SO MANY purposes, I divided it into three general areas: The "Office", the seating area and the workshop area, which will double as my shooting space. I'll share a bit about each area and the sources for everything I can think of that you see here, too! Hope you love it as much as I do!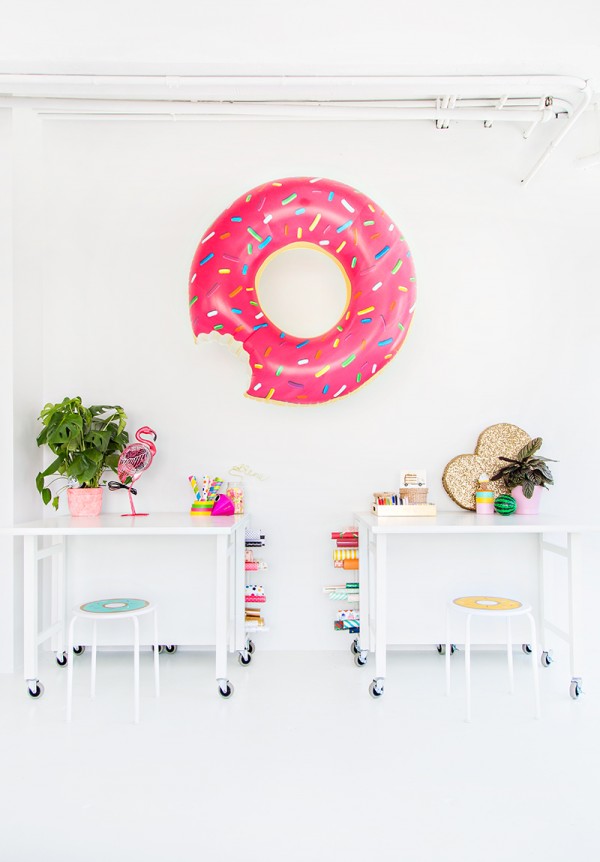 First up, let's get down to business (Studio DIY style) with the office! This space needed to function as a work area, a craft prep area and a tabletop shoot area. I brought in two collapsible craft tables from Martha Stewart for the work space, which had the perfect storage cubbies for all my background papers! And my most prized possession, a hand painted desk facade from Dear Hancock, finally found a home! Now, we all know that giant inflatable donuts foster creativity, so we needed to have one hanging above too.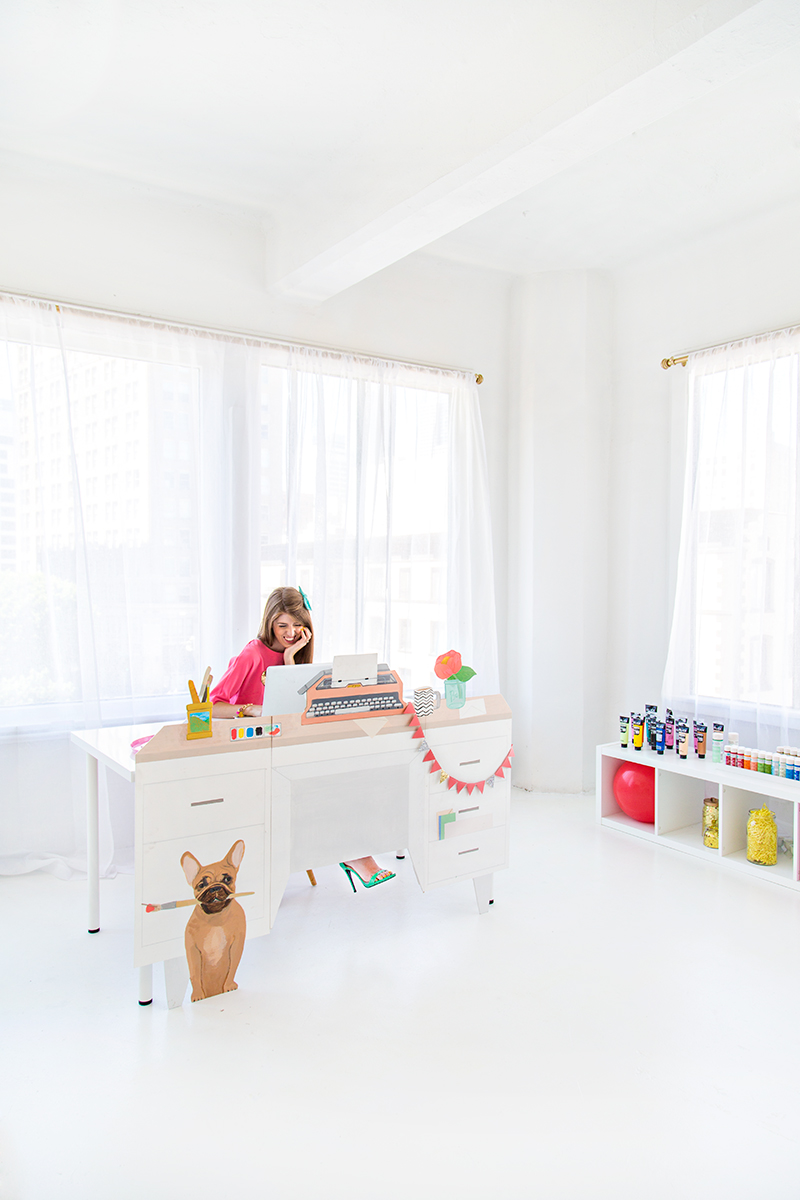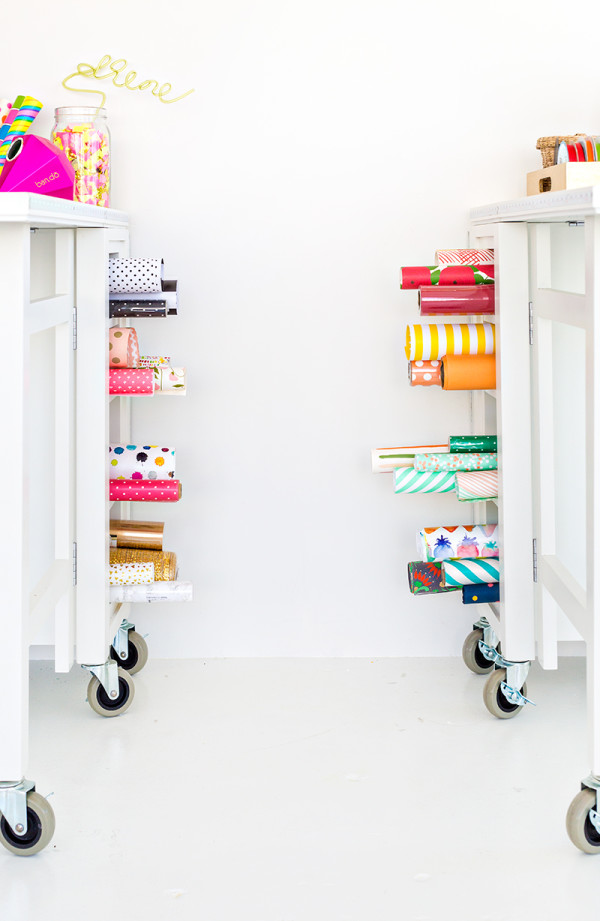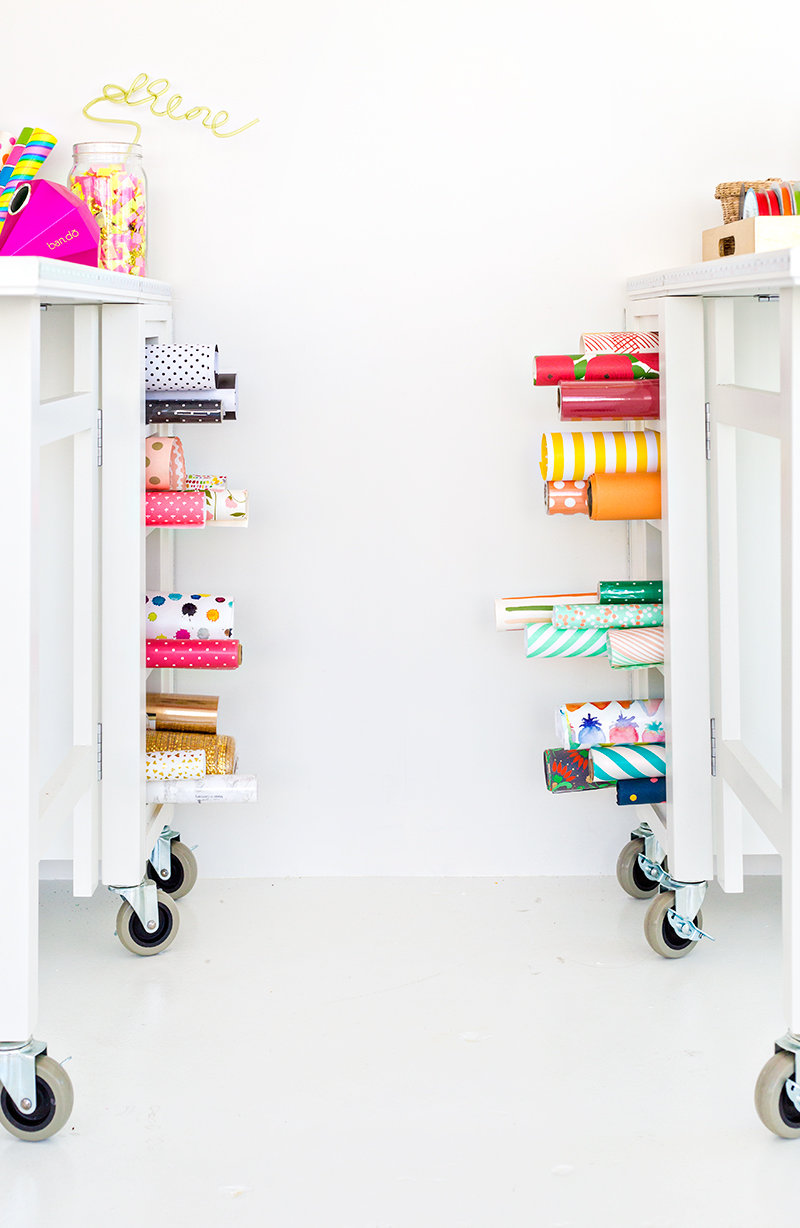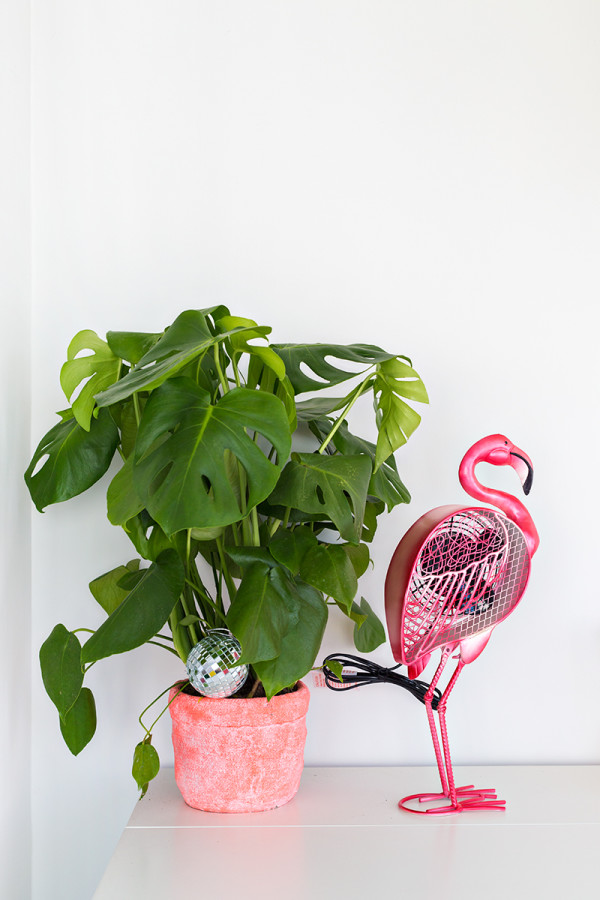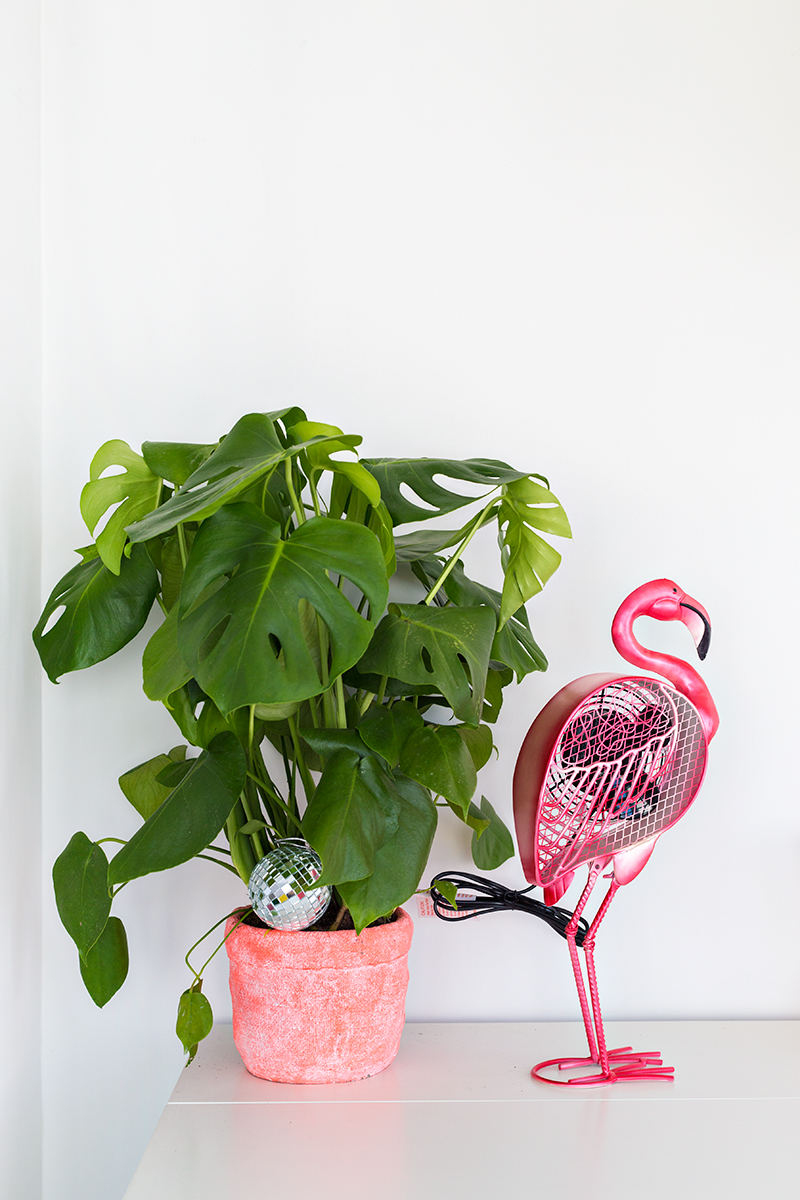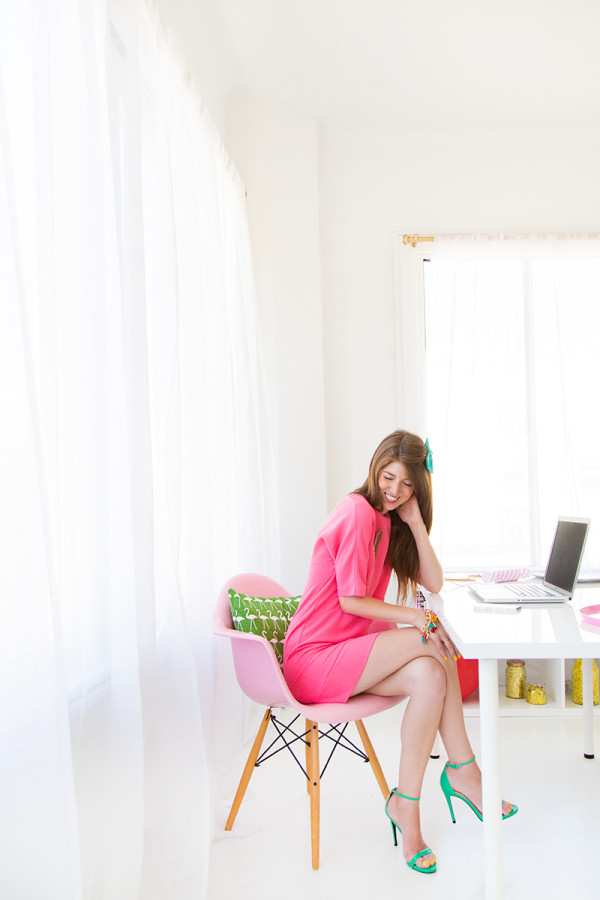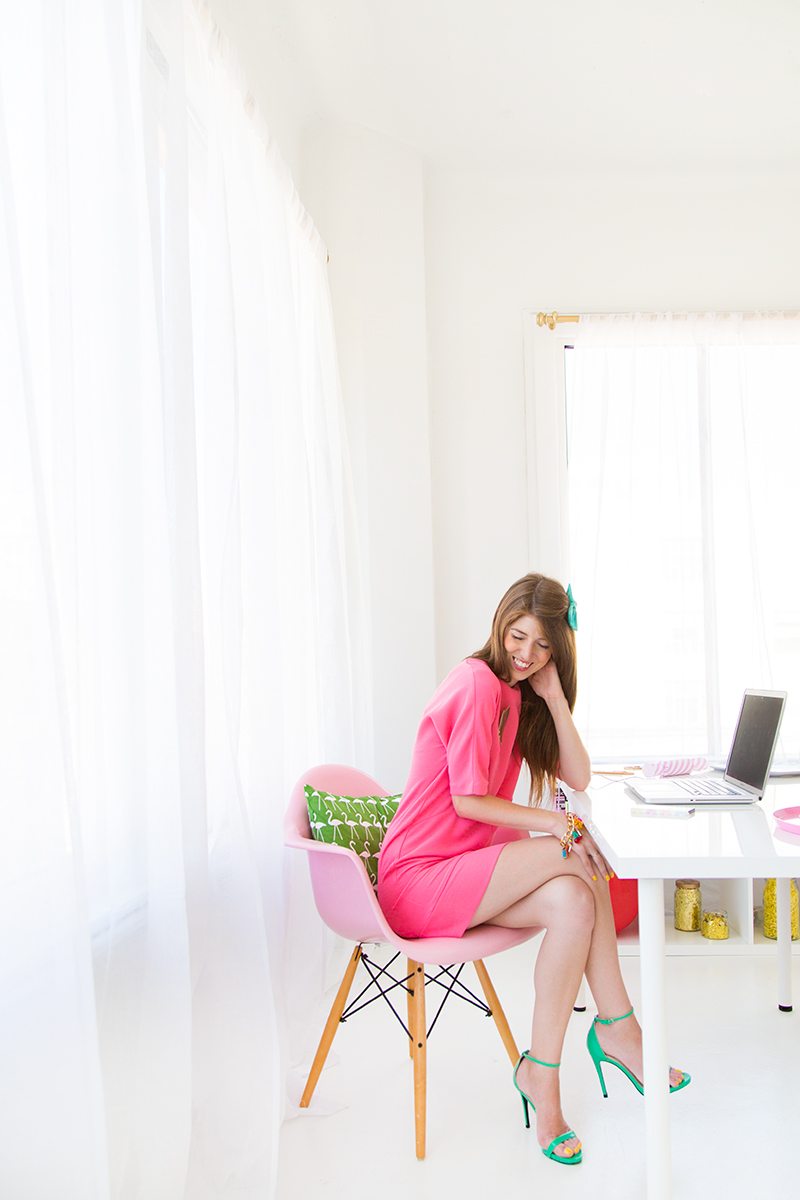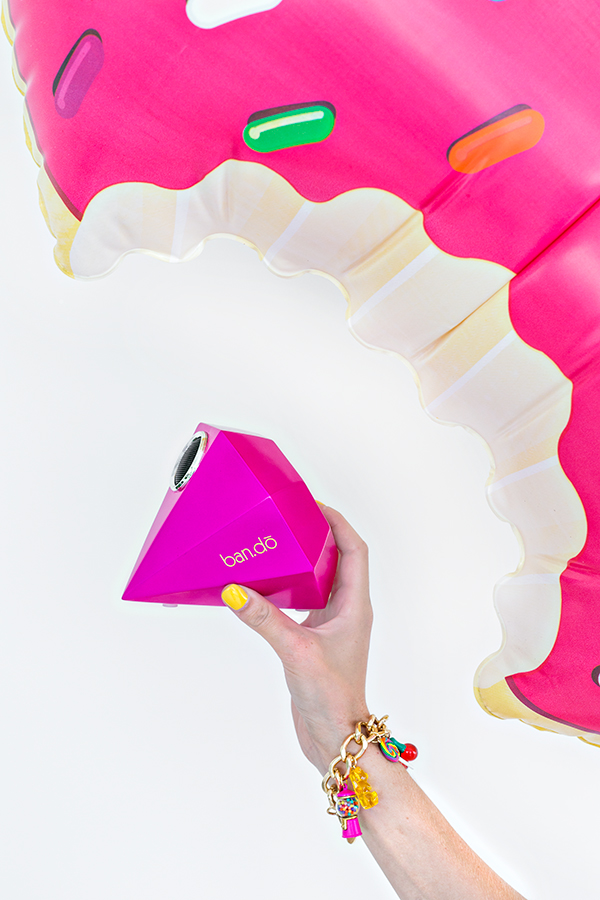 Plus, every office space needs the capability to have a spontaneous dance party.
Office Sources
Craft Tables c/o Martha Stewart Living Craft Space / Illustrated Desk: Dear Hancock / Pink Chair: Modernica / Flamingo Fan c/o Wayfair / Neon Pink Planter: CB2 / Gold Tray c/o West Elm / Inflatable Donut: Urban Outfitters / Gem Speaker c/o Ban.do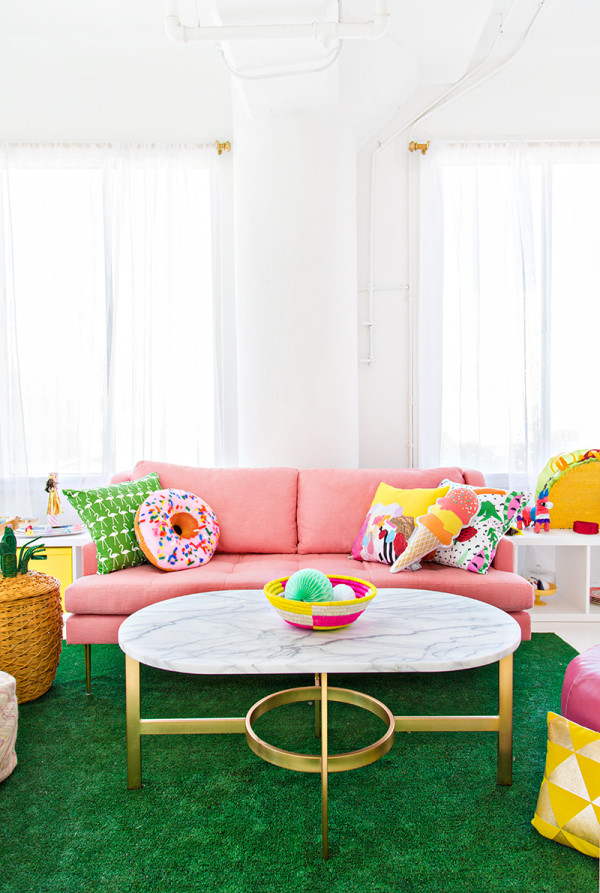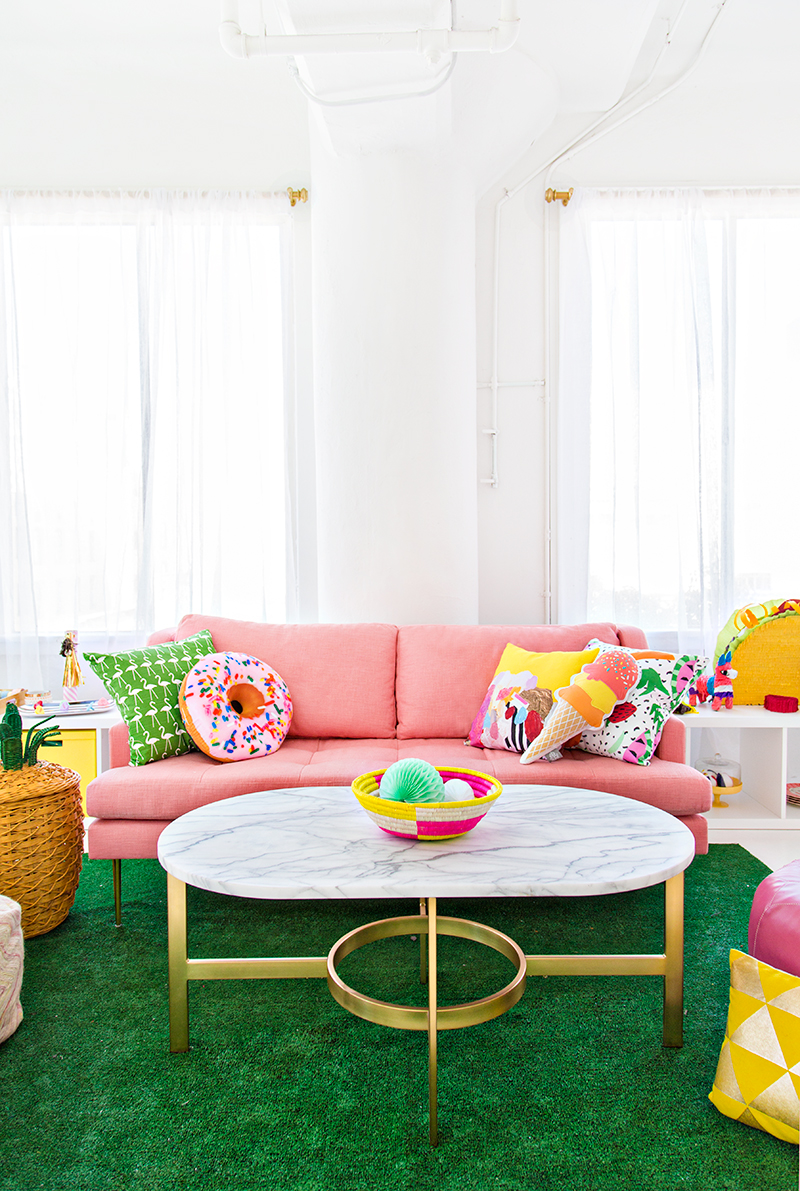 Truth be told, when I'm working.. I'm a couch girl. So this pink couch (custom made by the awesome folks at Stem Goods!)… we're fast friends. The fact that I own a pink couch is far too exciting for my brain. This is the first thing you see when you open the studio door, and it rocks my world EVERY. TIME.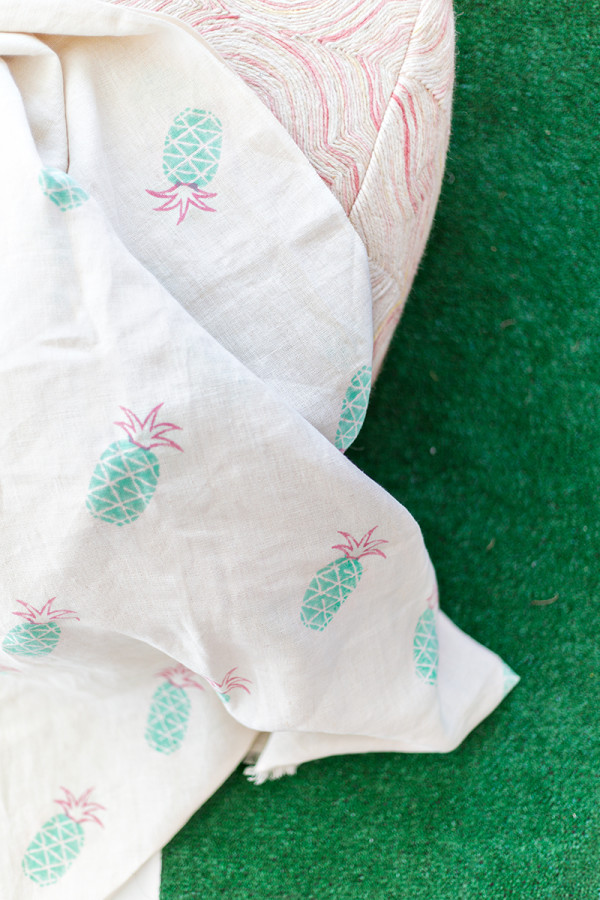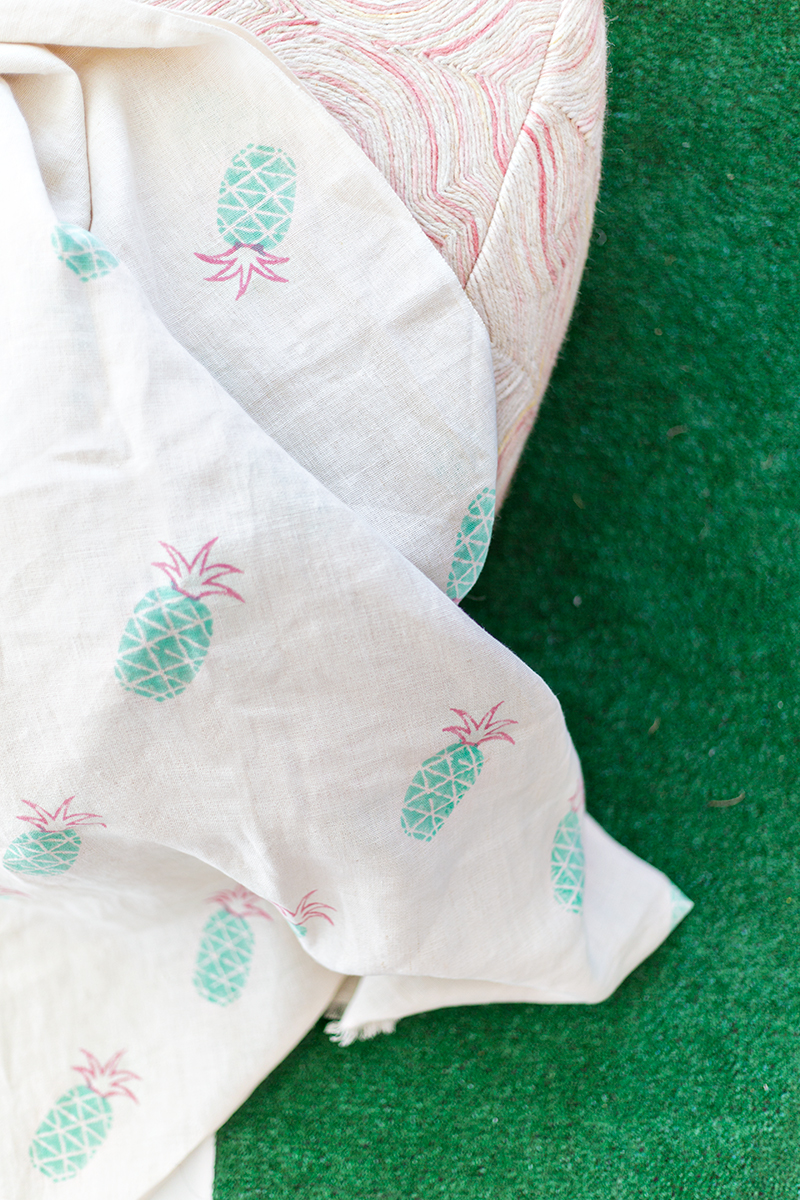 Seating Area Sources
Couch: c/o Stem Goods / Curtains: c/o West Elm / Gold Curtain Rods: Overstock / Coffee Table c/o West Elm / Woven Bowl: c/o Lulu & Georgia / Pineapple Basket: Zara (no longer available) / Square Pink Pouf c/o West Elm / Hot Pink Pouf: c/o The Land of Nod / Flamingo Pillows: c/o Wayfair / Yellow Triangle Pillow c/o Lulu & Georgia / Ice Cream Pillow: The Land of Nod / Donut Pillow: Paper Source / Fruit Print Pillow: Bouffants & Broken Hearts / Abstract Pillow: Emily Rickard / Heart Pillows: DIY / Pineapple Throw c/o Elephant Landing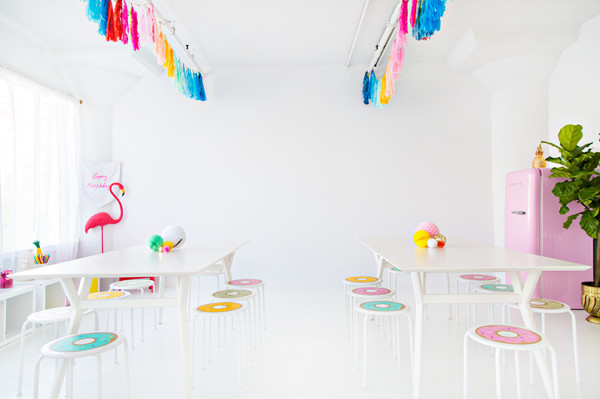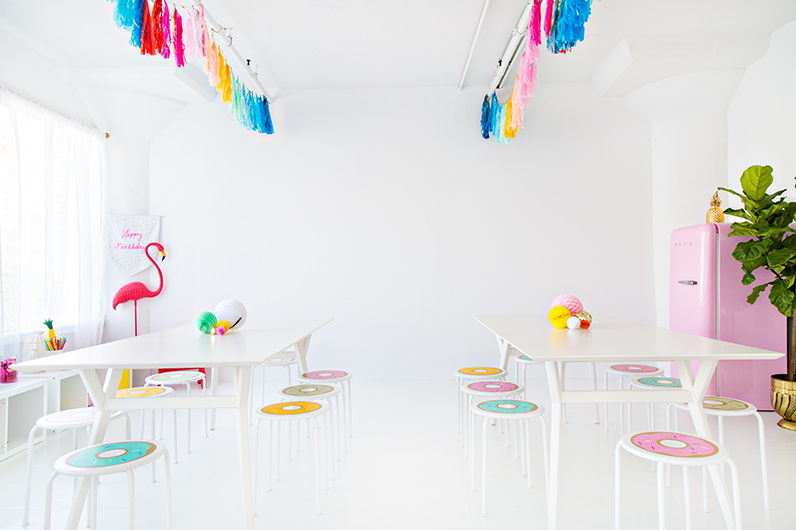 This area is the one that sees the most action. With two large tables and twenty (!) donut stools (DIY coming next week!), it's ready at a moment's notice for workshops. Which, for those of you in the LA area, will be kicking up again this fall!! However this space also acts as my main photography studio. The tables can easily be pushed away and the stools stack for when larger shoots take over (like this one, and this one!).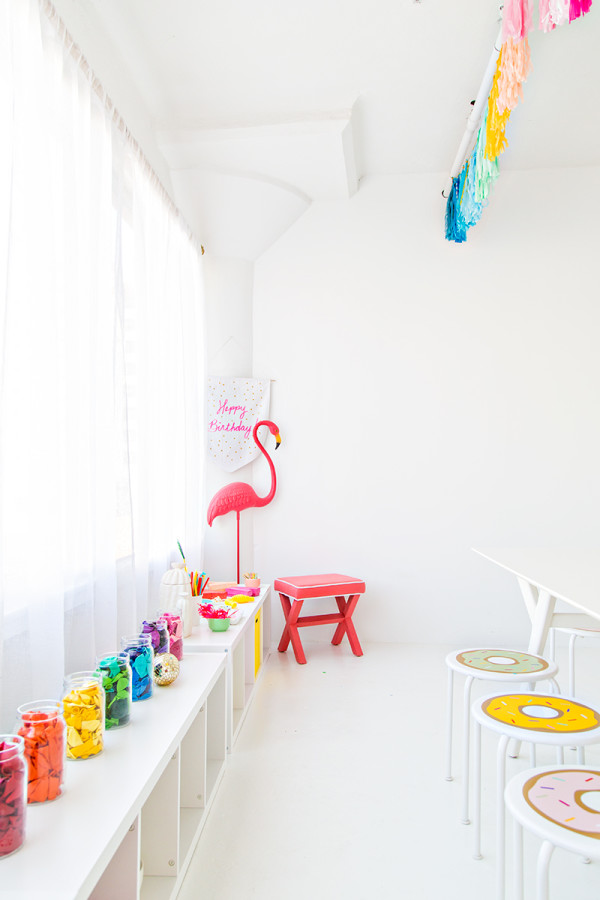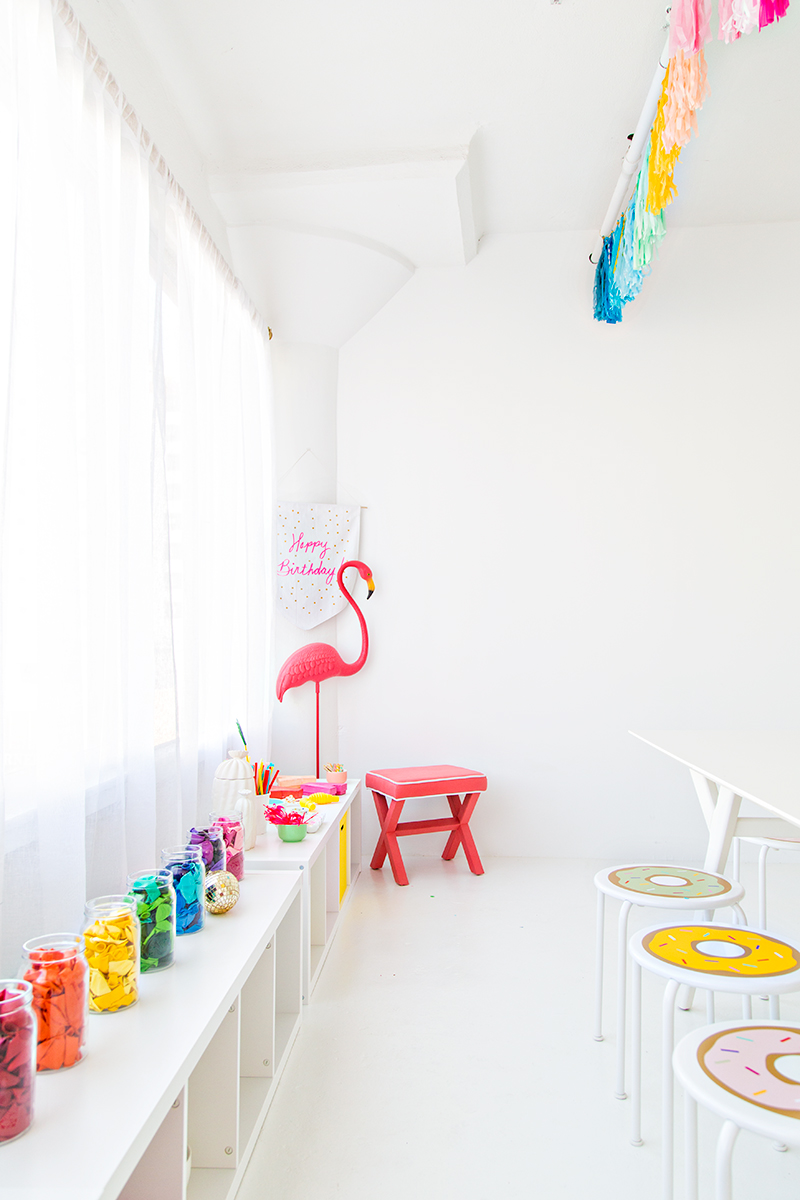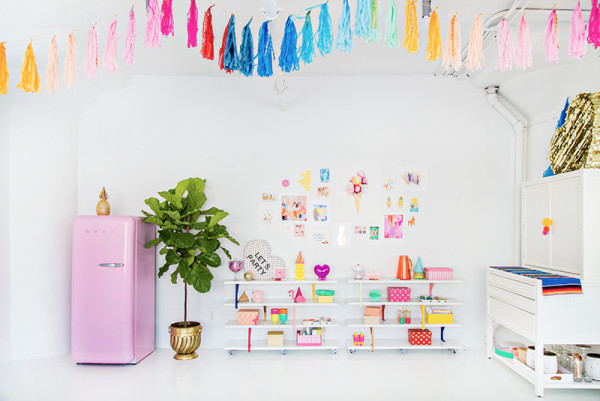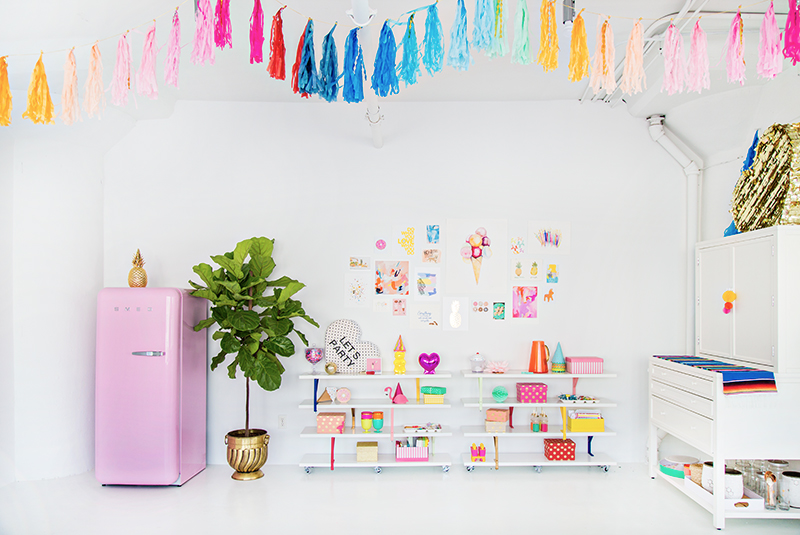 This side of the joint also houses my beloved Smeg (Is it weird to fall in love with a fridge?) and a gallery wall filled with my favorite artists and vast card collection. YES! I use cards as art all the time. Affordable and a manageable size for filling in amongst larger gallery pieces. Fun fact: The tassels hanging above are from our proposal! Love having something so special be a part of the space!
Because so many of my supplies are pretty and colorful, I wanted mostly open shelving to show them off. (Ok, truth be told, if it's on display… it'll force me to keep it looking nice. And this disorganized gal needs that kind of pressure!) To keep the walls free, I utilized under-window storage from IKEA and built my own colorful shelves based on a hack I saw! It wasn't my most successful hack as those colorful shelves are a little wobbly (non-breakables only!) but they look darn AWESOME right!? I have one piece that is closed door storage, and that's this wonderful masterpiece you see below! Those paper drawers, guys, I literally fantasized about them for so many years. I can't believe they are mine now. And the doors hide all the not-as-pretty supplies too!
Event Space Sources
Tables c/o West Elm / Stools: IKEA with DIY Donut Decals (Tutorial coming soon!) / Tassles: Geronimo Balloons / Under Window Shelves c/o IKEA / Happy Birthday Banner c/o Hip Friday / Giant Flamingo: Amazon / Pink Fridge c/o Smeg / Craft Storage Cabinet + Hutch: c/o Martha Stewart Living Craft Space, Cabinet Here, Hutch Here / Colorful Shelving: DIY / Gold Pineapple c/o Wayfair / Mexican Serape c/o Lulu & Georgia / Gold Heart Piñata: DIY / Ice Cream Pattern (On Door of Hutch): Bouffants & Broken Hearts
Gallery Wall Sources
Fruit Postcard: Promotional Card, Paris Photo / Abstract Collage: Emily Rickard / Single Pink Donut Card: Floating Specks / Do What You Love: letterhappy / Abstract Painting c/o Britt Bass / Balloon Card: Paper Generation / Pink Desserts Card: Clap Clap / Blue Abstract Painting: Emily Rickard Promo Card (Print here.) / Bella Painting: Striped Cat Studio / Pink, Mint & Blue Abstract Print c/o The Handcrafted Home / Everything Is Better With Donuts: Iron Curtain Press / Ice Cream Painting c/o Shana Frase / Gold Pineapple c/o Love Victoria / Donut Card c/o Ann Shen / Rice Krispie Hashtag: Oh Joy for Target Promotional Card / Balloon Animal Card: Sable & Snow / Pineapples c/o Striped Cat Studio / Pink Abstract Painting: Emily Rickard / Candle Painting c/o Shana Frase / Aqua + Yellow Abstract: Emily Rickard Promo Card (Print here.) / Piñata Card: Floating Specks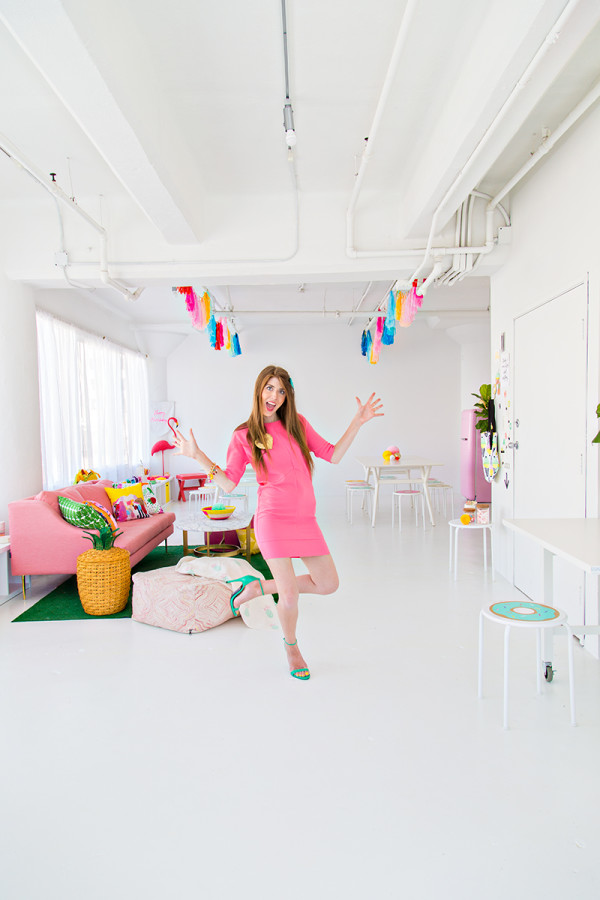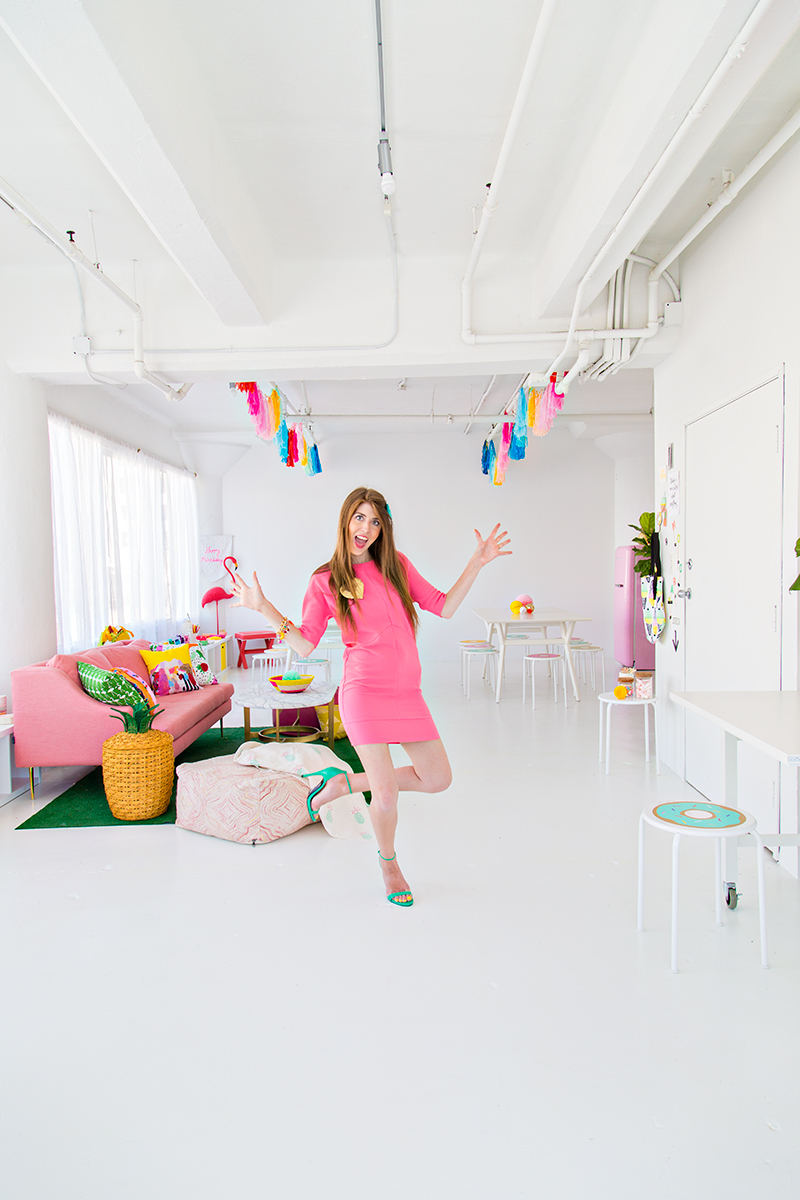 Just a few closeups of the fun things lining all those shelves!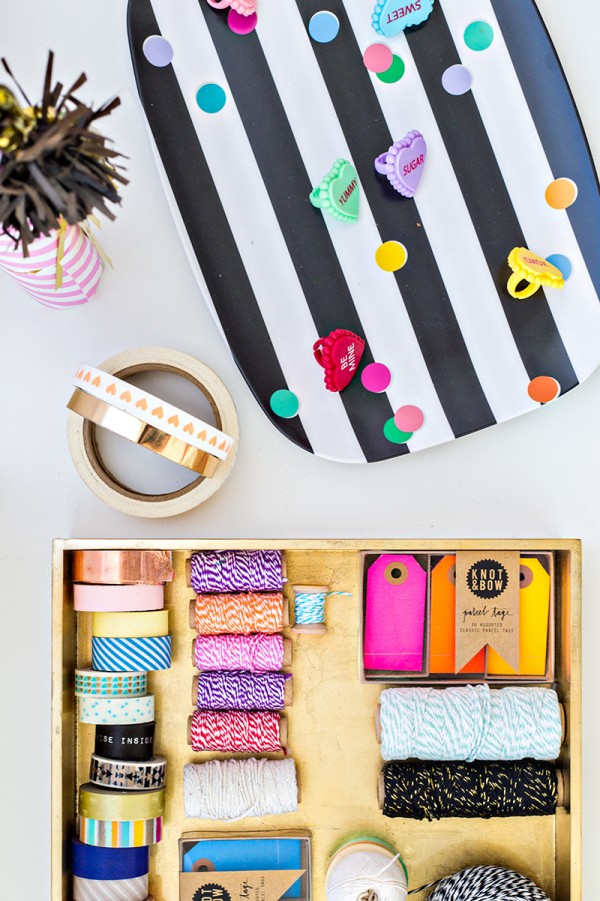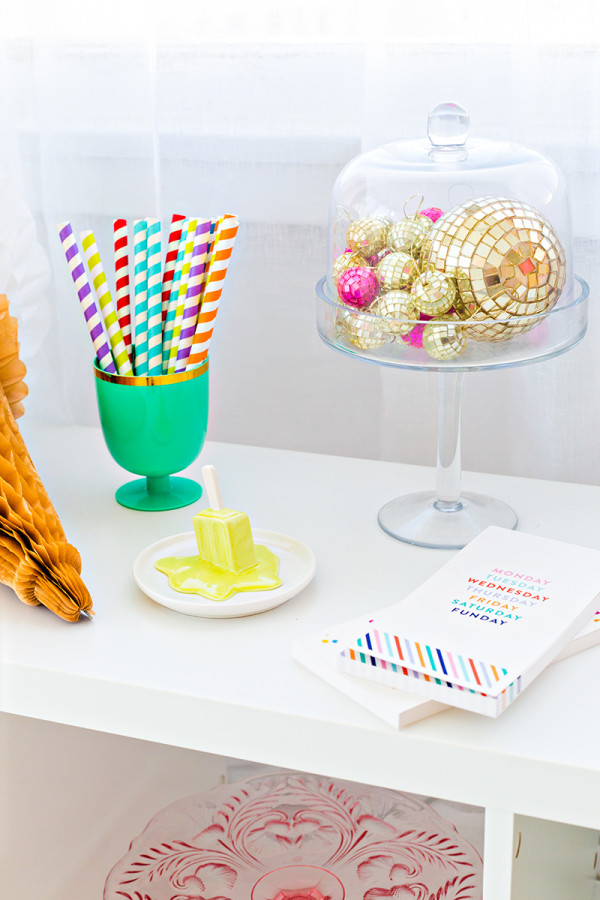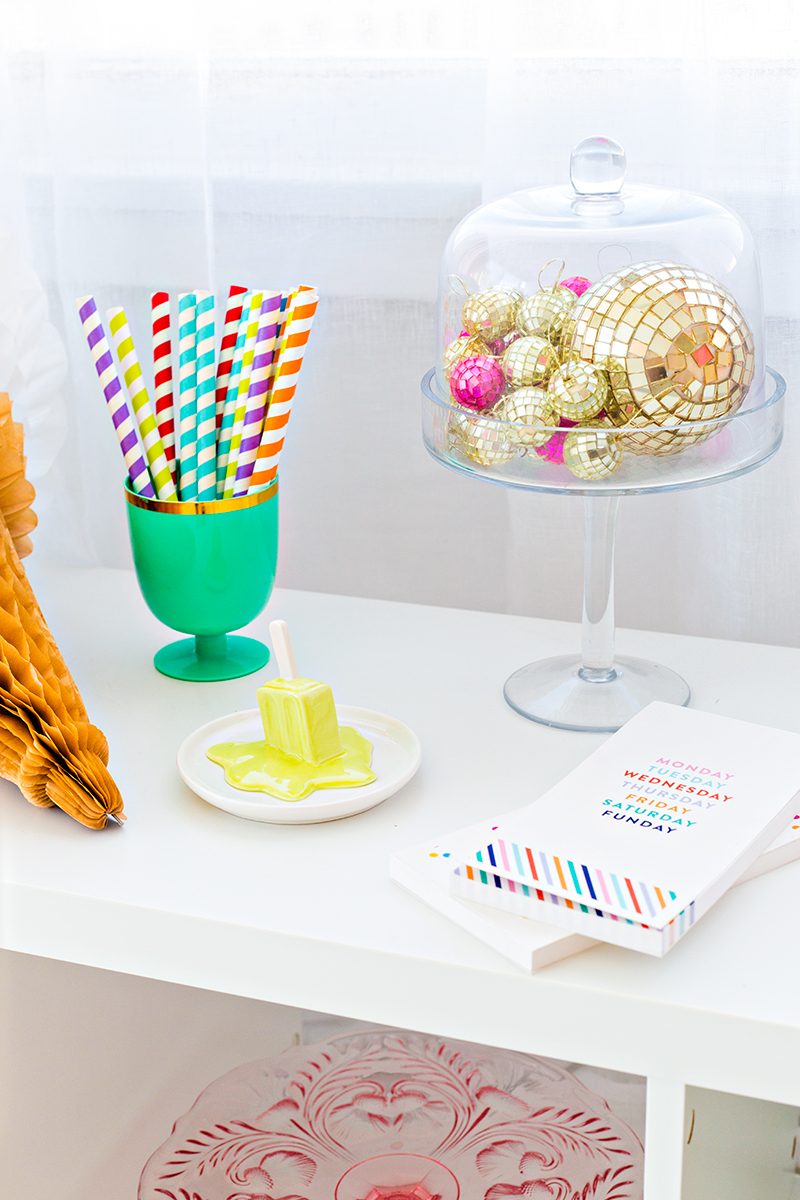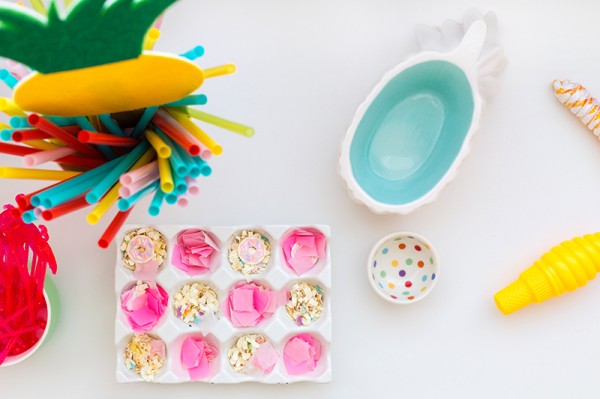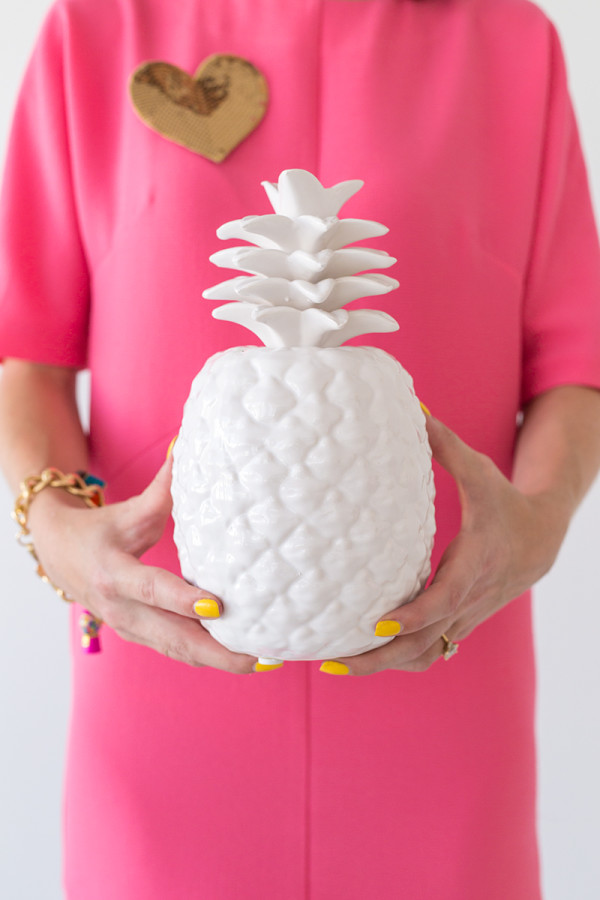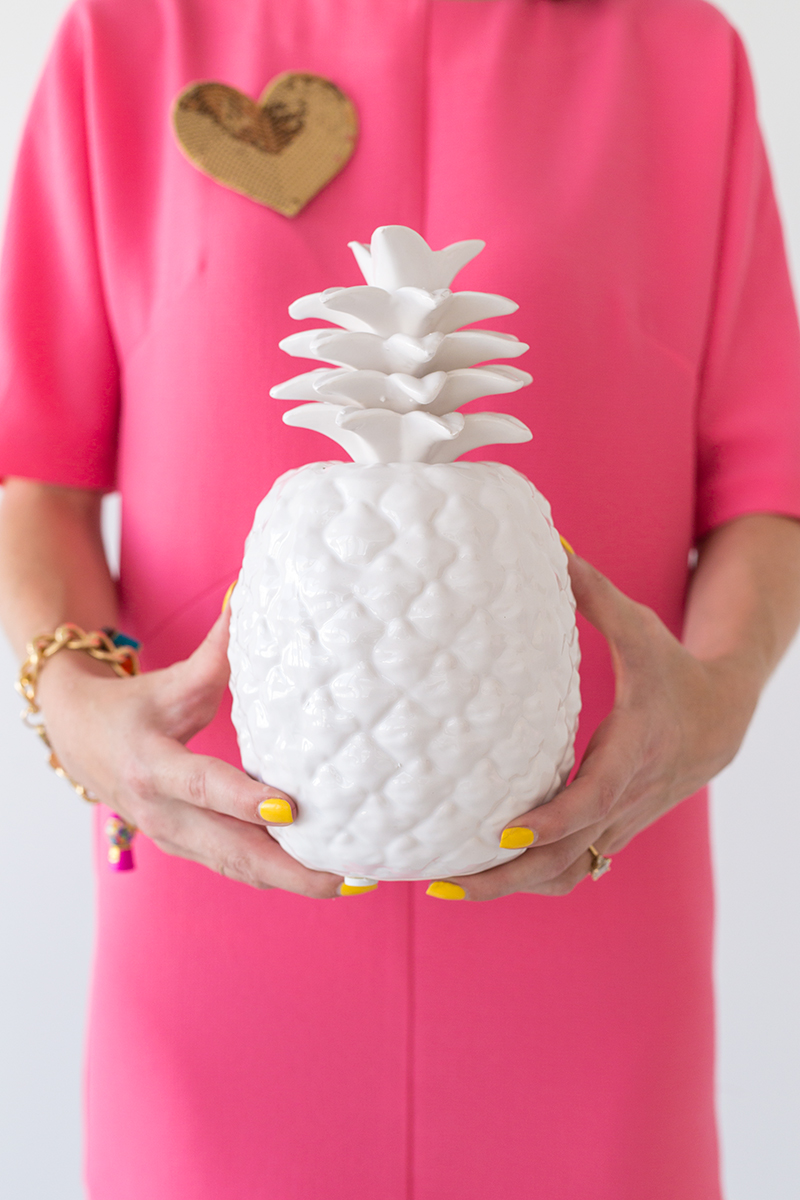 Detail Sources
Confetti + Stripe Tray: Pencil Shavings Studio / Heart Tape: Oh, Hello Friend / Gold Tray c/o West Elm / Popsicle Ring Holder c/o Lulu & Georgia / "Funday" Notepad: Pencil Shavings Studio / Gold Disco Balls: 99cent Store (at the holidays!) / Pineapple Bowl c/o Lulu & Georgia / Polka Dot Mini Bowl: Fishs Eddy / Ceramic Pineapple c/o Wayfair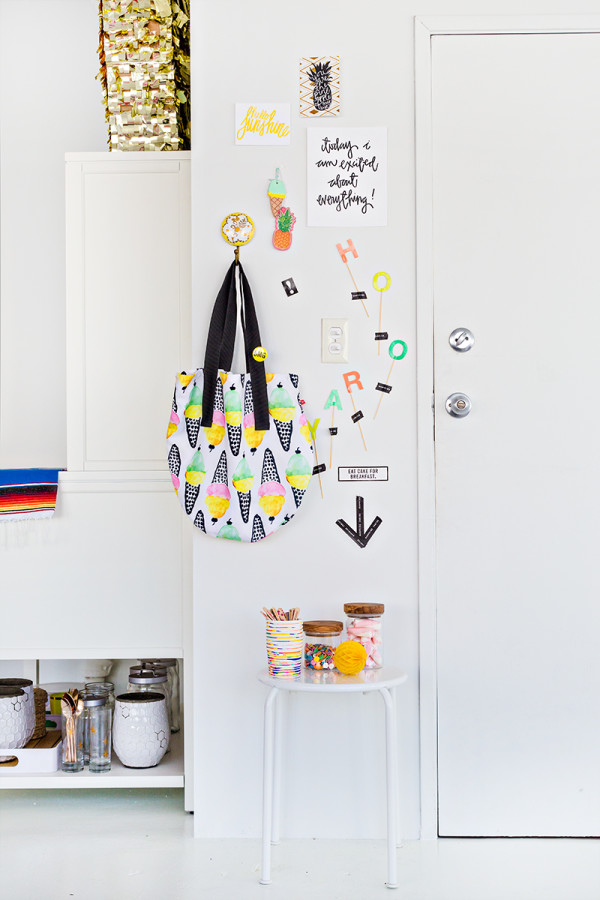 It wouldn't be appropriate for anyone to leave the studio without a little sugar fix, so I set up this cutie little station at the door. Candy, marshmallows, sprinkles! You never know what kind of sugar I'll be forcing on you upon exiting. Come prepared!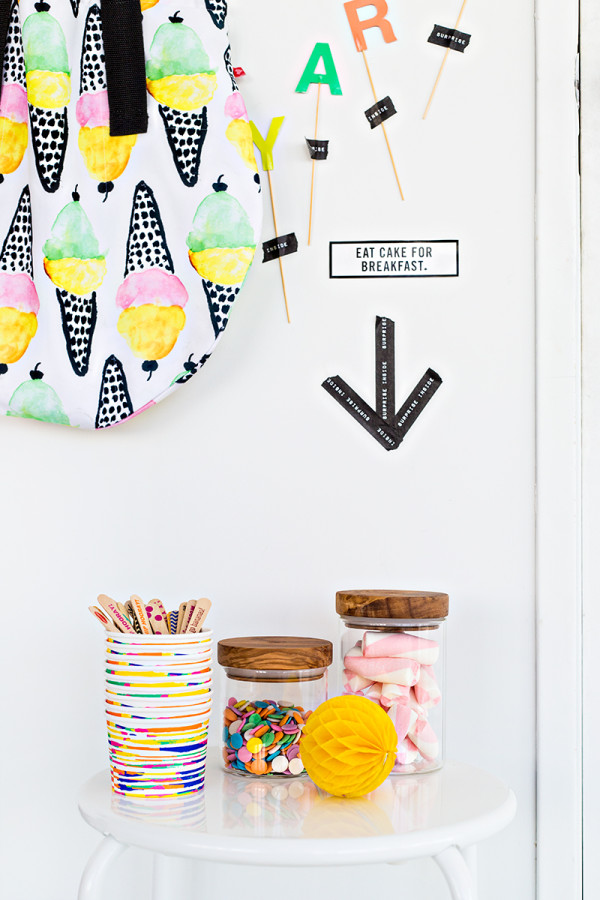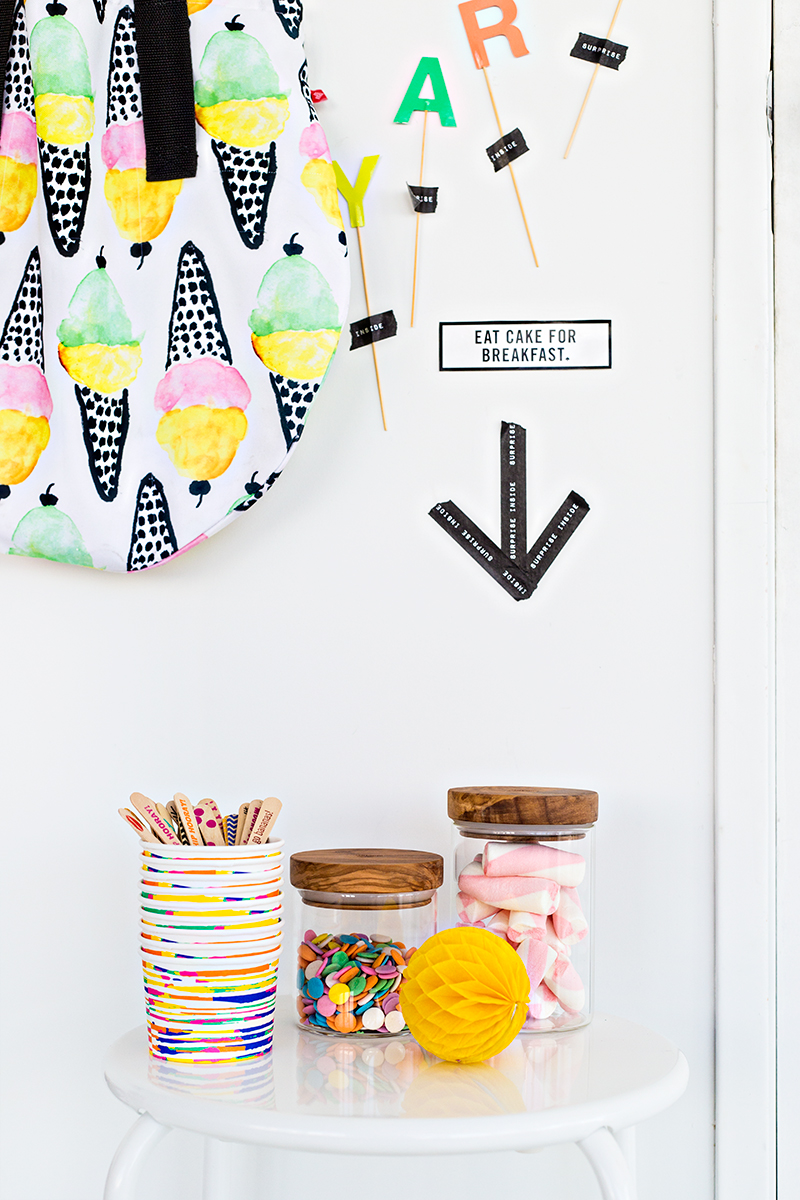 "On Your Way Out" Station Sources
Pineapple Card: Hello Tosha / Hello Sunshine Card: Thimblepress / Excited About Everything Print: Hello Maypole / HOORAY Picks: Oh Joy for Target (Spring Collection) / Ice Cream Print Bag: c/o Baba Souk / Ice Cream Spoons c/o Sucre Shop / Ice Cream Cups: Oh Joy for Target (Summer Collection) / Wood + Glass Jars: Food 52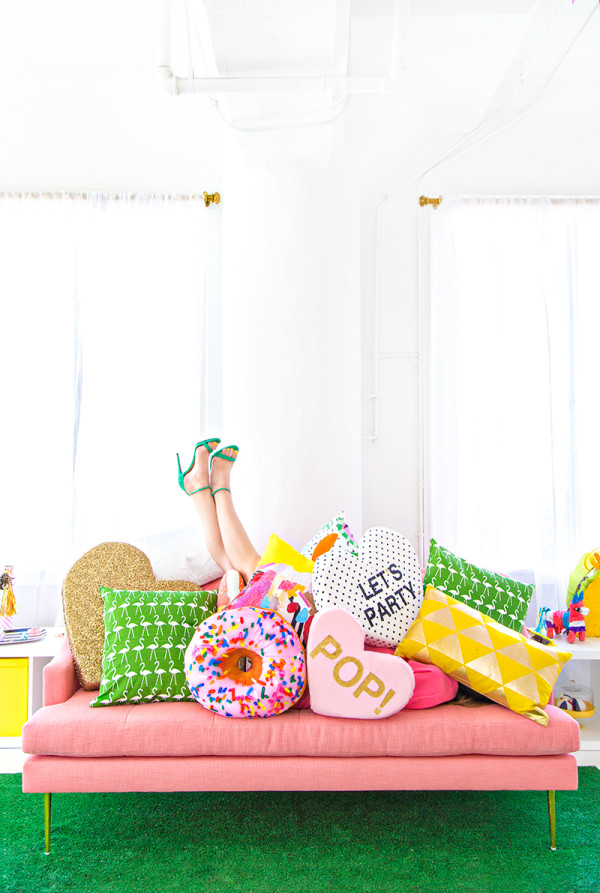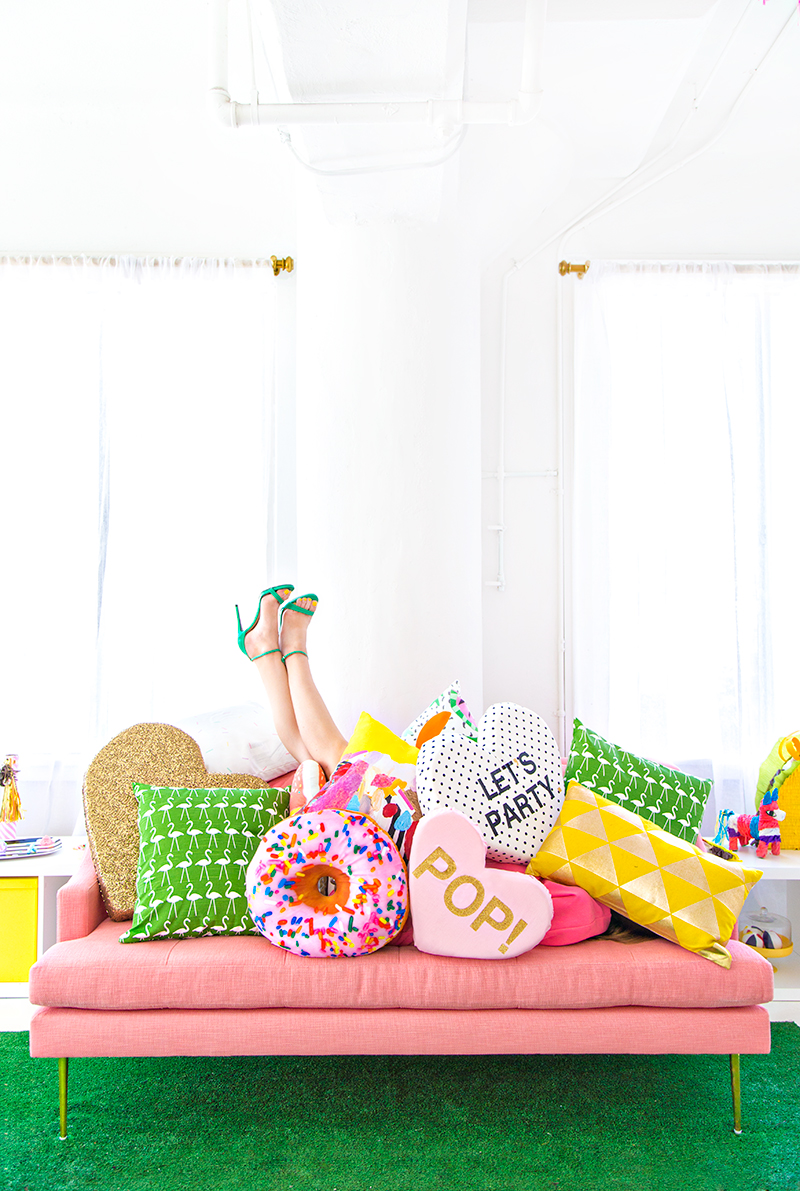 All Photos by Jeff Mindell
And that, my friends, is what we call A WRAP! I hope all you local folks can come to some future workshops and see it in the flesh, and I hope you far away friends enjoyed taking a peek into the new inspiring space behind this brand! It's because of you all that I've been able to grow this tiny business of mine into a brand worthy of a studio that warrants such reactions as "Is this a kindergarten?" from every delivery man that enters. And I am so beyond thankful for that. Don't forget to pop over to Glitter Guide today to read a few deep (ok, not so deep) words from me! One more confetti throwing thank you to those ladies for the feature!
And a final final thank you to all the wonderful companies who helped make this possible! Outside of developing such a strong and awesome reader community, I've been lucky to get to know the faces behind so many companies I've always admired, and now that I get to do my work surrounded by their inspiration… it's pretty darn FANTASTIC! Thank yous all around! Now, can someone get me out from under those pillows…
Follow along with daily happenings at the studio on Instagram with #studiodiyhq!