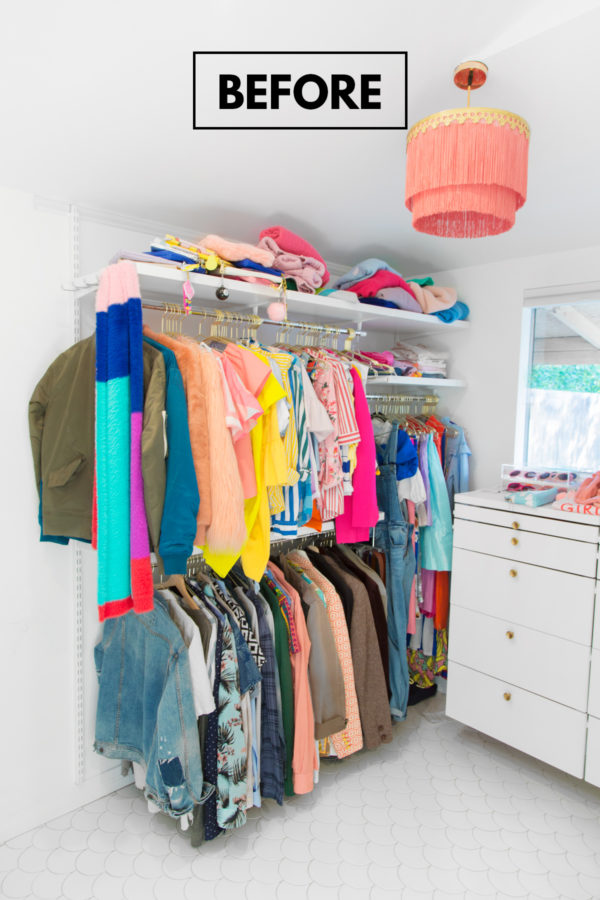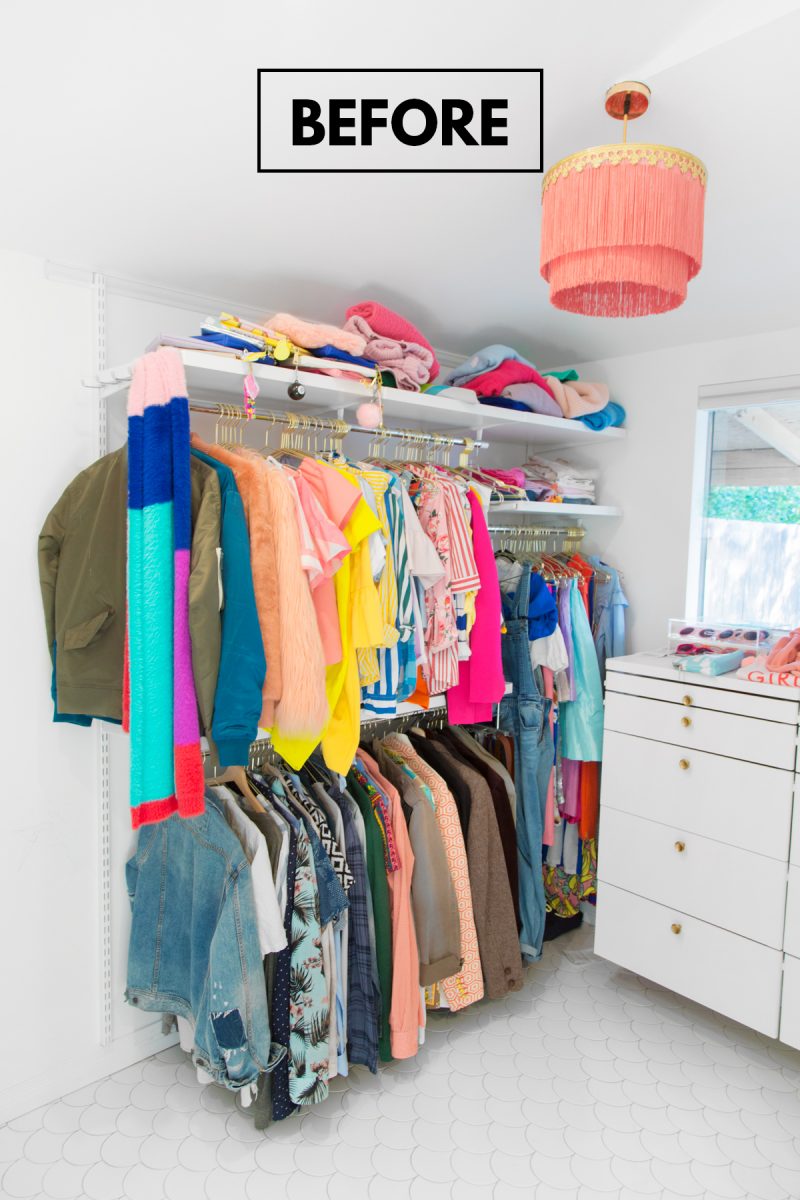 Working with a professional organizer on our master closet project was an EYE OPENER!!! Beth, of Bneato Bar, had so many tricks and hacks for keeping life in order. Today I'm sharing the ten organization tips that saved my closet from the disorganized mess it was destined to be with me in charge. Ha! From products I never knew existed to quick and easy ways to keep things looking neat and clean, wanna hear 'em!?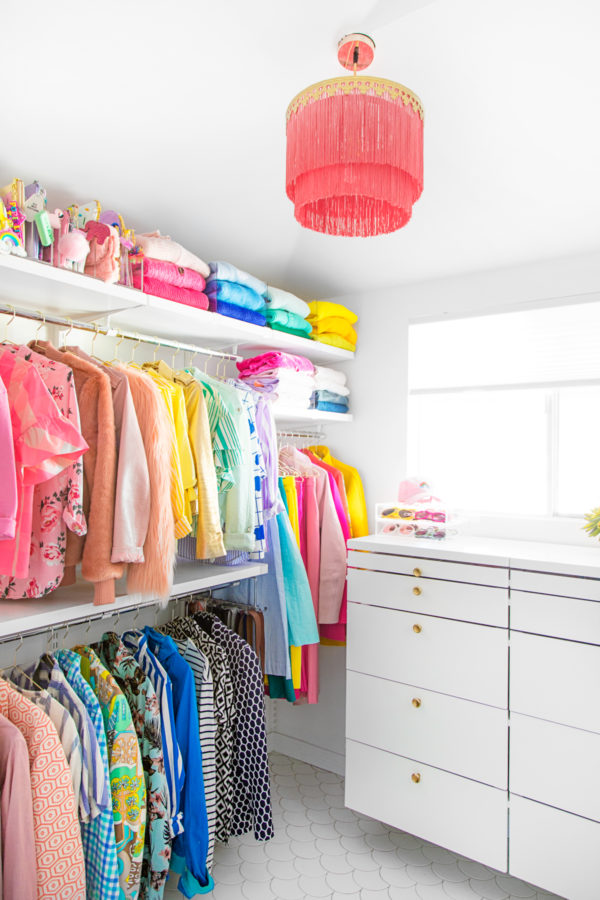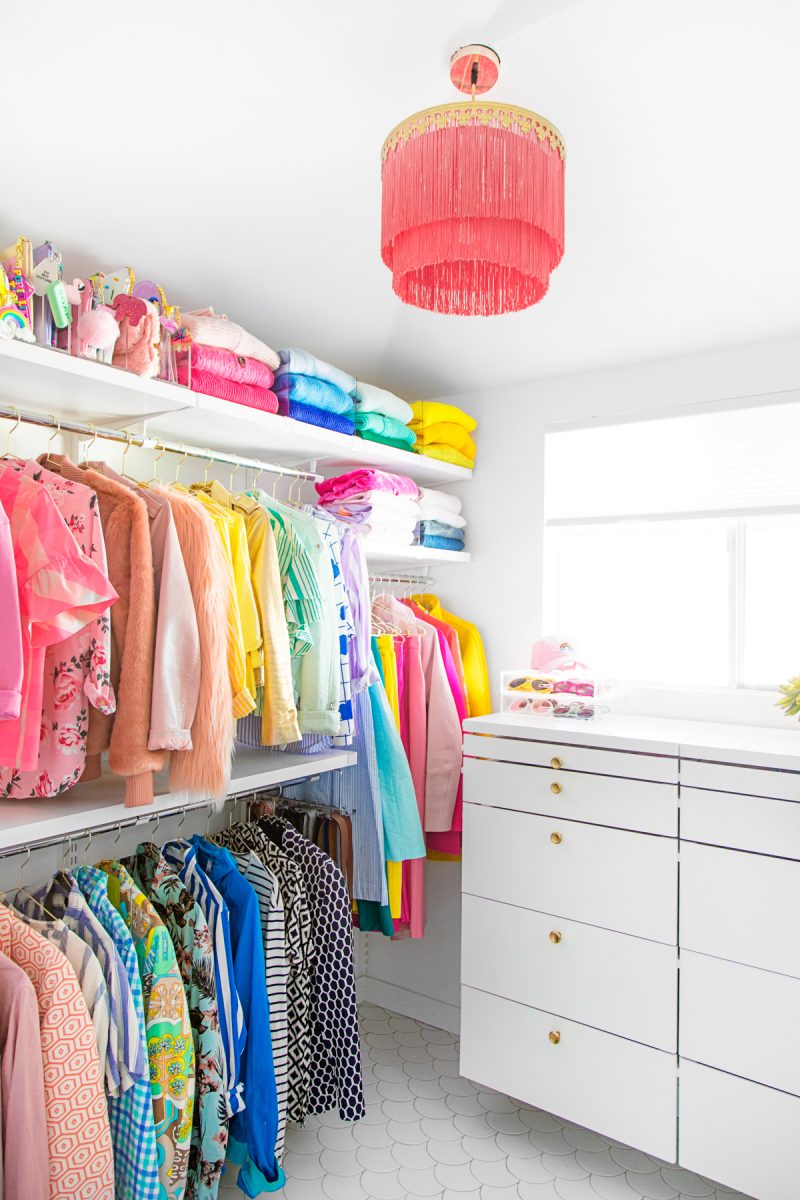 1. Purge
Ok, this one's obvious but if you want a more organized closet, less STUFF is super helpful. Now, can you go tell my husband that!? Ha! Kidding. But the very first thing Beth did with us was go through every single item of clothing we had and sort out what we no longer wore or wanted. One thing she did during this process that was helpful was allow us to have a "maybe" pile of stuff that we weren't 100% we didn't want. We'd set it aside and then after looking at everything we decided to keep, we could see if we really needed any of the "maybe" items. 99% of the time we didn't, but it helped make it clear to us!
2. Categorize + Take Inventory
Once you have your final keep pile, it is SO key to categorize everything and take inventory. Beth wrote down how many of each type of item we had. This helped when we started purchasing some of the organization items below as it told us exactly what we needed and how many of each, where applicable. Without doing this, you'll end up buying organization items you don't need or you'll run out of items and some pieces of clothing will be left without a "place." Don't discount this step!!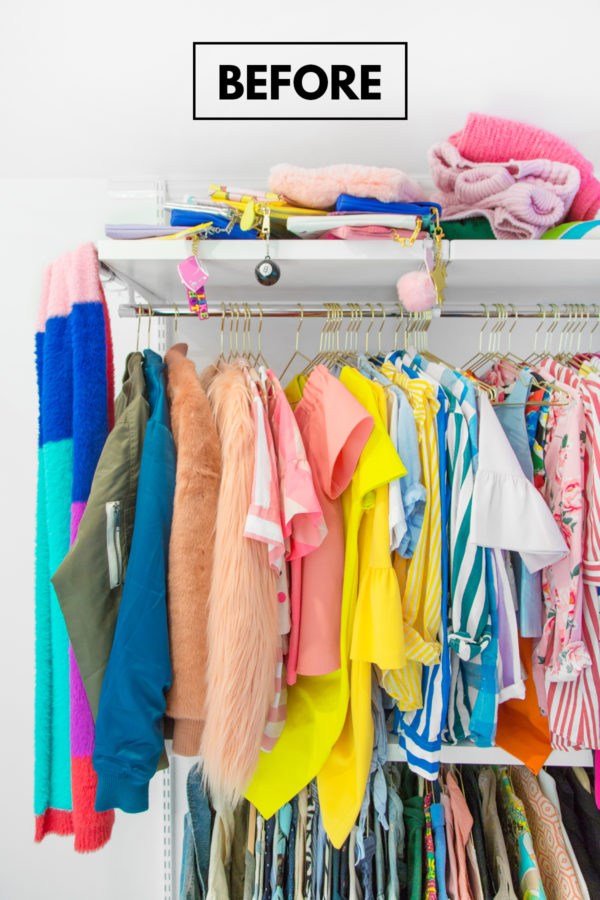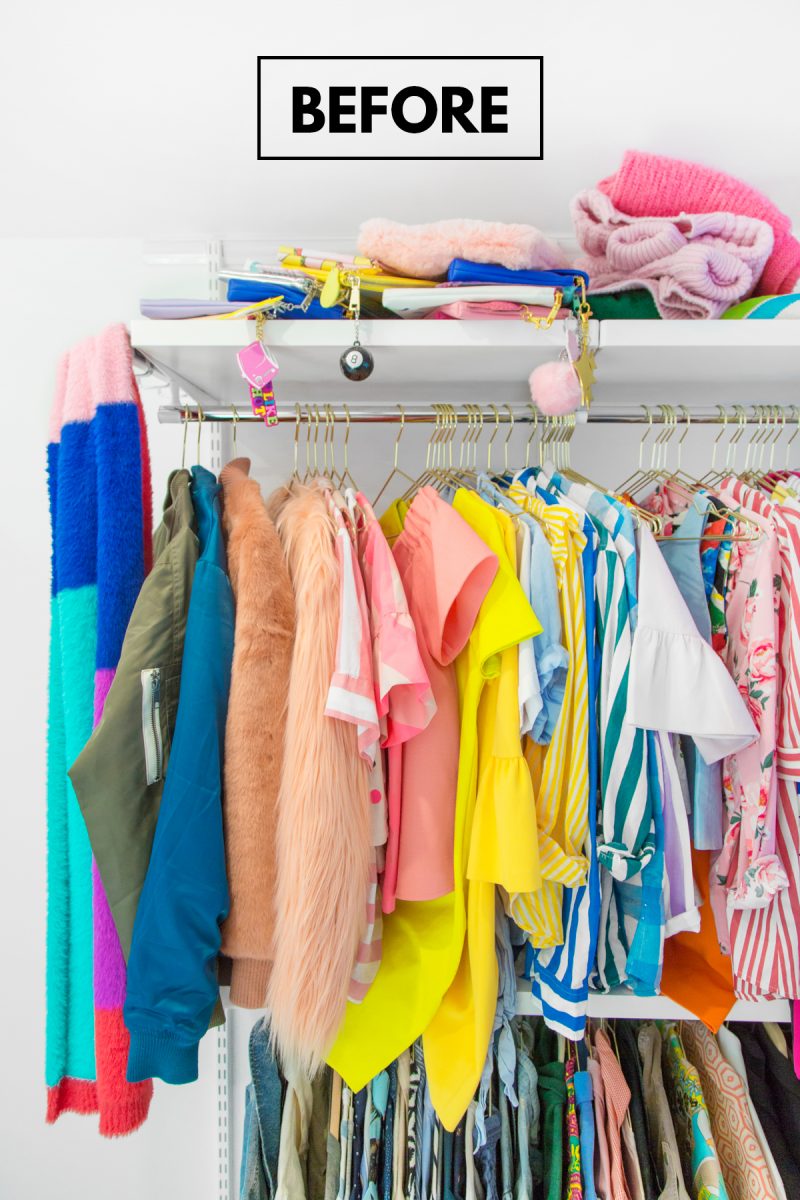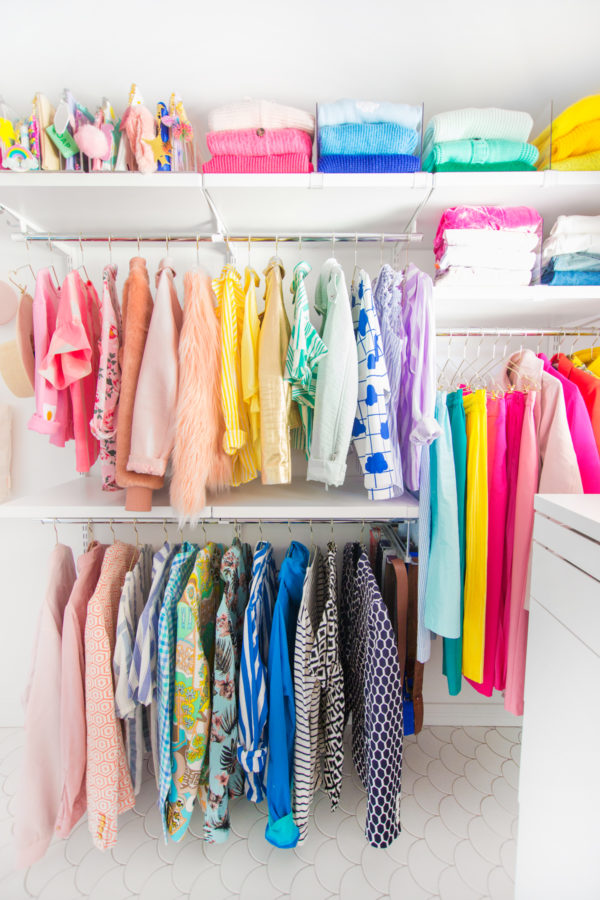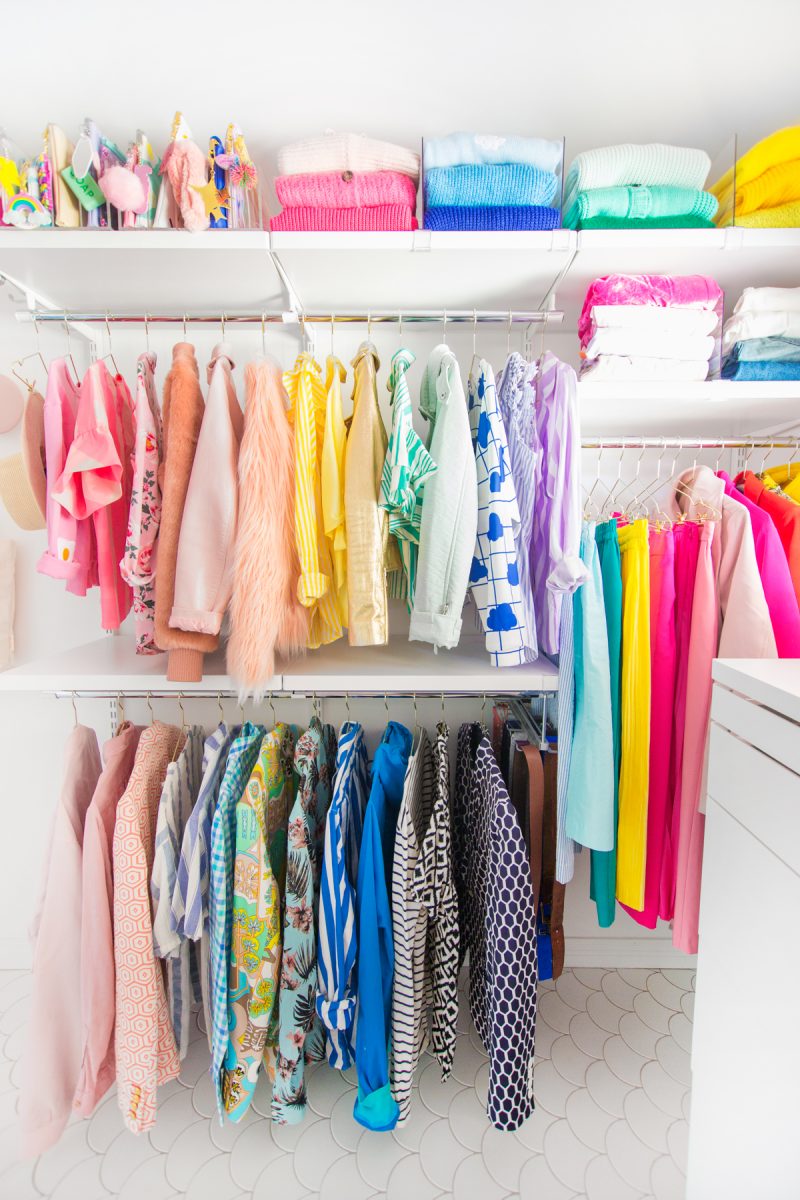 3. Color Code Clothes
Color coding clothes is not how Beth typically organizes closets, however since I have a much more colorful closet than a lot of people, it made the most sense for me. Instead of just organizing by "weight" of clothing, I've found it incredibly helpful to have everything organized by color. I have all my shirts in my short hanging space color-coded, and then pants followed by dresses and jumpsuits color-coded in my long hanging space. Within each color, I then organize by weight of the clothing. If you have a closet full of color, it's worth a try!
4. Bulldog Clips to Make Instant Pants Hangers
When we first chatted, I told Beth I wanted wooden hangers but she pointed out that those hangers take up a LOT of space and since our space was limited, we wouldn't be able to fit as many clothes. She recommended a few narrower, but still pretty (LOL, priorities!), options and I eventually chose these brass hangers. They, however, did not come with a pants hanger option so Beth had the brilliant idea to use mini gold bulldog clips. BAM! Instant pretty pants hangers that don't take up too much space!
5. Rubber Bands To Keep Clothes In Place
One more trick to help better my beloved gold hangers. Since they don't have a non-slip feature like those velvet-y ones (I know they're super popular, but I don't like 'em!), for any tops with super wide necks, Beth wrapped a rubber band around the end of each hanger. It perfectly keeps the shirts in place, and is hidden by the sleeves so they still look gorg!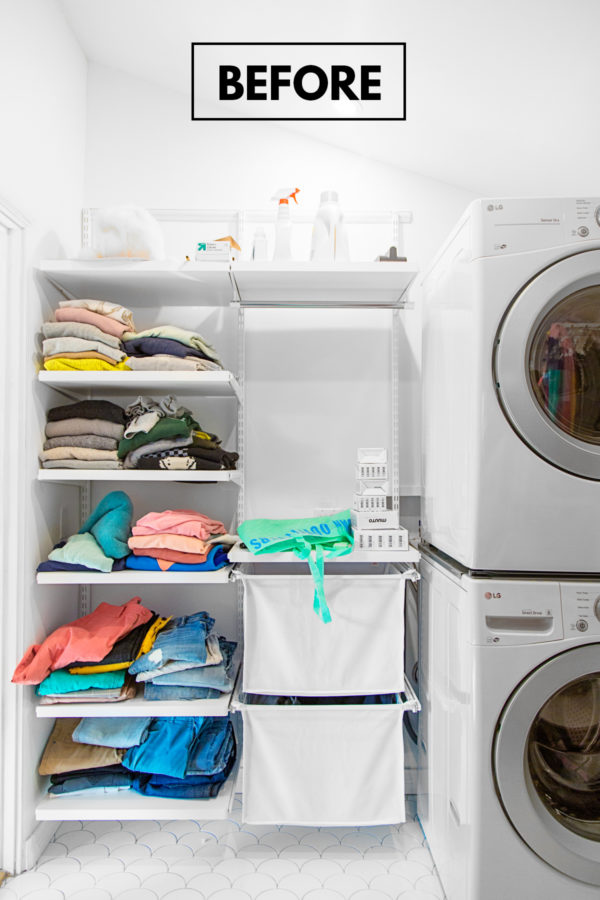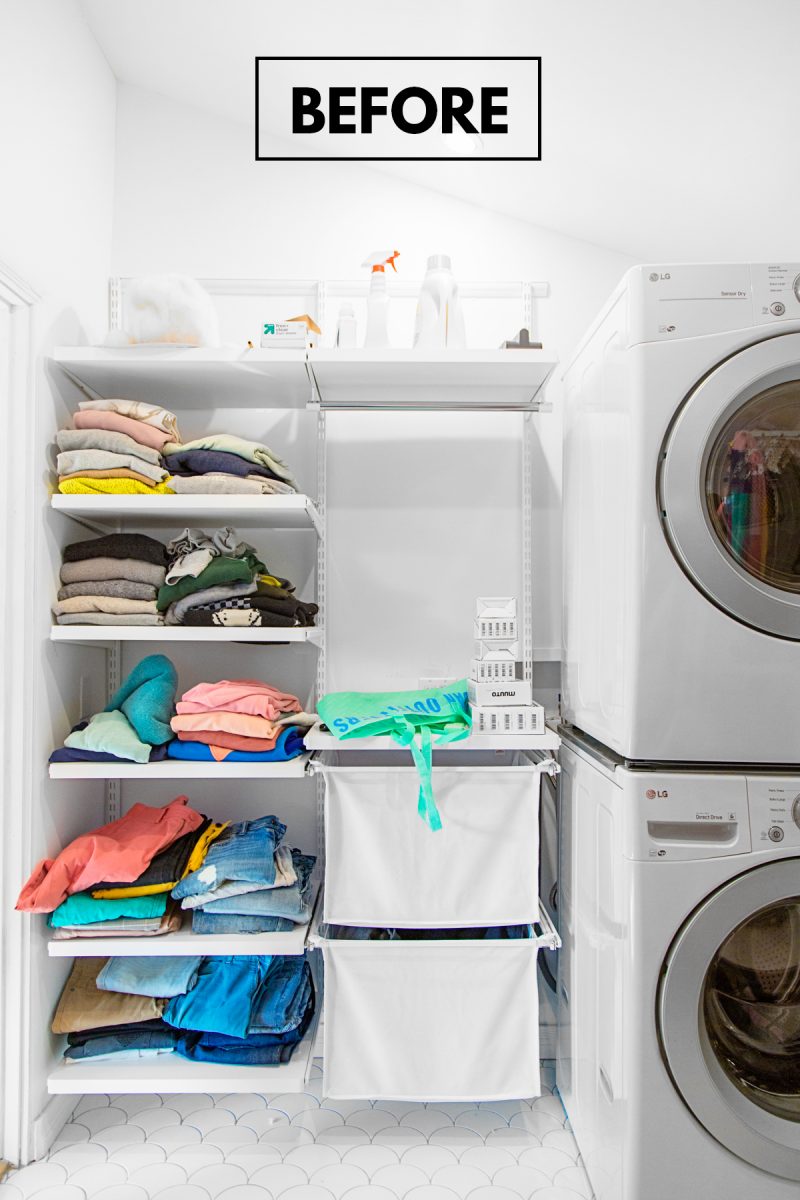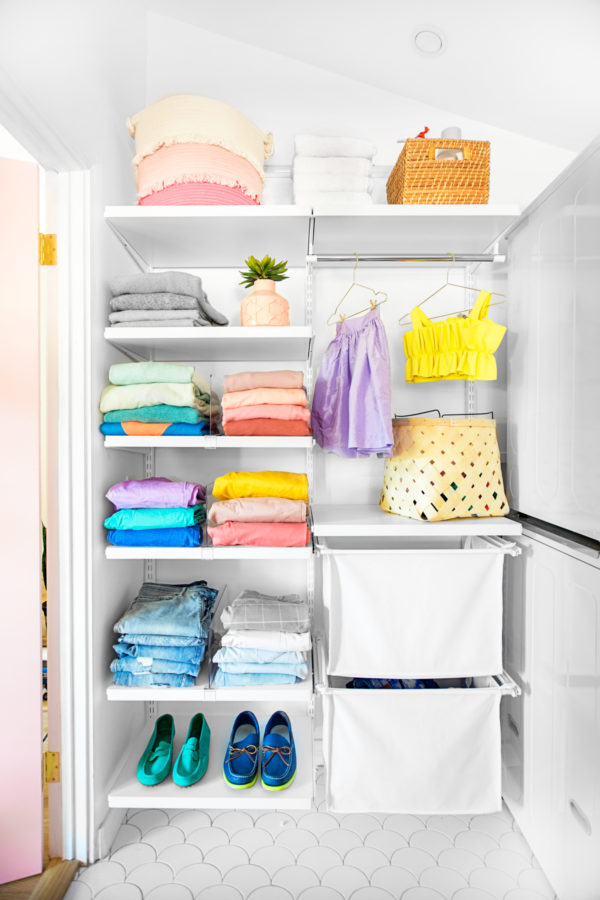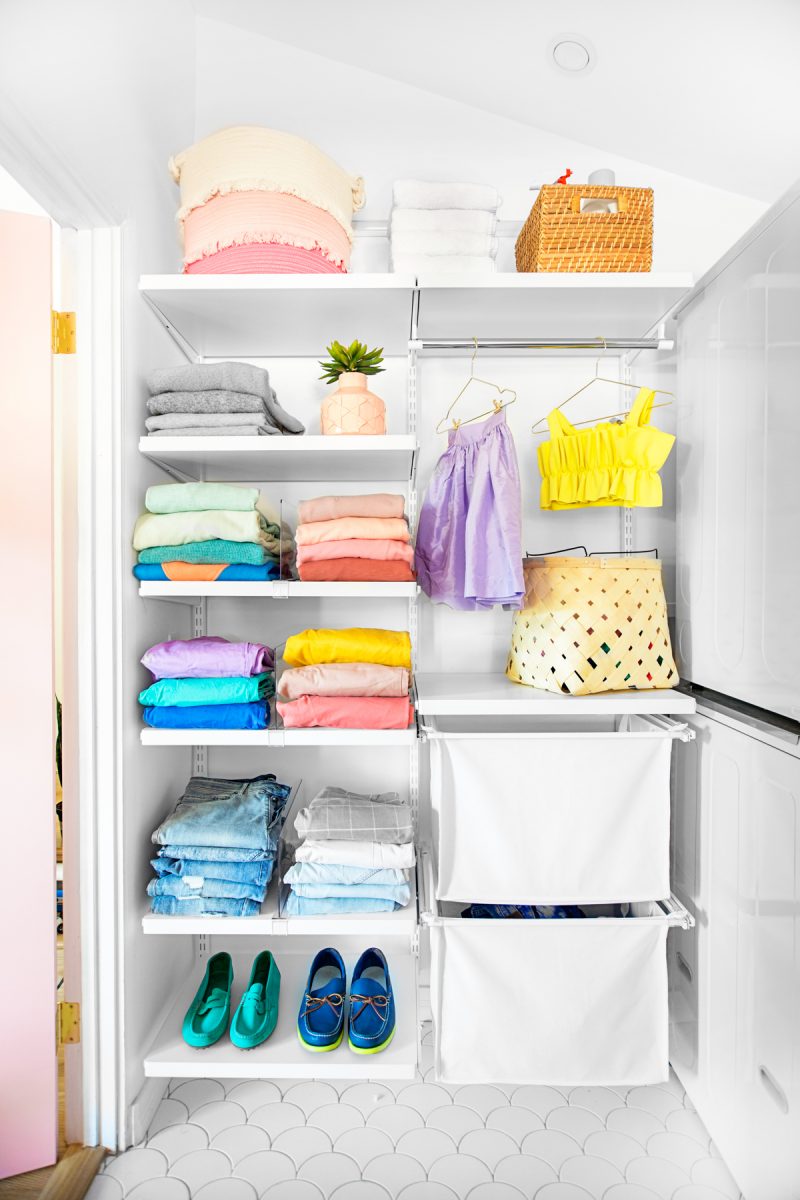 6. Shelf Dividers
These are probably one of the most asked about items in our closet. DID you know acrylic shelf dividers exist!? THEY DO! And they are perfect for shelves where you need to stack multiple columns of pants or sweaters. LOOK at that before and after! Without them, the piles would fall or we just wouldn't even bother making piles but this makes it so much easier. Probably my favorite hack of the bunch!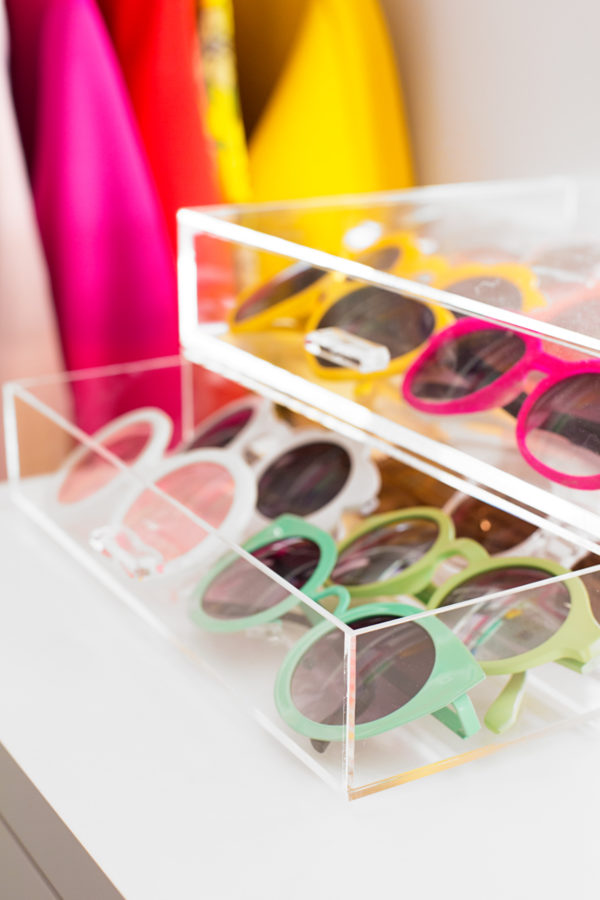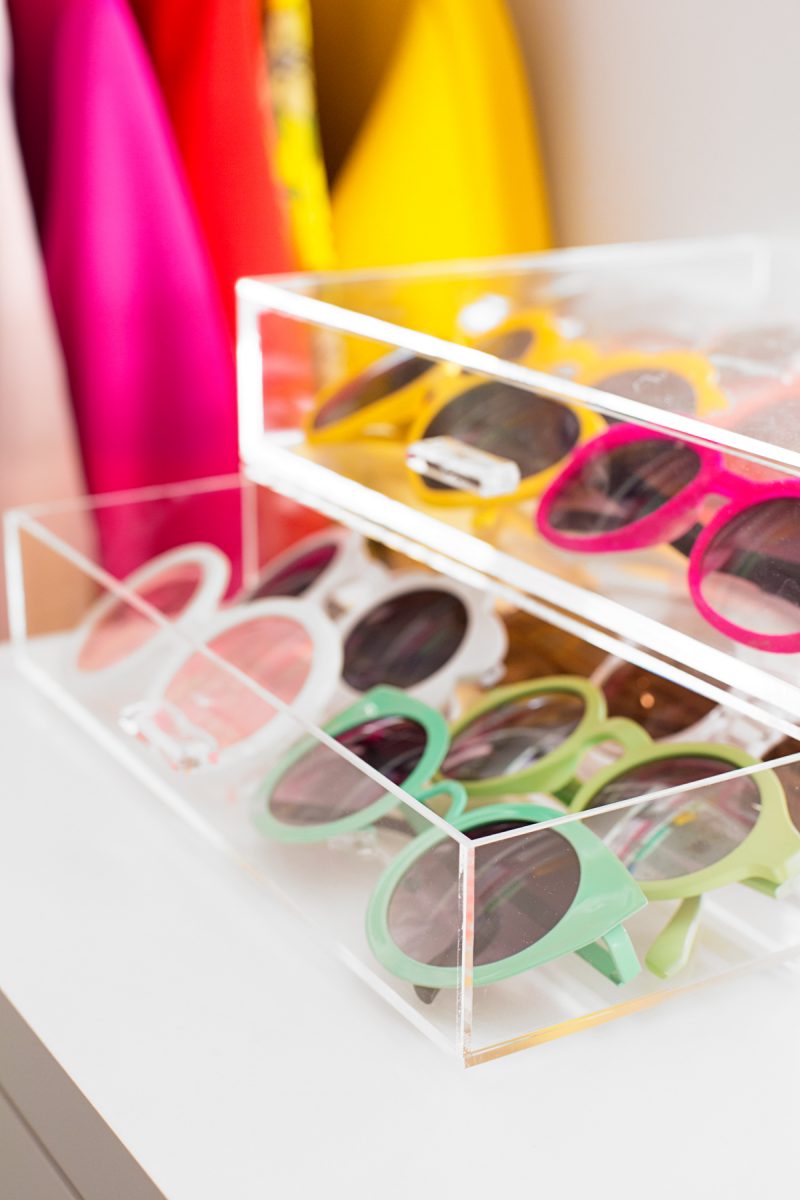 7. Clear Drawers for Sunglasses
Since my dresser drawer space was taken up by jewelry, there wasn't room for my sunglasses. Using these acrylic drawers for them keeps them organized on the top of our dresser but allows me to see each pair clearly.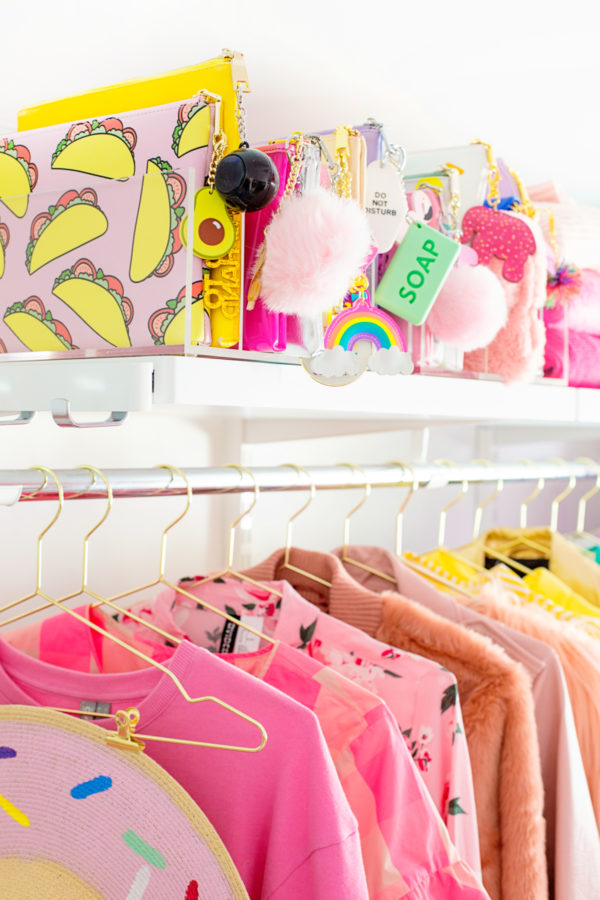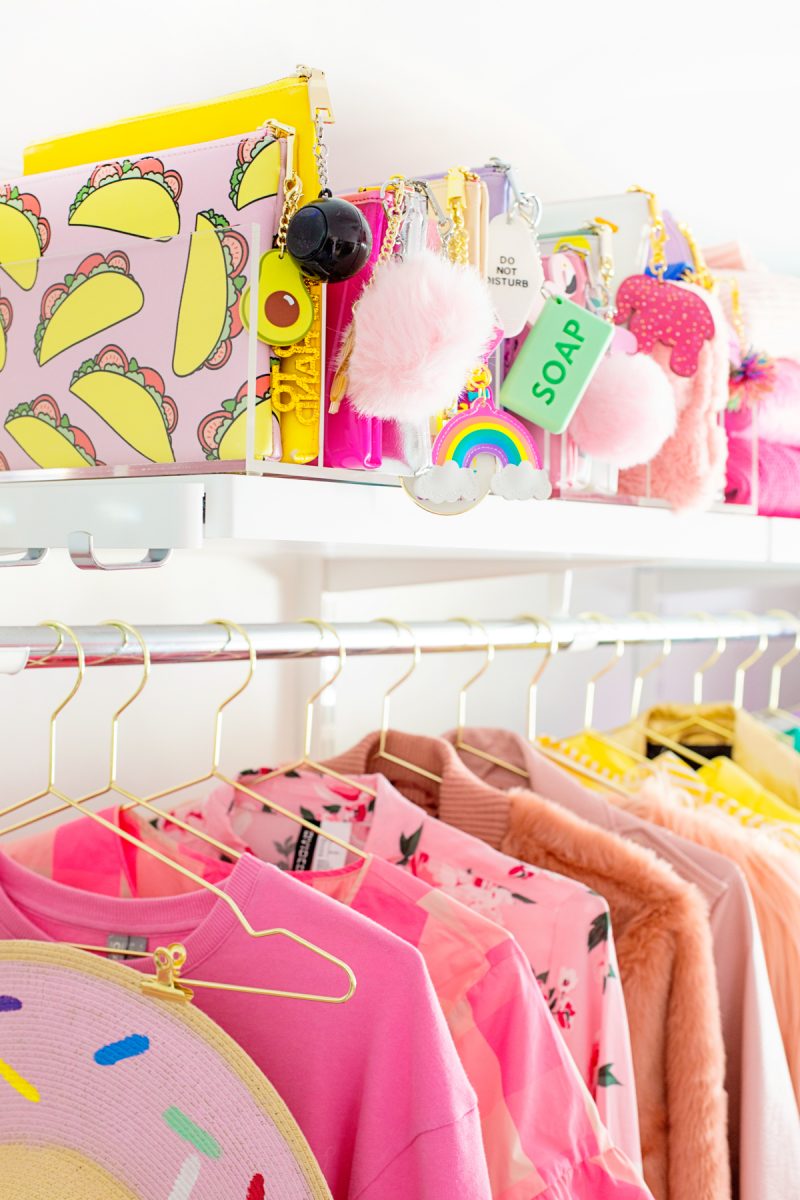 8. File Dividers
Beth knew she had to get creative to store my huge clutch collection and she ended up using these acrylic file dividers which worked out PERFECTLY! Each slot can fit 2-3 clutches and it keeps them organized while still allowing me to see each one. I love that I can hang all the keychains off the ends too!
9. Small Bins in Your Underwear Drawer
Anyone else have an underwear/sock/bra drawer that just becomes one big mess of undergarments? *Raises hand.* We ended up getting small bins so I could easily divide the three categories and keep them separated. Game changer!! Drawer dividers would also be great for this, but they didn't work with the mesh drawer interiors we have.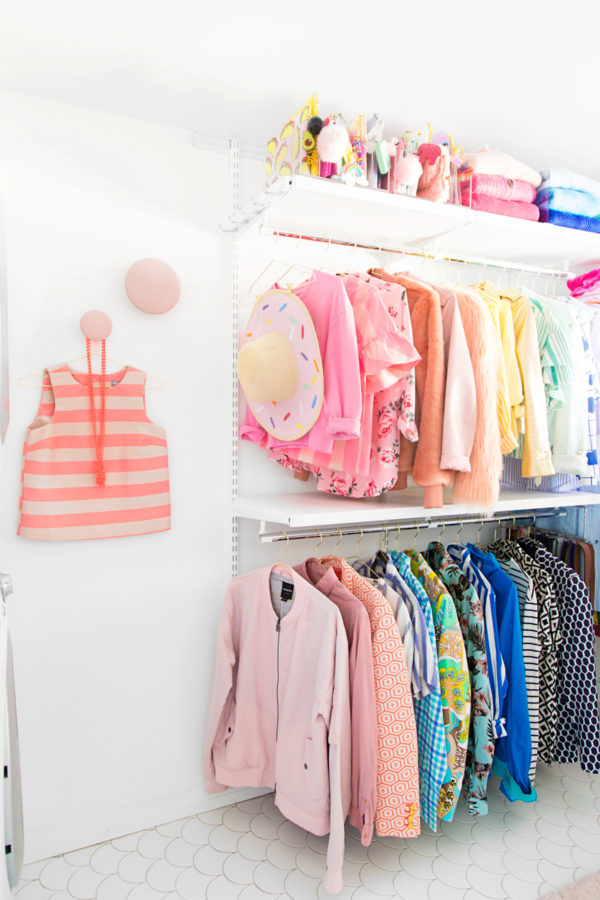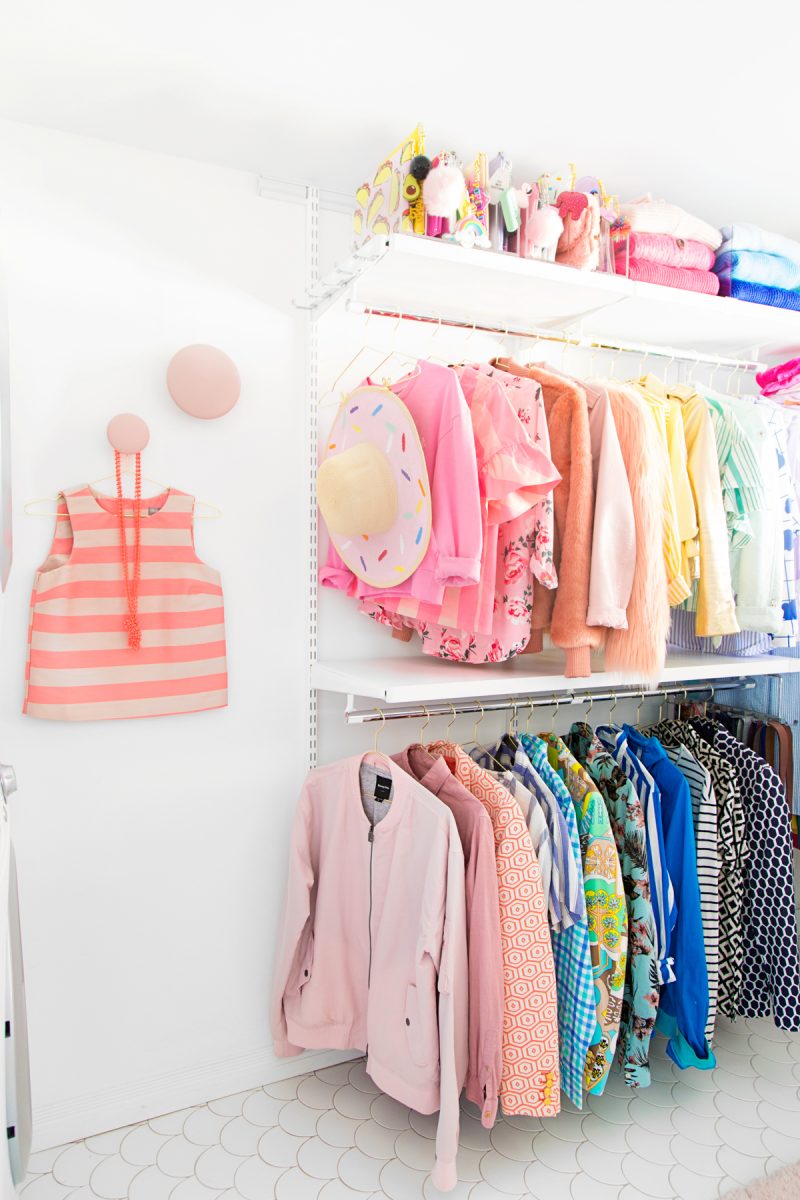 10. Wall Hook Turned Valet Hook
I love being able to pull together outfits ahead of time or if I'm doing a shoot, usually this would end up just hanging in front of our other clothes or on a drawer pull, but Beth told us to get a wall hook and turn it into a pseudo "valet hook." BAM! We hung it on the open space near our washer/dryer and it keeps the outfits I pull organized over there instead of on top of our other clothes. It also is great for storing tote bags, too!!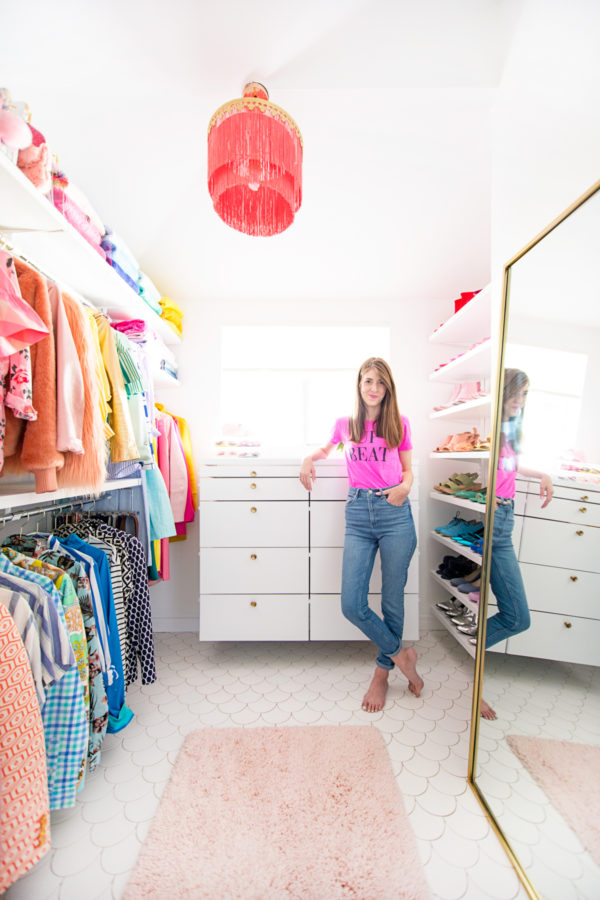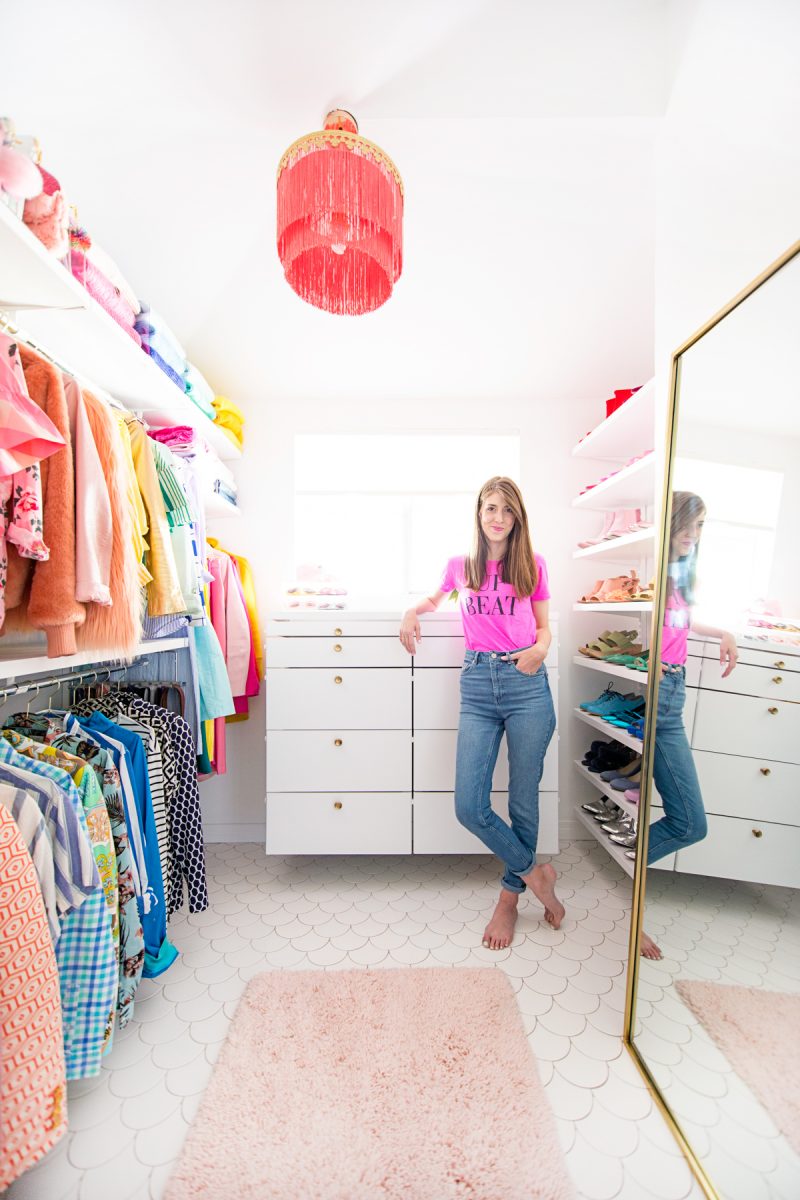 Photos by Jeff Mindell | Professional Organizer: Bneato Bar
For all additional product sources in the photos above, click here!
I'm happy to report that almost a month out from Beth's final organization visit and our closet still looks SO clean and organized! Hope some of these are helpful for you all, too! Remember you can pick up Beth's book on tidying right here.
SaveSave
SaveSaveSaveSave
SaveSaveSaveSave
SaveSave
SaveSaveSaveSaveSaveSave
SaveSave
SaveSave