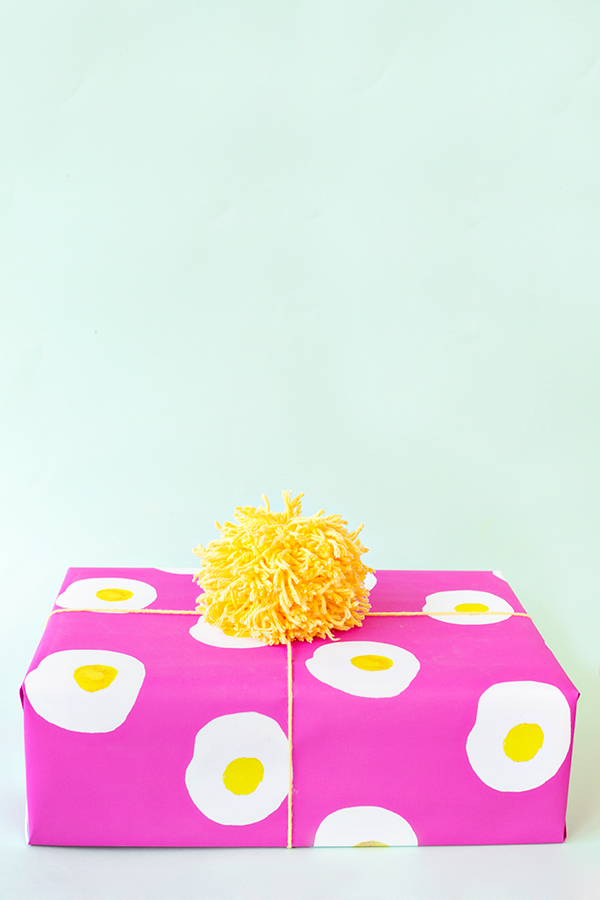 Oooh, sometimes… things are just fate, ya know? Our friends Chelsea and Ryan are having a baby in November and, well, I may be a little excited for them. OK, a lot excited. When it was time for their cute baby shower, I went with my trusty shower gift giving tradition. A theme that incorporates something from the registry, and something just for fun. This time, I decided breakfast would be fitting, because they are technically expecting a new alarm clock after all. And this one comes with diapers! Bonus! Kendra had recently designed some INSANE egg leggings (ehm, eggings) and I knew I had to get some of the egg action over here for our new That's A Wrap series! And THEN I found these sunny side up bloomers and it was a done deal. The breakfast of champions folks, free printable egg wrapping paper and all!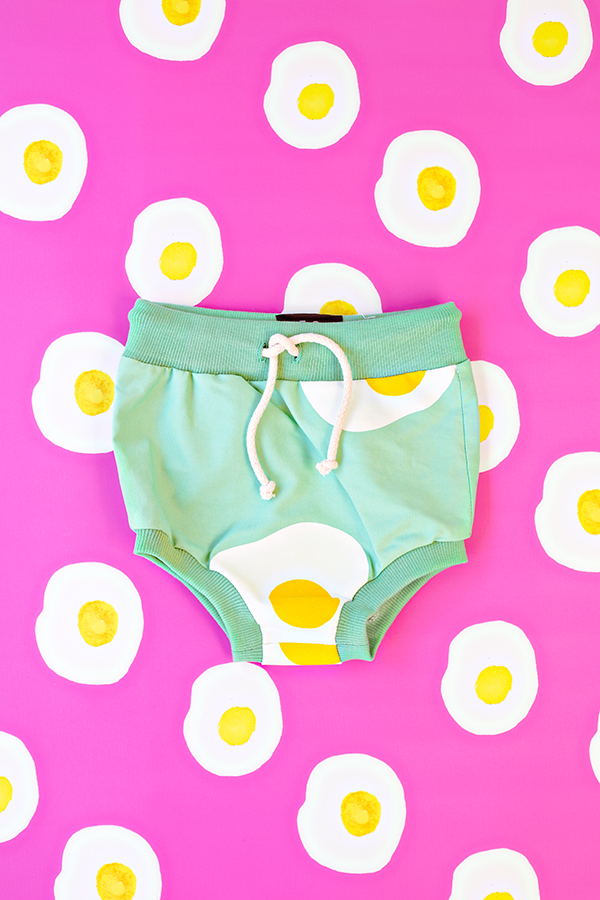 To print the egg wrapping paper, CLICK HERE!
The file is sized to 11×17 inches but can be enlarged and printed at a local print shop for larger gifts. I enlarged it to 18×24 inches for this and it looked great. Inside the box, I paired the bloomers with bibs from their registry.. and that's a wrap! You could also add coffee or tea for mom and dad, or a cute breakfast-y rattle if you're headed to a baby shower and like a theme as much as I do! I topped off the package with a gigantic pom pom, using this easy peasy tutorial!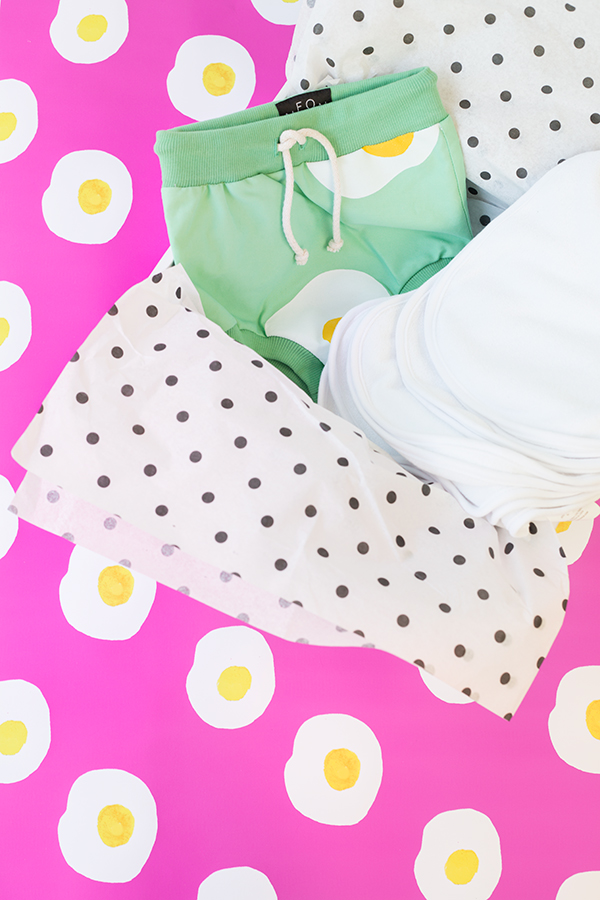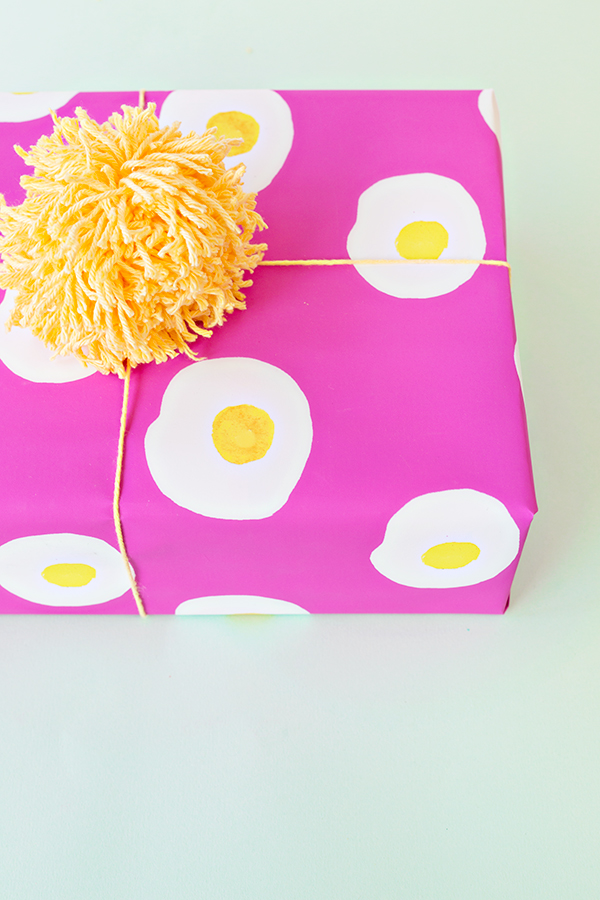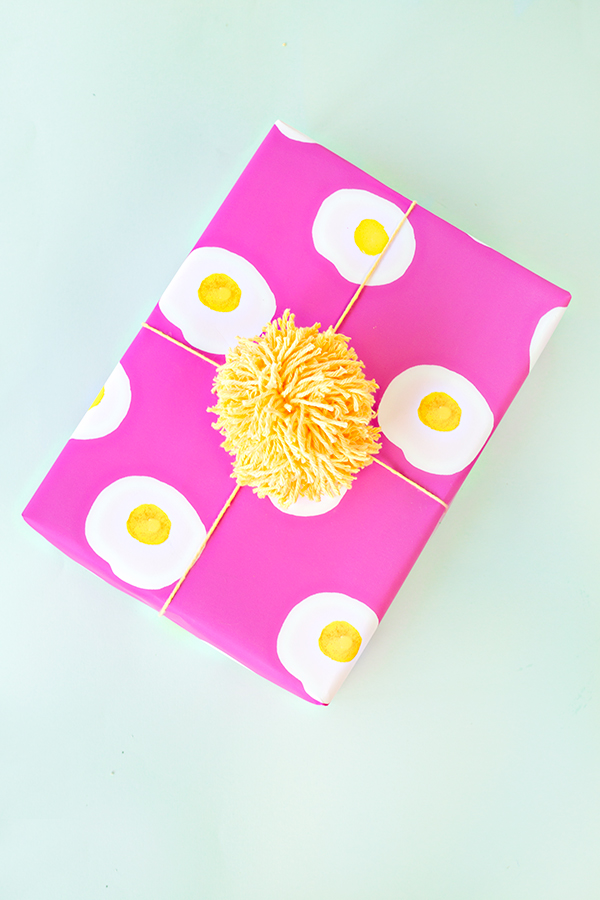 Wrapping Paper Design by Bouffants & Broken Hearts, All Photos by Studio DIY
For those of you who are also freaking out over the egg bloomers. You can buy them from Neon Tiger here. For those of you in the US, when I ordered it said they didn't ship to us. But THEY DO! I just had to message them with the request! And the shipping was crazy fast considering it was coming from Switzerland. BAM!
And for those of you freaking out over the egg bloomers but kid-less like myself, Kendra has leggings AND bedding for you. She rules. (I'm such a fan girl!)
For more free printables, click here!