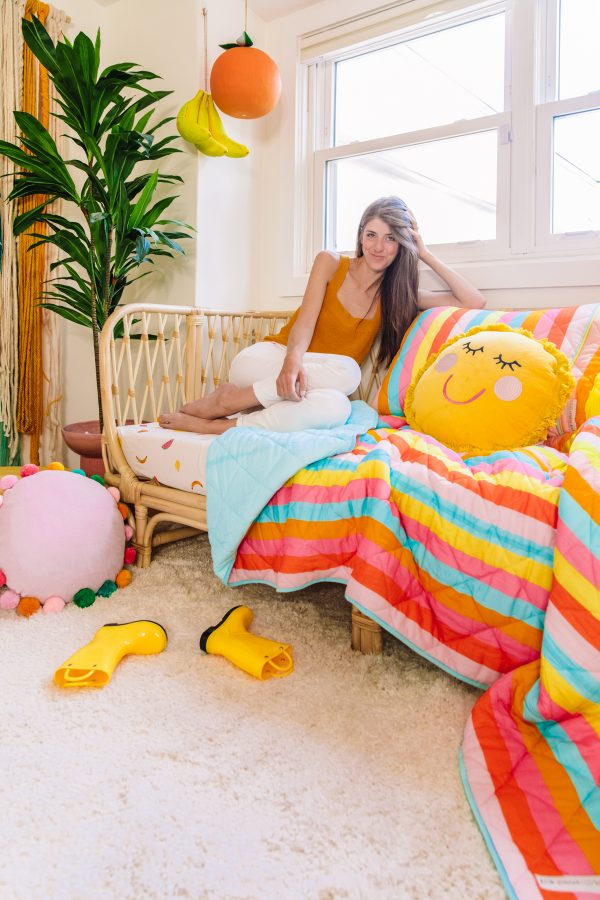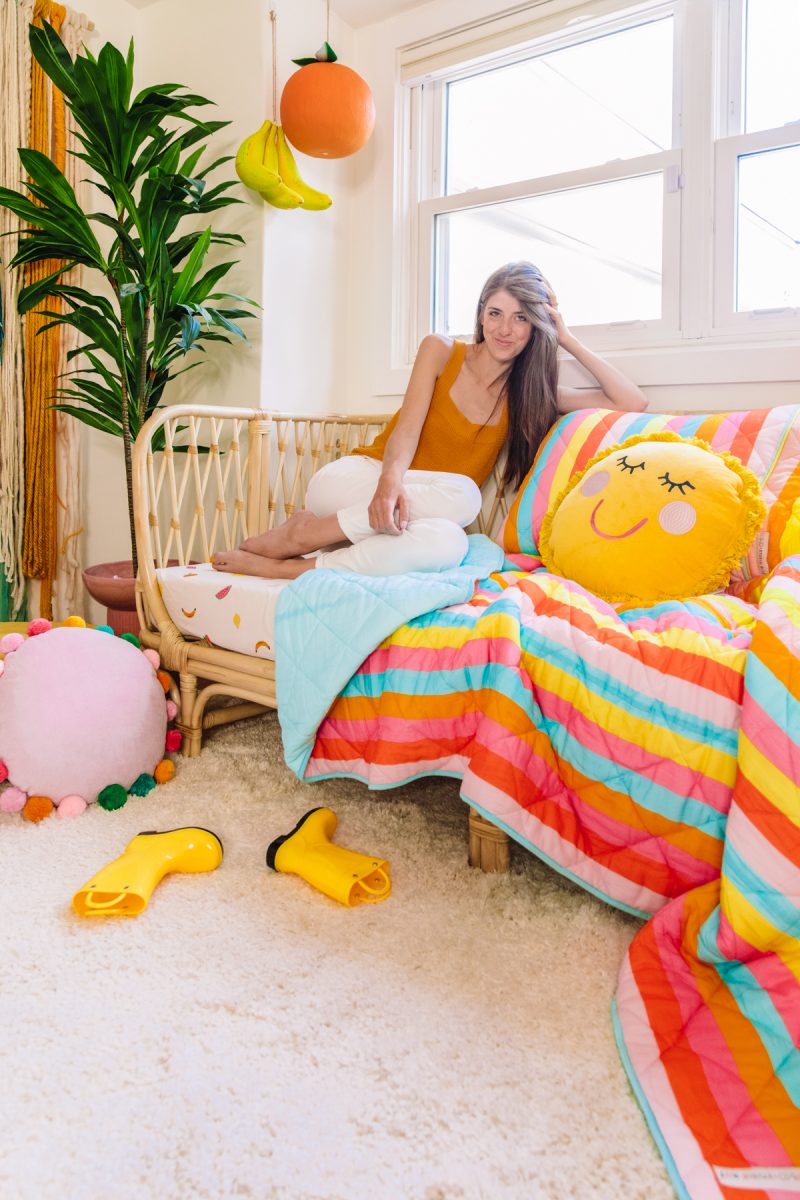 I always love sharing the design process for our clutches, so I thought it would be fun to share how our Kip & Co bedding collection came to be, too! From the mood board I created to kick off the collab to the initial designs to the material samples, I'm going to walk you through how this project went from a casual meeting in LA with the founders, to a real life tangible product a few years later!!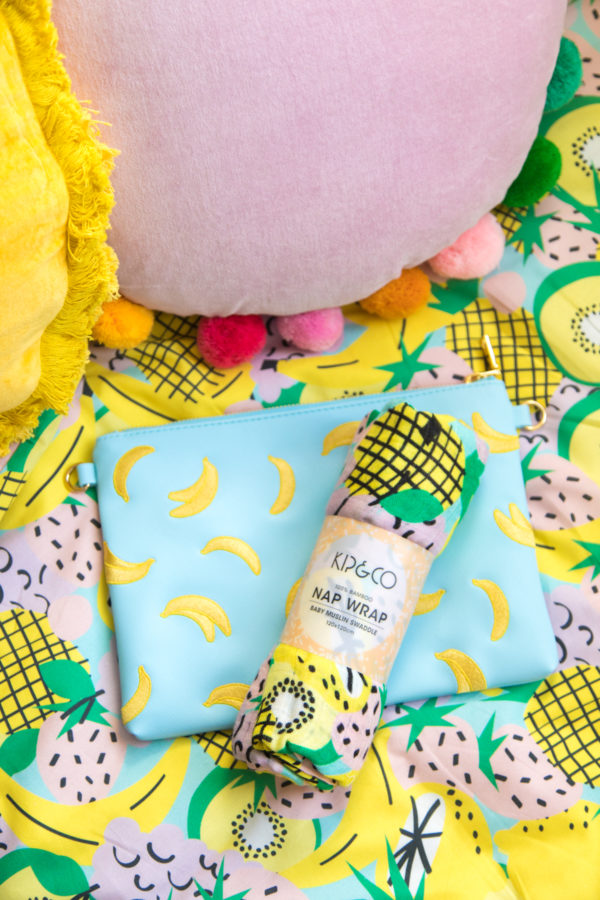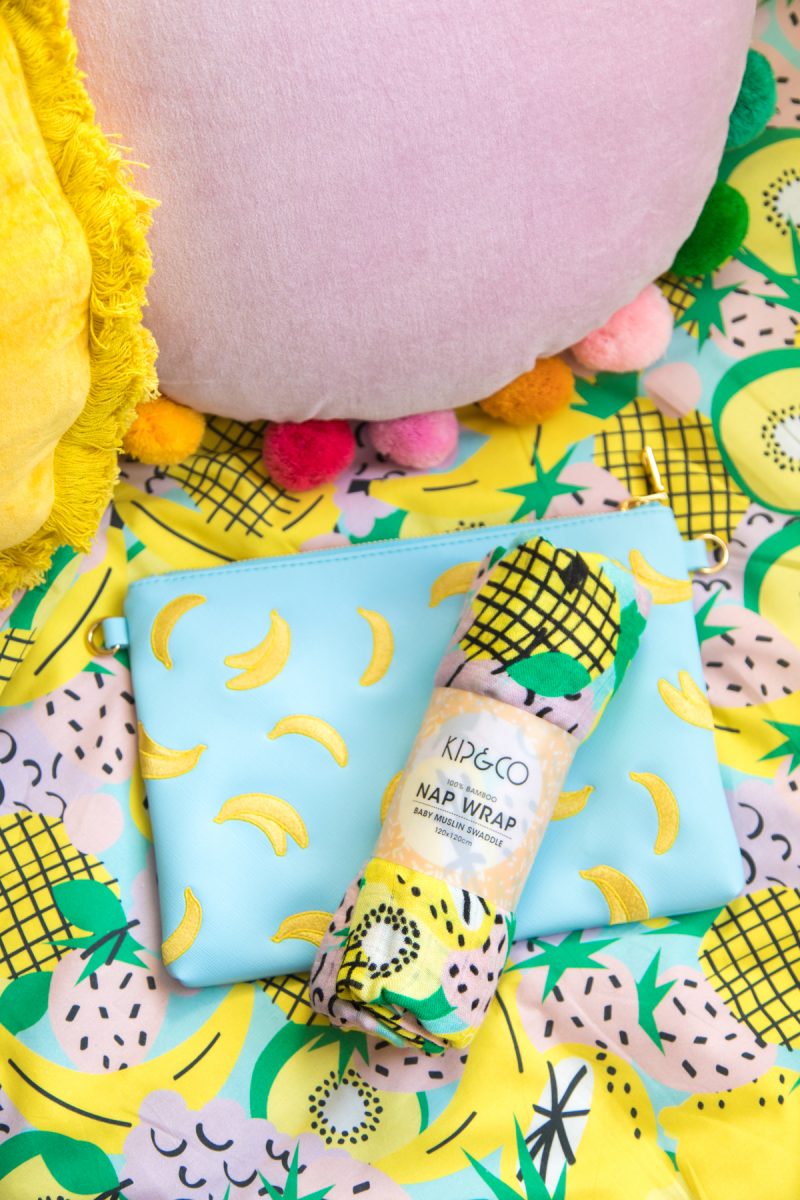 I discovered Kip & Co a few years ago, right around the time when Arlo was born and we were buying our house. I'd been deeply immersing myself in the Australian design scene because, frankly, I find it so much more inspiring and came across their products multiple times. (If you need proof of the amazing design inspo down there, just look at the three founders homes: Hayley's, Alex's and Kate's. I CANNOT HANDLE!!!) We chatted on Instagram and they sent Arlo the cutest little blanket and I just fell head over heels even more for their products after seeing them in real life.
That following fall (September 2017), Hayley reached back out because they were expanding in to the USA market and I was THRILLEDDD to hear that!!! They were coming here for a trade show and had just a few hours in LA before their flight but we decided to squeeze in a meeting. After some traffic craziness, we ended up only having 30 MINUTES to chat and we did so while sitting on their suitcases on the side of the road!!!! Haha!! We talked about my dream of getting more into interior products, specifically for kids, and about their new venture into retail in the states and how we could both help each other with said goals/ventures by working together on some sort of collaboration. And then off they went on a flight back to Australia!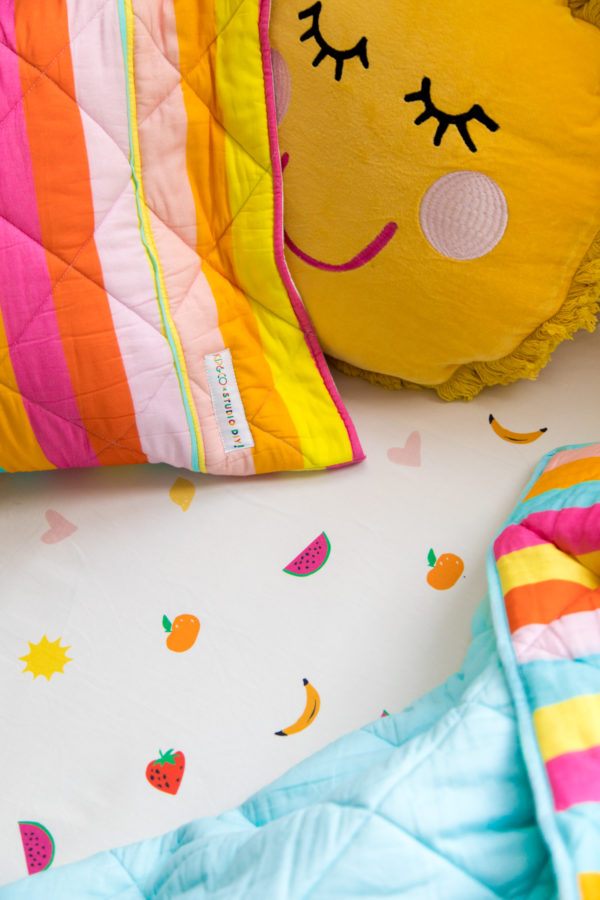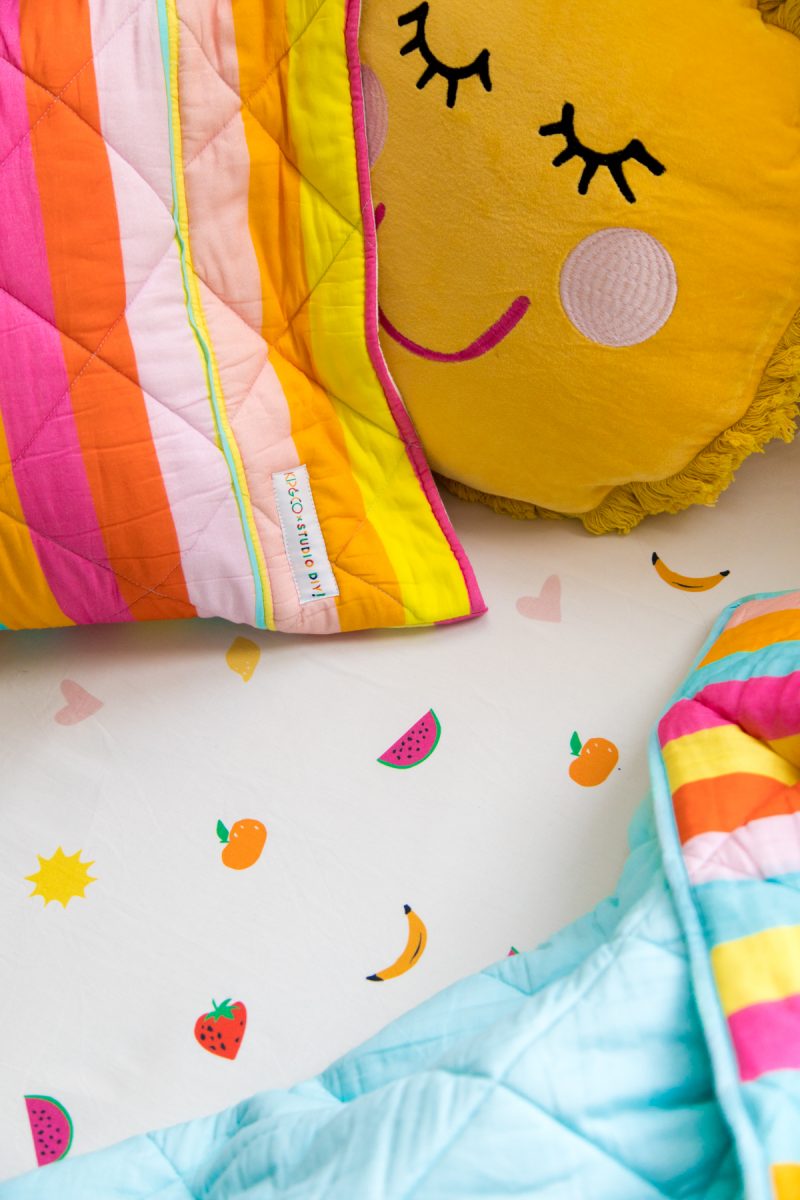 Moral of the story: Always take a meeting, even if it's only 30 minutes, you never know what it may lead to! We circled back with each other the next week and then six months (of discussions about how to make it happen, what products made the most sense, where it would be sold and so many other things that go into making a collaboration work smoothly) later… we were signed, sealed and ready to start the design process!!
The first step was for me to make a mood board to send to their designers as a starting point. I had just finished decorating Arlo's room at this point and had learned so much, and felt even more passionate about the use of color in kids rooms.
I wanted the collection to be versatile. To fit a super bright, rainbow inspired room like Arlo's, but also to play well with more pastel shades, like I had already been thinking about for our someday next nursery. I loved how bright and sunny Arlo's room felt, and wanted to evoke those same feelings here but with a new perspective and a few new "motifs." Fruit was a big inspiration for both past Studio DIY projects and past Kip & Co collections, so that felt like the perfect choice for one of the major themes in the collection. And stripes tended to be a go to pattern for me when I wanted to play with lots of colors, but still have it feel versatile, so I wanted to incorporate that as well. As far as pillows went, I had more specific ideas there. I loved the idea of doing a sun cushion, with fringe as the rays. Lastly, I knew we HAD to do a SUPER colorful pom pom cushion, after seeing Kip & Co play with pom poms and tassels on so many different products they'd done. Here's what I sent them: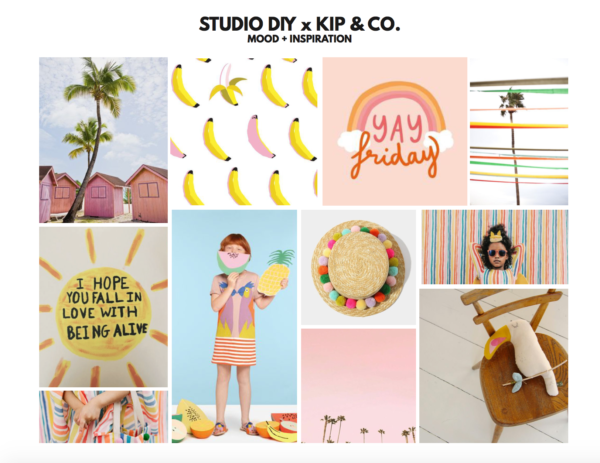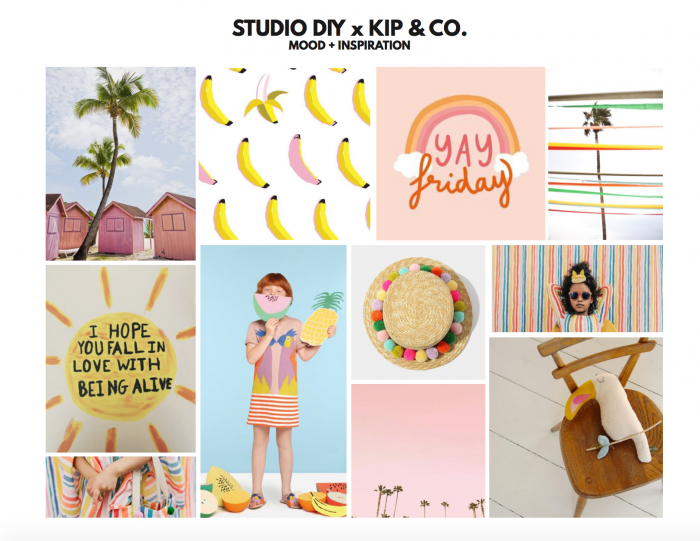 They took this concept board to their designers and came back to us with a few patterns and cushion ideas. From here, we spent several months going back and forth on the smallest details until everything was just right. Things like making sure the patterns coordinated, but didn't feel too matchy-matchy and finding the perfect width for the stripes.
We decided to move forward with three patterns, a stripe, a big fruit and a small fruit, plus the two cushions I had outlined initially. Here's a look at some of the iterations of the designs alongside the final ones: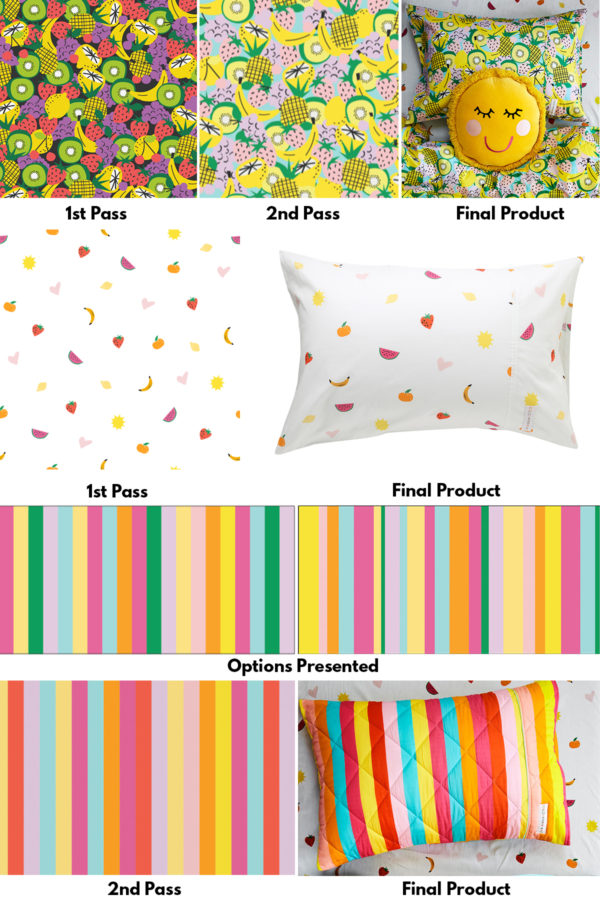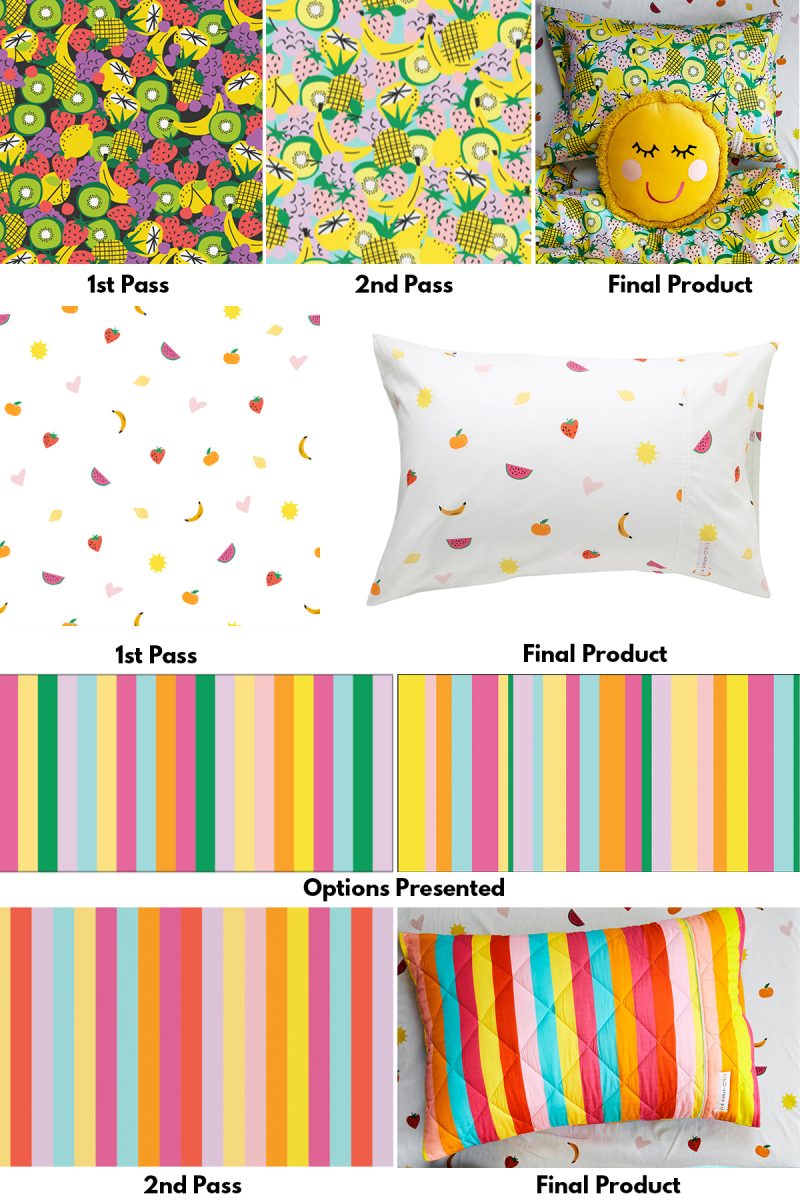 And here's a peek at the color palette we sent them, too, when we sent our final feedback on the patterns. We spent HOURS picking out the perfect color for each element of each pattern, including an array of yellow shades to make sure the various sun and fruit elements had depth with different hues, but didn't clash.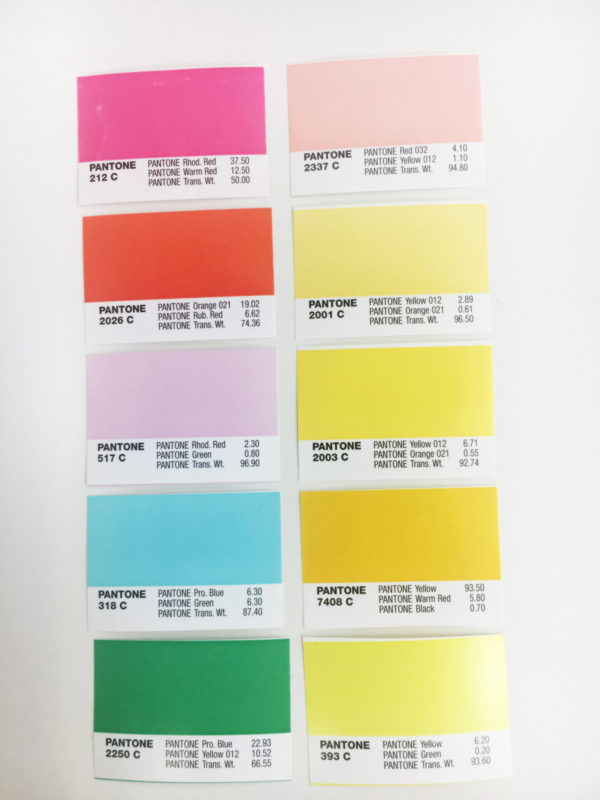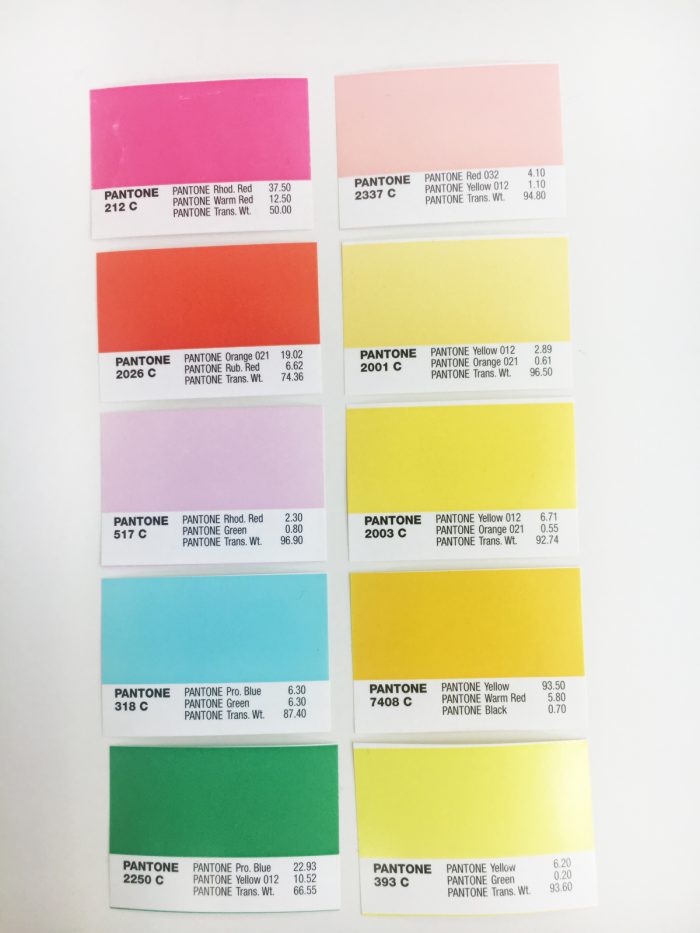 And we also got to approve a custom label for all the products. The Kip & Co gals had the idea to make it rainbow foil and I LOVE how it turned out!!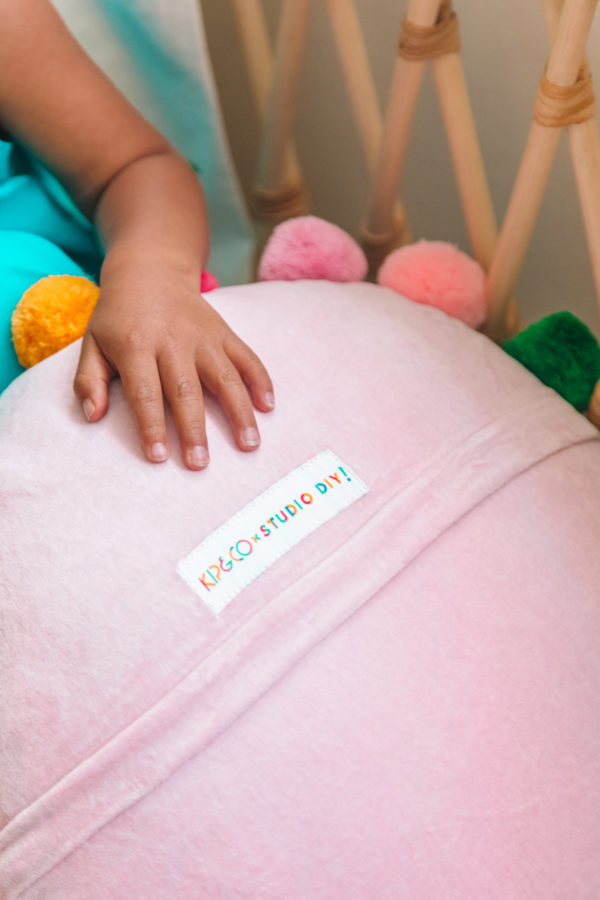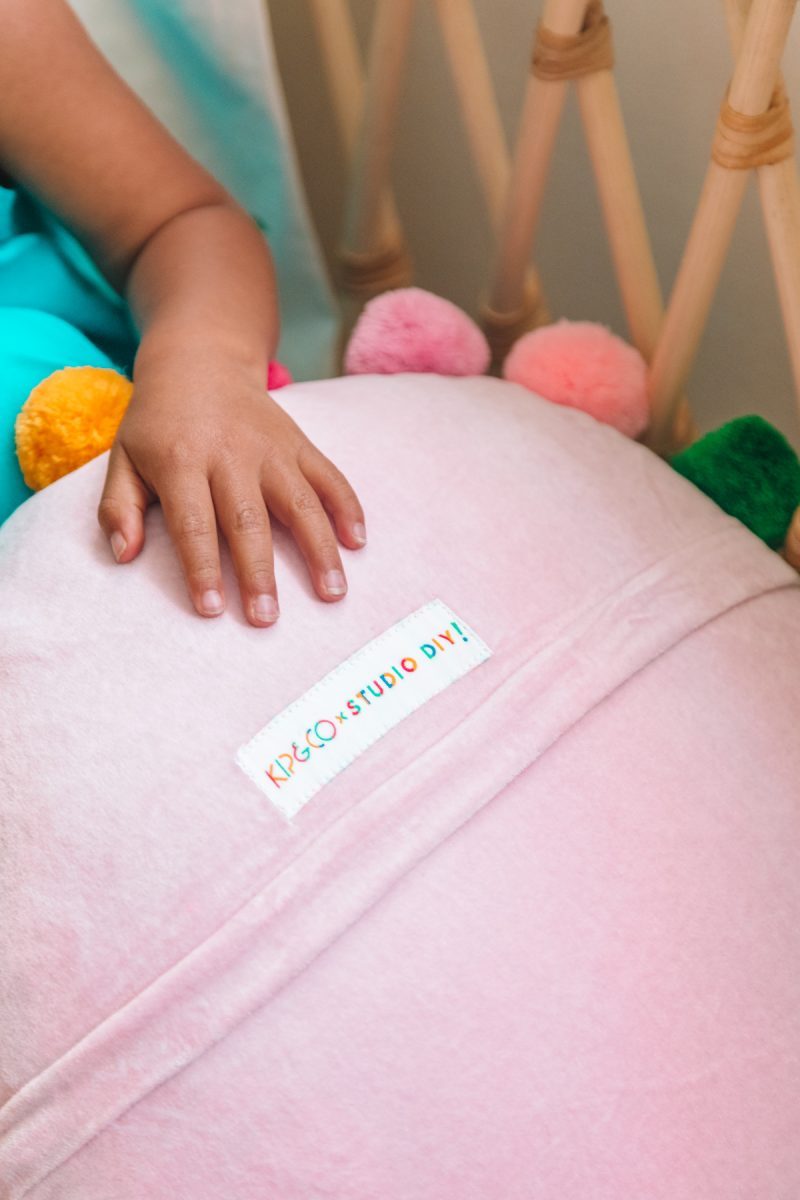 With all that in mind, Kip & Co's team finalized the designs and with their experience in the market, helped guide us in which design should go on which items.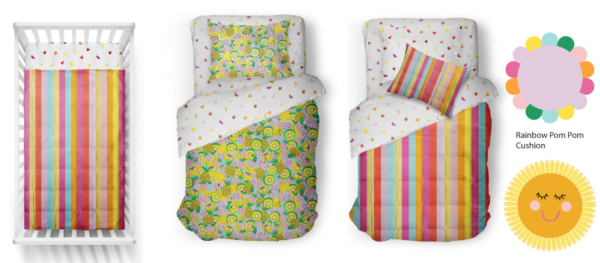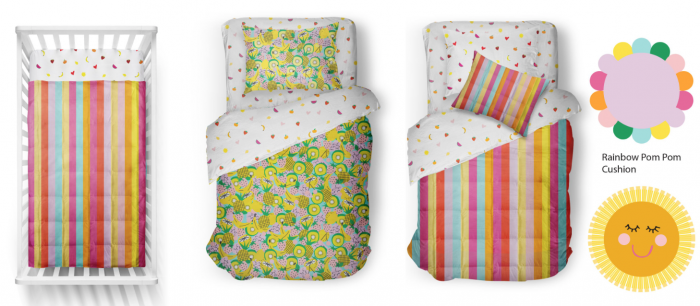 Then, they sent it off to their manufacturers for the first round of samples! And last fall (September 2018), we got our first peek at the fabrics and materials! Here's a look at what we received: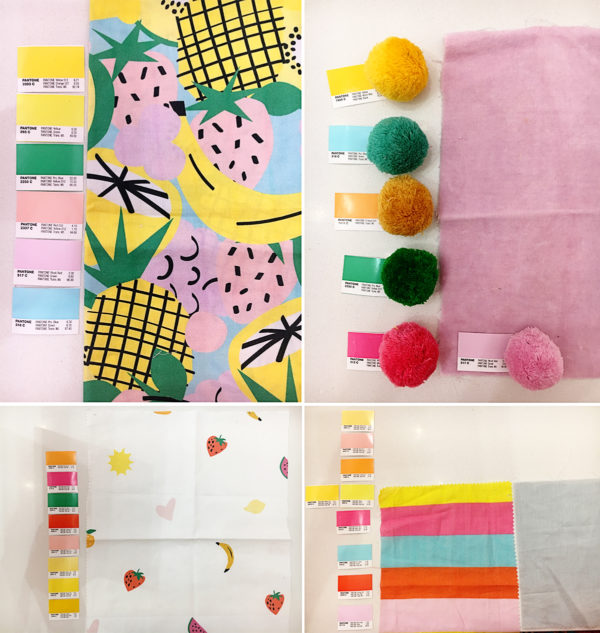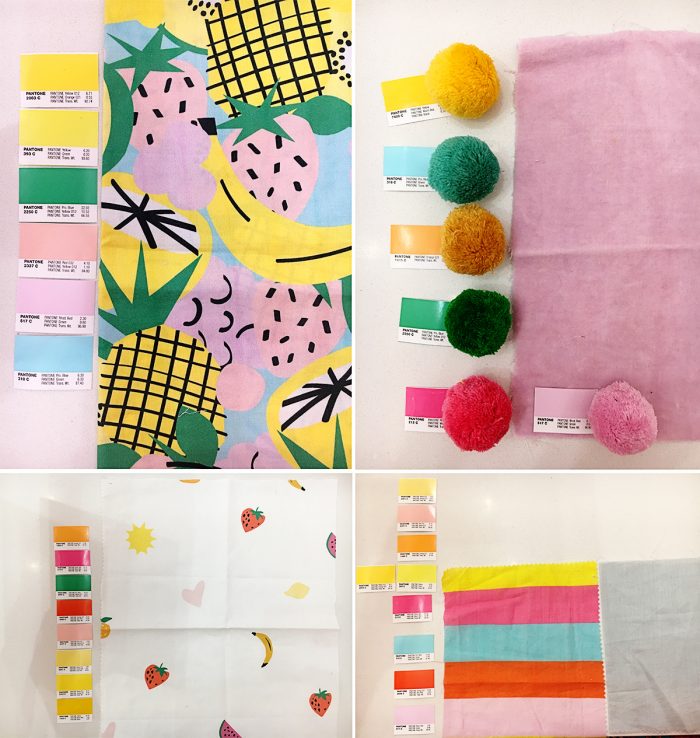 We made a few color adjustments, like brightening up the blue for the back of the striped quilt, and adjusting the greens slightly on the large fruit print. We also made a few adjustments to the pom pom colors, which is hard to tell from this picture! Once we were all on the same page about the tweaks, everything was sent off for final production!!
Production and shipping of the stock takes several months, so finally in February of 2019, the Australia team received their samples and shot them for their marketing purposes and for the product listings on the website.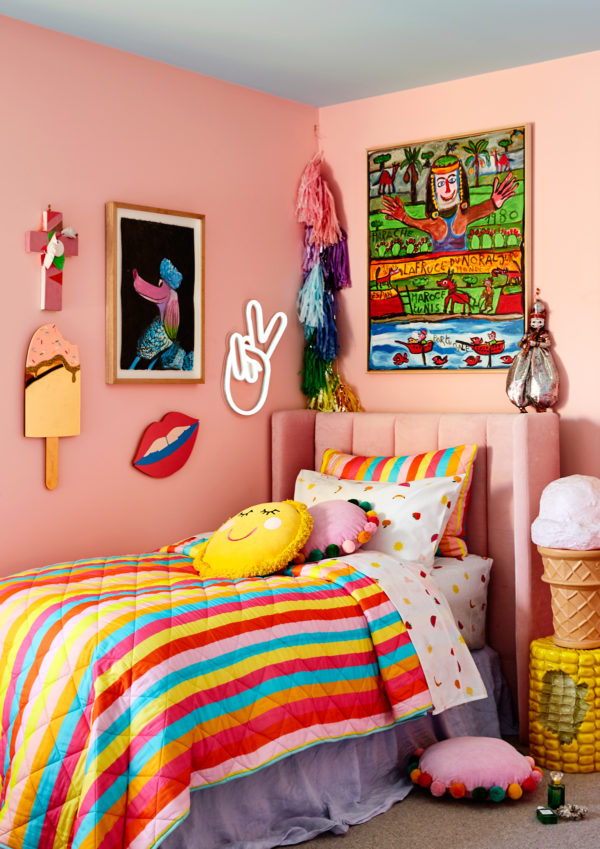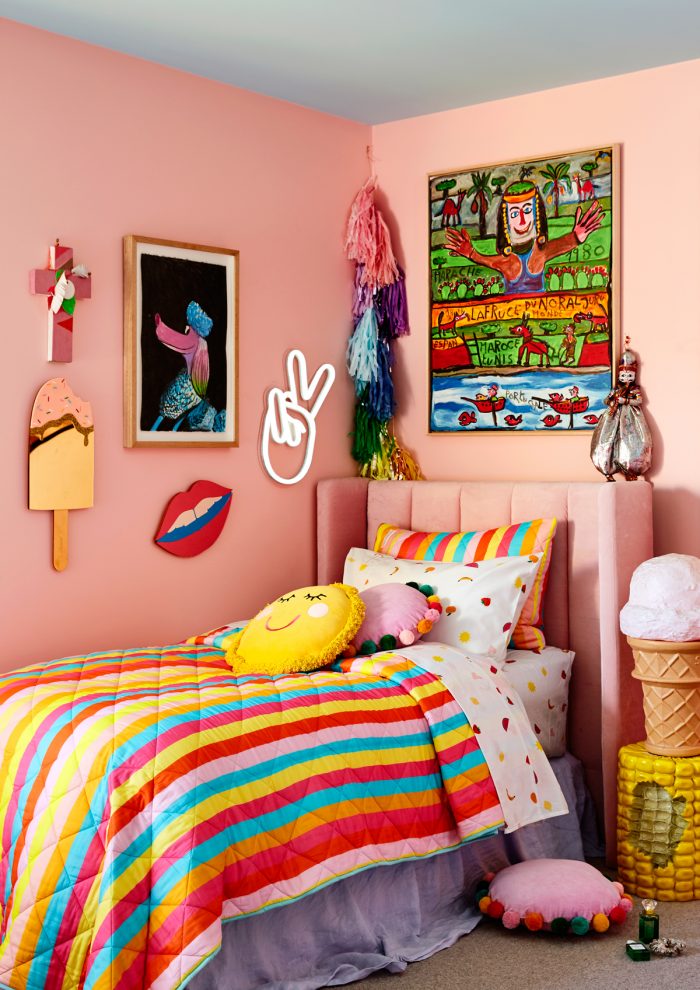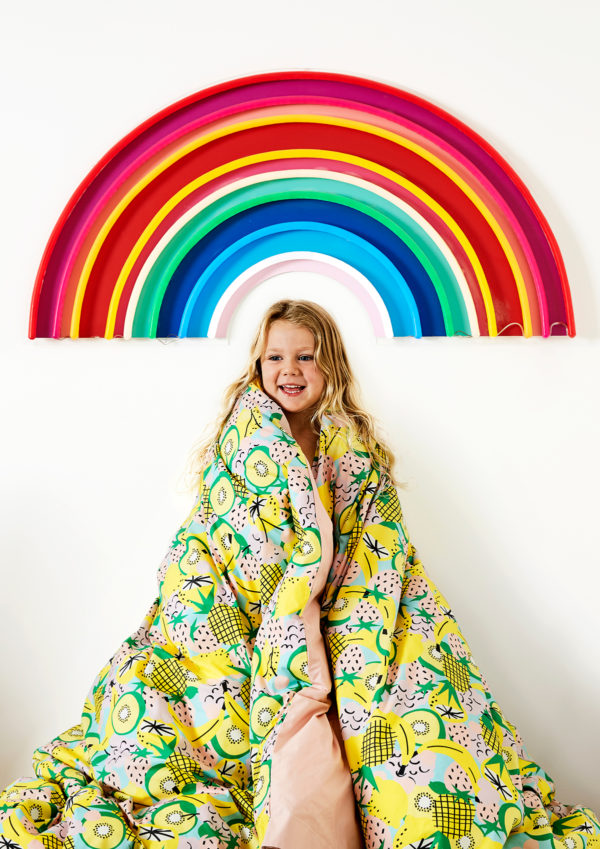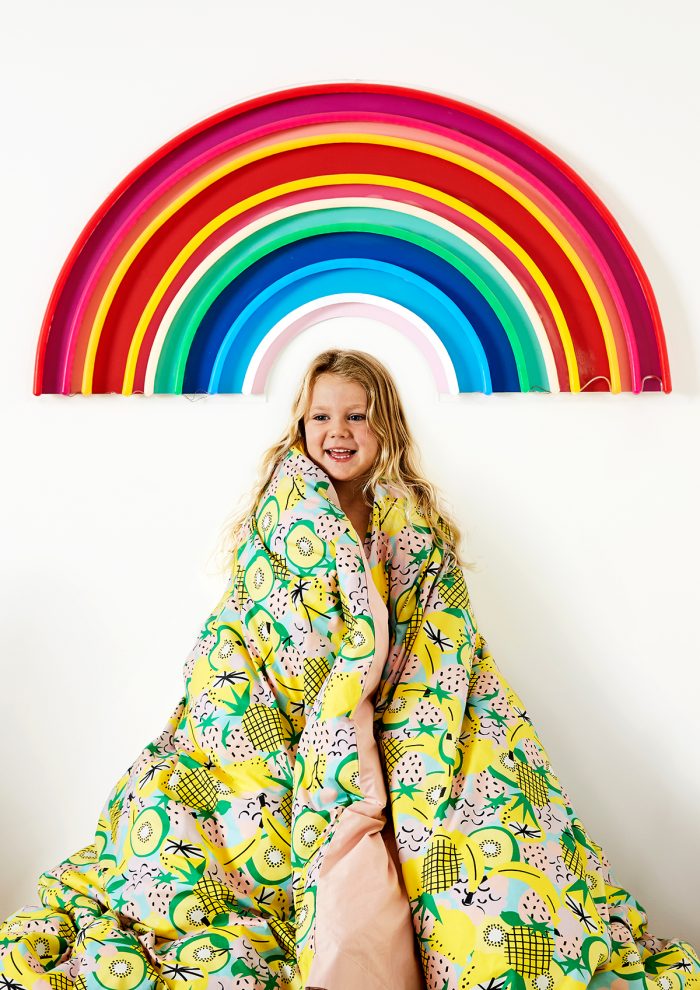 And about a month later, the samples to shoot arrived to us!! I had had big plans to have our nursery finished before this shoot LOL but instead, it turned into a really great test run of one of the corners of the future nursery. And of course, had to add some to Arlo's room too!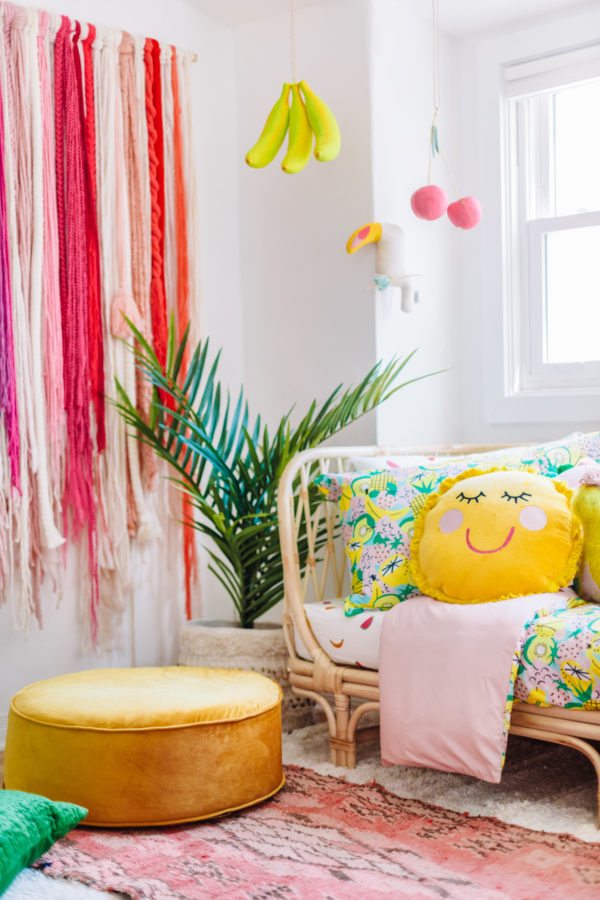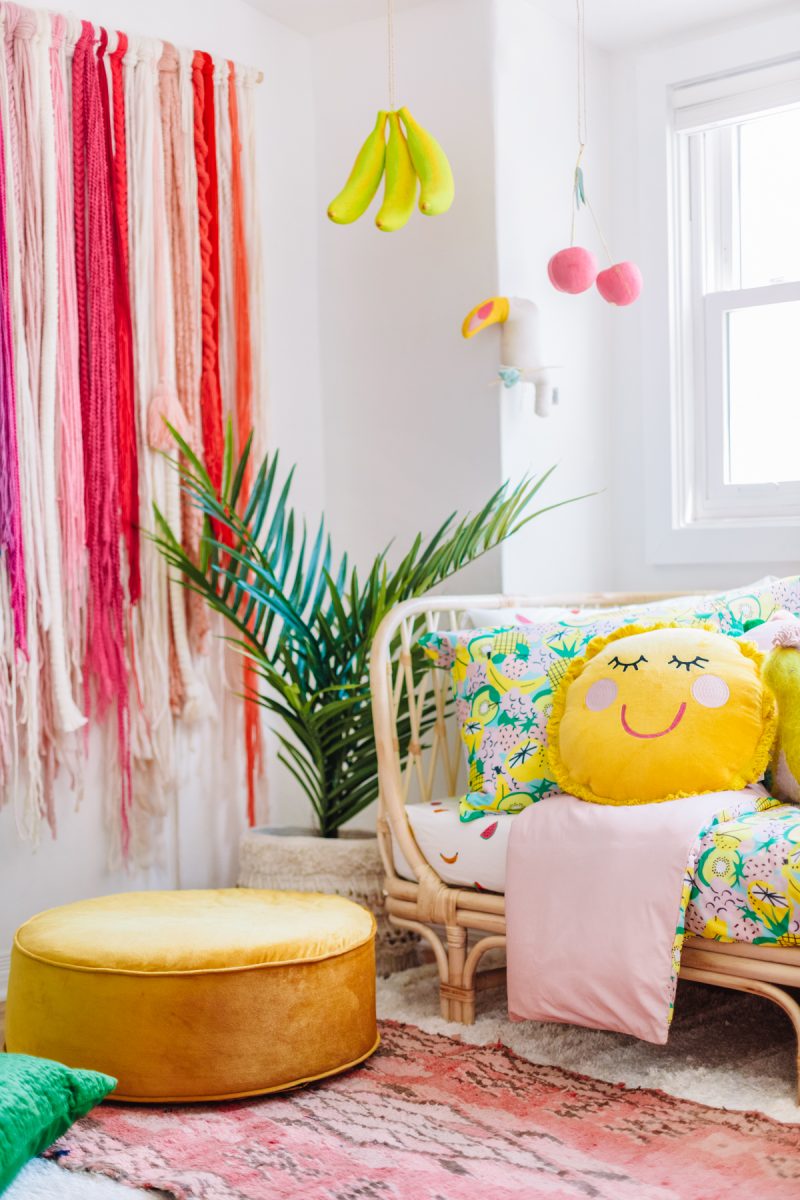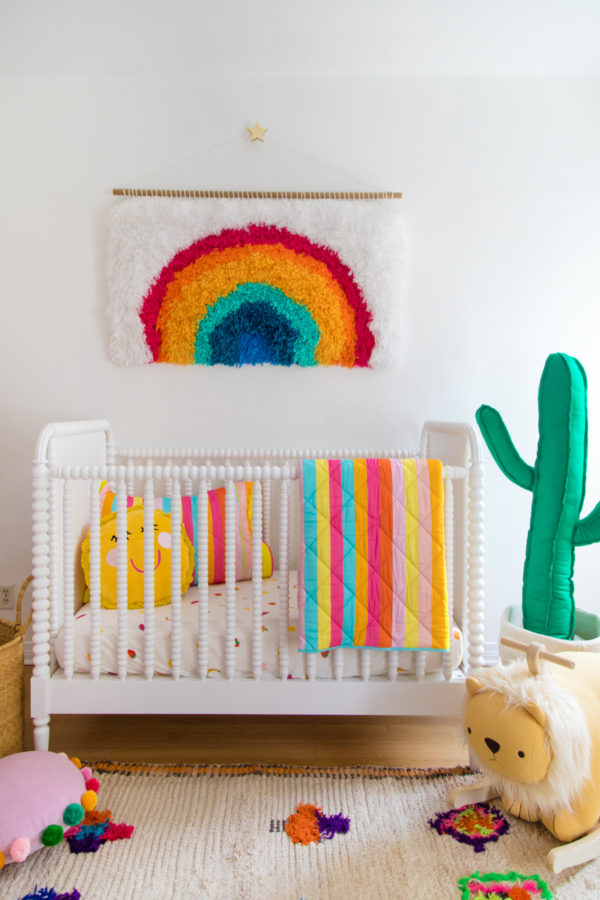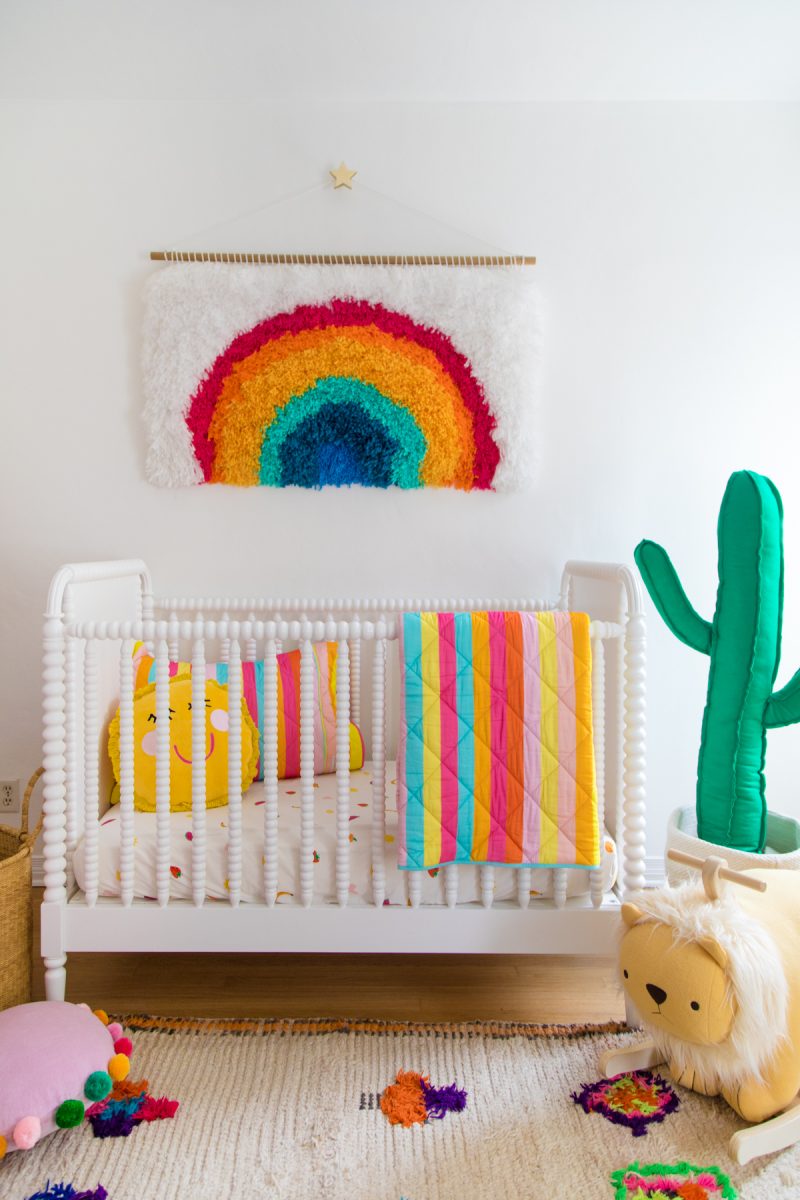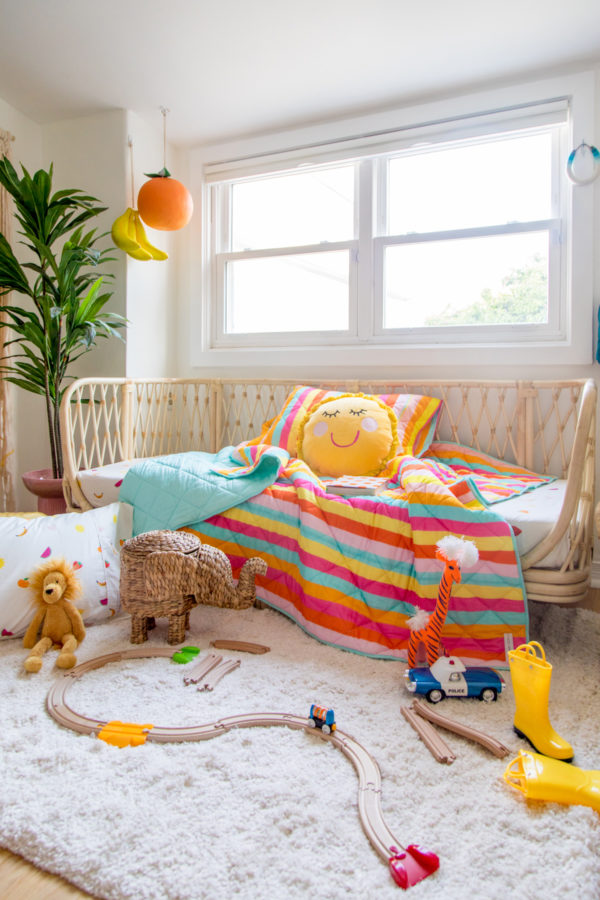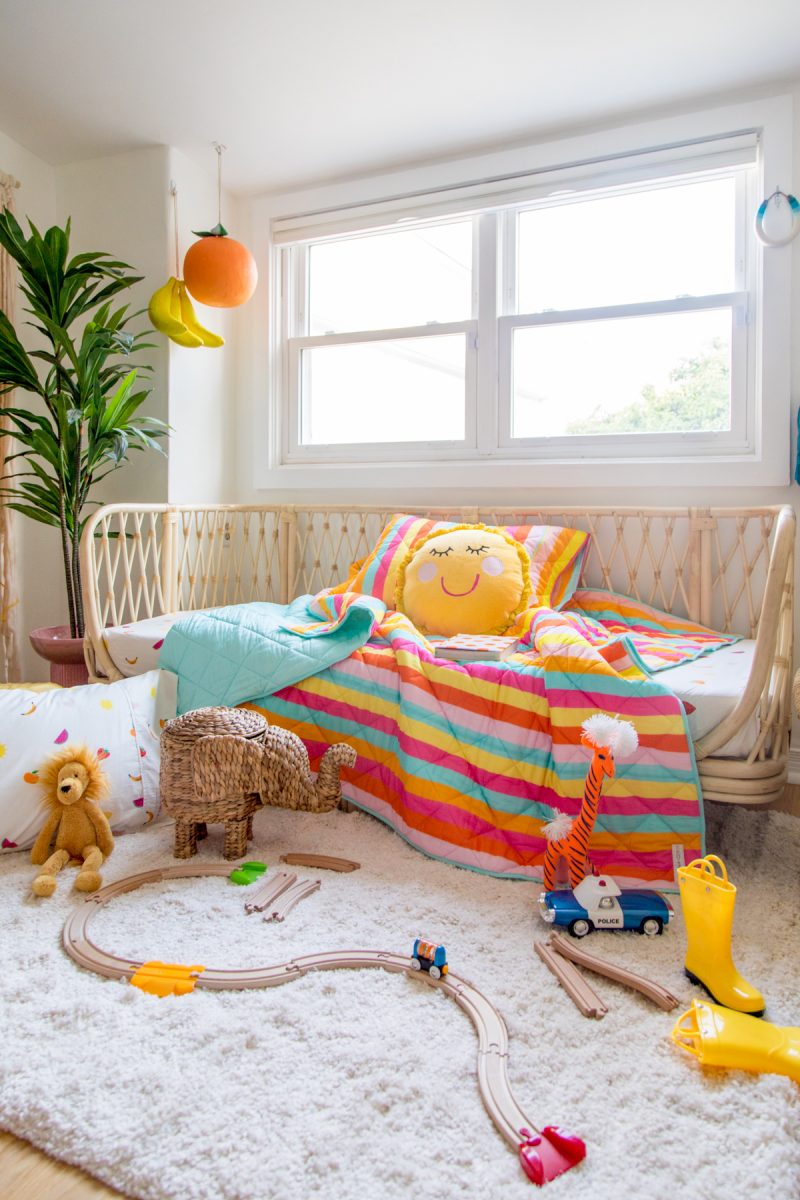 A few short weeks later, we debuted it to you guys!!! It was met with such excitement and I'm so thrilled. It's been so fun to see the products in your homes and on a personal note, now Arlo now takes the swaddle blanket (it is the softest blanket OF ALL TIME) and crib sheet to school for nap time and it makes my heart so happy!! =)
Almost two years in the making, and it really couldn't have been a better experience. The ladies at Kip & Co were a DREAM to work with and I feel so grateful to have this opportunity!! If you haven't checked it out yet, you can view the full collection here! There's only a few of each cushion left, so be sure to grab one quick if you want it!!! Since this was a limited edition collab, there are no plans to re-stock!
Let me know below if you liked seeing the "making of" this product line, or if there's anything I left out that you'd like to know about!!