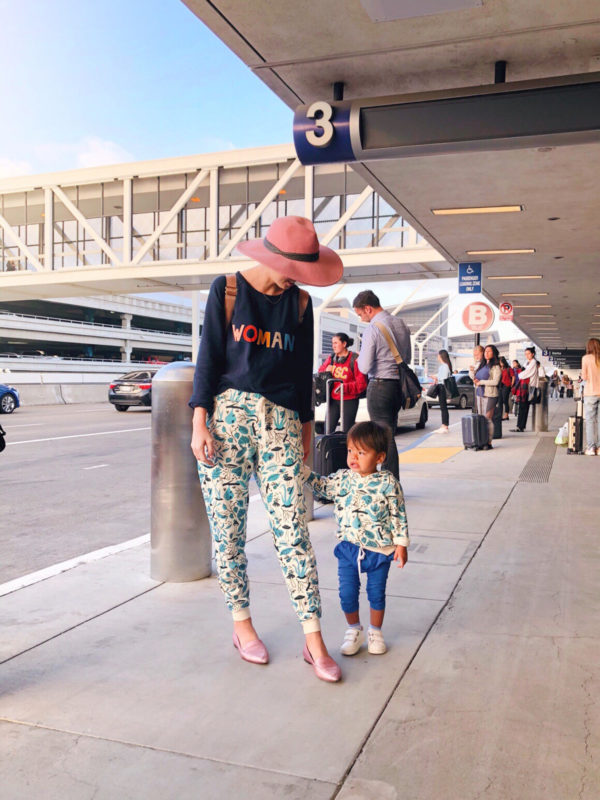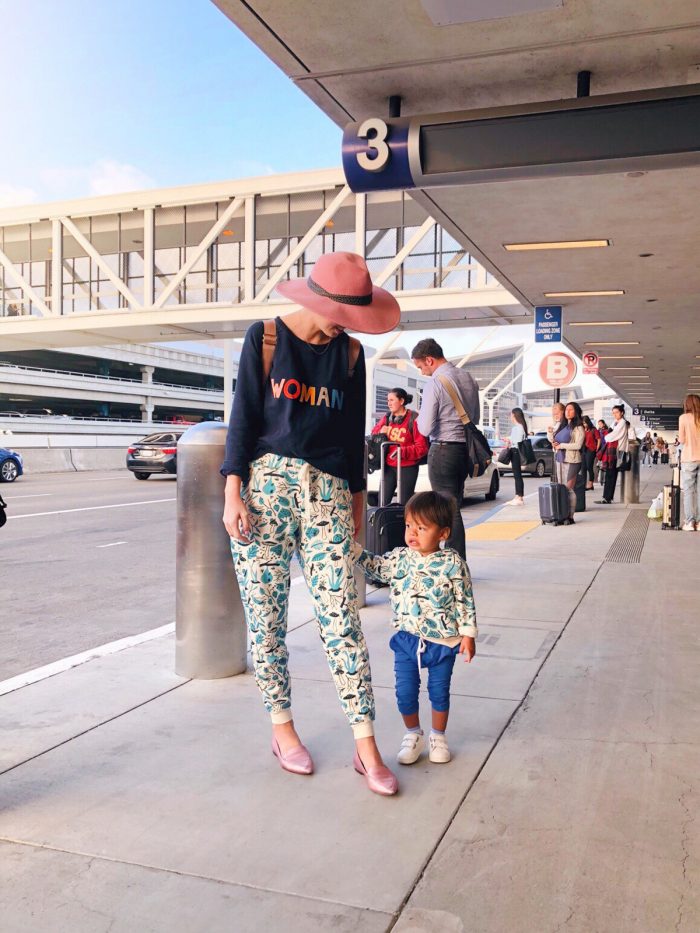 I'm so excited about this month's Real Talk with Real Moms topic… TRAVEL! I have a bunch of travel posts coming up, because we've done so much of it lately, but I thought for this one, I'd focus on the topic I get asked about the most: flying with babies and toddlers!
We've done a LOT of that, so today I'm sharing a very long and detailed guide on how to survive flying with a baby or toddler. I've included our top tips, lessons learned, favorite gear, activities and snacks. I hope it's helpful and I hope it gives you confidence to travel with your kids, even the littlest ones! Flying as a family isn't always easy but it is SO WORTH IT. Here we go!

When's the best age to start traveling with your child?
As soon as you possibly can!! The sooner you travel with your child, the sooner they get used to the idea of traveling and all the behaviors that come with it. The younger they are, the easier they are too. =) We took our first flight with Arlo at six months, but I happily would have flown with him younger had we had the opportunity. We've since flown with him every couple months and he now knows our travel routine and what to expect.
The only thing to consider is the germs, so if possible it may be best to wait until they have their first round of vaccinations or ask your pediatrician their thoughts. But remember, people who adopt fly all the time with brand new newborns so sometimes you just have to do what you have to do!
What time of day should I try to fly?
If you can, try to plan your flight for the time of day when your child is the happiest. For us, that's in the morning, so we almost always try to book a morning flight. We've found that Arlo's naps on planes are completely hit or miss (more on that below), no matter what time of day or if it's his regular nap time, so we just try to choose a time when he is happiest and let the rest play out as it does.
In some ways, since we frequently fly cross-country through a few time zones, the fact that he doesn't always sleep on a plane helps us, because he easily adjusts to the new timezone since he's so tired by the time we finally get off the plane and settled.
Should I book a seat for my (under 2) child or fly with them on my lap? And if they have their own seat, should I bring a car seat?
This depends on two major factors: 1) your budget and 2) your child.
If you have a very young baby (under 6 months), it's easy to strap them to you in a wrap or carrier and travel that way, no extra seat required. Once they're bigger and more mobile, it really depends on the kid whether it's "worth it" to book a separate seat. Of course, if your budget allows, it's a great luxury to have. But if it doesn't you'll be just fine. Starting at around 9 months, we typically booked Arlo his own seat because he HATES sitting on people's laps and our flights are almost always 5+ hours.
If budget does not allow for booking a separate seat and you are traveling with a partner, I recommend booking a window and an aisle seat in the same row, towards the back of the plane. People traveling individually are less likely to book a middle, especially towards the back, and you have a better chance of ending up with an empty seat in-between you. If you don't, I can guarantee the person who booked the middle will happily switch with one of you so you can sit together in a window/middle or middle/aisle.
My last tip is, talk to the gate agent when you arrive. We had two flights where we didnt' book Arlo his own seat and went up to see if there were any open seats on the plane and there WERE and they moved us so we had our own row. Believe me, flight attendants and other passengers want you to be comfortable just as much as you do so they are often willing to help.
If none of those works out and you've got a baby on your lap, utilize the floor in front of you for them to stand, or put up the armrest if you're traveling with someone else and let them crawl freely between the two of you or lay across you both to sleep. All the activities I mention towards the end of this post can be utilized whether the child has their own seat or not!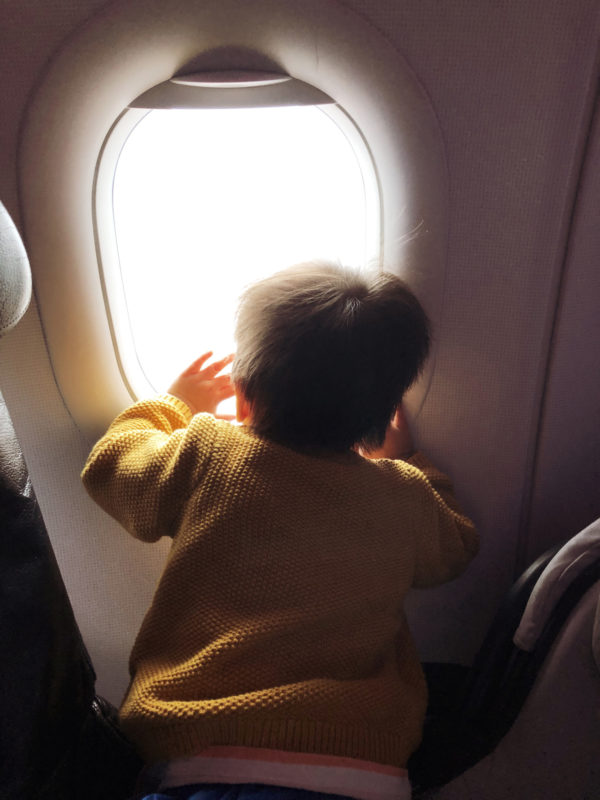 What seat should I book for my child's car seat or for my lap infant?
Technically, legally, if you are flying with a child in a car seat they have to be in the WINDOW seat. That is so a passenger, in an emergency, wouldn't have to climb over a car seat to safely get out. We weren't aware of this until Arlo's eighth (or so) flight because it's seemingly not always enforced but it's better to plan accordingly and frankly, it really is safer for everyone to keep them in the window.
If you're traveling alone with a lap infant, I recommend a window seat. That lets you control the window for naps, you have more of a "barrier" for blocking the child in and if they fall asleep on you, you don't have to worry about having to get up to let someone out for the bathroom. Sure, you may have to ask to get up a few times for diaper changes/walking the aisle, but I still think a window is easier overall.
How can I help their ears from popping/hurting?
If possible, have your baby/toddler drinking a bottle, sucking on a pacifier (or lollipop, if they're old enough), breastfeeding. The sucking movement helps keep their ears clear!
Our Airport and In-Flight Gear
I'm going to do a separate post on all our travel gear, for both the plane and our destination, but for now, here's our must-have gear for in the airport and on the plane.
Travel Stroller
Travel Car Seat
iPad with Protective case
Toddler Headphones (If your child will wear them!)
Formula Dispenser (if formula feeding)
Snack Cup
360 Water Cup
Spare Ziplock Bags
Hand Sanitizer
Sanitizing Wipes
Pacifier (+ Pacifier Clip)
You can find many of the exact items we use for air travel and travel in general right here in my Amazon shop! (I'm testing this feature out so excuse how the rest of it works, but wanted to give you one easy resource for this post!)

Checking vs Gate Checking vs Carrying On
If we are bringing a crib, we always check that ahead of time. We then keep our stroller and our car seat with us, bringing the car seat on the plane and gate checking the stroller.
As soon as we get out of the car at the airport, we strap Arlo into the stroller and he stays there until we have to get out at security so we can have more hands to handle the other luggage/car seat. He then goes back into the stroller after security and stays there until we are settled at the gate.
When it's time to board, if you are gate checking your stroller, they will give you a tag and you put it around the stroller and then leave it on the jet way, which is where you will pick it up after the flight too.
Installing The Car Seat On The Plane
You can install a car seat on the plane the same way you would install it in the car without a base, using the plane's seat belt. When Arlo was a baby, we kept the car seat facing backwards, but now that he's older we face it forward on the plane (He is STILL facing backwards in the car FYI!) so he is able to see the screen on the seat (if there is one), more happenings on the plane, out the window, etc. More stimulation = a good thing on a plane!
The only thing to consider regarding facing forward or back is seat kicking. Arlo has a really hard time staying still, so he is constantly kicking the seat in front of us even when he's happy! It's our biggest struggle on a plane. To combat it, we typically take off his shoes and remove all the pamphlets, etc. from the seat pocket so there's as much distance as possible between him and the seat. Then, we try to curb the behavior immediately every time he does it by taking away his toy or turning off his show every time he does it. It's a commitment, so if that stresses you out, facing them backwards may be your best option!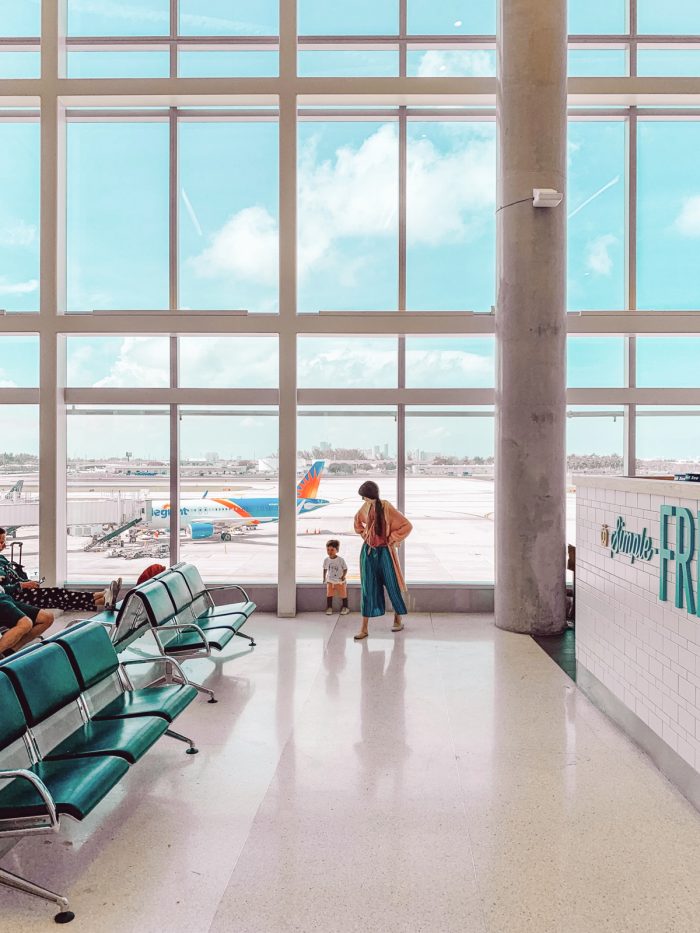 Getting Their Energy Out + When To Board
If your kiddo is walking, I recommend letting them run at the airport once you're near your gate and have done all necessary things (security, bathroom, food, etc.). The goal is to let them run out as much energy as possible since they'll have to be seated on the flight!
They allow people with small children to board first and here are my thoughts on that, as we've done things a few ways. If you are traveling alone with a child and have a lot of gear, you may be more comfortable boarding first so you have a little more room to breath.
If you are traveling with a partner, I recommend having one parent/person board FIRST with all the gear, while the other stays in the airport with the child until the very (I mean VERY) last second. The first person can gate check the stroller, install the car seat, and get your seats situated. Then you just hop on the plane at the last minute with the little guy! We find the first moments of being on the plane, when we're just sitting, to be the time when Arlo is the most squirmy and frustrated, so it's nice to shorten that as much as possible. No need to be locked in a seat for one minute longer than you have to be!
Alllll The Plane Germs
I travel with hand sanitizer and sanitizing wipes. I do a quick wipe down of the seat, window, tray table and arm rests right when we sit down, and we spray his hands before every snack. Other than that, I just hope for the best and try to keep things off the floor whenever possible.
What To Wear + A Change Of Clothes (For Everyone)
Layers are your best friend, for you and your baby! I tend to wear pants or jeans, a t-shirt and a sweater. I like wearing a top and bottom vs a dress or jumpsuit because if something should get spilled on me, than I can just change that piece of my outfit instead of the entire thing.
Same goes for the toddler set. I prefer separates: a short sleeve or long sleeve shirt (avoid sleeveless if they're going to be in a car seat, so the straps aren't right on their skin!), pants or long shorts (again, no short shorts, so the straps don't rub their skin!) and a sweatshirt. June and January basics are our go-to! This makes it easier to check if a new diaper is needed and again, you can just swap out the pants if they have an accident versus having to get them completely undressed in a tiny bathroom or in your seat.
For babies, a simple onesie with a button crotch is easiest for changing!
EVERYONE should have a spare set of clothes. That includes babies, toddlers and parents. The last thing you want is to be naked on your flight because your kid had a blow out on you. =)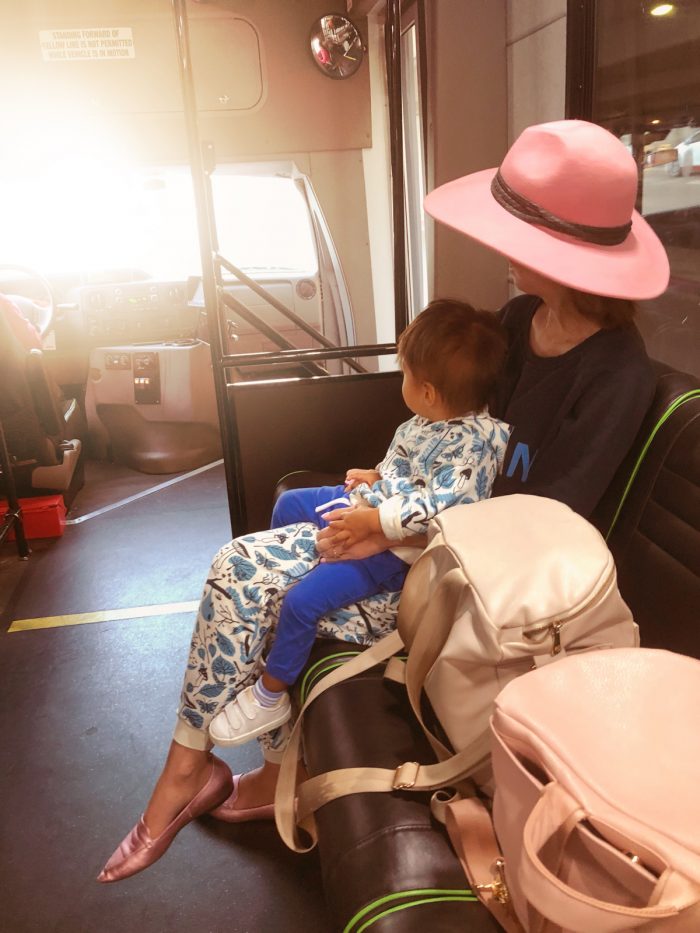 How To Pack Your Carry-Ons
It's easiest to group things by category, and you can divide that up however you see fit depending on how many people you're traveling with. We like to keep all the activities/entertainment together, all the snacks together, all the technology together and all the baby "necessities" together. Usually that means we have necessities in Arlo's diaper bag backpack (A few great ones are this and this!), snacks and activities in my bag (a convertible Nena & Co Day Bag) and technology in Jeff's bag (Another backpack). We each wear one backpack and Jeff carries my bag over his shoulder while I push the stroller. Sometimes we pack an extra small backpack for Arlo's activities and just slip it inside the diaper bag so we can pull it out easily both on the plane and at our destination for dinners out, etc.
FYI Bringing a stroller or car seat does NOT count as one of your allotted "carry ons."
Bring BAGS, ALL THE BAGS!
Whether ziplock or reusable, bring a handful of sandwich and gallon size bags in your carry on. YOU WILL NEED THEM! We use them to put dirty tissues or wipes in, for dirty diapers, to store any clothes that get soiled on the plane (I literally threw an outfit of Arlo's out in the plane bathroom once because I forgot bags and had nowhere to put it!), to separate out snacks in… believe me. Toss a few in your bag.
Changing A Diaper on a Plane
Every plane *should* have at least one bathroom that has a fold down changing table above the toilet. But not ALL plane bathrooms have it, so you may have to look or ask a flight attendant before finding the one that does.
The space is tight, obviously, so the more compact you can get with what you bring to the bathroom the better. Do NOT bring your whole diaper bag. Grab ideally your diaper clutch (shameless plug!) with a changing mat, one diaper, a pack of wipes and a ziplock bag/doggy bag. If it's a poopy diaper, it's a nice courtesy to everyone to put it in a bag before disposing of it in the bathroom trash. =)

Napping on an Airplane
We *try* to get Arlo to take one nap on every flight we take. We are successful about 25% of the time.
When we flew with him as a baby, on our laps, I would get up and go stand in the back of the plane to rock him to sleep in my arms. The flight attendants were usually very accommodating about this. Once he was out, I would sit back down in my seat and let him rest.
Now that he's older, and I can't rock him to sleep in my arms, we try to create as similar an environment as possible to his normal nap environment. We make sure he's had something to eat, close the window on the plane, give him a pacifier and I try to sing him one of his lullabies. He finds a lot of comfort in my hair, so he usually holds onto that and twirls it, too. Sometimes it works, sometimes it doesn't. Sometimes he instead just falls asleep while watching a show because he's SO tired and sometimes he falls asleep on our descent, in which case we just wait as long as possible to de-board so he can rest.
And sometimes, he just doesn't nap. And honestly, it's never as big of a deal as I'm afraid it will be. He'll either nap in the car on the way our destination, or skip his nap entirely and we just put him to bed as normal.
Shows + Movies for Infants and Toddlers
Now on to the activities! I'm not going to lie, the iPad is our number one tool we use to entertain Arlo on the plane. He only gets the iPad on special occasions, like long car rides or plane flights, so it's a huge treat for him and keeps him entertained for a LONG time. He's very happy watching without sound, and doesn't like headphones, so we don't use them. But here's some toddler ones to try if yours is more into the idea!
We now do a combination of shows that we download to the iPad and games. You can download shows you've purchased through iTunes directly to the iPad so you can play them without WiFi. We have one or two of his favorite movies and a few episodes of Elmo's World downloaded to ours. You can also use other apps like Amazon Prime Video and download shows/movies that are included with your subscription there. Just be sure they are fully downloaded before you leave your house and no longer have WiFi! We love watching Daniel Tiger through the Amazon app. When he was little, we splurged on the Dave & Ava app because that show keeps his attention like NOTHING else. Worth it, IMO!
If our plane has screens in the seats, we'll let Arlo watch something new and different on there but the problem is, any time they do an announcement, it pauses the show. Well, if your toddler is anything like ours, he/she will NOT be pleased and the whole plane will know. Consider that your warning!
Games and Apps for Toddlers
Some of our favorite educational games that can be played without WiFi and keep Arlo (age 2) entertained for a long time are:
Busy Shapes – Simple drag-and-drop shape puzzles that get progressively harder as the child completes each one! Great for recognizing shapes, colors and cause and effect.
Animals Puzzle for Kids – This takes an animal illustration and breaks it out into simple 5-6 piece puzzles that kids have to put back together. There's a cute little animal ballon "celebration" each time one is completed, which Arlo LOVED.
Sago Mini Zoo – This one doesn't have one specific purpose or goal, the child can just scroll through and move different animals, hide different items, discover different hidden games/activities along the way.
Endless Alphabet – Kids have to match the letters on the screen to eventually spell a word. As they are dragging the letter (if sound is on), it makes the sound of that letter and then says the word and illustrates the word at the end with a little animation so they learn to see and hear different letters, and comprehend what the word they just spelled means!

Other Activities to Try on Planes
If you aren't into screens, or your child isn't, here are a few other tried and true things we use on planes!
Busy Clutch: I've written about our busy clutch a few times, it's great for ages 9 months through the toddler years and can be totally customized to your kid and their age! Read the breakdown of my five must haves here.
Window Clings – To stick to the window or side of the plane!
Model Magic – It's less messy than play doh or slime!
Sticker Book – Find one with your child's absolute FAVORITE character in it!
Walking the aisles – Classic! =) But we do try to avoid getting up for as LONG as possible, just in case he decides he doesn't want to sit back down
With every activity, be sure to drag it out for as long as possible before introducing the next one. This is not the place where you want to share all the options you have at once. Keep things new and exciting continuously throughout the flight!
Speaking of, I've seen a lot of people have success with wrapping up several small (new) toys and giving them out every 15-30 minutes or so. Unfortunately, Arlo is a thrower so we can't give him toys on the plane because he just chucks them. But if your kid isn't, try it? Ha!
Snacks to Pack + How To Pack Them
Recently, TSA has started requiring you to remove your food from your bag at security and screen it separately (like how you have to do with a computer, for instance). They do not TAKE the food from you, you can still bring it on the plane, it just has to be taken out of your bag and put in a separate bin for screening. Because of this, I highly recommend packing ALL your snacks in one large ziplock bag so you can easily remove it.
I've listed some of our favorite plane snacks below. When we're on a plane, we're not going for "healthy," we're going for longevity and personal favorites! We don't want food to be an argument on the plane, but rather a distraction to keep him busy! =)
Bagel or Croissant
Mandarin Oranges
Grapes
Frozen Once Upon A Farm Pouch (I freeze it the night before so it thaws, but stays cold, during our travel for him to eat!)
Pretzels
Cheerios
Granola Bars
Crackers / Goldfish / Cheddar Bunnies
Granola
Fruit Snacks or Fruit Leather
Cookies
Chocolate Chips or M&Ms (I save these for if I REALLY need to bribe him and give him one at a time!)
Literally any food they love that isn't insanely messy. Ha!
I recommend bringing a toddler snack cup to swap snacks in and out of so you lessen the chance of spilling. I just wipe it out with a wipe or napkin in-between and re-fill with the next snack. This is also where those extra ziplock bags come in handy, for pouring snack "extras" into!
Formula + Breast Milk and TSA
You are allowed to carry pre-made formula and breast milk through security, so long as it is removed from your bag to be screened separately. You are, to my knowledge, not allowed to bring bottles of water through security so if you are using a powdered formula like we did, we would bring the formula, pre-measured, in this container and then buy a bottle of water once through security. There is more information on what is allowed and not allowed through TSA here.
The Golden Rule on Airplanes
Ready for it? There are no rules!
Now, you know I mean that within reason but all rules about screen time, healthy snacks, etc. go out the window when we are on an airplane. Watch what you want, eat what you want, have your pacifier, it's just not worth adding arguments when everyone is already out of their routines! You will all be able to get back to your rules and schedules once you're safely back on the ground!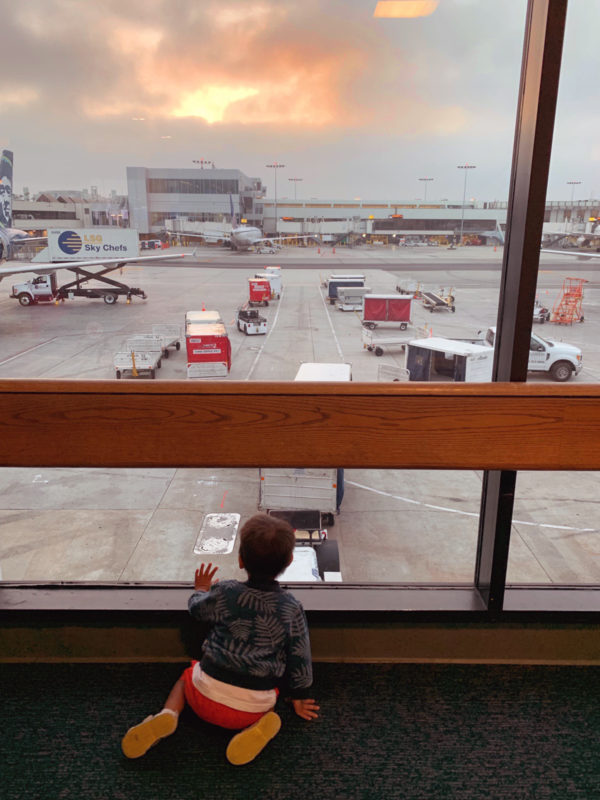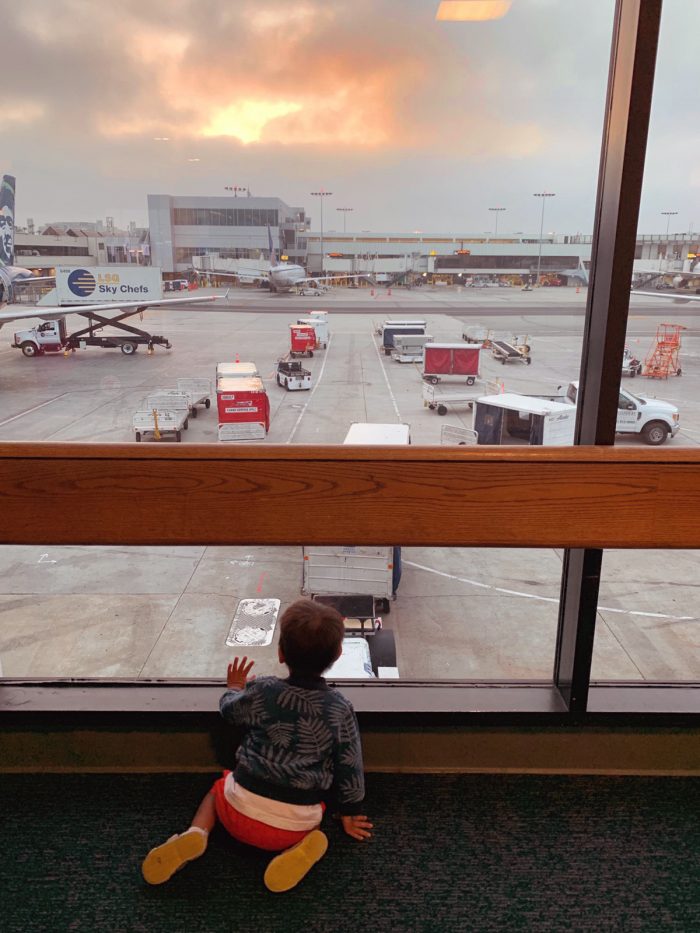 Adjusting Time Zones
The second we land, we immediately treat the day as if we are already on the new time zone. As I mentioned above, since Arlo's nap schedule is usually already thrown off, it can be easier than you think it might be. We feed him dinner and put him to bed around the same time on the new time zone (give or take an hour, depending on his nap and our schedule).
HOWEVER! You can also use the time zone change to your advantage and keep them on their original time zone if putting them to bed earlier or later each day makes more sense for your travel schedule!
Documentation to Have
This is a "do as I say, not as I do" tip, but you should always fly with your child's birth certificate. TSA does not require people under 18 to have ID but there IS a chance that your airline will ask for it to prove your child's age if they are flying as a lap infant.
If you are traveling internationally, your child will need a passport, no matter their age. And if you are traveling internationally with only ONE parent or as an adult that is not the parent of the child, many countries may ask you to present a notarized letter of consent signed by the non-traveling parent(s) that you'll need to obtain before you leave for your trip.
Things Fellow Travelers Can Do To Help
A few of you asked about what OTHER people can do to help parents, especially parents traveling alone. I love this! Overall, the best thing you can do is be aware of how hard it is to travel with kids and be kind and understanding.
If you see a mom or dad struggling, offer to help if you're able to. They might not take it, but it's nice to know someone offered. Most other people in an airport *literally* turn the other way and it feels very isolating. And any sort of "You're doing great!" encouragement is always very appreciated amidst the dirty looks or "He's got quite a voice on him, huh!?" comments. =)
And parents, if you encounter one of the MANY unkind travelers of the world, don't stress. Just remember, you have every right to be there with your kid just as much as they do. If the thought of making someone else irritated stresses you out, remember that while that person may be annoyed right now, the second they get off the plane, they're going to forget it and move on with their lives. It's such a minimal amount of time in the scheme of things. We were all babies once and none of us would be here if we weren't. You're doing your best with what you have and everyone will survive and be FINE! Exposing your kids to the world is WORTH IT, hands down. Always!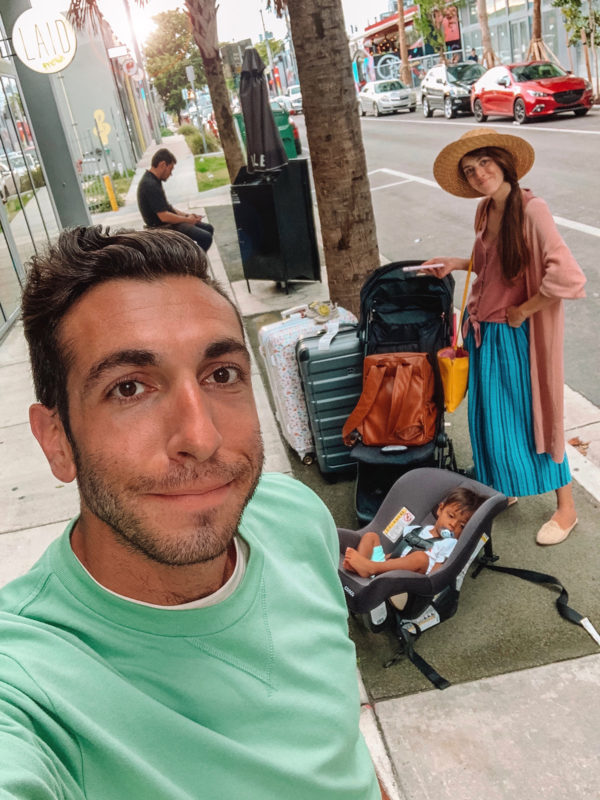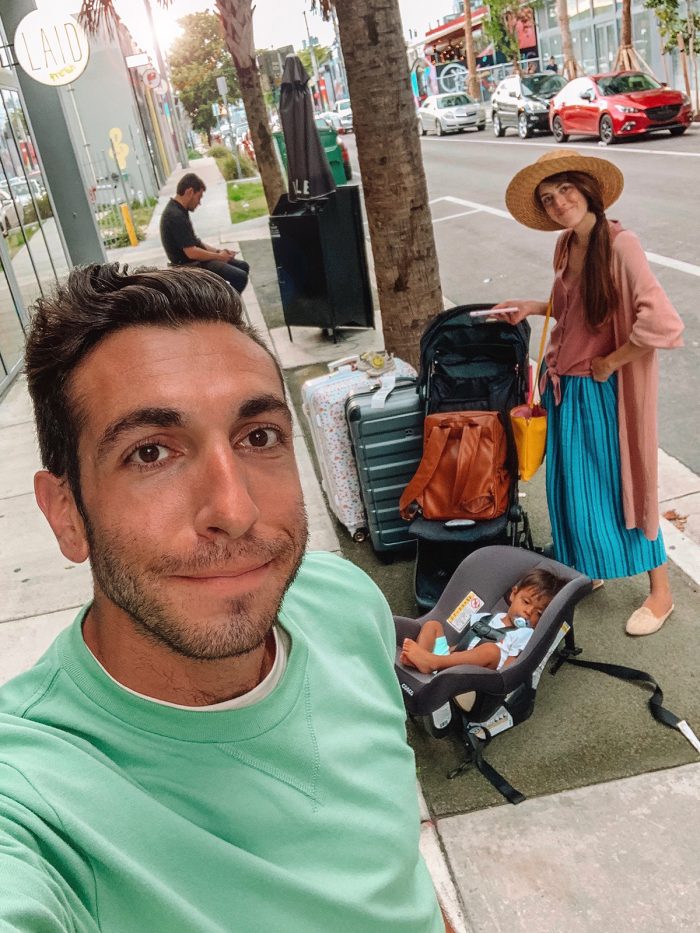 So there's my extremely long, but hopefully detailed and helpful, guide to traveling with toddlers and babies. Be sure to check out the other moms' travel posts below, especially if you have multiple kiddos in tow!