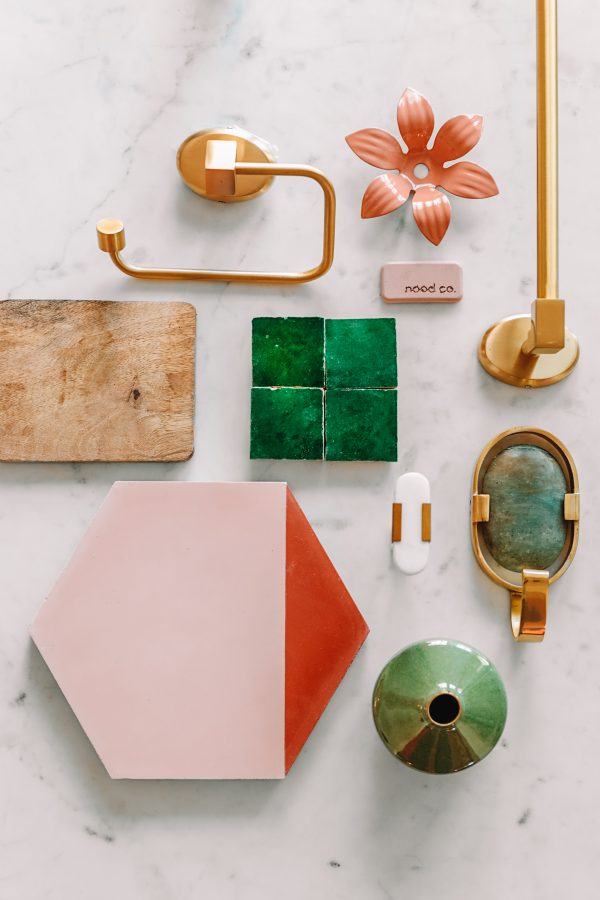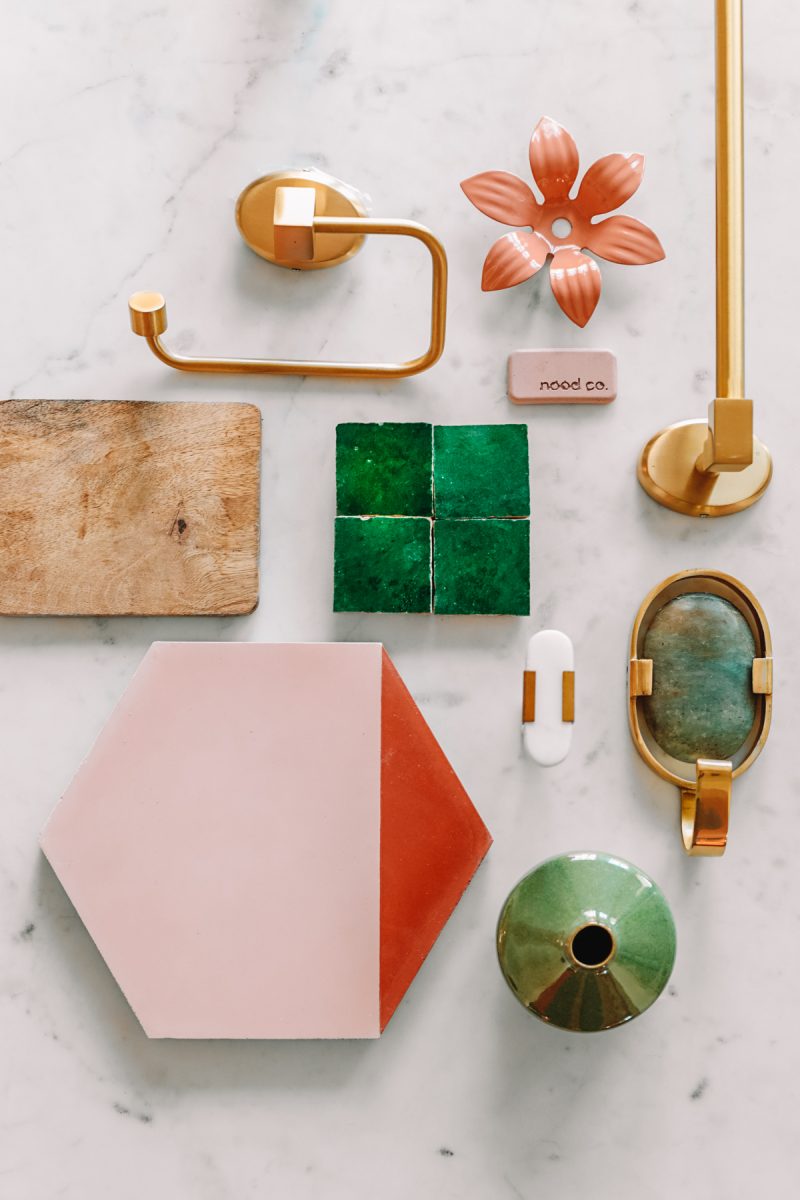 I shared the "before" photos and our overall plans for our master bathroom, now it's time for the design! Since this room is right off our bedroom, I wanted to incorporate some of the warm tones from there into the room, but add another bold element so it wasn't all pink on pink on pink. So we're bringing in a HUGE POP OF GREEN!!! The prettiest green. I LOVE IT!! Here's a little more about what we've picked…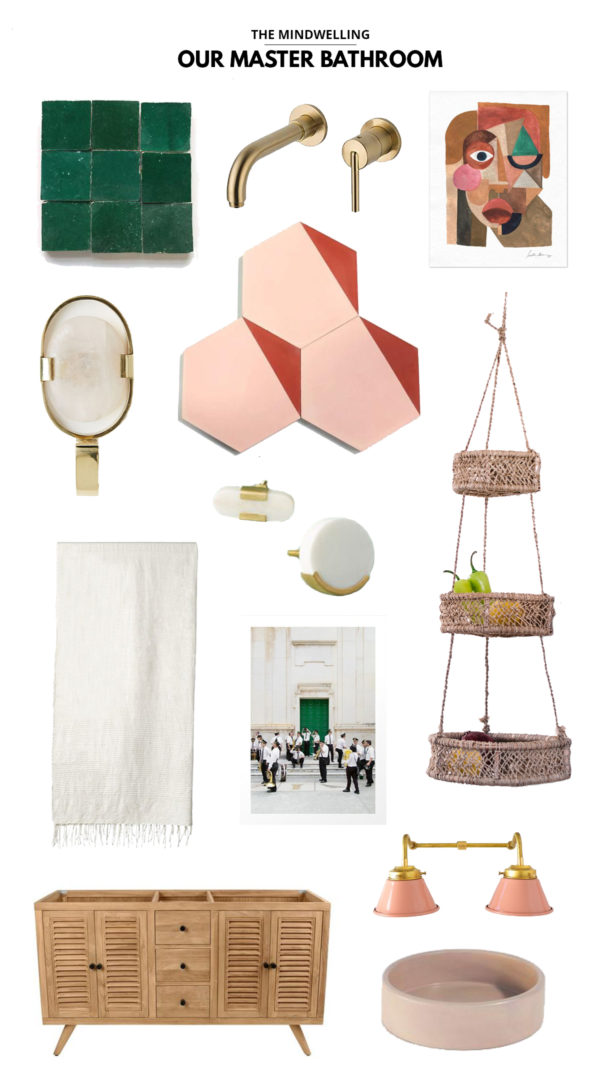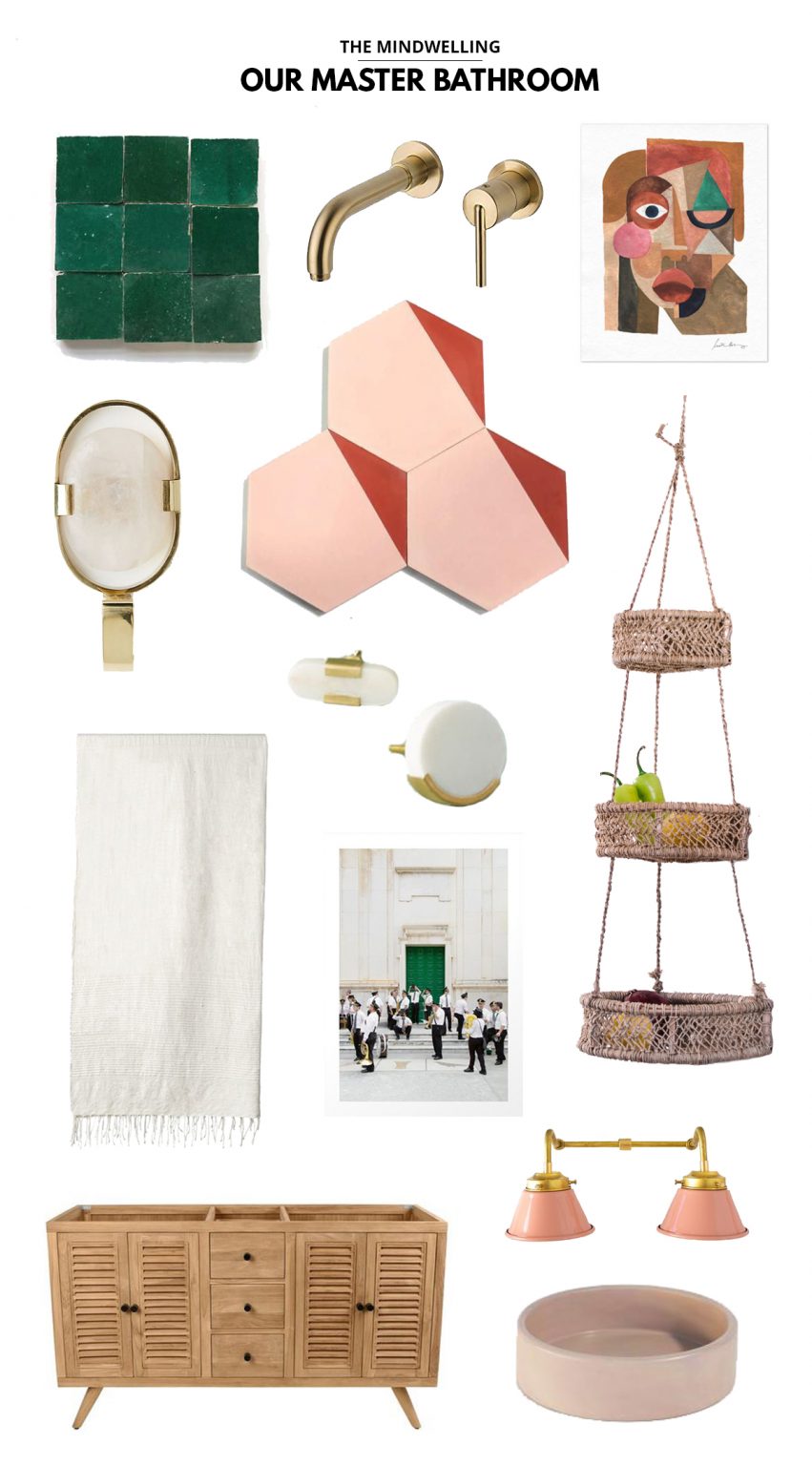 Tambora Hook | Face 1 by Justina Blakeney | Mabel Toggle Knob
Agave Towel | Bronze Faucet
Pivot Mirror | Secret Lagoon Tile
Hex Clip Tile | Natural Cotton Bath Towel
Amalfi Coast Series #1 by Jeff Mindell | Bowl Basin Sink
Tiered Hanging Baskets | Pink Sconce | Double Vanity Base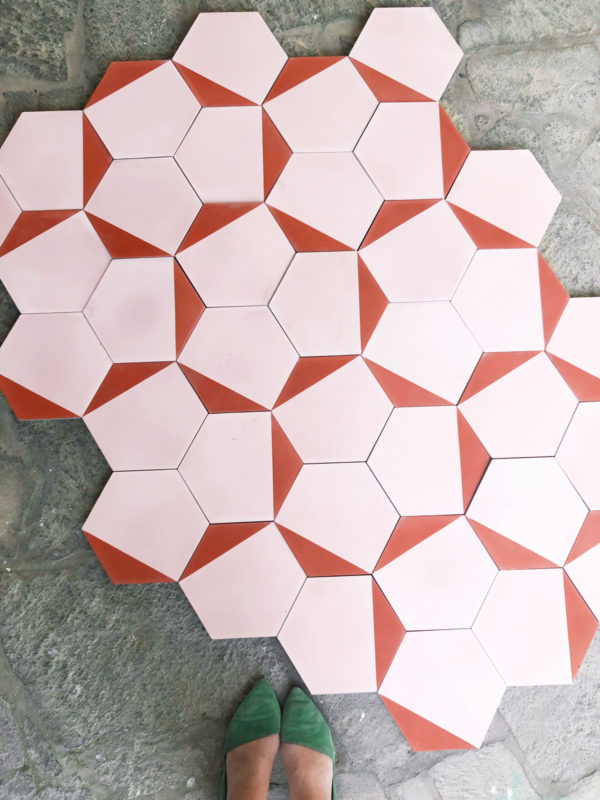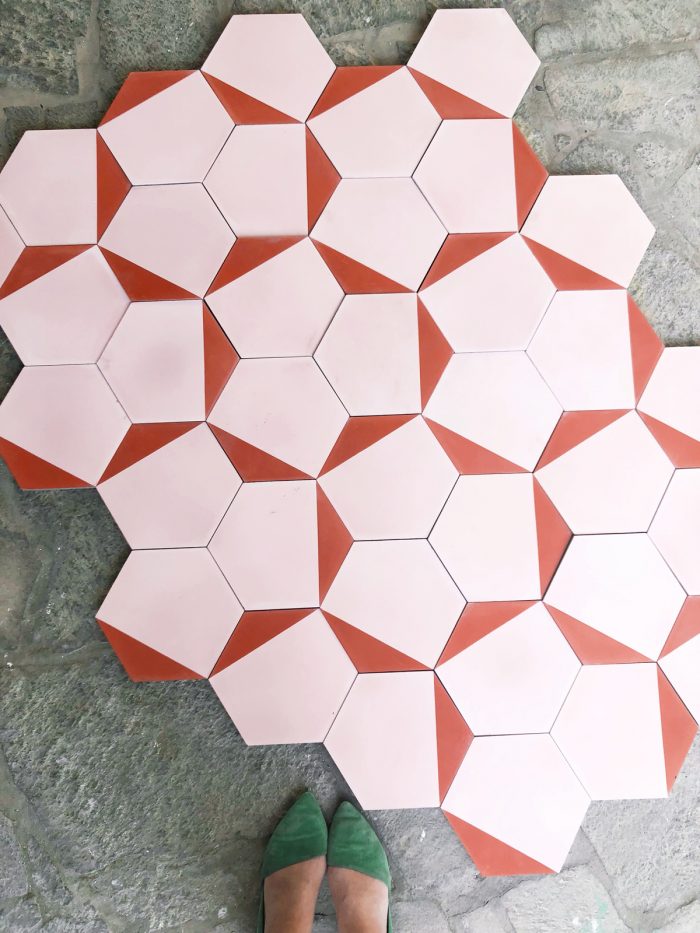 So as I said we're going SUPER bold with the tile choices! The entire shower and half the back wall of the bathroom will be the Secret Lagoon Zellige tile from Cle Tile. I love that the tile is handmade and each piece is unique. It adds SO much depth to the room. (yes, it's already up!!! And it looks SO FREAKING GOOD!) On the floor, we're doing Cle's Hex Clip tile in mocha and barn. It's like a super pale pink with a rust edge. The pattern above is how we're laying them. Again, I'm in love with it. We also have these amazing concrete sinks from Nood Co. being installed. If you haven't heard of them, you must check them out. They make the prettiest basin sinks in these really gorgeous pastel shades of concrete. It's such an easy way to add a little design element to something that could otherwise be kinda boring!
The bathroom had zero natural light before and we've since added FOUR sources of natural light. The difference is crazyyyy. That included two VELUX sun tunnel skylights and the difference it has made is unreal. They're a great option if you're trying to add natural light in a small space! We put one above the shower and it completely illuminates the green tile. SO pretty. We also have a custom sconce coming from Sazerac Stitches (who did Arlo's light fixture too!) and oh man, it's gorgeous. You can see it up there in the mood board!
As you can see below, I picked about 400 hardware options and I'm waiting until everything is in to decide on a few final pieces. I'm also *hoping* to add wicker caning/webbing to the front of the vanity in place of the slats… if anyone has every done anything like this, can you give me tips!? No idea if it will work but it would be so so pretty!!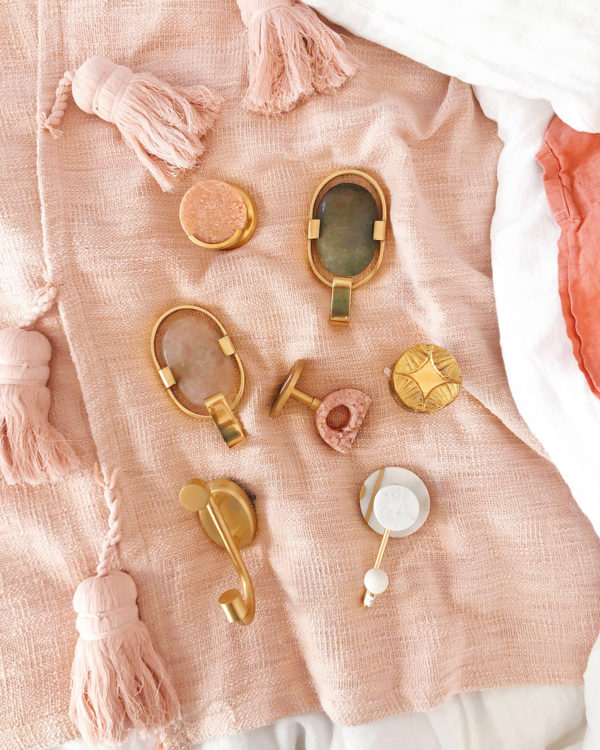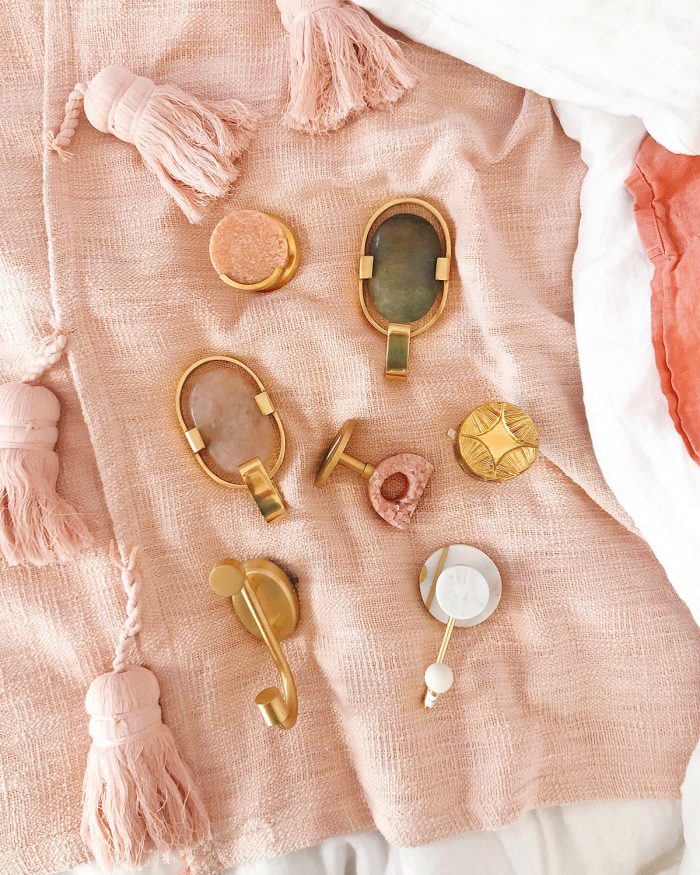 Photos by Jeff Mindell
I'll share a progress report with you next week because I have a few questions for you guys but wanted to give you a glimpse at the design elements first!! Can't wait to reveal the full room!!!