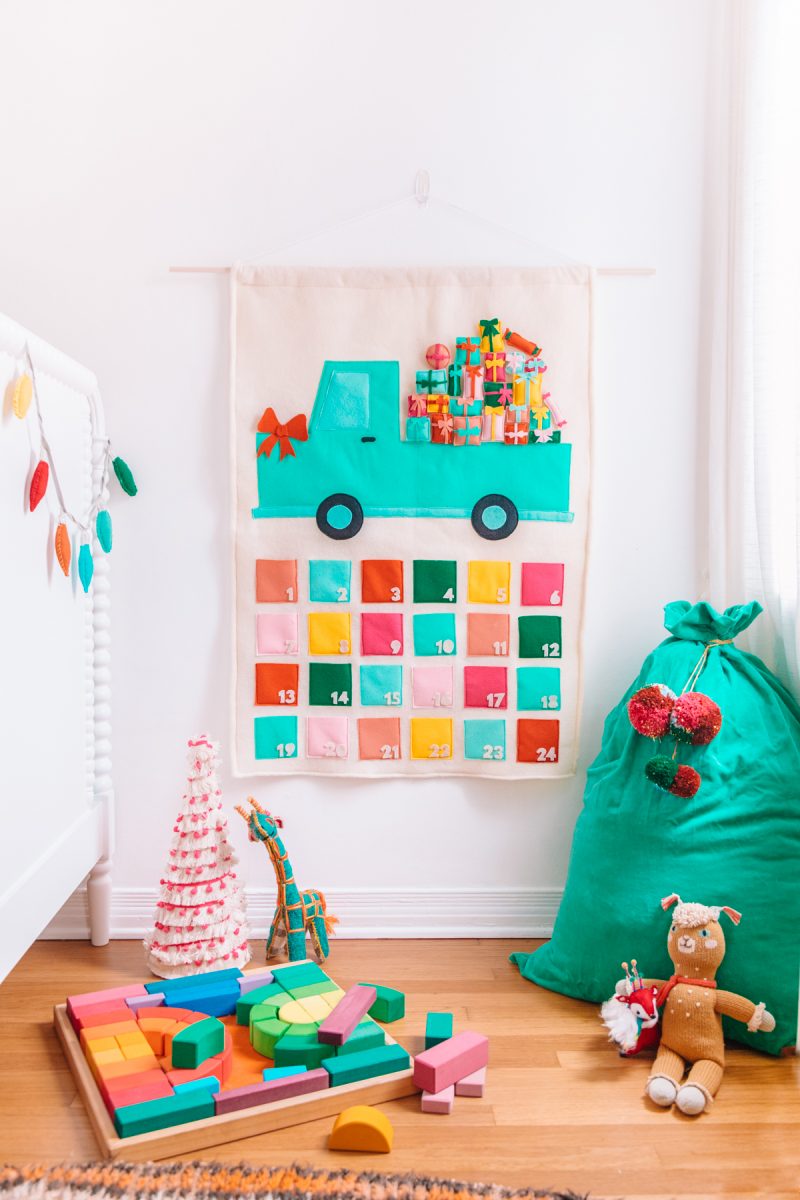 I'm about to hit you with a BUNCH of felt projects, ya ready!? First up.. Arlo's felt truck advent calendar!!! One week into December and it's finally done and I love it so much!!! He immediately looked at it and said "CAR!" and that just made me smile.
The idea is that every morning he'll get to pick out the present in that days pocket and put it on the truck! And next year, I hope to start including a gift, kind gesture or other give-back initiative to go with each day so we can continue to reinforce the importance of giving when it comes to gifts, not receiving! That could mean writing a card to his grandparents, baking cookies for a neighbor, picking out a gift for a teacher, shopping for the family we're supporting that year, and so forth.
This DIY advent calendar tutorial is a tedious but simple one, but so worth it! You'll have it for years and years to come!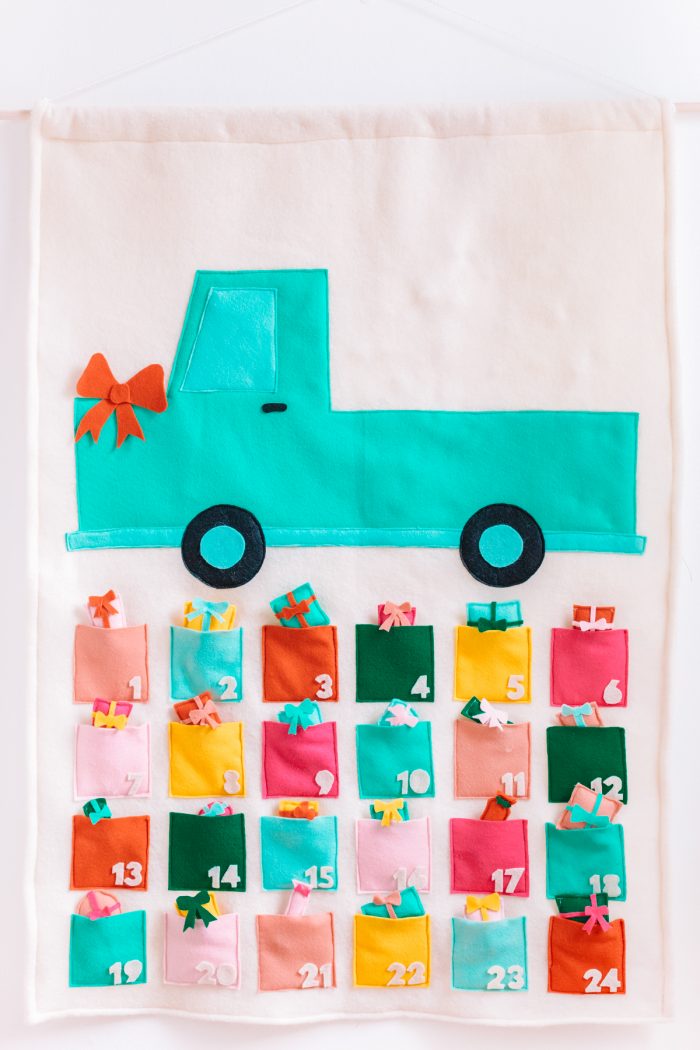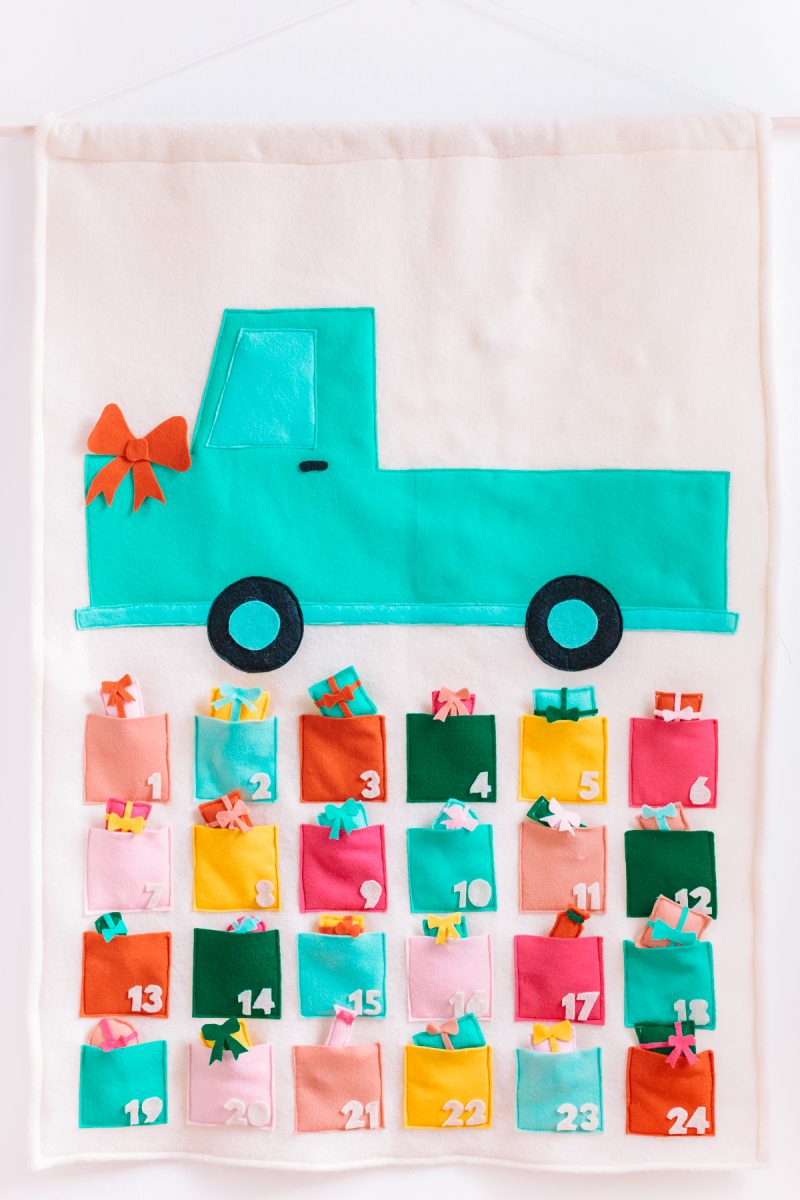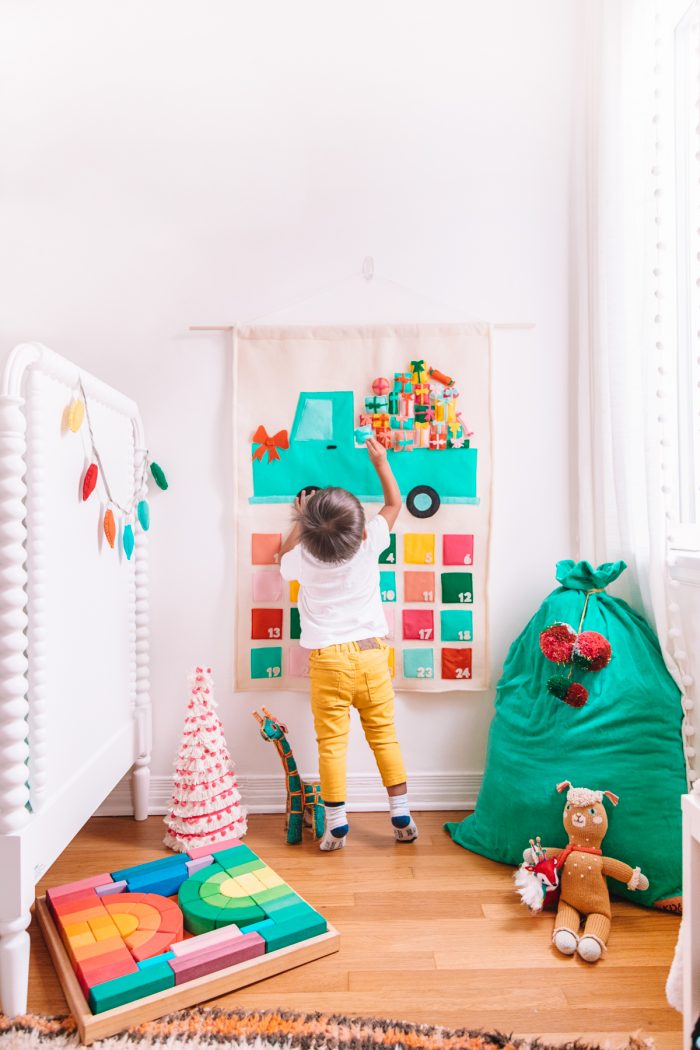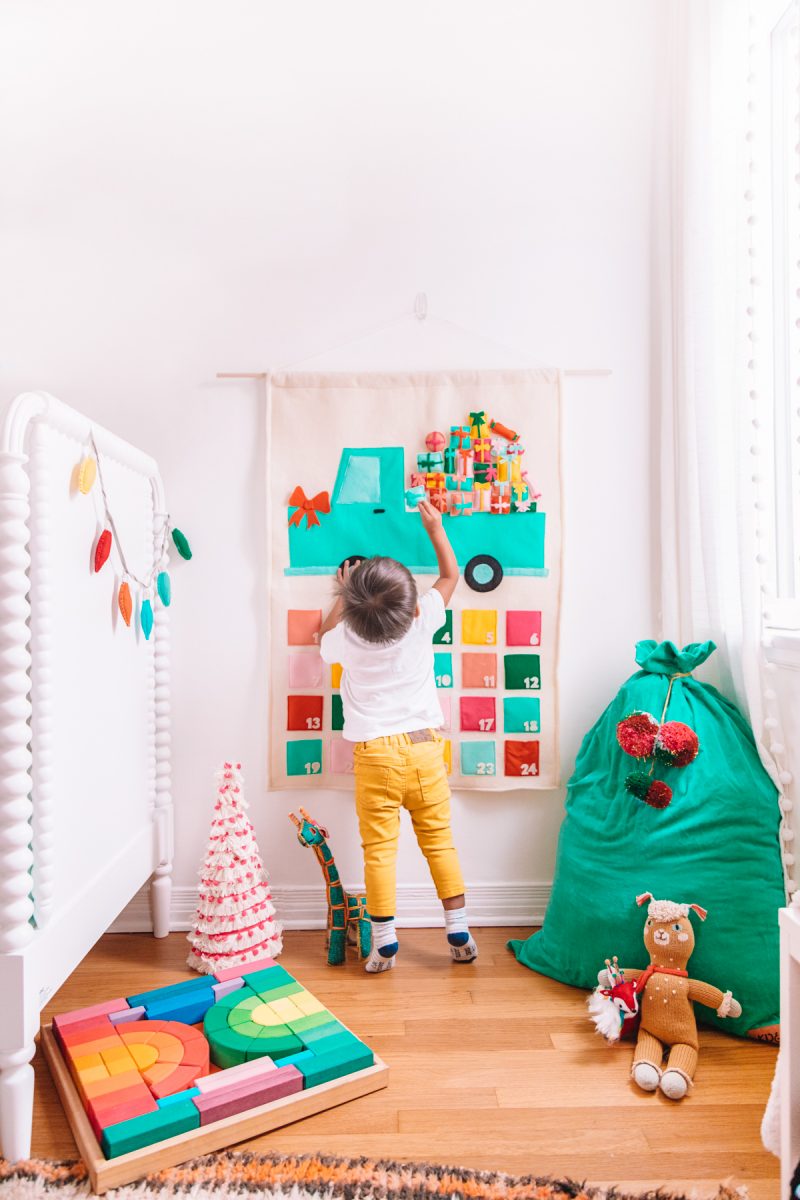 DIY Advent Calendar Supplies Needed
Truck Template
1 1/2 Yards Off-White Felt
1/2 Yard Mint Felt
9″x12″ Sheets of Felt in Various Colors (I used 8 different colors and about 1-2 sheets per color)
Sewing Machine + Thread
Hot Glue Gun
Stuffing
Velcro
Scissors
Wooden Dowel
Rope
Step-by-step Advent Calendar Instructions
1. Enlarge the truck template to 400% and print at a local print shop or large scale printer if you have one. It will be about 24″ wide. Cut out the template.
2. Cut all your felt pieces: one truck, two large circles and two small circles for wheels, a window, a handle, a bumper and a bow. Then cut out 24 3.25″ squares and the numbers 1-24. Last, cut all the pieces for the 24 presents you need to make. I made mine a variety of mostly rectangles (two per present) with a few other odd shapes to mix it up! The bows were all cut from felt as well!
3. Lay out the truck and the 24 squares on your larger piece of felt. I also laid the present cut outs in the truck bed so I had an idea of how tall they might stack. Cut a rectangle that is about 1.5″-2″ wider than the felt pieces on three sides and about 4″ taller on the top (to account for folding over the dowel).
4. Time to stitch! (Or hot glue, if you prefer a no-sew version) Pin the bumper and window to the truck and stitch. Then pin the 24 squares and the truck to the large rectangle. Sew along the edges of the felt pieces. For the squares, just sew the three sides, leaving the top open as a "pocket."
5. Stitch the presents together, leaving a 1/2″ opening on one side of each of them and stuff it with just a tiny bit of stuffing. Then stitch the opening shut. Hot glue on the felt bows you cut out.
6. Fold 1/2″ on the bottom and two sides under and stitch to make a hem. (You don't NEED to hem felt, but I like the look of it!)
7. Fold 2″ under on the top and stitch. This will make the pocket to slip the dowel through!
8. Hot glue the bow on the truck and the numbers on each square. Then hot glue a small piece of the rough side of velcro to the back side of each present.
9. Slip the dowel through the pocket you created and tie a rope or ribbon on each side of the felt and it's ready to be hung!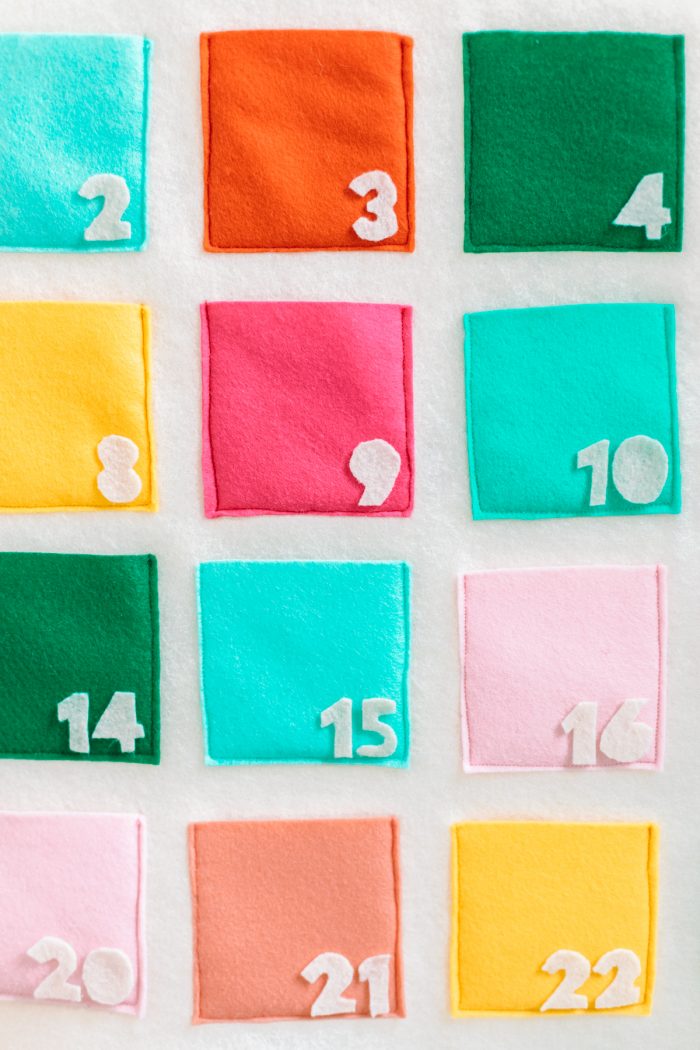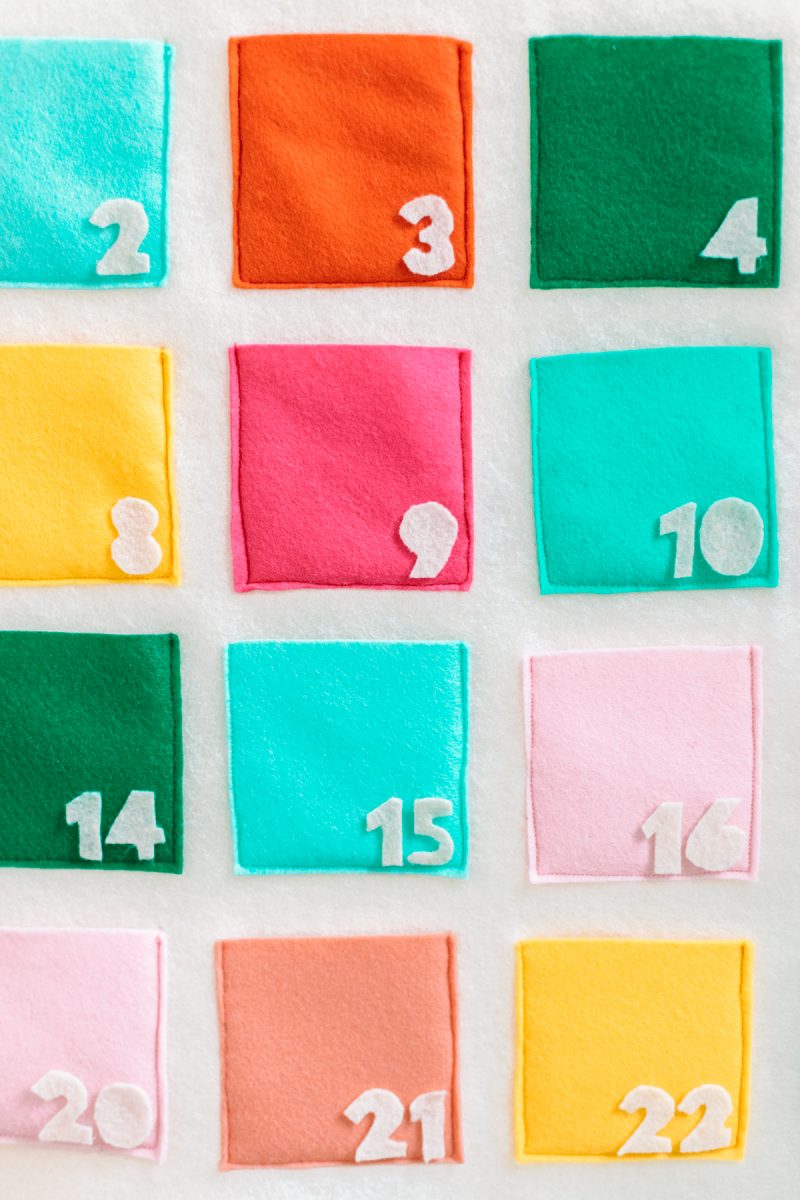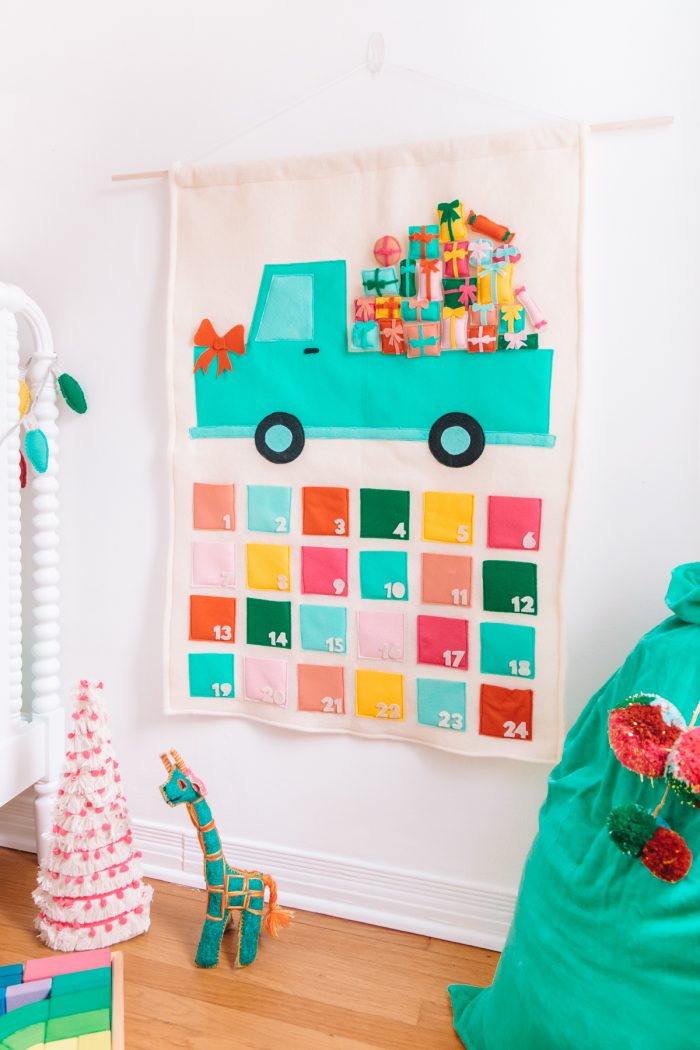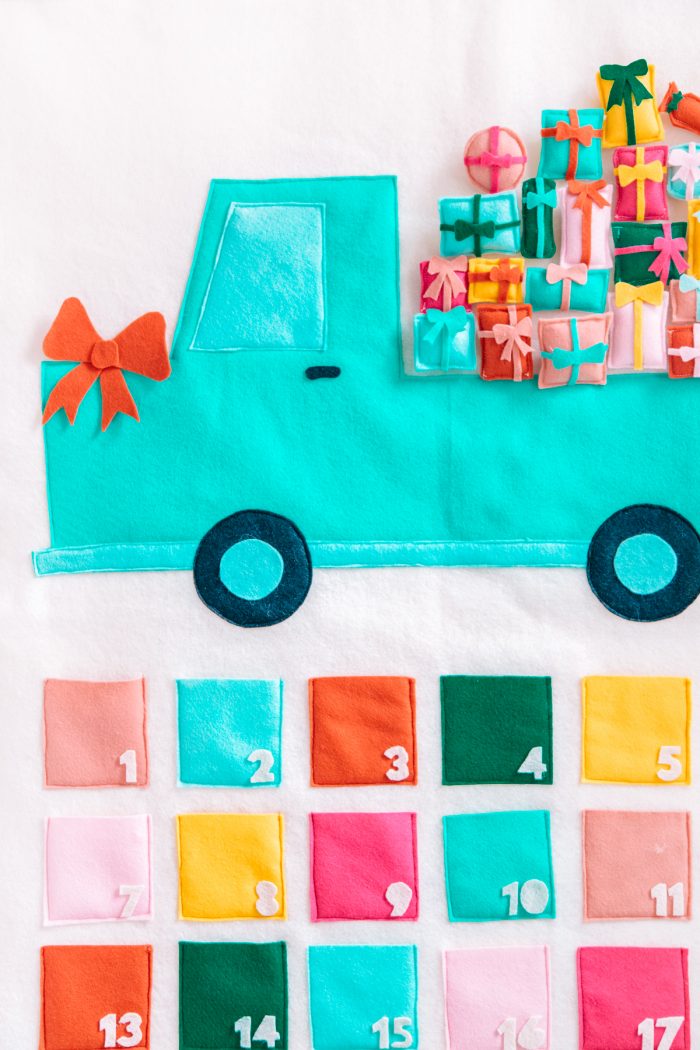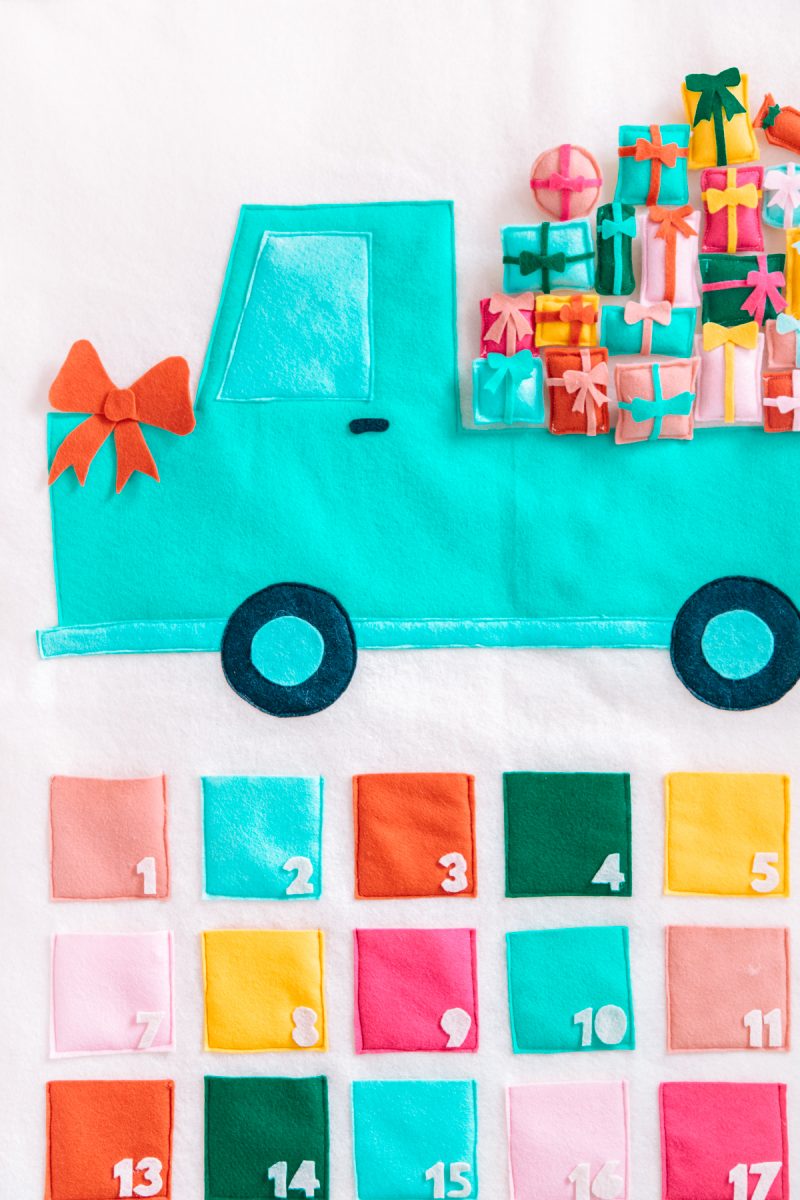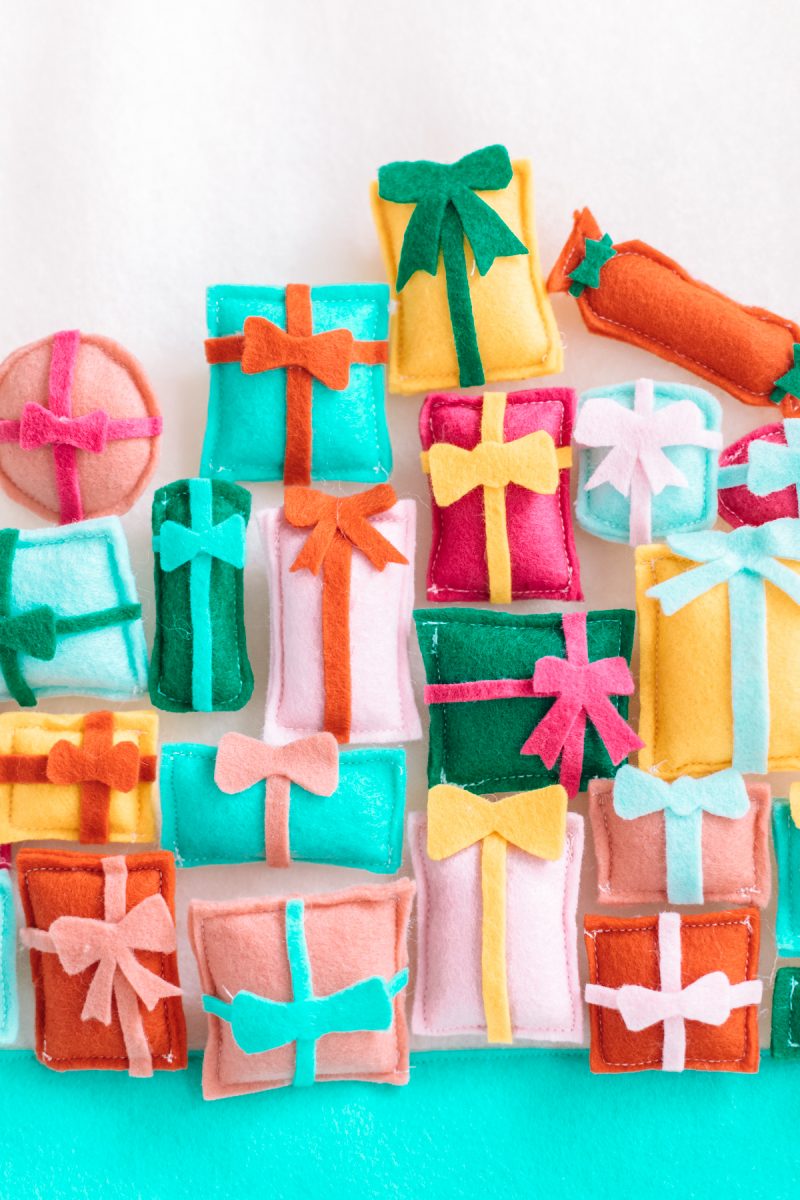 More Felt Christmas Projects
Looking for more projects like this felt advent calendar? Try these!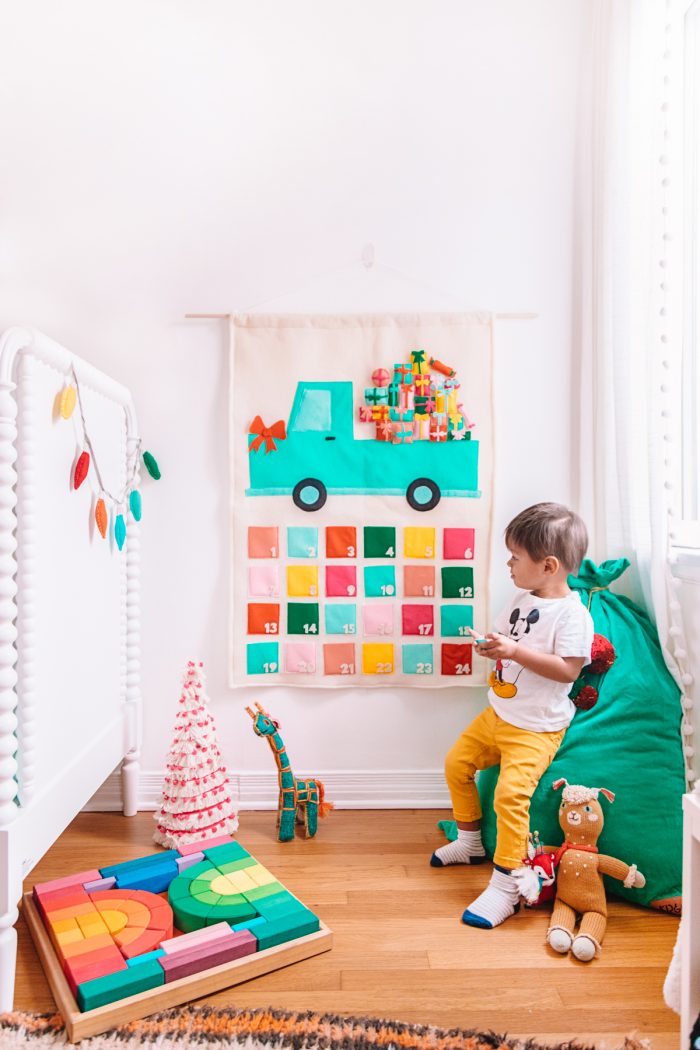 Photos by Jeff Mindell
Next up, the tree wall hanging I made for our whole family to do together! Stay tuned for that, followed by our stockings too! I know a lot of you have been waiting for that one since last year!! Another one of my favorite projects to date. Boy, Christmas is just the best.