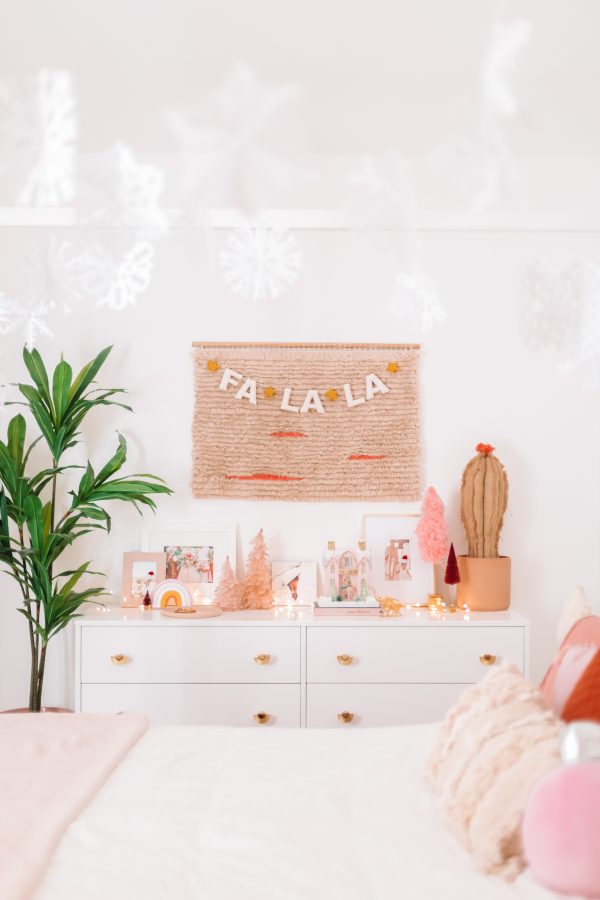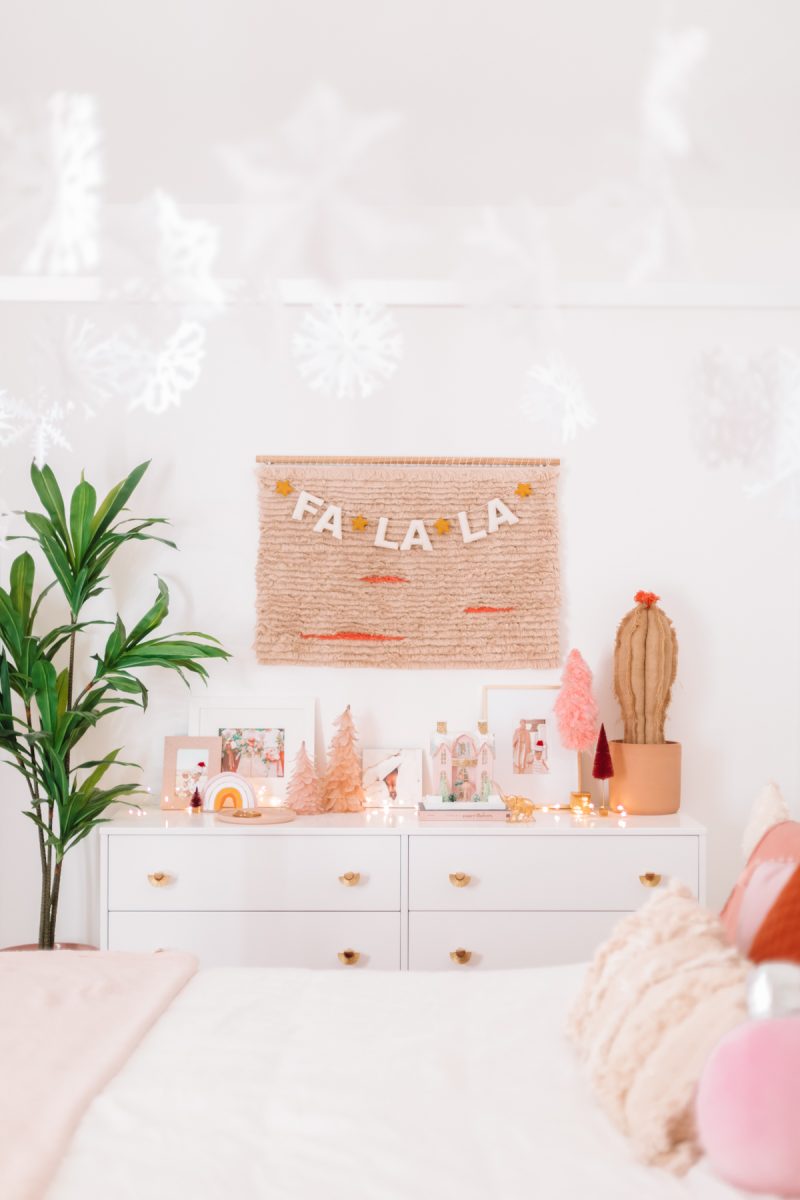 Truth be told, decorating for Christmas is one of my greatest joys in life. So renovations, too-busy schedules and complete holiday madness aside, making time to decorate is 100% worth it for me!
This year felt like the first year Arlo would kinda notice sprinkles of holiday magic in our house so I used that as my excuse to just go for it! He's currently mostly obsessed with Santa who is now basically anyone that either 1) is wearing red, 2) is wearing a hat or 3) has a beard… so that's been fun at the grocery store. Hahah!
So here's a peek with probably a few too many photos of what I like to call "the tour of four rooms of our house that are somewhat put together, please ignore the other ones that are currently under construction and/or straight out of an episode of hoarders."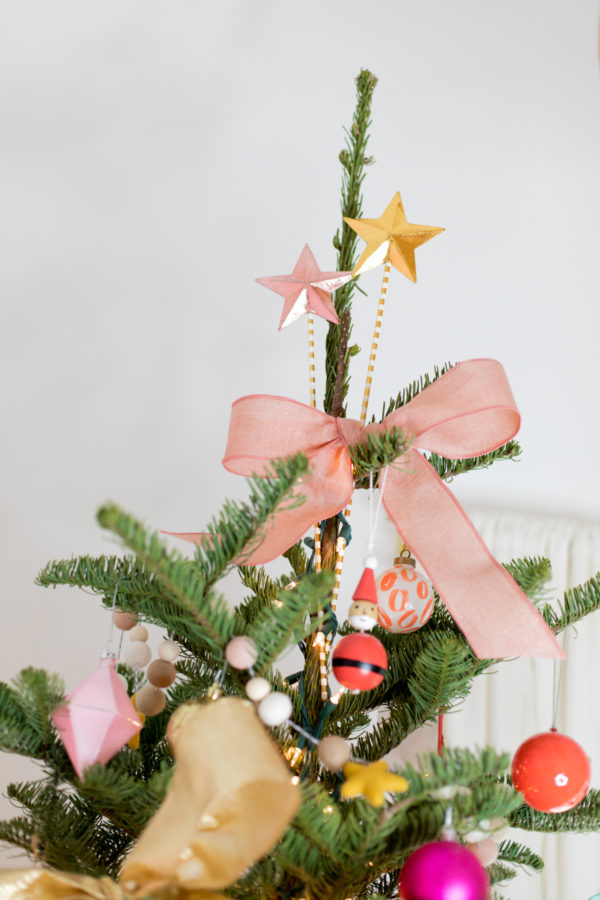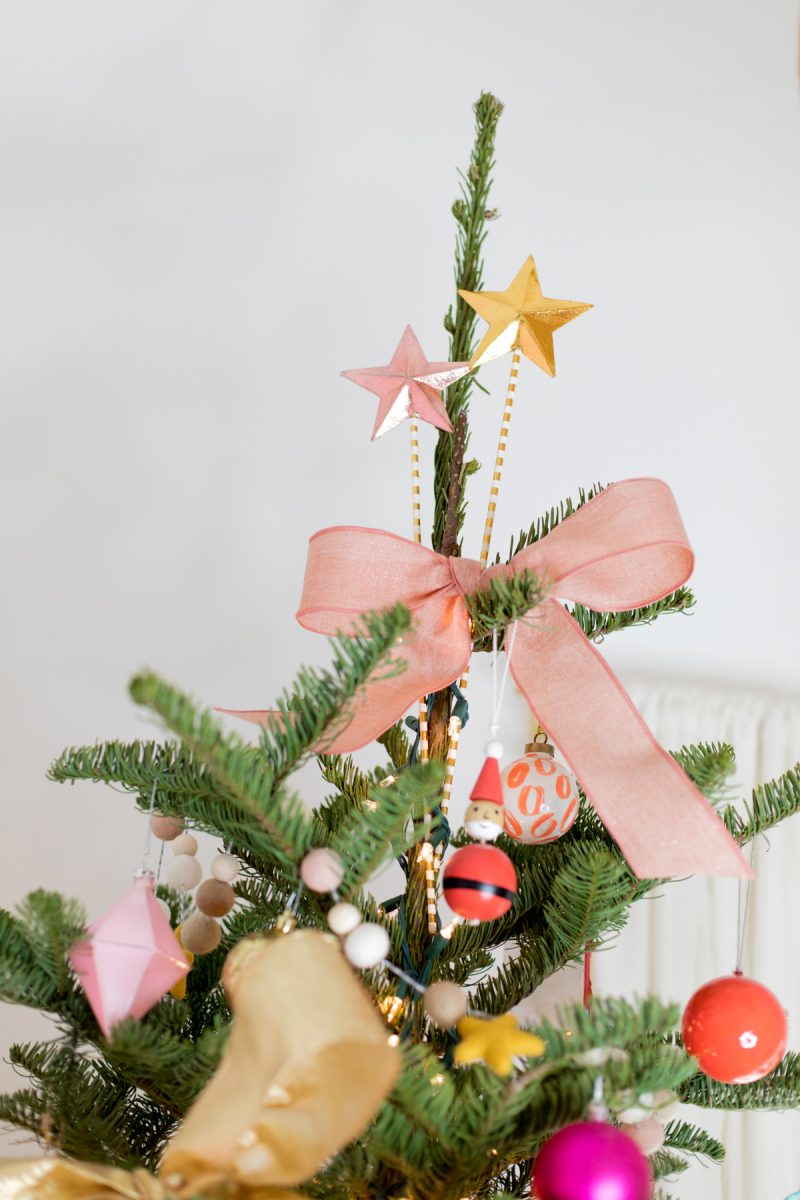 Yes, our tree is in our bedroom. Mostly because we don't have a ton of room in our living room, the ceilings are higher in our bedroom (I like a tall tree!) and it's easier to keep Arlo away from it. 😉 Next year we'll probably find a place for it in the living room but it's been so cozy having it here the last two years.
And it may not be flocked (*EHM* Jeff…) but I'm still pretty in love with it!! I changed out the garland (made with felt balls + stars from Hello Maypole!) and bows this time to match all the warm tones of our bedroom!
We watched the NYC Ballet's Nutcracker on Netflix (if you have not seen it, you MUST!) and decorated it together as a fam!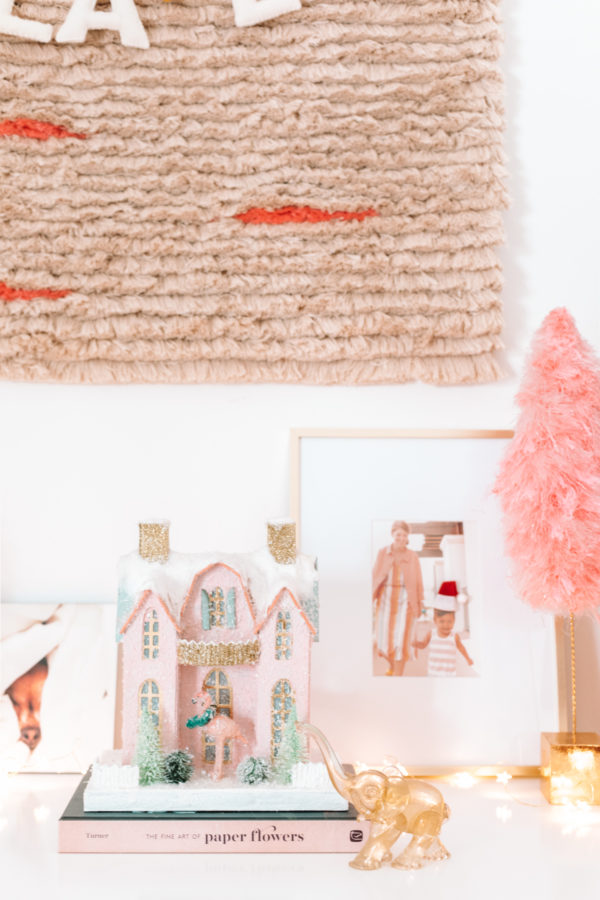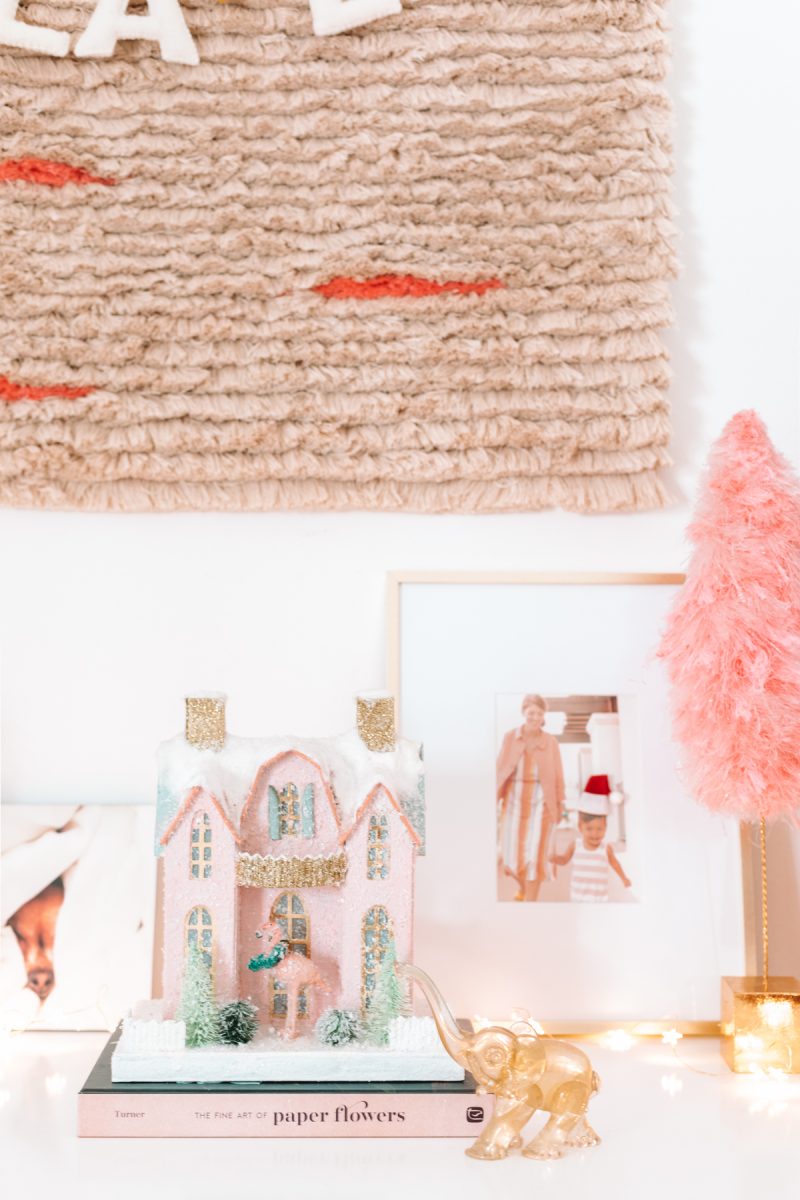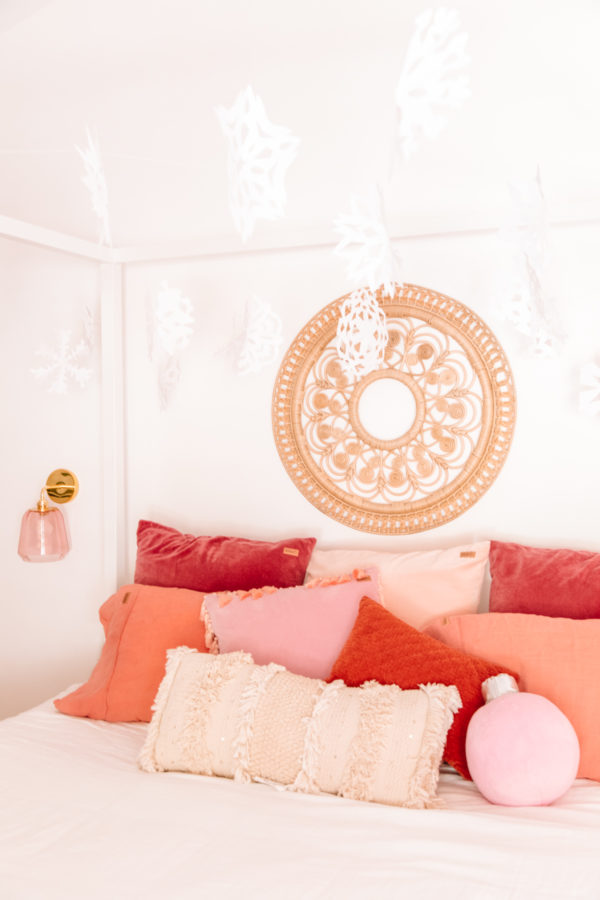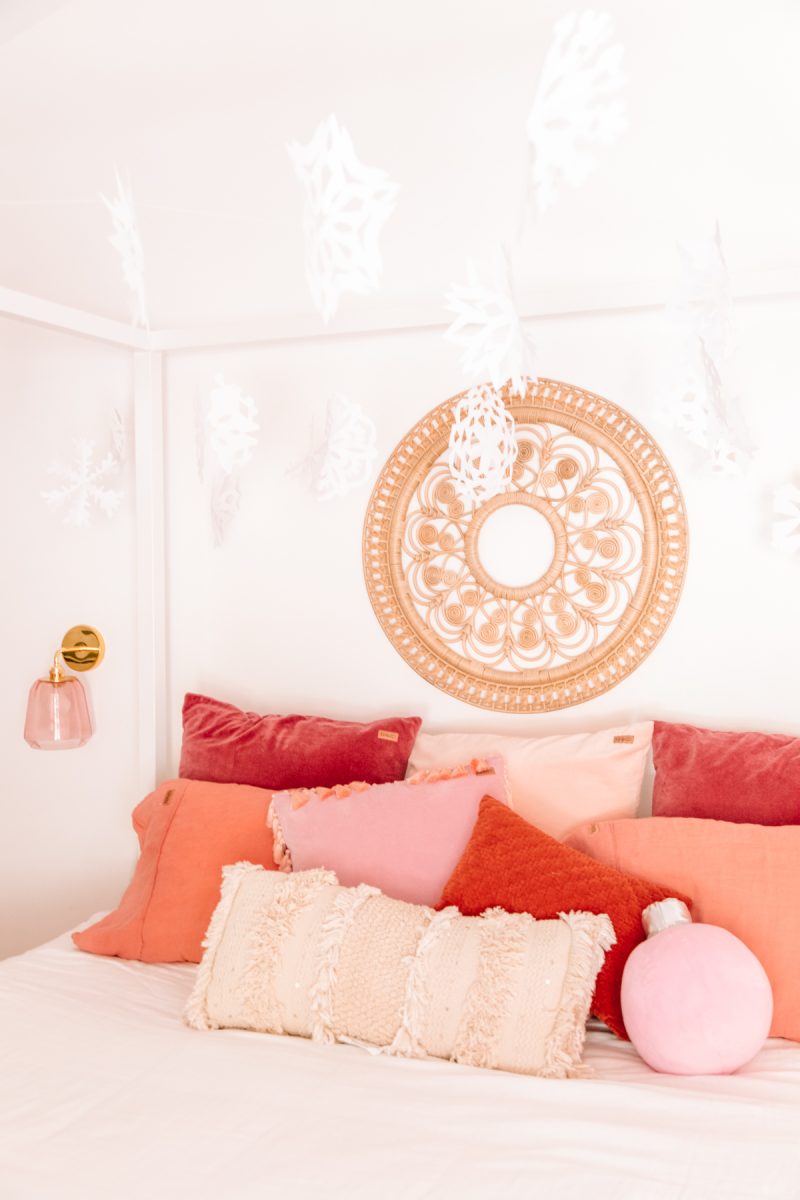 Arlo comes into our bed on the weekends to watch morning cartoons and I wanted to Christmas-i-fy it so we made paper snowflakes and strung them all over the canopy part with fishing line!!! I love it so much!!!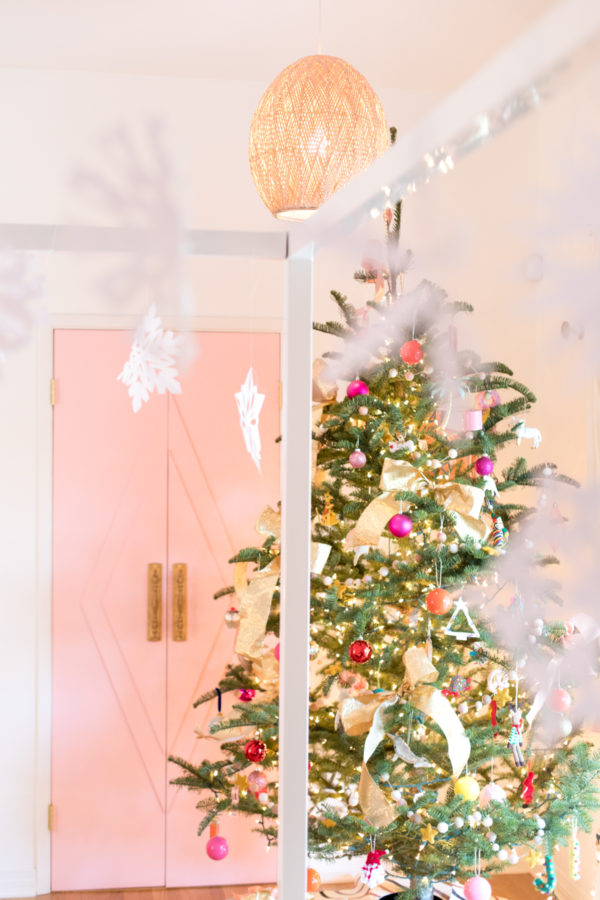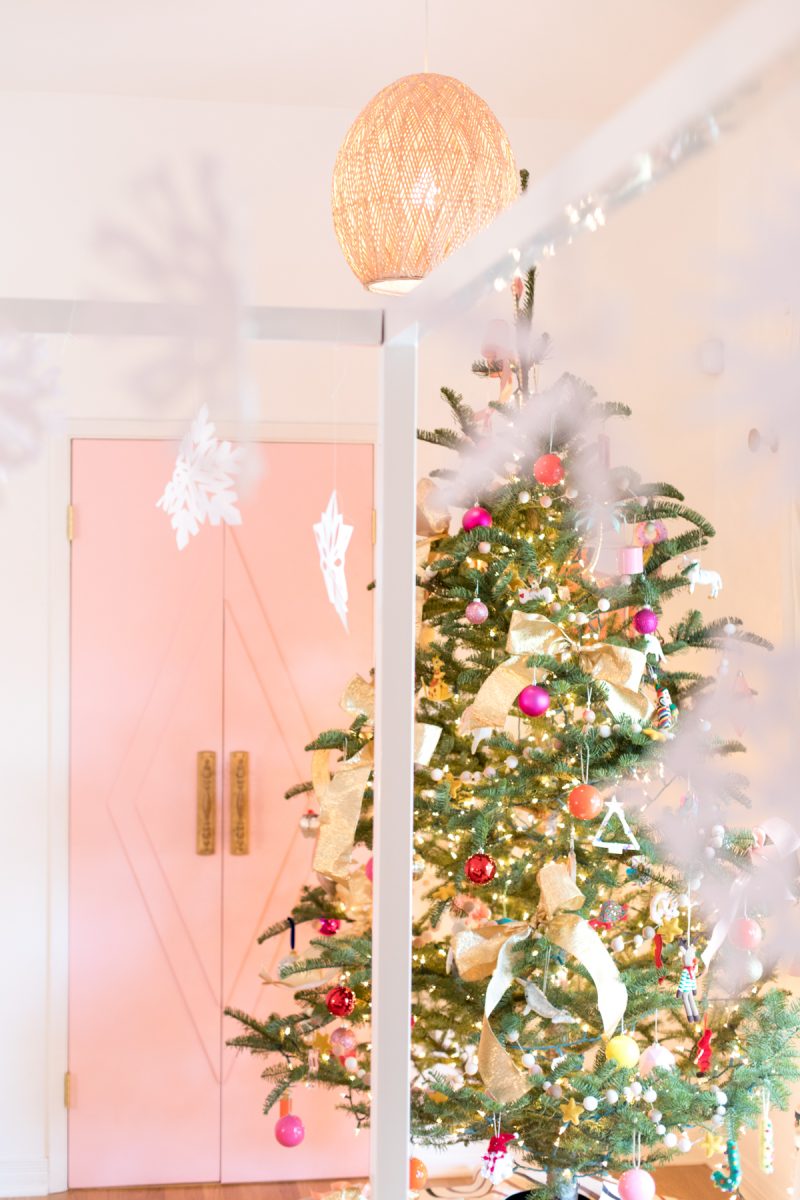 Master Bedroom Christmas Decor Sources
Tree Garland | Star Wands (Used as Tree Toppers) | Striped Tree Skirt
Fa La La Garland (I added the stars!) | Feather Trees | Fluffy Trees by Glitterville
DIY Ornament Pillow
For the actual bedroom decor sources, click here!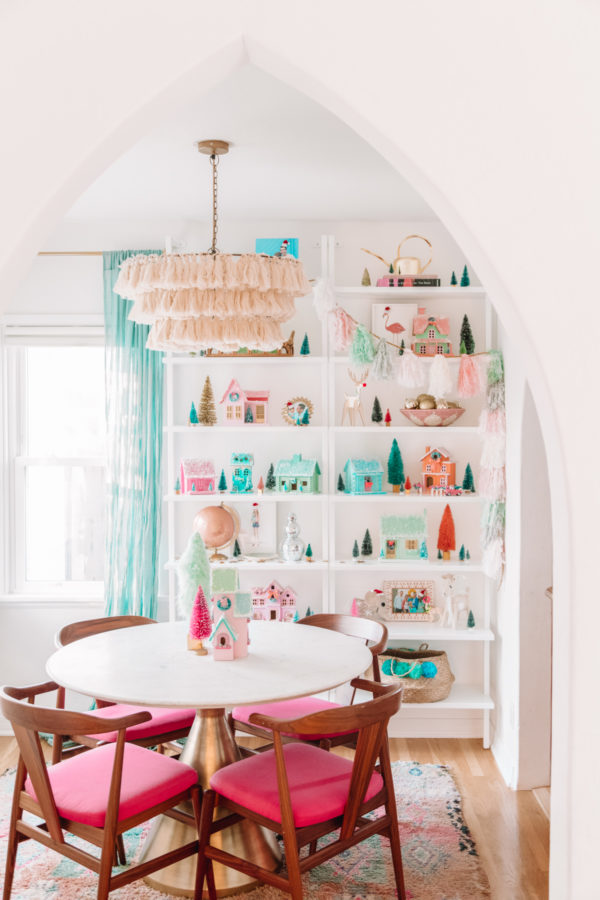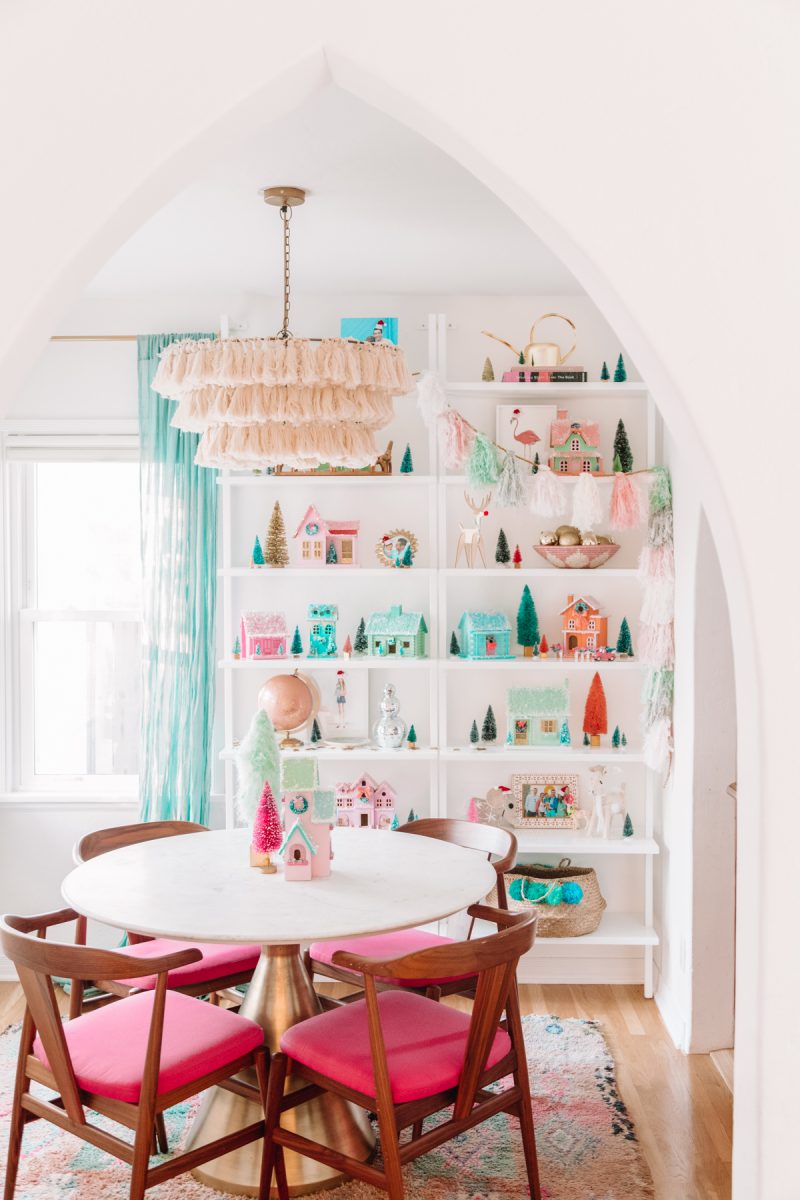 The dining room became the "pastel Christmas room" and the home of our Christmas village!!! Arlo joined in on the Christmas village festivities this year and I added a few new ones too. We don't really have one large surface in our house to fit all of them, so I just put away some of the vases from the dining shelves and swapped the houses in there!
The leftovers of my bottle brush collection spilled over in here too.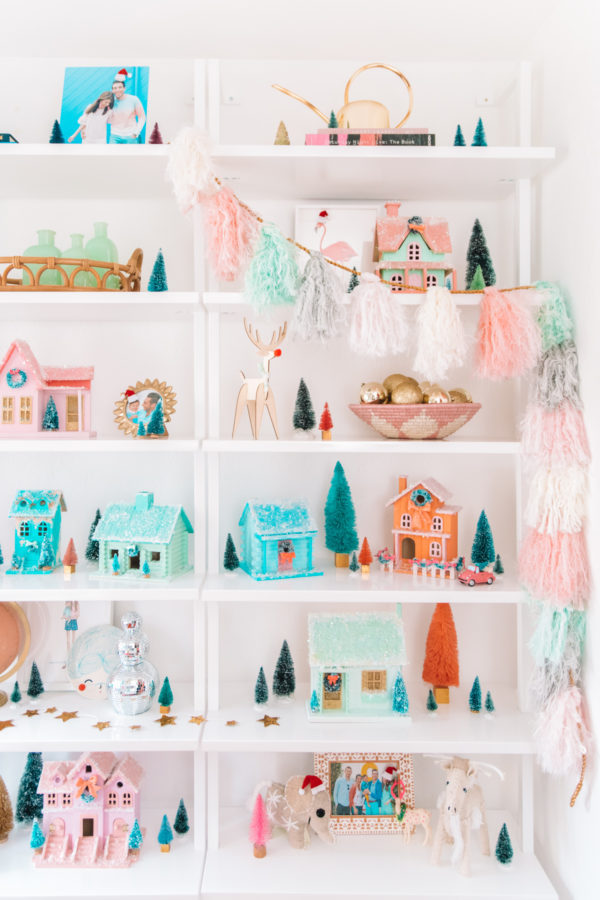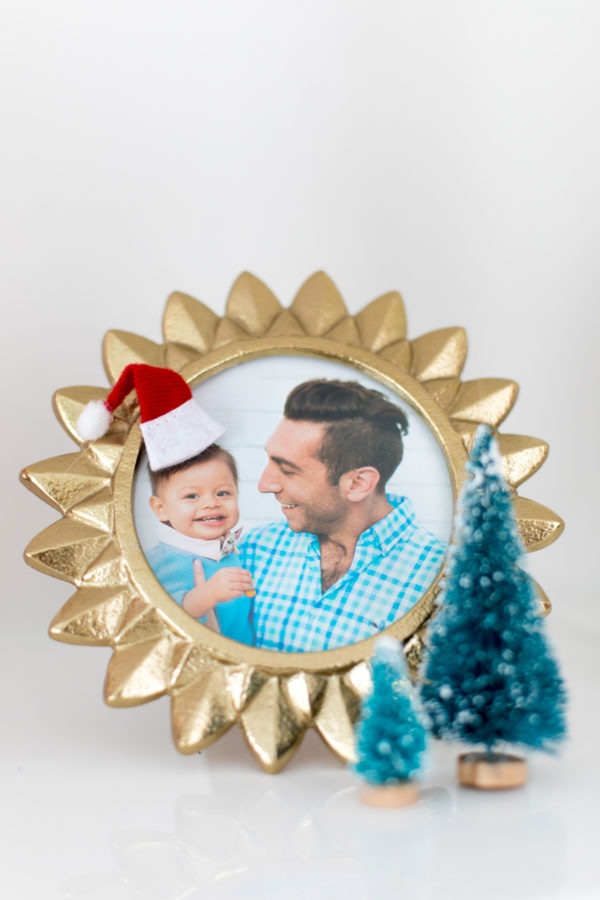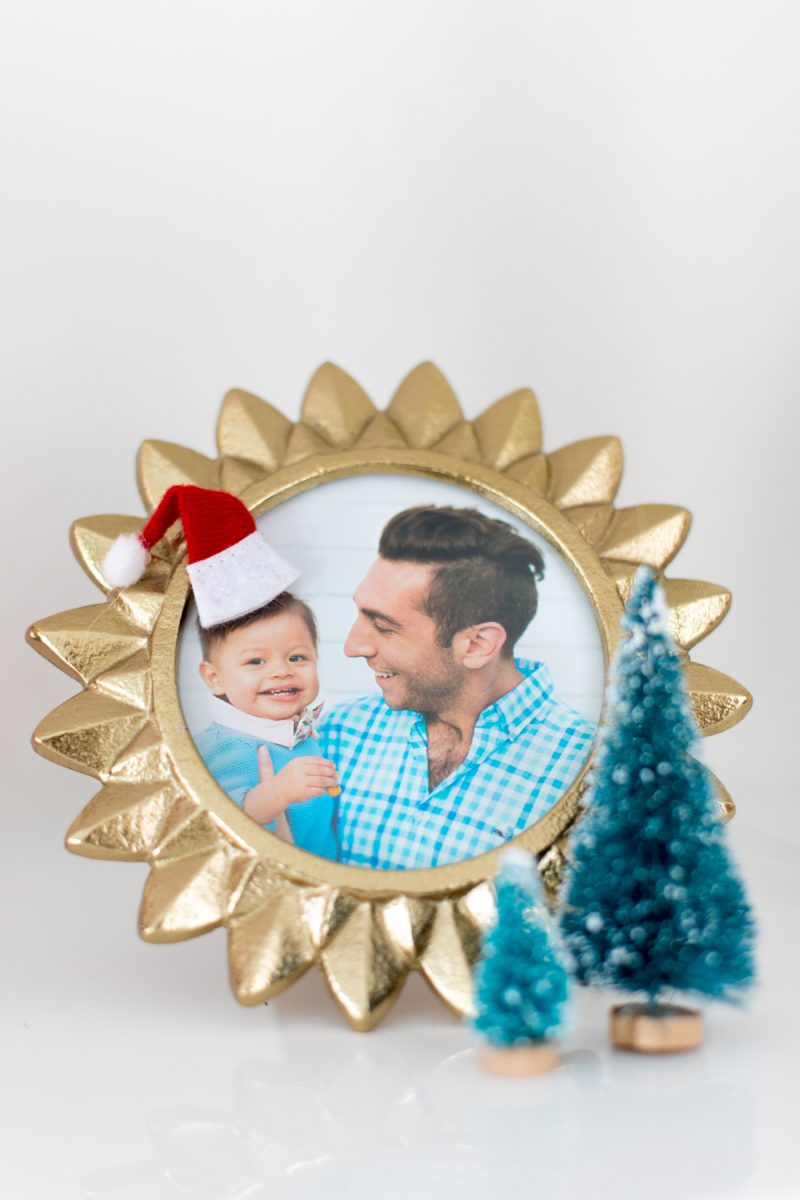 I totally stole this idea from Jordy to put tiny Santa hats on our photos and art!! It is SO great and simple, if you need a last minute idea to make your home a little festive! I found these at the craft store but you could make ones out of paper too!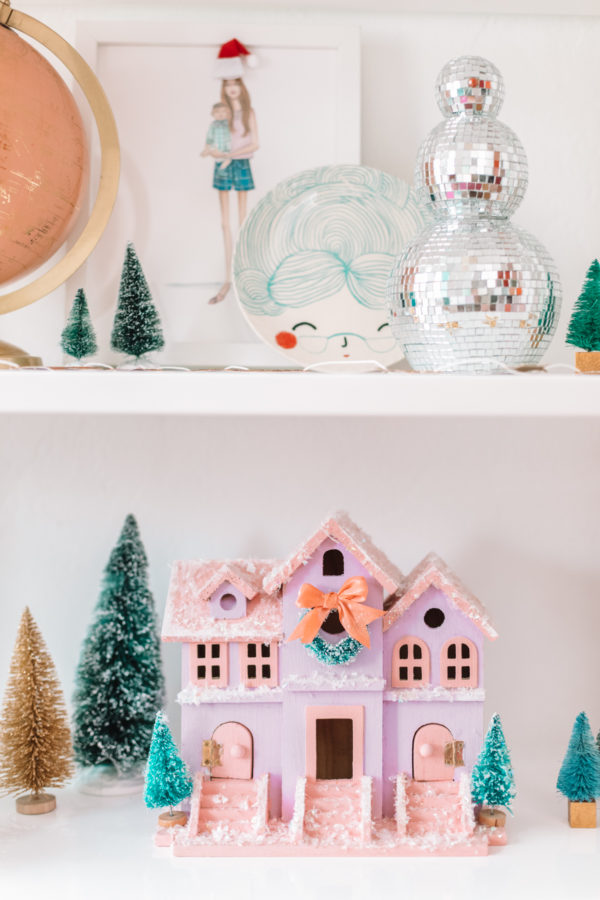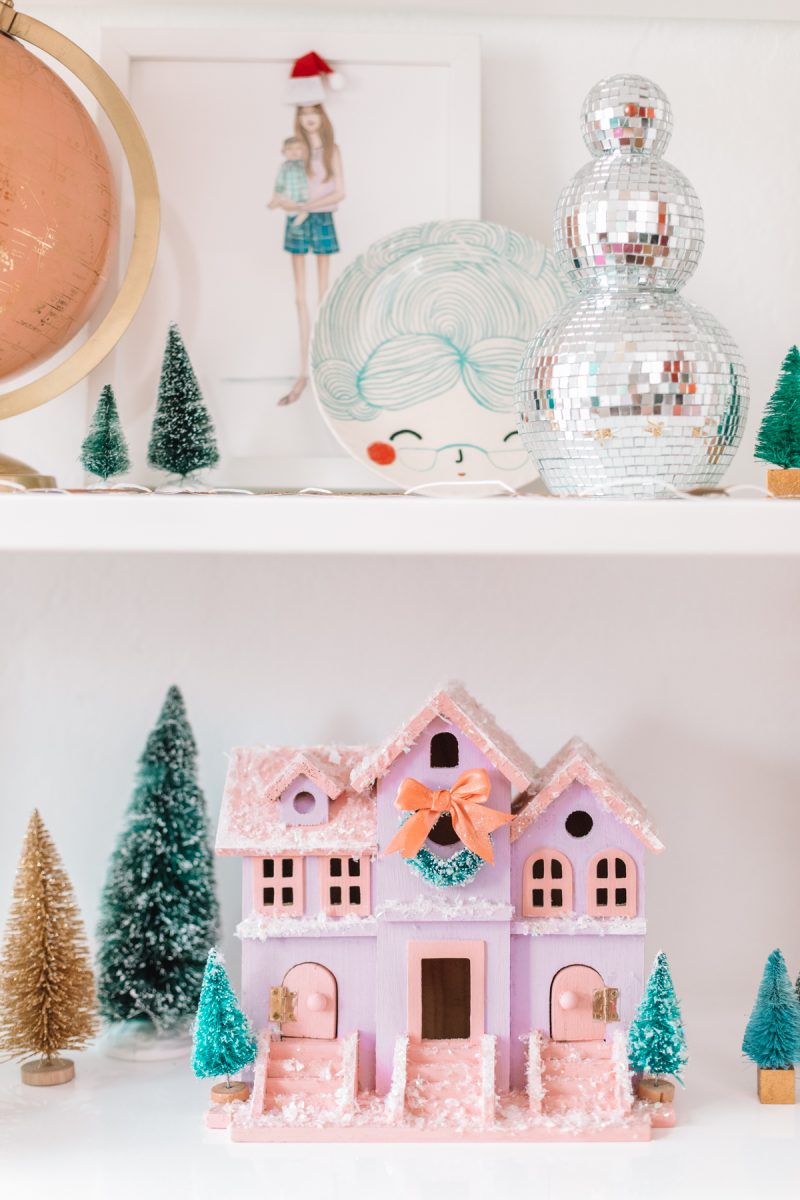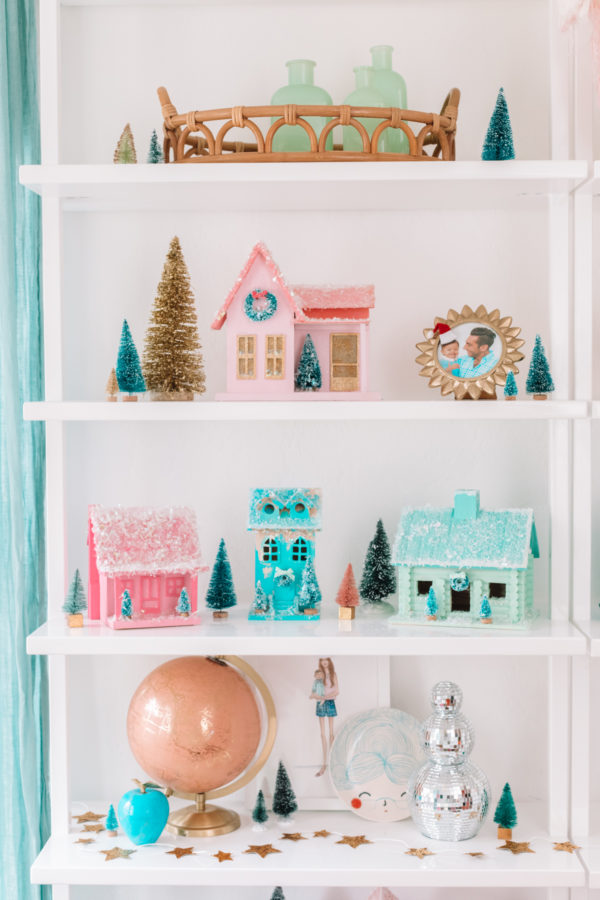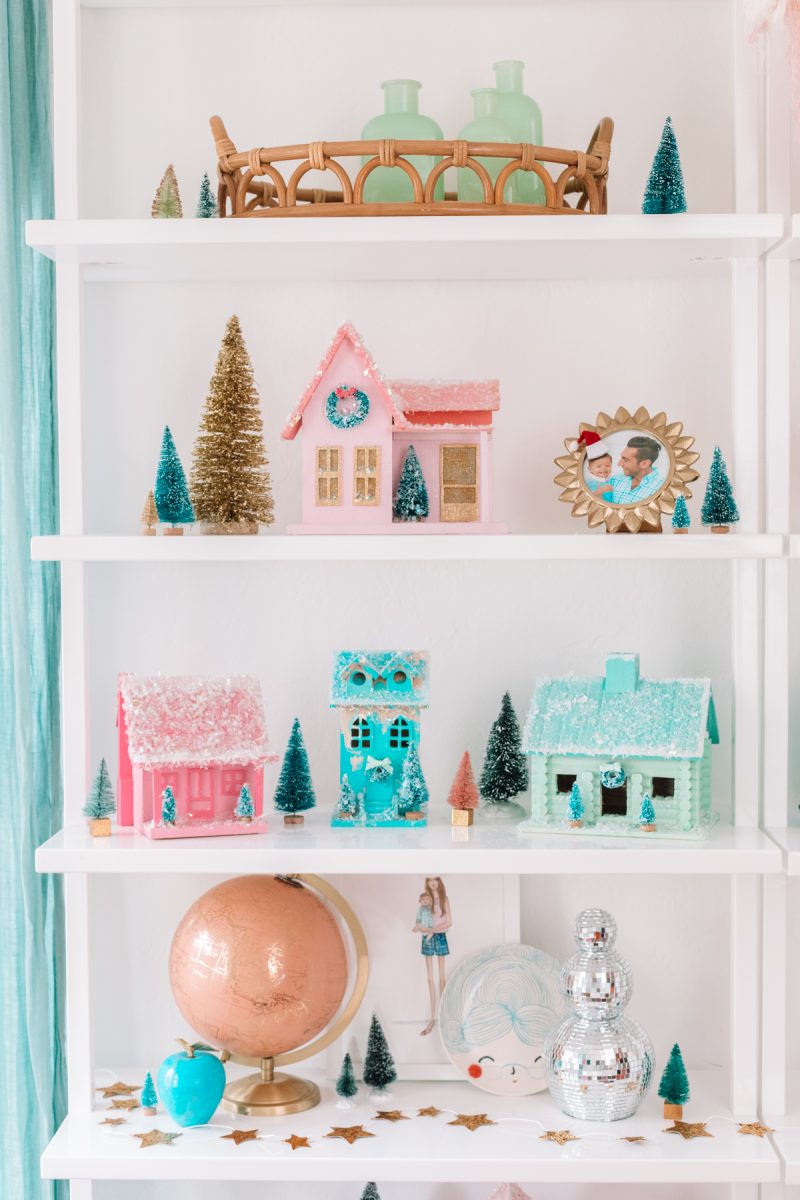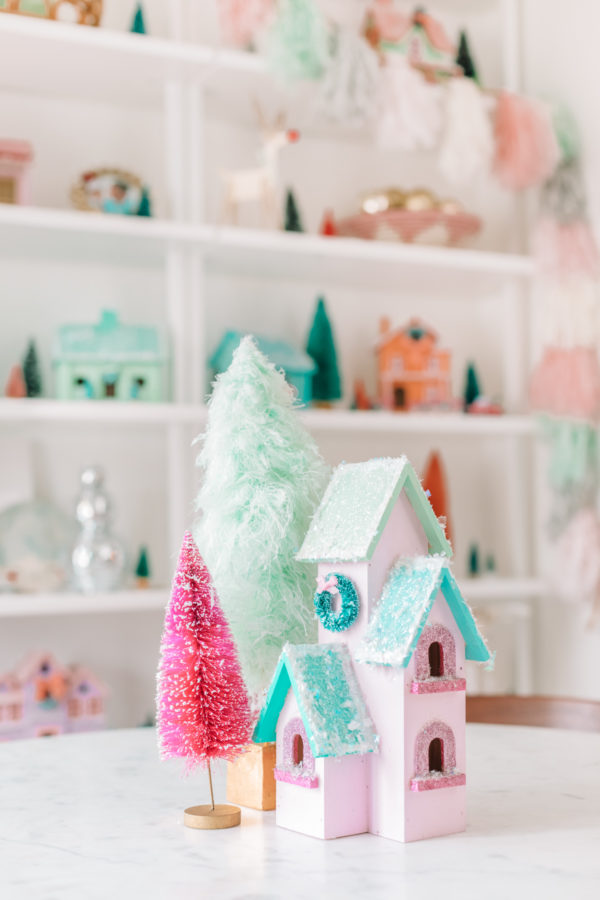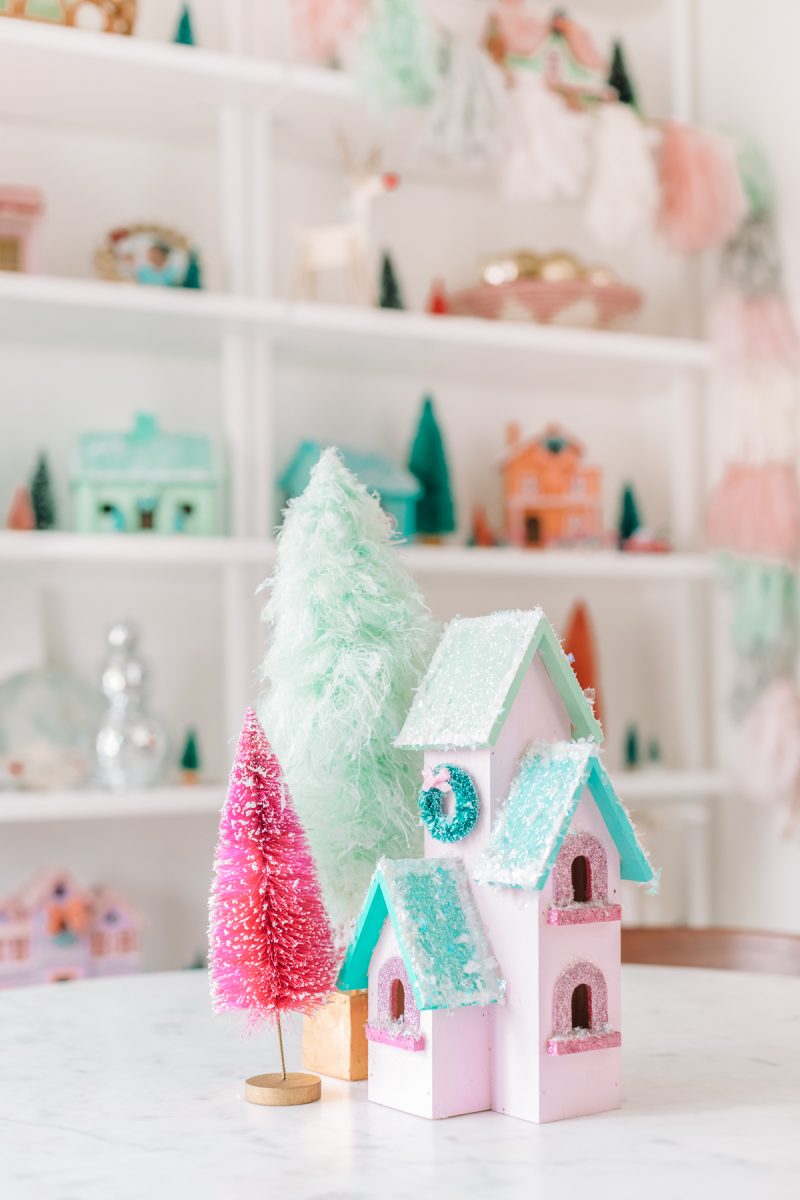 Dining Room Christmas Decor Sources
DIY Christmas Village | Disco Snowman | Fluffy Tassel Garland
Green Bottle Brush Trees | (Most) Colorful Bottle Brush Trees
Wooden Reindeer | Wool Reindeer
For the actual dining room decor sources, click here!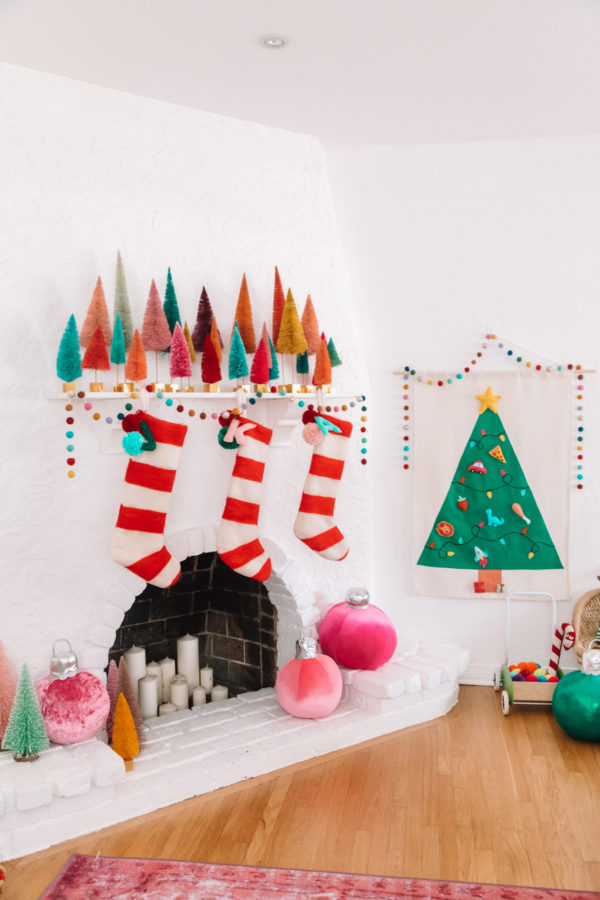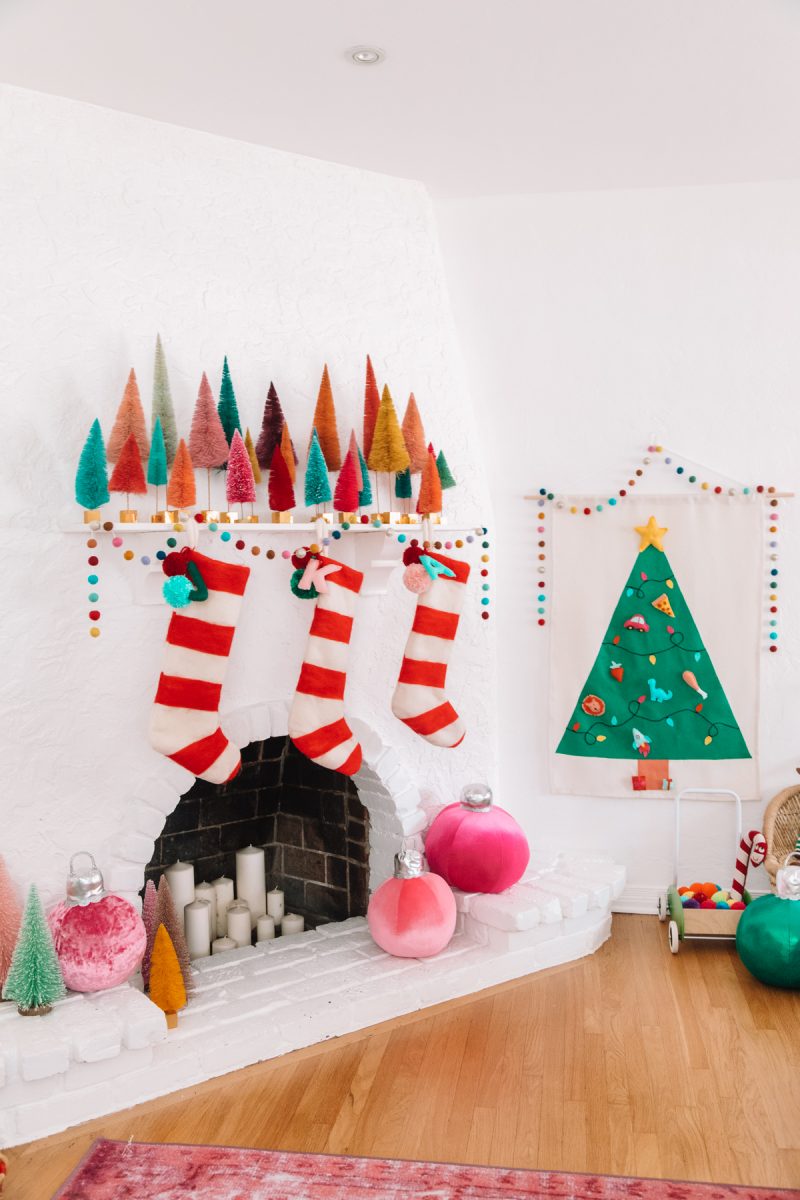 We're actually re-doing the living room next month-ish (YAY!) but we started by just replacing the mantle on the fireplace with a white one and it's already SO MUCH BETTER! I think my bottle brush tree collection is one of my most prized possessions. I add a few every year and stick 'em in basically every room of the house. MOST are from Glitterville, but I've gotten a few others at various craft stores and boutiques.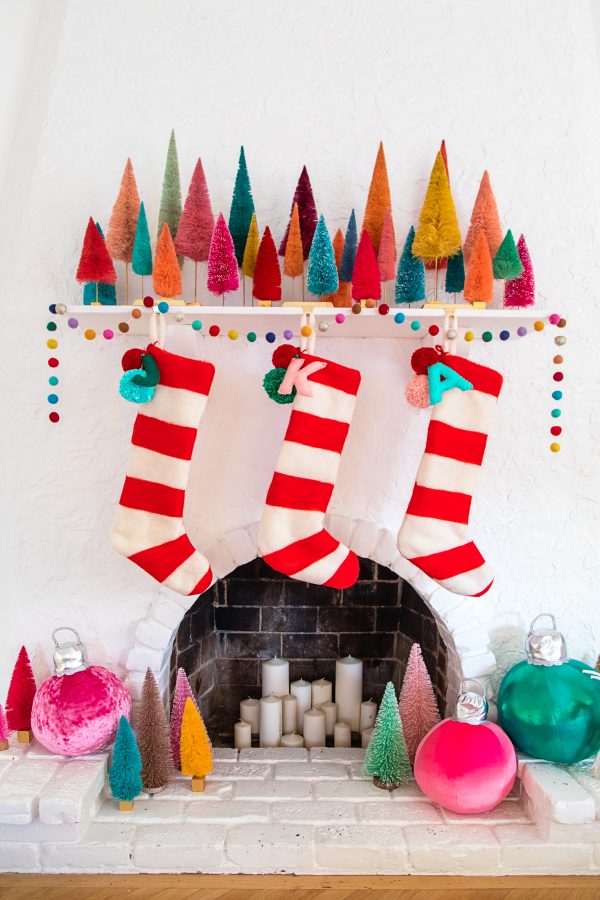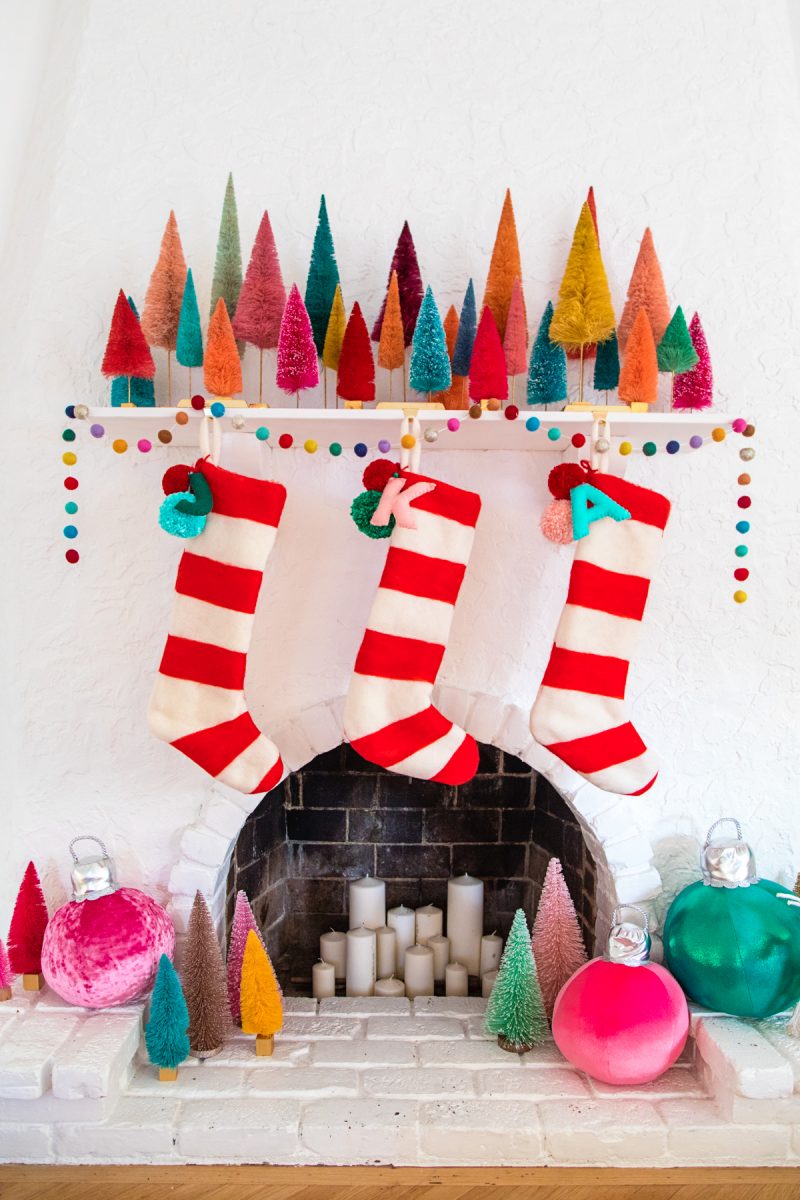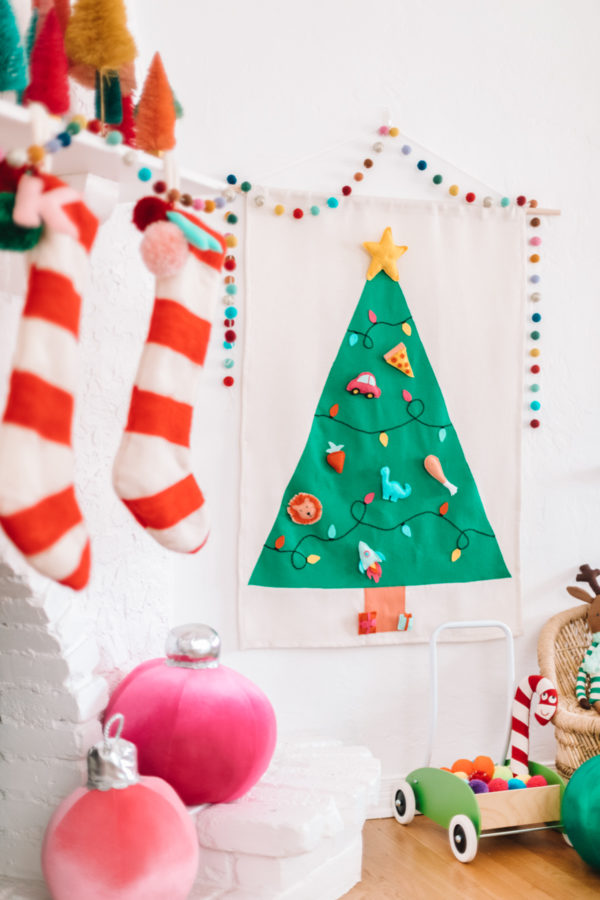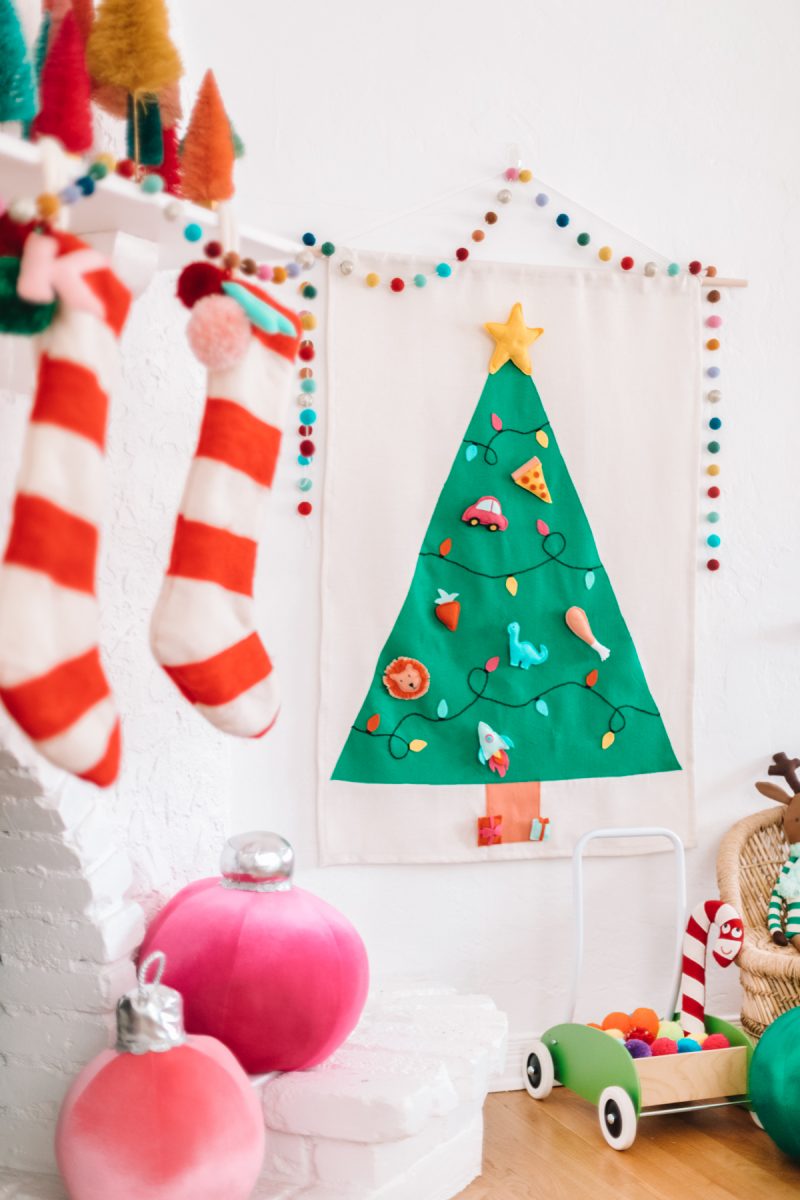 Living Room Christmas Decor Sources
DIY Felted Stripe Stockings | DIY Christmas Tree Wall Hanging
DIY Ornament Pillows | (Most) Bottle Brush Trees
Garlands from LEIF a few years ago!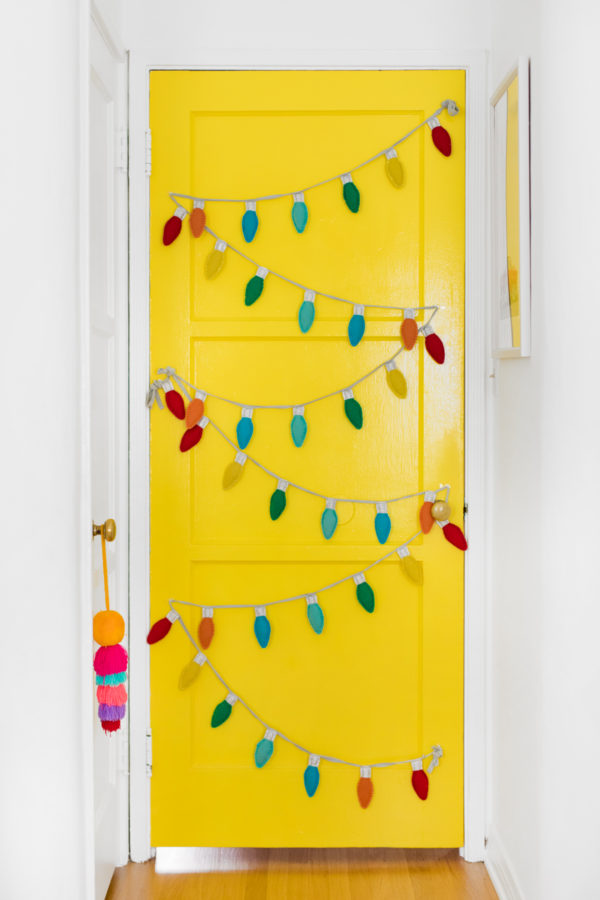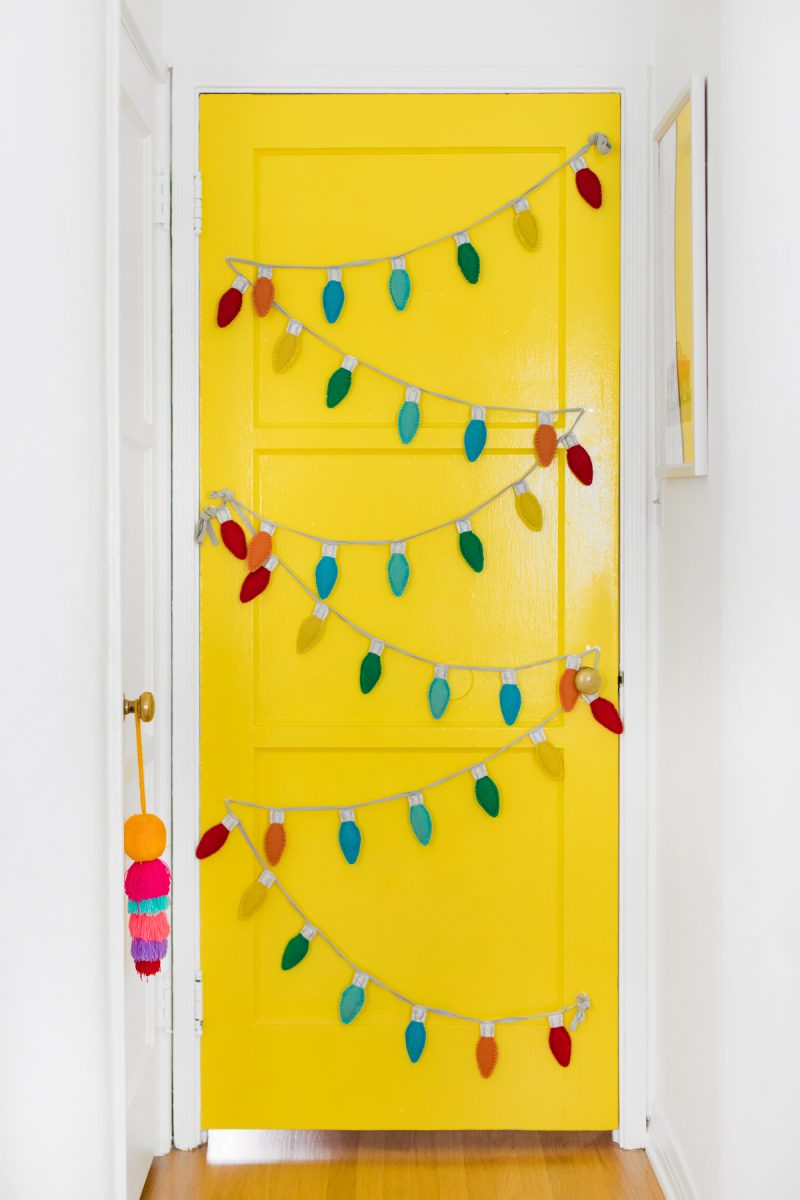 Arlo's room got a bunch of little touches! I recreated his door from last year and still love it just as much. And you guys, he LOVED decorating his tree this year!!!! He art directed the whole thing, pointing to where he wanted each ornament and then asking for "more" ornaments… and garlands… and lights… over and over. It was so cute.
It's funny, last year I bought all these ornaments for the tree on a whim, not really knowing what he'd end up loving (he was only about 9 months!) and now cars, giraffes and elephants are a few of his favorite things!!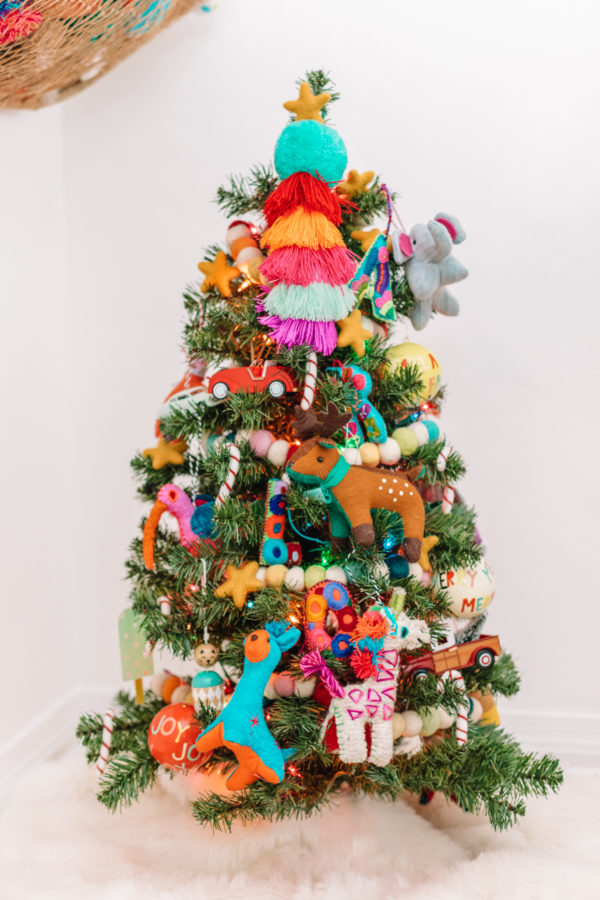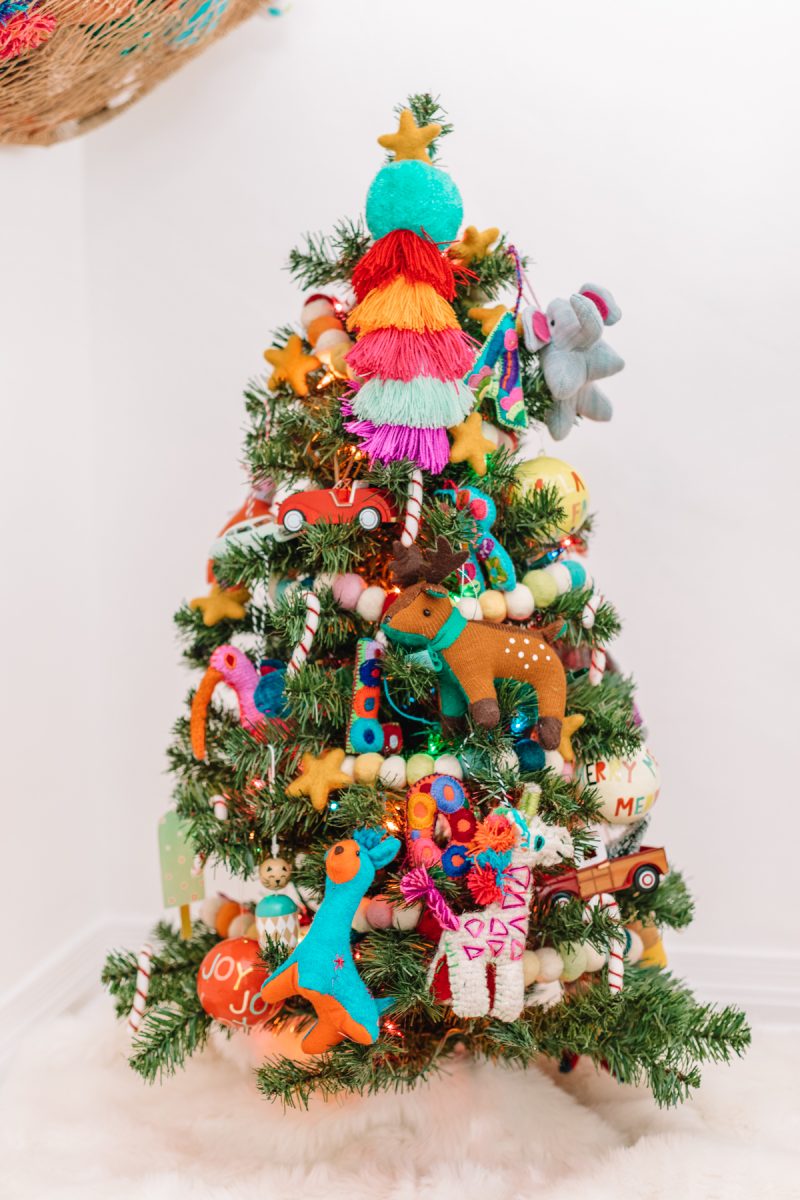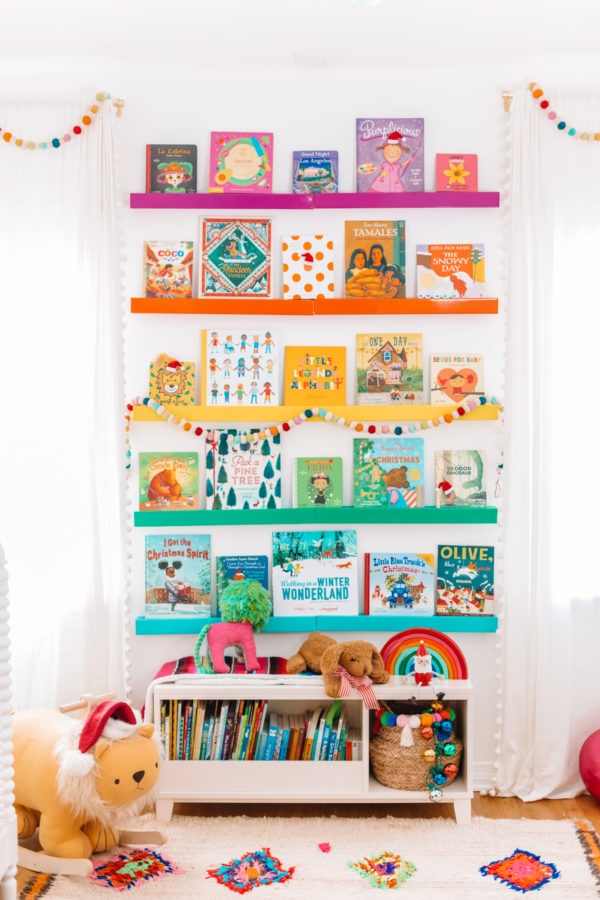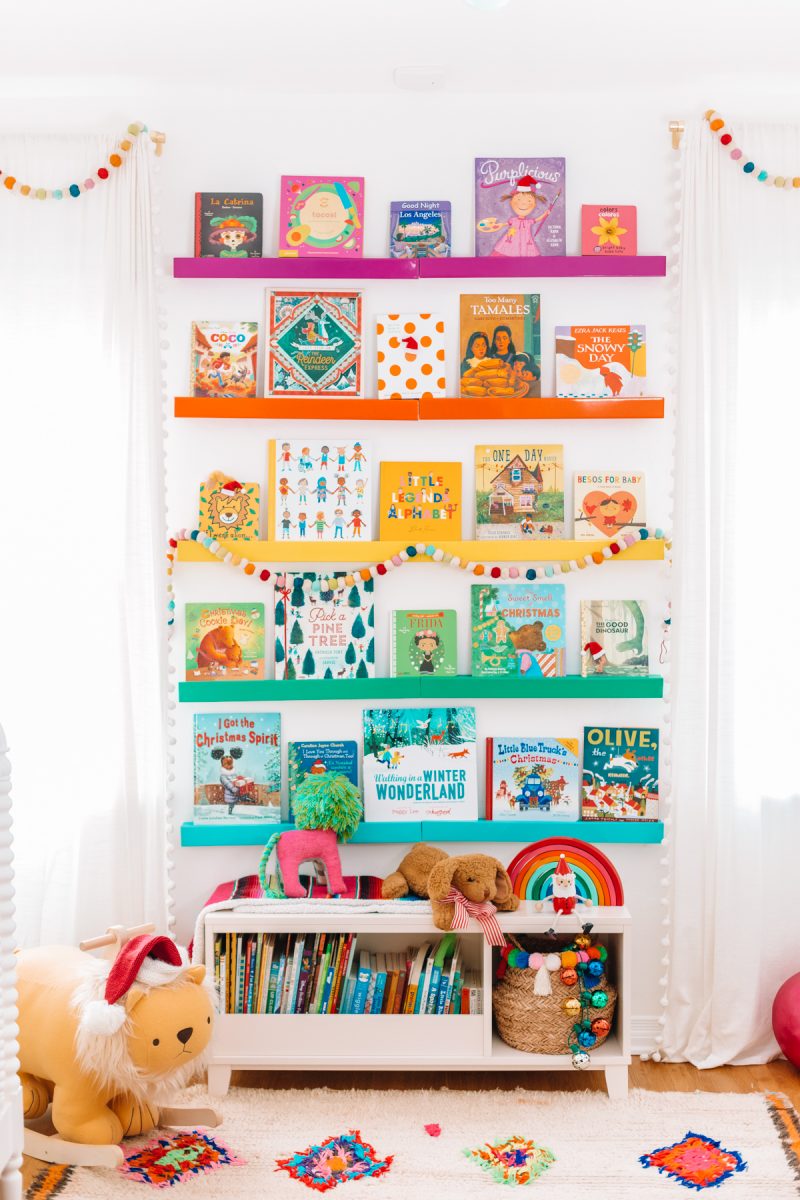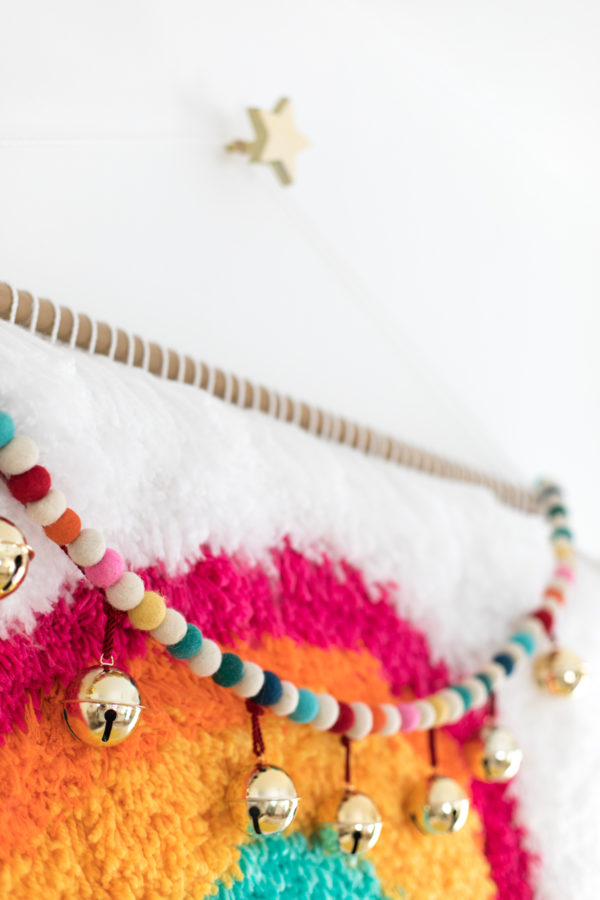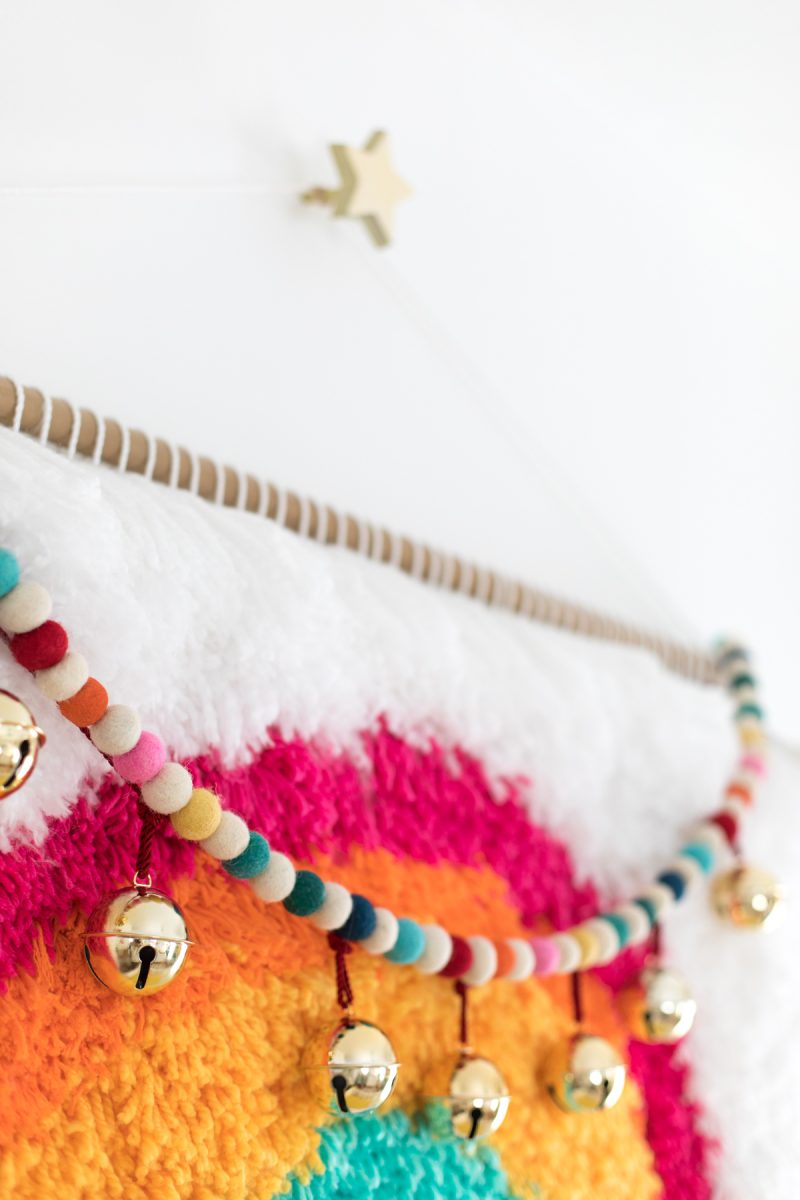 I think I have a garland problem. But I had to add some Christmas to his cactus and his rainbow wall hanging!!!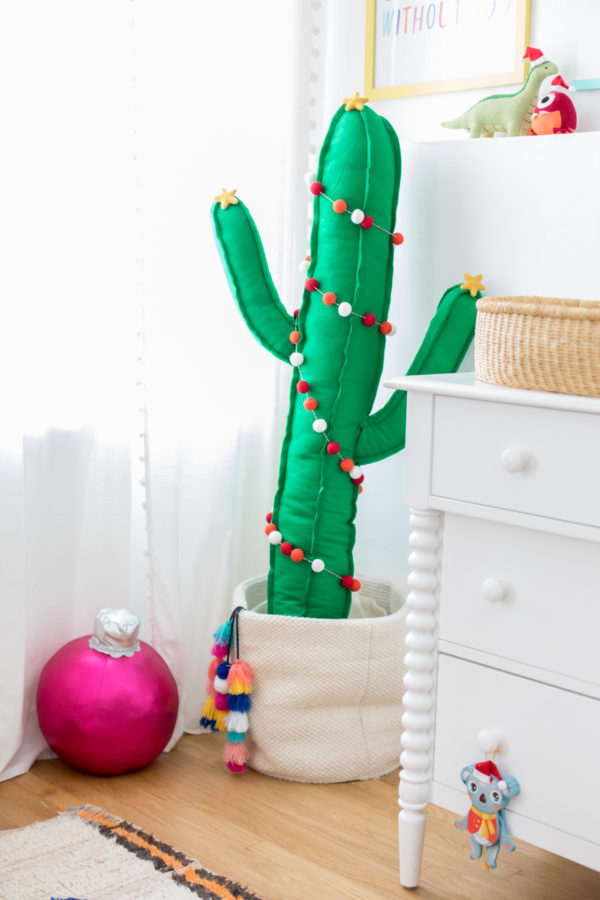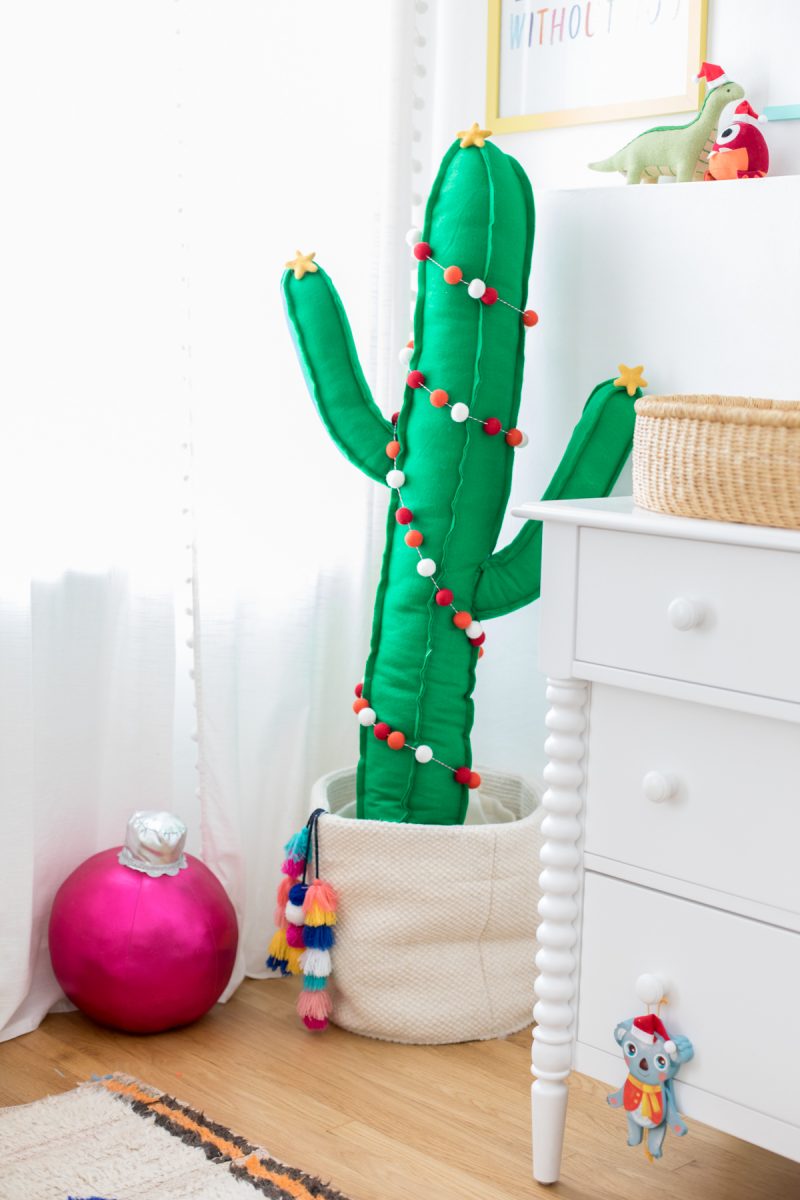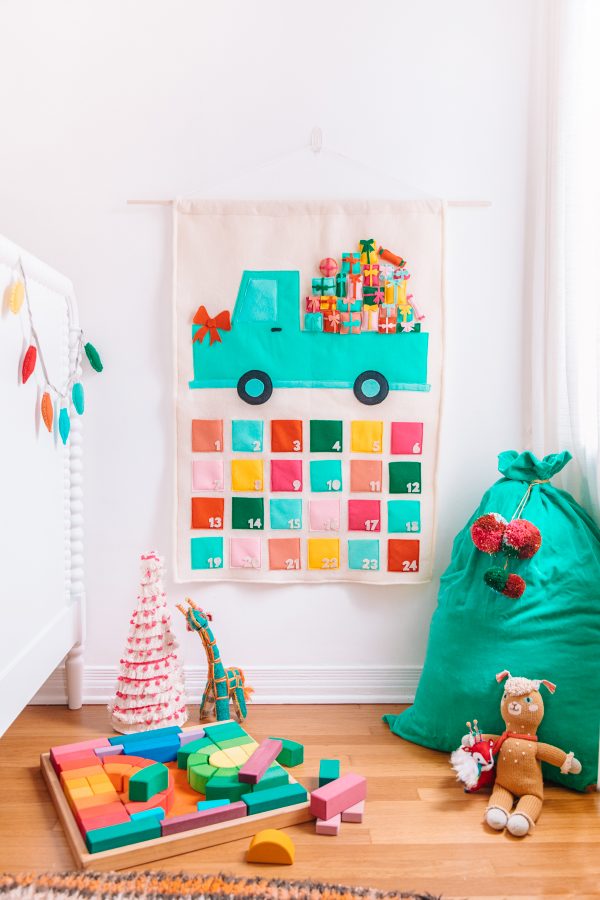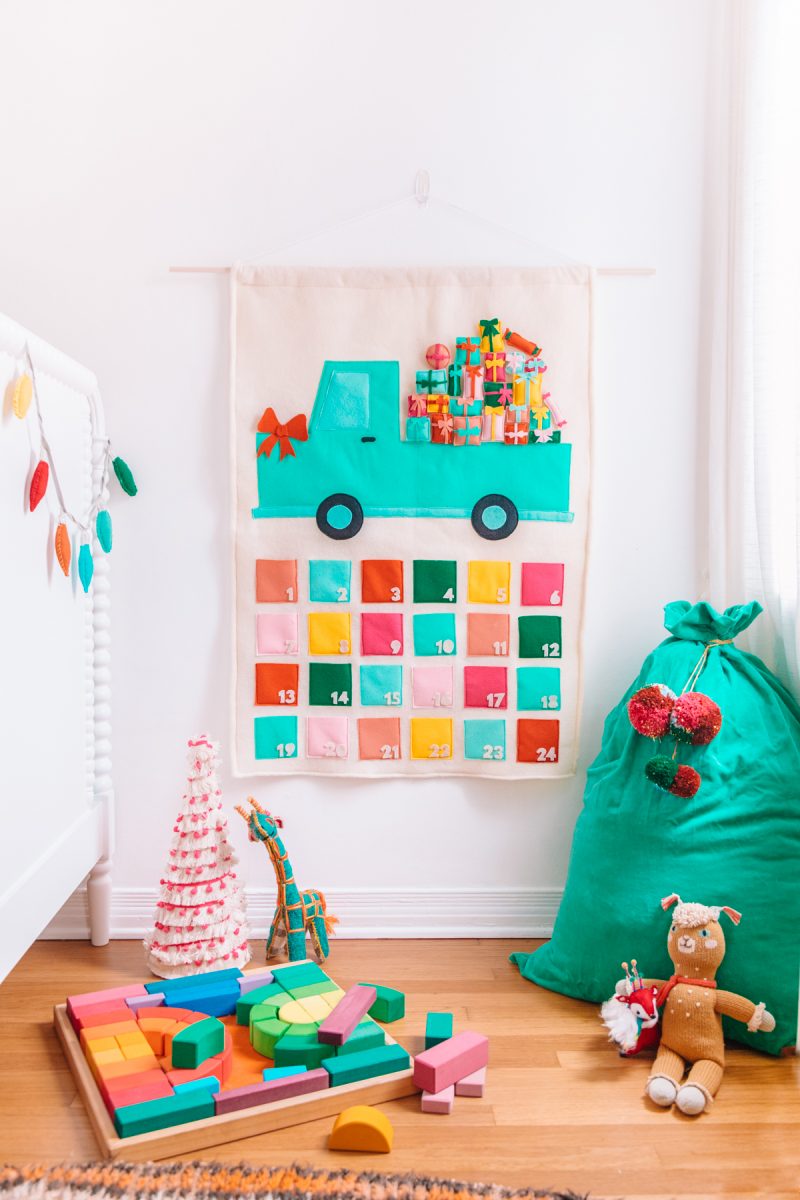 Arlo has been way more into his advent calendar than I expected. He's so proud every time he puts a present on the truck.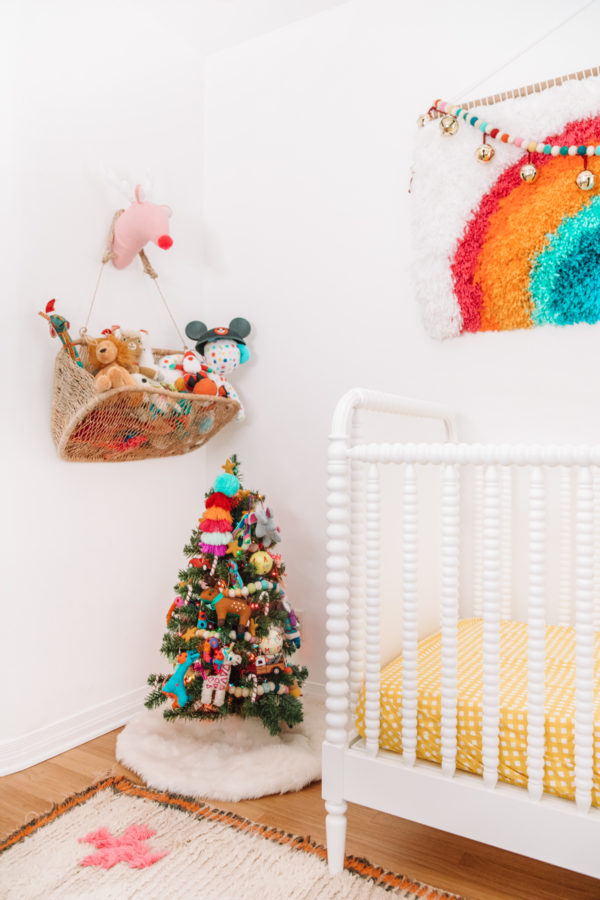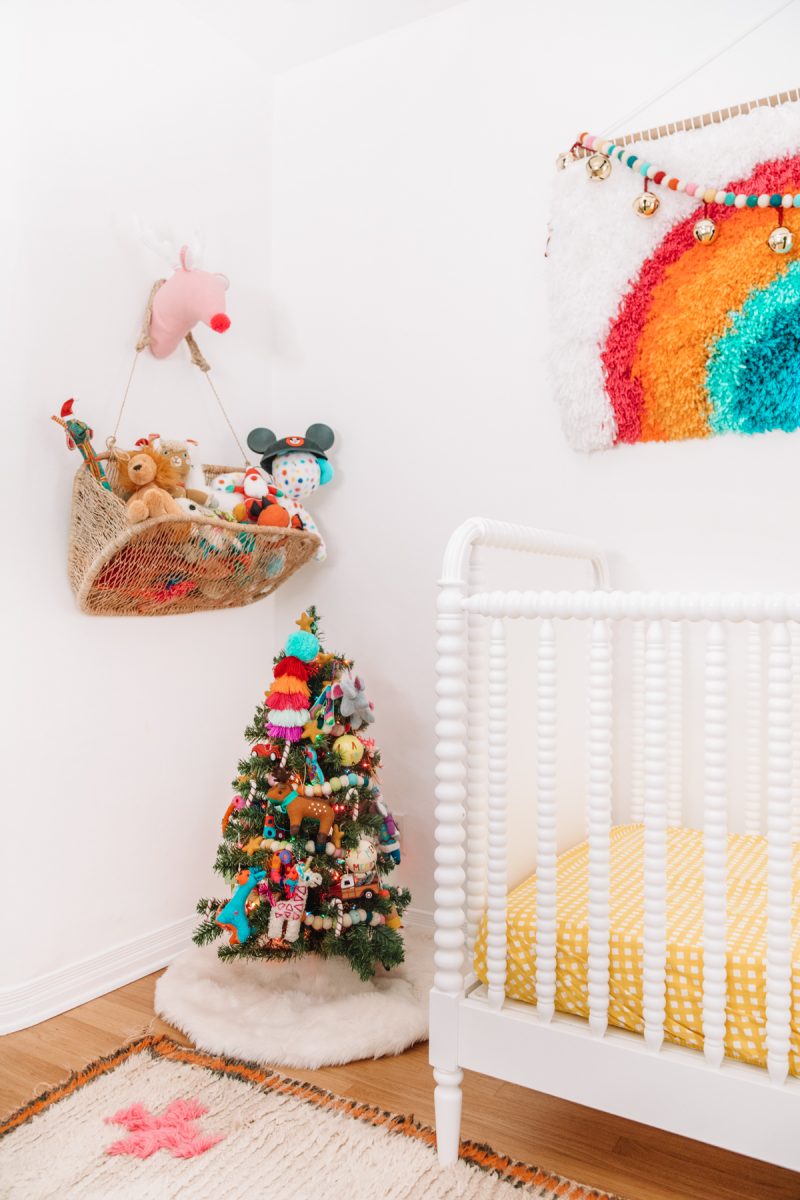 A few of his stuffed animals and books got little Santa hats too! (You can find our favorite holiday books here! And other favorite books here!) And our Christmas forest is living on the ledge in his room.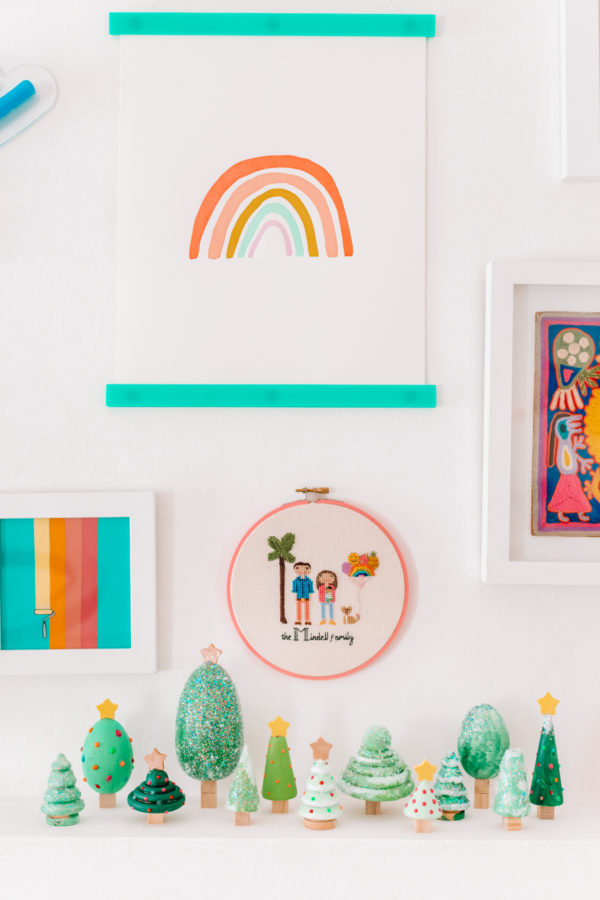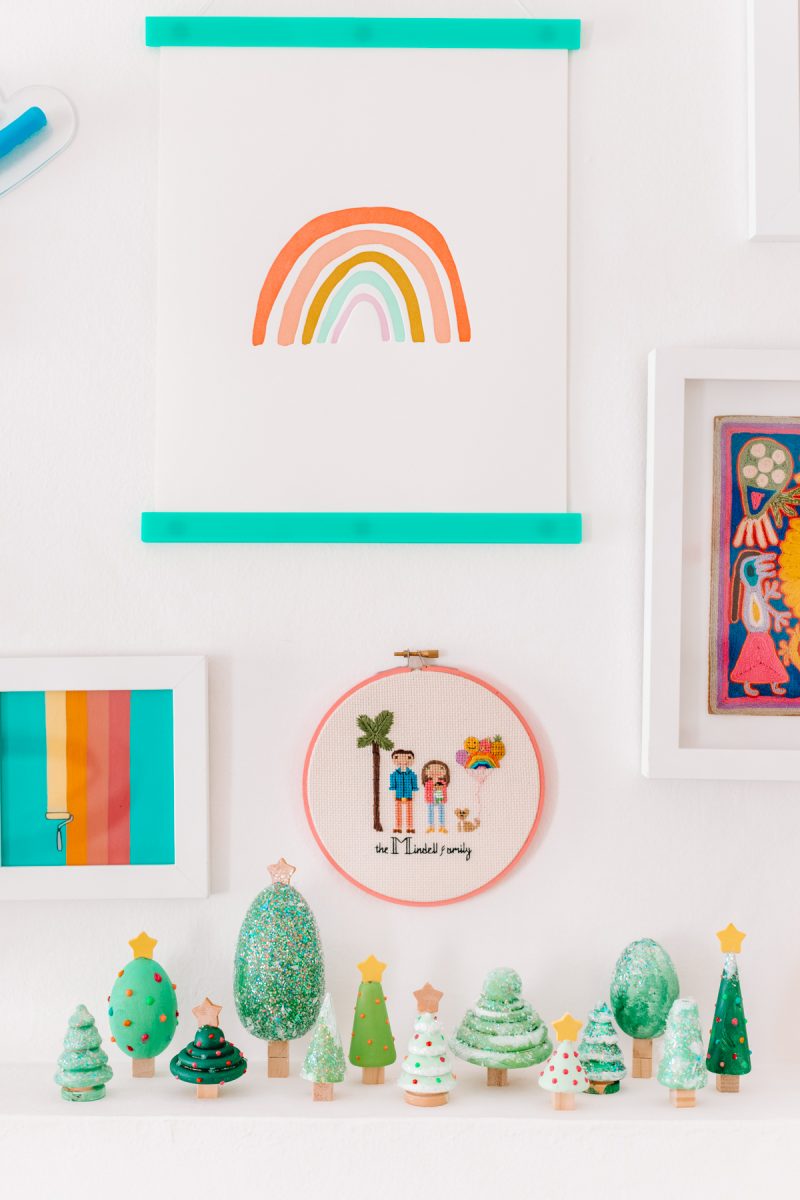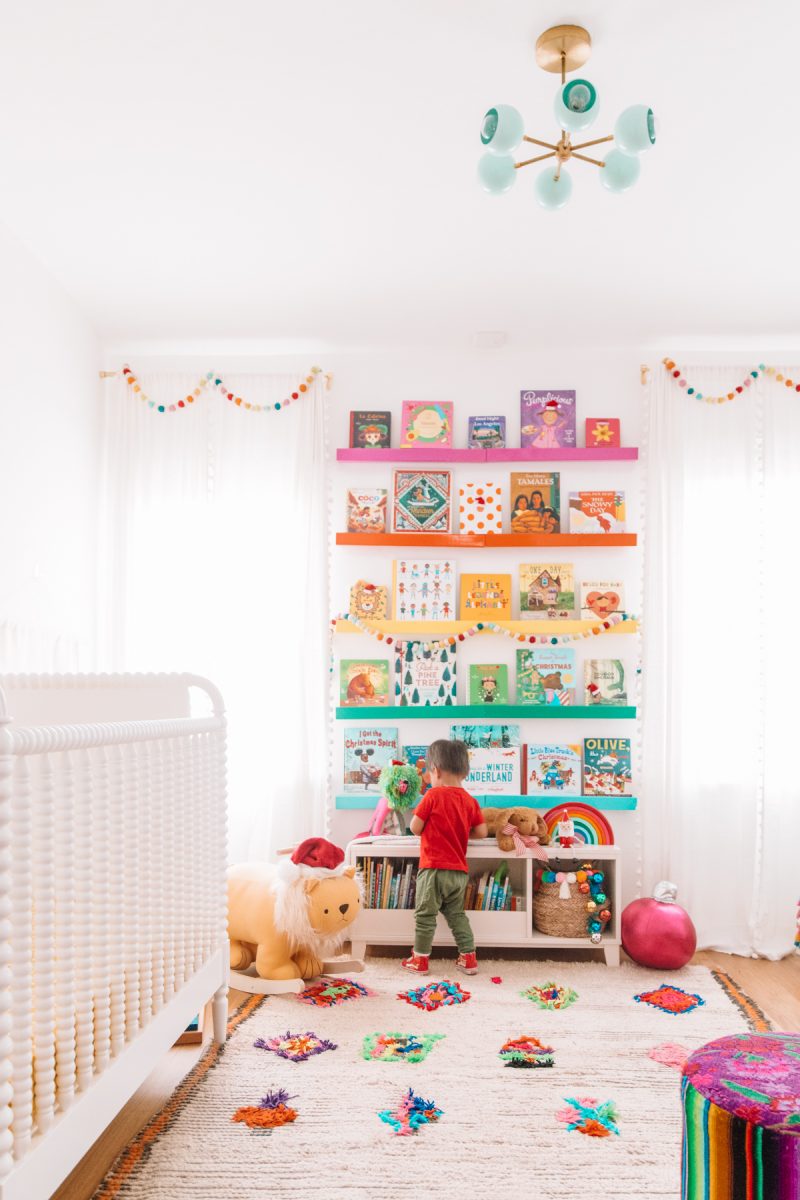 Arlo's Room Christmas Decor Sources
DIY Truck Advent Calendar | DIY Wooden Christmas Tree Forest
Christmas Light Garland | Rainbow Felt Ball Garlands from Michaels (Here's a similar one!)
Bell Garland | Red Felt Ball Garland + Felt Stars | DIY Plush Reindeer Head
Santa Sack
For the actual room decor sources from Arlo's room, click here!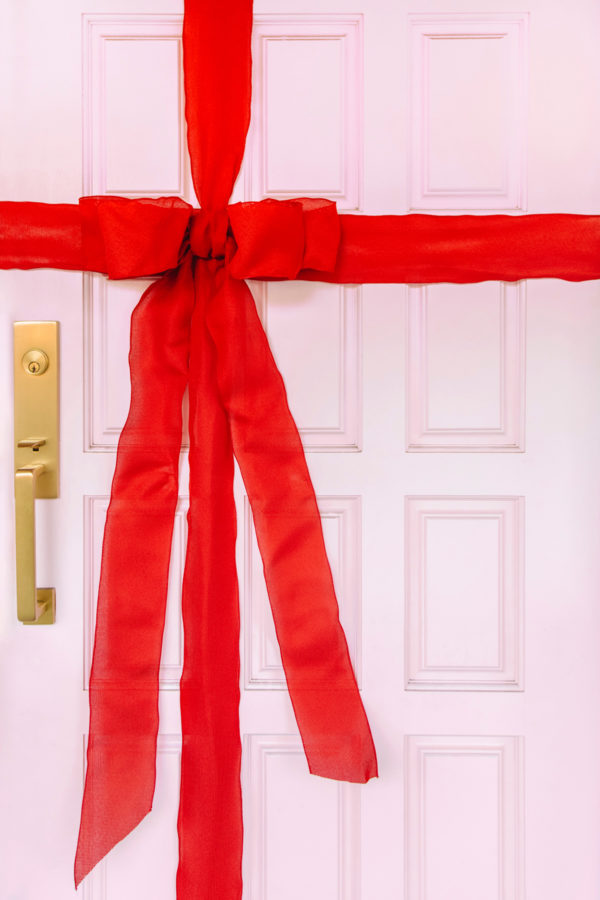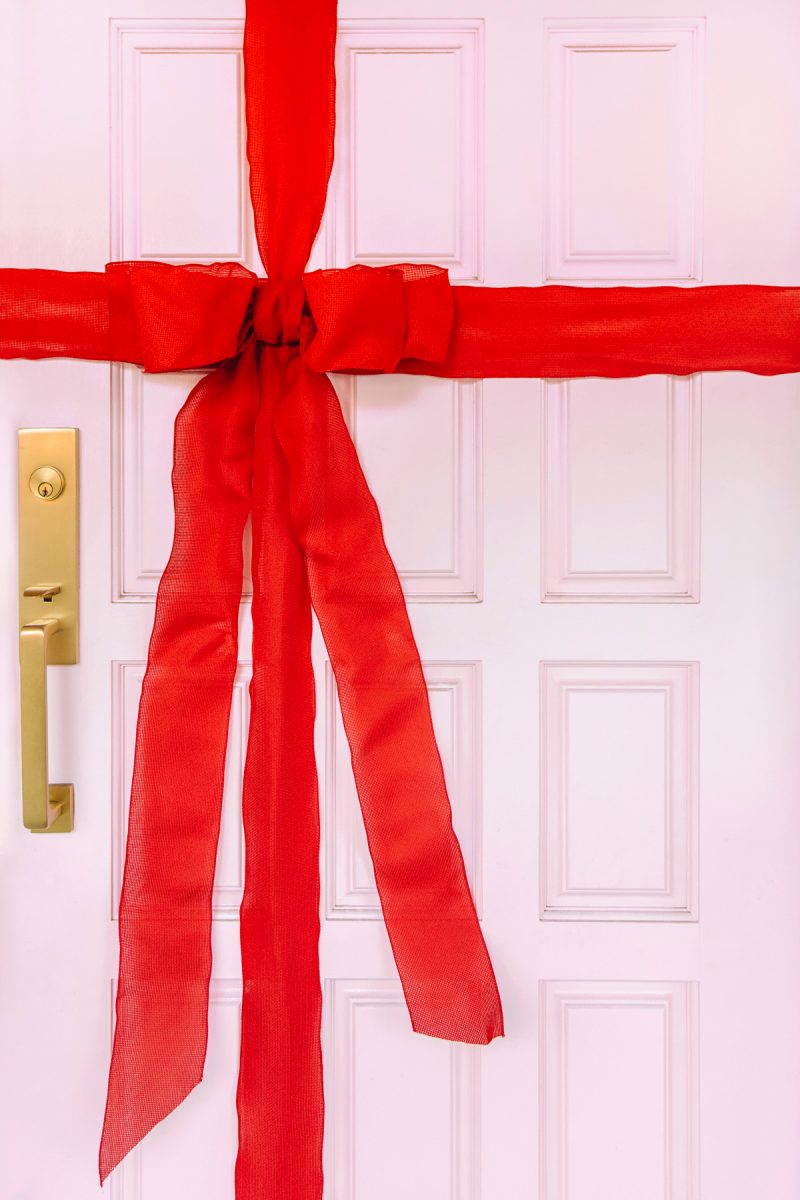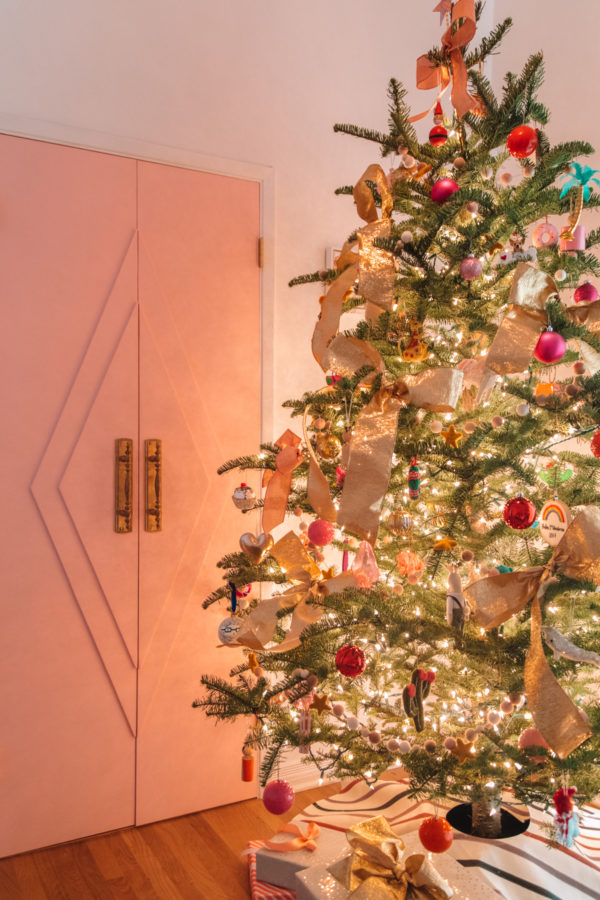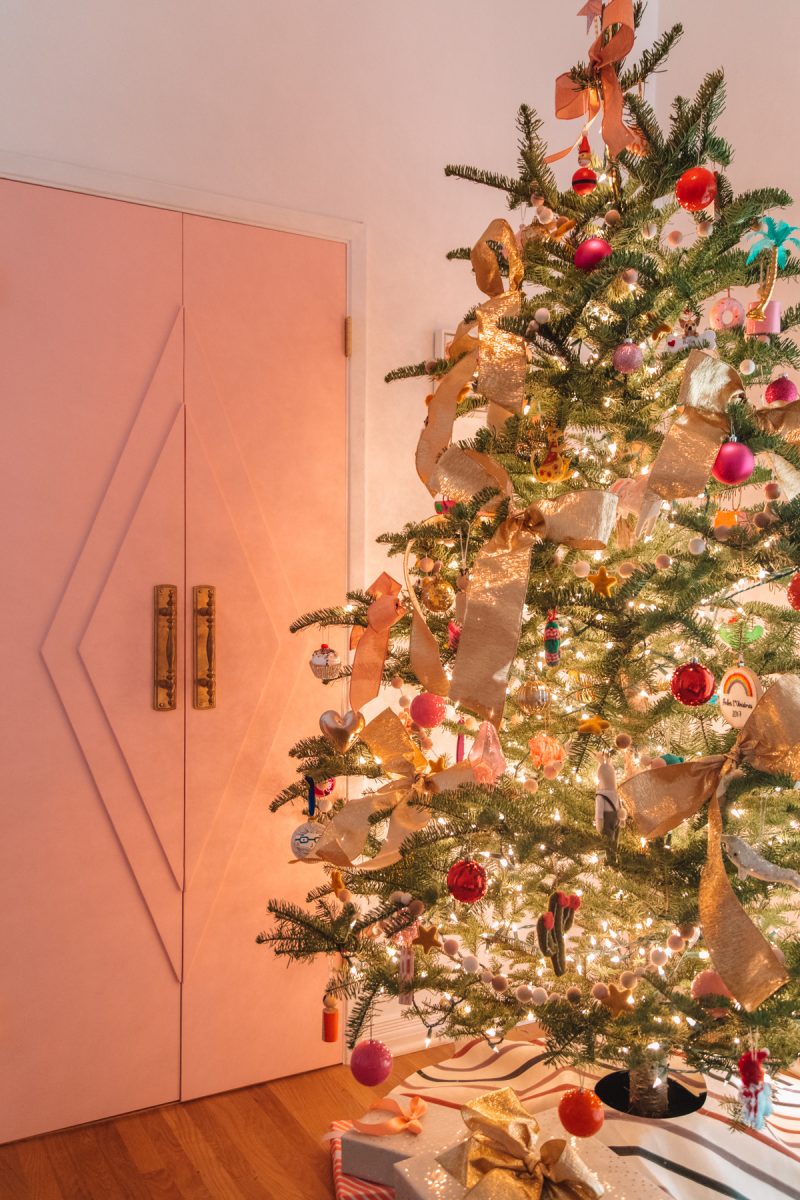 Photos by Jeff Mindell
And there you have it!! How crazy do you guys go with the holiday decor?? My mom used to add little bits and trinkets all OVER our house (to every cabinet, door, shelf) so I think it's in my blood! 😉 And this is only like HALF of the things I wanted to do. LOL!! It really is the most wonderful time of the year!!!!!!