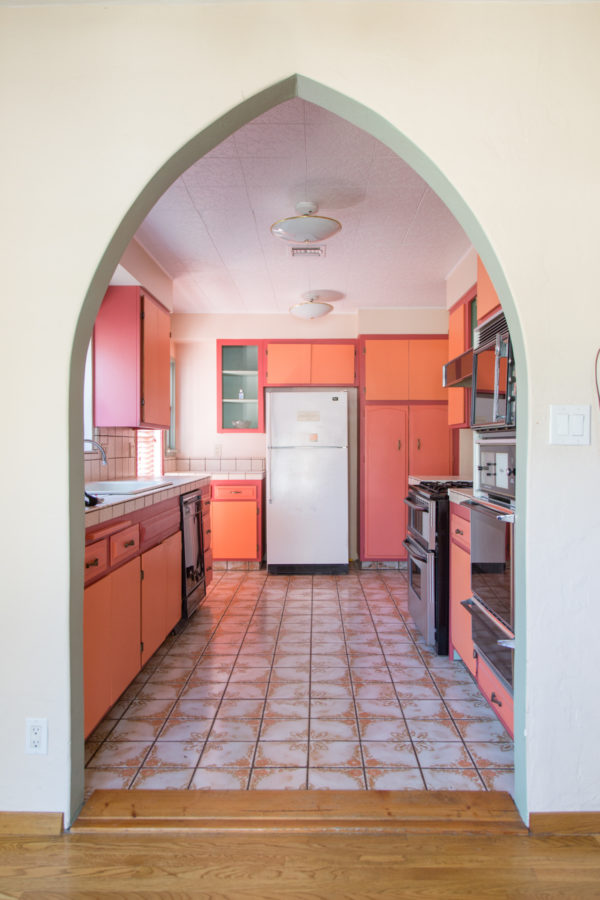 That kitchen up there is NO MORE!! Can't even believe it. When we bought this house we couldn't wait to take on this kitchen renovation and we finally broke ground a few weeks ago!!! Things are moving fast on this project so I wanted to share a bit about our plans for the kitchen and our final decision on opening, or not opening, it up! I also wanted to answer some of the renovation questions you all left me over on Instagram throughout the post so keep on reading for those, too! But first, a few "before" photos…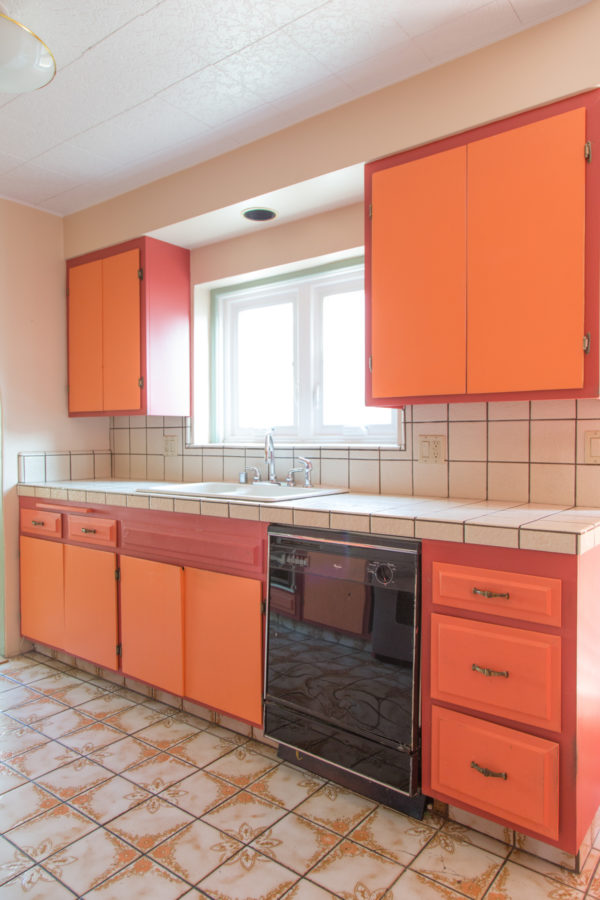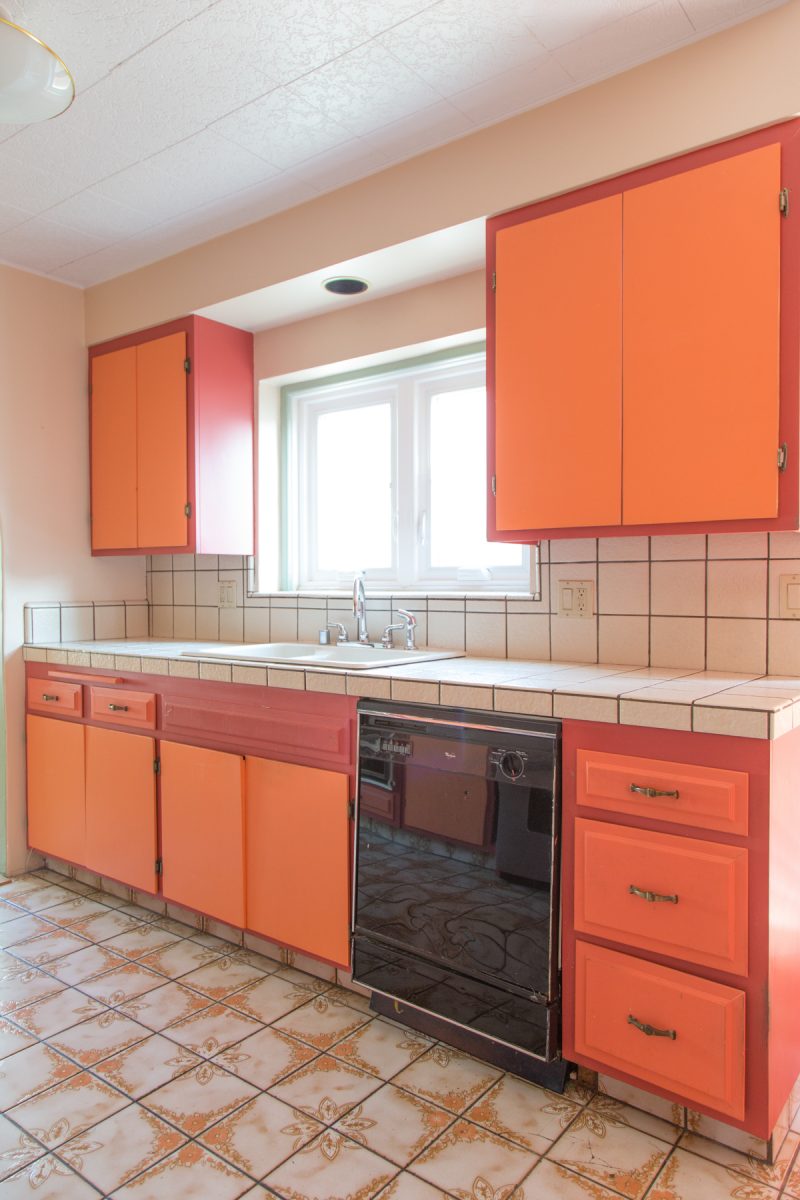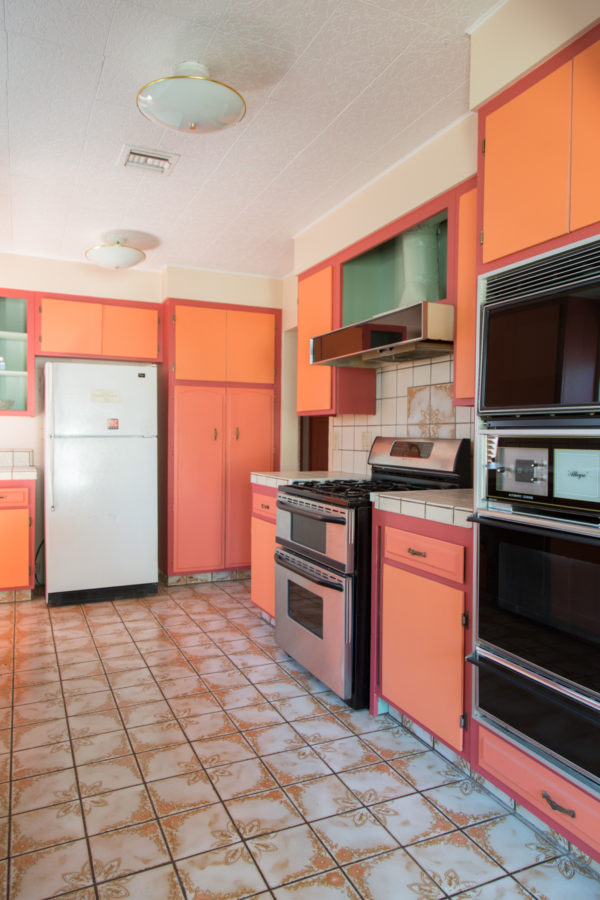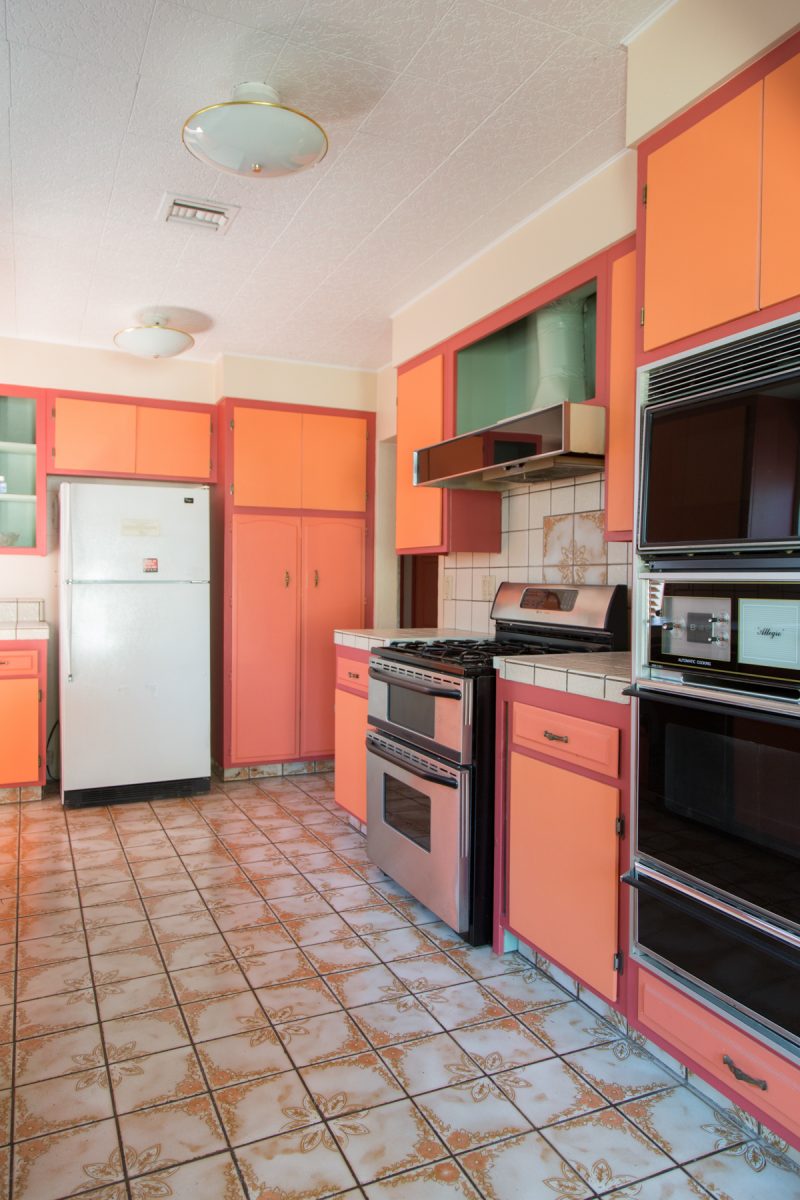 Our house was built in 1938 and the kitchen was seemingly gradually "updated" over time making for the above hodgepodge that we moved into! Tiled counters, non-functioning wall ovens, crumbling cabinets, coral/red/sage green color palette and all! We were very grateful that the major appliances were in good condition (if you don't count the wall ovens and the dishwasher held together by electrical tape…) and we were able to wait it out a bit before diving into the renovation. But now that we're here…
How To Modernize An Old House But Keep the Character
I am very much in the "if you buy an old house, keep the charm of the bones and don't completely gut it" camp. In fact, that's why the previous owners decided to sell to us versus the all-cash buyers who wanted to gut the place.
But after living in it, the greatest debate in our household was if we should open up the wall to the kitchen or not. Functionally, we really needed to be able to see into the living space so we could keep an eye on Arlo and also so that whoever was cooking didn't feel so isolated. But we bought the house for the arches and 1930s charm and we did NOT want to lose the character.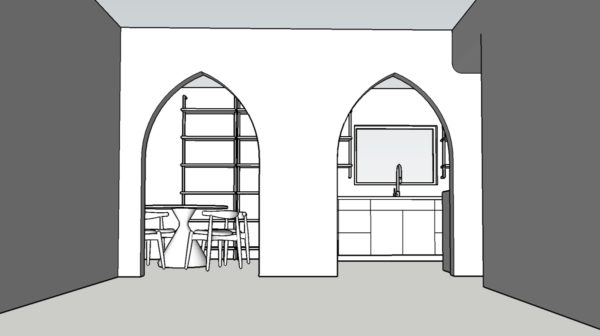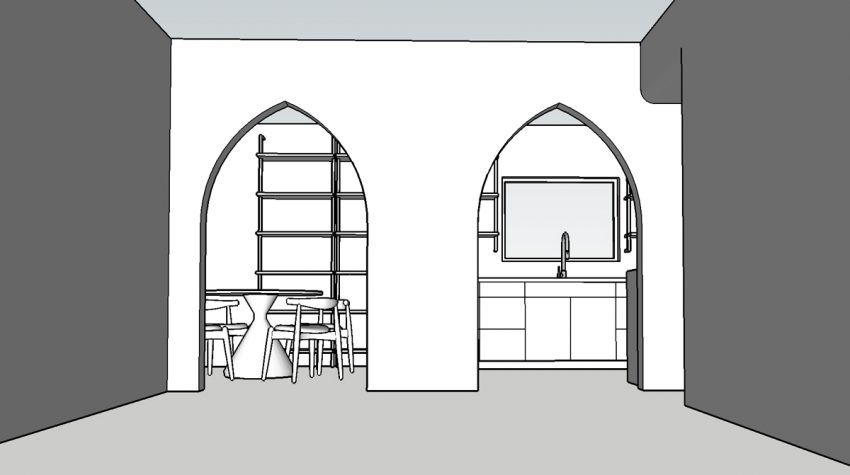 Luckily, I happen to have a cousin who is an architect so we invited him over for dinner one night and then forced him to solve all of our problems. Haha! He came up with a solution that I feel dumb for not having though of before: to replicate the already existing arch and make a more visible opening into the kitchen. It would give us an easier way to view what was happening in the living room, open up the house a bit since the living area is so small and we'd be able to keep the original arches and antique phone (that's on the wall between the dining room and kitchen).
The sketches you see below are the ones he quickly put together for us. They aren't exact (there's a cabinet or two out of place, shelves will be floating, we'll have an exposed hood, etc.) but it gives you a pretty good idea of what the space will look like! He used SketchUp to make these up, in case you're curious! They have a free version, though sadly I can't tell you how to do anything in it because I've only used to program to view the files he sent!
Old houses aren't usually built to have complete open layouts so it's easier to not force something a home wasn't built for, if you ask me. Instead, look at ways you can build upon the character already there and get closer to your functional needs. This single arch has already made the space look SO MUCH BIGGER and we are thrilled!!!!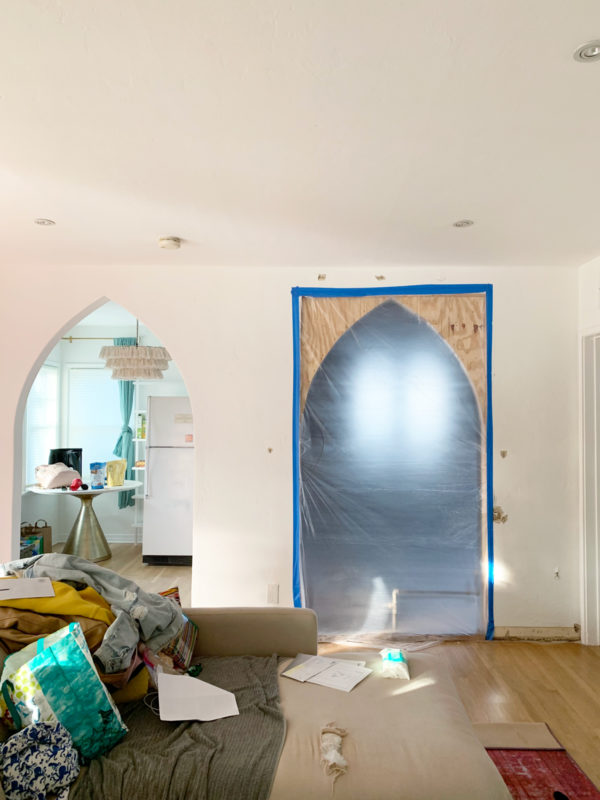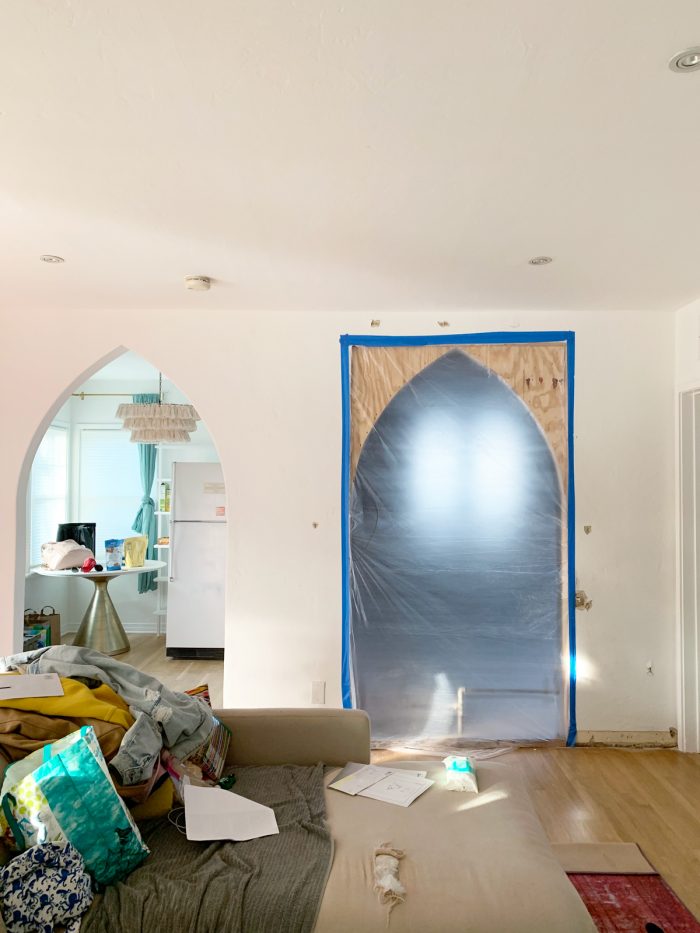 Custom Cabinets vs. IKEA Cabinets
We decided to go with IKEA cabinets for simply the overall ease of the process. Our contractor let us know that custom cabinets would take 6+ weeks and we didn't have that much time to meet our deadline so that pretty quickly eliminated the option. But even if that wasn't the case, I think we still would have gone with IKEA for cost reasons and due to the fact that their pre-existing options fit really well in our kitchen.
They have a online kitchen planner or you can set up an appointment to have an expert help you lay out your kitchen (which is what we did) and everything just fit really well for us so it was a great option.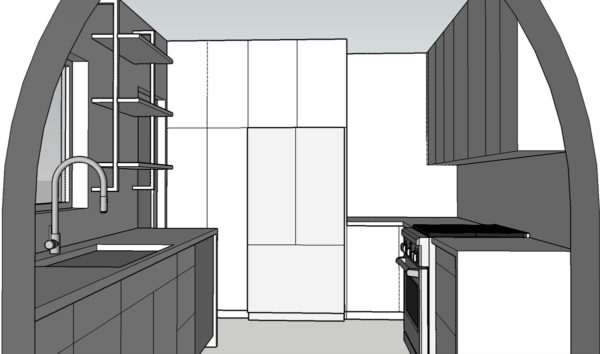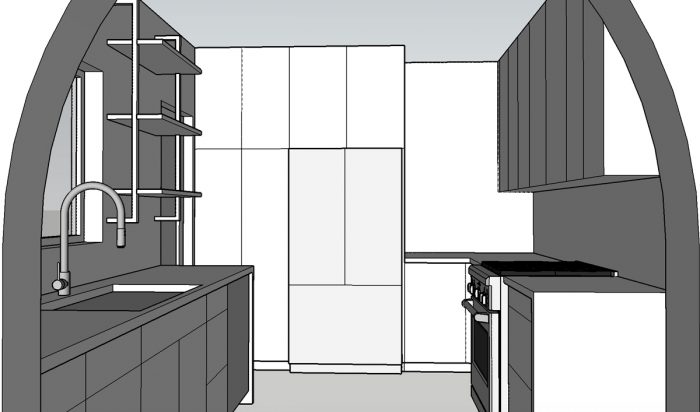 We're going to be adding Semihandmade fronts to all the cabinets and drawers. They're designed specifically to be paired with IKEA cabinetry systemsand they have a "DIY Shaker" style that allows you to paint them any color you want so that's what we're going with!!! I am SO EXCITED. The possibilities!!!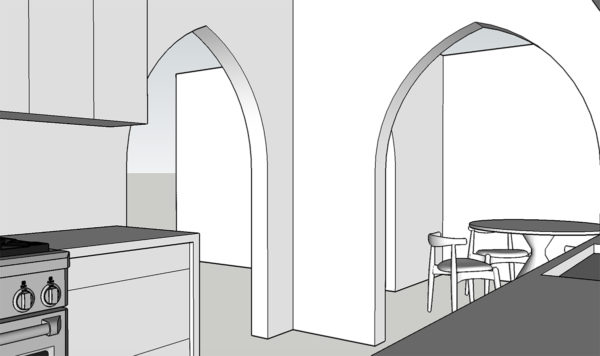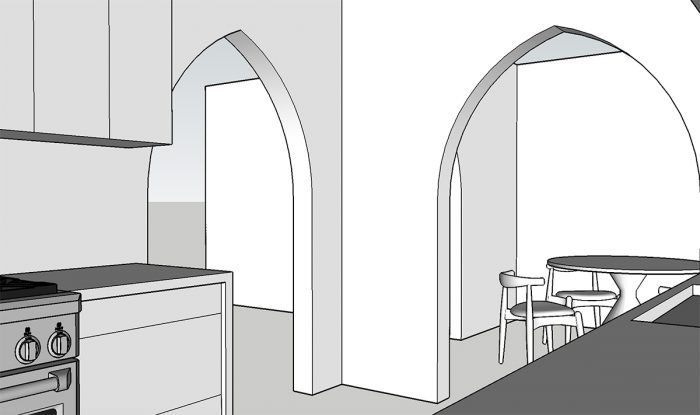 The Best Flooring For A Kitchen
When I asked if hardwood or tile was the best flooring for a kitchen in stories, there was a HOT debate happening. When it comes to hardwood, the biggest pros are that it's easier on your body when your standing on it for hours on end and your dishes won't shatter as easily when dropped. The biggest downside is the risk of water damage, if your sink, fridge or dishwasher leaks there's a much greater risk at the floor being damaged if it's wood.
On the flip side, the biggest argument for tile was its durability against water damage and the ability to have it be more of a bold design element, which you all know I love. However, the downsides were keeping the grout clean, the risk of shattering dishes easily. And of course, personally I just love tile so that was a big draw too. =)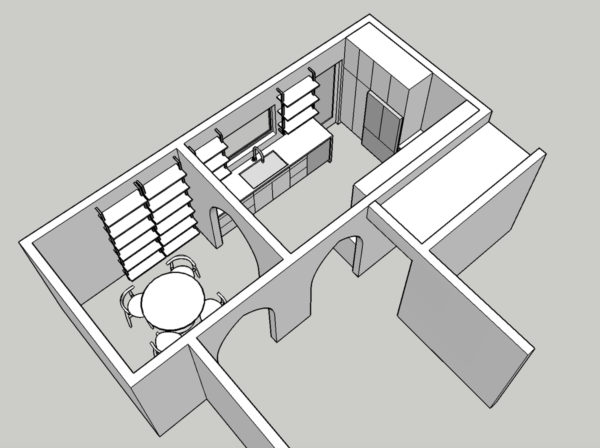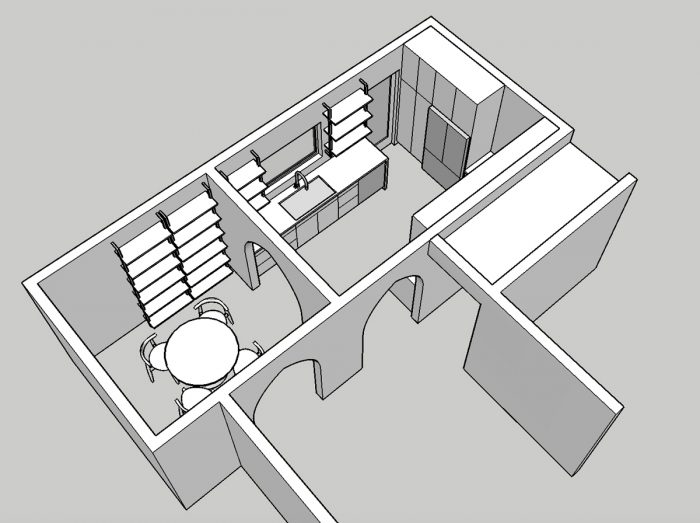 The fact that hardwood would make the kitchen more seamless with the house was a downside for some of you, saying that your open layouts feel almost "too" vast with the same flooring and a plus to others, saying it makes things flow seamlessly from room to room.
Ultimately, we decided to go with hardwood for our kitchen for a variety of reasons. First, I knew that the tile I would want would not be resale friendly and since we went so bold with our tile choices in the bathroom, I wanted to play it safer here. Second, I felt like for our lifestyle, cleaning wood would be easier and that the wood would just be more toddler-friendly overall since Arlo falls about 4,000 times a day. =) It also quite frankly was just one less BIG decision I had to make, which on a timeline so tight was necessary for my sanity.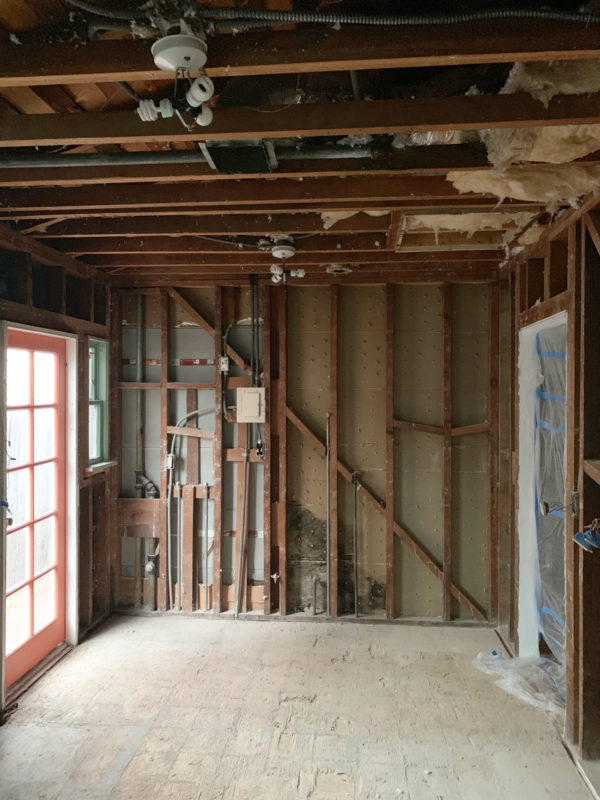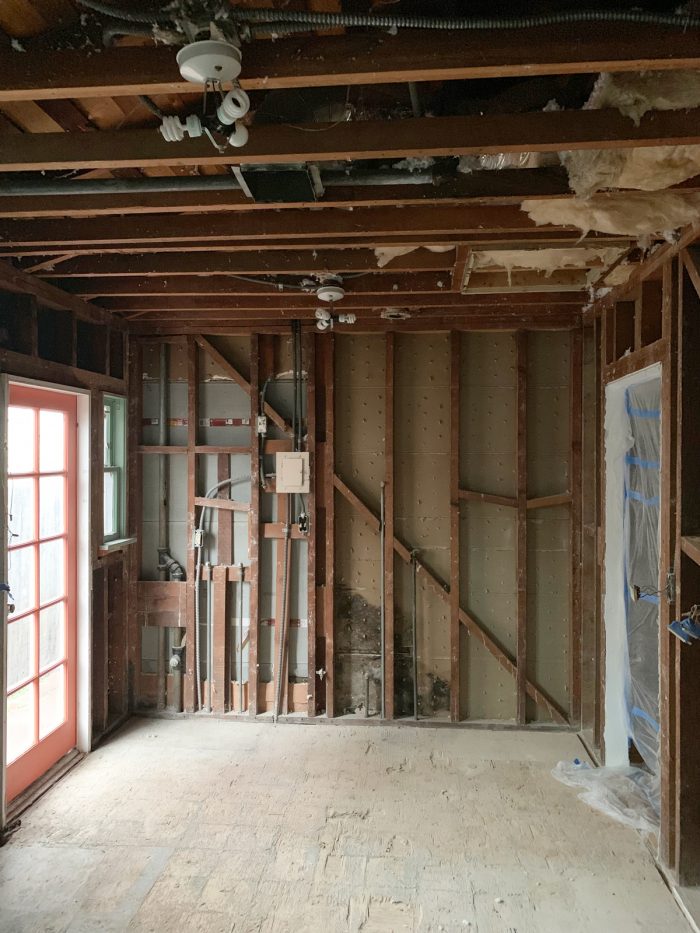 Tips For Saving Money On A Kitchen Renovation
Our contractor let us know that the biggest way to save money on a kitchen renovation was to keep the layout as similar as possible to what was already existing. We're lucky that we already had a pretty good layout (for a galley kitchen, at least) so we did exactly that. Every major appliance will be staying in almost the same exact place it already was. The only difference is that we're eliminating the non-functioning wall ovens (as that is where the arch is opened up). We're then closing up the current doorway that leads to the hall and shifting our range slightly down so we can maximize our counter space.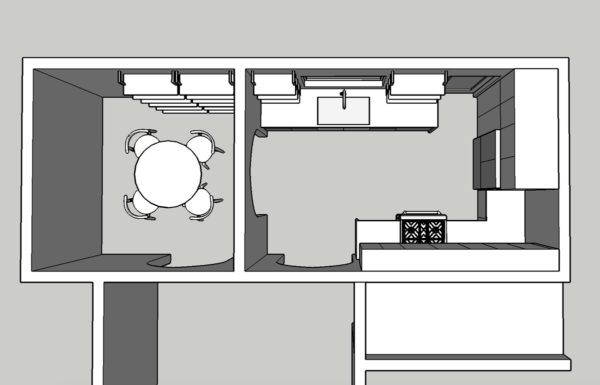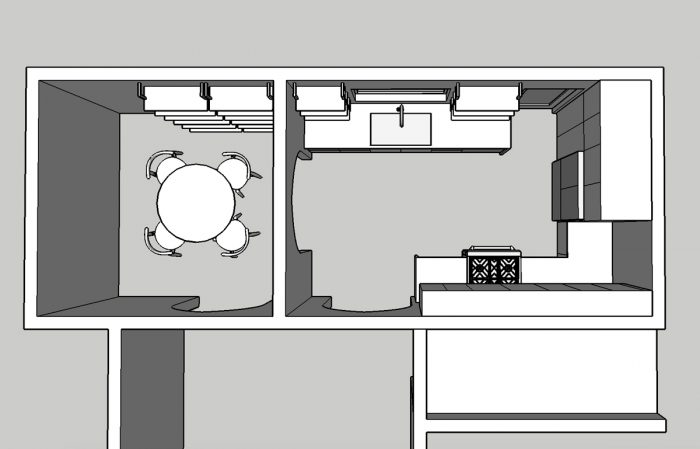 We'll also be keeping the original large window, archway and door to the exterior as is to save money. We will be closing up one small window so we can flip the current pantry to the opposite side of the fridge. We'll be swapping out drawers for a lot of the lower cabinets because we just find them so much more functional.
Since the space isn't huge, we're doing a few things to make it feel bigger. First, we're removing the soffits that actually weren't hiding anything behind them so we can put in taller cabinets and make the ceilings feel taller. We're also removing the drop ceiling and adding two large skylights from Velux to bring in a ton more natural light. Last, we decided to do open shelving on the wall with the sink so that the space didn't feel as closed in by cabinets as the previous space did. It also makes for a great visual from the living room, as that's the wall you'll see… so long as we keep them organized. Haha!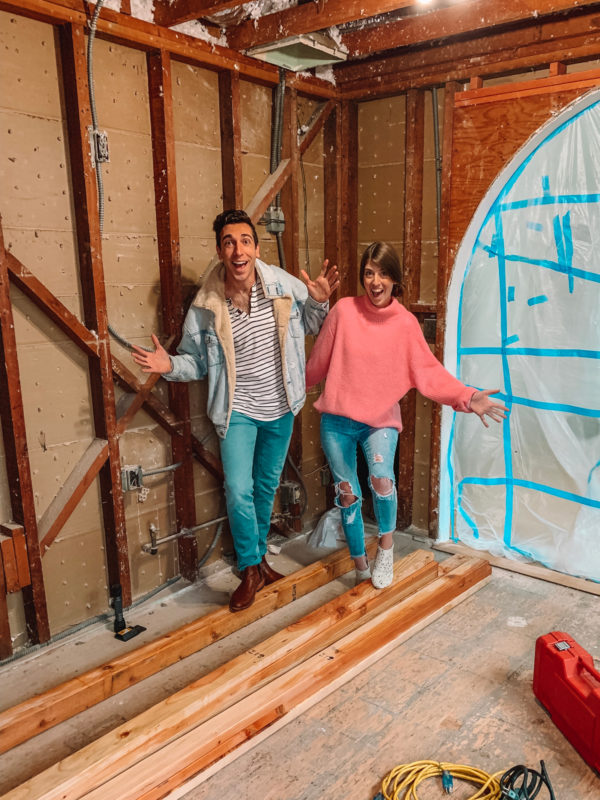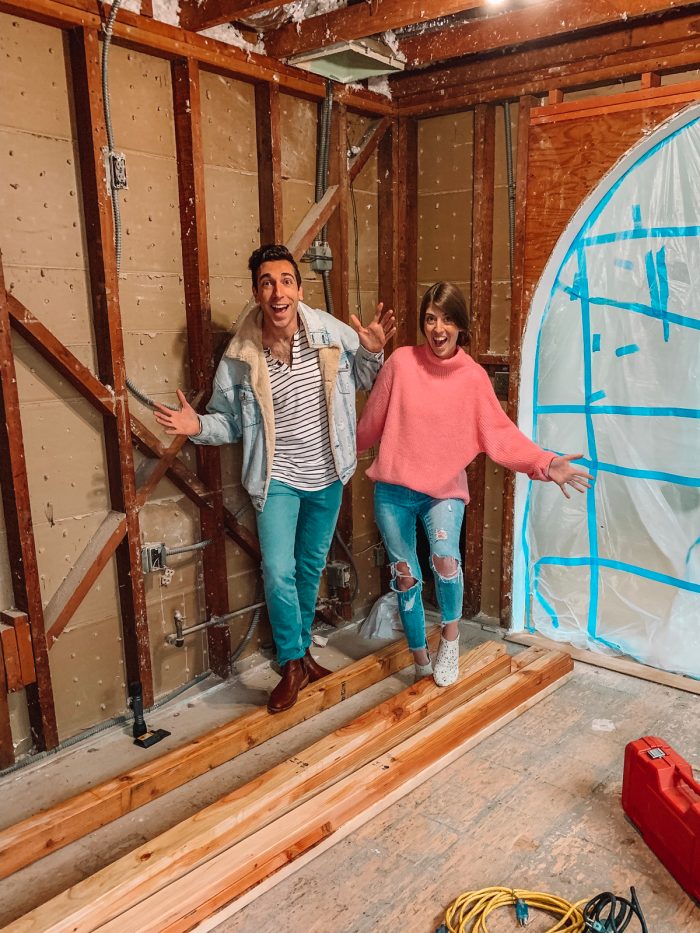 And there's our plans!! Floors are going in TODAY! And cabinets next week! Stay tuned on our IG Stories for more real-time updates and by following our house hashtag #themindwelling!
I'll do another post in the next couple weeks with the actual design and decor plan! I'm still finalizing a few things there. Was also thinking of doing a post about how we've been functioning without a kitchen, would that be of interest to you guys!? Let me know below!!