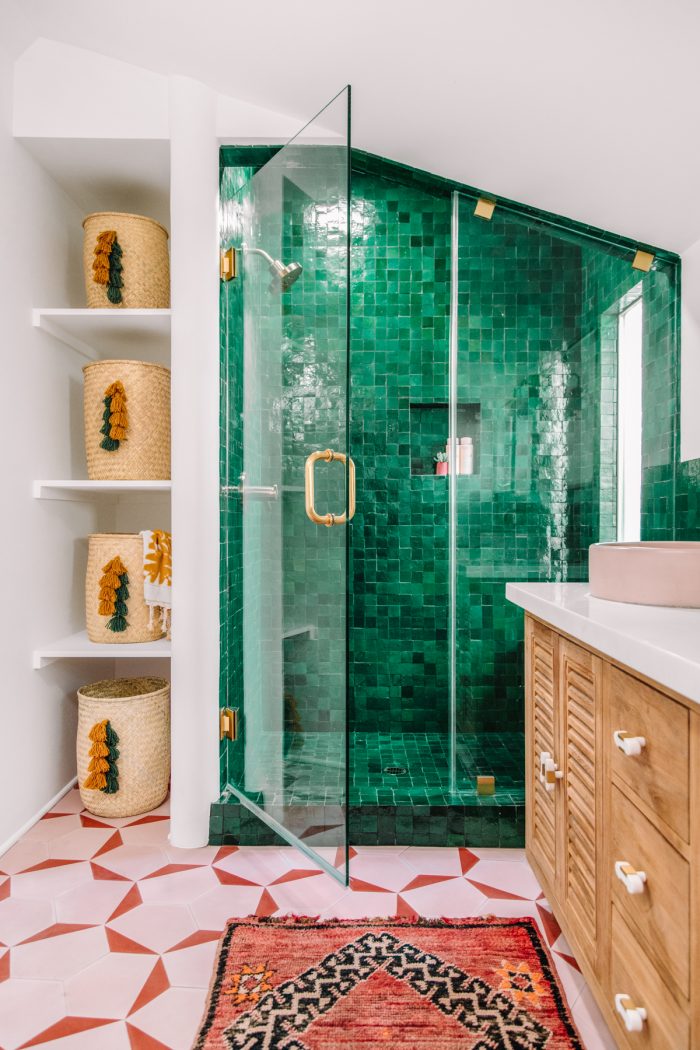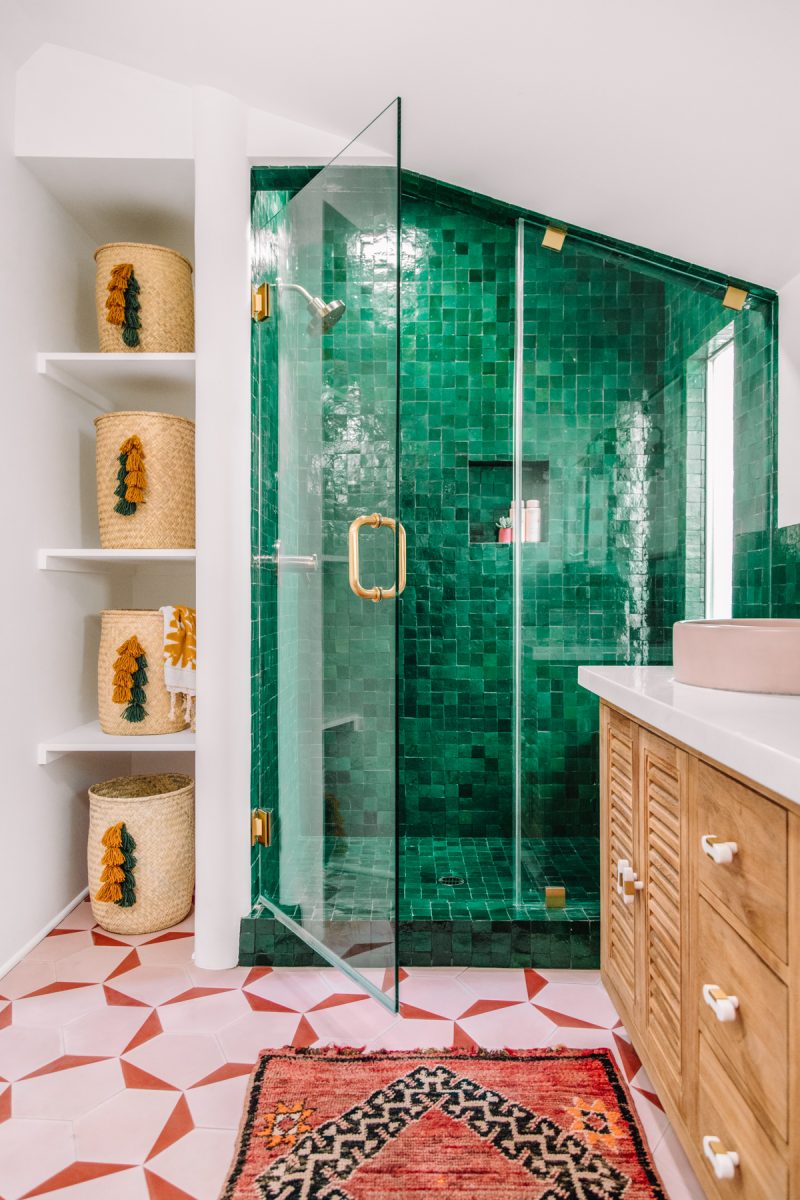 Meet our bold pink and green bathroom!!!!!!!!!!!!!!!!!! This room is the final piece of our main bedroom suite (see the bedroom here and the closet here!) and it feels so good to have this space done!
I knew I wanted to play off the warm pink and peach tones of the bedroom, but add something totally new too. GREEN!! Oh man, am I head over heels for that deep shade of green bathroom tiles. I LOVE how bold it is and how when you look at it from the bedroom it really, really pops.
I'll get into all the details below and share some green bathroom ideas and inspiration, but first let's take a look back at where this room started.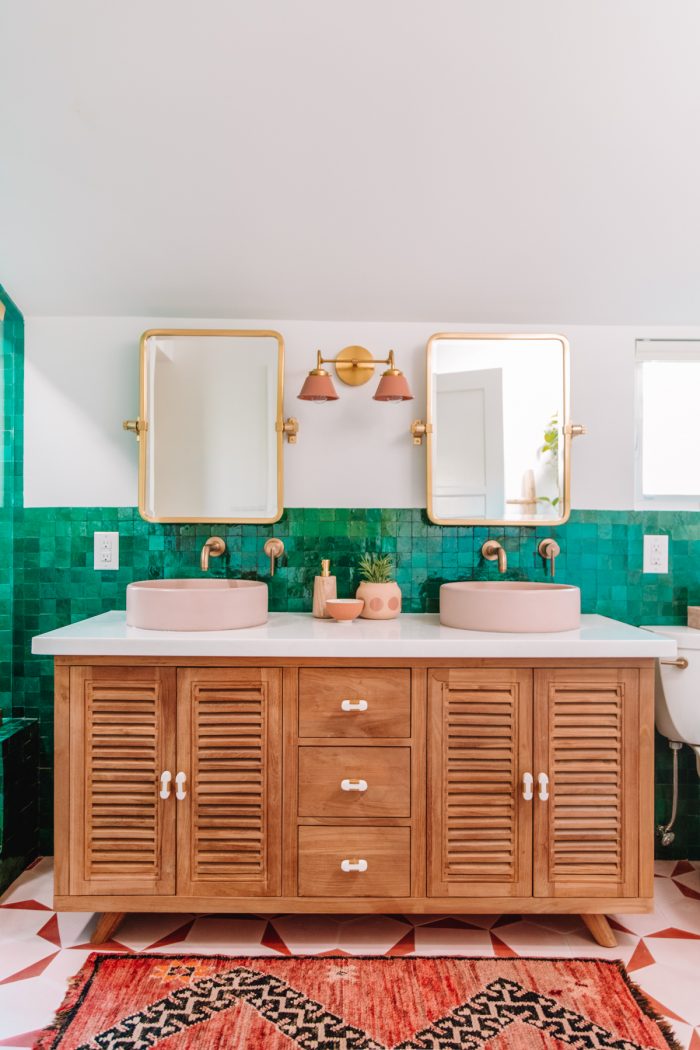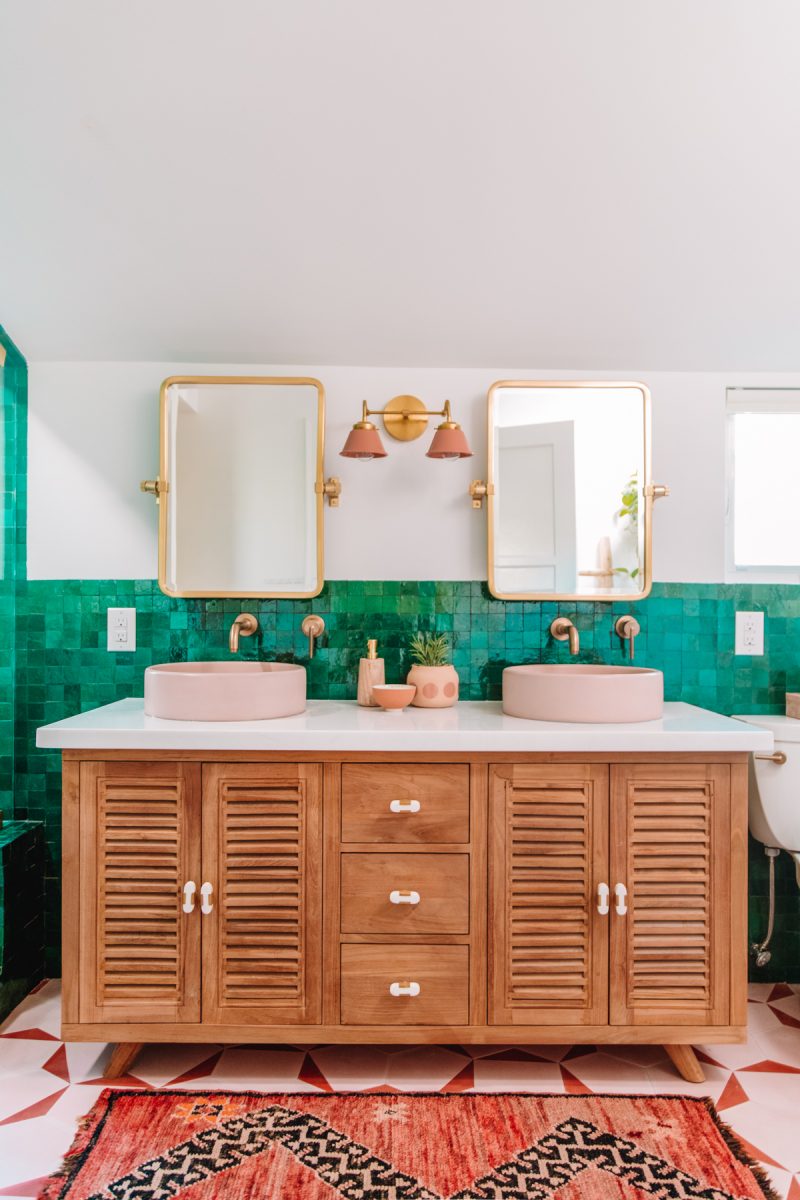 Before Photos
Below you can see what the bathroom looked like prior to our renovation. It was a very old, standard builder-grade bathroom.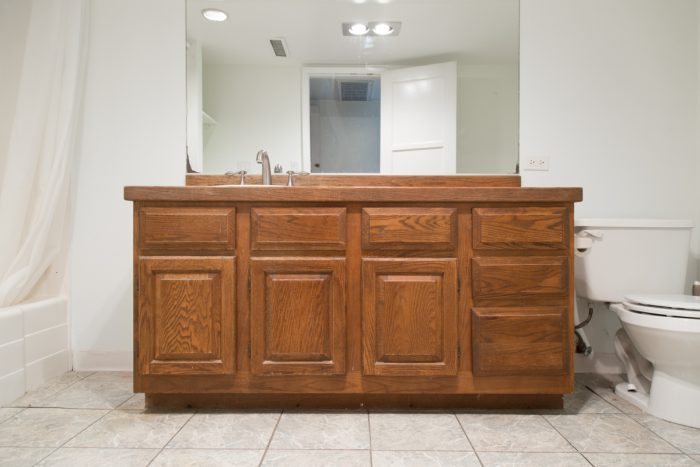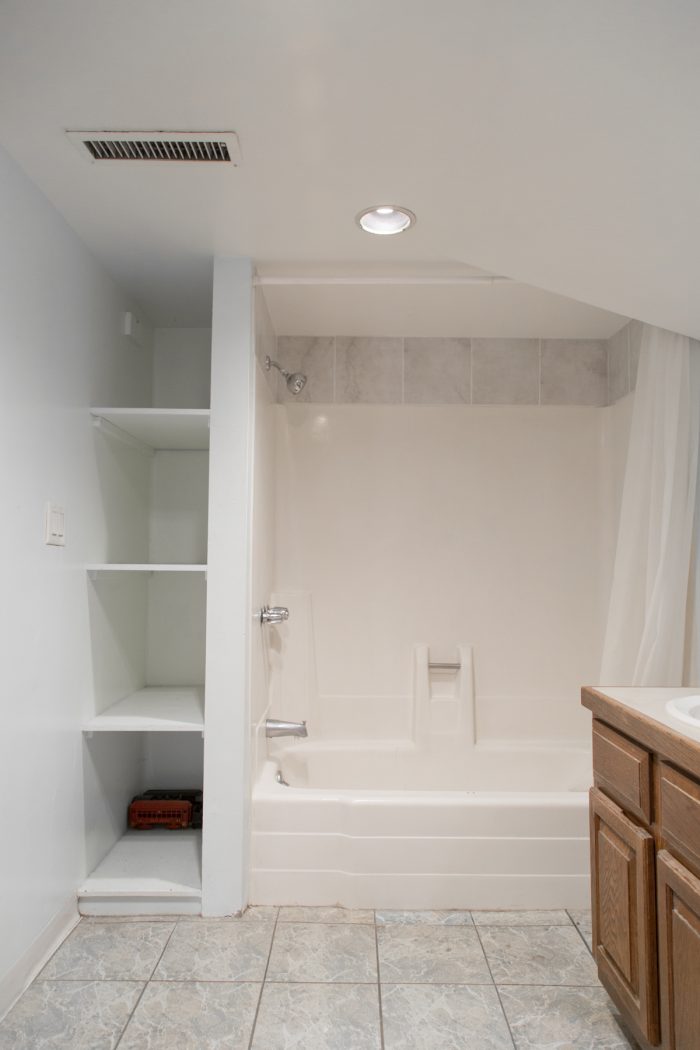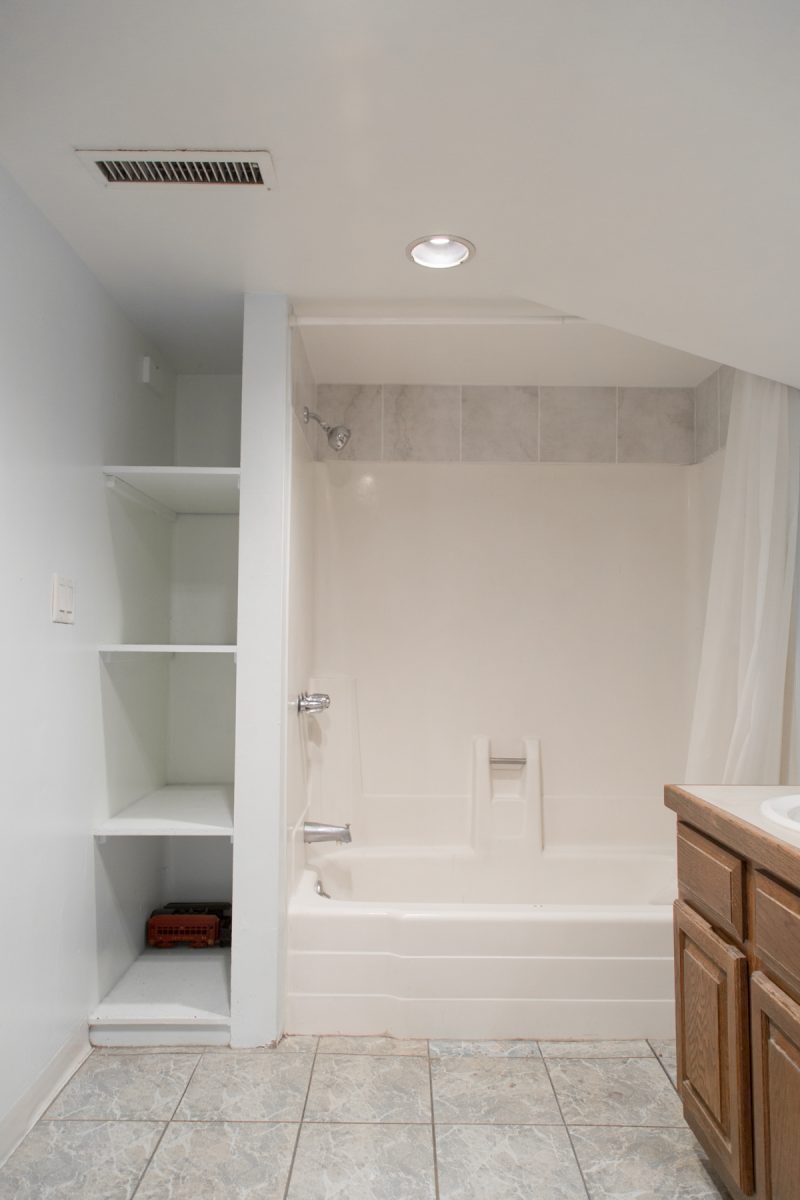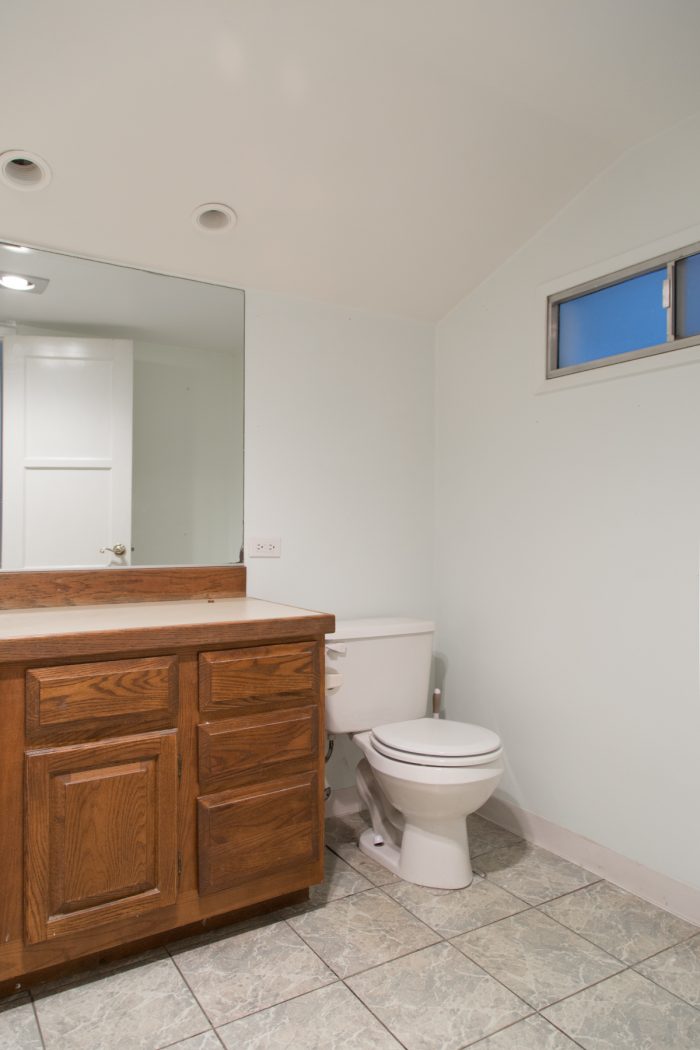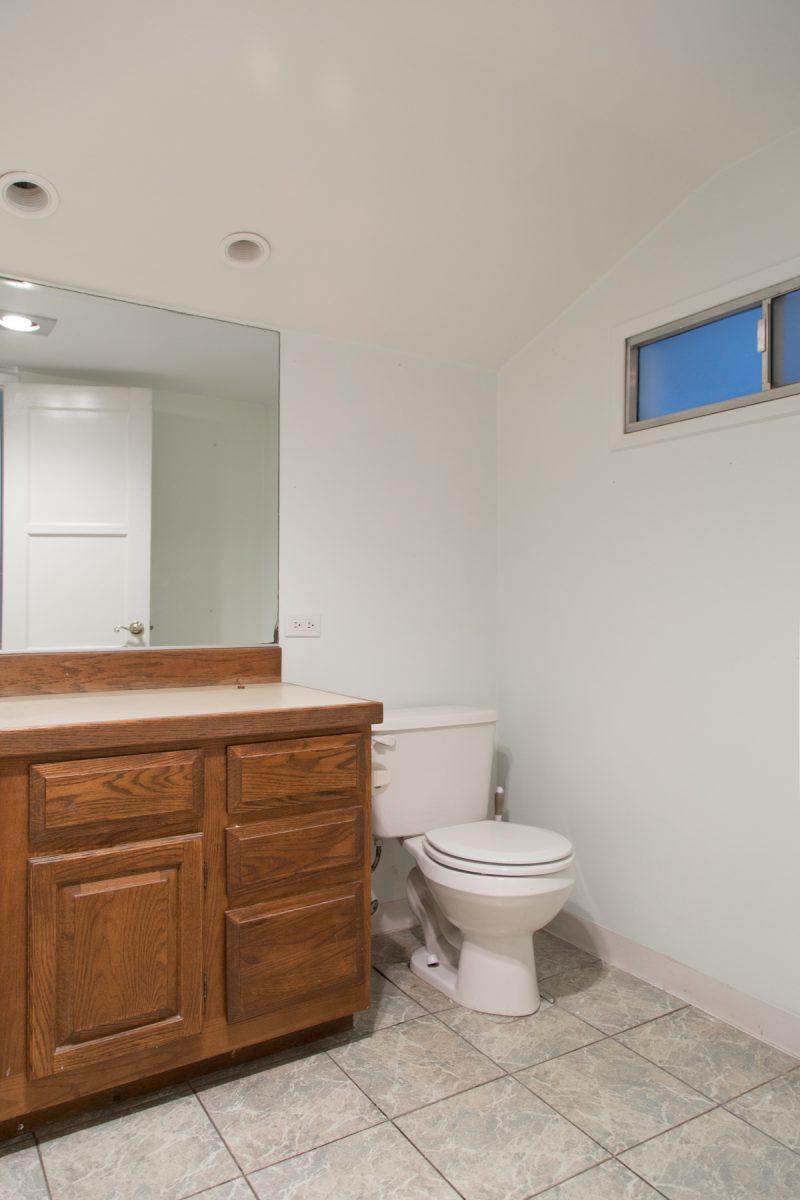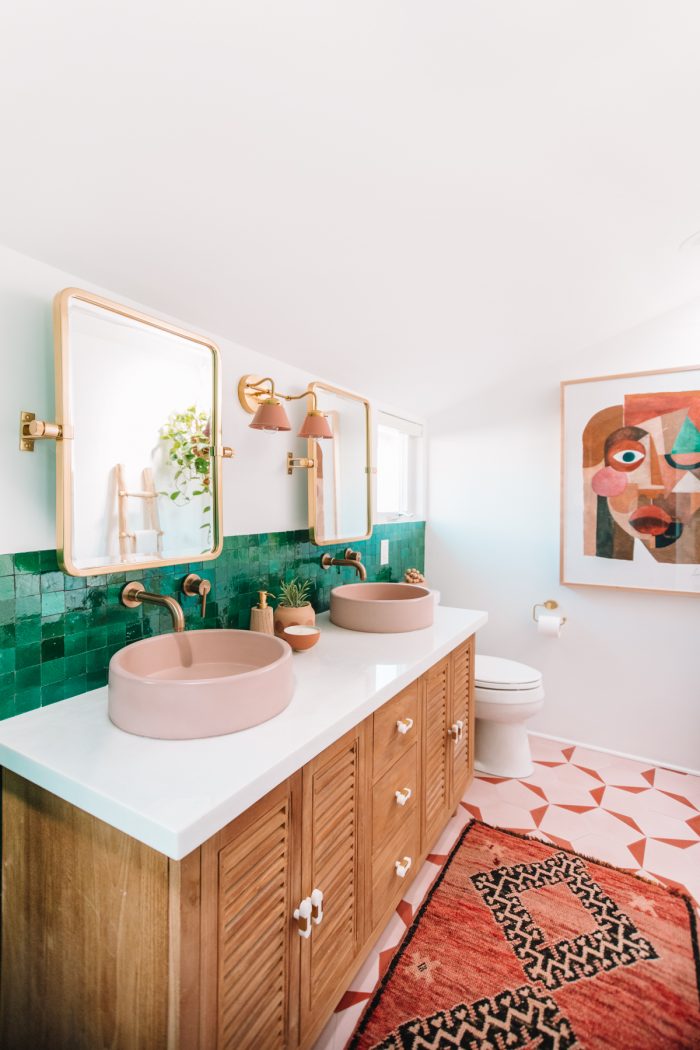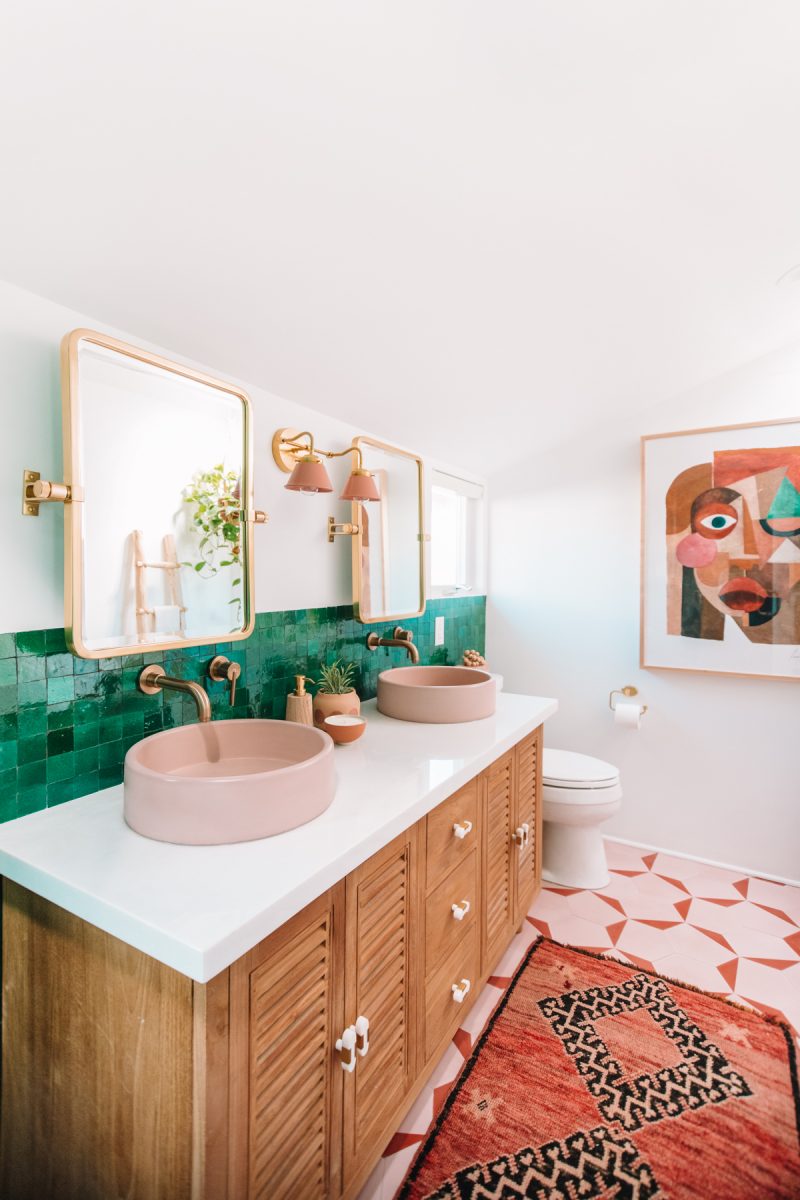 How To Save Money On A Bathroom Renovation
Similar to kitchen, a great way to save money on a bathroom renovation is to keep all the plumbing where it is, which is exactly what we did in this space. We kept the same layout but made some modifications within that. First, we decided to swap the bath/shower combo for a larger walk-in shower.
Since we have to consider re-sale value with this house, we'll be putting a bathtub in the "kids" bathroom when we renovate that as it's very important to have at least one bathtub in your home. Second, we decided to add a second sink since we had the room for it. You can read even more about our vision for this bathroom here.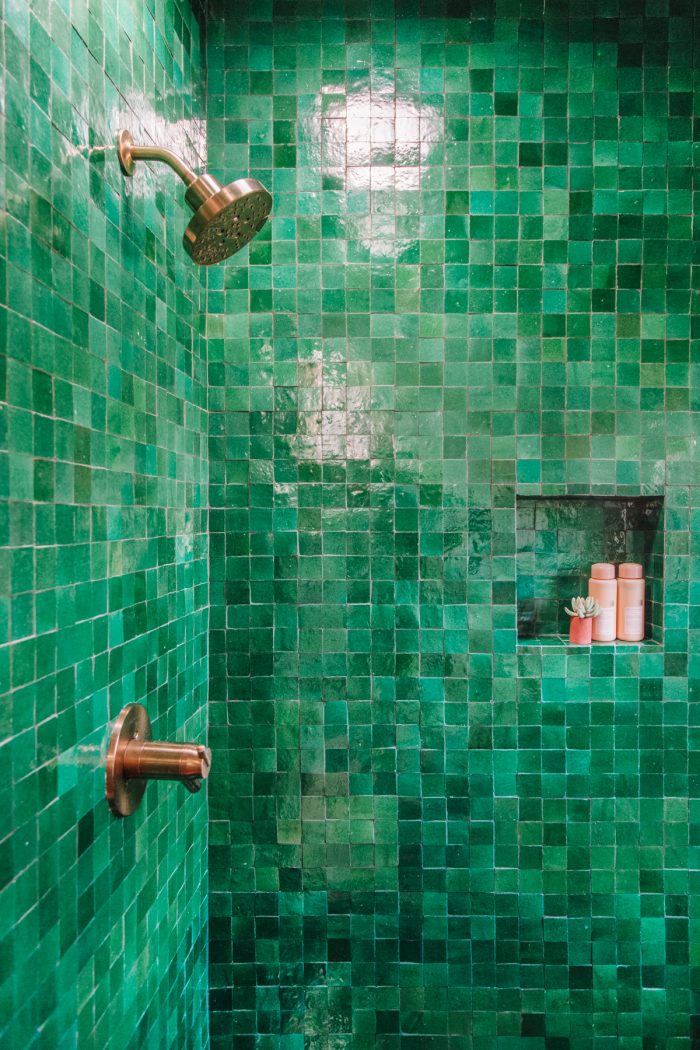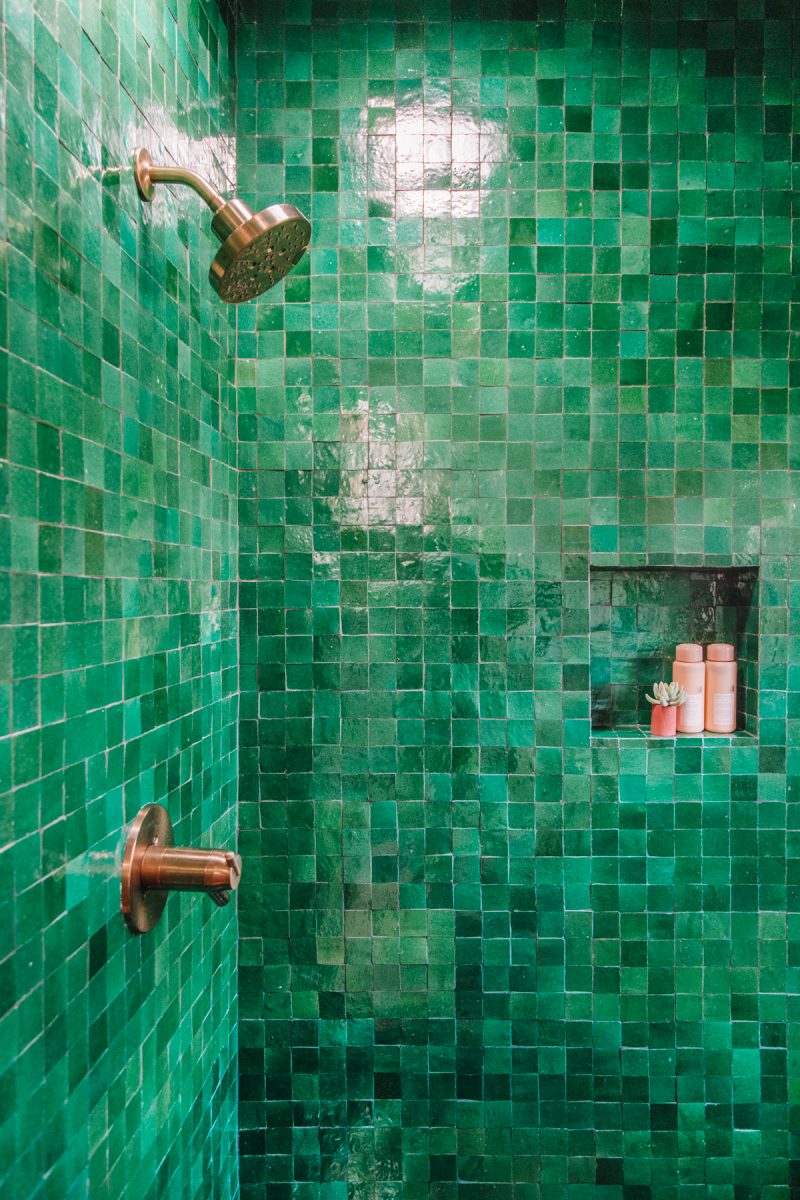 Where To Start With A Bathroom Design
I always like to zero in on one major element in a room first. It gives me a good starting point and anchors my design, instead of picking out 10 different items I like all at once and then trying to get them to fit together. (p.s. I'm working on a post about my design process, a lot of you have asked! So stay tuned for that!)
For a bathroom, tile is a great element to start with.
Bold Green Bathroom Tile
I had been intrigued by zellige tiles for quite some time. Have you heard of it? It's a terracotta tile handmade in Morocco and the glaze colors are SO vibrant. My favorite aspect of zellige is how varied and imperfect it is, unlike tile you typically see nowadays.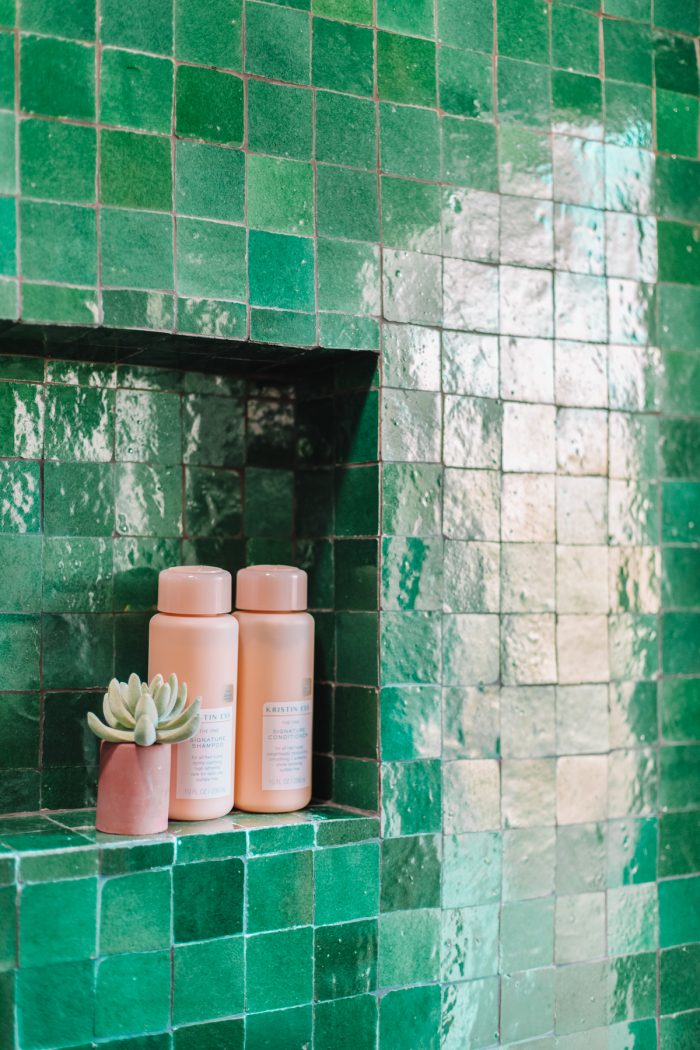 Each individual tile is completely unique and it is intended to be laid "butt jointed" or without grout joints. We went with the Secret Lagoon color from Clé Tile and I'm officially HOOKED after seeing it in our space. You can see all the amazinggggg hues they offer here.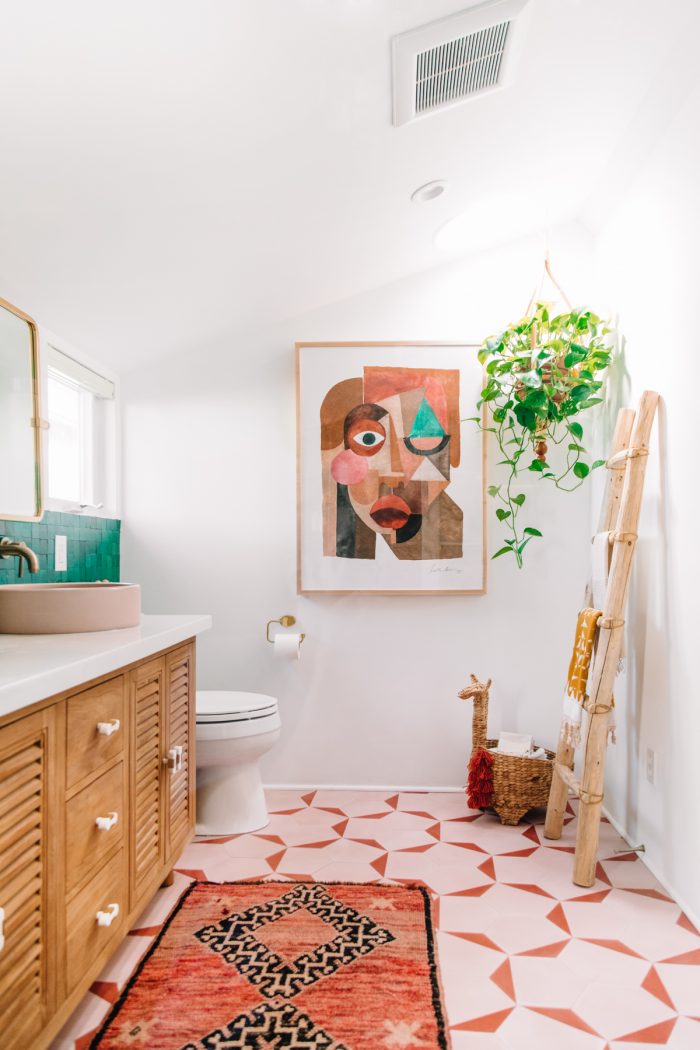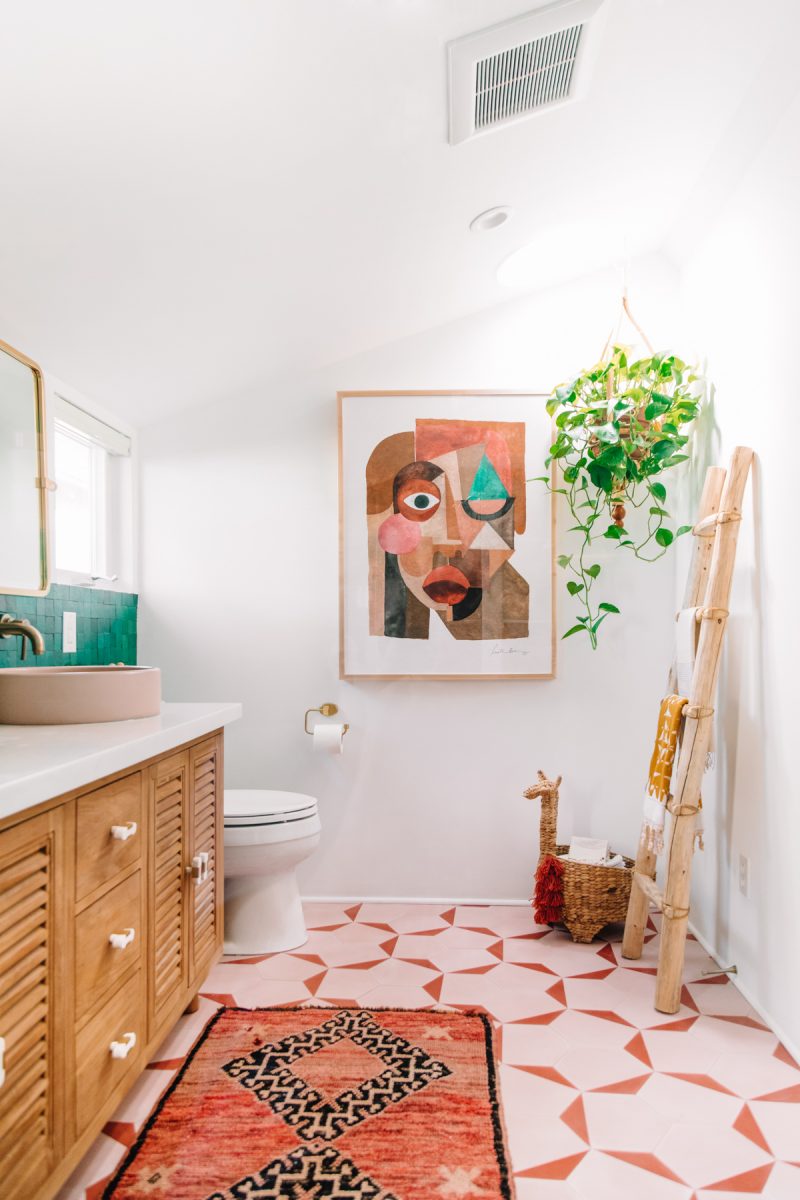 Now, I pinned this hexagon clip floor tile, also from Clé Tile, right around when we first bought the house. Wasn't sure if or when I'd use it but I just loved it so much. Once I fell in love with the idea of a green bathroom and that green bathroom tile for the shower and half wall, I circled back to this one and loved how it contrasted with the bold color. The tiles were the first thing we picked for the room and everything else was centered around them.
I've gotten quite a few questions about grout used in this bathroom. Here's what we used for grout:
I linked the grouts above to show colors only. You should discuss with your tile installer whether sanded or unsanded grout is right for your specific project, application and tile design.
Pink Concrete Sinks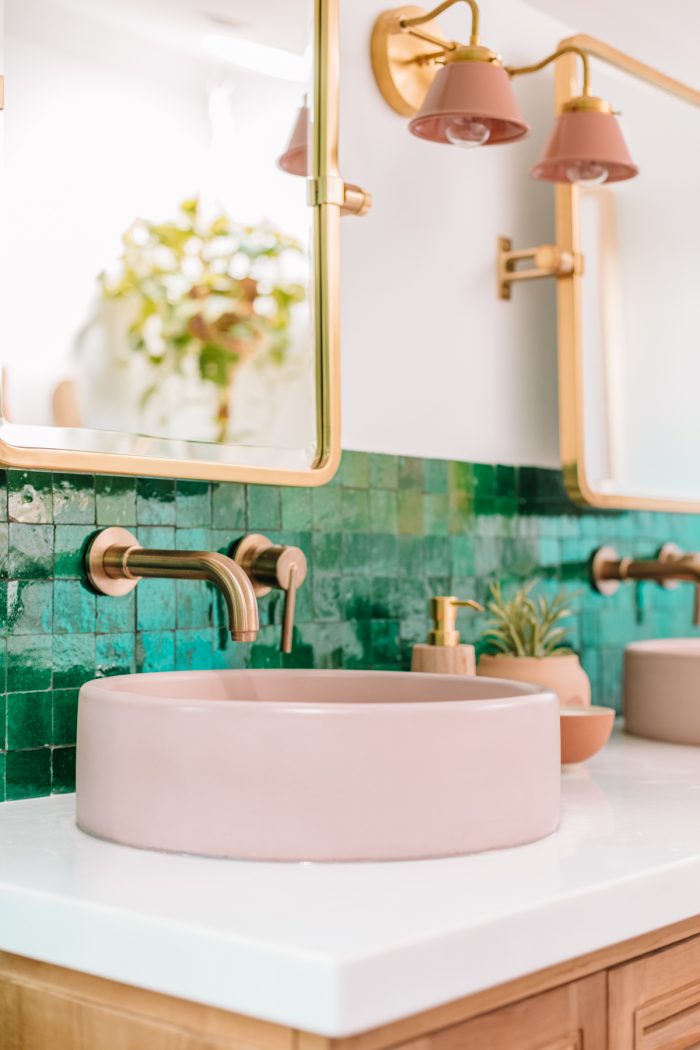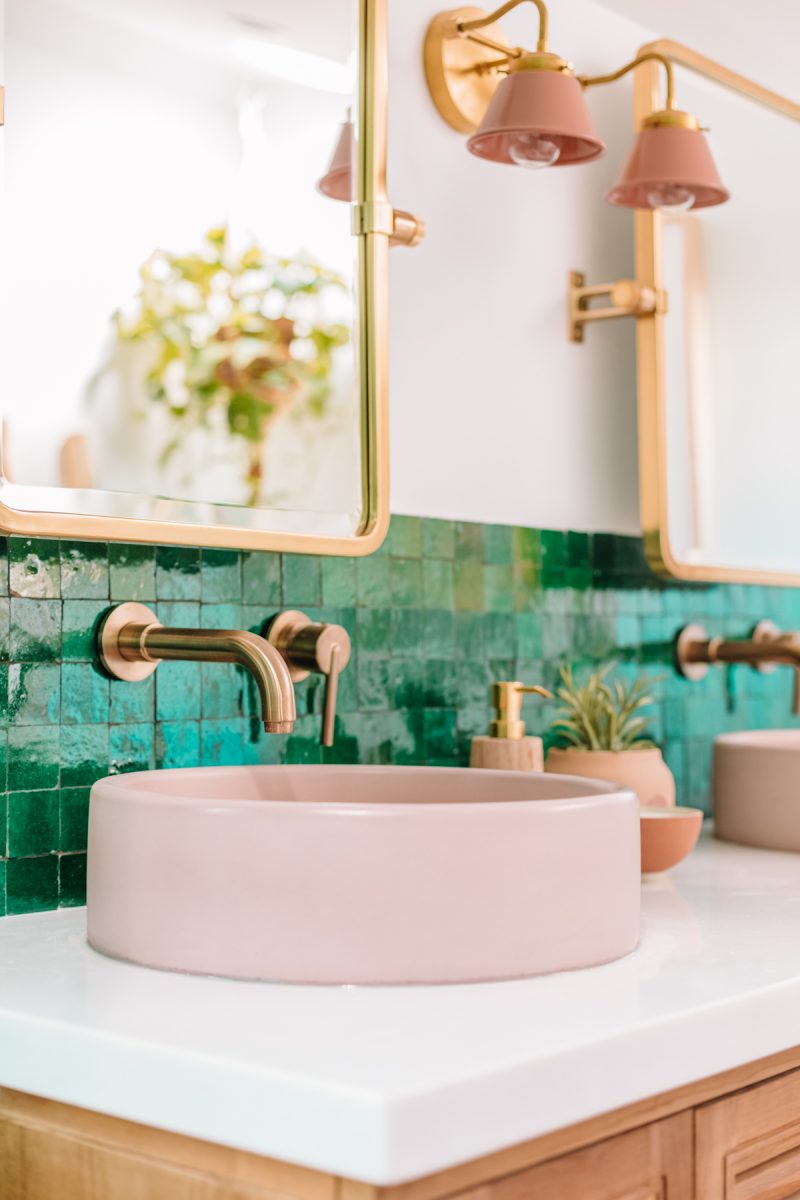 After that, I sourced the vanity which I wanted to be wood and relatively simple, but still functional for storage. This one was perfect, though we ended up cutting down the legs to account for our low ceilings and our vessel sinks. Speaking of sinks…. THESE SINKS!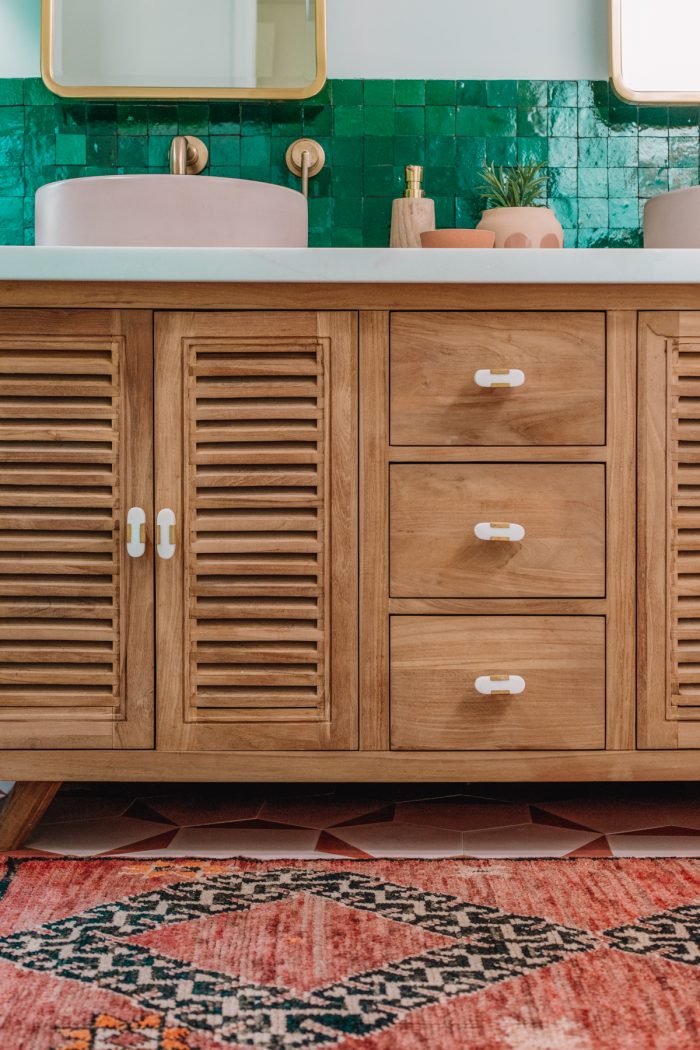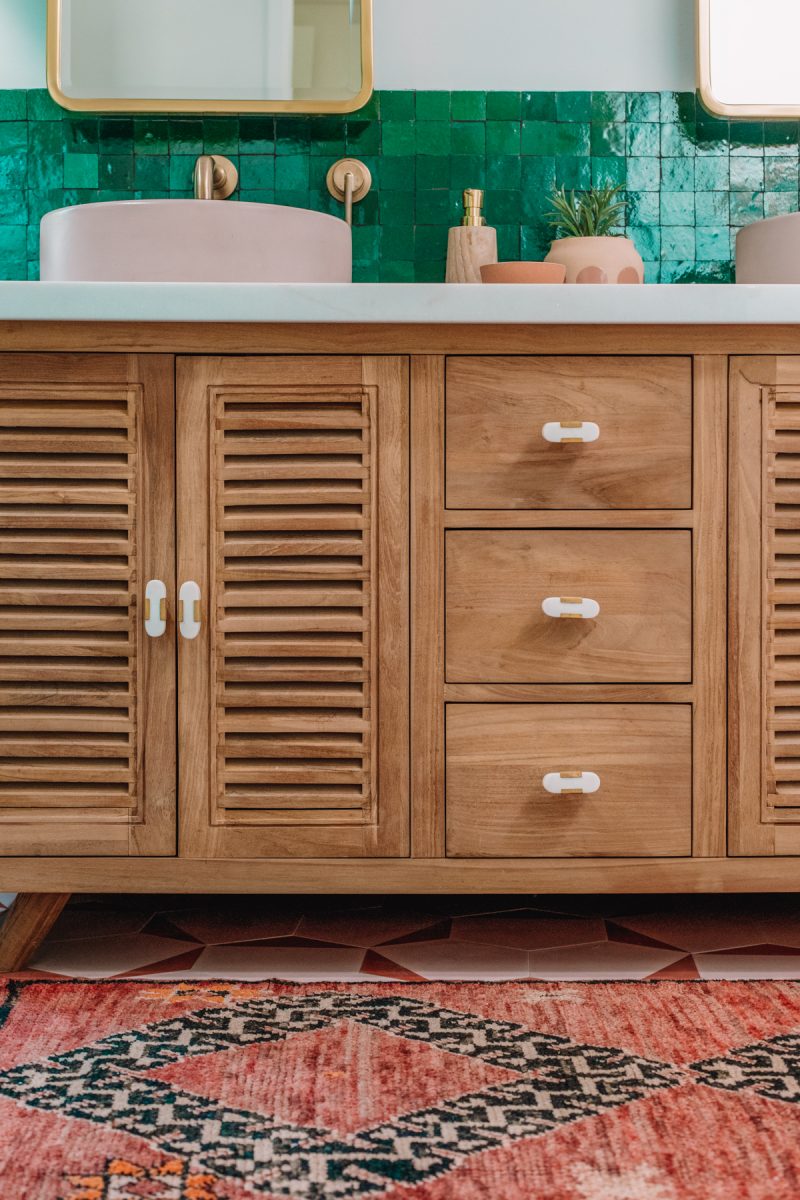 They're the bowl basin sink by Nood Co. and they're a blush pink concrete!! It's always fun to take something that is often just a standard element in a room and make it a statement and these did just that! I told Jeff that I'm probably going to rip them off the marble and take them with us whenever we move someday. 😉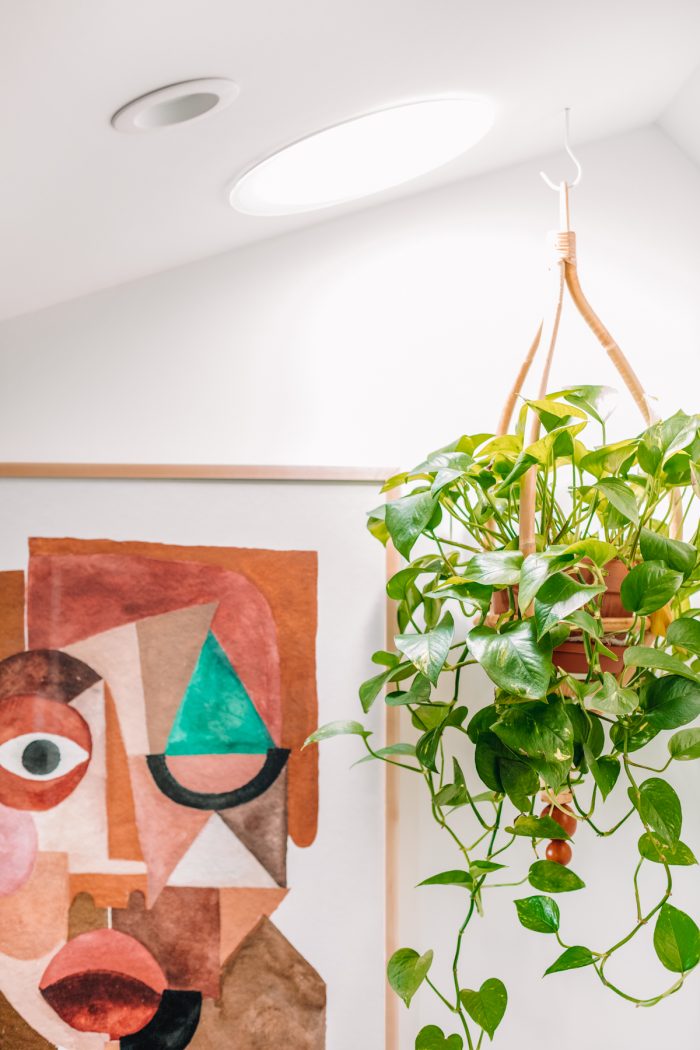 How To Add More Natural Light To A Small Space
This bathroom didn't have a single source of natural light when we started! (The little window in the "before" photos went into the now-closet) We obviously wanted to change that. Since we had to account for the vanity and mirrors, we couldn't add any large windows so we added four smaller natural light sources instead.
We added two smaller windows, one above the toilet and one tall narrow one in the shower. Next we added two Velux Sun Tunnels, one on the far side of the bathroom and one in the shower. They're essentially tubular sun tunnels so they work great for small rooms (only about 10″ in diameter) and add SO much light as the tunnels are reflective aluminum. I think adding natural light to this space was the biggest game changer in the room.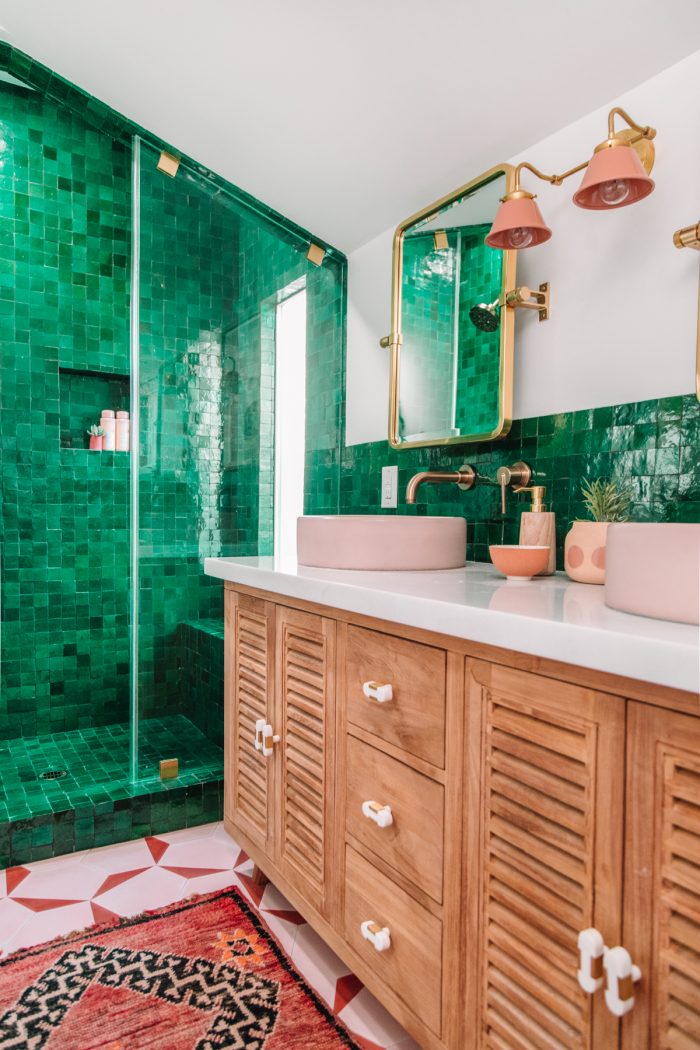 Beautiful, But Functional Bathroom Storage
Storage is key in a bathroom! The original layout had these deep shelves that we decided to keep. Since they're so deep, we're using the back half to store towels and in front of them, I added these large baskets. They're great for storing bulk items like extra toilet paper, tampons, tissues and bath products.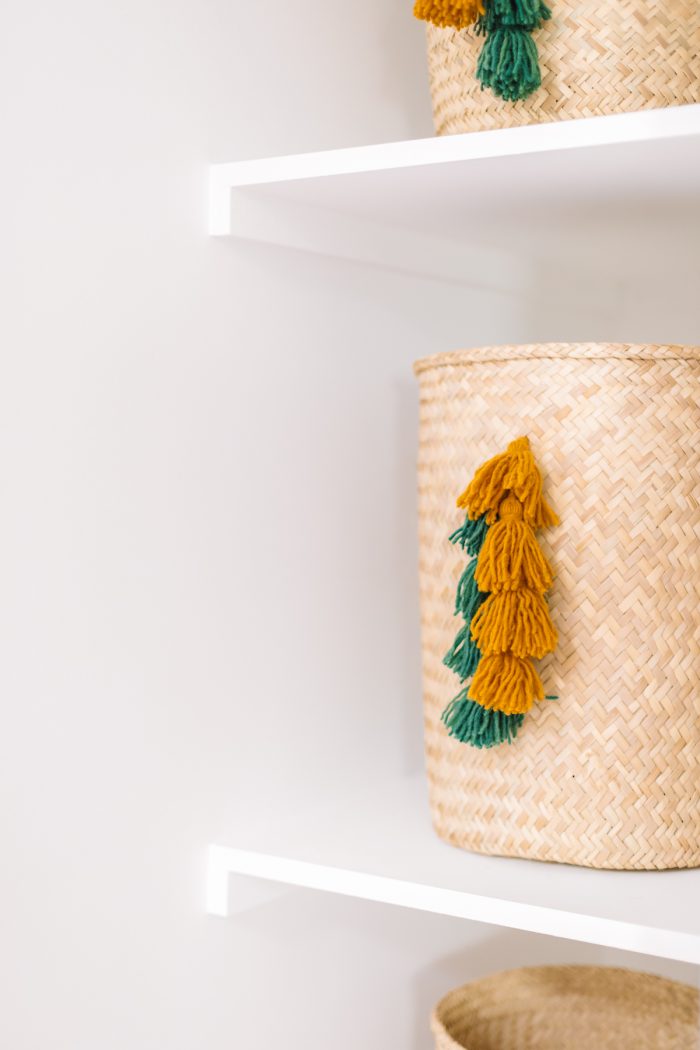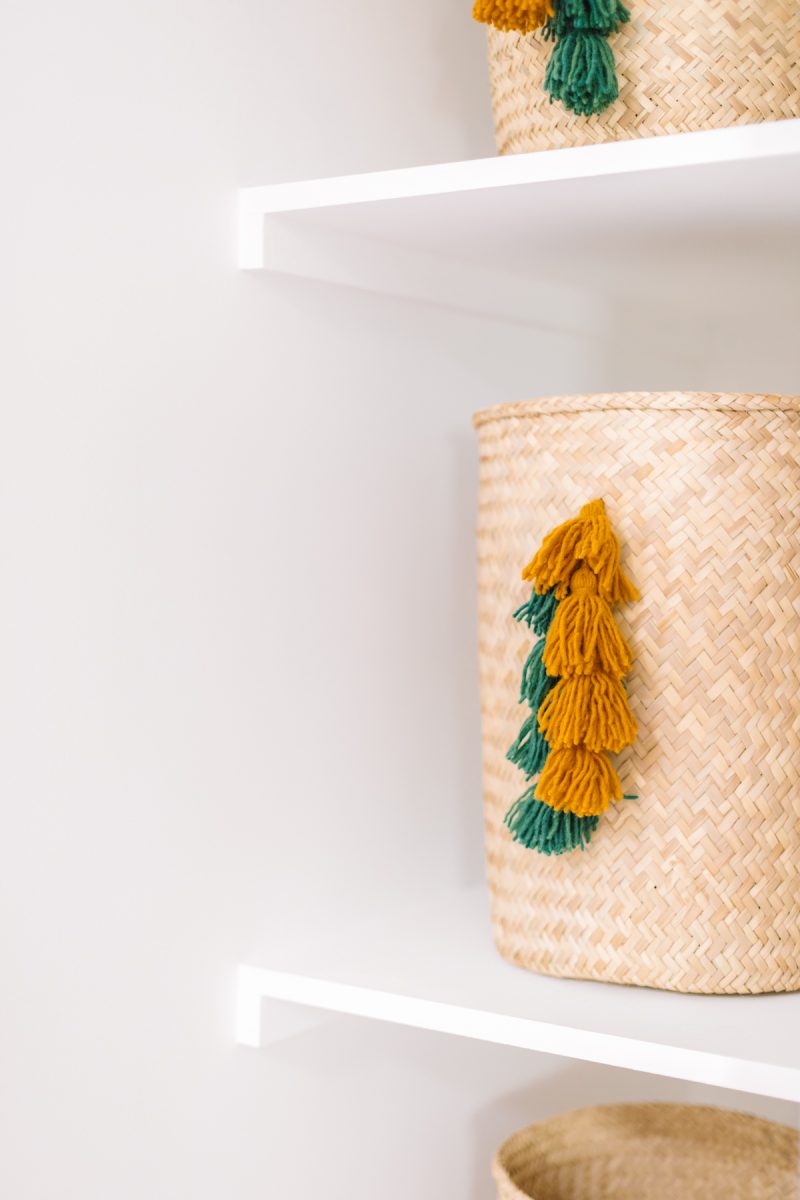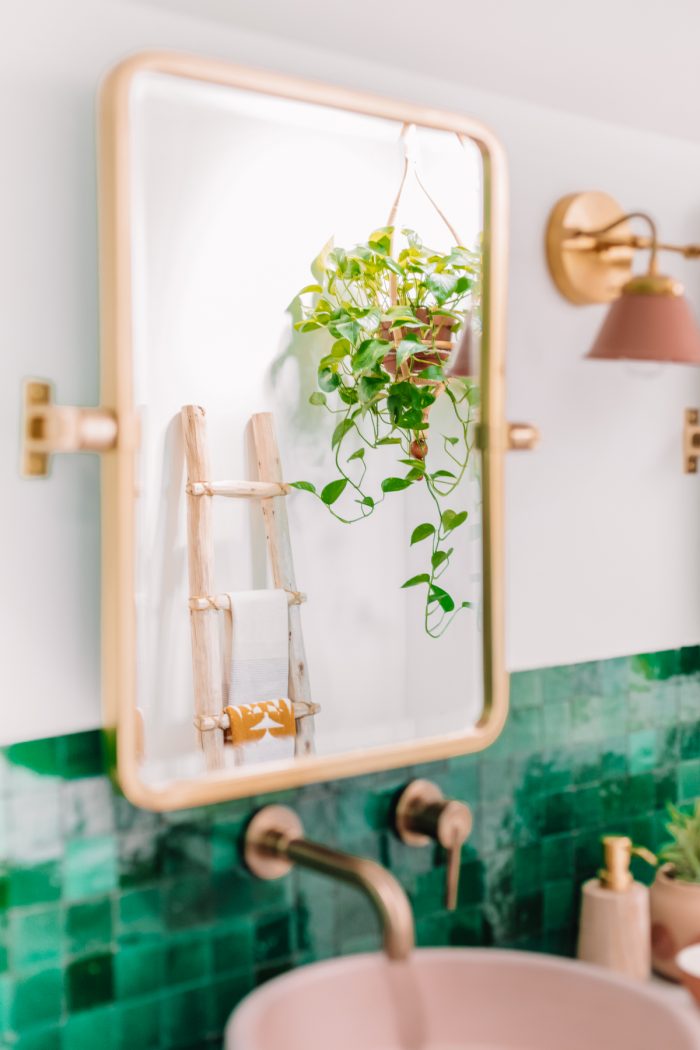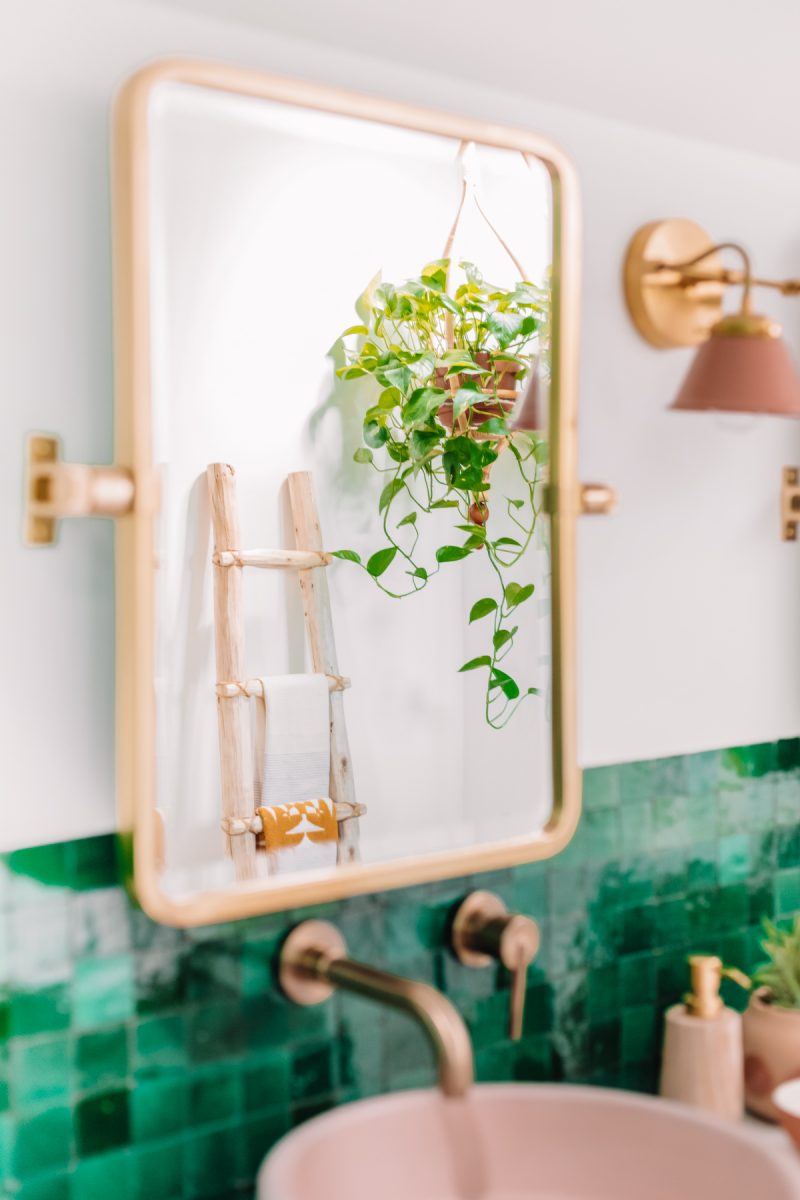 In the vanity, we store all our necessities like make-up, toothpaste, shaving items, a hair dryer, etc. For me, having drawers in the vanity was non-negotiable. They're so much easier to keep organized than cabinets. We outfitted each drawer and cabinet with acrylic storage containers from The Container Store and so far, they've stayed really tidy!
Next we added a towel ladder to hold our hand towels. Using a towel ladder instead of a towel bar allows you to take advantage of extra vertical space you might have. Had we put a towel bar on that wall, the rest of it would have felt quite empty, but the ladder draws your eye from the floor all the way up to the plant hanging above.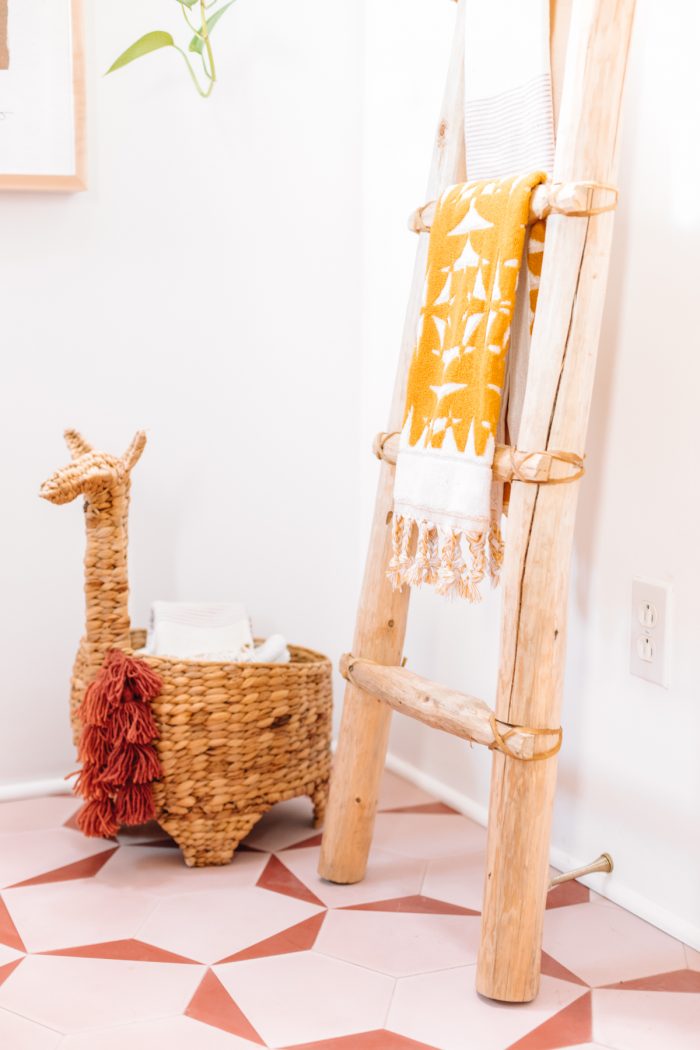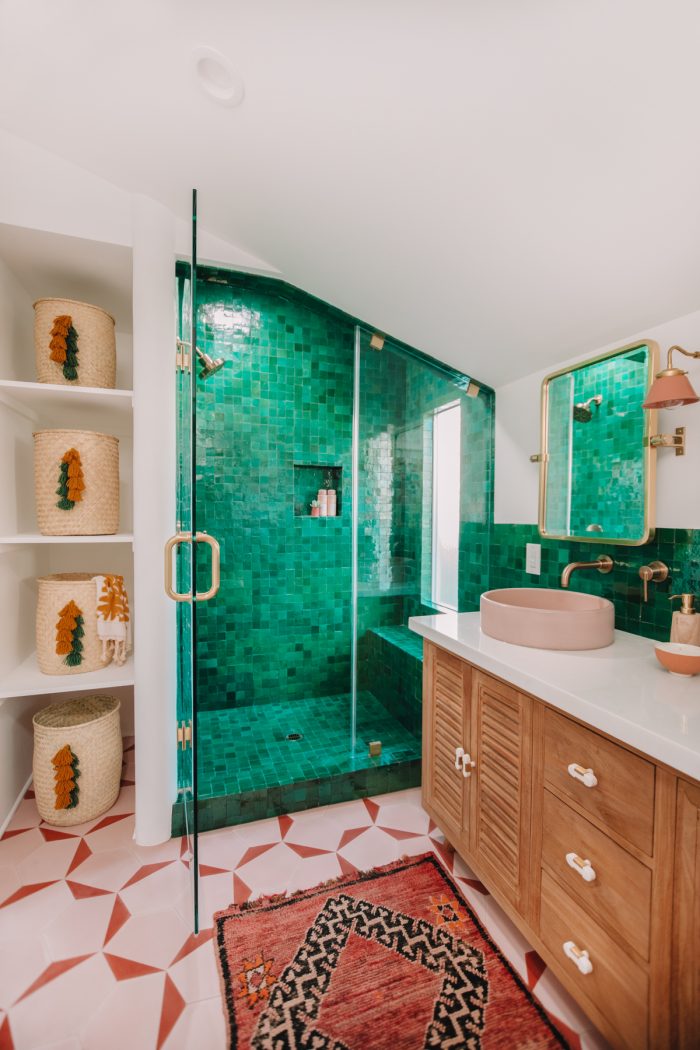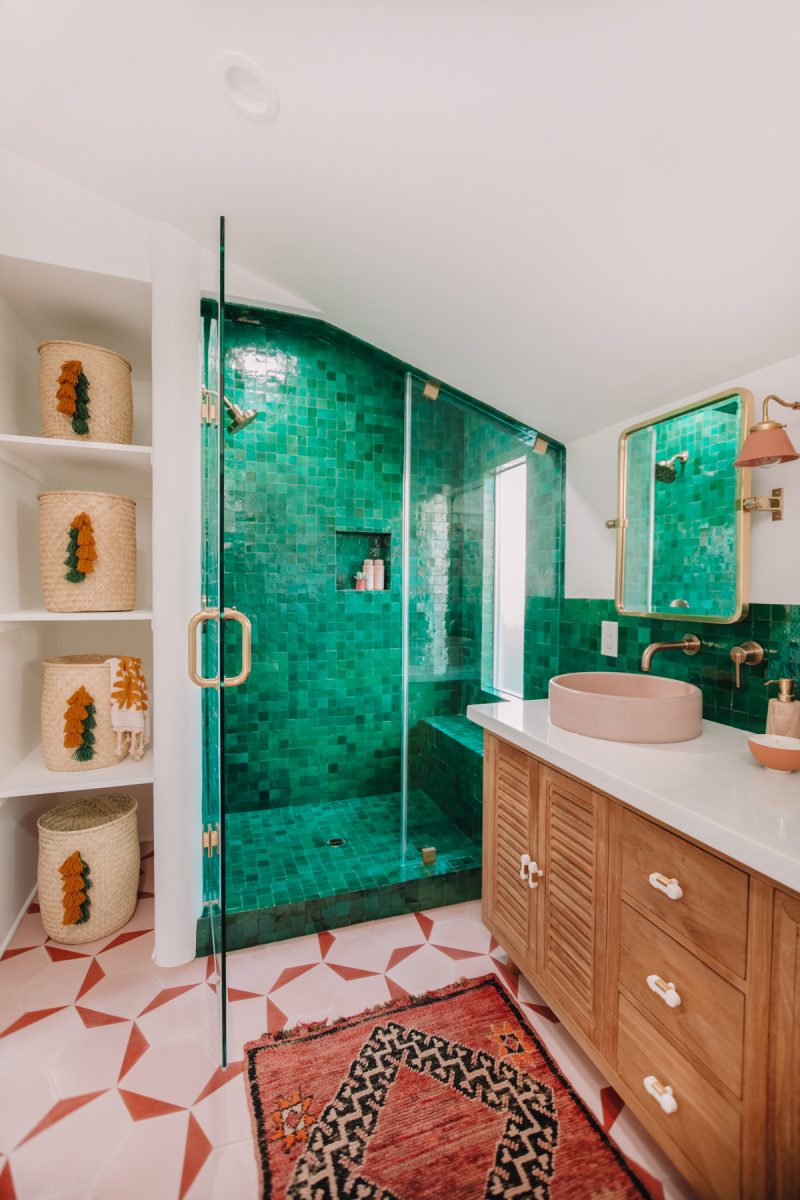 How to Add Character To A Space
One simple change we did was round off the wall between the shelving and the shower. Our house was built in the 1930s and has these amazing rounded corners in several of the rooms and we wanted to bring a bit of that to the bathroom, which was a later addition and lacks the same character. So we had our construction team round the wall just slightly and it makes a world of difference when you see it in real life. The element now feels like it was thought of instead of just a piece that was needed to separate the two spaces.
Completing the Design of A Bathroom
Bathrooms are a great place to incorporate a beautiful sconce, whether it's in-between your mirrors, on the sides of them or above them. We worked with Sazerac Stitches (who did Arlo's light fixture!) to custom design this one to perfectly fit our space. It really completes the wall and provides a softer lighting option in comparison to the overhead ones we have.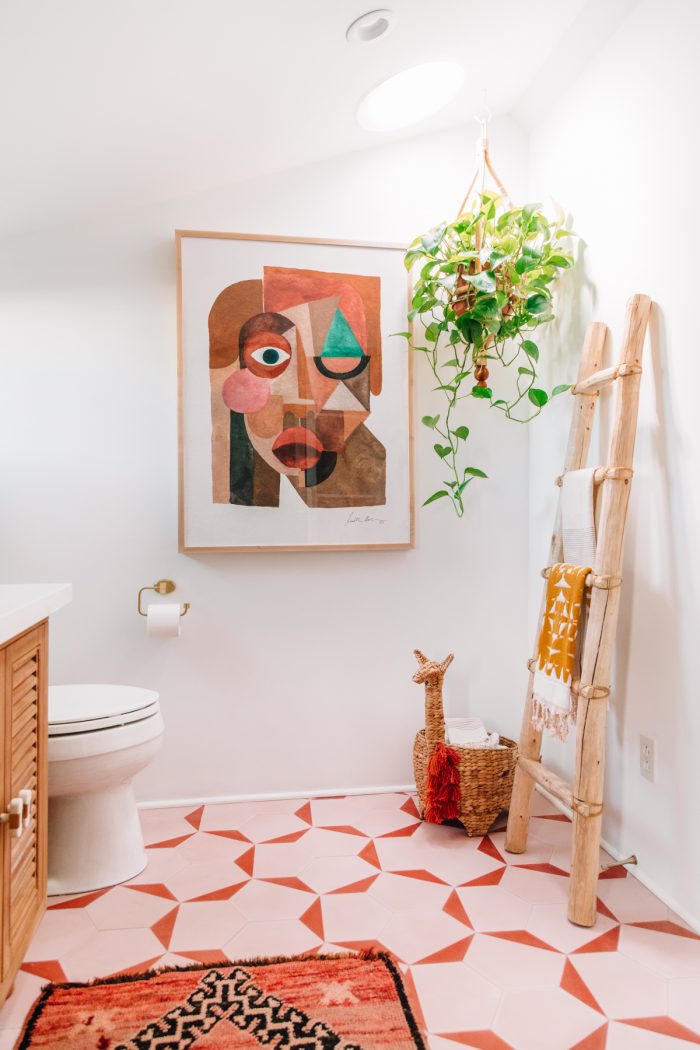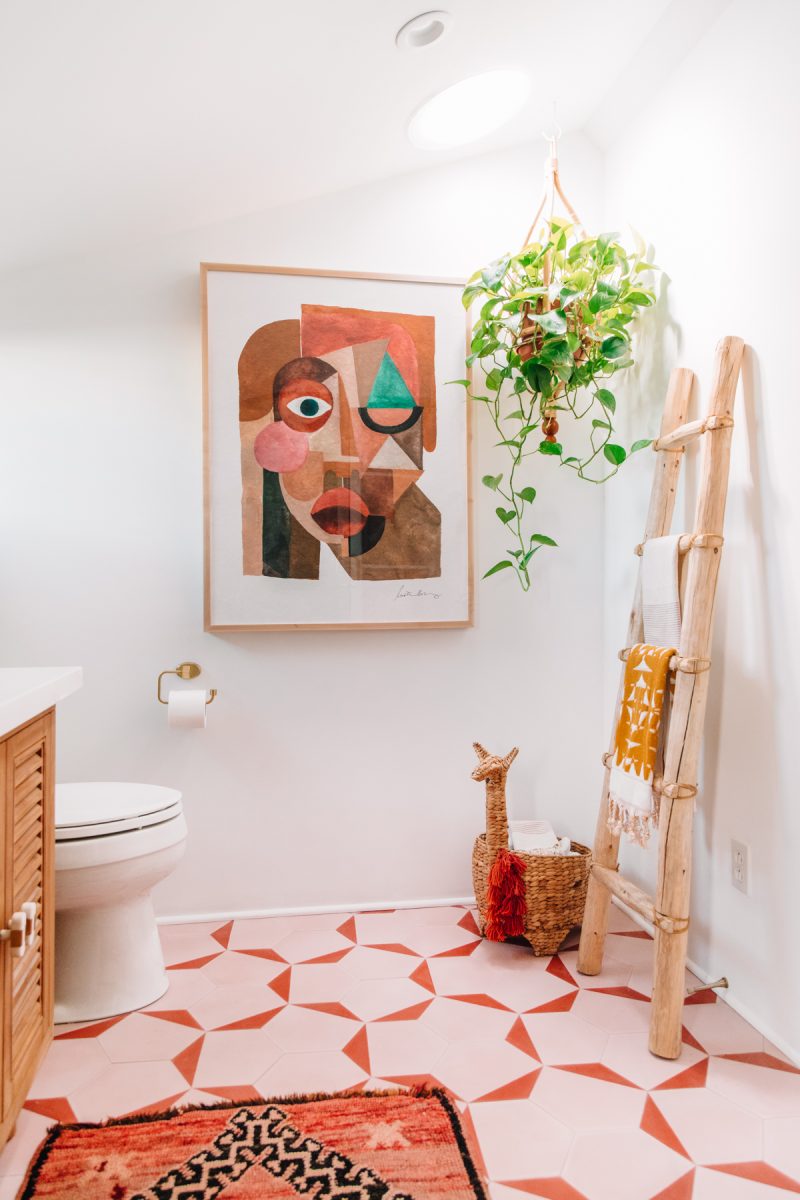 Like any room, art can really complete a bathroom! We saw this painting my friend Justina did and it looks like she created it JUST for this bathroom, the colors are so perfect! We went with a large size and it really anchors the other half of the room.
Plants also shouldn't be forgotten when it comes to a bathroom. Since we had the natural light, we were able to move a hanging plant into the space and it's thriving under the sun tunnel! Plus, it pulls the deep green shade from the tile across the room.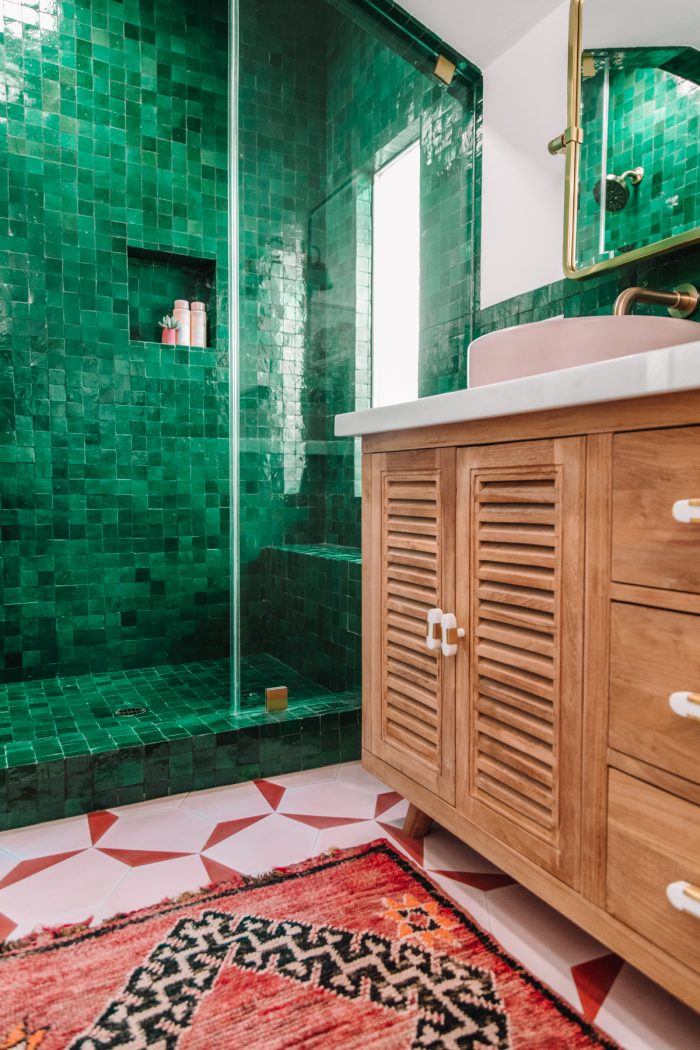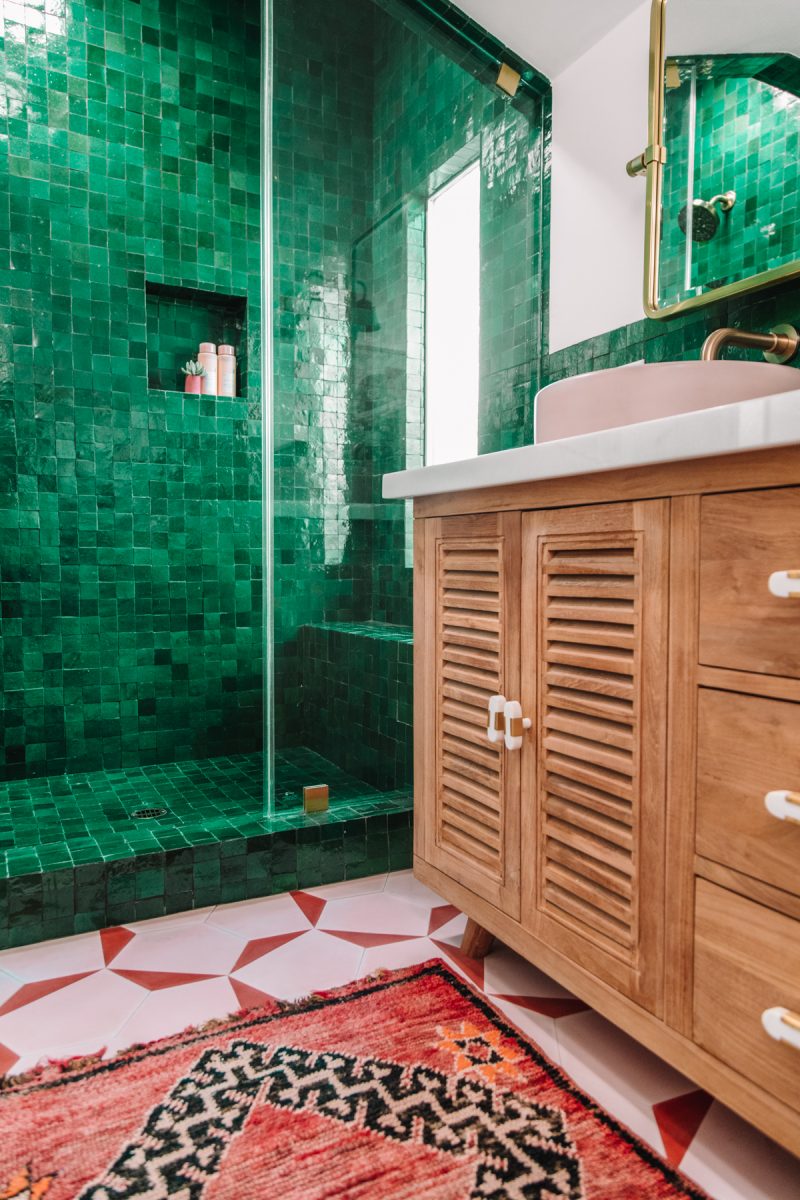 And of course, the vintage rug. This was the final piece I sourced for this pink and green bathroom and it was quite a challenge since our color palette was so specific. Typically I start a room with a rug for this exact reason, but I love that this one pulls out the terra cotta color in the tiles and has an oversized pattern to contrast them, too. Having a rug in front of your vanity grounds it, and feels great under your feet too of course. =)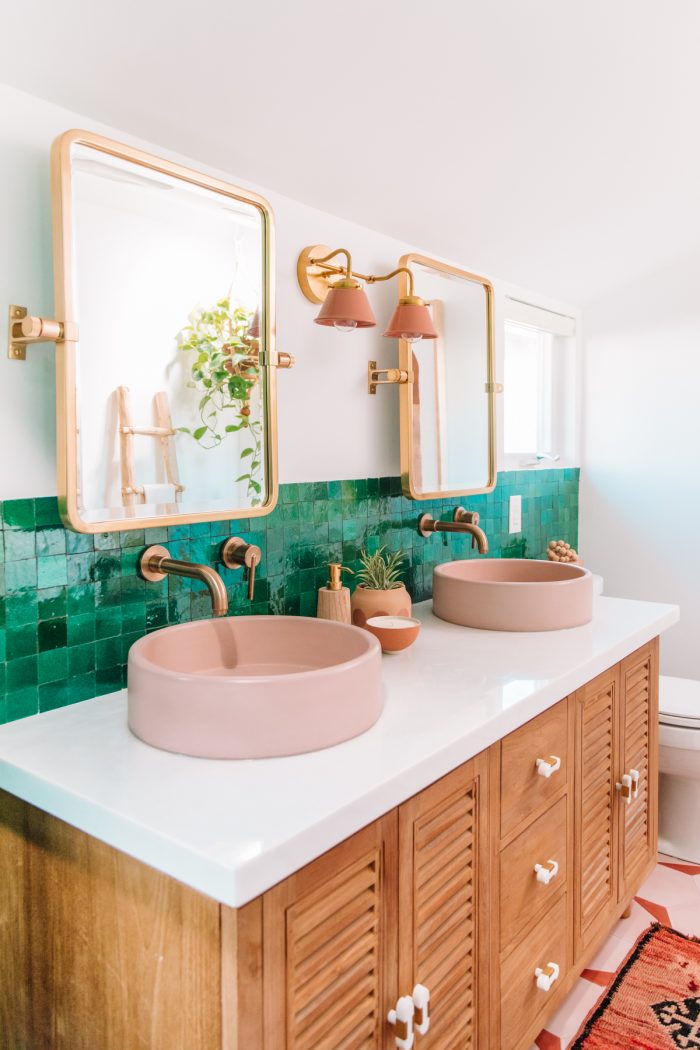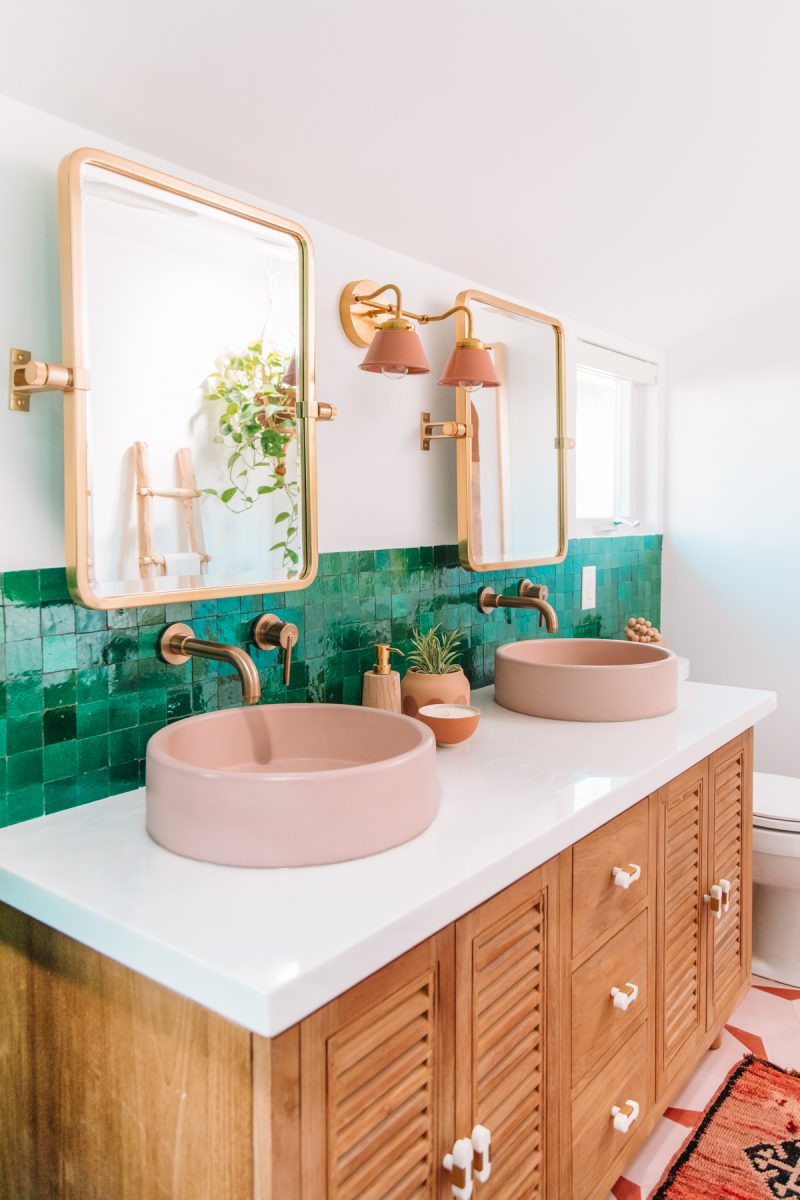 Photos by Jeff Mindell
Permanent Fixtures
Tile: Secret Lagoon Zellige Green Bathroom Tile* | Hex Clip Cement Tile*
Sun Tunnels* | Paint: "White" by Dunn Edwards
Vanity with a Marble Counter (sourced separately) | Knobs
Concrete Bowl Basin Sinks* | Sink Faucets | Pop-Up Sink Stoppers
Gold Mirrors | "Kelly" Wall Sconce*
Shower Head | Shower Valve | Toilet Lever
Decor
Face Art Print* | Ladder (We have the 5′ size!)| Hanging Planter
Llama Basket | Mustard Hand Towel | Blush Striped Hand Towel
Baskets | Wool Tassels | Vintage Rug
Soap Dispenser from Target | Dot Planter | Candle
This pink and green bathroom is without a doubt my favorite space I've designed in our home.
I think I start every house reveal with "finally!" but the truth is, I take my time for a reason! I don't like to settle on any detail when it comes to our home. A lot of people say "just pick something and you can change it later!" but my brain doesn't work like that. I search until I find the perfect piece, or the one that has meaning behind it or the one that a friend made. And I hope it shows!
*These items were generously donated in exchange for coverage on the blog. Thank you for supporting the sponsors and partners who support us. All opinions are my own.