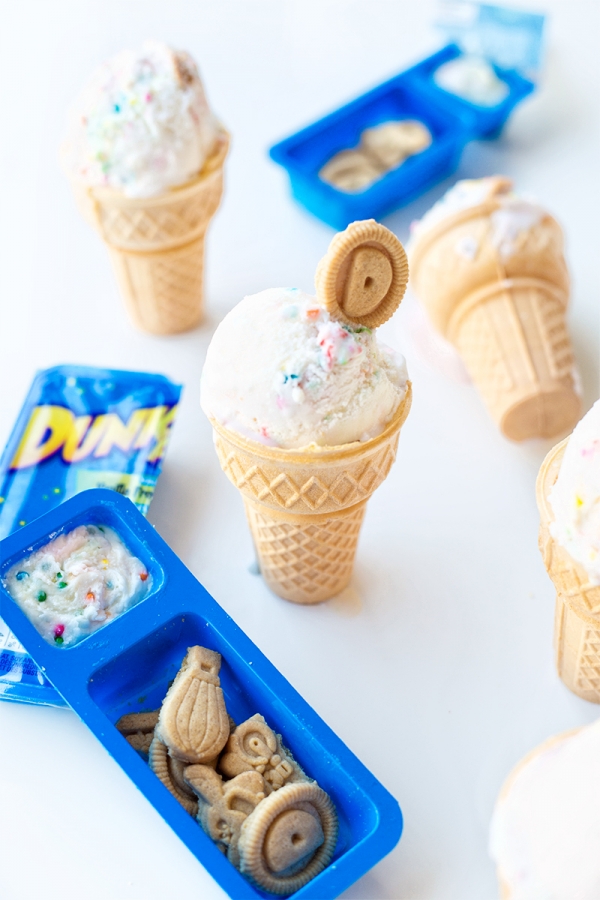 Another new series!!!!!! O.M.G. I'm excited about this one. You got a little hint way back when we did this Insta survey, and today we're starting a new series called Throwback! (Or, #studiodiythrowback on Instagram!) After our adventures in sand art and tie dye, we've had a blast re-living our 90s childhood and rediscovering allllll the good things about it! So we're turning it into a series where we'll be bringing back the 90s and living it to the FULLEST here in 2015 (and beyond!). ARE YOU EXCITED YET!? Don't worry, it's not just gonna be food. Lots of other goodness in the works, too. GAH! I'm so excited.
And to kick things off… DUNKAROOS! Far and away the most popular childhood junk food in your opinions, we decided to mix it up and make (wait for it) homemade Dunkaroos ICE CREAM! And it really does taste like Dunkaroos, you guys. Oh. Yes. Get. ON IT!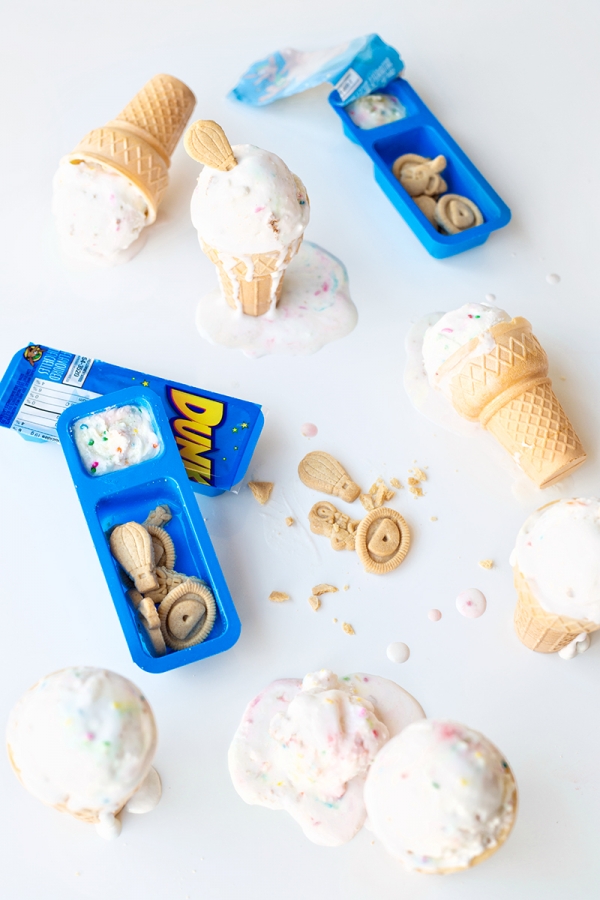 So here's the scoop…. can you still buy Dunkaroos? YUP, you sure can! Right HERE! You can thank Canada for that one. However, the batches we ordered were not at, um, their "peak" shall we say. Because of that, we decided to make our own version of the classic Dunkaroos cookies and we used the actual Dunkaroos as garnish! Ok, now for the recipe!

For the cookies:
1 cup butter
1/2 cup sugar
1 3/4 cup flour
1/4 cup finely ground graham cracker crumbs
1/4 teaspoon baking powder
1 teaspoon vanilla extract
1 teaspoon lemon zest
2 tablespoons milk
For the vanilla buttercream:
1/2 cup butter, softened
2 tablespoons cream cheese, softened
1 1/2 cups powdered sugar
1 teaspoon vanilla
2 tablespoons rainbow sprinkles
For the Dunkaroos Ice Cream:
2 cups half and half
2 cups cream
1 (5.3 ounce) container of greek yogurt
3/4 cup boxed funfetti cake mix
1/2 cup sugar
1/4 cup rainbow sprinkles
1/2 cup Dunkaroos cookie crumbles
About 1/2 to 3/4 cup vanilla buttercream frosting (recipe follows)
1. Cream together the butter and the sugar. In a separate bowl, whisk together the flour, graham cracker crumbs, and baking powder. Add the flour mixture to the butter mixture. Mix. Add in the vanilla, lemon zest and milk. Mix till combined. Wrap and chill for at least 1 hour, up to overnight.
2. Preheat oven to 350 degrees.
3. On a well floured surface, roll dough to 1/4 inch thickness. Cut out desired shapes. For the cookie crumbles to fold into the ice cream, the shapes don't matter as you will just break them up after they cool. For the ice cream sandwiches, make an even number of 3 to 4 inch circles. Bake on parchment lined baking sheets anywhere from 5 to 10 minutes, till just lightly browned around the edges.
4. For the buttercream frosting, cream together the butter and cream cheese till smooth. Add in the powdered sugar and blend till combined. Add in the vanilla. Whip for a minute or so till fluffy. Gently fold in the sprinkles. Set aside.
5. To make the ice cream, whisk together the half and half, cream, yogurt, sugar, and vanilla. Chill mixture for at least an hour.
6. Churn in ice cream machine according to manufacture's directions.
7. Once ice cream is done churning in the machine, gently fold in the funfetti cake mix, sprinkles, and cookie crumbles till incorporated, careful not to over mix or the sprinkle colors will start get muddled.
8. Now place the buttercream frosting into a piping bag fitted with a medium round tip. Transfer ice cream into a freezer safe container, layering swirls of buttercream in between the ice cream. Cover. Freeze overnight to let the ice cream fully harden.
9. For the ice cream sandwiches, place some of the ice cream into an 8-inch cake pan lined with parchment paper, smooth out the top, and freeze till hardened. Using a round biscuit cutter the same size as you made the round cookies, cut out circles from the frozen ice cream. Place back in the freezer as soon as possible and let harden till ready to use.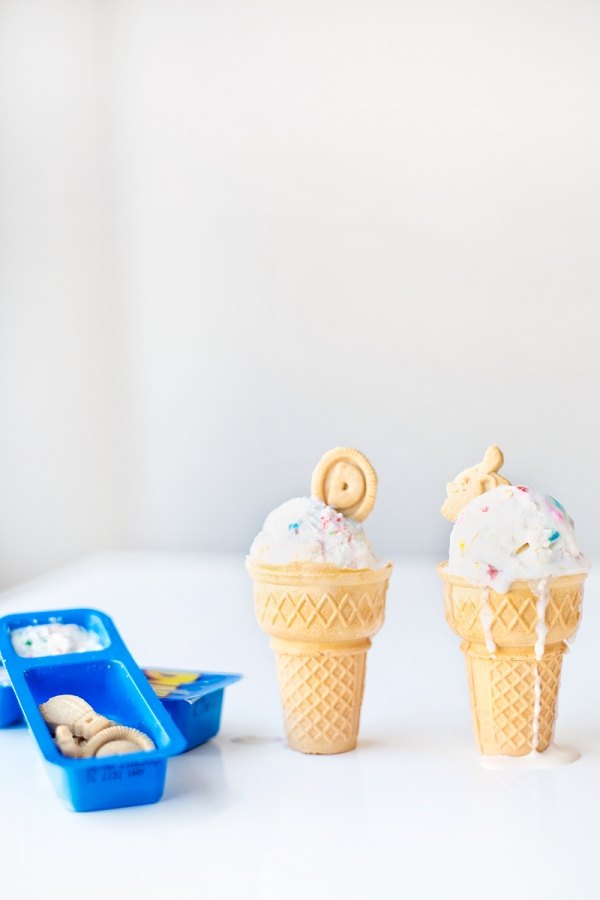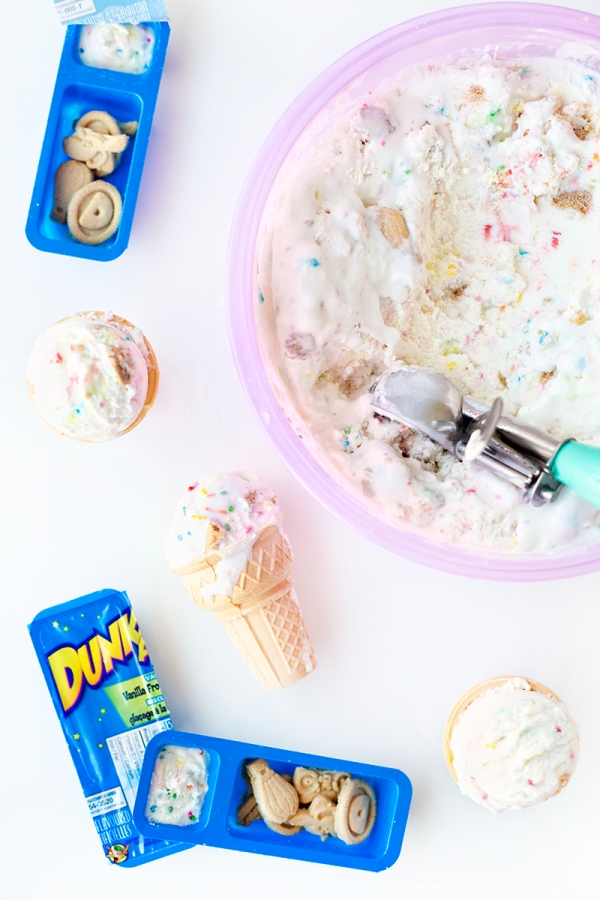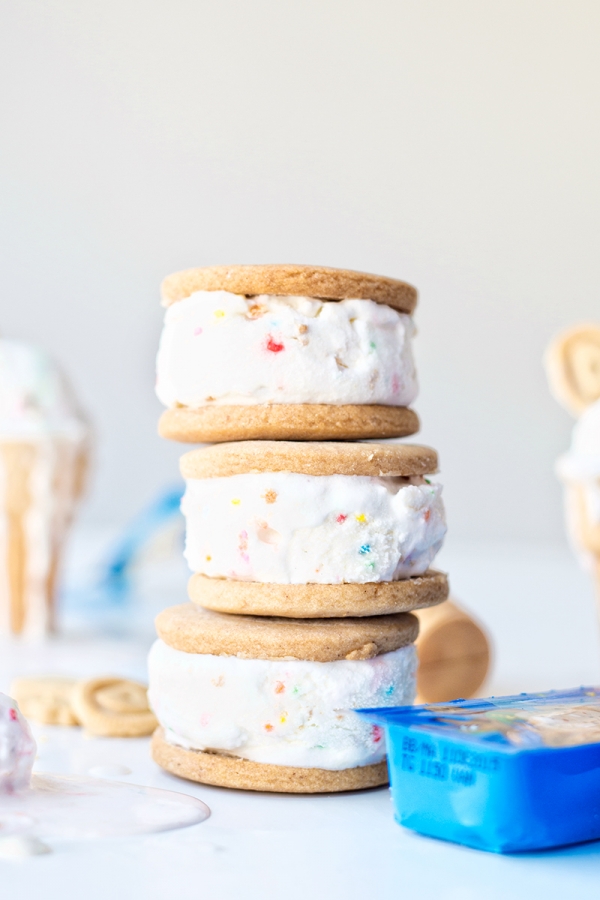 Photos by Jeff Mindell | Recipe by Theresa Rountree | Styling + Creative Direction by Kelly Mindell
I know I ask this often… but can you even handle it!? Childhood, defined. In ice cream. If you have any other childhood or 90s faves, share 'em below so we can turn them into something schnazy and new! And be sure to tag your 90s inspired photos on Instagram with #studiodiythrowback!
p.s. Sand Art Nails!