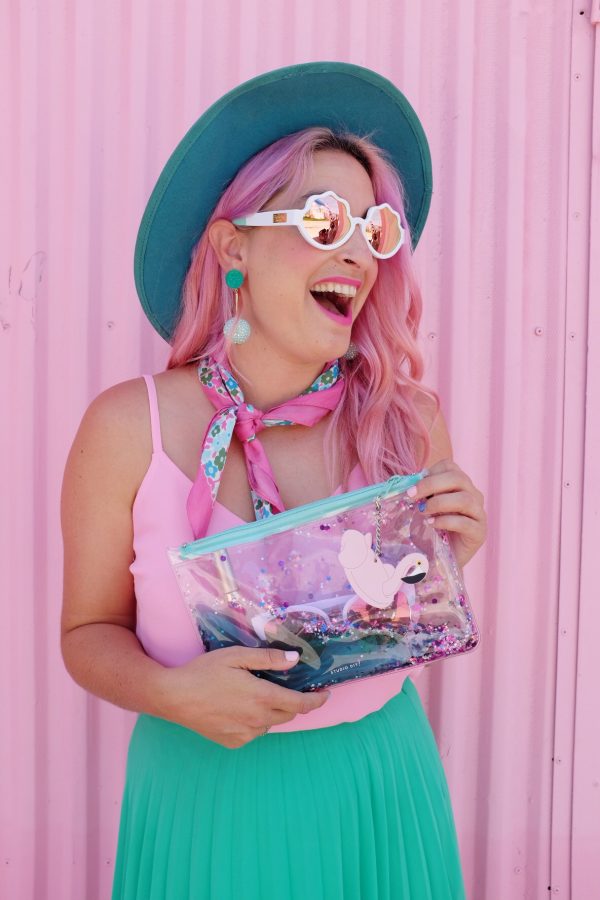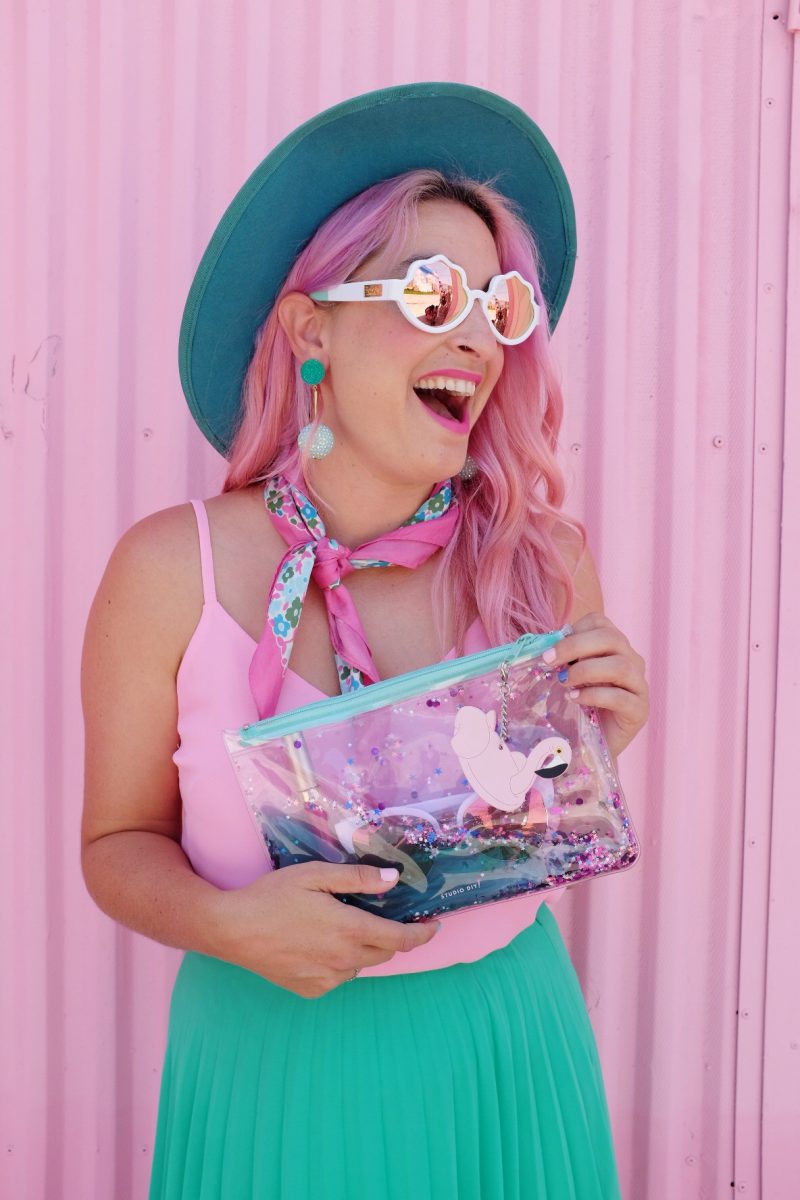 This month's Glitter Clutch is almost as sparkly and fun as our interviewee, Cyn, from Hot Pink Pineapples! We worked with Cyn on all of our shoots in Palm Springs this summer and we could not have done it without her. Not only does she have the most colorful style, but she's one of the most positive, hard working, and encouraging people I've ever been around. The ultimate "We'll figure it out!" kind of gal and I know you guys are going to love her as much as I do!
We sat down and chatted about everything from her must-have accessory and her fave lip shade to her celeb-filled former day job and how she knew it was finally time to move onto the next chapter of her career! I found myself so inspired after spending a week with Cyn in Palm Springs and am so excited to share her interview with you today. Not to mention, her pup- Dolly Parton, makes several guest appearances and gives a strong argument for Bella to get a sister! Let's jump right in.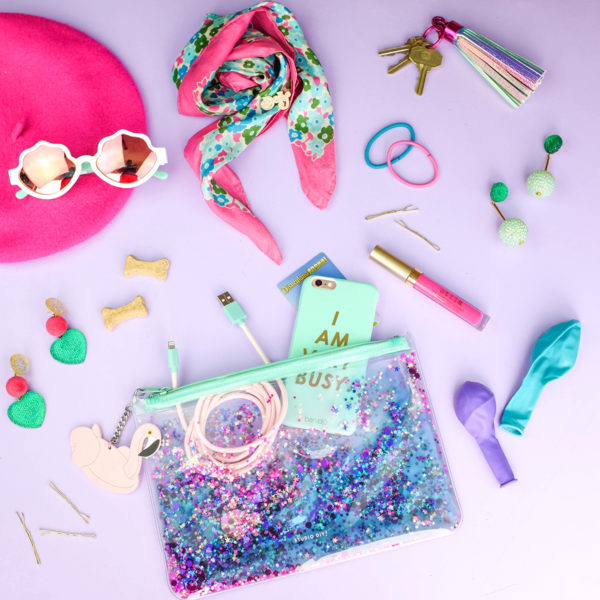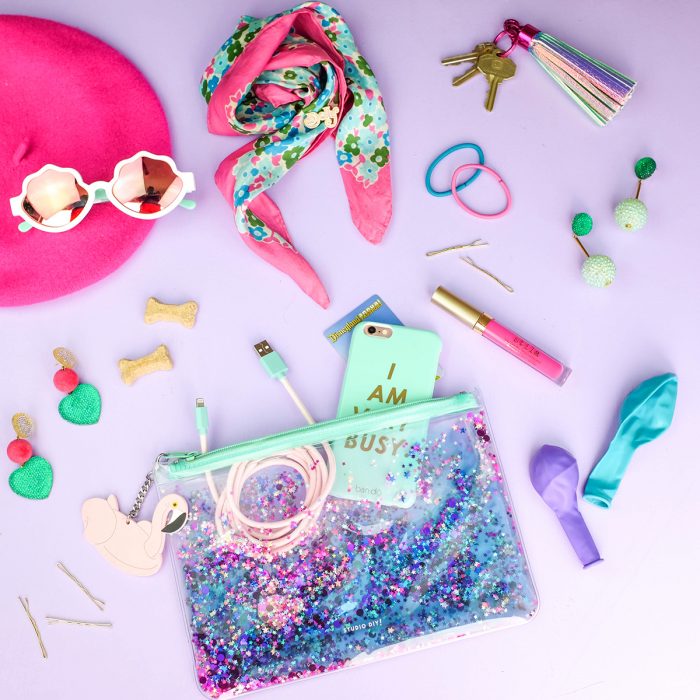 What are your must-have items that you always keep in your purse?
For starters- My phone! I have to be able to capture all my fun adventures! Then I also need my phone charger, because I mean, at this point, if my phone dies I die.. am I right? Ha! I've been loving Stila's Stay All Day Liquid Lipstick in Bella – the pink matches my hair perfectly! And treats for my pup, Dolly Parton – got to make sure my girl has a snack. I also always have a pair of sunnies with me. Fun fact! I was born and raised in Los Angeles so I was basically born wearing sunglasses. I can't forget about my Disney Annual Pass – you never know when an impromptu gal pal Disney date is gonna happen! And finally, I am never without some sort of fun prop, whether it be balloons, a fun pair of statement earrings, or a scarf. Always gotta be ready for that photo!
You're prepared for anything! What's the craziest item you've ever found in your purse?
A screw driver! I work on set a lot and I use a ton of tools. It's not uncommon to have random tools and tape in my purse!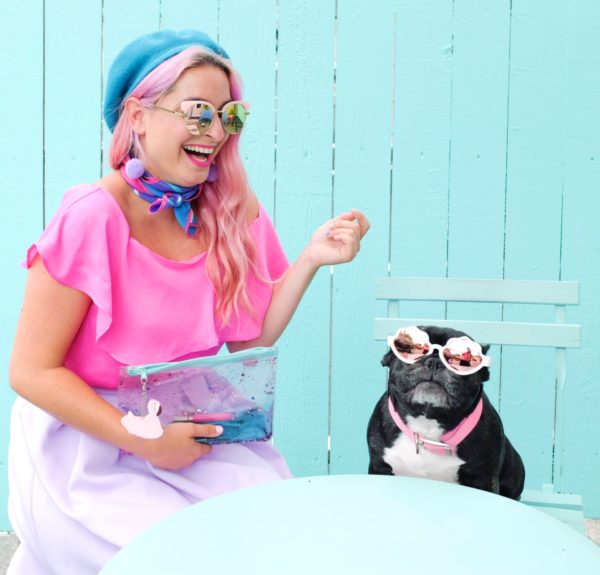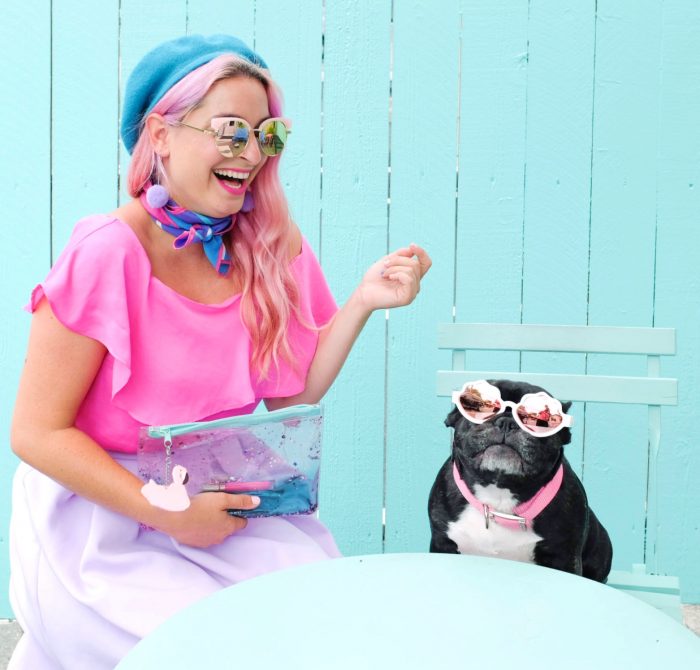 Do you remember your very first purse? Tell us about it!
My very first purse was a Minnie Mouse backpack. It was a full Minnie Mouse stuffed doll that had straps and Minnie had her own backpack which unzipped so you could put all your stuff in it. It was completely impractical as a purse, but didn't matter to me since it really only held Barbie shoes.
Your style is so fun + colorful! Has is always been that way or has it changed over the years?
Oh how my fashion evolved! When I was little I was a big fan of dressing myself and that meant COLORS! Big surprise. My older sister use to call me Rainbow Brite. In my teens I got really into Ska music so my "everyday" go-to was crazy plaid pants with fun band shirts and checkered Vans. My mom would tell me I looked like a Christmas tree because I would be wearing no less than five necklaces, bracelets, and a couple buttons repping my fave band, Aquabats. Once I got to high school, I went through a surfer girl phase… although I didn't surf. Later, when I started working for NBC full time and had to be in an office, I began to dress more for the job and less for me. At first it wasn't so bad because I was starting my career and it felt like I needed to do this to be an adult. I just wanted to fit in with the corporate environment so I wore a lot of black and neutrals. Now that I'm out of the corporate life, I'm back to dressing like me! Lots of colors, but I love to mix vintage with modern pieces. Still probably look "like a Christmas tree" as my mom would say. Haha!! Some things never change.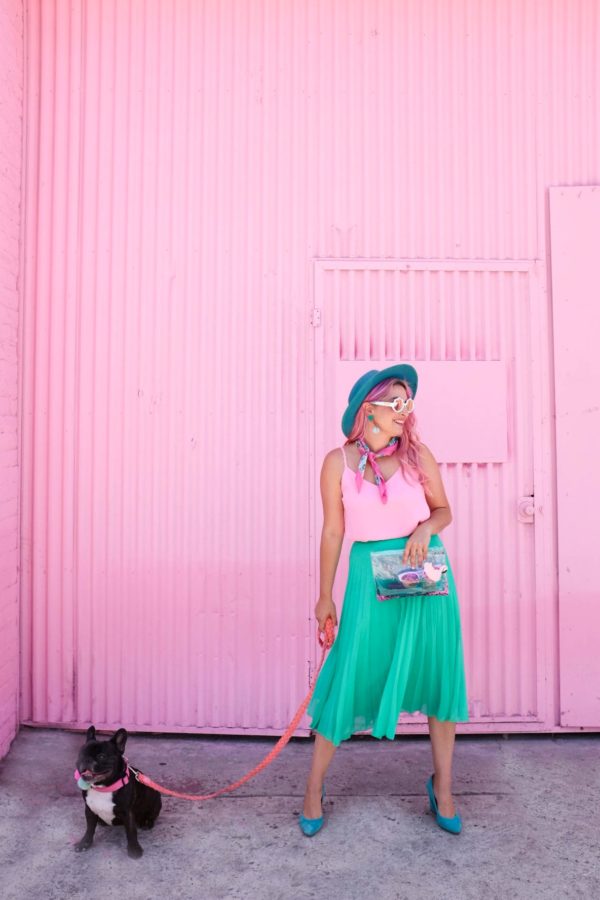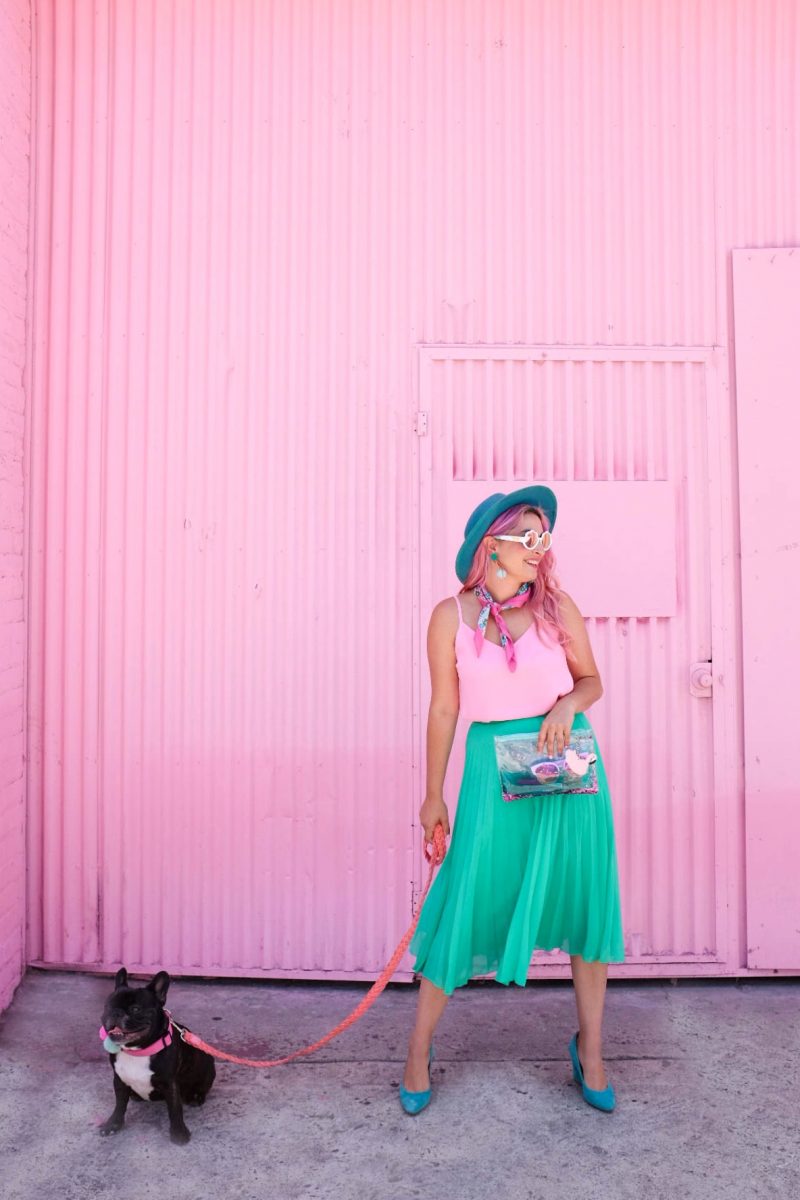 Speaking of style! Do you carry the same purse every day or worry about matching it to your outfit?
I love to switch up my bag depending on what I am doing. If I am working on set I usually use a basic backpack purse to make sure I can carry my notebook and samples. If I'm going out I definitely like to switch it up to something fun that goes with my outfit. I don't think it always has to be matchy-matchy but I like it to "go". That sometimes means that I wear a really bold color purse and make it my statement piece in my outfit. I also have never met a novelty purse I didn't love! Ha ha!!

Do you have any other favorite ways to accessorize?
Hats, hats, hats!! Currently they are my accessory obsession. I rarely go out without an eye-catching head piece. My mom gave me her felt hat collection from the 80's a few years ago and I have been obsessed ever since!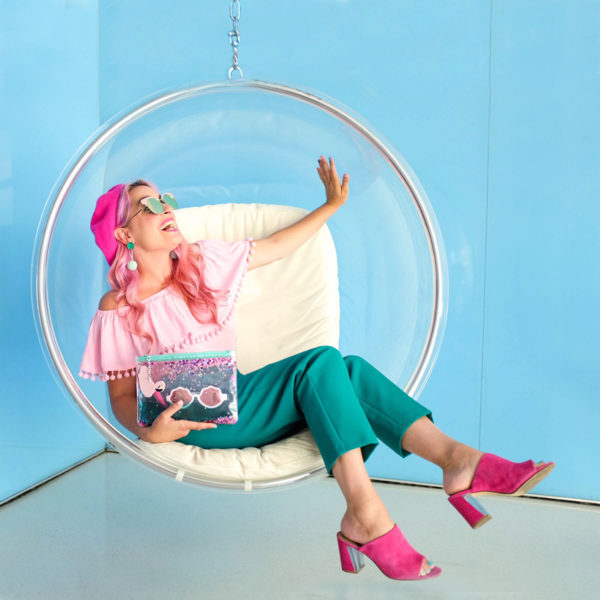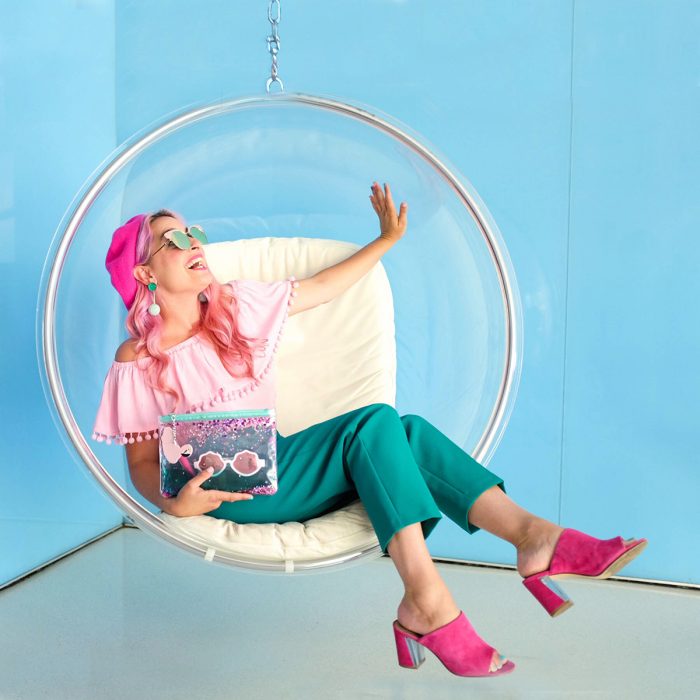 You mentioned you're no longer working in the corporate world! Tell us a little about what you do now.
I'm a freelance set decorator and influencer! I've always loved design and using a space to create a mood or tell a story. As a set decorator you are in charge of everything that moves on a set- the tables, chairs, drapery…pretty much everything. It's a lot of fun! It can be stressful, but I love it. When I'm not working on set I'm creating my own colorful worlds by finding amazing walls, putting together fun outfits, or making custom pieces that pop into my head. The best thing about my Instagram is being my own boss and being able to control what projects I want to be a part of.
What did you do before going freelance?
I worked as a corporate set decorator for NBC. Our biggest account was E! entertainment. So I worked on shows like Fashion Police, E! News, The Soup, E! Live from the Red Carpet as well as Nerdist which was on BBC.
That sounds like it would be so fun! How did you know it was time to leave your full time job?
Everything in my life began to turn upside down. I started to realize that I was giving up way too much of myself to my job and my personal life was beginning to suffer greatly. I went from loving my job to dreading driving to work everyday. I consider myself to be pretty tough but eventually the workload and stress became abusive and I knew in my heart that something needed to change. I even began losing my hair because of the stress, but the final draw came when I found myself no longer caring about the work I was producing. Honestly, I don't like change at all, and leaving the job and security I had for 12 years was one of the most frightening things I could think of, but I was at my breaking point and as scary as it was, I knew I had to leave.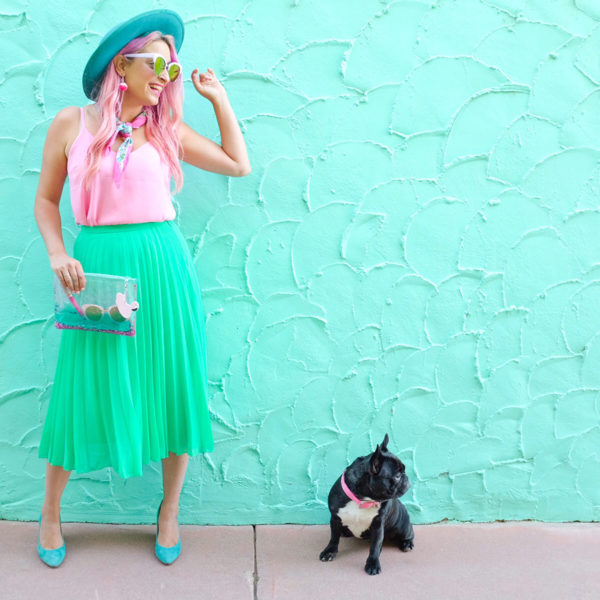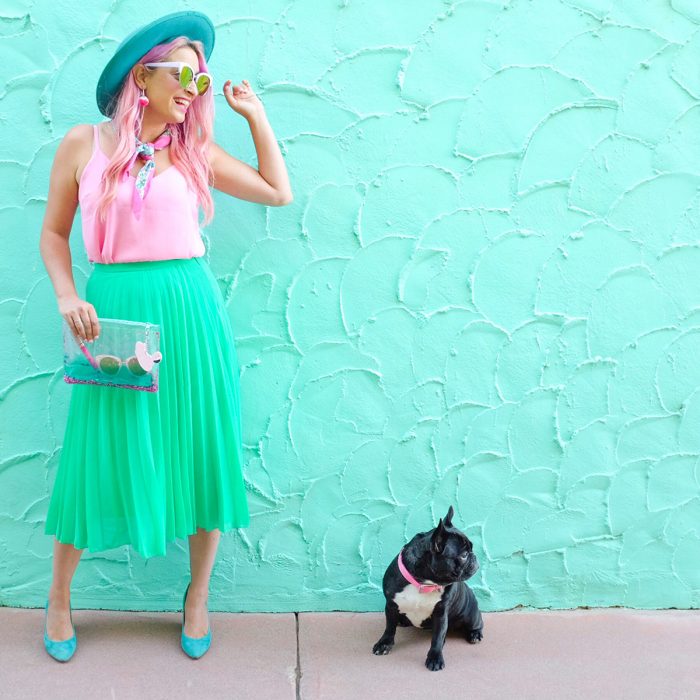 What advice would you give to other women looking leave a full time gig to work for themselves?
I would say take a day and really examine your life. Ask yourself if you are happy, complacent, or miserable in your current job. How bad do you want to jump out on your own? For me, by the time I left my job I honestly had no other choice. As I mentioned, I don't like change so it took a LOT to convince me that I needed to leave. Imagine yourself without the steady income your current job provides and question if you're willing to do whatever it takes to create that amount or the minimum you need to live on your own. I would say you want to be very practical about this decision but definitely consider where your heart is at as well. I mean, my hair was falling out, I was pushed on the verge of tears everyday from the stress, but it wasn't until I realized my heart wasn't in it anymore that I was finally convinced it was time to move on.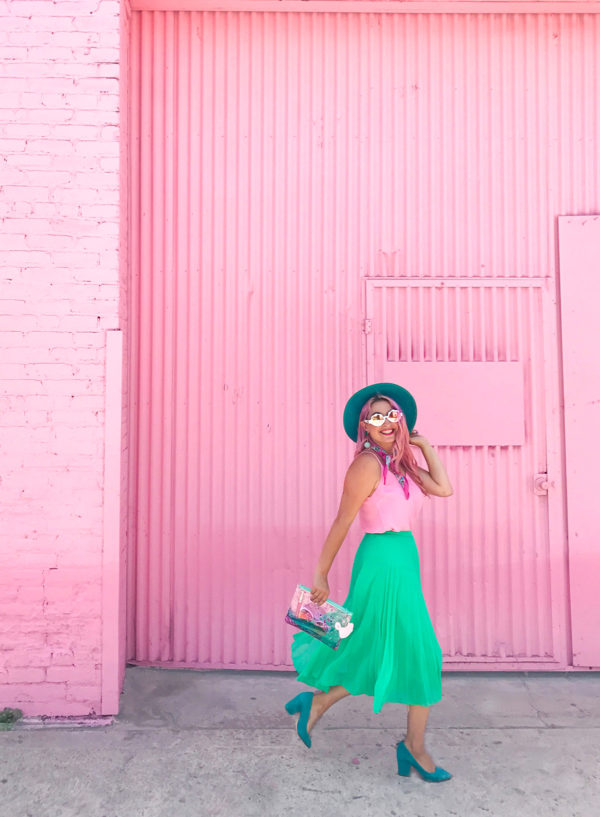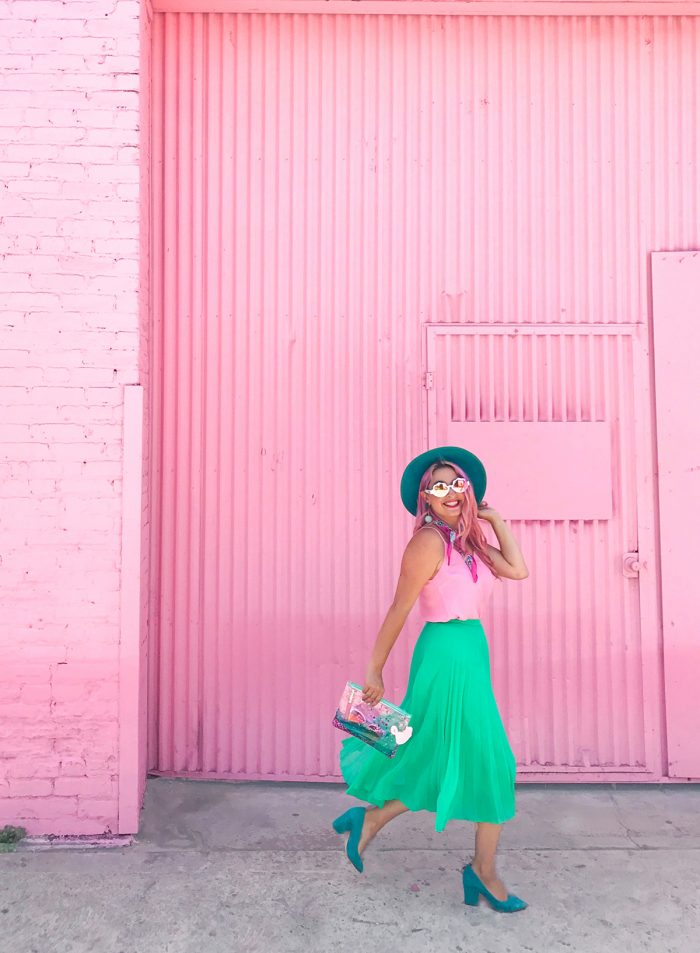 Photos by Cyn Moreno
Thank you, thank you, thank you to Cyn for taking the time to chat and for sharing Dolly with us! Be sure to follow along with Cyn's colorful adventures + stay tuned to her Instagram later today because she's going to be giving away one of our SOLD OUT Glitter Clutches + keychain! It's the only way you can get your hands on one so go, go, go!
And if you want to make sure to secure your spot for the next available clutch, be sure to sign up for the waitlist here!