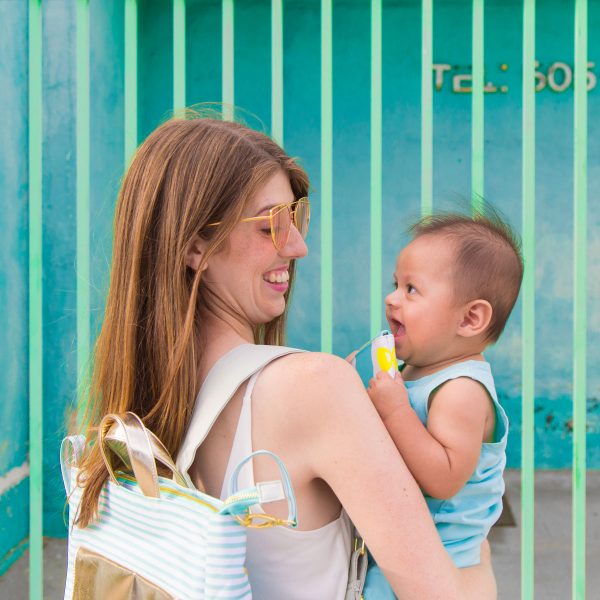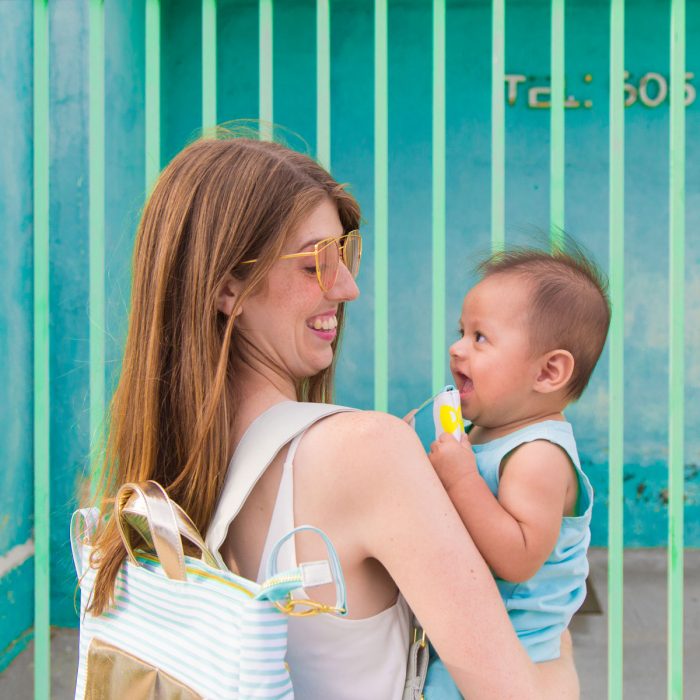 I can now say I've survived four flights and three road trips with the most active baby on earth! I've learned a lot… something new with each one of those trips, actually! For our most recent cross-country plane trip, I packed just about everything I owned, but now that I'm on the other side of it, I've really learned what actually works for me. And today, in partnership with Pampers, I'm sharing my ten essentials for surviving a day of travel with baby!
1. Calculator – Arlo loves to play with anything that has buttons, like my phone, but usually he ends up almost accidentally dialing 911 which is less than ideal so a calculator has provided endless entertainment!
2. Diaper Clutch – Plane bathrooms, gas station bathrooms… they're all a treat. I like having everything compact and in one place so I don't have to lug my whole bag with me. In a small bag or clutch, I put a few Pampers Swaddlers, a plastic baggie (like you use for dog clean up!), wipes, a teether (to distract him, he hates getting changed!) and an extra onesie. Then I just have to grab that and the changing pad and go!
3. Travel Pack of Pampers Wipes – Speaking of wipes, not only do I use Pampers Wipes for diaper changes, but they are great for cleaning your hands after diaper changes if you can't manage to wash them and wrangle a baby, they're great for wiping down the seats/tables before baby inevitably chews on them, and they're great for wiping baby down after… everything? Arlo also loves examining the package, so it moonlights as entertainment in a pinch too.
4. Box of Tissues – Desperate. Times. A few of you gave me this tip and boy, has it come in handy! Baby pulls out one tissue, and another one follows. Repeat. 200 times. That's like fifteen minutes of silent bliss! I'm working on a more eco-friendly, reusable version (and will share when I figure out the best one!) but in a pinch, find any way possible to squeeze a box in your bag.
5. iPad – Whether it's a few episodes of something baby-friendly or that mesmerizing baby bubbles game, I like to think of the iPad as my "pinch hitter." It comes in in between all the other activities whenever I need a few moments to breath or whenever he starts really screaming.
6. A Favorite Book – Arlo has a few favorite books, especially little interactive ones, and I try to pack one that we'll pull out and read a couple of times when he's being fussy. It's familiar for him, and he loves to turn the pages and also eat them.
7. Veggie Puffs or Cereal – I've tried to feed Arlo purees or other food in a plane seat and we all end up covered in it, but puffs/cereal are a great way to keep busy and clean while still get a little food in him. If a couple spill on the floor, it's way easier to clean that up than pureed spinach all over your pants!
8. Plastic Container – I like to keep a lot of the above in a small container container for a few reasons… First, I don't have to go digging in the depths of my bag to find them and second, Arlo loves pulling everything out of the container over and over! Win, win!
9. Formula Dispenser – Since we formula feed, we pack empty bottles and a formula dispenser with pre-measured powdered formula. Once through security at the airport, we buy a bottle of room-temp water and then we can easily make a bottle on the go. I had no idea these dispensers existed for awhile but they make life so easy!!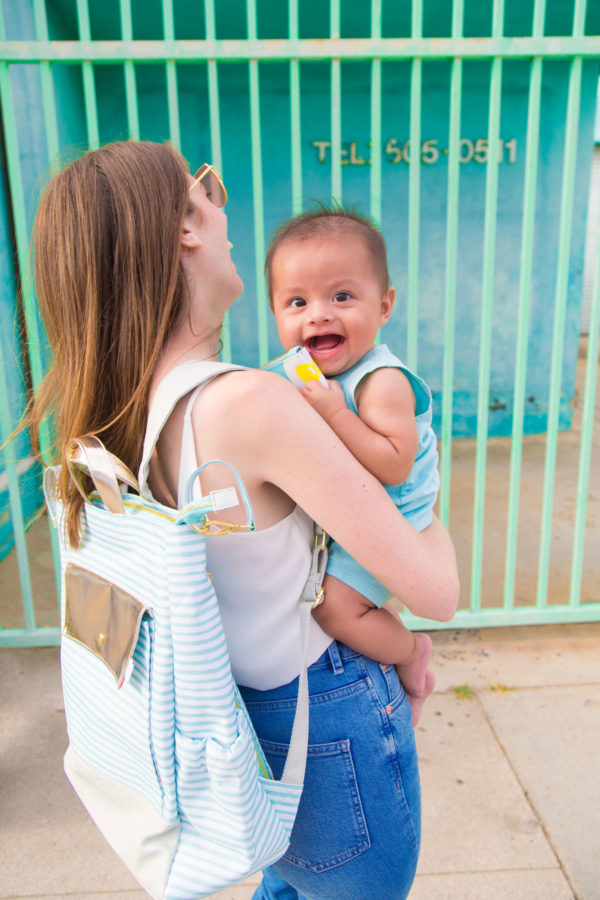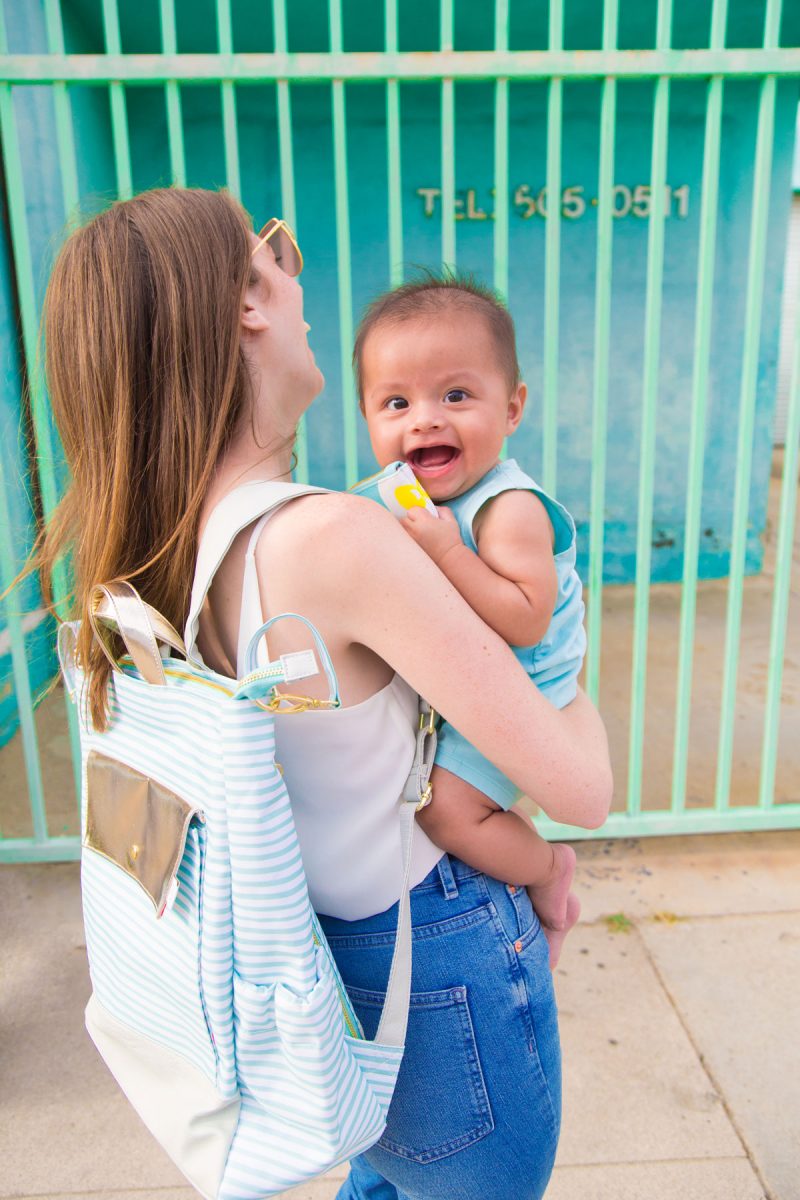 Photos by Jeff Mindell
Fellow mamas out there, any awesome travel tricks you have for your babes!? What do you keep in your diaper bag when you're on the go?? Would love to hear your tips too!!
This post was created in partnership with Pampers. All content and opinions are that of my own! Thank you for supporting the sponsors that keep the Studio DIY party going! Read more about my editorial policies here.
SaveSave