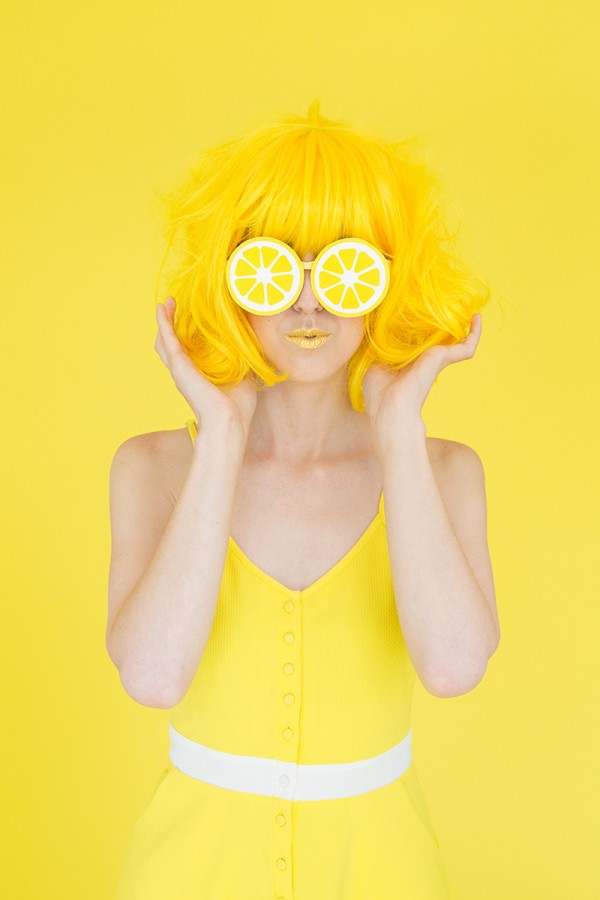 Guess what?? This summer, Starbucks has 6 Frappuccino Fan Flavors that you can try! They asked me to envision a world inspired by my favorite Frappuccino Fan Flavor, Lemon Bar, a mix of lemon and vanilla GREATNESS, and well…. it's pretty darn… LEMON-Y! In case you're also on board with letting lemons take over the universe, I highly recommend throwing a tutty fruity lemon party this summer complete with the ultimate lemon photo booth! It is so easy to create this monochromatic photo booth and talk about WOW inducing. So today, we're sharing three awesome DIY prop hacks so you can get your lemon on! Yellow lips and wig optional.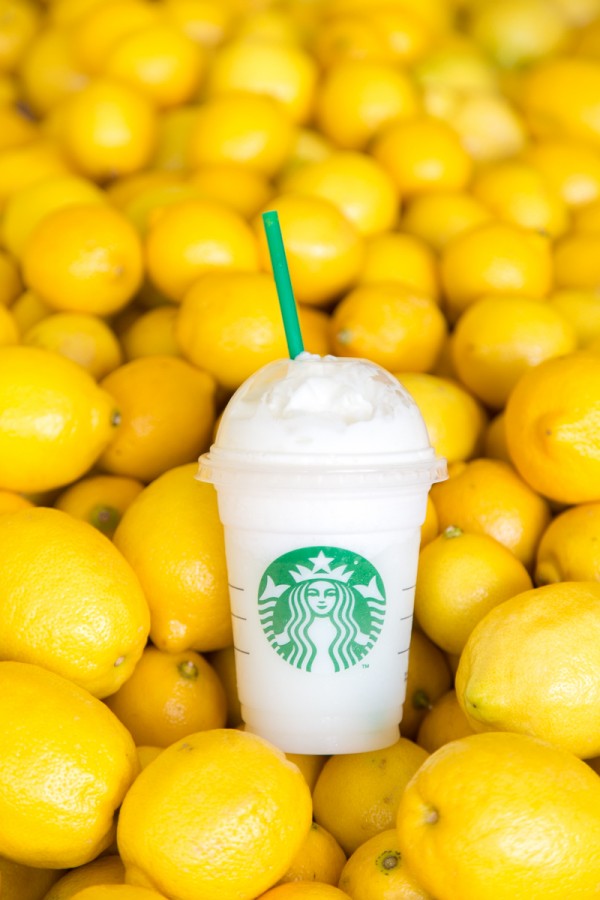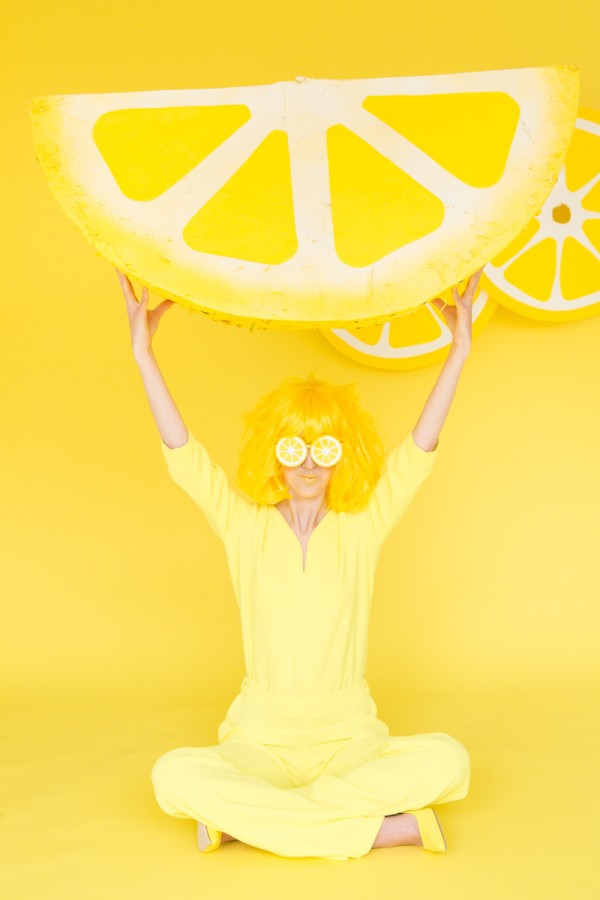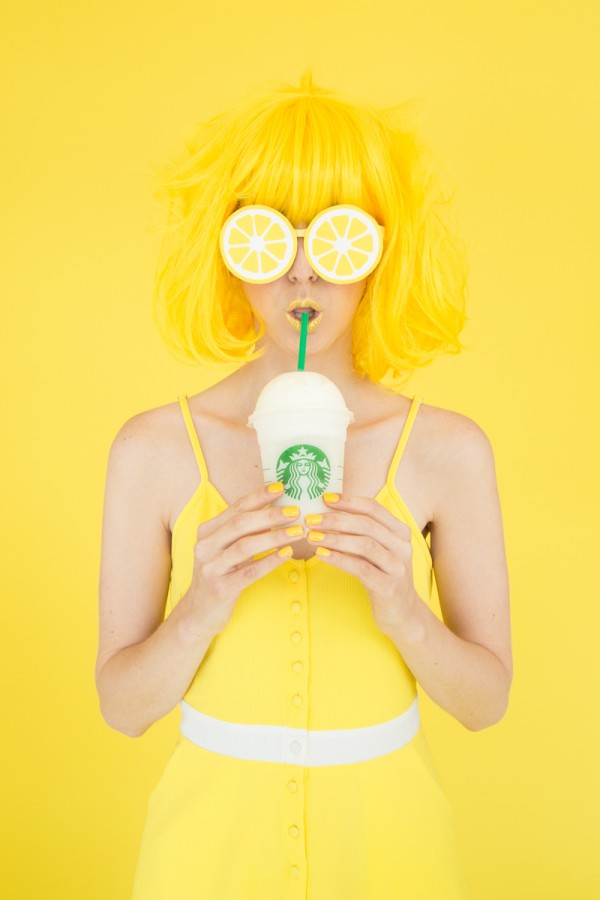 We started with a yellow seamless backdrop from a camera supply store that we hung up on a backdrop stand. You could also use yellow fabric. And then we got our prop on!
DIY Lemon Sunglasses
The best part about a photo booth is the props don't have to be functional, amiright!?
Print out these lemon slices, cut them out and use painter's tape to tape them to a pair of round sunglasses (Like these!) for insta-props!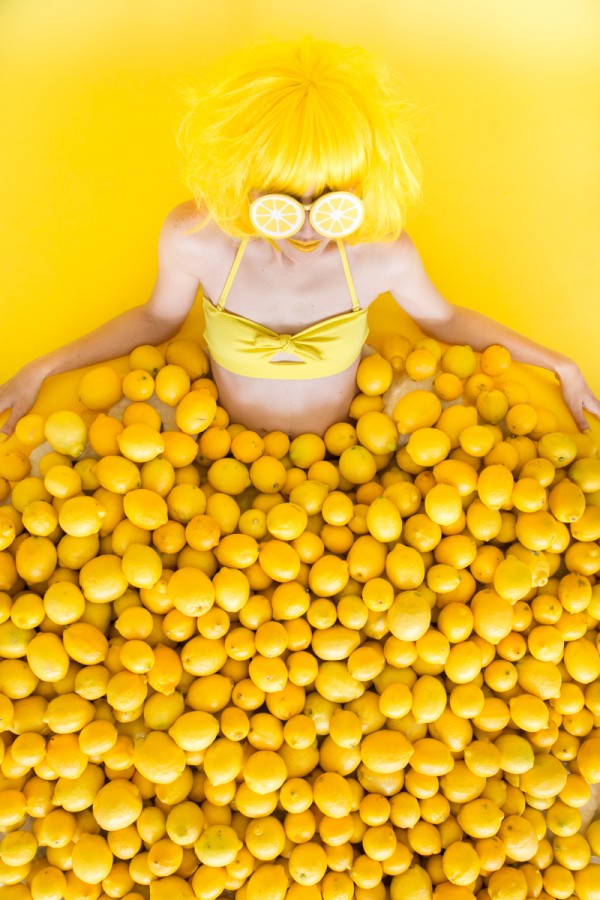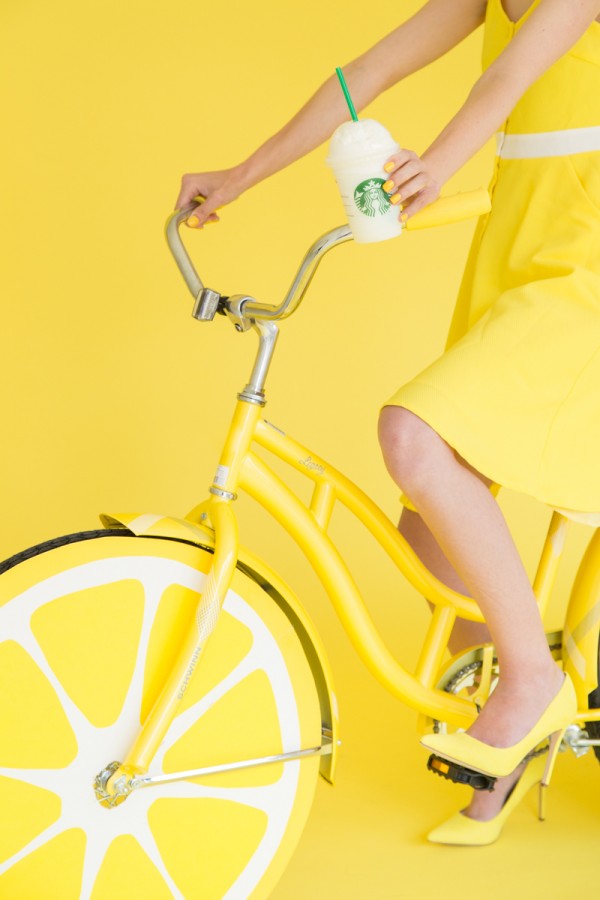 DIY Lemon Slice Wheels
Grab your bike out of the garage and use it as a statement makin' prop by adding lemon slice wheels! Here's how we made 'em:
Yellow Mat Board
White Poster Board
Yellow Poster Board
Spray Adhesive
Craft Knife/Scissors
Bike
1. Cut out two circles, the same size as your bike tires, from the yellow mat board.
2. Cut out two circles from the white poster board that are about 4″ smaller than the yellow.
3. Finally, cut out eight triangles from the yellow poster board and curve each point to make it look like a little wedge.
4. Use spray adhesive to glue the white circle on top of the yellow, and then glue the yellow wedges on top of the white.
5. Finally, cut a slit in-between two of the wedges, from the edge of the circle to the center. Then, cut a 3″ circle in the center through both layers.
6. Set your bike in place in the photo booth and lay it down on the ground. Slip the lemon slices over the wheels (it takes a little patience!) and then stand the bike back up in place. The bike will roll a bit if necessary but remember this is for photos, not for riding around!
DIY Lemon Wedge Piñata
We turned a watermelon slice piñata, purchased in downtown LA, into a giant lemon wedge with a little paint and paper! Isn't it AMAZING!? You could also make this piñata from scratch using techniques from one of my past tutorials, but here's how we did ours!
Watermelon Piñata
White Spray Paint
Yellow Spray Paint
Yellow Poster Board
Rubber Cement
1. Tear off all the tissue fringe from the watermelon and you'll be left with a cardboard/newspaper covered wedge shape.
2. Lay the piñata on one side and spray paint the other side with white paint and the curved side with yellow. It might take a few coats. Then add a bit of yellow around the curved edge of the white. Let dry completely.
3. Flip the piñata over and spray paint the other side white, adding yellow around the curved edge as well. Let dry completely.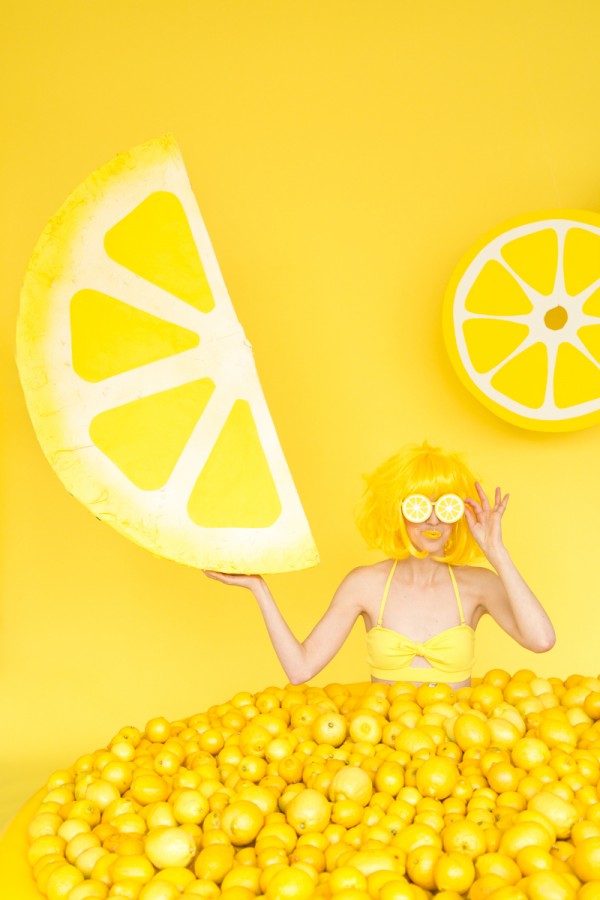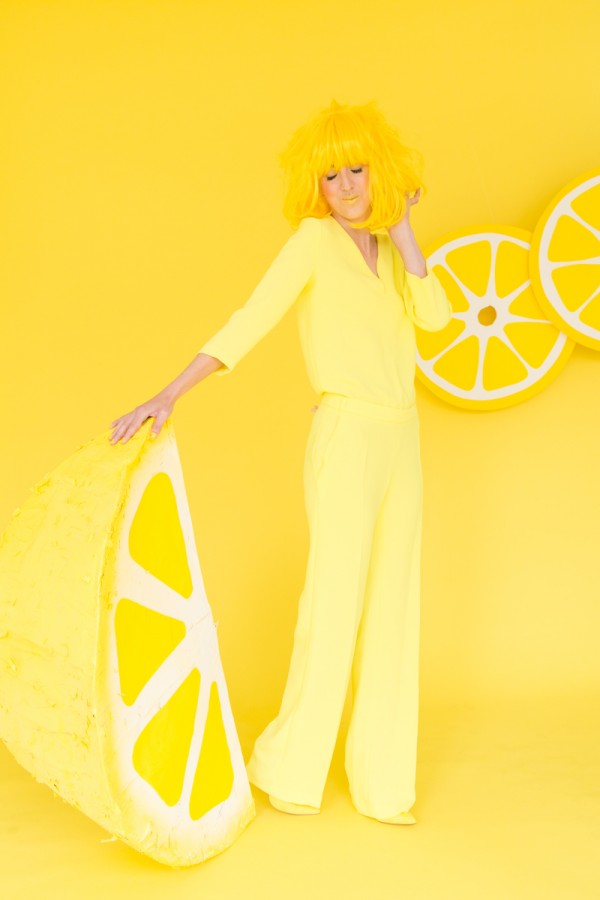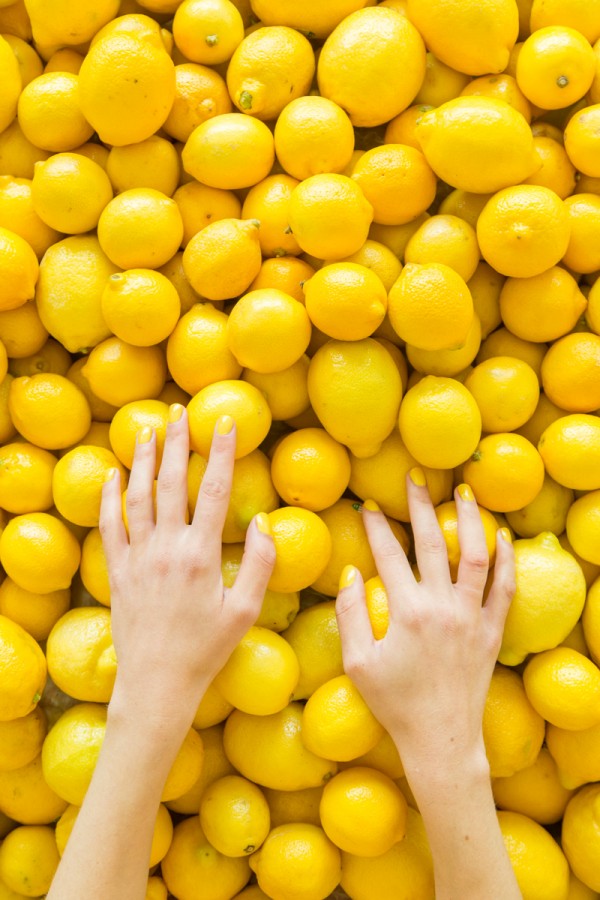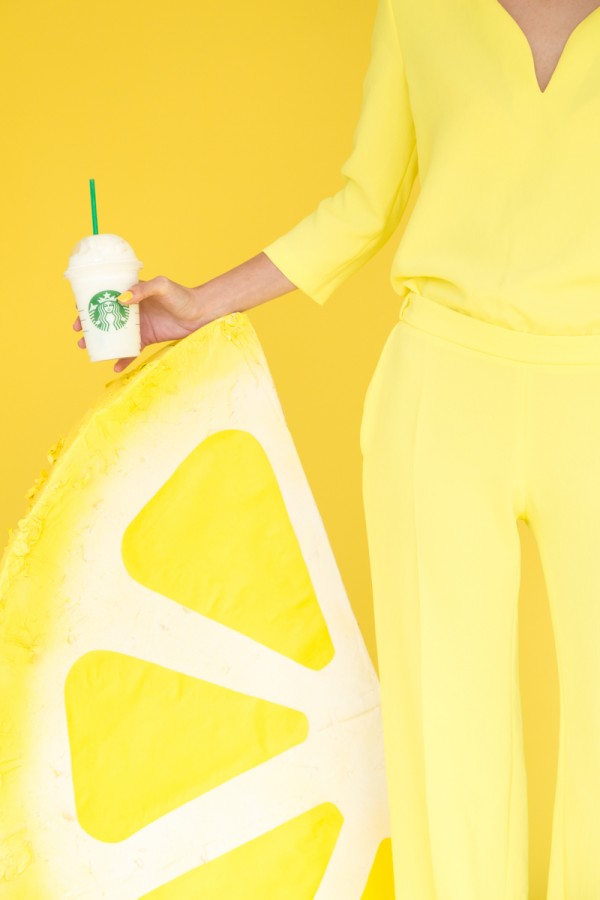 Photos by Jeff Mindell
Creative Direction by Studio DIY | Hair & Makeup Page Beauty | Styling by Beautilitarian | DIY Project Production by Theresa Rountree
On me: Sunglasses | Bathing Suit | Dress | Jumpsuit | Shoes
This post was created in partnership with Starbucks. All content and opinions are that of my own! Thank you for supporting the sponsors that keep the Studio DIY party going! Read more about my editorial policies here.