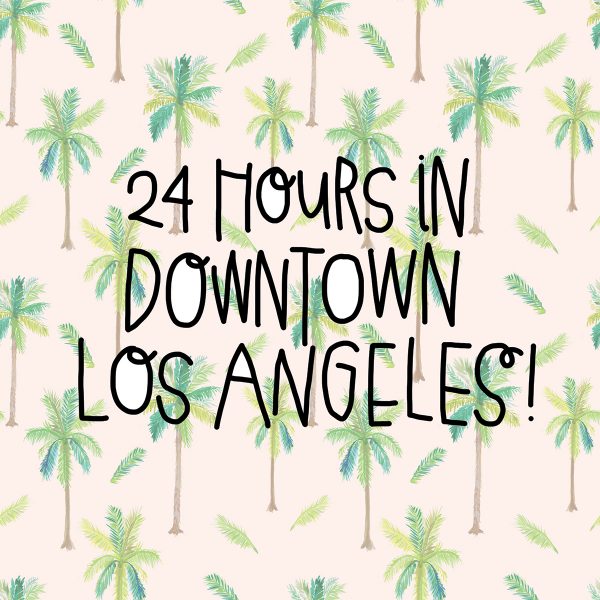 We are SOOOO excited to finally share our EPIC Studio DIY guide to Los Angeles! We get so many emails from readers who are visiting and want to know the best spots, so we finally compiled it into one big guide!
You can view the full Los Angeles Guide right here!
What you might not know about LA is that it can be a hard city to visit. Everything is really spread out and there's so many good spots across the city that it's difficult to hit them all if you're just here for a day or two. SO! In addition to our complete guide, we're going to be doing some fun "24 Hours in…." features of different LA neighborhoods and our favorite places to hit in each. We thought it would be fun to do this in a "Choose your own adventure" style, so you can go through the flowchart below and let us guide you through the best LA day EVER! You can even print it and take it along with you!
We wanted to start with Studio DIY's own little neighborhood so we have a 24 Hours in Downtown Los Angeles guide for you to kick things off!! Ready!?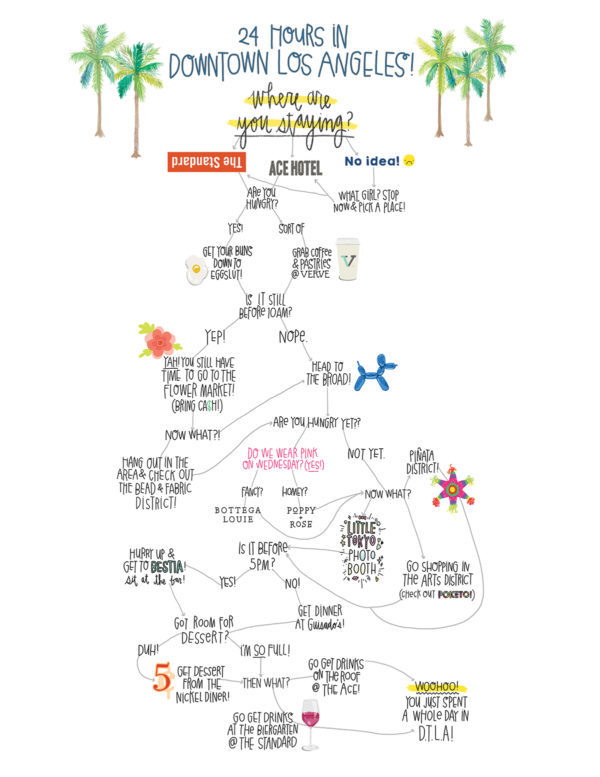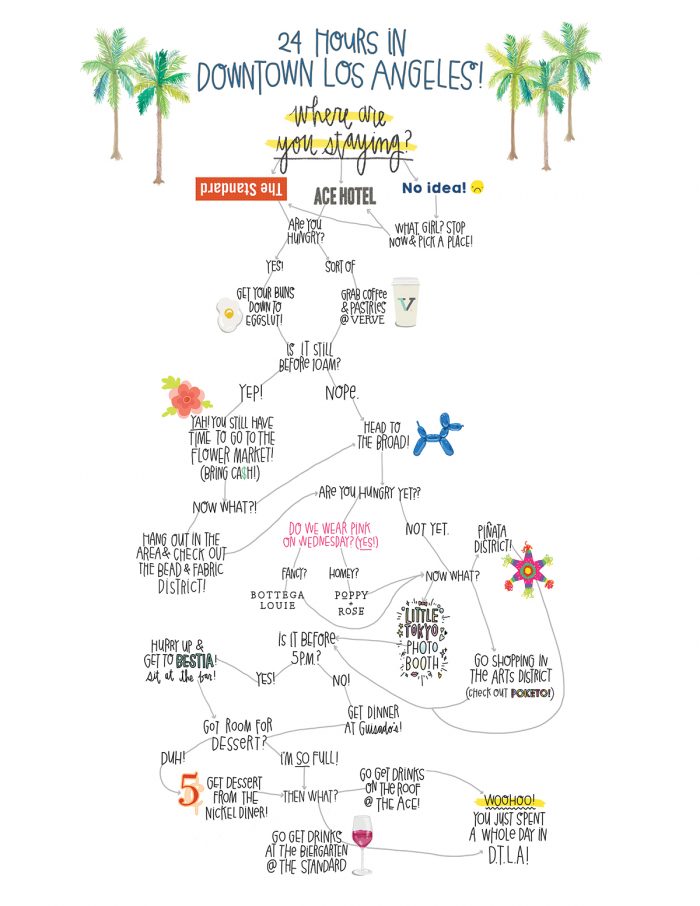 To print the 24 Hours in DTLA Adventure Flowchart, click here!
We've also listed out the spots below so you can grab the addresses and check out their websites!
To Stay:
Ace Hotel
929 S Broadway, Los Angeles, CA 90015
Great restaurant, amazing rooftop, and fun up-and-coming DTLA location.
The Standard
550 South Flower, Los Angeles, CA 90071
Not gonna lie, it's The Standard's all yellow restaurant totally sold me on this hotel. But it's in a great DTLA location, too!
To Eat
Egg Slut
317 S. Broadway, Los Angeles, CA 90013
Amazing breakfast sandwiches and it's located in the super fun Grand Central Market alongside lots of other yummy eats. There is always a line, but it's totally worth it.
Verve
833 S Spring St, Los Angeles, CA 90014
Just a couple blocks from The Ace and has both amazing coffee and Juice Served Here juice!
Bottega Louie
626 Wilshire Blvd, Los Angeles, CA 90017
I would live here if I could. Get enough macarons (13 to be exact!) that you get one of their pretty boxes!
Poppy + Rose
765 S. Wall Street, Los Angeles, CA 90014
Amazing comfort food, right next-door to the flower market!
Bestia
2121 E 7th Pl, Los Angeles, CA 90021
Get there when they open at 5pm and eat at the bar if you don't have reservations. Get the bone marrow gnocchi!
Nickel Diner
524 S Main St, Los Angeles, CA 90013
An LA institution famous for their donuts and dessert!
Guisados
541 S Spring St #101, Los Angeles, CA 90013
Great casual taco place with yummy food! A Studio DIY team fave is the steak picado tacos!
To Do + Shop
The LA Flower Market
754 Wall St., Los Angeles, CA 90014
Fun experience for you early riser/flower lovers out there. It is open to the public after 6am or 8am (depending on the day) and costs $2 (cash only) to enter. The hours are different each day, but most days the sellers are packing up by 10am.
The Broad
221 S Grand Ave, Los Angeles, CA 90012
The Broad is a great, great, GREAT art museum in Downtown. They have several Jeff Koons pieces and a crazy-awesome infinity mirror room, alongside a slew of other awesome exhibits and artists.

The Fashion District
Wall and Maple between 8th and 9th Streets
The Fashion District is lined with fabric, trim and bead stores. If you're a crafter, it's a blast to walk around. The bulk of the shops are on Wall and Maple, between 8th and 9th. There's also Michael Levine, one of the more notable fabric stores, on Maple between 9th and Olympic. Don't forget Moskatels too, basically a super-sized Michaels, on San Julian.

The Piñata District
E. Olympic between S. Central Ave and Koehler St.
Yes, LA has a piñata district and it's quite the experience. The heart of it is located on Olympic between Central Ave and Koehler St. You won't be able to miss it, as there are piñatas literally lining the streets! Park on Central and walk around and into the stores, where there's even more piñatas. Just a couple blocks down from Central is Joker Party Supply which is where I get a lot of the balloons you see in my posts. They have an amazing selection there!

Little Tokyo Photo Booth
319 E. 2nd St Suite 103 Los Angeles CA 90012
Samantha found this (somewhat) hidden gem when her BFF was in town and came into work the next day talking about it non-stop! It's tucked inside a shop in the Little Tokyo Mall and there are two different booths you can go into. Both of them have multiple stations where you take your photos, add phrases and designs, and then print! They are totally over the top and in the end you have a funny little souvenir! Make sure you bring cash though as the machines don't take cards.
Poketo
820 E 3rd St, Los Angeles, CA 90013
Located in the Arts District (a great area to walk around) and has a great curated selection of home decor, office/stationery and fashion items!

Downtown Los Angeles Wall Crawl
A couple of the walls in our wall crawl are located in DTLA! Hit them up if you have any extra time!
Here's a few snaps from some of our faves!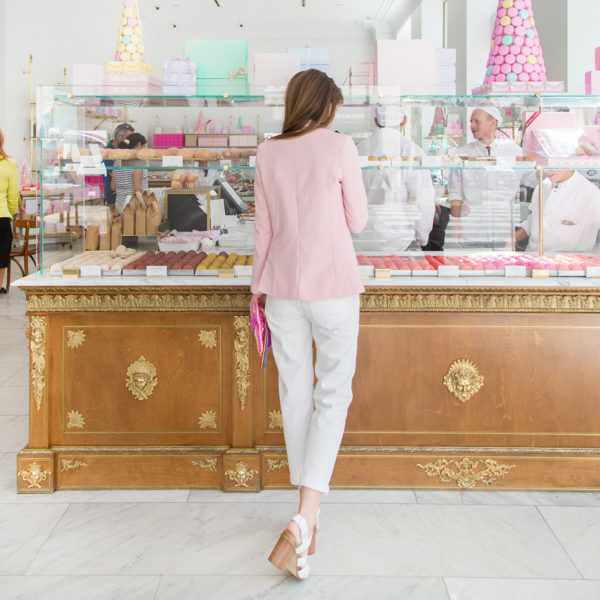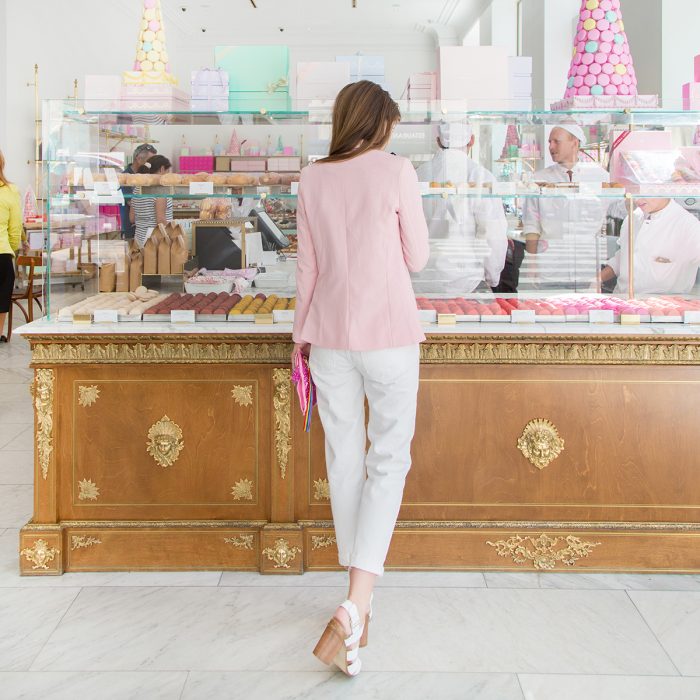 Bottega Louie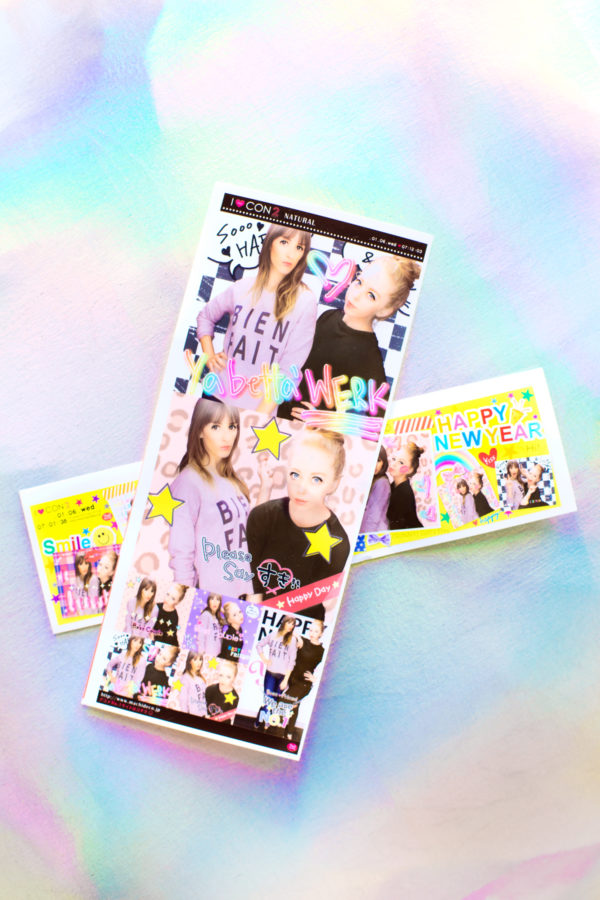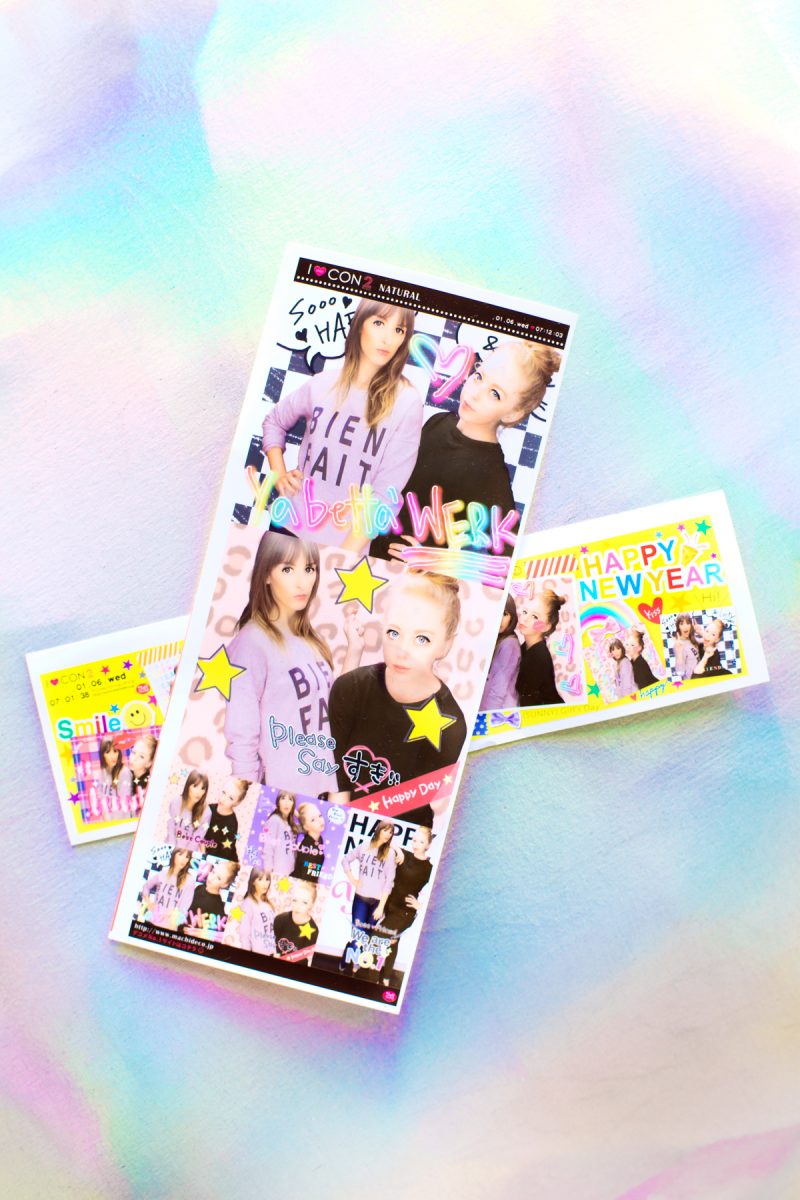 Little Tokyo Photo Booth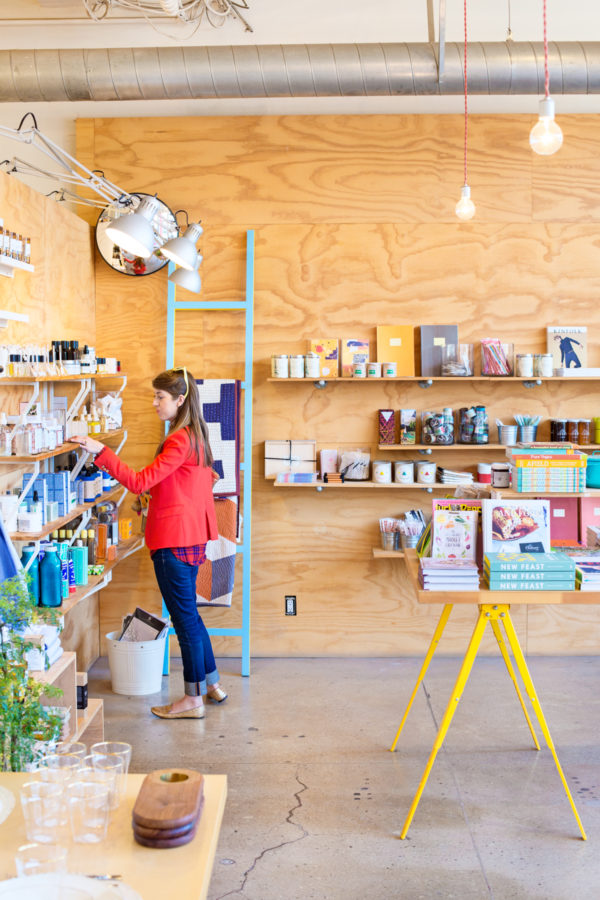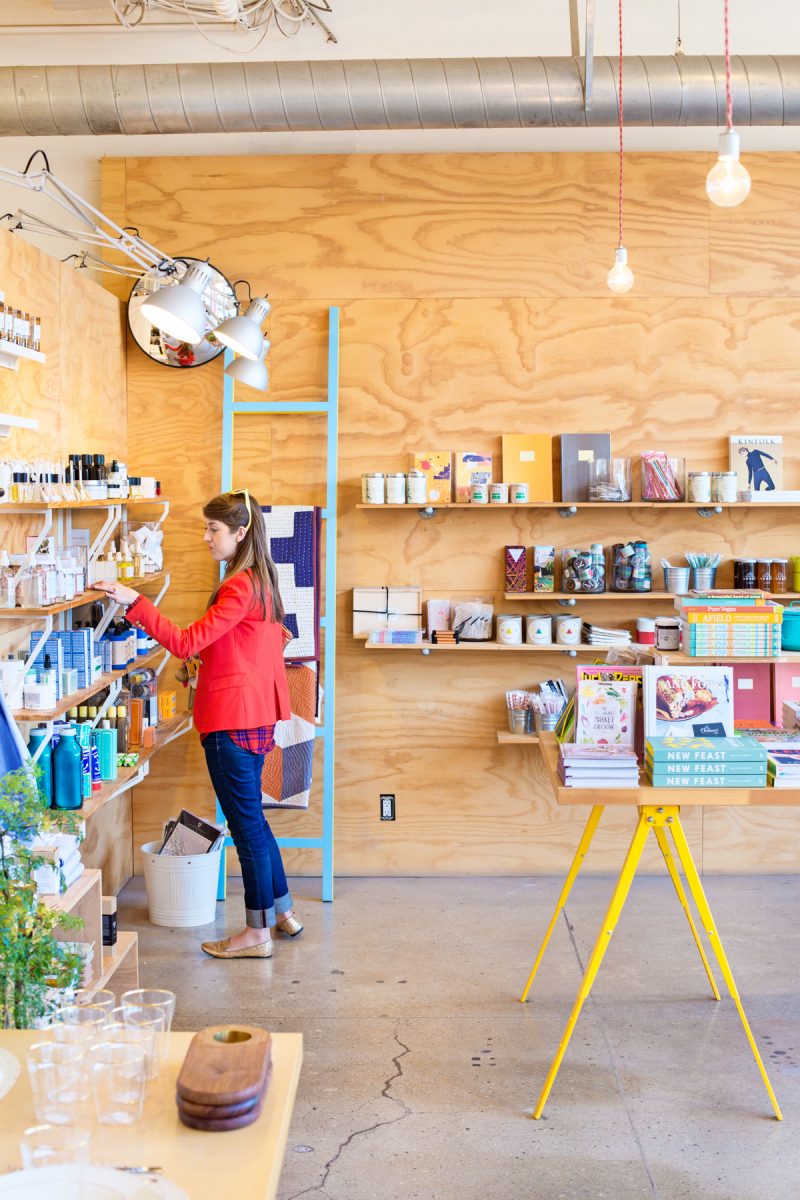 Poketo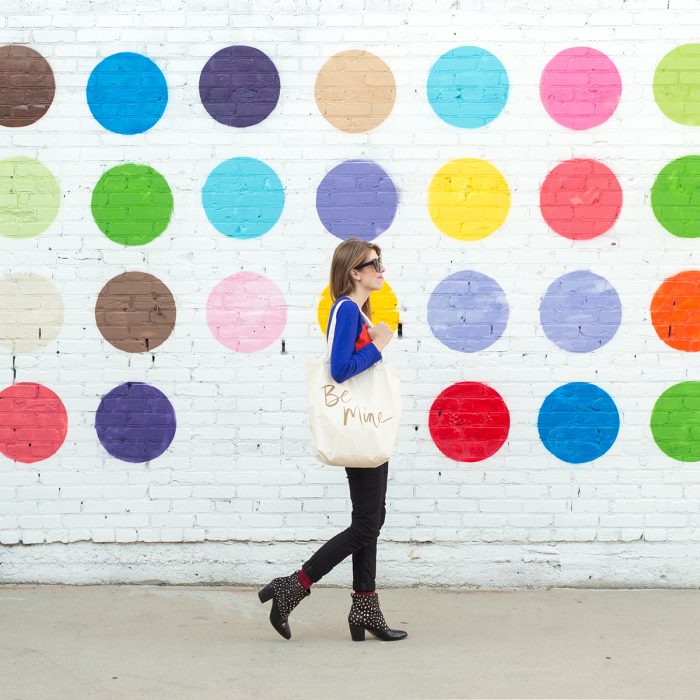 Polka Dot Wall Behind The Springs
Graphics by Danielle DeLorenzo
Have a blast exploring DTLA! If you live here in LA, feel free to share some of your DTLA faves in the comments below, I know we only scratched the surface!!
And don't forget to check out our full Los Angeles guide, right here!