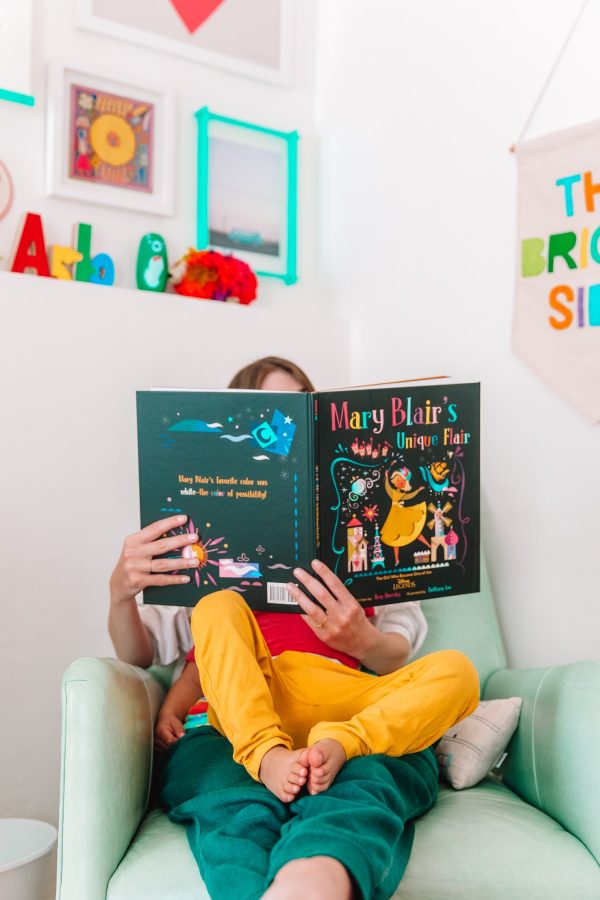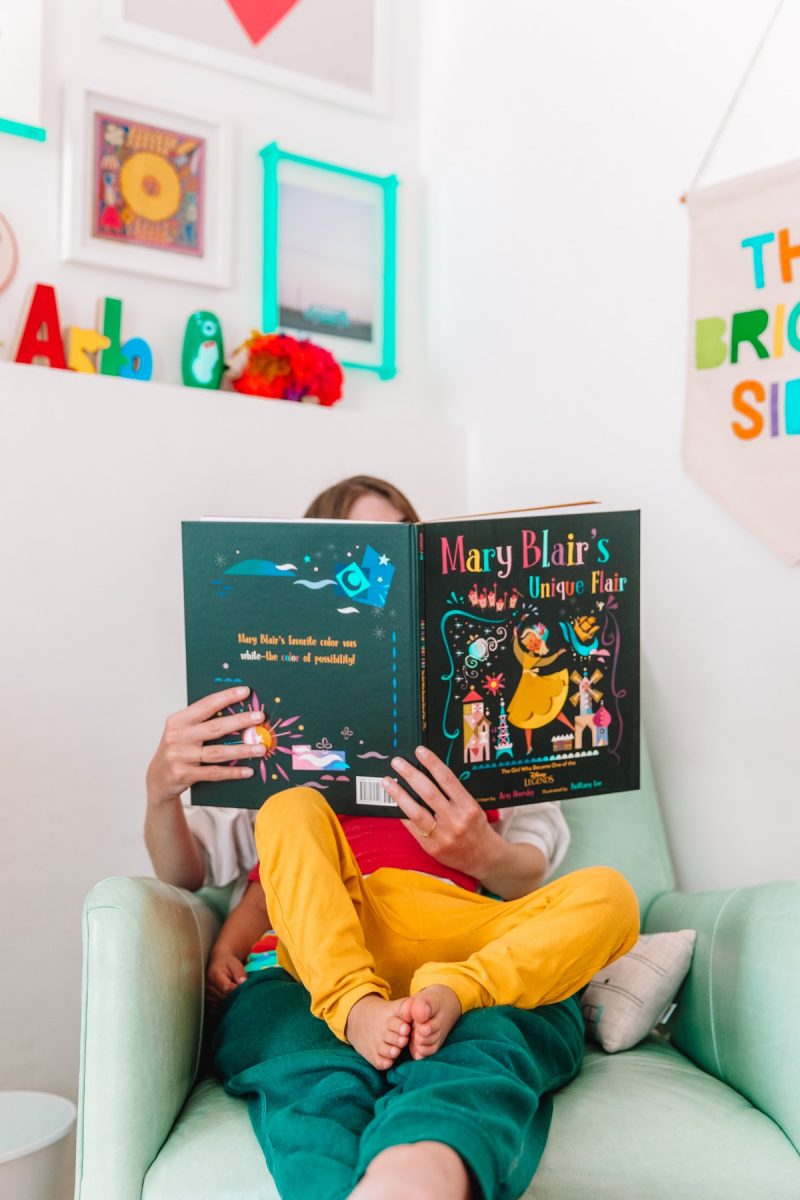 We read books to Arlo every night before bedtime and we're often adding new ones to our rotation! Today I wanted to share some of our latest favorites, in case you need some new ones for your library or some great books for three year olds as gifts.
It's always fun to see which books he goes back to over and over, and which I enjoy reading the most too.

Photo by Jeff Mindell | Graphic by Meagan Knight for Studio DIY
Please Read!
Small business are suffering immensely right now, so this book round-up looks a bit different. I found each book at independent stores across the country and linked those as the main source below. If you are in a position to do so, please consider supporting one of these stores right now when they need us most!
I tried to include as many shops as possible based on your recommendations, but many of them do have several of these books. So you can just find the shop that suits you best and do a search if you're looking to order multiple from one source!
Favorite Books for Three Year Olds
1. The Sandcastle That Lola Built by Megan Maynor: We read this book every night for a LONG time. This book is all about making new friends and working together! Lola is building a sandcastle and lots of obstacles are thrown her way, but instead of giving up she recruits her new friends to use their skills and help build a sandcastle together!
2. Julián Is a Mermaid by Jessica Love: I just adore this book and it's one of Arlo's recurring go-tos. It's about a boy named Julián who sees himself as a mermaid, and his Abuela's not only acceptance but encouragement for him to be himself. I love that the story text is minimal but the message is powerful and that it's not rooted in overcoming bullying like most similar stories are.
3. Maybe Something Beautiful by F. Isabel Campoy: This book is all about how important art and color is, and what an impact it can make on a community! I love that it shows people of all ages coming together to improve their neighborhood, and it's based on a true story!
4. The Little Gardner by Emily Hughes: The illustrations in this book are so sweet, as is the story. It's all about a little gardner who learns the importance of never giving up and how every little bit of effort counts!
5. Super Pooper and Whizz Kid: Potty Power by Eunice Moyle: Arlo thinks this book is HILARIOUS, and it's one of the few potty training things he's actually interested in at the moment. It's a quick read with awesome illustrations and I love that it's a super silly, but still factual, take on potty training for kids!
6. The Proudest Blue: A Story of Hijab and Family by Ibtihaj Muhammad: This is a story about a girl on her first day of hijab, told from her little sister's perspective as she observes her schoolmate's reactions. It has a lot of powerful messages about strength and resilience and normalcy that resonate in so many different situations. One of my favorites, "Don't carry around the hurtful words that others say. Drop them. They are not yours to keep. They belong only to those who said them."
7. Mary Blair's Unique Flair by Amy Novesky: A perfect children's story all about one of my favorite artists, Mary Blair! The illustrations are SUPER bold and appealing to kids, and it's been so fun to teach Arlo about one of the most important people behind his favorite ride and several of his favorite movies. I LOVE this book.
8. Yum Yummy Yuck by Amanda Jane and Cree Lane Jones: This is a board book, and definitely great for really young babes and toddlers too, but Arlo gets such a kick out of it! It's super graphic and he loves "guessing" which foods (or non-foods) are yum, yummy or yuck!
9. Love, Z by Jessie Sima: This is a sweet book about a little robot on a journey to understand what love means, or really more like all the different meanings love can have!
10. Carmela Full of Wishes by Matt de la Peña: A current favorite activity of Arlo's is blowing dandelions he finds in the neighborhood so this story is really a hit. But it's about so much more than that and has several subtle messages about immigration, sibling relationships and other important topics that will make great conversation starters with slightly older children.
11. Nugget & Fang by Tammi Sauer: This book is all about a minnow who is best friends with a shark, until he goes to school and the other minnows tell him he can't be friends with him… or can he!?! I love this silly story, and Arlo loves anything set under the sea, and it has a great "don't judge a book by it's cover" message in the end.
12. Tangled by Ann Miranda: Top three most-read books in our house, hands down. Arlo has learned so much about shapes from it!! The story is all about some different shapes that get tangled up inside a jungle gym, and how they all manage to get out. It rhymes and is SUPER fun to read, as the parent!
If you are unable to support the above retailers for financial reasons, that's ok too! You can find these books along with other favorite books of ours on Amazon here.
More Favorite Kids Books