Welcome to Toddler Camp! A daily itinerary of themed ideas to keep your toddler busy while you're at home! You can find more themes and the full guide to Toddler Camp here.
Shapes are a major thing we've worked on between the age of two and three, and it's super fun because almost everything is a shape so you can consistently point out different examples to your kiddo!
For our Shapes Day at Toddler Camp, I put together several different crafts and activities to help with identifying and learning different shapes. I created one simple printable that you can use for several activities which will really come in handy.
Printables
I created one simple shape activity sheet that you can use for several of the activities I share here! You can download it here!
Movies + Shows To Watch
Here are some shape themed movies and shows to watch on Shapes Day:
Sesame Street: Shape Hunt (Episode 4821) – Available on HBO
Sesame Street: Hooper's Lockdown (Episode 4620) – Available on HBO
Inside Out – Available on Disney+
Active Play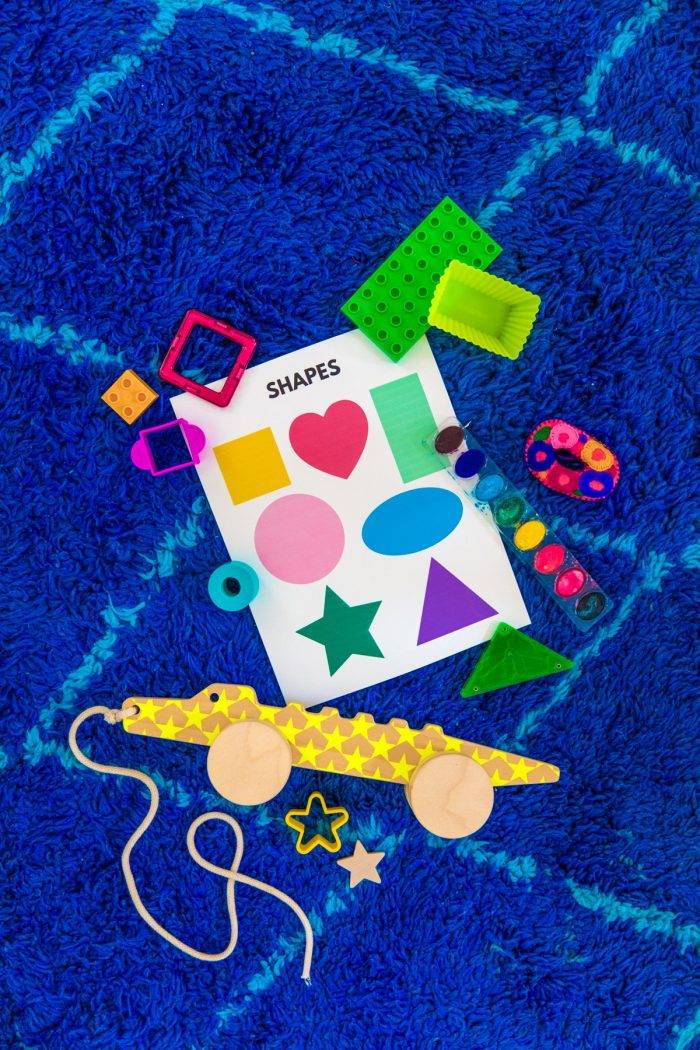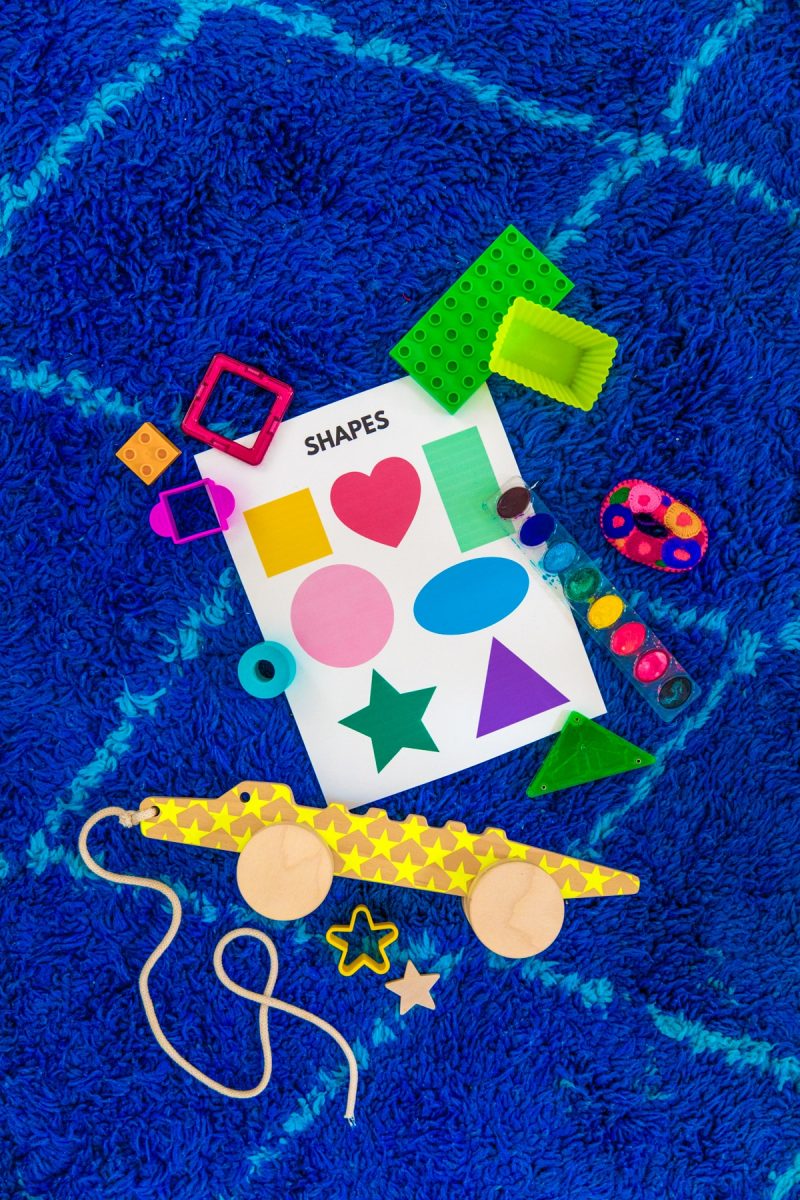 Shape Hunt
Using the printable shape worksheet I provided above as your "guide", ask your little one to go hunting around the house to find things that are different shapes.
I like to pick one shape at a time, have my son run around the house looking for items of that shape and bring them back to me to "match" them to the worksheet. Then he'll go off to find a bunch of things that are the next shape and so on.
Hopscotch with Painter's Tape
Use painter's tape or washi tape to tape off different shapes down your hallway or other large floor space and have kids "hop" from one shape to the next!
Sensory Play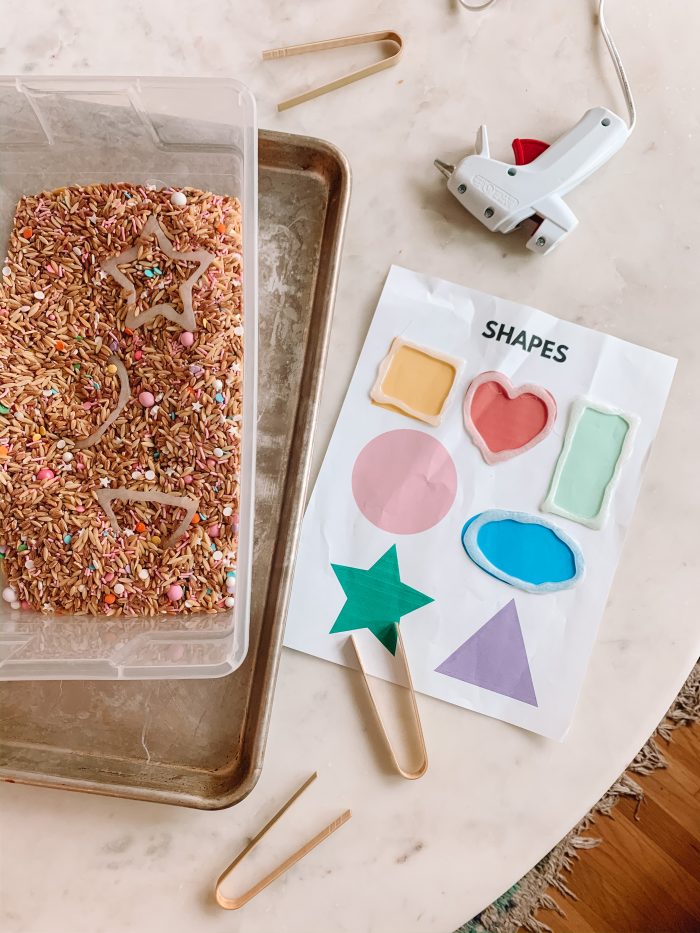 Hidden Hot Glue Shapes Sensory Bin
Print out the shapes sheet and lay it underneath a piece of parchment paper (NOT wax paper, the glue will stick to wax paper!). "Trace" the shapes with your hot glue gun and let set. Peel off of the parchment paper.
Fill a small bin (like a plastic storage bin), pot or bowl with your dry sensory filler (see below for some tips!). Bury the hot glue shapes in the the bin and let your little one dig for them.
Tools you can provide for digging/shape finding:
Spoons
Cups
Measuring Cups
Ice Cream Scoop
Have them "match" the shapes to the ones on the sheet you used to trace them! Once they find the shapes, re-burry them, or allow them to just play and scoop the filler.
We also love using a toilet paper roll as a "slide" for sliding the filler back and forth between a cup and the bin.
I recommend putting a towel and/or cookie sheet underneath the bin for easier clean up!
How To Create A Sensory Bin Filler
You can make a sensory bin filler out of any dry goods you have in your home. Food products are popular but there's non-food items that work great too!
Here's a list of materials that work well:
Dry Pasta
Farro
Rice
Oats
Beans
Dry Chickpeas
Sprinkles
Shredded Paper
Pom Poms
Buttons
Feathers
Sand
Confetti
Beads
For ours, I used farro and sprinkles, because that's what I had on hand. The added sprinkles make things *extra* exciting for toddlers!
Crafts
Circle Painting with Cardboard Tubes
Cut up a cardboard tube (toilet paper roll, paper towel roll or wrapping paper roll) into 3″ tall pieces. Place different colors of paint in different dishes or bowls. Kids can dip the rolls into the different paint and use them as "stamps" on sheets of paper to make circles.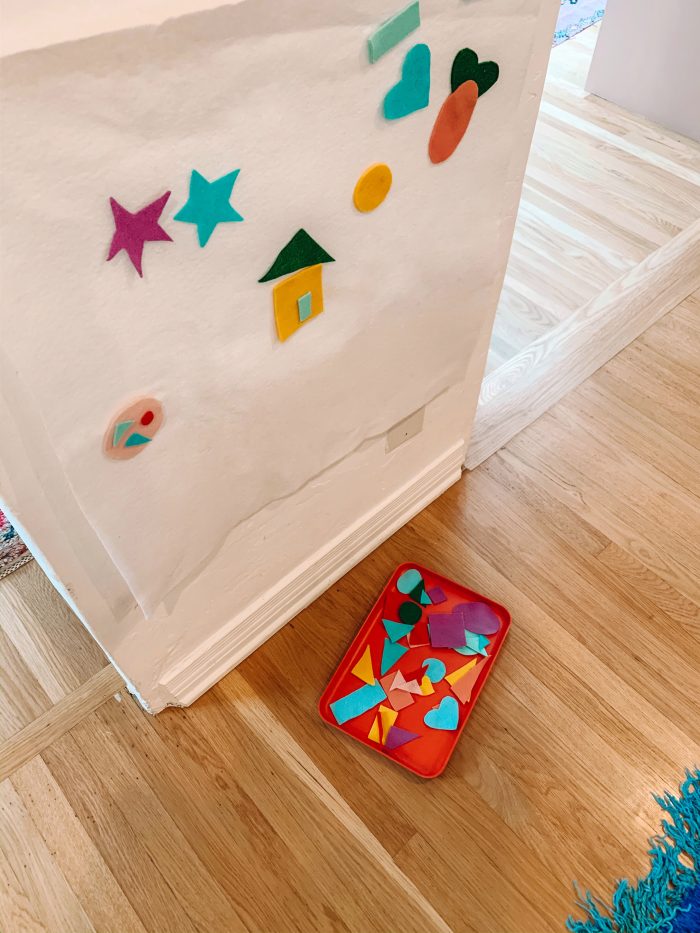 Easy Shape Felt Board
Cut various shapes out of different colors of felt. Try to vary up the sizes in addition to the types of shapes.
The best thing about felt is that it sticks to itself so you don't need any adhesive for this. Hang a larger piece of felt on the wall using painter's tape. Kids can stick the shapes all over the felt to make different pictures, animals, characters, etc!
Games + Puzzles
Here are a few awesome shape games and puzzles that would be a great supplement to the homemade activities!
Books To Read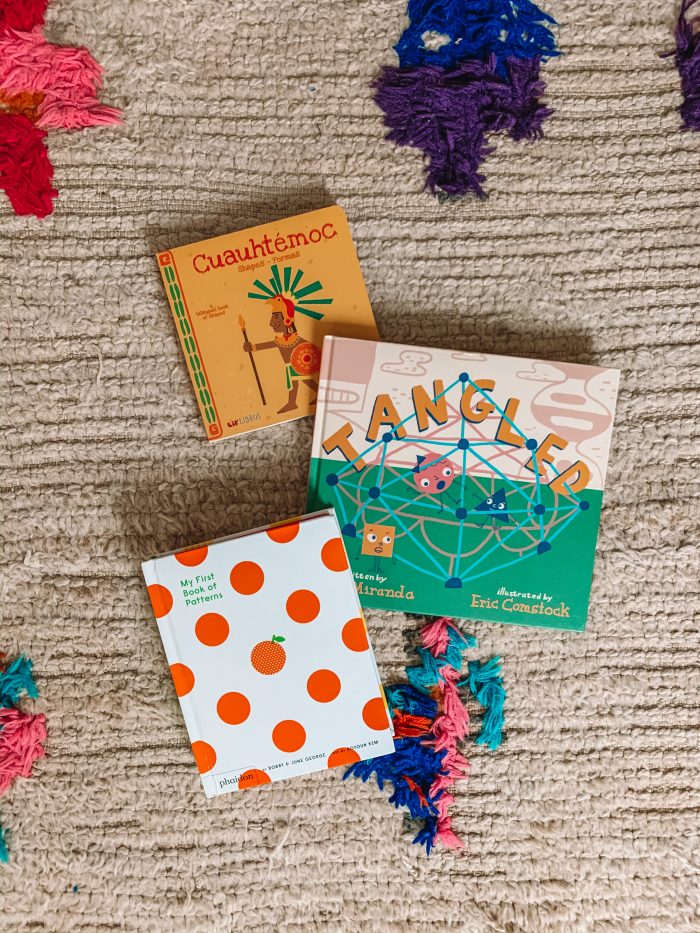 Here are some of our favorite books about shapes:
Cuauhtémoc: Shapes by Patty Rodriguez and Ariana Stein (Bi-lingual)
Tangled by Anne Miranda, Illustrated by Eric Comstock
My First Books of Patterns by Bobby and June, Illustrated by Boyoun Kim
Shop them here in my Amazon shop!
You can visit this post to see how I structure our camp days, to allow for free play and downtime as well. If you have any other shape themed crafts or activities your kids love, I'd love to hear them! Leave 'em below!
And if you make or do any of these projects, be sure to tag me if you share a picture or story on Instagram!