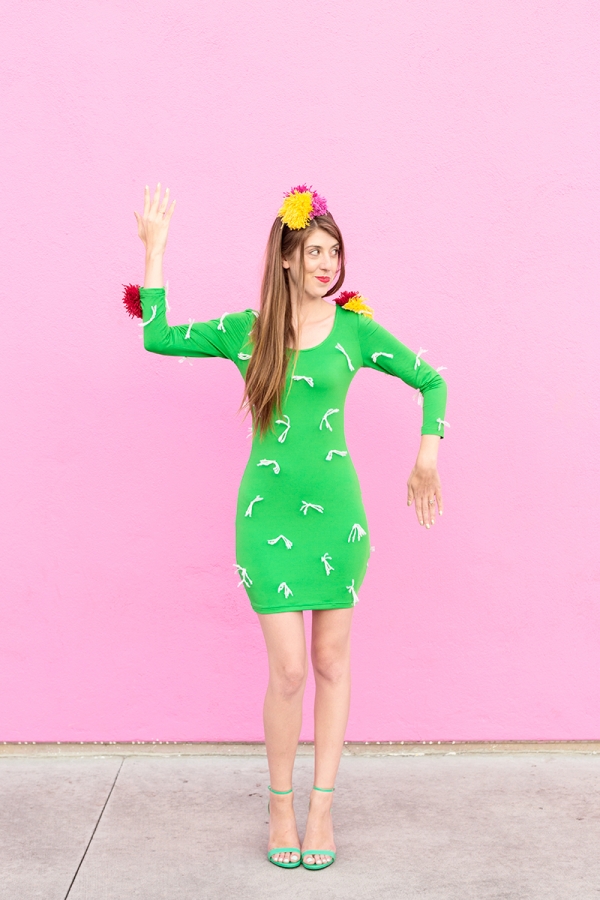 I think it's safe to call the cactus the pineapple of this year, yes? So I figured it was pretty NECESSARY to do a DIY cactus costume!!! We teamed up with our fave craft and yarn supplier Commonthread by DMC to make this baby because YES you literally only need a dress, a headband and some yarn!!!!! You can whip this up in no time, and that's just how I like my Halloween costumes.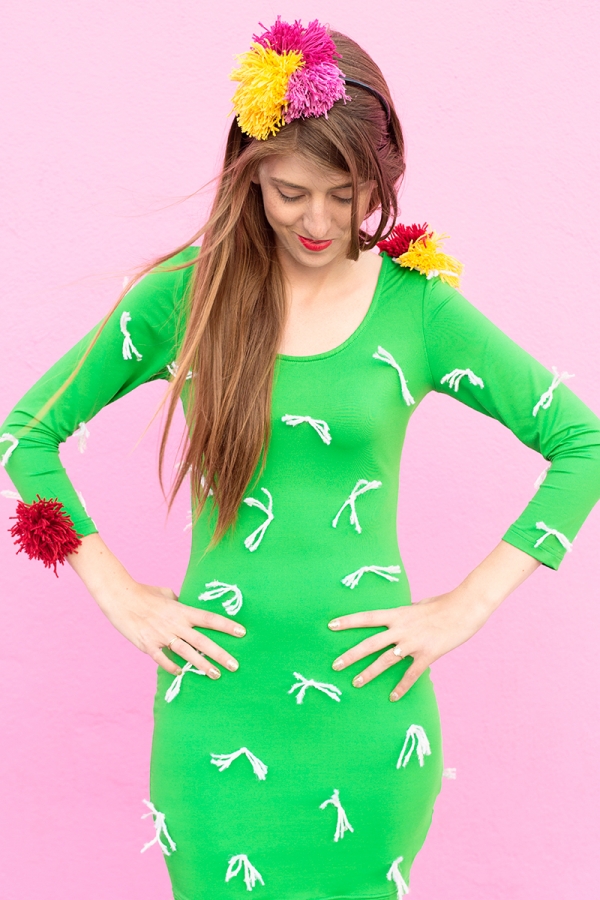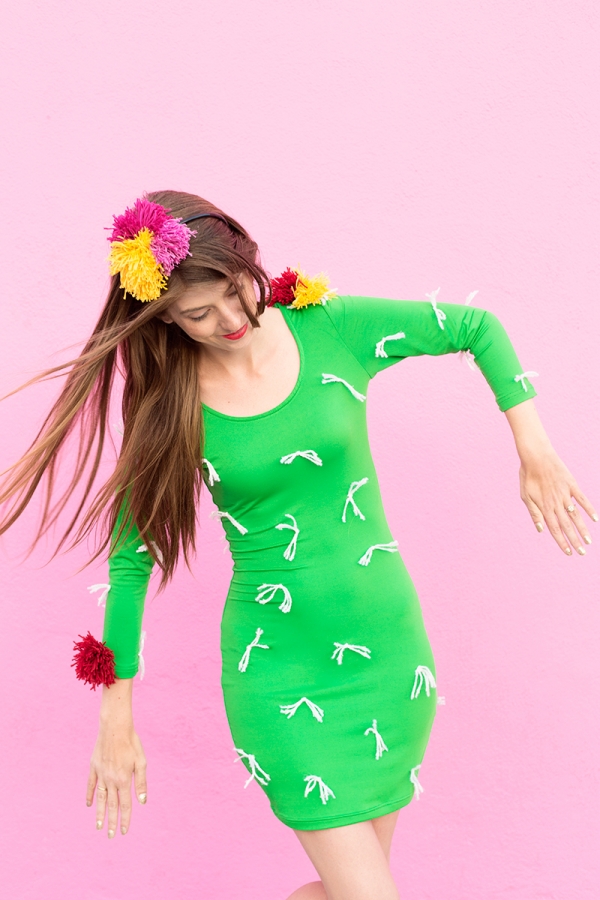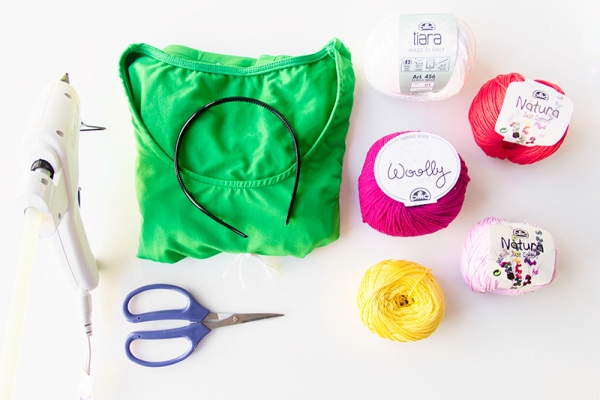 Cactus Costume Supplies
Step-by-Step Tutorial
1. Cut several nine inch pieces of yarn. Fold one piece into thirds and snip open the loops so you have three seperate pieces of yarn that are three inches each.
2. Tie these together in a single knot in the center. Repeat with all your other pieces.
3. Lay out your dress on a flat surface and heat up your glue gun. Place a bead of hot glue on the back of the knot in your yarn pieces and hot glue all over the dress as desired. We covered the front, back and the sleeves.
4. Now it's time to make pom pom flowers! Take your desired color of yarn and wrap it around and around your hand a couple dozen times (all five fingers for a bigger pom pom, four for a smaller one).
5. Slip the looped yarn off your hand. Cut a separate small piece of yarn and tie it around the middle of the looped yarn.
6. Cut through all the loops on each side of the yarn.
7. Fluff out your pom pom and then repeat these steps to create five more pom poms.
8. Hot glue two finished pom poms to one shoulder of the dress.
9. Then, hot glue one pom to the wrist of the opposite side of the dress.
10. Last, glue the remaining three pom poms onto a headband.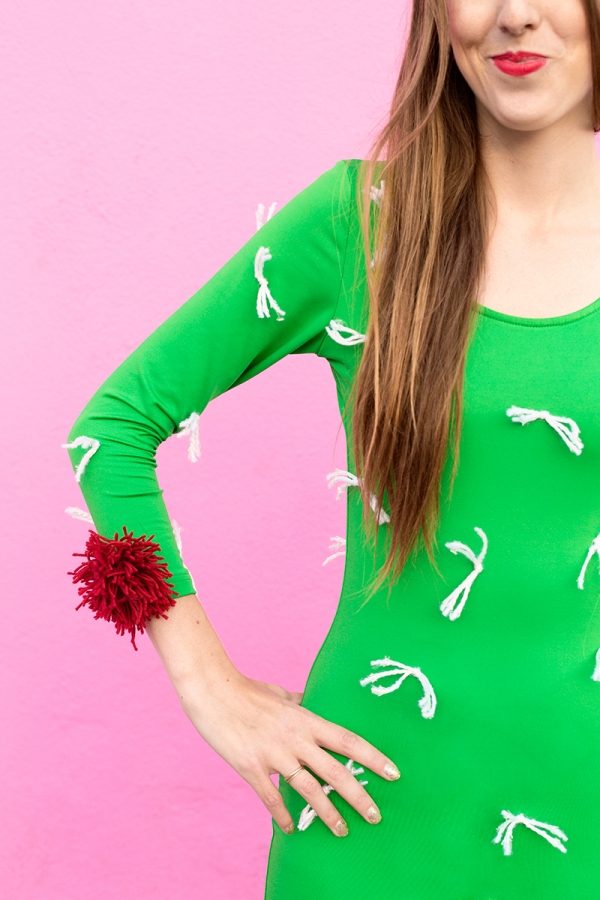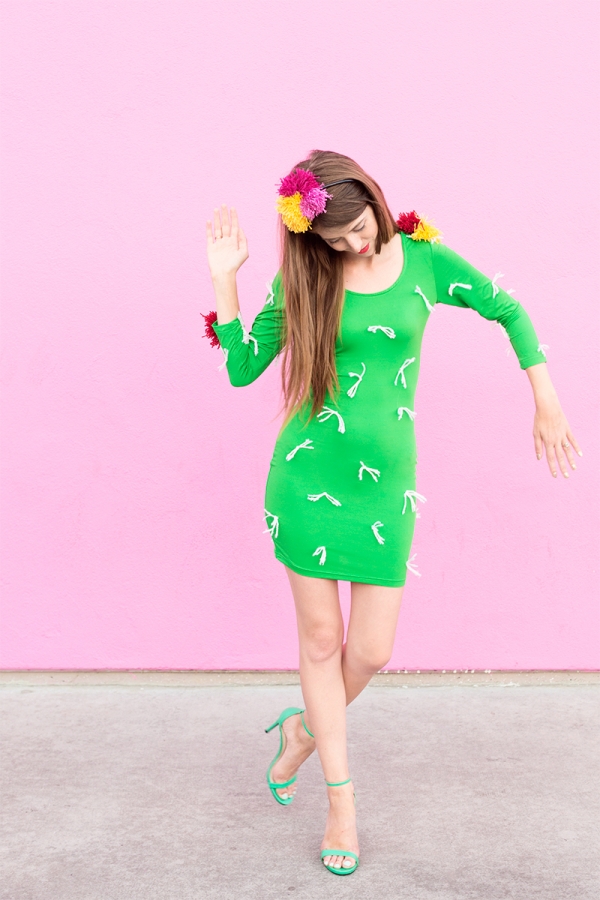 Costumes to Pair With Cactus Costume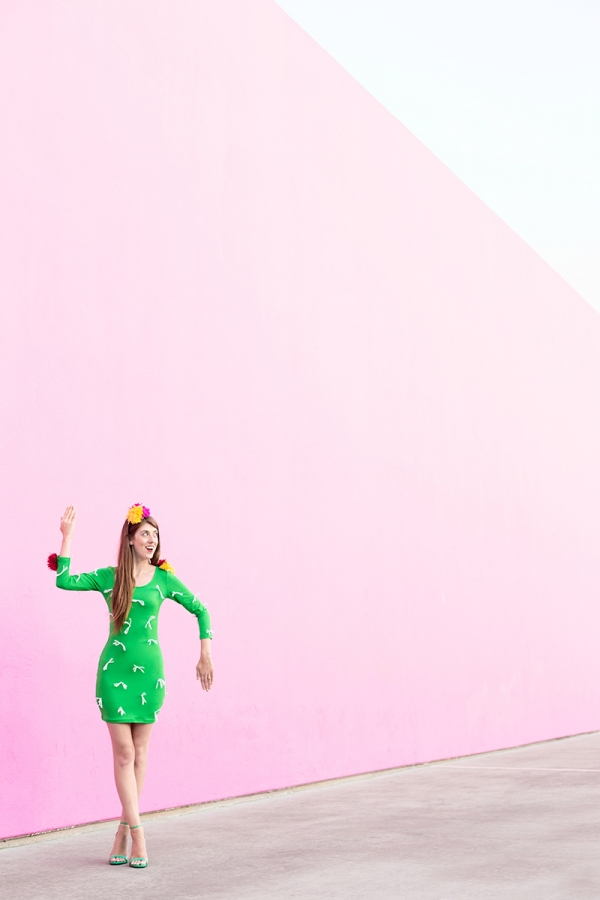 Photos by Jeff Mindell
Wouldn't it be fun to get a bunch of your friends to do this in all different shades of green!? You'd be like a whole cacti garden!!!!!
This post was created in partnership with Commonthread by DMC, All content and opinions are that of my own! Thank you for supporting the sponsors that keep the Studio DIY party going! Read more about my editorial policies here.
If you make a Studio DIY costume, share it on Instagram with #studiodiyincostume to be featured here on the blog (and for a chance at some other cool surprises we have in store!)!!