I told you I couldn't stop. A donut piñata, donut balloons and now? A donut costume! Because costumes based on food are the best kinds of costumes. And donuts are the best kind of food. Are we clear here? This big ol' donut is actually the easiest thing to make, as long as you can point a can of spray paint in the right direction and use a hot glue gun. You can also make a donut hole treat bucket, if you like to take the theme all the way like I do. Let's do this!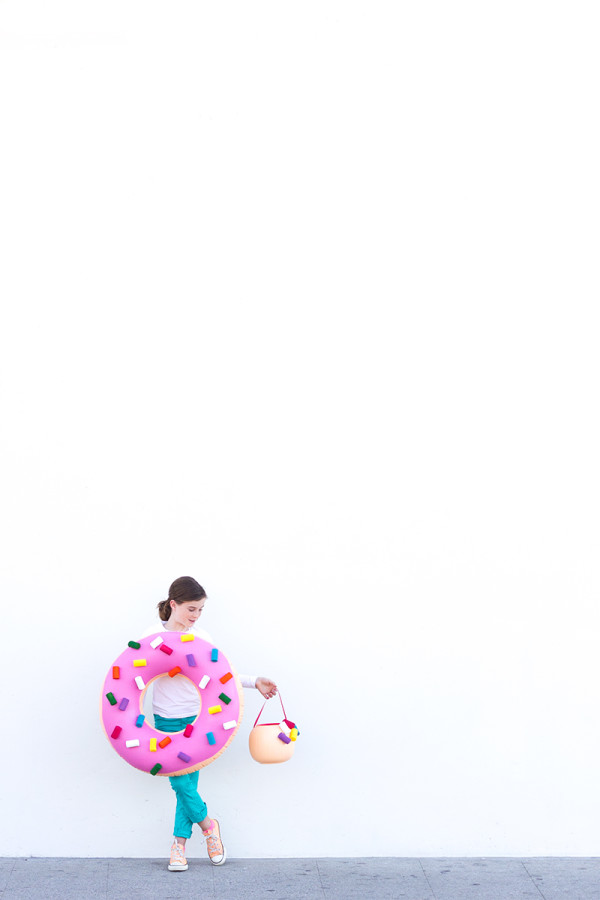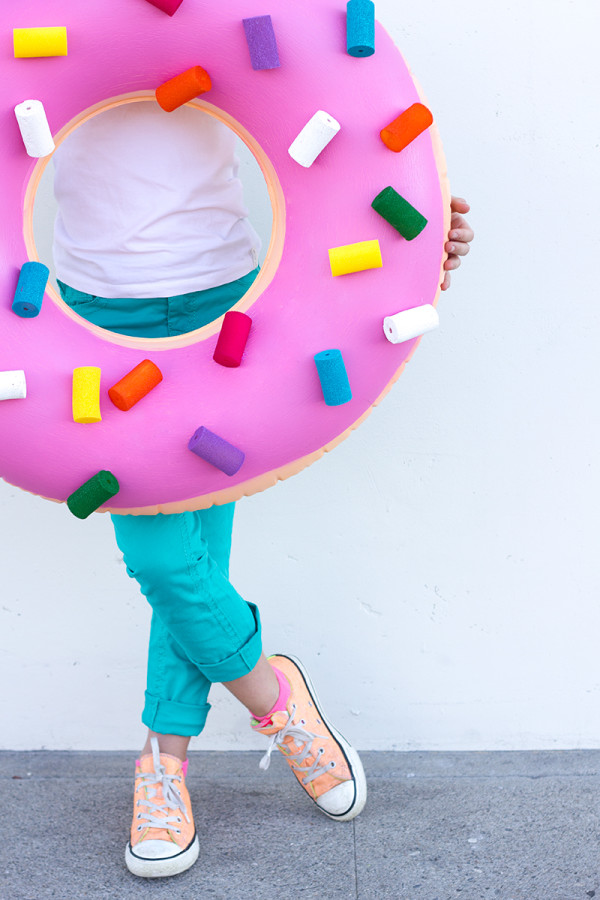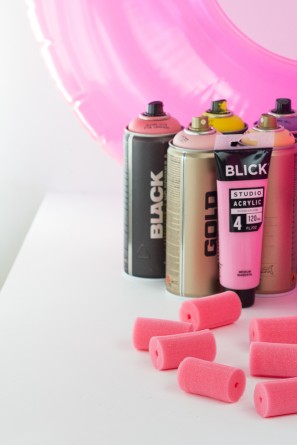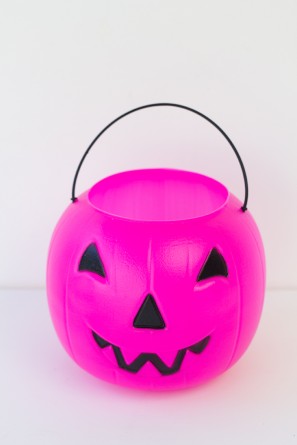 Pool Inner Tube
Spray Paint* (You'll need a donut color, a frosting color and then various colors for the sprinkles.)
Foam Hair Curlers (I picked up a bunch at the 99cent Store)
Plastic Pumpkin Treat Bucket (For the donut hole!)
Poster Board
Twine
Ribbon
Hot Glue
Painter's Tape
Tarp or Other Protective Surface
(*You'll see acrylic paint pictured above but after some trial and error, I recommend only using spray paint for this costume!)

First you'll need to spray paint your inner tube. To prep it, inflate it and then wrap a piece of painter's tape around the valve to protect it. Lay down a large tarp or other protective surface in a well-ventilated area and spray paint the entire tube (one side at a time). Let dry completely. Then spray paint your frosting! I don't have photos of this because it took me a few tries to get the process right, but here's the scoop! Cut a circle out of poster board that is slightly larger than the center hole of your inner tube. Lay it inside the top side of your donut (this will prevent the paint from covering the entire top surface). Use your frosting color to spray paint the icing on. If you want a harder line like you see here, use a scrap (curved) piece of poster board as a guide and move it around the outer edge of your donut as you spray paint. Let dry.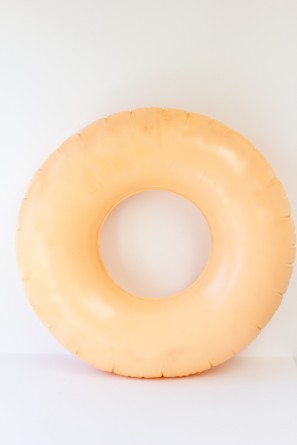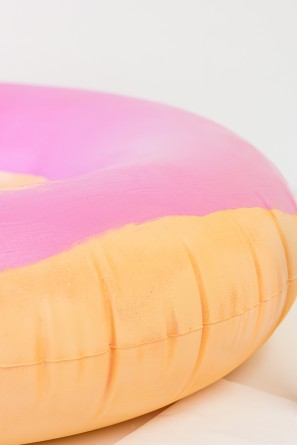 While that paint is drying, go ahead and spray paint your foam curlers. I found the best way to do this was place them in a box (they move around a bit if you have a high pressure spray paint) and just go to town with the spray paint on them. Let dry, then touch up any sides/spots you may have missed. Once everything is dry, use your hot glue gun (preferably on a low heat setting) and hot glue your sprinkles randomly on your donut. To finish your costume, you need to make it wearable! The best way I found for this was to tie a piece of twine around the valve. Then, I tied on a long piece of ribbon. I tied the ribbon messenger strap style onto my niece Quinn in these photos and it worked well. Depending on the age of the child, you could also make a neck strap and/or waist strap, just please be careful with that if this is for a small child! We don't want to create a choking hazard.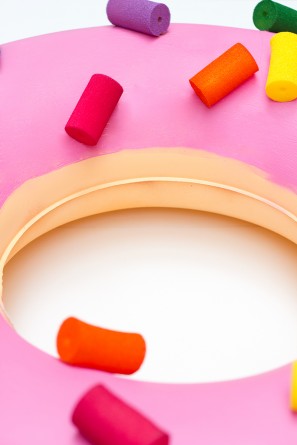 To make the "donut hole" treat bucket, spray paint your bucket the same donut hue. Let dry, then hot glue on a few (or a ton of) sprinkles. Remove the plastic handle and add ribbon instead.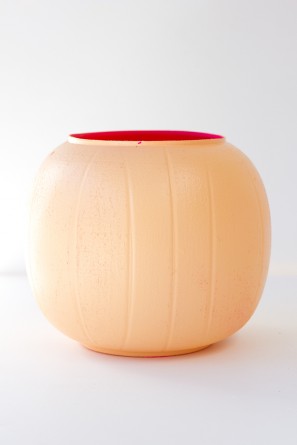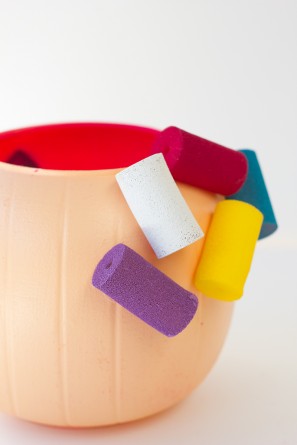 Done! Wouldn't it be fun to have a group of friends wear these in all different colors?? Yes!!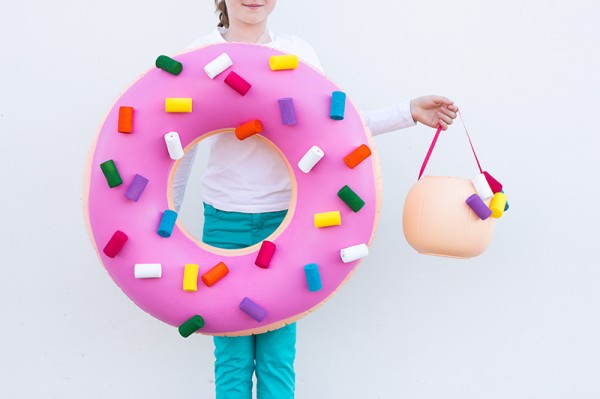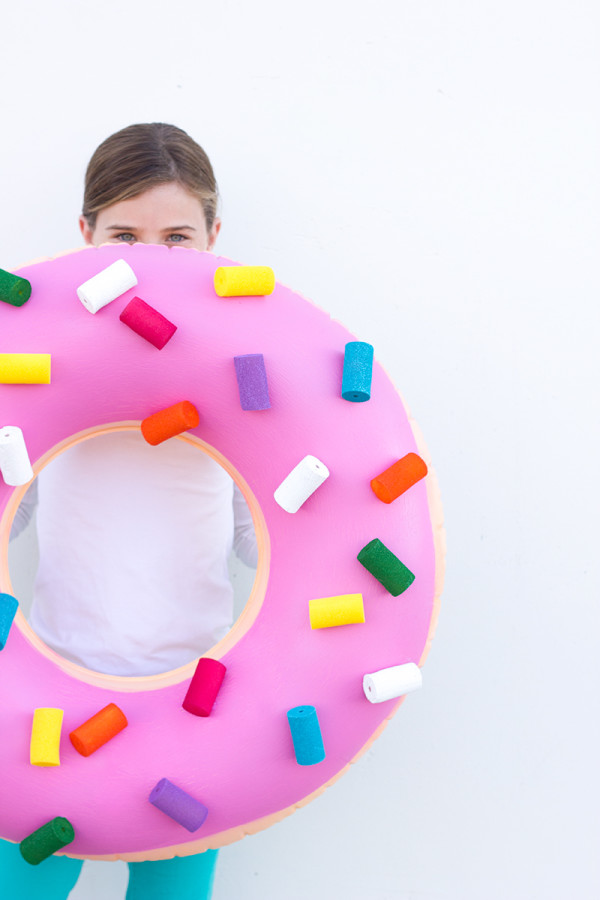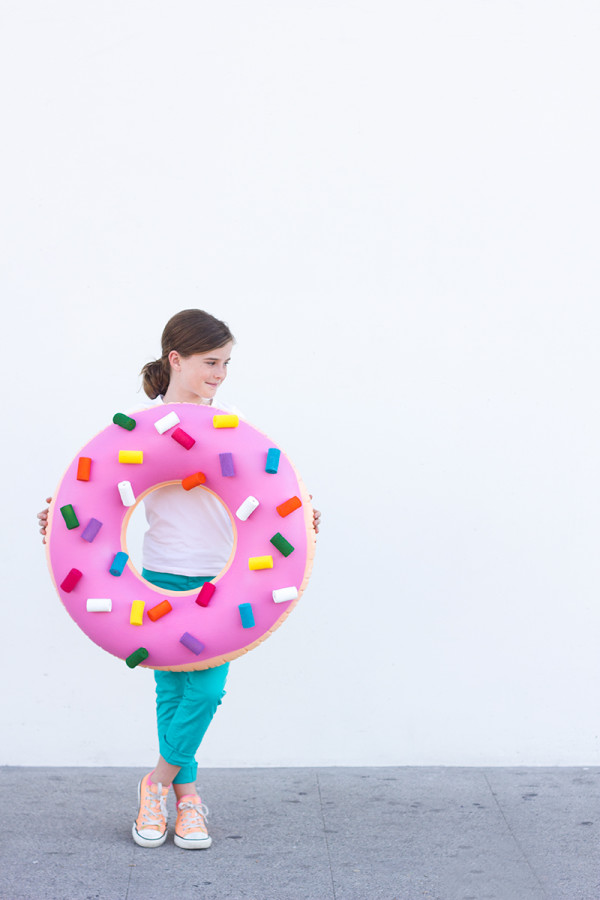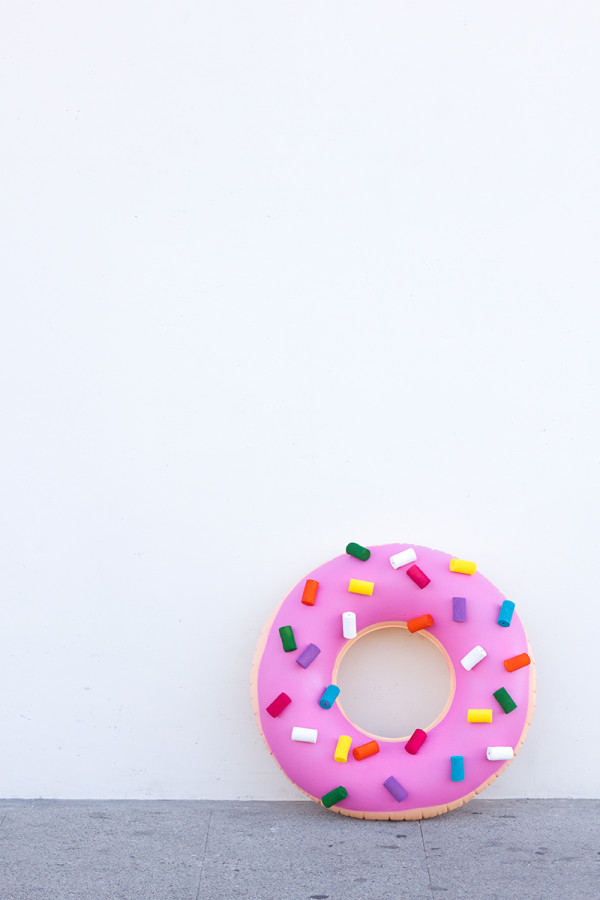 All Photos by Studio DIY
DONUTS!!!! Guys, I have so many more donut DIY ideas. Don't worry, I'm doing my best to exercise self control. But I really do hope I see a bunch of you guys (or your kiddos) walking around as donuts this Halloween! An army of DONUTS! YES!
Remember Quinn's costume last year? A macaron! Told you, I'm all about the food costumes.