Well, folks. I suppose I can't avoid it too much longer. We had a wonderful last minute Labor Day weekend getaway in Palm Springs and despite the fact that it will be in the 90s this week, it seems the world officially signifies Labor Day as the end of summer. (For the record, summer actually ends September 21st. JUST saying!) So in one last stitch effort to avoid the end of my most favorite season, I'm bringing you a final summer DIY. And what's more appropriate than a pineapple!? When my pineapple obsession began, I immediately bought these lanterns knowing I had to make a pineapple piñata. The shape was just too perfect. And now as September is upon us, I finally bring you the last pineapple DIY of this Studio DIY era. Enjoy!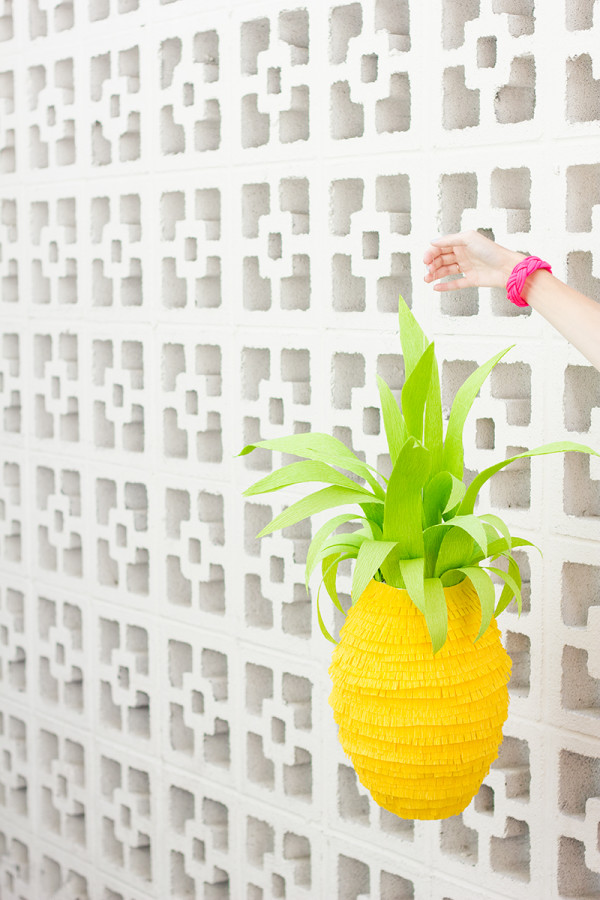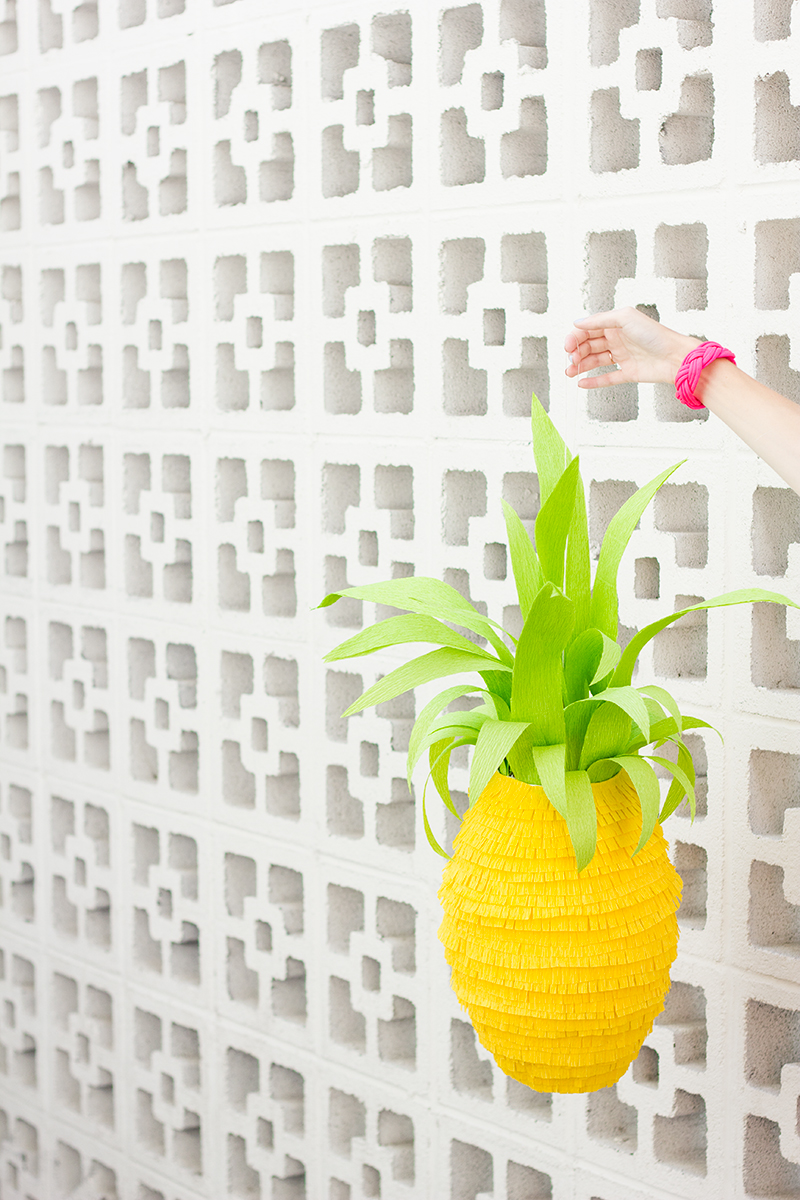 I may or may not be writing this tutorial with tears in my eyes! Ha, I just have loved my pineapple love affair so much this summer! Ok, ok… here's the tutorial…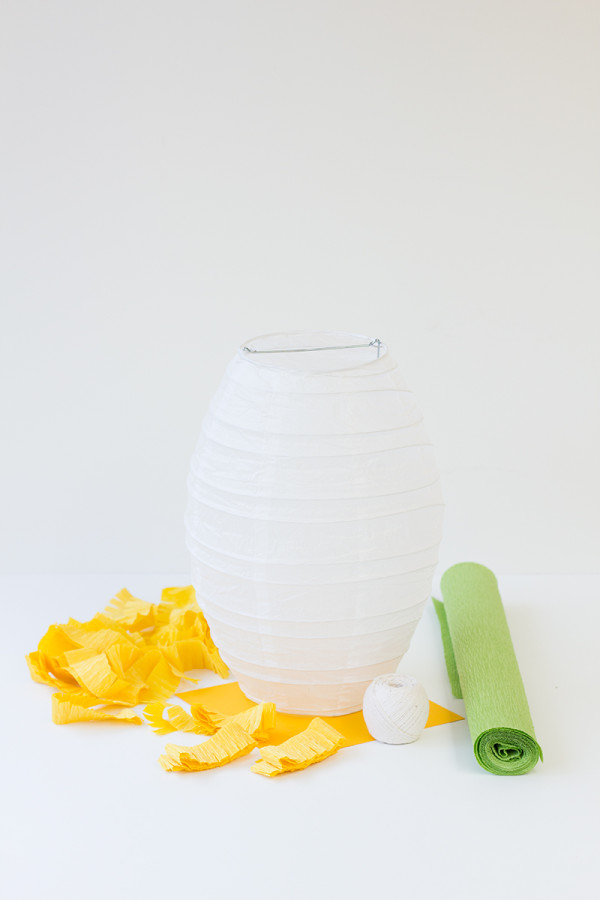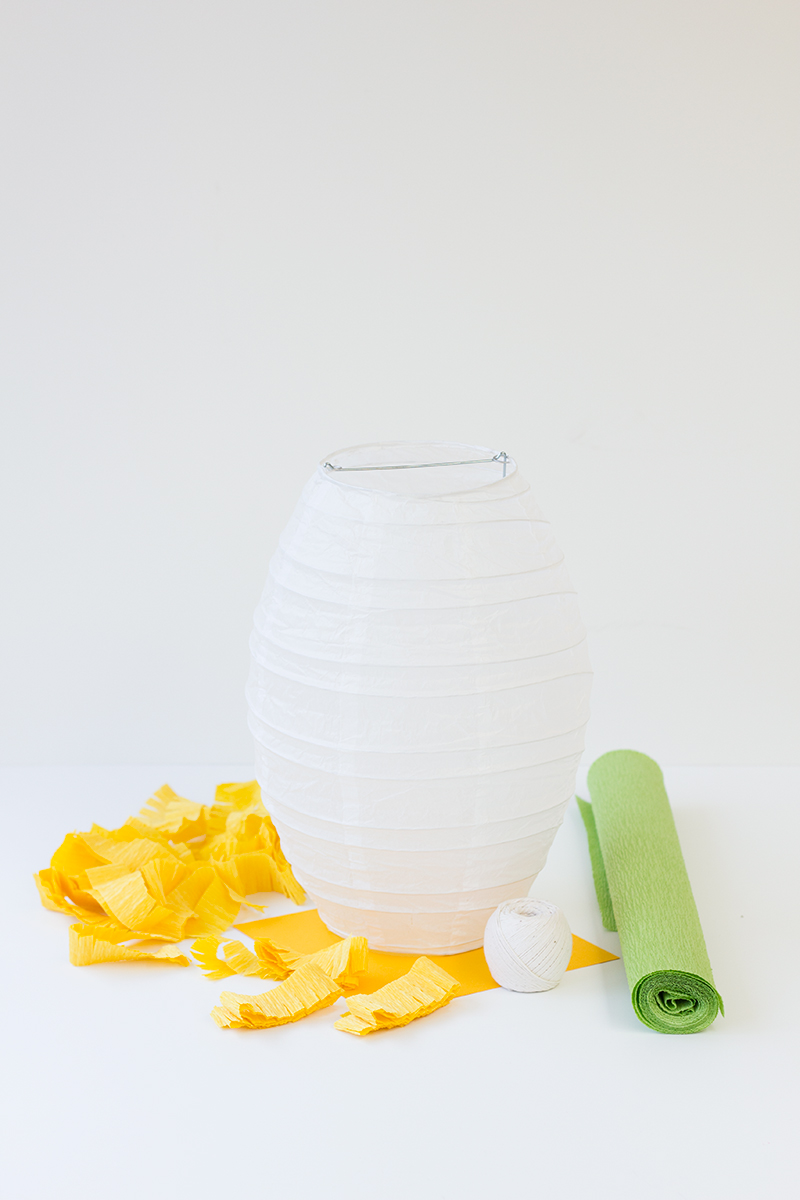 Cocoon Paper Lantern (I bought mine here!)
Yellow + Green Crepe Paper (You'll want the heavy crepe for this!)
Thin Wire + Double Stick Tape(Optional, to help shape large leaves)
Yellow Cardstock
Twine or Ribbon
Penncil
Scissors
White Craft Glue
Hot Glue
Goodies to fill it with!
First things first, put together your lantern. Then fold your cardstock in half and place the bottom of your lantern (That would be the end without the bar) on top, with the fold lining up with the middle of the lantern. Trace a half circle that's about one inch larger than the diameter of the lantern's bottom. Cut out this shape and unfold. Cut small slits all along the edge of the circle so it fits in the lantern easier.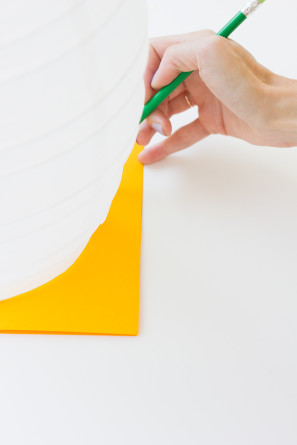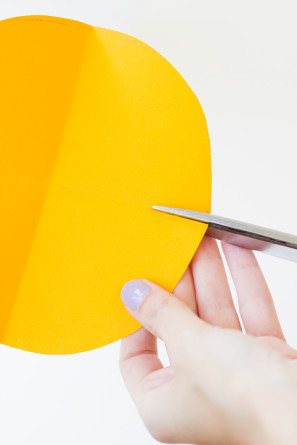 Poke a hole through the center and slip a strand of twine (or several strands if this is for a kid's party and you want several to be able to pull at once) through it. Secure with tape.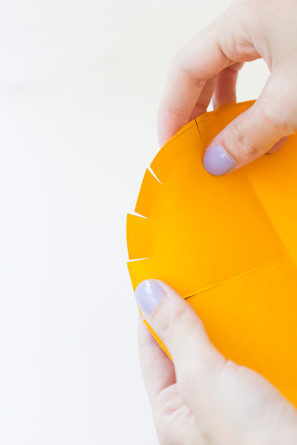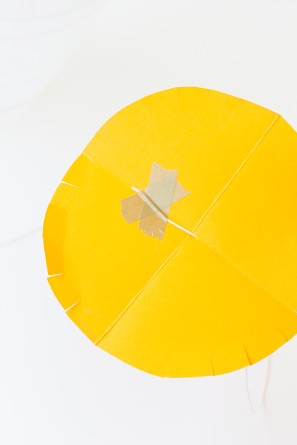 Eventually, you'll pop the circle into your lantern so it fits snuggly in the bottom with the string hanging down. This will hold all of the goodies in place until it's piñata time! You can put it into place before or after you fringe. And speaking of fringe… you'll need to cut several 1.5″ wide strips off the bottom of your folded piece of yellow crepe paper and fringe it along one side. Starting at the bottom of your piñata glue on your strips of fringe, wrapping it around and around as you go. I recommend gluing about a six inch length at a time and pressing down to make sure the glue sticks securely.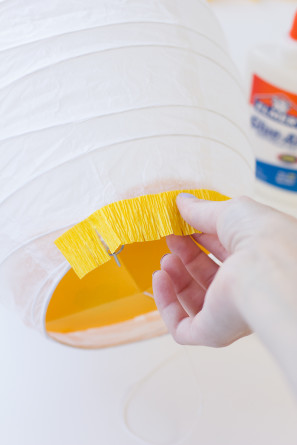 Keep going until you reach the top!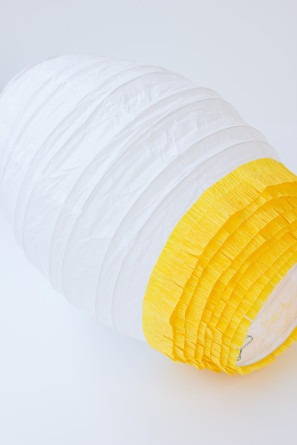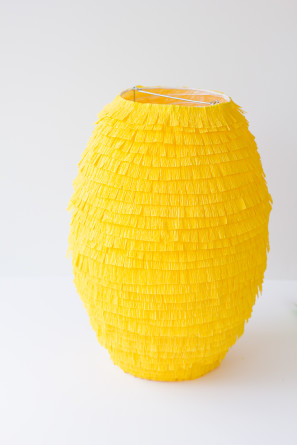 Now for the leaves! I chose to make several different size leaves to mimmic a real piñatas topper. My leaves ranged in size from about 8″ to 16″ and I cut six to eight of each leaf size.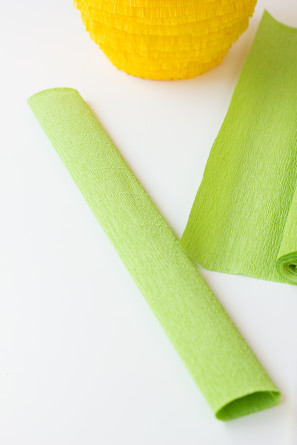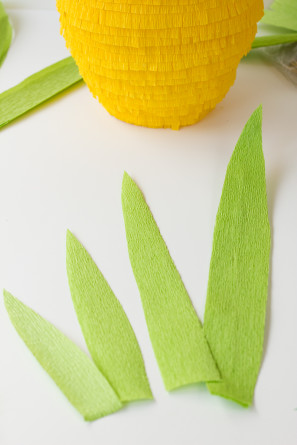 For the larger leaves, I decided I wanted a little help shaping them, so I sandwiched a thin piece of wire in between two leaf shapes using double stick tape.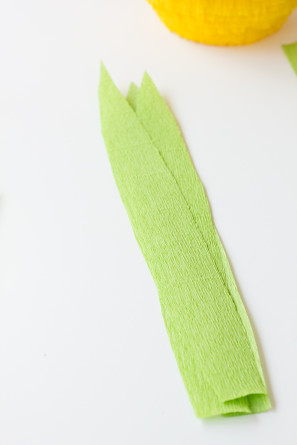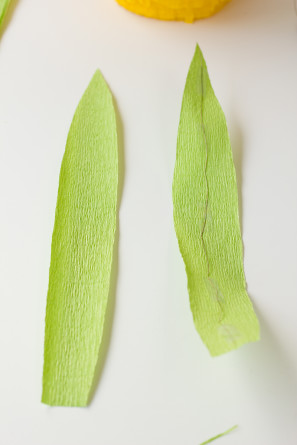 To place your leaves, you can really do this however you please! Be sure to start with the smallest leaves and end with the largest leaves closest to the center. I used hot glue to glue each leaf onto the lantern and worked my way around. If you want the leaves to be "curled" at all, just run your fingers along the top in a curved shape and that will do the trick! To finish your piñata, tie a string to the bar across the top of the lantern for hanging!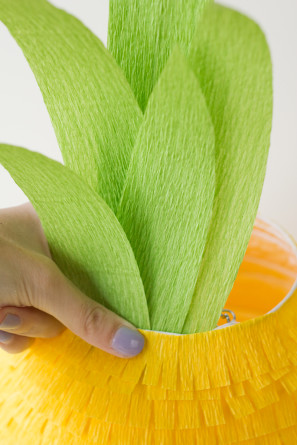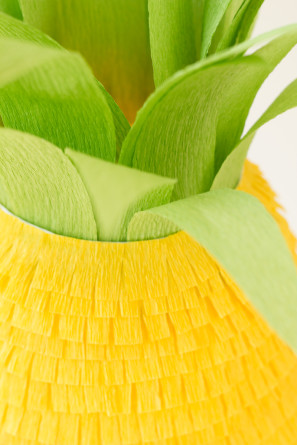 If anything makes me want summer to last forever, it's this guy! Perhaps we should all have a farewell to summer party in his honor!?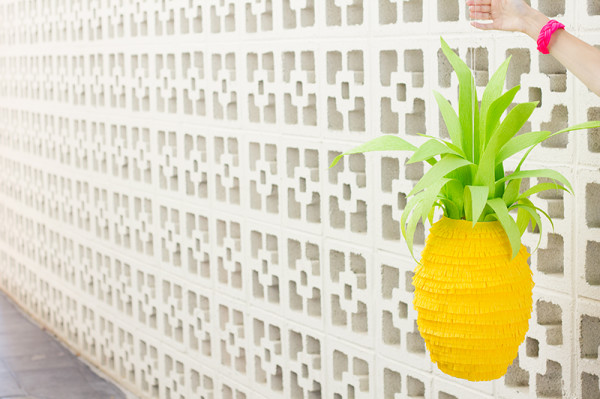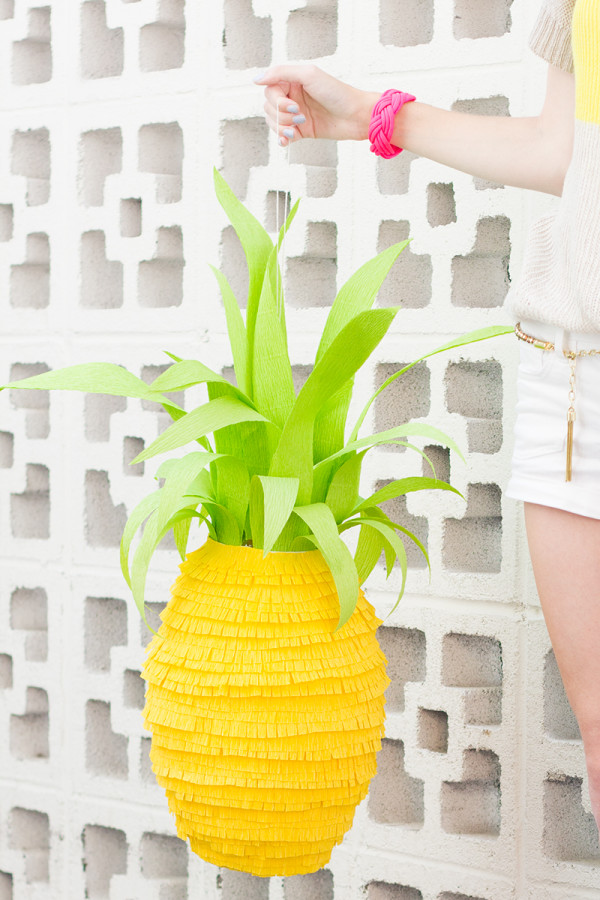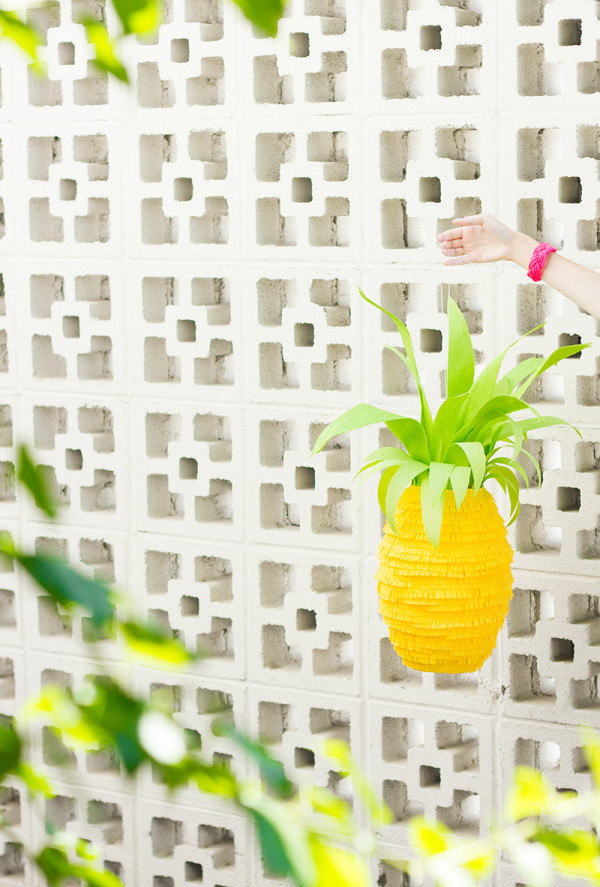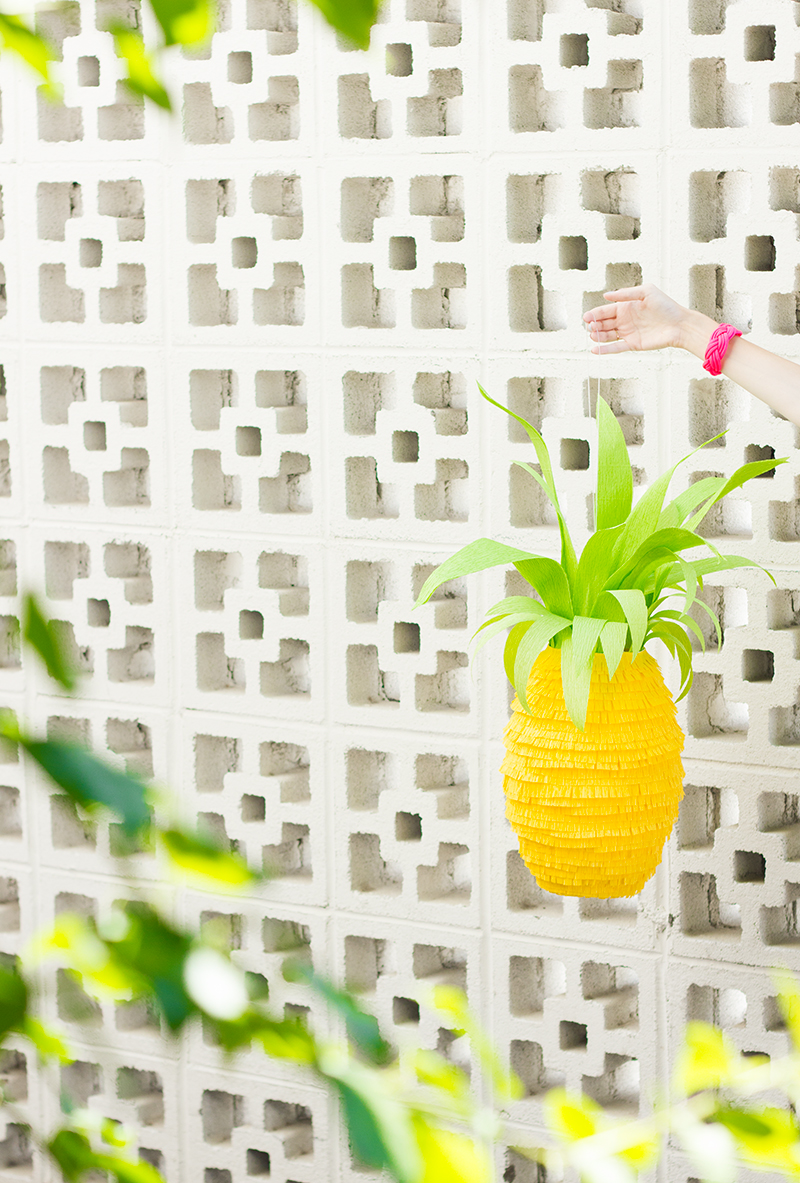 All Photos by Studio DIY
Recognize that wall?? It's the beautiful facade of The Parker Palm Springs. Have you been to that hotel? Holy moly is it gorgeous! Jeff and I had been dying to go, so we popped in, tiny dog and giant pineapple piñata in tow, on our way out of town. I'm pretty sure every valet attendant thinks we're nutso. But a few kids thought I was pretty cool! Ha!
*Note: We traveled with this piñata and left it in the hot car for a few hours. Heat doesn't bode well for the crepe leaves and made them curl a bit more than they were curled initially. Keep this in mind if you make your piñata in advance and try to keep it in a cool place!
It's only appropriate to crack open a pineapple piñata while wearing a pineapple dress, so make sure to get that DIY right here! Pineapple garlands wouldn't hurt either. And if you're more the piñata sort than the pineapple sort, you can find all my DIY piñatas right over here.