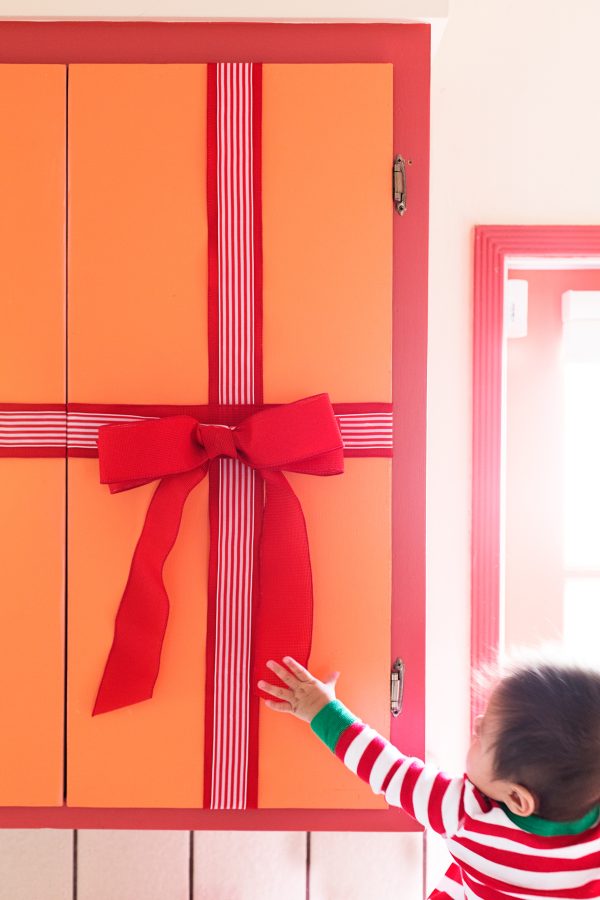 Time for a toddler gift guide! Curated just for you by Arlo Mitchell Mindell. Some are items he already owns and loves and some are ones from his Christmas list! We try to only get Arlo a few gifts each year and put most of our time and money into shopping for other families and children to help their holiday wishes come true. So hopefully these will inspire you to both buy for your own kiddos, and for others, too.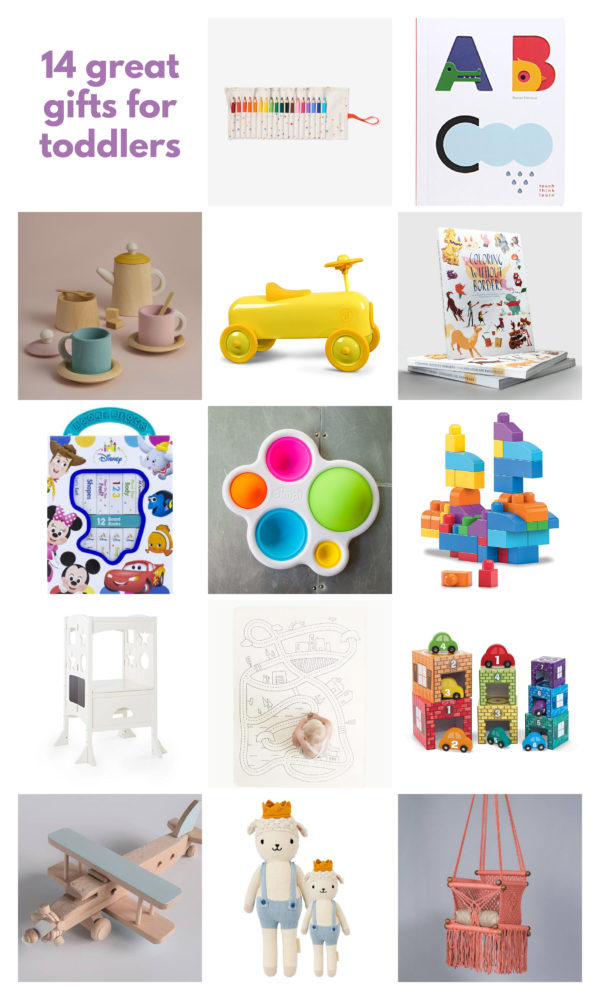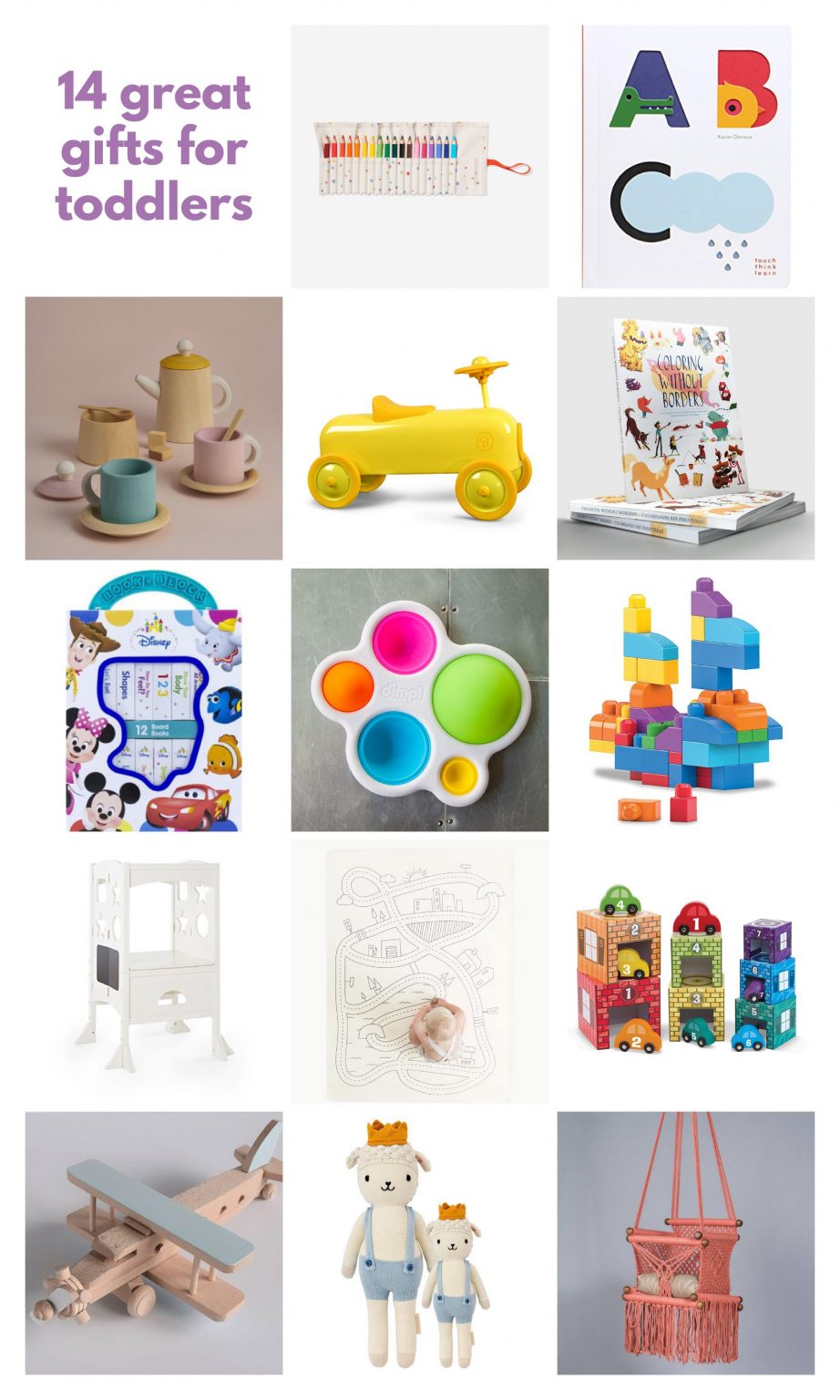 1. Roll Up Colored Pencil Set: This is one of Arlo's most prized possessions. The pencils are a great size for tinier hands (thicker than normal colored pencils) and he just LOVES rolling and unrolling this and pulling the pencils out of the little slots. We pop it in the diaper bag when we're traveling or going out to eat and he thinks it's the best special "treat!" Would make the perfect stocking stuffer!!
2. TouchThinkLearn: ABC Board Book: A lot of you ask about the other ABC book we have (and love) but I just grabbed this one as a gift and it is SO FREAKING COOL!!!! All the letters are raised and they fit inside the various illustrations when the book closes. It's so well designed and really graphic so kiddos love it too! (p.s. They also make a numbers one!)
3. Wood Tea Set: My parents had one of my old tea sets for Arlo when we were visiting and it was his favorite thing. All he wanted to do was stir and stir with the little tea pot and spoon. Thinking we're going to have to add this pretty wood one to our collection once we get him a play kitchen!
4. Ride-On Push Car: Been looking for a ride-on for Arlo for awhile. Finally found this one and Jeff and I fell in love with it so I think my parents are going to get him this this year! I just love that bold yellow and that it's a bit nicer quality and will *hopefully* last longer and look nicer (LOL) than other ones I've seen. I'm already thinking about fun ways to deck it out for Christmas next year! Ha!
5. Coloring Without Borders Coloring Book: We always keep a coloring book on hand for Arlo for restaurants and this one is one I hope you'll consider buying! All the proceeds go to Families Belong Together, an organization working to end family separation and detention at the border. It's bilingual and has all sorts of prompts to help kids be creative.
6. Disney Board Book Set: Our friends gave Arlo this set of board books for his birthday and they are still one of his top 5 favorite toys. He picks them up and flips through them ALL the time, sorts them, stacks them, etc. We keep one in his busy clutch for travel, too. They make ALL different versions (Pixar, Sesame Street, Eric Carle, etc.) and I've already bought them as gifts for several people!
7. Dimpl Sensory Toy: Arlo's cousin had this at Thanksgiving and it's the longest I've ever seen him sit with one toy. And *bonus* IT MAKES NO NOISE AND DOESN'T LIGHT UP! It's just a bunch of rubber bubbles that kids push in, then flip over and push back out. Over and over. Perfect plane or car toy. Get. One. Now.
8. Mega Bloks Set: There's a zillion pretty wooden block sets but this isn't one of them. It is, however, the top toy in our house at the moment. They are super easy for Arlo to build with and Jeff and I love building towers with them just as much as he does. Ha!
9. Kitchen Helper Stool: This is Arlo's big gift from us this year! It's a "learning stool" that he can use to help reach the counter when we're baking together! I've heard great things from so many other toddler mamas so I'm pretty excited. Since we have limited space, I like this one because it collapses but there's tons of even cuter ones here if space isn't an issue for you!
10. Leather Play Mat: You've heard me talk about Gathre mats a lot for their functionality (changing pad, art or picnic blanket, under a high chair) but they also make play mats which would be a great gift.
11. Stacking Garage & Car Set: My mom comin' in clutch again with the great toy finds! Combining stacking and cars is pretty genius and Arlo has now mastered stacking them alllll the way up! Probably because he exclusively played with this for about 2 months after my parents bought it for him.
12. Wooden Airplane: Arlo loves planes even more than cars but he's broken a few of the metal ones we've gotten for him. I'm eyeing this wooden one in hopes that it will be more sturdy! And will look great on a bookshelf too long after he's done playing with it.
13. Sebastian the Lamb: Every doll purchased from Cuddle + Kind provides 10 meals to children around the world. That should be enough to convince you, but the dolls are also so cute so there's that too! 😉 Arlo's very into "Baaaaa"-ing so a sheep seemed fitting.
14. Macrame Baby Swing: We're planning to add a swing to our pergola once we re-do the backyard and I think this might be the winner! It comes in SO many colors and neutrals, too. I kinda want the bigger version for myself! Ha!
I already mentioned this in our last book round-up (lots of great gift ideas there too!) but Arlo's also getting a book subscription which I am PUMPED about! We just picked out our books for the first box (I did age 3-5 because I figured they'll last longer) and one of my favorite authors was included! It's a really good grandparent gift idea, if you need one to pass along! You can see last year's baby gift guide here!