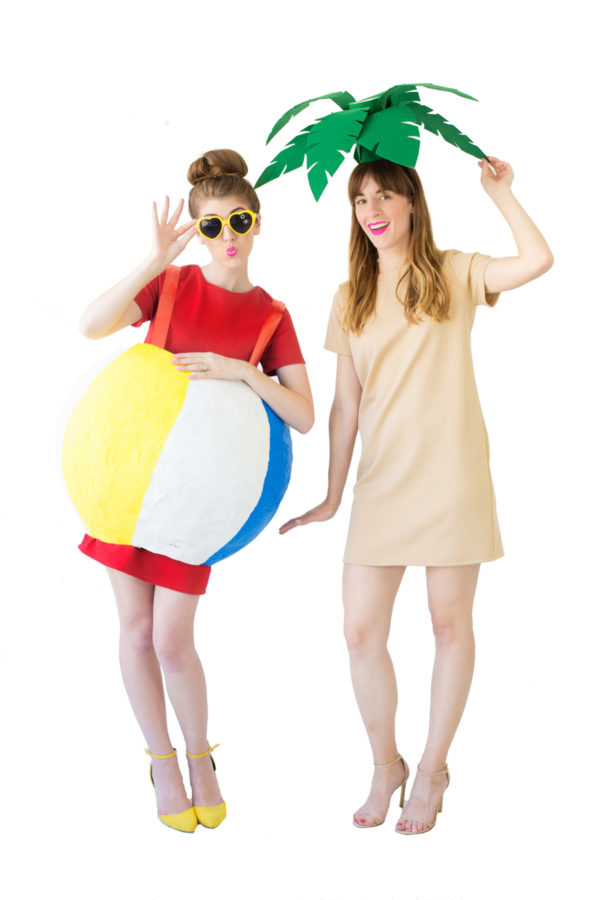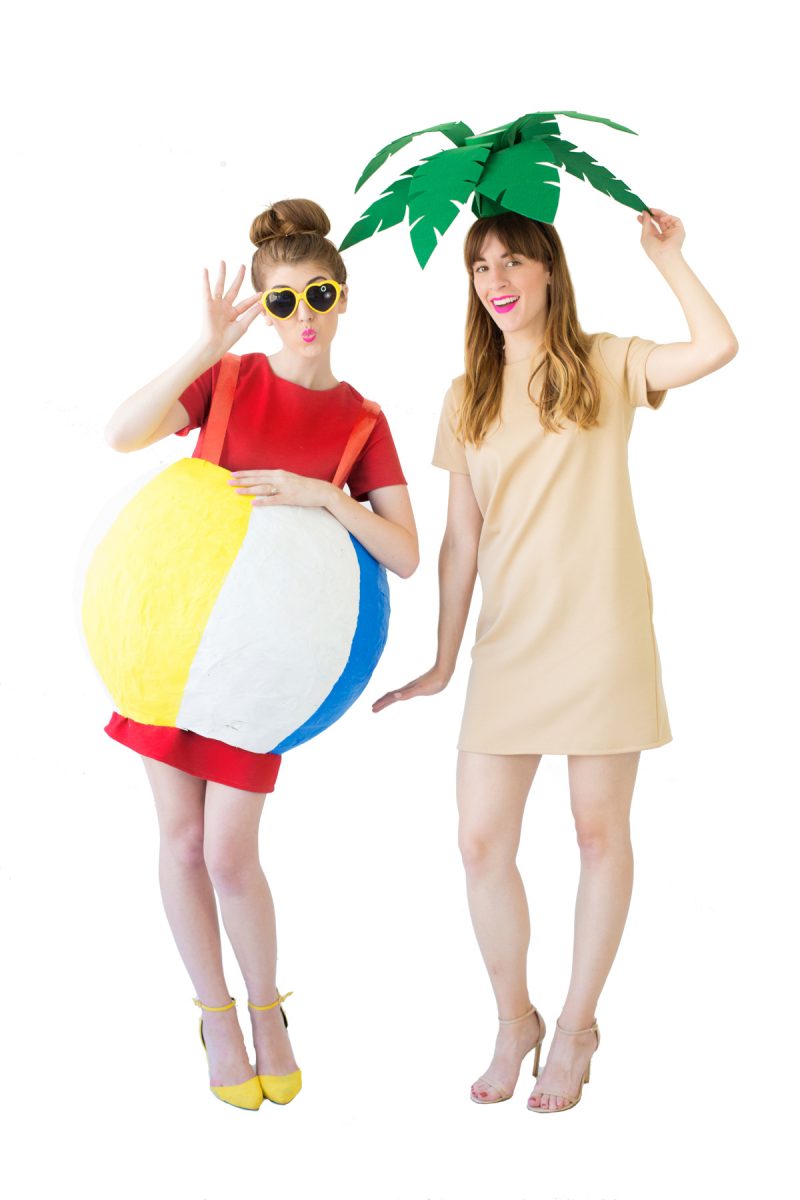 I really hope one of you has a big group of friends that's into a tropical themed Halloween, because we've got a pineapple, a tropical drink, pool floats and now a palm tree costume AND beach ball costume! The palm tree is perfect if you're looking for a quick accessory to turn a dress into a costume, and the beach ball is great for those of you lookin' to go BOLD! Bam. Win win.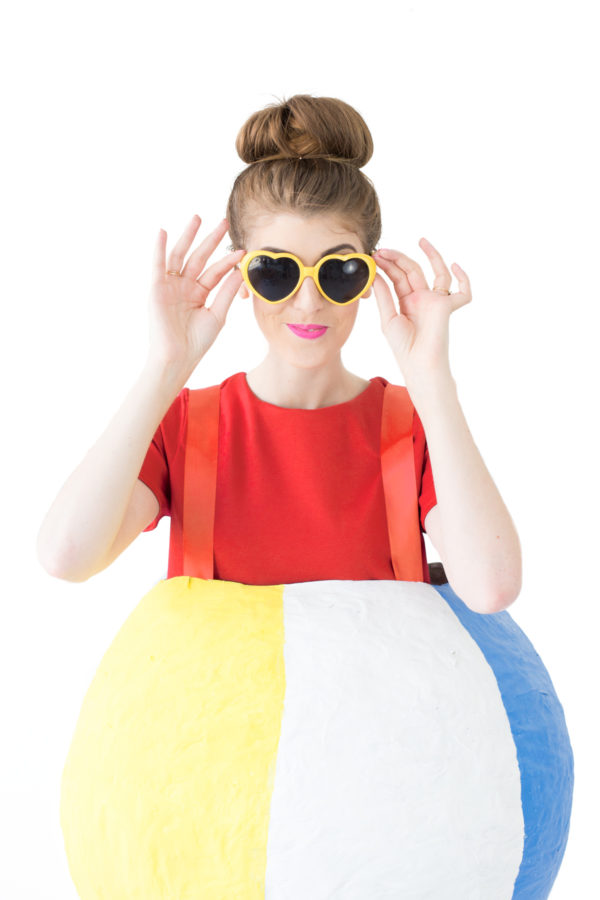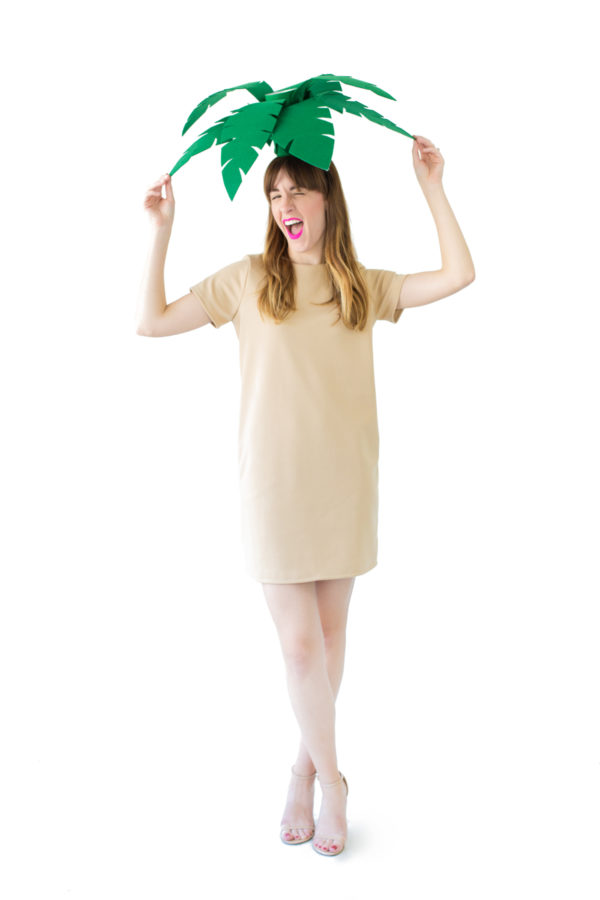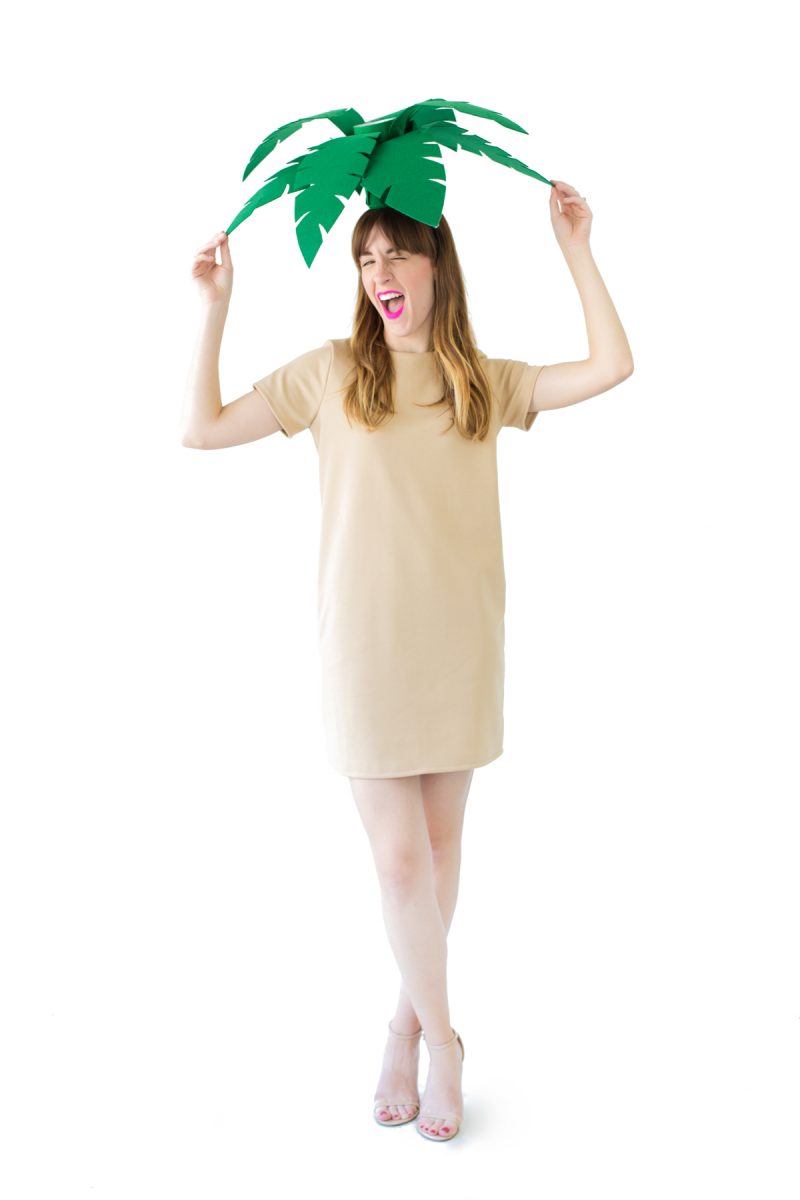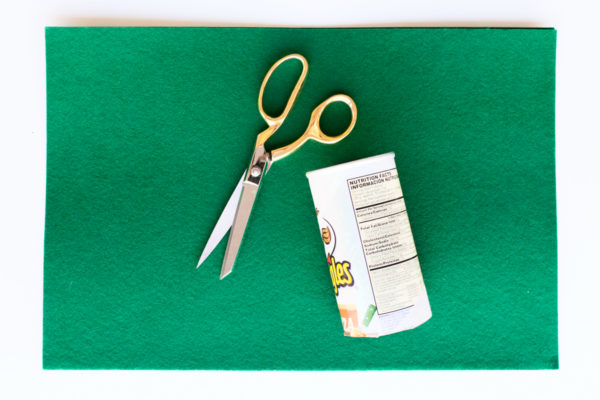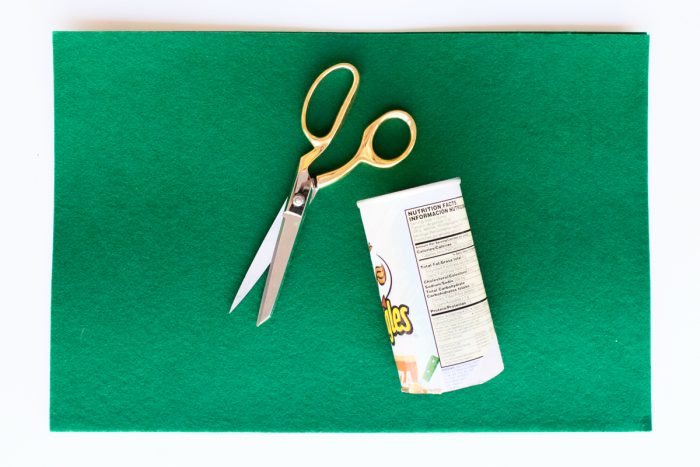 Palm Tree Costume: What You'll Need
Tan Dress
Palm Leaf Template Printed on 11×17″ Paper
Chip Can
Scissors
Hot Glue Gun
Stretchy Headband
How To Make A Palm Tree Costume
Cut a chip can in half. You'll use the bottom half for this hat.
Wrap the can in felt, and use hot glue to adhere.
Cut out 7-8 leaves using the template.
Hot glue the ends of 4-5 of the leaves around the base of the can. Then, glue the additional leaves just above the first row, in any empty spaces that appear.
Trim the top of the can if it is taller than the two rows of leaves. You can cut out a circle of felt to cover the top of the can, if you'd like.
Hot glue a headband to the base of the can.
Beach Ball Costume: What You'll Need
Red Dress
36 " Balloon
Newspaper
Flour and Water To make paper mache paste
Tub/Tupperware for Mixing Paper Mache
White Red, Yellow and Blue Paint + Paintbrush
Pencil
Red Ribbon
How To Make A Beach Ball Costume
Make your paper mache paste, using a one to one ratio of water and flour. The paste should be a thick glue like texture. If it's too thick, add a bit more water. Tear the newspaper into long thin strips. Fully inflate a 36″ balloon with air and set it on something like a box to keep it from rolling around.
Begin your first layer of paper mache. Dip each strip of newspaper into the paper mache and squeeze off the excess with your fingers, then place on the balloon. Cover the entire balloon in one layer and let dry completely.
Repeat three more times so you have four layers total. This is really important so the ball is nice and sturdy for the costume. Once the fourth layer is completely dry, deflate the balloon and you'll be left with the base of your magic 8 ball costume!
You'll need to cut a hole in the top and bottom of the magic 8 ball that is big enough for you to fit through. The bottom hole should be a bit wider since you'll need to be able to move your legs so you can walk.
Paint the entire ball white. Then use a pencil to draw three large sections, spaced evenly around the ball. They should be narrower at the top and bottom and wider in the middle.
Paint those section each a different color: blue, red and yellow. Let dry.
Try on the costume and mark where you would want each strap to hit on the front and back of the ball. Hot glue ribbon in place to make straps.
Wear with a red dress!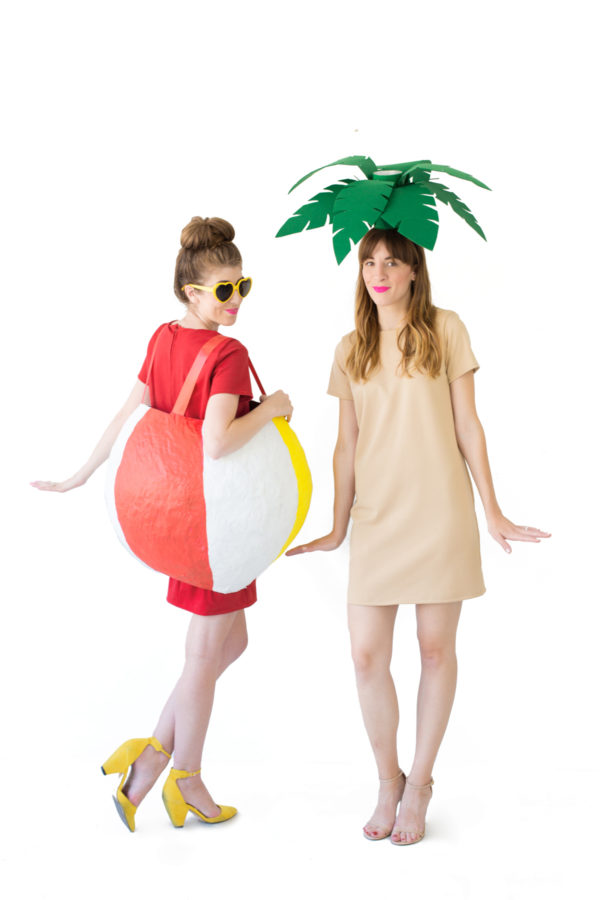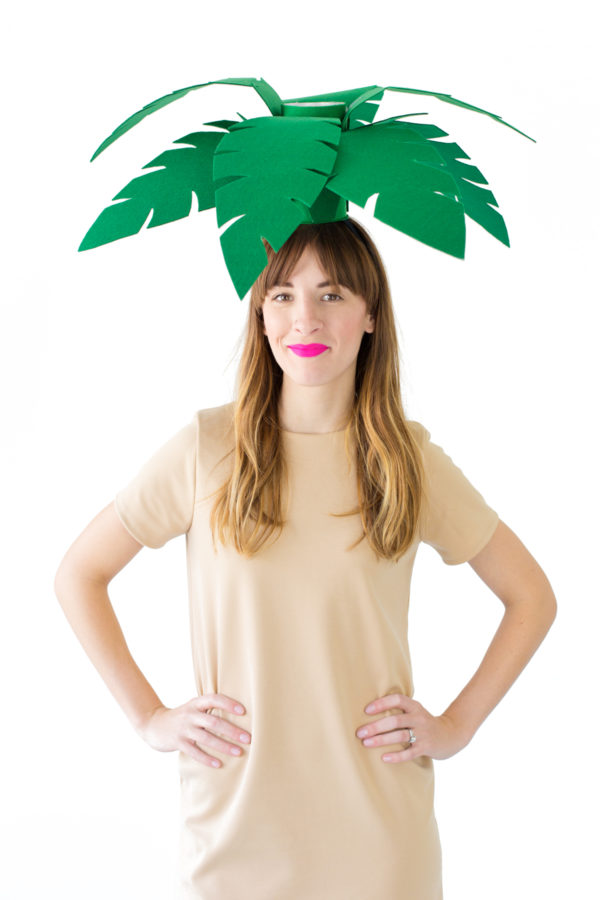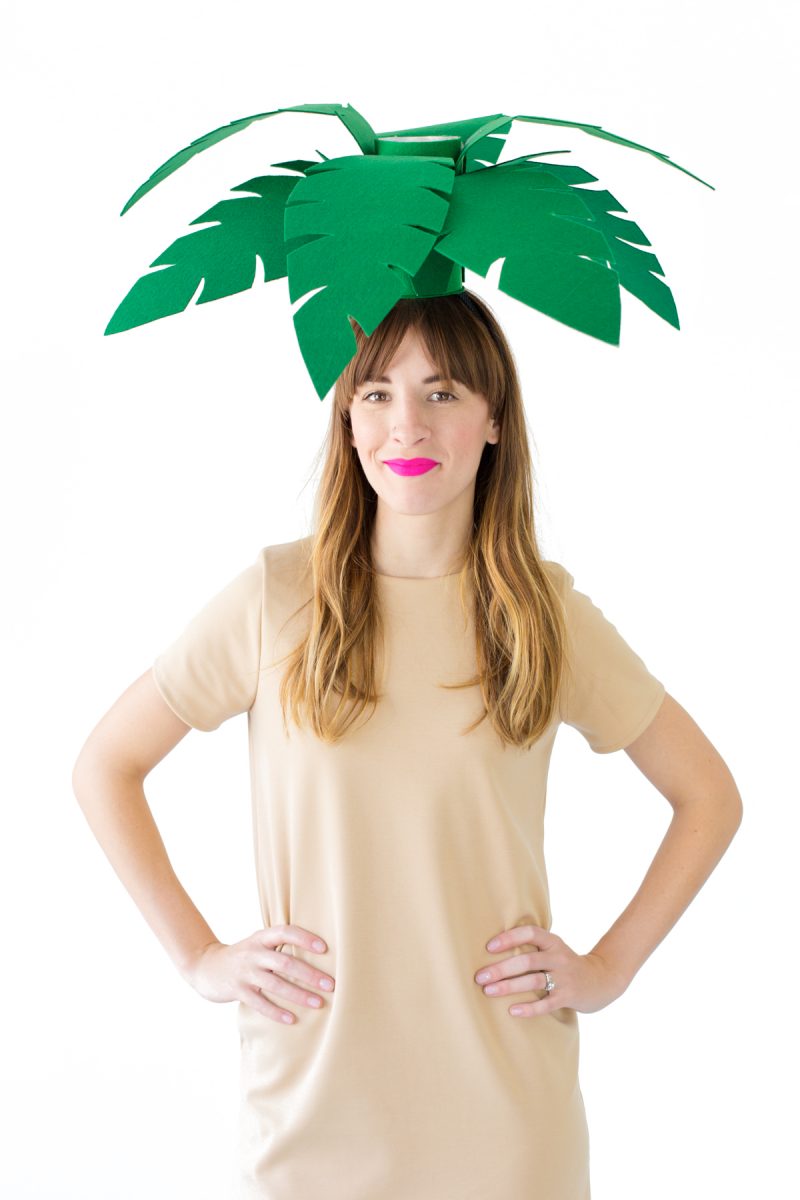 Photos by Jeff Mindell
Alternatively you could be a palm tree and a cactus! YES!
Remember, if you make a Studio DIY costume, be sure to share it on Instagram with #studiodiyincostume so we can feature it on the blog!! For all our costume tutorials, click here.