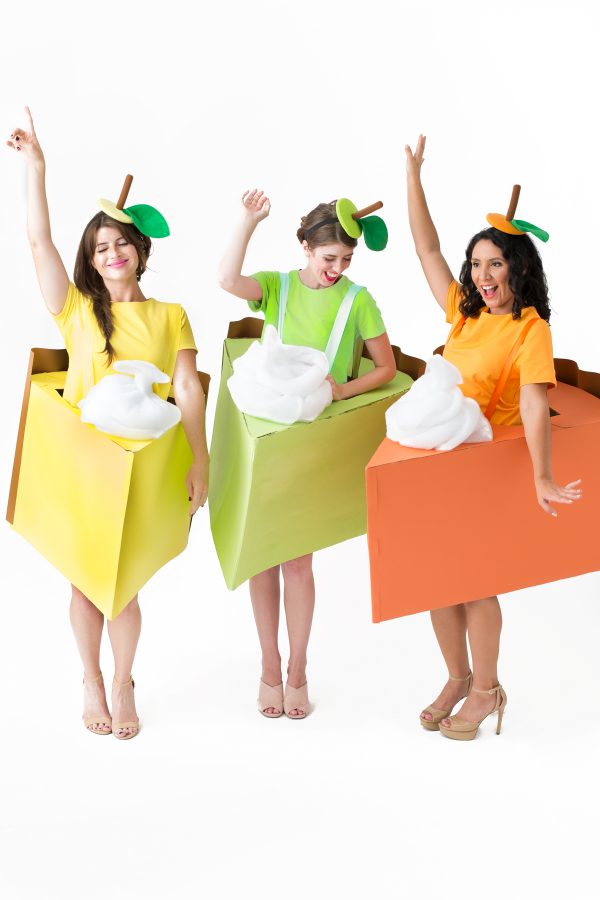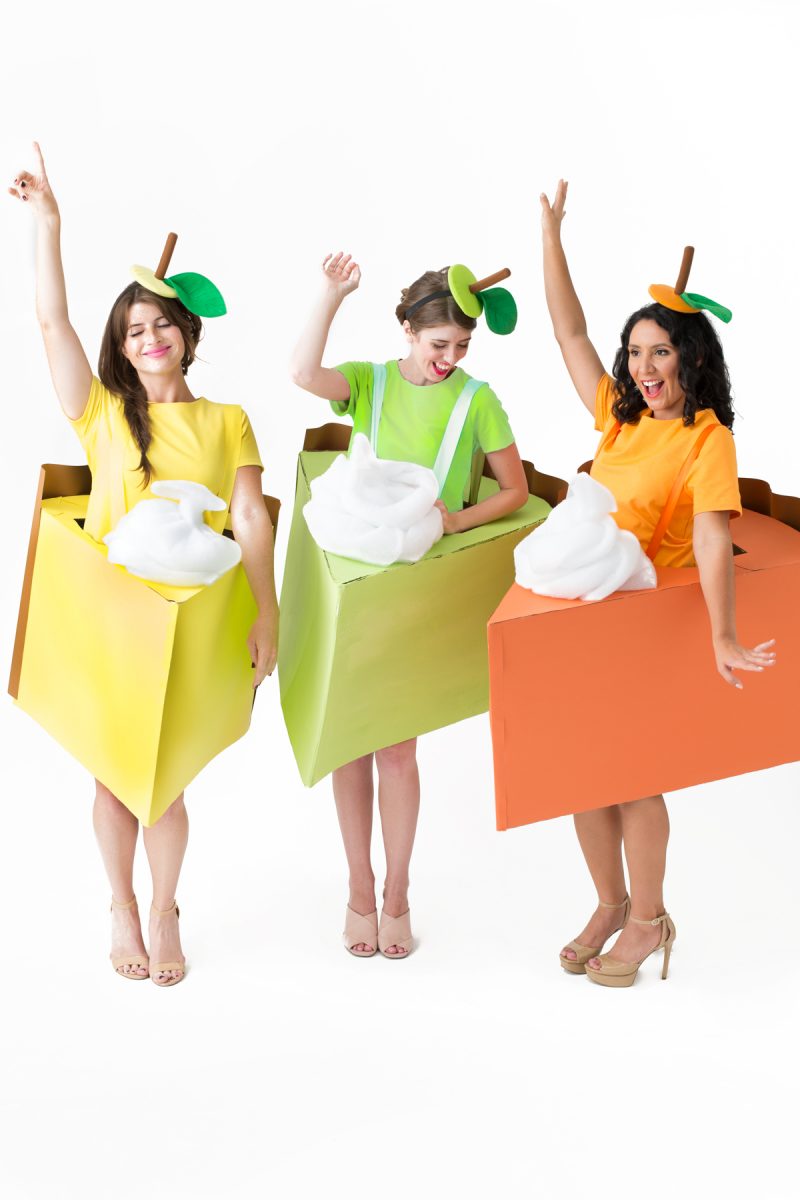 My birthday cake costume was one of my OG costumes, and a few of you have even spotted it on Parks & Rec since! (Yes, they used it! And I love when you guys snap me when you see the ep!!!) After I had our new hats in hand, I was like OMG!!! I need to put a new spin on the cake idea this year and make pie slice costumes instead!!!! Because being married to someone who's fave dessert is pumpkin pie… I'm coming around to it! 😉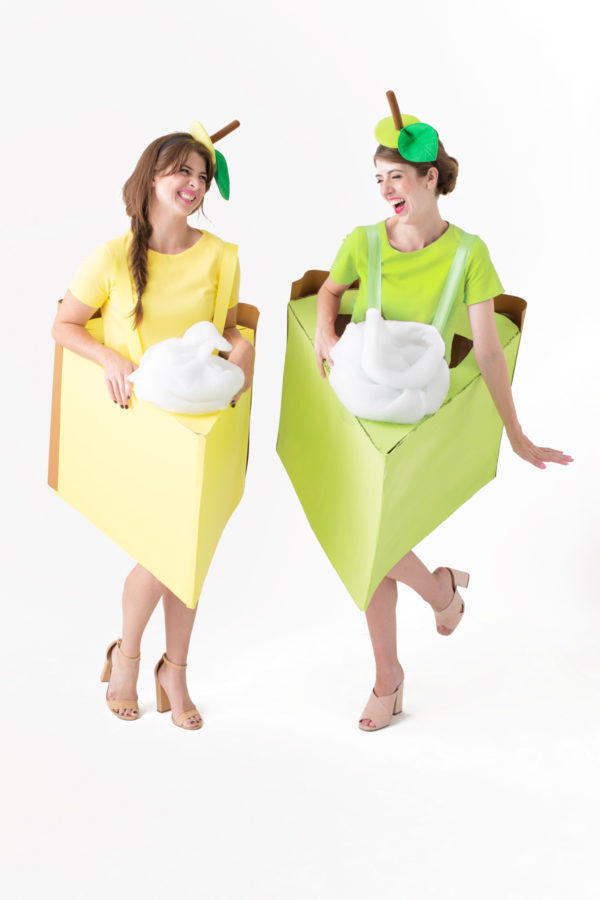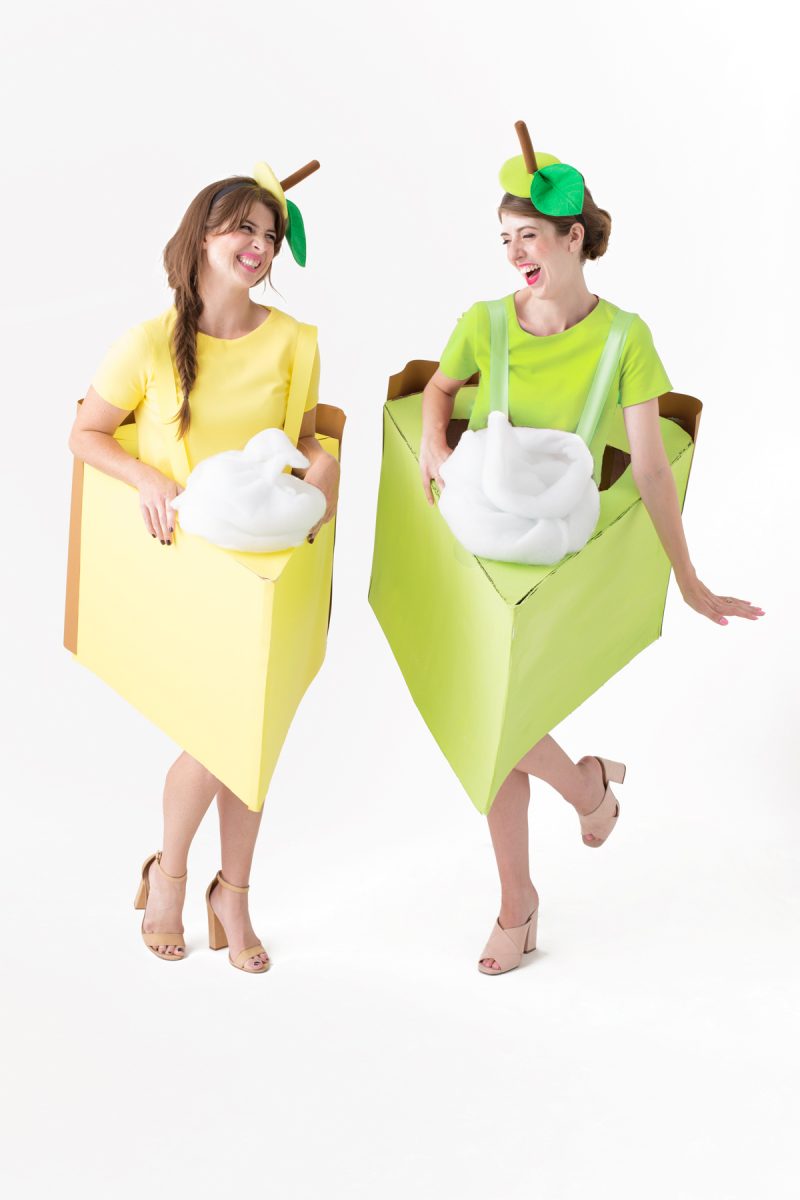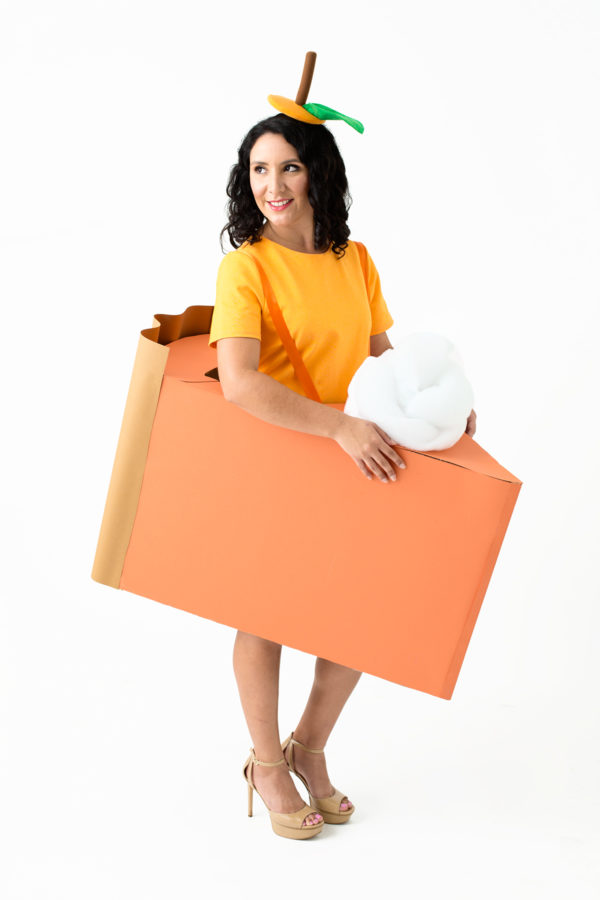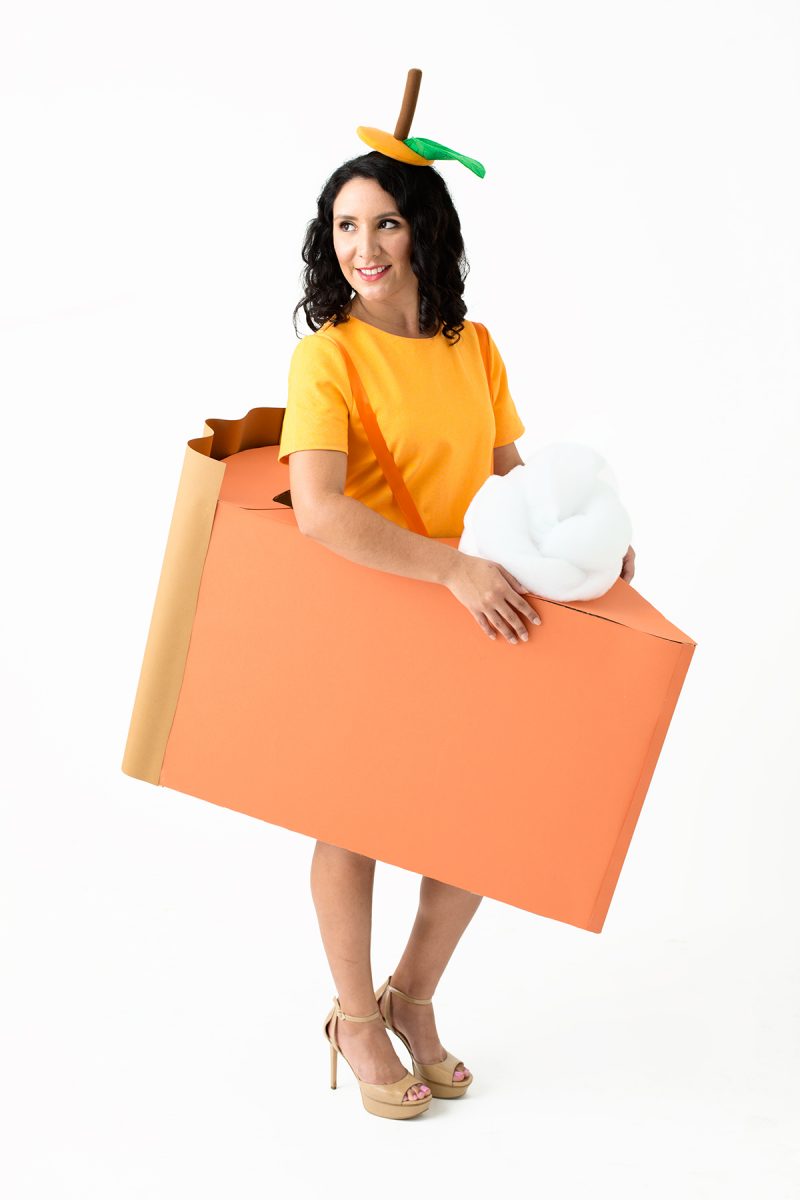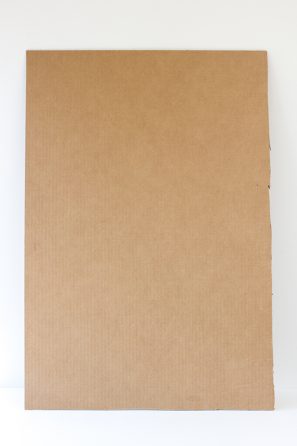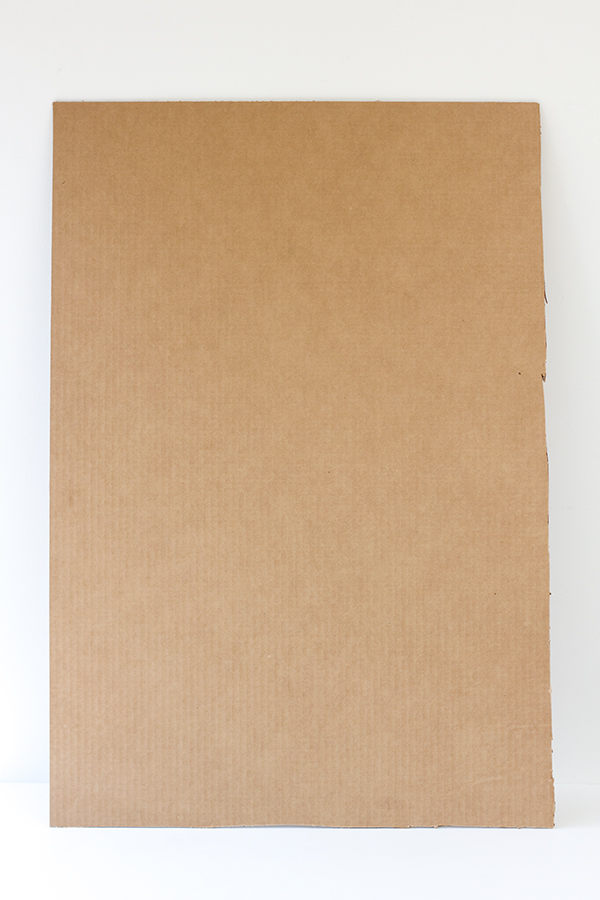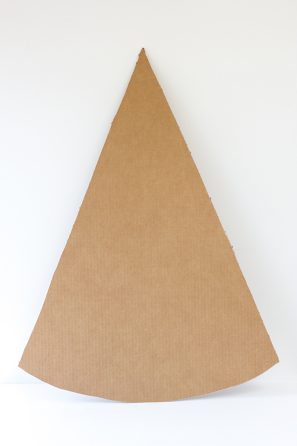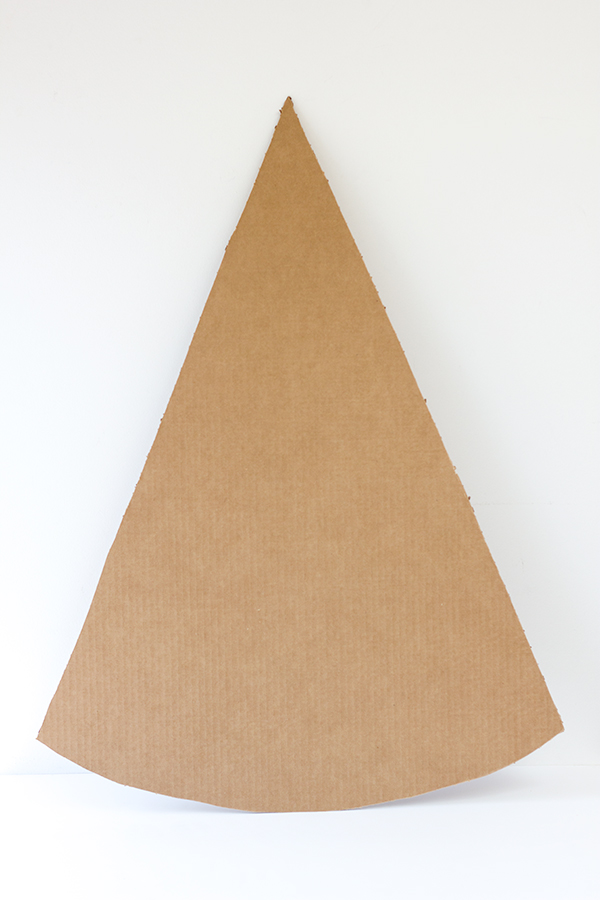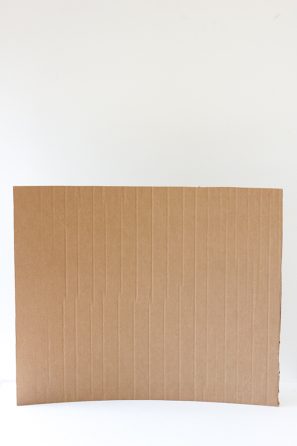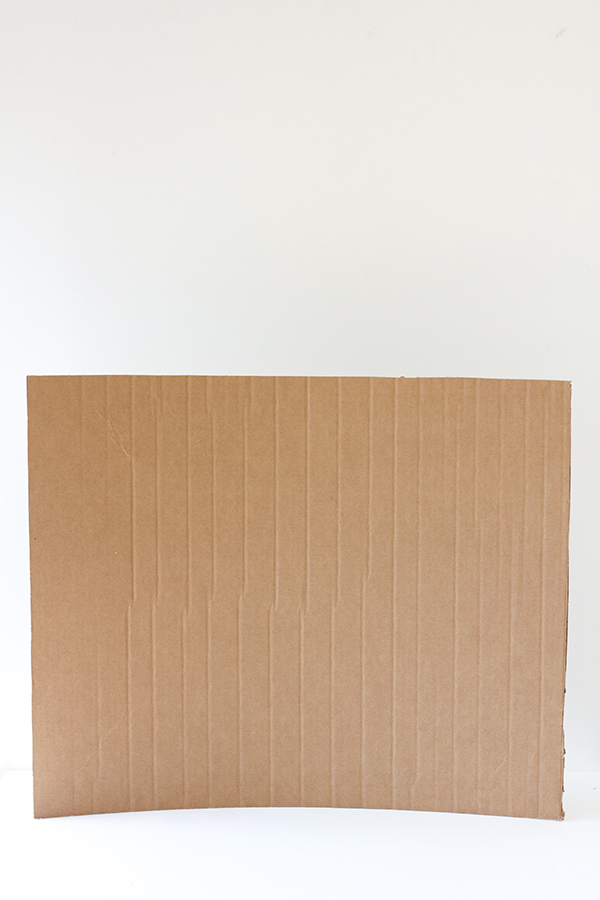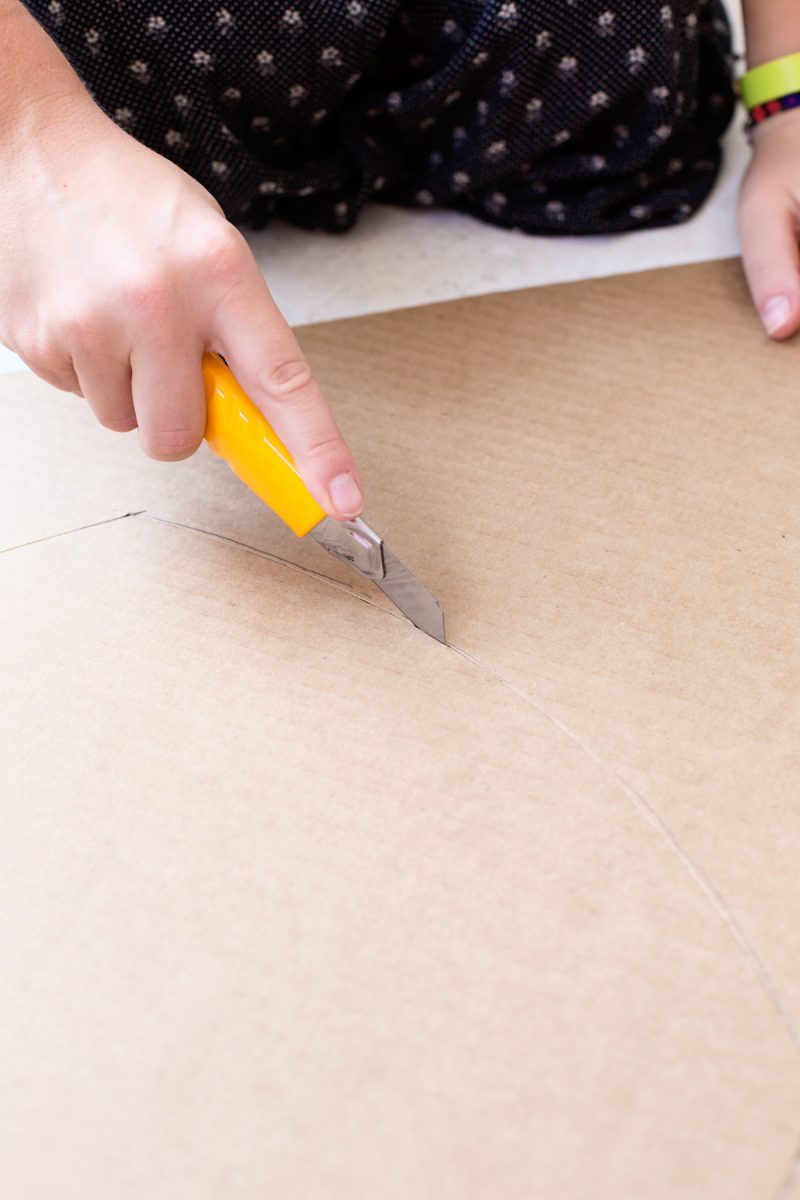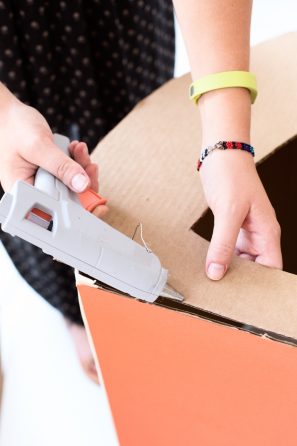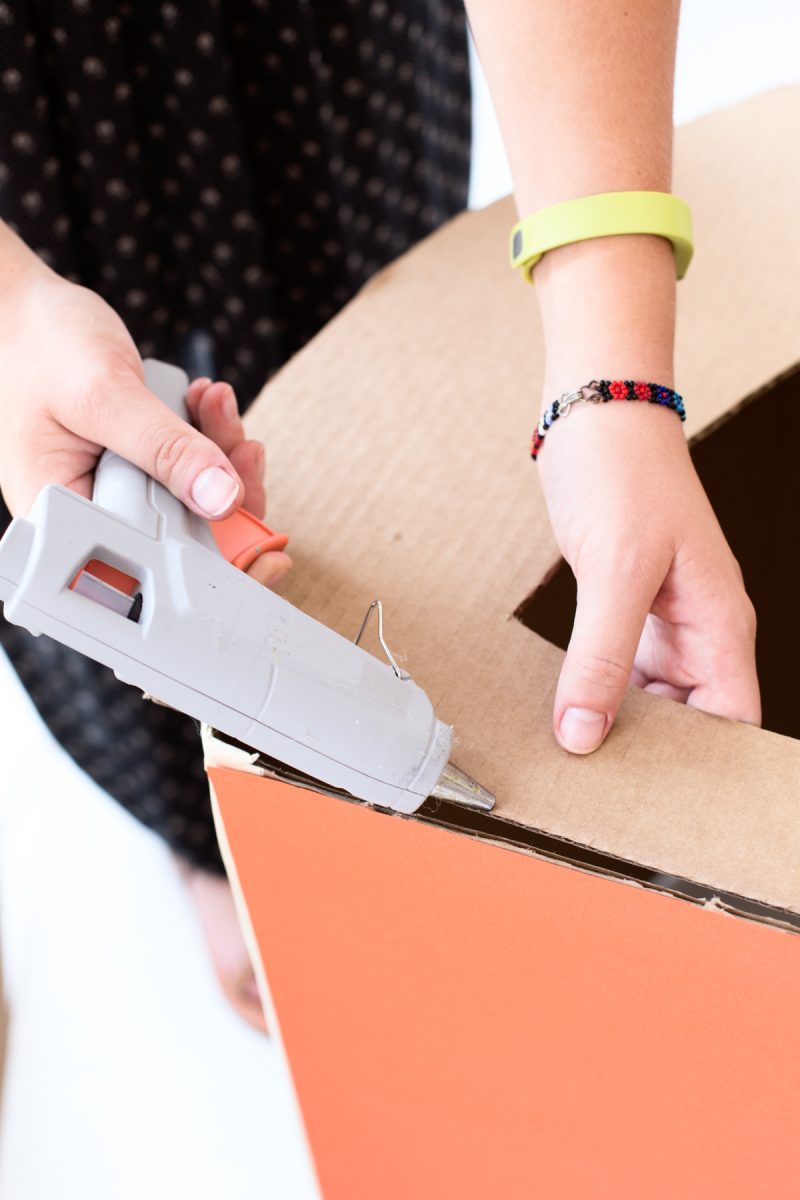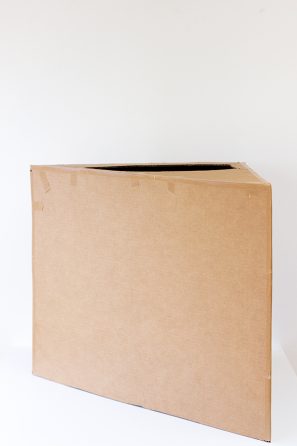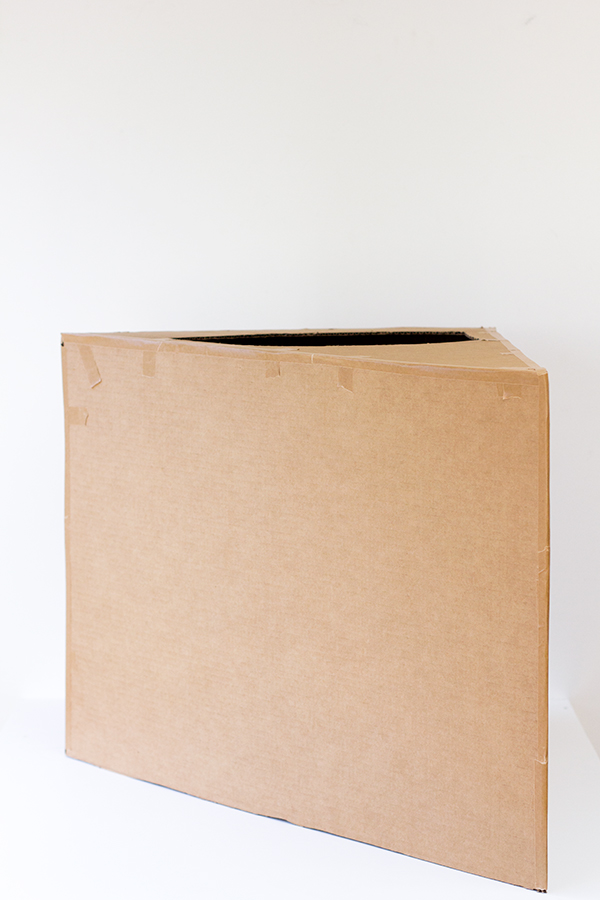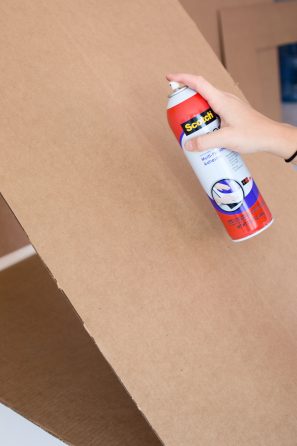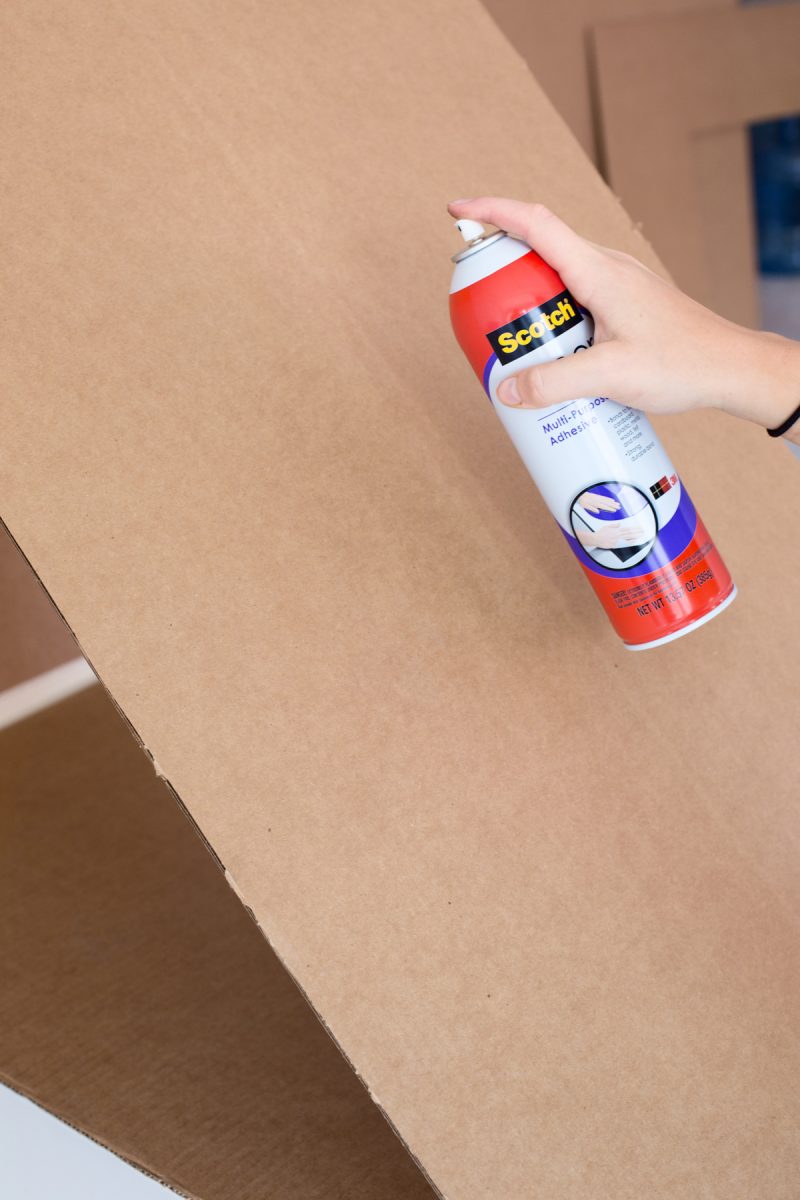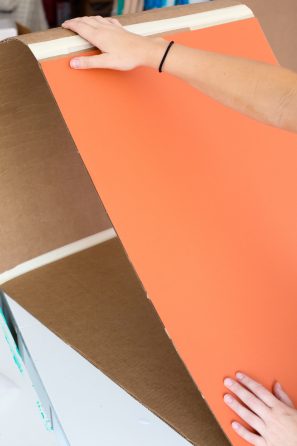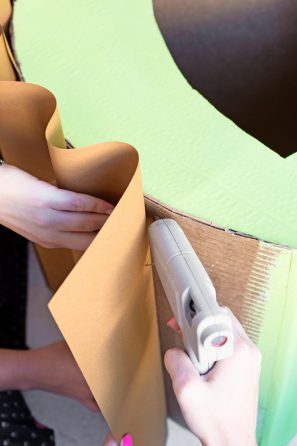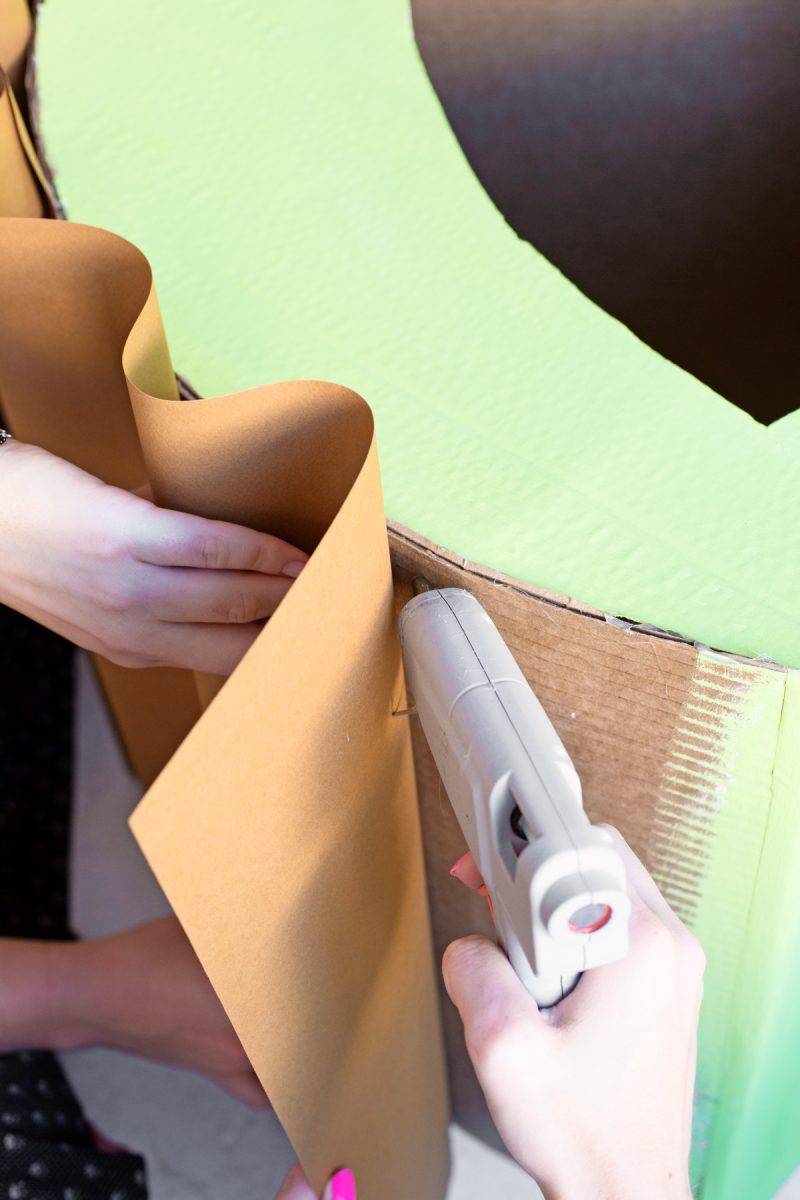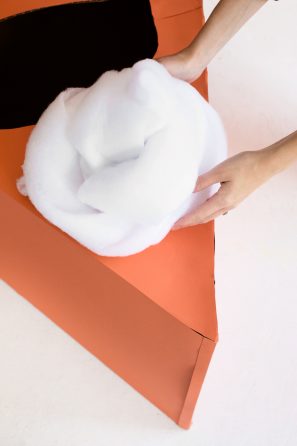 DIY Pie Slice Costumes
Total Time: 2-3 Hours (Plus dry time, if painting!)
Supplies
Dress (Yellow, Green or Orange)
Fruit Hat (Yellow, Green or Orange)
Large Cardboard Sheets (I used three 40x60" ones from the art supply store)
4 Large Poster Board/Art Paper Sheets OR Paint in Pie Color of Choice
2-3 Large Brown Poster Board/Art Paper Sheets
Cotton Batting
Ribbon in Pie Color of Choice
Spray Glue (If using poster board for the pie!)
Hot Glue Gun
Scissors
Directions
1. Cut the following shapes from cardboard: Two rectangles to form the sides of the cake slice (mine were 32″x"22″), a triangle shape with a curved bottom triangle shape should match the length of your rectangles and it can be as wide as you want (Mine was 25″ at it's widest point) and another rectangle, to form the back of the slice. This should be the same length as the curved edge of your pie shape, and the same height as your rectangles. Bend along the entire rectangle, as shown, to make it curve.
2. Cut an opening towards the back of the triangle shape (so you can stand in the costume later!).
3. Glue the pieces together to form the pie shape. You'll glue the two rectangles to the side. of the triangle, and then the curved piece to the back.
4. To give your pie it's color you can do one of two things: 1. Paint it. Paint the entire shape (besides the back) white and let dry. Then paint it the color of the pie you want it to be and let dry again. OR 2. Cover it in poster board. Use spray glue to adhere the sheets to the top and side of the pie and trim accordingly.
5. Making the crust is easiest with two people. You'll want the brown paper to be about 3-4" taller than the pie slice itself, so trim it accordingly. Use a hot glue gun to glue the edge of the brown paper to the back edge of the pie.
6. You'll want the crust to be "rippled" instead of flat against the back of the pie. To do this, run another line of glue a few inches away from the last and adhere the paper, making sure the paper isn't pulled taught, but has a gap between it and the cardboard to form that "ripple" effect. Repeat this until you've covered the entire back of the pie.
7. Roll up a three foot length of cotton batting and twist it into a whipped cream shape. Use hot glue to glue the cotton to itself so it holds its shape.
8. Glue the whipped cream to the top of the pie.
9. Hot glue ribbon straps to the underside of the hole you cut in the pie. Wear with your dress and fruit hat to finish it off!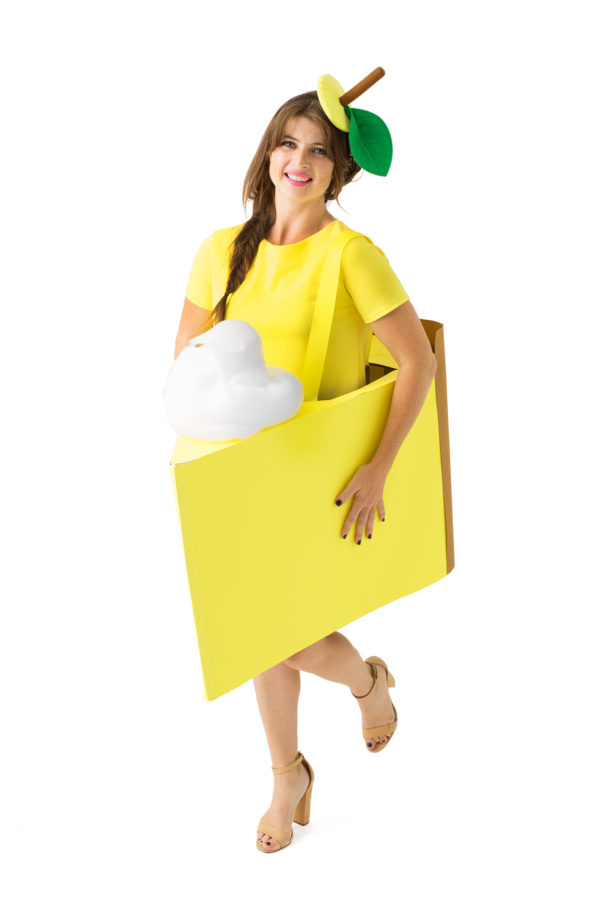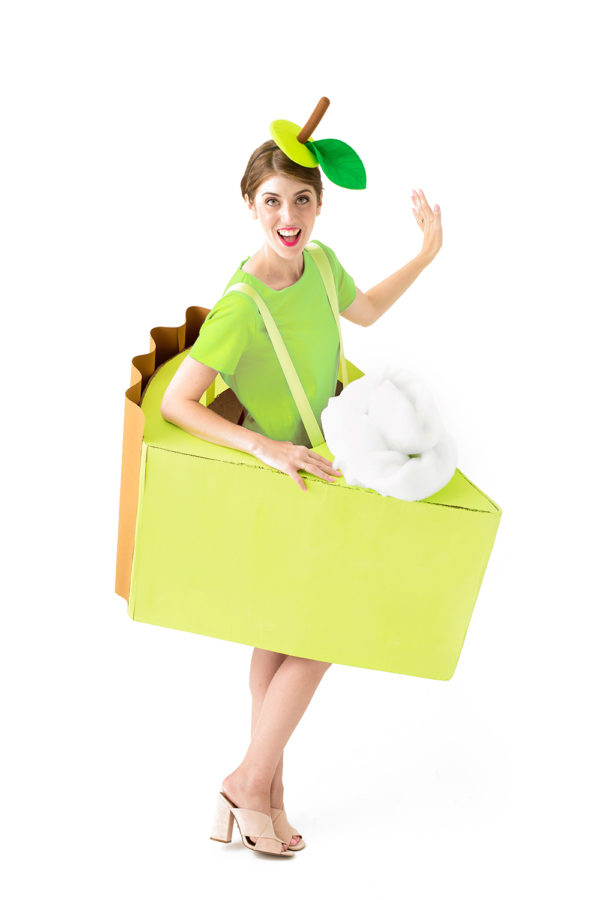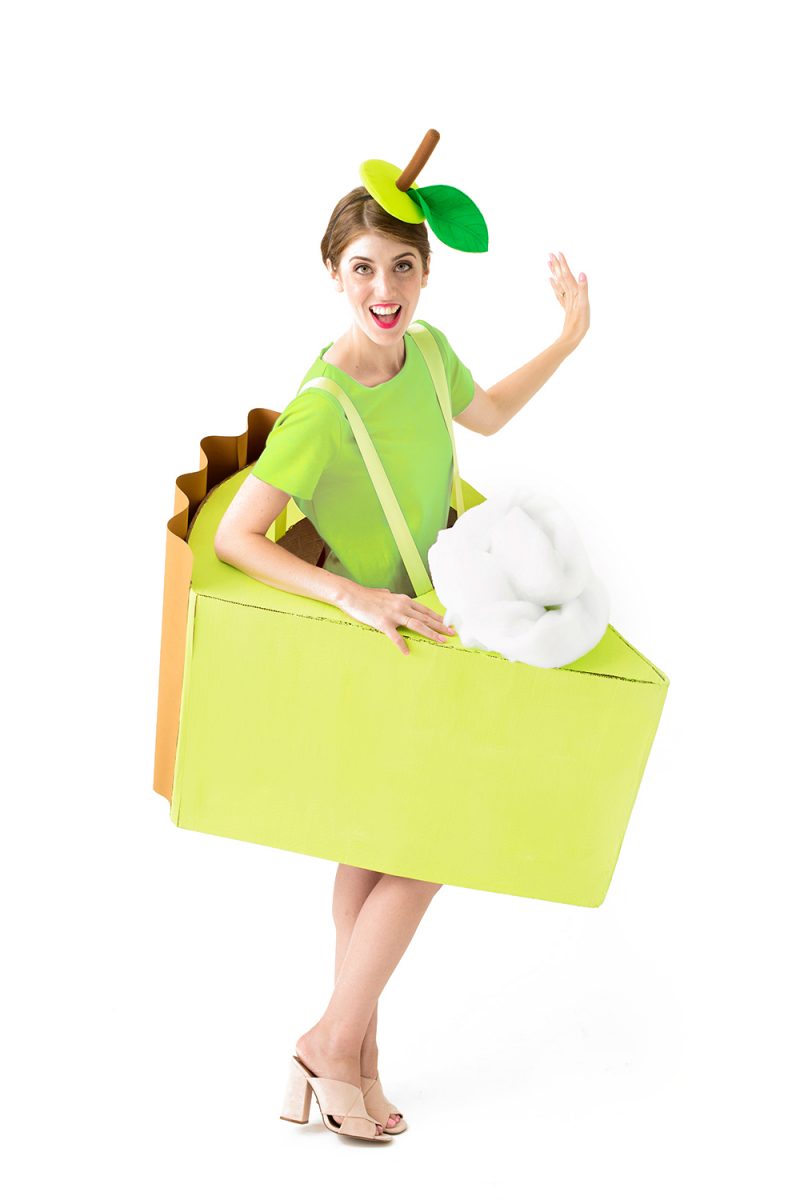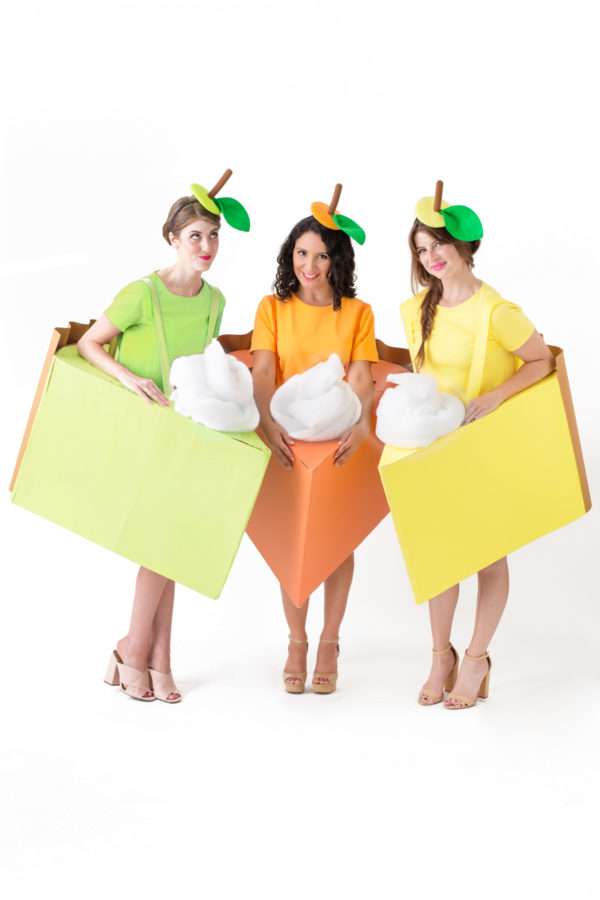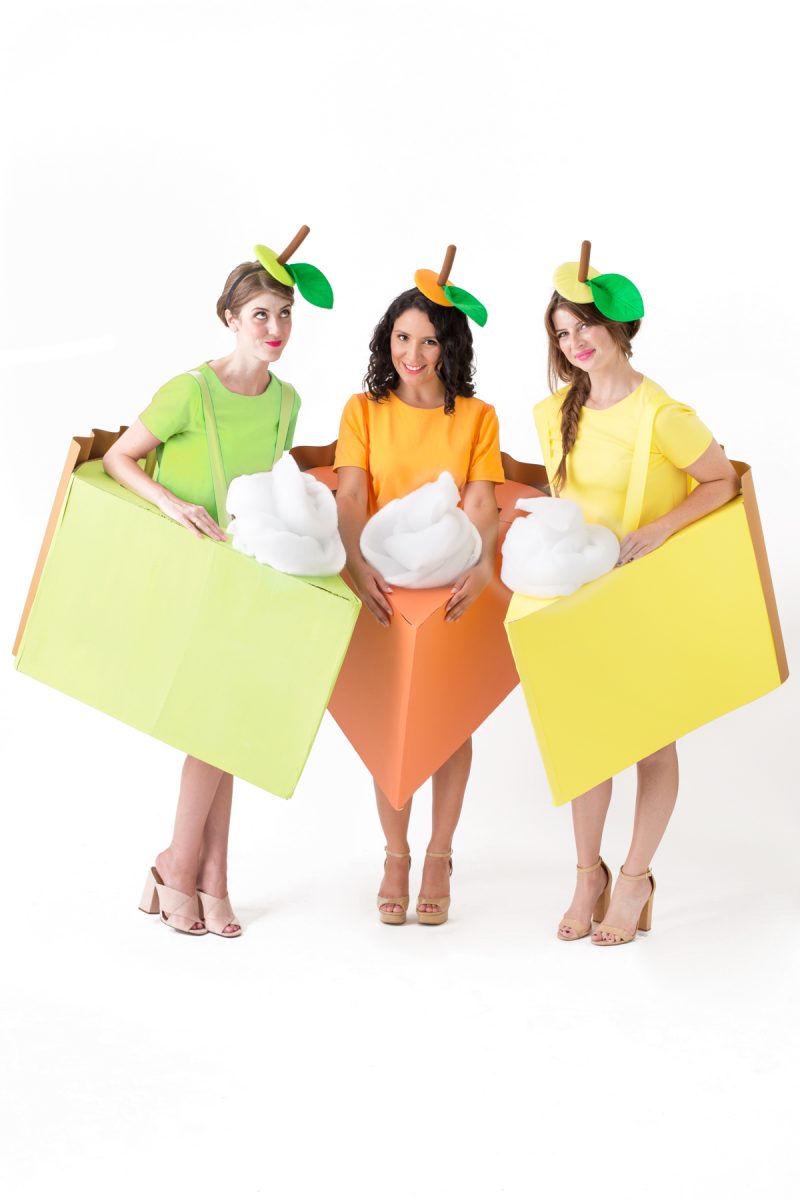 Photos by Jeff Mindell
Once again, this makes a great group costume! Could you imagine getting six girls together and forming a full pie!? OMG. O. M. G. But it also makes a really cute individual costume too! Just gotta pick your fave pie!
p.s. Add a DIY Milkshake Costume + DIY Burger Costume to be DINER FOOD! That's the Jersey in me talking!
Remember, if you make a Studio DIY costume, be sure to share it on Instagram with #studiodiyincostume so we can feature it on the blog!!