I get far too excited when a DIY project involves fringe! When Brooke of Sucre Shop reached out to me and asked if I was interesting in creating a tutorial for a new product, tassel ice cream spoons, I obviously said yes! I love Sucre Shop's colorful cutlery, and adding some fringey tassels? Well I don't mind if I do! The best part is that they sell pre-drilled spoons now, so all you have to do is fringe up some tissue and attach! Can these be any more festive!? I mean, really? Let's require all future utensils to be tasseled. You in?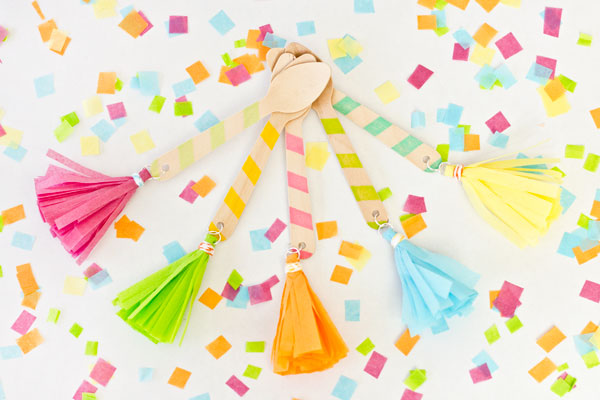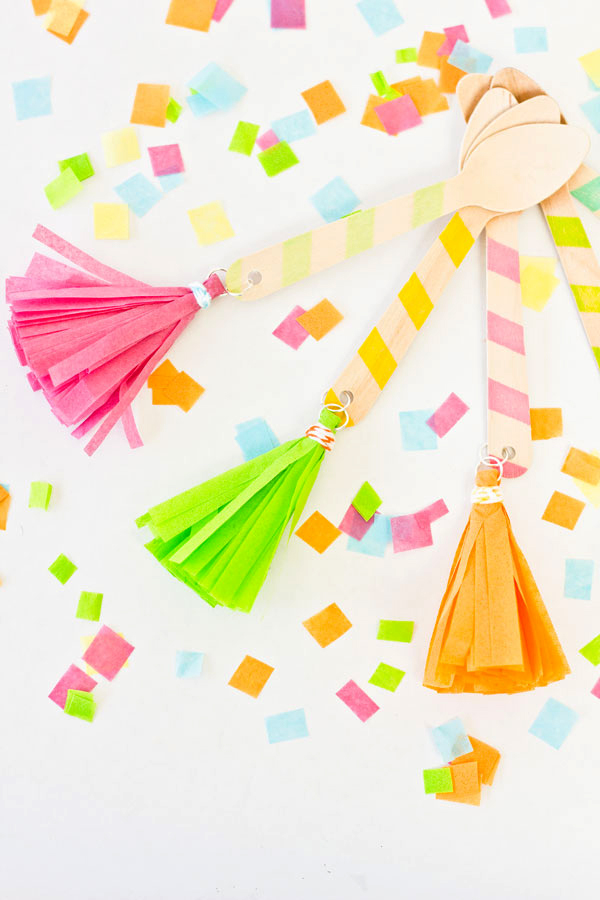 It's a color frenzy up in here!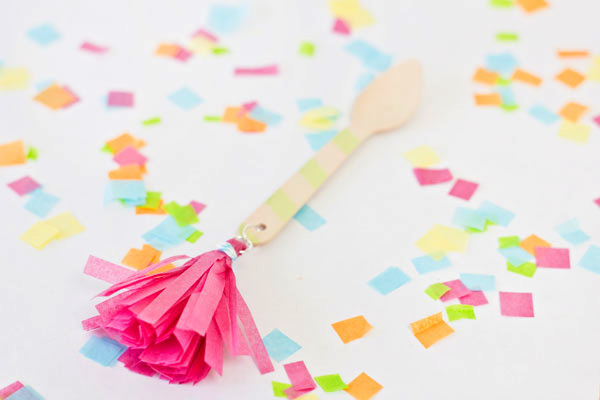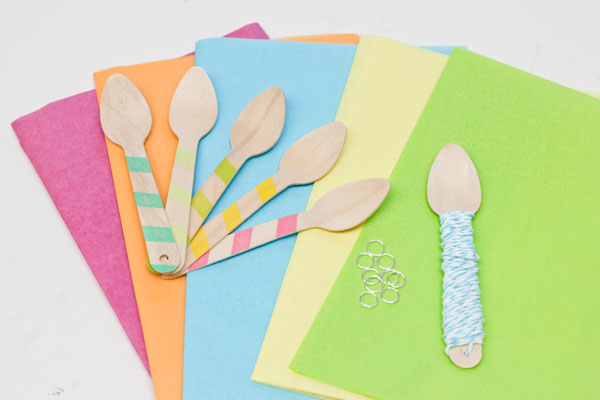 Drilled Ice Cream Spoons from Sucre Shop
Tissue Paper
Baker's Twine
Jump Rings (Two per spoon)
Rotary Cutter or Scissors
Cutting Board
For each tassel, you'll need a piece of tissue paper that is 9″ long by 4.5″ wide. Cut your tissue paper to size, then fold in half lengthwise. Lay your folded tissue on top of your cutting board and, using the lines on the board as a guideline (if possible), cut 1/4″ wide fringe strips all the way down the length of the folded tissue (leaving the folded edge uncut).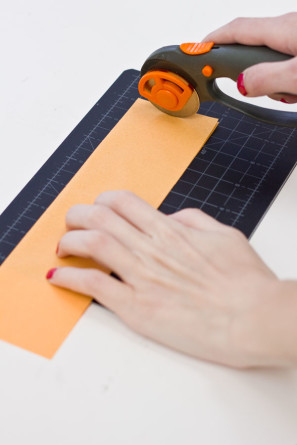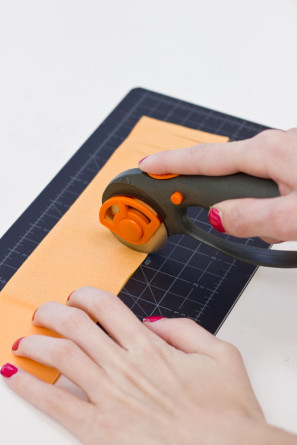 Unfold your fringed tissue and starting at one end, tightly roll it up.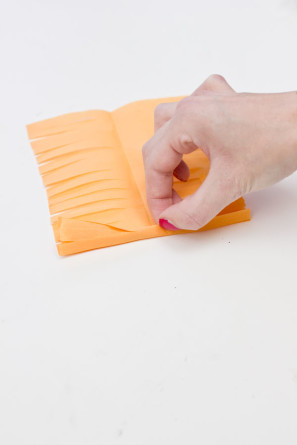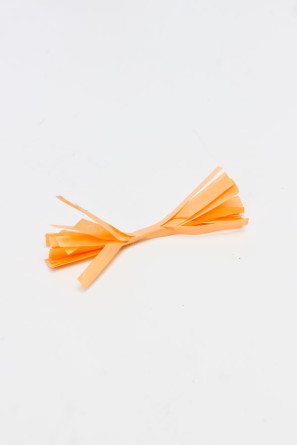 Now fold this in half so all the fringe comes together and you have the beginnings of a loop at the top. If you think your tassel is too wide to fit the jump ring, you can fold the center in half again to narrow it. Open a jump ring (with your fingers, or jewelry pliers) and slip it through the loop you've formed. Close the jump ring. Now take a piece of baker's twine and wrap it tightly around the top of your tassel, just under the jump ring. Tie in a small knot and trim excess twine off.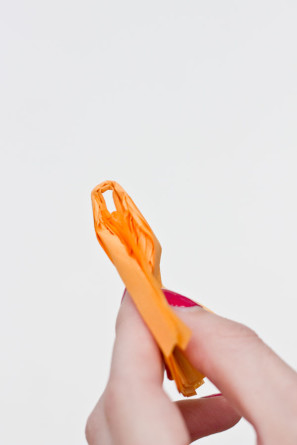 To attach your tassel to your spoon, slip a second jump ring through the drilled hole on each spoon. Then connect the two jump rings and voila! Tasseled ice cream spoons!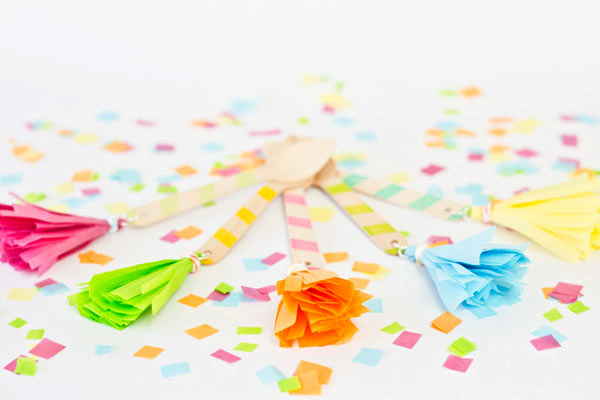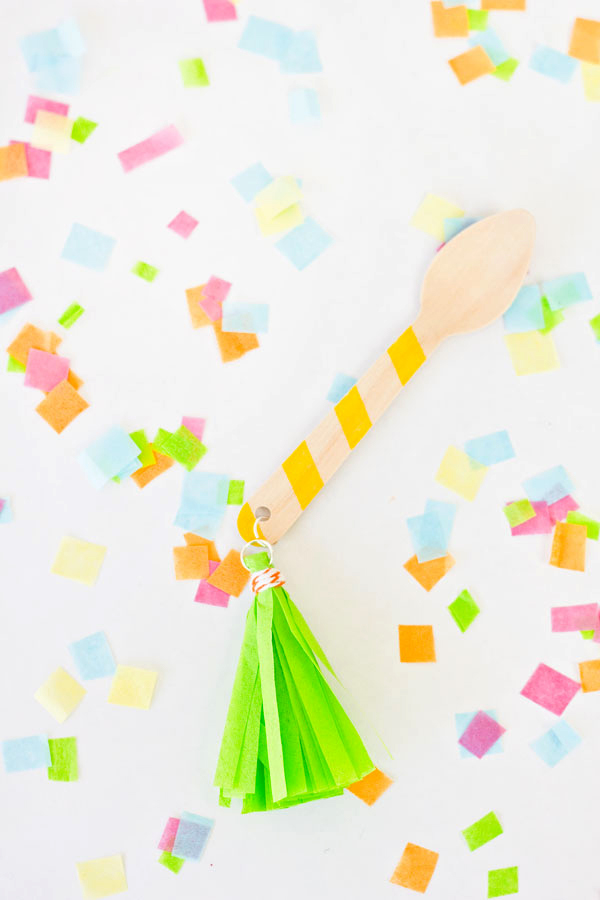 All Photos by Studio DIY
Time to par-tay! And if you can't get enough of these mini tassels, make a mini tassel garland to match! (psst.. that tassel tutorial is slightly different. Both are equally easy, just depends on your preference!)
*This post was done in partnership with Sucre Shop. I was provided with product to create this project. All opinions are that of my own.