What, you think that's a sundae below? Wrong! That, my friends, is a mini cake.. baked in a waffle bowl! You see, I can't eat a lot of ice cream, but I sure can eat a lot of CAKE! So when I saw these waffle bowls at my grocery store I decided to try filling them with my most favorite thing, and I am so very glad I did. If you're planning a summer birthday party, you may just want to add these to the dessert line up and give your guests a very much appreciated surprise!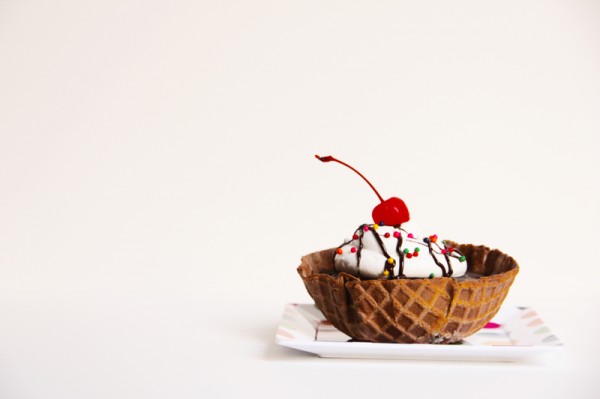 Here's how I did it, after much experimenting! I wanted my cakes to taste just like a banana split and, lucky for me, Naomi over at Bakers Royale has already done this in cupcake form! So I whipped up the batter for the banana cake and let me tell you, it is SO good. I filled each waffle bowl about half way with cake batter, set them on a cookie sheet lined with a silpat and then, I watched them… FAIL! Yes, fail. Keep reading…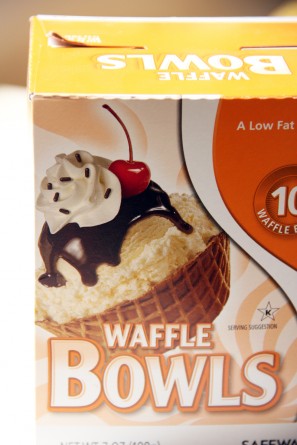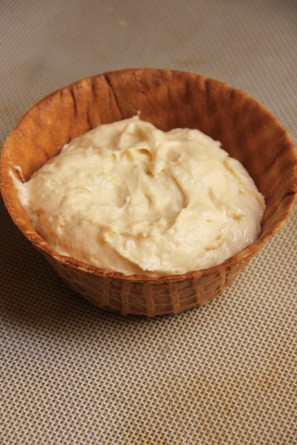 If you put the waffle bowls in the oven alone, they will fan out so they turn into more of a waffle plate. Not ideal. Then I decided to wrap each bowl in foil and give it some support. SUCCESS! So, wrap your bowls in some foil before setting them on the cookie sheet and filling them with batter. The bowls will still warp slightly in the oven but they hold their shape quite well for the most part. My cakes baked for around 30-35 minutes at 350 degrees. I recommend checking them often for doneness, they're done once a toothpick inserted into the center comes out clean.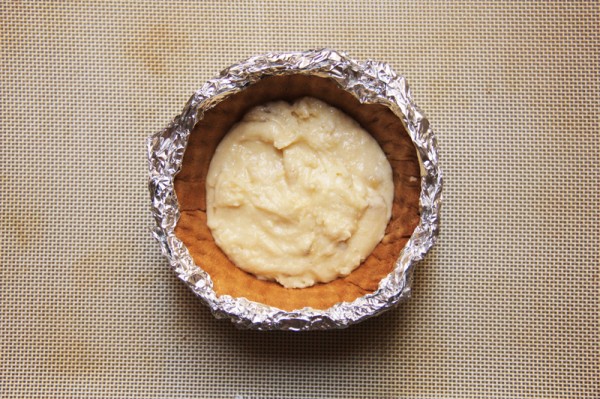 Once your cakes are baked and cooled, it's time to decorate! The best part, of course. I made both a chocolate ganache and a basic whipped white frosting for this cake. First, I covered the top of the cakes in ganache. Once set, I piped a whip cream-like swirl of frosting on top. I finished everything off with a chocolate drizzle, some giant non-pareils and a maraschino cherry. Yum, yum, yum.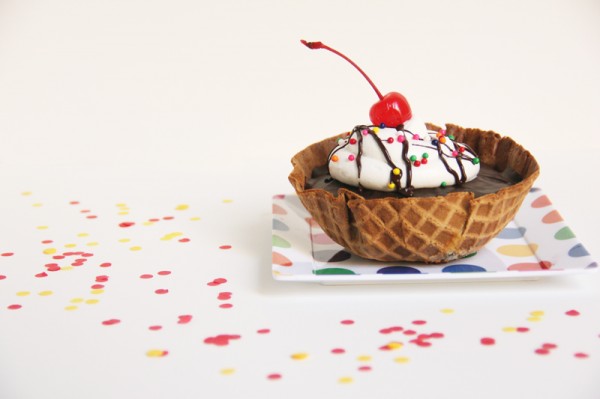 It would also be quite fun to serve up the cakes plain and have a "Cake Sundae Bar," allowing the kids or guests to decorate as they please!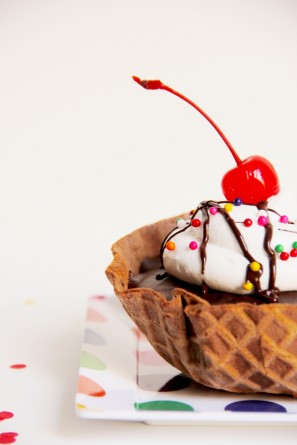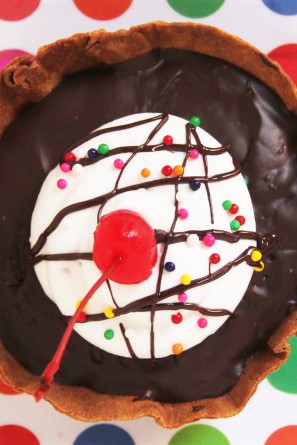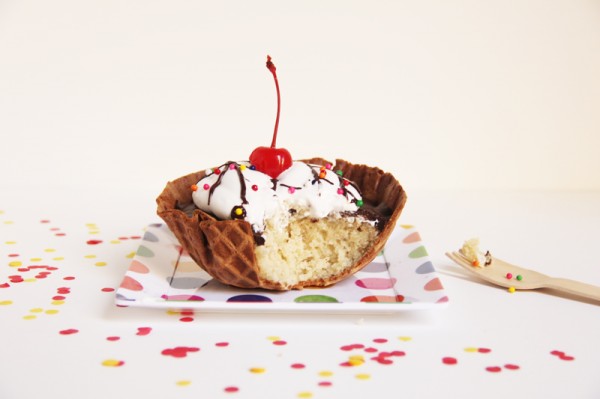 What do you think!? Would you be happy finding out your ice cream sundae was actually cake!? And what kind of cake would you bake in a waffle bowl?
Remember these tips:
1. Wrap each waffle bowl tightly in foil before filling.
2. Only fill the bowls about halfway full to achieve a similar look to these.
3. Keep an eye on them in the oven, time will vary depending on how hot your oven is, the size of your bowls and how full you filled them.
4. Let cool completely, then remove the foil and decorate!
5. Most importantly, eat and ENJOY!
Looking for more DIY projects? Check out the Project Gallery and Free Printable Gallery! In need of supplies to make your own waffle bowl cakes? Check out the Craft Supplies Guide!
It's Cake Week! Check out all the posts…