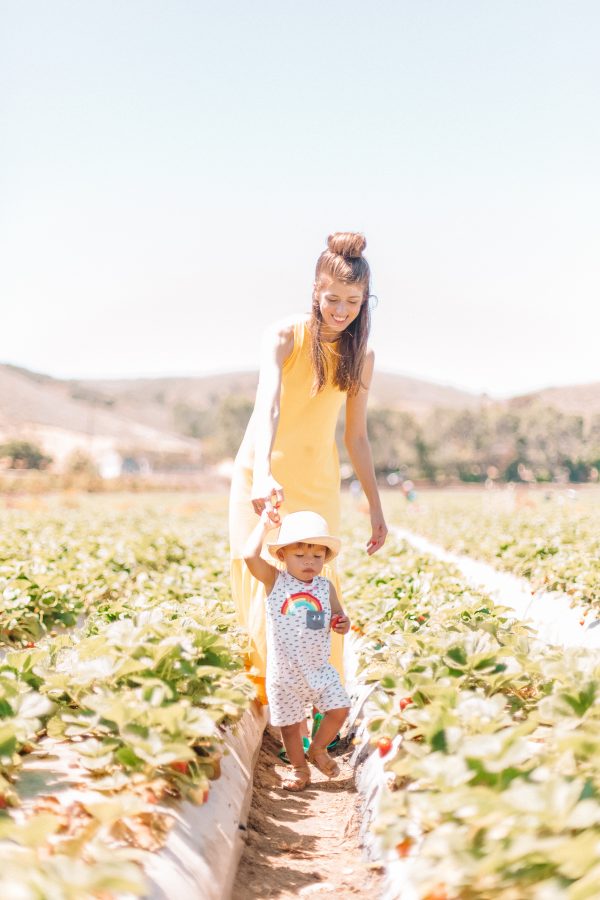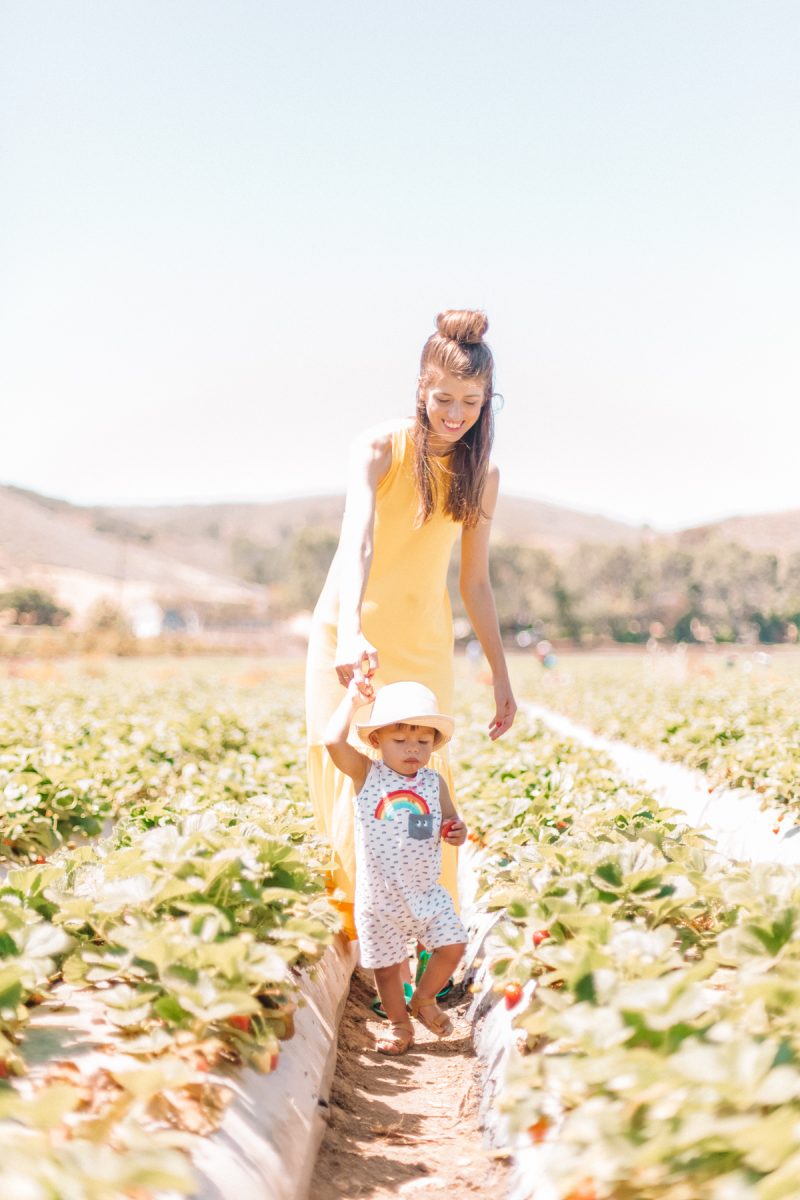 I'll be the first to admit that I'm having a really hard time with Arlo not walking yet. I know, I KNOW that everyone says "once he starts walking you'll wish he wasn't!" but he is a very active kid that doesn't like to be held and hates sitting in a stroller/carrier so it's been increasingly frustrating for everyone.
It's also made us hesitate on taking on a lot of the activities we had been thinking about this summer (we were SURE he'd be walking by now) because it's just tough when your babe wants to crawl in a place he can't! Lots of tears for all parties! But we finally decided to just go for a couple of them and see what happens. So yesterday we went to Underwood Family Farms to go strawberry picking! It's about an hour outside of LA and Jeff and I went several years ago just the two of us. We had such a blast back then and all we could talk about was how we can't wait until we can bring our kids back someday!
I'm happy to report that Arlo LOVED it. I was SO SO happy. Jeff ended up taking a bazillion cute pics so I figured I'd share some along with a couple of his favorite things!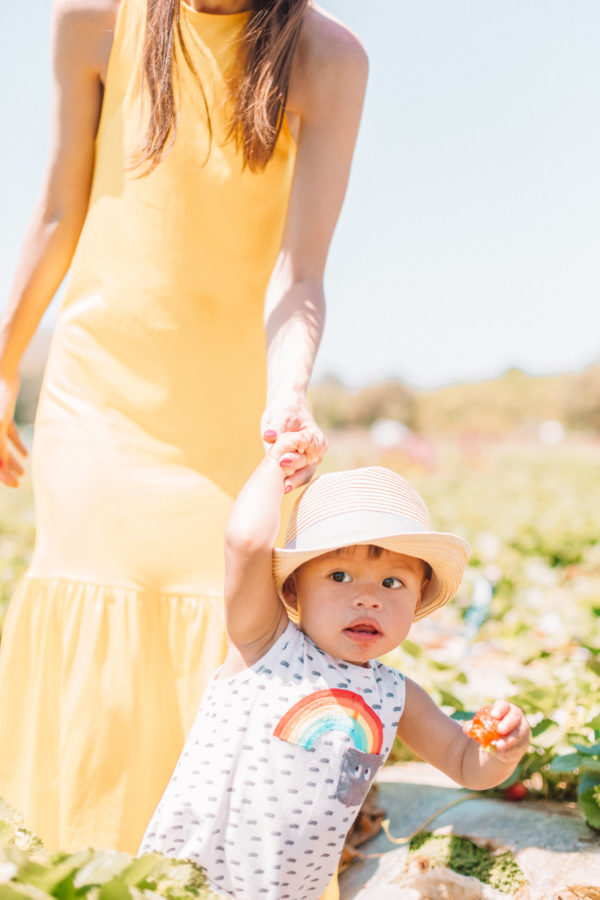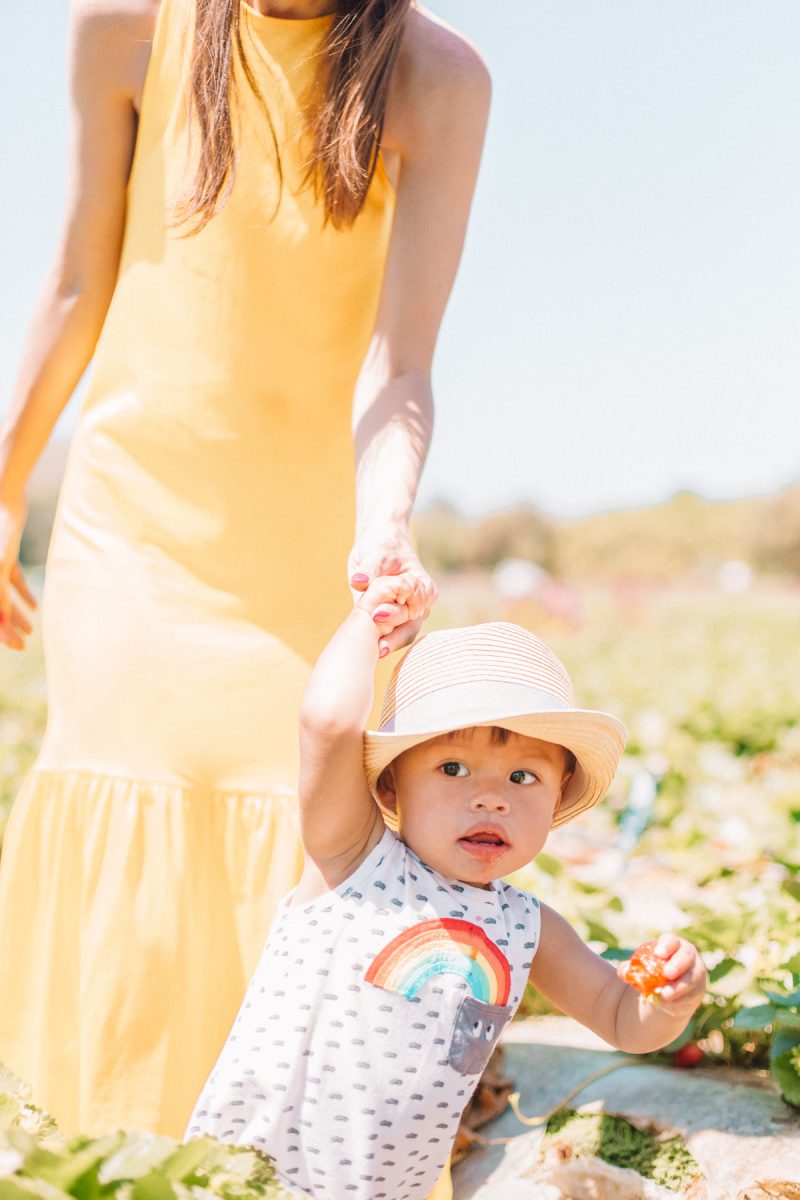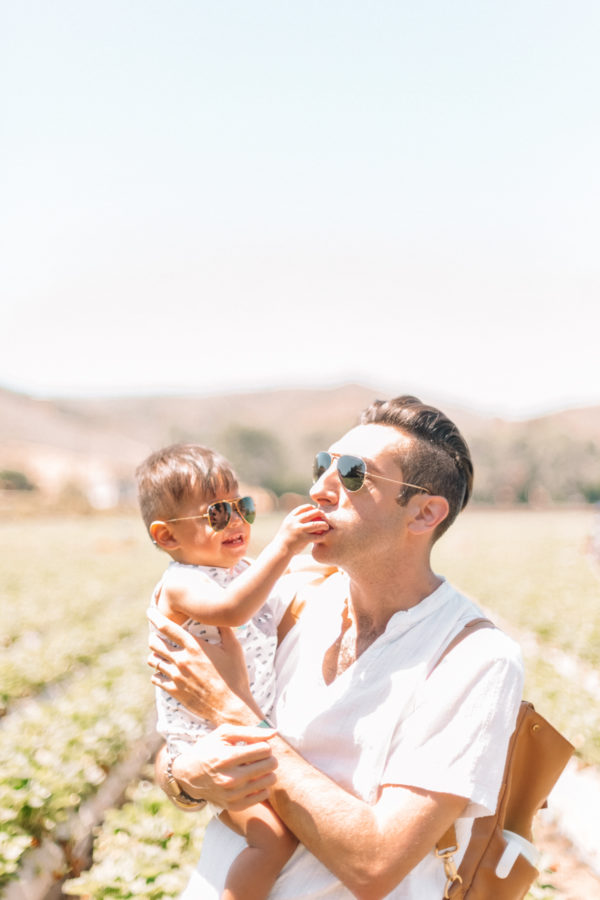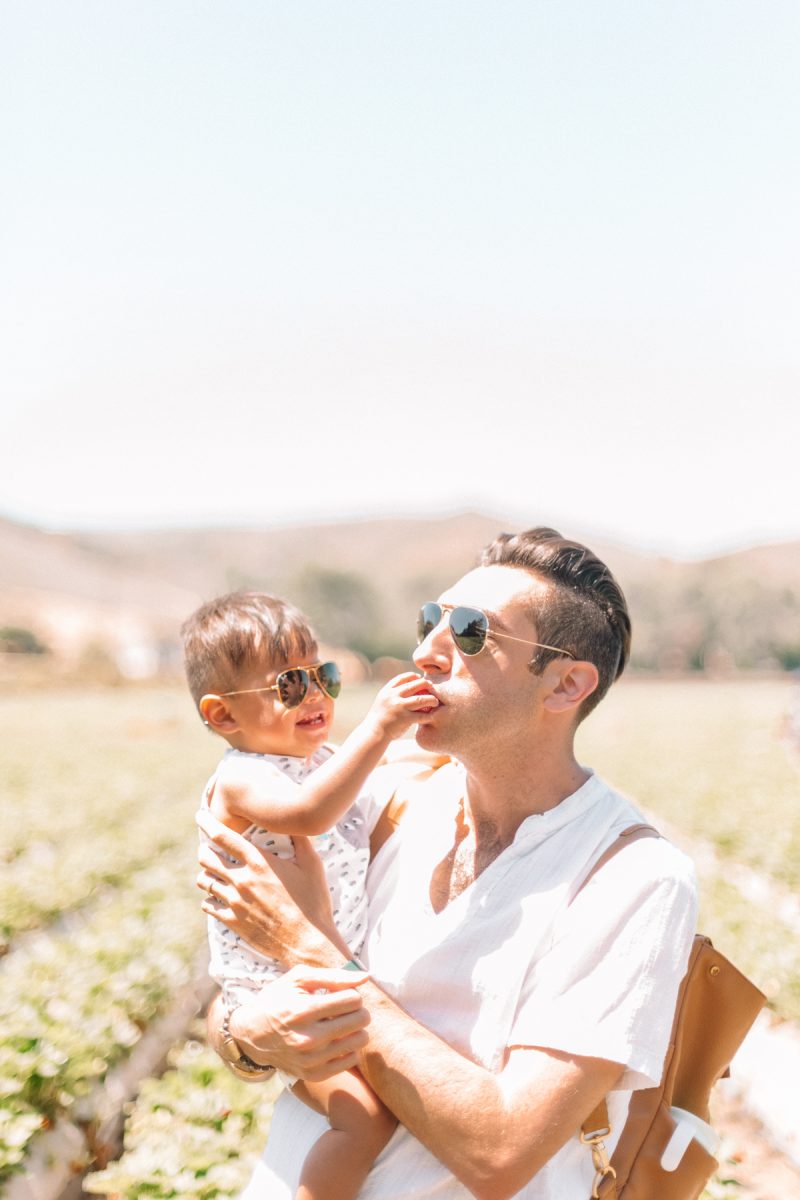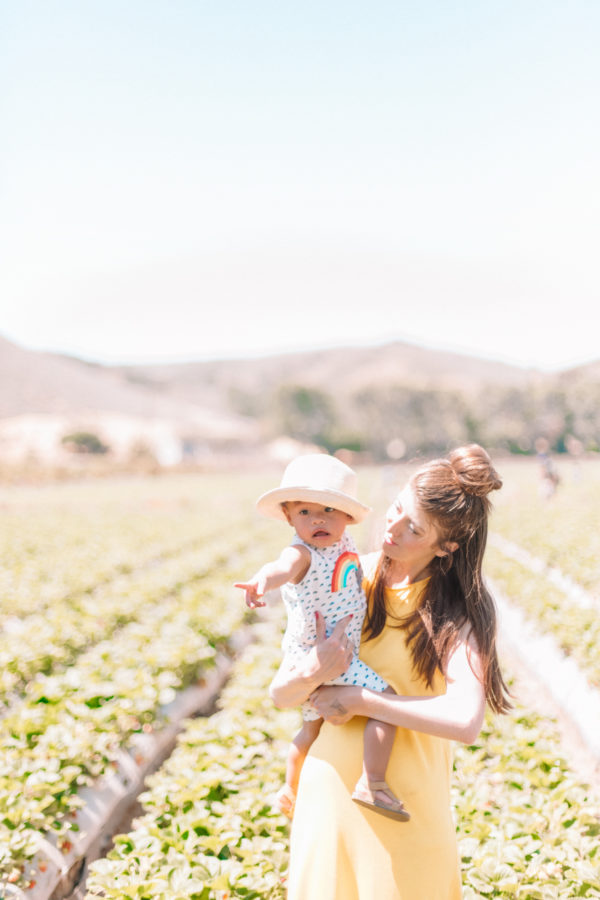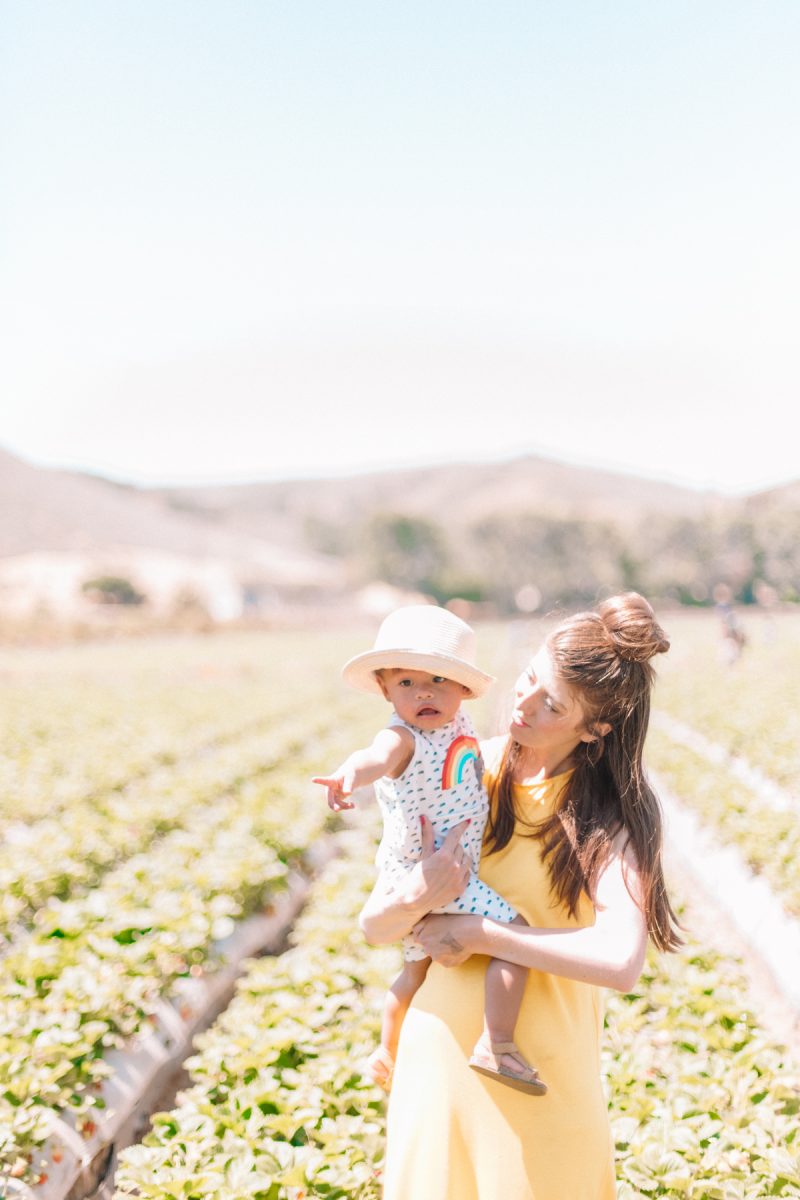 We got there shortly after they opened (at 9am) and it wasn't packed at all, so I definitely recommend going early! Kids under 2 get in free, and adults are around $6/each! We just brought our baby bjorn for Arlo because they have wagons there to wheel your kids around in if you want! Easier and more fun than a stroller!
He loved looking around at all the animals, they have so many! There were even some chickens roaming free on the property which he got a kick out of. There's an animal show a few times a day but we didn't catch one and there's also a petting zoo, though you have to pay extra for that! There's also a ton of things to climb on and a big sand box to dig in.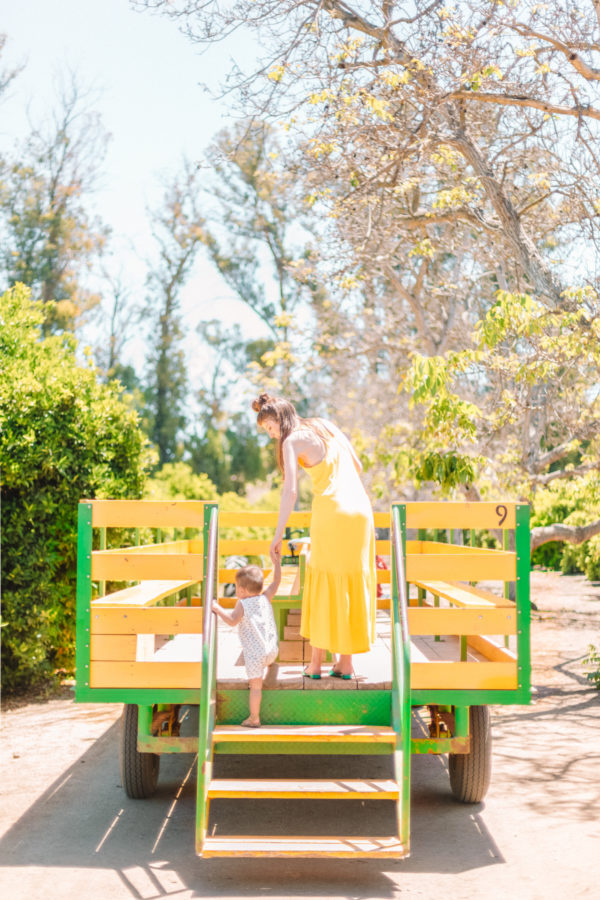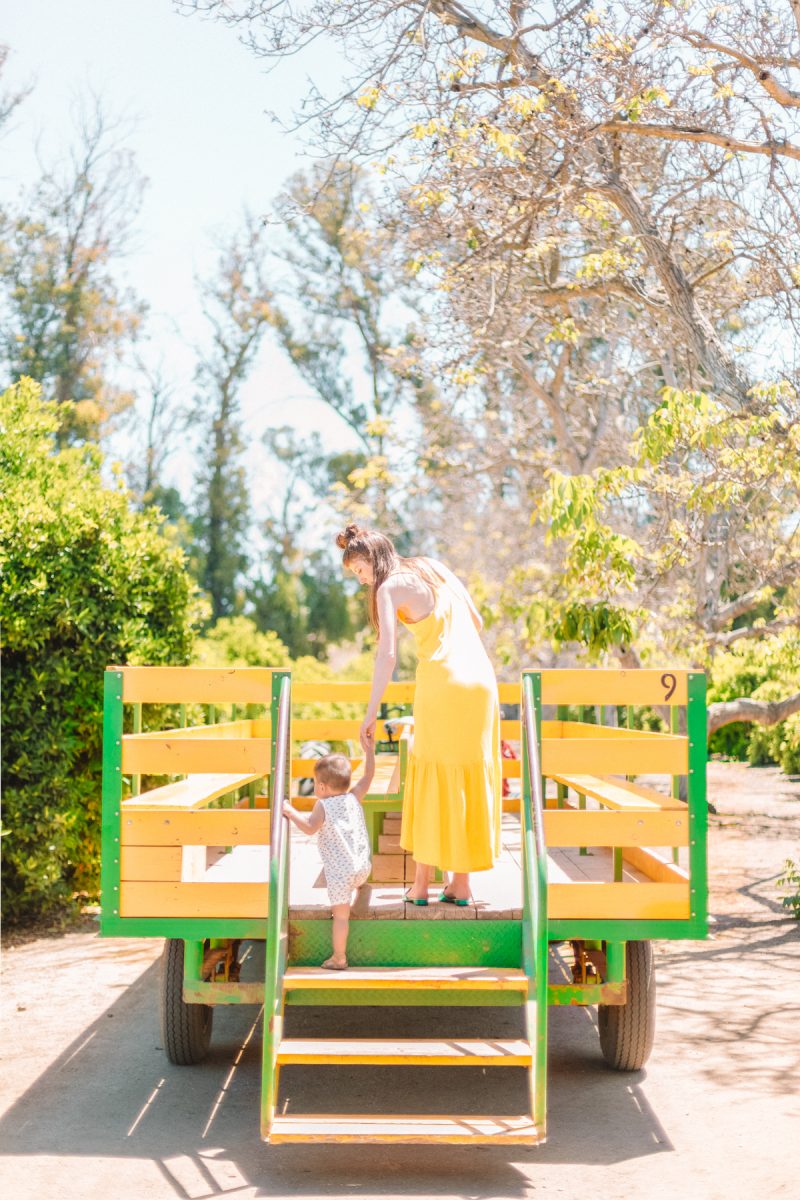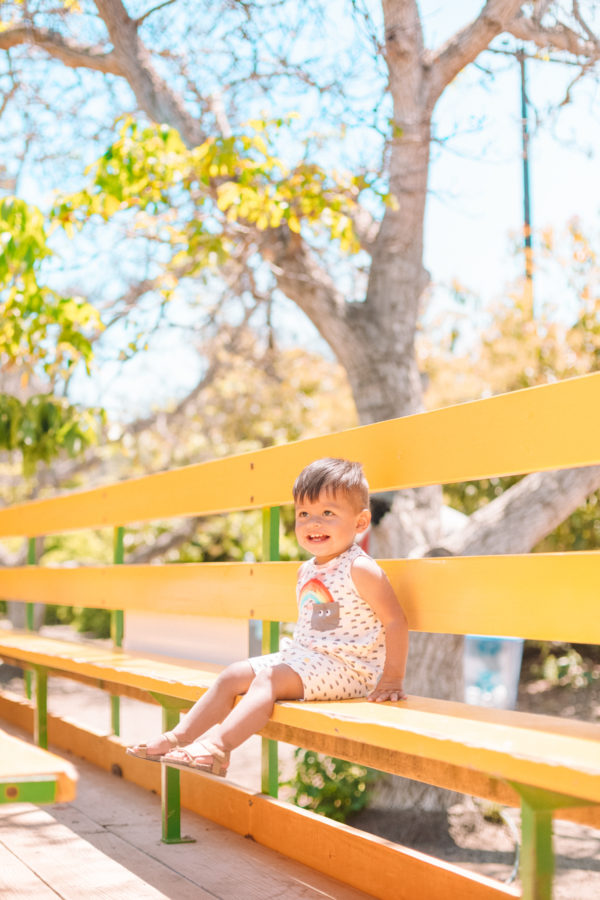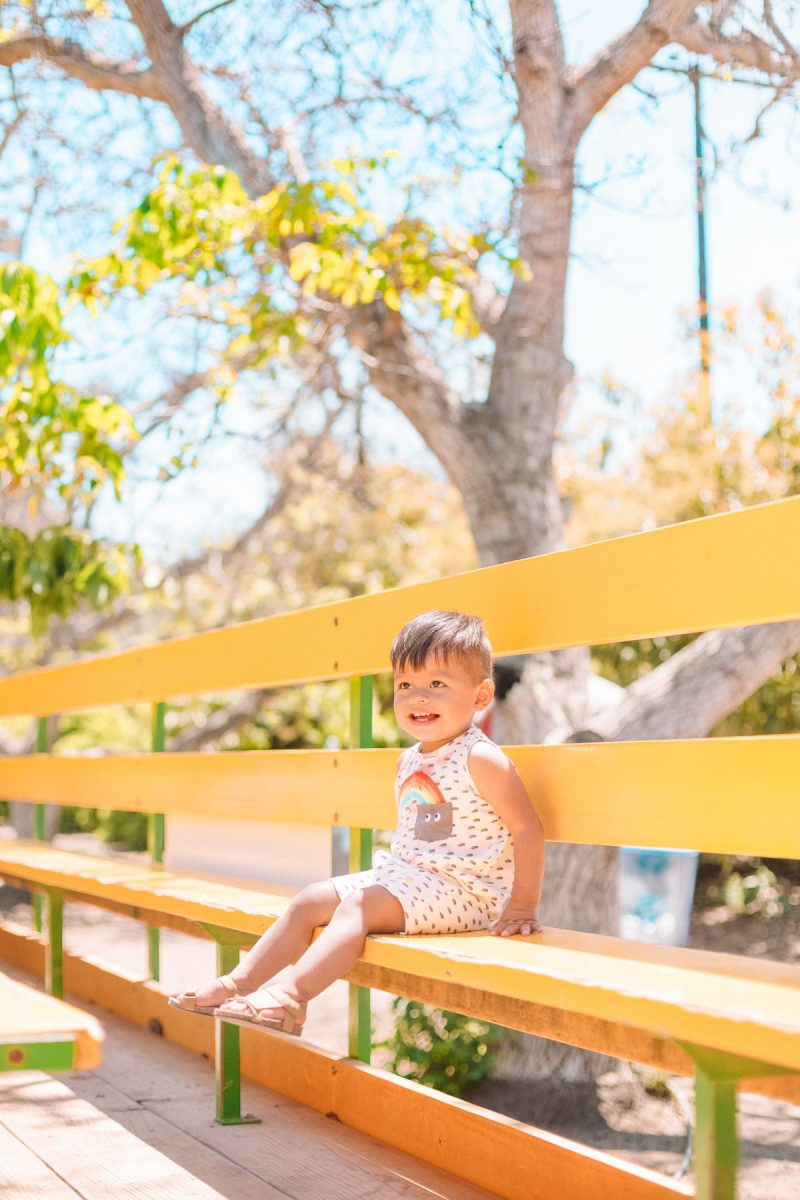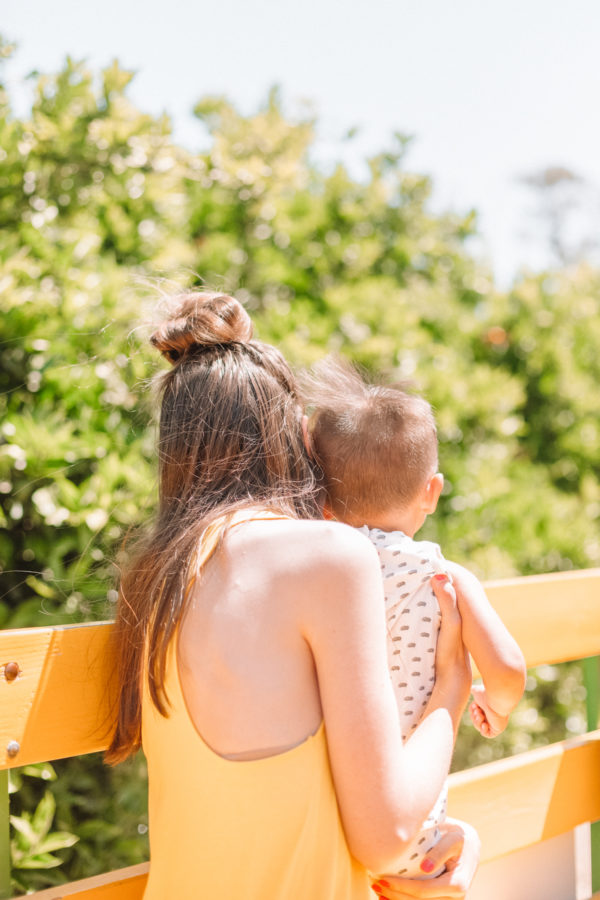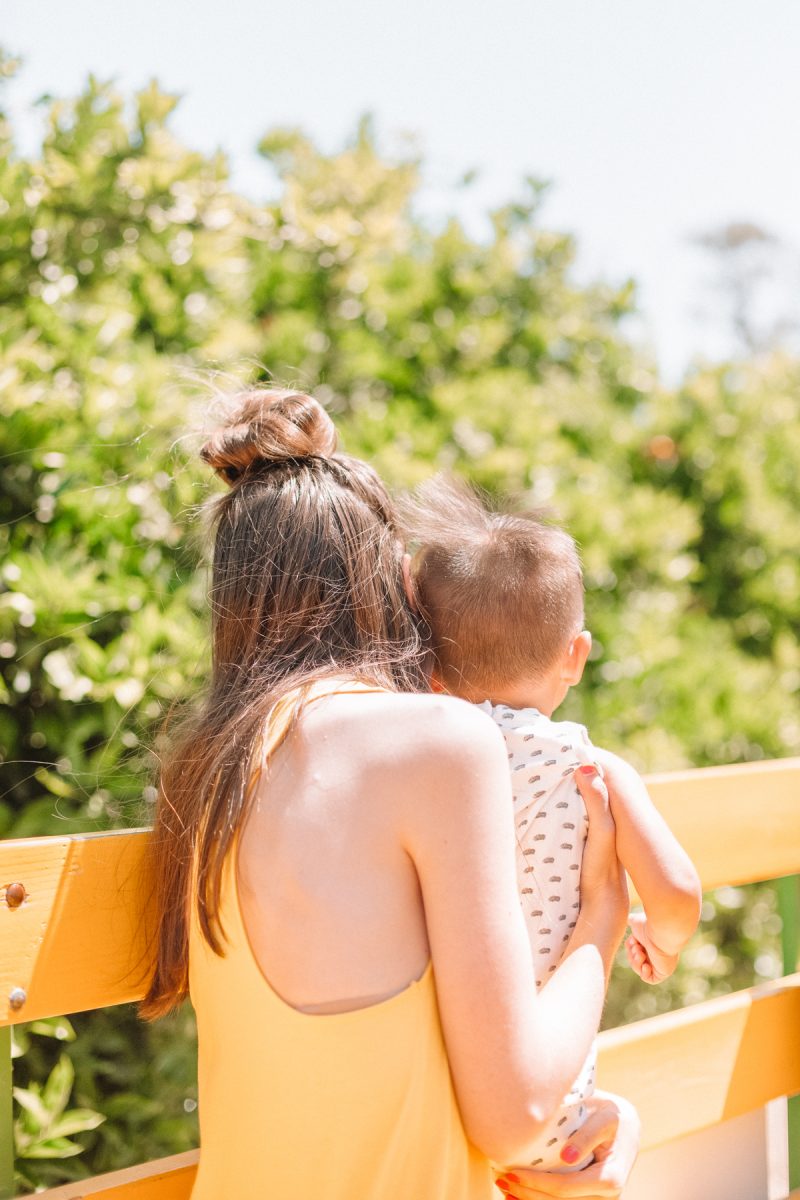 There's a tractor that will take you around to where all the pick-your-own produce is. On the way to the tractor there is these singing chicken puppet things (???) which ended up being Arlo's FAVORITE thing of the whole day. Haha! Kid just loves music.
There's all different fruits and veggies you can pick depending on the month you go. They have what's available that day listed right before you enter the fields! Arlo is a strawberry fiend and the second I set him down and pointed to a strawberry on one of the plants he was OFF. (Well, off while still holding my hand… haha) He got really good at picking out only the red ones, not the green ones that weren't ready. It was SO CUTE. He ate probably a few too many while we were picking (Whoops!) but he also helped us put some into the little containers they give you and loved that too. He was really having such a blast.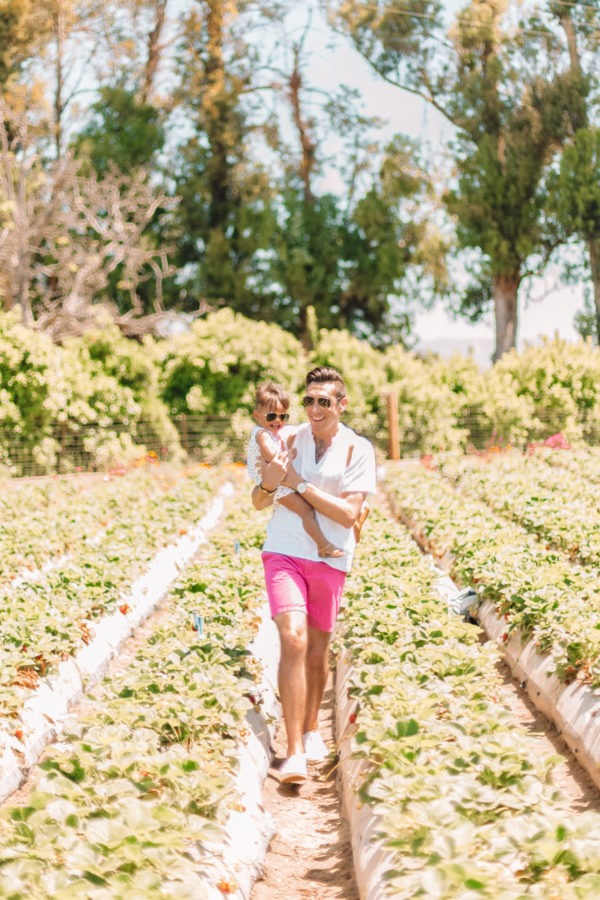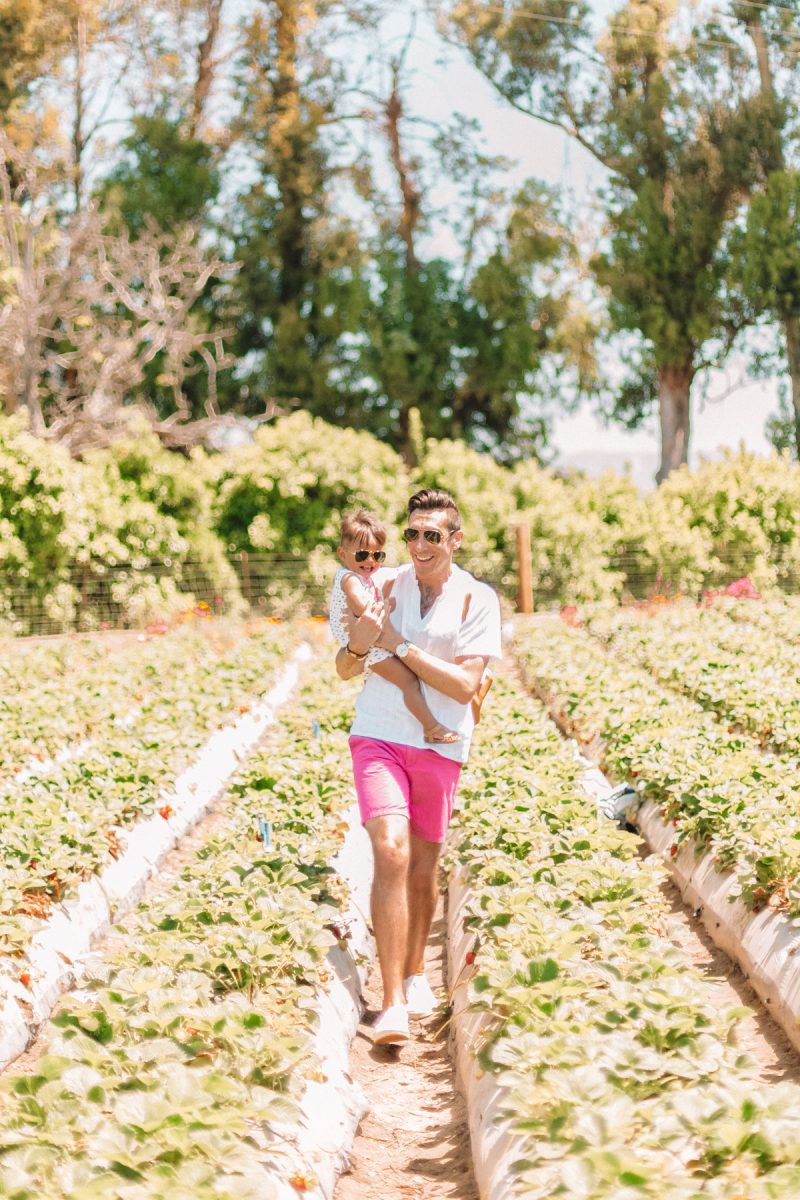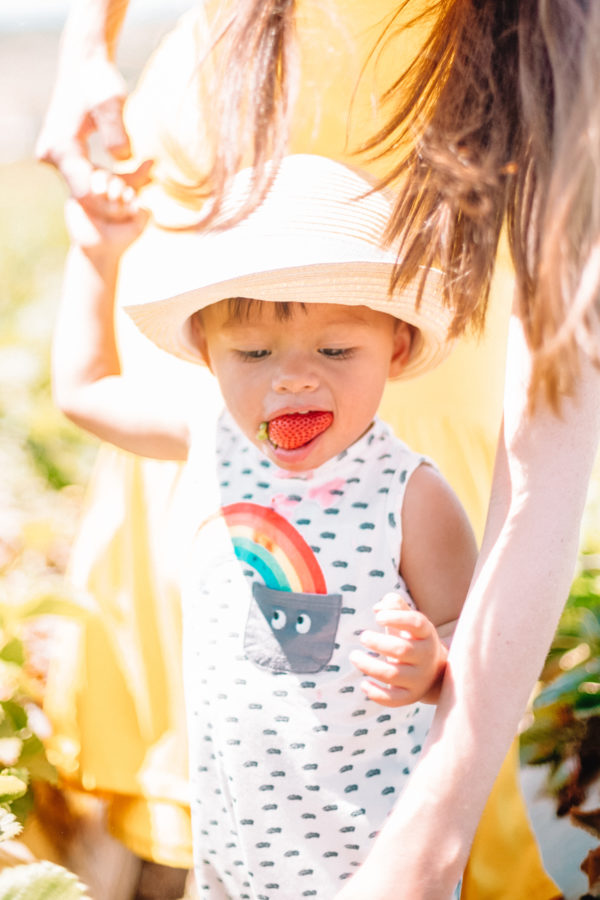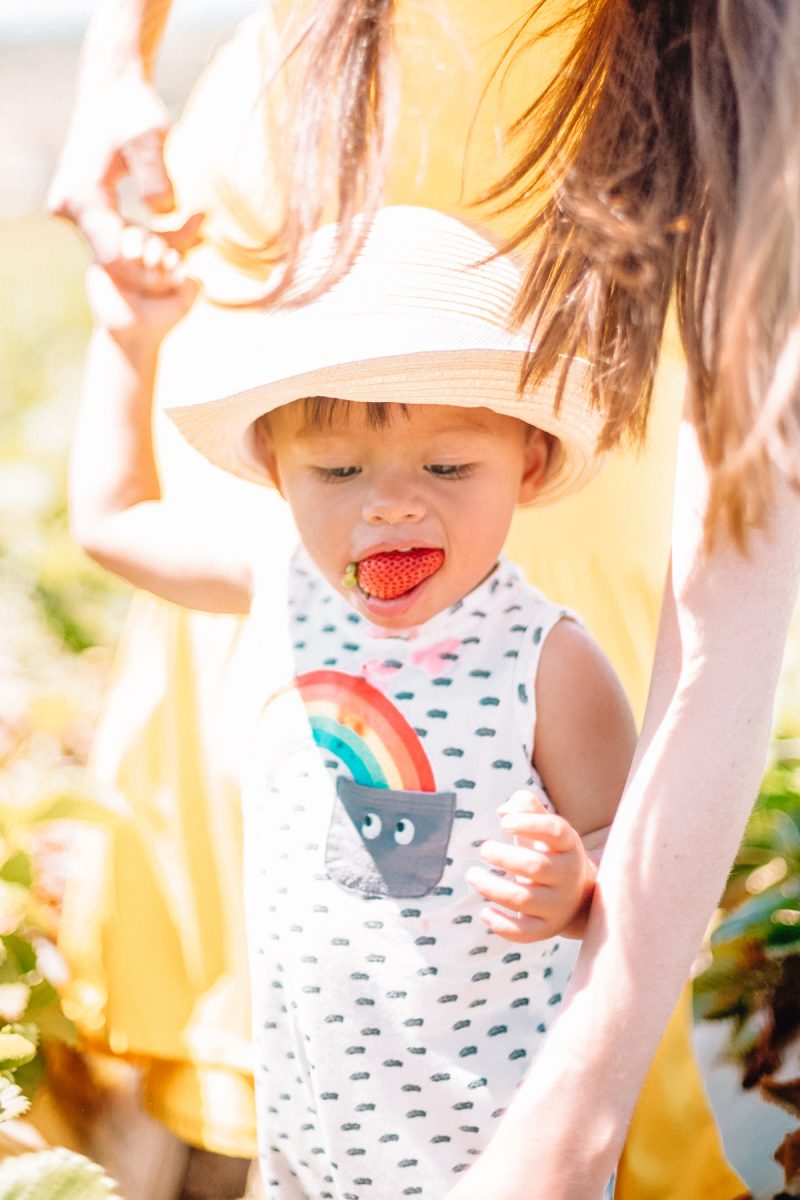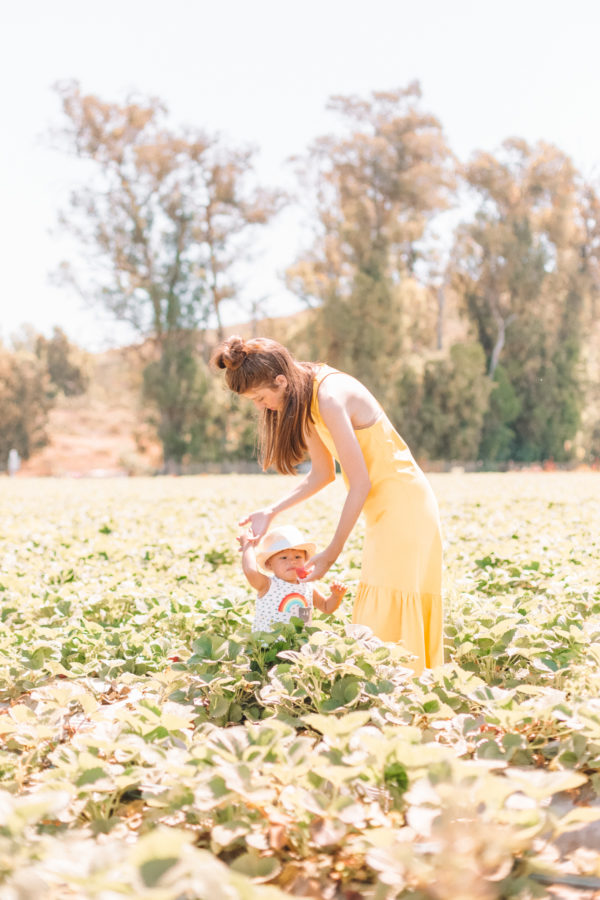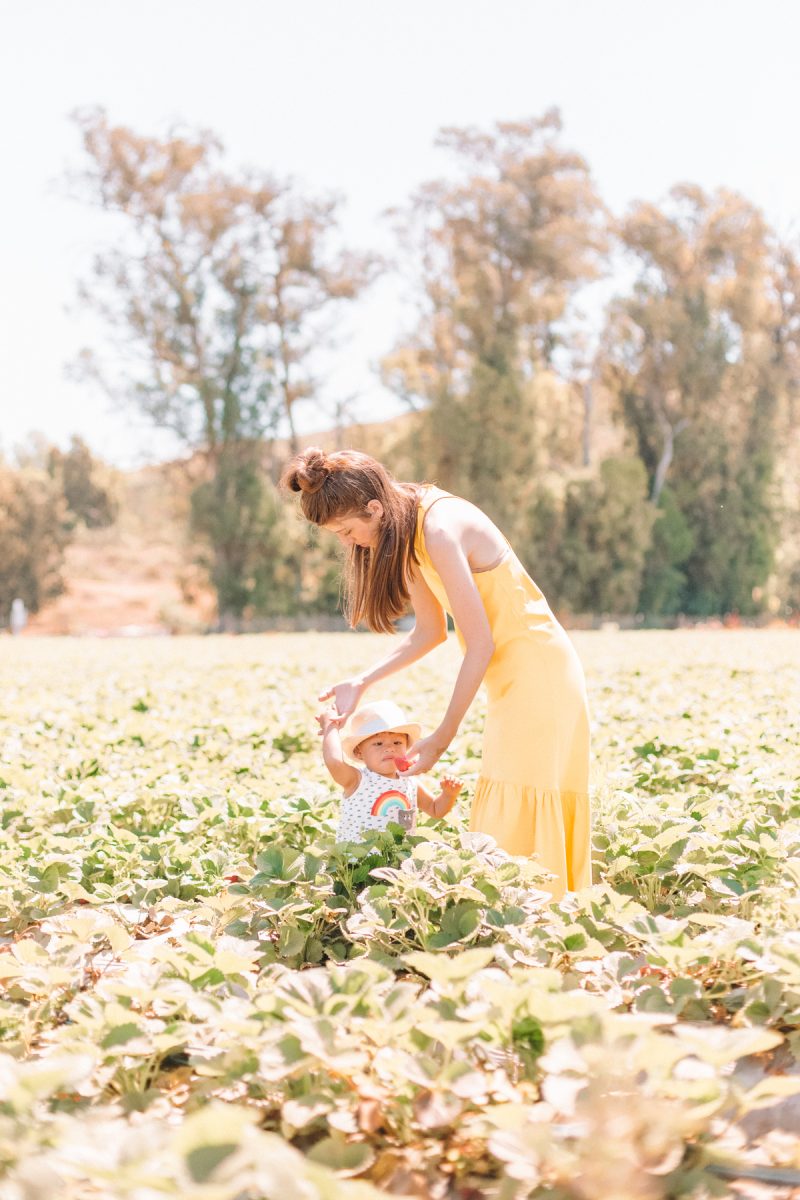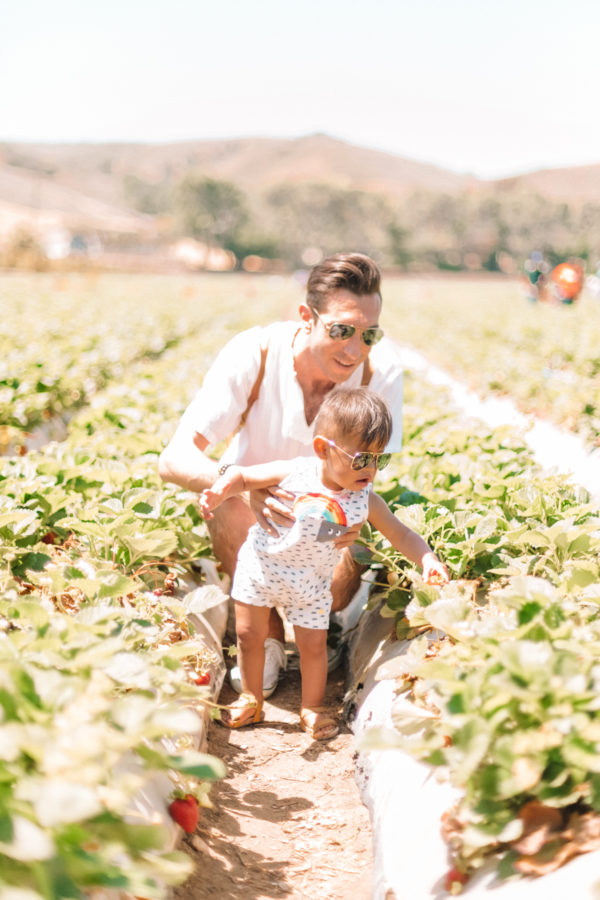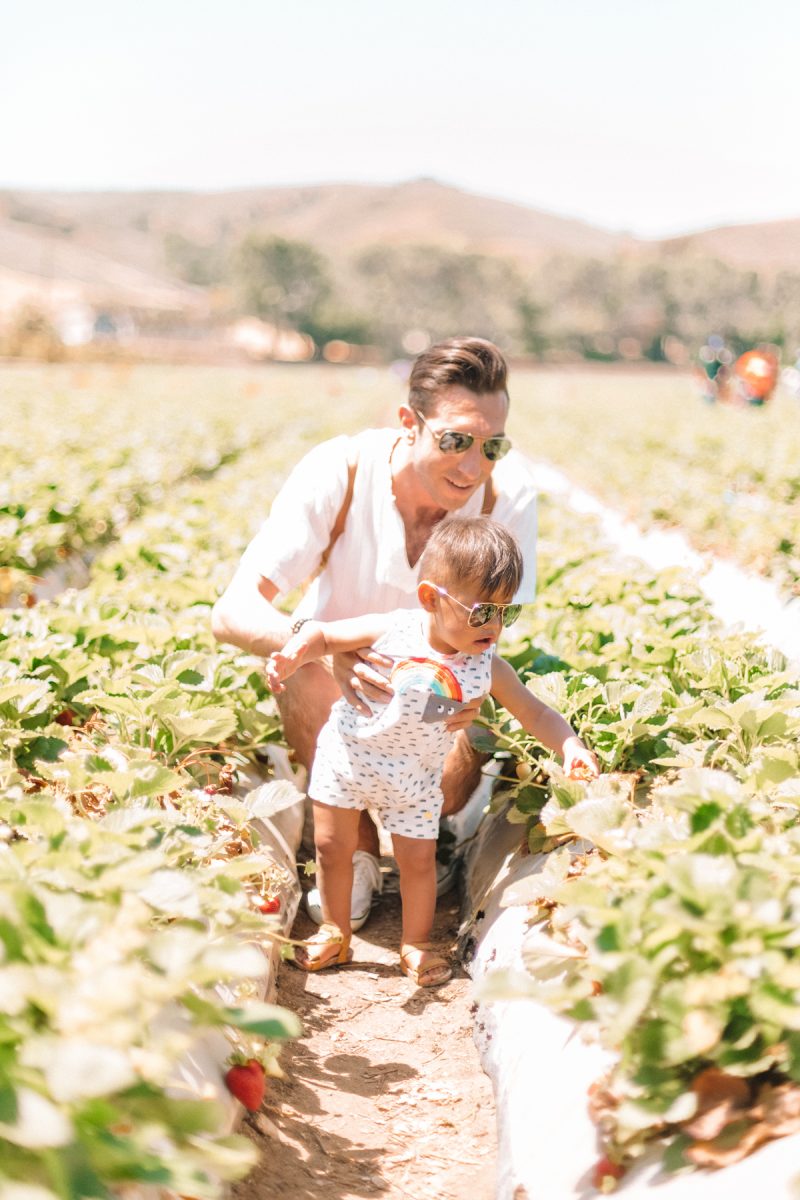 Two things to note: First, have your kids wear clothes that are OK to get messy and strawberry stained. Arlo was COVERED in strawberry juice. And second, beware if there are any bee allergies in your family. They are everywhere and don't bother you at all if you don't bother them but it's something to be mindful of if you need to be!
We also grabbed some oranges, Arlo's second favorite food, and he loved helping to drop them into the produce bag. Before you head out, you just pay for the produce you pick and it's super reasonable. There's a food truck on the property with a couple lunch items but we found a nearby shopping center for lunch and ate at The Natural Cafe and it was delicious, though the In-N-Out next-door was tempting. Haha!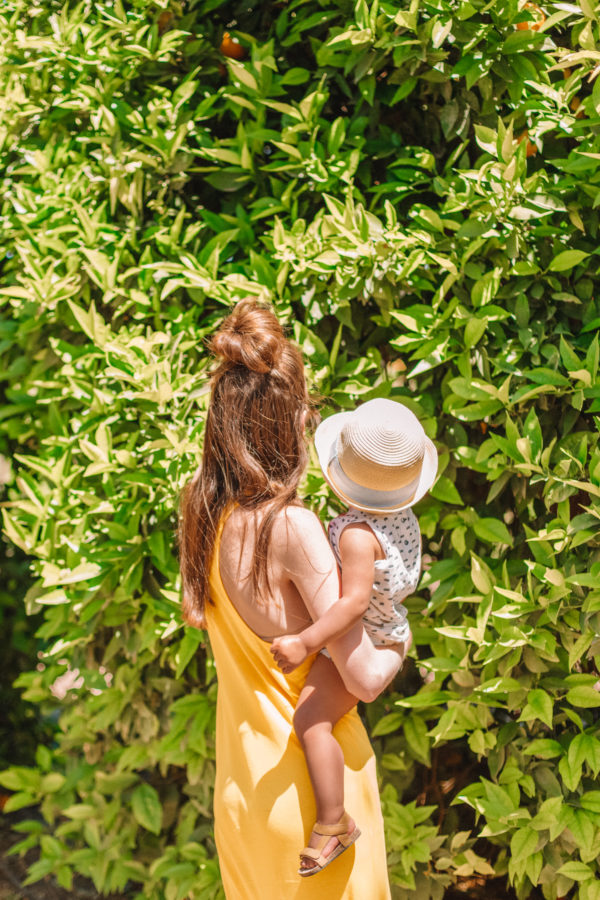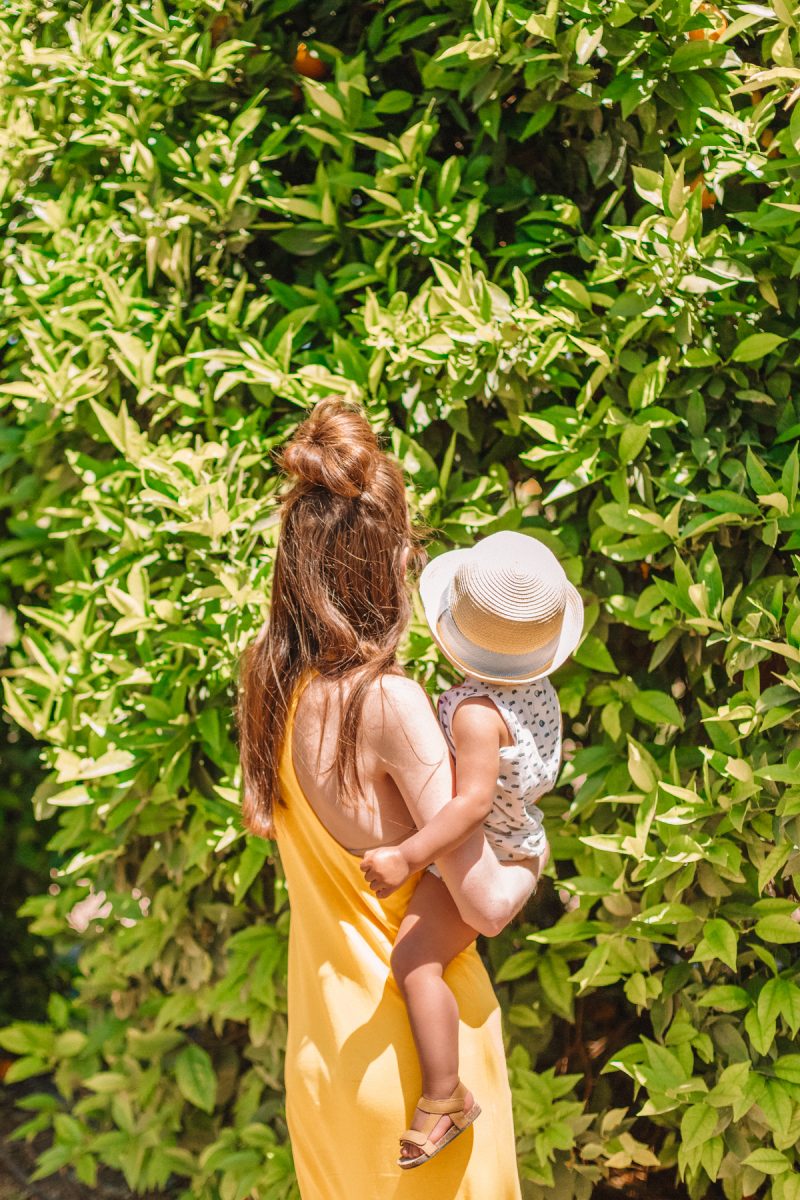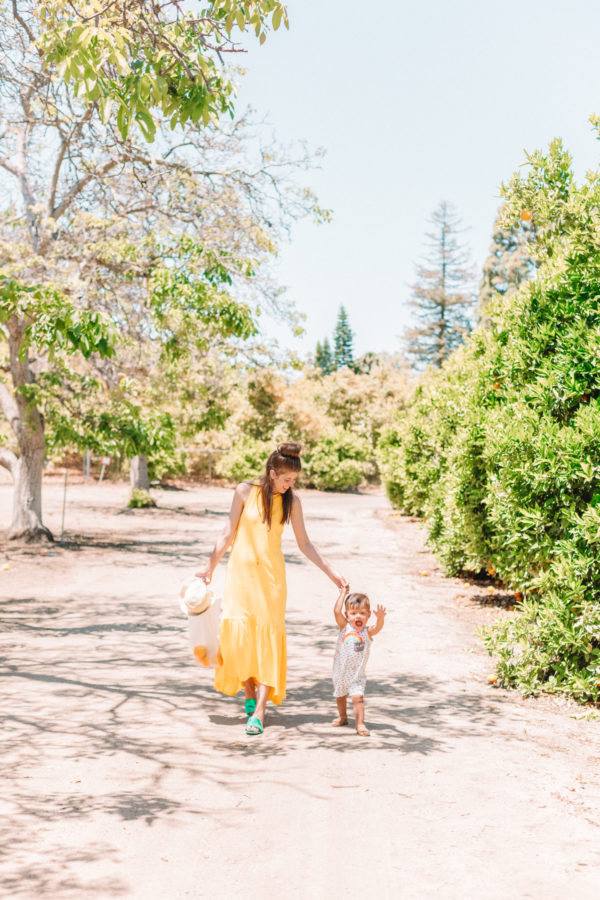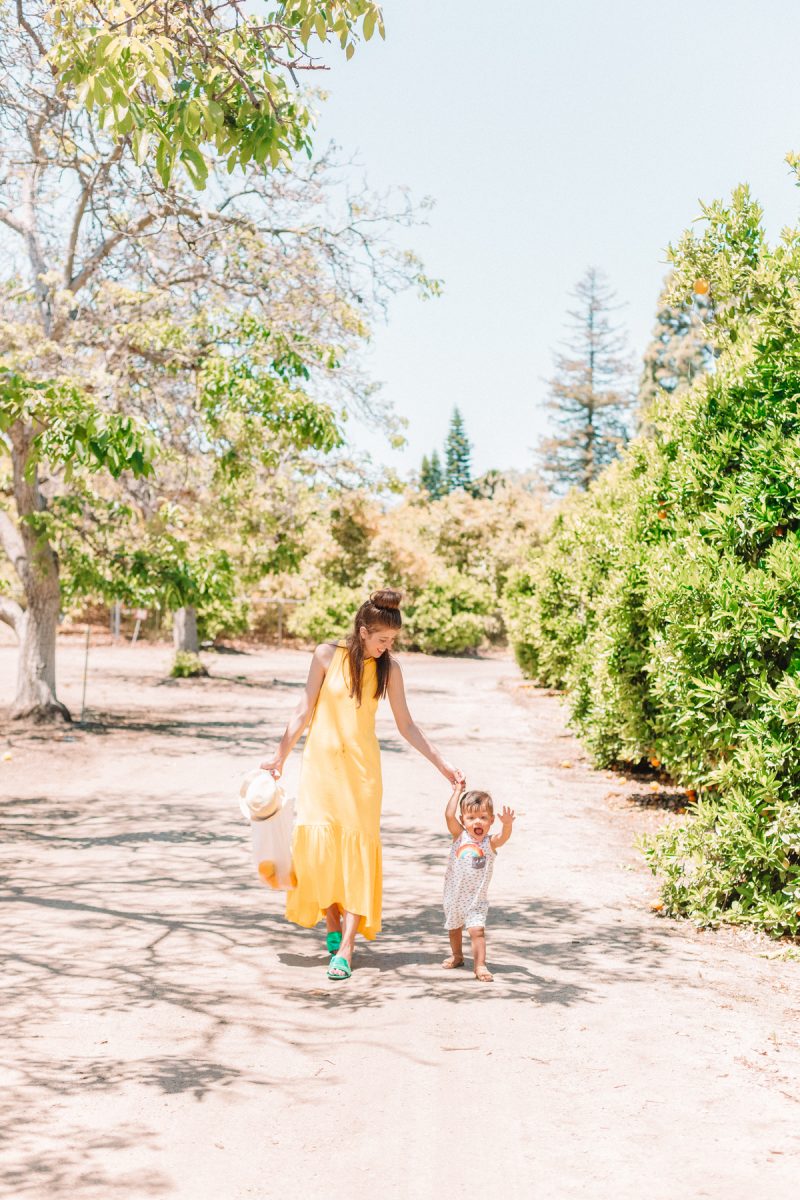 Photos by Jeff Mindell
On Me: Yellow Dress
On Arlo: Rainbow Romper | Sandals | Hat
I'm really glad we went. It's SUCH a good family outing for kids of all ages, and you can make something yummy with whatever you buy! Also a great option if you live in LA and have people visiting! There's even more Arlo will be able to do once he's walking so we'll definitely be back!
Let me know if you want to see more "Family Day" type posts like this!? Could be fun!? I know that a lot of you aren't local to LA but perhaps they'd inspire similar family activities in your area??
Oh and also, anyone have a good dessert recipe with oranges?? We have SO many now! Leave it for me below if you do!
SaveSave
SaveSave
SaveSave
SaveSave