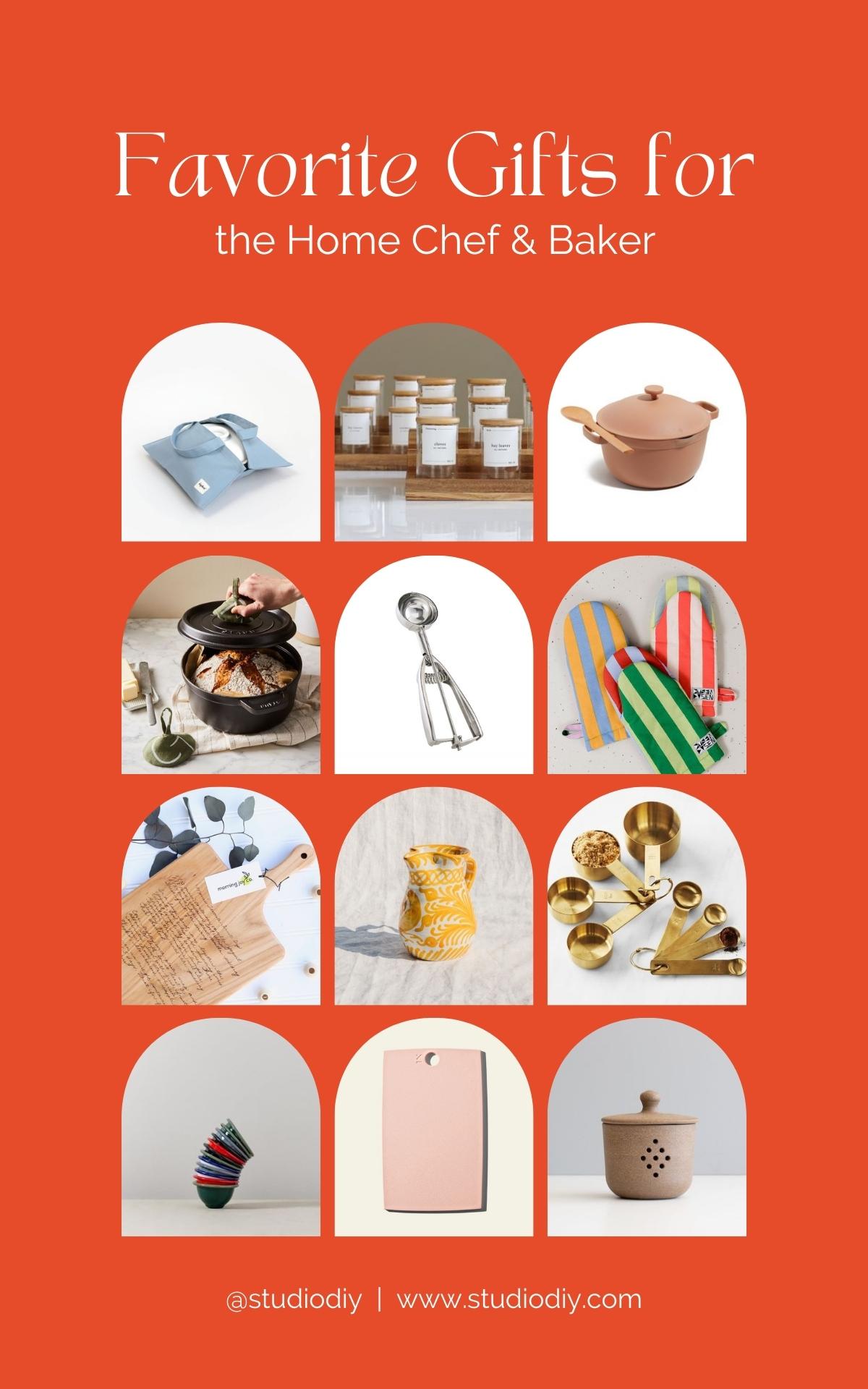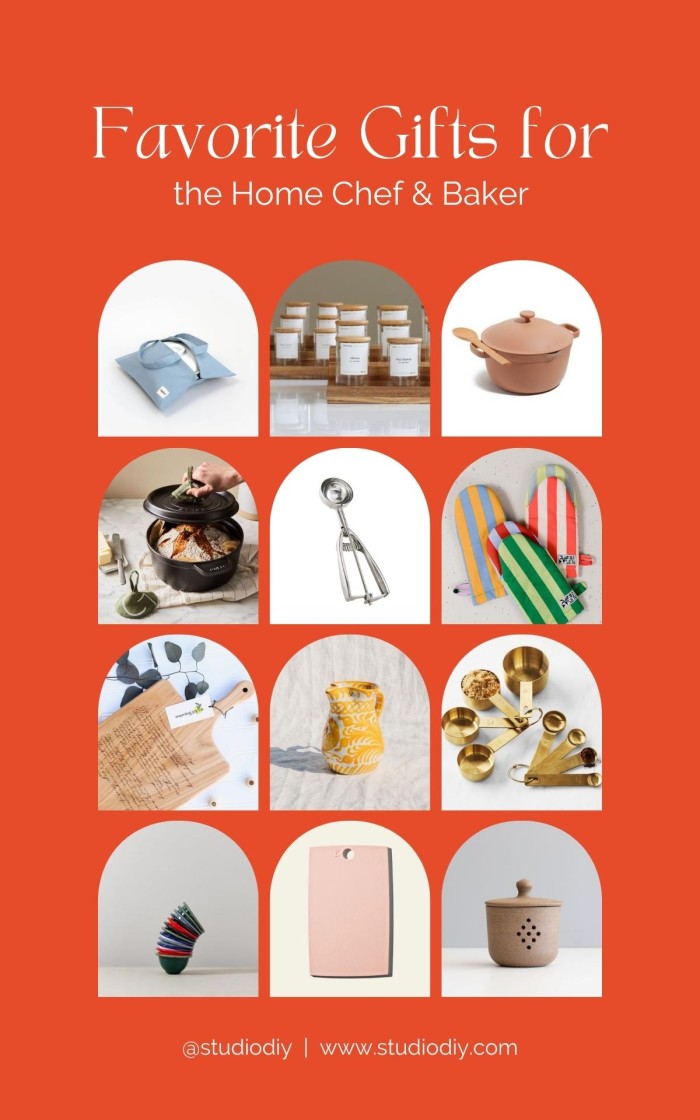 Just about everyone knows someone who loves to cook, bake or entertain (or hey, all three!) and this gift guide is for you. Well, for them. Every item in this list is beautiful and practical, an important combo in the kitchen.
Check out these gifts for the home chef and baker and find something perfect, beautiful and unique!
Gift Ideas for the Home Chef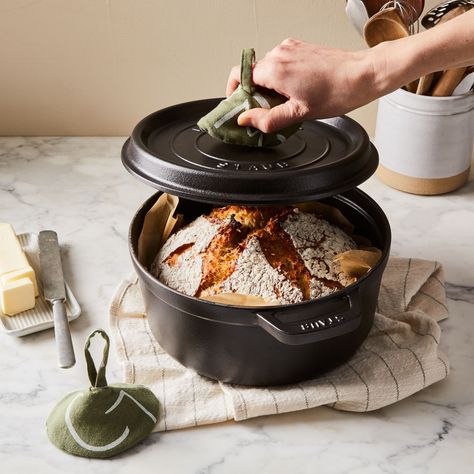 Cotton Pot Holders: These cone shaped pot and lid holders are a great alternatives to larger varieties when you want to keep one nearby while serving dinner!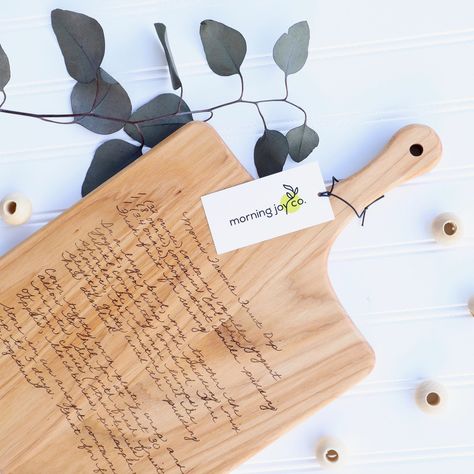 Heirloom Recipe Cutting Board: One of my favorite sentimental gifts to give, if you know someone who has a famous, handwritten recipe in the family, you can have it engraved onto a cutting board as the most beautiful keepsake.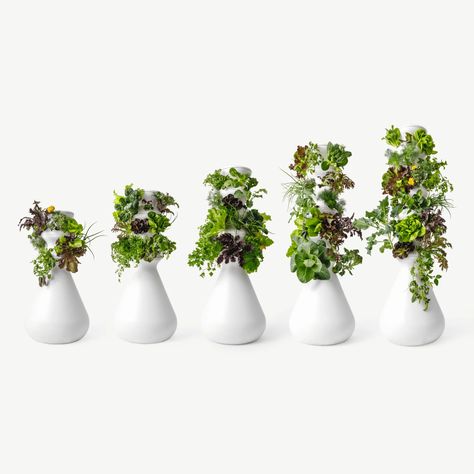 Lettuce Grow Farmstand: Perhaps you know a chef who doesn't quite have room for a full edible garden? These "farmsteads" allow you to grow lettuce and herbs vertically, both indoors and outdoors!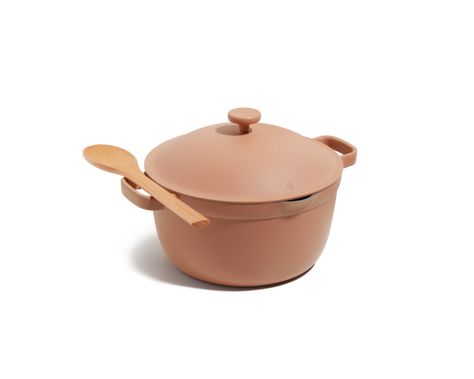 Our Place Perfect Pot: Our Always Pan has been a staple in our kitchen for a year now, and they've since launched a pot. It's functional, nontoxic and looks beautiful atop a stove. Comes in a few gorgeous colors!
Everyday Dinners by Jessica Merchant: Jessica's blog, How Sweet Eats, is one of my go-to for solid, delicious dinner recipes. This new book would be perfect for the family cook in the house!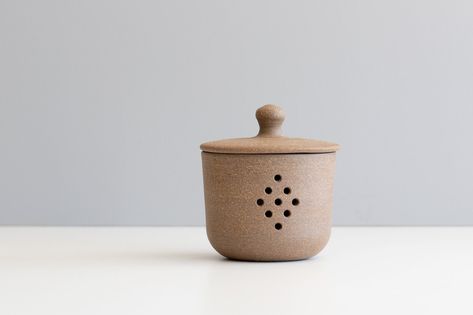 Garlic Keeper: For any home chef, a garlic keeper will be a welcomed new item in their kitchen if they don't already have one!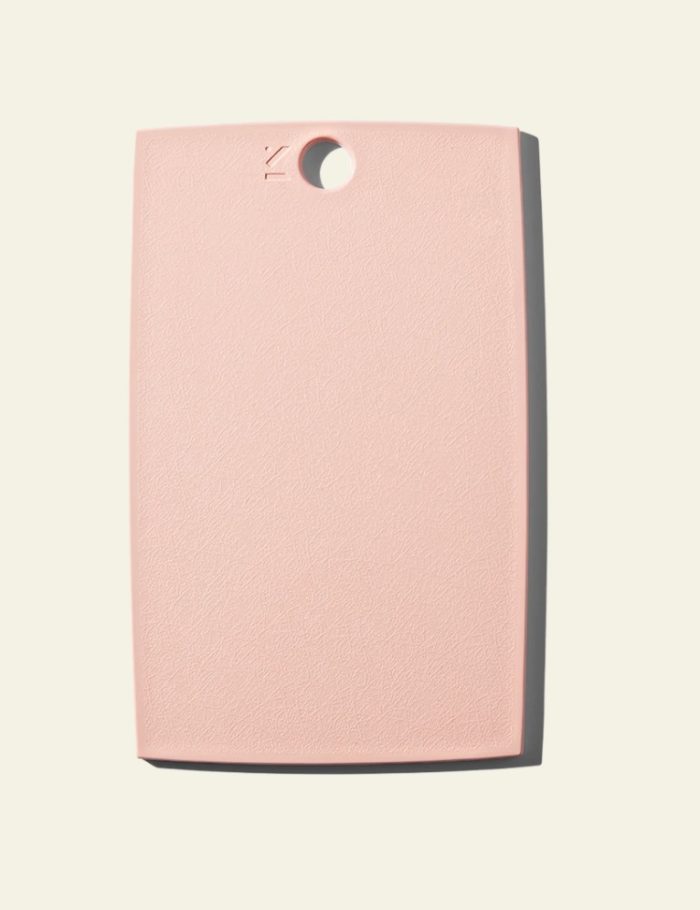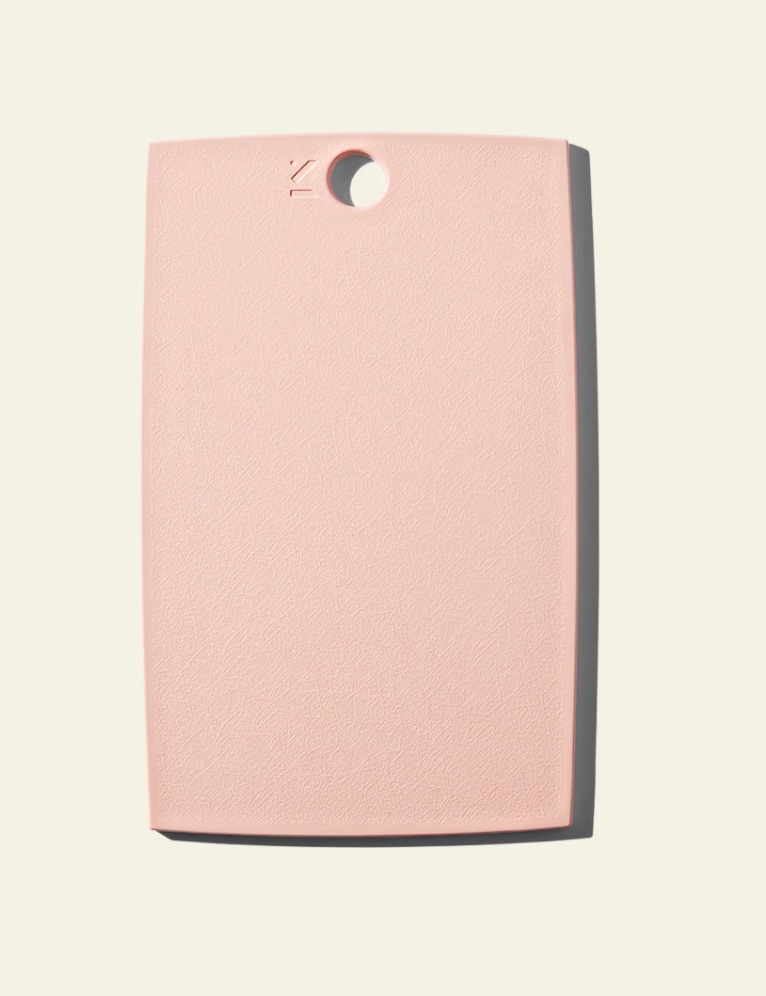 Mini Cutting Board: Every chef already has a cutting board, but what about a mini one for one they just need to chop up something small? Easier to clean, store and sustainably made, these mini boards come in so many fun colors!
Gift the Baker In Your Life Will Love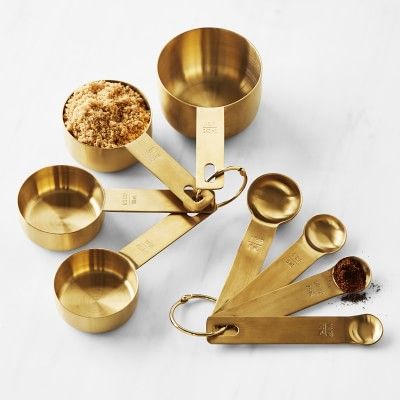 Gold Measuring Spoons & Cups: For the design-loving chef, a beautiful new set of measuring cups or spoons!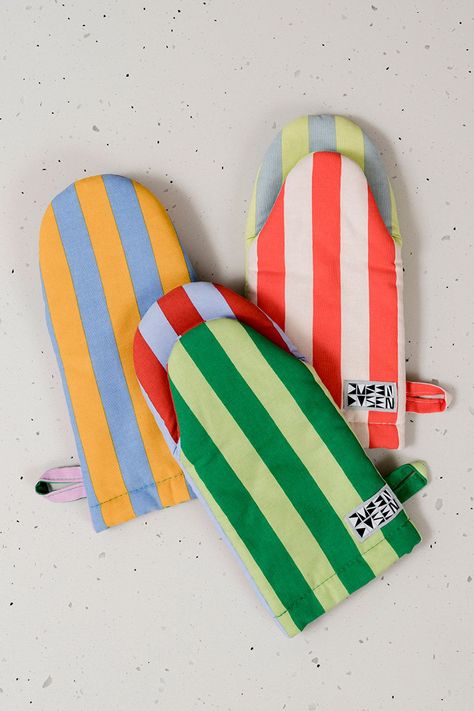 Striped Oven Mitts: Oven mitts are the kind of thing that might need replacing, but rarely get replaced on their own. Gift a new oven mitt in a bold pattern!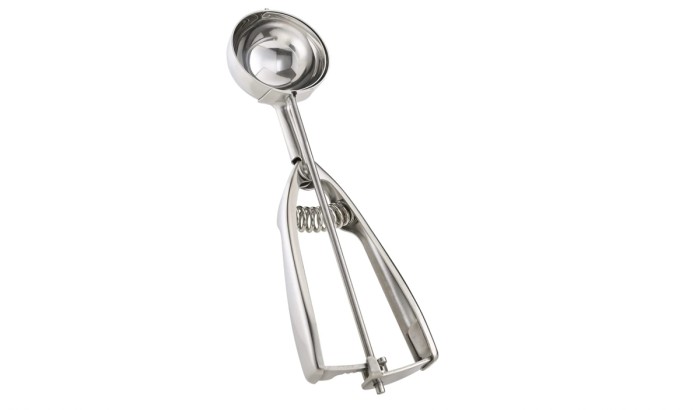 The Perfect Cookie-Sized Ice Cream Scoop: I use this scoop for a my chocolate chip cookies and it's, in my humble opinion, the absolute perfect size.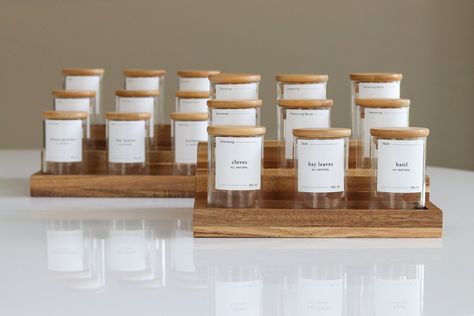 Glass Spice Jars: I couldn't think of a better gift for a baker or a chef. Spice drawers often look awry and these gorgeous spice jars would make it uniform and far more functional.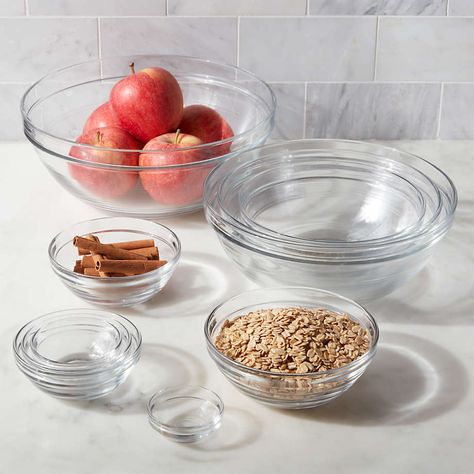 Nesting Glass Prep Bowls: Without a doubt, one of the most used items in our kitchen. I use the large bowls as mixing bowls and the small bowls for prepping dry or other ingredients. I love that they are durable and that they nest for easy storage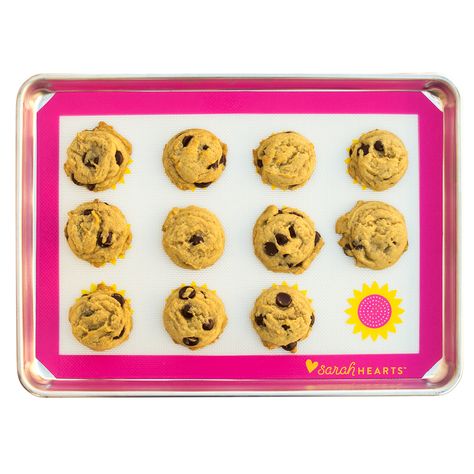 Silicone Baking Mat: A sustainable alternative to parchment paper for all the (cookie) bakers in your life!
Gifts for the Entertainer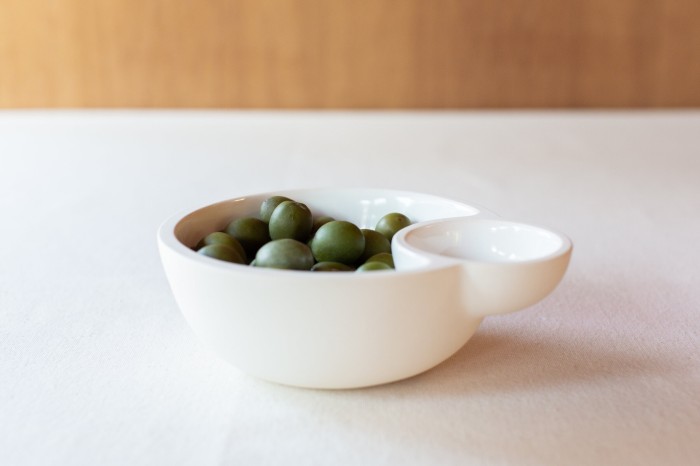 Double Bowl: A unique addition to the kitchen for the chef that already has "everything" is this double bowl! Great for olives, cherries and anything that needs a good dip!
Pinch Pots and Sauce Bowls: Mini bowls are one of my go-to gifts because you can never have enough and they can be used for everything. We use them all the time in our house for small snacks for kids, toppings for taco night, dip for veggies and more.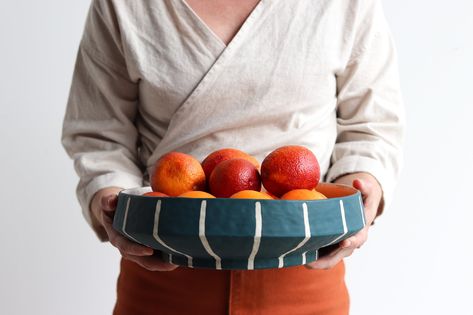 Pinstripe Serving Platter or Serving Bowl: For the chef who loves to entertain, these beautiful serving platter walks that fine line between being a plate and a bowl, making it more versatile and useful for many meals.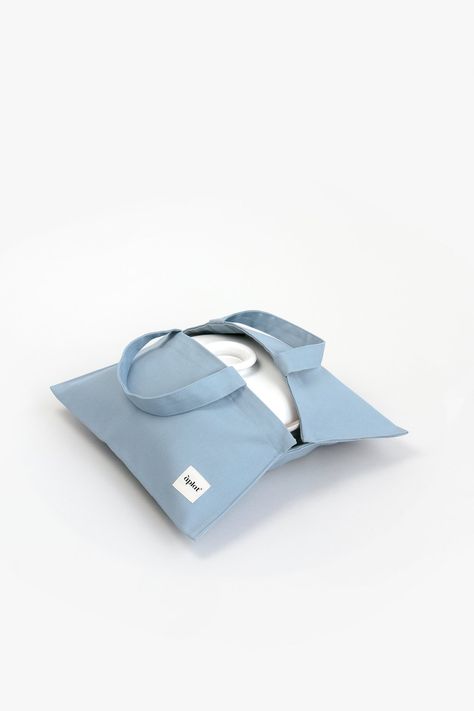 Dish Tote: Anyone who loves a pot luck or book club night, these dish tote allows them to safely carry any dish to and from their destination!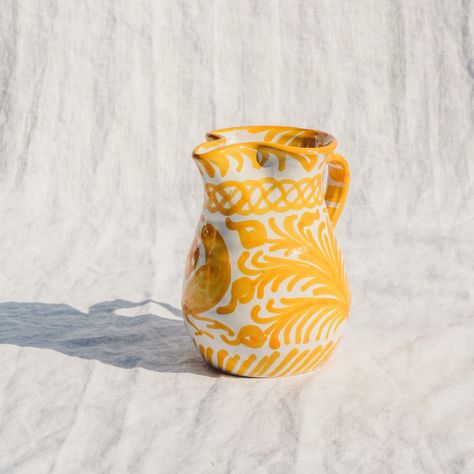 Beautiful Drink Pitcher: A colorful pitcher becomes a conversation piece on a table for anyone who loves to throw dinner parties!
These gifts will be a stunning and welcomed addition to any home chef's kitchen!