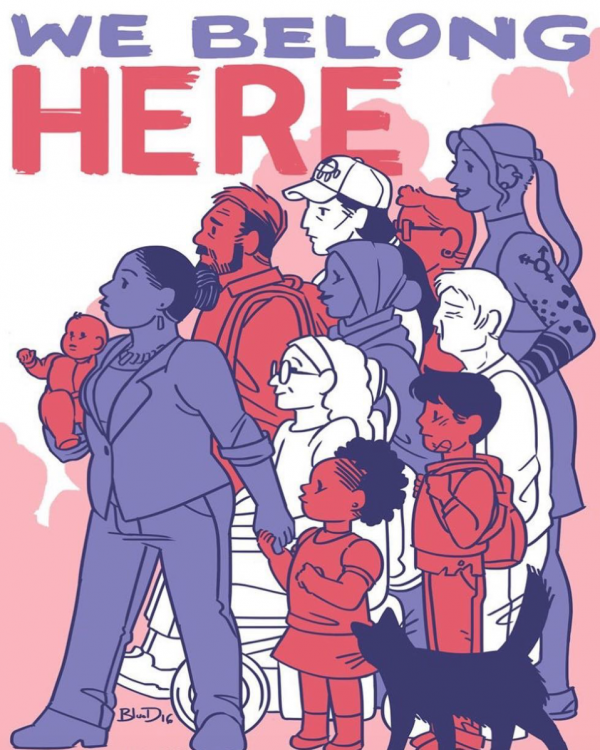 art by #BlueDelliquanti via @womensmarch
In April and May alone, over 2,000 immigrant babies and children have been taken from their families by ICE and Border Patrol. Babies. Ripped away from their parents.
If you aren't familiar with what I am talking about, I encourage you to go here first. It is a thorough breakdown of exactly what is happening: why families are being separated, the facilities in which the children are being held and what policy changes are contributing to this inhuman practice.
Our country has hit a new low, just when you didn't think things could get any lower. When I first heard the news about families being torn apart at the border, against their will, while fleeing DIRE circumstances in their country, I was physically ill. This is by far the most despicable thing our President has brought with him. How can this be our country? How can we let this happen?
We sat down to our editorial meeting last week and before we talked about our regular content, I asked Chelsea, our new editorial director, and the rest of the team to help me put together this post. I am lucky to work with an incredibly informed group of women who educate me every day on the issues in our country. I am the first to admit that I have spent most of my life blissfully clueless about the issues our country faced, which is why you haven't seen any posts like this on this site until recently. During and after this election, and while simultaneously becoming a transracial family, I have taken a hard look at my privilege. How can I make up for lost time? As Samantha said to me recently, "When you know better, do better." So that's what I'm doing. Better late than never.
Because this issue has been a hard one to find concrete information on, it's hard to know how to help. Today we wanted to break down the situation into three easy steps so you can be informed about what is going on at the border and take action. It is so easy to become numb, to look away, to pretend it's not happening. I know because I've done it before. But this IS happening. To children and families just like mine. Just like yours. And they need our help.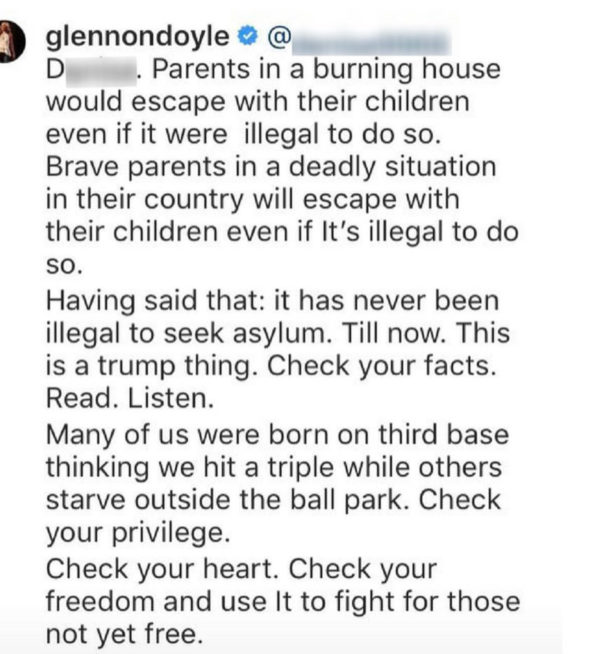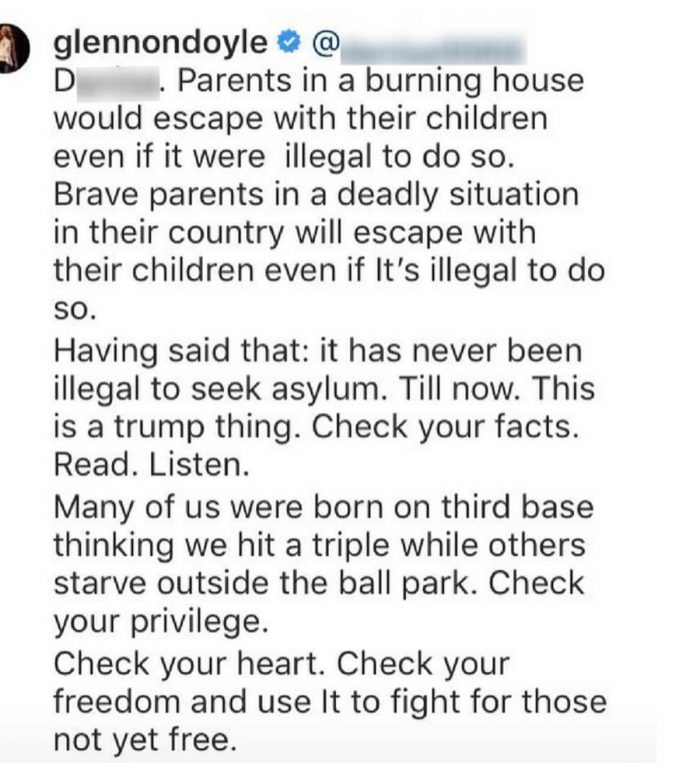 via @glennondoyl
Step 1: Understand the Bills on the Table
Keeping Families Together Act
This is a bill to keep immigrant families together by preventing the Department of Homeland Security from taking children from their parents at the border.
To quote Senator Dick Durbin of Illinois, "Let me be clear: there is no law requiring this Administration to separate children from their parents—Attorney General Sessions and Secretary Nielsen are choosing to tear families apart to intimidate those who are lawfully seeking asylum in our country. It's extreme, heartbreaking, un-American, and has to stop."
You can learn more about the bill here and view the bill itself here.
Fair Day In Court For Kids Act
This is a bill to provide access to counsel for unaccompanied alien children.
From the ACLU Fact Sheet: According to the Transactional Records Access Clearinghouse, 85 percent of children who did not have immigration counsel were ordered deported….In nearly 75 percent of cases where children had counsel, the immigration judge decided to allow the child to remain in the U.S., because they had strong claims for asylum and humanitarian protections.
To quote Senator Mazie Hironi of Hawaii, "Unaccompanied children are seeking a better life away from violence, abuse, and terror in their home countries. The Fair Day in Court for Kids Act provides these children with an opportunity to tell their stories and assert what legal rights they have. These children should not be expected to represent themselves alone against the federal government, as they are some of the most vulnerable people in our legal system."
You can learn more about this bill here and view the bill itself here.
The Help Children Separated Act
This is a bill to protect children affected by immigration enforcement actions. Specifically, the bill: (1) allows parents to make calls to arrange for the care of their children and ensures that children can call and visit their parents while they are detained; (2) allows parents to participate in family court proceedings affecting their children; (3) protects children from being compelled to serve as translators for their parents in immigration enforcement actions; (4) ensures that parents can coordinate their departures with their children; and (5) requires ICE to consider the best interests of children in detention, release, and transfer decisions affecting their parents.
To quote Senator Richard Blumenthal of Connecticut, "This bill will protect children from experiencing unnecessary trauma when their parents are targeted for immigration enforcement actions. Imagine being detained and not being permitted to ensure that your children are fed or looked after. Imagine being deported and not being allowed to say goodbye. The protections in this bill are so basic that it is shameful they aren't already enshrined in law."
You can read more about the bill here and view the bill itself here.
Step 2: Call Your Representatives
First, find out where your reps stand on each of the bills. Here's how:
For the

Keeping Families Together Act,

go here

.

Search for the word "cosponsored" and check if your rep is one of the ones listed.

For the Fair Day In Court For Kids Act,

go here

.

The list of reps in support of the bill is at the top.

For the HELP Children Separated

Act

go here

. This is a list of all the cosponsors of the bill, see if your rep is one of them.
If your rep is not listed on any or all of the above, call or write their office and urge them to support these bills.
Call the number and if you need help knowing what to say. I did and still do when I call my representatives. Here is a Sample Script of what to say: I'm a constituent from [City, State] and I'm calling to ask you to speak up about the separation of families at the US borders and support [The bill above that they aren't currently supporting].
If your rep IS listed above, STILL CALL THEM!
Voice your support for the work they are doing to end family separation at the border. Here is a Sample Script of what to say: I'm a constituent from [City, State] and I'm calling to thank you for supporting [The bill above that they support] and continuing to speak up against the separation of families at the US borders.
Other Ways to Contact Your Reps…
5Calls.org is a great source for aiding in calling your representatives. It determines your location, allows you to select your priority issues or bills and give you a specific script for that issue, along with the information on who to call.
Resistbot is a texting service that will deliver your message to your reps for you. It is great if you have phone anxiety and do not want to call. (I get it, I do too.) Text the word RESIST to Resistbot at 50409 to get started.
Step 3: Donate If You're Able
Not everyone is in a position to donate and that's OK. Your calls mean just as much, if not more. But there are also a lot of teams on the ground trying to bring legal aid, supplies, and other help the families affected. Here are a few places you can donate, if you are able to do so.
RAICES (Refugee and Immigrant Center for Education and Legal Services)
RAICES is on the ground in Texas, working to raise funds to help provide legal services for detained separated parents and to help pay their immigration bond.
"Parents separated from their children at the border (and other immigrants placed in detention) can't get released from ICE custody to reunite with their families until they pay the full amount of their immigration bond. Bonds are set at a MINIMUM of $1500, and are usually in the range of $5-10K, even for asylum seekers without any criminal history. Unlike in the criminal system, bail bond companies either do not help people in immigration proceedings or impose very strict requirements, like private ankle monitors (which families have to pay to "rent"). Donate to our fund to directly support legal services for detained separated parents and the direct funding for bonds to get parents released."
You can donate to their bond fund here.
ACLU
The ACLU has put together a petition to tell Homeland Security to end the inhuman practice of separating children from their families. You can sign it here.
You can donate here to help the ACLU fight for immigrants' rights.
Texas Civil Rights Project
This is an alliance of Texas lawyers dedicated to equality and civil rights. Donating helps cover costs of coverage of proceedings so litigators know what's happening – like us, they don't have a transparent view into what's happening in courtrooms.
You can donate to help their efforts here.
A Few Final Resources
You can go to this article to find several additional organizations to donate to.
You can read about why the UN believes this policy of taking migrant children from their parents is illegal here.
Journalist Jacob Soboroff on the conditions at Casa Padre, one of the largest facilities holding nearly 1500 immigrant boys.
CBS's David Begnaud on what he saw inside detention facilities: "We saw people in cages. They looked like animal kennels. We could not record anything; we couldn't talk to anyone."
I hope this has been helpful for those of you who weren't sure WHAT to do to help. It may seem like you are just one person and that makes it hard to feel like you'll make a difference, but all of us together CAN make a difference. These families need us so badly. I cannot stop thinking about these babies and the trauma they are going through. Let's do everything we can to reunite them.
SaveSave
SaveSave
SaveSave
SaveSave
SaveSave
SaveSave
SaveSave
SaveSave
SaveSave
SaveSave