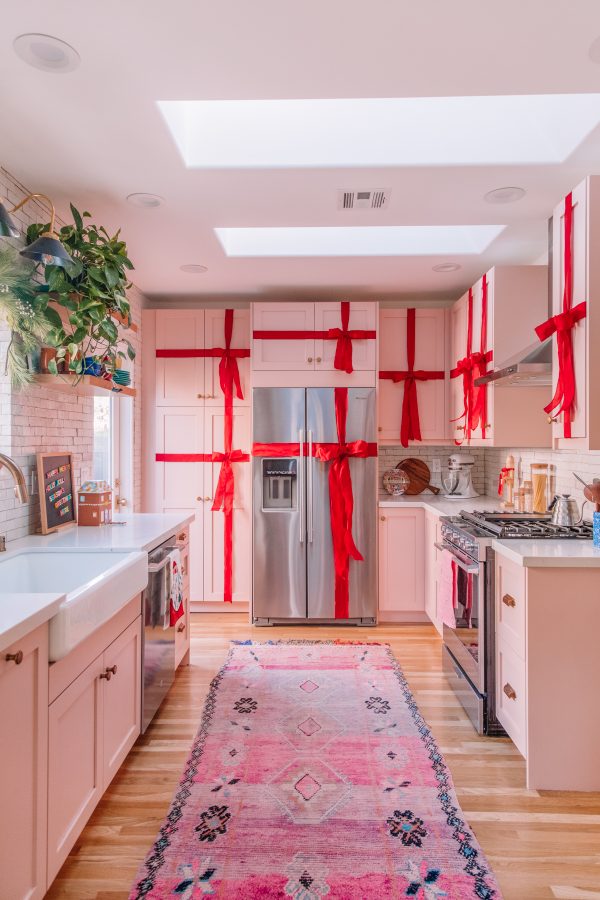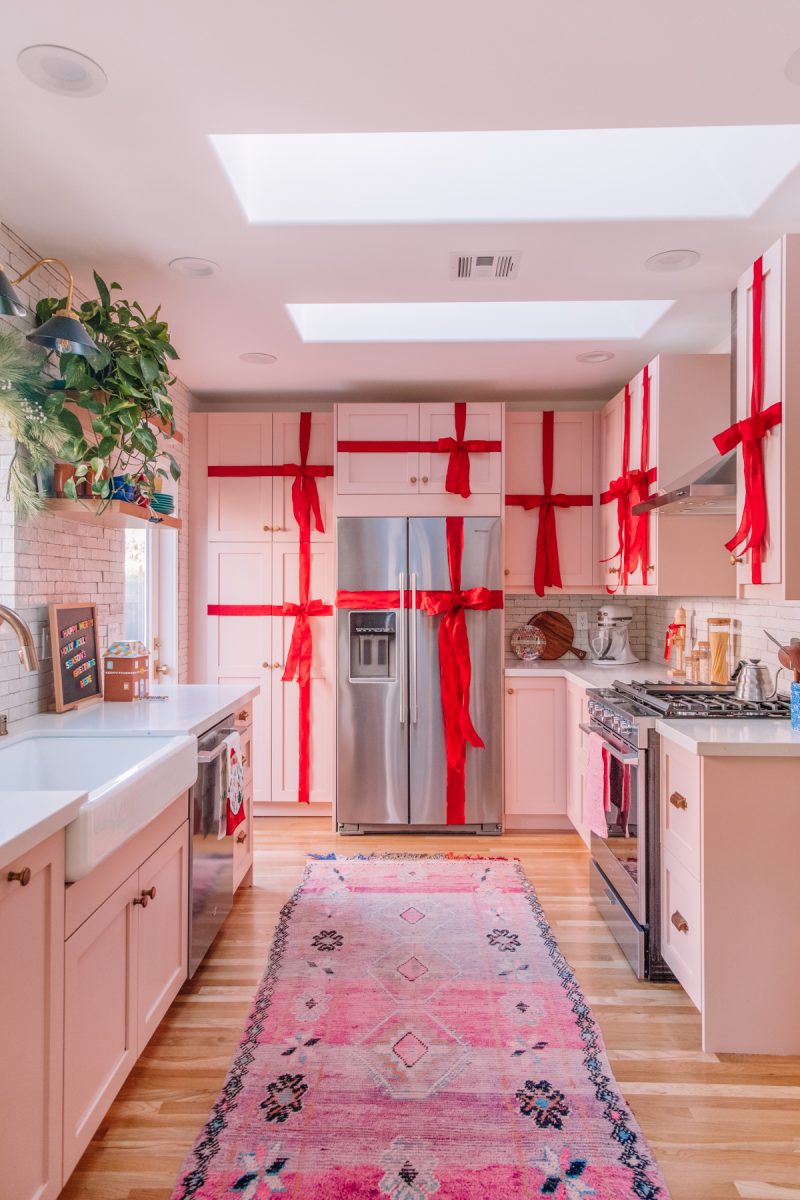 Since before I was born, my mom has been turning our kitchen cabinets into Christmas presents. Every year, each cabinet would be wrapped with a holiday ribbon and a themed ornament. She loves to tell the story of the first year she did it and my brother asking "But how are we going to USE the cabinets now?" Haha!
Once we bought the house, even in the not-so-cute old kitchen, I knew I had to continue the cabinet wrapping in my own home. It's so simple but makes such a huge impact, and kids just LOVE it.
I've shared a few peeks of this tradition over the years, and in our most recent holiday home tour, and have gotten a ton of questions about how I do it, so I wanted to share a full post today with some tips!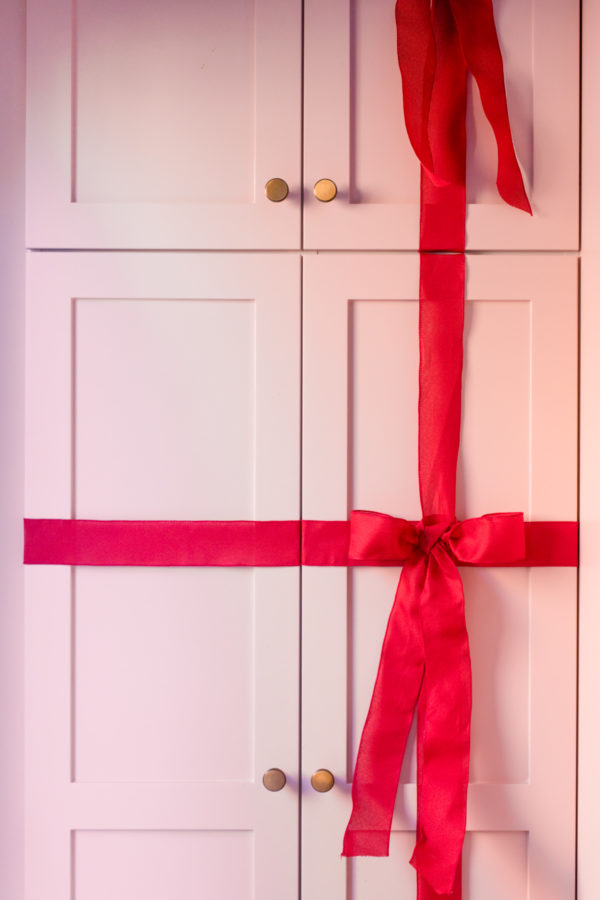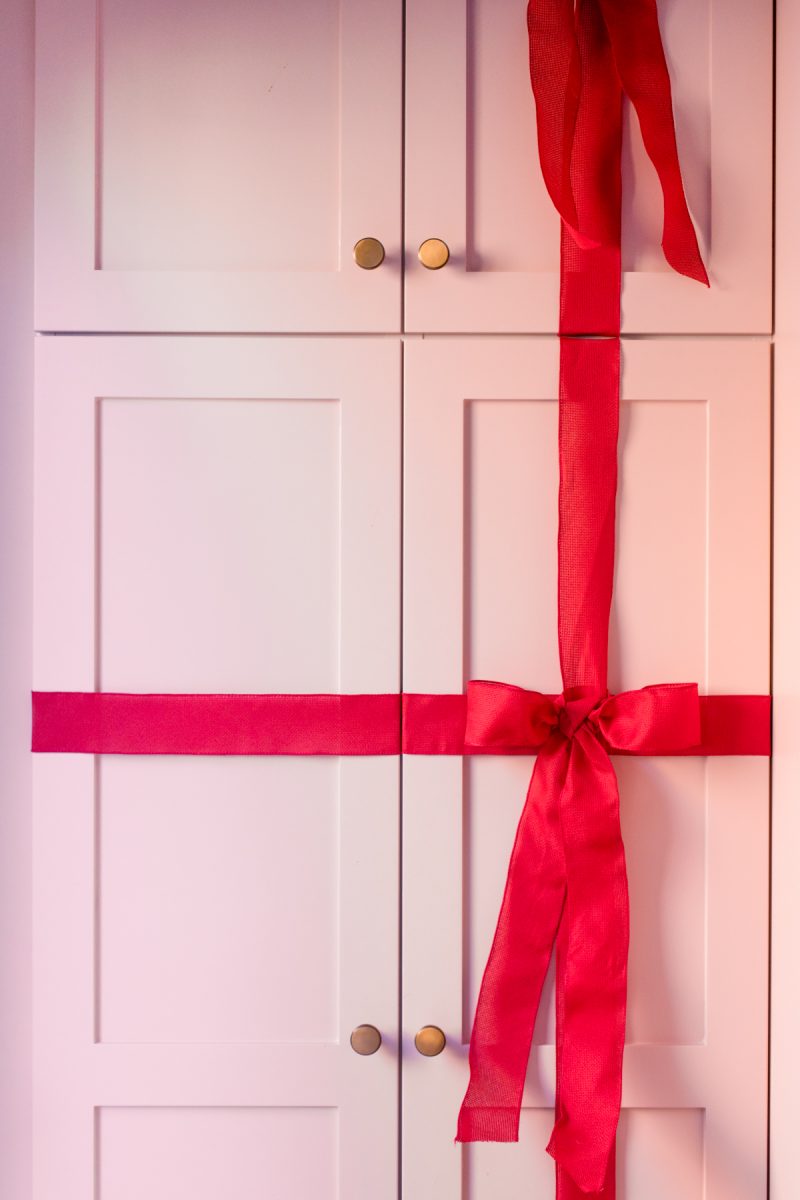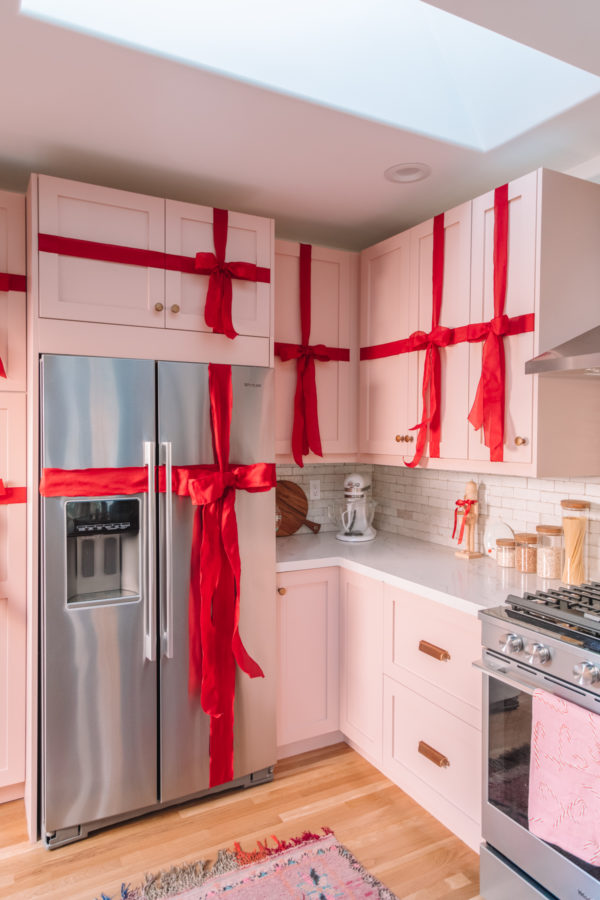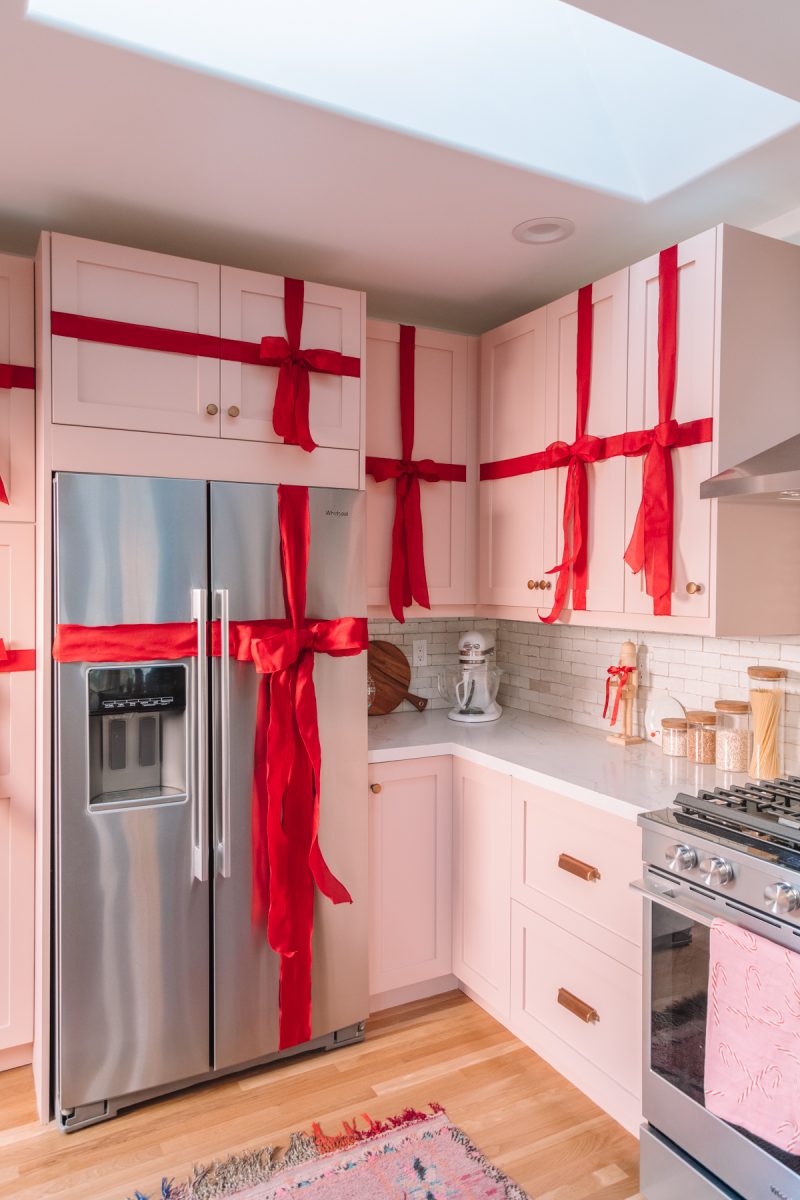 When + Where To Buy Ribbon
Craft Stores often run big sales on ribbon at the beginning of the holiday season (to clear out last year's inventory) and at the end of the season, so keep an eye out for that. I think I got mine on a buy one get one sale at Michaels a few years back. Be sure to buy MORE ribbon than you need so you can keep an extra roll or two, should you need it in the future.
I was so grateful I did that since I had more cabinets to wrap this year now that we've renovated. Otherwise I would have needed to buy all new ribbon so it matched!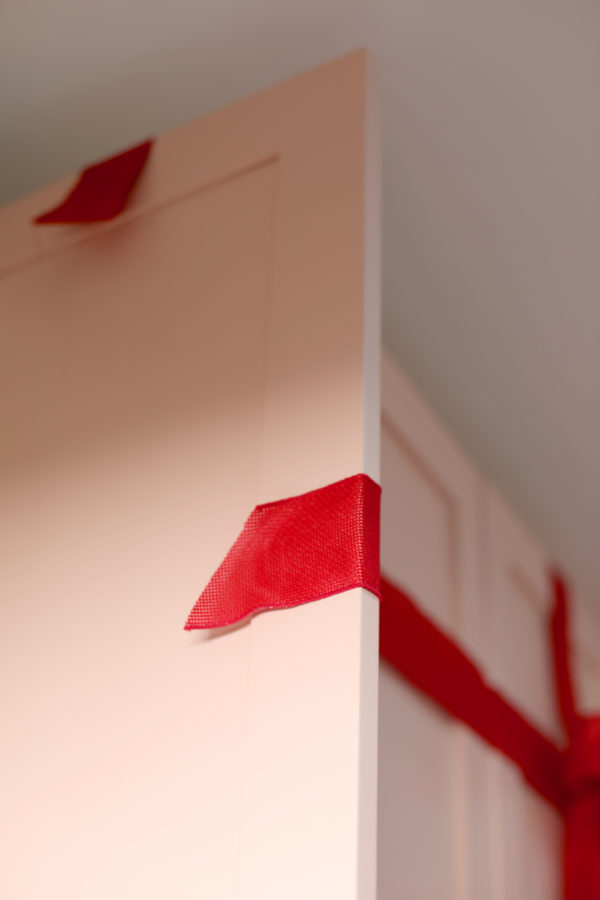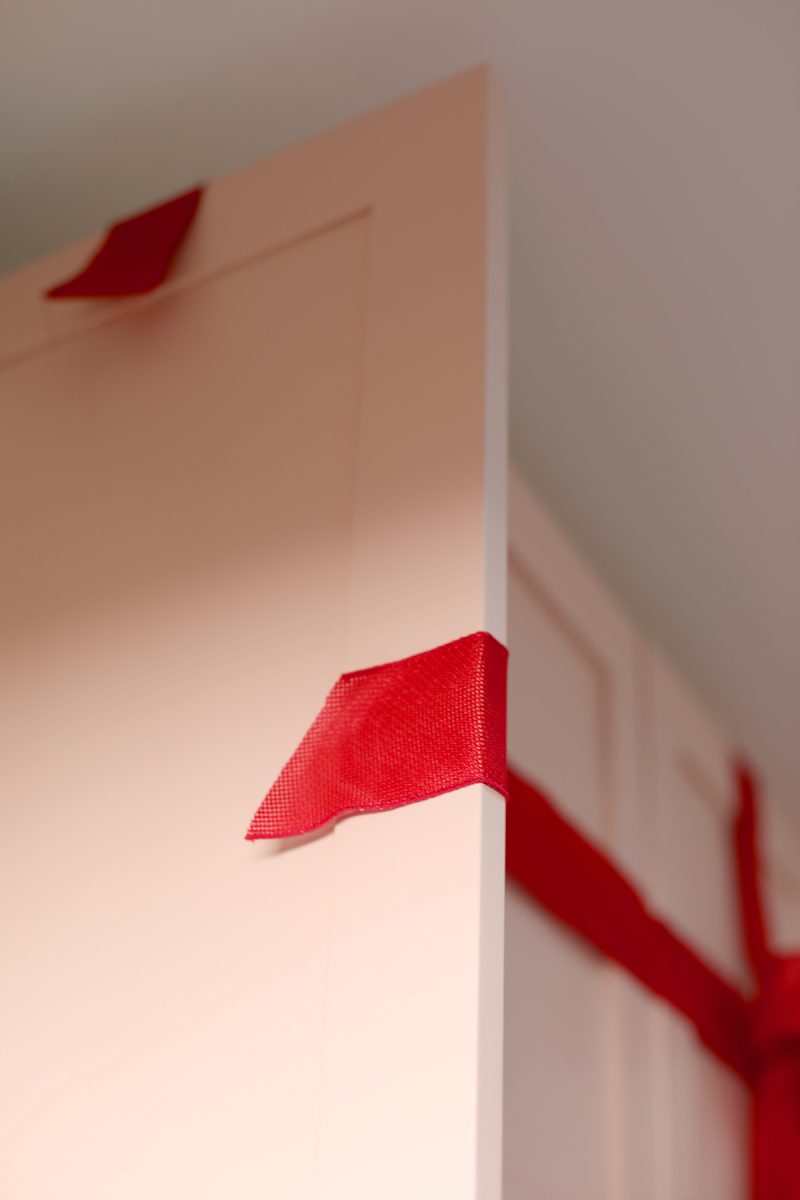 How To Adhere the Ribbons
My favorite adhesive to use is Butyl. It's a very magical adhesive that (on MOST surfaces!) is strong but removable. Of course, test it somewhere inconspicuous first. And remove it slowly when you take it off! That said, depending on the ribbon you choose and the cabinets you have, regular ol' scotch tape will work too! That's what my mom uses.
If you want your ribbons to look prettier on the inside, you could cut them so that they completely overlap each other on the back as well, and just adhere them to themselves instead of to the cabinet using tape or a clip.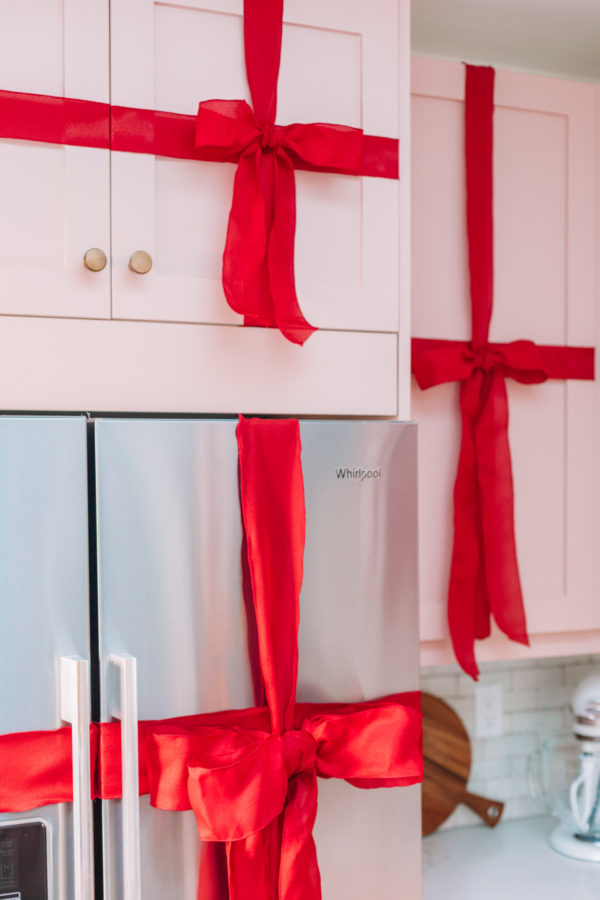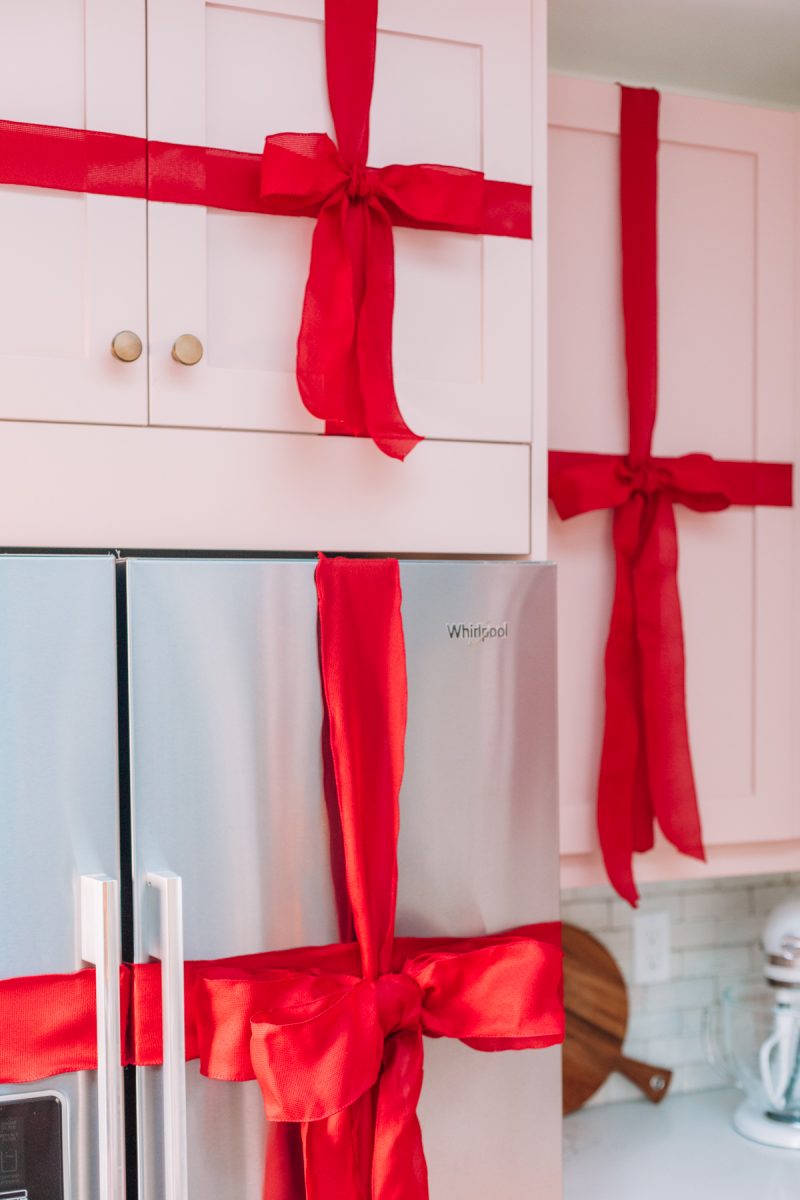 Do I Wrap EVERY Cabinet?
I have a few guidelines I stick to so that the wrapping doesn't become too overwhelming!
All single-door cabinets get their own bow.
Cabinets with two doors are wrapped as one larger gift, with a bow, off center, and on just one of the doors.
I only wrap upper cabinets, to keep the ribbons away from little hands (and paws, I suppose!).
Step-by-Step Instructions for Wrapping The Cabinets
Cut each piece of ribbon with a few extra inches on each side (or long enough to fully wrap the door on both sides, your choice!)
Put the horizontal ribbon up first and tape. Then put the vertical ribbon on.
With a new ribbon, tie a bow around the vertical strip you just put up. Fix and fluff the bow and trim the ends on an angle.
Repeat with your next cabinet!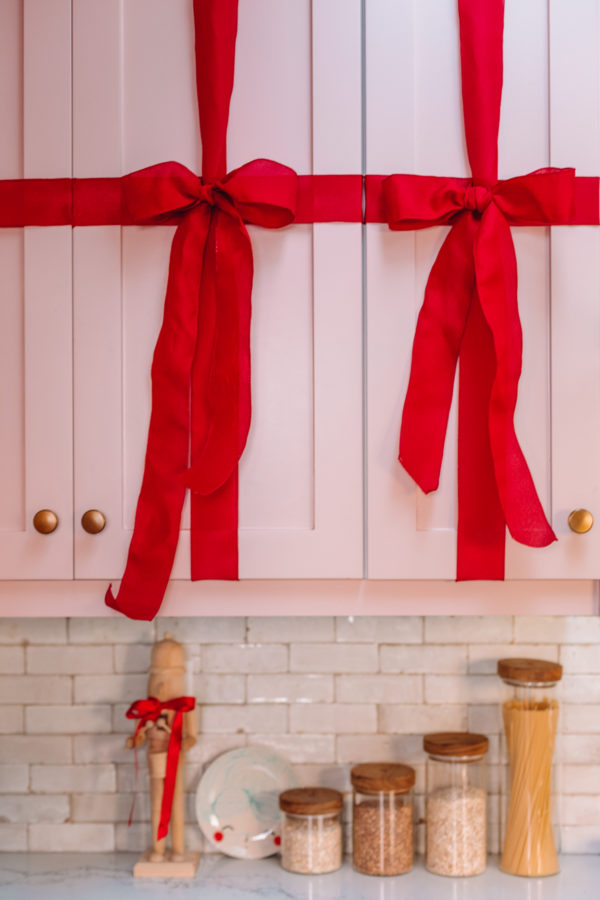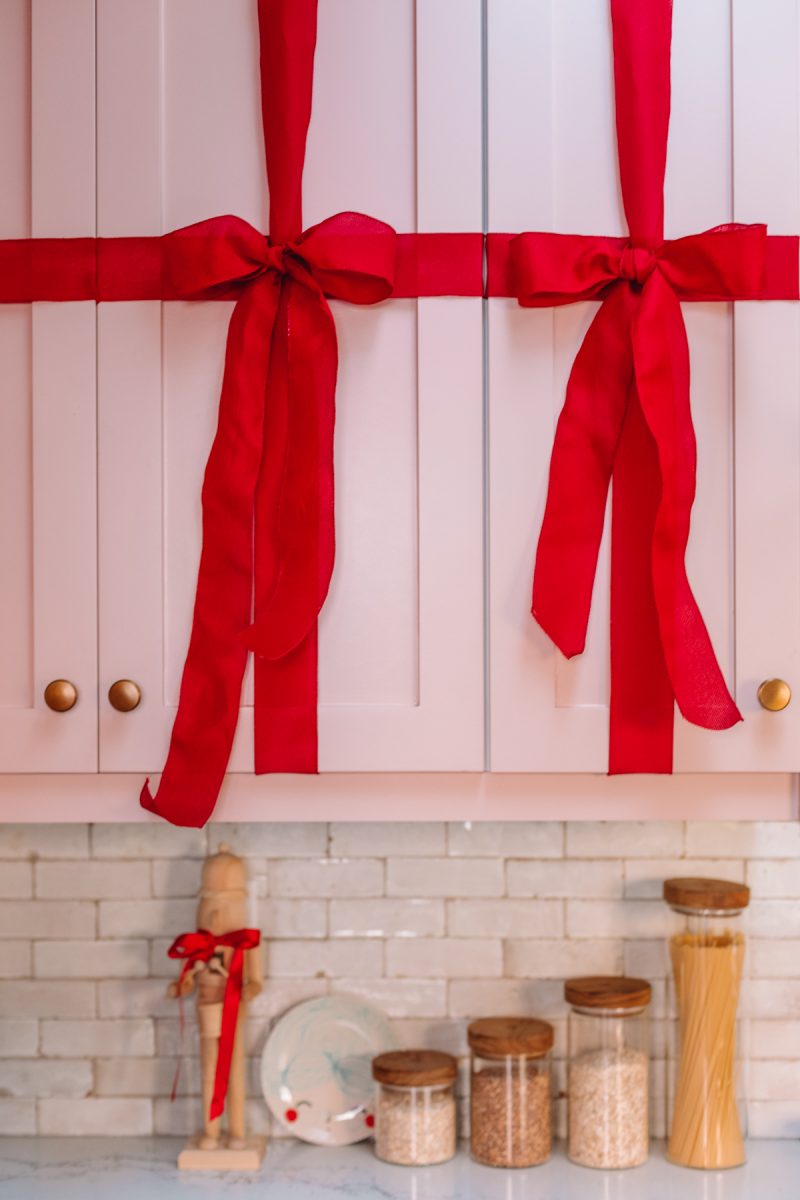 Removing + Storing the Ribbons
I use the same ribbons year after year, and the same bows so I don't have to re-tie them each year (though if you are tight on space you don't have to do this obviously!). My mom has been using the same ones for 30+ years! Keep the original roll the ribbon came on and wrap all the horizontal pieces you cut around this for storage. Leave the bows tied onto the vertical pieces when removing and store m in a plastic storage bin along with the re-wrapped ribbon. Reminder again: I also always keep an extra roll of the same ribbon just in case one gets ruined or lost, so I don't have to worry about finding that exact ribbon again!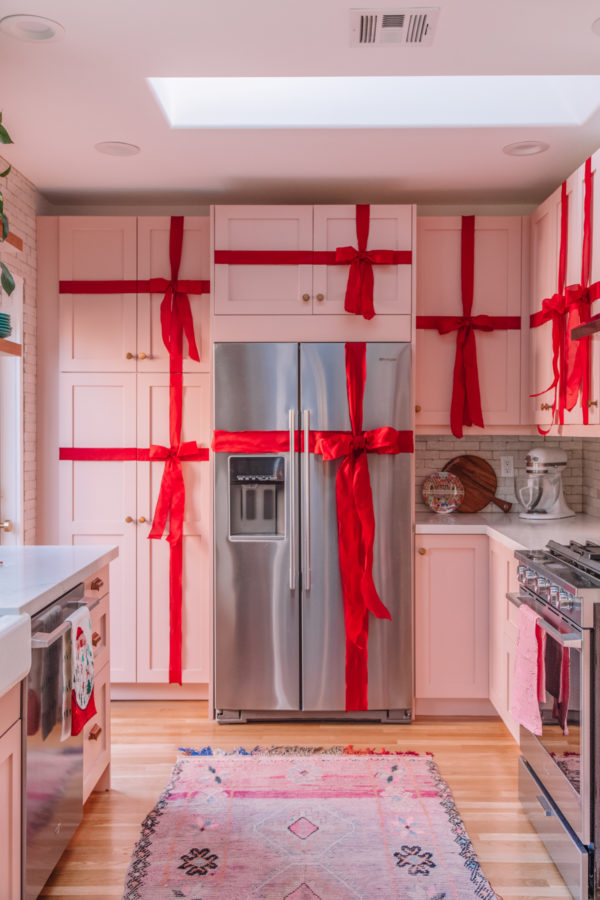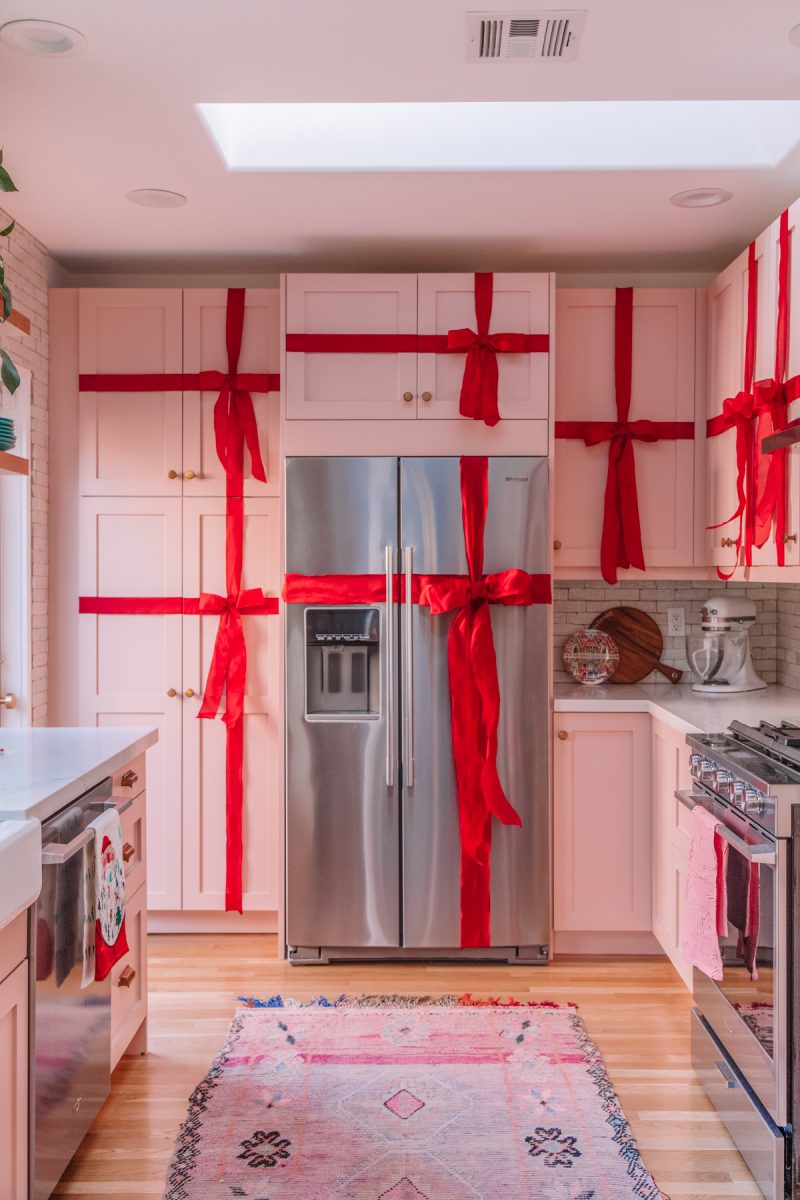 Photos by Jeff Mindell
It makes me so happy that so many of you have been inspired by this little tradition! This cabinet wrapping was so "normal" to me since my mom always did it, so it's been cool to see your excitement over it! Gets me even more pumped each year!
If you wrap your cabinets, be sure to share a pic and tag me so I can see!!!!