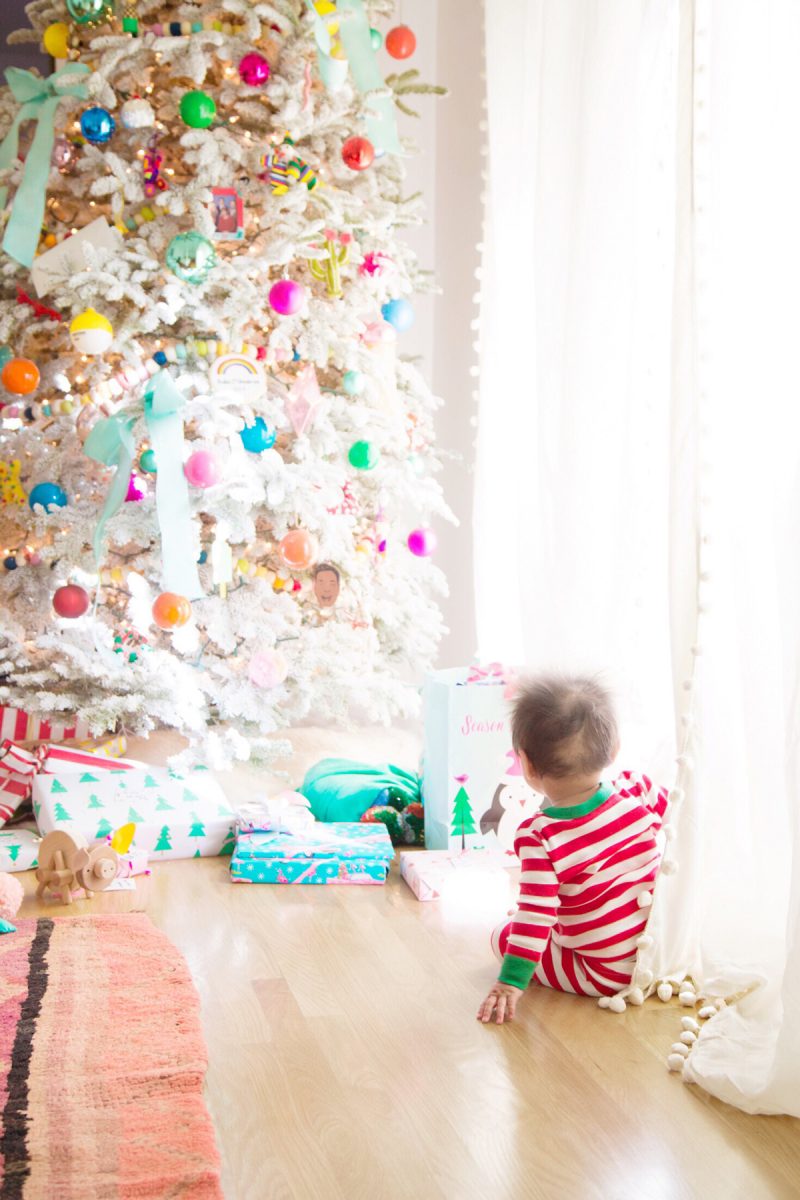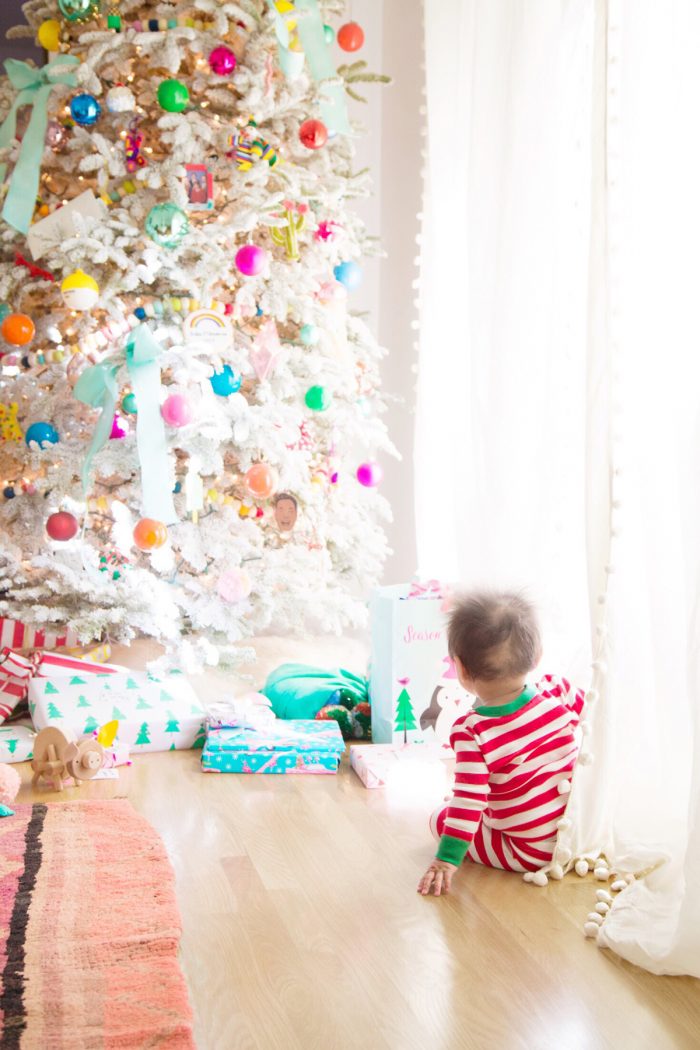 From the sounds of my impromptu holiday poll, most of you are super interested in TRADITIONS! Which means…. YOU ARE MY PEOPLE!!!!!!! Today I wanted to share some favorite Christmas traditions that will hopefully inspire some new ones for your family. They're all ones that you can easily start this year and continue on for decades to come! Some are ones we do (or hope to do), a few are ones I've mentioned before and some are new ones I've heard from friends and you guys too!
Speaking of.. I'd love to hear what your favorite holiday traditions are in the comments below!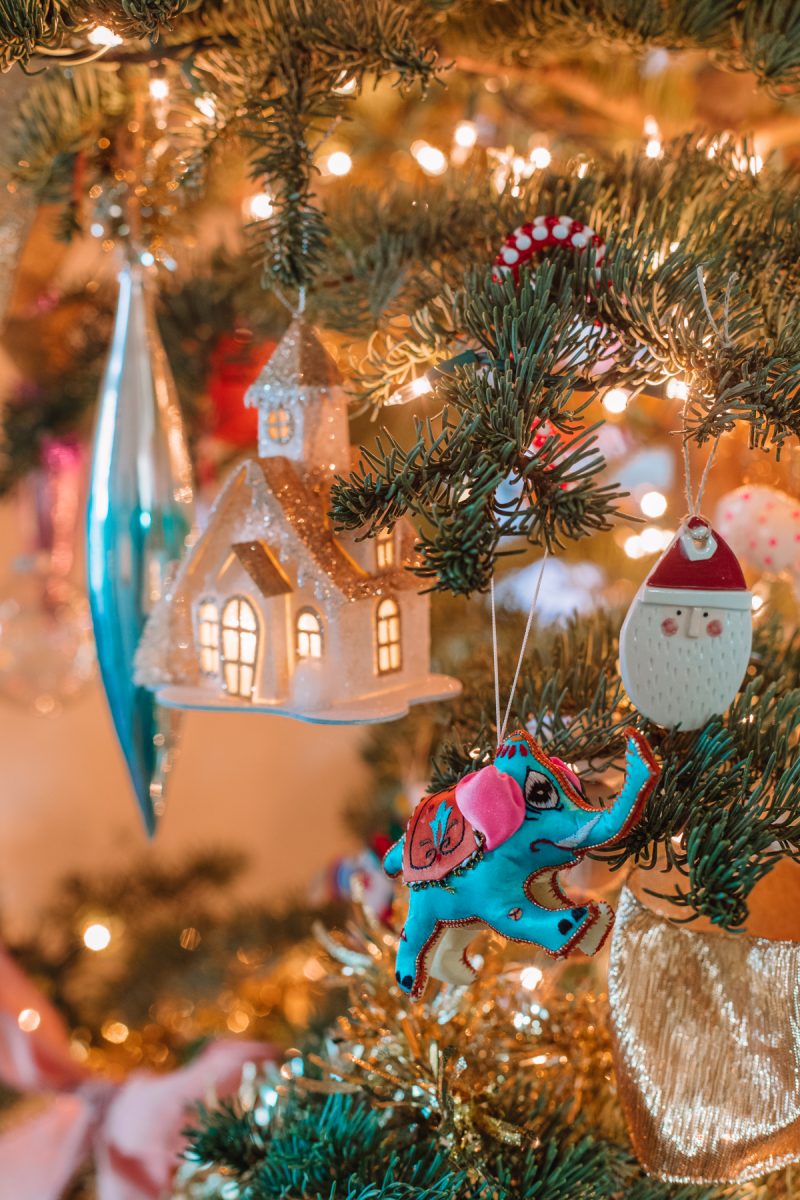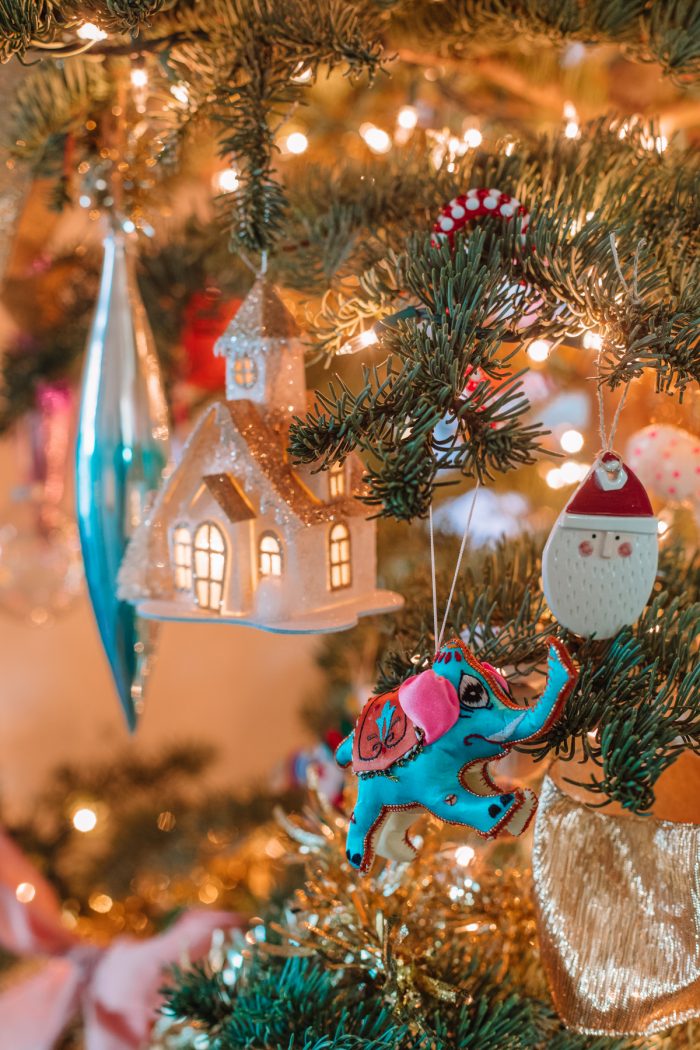 Build An Ornament Collection
Stole this one from my friend Lauren! Every year her parents gave each of the kids an ornament so that by the time they moved out on their own, they had their very own ornament collection to bring with them! We started this tradition for Arlo last year and ugh! It just makes me so happy. Jeff and I actually each gift each other a surprise ornament too every year, and Lauren and I started doing the same last year too. Ornaments all around!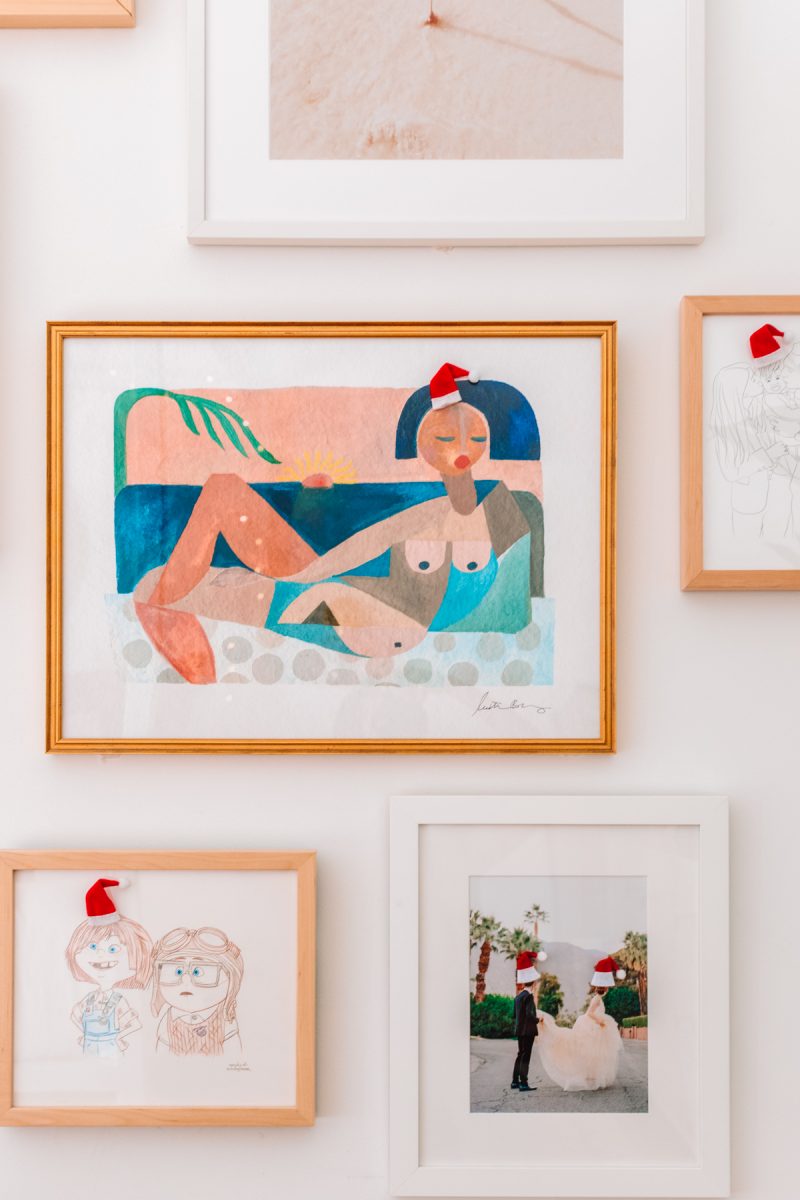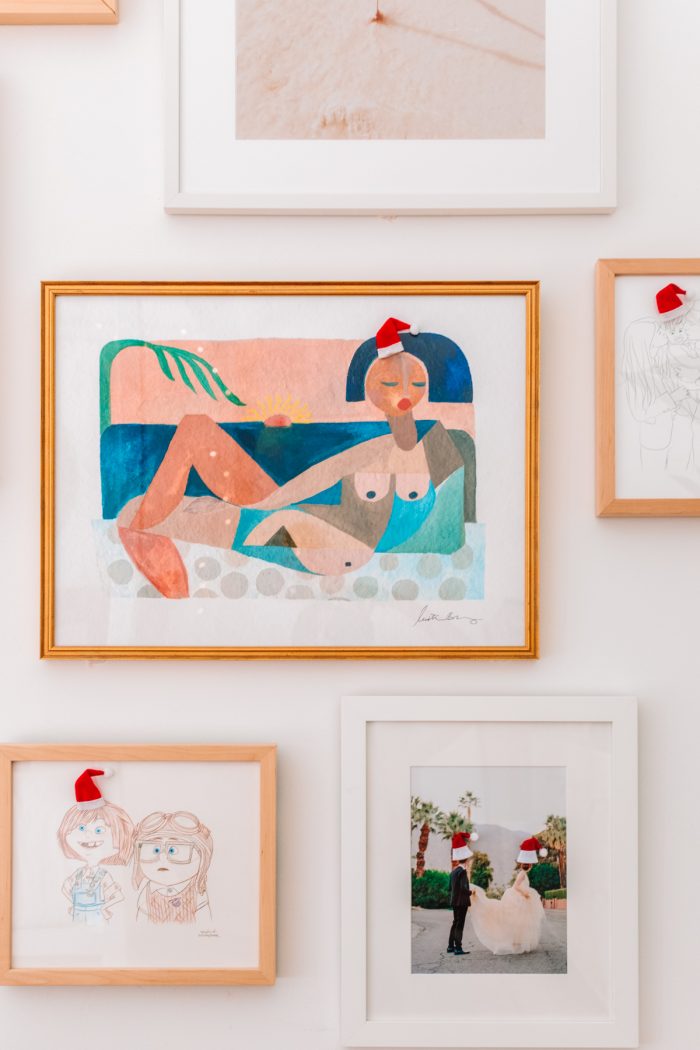 Put Santa Hats on All Your Photos + Art
This one's from Jordy, who's styling skillzzz you've seen a few times around these parts! She puts tiny Santa hats on EVERY photo and piece of art in her house. IT IS THE BEST IDEA EVER! And I'm totally doing it this year. You can find pre-made ones here or usually in the holiday or scrapbook section, or you (or the kids) can make your own. Just use a removable adhesive to stick them on. It's something so simple and hilarious that makes the house feel instantly festive.
Wrap A Box of Kid Cereal
I heard this one first from Samantha and then one or two others since. Her and her husband get a box of sugary kids cereal from her in-laws every year for Christmas! If you're a family that doesn't typically do the crazy kids cereals on the regular, it's a really fun and special tradition to start that's super budget friendly and has a built in bonus… you don't have to think about breakfast! Just wrap up a box and pop it under the tree! 😉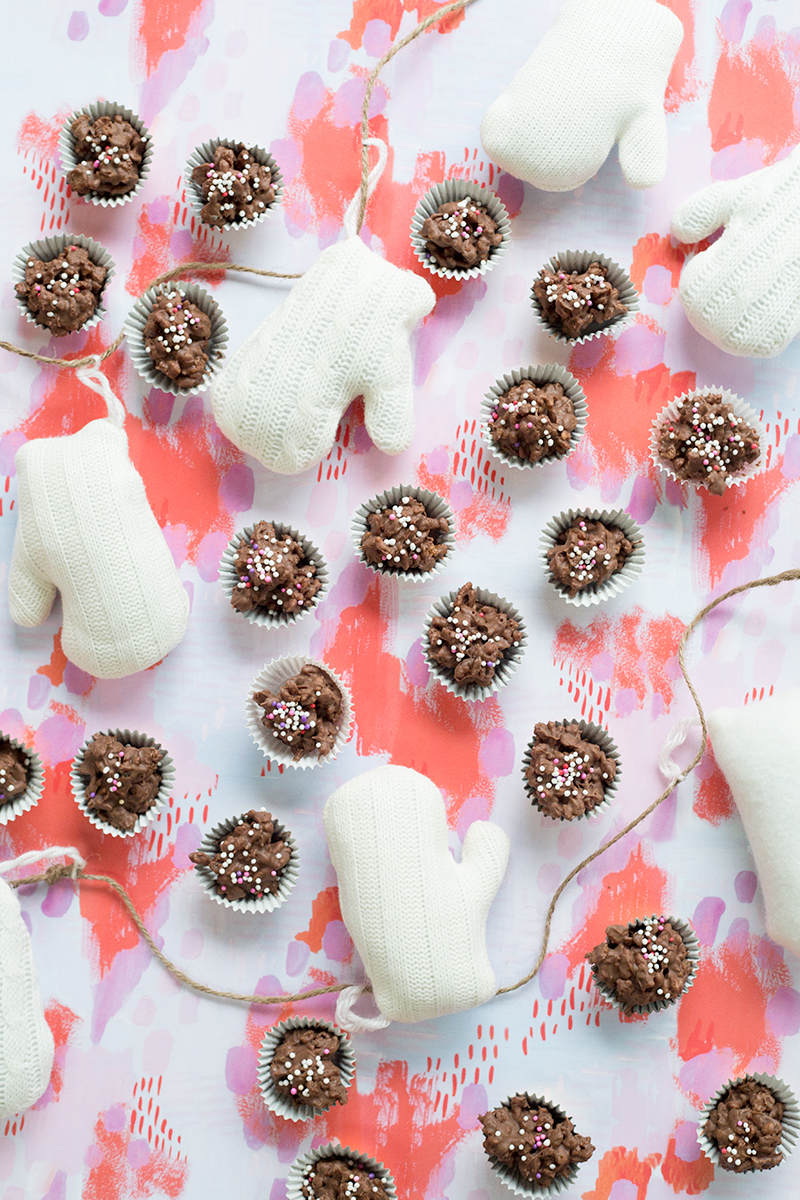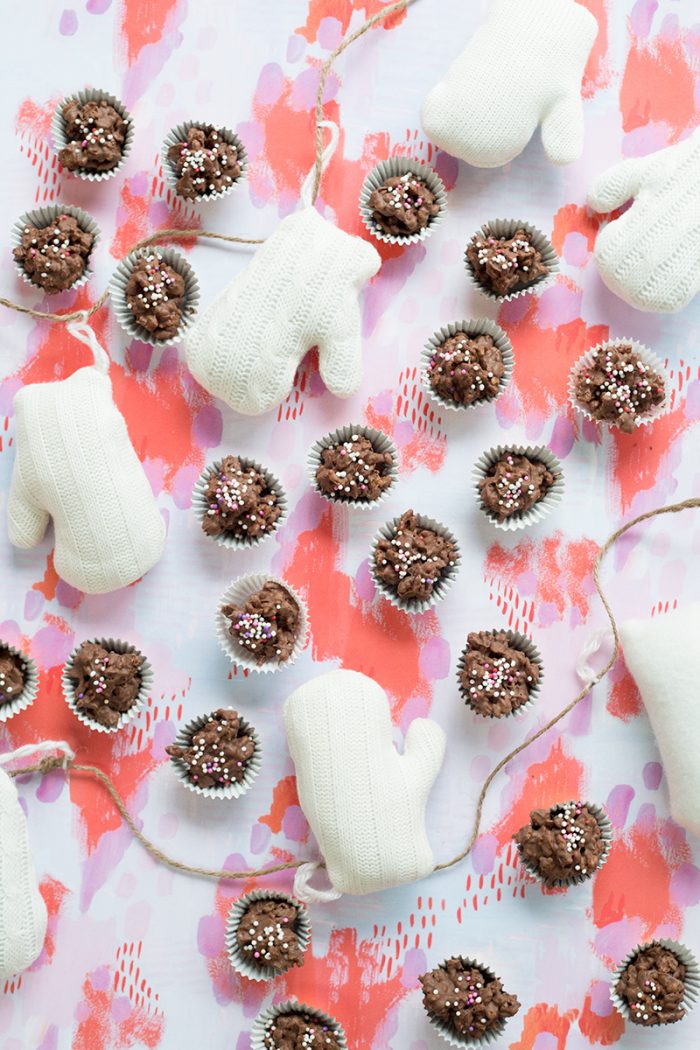 Gift Holiday Candy Bags
This one's from my mom! Every year she makes dozens and DOZENS of her signature chocolate peanut butter crispy candies. I shared the recipe here if you want it! They are no-bake and insanely easy AND delicious. She packages up a dozen of them per person and gifts them to friends, but also to everyone who she just wants to say "thank you" to for working so hard without the year, often without the thanks they deserve! She finds a little ornament or holiday figurine and ties it on there too. I used to love adding the sprinkles to the candies when I was little, and then graduated into getting to help spoon the candies into the wrappers eventually. Now, I'm continuing the tradition myself with Arlo on sprinkle duty this year!!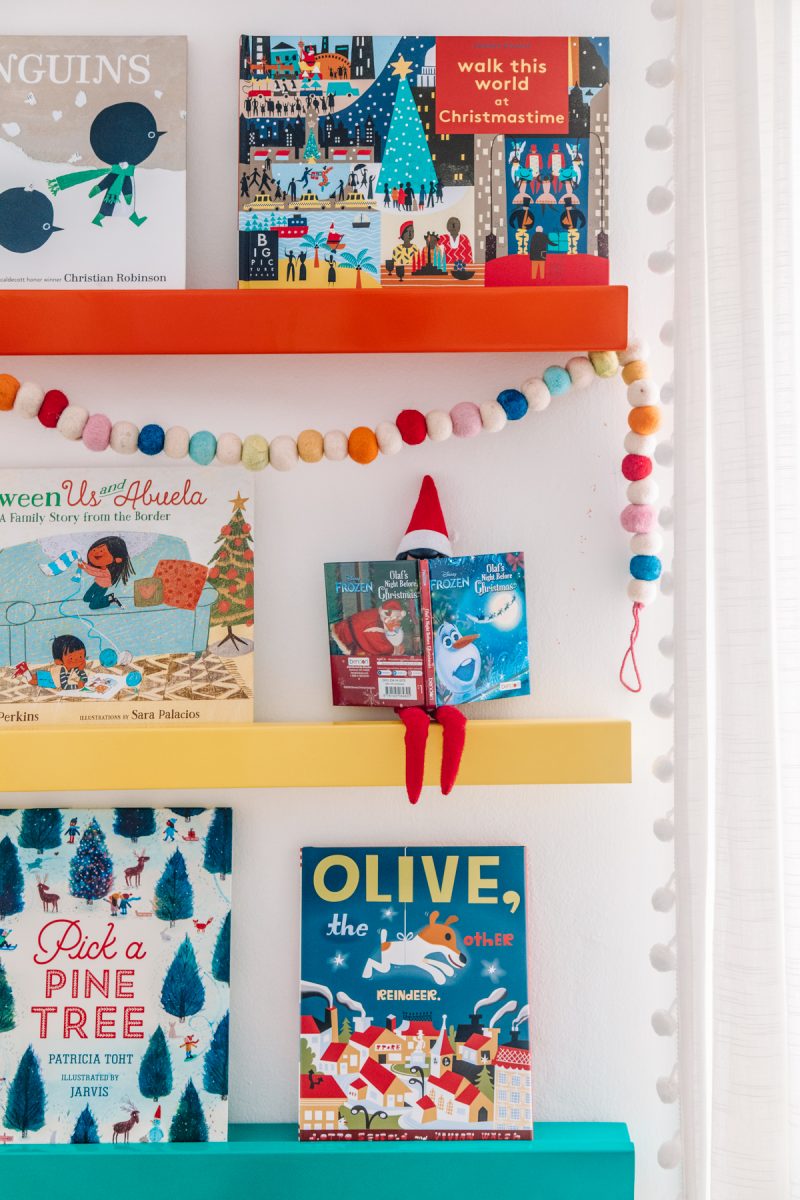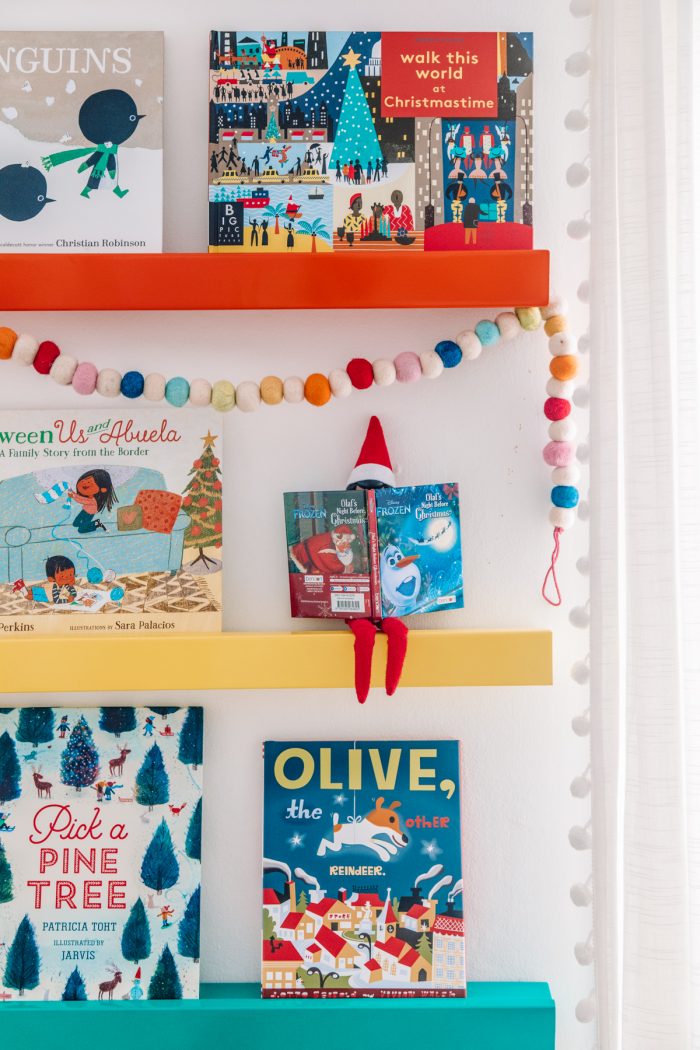 Create A Christmas Book Advent Calendar
I first saw this idea on Anna's blog and several of you have mentioned it to me recently! Wrap up one holiday book for each day of December and add a number to it. Every night, the kiddos get to unwrap a book to read before bed! It's great because you can use the same books over and over, just change up the order and there's still a super fun guessing/surprise element! Pro tip (that one of you gave me): Re-wrap them up when you pack away all your holiday decor so they're ready to go when December rolls around again! I think we're going to start this next year.
You can find our favorite holiday books here!
Gift A Christmas Book Commemorating The Year
Another book one, but this one is from one of you! We started it last year. Pick out a special Christmas (or really any) book for your child and write a note in the cover talking about the year. Any highlights, their favorite things, a funny memory, something hilarious they said, whatever strikes your fancy! It's really fun to have those notes to look back on and, again, it's something you could pass down as your kids start their own families. It also helps to build up the books for the advent calendar above. Ha!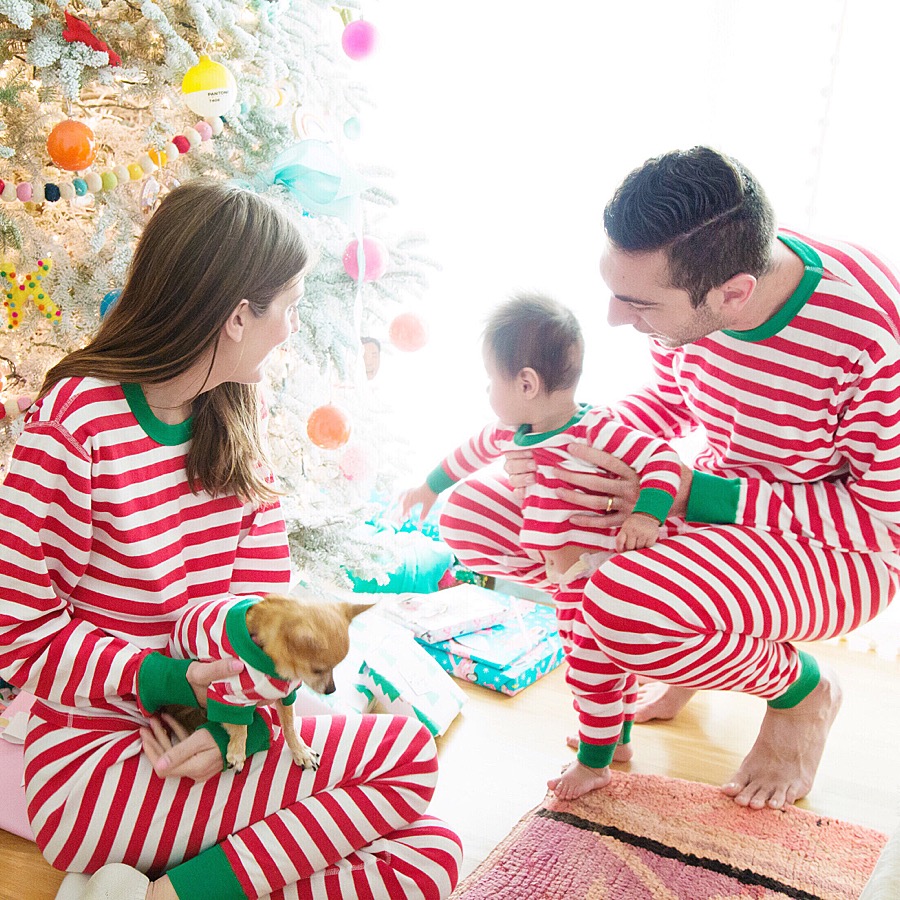 Wear Family Pajamas
We started this last year and I loved it. On Christmas Eve we all get new matching Christmas pajamas and wear them that night. Then we spend all of Christmas day in them!!!!! It's so simple but really fun.
Here's a ton of cute Christmas pajamas, for kids and for the whole family, to check out!
Make A Traditional Christmas Brunch
Every year on Christmas morning, my mom makes an egg bake and coffee cake and serves it alongside bagels, fruit salad and mimosas. So, so simple but it is my FAVORITE meal of the year… because it's tradition and it signifies Christmas morning beginning! I only eat that egg bag and that coffee cake on Christmas and it's just the freaking best. Pick an item or two and make it one of those things that you only make on Christmas. (A friend of mine makes cinnamon rolls with her fam on Christmas, so there's another idea too!)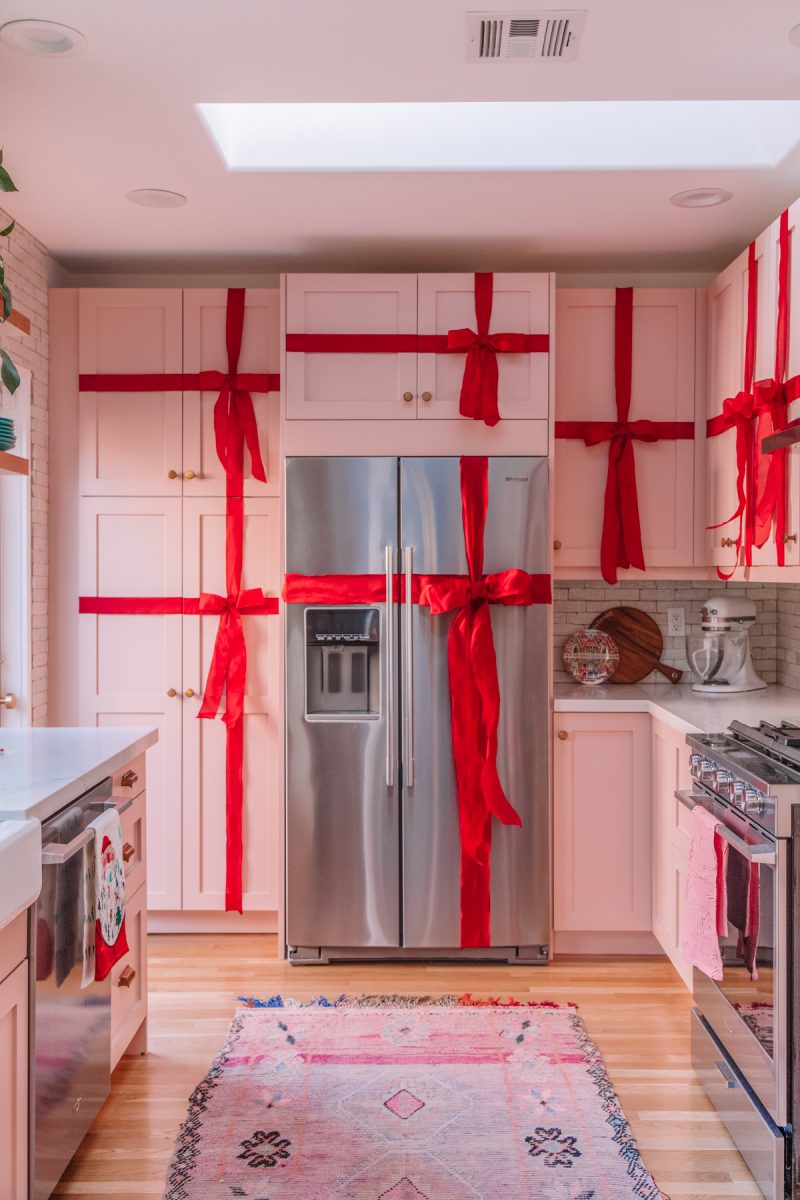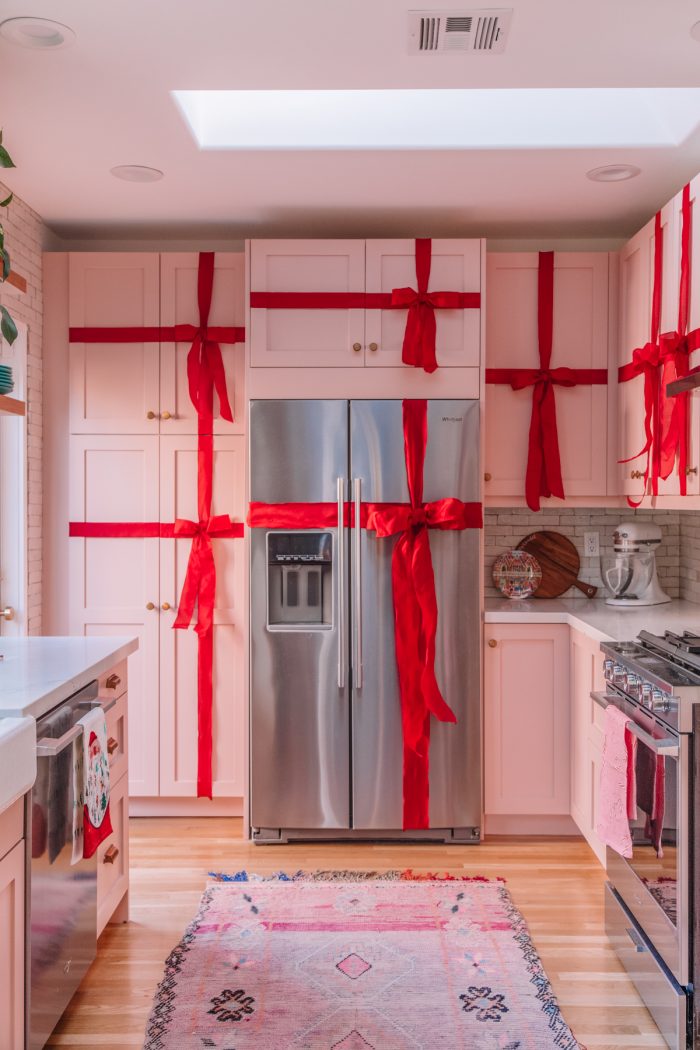 Turn Your Kitchen Cabinets into Presents
I'm now the third generation of my family to continue this tradition on! Kitchens are a hard place to add holiday decor… until now! Try wrapping your cabinets like presents!! It is a HUGE hit with kids, and I can guarantee they'll all walk over, mesmerized, to see if the cabinets can still open. Haha!
Get the tutorial for wrapping your cabinets like Christmas Presents here!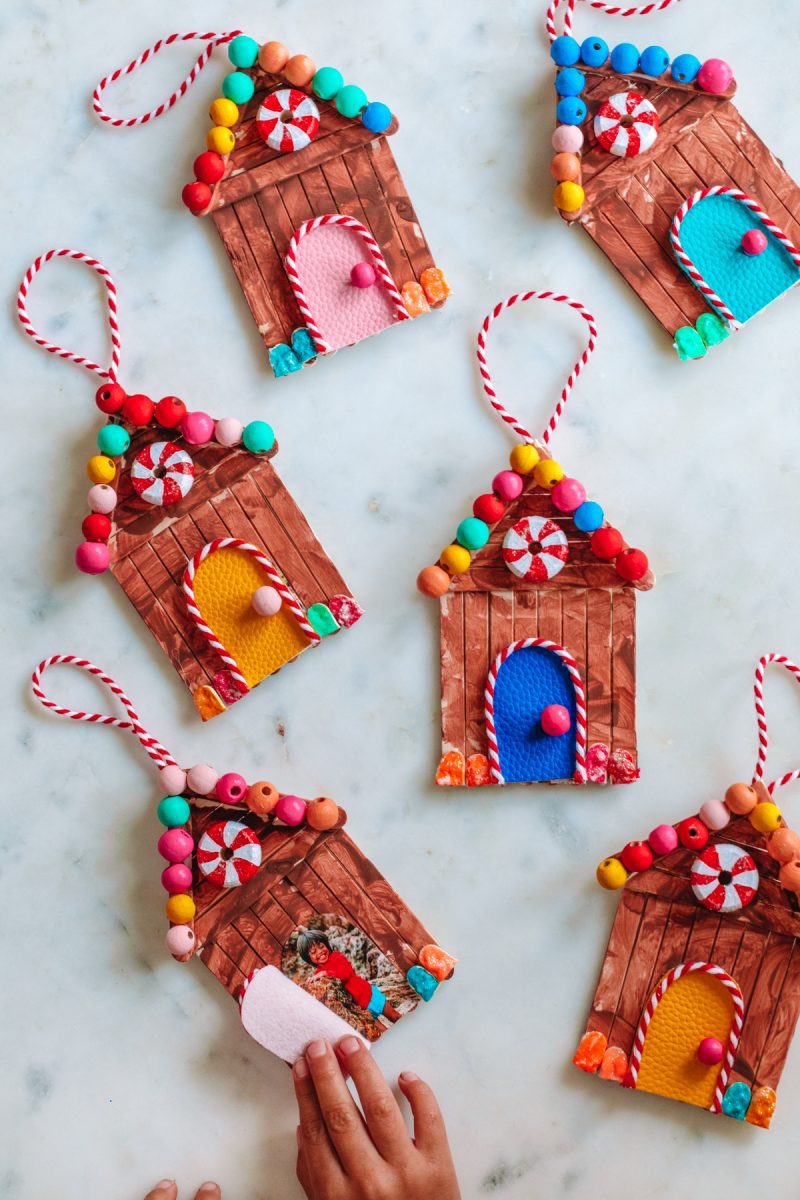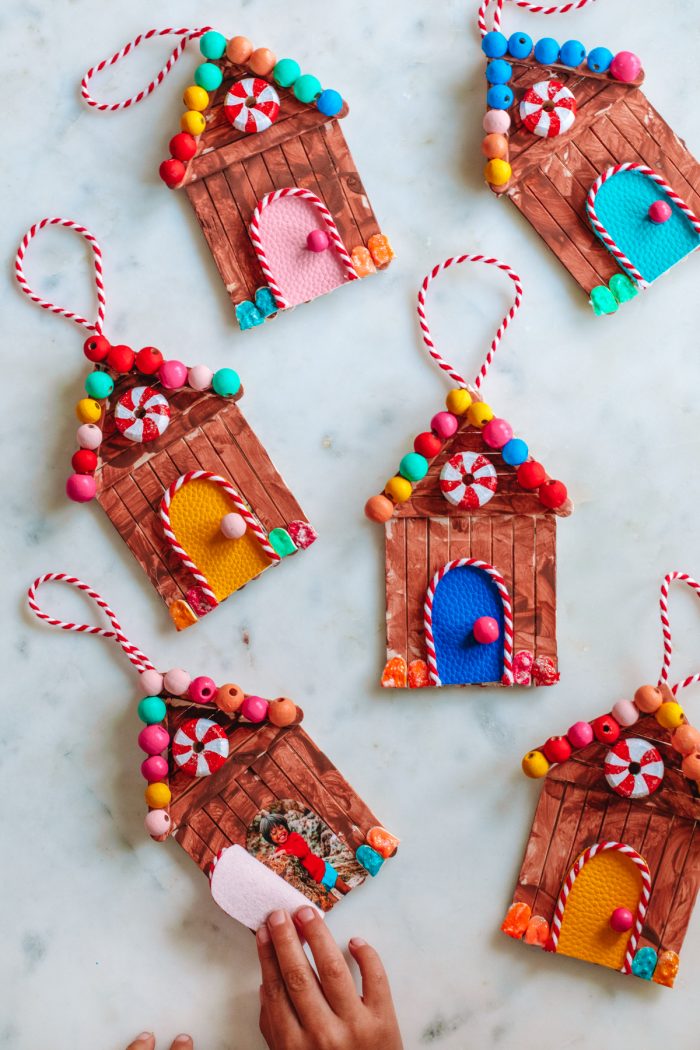 Send An Ornament-Gram
There is NOTHING better than a cheesy homemade picture ornament. We call them "ornament-grams" and send one out each year from our son to grandparents and close family/friends.
Learn how to make these popsicle stick gingerbread house ornaments here!
Match With A Family for the Holidays
More important than anything else to us is teaching Arlo that the holidays should be more about giving then receiving. My family for as long as I can remember has found a local organization to work with to help provide Christmas gifts and necessities for a family in need. Jeff and I have continued this ourselves and I want to encourage all of you to do so too, if you're in the position. I've heard a few friends mention they try to match with a family that has kids similar in age, so their children can really relate and feel involved in the gift giving process. This year we are working with Baby2Baby's Family2Family program. If you ask a local Church or school you should be able to find other similar programs near you too.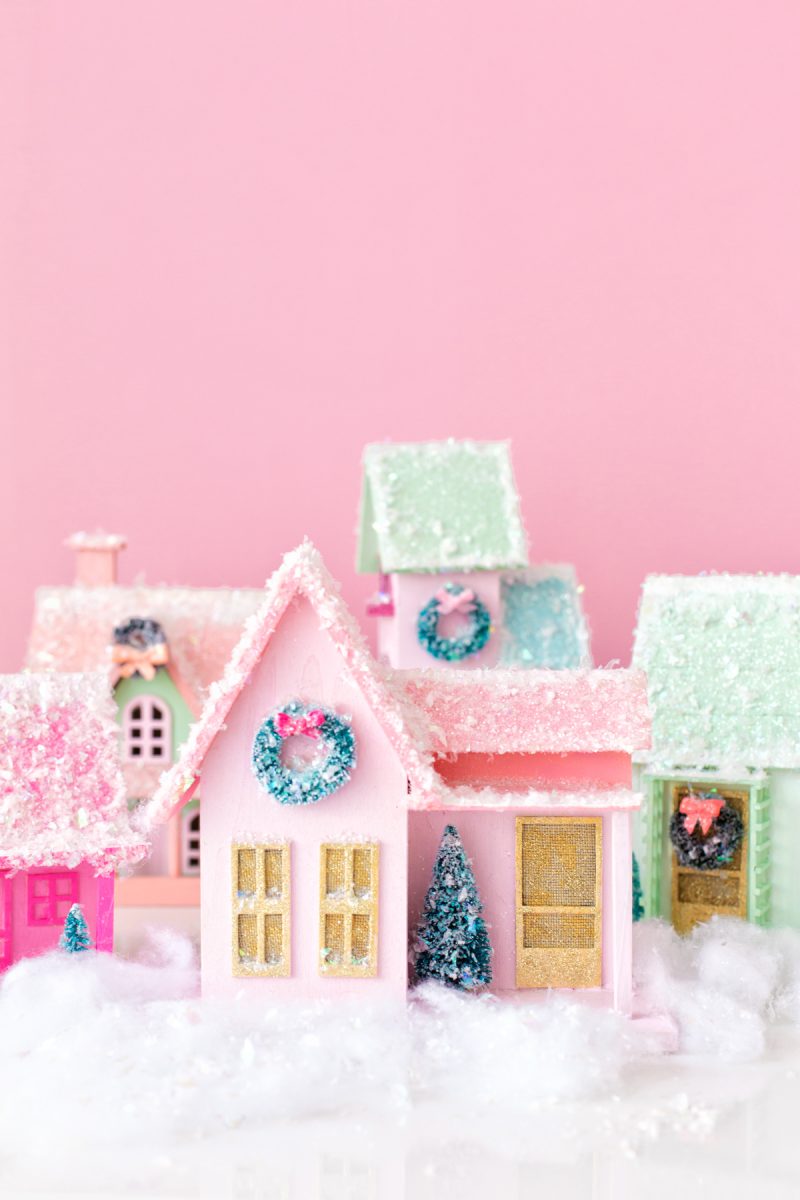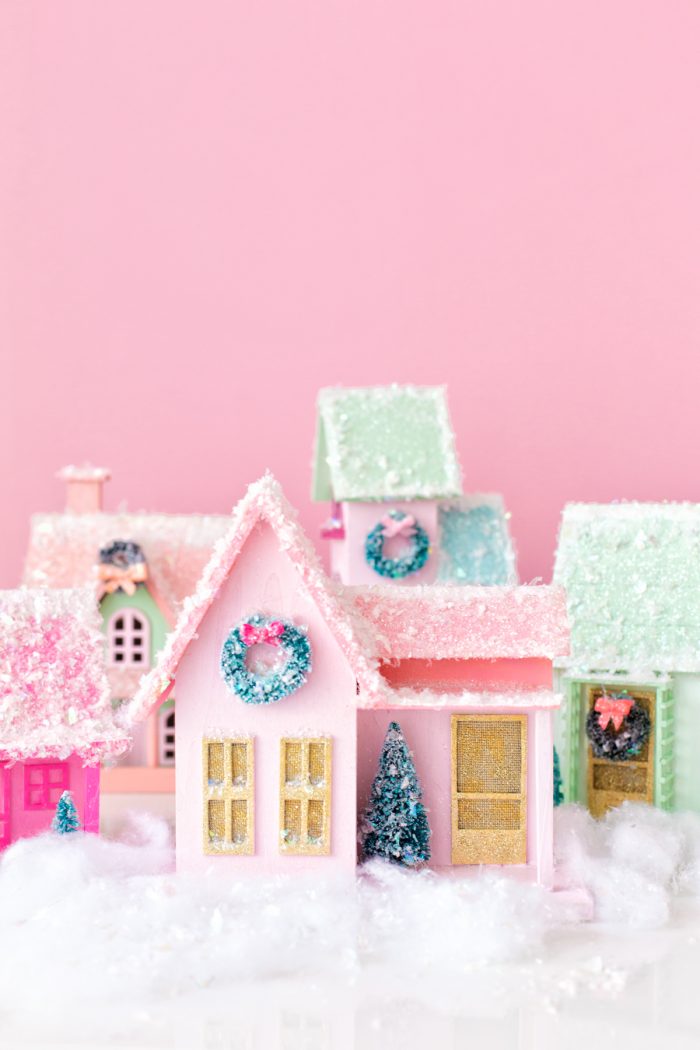 Make a Christmas Village
I am still shocked by how many of you made our Christmas Village last (and this!) year!!! It makes me SO HAPPY seeing your photos!!! But if you're new here, we took birdhouses from the craft store and turned them into a tiny pastel Christmas village. It's SUPER easy and you can get the whole family (or all your gal pals!) involved. We're planing to add something new to ours each year and I'm excited for Arlo to help paint this time around!!
Do A Christmas Lights Tour… In Your PJs
This is actually something we spontaneously decided to start for Halloween but works for Christmas too! Pick a random night in December and find an extra festive neighborhood in your area. Before bed, have everyone get in their PJs (and coats obviously where applicable, ha!) and load up in the car to go on a little bedtime tour of Christmas lights!!
We saw kids out in their PJs when we were touring the Halloween houses and for some reason the added PJ factor just made it seem SO much more fun, so shout out to that parent for giving me the idea! You could even make hot cocoa or special cookies to tote around with you.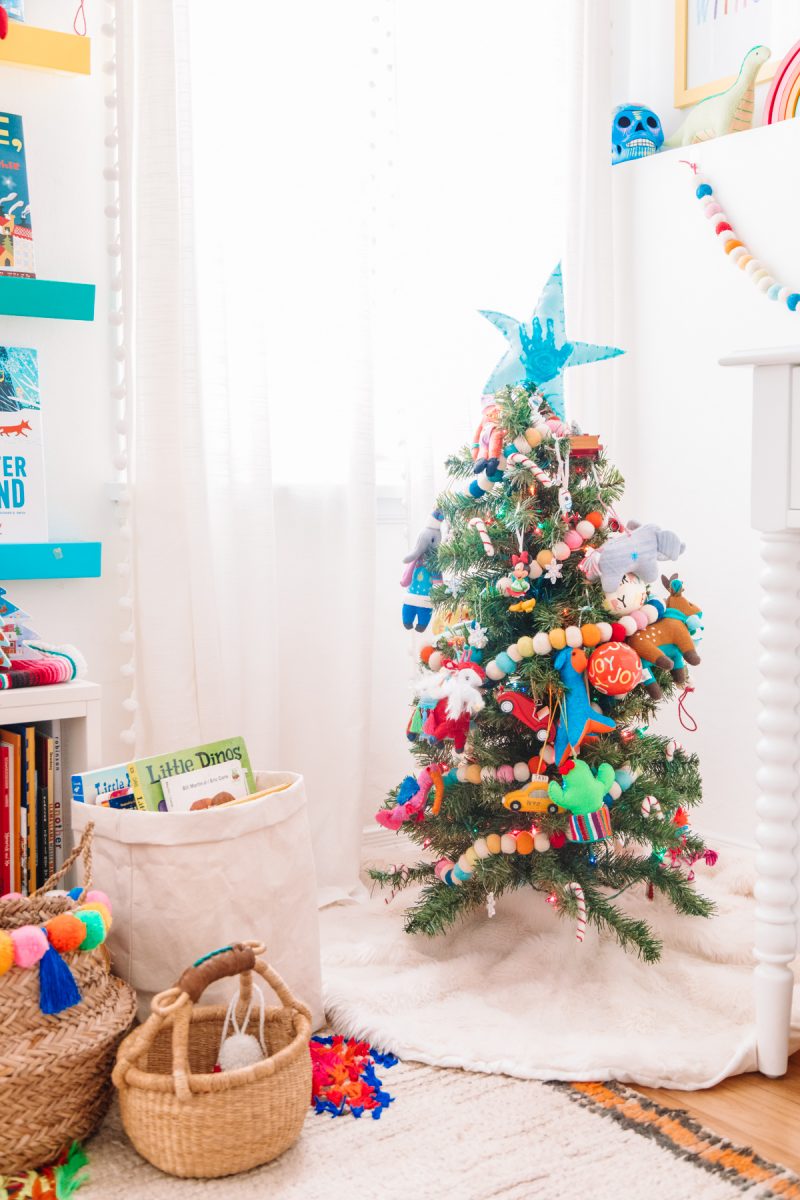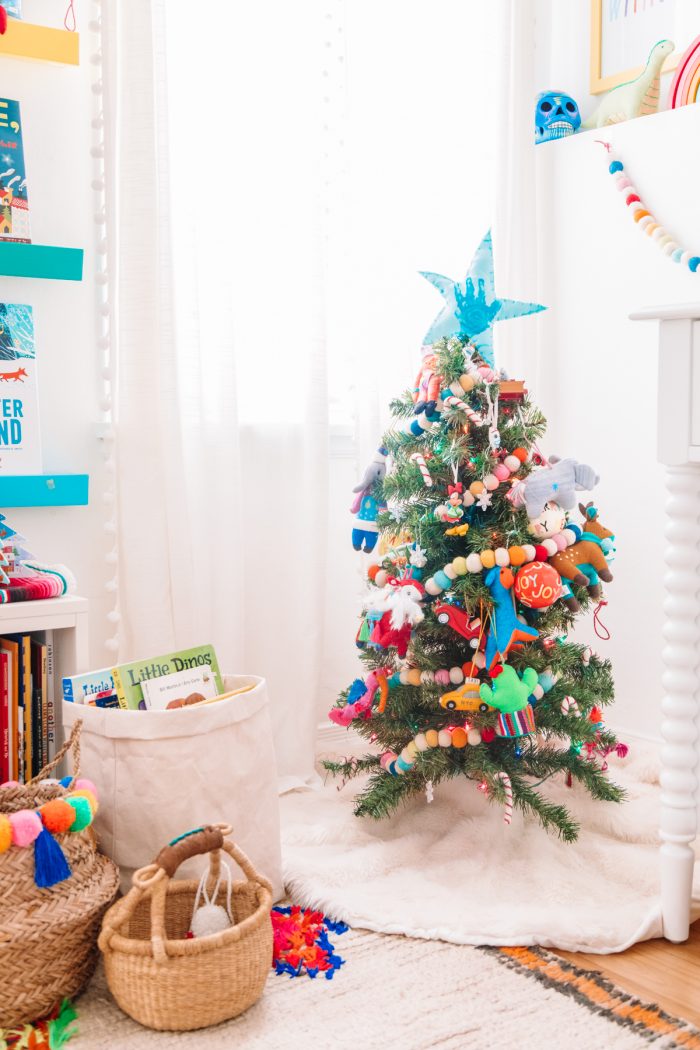 Help The Kids Decorate A Tree Of Their Own
I think this may have been another of Samantha's, and another one we started last year! If you have multiple kids, sometimes it's nice to carve out a little one-on-one time and this is the perfect thing. Pick out an inexpensive faux mini tree that is ALL theirs and lives in their room. Then, give them a budget and take them on an adventure to pick out decorations of their very own.
Together, just you (and your spouse) and your kiddo, can decorate the tree each year! No siblings allowed! It's something really special and surely something they'll always remember. I'm thinking I'll let Arlo pick out a few new things each year and use the past items to decorate a mini tree to donate to a local organization.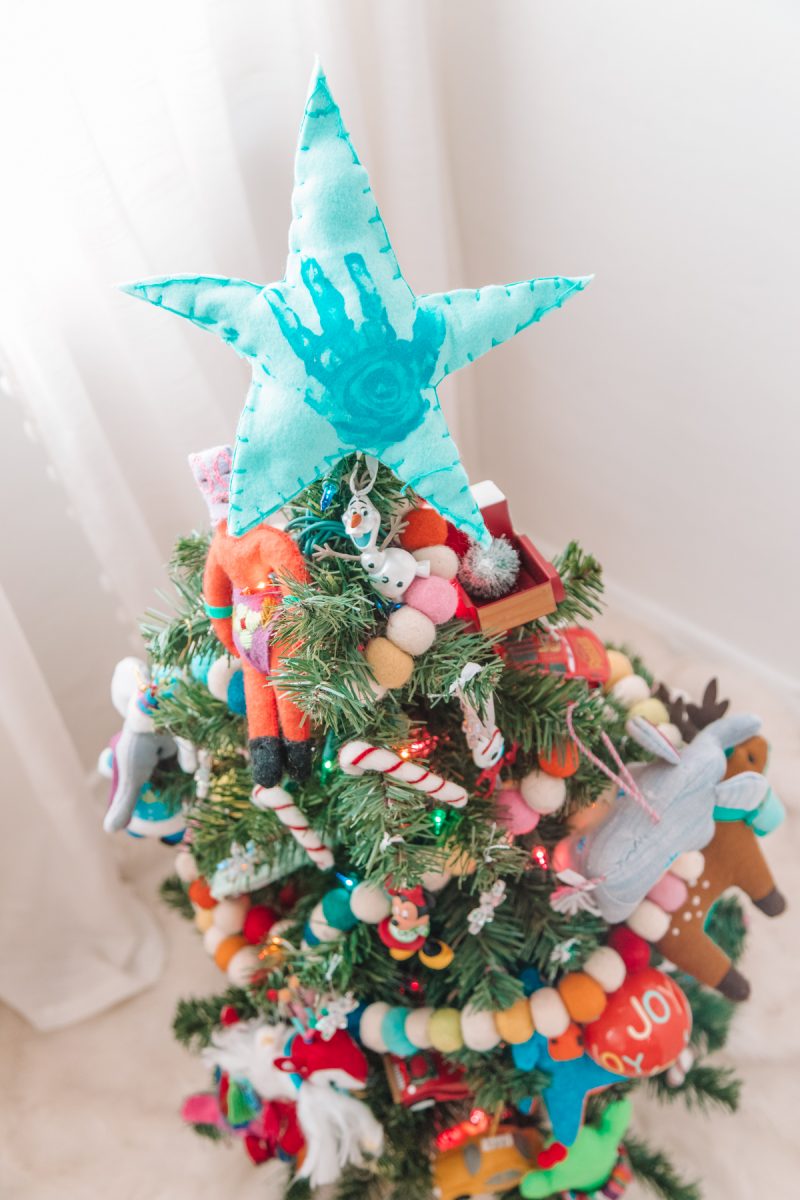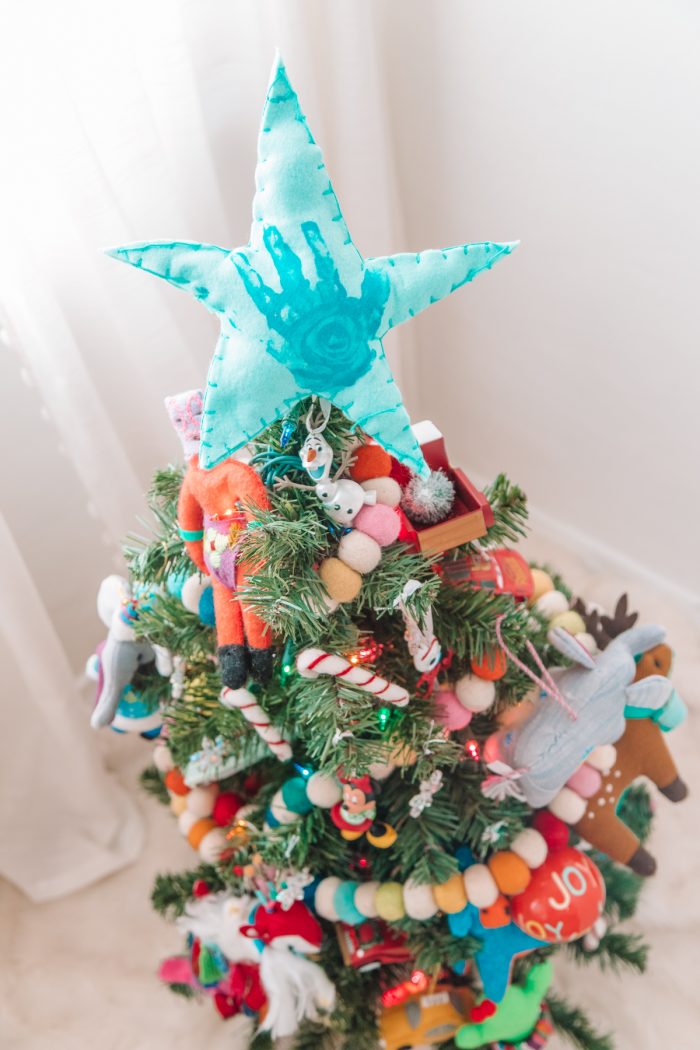 Now, I'd love to hear yours!! Tell me below if you have any good holiday and Christmas traditions. It's SO fun hearing what other people do for the holidays! Hope some of these inspired you to start something new this year!