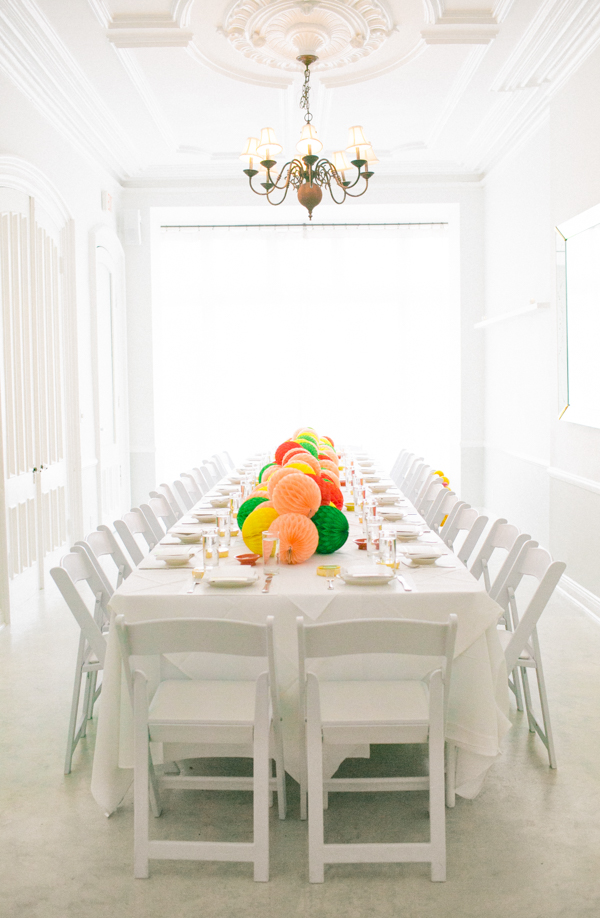 Today's post is so special for me, I get to share a bit about my bridal shower! I know I've shared some peeks before, but now we've got the whole she-bang! It was such a special day, designed to a T, and filled with all the important women in my life! I'm sharing a few of my favorite details here, but guess what!? 100 Layer Cake is sharing allll the good stuff over on their blog! So be sure to head here and check it out. AND! Nole is sharing all the details on the invitations from 9th Letter Press. Oh my goodness, so much to be excited about today! Let's get started!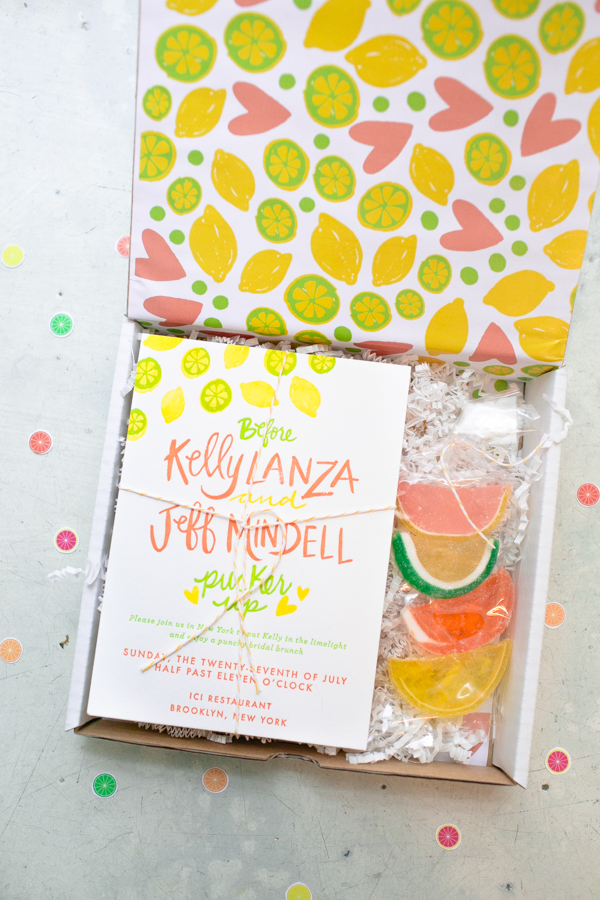 The theme was "Pucker Up!" and my bridesmaids didn't skimp on a single detail… citrus-y honeycombs for the most amazing runner of all time, lemon drop favors, citrus stickers for bingo.. and the list goes on!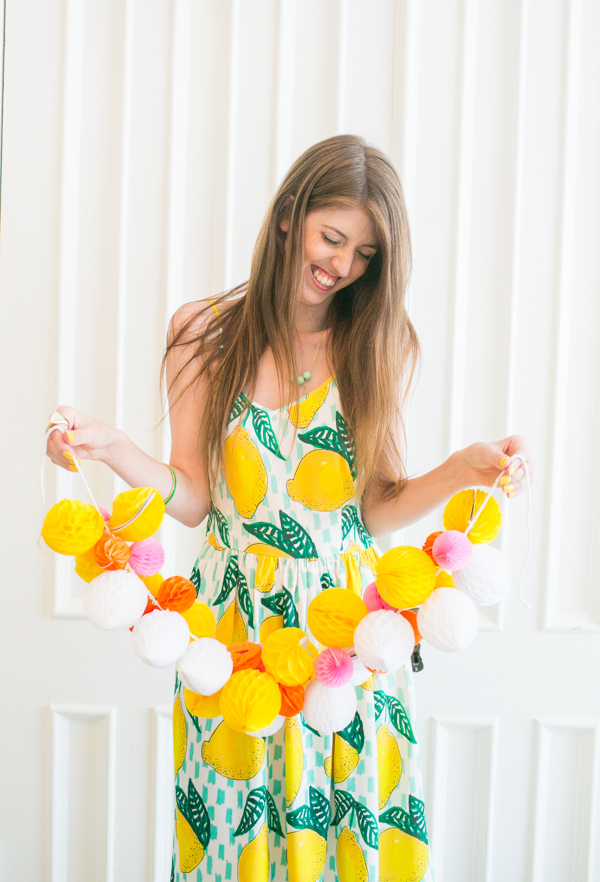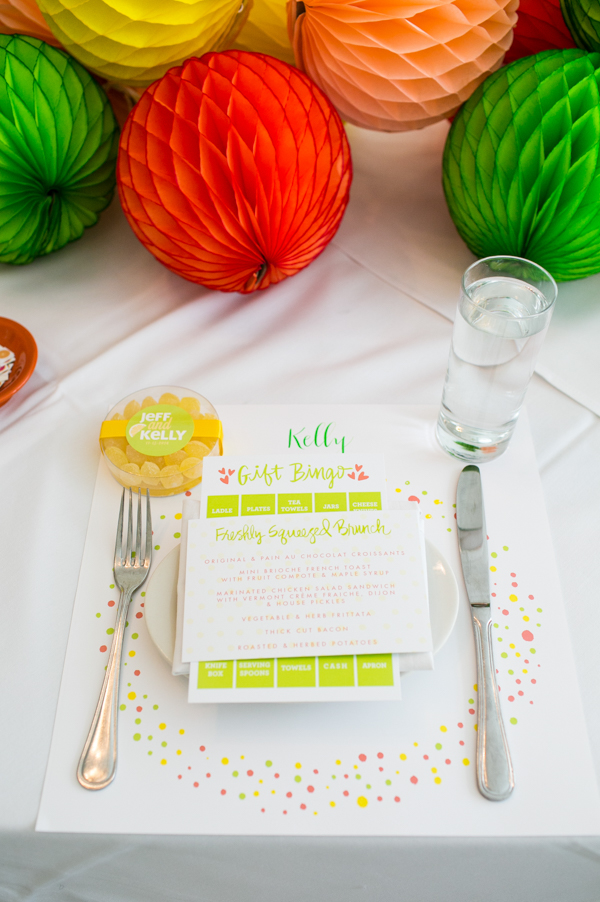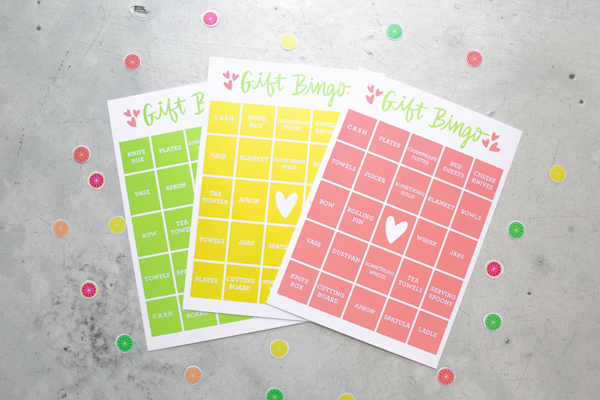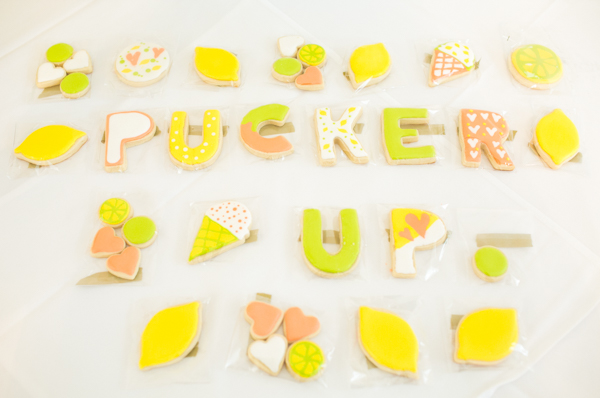 Do you all know The Alison Show!? Well Alison made these amazing sugar cookies for the day! Eep! I hear she has a whole online class coming out soon on sugar cookie making, so we better all keep an eye out for THAT!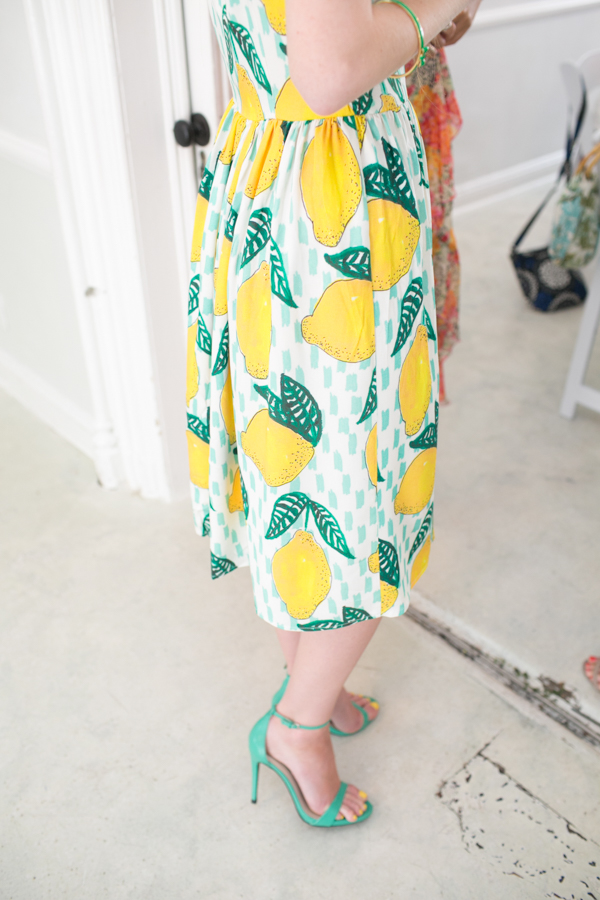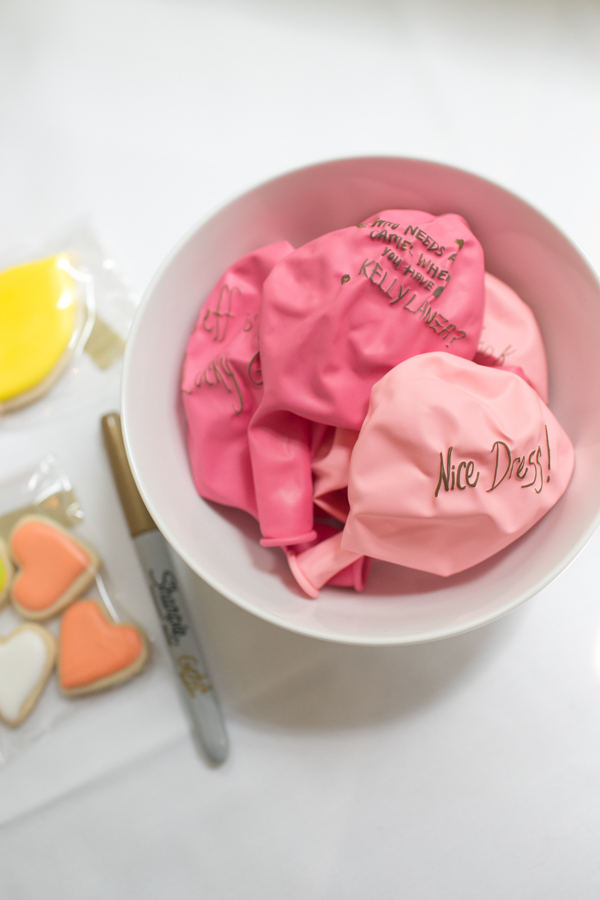 One of my favorite details was the balloon bar! Everyone was asked to write a message on a balloon and my 'maids will be blowing them up on the big day to put in the room I get ready in! Amazing!!!!!! Everyone: steal this idea!
I'm normally not one to post a zillion posed pictures, but I really wanted to share a bit about some of the schnazy special ladies that celebrated with me that day!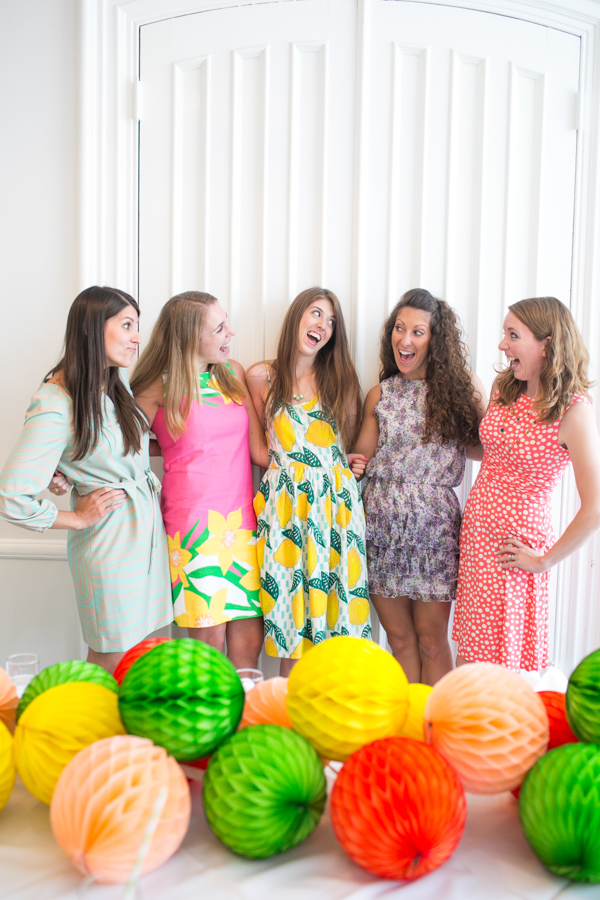 My bridesmaids! You can thank them for all this! From left to right, that's Lauren (my BFF and MOH!), Jen (Jeff's sister!), Me, Krista (my cousin!) and Janice (one of my closest friends and wedding planner extraordinaire!)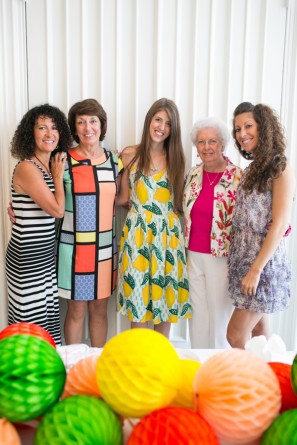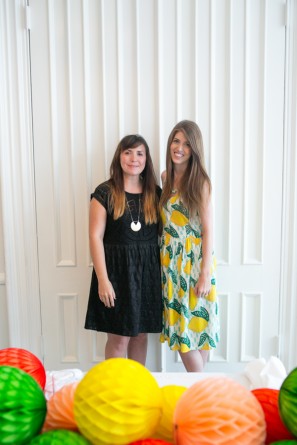 That's my family on the left! My Aunt Dana (she was a huge help in the planning, too!), my mom, me, my grandma and my cousin Krista. / On the right, that's me + Brittni! It meant so much to me that Brittni flew up from Florida for the day. She's the best example of some of the amazing friends I've made in the blog world.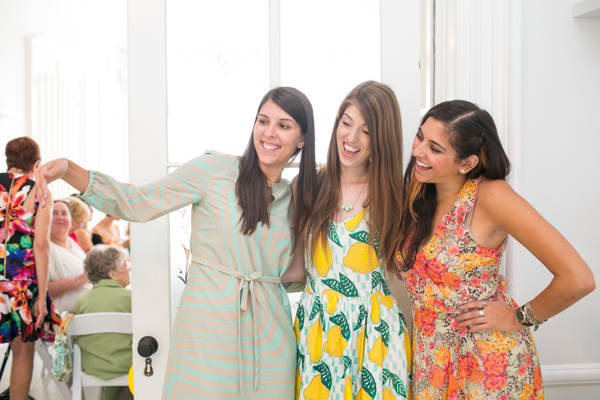 My college roommates at American University, Lauren and Kira, minus one (Tia, that's you Lauren's trying to hug!)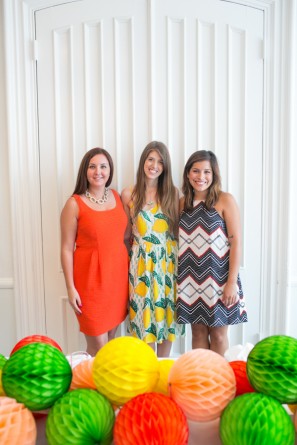 That's Mel on the left! She is a close college friend of Jeff's and mine and our resident foodie (She's the one that recommended this place for Sugar Fix!)! / These ladies, Natalie and Maria are my roommates from FIDM! Natalie is the one that drove from LA to Texas with me to get Bella at the spur of the moment and Maria just started a pretty awesome bathing suit line that you must check out!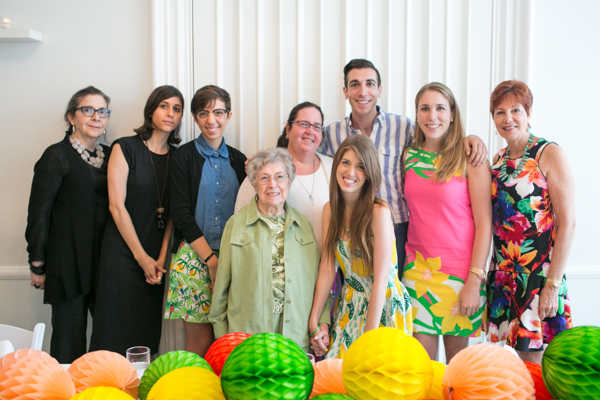 This is Jeff's (and my soon-to-be!) family! His Aunt Laurie, cousins Alex and Emily, Aunt Jane, sister Jen and his mom Laura. And in the front with me, that's his grandma. She is probably the smallest, cutest person I have ever met and I love her.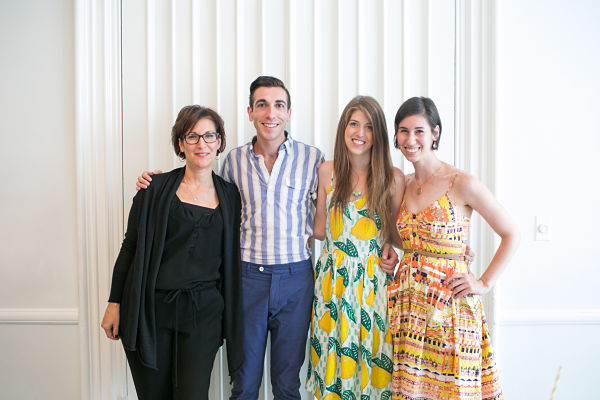 This is half of one of Jeff's family's closest family friends. Lisa on the left and Jaclyn on the right. I like to tell people I was Jaclyn's first friend when she moved to our town, but I think Jeff would argue with me on that one. Jaclyn will be doing a reading at our ceremony which is going to be so great!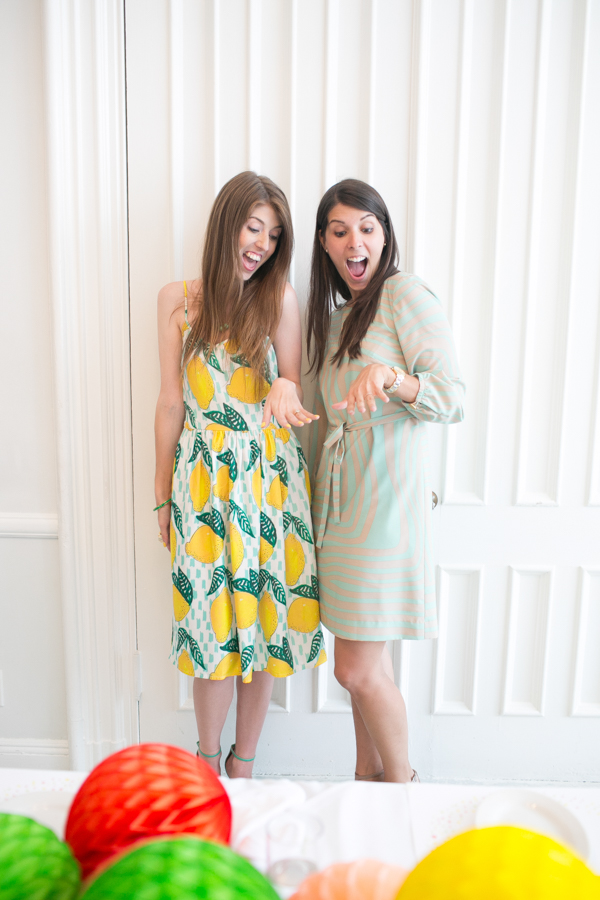 If you've been following for awhile, this photo might look familiar! Lauren and I took this same photo on the day Jeff proposed. (Just four days after Lauren got engaged!) We had to recreate it. And guys! Lauren gets married in just a few weeks!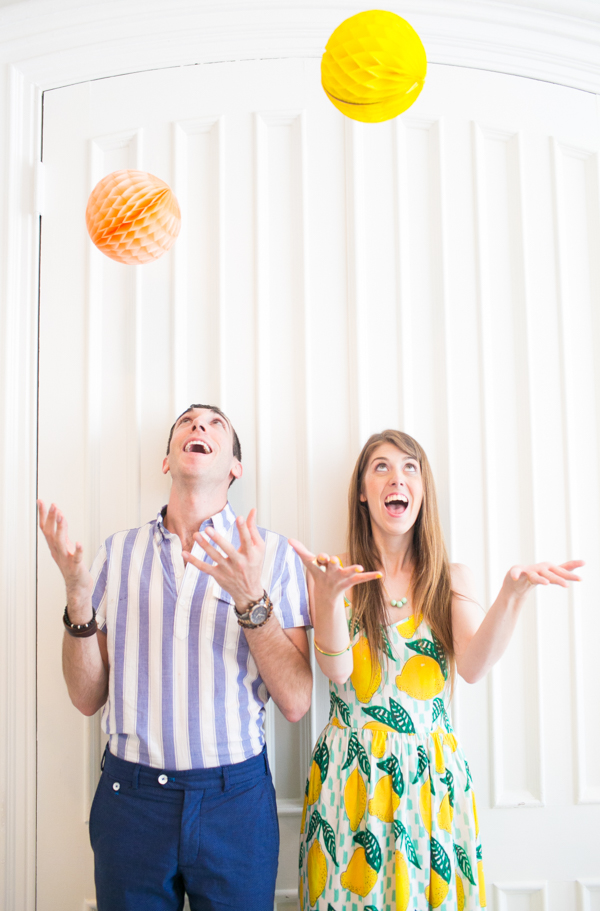 Jeff stopped by just at the end to say hello to everyone and snap some pics. I tried to rope him in to opening gifts with me, but I lost. Luckily I did win the "Let's throw honeycombs in the air!" battle. It's all about compromise, right?
All Photos by You Look Lovely Photography
Now, for all of the decor details, head on over to 100 Layer Cake! And for you paper lovers, all about the invitations right here on OSBP! I am so thankful for all the hard work my bridesmaids put in to creating this crazy awesome, never-forget-it event. And, I am also so grateful to all the amazing folks who lent their talents to help it come to life! You can check out all the vendors for the big day below, and then please give them a hip hip HOORAY with me!
Venue: ICI Restaurant
Planning + Design: Bridesmaids Lauren, Krista, Jen and Janice of Bellwether Events
Photography: You Look Lovely Photography
Stationery Design + Letterpress Printing: 9th Letter Press
Digital Printing: Minuteman Press
Calligraphy: Meant To Be Calligraphy
Donuts: Doughnut Plant
Honeycombs + Favor Bags: Shop Sweet Lulu
Tea Towels (Bingo Gifts): Kei and Molly Textiles
Citrus Stickers: Redbubble
My Dress: Bouffants & Broken Hearts
Sugar Cookies: The Alison Show
For more on all our wedding prep + experiences, click here!