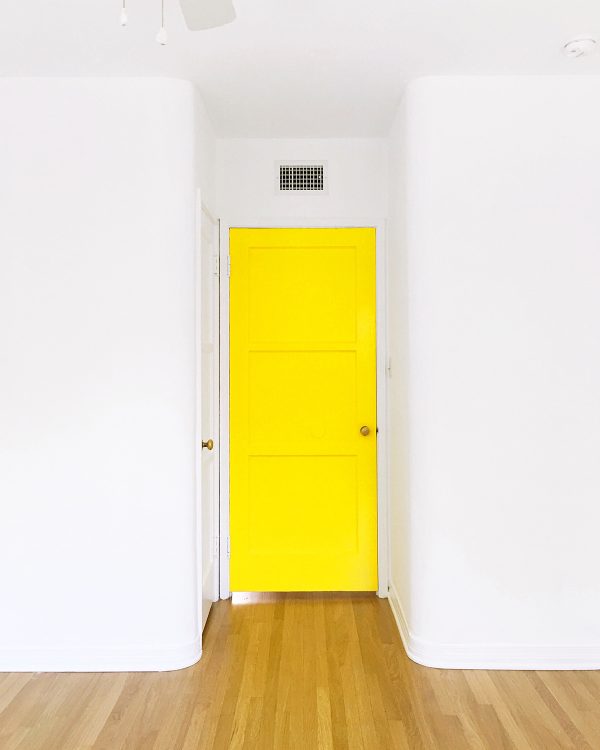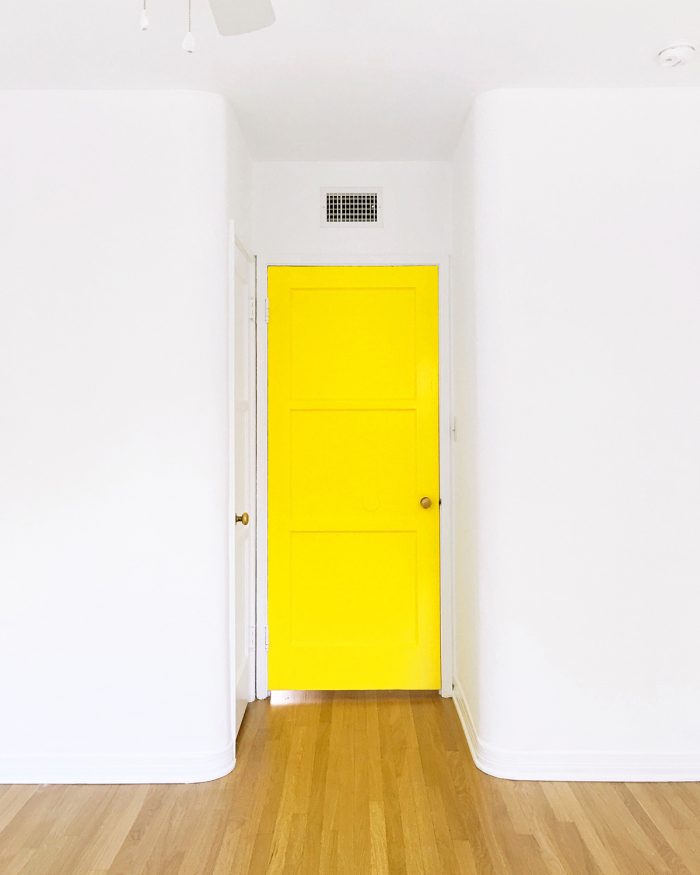 I've delayed this post about one hundred times because I'm so excited I couldn't make up my mind about what I wanted to share. Hahaha! But here it is!
We'll be doing a big post next week about the overall color scheme and feel of our house, but since Arlo's room differs slightly from it, I figured I could go ahead and share!! I've pulled together some inspiration photos and a peek at some of the items we've picked out for it!!!!!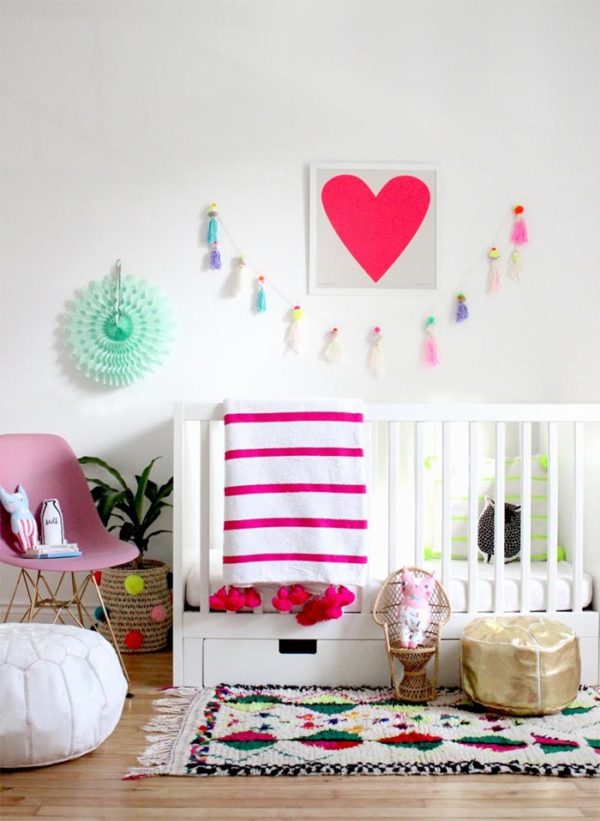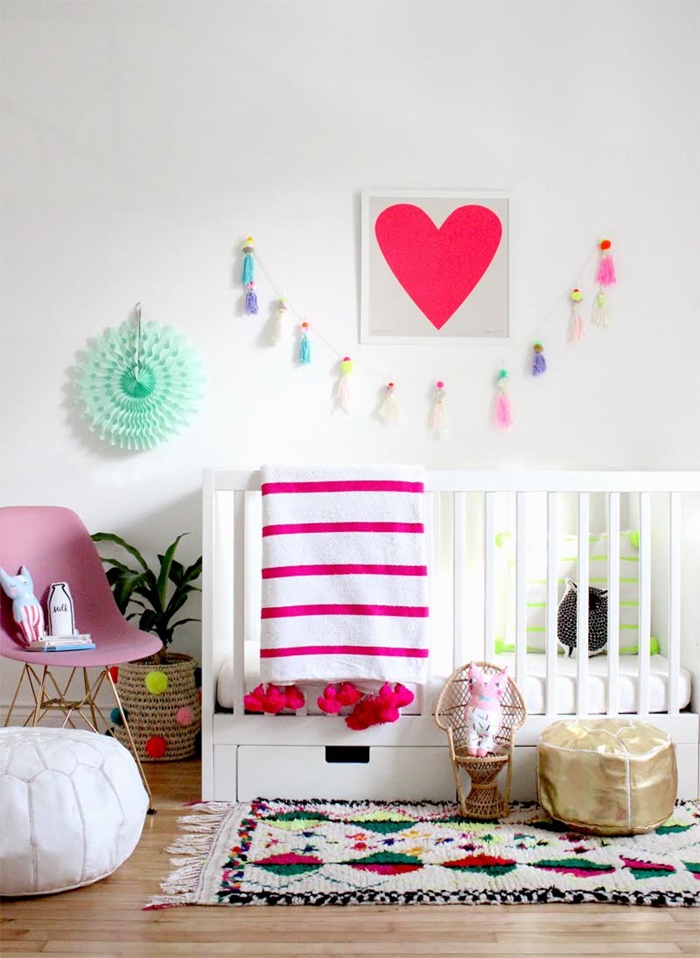 I've been collecting nursery inspiration for as long as I can remember. As much as I love a theme, I always new a themed nursery wasn't for me. I love rooms that have a base of white and then a ton of different pops of color, wall decor, textures and art that span several styles. And that's exactly what Arlo is getting!!
We started by painting the inside of Arlo's door yellow! (The color is Highlighter by Dunn Edwards*) We loved the idea of him having this little secret that only he (or we) know about, hiding behind his otherwise white door when looking down the hallway!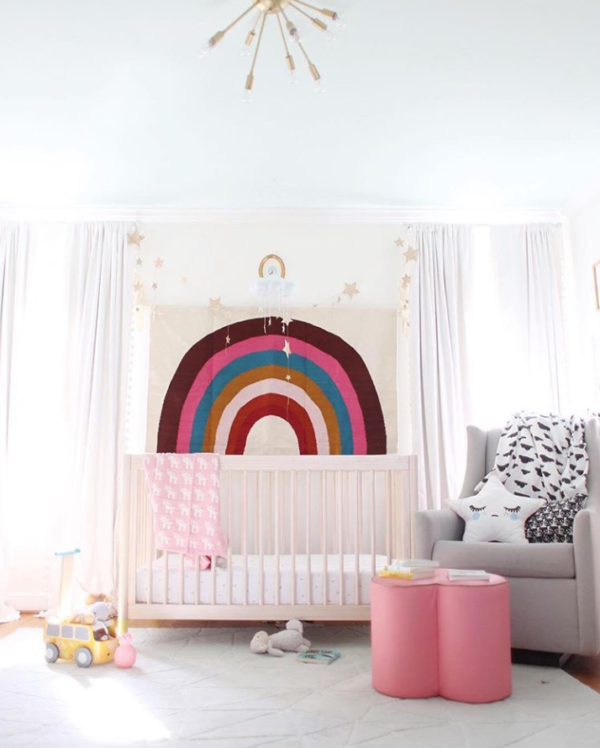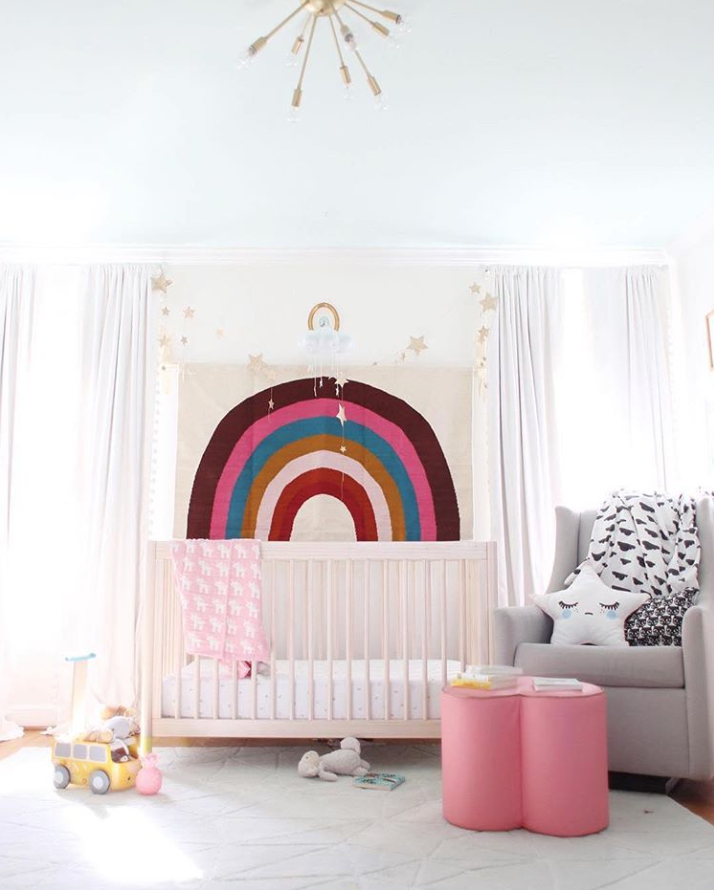 Most of you know from Insta stories that I'm working on a giant latch hook rainbow for Arlo's room. The intention is to hang it above his crib to bring in a lot of texture. We live in an earthquake area, so I wanted something that could go above his crib but that wasn't as heavy as a frame! Tada! It's turning out SO WELL so far. You should have seen how many hours I spent trying to calculate if it would turn out right. The whole team wanted to kill me. Haha! Tutorial will be coming after the reveal.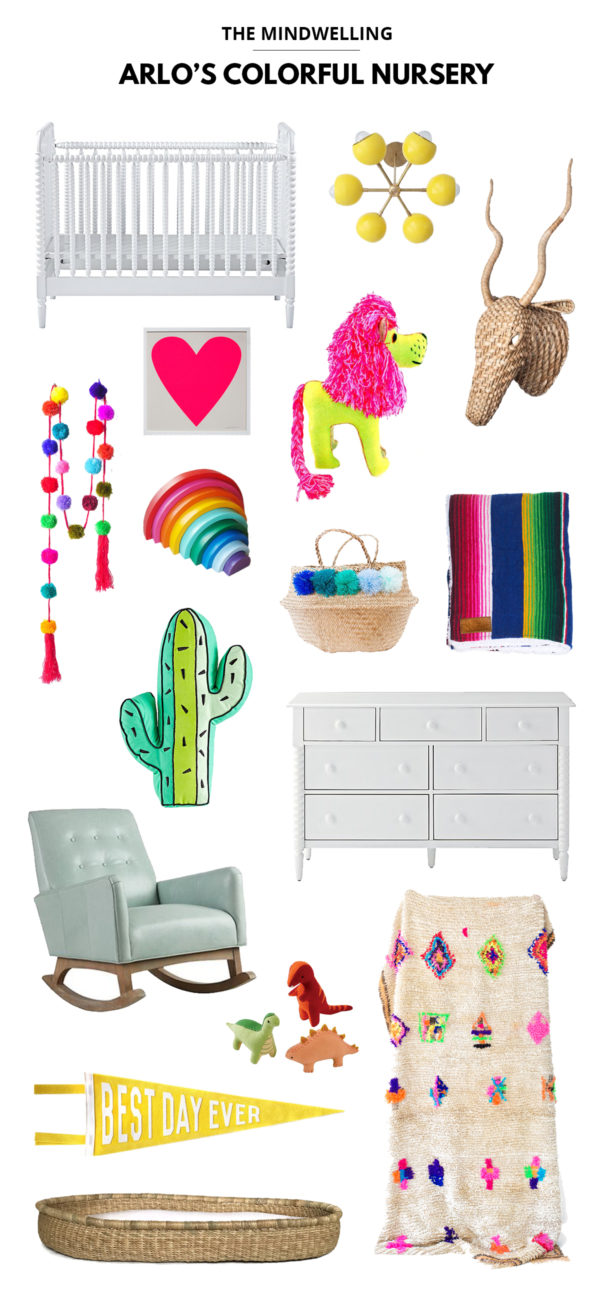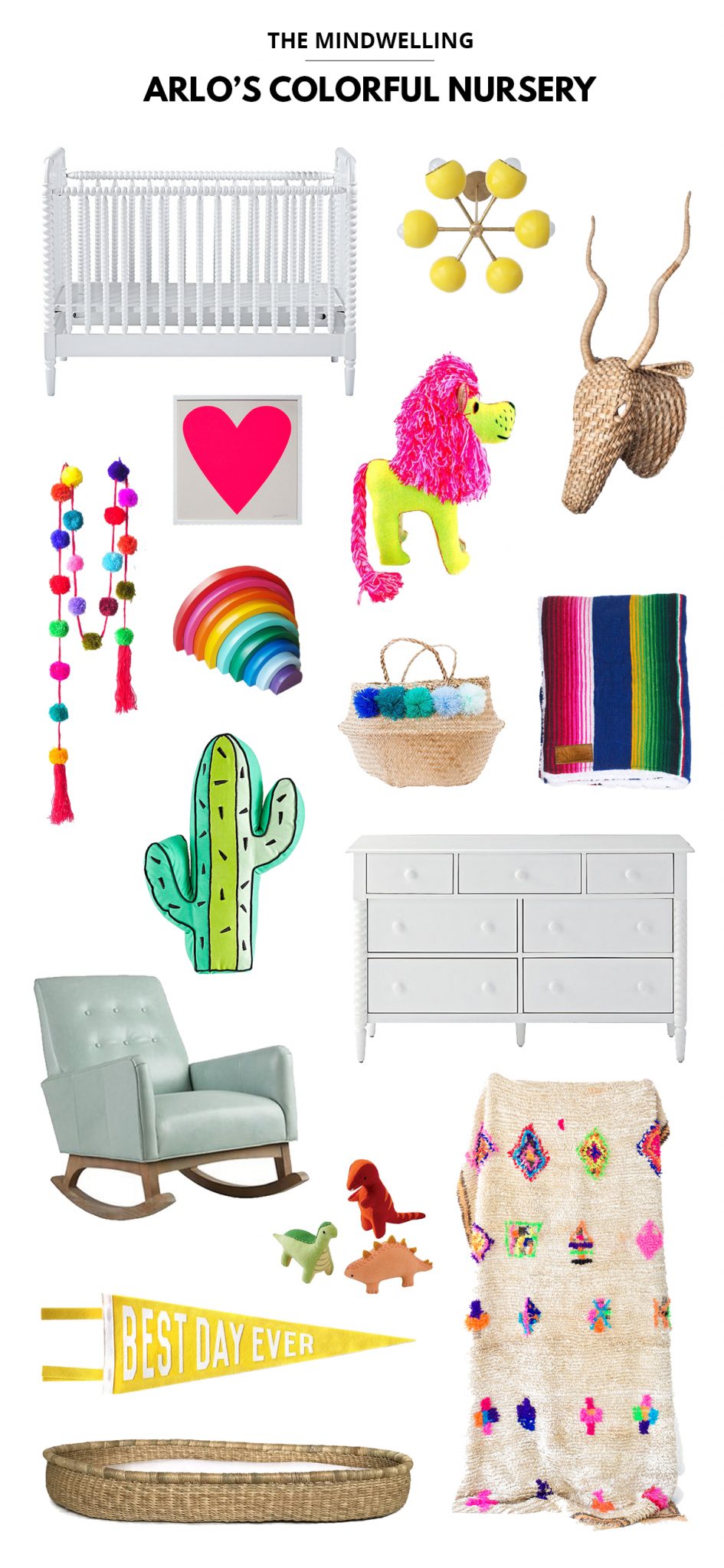 Above is just a QUICK sampling of core items we've picked out to give you an idea of how it's coming together!!!!!
Sources
Jenny Lind Crib* | Sazerac Stitches Pendant Lamp* | Woven Antelope | Lion | Heart Art Print | Pom Pom Garland | Rainbow Toy | Pom Pom Basket | Serape* | Cactus Pillow* | Jenny Lind Dresser | Mint Rocking Chair* | Dinosaur Toys* | Best Day Ever Flag | Changing Basket* | Moroccan Rug*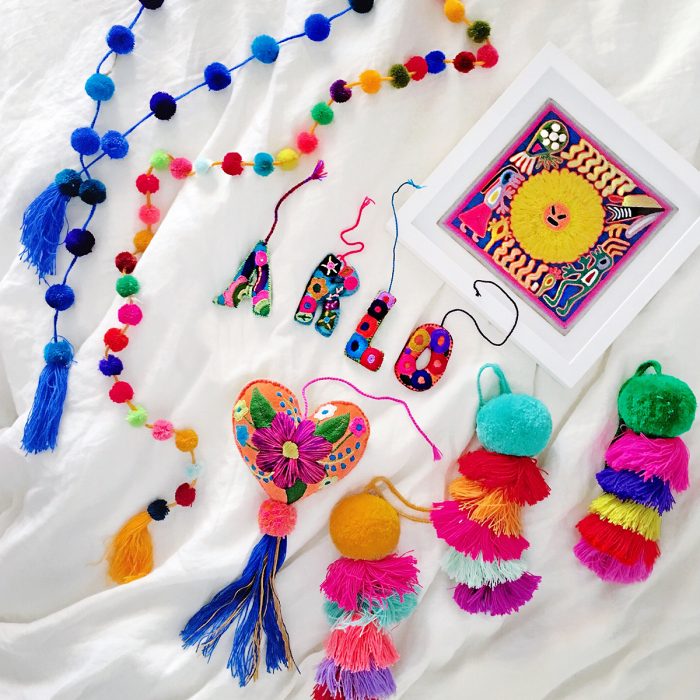 Sources
Pom Pom Garlands | Felt Letters | Tassel Heart | Pom Pom Tassel Charms | Huichol Yarn Painting
We wanted Arlo to be surrounded by items made from from artisans around the world. We want him to grow up knowing and respect all cultures and the beauty they hold. Because of Arlo's Mexican heritage, we've been working especially hard to bring as much Mexican culture into his life as possible. One of the smaller ways we're doing so is by filling his room with handmade items from the country, like the letters and the Huichol yarn painting.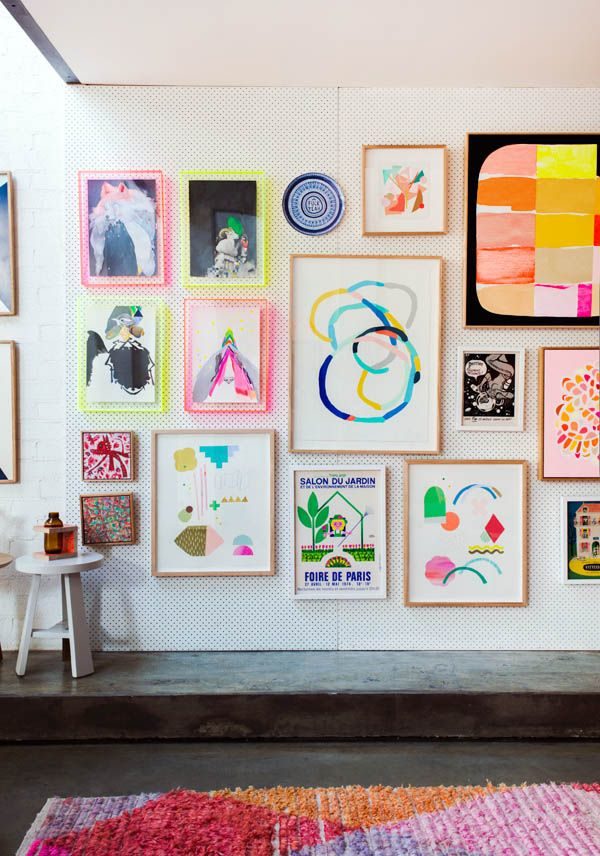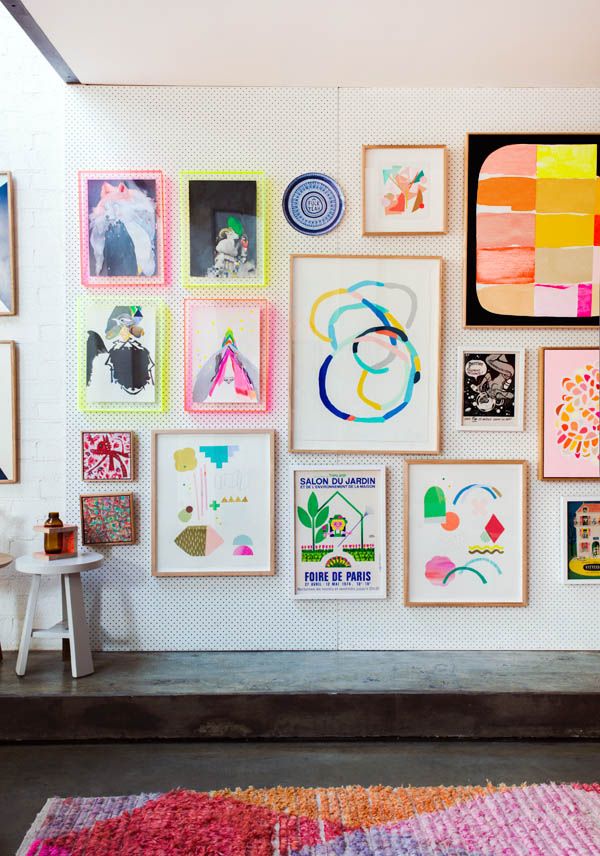 We'll be turning the ledge in his room into a colorful gallery ledge filled with lots of pieces that carry meaning for our family or were created by friends of ours. The above photo is MY FAVORITE GALLERY WALL THAT EVER HAPPENED. I've included it in every board I've made for the house. Ha! I especially love those neon frames, but haven't sourced them yet. We will, however, be incorporating neon in other ways. Hint hint.
The below photo illustrates something I've noticed is really common in all the rooms I've loved.. these clusters of art, garlands and other items. I don' know what it is about it but I love that it's not perfectly styled or put together, but rather an eclectic collection. I've been collecting SO MANY goodies to display all over his room in any little nook I can find!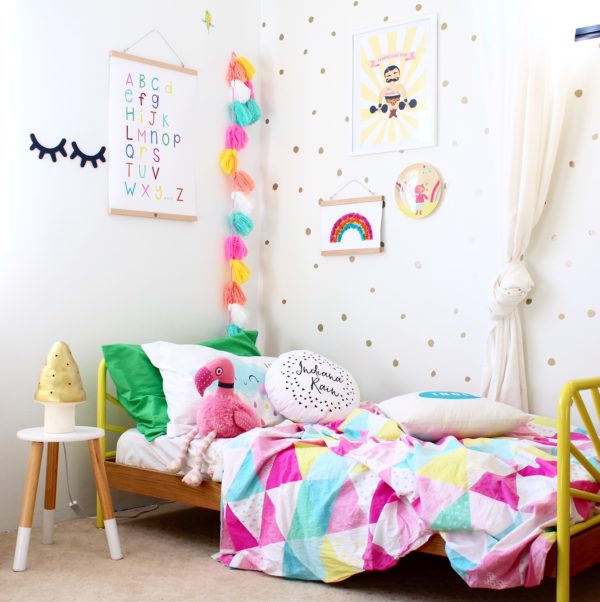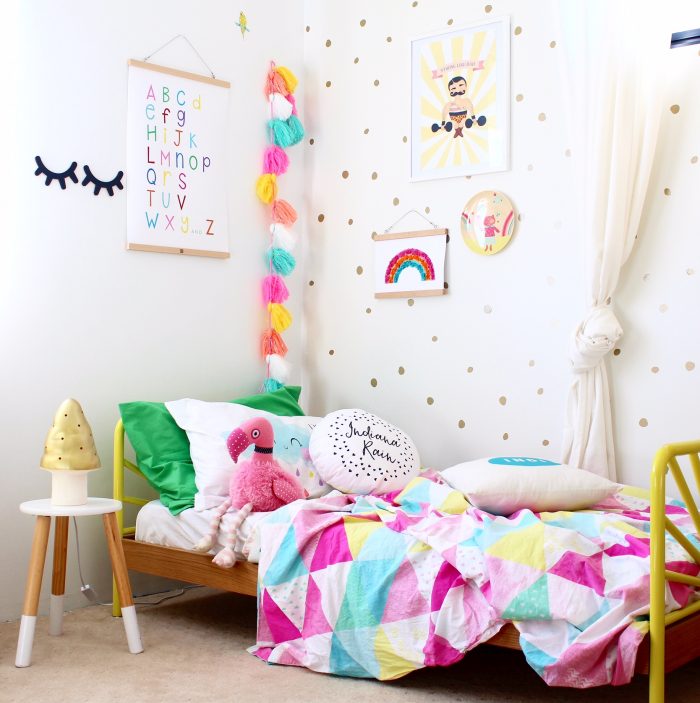 So there you have it!! A quick peek into baby A's room. It's a lot, but that's just the way I like it. We're working on gathering the rest of the items and then installing everything in the next couple weeks and I can't WAIT TO SHARE the final room with you!!!!!!
(Photo sources: Yellow door photo by Studio DIY | Crib Photo by Baba Souk via Petit & Small | Rainbow Wall Hanging Photo by Laybabylay via Baby Letto | Pom Pom photo by Studio DIY | Gallery Wall via The Design Files | Bed Photo via Four Cheeky Monkeys)
*Indicates all items generously gifted to us or provided in part of a sponsorship. All opinions are my own and all items are genuinely ones that we love!
SaveSave
SaveSave