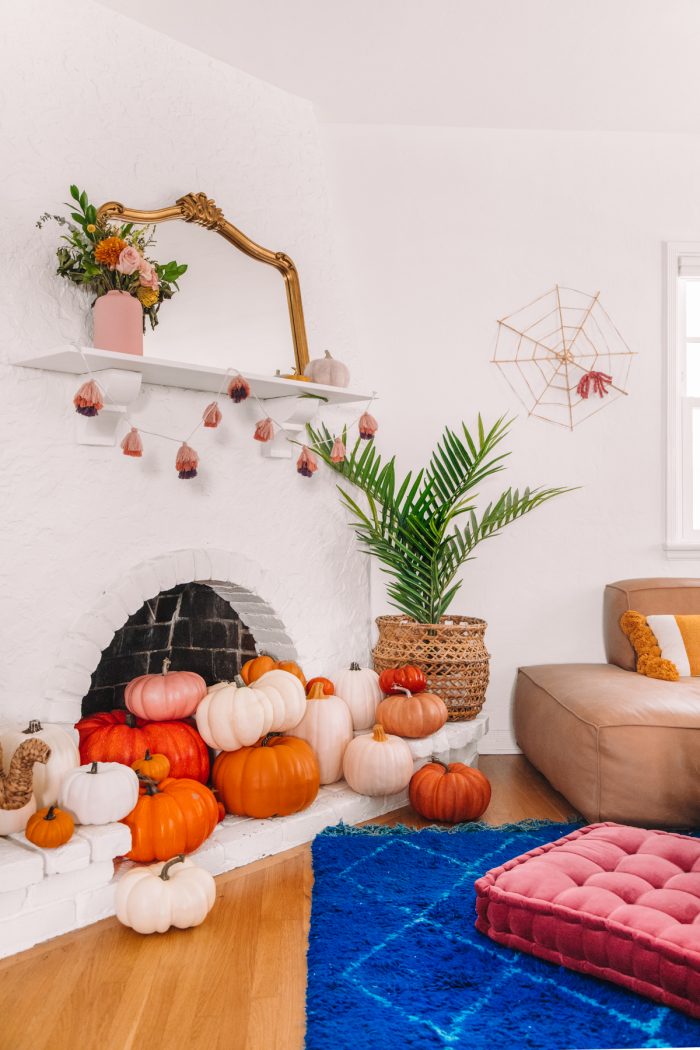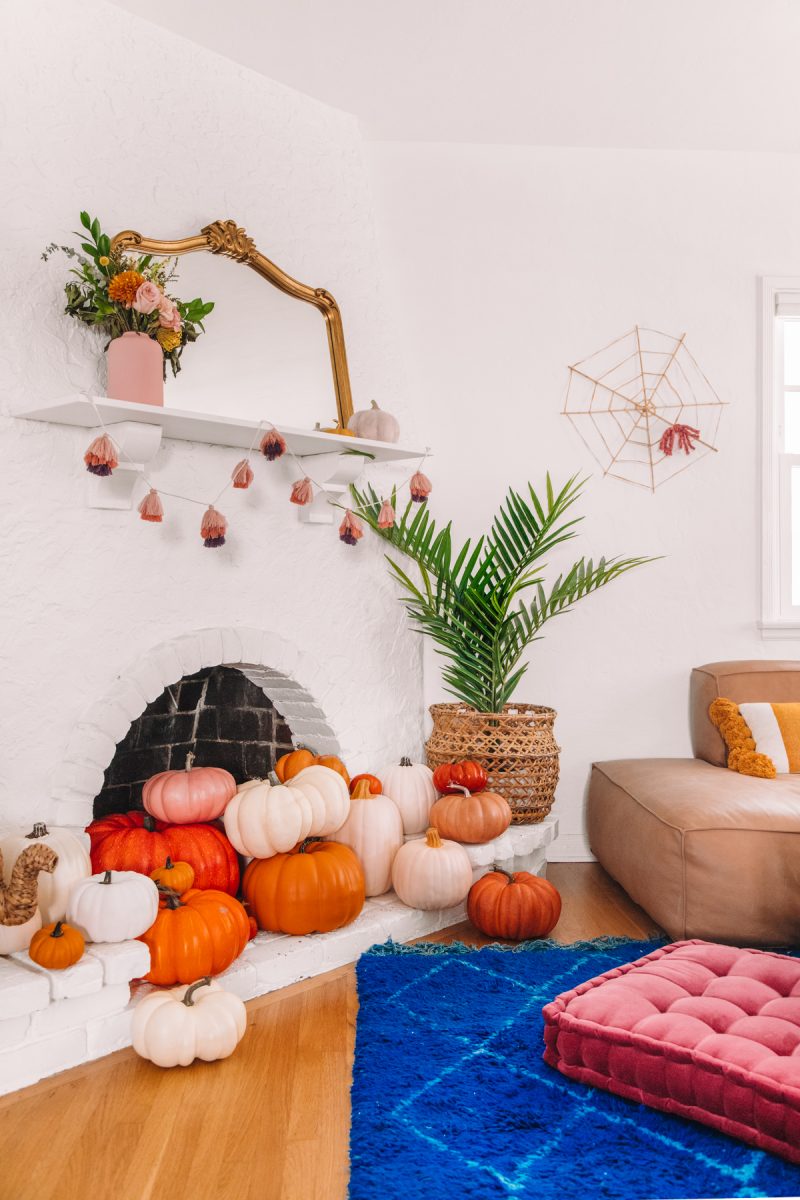 This is the first year that I've decorated my house for Halloween early enough to share it. Ha! Hallo-leujah! 😉 My mom always had fun decking out our house for holidays and since becoming a mom, I've really loved doing it too.
Every day I added something new and when Arlo got home from school he'd see it and absolutely FLIP out with excitement! "WOAH! Bats, mama!!" "Woah! Pumpkins, mama!" or his recent favorite, attention getting reaction… "I scared!" Ha, he's not. 😉
I got to work with Command™ Brand for this post, one of my favorite brands!!! We have their products all over our house hanging various banners and art prints, but they recently launched a new line of products which is pretty cool for holiday decor and parties. They are the new Command® Adjustables™ Products, and in case the title wasn't clear enough… you're able to reposition the new hooks and clips up to three times within the first 20 minutes of hanging them, so you can get your decor just right! If you're familiar with my "Measure twice, cut 17 times" method of doing things… this has been life changing. Ha!!
I'll show you how I used 'em below, along with all our Halloween decor this year!! Enjoy the tour!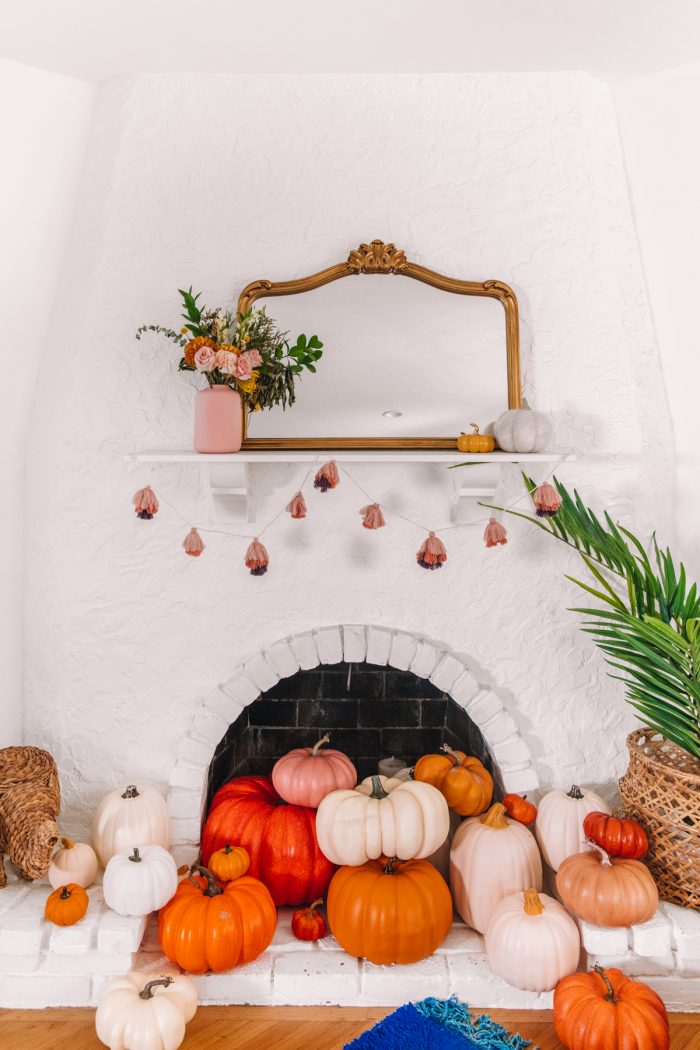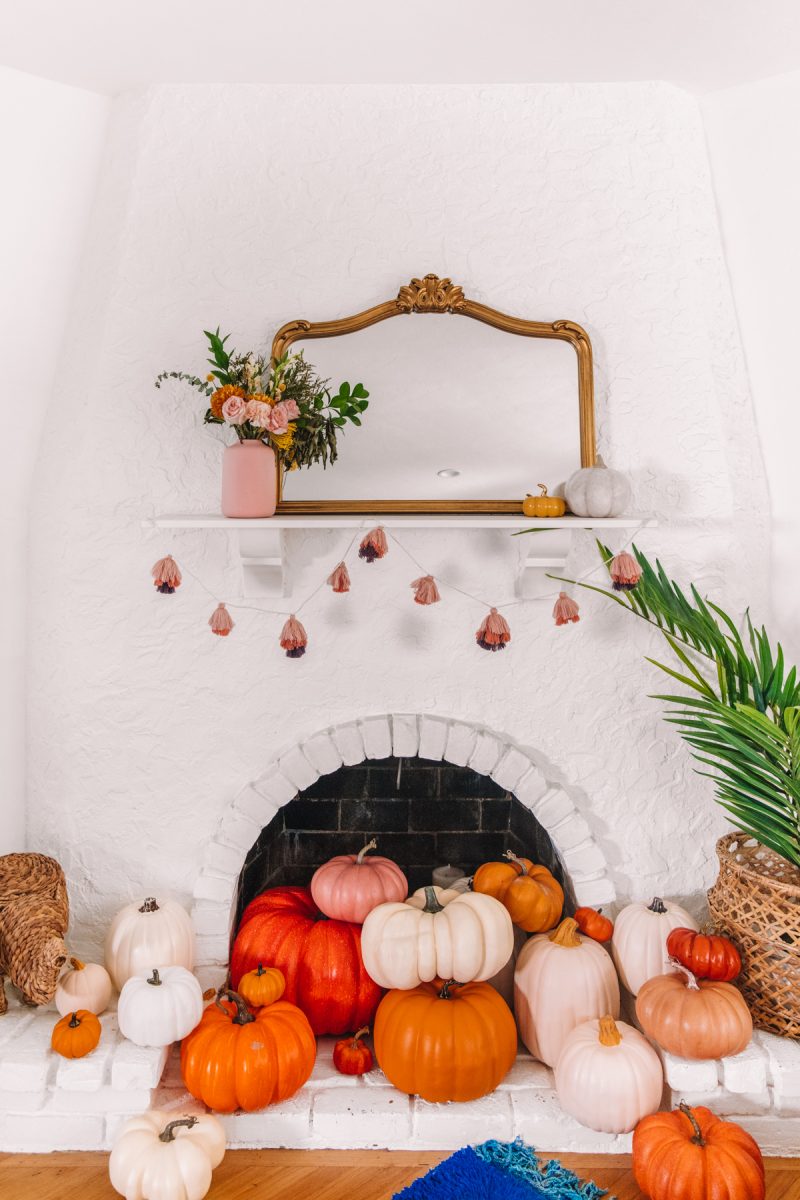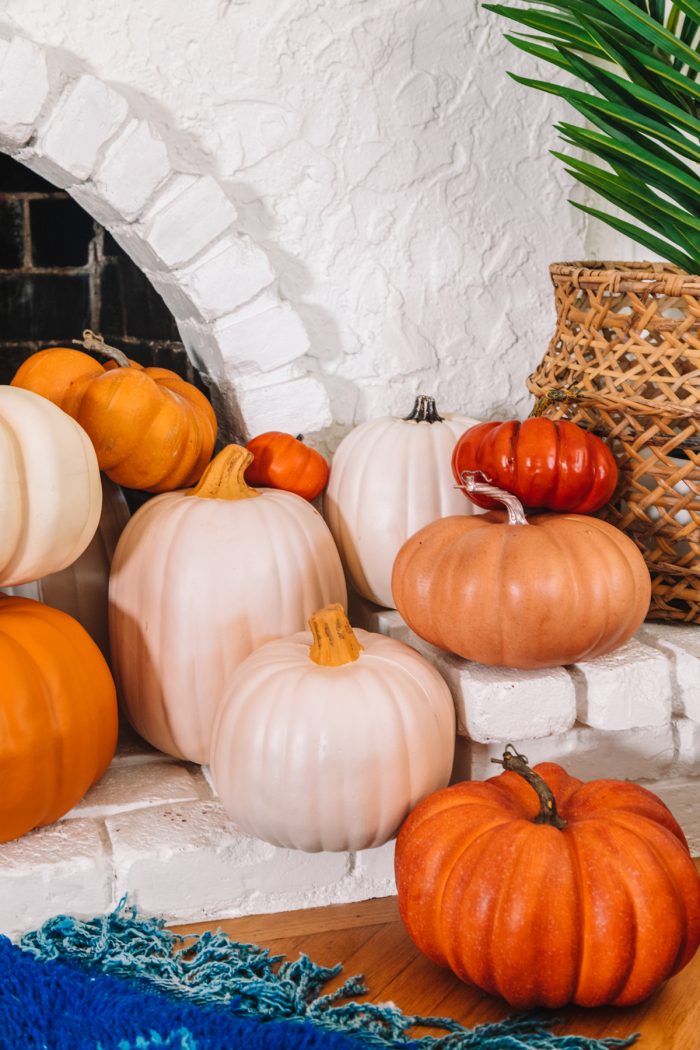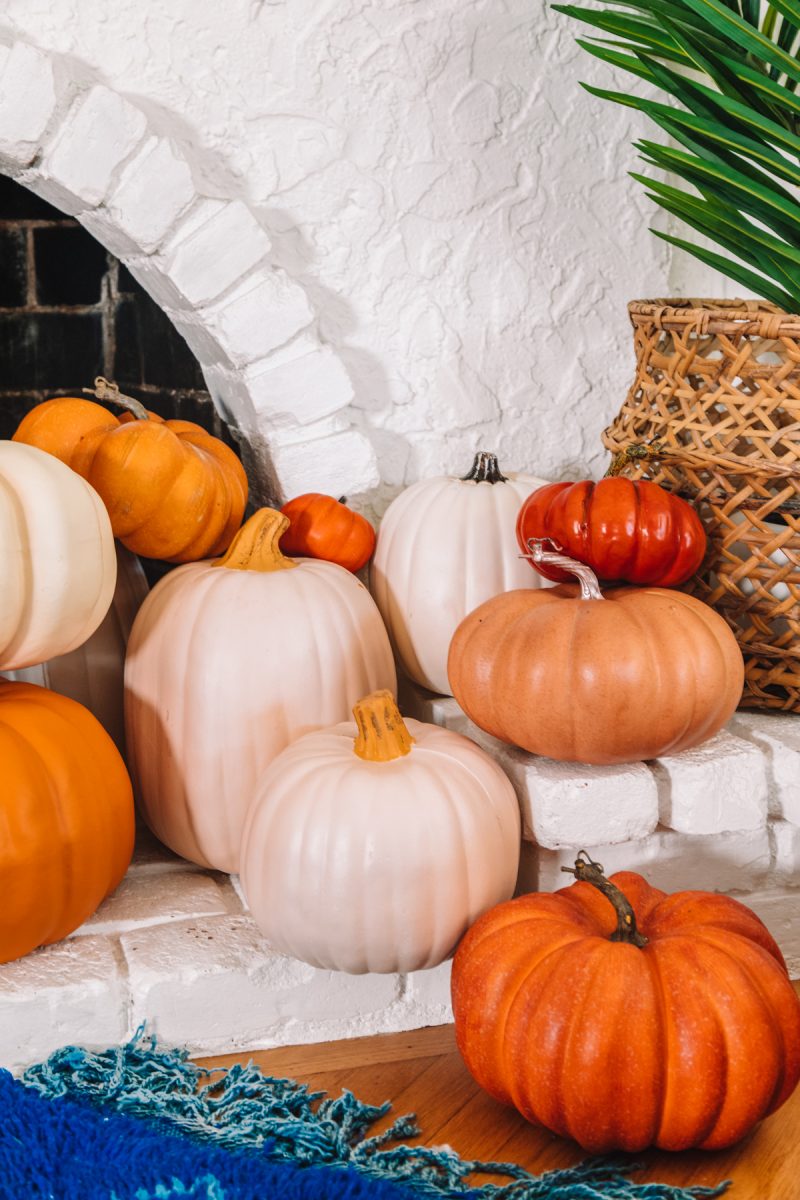 Since our fireplace is non-functioning, I started my pumpkin fireplace tradition last year and it's my favorite!!!!! If you want to do the same, keep an eye out for when pumpkins go on clearance at your fave craft or other retailers. You can scoop up a BUNCH at a great price that way!!
This year I also added a tassel garland and then this cute tassel hanging on the wall where I turned one into a ghost!! I just made a tassel out of white yarn and hot glued a felt ghost face on him!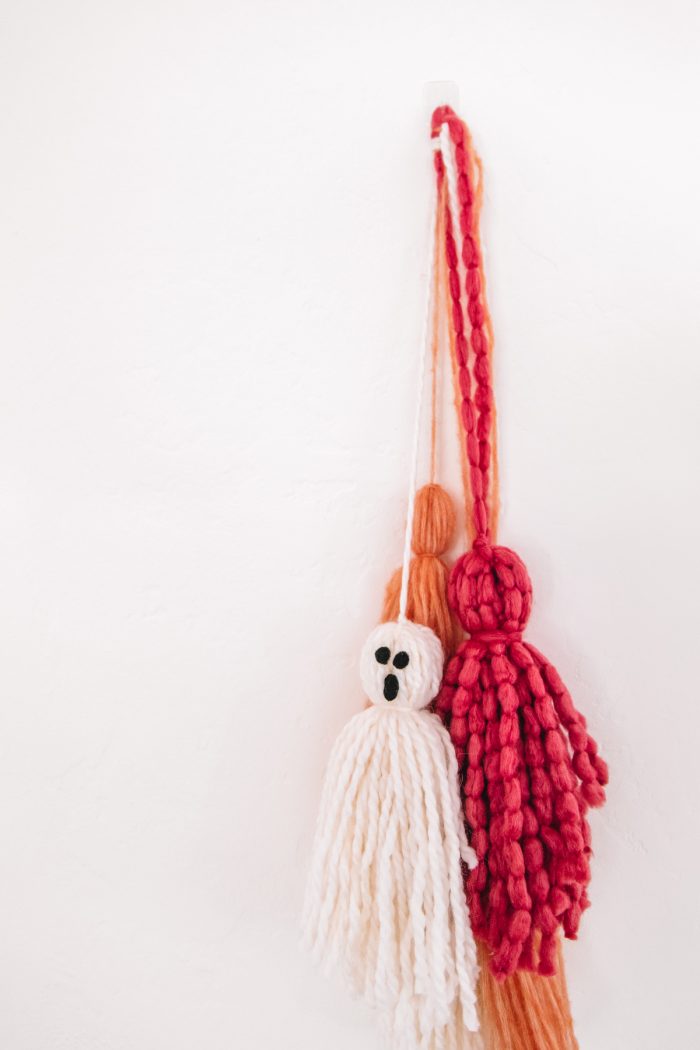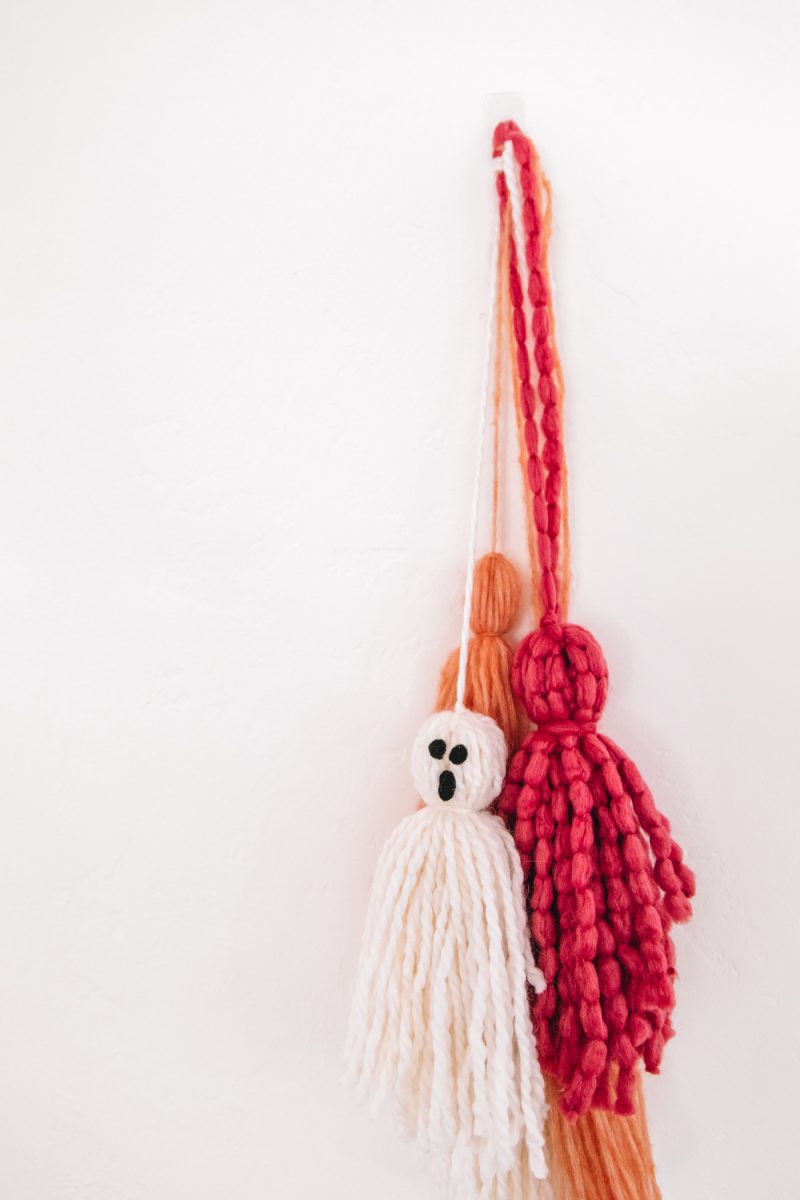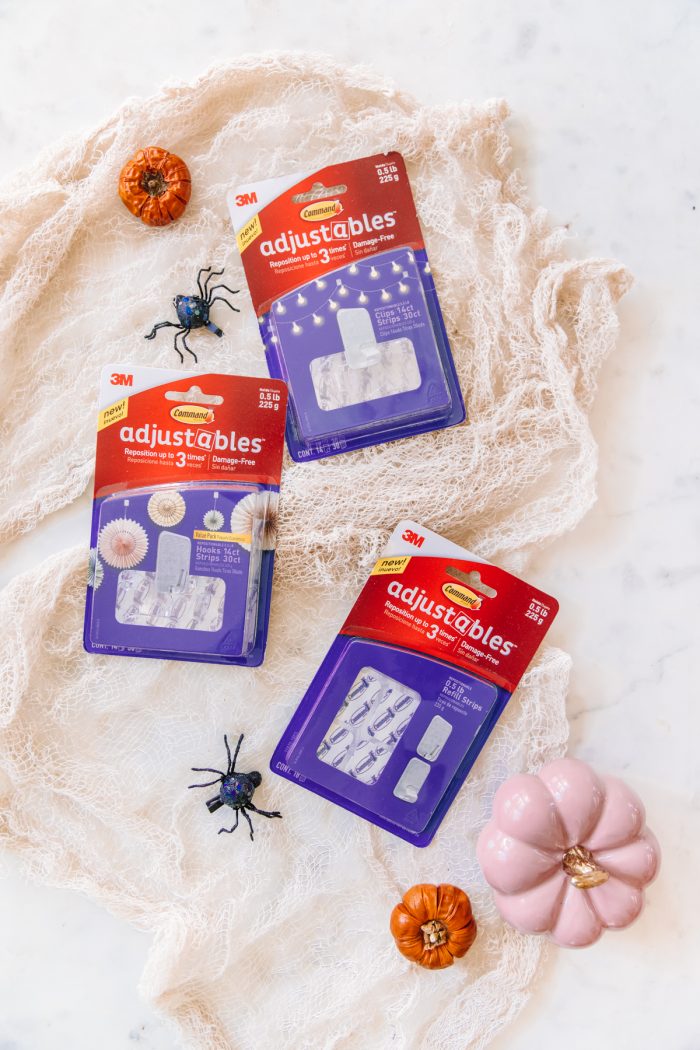 The Command® Adjustables™ Clips and Hooks can hang items that weigh up to 1/2 lb so they're perfect for things like garlands, banners, string lights and, in the case of Halloween, spider webs!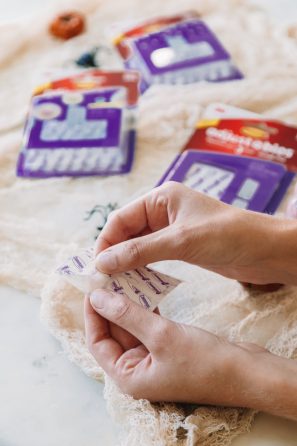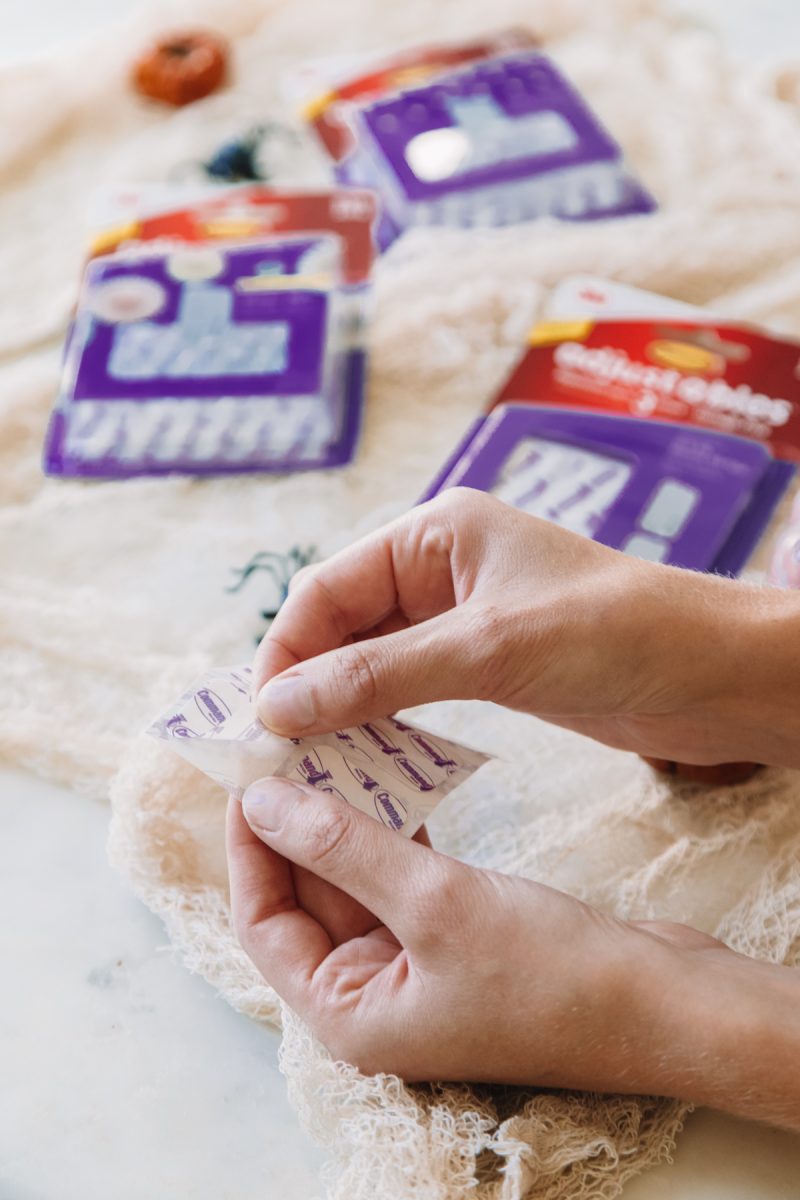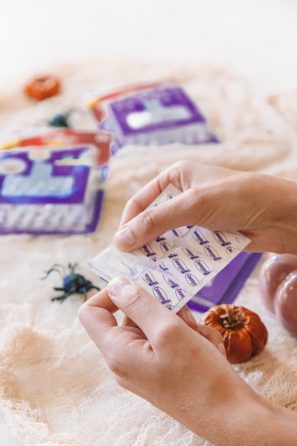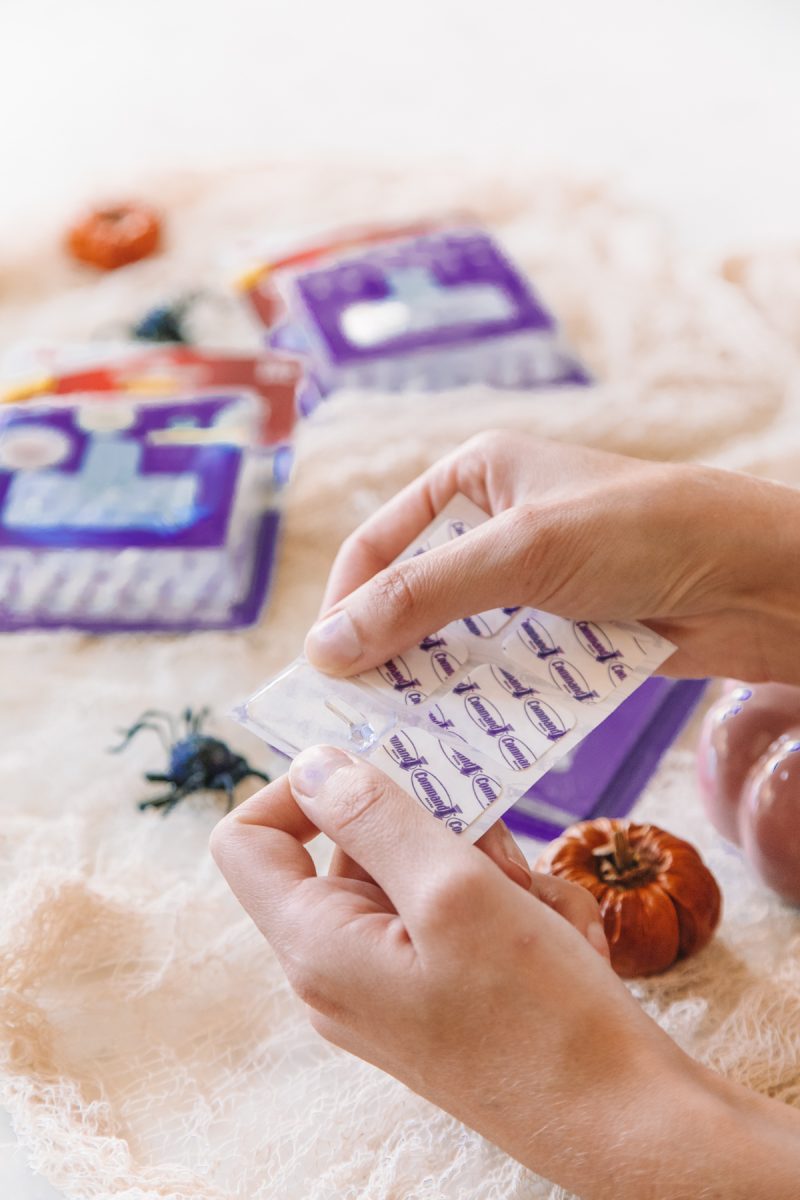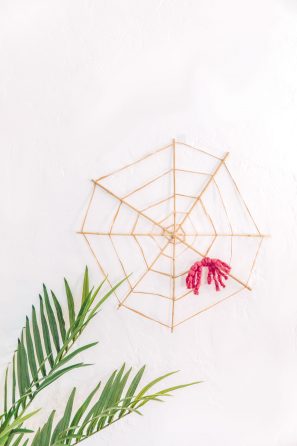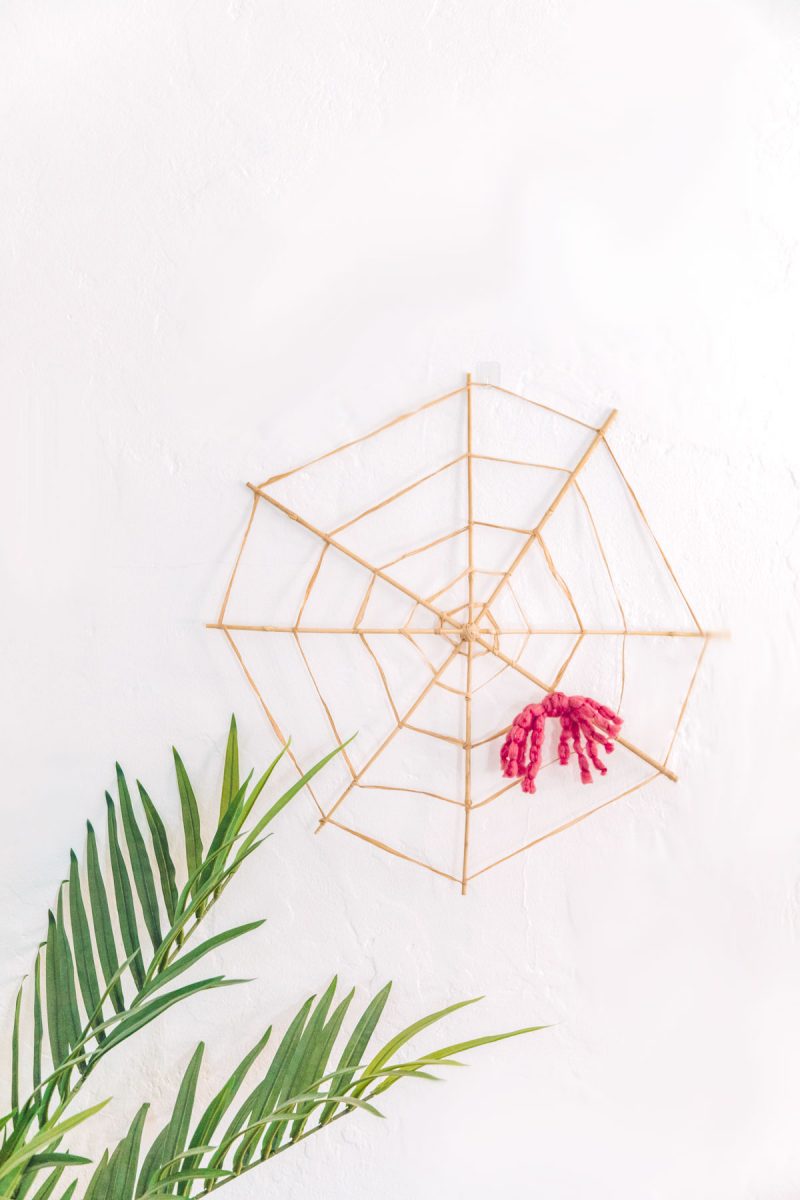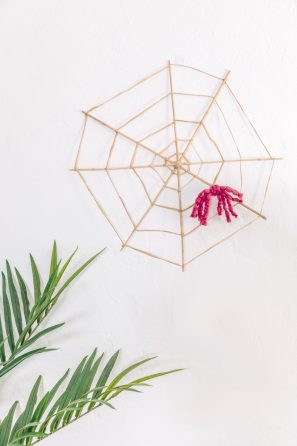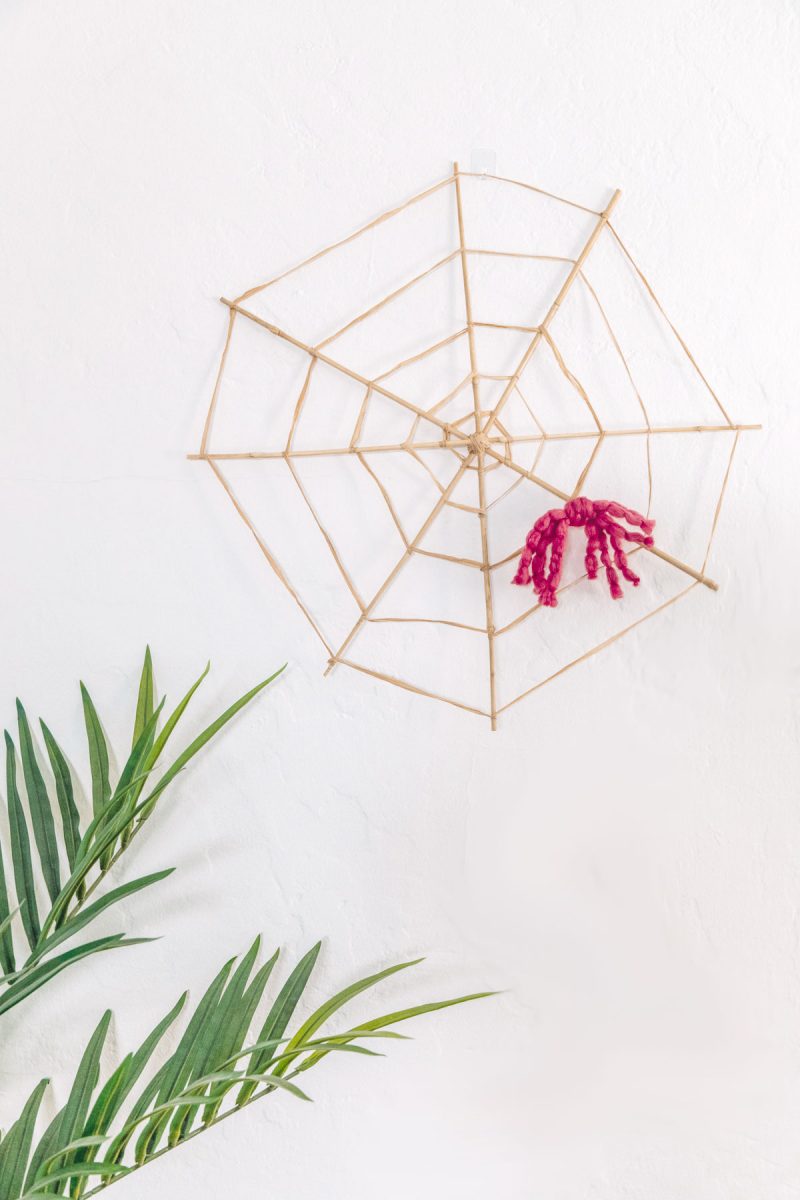 You can see above, you essentially remove the purple liner from the adhesive strip, apply the hook or clip and then peel it off the sheet. Place it on your wall and if you aren't happy with where you hung it, you can move it three times within the first 20 minutes and make it perfect. Once you like where it is, press firmly for five seconds and done!
To remove after the holiday, you just slowly peel the hook upwards and off the wall. The best part – they remove cleanly from the wall so no worries about damage or sticky residue. Each pack comes with enough adhesive strips to use the hooks twice so you can store them away for next year! (And they make refill packs too!)
You can see I moved the rattan spider web I made above after hanging it too low the first time, it was so easy!!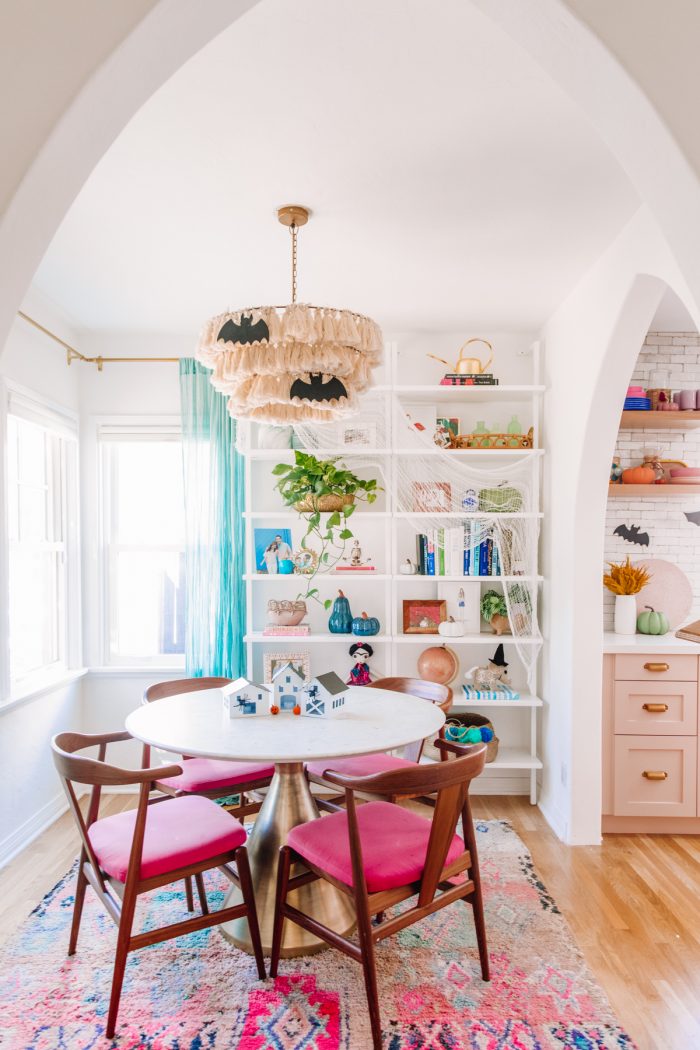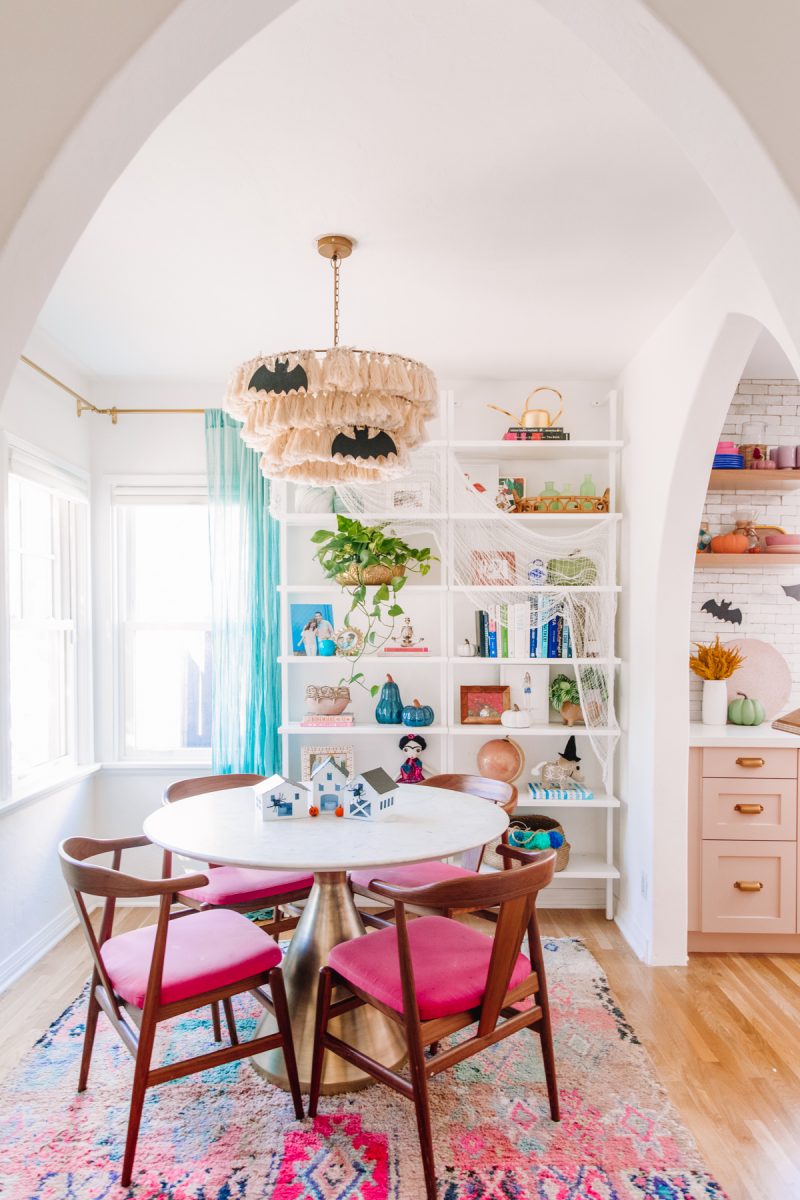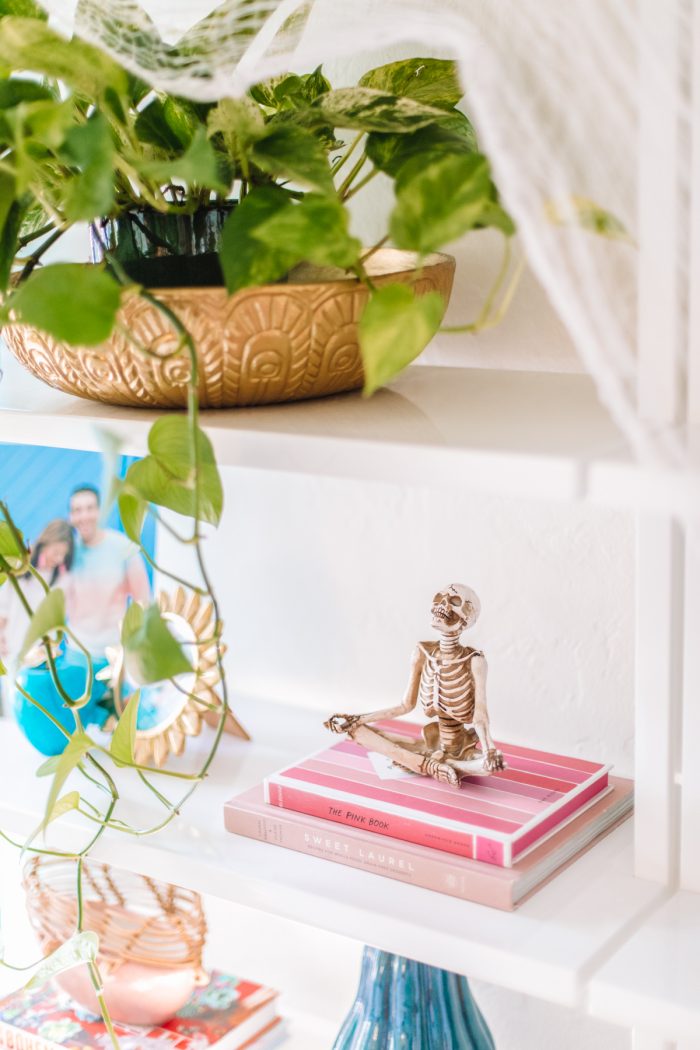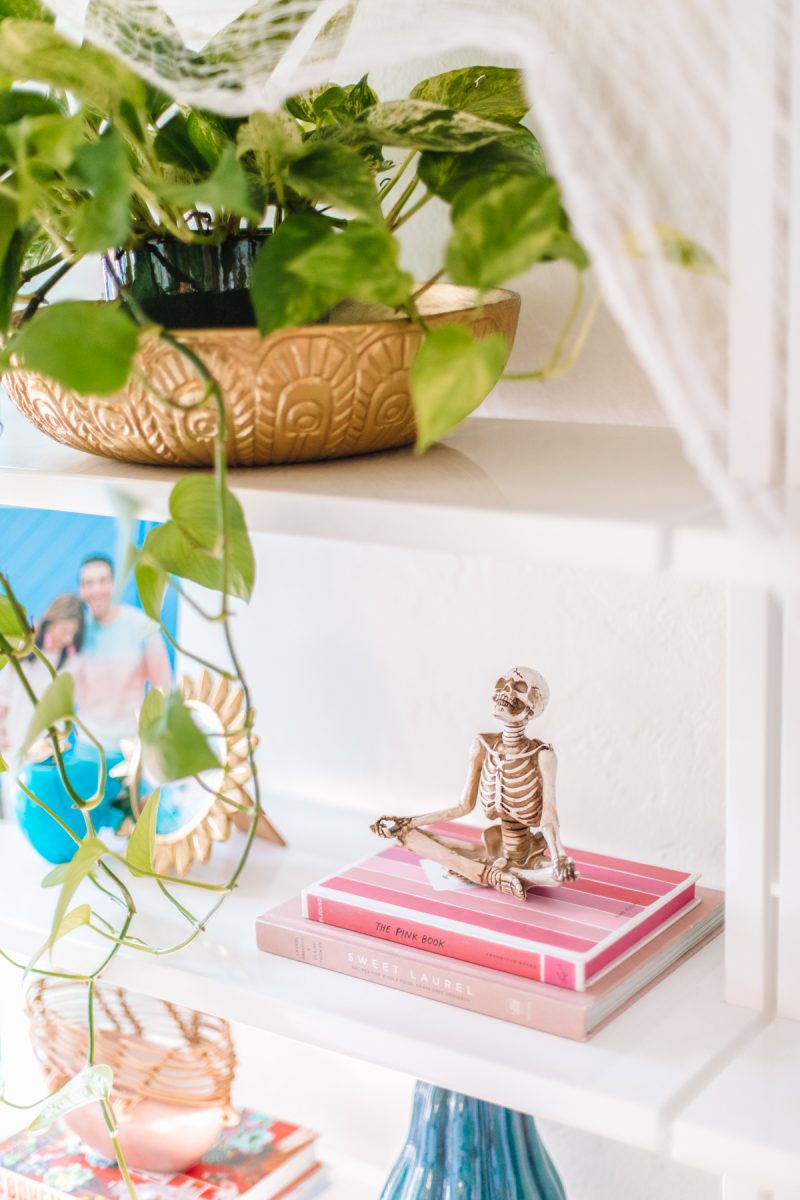 Over in the dining room, I hung up some spider web material over the shelving using the Command® Adjustables™ Clips. I hung them on the side of the shelves to hook the web onto. It worked perfectly.
Arlo's prized possession has been these "spooky houses" because he loves to turn the lights on and off! I'm pretty into the yoga skeletons and the bats on the chandelier!!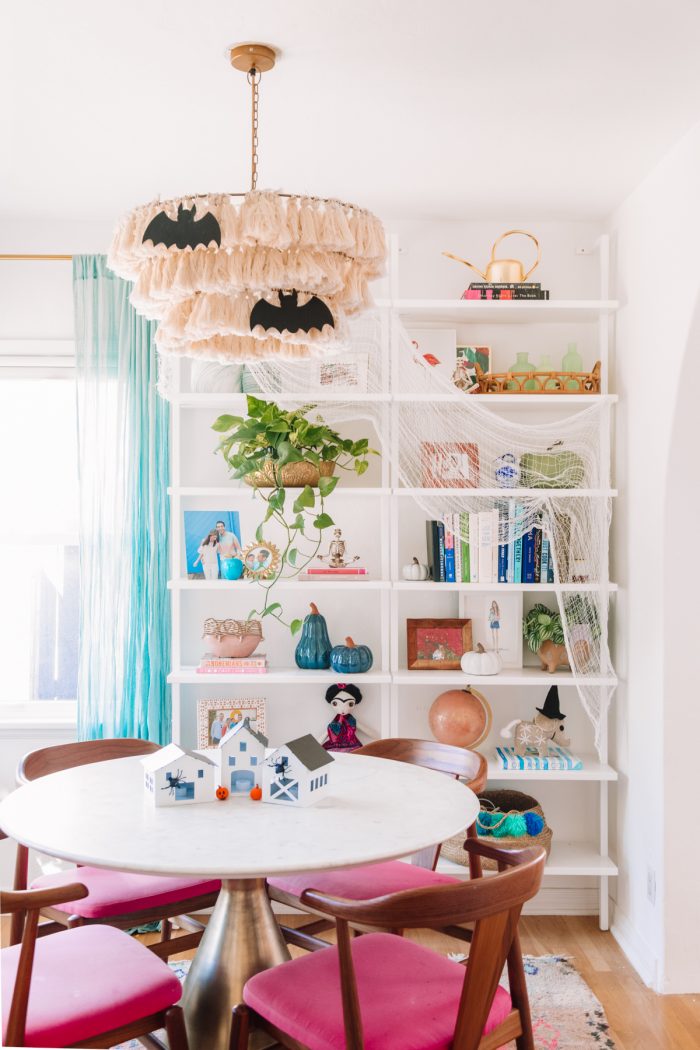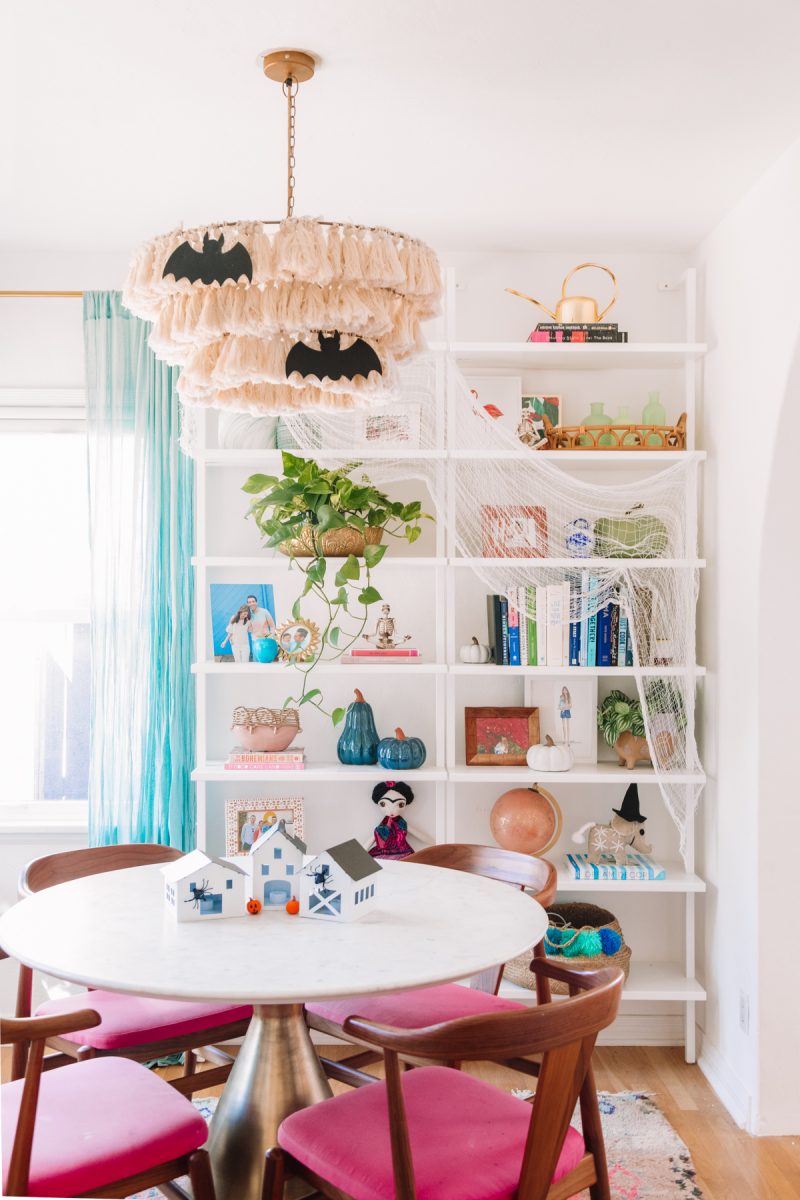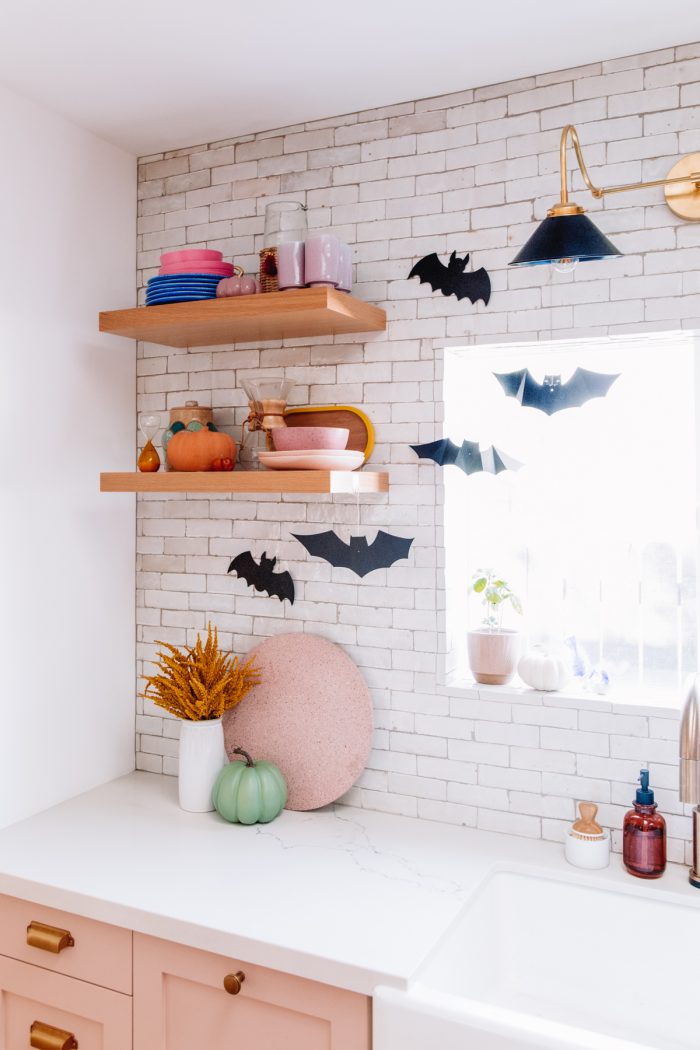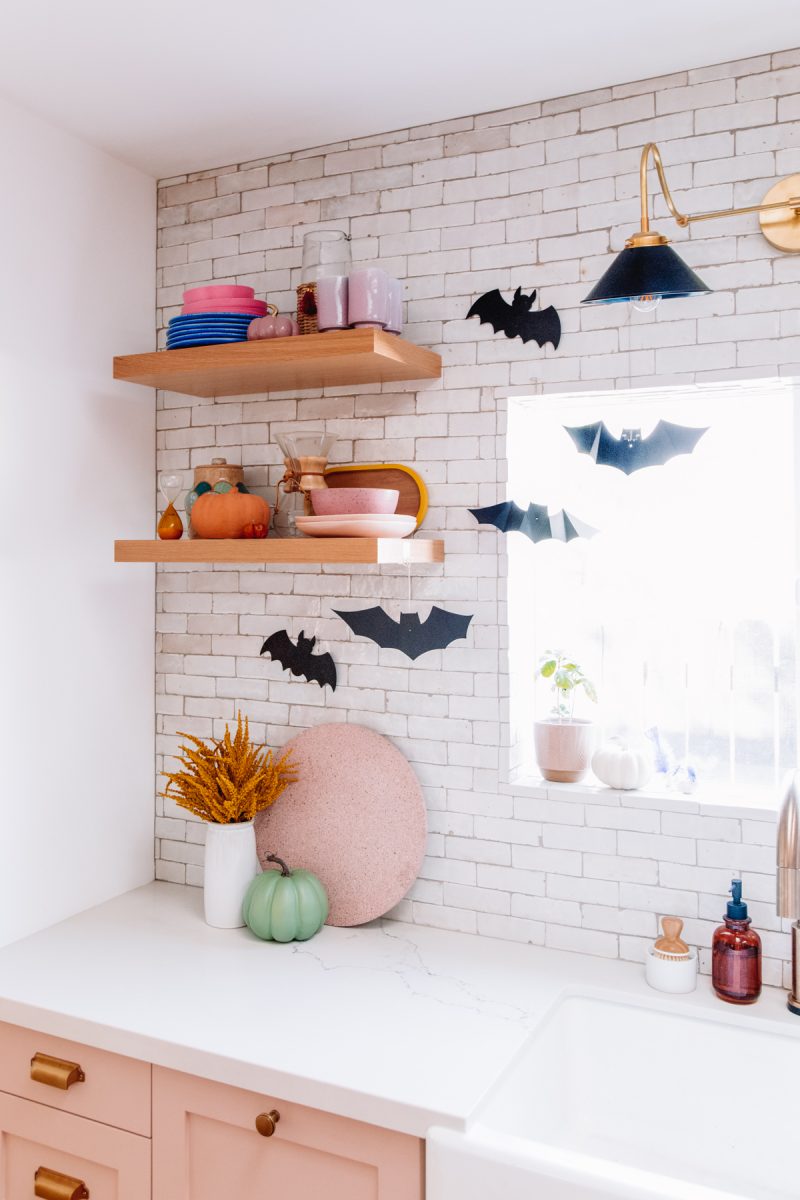 Continued the bat theme into the kitchen! Here, I hung a mix of paper bats (hanging off Command® Adjustables™ Clips on the tile backsplash and our shelves) and foam bats (just stuck right to the tile) to give it a little dimension. Next year I think I'm gonna go really crazy with all different size bats too!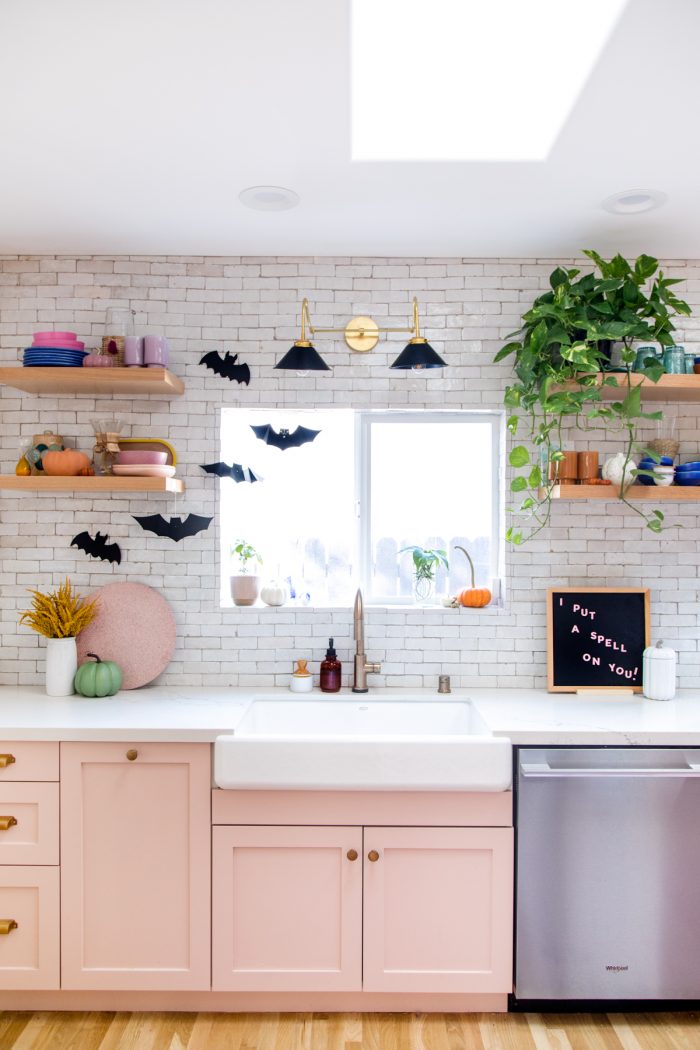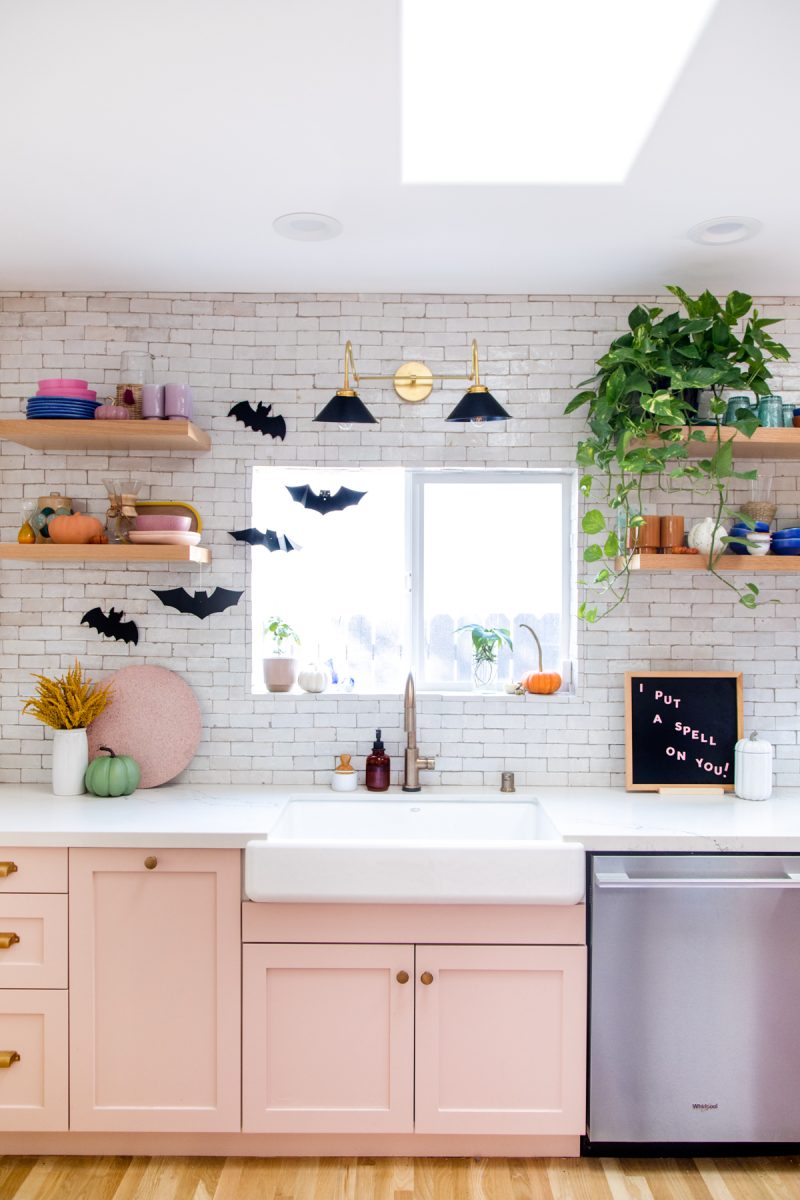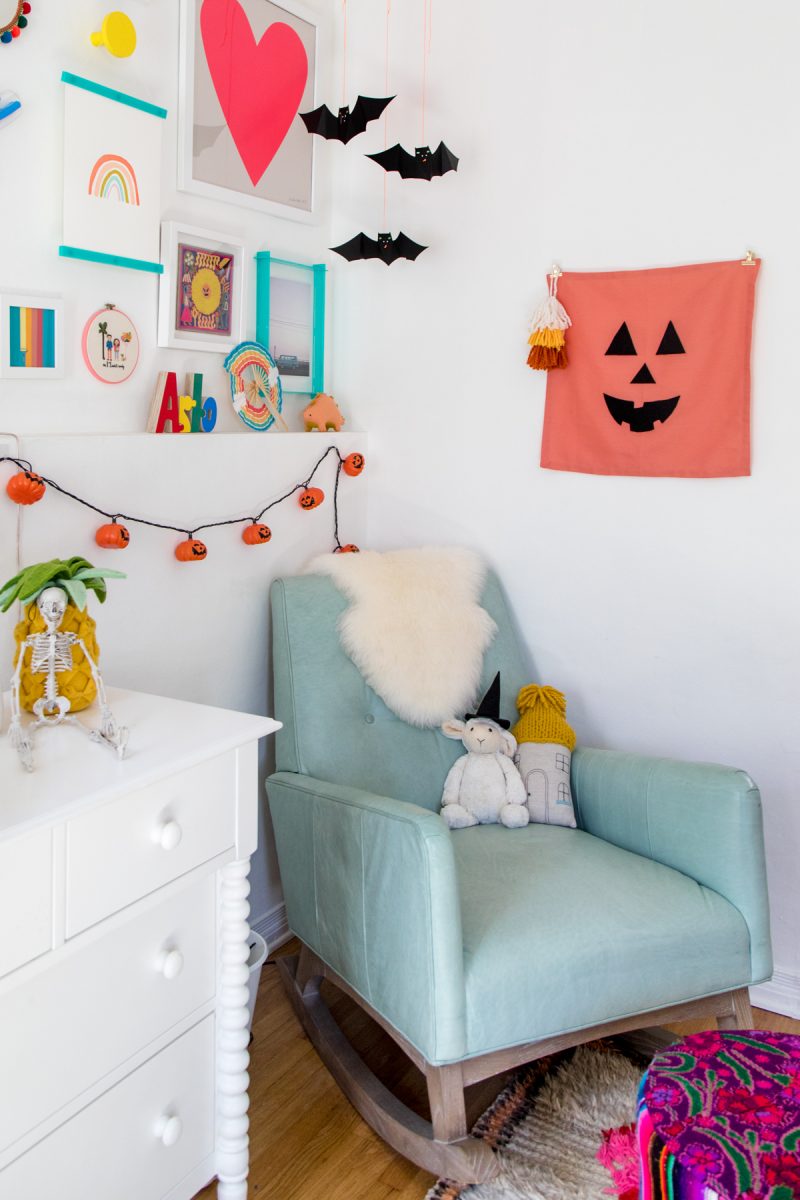 Arlo's room was obviously the most fun to decorate! I made the jack-o-lantern wall hanging using a linen napkin and some felt cut into a face shape! I just used bulldog clips, slipped over two hooks to hang it up.
We've been singing his goodnight songs by the light of the pumpkin lights lately and it's so fun. The whole room glows orange! Baby Karl (Arlo's beloved skeleton pictured above) also joins in the musical fun regularly. Hahaha!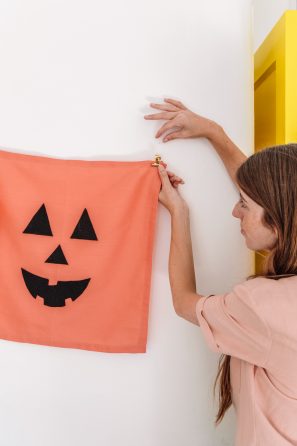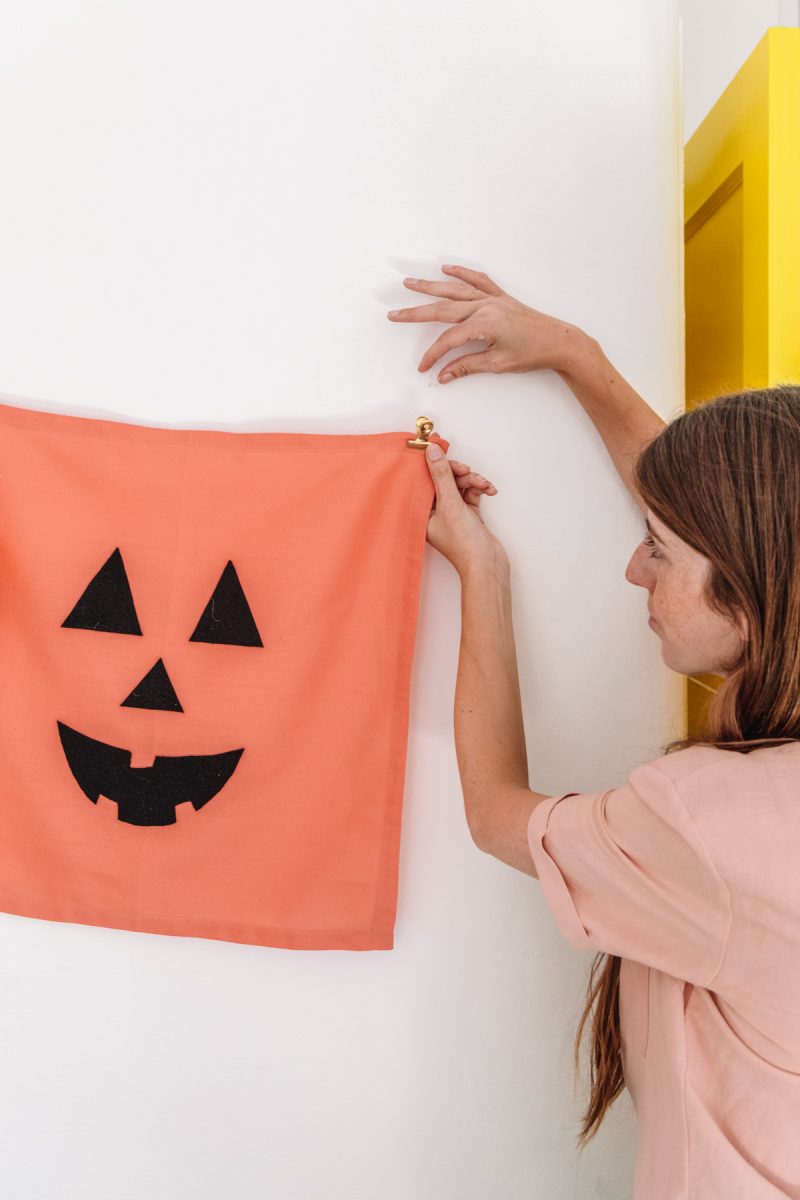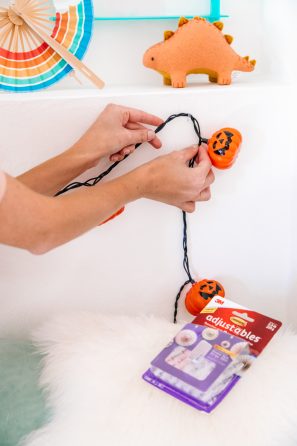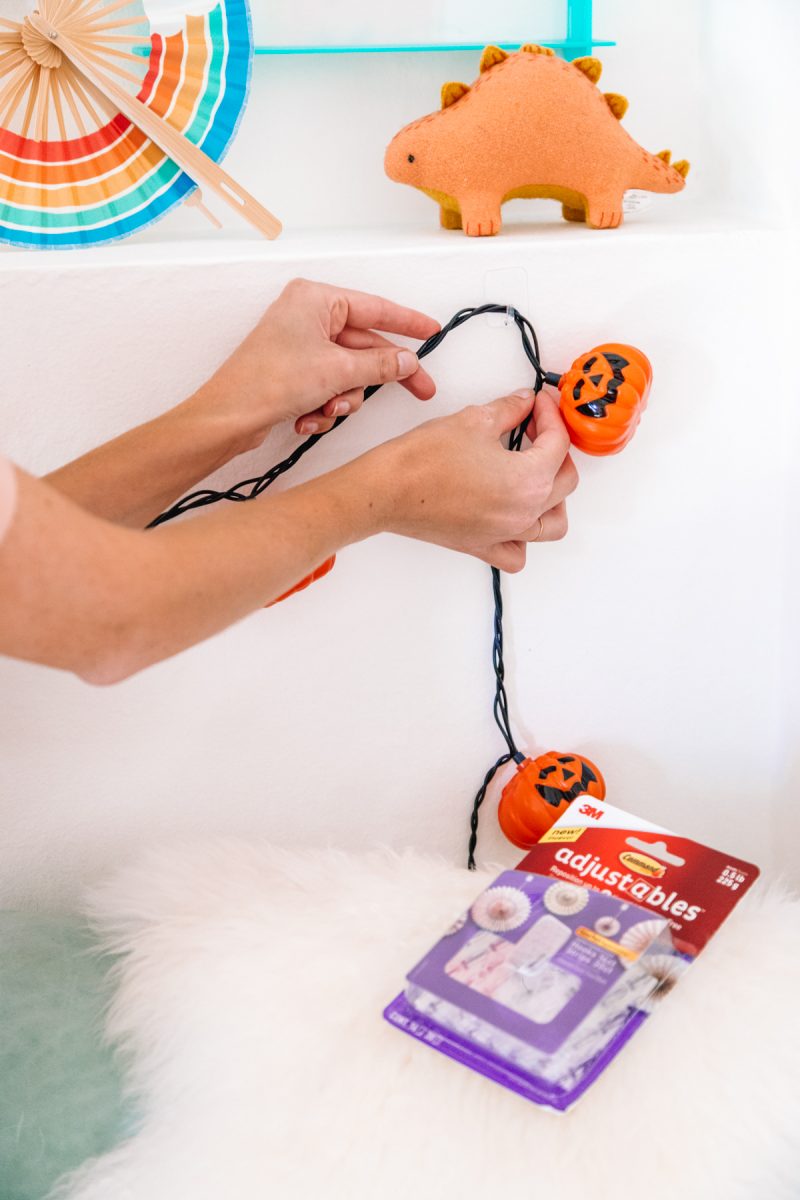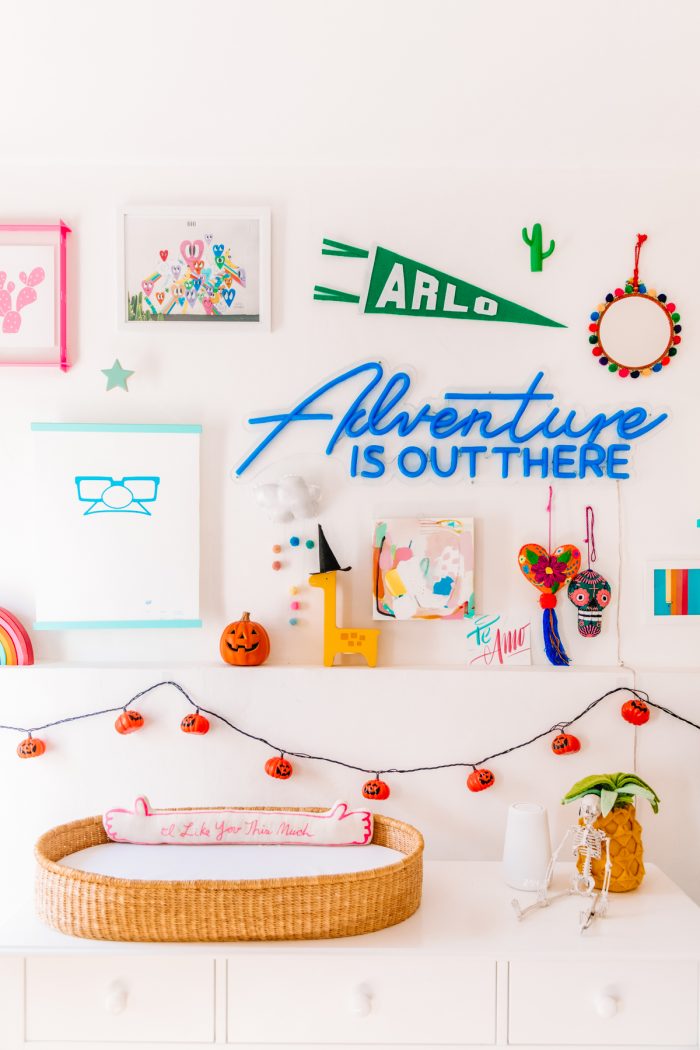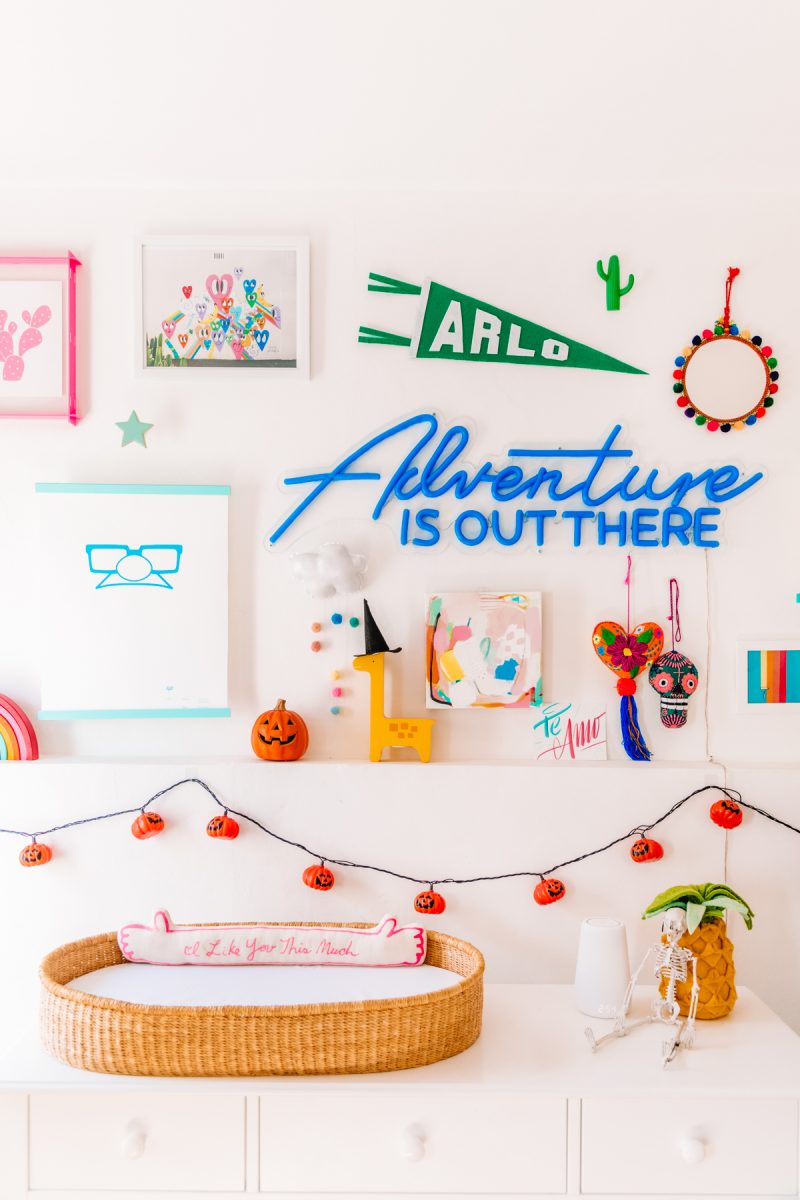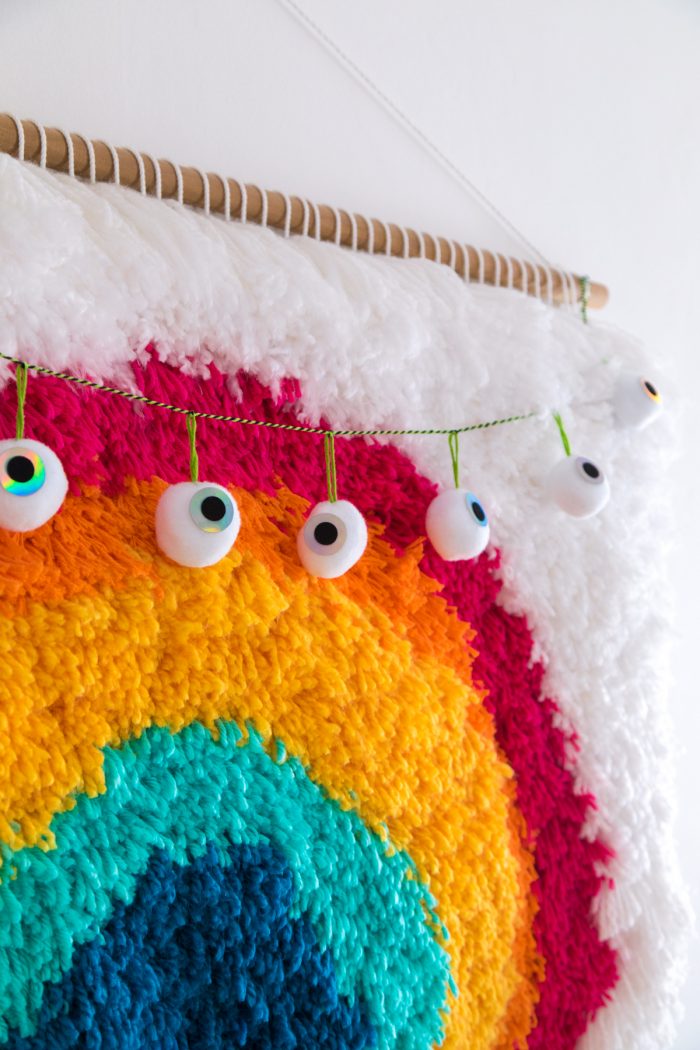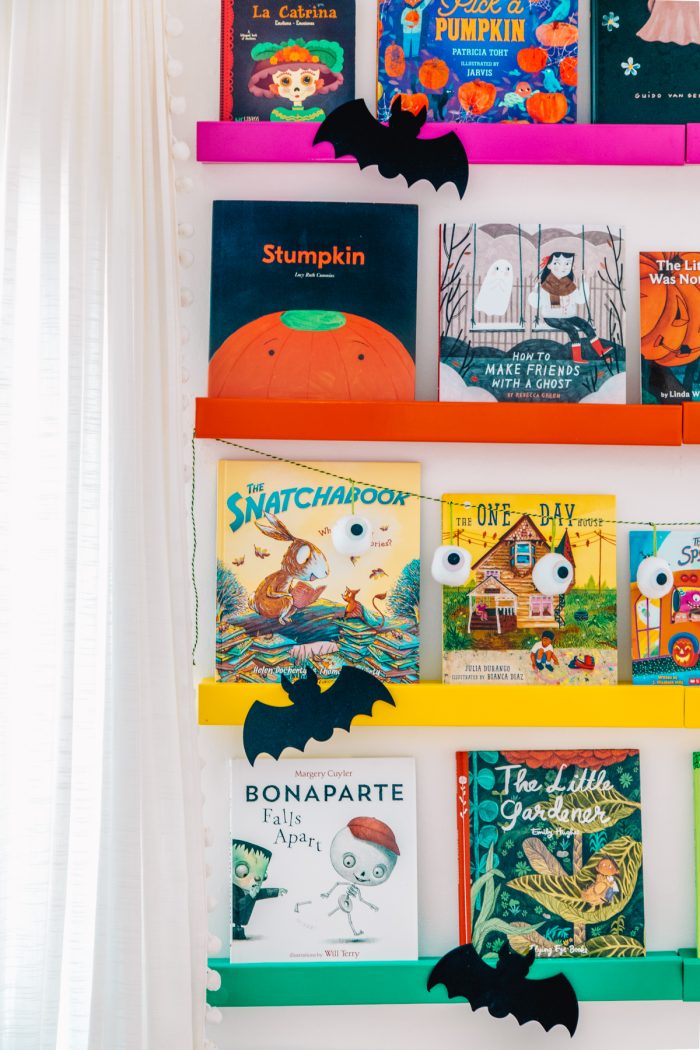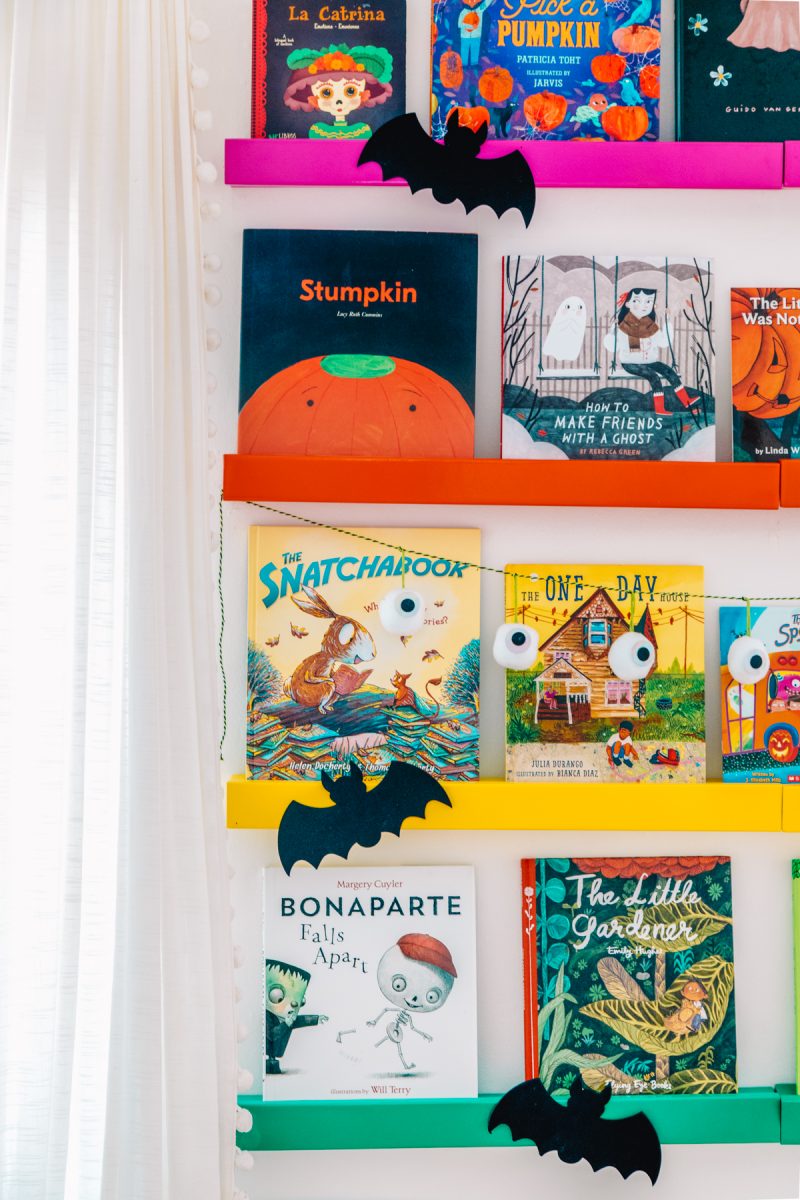 Last year, I made a bunch of witches hats to put on his stuffed animals and his lion rocking horse!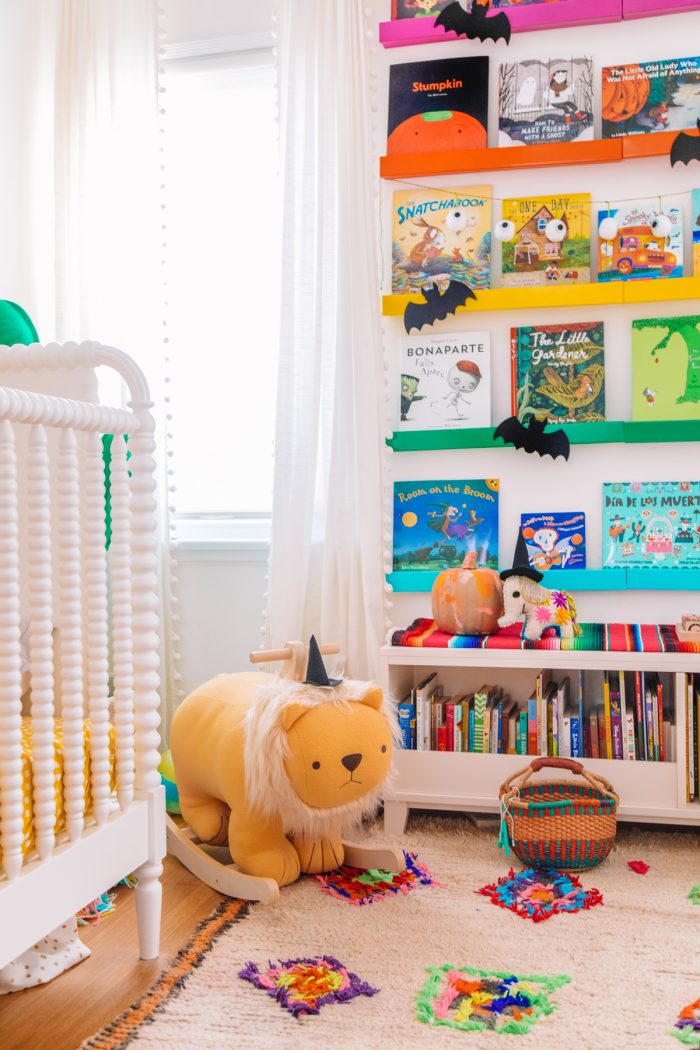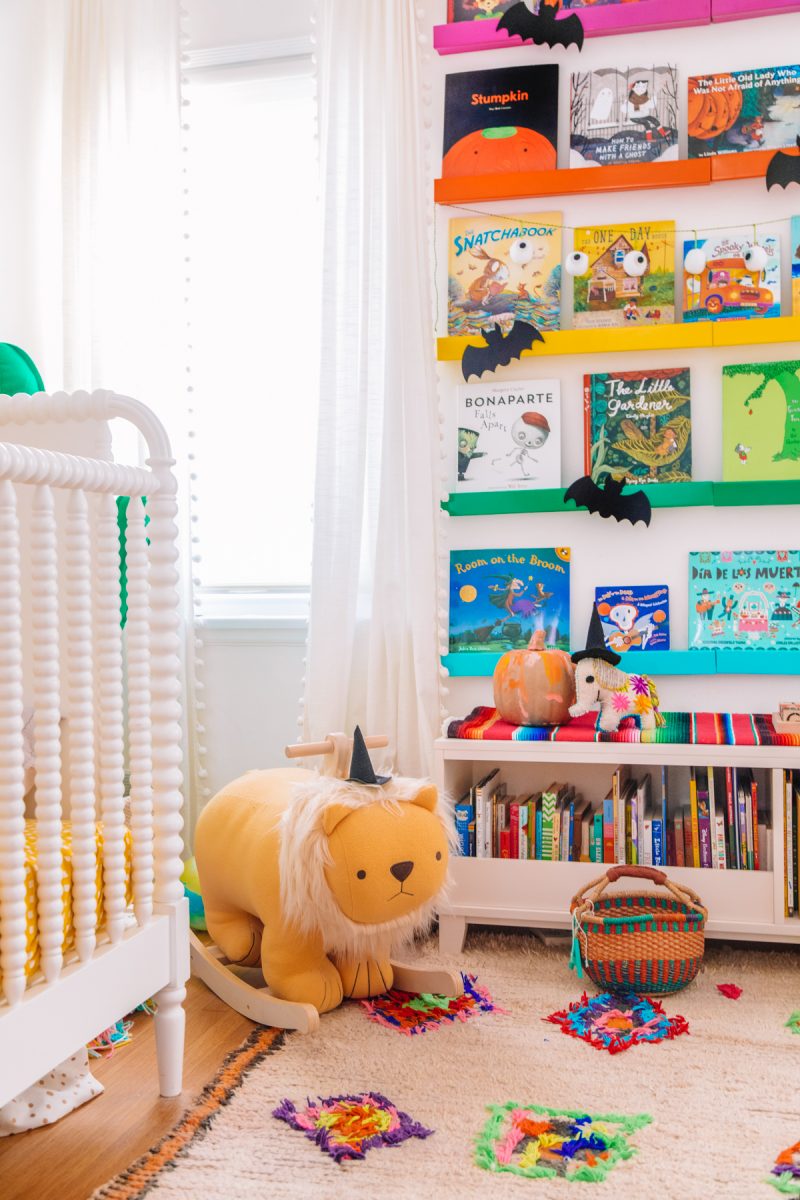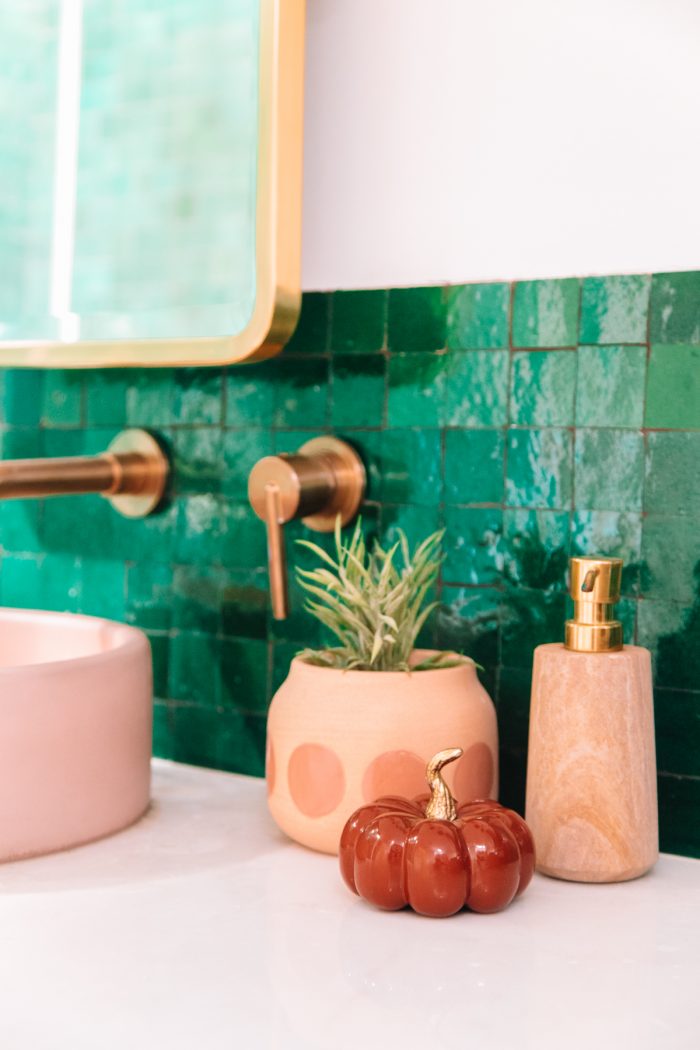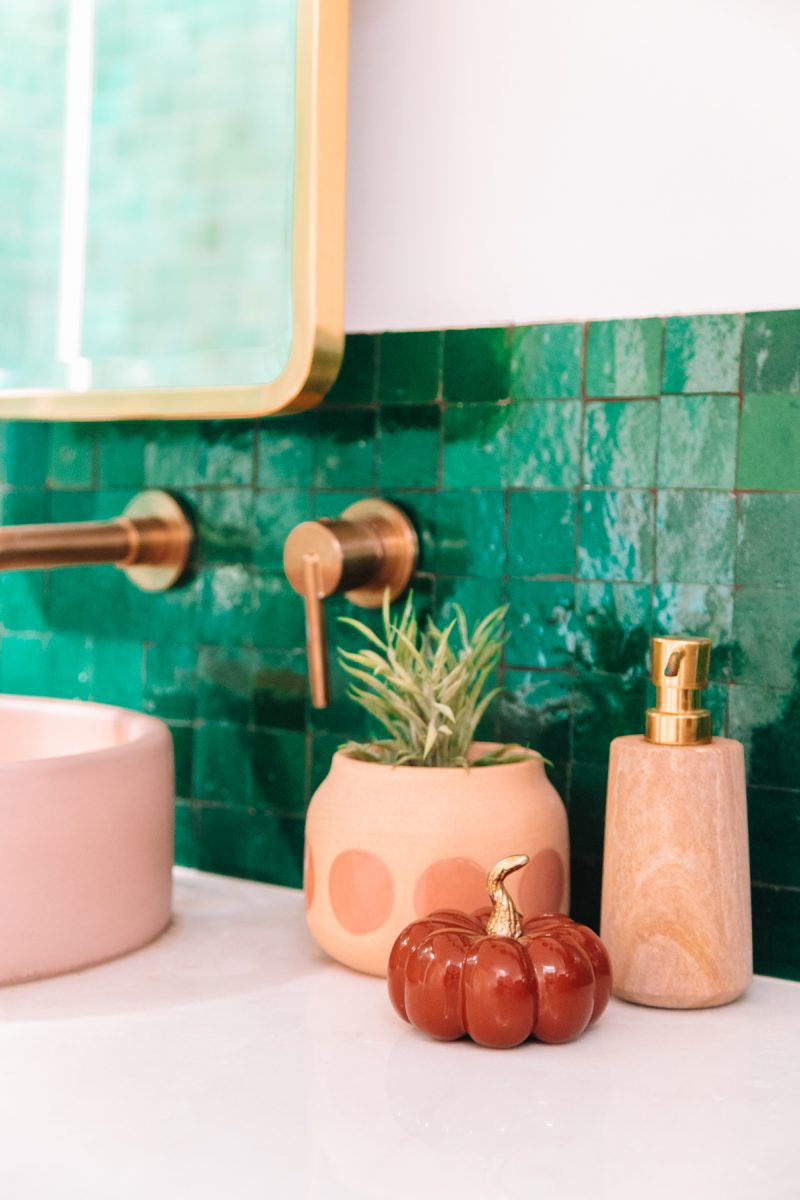 The rest of the house is just sprinkled with little touches mixed into our regular decor, like my growing collection of ceramic pumpkins and these sequin spiders Arlo picked out!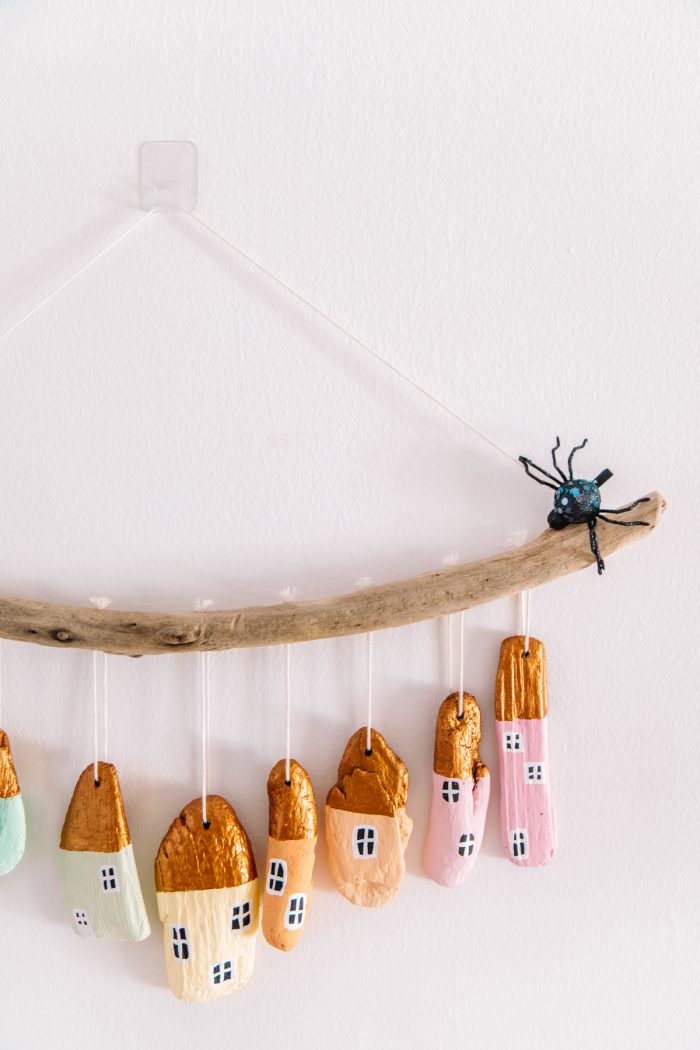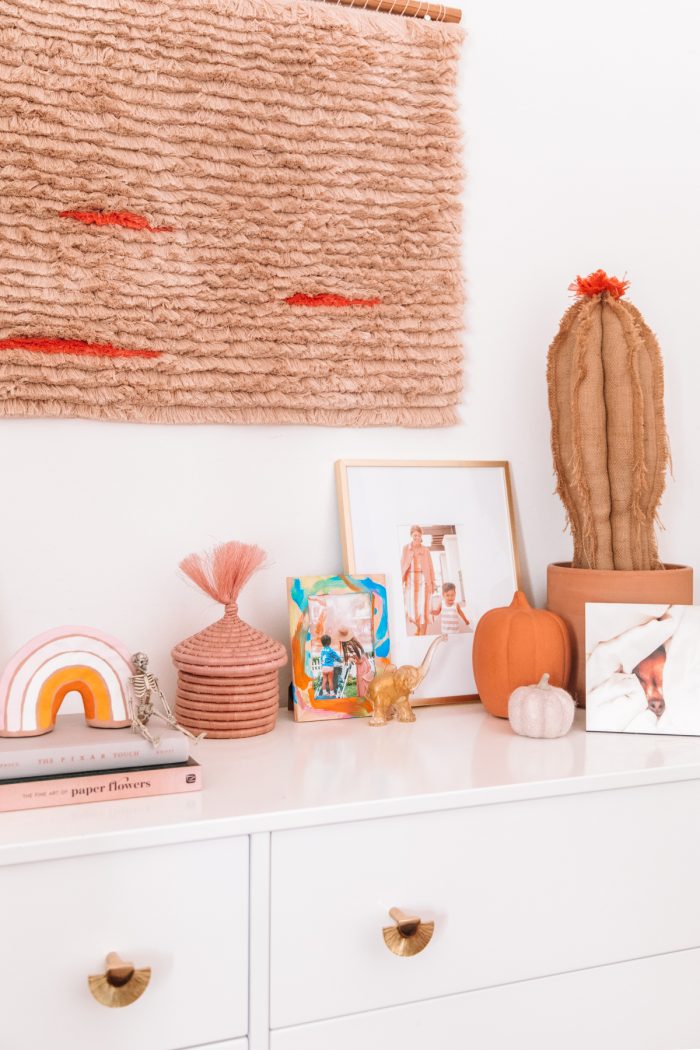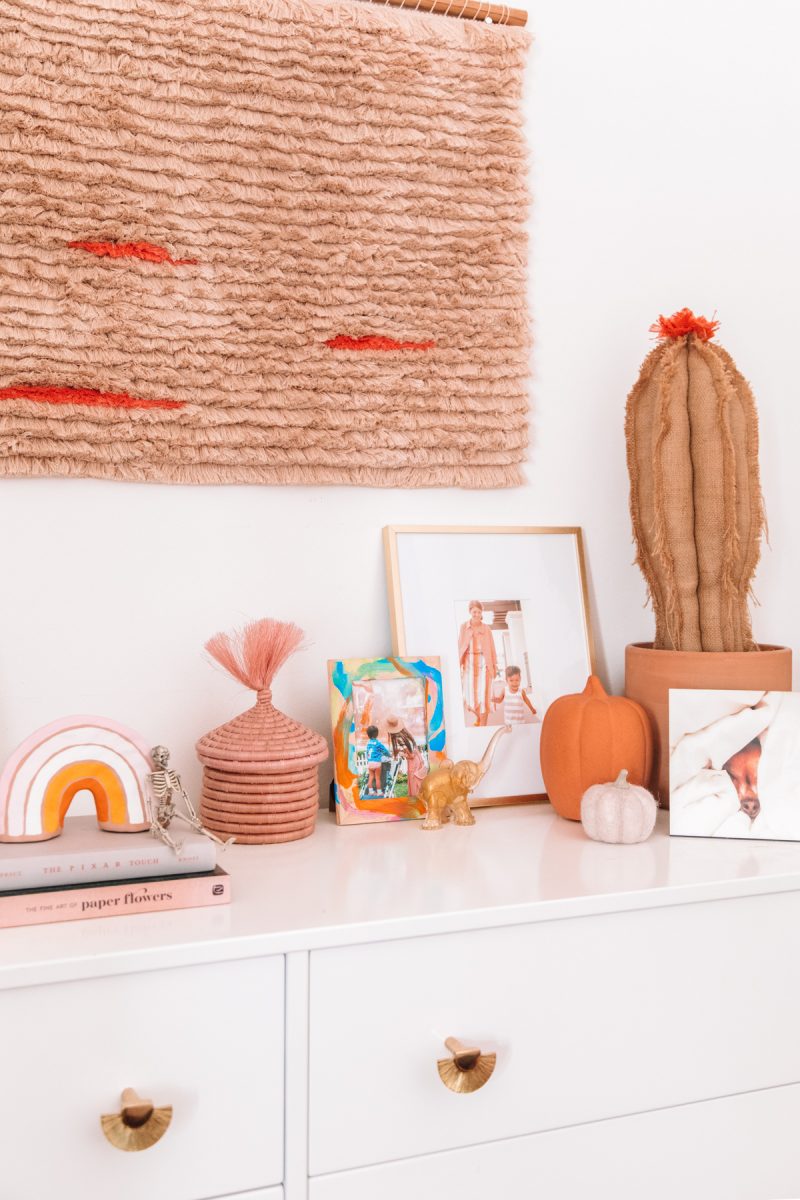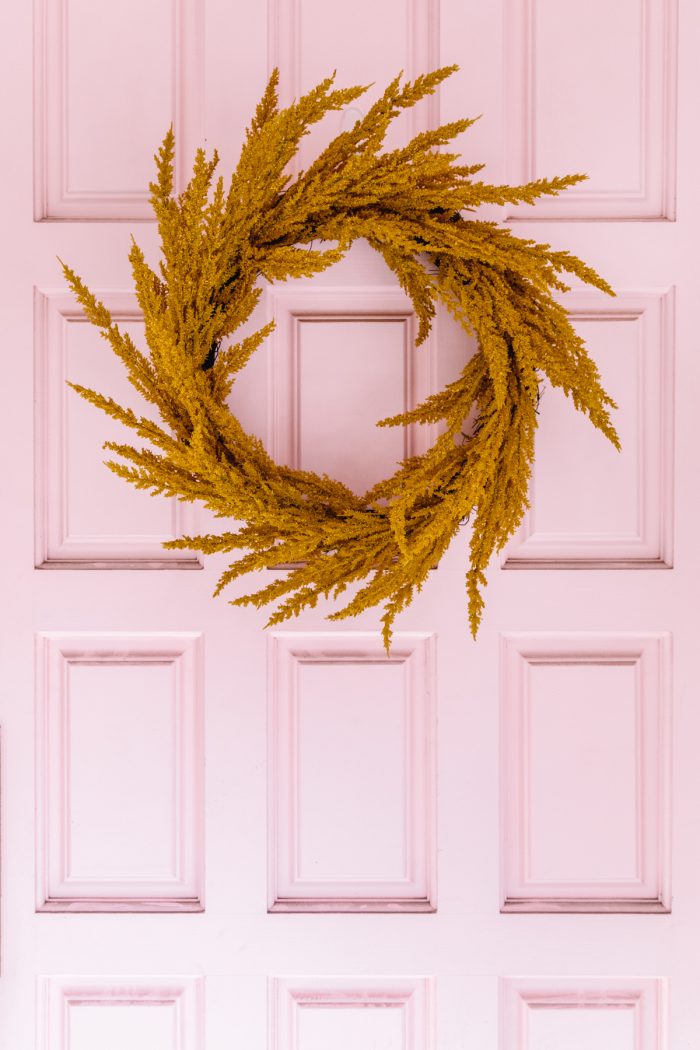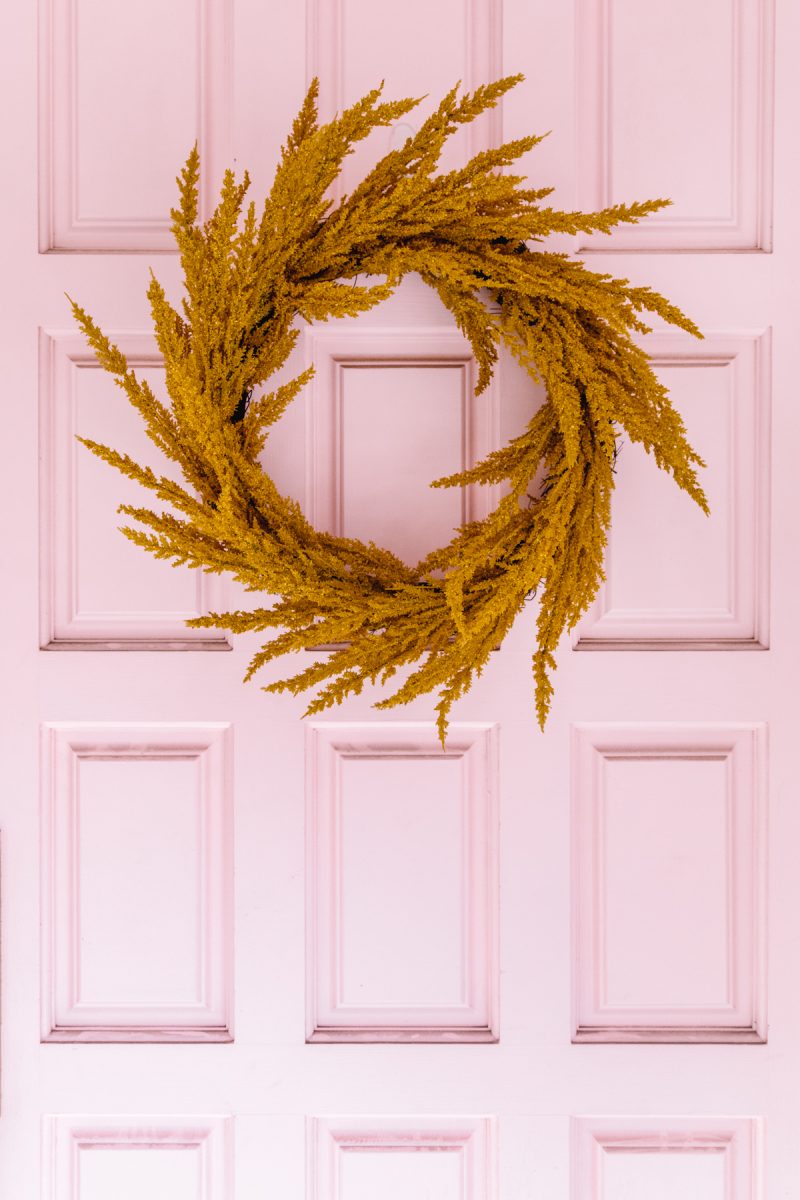 Photos by Jeff Mindell
And there you have it!! Our happy little Halloween home!!
Do you decorate (inside) your home for Halloween!? I love adding a few things to my collection of decor each year!!
A huge thank you to Command™ Brand for partnering with me on this post! If you're decorating for the holiday, or for an event, be sure to check out the new Command® Adjustables™ Products at your local home, drug and craft stores! Oh and online too, of course!
This post was created in partnership with Command™ Brand. All content and opinions are that of my own! Thank you for supporting the sponsors that keep the Studio DIY party going! Read more about my editorial policies here.