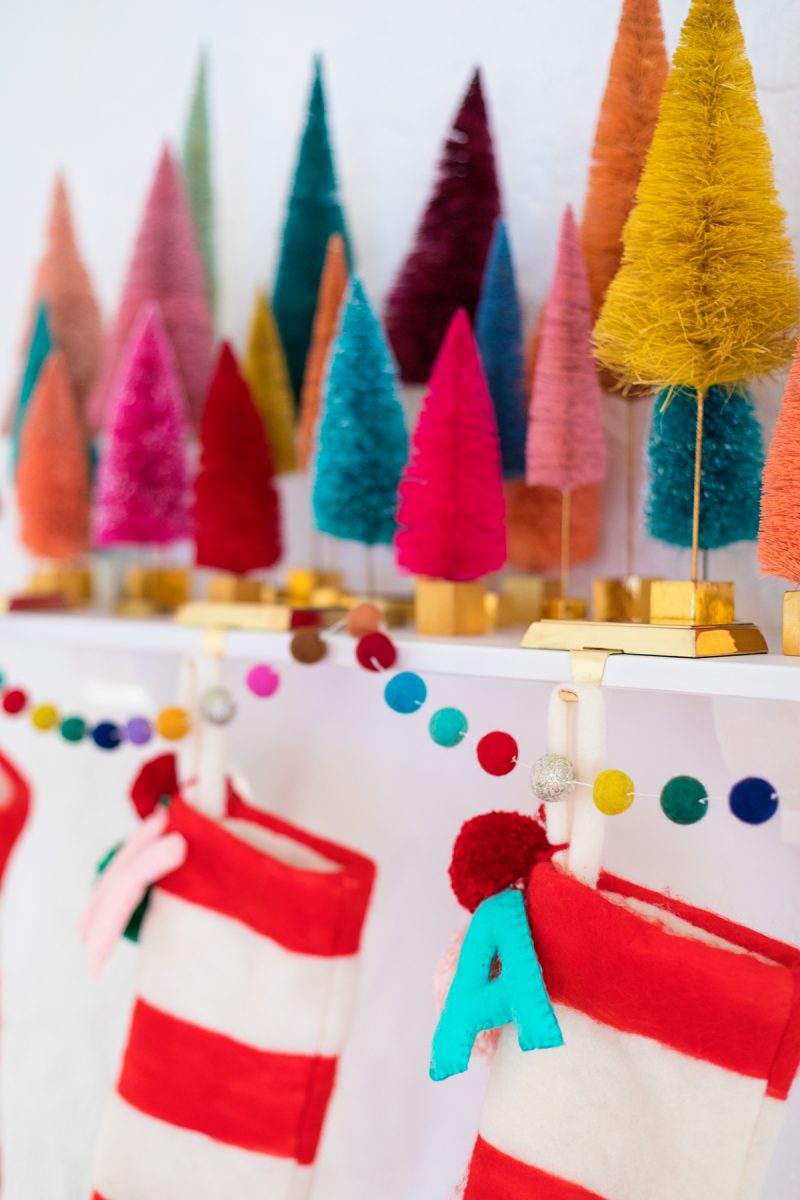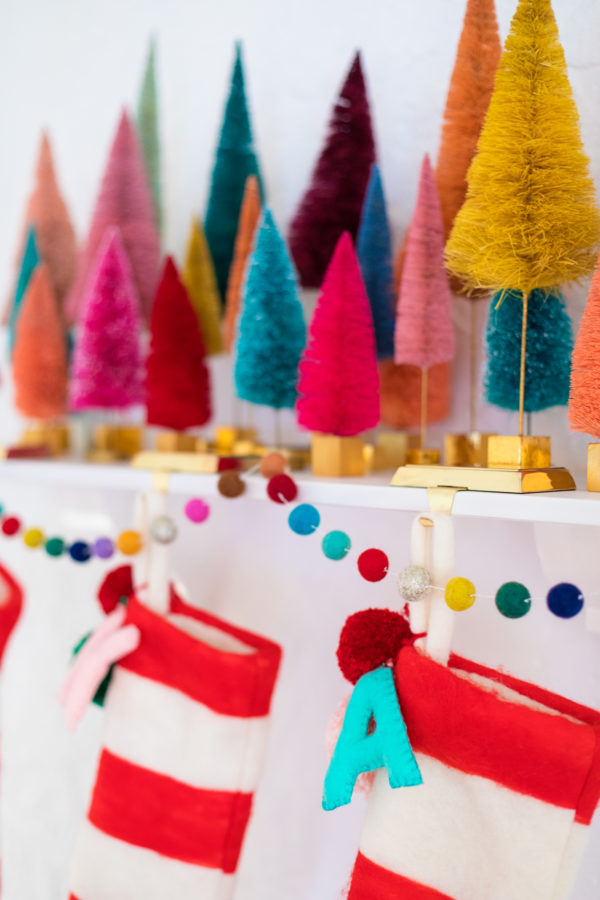 One of my prized Christmas collections is my bottle brush tree collection (Gotta update with a picture of this year's collection soon, but our whole house has been under the weather!)!
What is it about the holidays that just makes you want to collect things? My parents always had a Nutcracker collection and a snowman collection. It's just so fun pulling them out year after year, and adding to them too!
Today I wanted to share a huge guide to where to buy bottle brush trees and other decorative Christmas trees, too! They have become quite popular so they do tend to sell quickly. I tried to include as many different sources as possible so you could start a whole rainbow like mine, or tailor your collection to your own favorite Christmas palette. Act quick before they sell out though! Here we go!

Photo by Jeff Mindell | Graphic by Meagan Knight for Studio DIY
Where to Buy Bottle Brush Trees (+ More!)
1. Glittery Bottle Brush Trees: Pigment (a shop in San Diego that also sells online!) often has a selection of gorgeous, sparkly bottle brush trees!
2. Dye Your Own Bottle Brush Trees: If you want totally custom colors you can buy white bottle brush trees and use Brittany's tutorial to dye them!
3. Anthropologie Bottle Brush Trees: Anthro always carries a selection of bottle brush trees each year, though they tend to sell out super quickly! Always check early on in the season and keep your eye on them as things restock randomly!
4. Pastel Bottle Brush Trees: This shop has a ton of pastel bottle brush trees in all sorts of different sets and color combinations!
5. Flocked tree ornaments: Another Pigment find! Love these flocked trees that are actually ornaments, but could easily be mixed into a decorative tree display too.
6. Glitterville Bottle Brush Trees: Without a doubt, Glitterville is the hero when it comes to bottle brush trees. That's who makes the majority of my bottle brush trees are from, though I've bought them through several different in-person and online retailers over time. The colors are so rich. I also have some of their fuzzy trees that I just LOVE. And look at these ones covered in fruit!? Their trees are pricey but the quality is amazing, you will have them forever.
7. Rainbow Color Block Bottle Brush Trees: Pricey but STUNNING if you like to decorate in all the colors of the rainbow!
8. Target Bottle Brush Trees: Target almost always has a line of bottle brush trees! This year's are a bit more muted in color which is great if you're sticking to a more traditional palette! If they're sold out online check your local stores!
9. Fluffy Trees + Bottle Brush Tree Sets by Color: This shop sells sets of trees by color. A lot are sold out for the season, but bookmark it for next year! They also have some of those amazing fluffy trees.
Jewel Tone + Glitter Bottle Brush Trees: These trees are great colors and you can buy them as a set, or individually in all sizes!
10. Bonjour Fete's Decorative Trees: One of my FAVORITE selections of decorative Christmas trees, including a ton of bottle brush and Glitterville ones, is found at Bonjour Fete! They have stores here in LA (Including a Christmas pop up in Pasadena this year!), but also sell online. Rainbow color block trees, marble trees, trees decked out with rainbow ornaments!
11. Metallic Target Trees: Loved these sparkly Target trees this year!
12. Rainbow Velvet Trees: These velvet wrapped trees, aren't they gorgeous!? Would be great mixed into a bottle brush tree forest.
A Few Other Sources Too…
Since we did the above graphic, I found even more sources and didn't want to leave them out! I'll add new ones here as I find them too.
Amazon Bottle Brush Trees: Amazon doesn't have any trees on Prime but they do have a fair amount of different rainbow sets at good prices, and of course the classic ones too!
Bottle Brush Tree Sets at Kohl's: Just spotted this green set at Kohl's, they had a pink set but perhaps check stores for that!
Bottle Brush Trees at Pier 1: I popped into Pier 1 and they had a variety of bottle brush trees! I grabbed some blue ones, which seem to be the hardest color to find!
Excited to spread the bottle brush tree love!! If you're looking to start a collection too, hope this helps!!