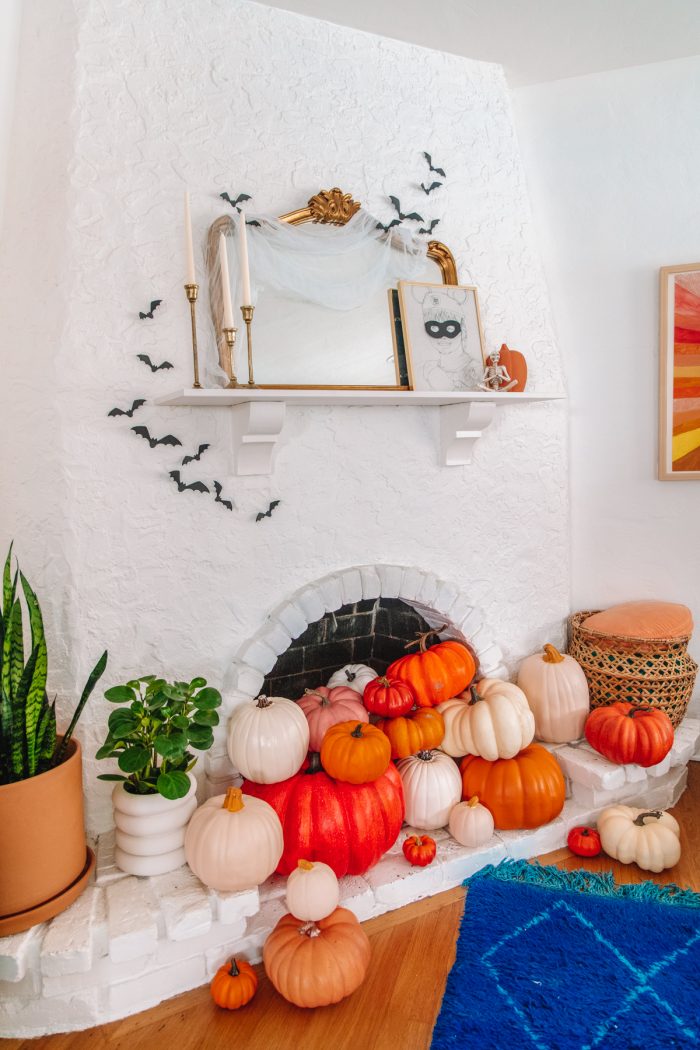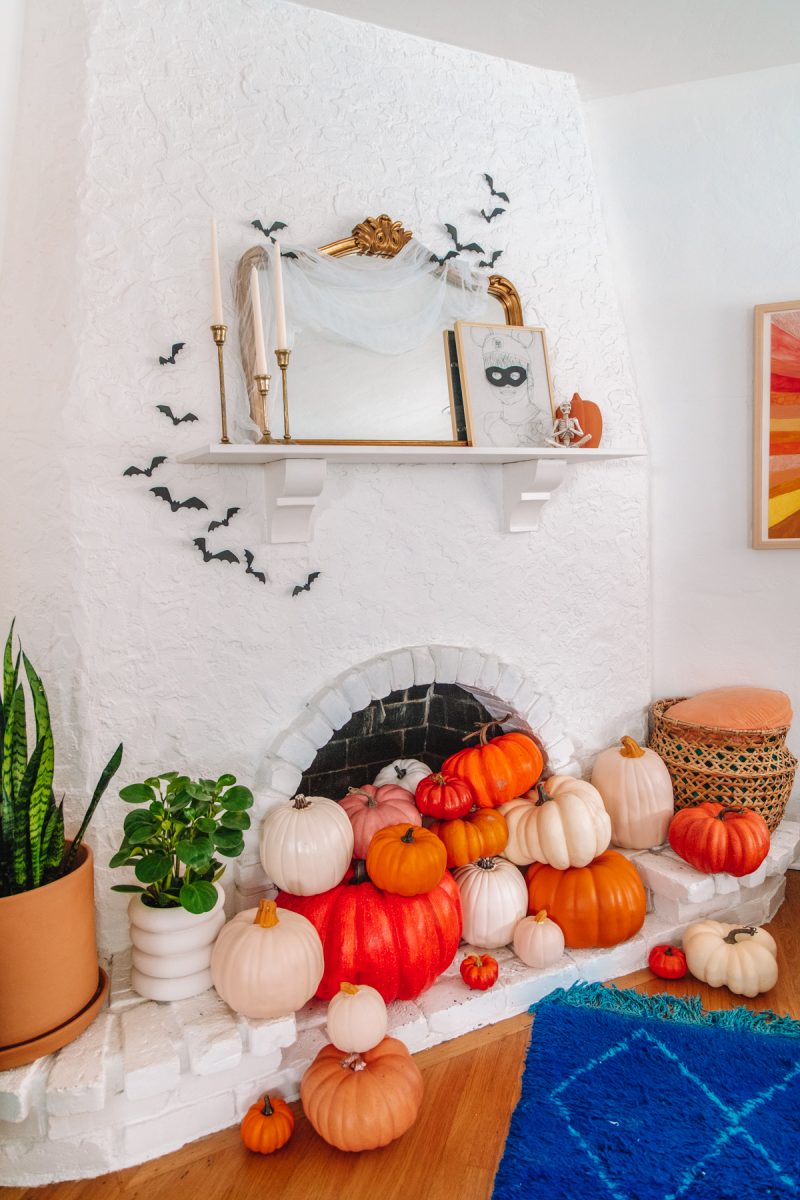 Decorating our home for Halloween this year felt extra special because, well, we're spending pretty much all our time here. You know, when we're not out looking at other people's Halloween decor. 😉 Snapped a few pics to share here just in case you find some fun Halloween home decor ideas to incorporate in your own home along the way!
Aside from a couple candlesticks, I didn't buy really anything new this year but instead added in some homemade things that I made, or that we made as a family. The best kind of decor!!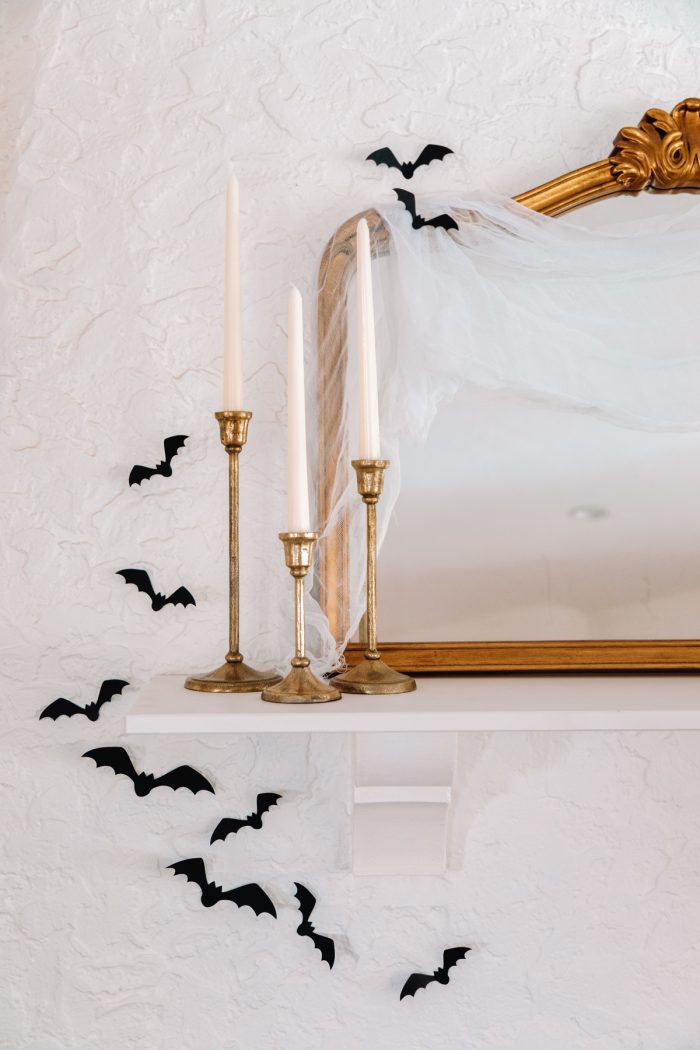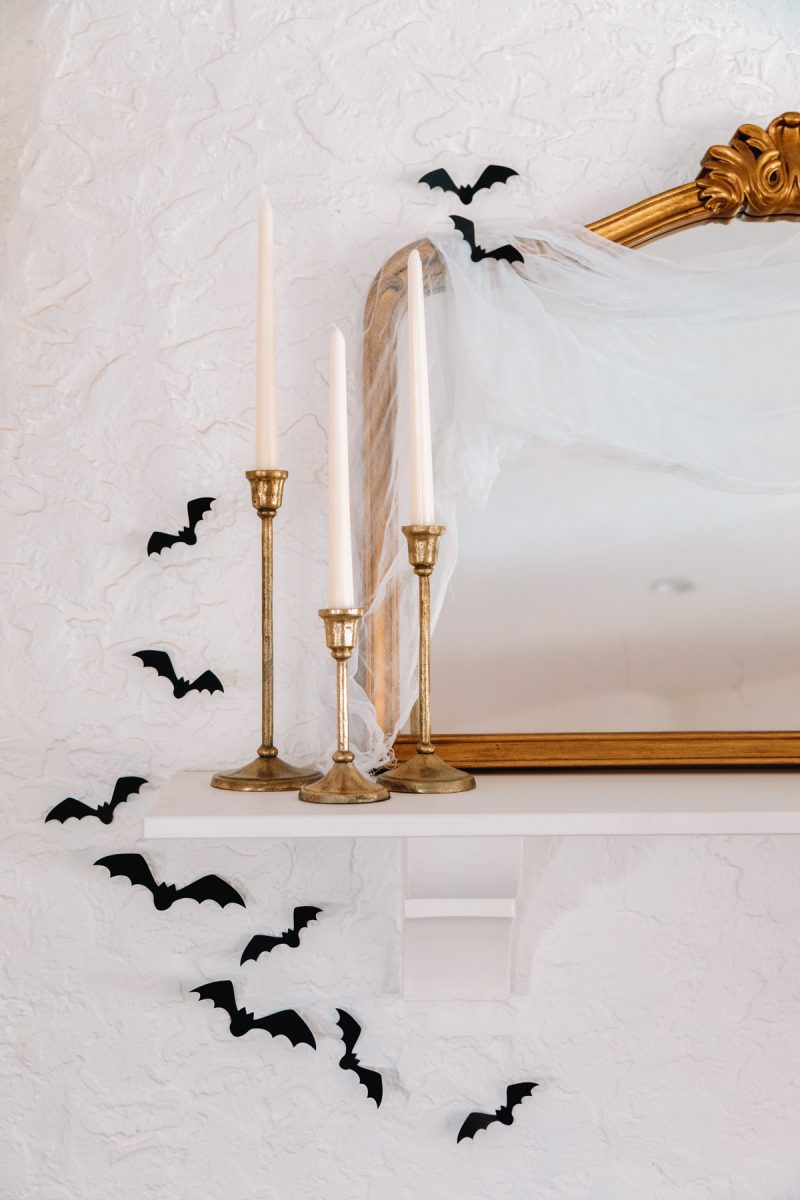 Ideas for Halloween Gallery Walls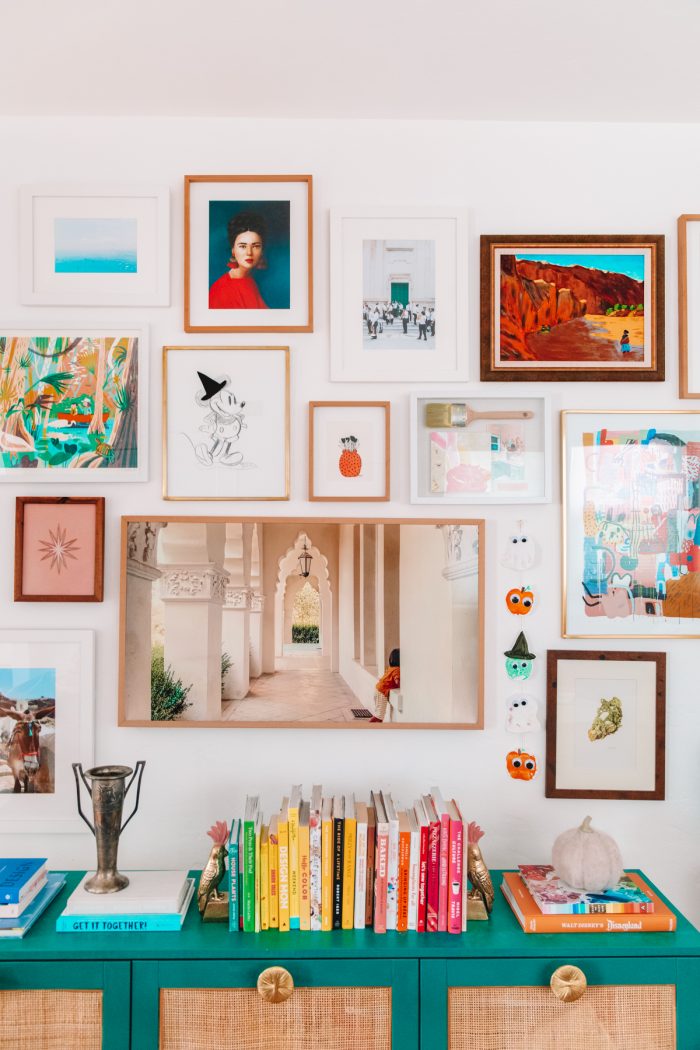 My favorite quick trick for making a gallery wall festive is adding hats, masks or other elements to the photos! Just use removable adhesive and boom! Mickey now has a witch's hat.
I also swapped out the wall hanging we typically have hanging next to the TV with a homemade garland made by our little dude! The google eyes will forever crack me up.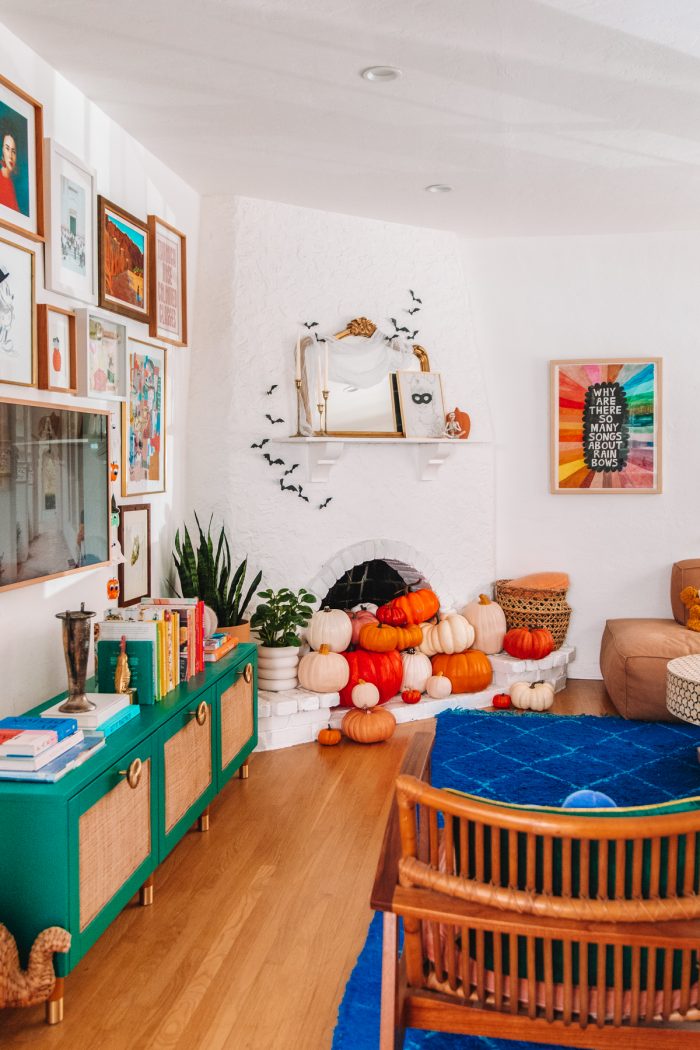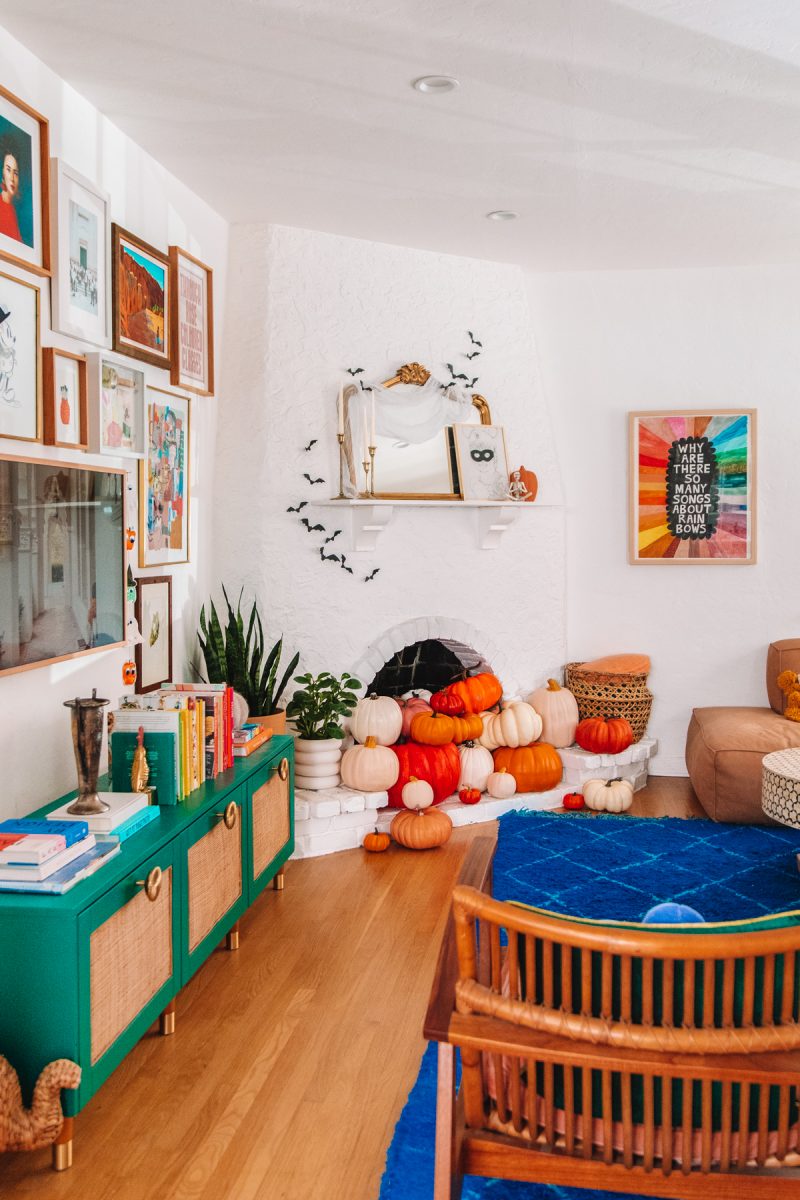 Decorating a Fireplace or Mantle for Halloween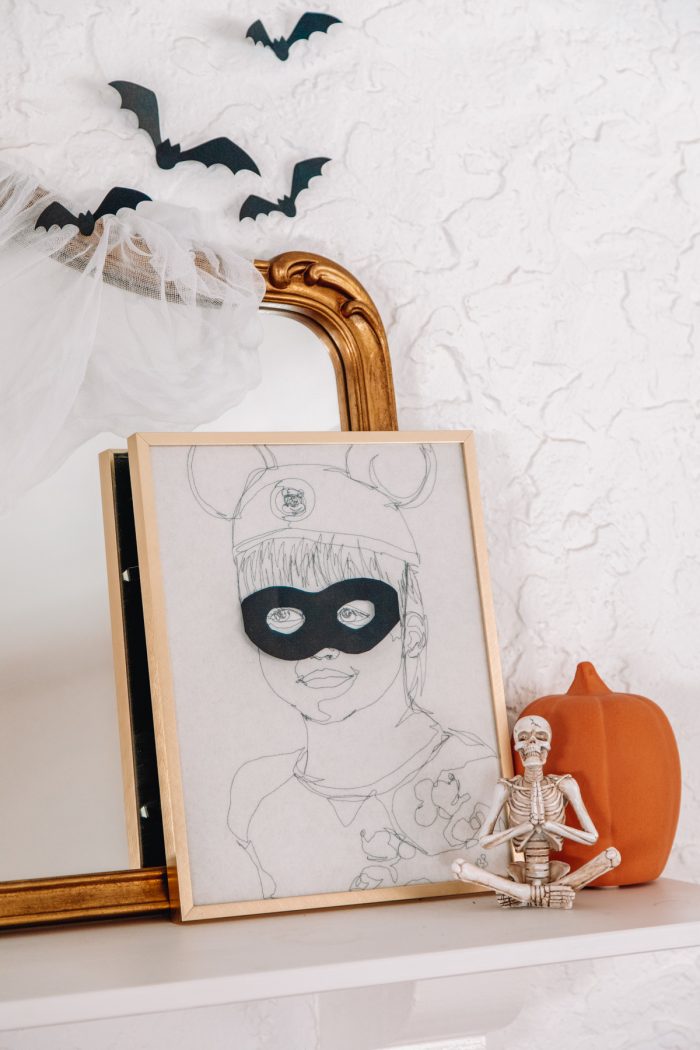 I still LOVE the impact filling a fireplace with pumpkins makes. This is the first year my pumpkin collection hasn't grown, largely thanks to my inability to go into stores right now haha! (I usually buy mine at Target, Michaels or Home Goods. Get them on clearance at the end of the season and save 'em for next year! I store them all in a big rolling storage bag like this.)
This year, the only mantle/fireplace additions were some candlesticks to our mantle and some bats I made using my Cricut. Plus, added a mask to that portrait of Arlo!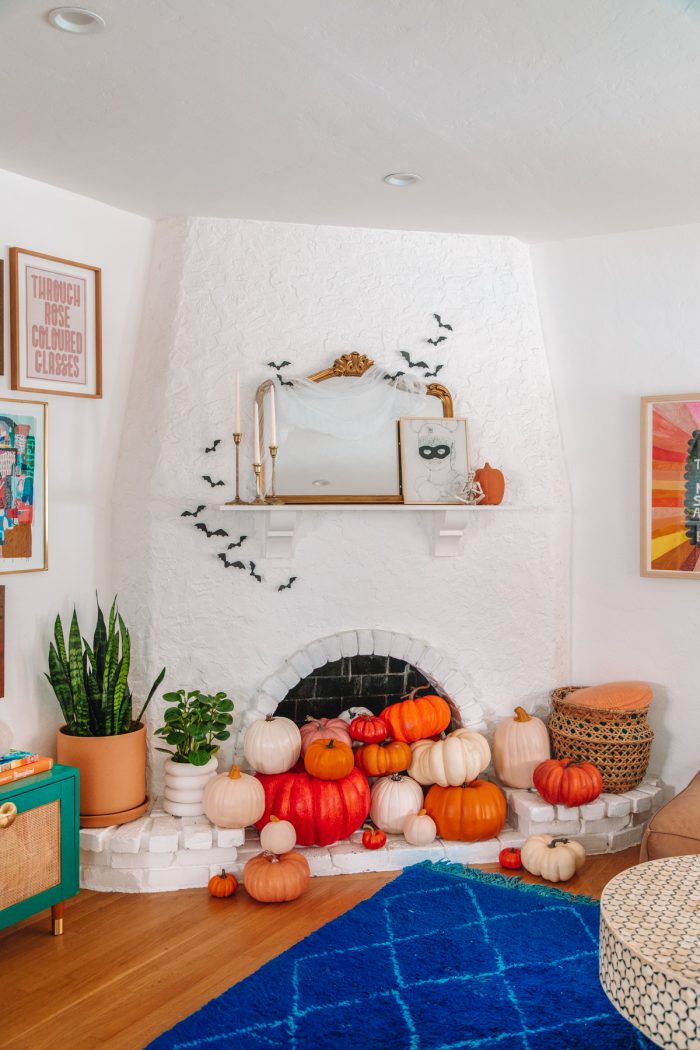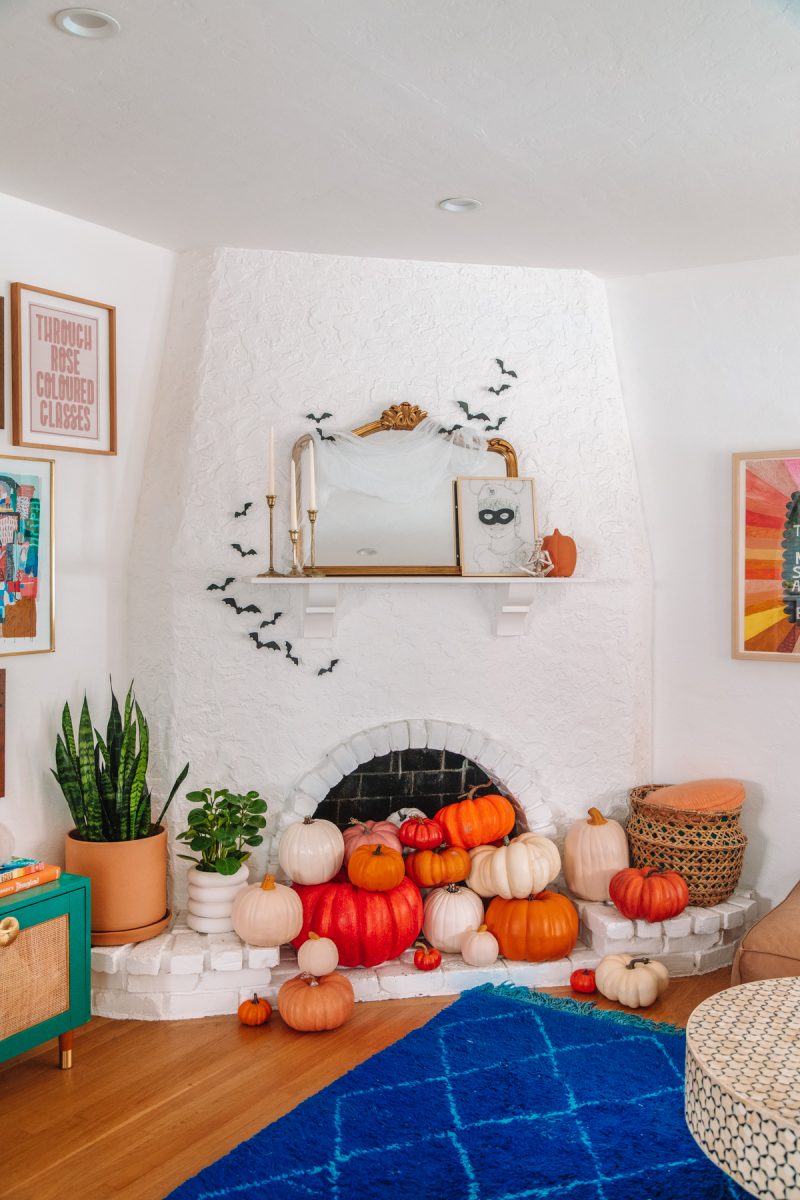 Halloween Decor Ideas for the Kitchen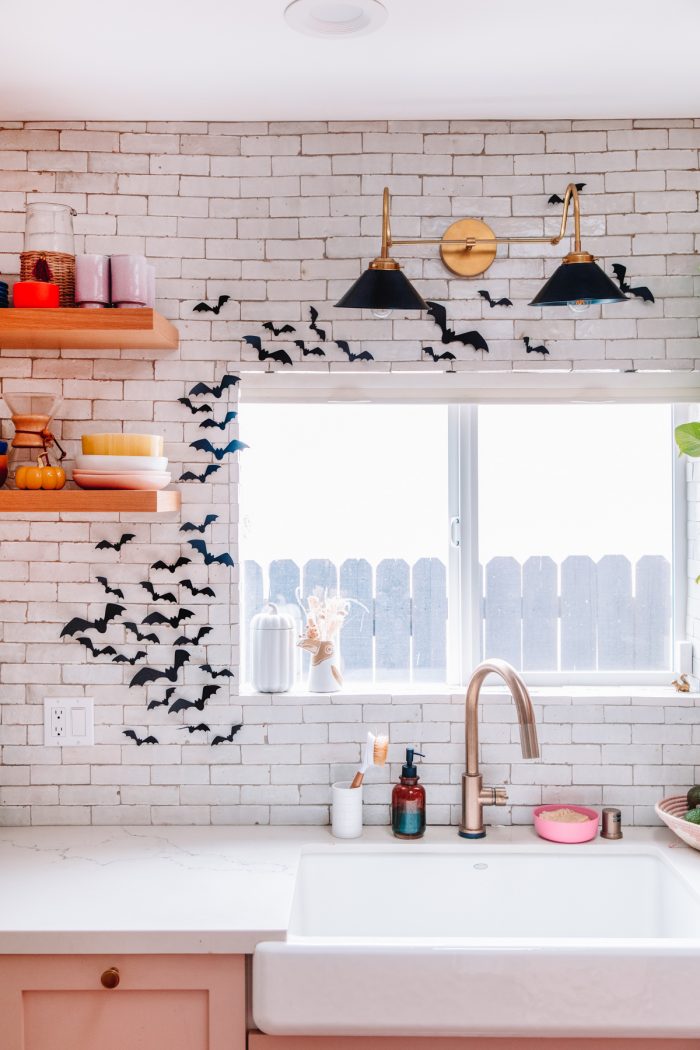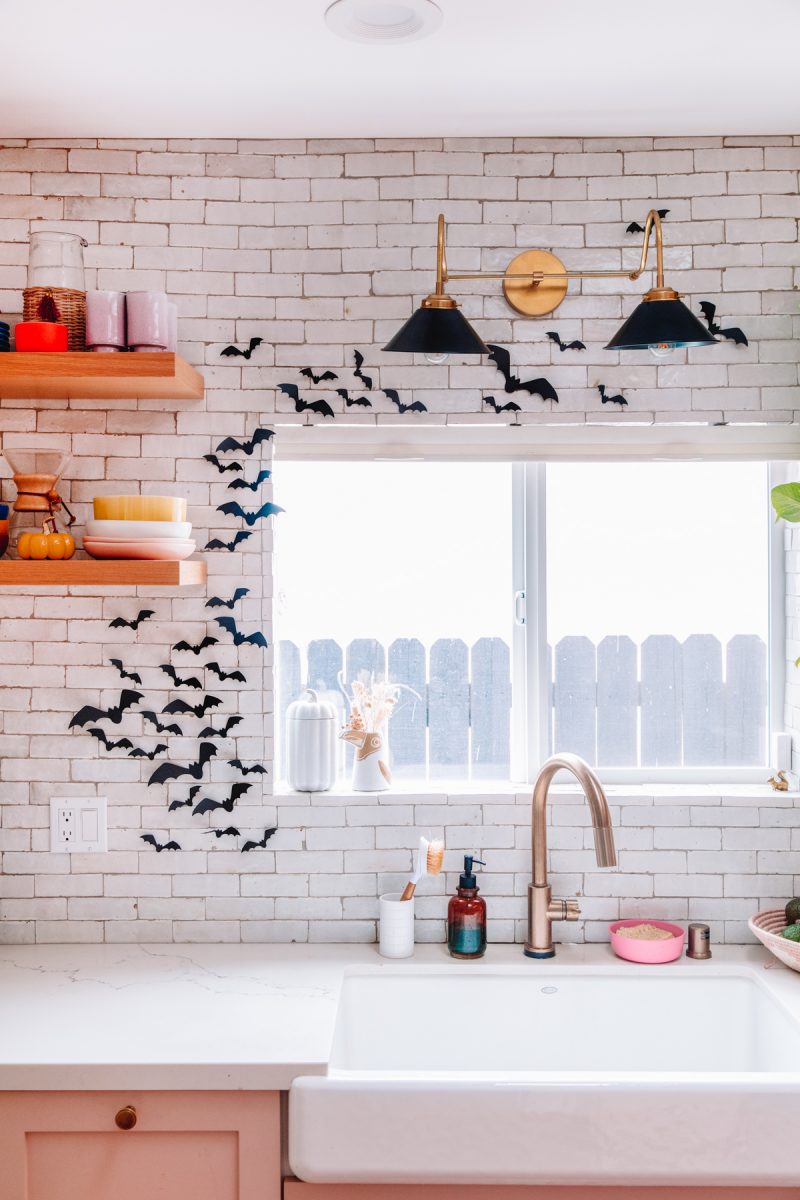 I don't know when bats become the trendy thing to do but I'm here for it and not ashamed to hop on that trend-train. Again, just used my Cricut to cut out a bazillion from cardstock so it cost a total of maybe $4 worth of cardstock and look at that impact!! They are easy to stick on, and remove from, tile so it's the perfect kitchen decoration. Just keep it far enough away from the sink and stove, of course!
Our fridge is an ever evolving ode to Arlo's latest art projects and I couldn't love that more. We've been slowly working our way through our Halloween bucket list and keeping it front and center as we check things off!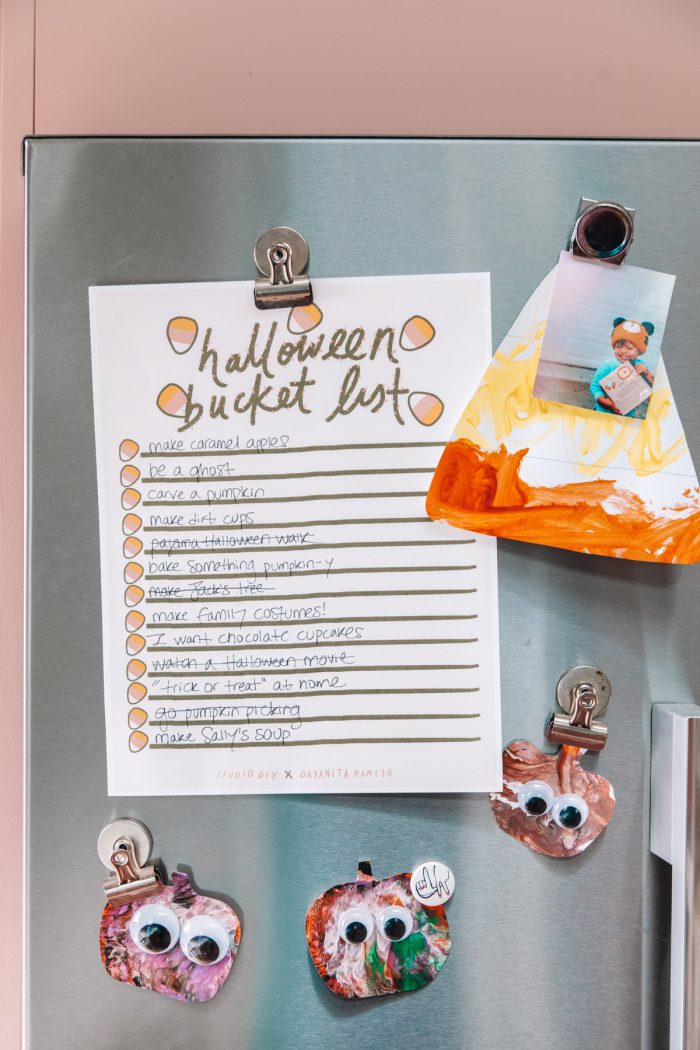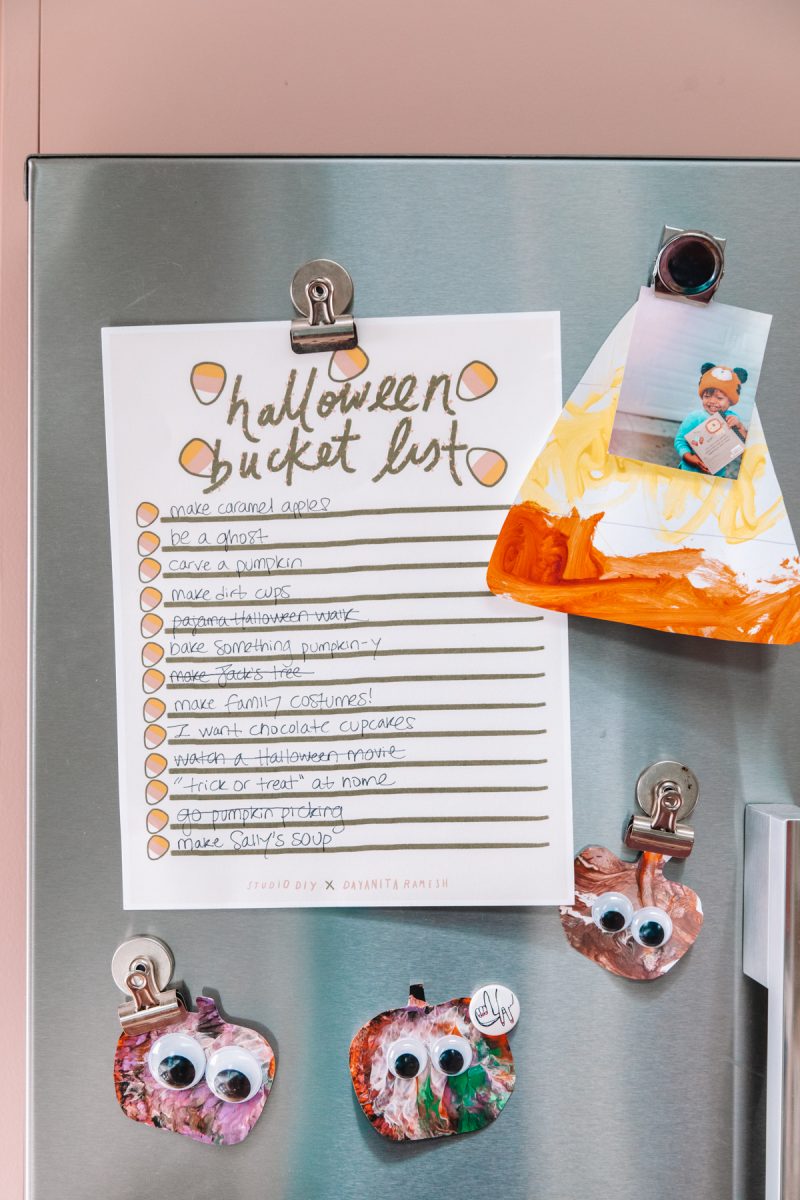 Quick Swaps to Make Spaces More Festive for Halloween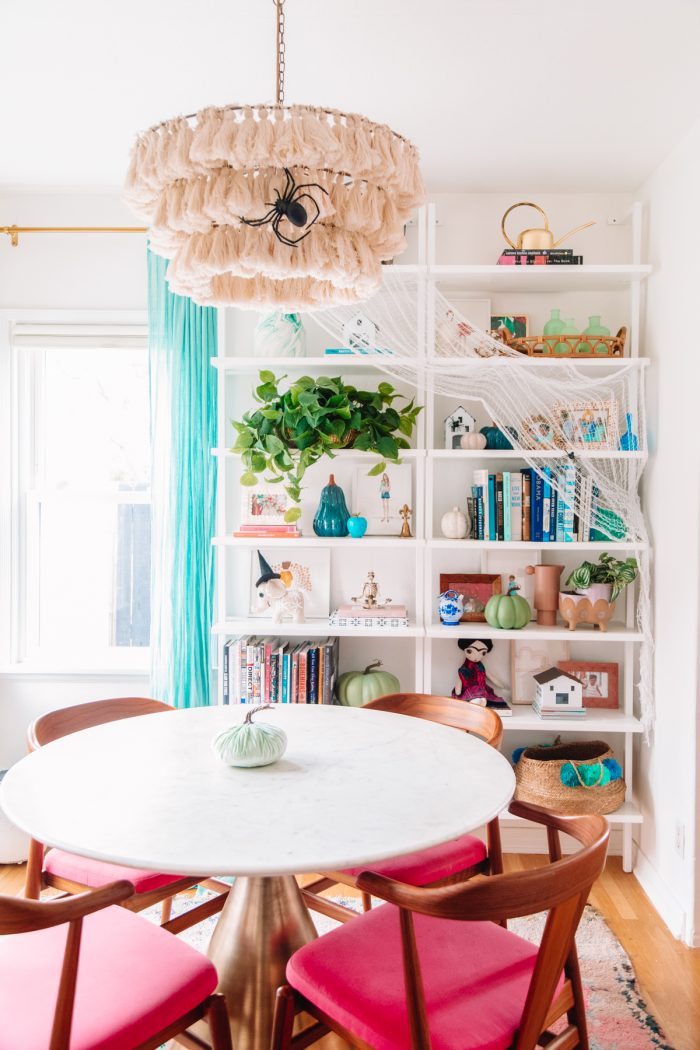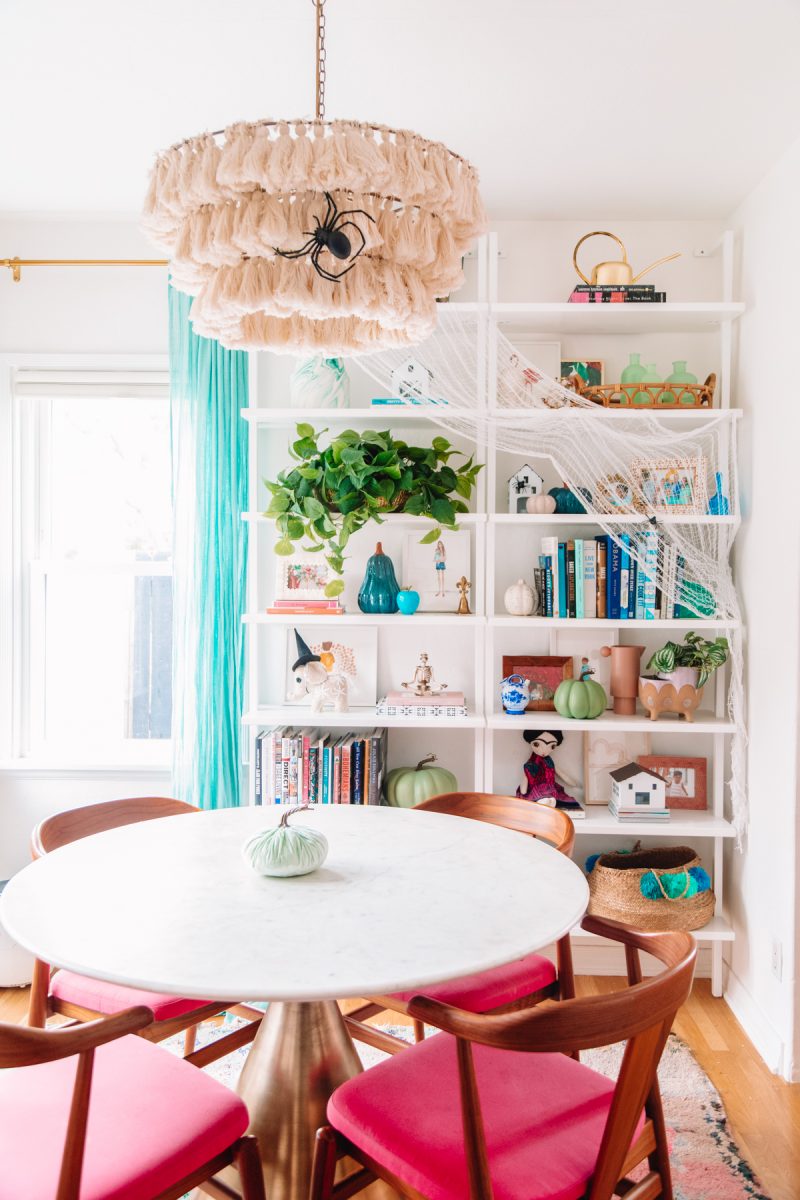 I have a big storage container where I store all our more delicate Halloween decor. When the season comes around, I simply pull out all the ceramic pumpkins, spooky houses and cobwebs and swap them in for other ceramic pieces and decor we typically display. Easy peasy, and our everyday stuff has a home for the season in that same storage container!
I swap in ceramic pumpkins for bookends, velvet pumpkins for centerpieces, homemade crafts for ceramic bowls and add festive faux-arrangements in too. Just enough to give our shelves, dressers and more a little bit of spooky flair.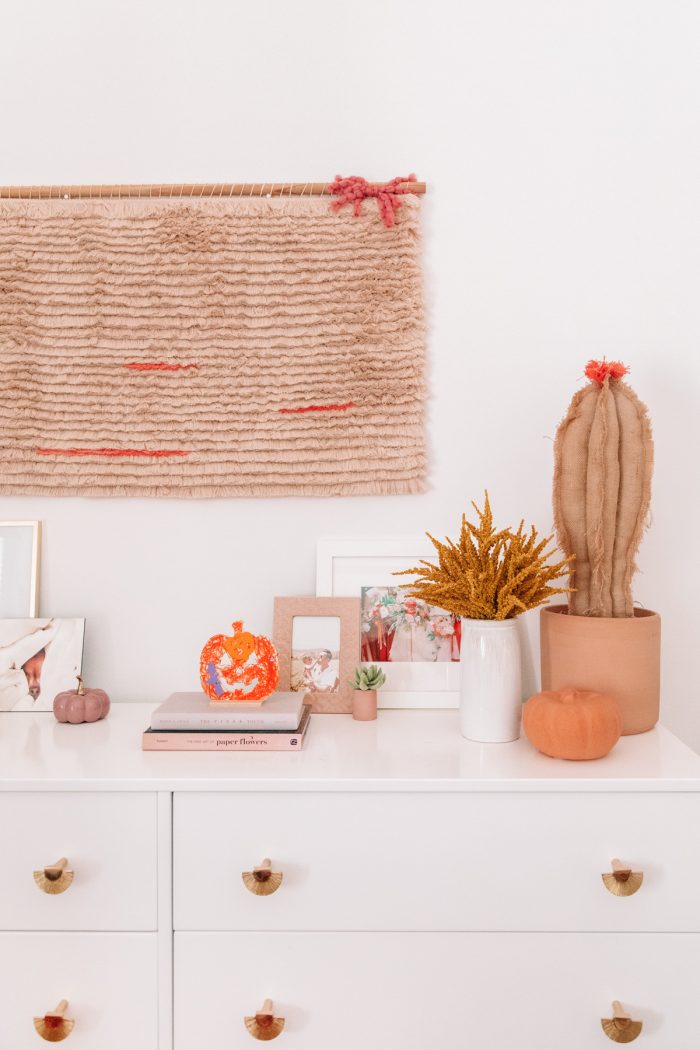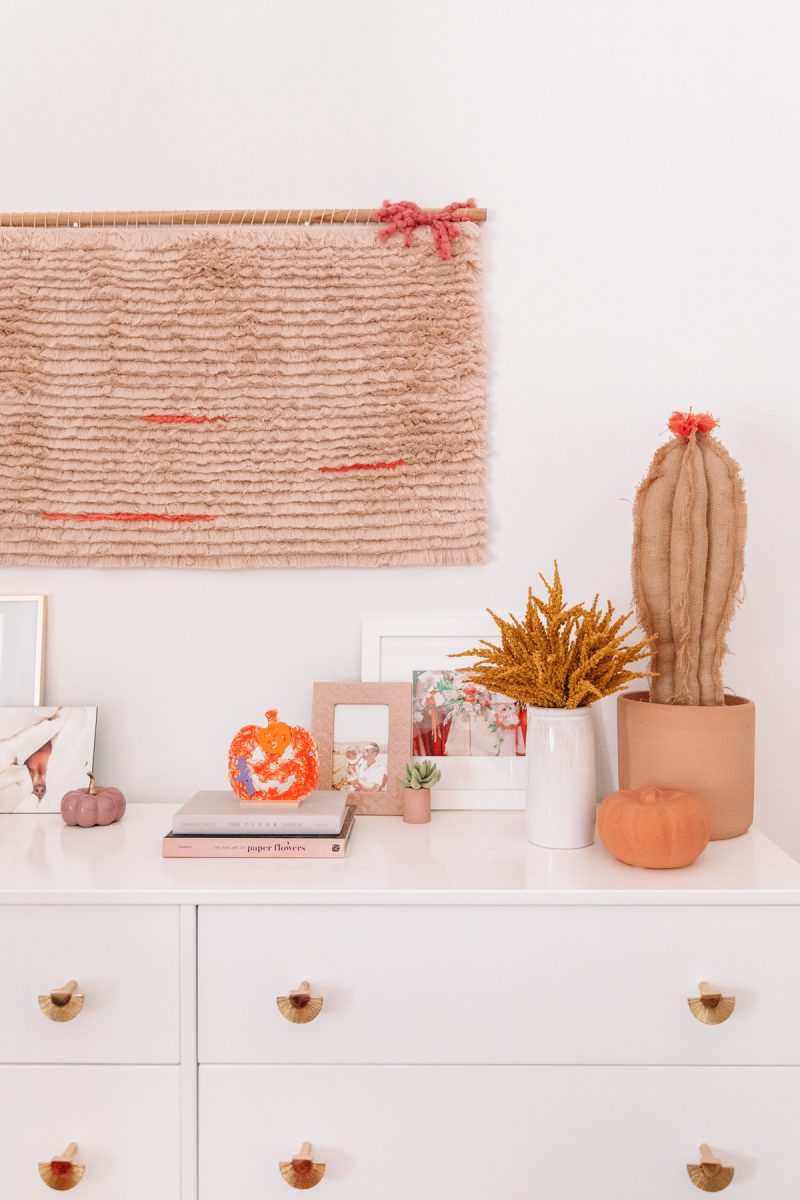 Halloween Home Decor Ideas for Kids Rooms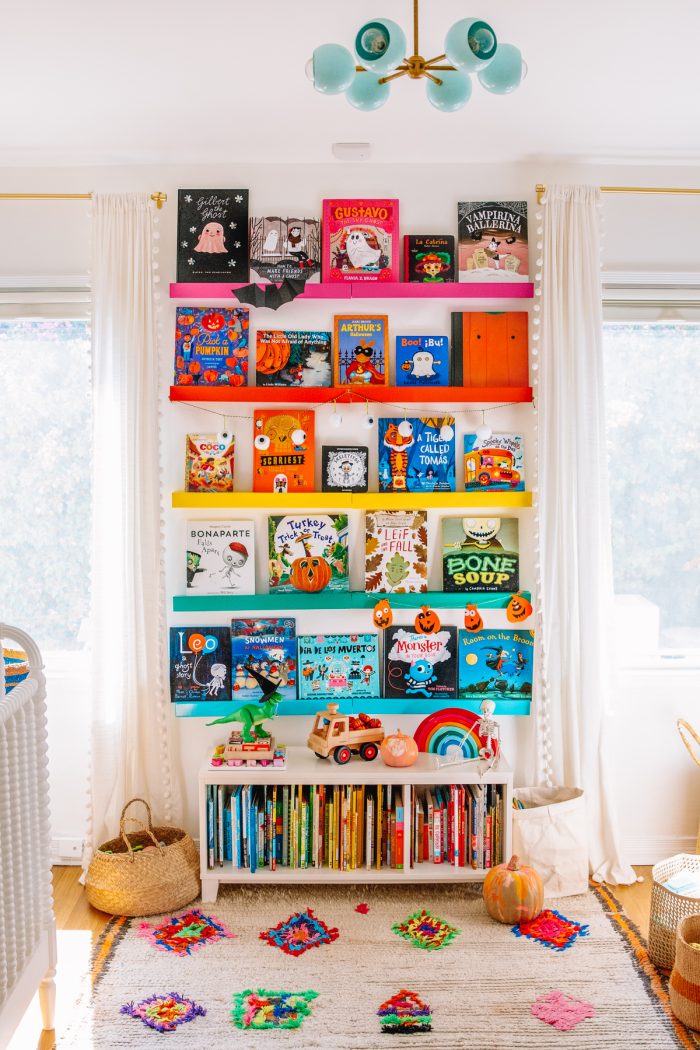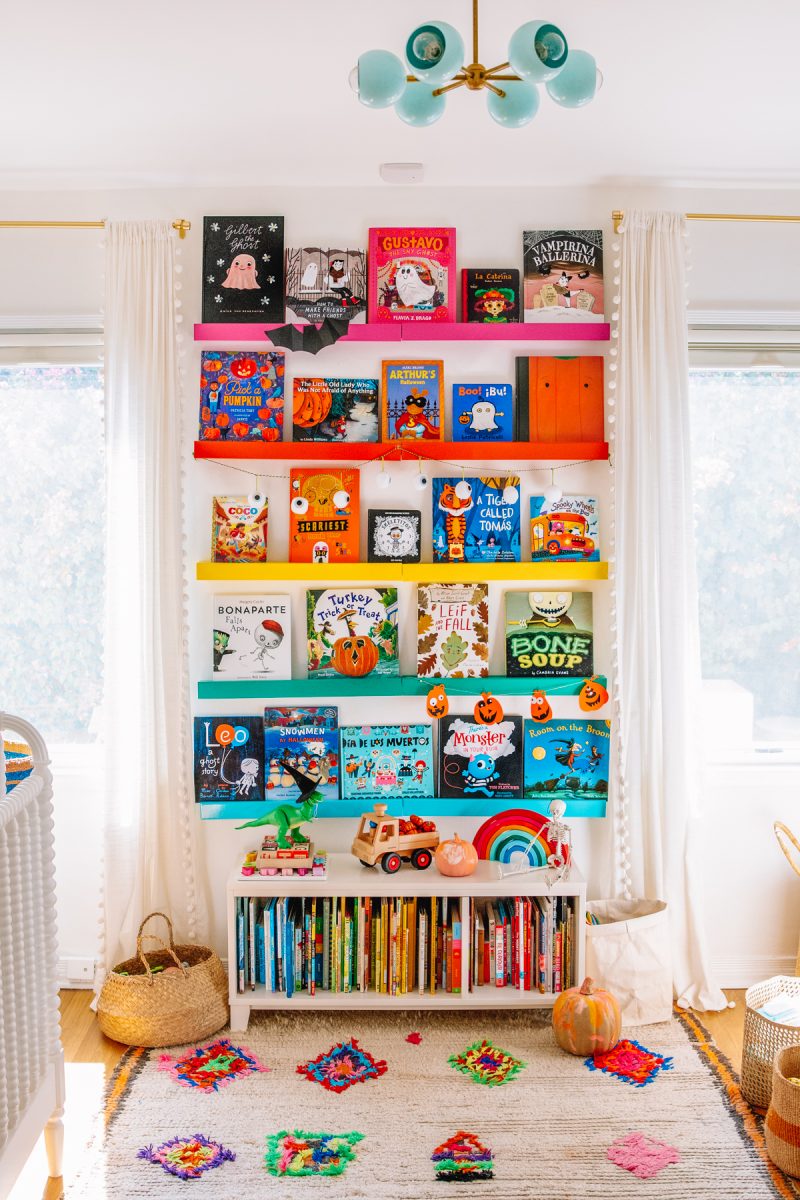 Did you know there aren't a lot of Halloween books with yellow covers? Haha! Nevertheless, swapping out holiday books on this rainbow bookshelf is always one of my favorite tasks. You can see our fave Halloween kids books here!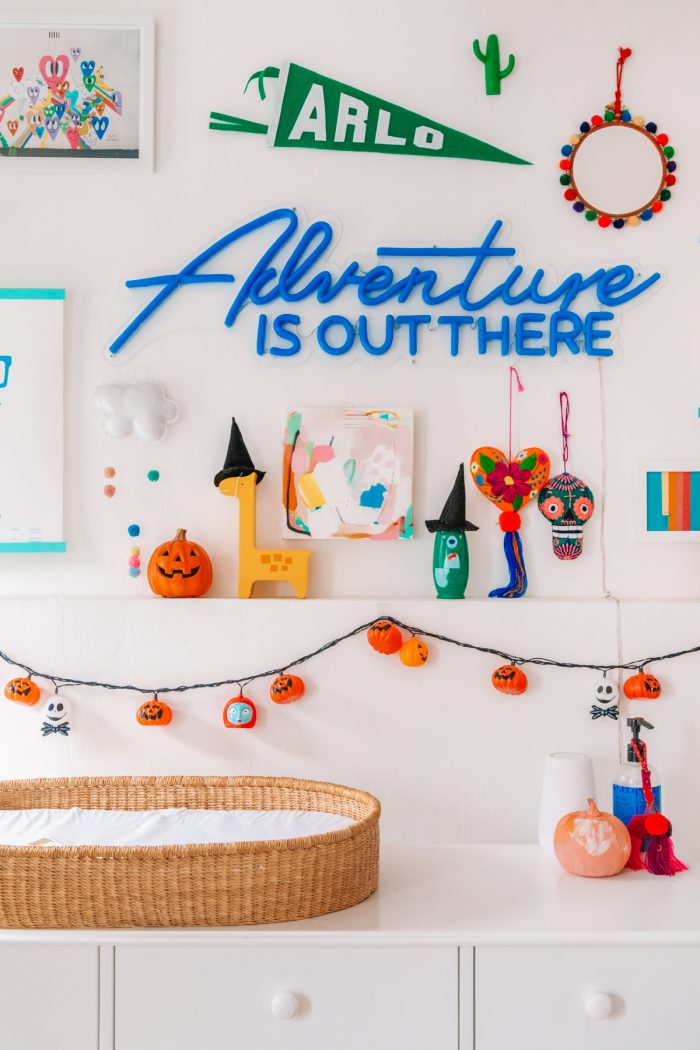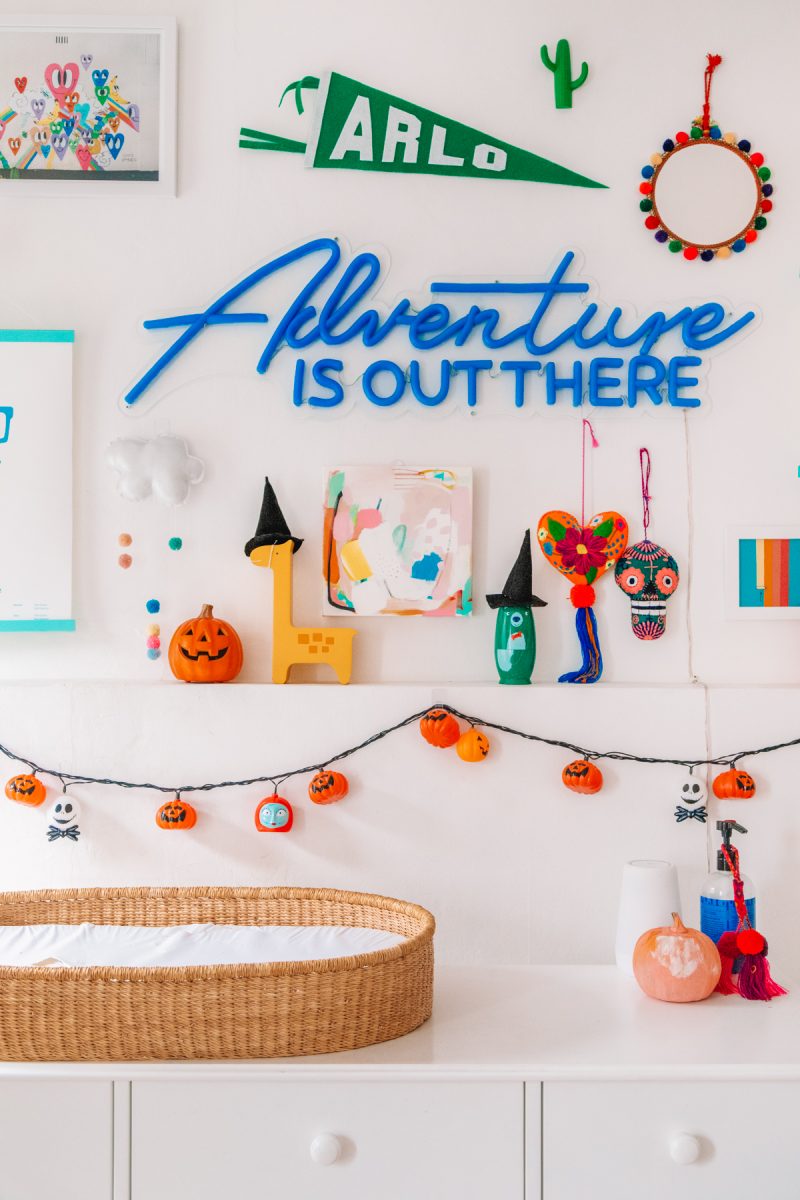 In case it wasn't obvious, I'm a major garland fan. They can be easily hung with command hooks and look great over wall hangings, along a shelf or even hung vertically on the wall! (The Nightmare Before Christmas lights are from Walgreens, but sold out online!)
Also a huge fan of adding tiny witches hats to stuffed animals and other decor items in a kids room. It's so silly and cute!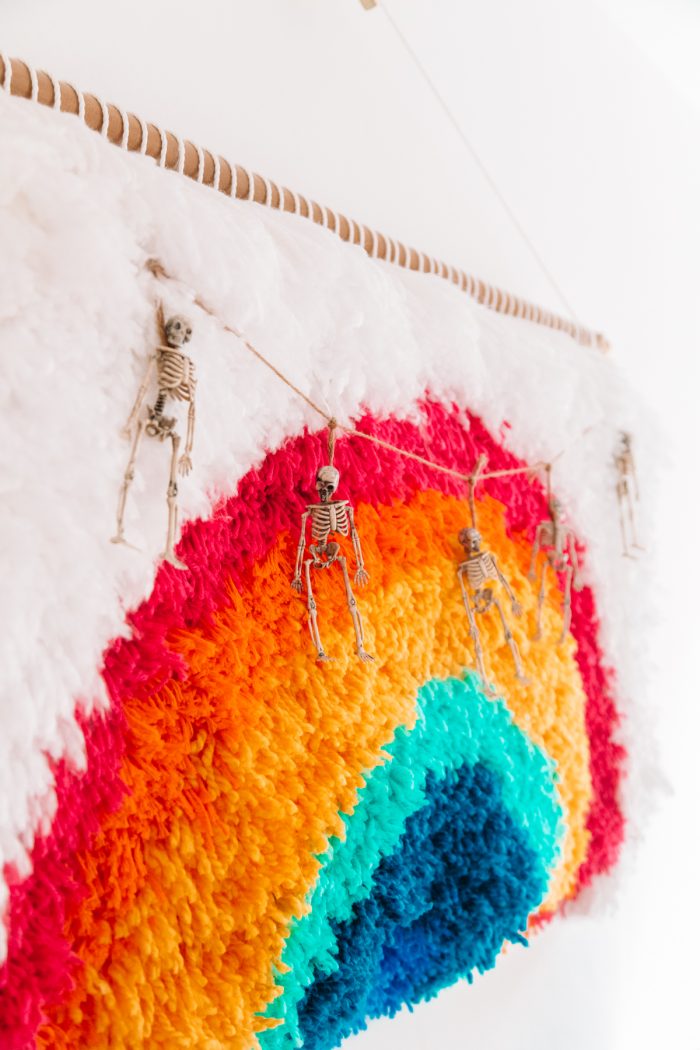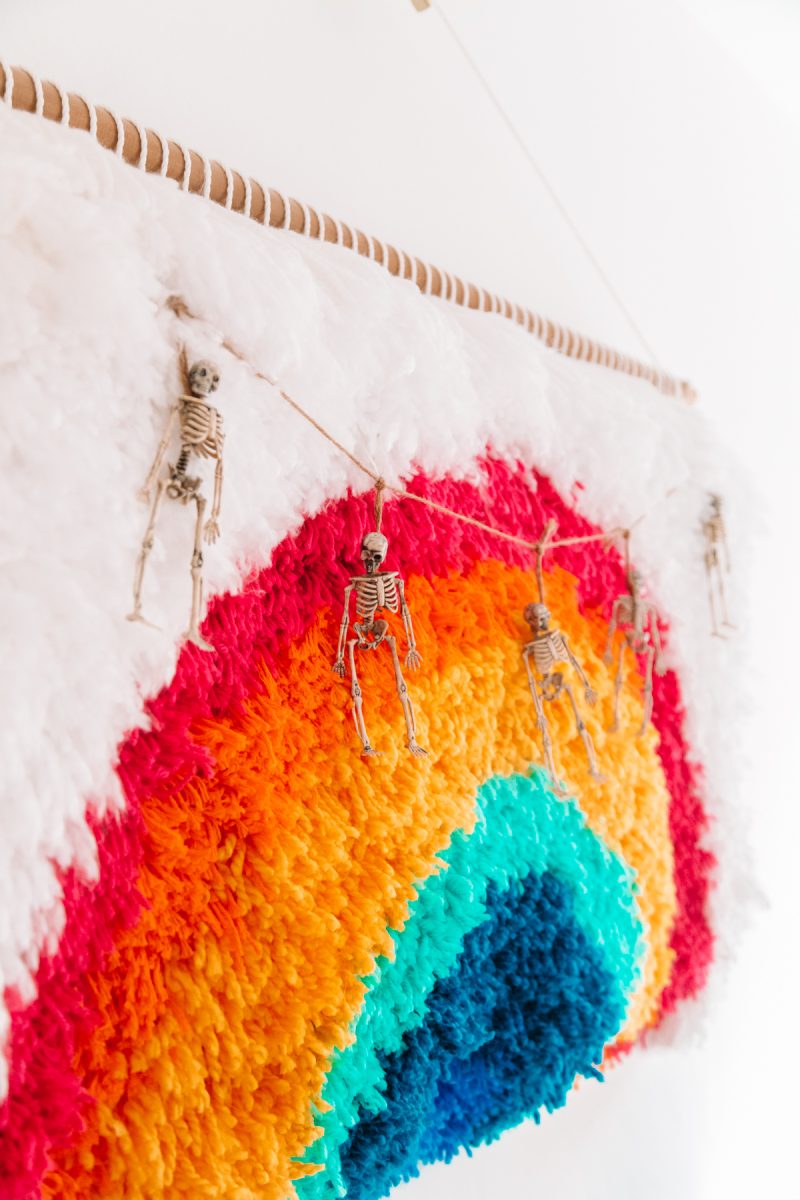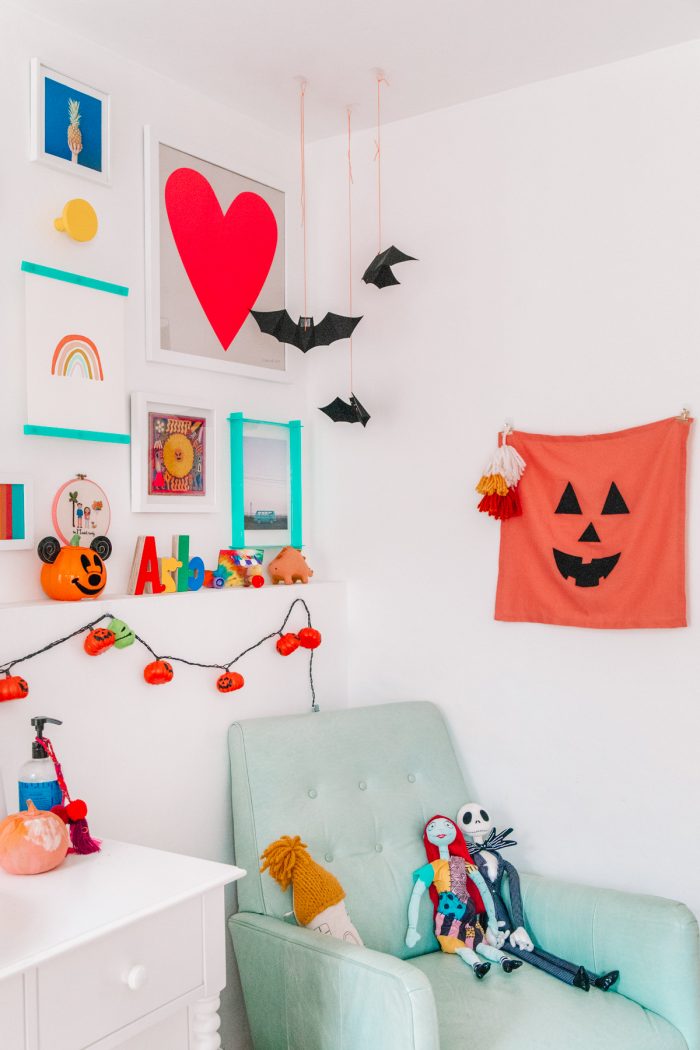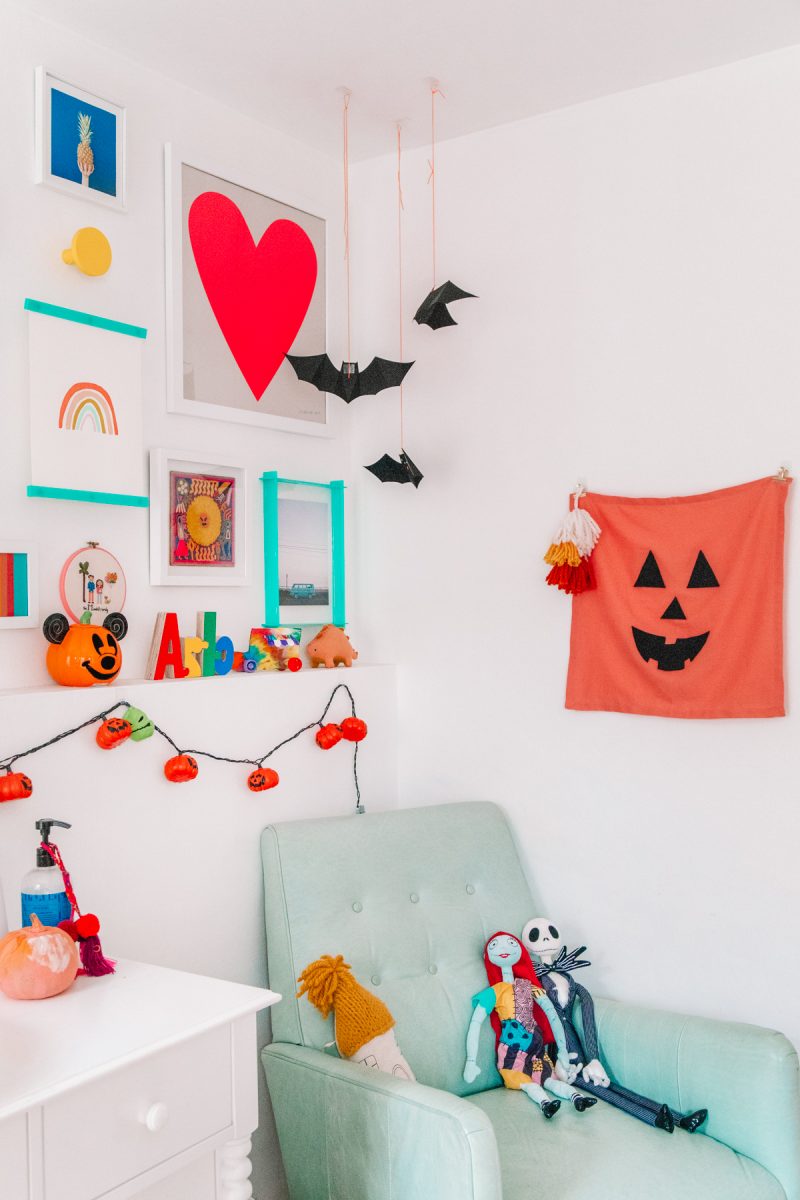 Festive Outdoor Halloween Decor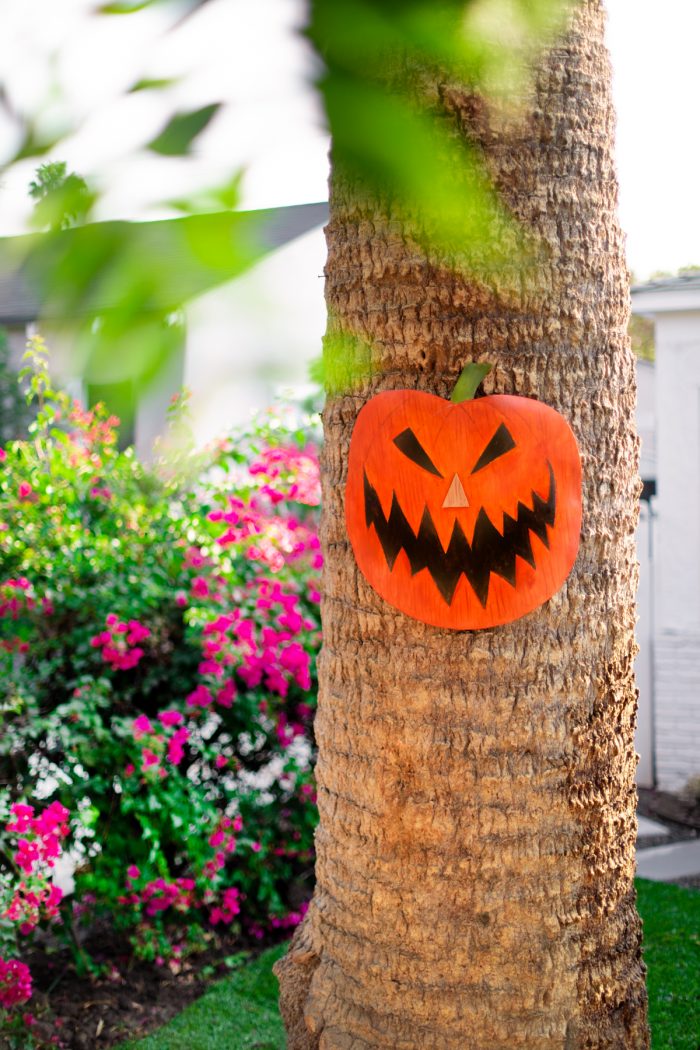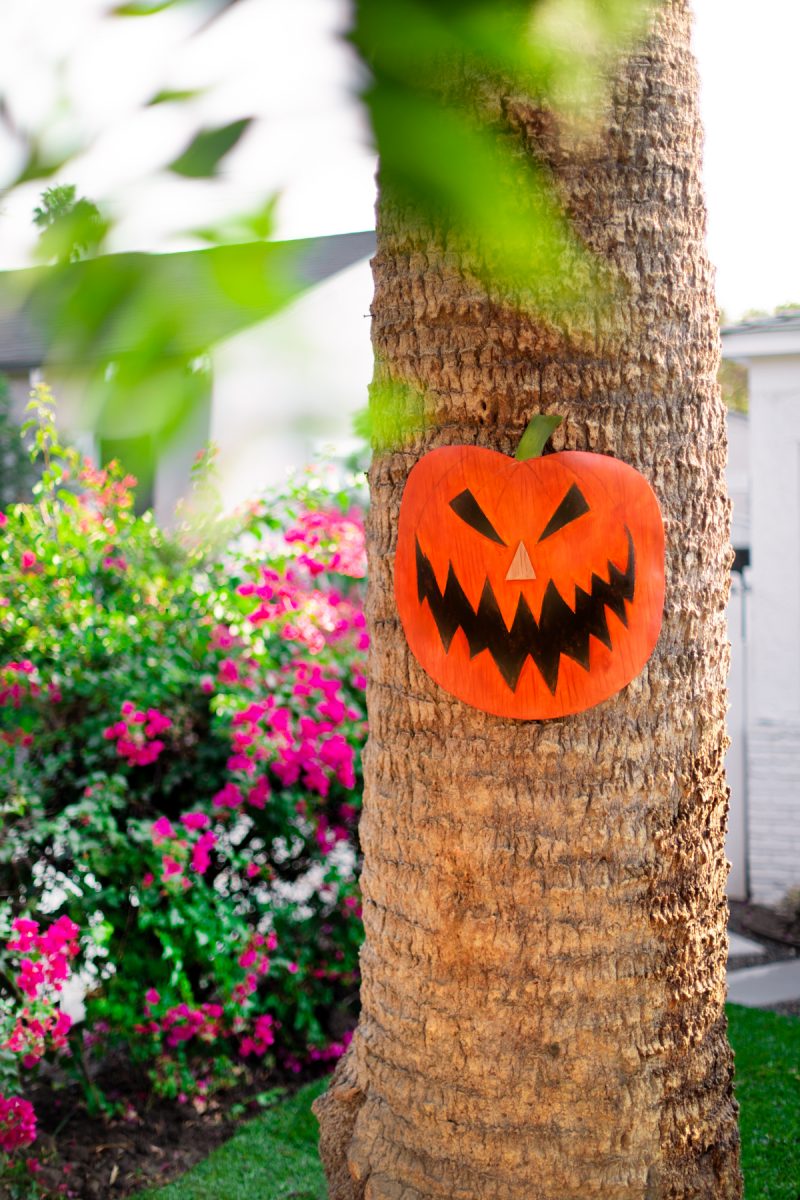 We have tons of pumpkins and jack-o-lanterns (real and faux!) outside our house, plus our giant skeleton Carl, of course (not pictured). My favorite addition this year is the Halloween Town door I made from The Nightmare Before Christmas. Was easy to make and a huge hit with the loyal NBC fanatic in my house. 😉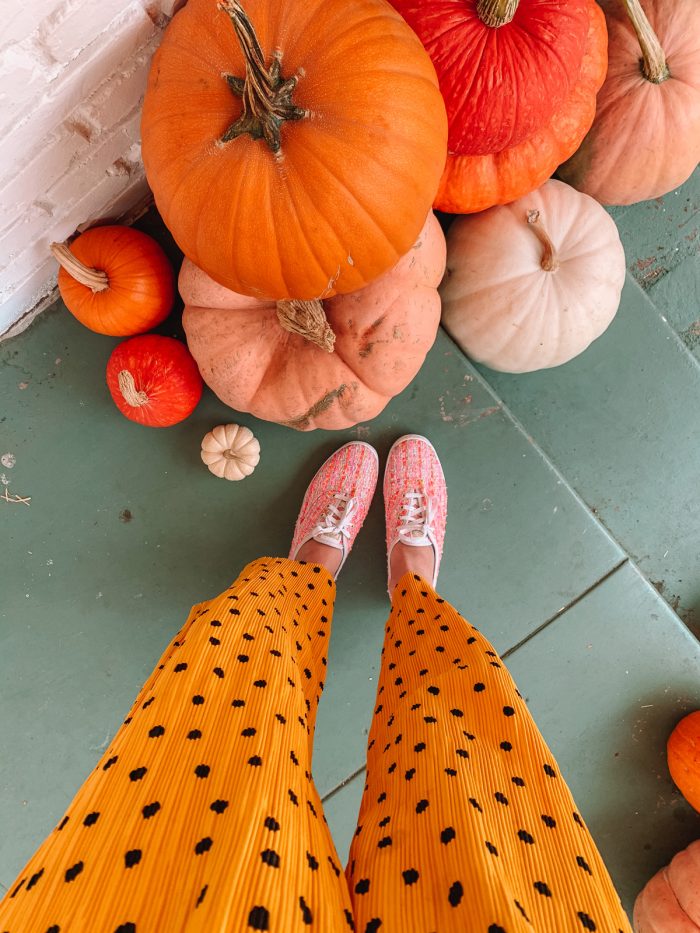 Photos by Jeff Mindell
Do you decorate your home for Halloween? Inside and/or out!? What's a favorite element from your decor? Mine's definitely our growing pumpkin collection!
Hope you found some Halloween home decor ideas here you love for your own home, whether you always decorate or are only just beginning to!