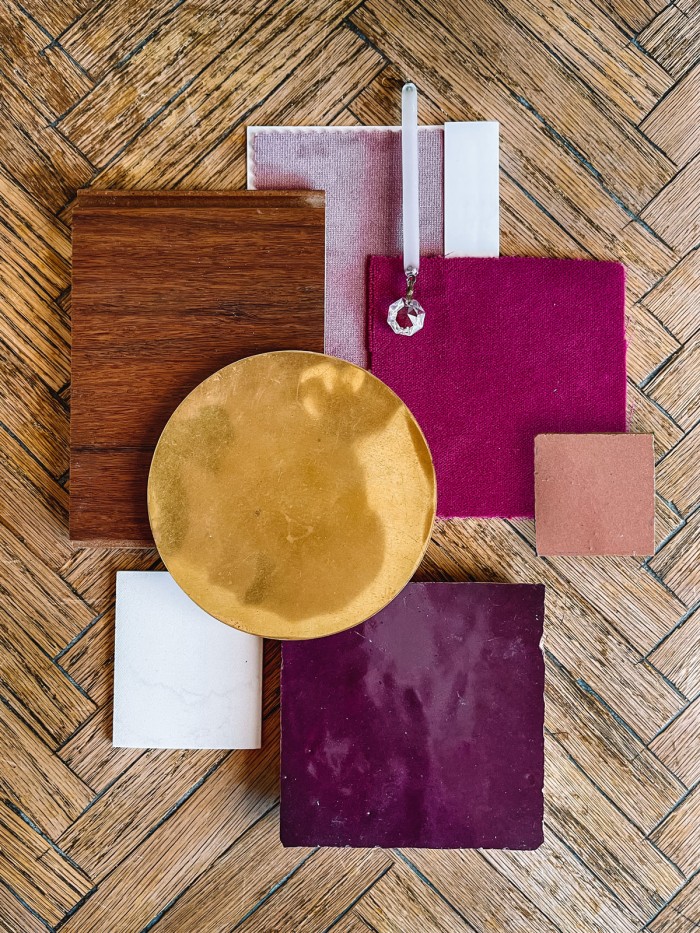 Here's the plans for our third and final bathroom in the Palm Springs house, the guest bathroom! This bathroom is off the hallway in the house that leads to the main bedroom/bathroom suite and the guest room. It's small but mighty and I can't wait to breathe some moody drama into it!
The Color Palette
I'm excited to incorporate some deep wine and eggplant colors into this home, which we didn't use at all in our LA home! I picked out this eggplant zellige tile that will be going in the shower.
It will be paired with a variety of shades of pink, and accented of course with deep wood tones that carry throughout the house and some beautiful brass and crystal details!
The floors will be a blush pink zellige that we actually had ordered for another project but never got to use!
For now, you can see what the bathroom looks like as we begun renovations: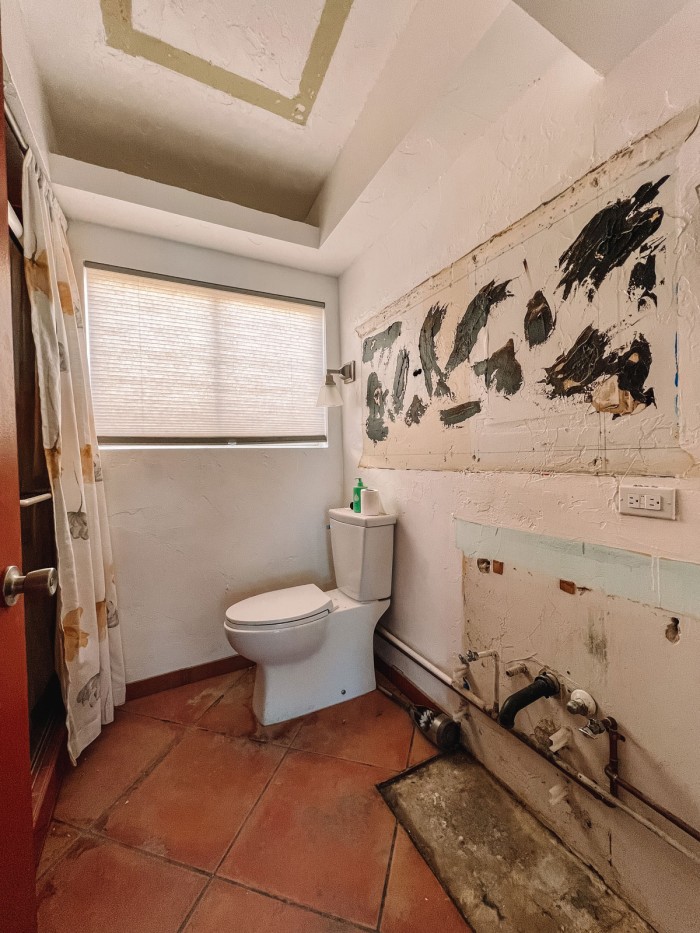 Converting A Vintage Sideboard into a Vanity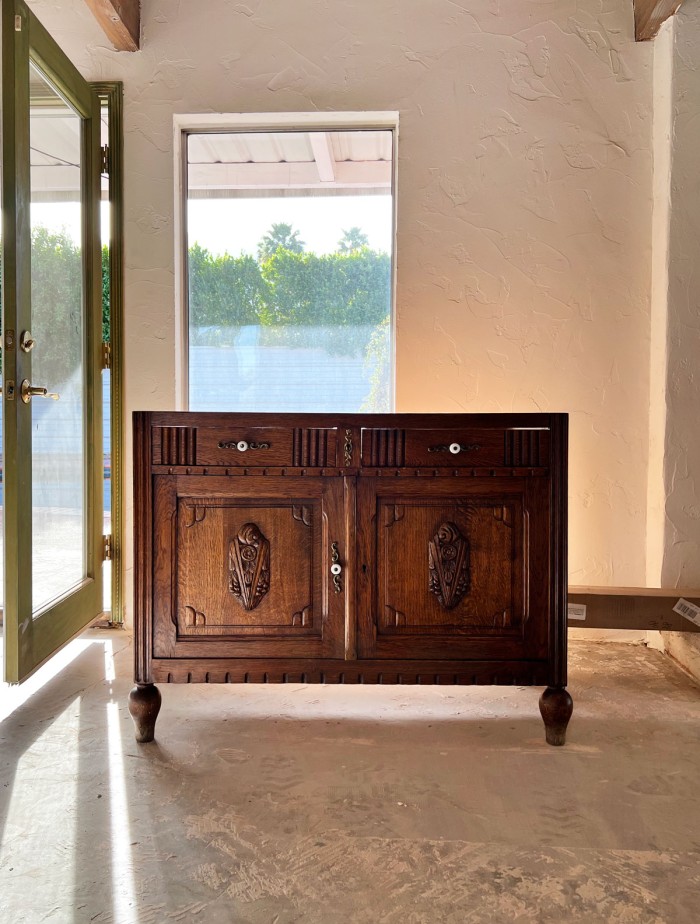 I wanted a wood vanity for this space, but couldn't find one I liked. Instead, I found a beautiful antique sideboard that I'm going to convert into a vanity!
It already had a marble top so it just needs to be cut for a sink and plumbing. Which, speaking of, I happened to find a vintage faucet with incredible detail that we'll be adding. It also has a beautiful mirror but I'm not sure it will fit in the space we have, so we hope to use it elsewhere!
Facebook Marketplace to the rescue! I love that it will be a unique one of a kind piece in that space.
The Guest Bathroom Design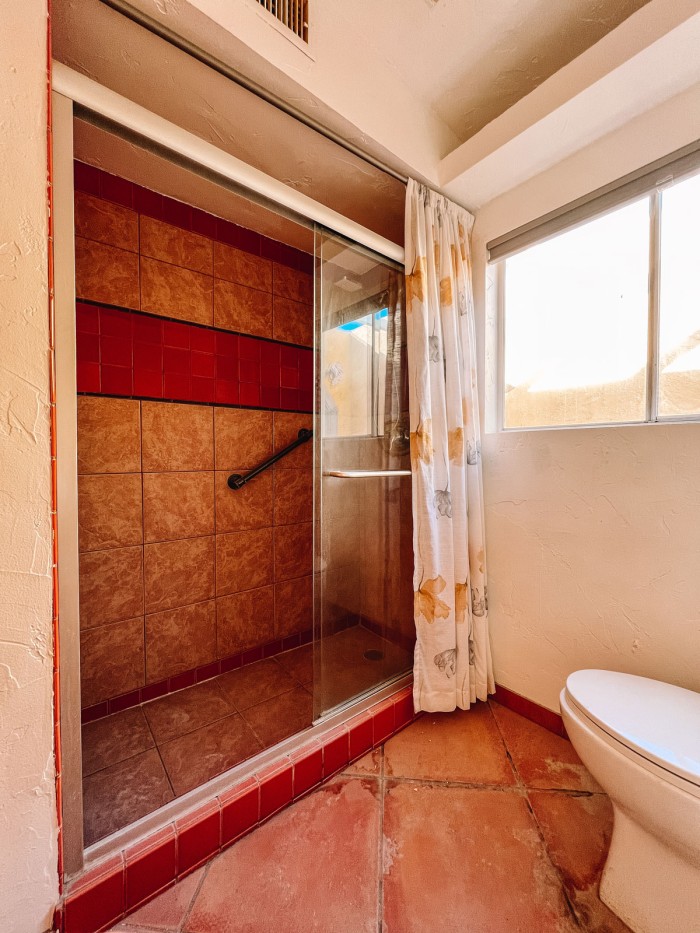 We are keeping the layout as is, but as you can see in the before photo (above) versus the progress photo (below) we've managed to re-route the air conditioning vents so we could remove the drop ceiling and expose more of that beautiful wood!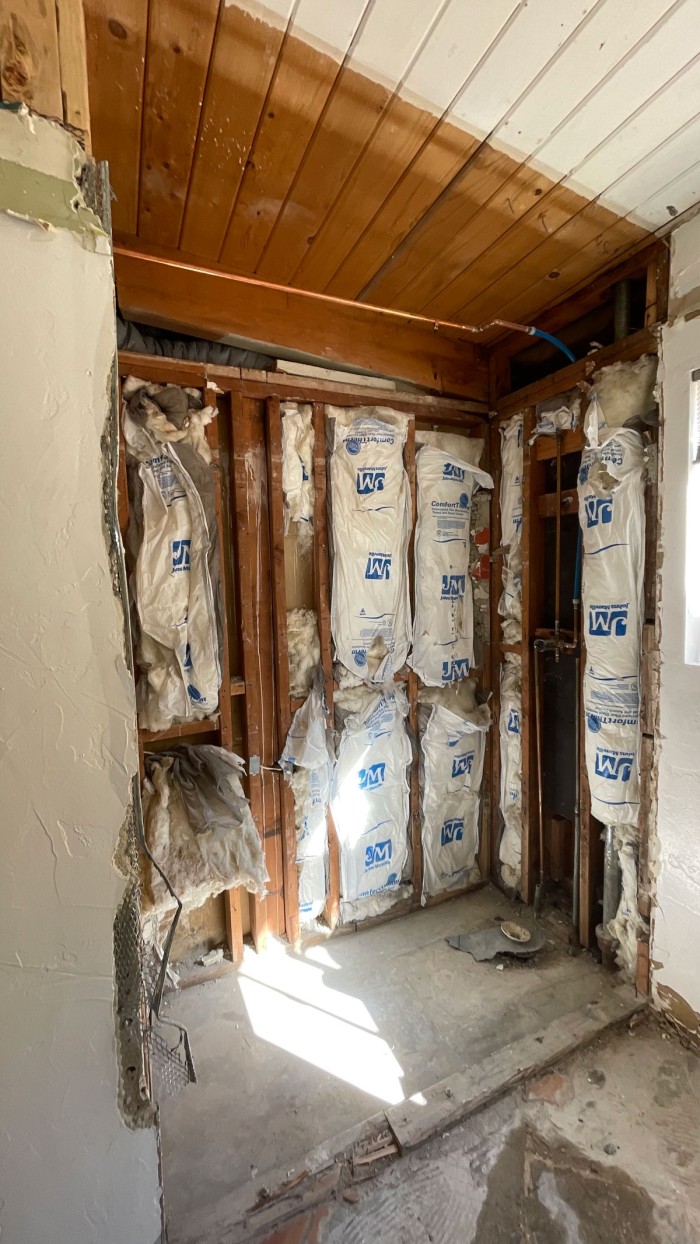 Above the antique vanity, I'll be adding two vintage hanging pendant lights that I purchased at the Rose Bowl Flea market. The plan is to hang them off of some large beautiful hooks, however I haven't found "the ones" yet.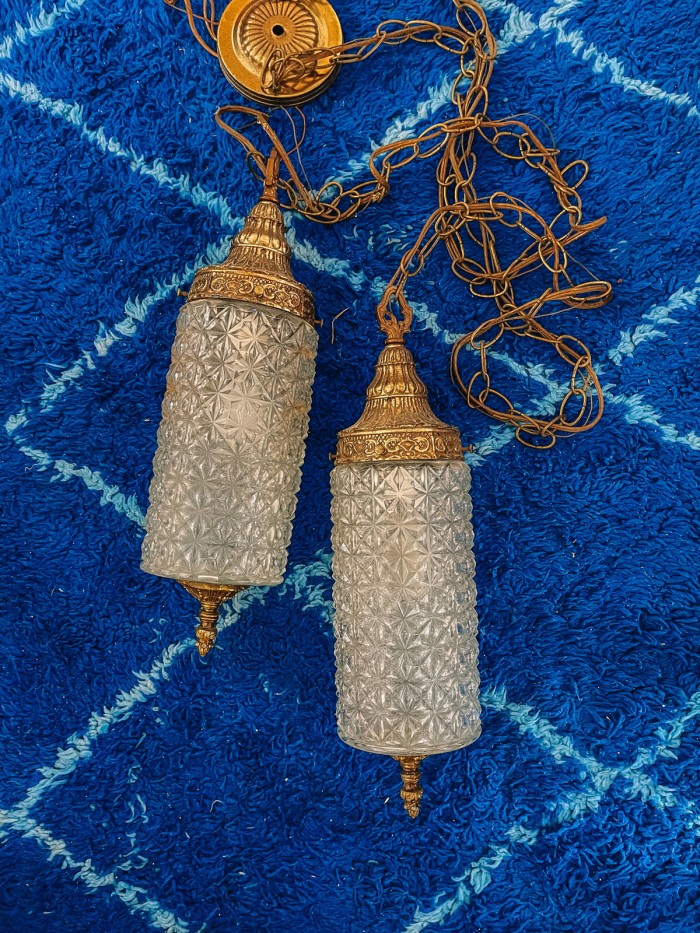 Here's a few of the items I've selected so far: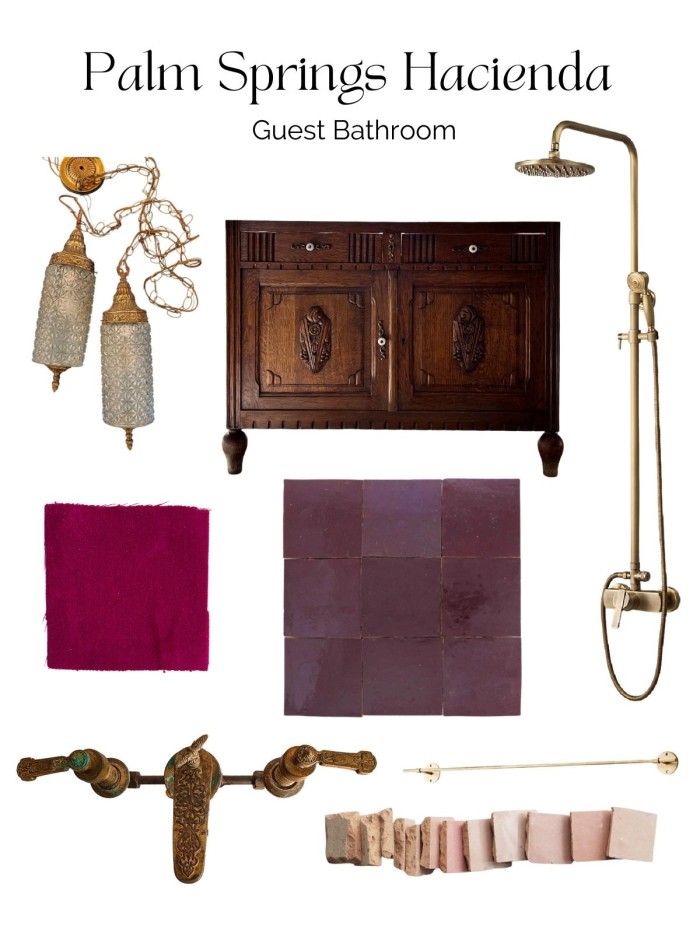 Vintage Lights | Vintage Sideboard | Brass Shower Hardware
Pink Velvet | Eggplant 4×4 Zellige Tile | Vintage Faucet
Brass Towel Bar | 2×2 Vintage Rose Zellige Tile
I haven't determined a color for the walls yet, but I am thinking either an eggplant color to match the tile or a deep pink.
The Shower: Curtain or Glass Door
This has been quite the controversial conversation, but I actually love a shower curtain. Most people tend to shy away from them at all costs, but I look at it as another opportunity to bring in color, pattern and texture!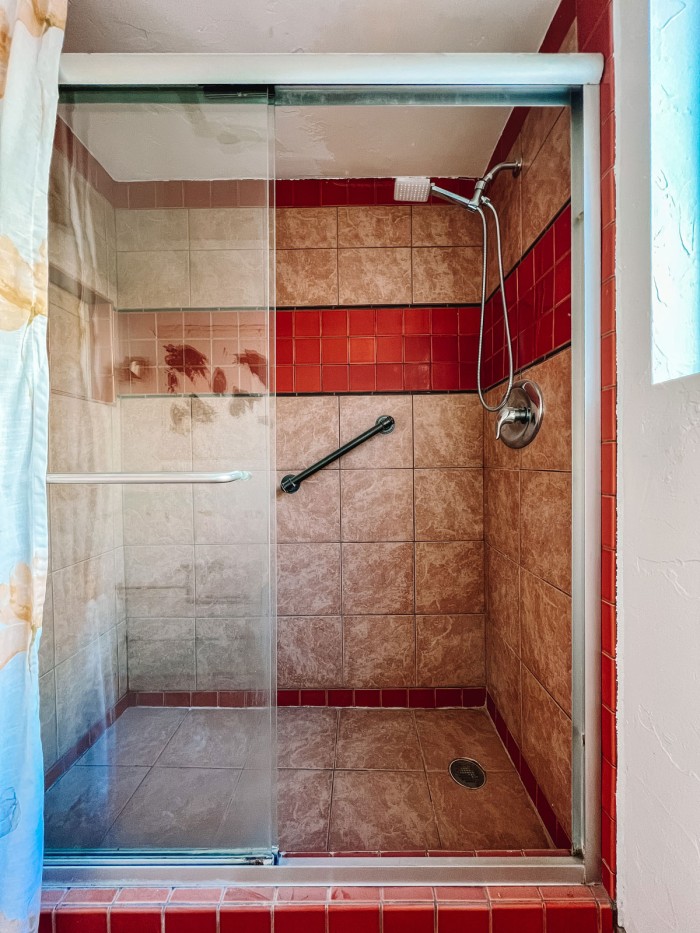 As you can see above, the previous owner just… went with both!
I'm not a fan of sliding glass shower doors and they wren't in good shape so we removed those. We could have done a half-glass door but I find those miserable to shower in, and while we could have squeezed a traditional glass door into this space it still felt tight.
We are hoping to instead use just a dramatic curtain that I will hook back along the back wall with a dramatic curtain hook. I would love to use this opportunity to add some pattern to the space, perhaps with a stripe? I love the stripe pictured below!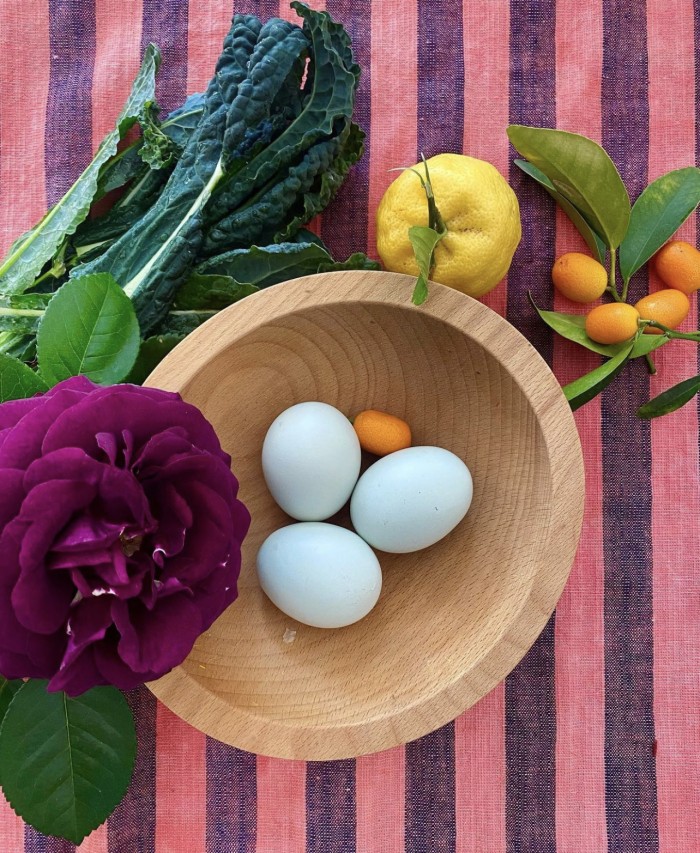 Photo by Eliza Gran
If we can't make it work, we will add a door, but I love that this way the tile would be on full display when the curtain is pulled back, instead of obstructed with a glass wall!
To Do List
Here's the question marks still remaining:
I'd like to add a window treatment to the window. Perhaps a roman shade?
I need to determine a good hook/hanging situation for the pendants flanking each side of the vanity. And a mirror for them to flank, for that matter!
Paint color, eggplant or deep pink (think bougainvillea)?
Would love to hear your thoughts!