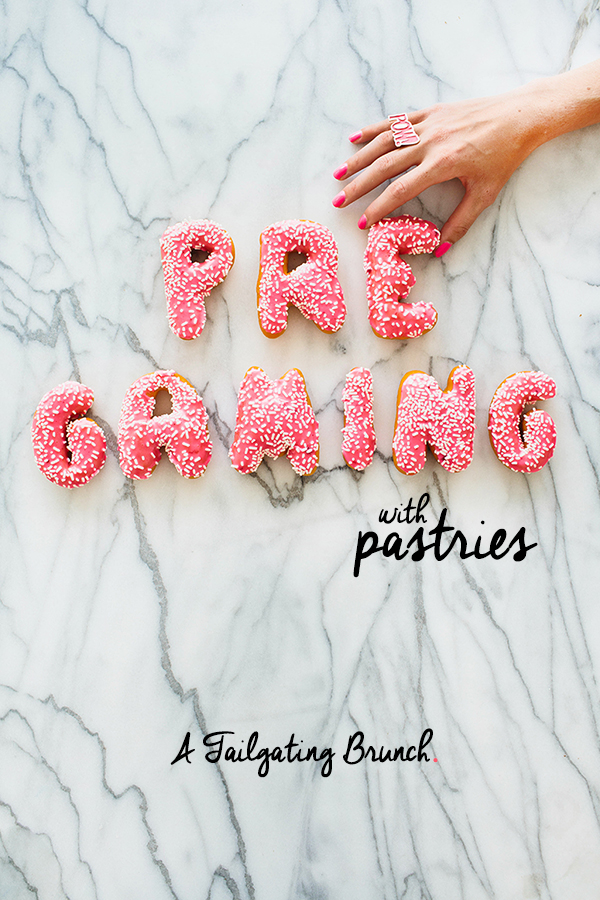 You may not know this, but I happen to come from a very athletic, sports-fanatic family. (No, I didn't get that gene.) So when Smirnoff ICE approached me about throwing a ladies tailgate party I decided to dig deep into my football roots and put my own spin on it… with pastries. (Surprised?) Lucky for me, here in LA many games are on early. Early enough for… brunch perhaps!? Yep! So I decided to pregame with pastries and replaced beer, burgers and hot dogs with screwdrivers, donuts and cinnamon rolls. I've got a Smirnoff ICE cocktail recipe, a pastry recipe and some free printables for you here… so you can throw your own little tailgate brunch too. IN FACT! There is even… wait for it… donut cornhole!!!! (You gotta scroll to the bottom to see that!)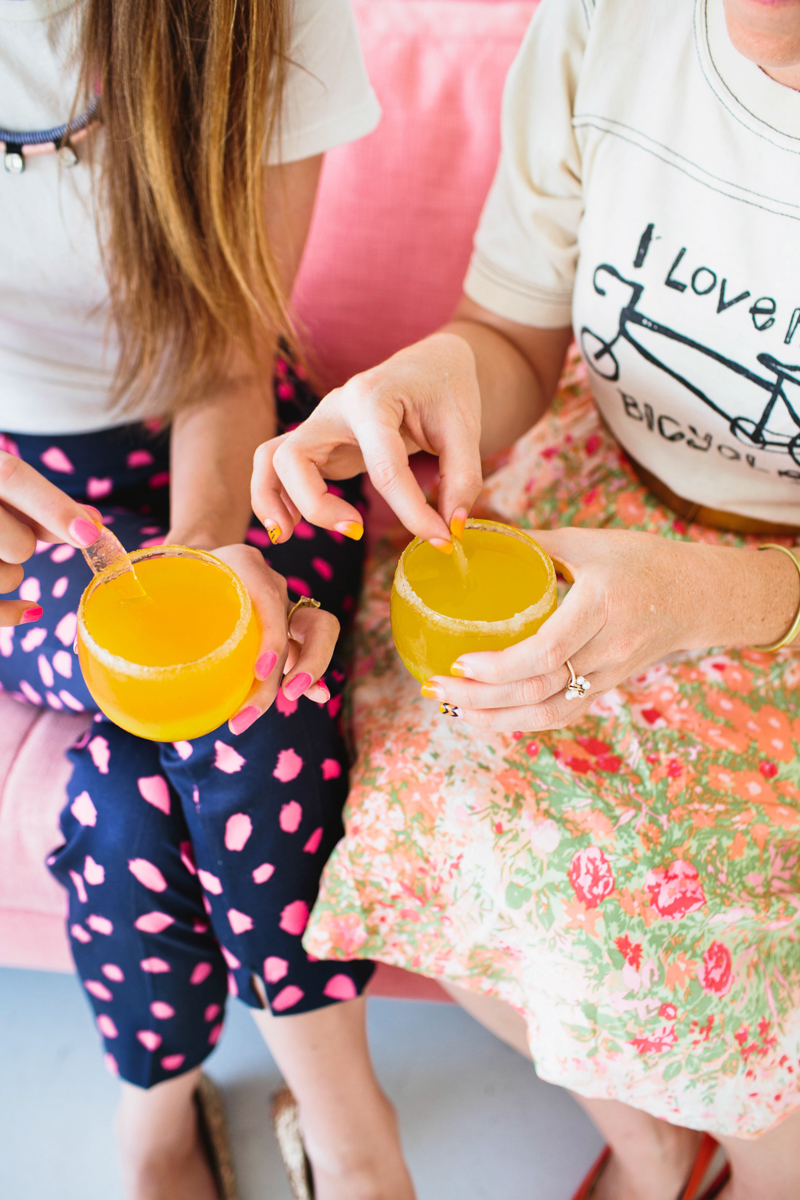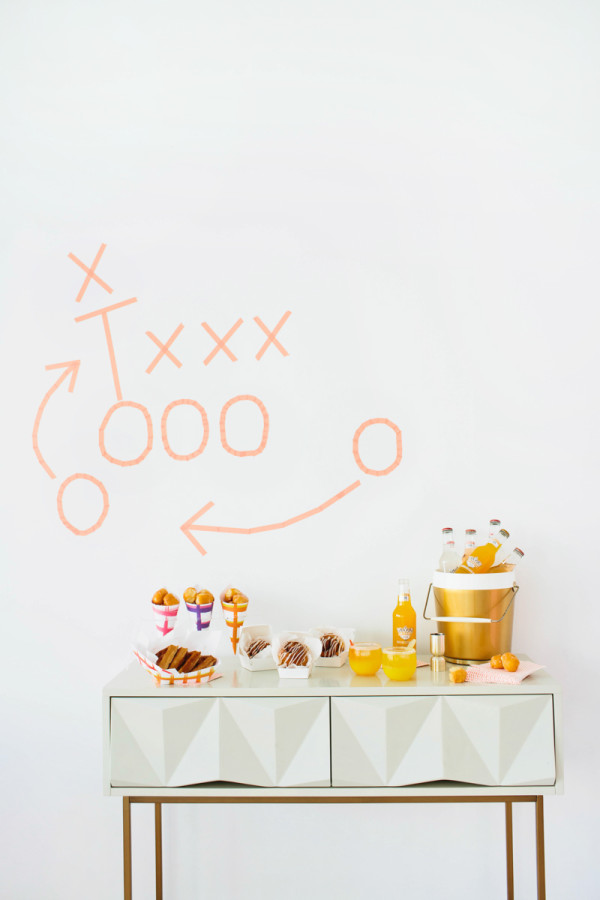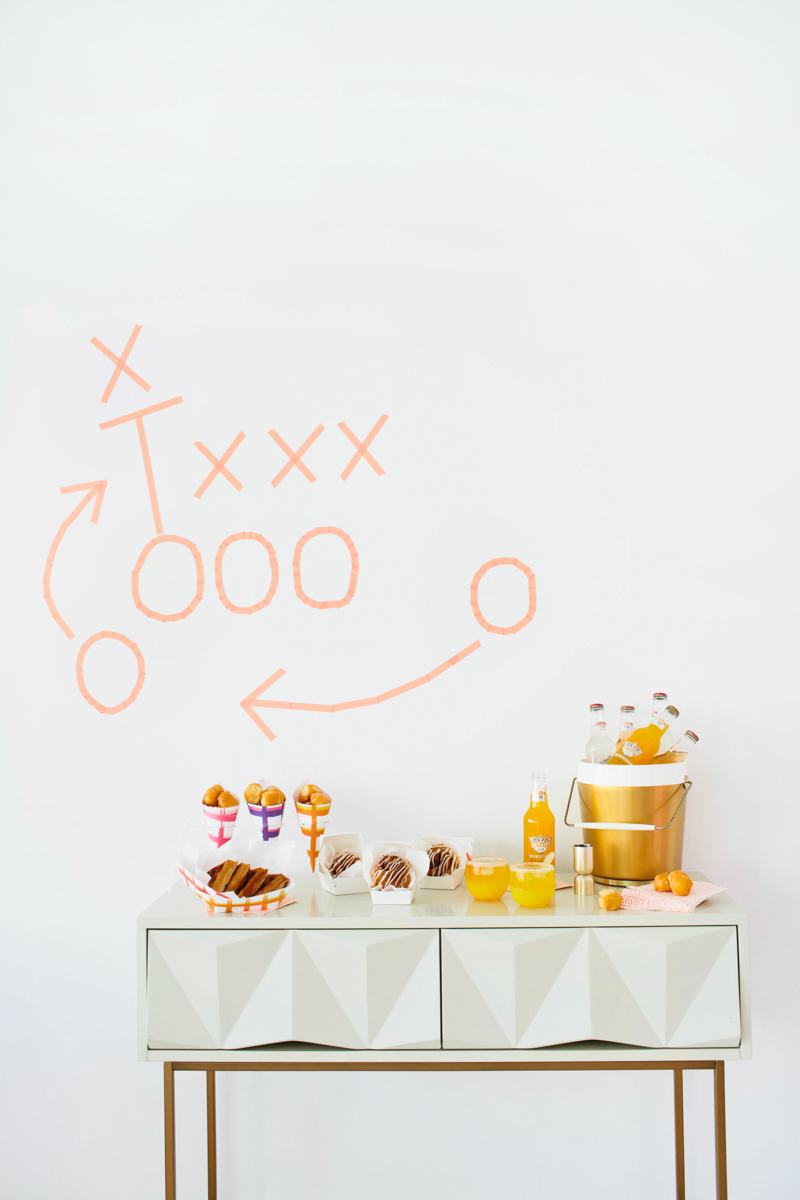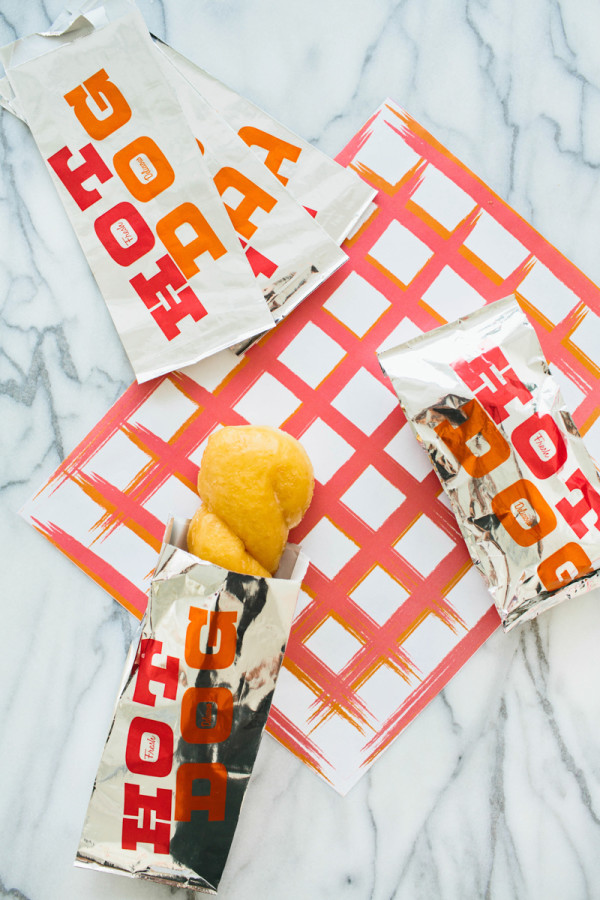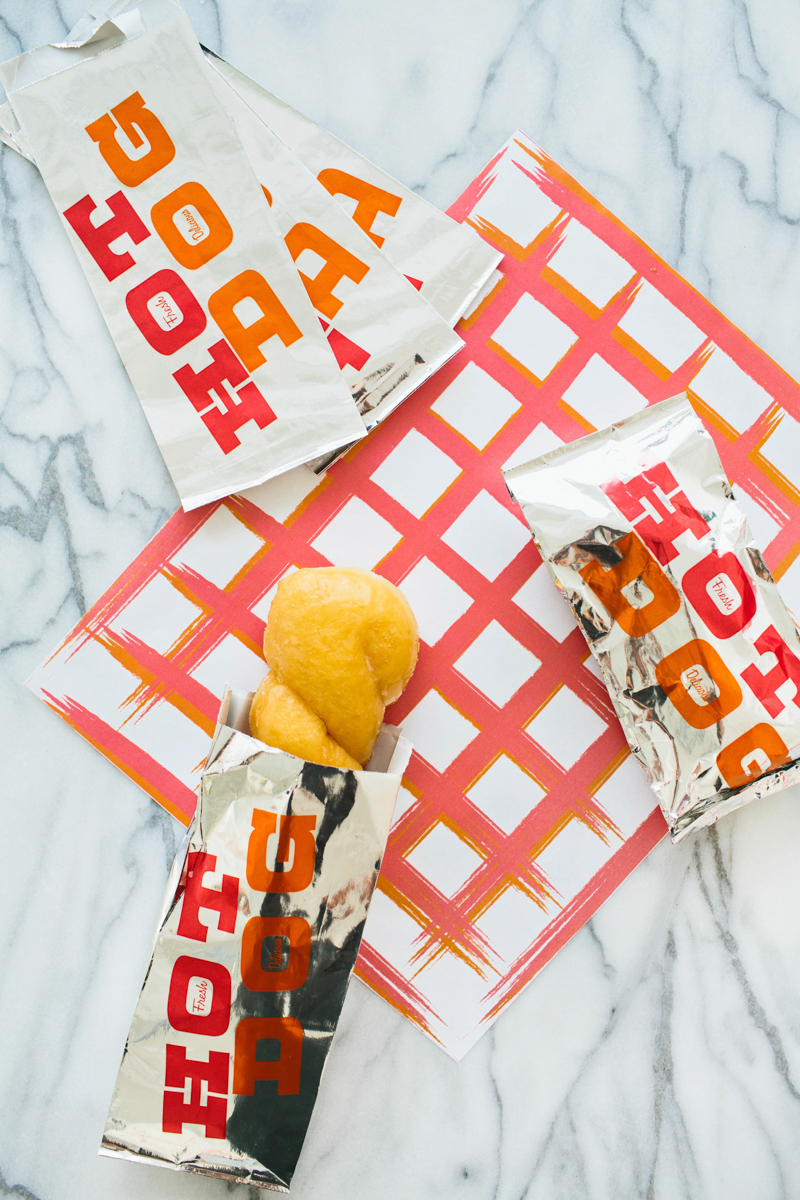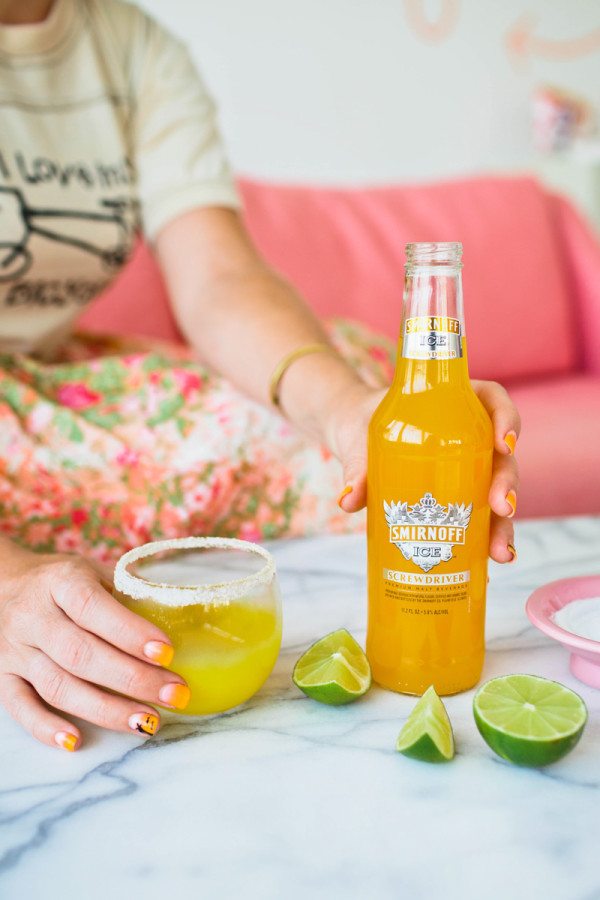 I brought in Marissa of Bourbon & Goose to help us get the party started with a few cocktails… a Smirnoff ICE Screwdriver Mule and a Coco Pom Smirnoff ICE Peach Pellini! Delish.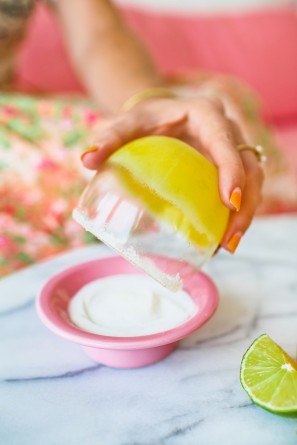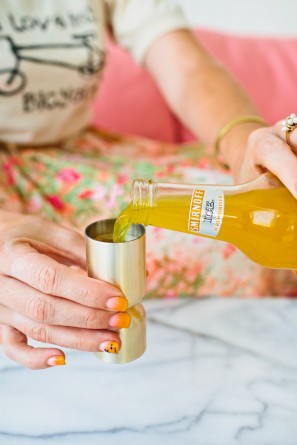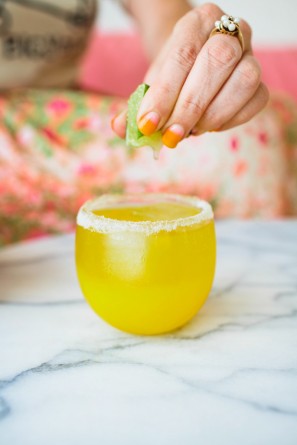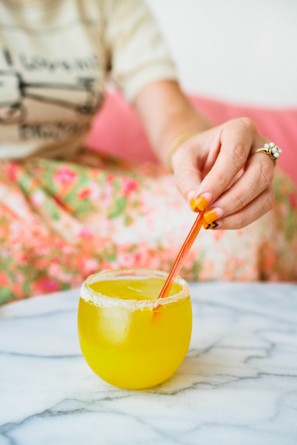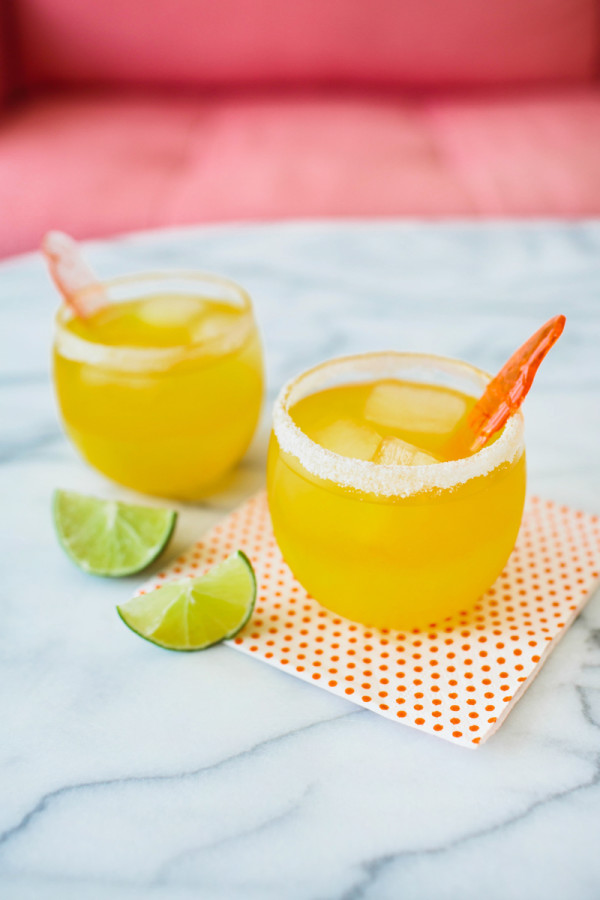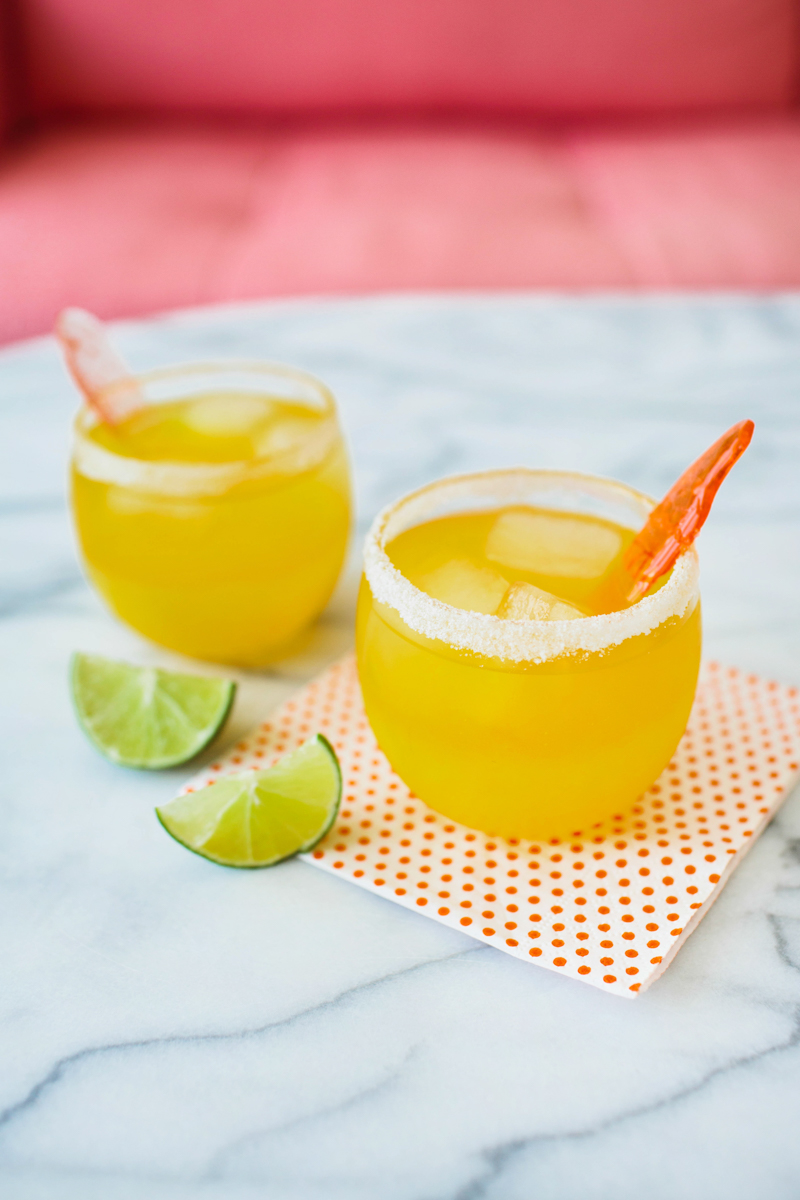 SCREWDRIVER MULE


Smirnoff ICE Screwdriver (2 oz. per cocktail)
Ginger Beer
3-4 Limes
Sweet + Sour Candy Powder for Rimming (We used this!)
Ice
Pour your sweet and sour candy powder onto a small saucer or plate. Next slice up your lime into wedges and rub the juicy side of the wedge along the lip of your glass. Now roll the outer edge of the glass in the powder until fully coated. Take a fresh lime wedge and squeeze lime juice into your glass. Next, add in 2 or 3 ice cubes and pour in 2 ounces of Smirnoff ICE® Screwdriver. Now fill your glass with cold ginger beer and stir (The candy sticks that came with the powder were great for this, and also made the perfect garnish.)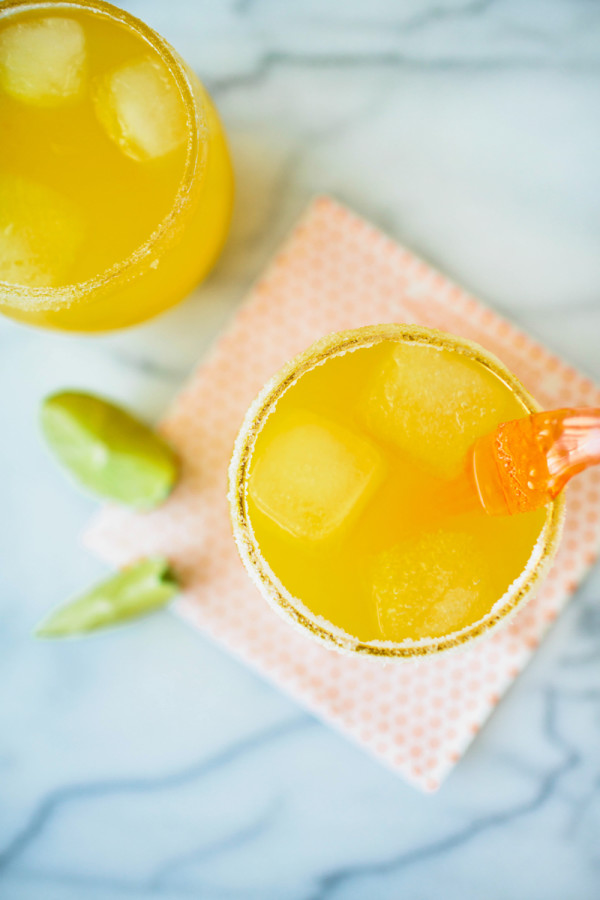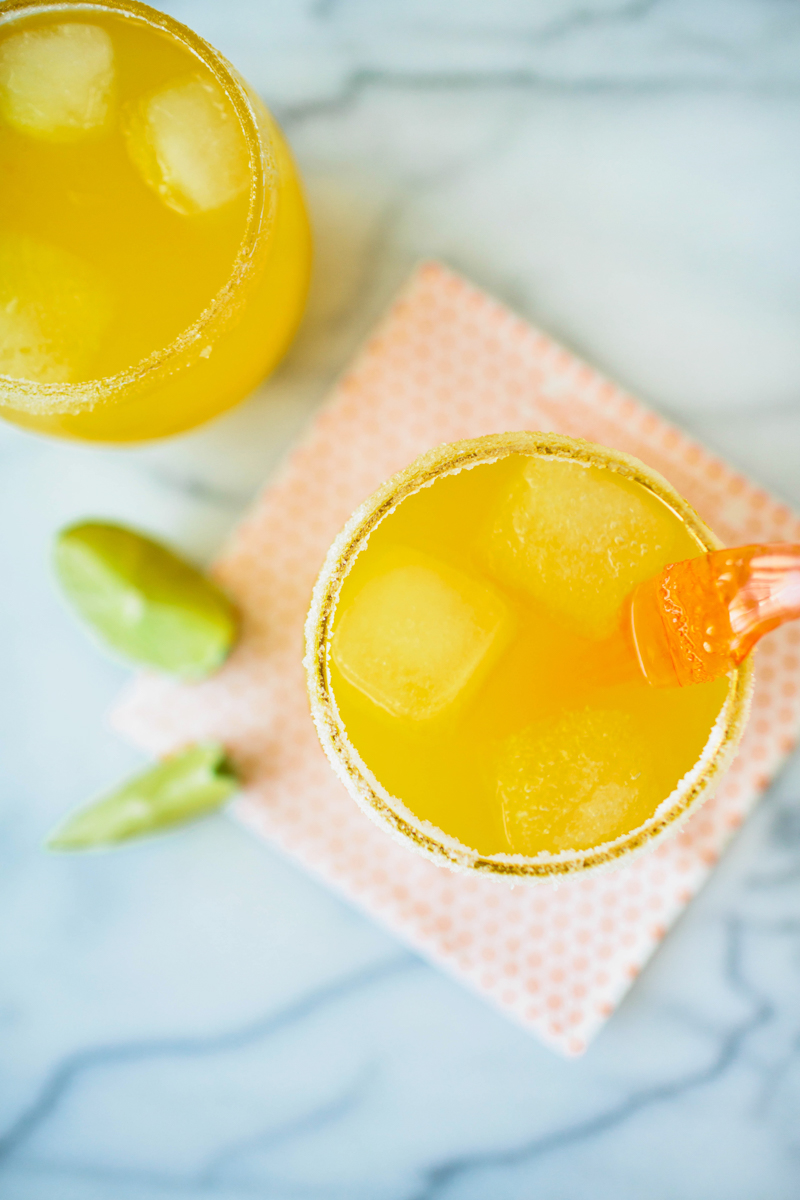 COCO POM BELLINI


Smirnoff ICE Peach Bellini (2 oz. per cocktail)
1 oz. Chilled Coconut Water
Pomegranate Soda (Learn how to make your own here!)
Pomegranate (Seeds used for garnish)
First things first, you'll need to make your own pomegranate soda. It's pretty simple and tastes delicious. Plus, will earn you major points for original style. You can find step-by-step directions here. Next, you'll need a champagne flute—don't fret if you don't have flutes available, any tall glass will do. Now take a few pomegranate seeds and place them in the glass. This will be your sweet garnish. Gently pour in 2 ounces of Smirnoff ICE Peach Bellini and 1 ounce of coconut water into your flute. Now slowly fill the glass with fresh pomegranate soda and voilà, you're now ready to serve!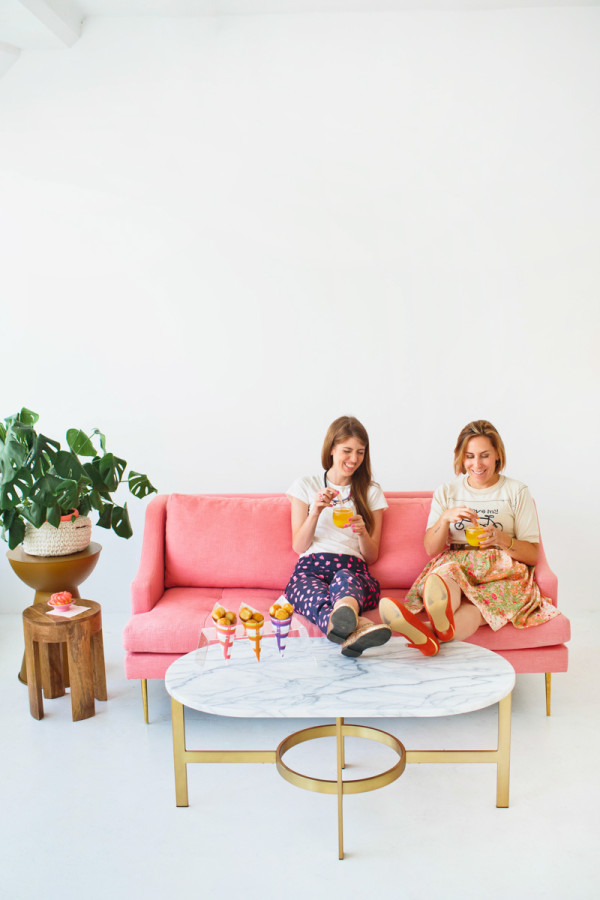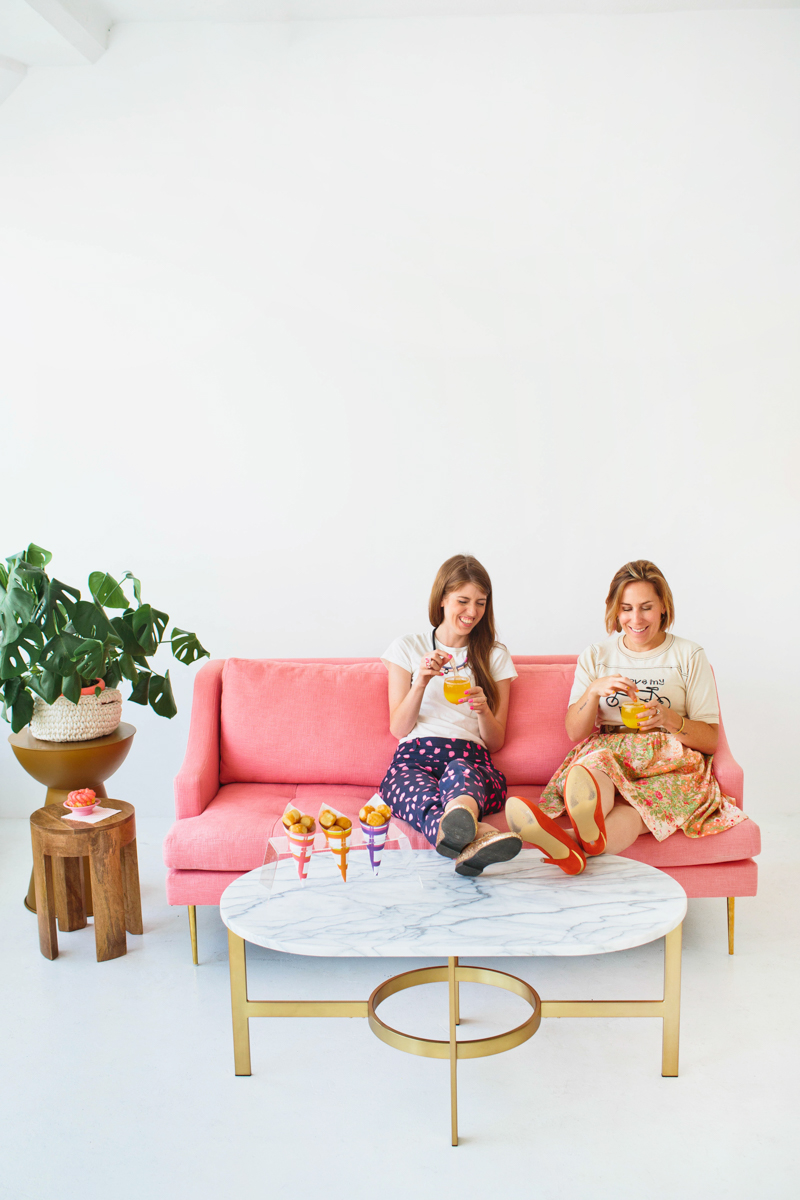 I took a little inspiration from football plays and used the X, O and arrow motif as a background for our pastry bar. All you need is washi tape! BAM! I ordered and made typical concession stand packaging… replacing all the regular football-in' foods they usually hold with my own pastry versions for a fun twist! Here's what we served:
Cinnamon Rolls in Burger Boxes
Twist Donuts in Hot Dog Foils
Donut Holes in Fry Cones
Wonuts (That's waffle donuts!) in Snack Trays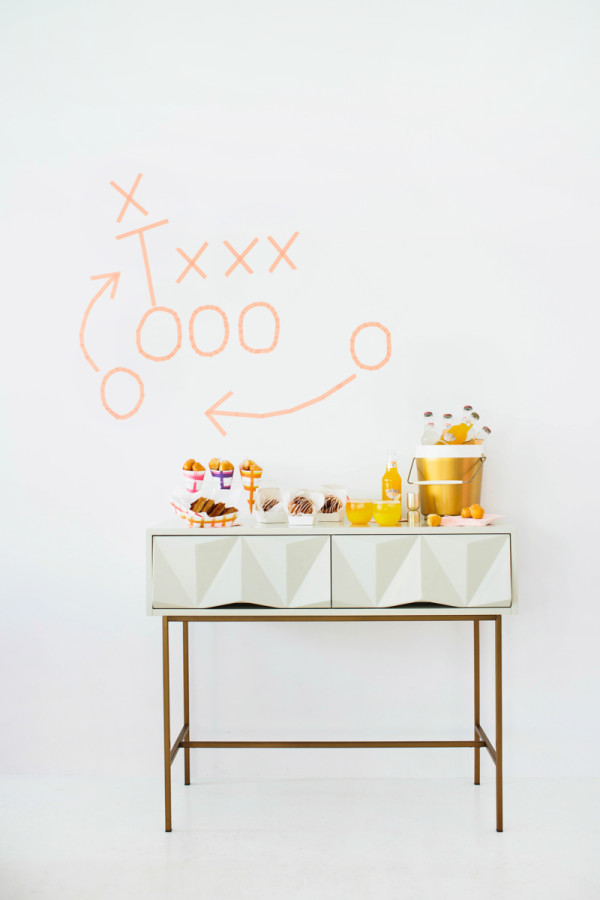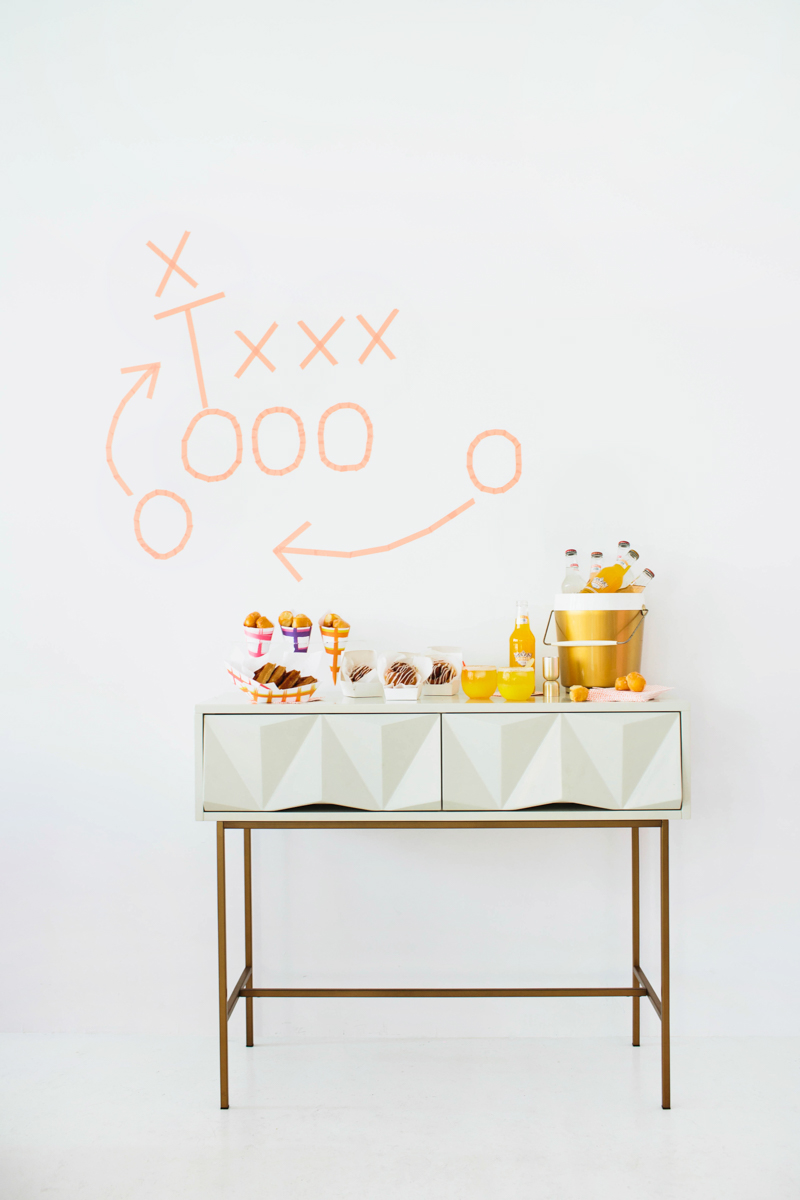 We whipped up some grid prints, as an ode to the cage on football helmets, and turned 'em into fry cones and snack trays. You could also turn these into placemats if you were having your brunch picnic style!
FRY CONES + SNACK TRAYS

Free Printable Grid Prints (For the fry cones, click here. For the snack trays, click here.)
Wax Paper
Scissors
Doublestick Tape
To make the fry cones: Print out your pattern on 11×17 paper and cut it into an 11″ square. Cut that square in half diagonally forming two triangles. Place a few pieces of doublestick tape along the edges of the triangle and lay a piece of wax paper overtop. Trim the edges so it fits the triangle perfectly. I then followed this tutorial for rolling the cones.
To make the snack trays: Cut and fold along the indicated lines. Fold up the sides of each and secure the tabs with doublestick tape.
THE PERFECT CINNAMON ROLLS
Makes two dozen

Dough
2 pkg.(.25oz) of yeast
1/4 cup warm water
1 1/2 cups buttermilk
1/2 cup vegetable oil
4 1/2-5 cups flour
1 tsp. salt
1 1/2 tsp. cinnamon
1/3 cup granulated sugar
1/2 tsp. baking soda
Filling
1/2 cup butter, softened
1 1/4 cups brown sugar
3 tsp cinnamon,
Cream Cheese Frosting
1/4 cup unsalted butter, softened
3 oz. cream cheese, softened
2 tsp. vanilla
2 cups confectioners sugar
1 tsp. of lemon juice
Use a stand mixer with paddle attachment. In a large bowl, dissolve yeast in warm water. Let stand until foamy. Heat buttermilk in a saucepan until warm to the touch.
Pour the buttermilk and oil into the yeast and water. In a different bowl, combine the dry ingredients flour, salt, sugar, baking soda, and cinnamon, whisk together. Gradually add the dry ingredients to the liquid ingredients until a soft dough forms. You may need to add more flour depending on how sticky your dough is, you want it to clean away from the side of the bowl. Knead the dough for 10 minutes with your mixer or by hand knead for 15 minutes.
Remove the dough from the mixing bowl, spray a large mixing bowl with cooking spray and place the dough in the bowl, cover with plastic wrap or a towel and place it in a warm, draft-free place. Let it rise for 30 minutes or until doubled in size.
After the dough has risen, punch it down and turn the dough onto a floured surface. Roll into a 16"x12" rectangle. With a knife, butter the dough across the entire surface. Sprinkle brown sugar over it and then sprinkle the cinnamon. Starting with the long edge, roll the dough into a tight roll. Cut 2 inch pieces and place either in a greased 9"x13" pan or parchment paper lined cupcake pans. Cover with a towel and place in a warm, draft-free place. Allow it to rise for an hour, or you can put them in the fridge to rise overnight.
Preheat oven to 375F and when the rolls have risen, place in oven for 20-25 minutes or until golden brown.
To make the cream cheese frosting mix everything in a mixer until smooth. Put frosting on hot cinnamon rolls and serve warm.
For your tailgating brunch, pop 'em into mini burger boxes.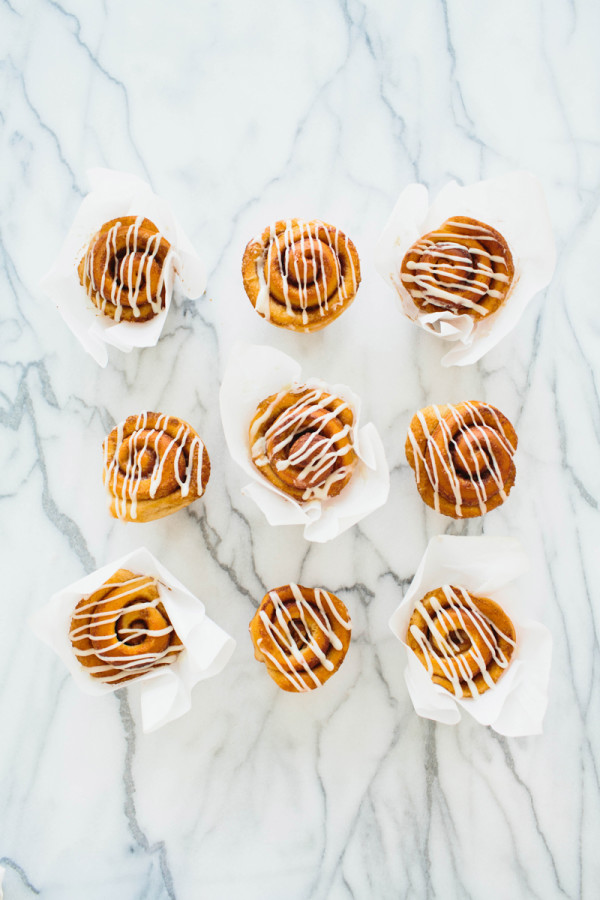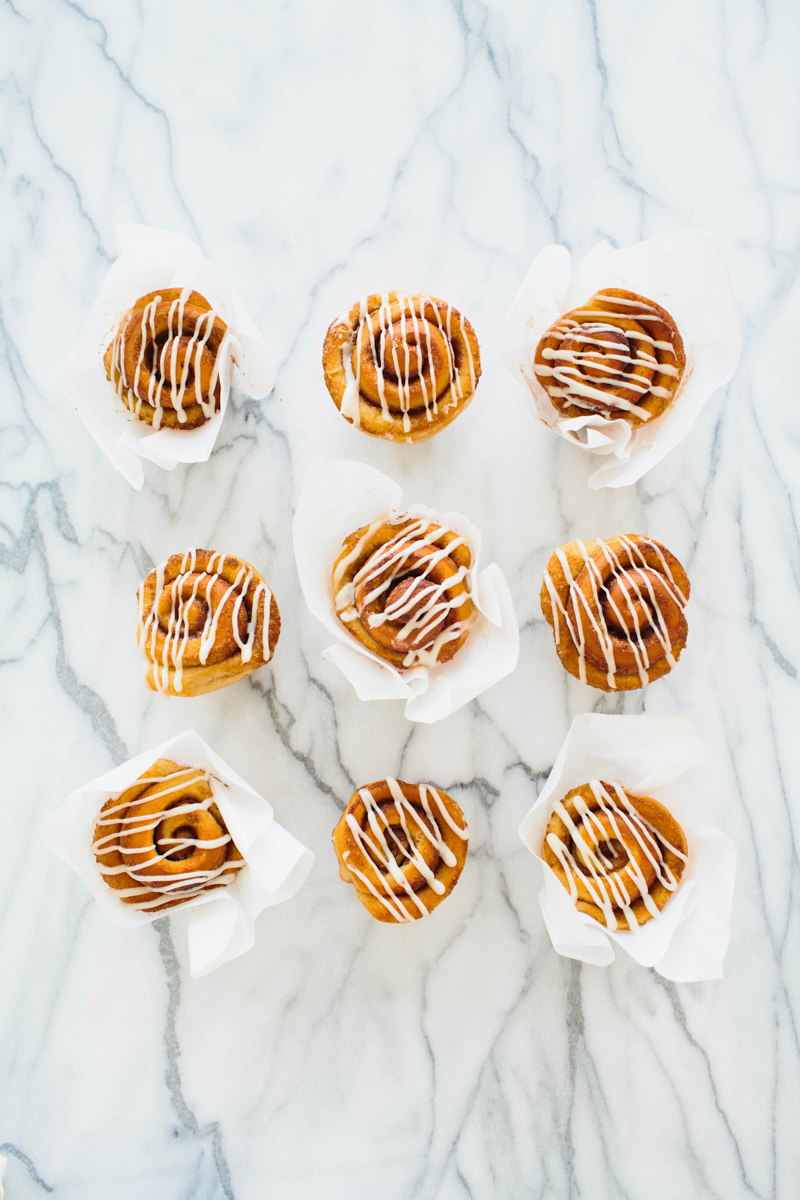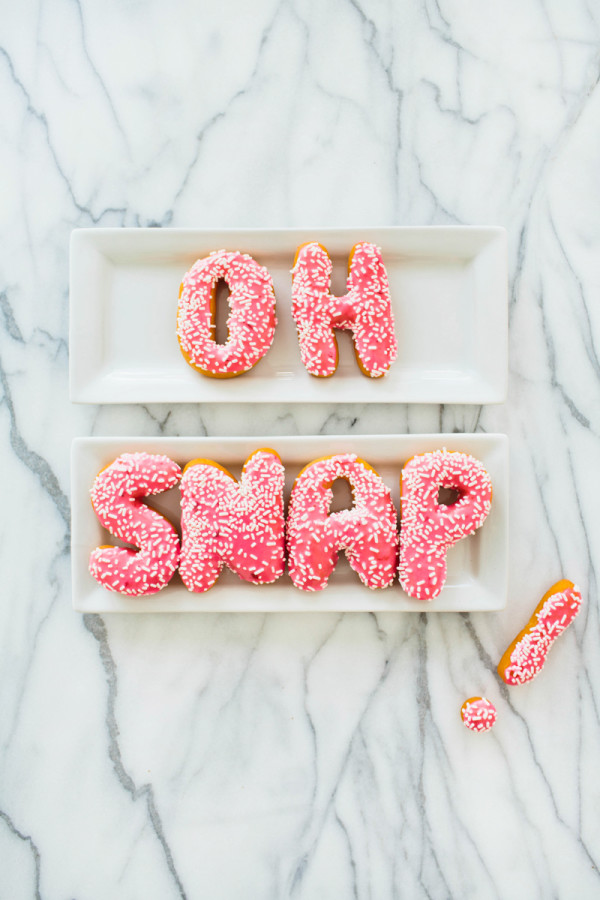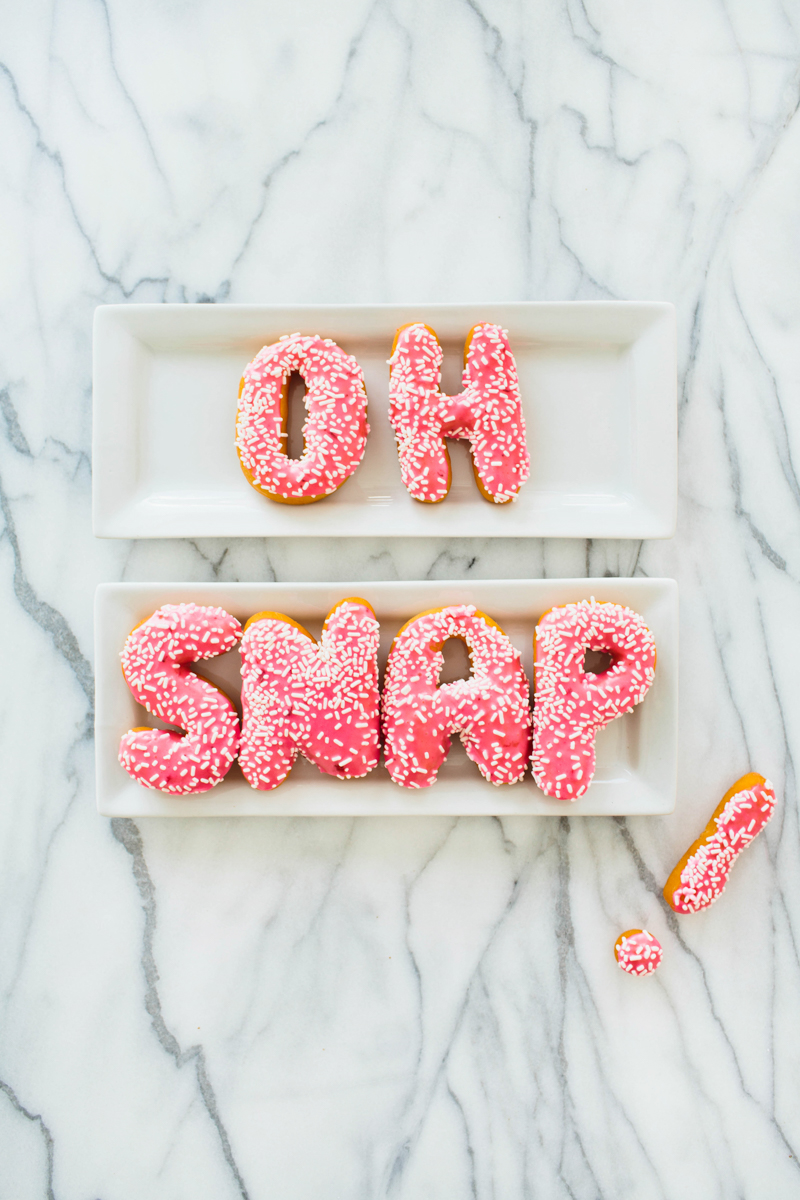 And last but certainly not least…. donut cornhole! I made over a tabletop version of cornhole to be played with, you guessed it, donut holes!! The perfect little activity for your morning tailgate action.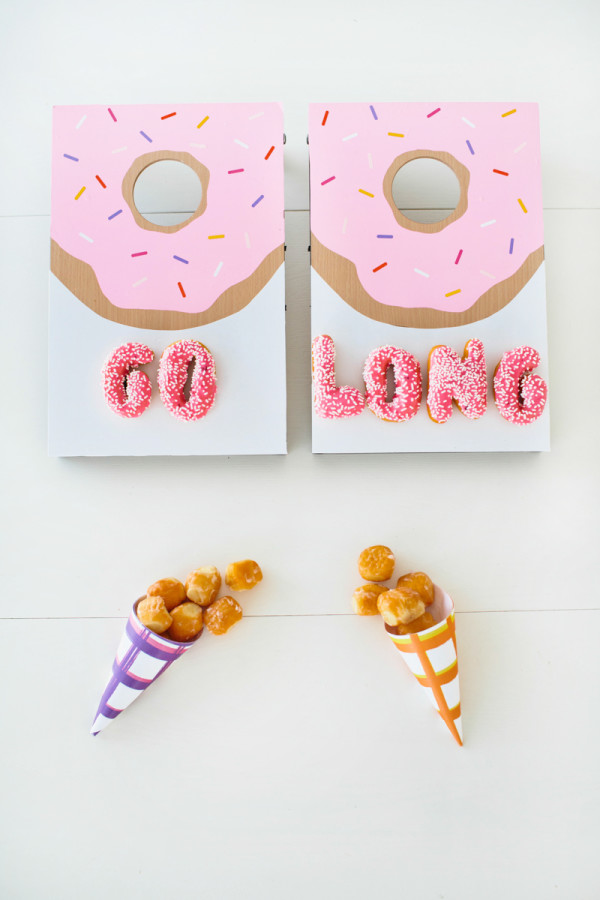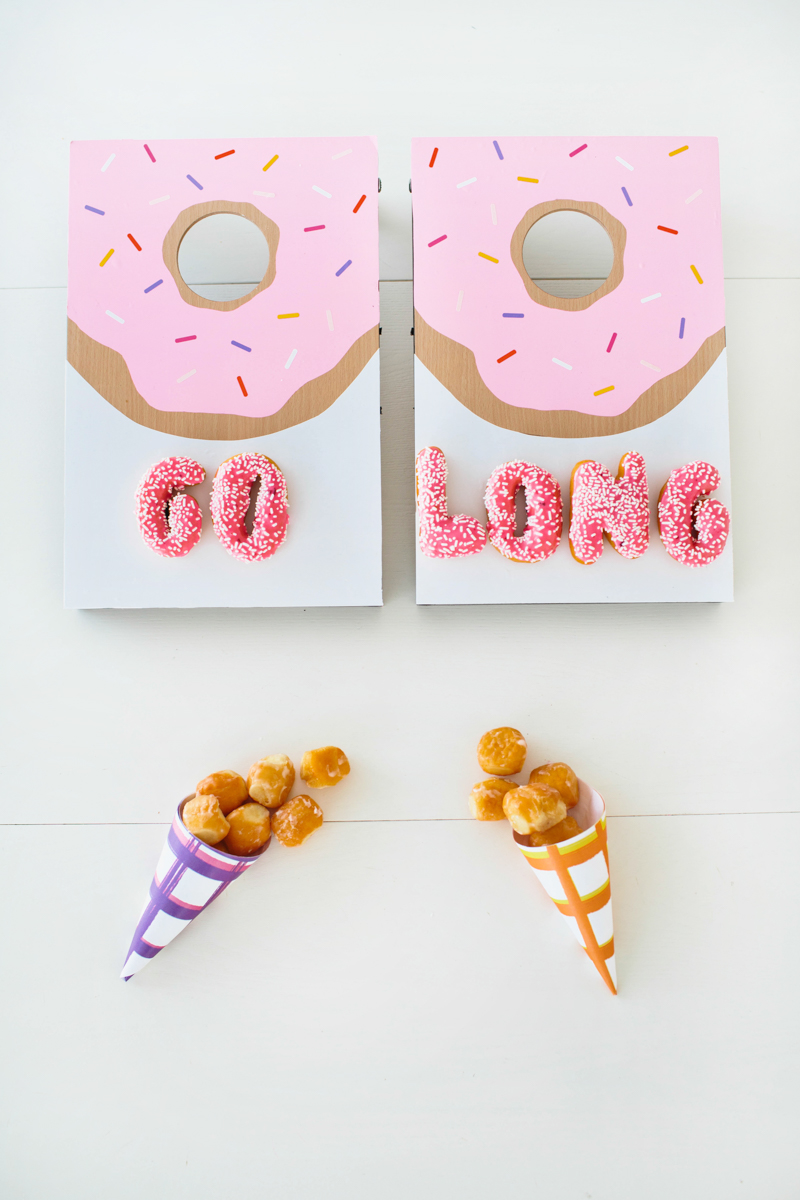 DIY DONUT CORNHOLE

Tabletop Cornhole Boards

Vinyl (+ craft knife) or Paint (+ paintbrush)
Large Paper Ice Cream Cups or Bowls
Masking Tape
Donut Holes for Throwing
I used vinyl for my board. I placed a piece of pink vinyl over the top of the board and cut around the edges and hole and then drew a wavy line where I wanted the frosting to end and cut that out. If you use the knife lightly, it will just cut the vinyl and not your board! Then I put a piece of white vinyl over the bottom of the board, cut around the edges and then a curved edge forming the bottom of my donut. Then I cut out some sprinkle shapes from various colors and added them on top. To do this with paint, lightly draw where you want the frosting and donut to be and paint within your guide lines. Let dry and paint on sprinkles. Finally, before playing, tape your large ice cream cup or bowl underneath each hole so it can catch the donuts as you throw 'em!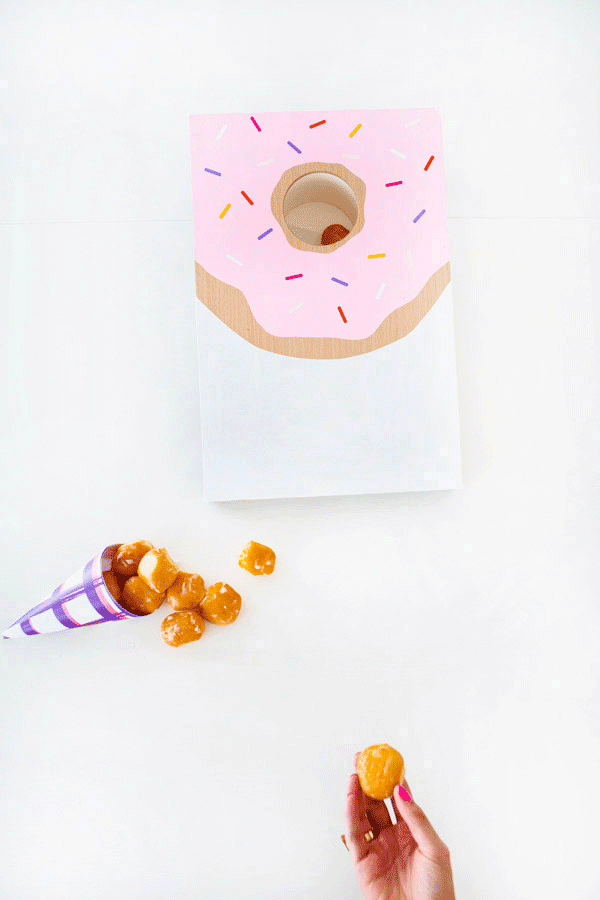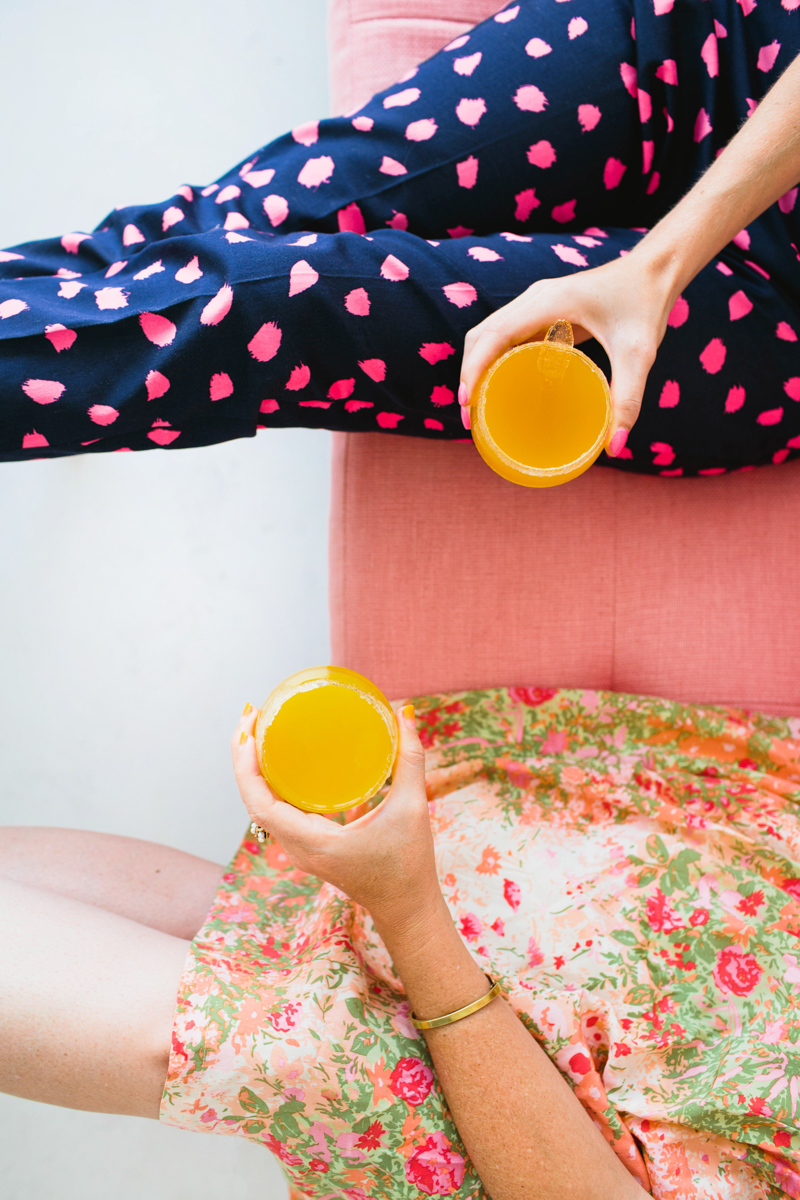 All Photos by Brittany Wood
And that's a wrap on my sugar-filled morning pre-gaming! For the actual game, I'd recommend serving some savory items like frittatas or quiches and breakfast potatoes to balance out the sugar rush you gave everyone before kickoff! But for now, I'm off to play some more donut cornhole…
Photography: Brittany Wood
Cocktail Recipe: Bourbon & Goose
Cinnamon Roll Recipe: Brittany Wood
Printable Grid Patterns: Annie Steward
Styling, DIY Projects + Creative Direction: Studio DIY
This is a sponsored post by Smirnoff ICE. Thank you for supporting the sponsors that keep the Studio DIY party going! Read more about my editorial policies here. All reviews/opinions expressed in this post are unbiased & based on my personal view. Drink responsibly.