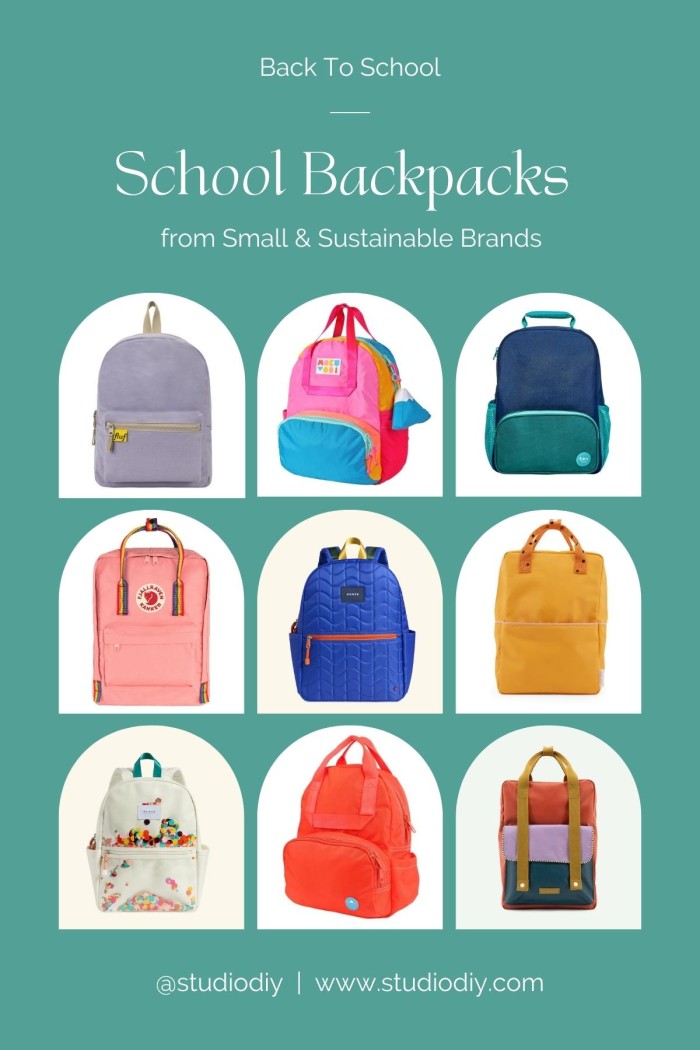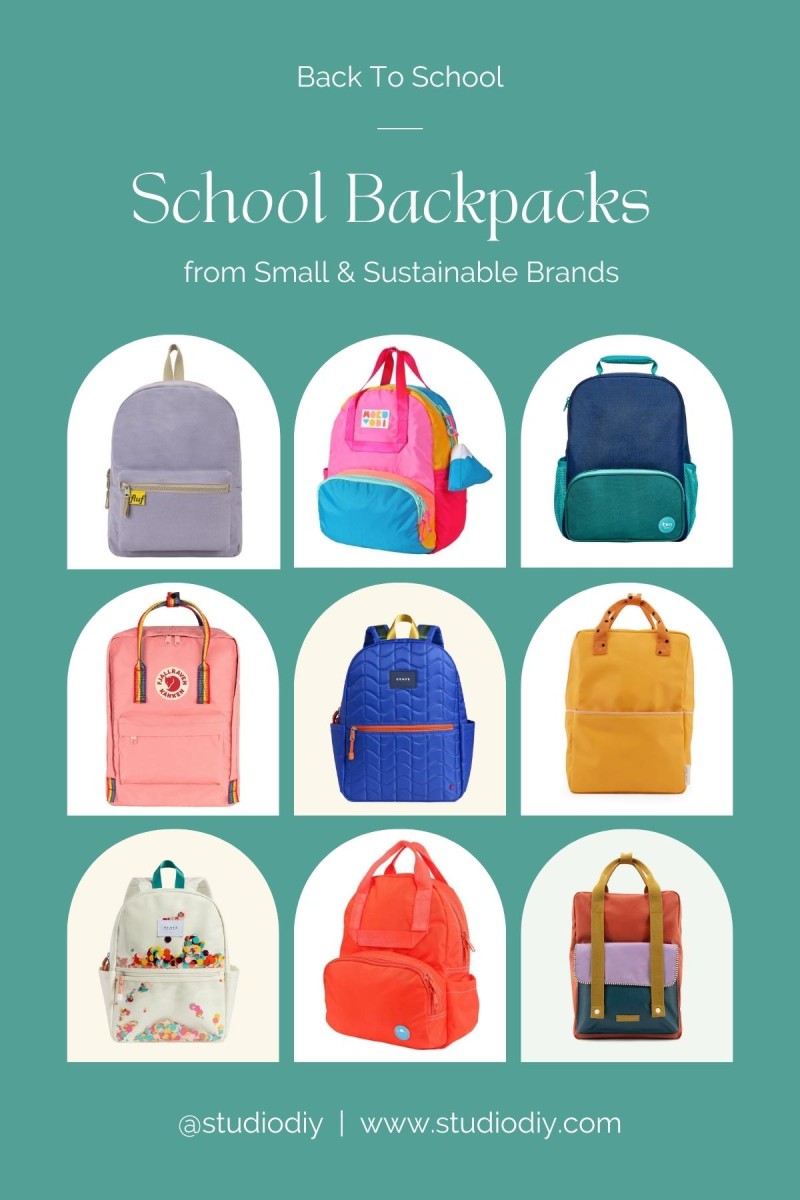 I've talked before about my favorite preschool must-haves, but as we move to elementary school we're missing something… a backpack! I crowd-sourced some favorite colorful and sustainable backpack options for kids of all ages and grades all from small and/or ethically minded brands.
Hope you find something you love and that will last your kiddos for a good long while!
State Bags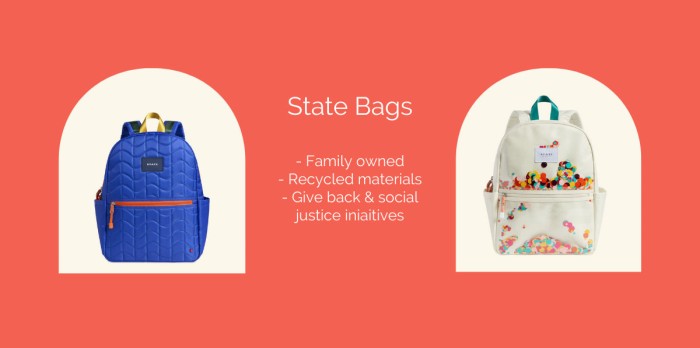 State Bags was by far the most recommended backpack. It's a family owned business, uses recycled materials and they incorporate give back and social injustice initiatives into every purchase.
They have a helpful size guide for their four different sizes and have dozens and dozens of colors and patterns! Plus, these sustainable backpacks can be personalized!
For the Kindergarten age, the Kane Kids size seems to be the most popular. They have matching lunchboxes as well. And, if you'd like, they have a pre-loved section to shop as well for an even more sustainable option.
Shop State Bags Backpacks here!
Mokuyobi
If your kiddo wants bold, bright neon colors, Mokuyobi is going to be your pick! All products from this small business are made in Los Angeles. Their larger backpack size has a padded sleeve that fits up to a 15″ laptop. The color combinations are so fun and unique!
Fjällräven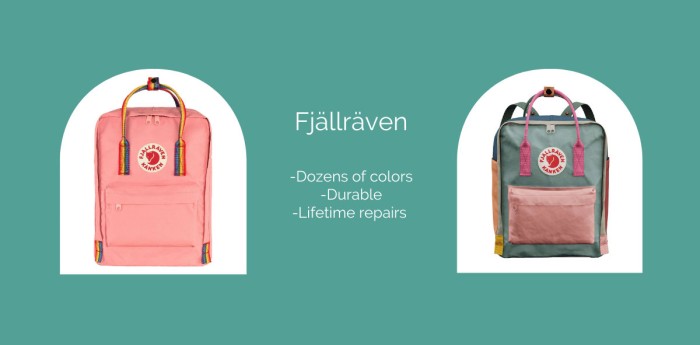 We have had and loved our Fjällräven mini backpack for our son for a long time. We use it for travel and anytime we need to grab a few things to bring along with us. However, they also have several larger sizes that could work for school. Their KÅNKEN backpack appears it would be best suited for preschool or kindergarten, whereas they have a laptop backpack in three different sizes that could work for older kids.
Their products are so well made with a focus on low environmental impact and long-lasting materials.
If you've got some time, they even have a customizable option where you can choose your colors!
Shop Fjällräven backpacks here!
Small biz alert: Merci Milo sells some Fjällräven backpacks!
Sticky Lemon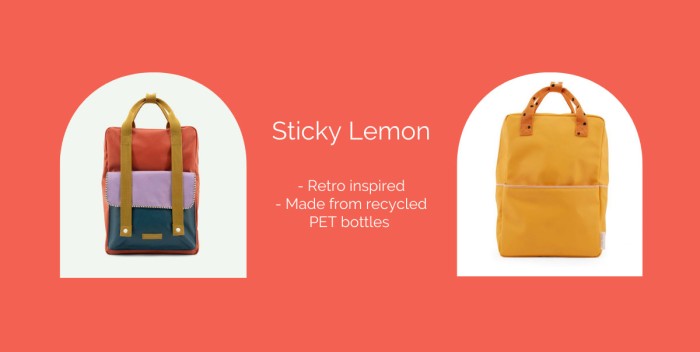 Sticky Lemon has the sweetest combination of retro inspired colors, florals and plaids! They have a large size backpack as well as a messenger style than can be worn as a backpack. Plus, matching lunch boxes, too!
These sustainable backpacks are made from recycled PET bottles and waterproof nylon.
Small biz alert: Merci Milo sells Sticky Lemon as well!
Ten Little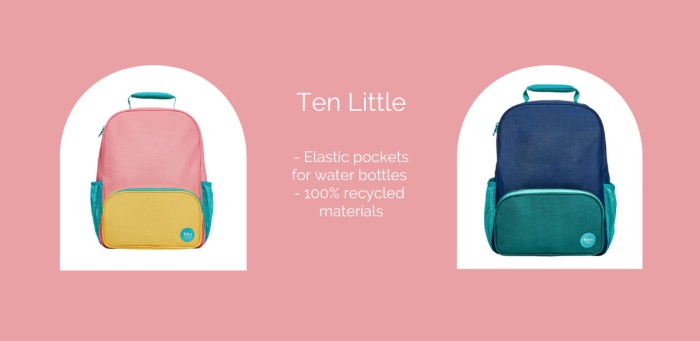 Ten Little has sweet color blocked sustainable backpacks, made from non-toxic 100% recycled materials! I like that their side pockets have elastic so they'll actually fit a water bottle and a mesh back! Matching lunchboxes too!
Shop Ten Little Backpacks here!
Fluf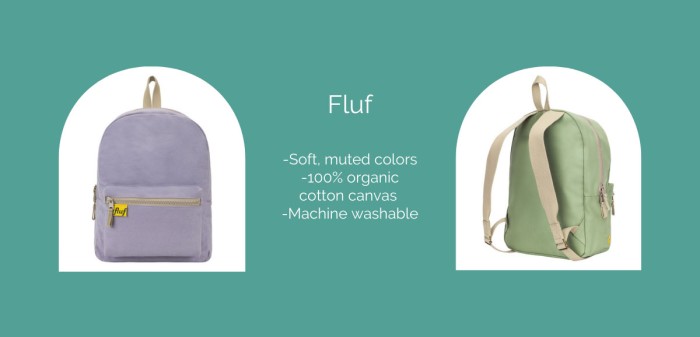 Fluf's backpacks are made with organic cotton, machine washable and fit up to a 15″ laptop! I love the simple design and soft, solid colors. While I hadn't seen their backpacks until recently, I've been eyeing their lunchboxes for quite awhile. They are so cute!
I hope your family finds a colorful or sustainable backpack you love and can use for years!