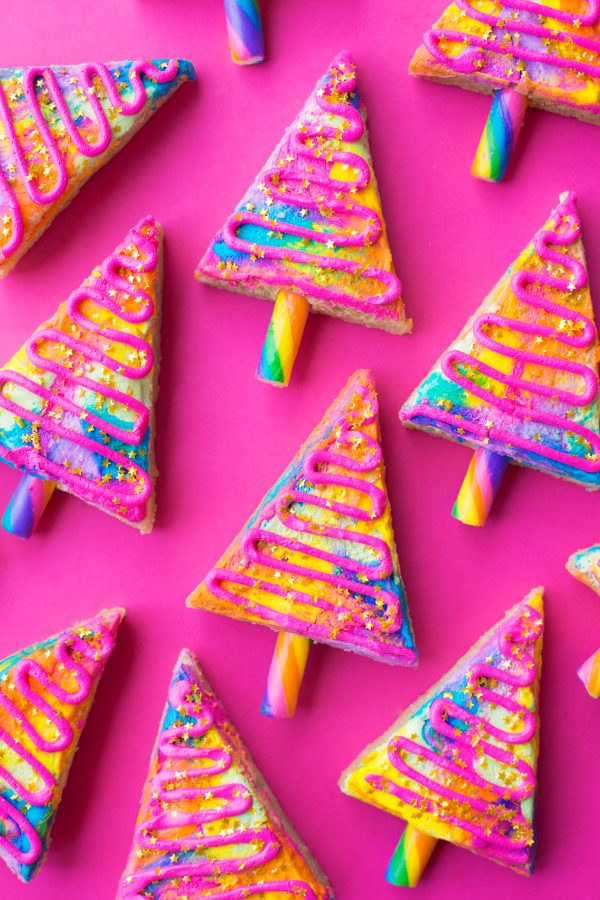 Christmas tree cookie bars… the Studio DIY way!!! I like to call them technicolor rainbow unicorn Christmas trees, but you can pick your own adjective of choice. 😉 Ever since I was little, I've seen brownies and cookies shapes like cute little trees with candy cane trunks and it was so fun to give the idea a colorful makeover!!! Have you ever made any!?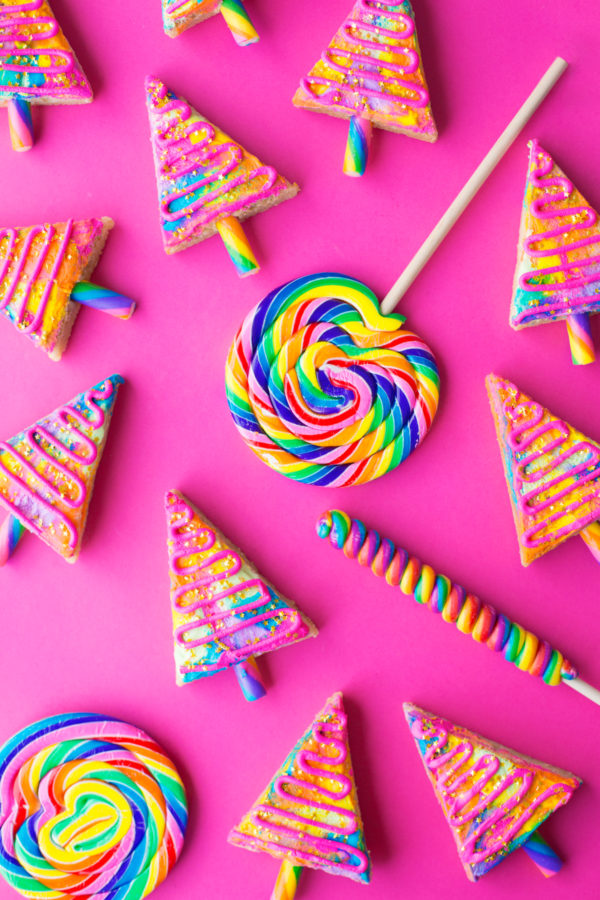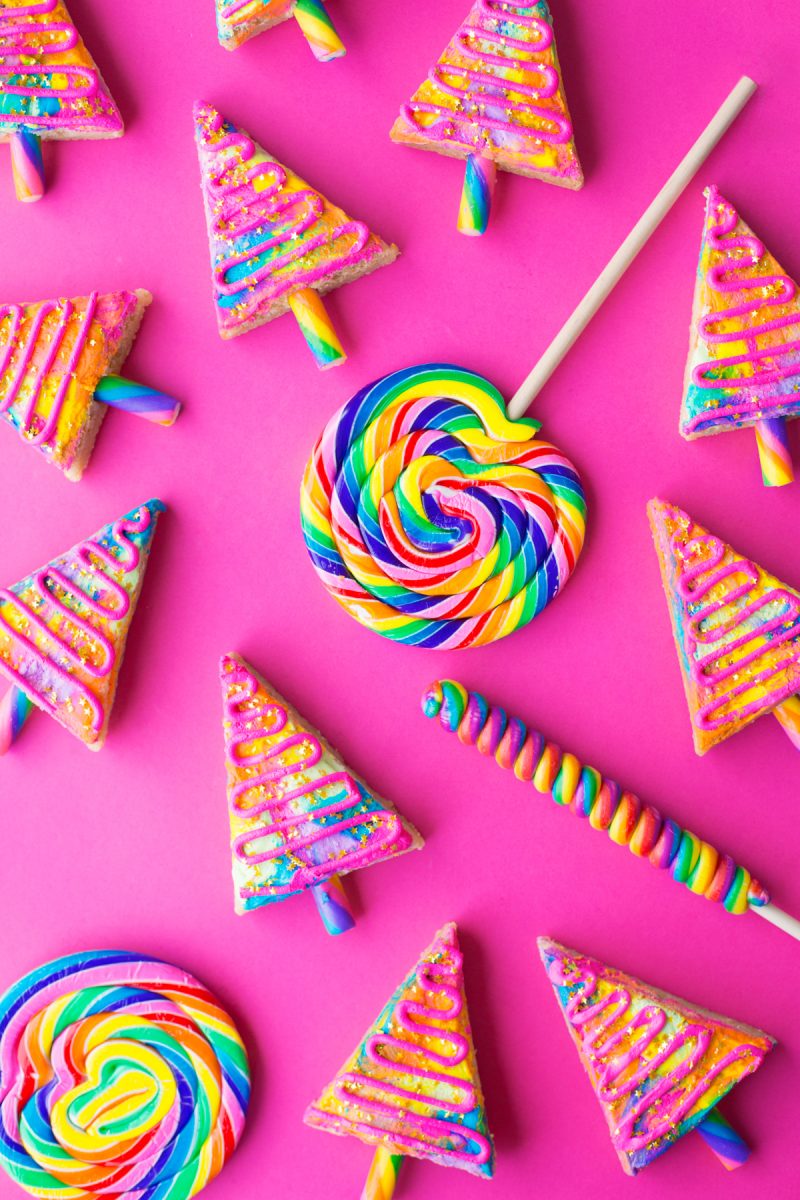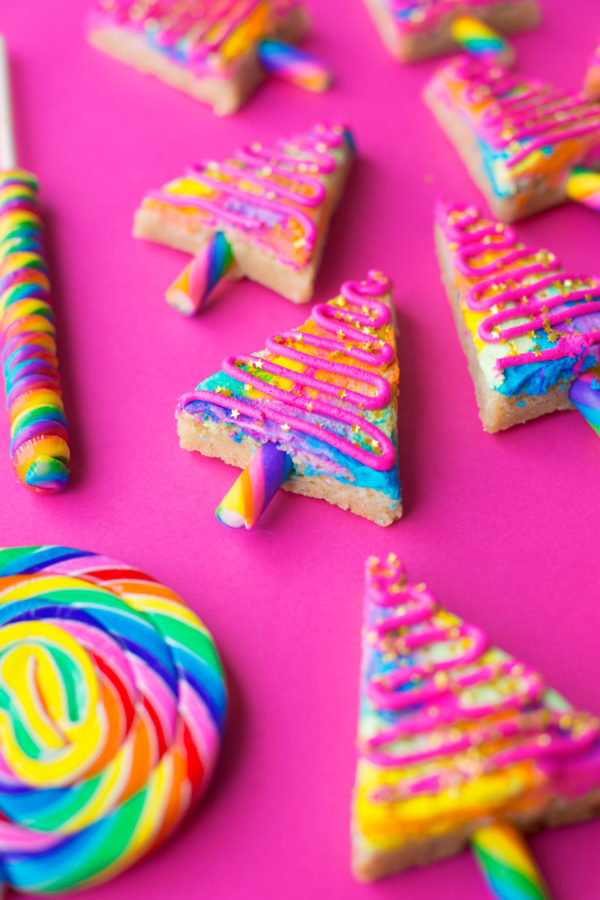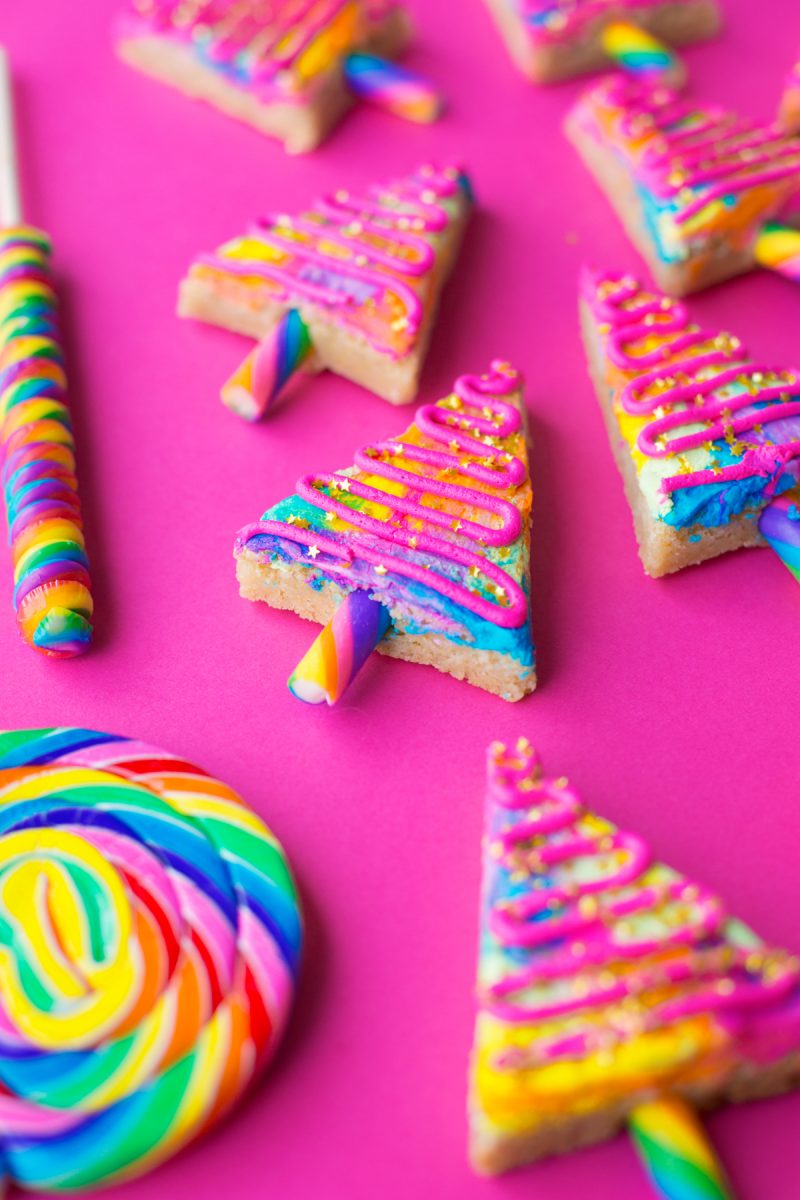 Technicolor Christmas Tree Cookie Bars
Ingredients
For the sugar cookie bars:




1/2

cup

butter

softened

1

17.5 oz package sugar cookie mix

1

egg

Bright candy canes

about 3 to 5




For the buttercream:




1/3

cup

butter

softened

3

cups

powdered sugar

1 1/2

teaspoons

vanilla extract

1 to 2

tablespoons

milk
Instructions
Heat oven to 350 degrees F. Grease the the bottom of a 13 by 9 inch baking dish.

In a bowl, mix together the butter, sugar cookie mix and egg till a soft dough forms.

Press dough evenly into the bottom of the pan.

Bake for about 20 minutes, till lightly browned. Let cool completely

Remove from pan. Cut in half long ways to form 2 long rectangles. Cut each rectangle into about 5 to 7 triangles.

Break the candy canes into 1-inch pieces. Gently stick the candy cane into the bottom of each triangle. Use a little frosting to help the candy canes stick if needed.

Next, make the buttercream. In the bowl of a strand mixer fitted with the paddle attachment, cream the butter till smooth.

Add in the powdered sugar and vanilla. Mix. Add in the milk as needed to get a light fluffy texture. Continue to beat on medium for 1 more minute.

Divide frosting into 6 small bowls. Color each with food coloring; bright pink, mint green, bright blue, yellow, orange, and light purple.

Place small drops of the different colored frosting onto the triangles. Using a small offset spatula, lightly smear and blend the colors into each other a little till you get a tie dye pattern and the top of the cookie is completely covered. It is okay if it is a bit bumpy. Place in the fridge to chill.

Once the frosting sets, you can place a layer of plastic wrap right over the frosted cookie and use your fingers to press down the bumpy frosting to create a smooth technicolor surface.

Using the bright pink frosting in a piping bag fitted with a small round tip, pipe the swag on the cookie tree from top to bottom. Finish with a sprinkle of gold stars.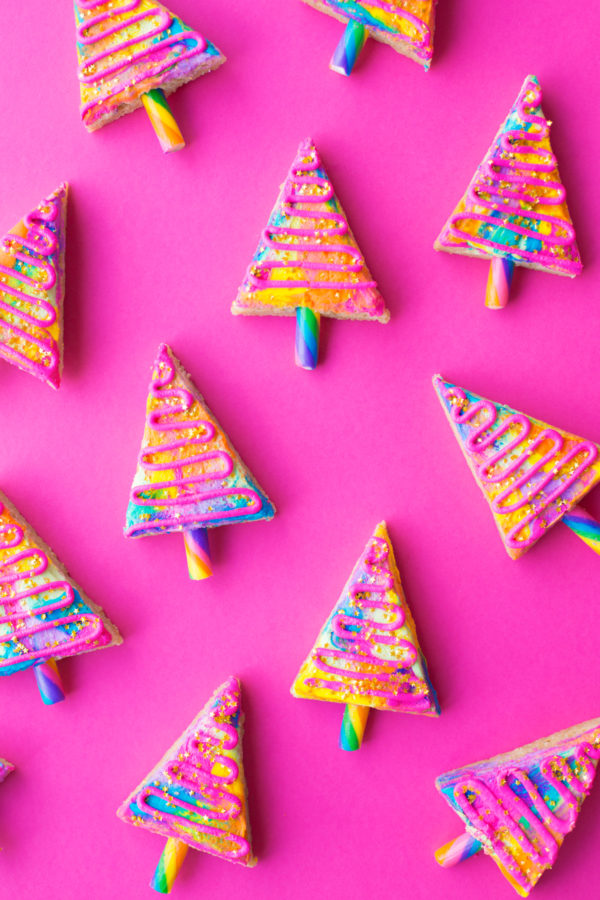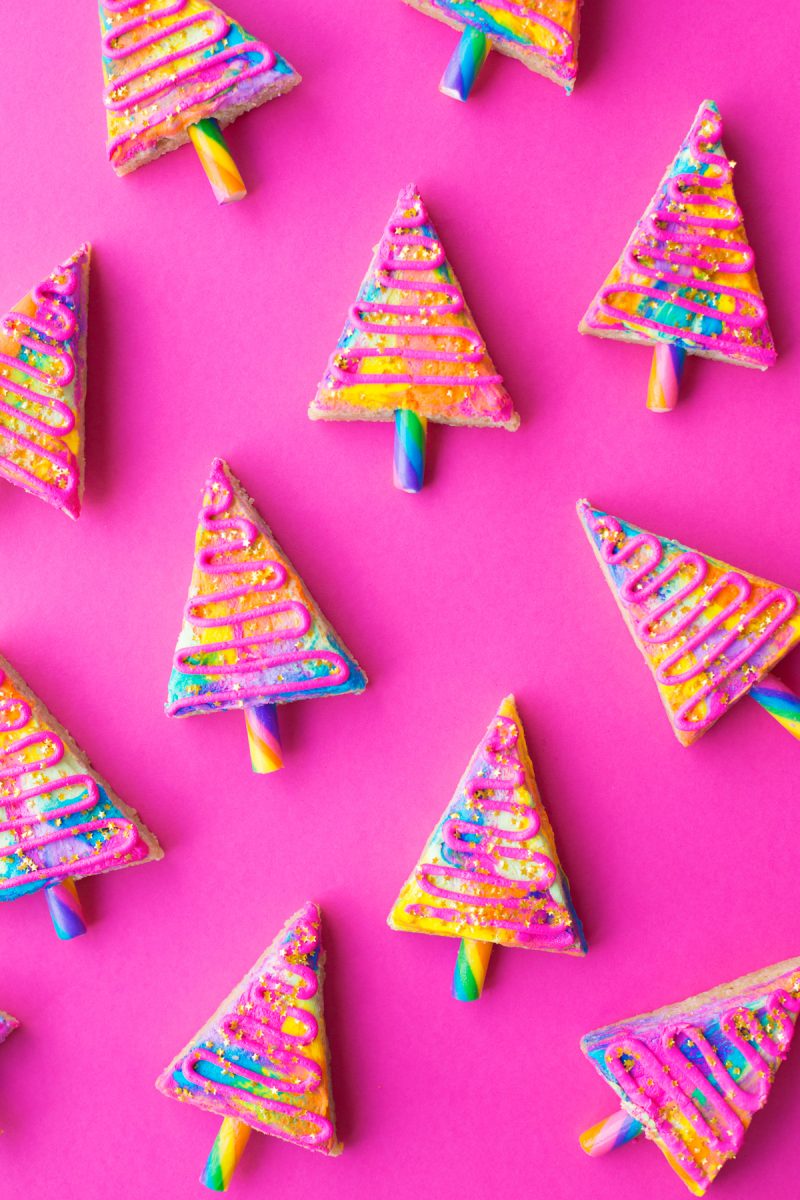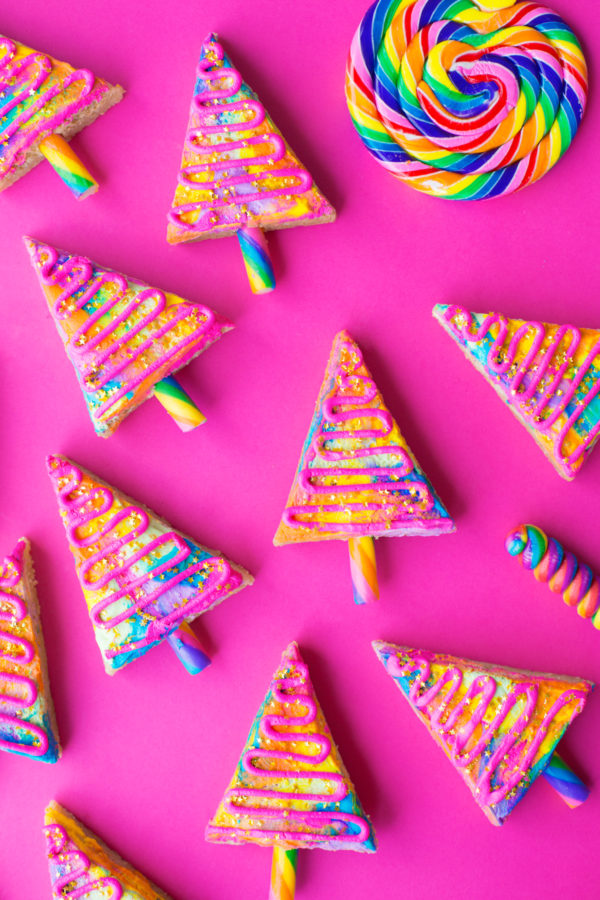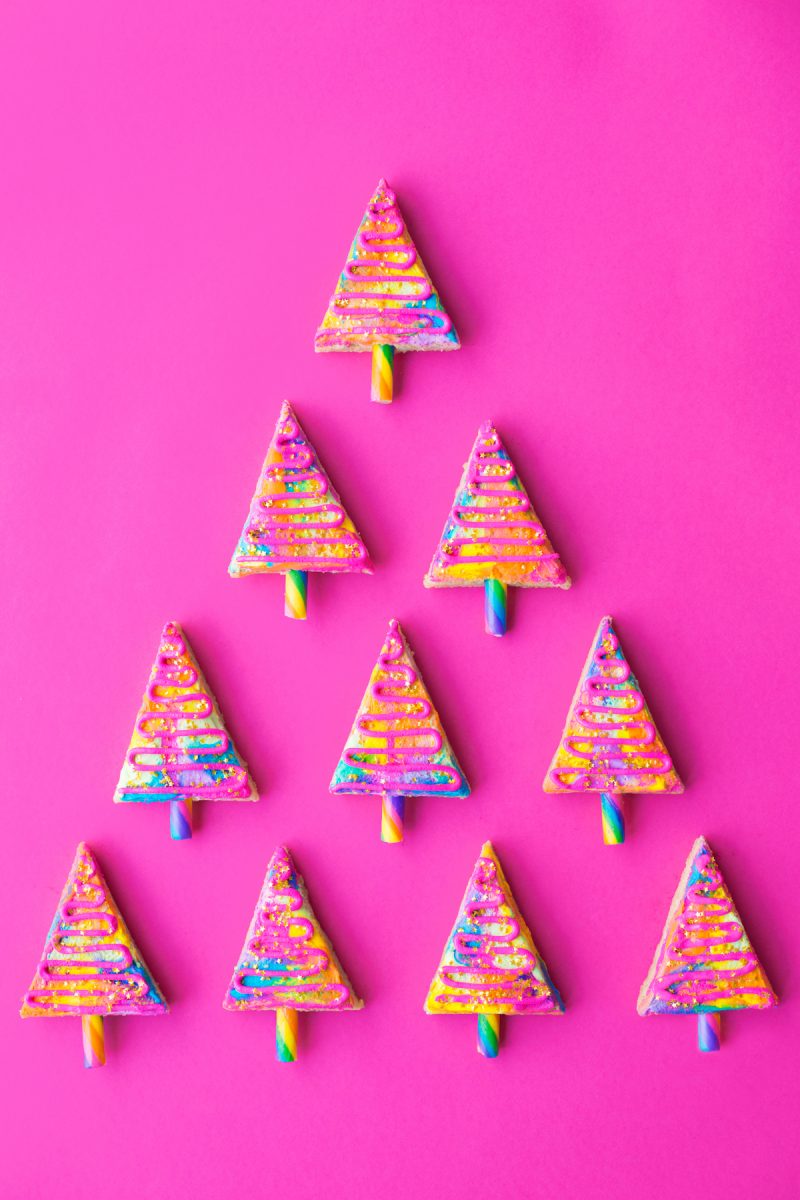 Photos by Jeff Mindell | Recipe by Theresa Rountree
Those rainbow candy canes REALLY make my heart explode.
I would also like to go on record saying that I think bars are superior to cookies. My mom always makes chocolate chip bars instead of cookies and it's the best. If you're the kind of person that likes middles, that is. If you like edges… I don't know what you're doing with your life. (Kidding… sort of.)
p.s. Tie Dye Yule Log Cake!